Oh happy day!  I love St. Patrick's Day for several reasons:
The start of March Madness
Kyle's birthday
Green themed everything
Boozing (to the nth degree)
Random phrases like "sonny" and "me lucky charms"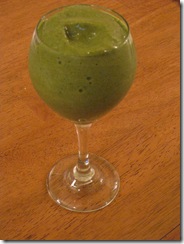 Of course I am one of those people who takes the green theme above and beyond…so prepare yourself for what's to come.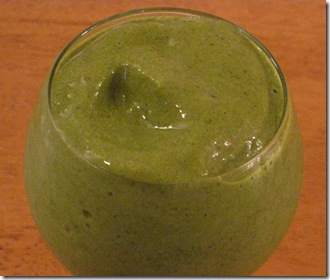 Green monster, complete with spinach, kale, frozen strawberries, mango, and Vita Coco.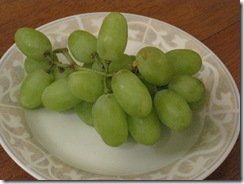 Natural sunlight.  Natural sugar.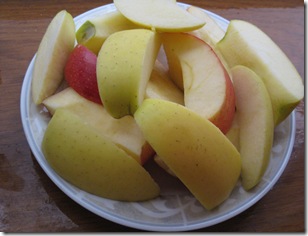 Non-green joy.
After breakfast, I headed out for a run.  I made a quick loop in Central Park, came home and showered as quick as possible.  Why?  Because I wanted to be in the sun asap!  For this reason, my lunch was of the portable variety…
I finally managed to get my hands on some fatty medjools.  These babies were like the Donna Simpson of dates, which was especially delightful after going so long without them.  Does anyone know, is there an off-season for dates?  I say this because winter was a bit of a barren period for Whole Foods' date supply.  They had wussy packaged ones without pits, but that's not my scene.  The bigger the better.  Either way, I'm glad WF stepped up to the plate.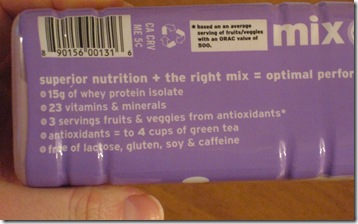 Like yesterday's MIX1 flavor, today's blueberry-vanilla was exceptional.  And I'm not exaggerating.  I can seriously see myself bringing these to work for breakfast instead of coffee every day (instead of coffee you say?! – the horror).  I told you they were good.
While I was out basking in the sunshine, I had this Perfect Pumkin BoomiBar. 
T'was green, so I avoided pinching (it was quite delish as well).
I was oot 'n aboot all day long, so when I got home I was definitely ready for dinner. 
For part of my dinner, I made what I am now going to refer to as my 40 cent meal.  Seriously, it was the cheapest thing ever.  Are you curious?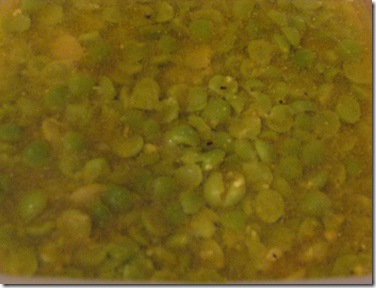 I have been craving Indian food for a while now…and so I present to you…
Split pea coconut curry
dried split green peas (20 cents worth)
1/2 tsp turmeric
2-3 drops lemon juice
1/6 onion
1 tsp curry powder
Vita Coco coconut water
salt & pepper to taste
*measurements are approximated as I kinda seasoned without actually keeping track
After letting the split peas get soft (15-20 minutes), I drained the water and added in the Vita Coco water and the onions.  After those simmered for a bit I added in the spices and just like that it was done!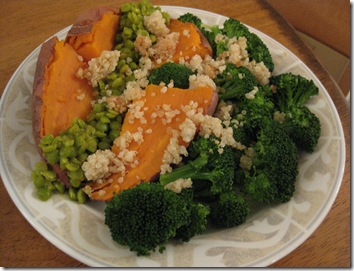 I spooned it over a steamed sweet potato, broccoli, and coconut quinoa.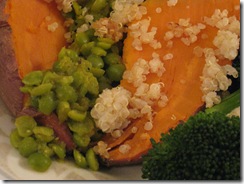 I cooked the quinoa in Vita Coco coconut water instead of water.  OMG!  Everyone MUST try this!
I can't help but be a little proud of the color coordination…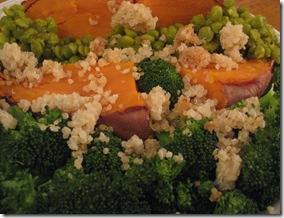 Erin Go Bragh!
After dinner Kyle and I went on a walk, and we stopped into the 'Bucks for a decaf soy misto.  Mmmmm…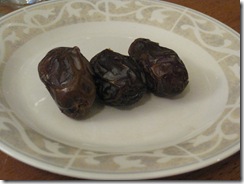 I ended the night with a trifecta of medjools.  Guess where I am heading tomorrow?  Home sweet home!
Since I will be out of town (and posting much less), I'm going to give you a little preview of what's to come this weekend…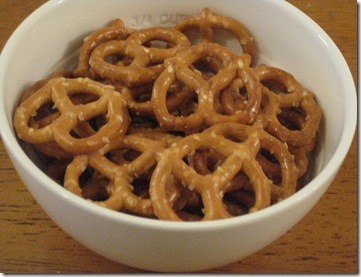 No, I'm not referring to pretzel chow sessions (although I'm not dismissing the possibility either…). 
I'm talking about the fact that Measure-Up bowls will be on sale in my OpenSky shop.  So bookmark it for the weekend, ok?  What else are you going to do with your tax return, right?  More details to come, but I just wanted to give you all a heads up since I got such enthusiasm after I showed them in my last post.
And yes, I had 3/4 cup of pretzels some time in the afternoon…who knows.  Some times photos find their way on my camera and I don't even remember it happening.