The worst thing about falling in love with a product is becoming obsessed with it and then having it get discontinued.  This is why I have a love/hate relationship with Trader Joe's and Costco.  I LOVE when I discover awesome new CHEAP veggie products.  But I HATE when I return to the grocery store to replenish my stash and it's nowhere to be found.  And it happens ALL the time!
Case in point: peanut flour
Over a year ago, I bought a big tub of Falafel Republic's falafel balls.  They were outstanding – the perfect blend of beans and spices.  And they didn't get dried out when reheated, which is a miracle for a frozen product!  I blogged about them a few times, raving about the aforementioned qualities. 
So imagine my heartbreak when I went back to Costco and couldn't find the falafel.  I tried again a few months later.  Nada.  I shed a tear, and moved on.
Unfortunately, it's been a long time since I've found a proper replacement.  I stopped buying falafel from the Whole Foods hot bar because they were so dry, it was like biting into the desert, forming a lump in the back of my throat no matter how long I chewed (and there's only so much water I can chug with a meal!).  I tried making my own, but they weren't authentic and I didn't really like the spice blend. 
Now, months later, I get an email from Falafel Republic saying they are going to be selling their products again at Costco.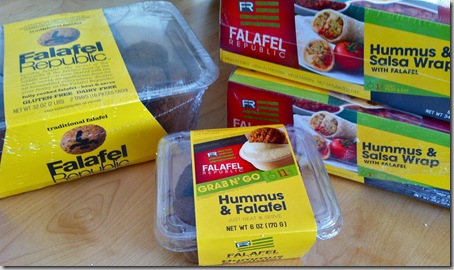 The best part of all is that they wanted to send me some of their NEW items to try out.  Weee!! 
Since I was insanely sick when this package arrived, most of the items went straight to the freezer.
But this weekend I was back at work which meant I was looking for quick and easy portable healthy vegan eats.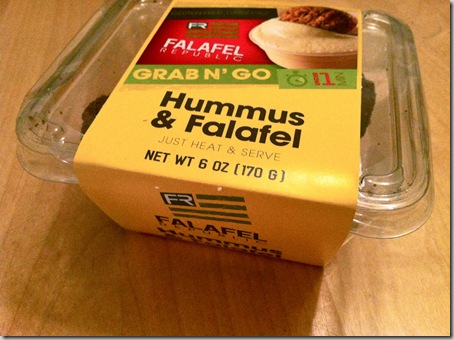 How perfect is this individual on-the-go container of falafel/hummus?
I had some with the salad (spinach and leftover pickled cucumber salad) and some with the Simply Sprouted Way Better Snacks tortilla chips.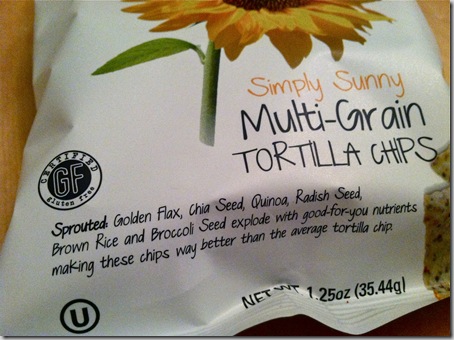 The chips are multi-grain, gluten free, and vegan – made from brown rice and seeds.  And not just your typical flax and chia seeds.  They have radish and broccoli seeds too!!  Crazy right?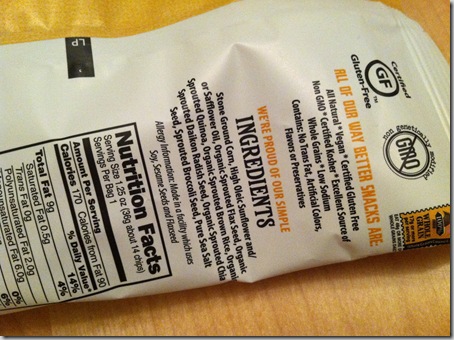 Both the chips and the falafel were excellent.
The falafel was soft and flavorful on the inside and authentically crispy on the outside.  So good.  Unfortunately, the hummus was rather acidic for my taste buds.  I prefer my chickpea dips thick and creamy, with an emphasis on the tahini.
As for the Simply Sprouted snacks, they reminded me of FSTG chips.  They were WAY salty, which I happen to like, but I have a salt tooth.  In other words, people with hypertension should proceed with caution. 
I have more flavors of the chips to review, but what I'm really excited for are the rest of the goodies Falafel Republic sent me, especially their new wraps with falafel, hummus, and salsa.  Yummmm.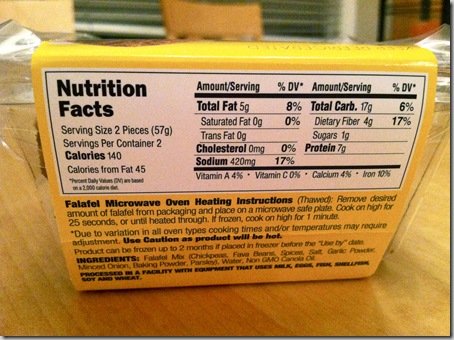 Here are the nutritional stats for the individual falafel and hummus.  Obviously I had both servings (who eats half a tub of hummus?). 
Here's my entire collection of work eats.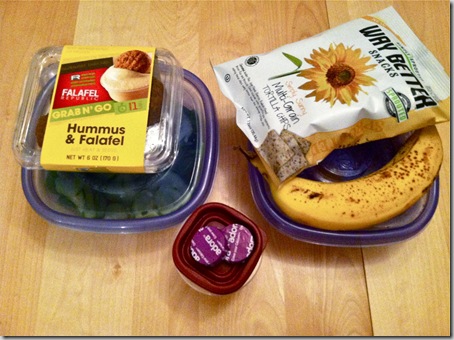 I already showed you lunch, but breakfast was grits.  I made them in the crock-pot (this was the last of the three servings it yielded), so I owe you guys a recipe.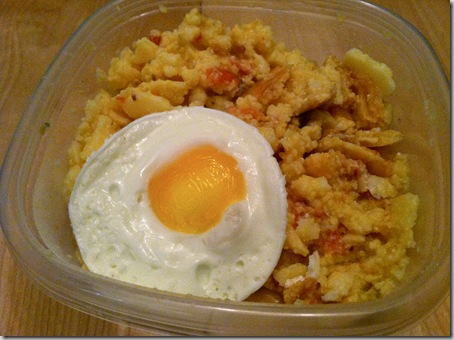 Hint: it had Sabra roasted red pepper hummus and tomatoes.  I topped it with an egg which I microwaved for 45 seconds in a glass bowl sprayed with canola oil.  Simple as that.
Some candied ginger, Adora dark chocolate (my stash is done-zo), and a banana rounded out the day's food.
These other snacks were brought to restock my locker stash.  It's been running on low for a while, so I'm bringing in a few bars every shift to make sure it remains a fully loaded emergency stash.  I'll review the NuGo bars when I try them.
Any items you've fallen in love with and then never seen again?