Since I got a question on my last post about this, and I feel like it's a topic people are interested in, I will recap my answer.
Q: Any advice on how to squeeze in exercise while on vacay?  Those darn hotels make you pay (a lot!) extra to use their gyms.
A: Unfortunately it's usually the really nice (read: really $$) hotels that give you free gym access, so unless you wanna shell out the big bucks, there are a few simple tricks you can use.
1)  All hotels have staircases, so if you are looking to do some cardio to get your heart rate up, do some intervals on the stairs.  You can create some good workouts with just a few flights, and most people use the elevators in multi-floor hotels, so you probably won't encounter too many people. 
2)  Download workouts on your computer, iTunes, or bring DVDs with you.  Who says you cant do a quick sesh in the room, whether it's with Jillian or yogadownloads.com there are tons of workouts available if you do some prep work before you leave.
3)  Health and fitness mags always have exercise activities/ideas in them.   You can follow a workout plan or modify it to meet your time/resources available.  No free weights in the room?  Grab some water bottles and lift away!
The most important thing is to PLAN AHEAD.  If you want to make sure you exercise while you are on vacation, you have to make it easy for yourself while you are there.  It's so easy to think of excuses once you are in vacation mode, so the fewer obstacles, the more likely you are to stick to it. 
So bring exercise magazines & DVDs, make workout playlists, pack your gym clothes, and tell people you are traveling with ahead of time, you will be working out.  Who knows, you may just be their inspiration to follow suit!
However, when all is said and done, it's important to remember, you ARE on vacation.  Balance is equally as beneficial to your health, so make sure you don't forget that.  Know when to relax, and don't feel guilty if you miss a day or don't get in all the fitness routines you had planned.
Hope that helps 🙂
Personally, I've been staying pretty active while here in Maui (which is my idea of a vacation).  There is a fitness center, which we have access to as owners, but I've been running on the beach and swimming around in the pool/ocean more than anything else.  It seems pretty obvious, but I figure I can go on the treadmill or elliptical back in NY, so while here, I am going to enjoy the scenery.  Of course, my cardio here is NOTHING like it is back home.  I've never done more than 30 minutes, and I don't really care to.  I just like getting my endorphins flowing.
Today we went on a hike, which involved lots of rock climbing, and even some swimming to get to certain areas.  There were gorgeous waterfalls (and even a naked couple bathing on the rocks) along the way…
SO fun!! 
Here we are at the beginning, in the (more wide open area) of the bamboo lined trail…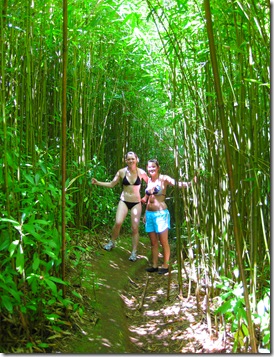 **Please disregard my ridiculous "outfit" – there were areas where you had to swim through Kombucha swamp water to get to the next part of the trail, so sneakers and a bathing suit were the most practical option.  Hideous as it was.
And we're off!
Clearing/Waterfall #1  My dad went for a dip, but we didn't stay long…because…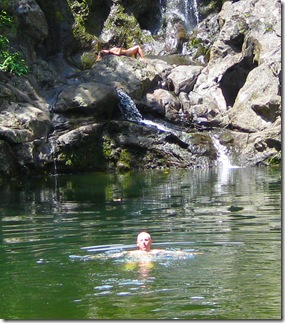 …if you zoom in…and look up…SURPRISE!  Sure, I'm a hippie and all, but public nudity is not exactly my cup of tea venti coffee.
Yeah, so we forged ahead…there were some seriously treacherous points in this climb, but eventually we made it to the top.  Has my paler than porcelain skin blinded you all yet?
After this, we had to leave our clothes and cameras on the rocks to jump in and swim to the last waterfall…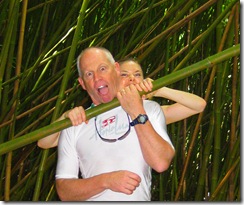 We had fun on the way back.  Such dorks.
Almost there…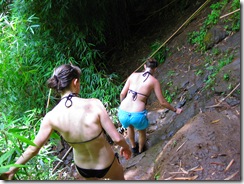 Just one last muddy landslide to trip down gracefully descend.  Good thing there were bamboo ropes to hold onto.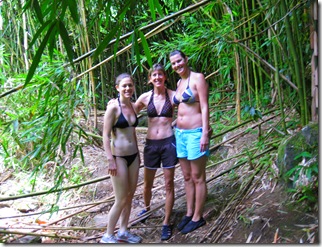 We made it!
This was SO much fun, I loved that we had to find our way through bamboo forests and semi-submerged water trails…and had to hike and swim to reach the final destination…it felt like an adventure! 
Kyle's flight arrives today, so he will be here the next whole week.  Hooray!!