The first couple of weeks have flown by.  It's what everyone said would happen, and it is definitely the truth.
The food in the hospital was okay.  [I work at the same place I gave birth to P so I know exactly where the menu and cafeteria excel and fall short]
Whoever told me the first meal after birth would be the best thing I ever ate lied.  I didn't take a photo of it, but I got two slices of french toast and a banana.  Remember how much I adore the hospital's french toast?  Anyway, after nearly 24 hours of nothing but ice chips (I did have a few sips of OJ as well), you'd think it would taste like magic, but it was not great.  And made my GI tract go nuts.  I ate tiny bites, slowly, over the whole morning; but my stomach was still churning.  Truth be told, this probably has more to do with the fact that my baby boy was in the NICU after a really traumatic arrival (more on that later when I have the energy and ability to discuss).  I was so distracted and stressed out and in shock I probably shouldn't blame the food for how my gut felt that first day.
I spent two other mornings in the hospital, and I did take pics of those breakfasts (see above).
Left: oatmeal with add-ins (granola, peanut butter, raisins, cinnamon, banana) and vegetarian sausage [they told me to pack on the protein to help with my milk supply] and coffee and soy milk (I brought my own almond milk as well)
Right: scrambled eggs, home-style potatoes, and vegetarian sausage with coffee and soy milk
My family was really awesome and brought me goodies from Whole Foods too. 
Upper Left: quinoa, vegan gardein curry salad, Kombucha (from Kyle's parents)
Upper Right: Uncle Eddie's vegan cookie from my cousin (making sure you eat enough to keep up your breast milk supply is a great excuse for late middle of the night kcals)
Lower Left: hospital cafeteria salad bar (made by Marie)
Lower Right: hospital tofu & vegetable stir fry with brown rice (the chocolate cake was for Kyle)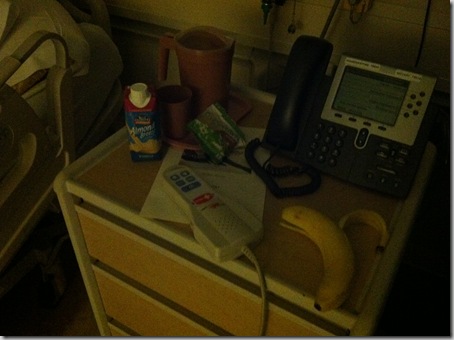 I brought lots of bars and snacks to the hospital also (and Kyle got me chocolate & treats from Whole Foods as my Valentine's Day present). 
Grazing eats (that I remembered to take pics of):
Justin's dark chocolate PB cups (I had a LOT of these – so good)
Two Moms In The Raw cranberry nut bar (yum!)
Love Grown granola
18 Rabbits bananas foster bar
Uncle Eddie's cookies
bananas & nut butter
almond milk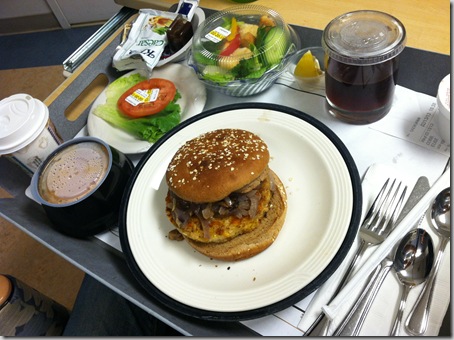 Hospital veggie burger.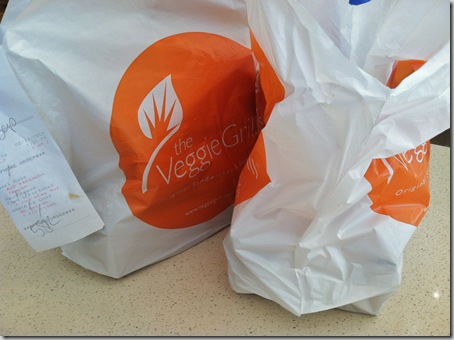 I ended up being discharged before my baby was 🙁 , so we got take-out from the Veggie Grill as a quick option before spending the worst night ever in the hospital ("sleeping" in a cube on a office chair).
Kale salad with blackened tempeh & mac 'n cheese.
Finally we got to go home! 
My parents treated us to Thai take-out for our first meal at home.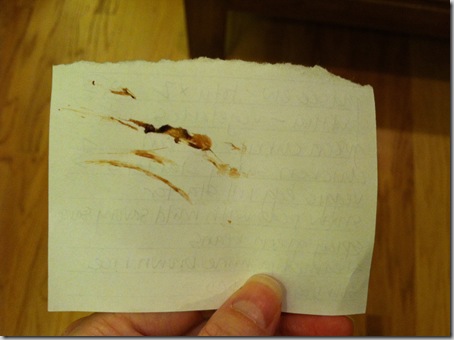 I used the back of the order to wipe off what I bulb sectioned from P's nose.  This is now my life.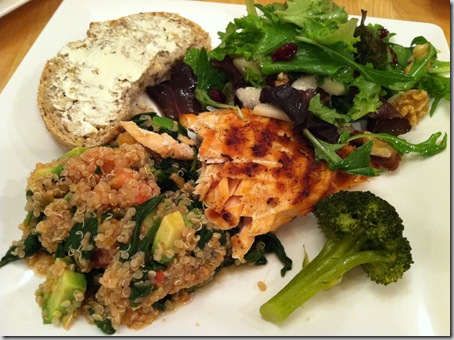 My parents stayed in town another day so they were able to help out with cooking big time.  The next night we had a legit feast.
My dad BBQ-ed salmon, my mom made a quinoa dish & salad, and we also had steamed broccoli and fresh bread.  Pull up a chair PAC man! 
We had leftovers, too, which we enjoyed over the next few days (after my parents headed back home).  I actually baked the tofu to go atop those salad leftovers (love old soggy salad!).  I let Kyle have the broccoli since I'm playing it safe(r) with certain foods while breast feeding (broccoli is typically gas inducing and I need I'd like as un-fussy of a baby as possible as we work on breast feeding).  It's going really well by the way, but I'll get into that in a separate post.
In addition to baking the tofu, I've been making lots of other quick and easy meals.  Because even though I don't feel the most up-and-at-'em, I don't want to eat crap.  I did so well during pregnancy, I'm certainly not going to give in during the post partum period.
Random meals:
Fresh bread with Earth Balance and fried egg (some things haven't changed since pregnancy, eh?)
Tortilla espanola (made by Kyle)
Quinoa with tempeh (I baked it after marinating it in Follow Your Heart's tamari miso dressing)
Creamy grits with avocado
Van's GF waffle with fried egg
Quinoa with cheesy (nutritional yeast + plain almond milk) sauce
I've been relaying wayyyyy more on bars and such for quick snacks.  I am eating frequently – often in the middle of the night – so having things that I can grab (with one hand) is totally necessary. 
Some fave snacks:
Handle Bar (?) dark chocolate cherry almond bar
Clif seasonal flavored bars (iced gingerbread & cranberry orange nut bread)
Justin's dark chocolate PB cups (yes, more)
Cocomo Joe's eggnog granola
Equal Exchange chocolate caramel crunch (OMG, this is heavenly stuff)
And to prove I'm not super mom (or doing much budgeting), here are some of the take-out meals we've been splurging on.
Sushi King: rolls and rolls and seaweed salad
Fresh Brothers: daiya pizza (half had tomatoes, mushrooms, and bell peppers & the other half was just daiya)
the Veggie Grill: Thai chop salad with tempeh & mac 'n cheese
So there you have it.  I'm trying to pay attention to what I eat and how P reacts to it.  Sometimes he's pretty gassy and it clearly makes him uncomfortable.  As if my own GI tract wasn't enough of a mess to deal with, now I have to manage two digestive systems.  Ah well.  If there's anything I feel confident tackling, it's dietary tweaking. 
I'll try to be back soon(ish) with the stuff I know everyone wants to read about (birth story, updates on our family, and baby photos).