Maybe it's just me, but I find it exciting seeing what new (to me) products are available in different areas.  I have been seriously enjoying browsing the shelves of our local co-op and grocery stores (Nugget, Whole Foods).  The prepared foods sections have all kinds of different stuff and there are tons of hippie friendly companies with local distribution!  I love it.  I'm sure it'll eventually get old – or at least less wondrous – because I was just as enchanted when we first moved to Santa Monica and I had 6 Whole Foods stores within a 10 mile radius (not joking).  But for now I'm just soaking it up.
I could peruse gawk at the bulk bins section at the Co-op for days.  I'm tempted to write a love post for all the ways that our Co-op is awesome.  Self serve maple syrups and olive oils from a dispenser?  It makes the grind-your-own nut butter station seem soooo 2006. 
Here are a few of my latest obsessions.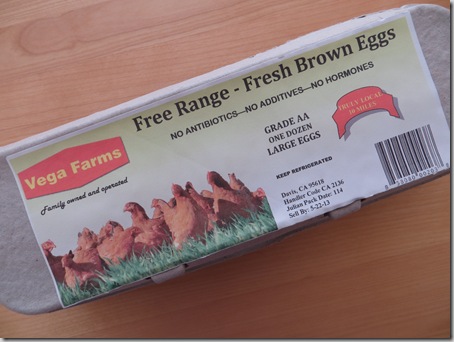 Vega Farms eggs.  Usually I buy exclusively organic, but the fact that these eggs came from a few miles away (and are antibiotic/hormone free) sold me.  They are a family business (3 generations deep) right here in Davis.  I'm considering their home delivery programs since we go through eggs like crazy.  I'm waiting to see what the egg situation is through either the farmer's market and/or a CSA before I commit to anything.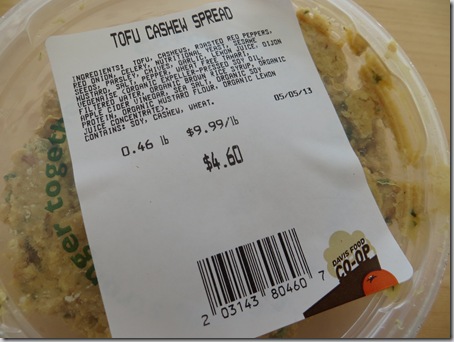 This tofu cashew spread.  It's almost always in the Co-op's deli section.  It reminds me of my beloved WF tempeh salad.  It's sooo good (although I could do without the red onions if I'm being picky).  I took a photo of the ingredients so I could recreate it and for the life of me, I can't figure out why it says it contains wheat.  Someone let me know what I'm missing?
It's good as a dip with crackers or raw veggies, or mixed into a salad.  The above has greens, carrots, brown rice, and the tofu cashew spread.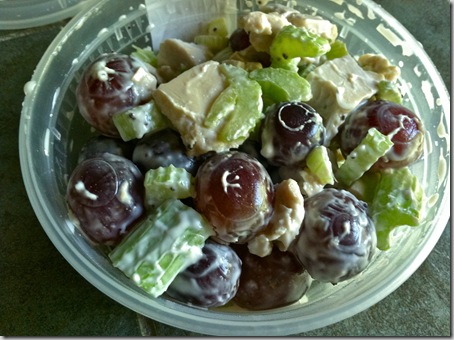 Beyond Meat.  I mentioned this product before, but have only seen it in pre-made salads at Whole Foods thus far.  I know they are planning to sell it plain though, I just have to find out where.  I think WF is their exclusive retailer at this point, but I'm not totally sure.  The above is the Sonoma "chickn" salad and the below is the Curry "chickn" salad.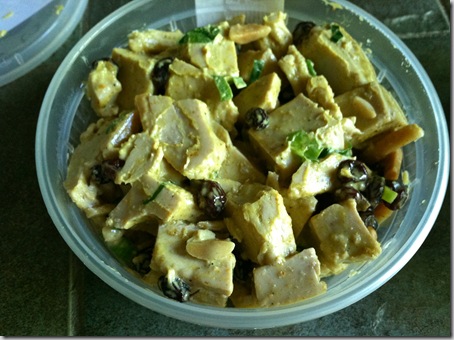 I haven't been going to the Davis WF really because we joined the Co-op and they have awesome deals.  But the other week I saw it in the salad bar section at the Whole Foods near my parents' house.  So I filled up a salad bar box to bring home and cook with.
I made a combo of the above two salads.  Recipe coming!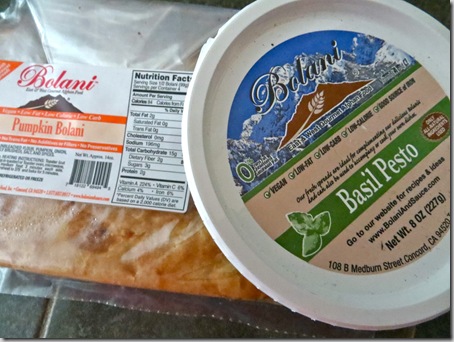 Bolani.  I am obsessed with their pumpkin bolani.  I stumbled across them over a year ago when I was home for the holidays.  And every time I come home I go to Whole Foods to get one.  Their distribution is still mostly in Nor Cal (they're based in Concord), so I'm happy that I can now enjoy them as often as I want. 
All our local health foods stores carry them (WF, Co-op, Nugget, etc.) and I'm not exaggerating when I say that for the first two weeks I had a pumpkin bolani every other day.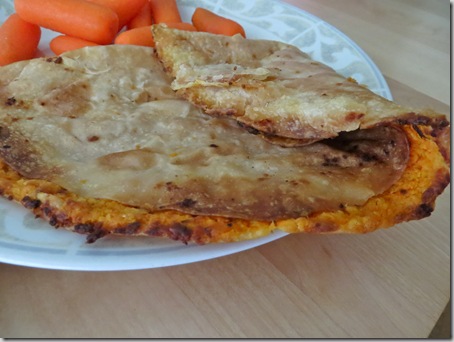 Sadly it is made with wheat (and isn't FODMAPs friendly) so I have to closely monitor the rest of my FODMAPs throughout the day.
Recently I decided to branch out (ever so slightly) and try another one of their products (they have sauces, dips, and spreads too).  I don't normally like pesto (I hated it growing up and have only recently come around since I discovered it can be made raw and dairy free with nuts), but it looked good and so I just went with it.  As you can see from the ingredients, it's vegan and made with almonds rather than pine nuts.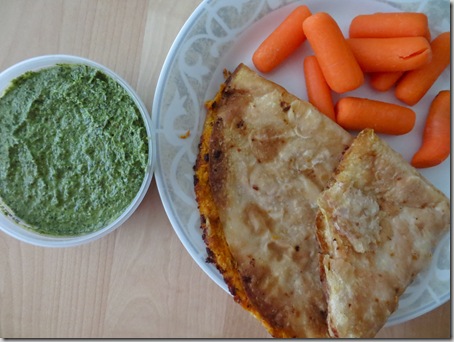 It was much lighter than what I was expecting, and had a pretty dominant lemon flavor, so I didn't love it.  But it was still good.  I treated it like a dip for the carrots, and since I still have half of the container left I'm thinking I'll use it in a GF pasta dish and add more fat to it.
Anyway, those are my Davis loves right now.