Still no word from Instant Pot.
But life has to move on, so here's Thursday's breakfast.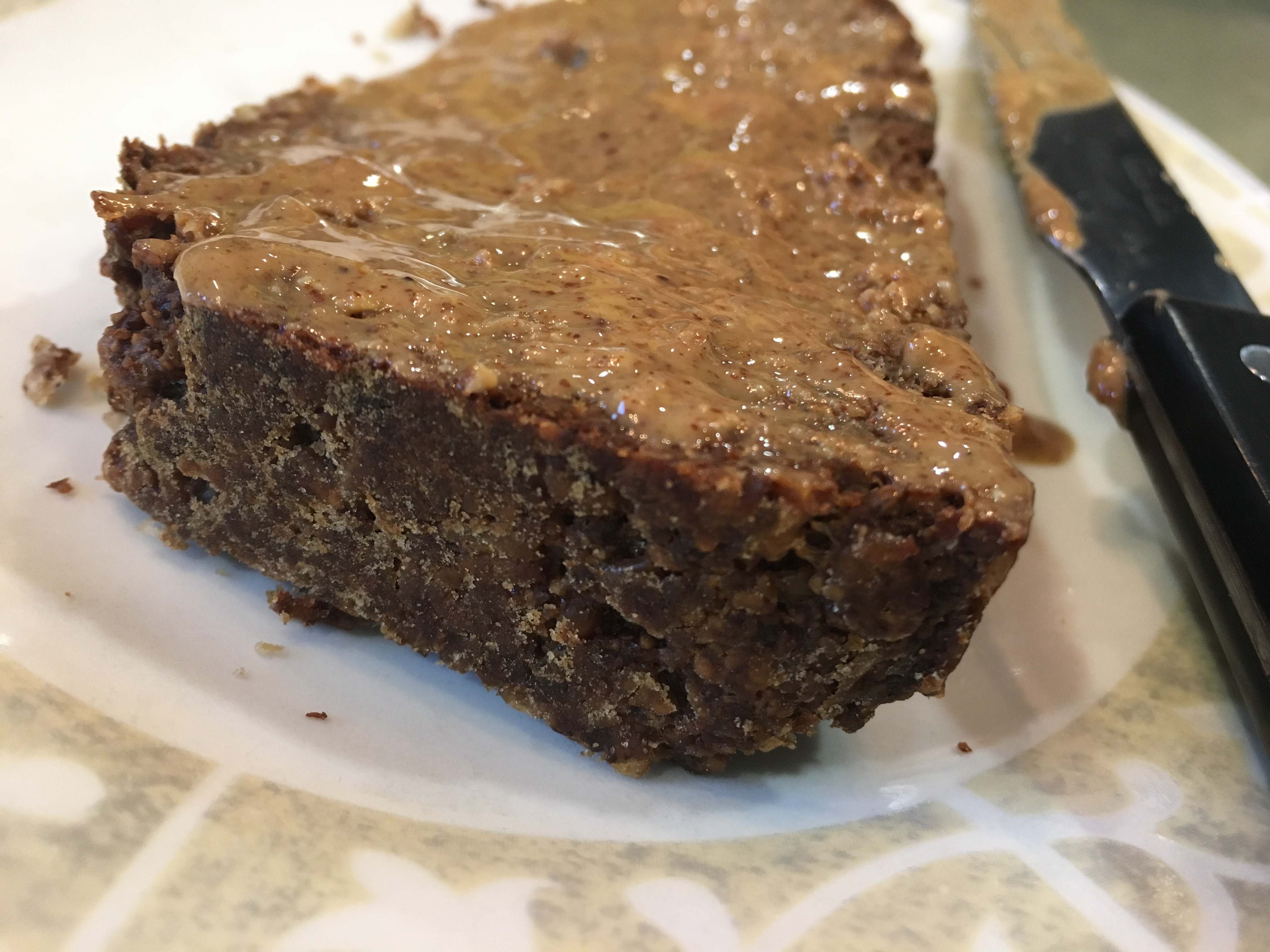 You already know what this is.
Before that though, I did a work out. While the kids watched on (and participated a bit?).  Kyle was gone and V had a ROUGH night, so I brought her into the bed with me thinking that would help her sleep.  And hooray! It did.  Help HER.  Me?  not so much.  She took over the entire bed.  I was up all night trying to gingerly move her from her horizontal position across both pillows.  And then she got up to pee at 4 something.  And then get water at 4 something later.  And then get dolls at 5 something.  And next thing I know P is crawling into bed too.  And it's not even 6 yet.  OOF.  Rough stuff I tell ya.
So I did what any reasonable sleep deprived person would do.  I grabbed a T25 dvd from the garage and put it on in the living room for a group fitness class.  They love it.  If nothing else I'm glad they have a healthy attitude about exercise.  They always see me smile after workouts and show off my muscles, and they love when I laugh or grimace through something especially hard.  But most of all, they love showing me that they can do the moves too and seeing my excited reaction.  🙂  Proud mama.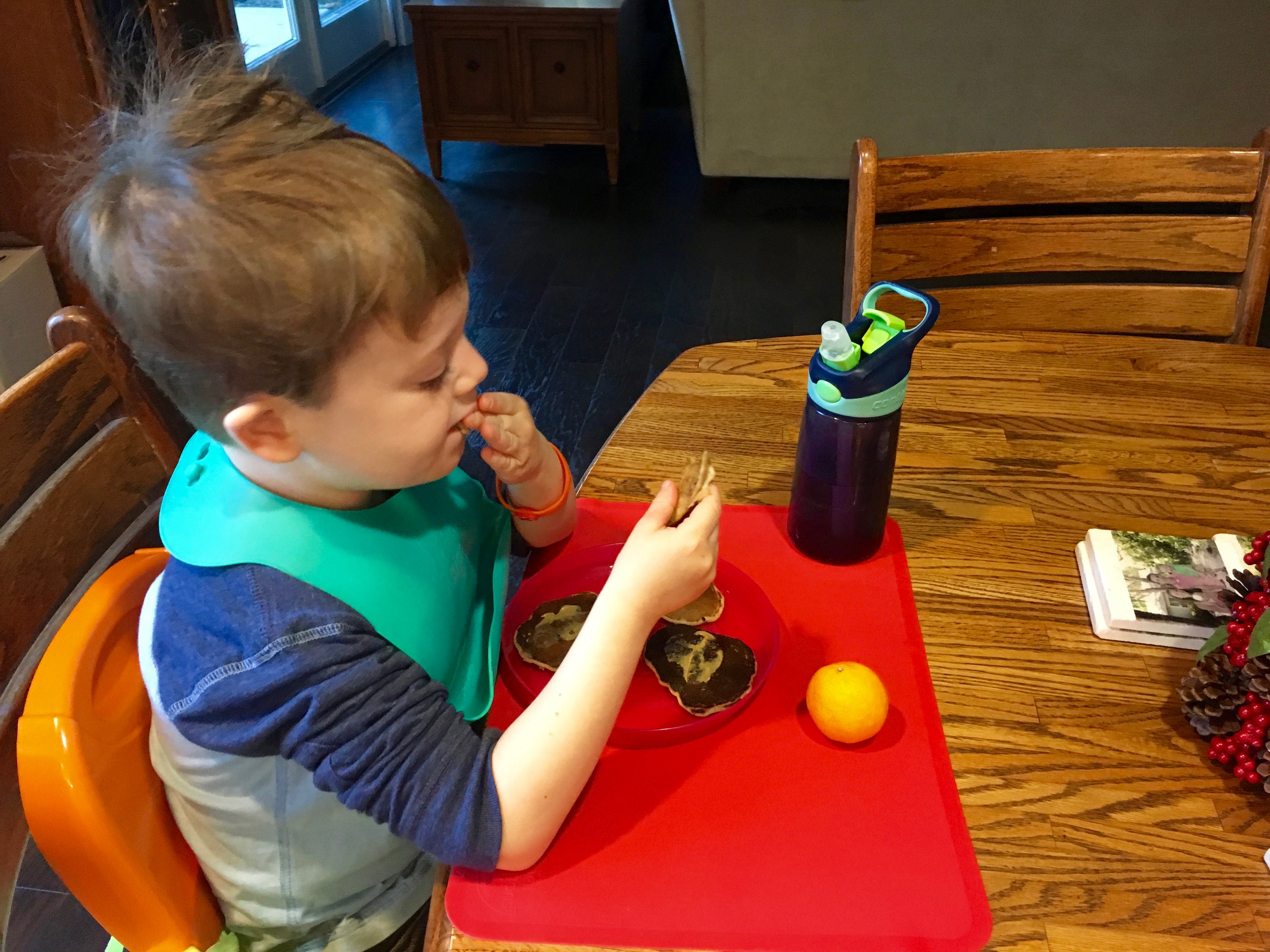 We have been out of Earth Balance for over a week and it's really throwing our morning pancake routine for a loop.  Sun butter is the only consolation that's tolerable, but they still want Earth Balance back.  Cow butter, ghee, and red palm oil all struck out.  Hard.
After feeding us all, I spent the morning on the phone coordinating OIT schedule changes.  After listening to P's lungs that morning I realized there was no way they'd do up-dosing on Friday.  I could hear wheezing without a stethoscope, so that's not a way to start the appointment.
He's actually pretty close to fully healthy, but his lung sounds don't reflect that, and that's an important symptom for detecting a reaction while he's getting OIT.
So, no OIT this week.  Or next week, since my parents aren't free.  And now we are waiting for them to overnight us two week's worth of doses.  Silver lining is…now we can stay at the downtown Christmas festivities without worrying about getting to the East Bay.  Kyle wasn't going to be able to come so it was going to be just me driving at night and it's a lot to do regardless, but being sleep deprived, and trying to keep them awake on the way, and then getting them bathed and in bed (all in the same room), coughing all night, blah…for them to potentially say he's not well enough to undergo treatment…  It's fine we are taking the week off.  It's a marathon, not a sprint.  We will get there.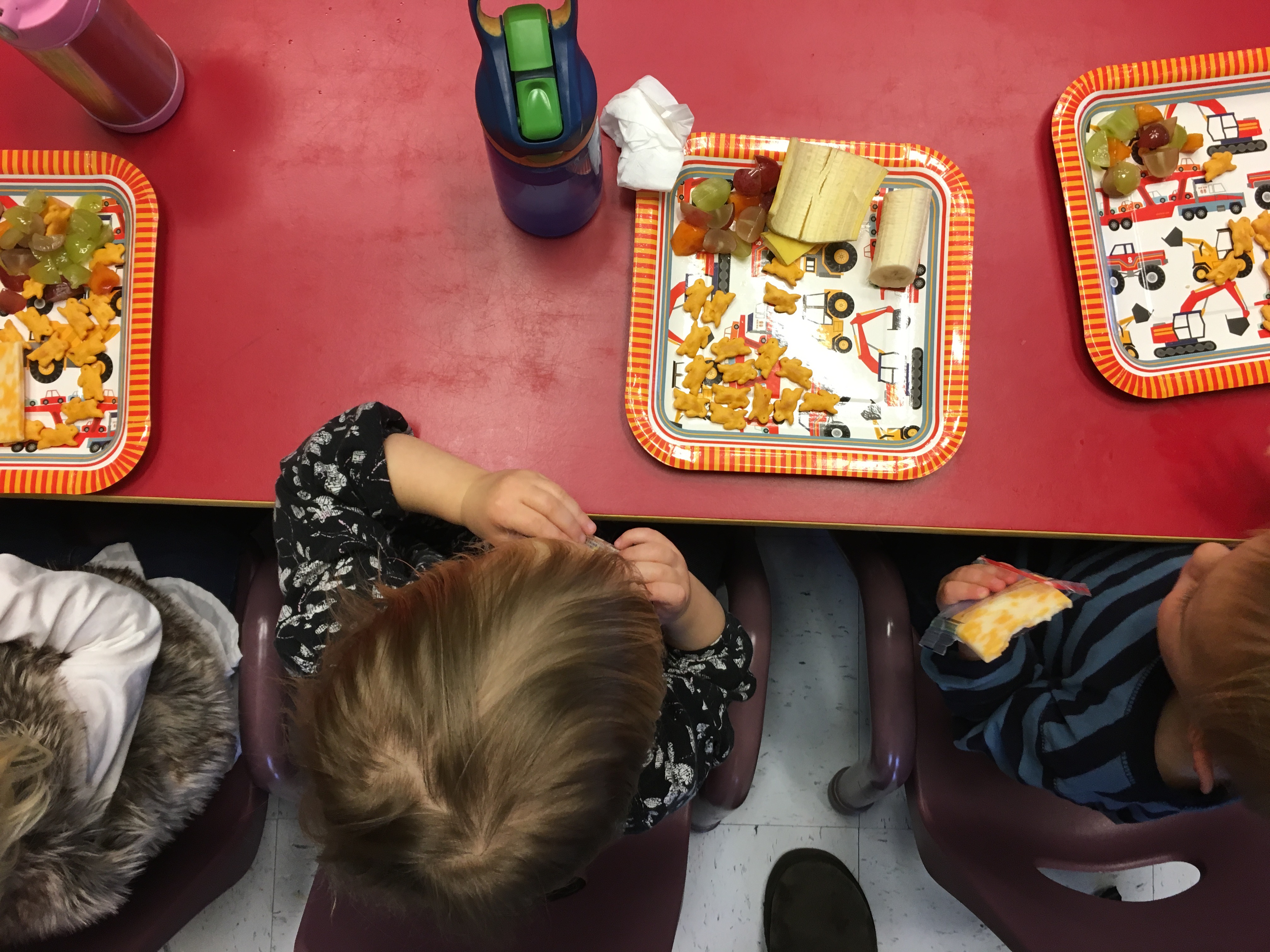 I think her favorite part of school is snack time.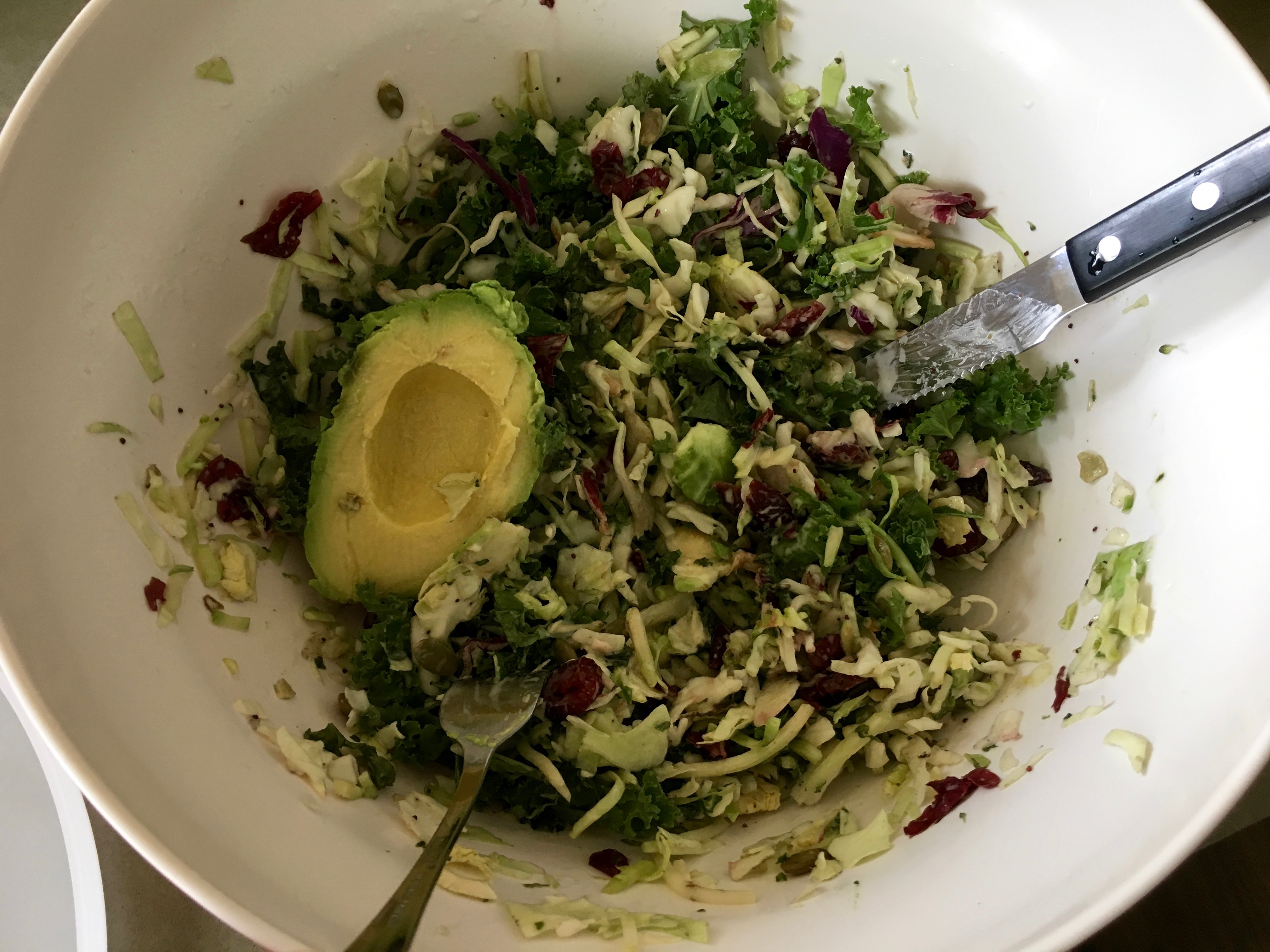 Did I not warn you yesterday?  Salad samesies.
Now to contemplate dinner…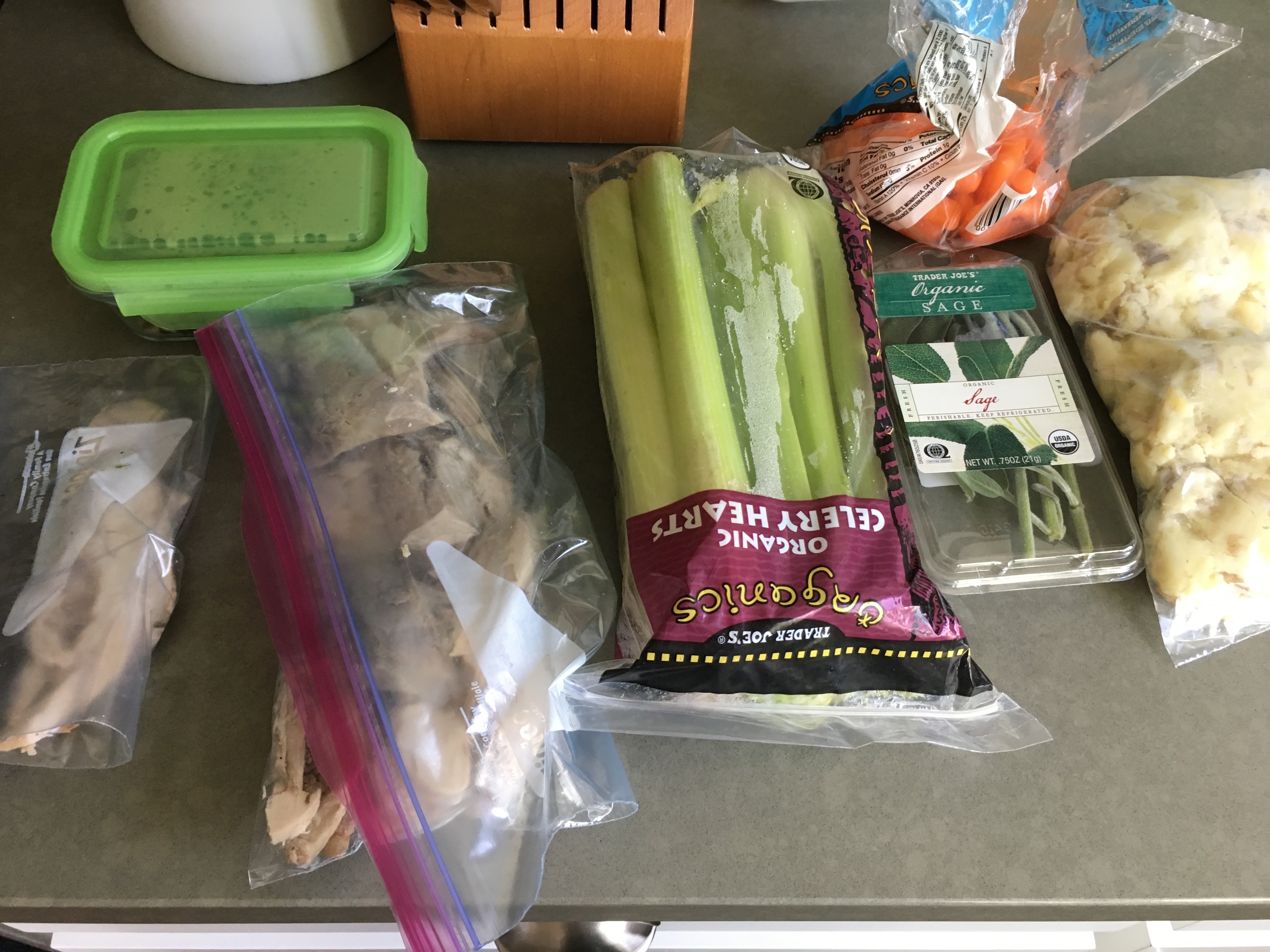 I didn't have anything in the meal plan for this night so I wasn't sure of what to do.  Since we had the downtown parade after P's soccer my plan had been to eat dinner at the co-op as a treat in between soccer and the parade (the parade launches from the co-op parking lot).  But that was back when I was thinking we'd then leave straight after to go to my parents' house for OIT on Friday.  New plan!  Eat dinner back at home after the parade and tree lighting.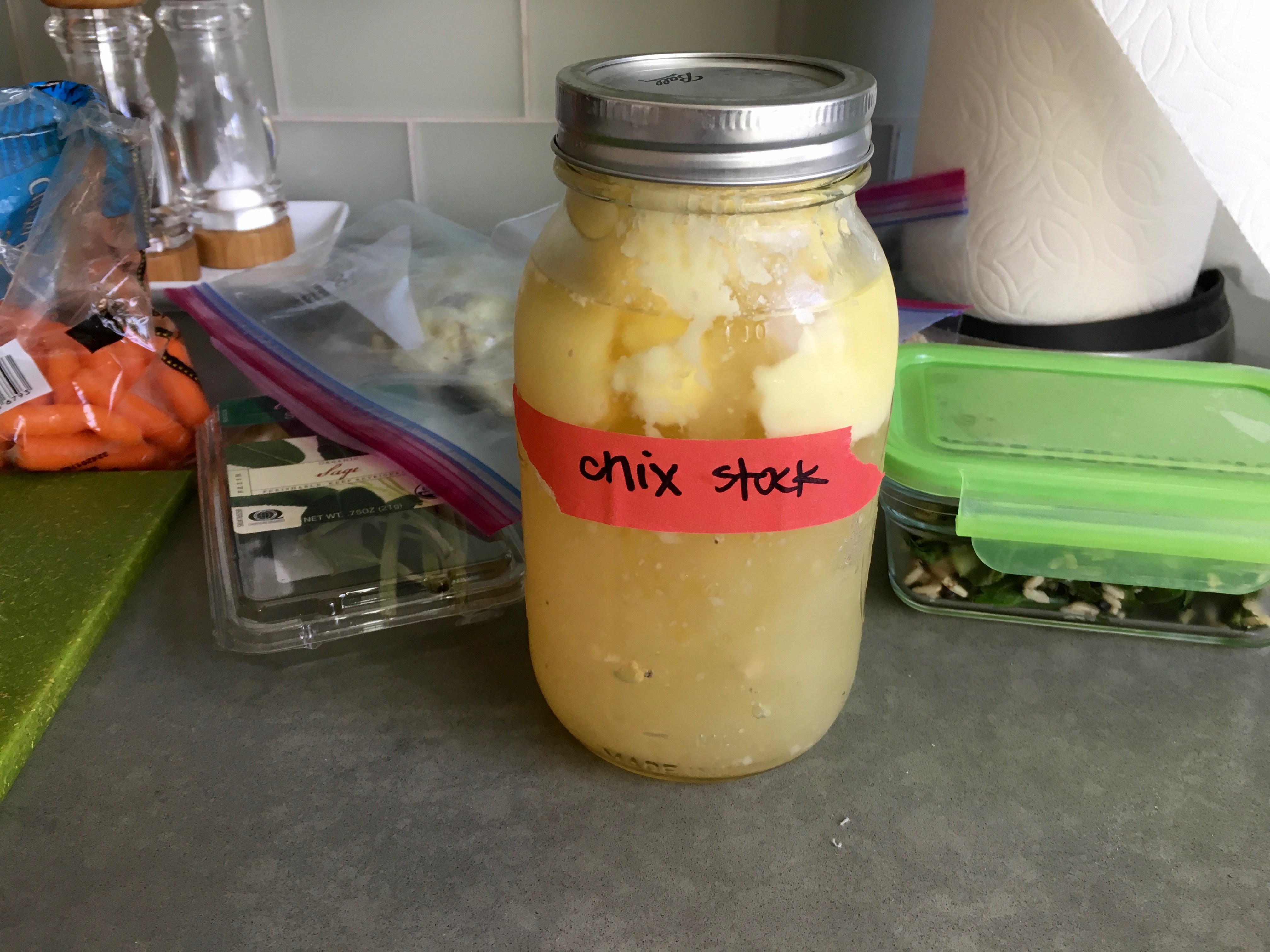 It wouldn't be a proper Thanksgiving without a soup made from leftovers, methinks.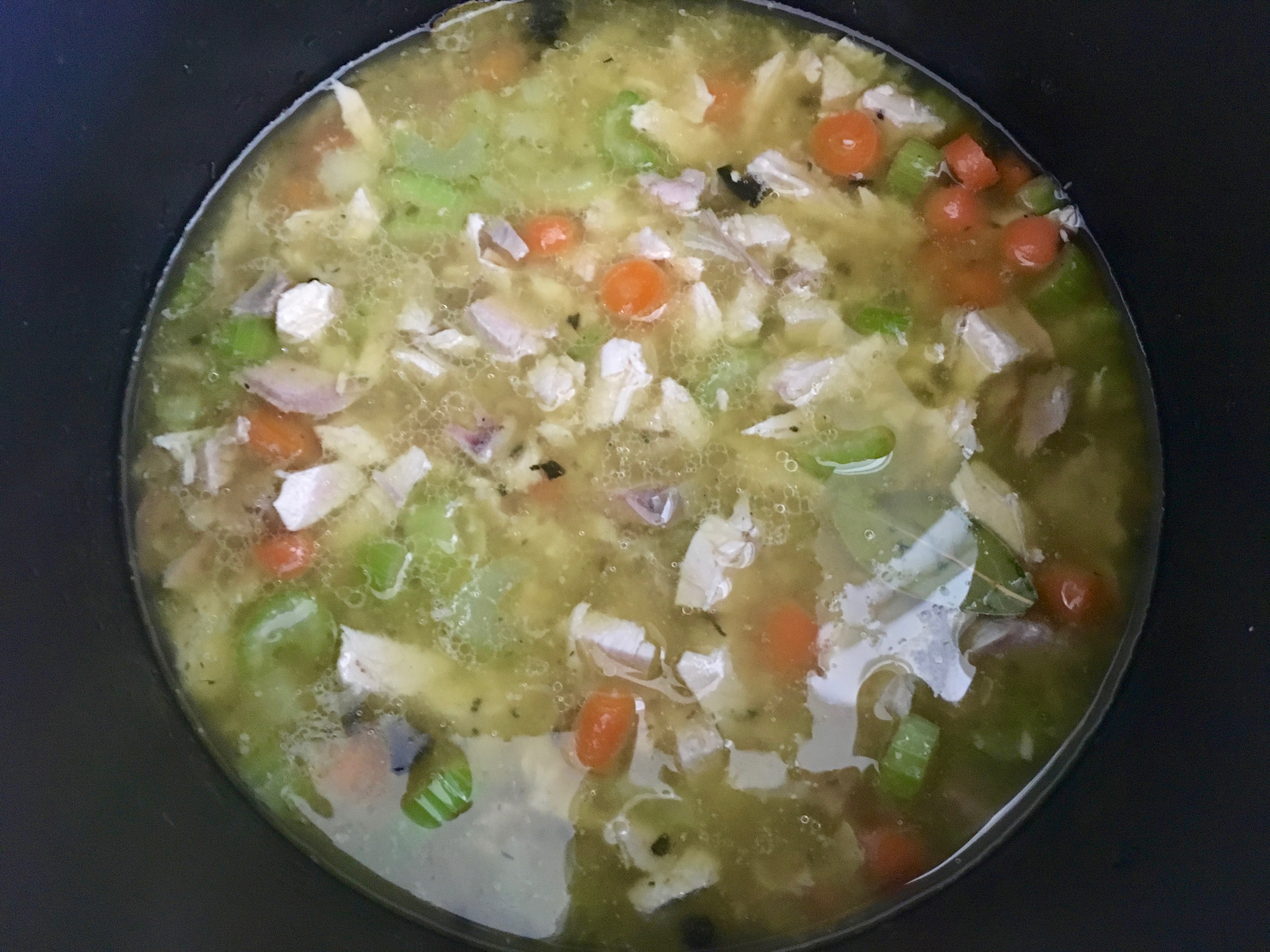 This photo doesn't do it justice AT ALL.  I let it hang out all evening until we got home on the late night (ok, 7).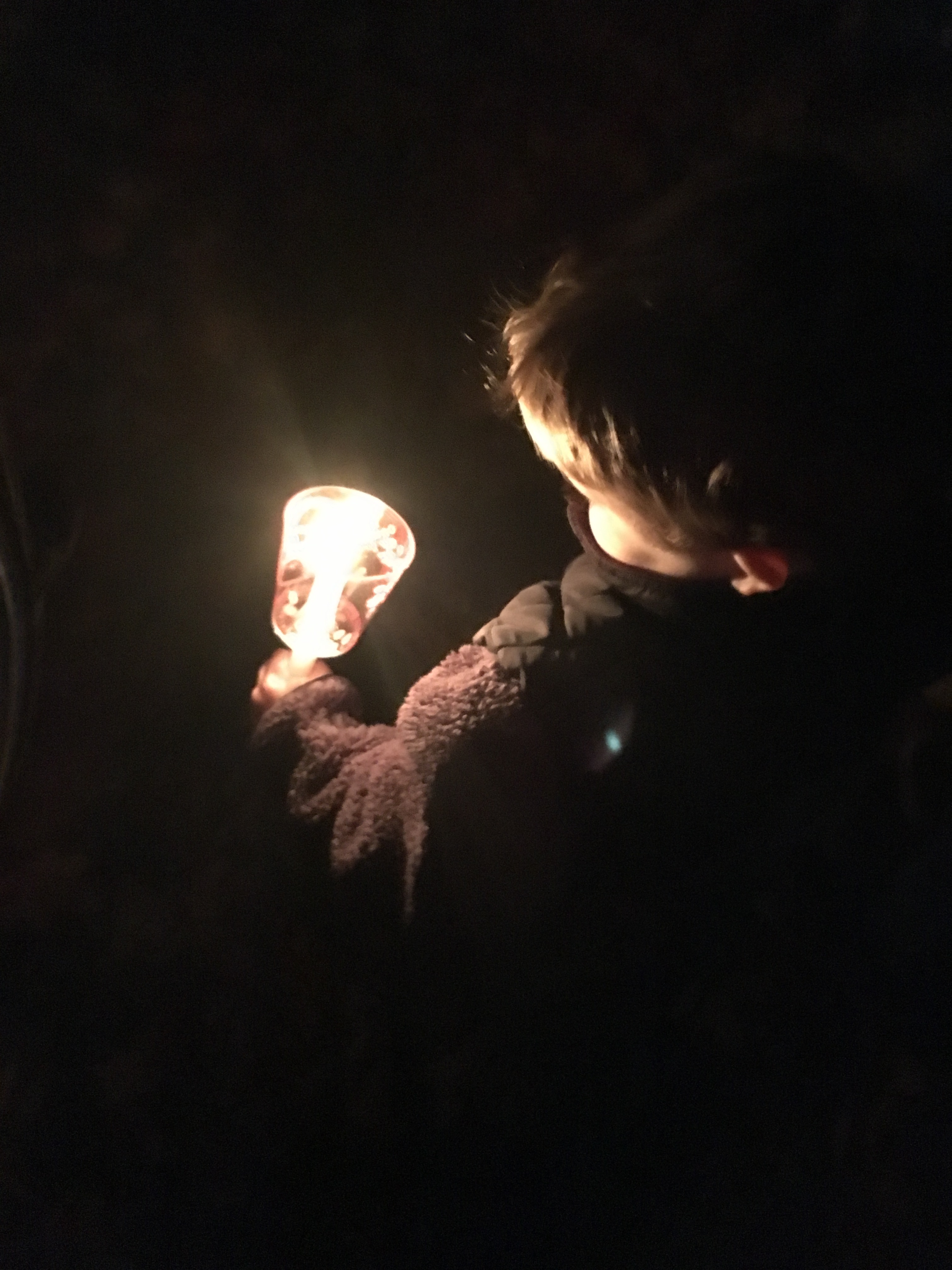 These moments are my absolute favorite.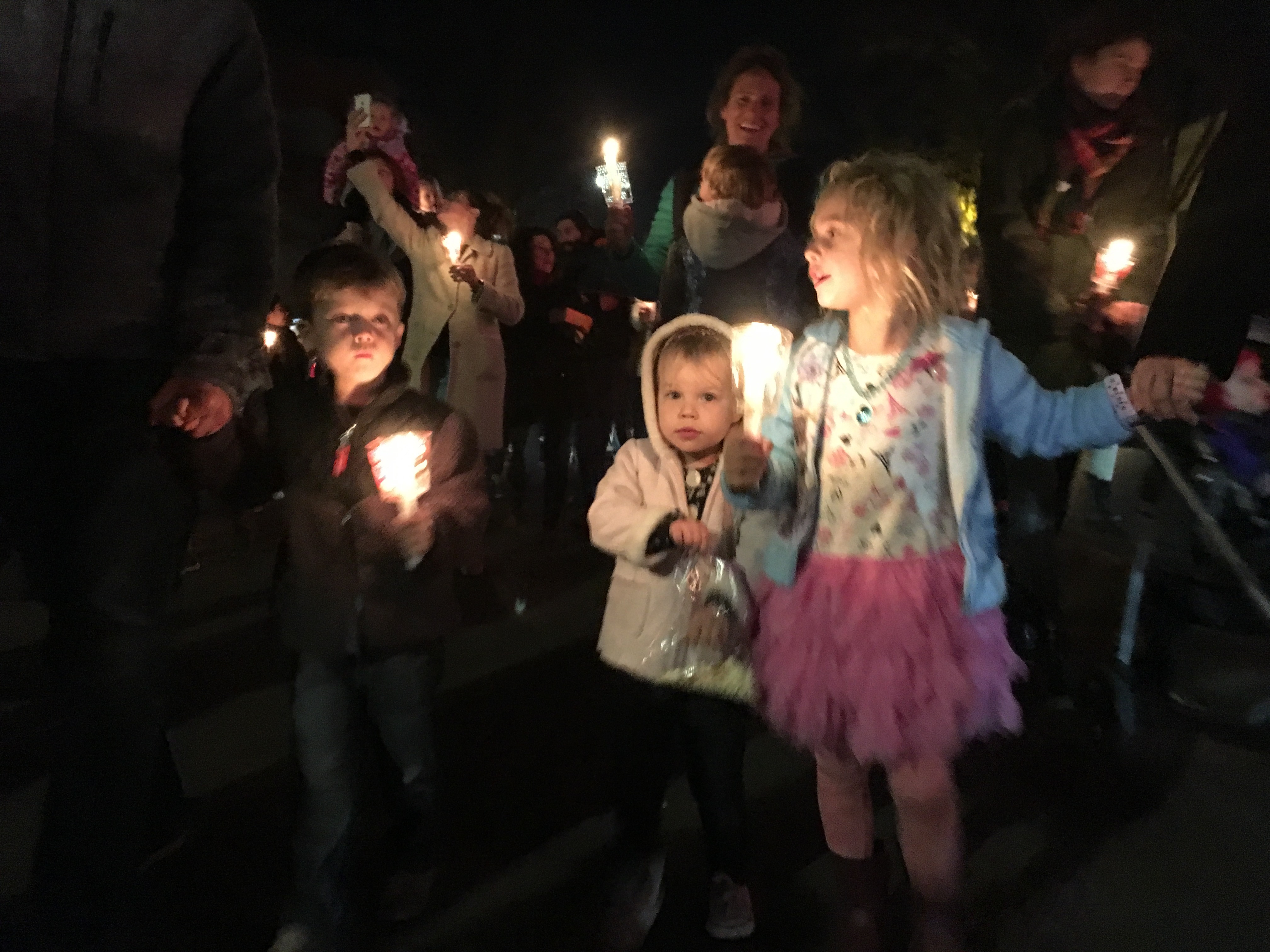 We walked through downtown with our candles, following the UC Davis marching band and a fire truck with a sleigh on top.  There were carolers behind us and then we ended in the center of town and listened to the Davis High School choir sing until the countdown to the tree lighting.  Hooray!  And then the UC Davis band(uh!) performed more songs which left P (and me) grinning from ear to ear.  Maybe next year we will stay out late enough to go see the Grinch playing at the Varsity theatre, but not yet.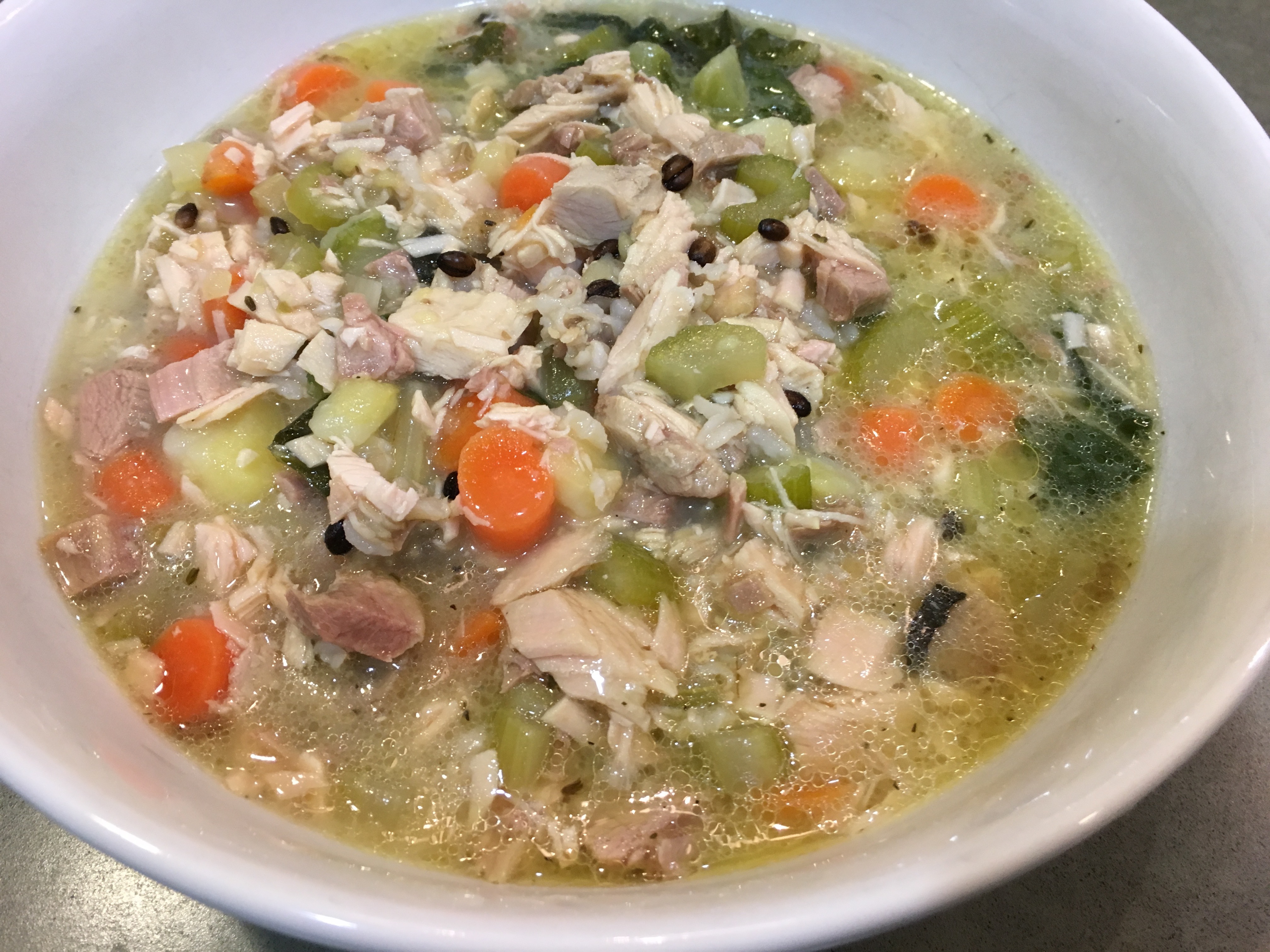 Nothing like coming home to a cozy bowl of soup after an awesome time with friends.
The broth was UNREAL thanks to the home-made chicken stock and the mashed potatoes (to make it all thick and creamy like).
Although I think the real flavor punch came from the sage leaves I fried in oil before doing anything else.  After that it was carrots and celery to build a soup base (no onion on hand but that's cool because fodmaps).  I seasoned generously with salt, pepper, thyme, and parsley, and then added the diced turkey.  Oh, and the rice and collards from the night before, because it was such a small amount and why not?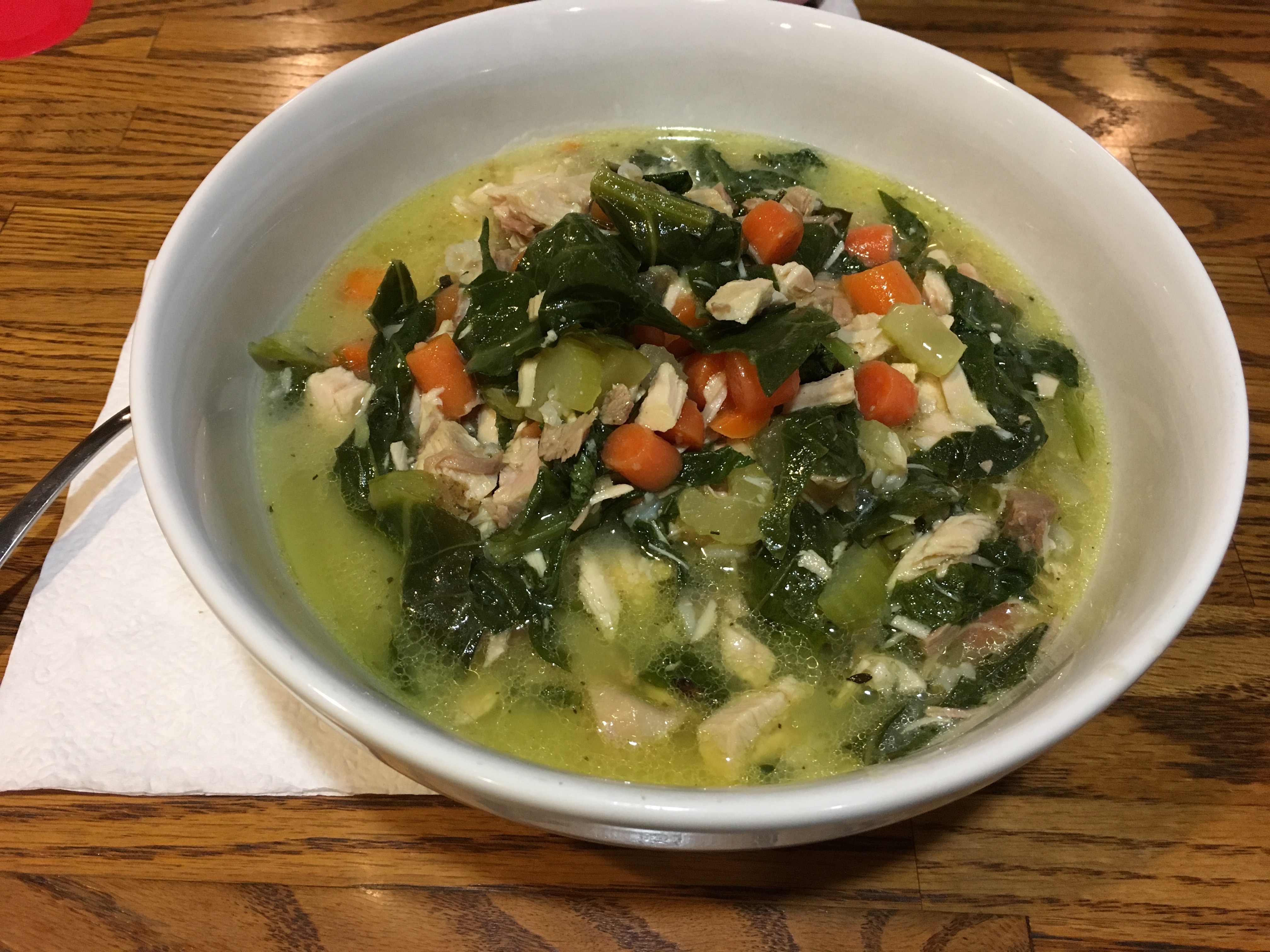 Portion number two had me sloshing around for the rest of the night.  P had multiple servings too.  It was a ridiculously good soup, especially for being improvised on the fly.
Now to figure out WTF to do with the kids on our suddenly wide open Friday????
Fire time.  Ready for season two of Stranger Things??