I never got around to sharing pics from my favorite weekend ever.  4th of July in Davis is quite possibly the best holiday ever.  This little town does it so so right.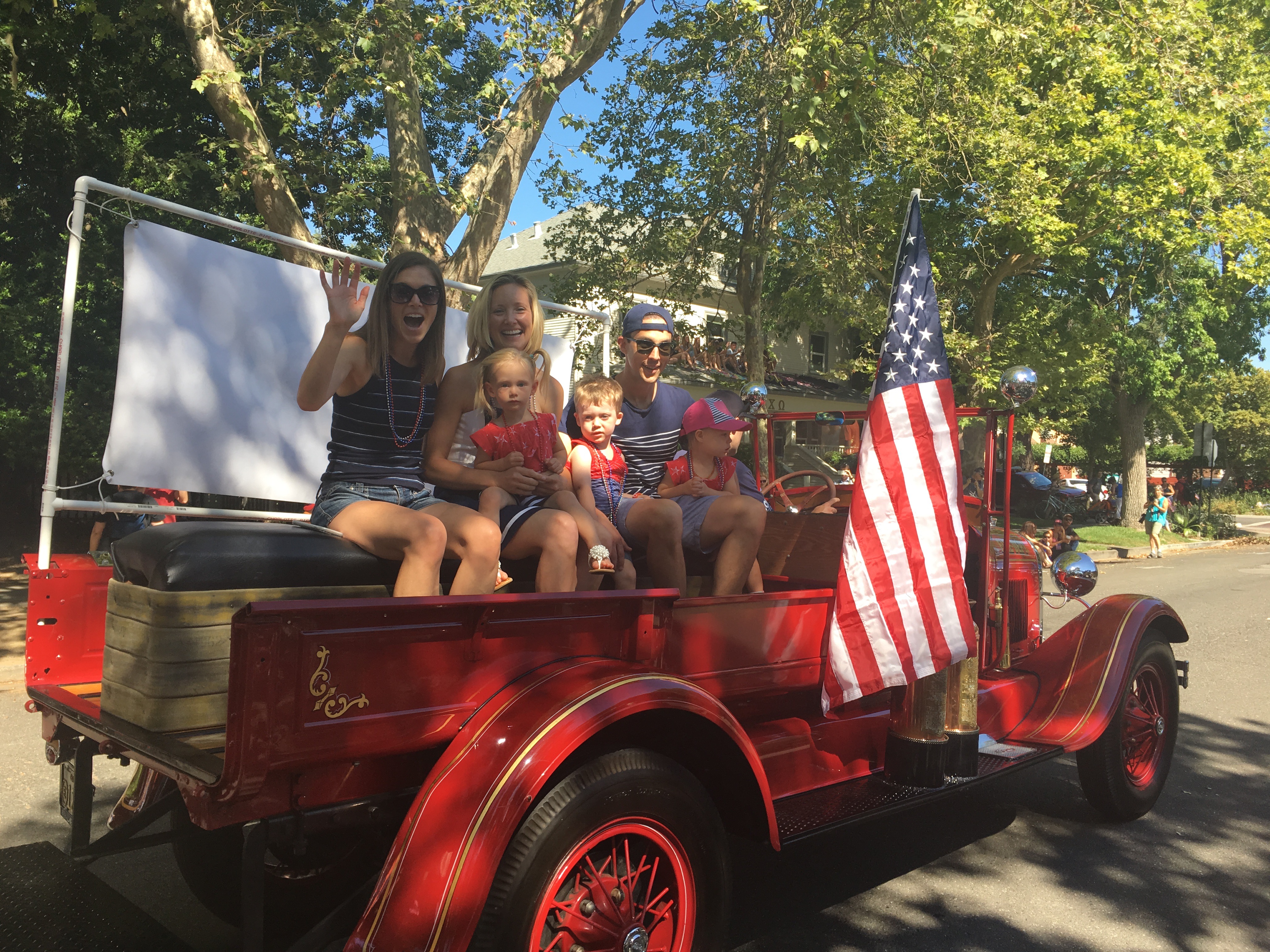 By sheer luck (right place right time) we ended up grand marshaling the parade!
Can you even believe it!  We rode on this vintage fire truck at the head of the kids parade that ended at Central Park.  But let me back up to the days leading up…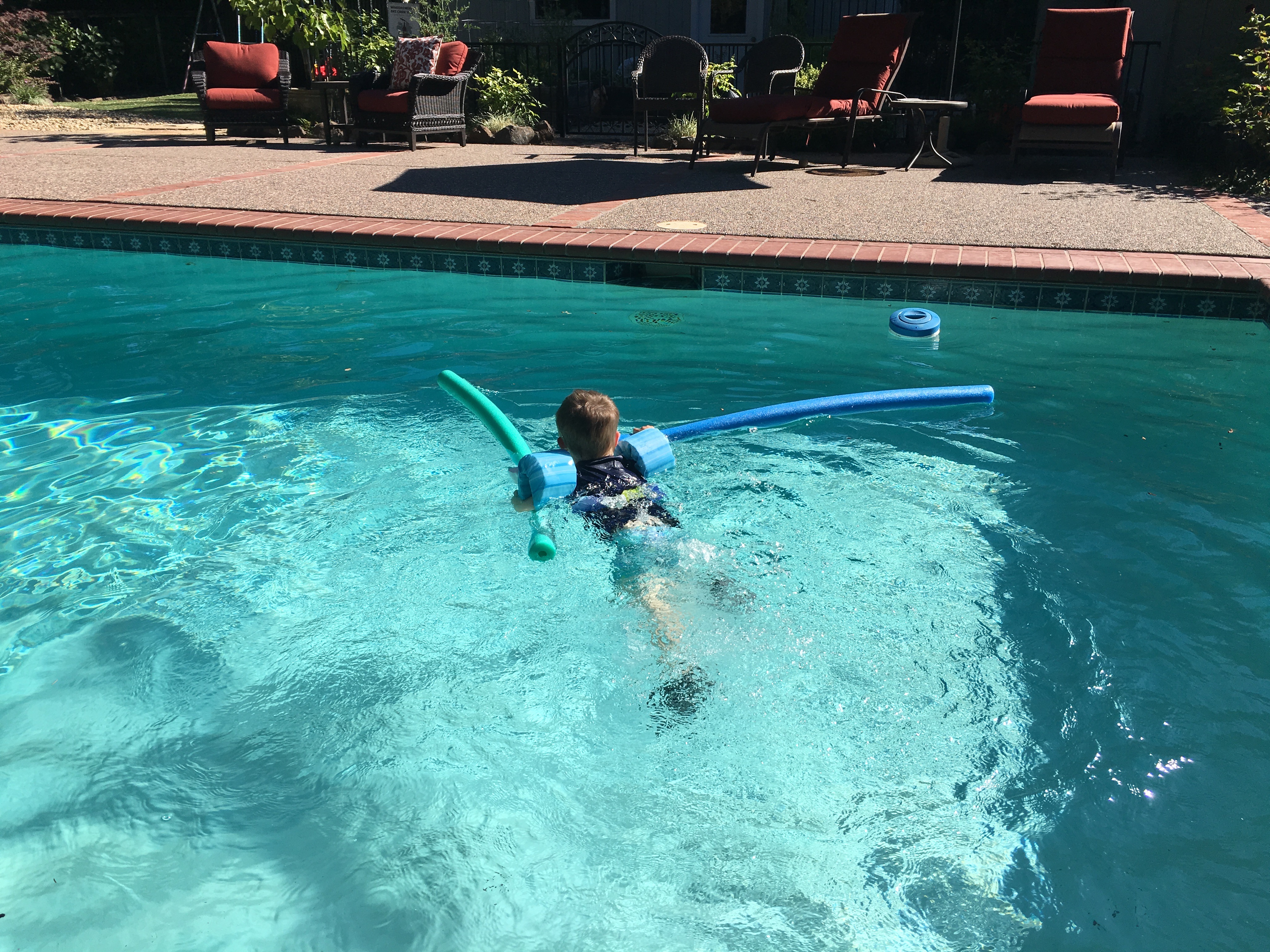 We actually quit swim lessons and suddenly he's learned to kick to propel himself!  Spending time in my parents and friends' pools multiple times a week helps.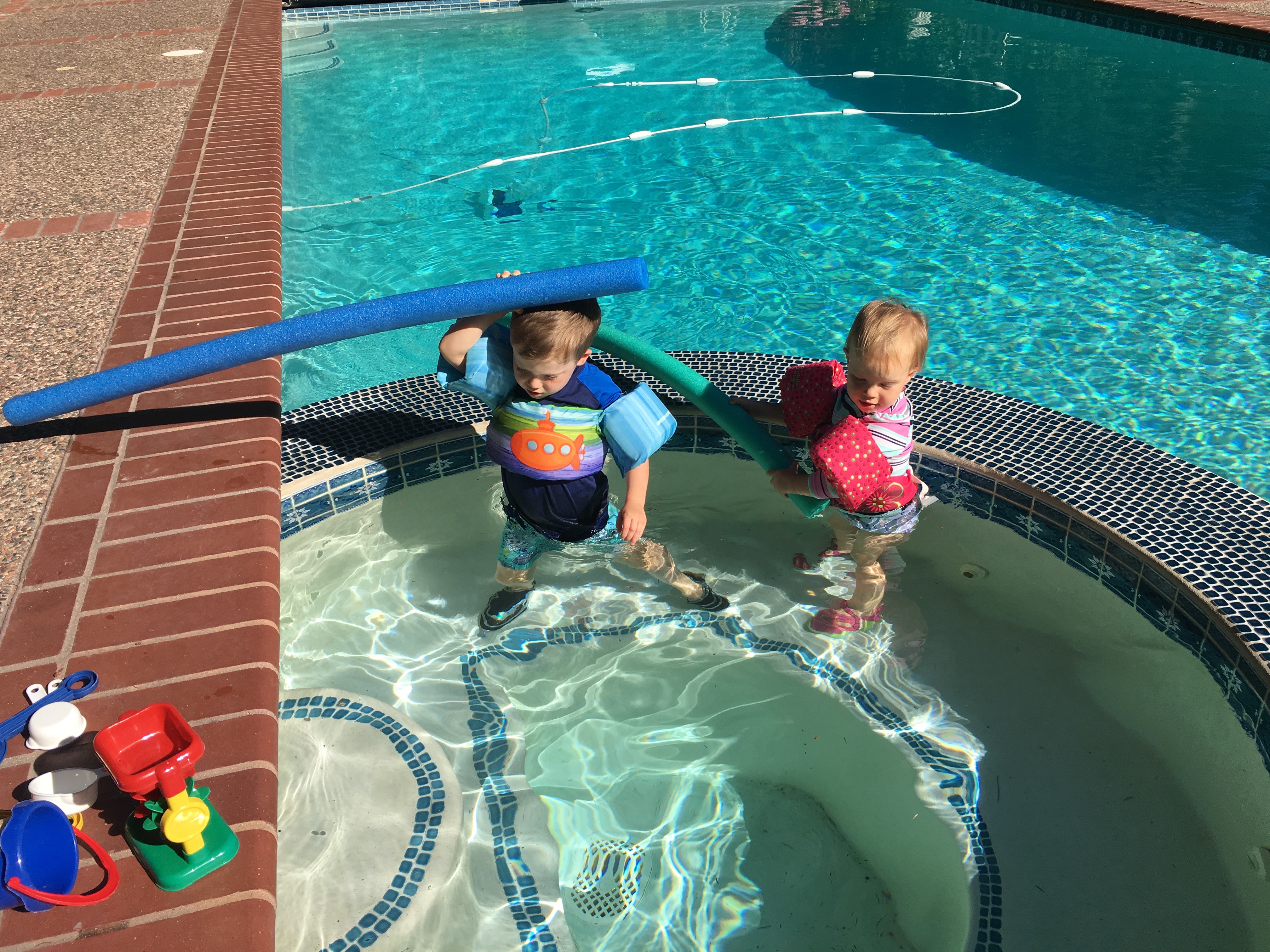 I got her a floatie too, so it's only a matter of time before her courage prevails. 🙂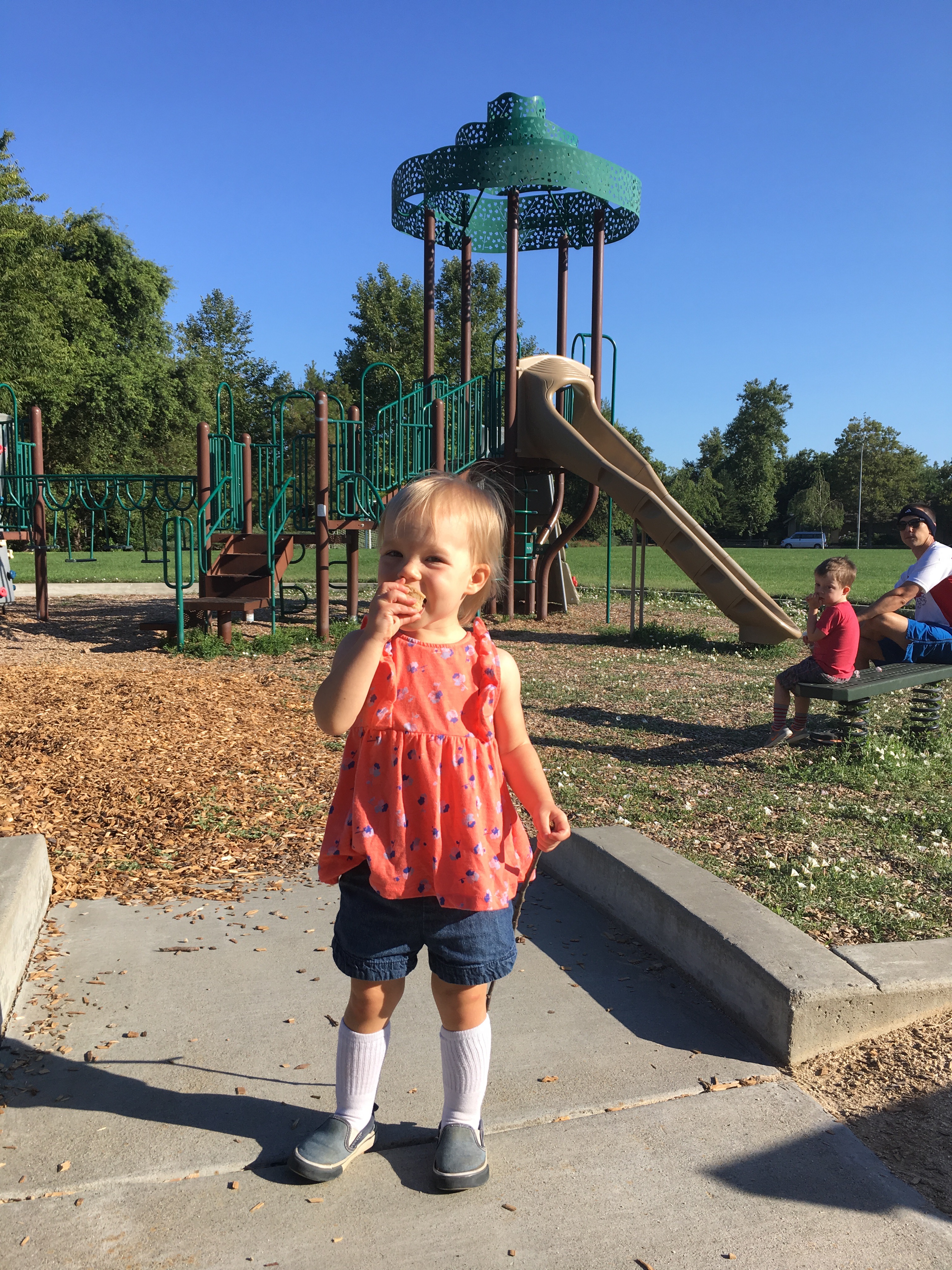 The return of family runs!  Kyle and I love jogging with the kids to starbucks over the weekend.  I packed muffins for them to eat while we sipped our coffee and they played at the park.
They each ate a bunch so by the time we got home they were basically full, so I just gave them some fruit to round out their breakfast.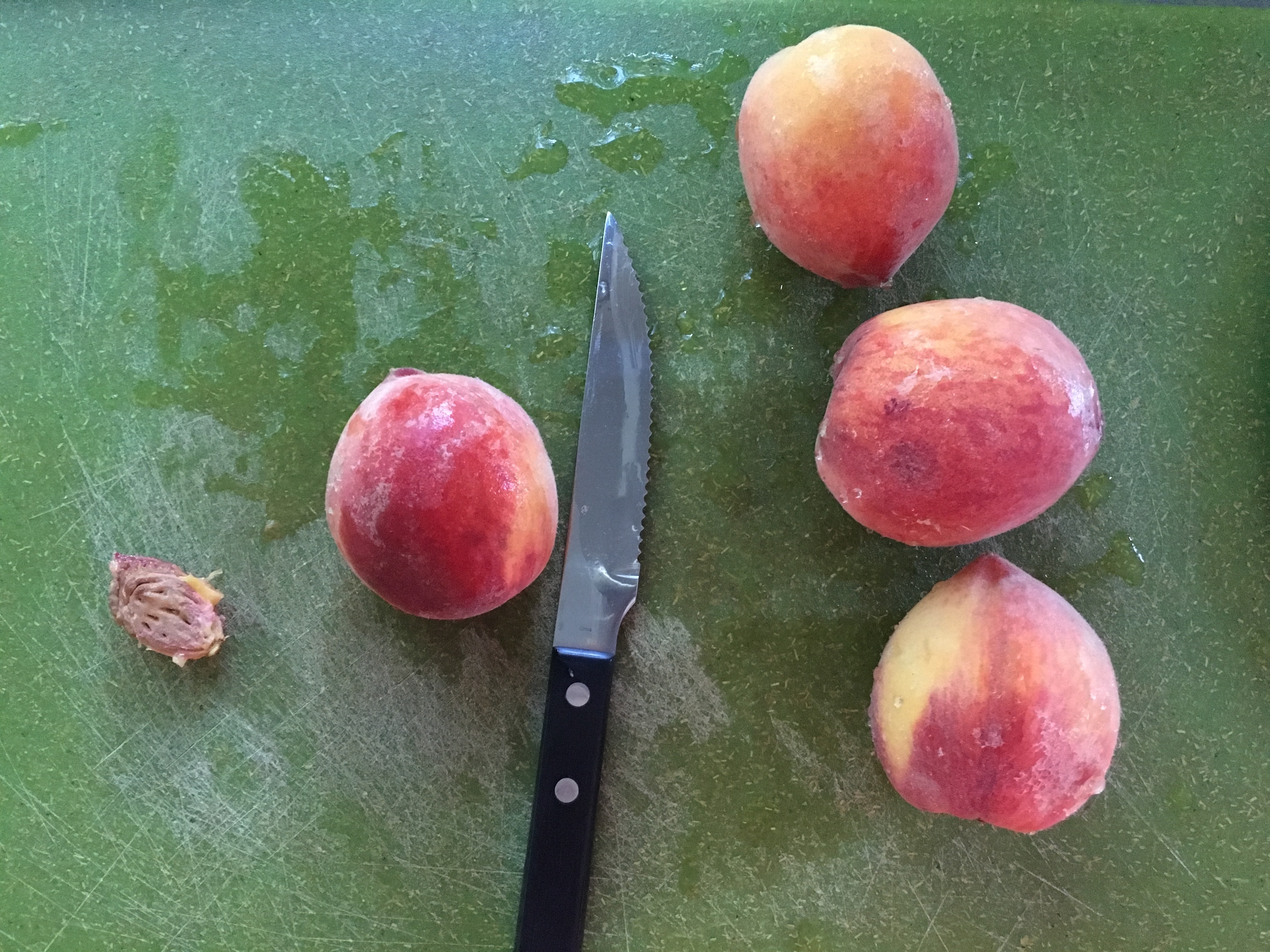 Peaches from our friends' trees!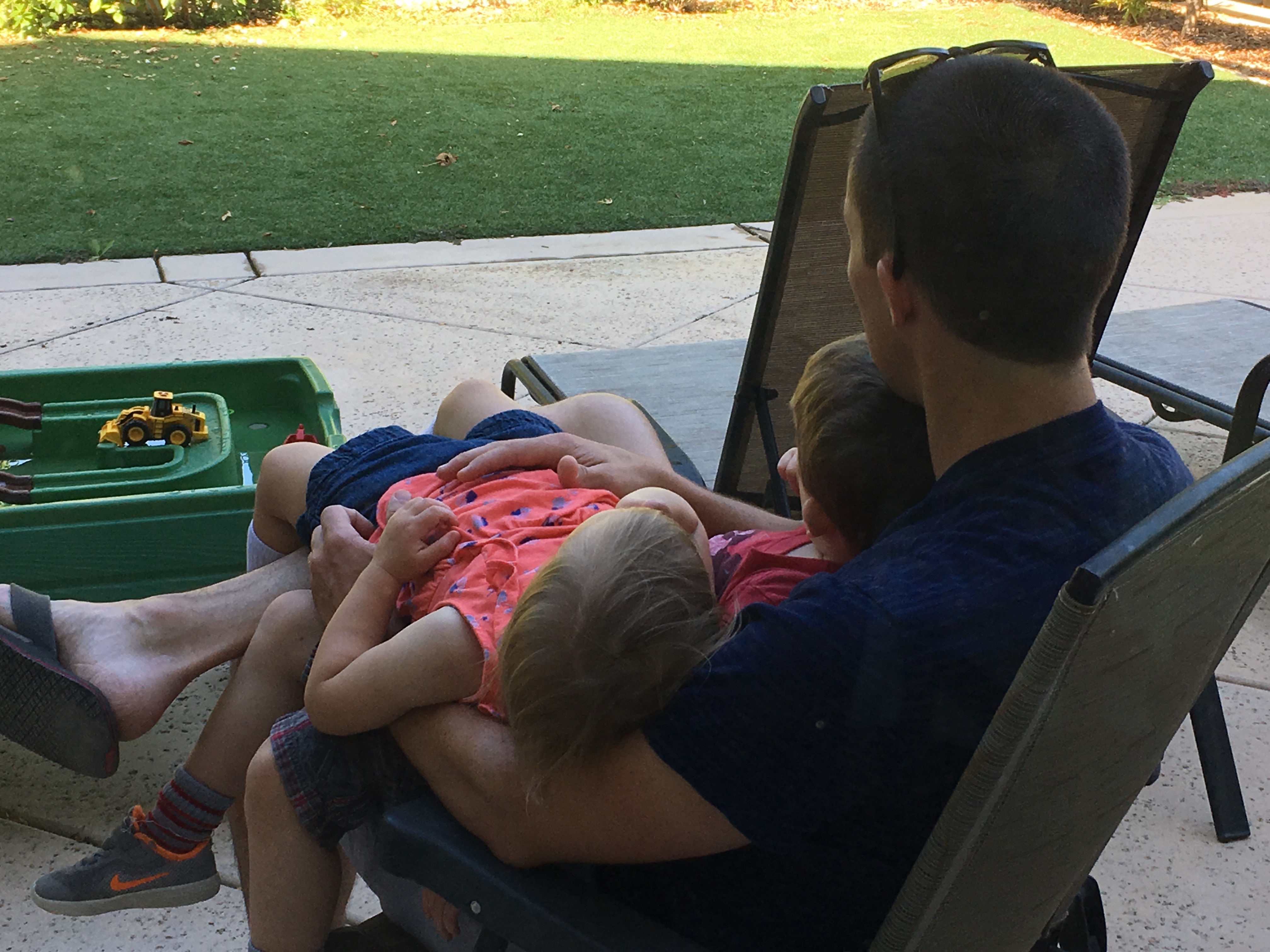 No better thing than relaxing with a lap of thumb suckers.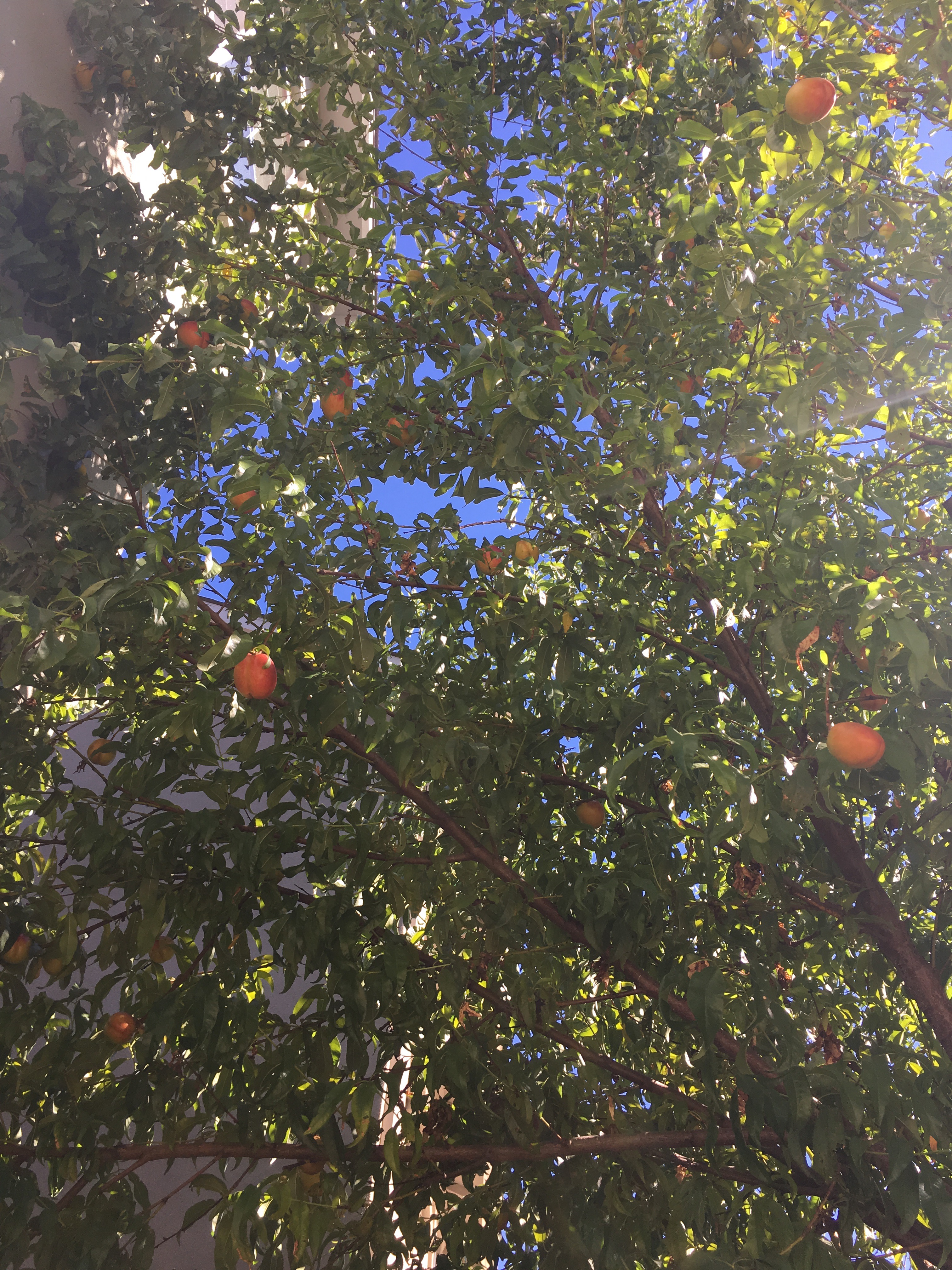 Our tree is getting cloooooose.  Nectarine <3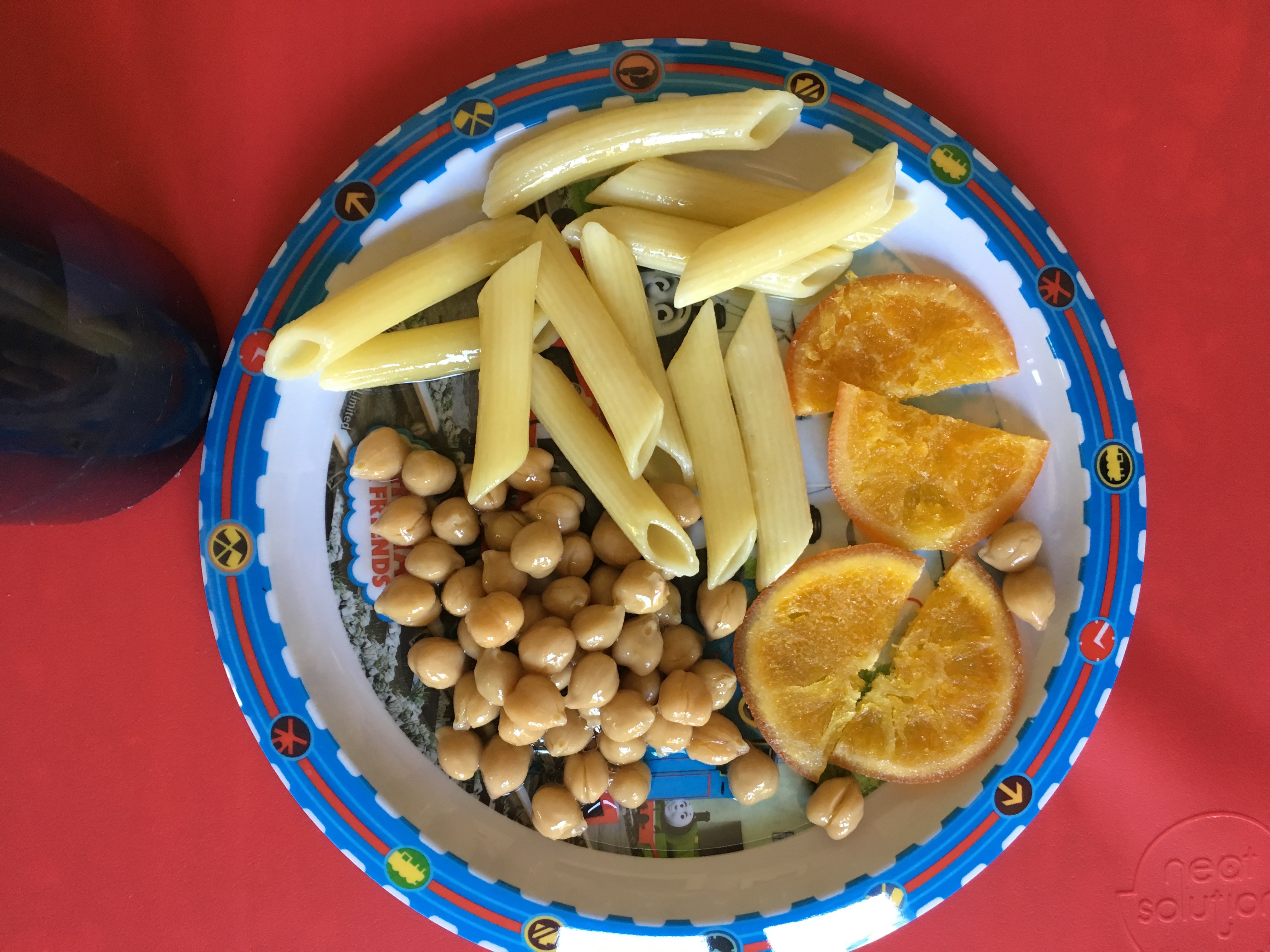 Lunches for the littles.  They BEGGED for me to buy these candied oranges and against my better judgement I said yes.  Of course my suspicions were correct – they didn't like them at all.  And now I'm stuck with a sugary thing that nobody wants.  Ugh.  From now on I'm only buying new things for them that I want, in case they reject them.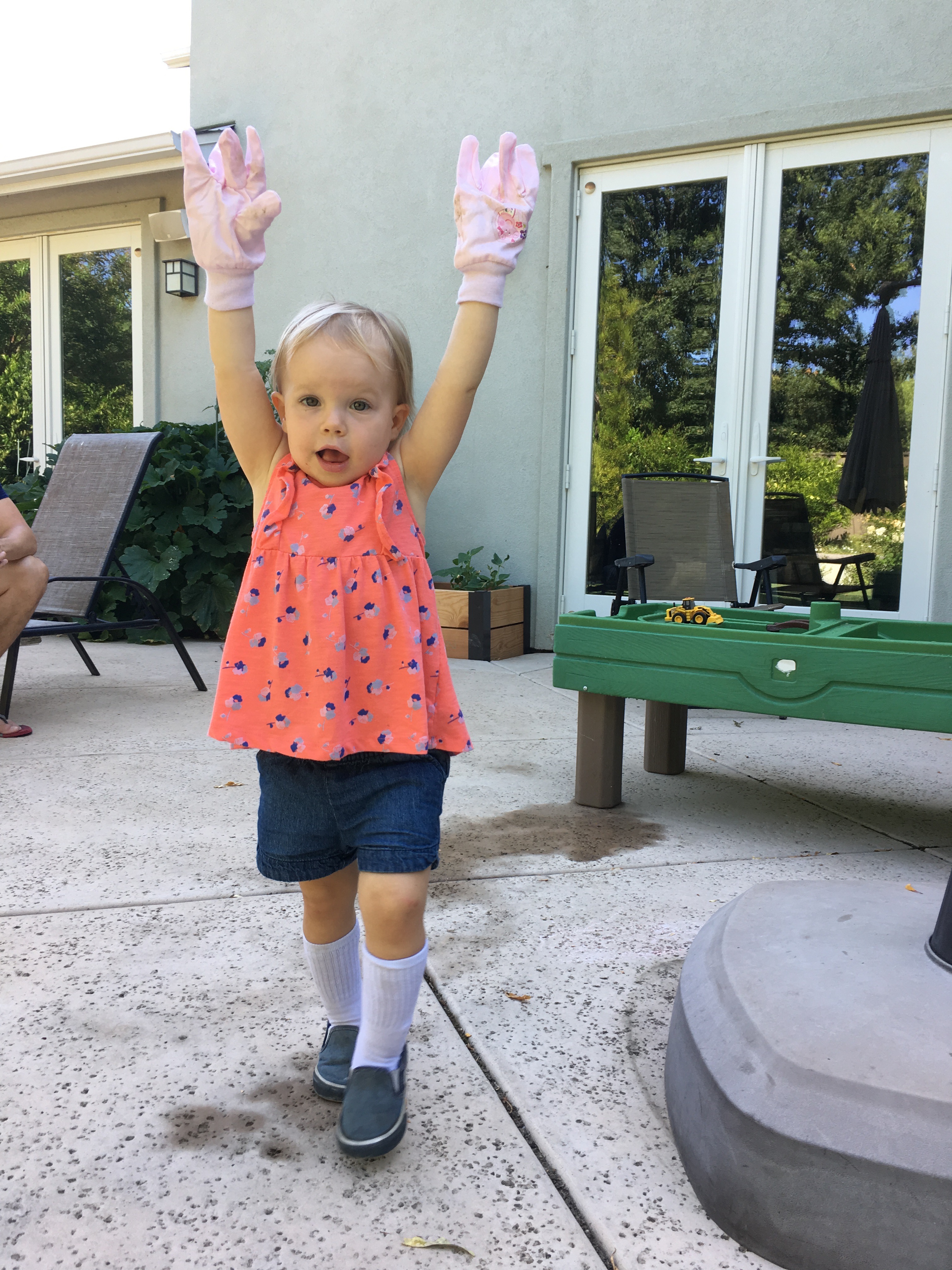 Gardening helpers!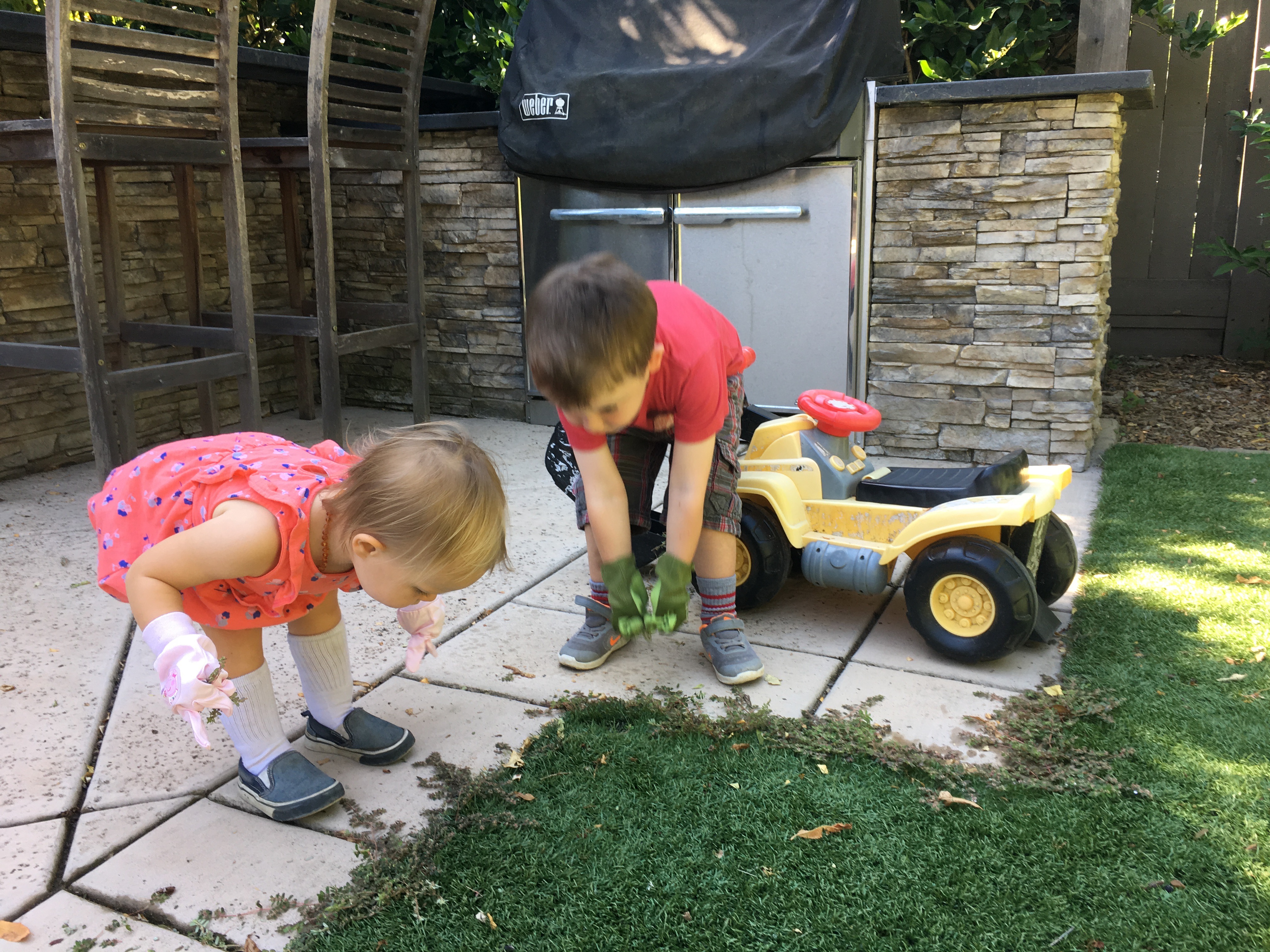 They reallllly wanted to pick weeds, so obviously I was game for that.  They weren't terribly good at it, but who cares, it's better than nothing (which is the effort level I've been investing).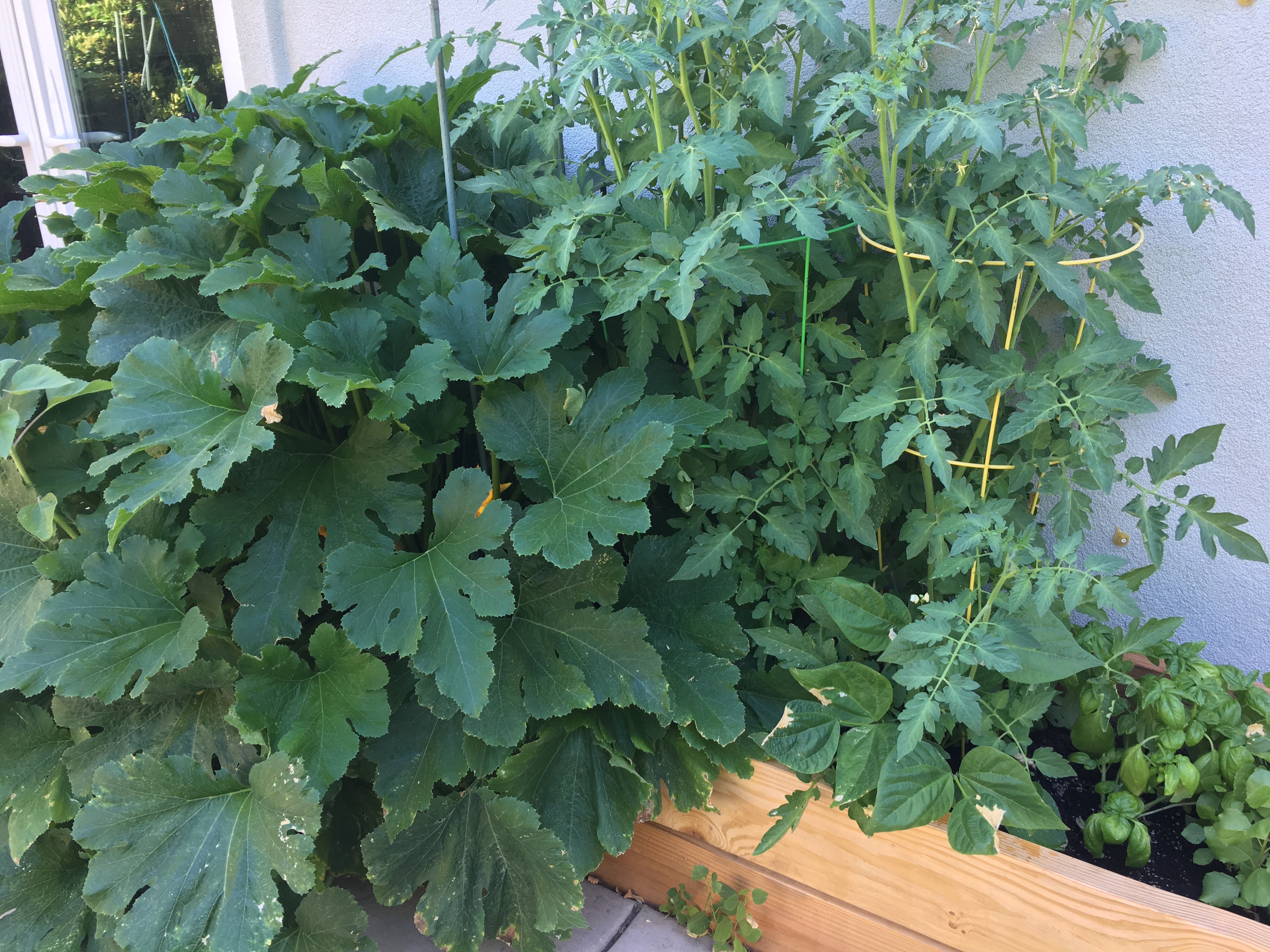 Our new raised bed has been BOOMING this summer!!  I have gotten 10 zucchini thus far and the tomato is growing by leaps and bounds each day, so it's only a matter of time until the fruit is ready for harvesting. For scattered seeds that P threw willy nilly in there, I'd say it's done about as well as I could have hoped.
My stevia seeds have been less successful, but I do have two little guys that have sprouted.  Out of 20 or so seeds, I'd say that's not the best average, but oh well.  It was a big experiment anyway.  It still has a ton of growing to do before it will be big enough to transplant in to the dirt.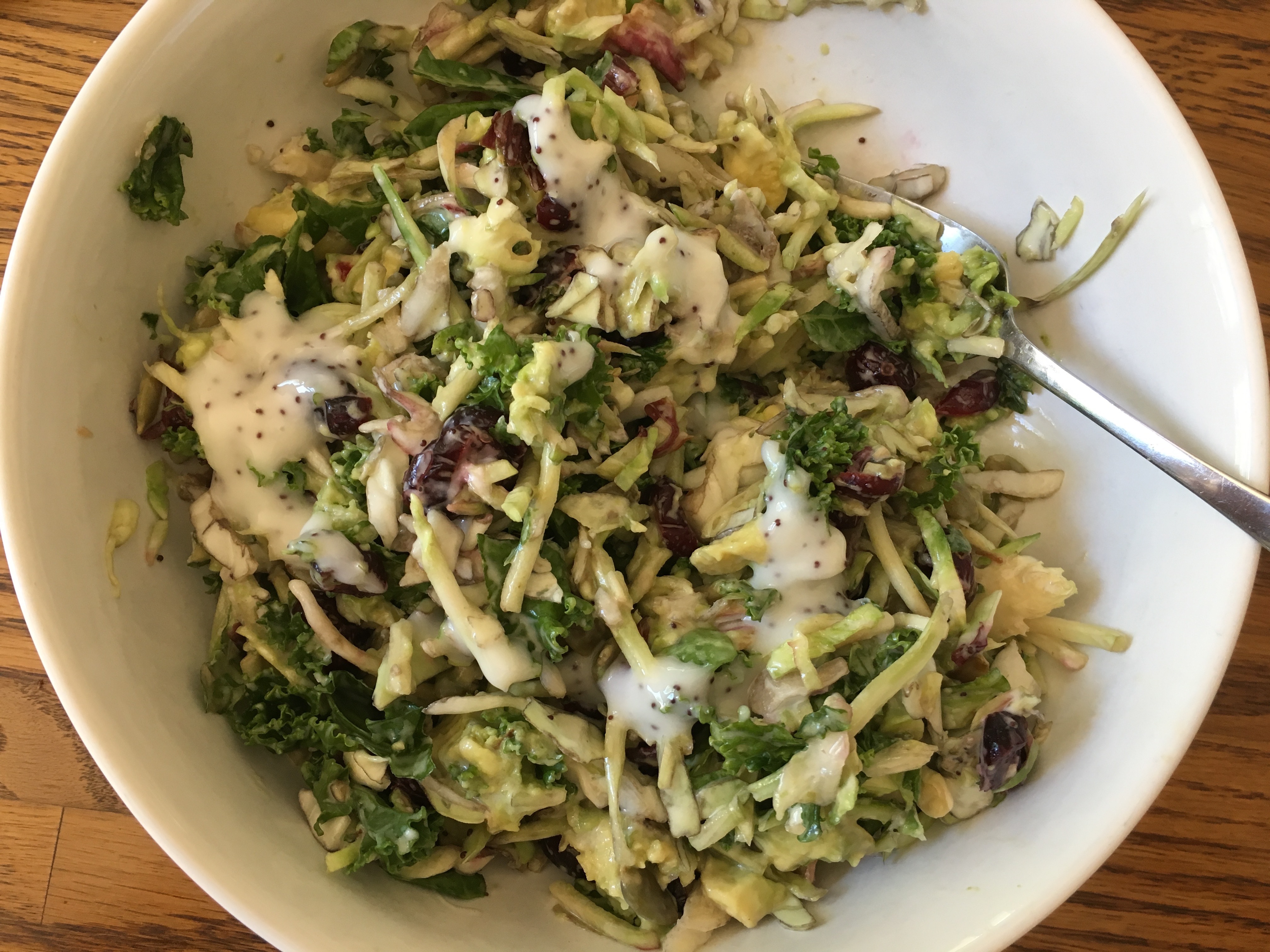 This was pre-SIBO diet, so just ignore the onion based poppyseed dressing.  Oh how I miss that dressing.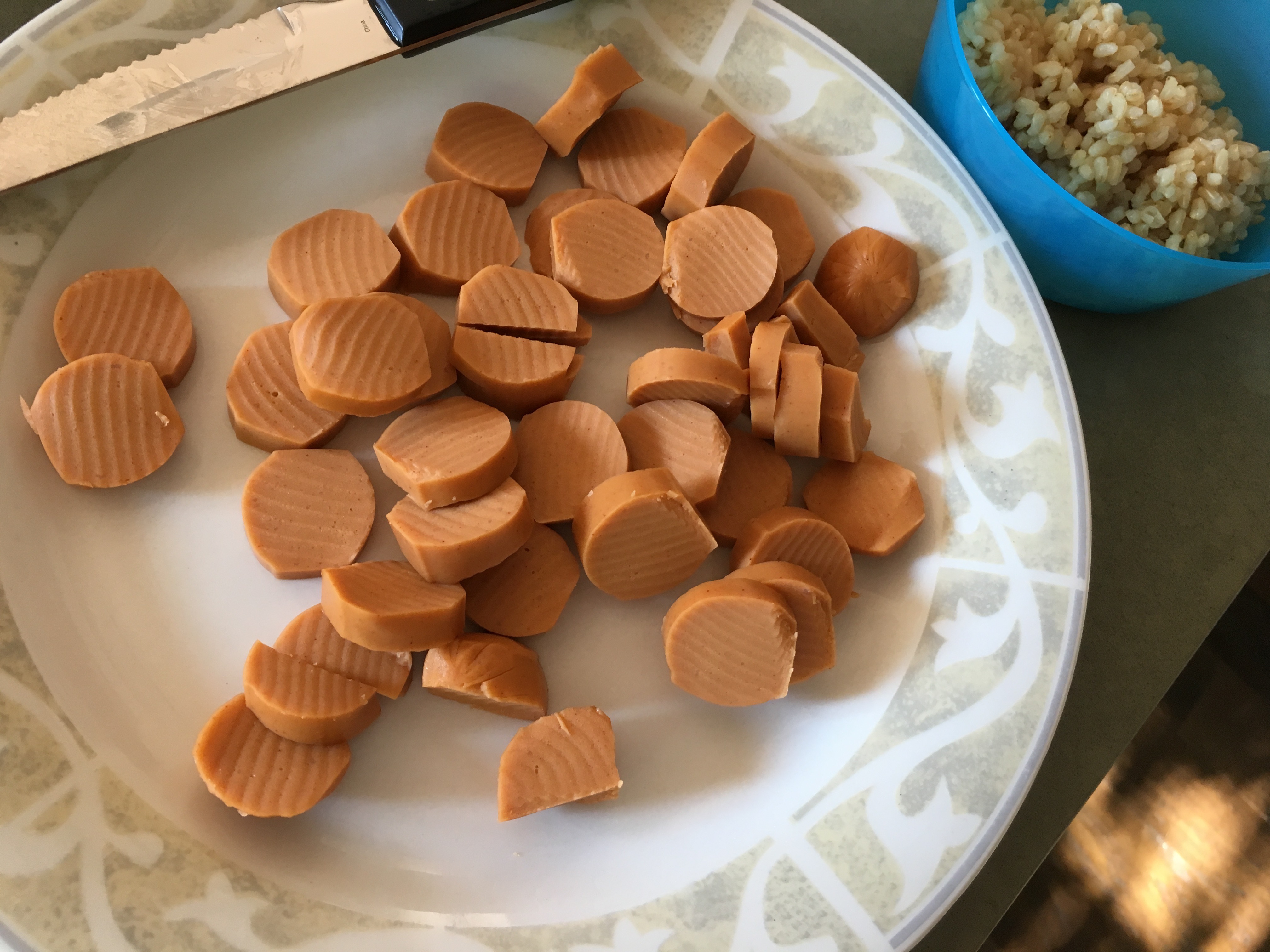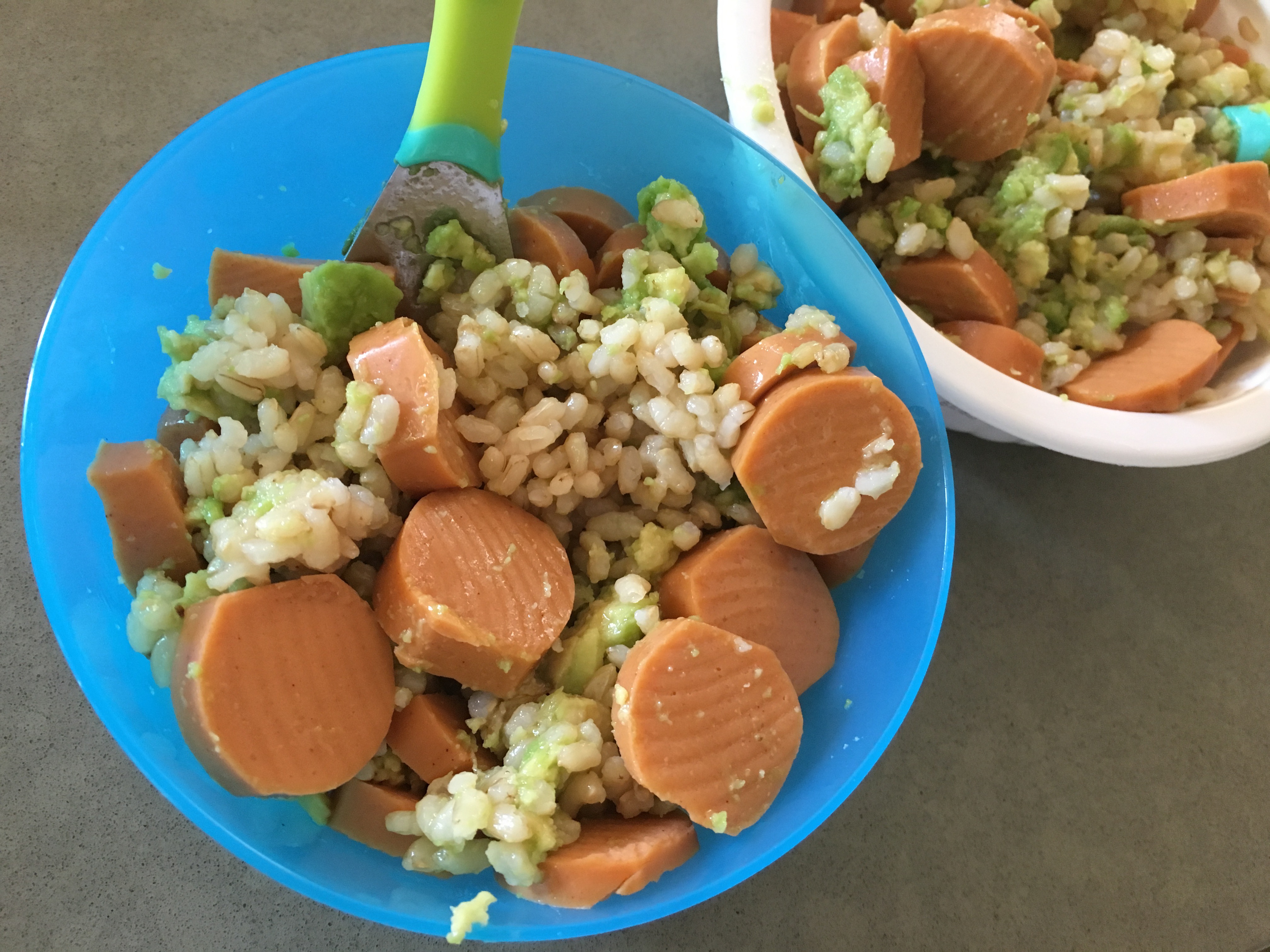 I got Lightlife tofu smart dogs for the kids and added them to rice and avocado bowls and they gobbled them up.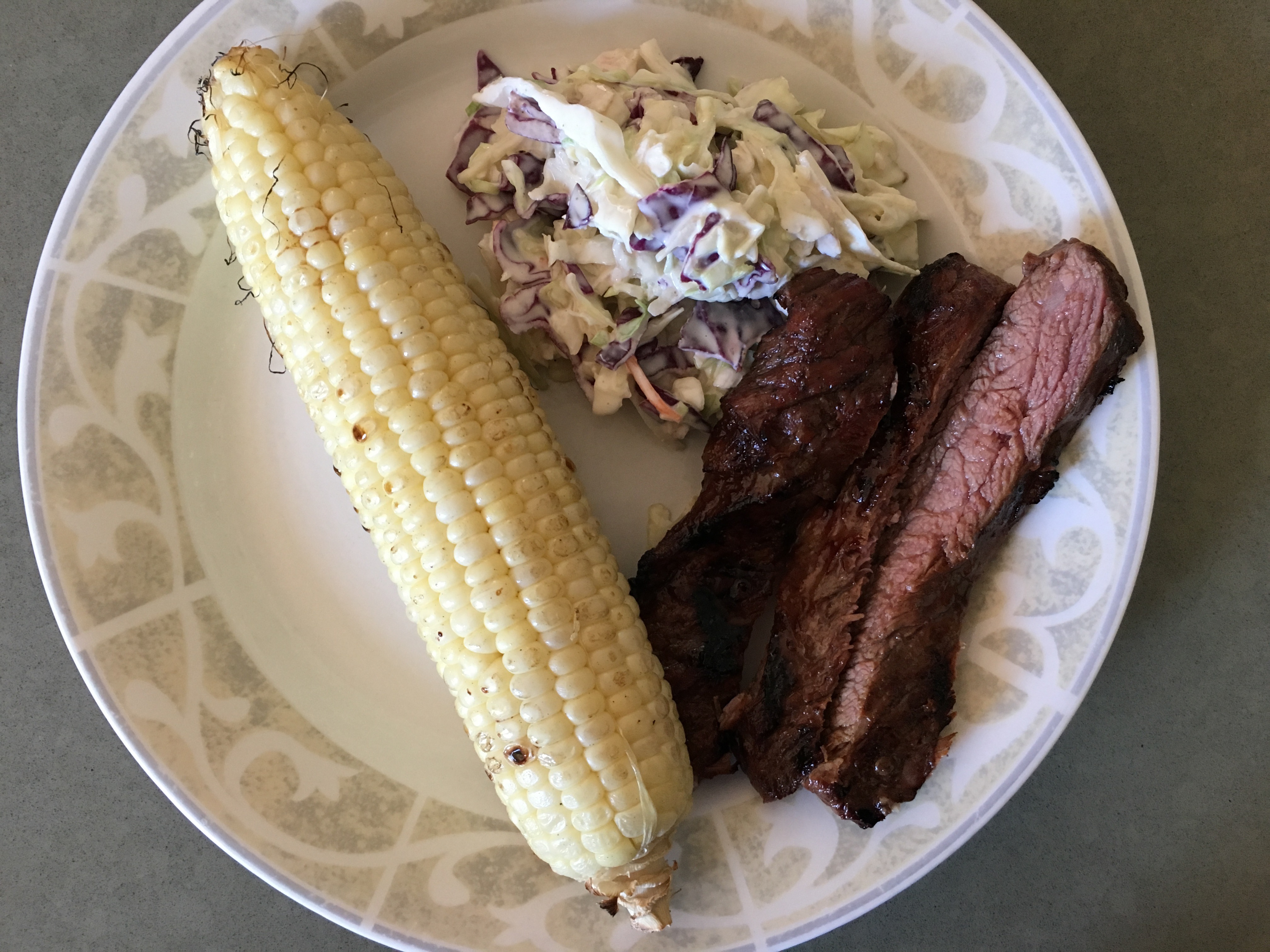 Dinner of my dreams.  Aren't corn and slaw such summer classics?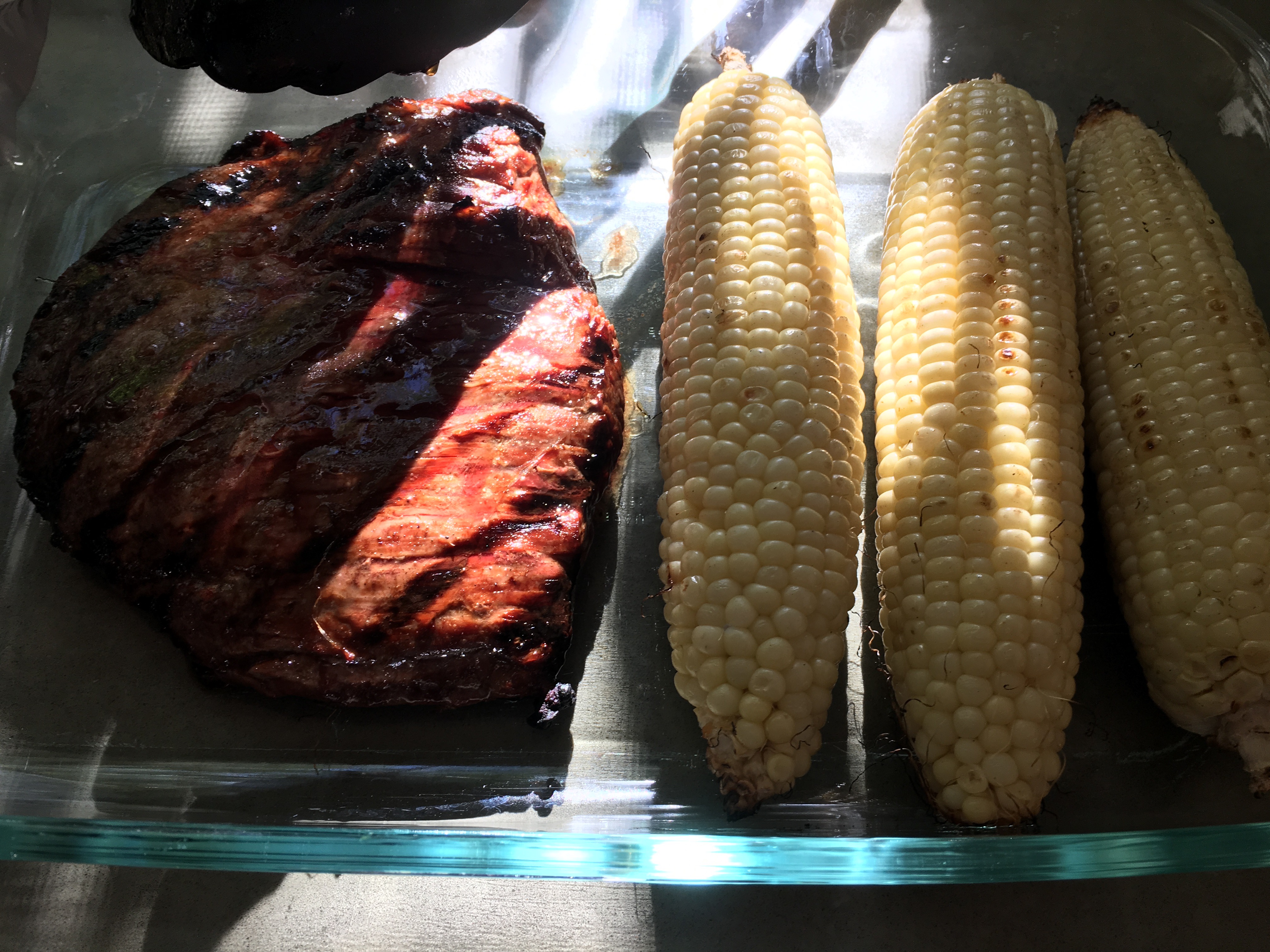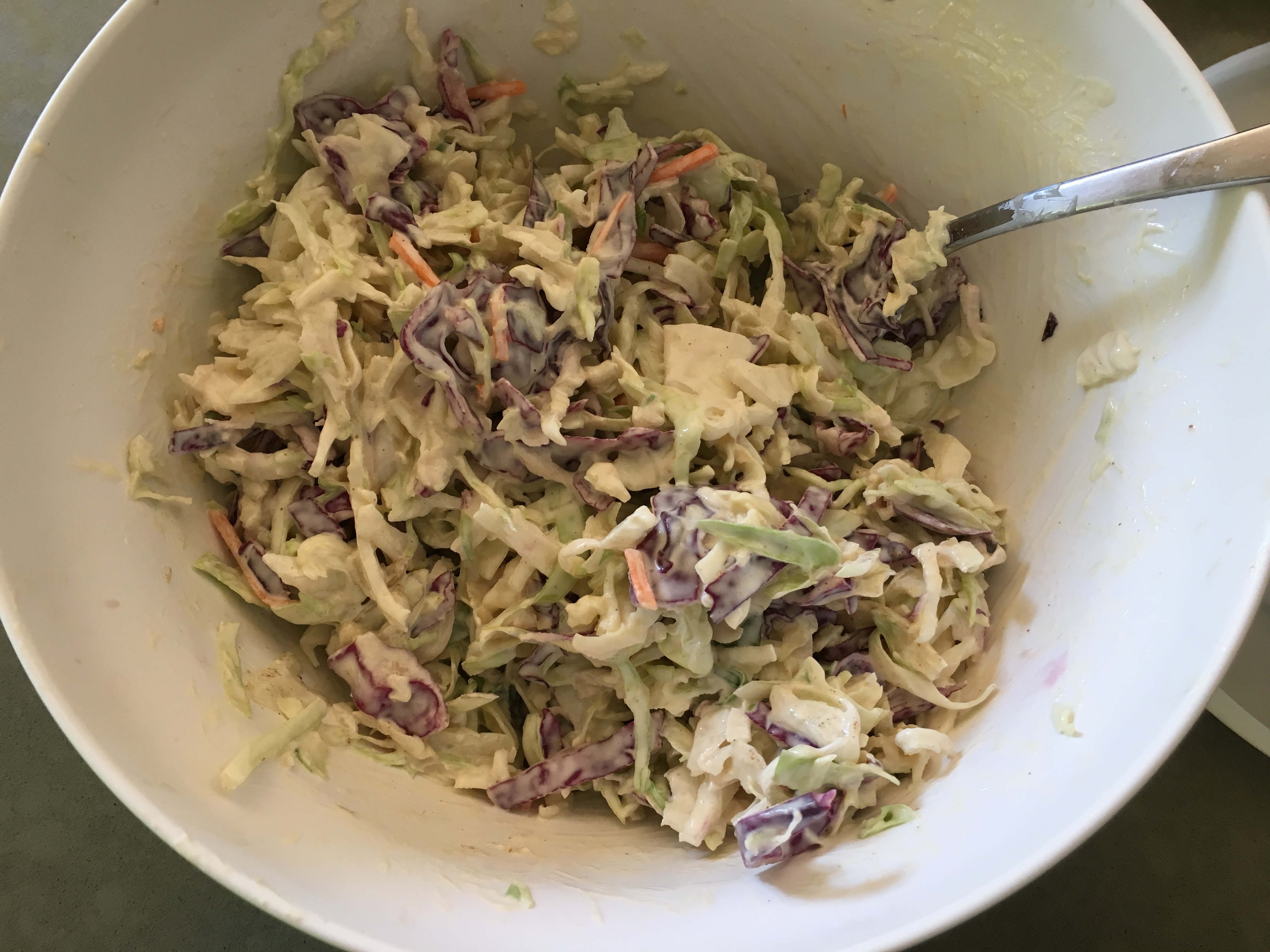 Kyle grilled the corn and flank steak (pretty much becoming my favorite cut of meat right now) and I made slaw. The kids die over steak and want to eat the entire cut themselves.  They are so spoiled.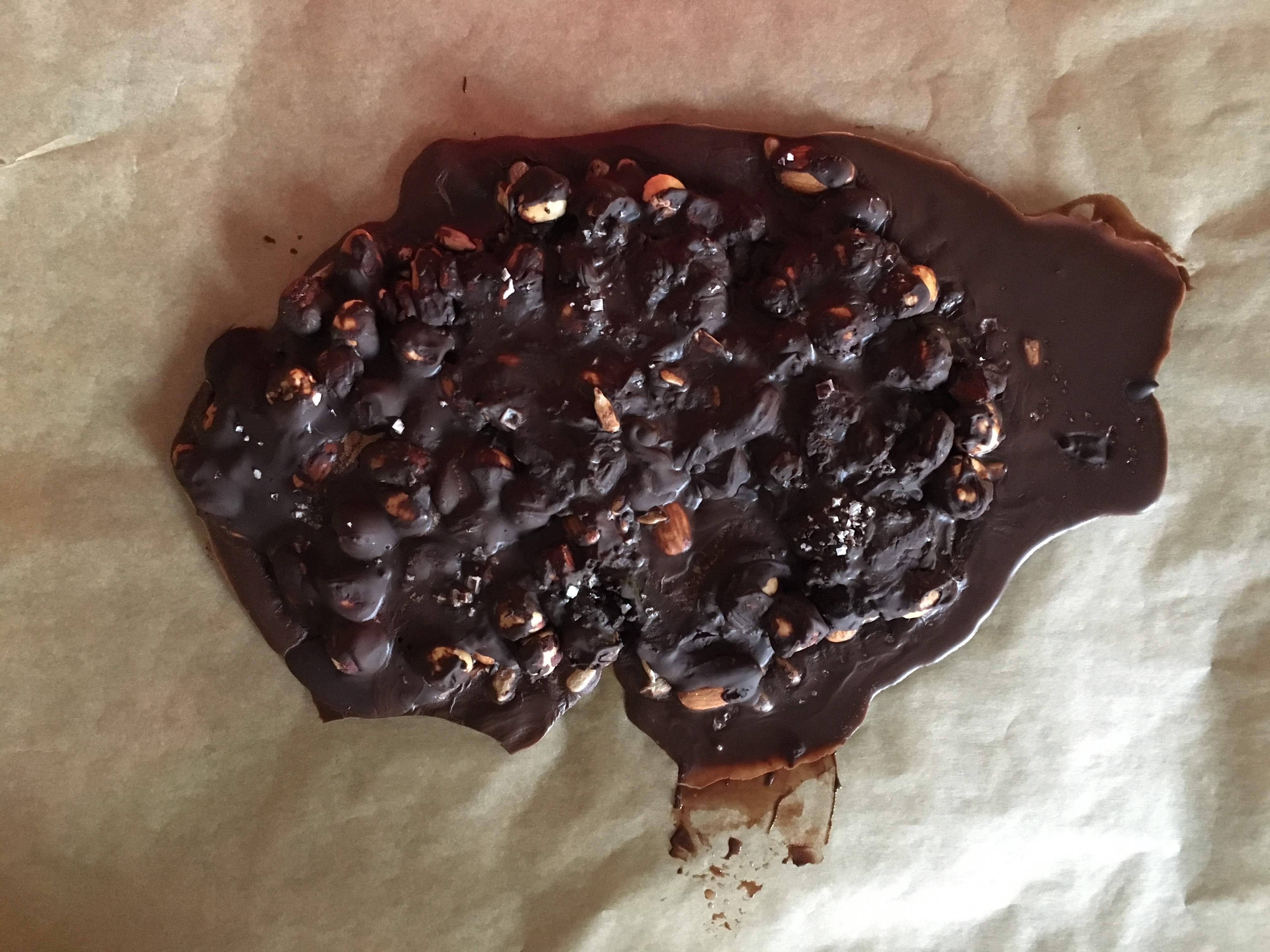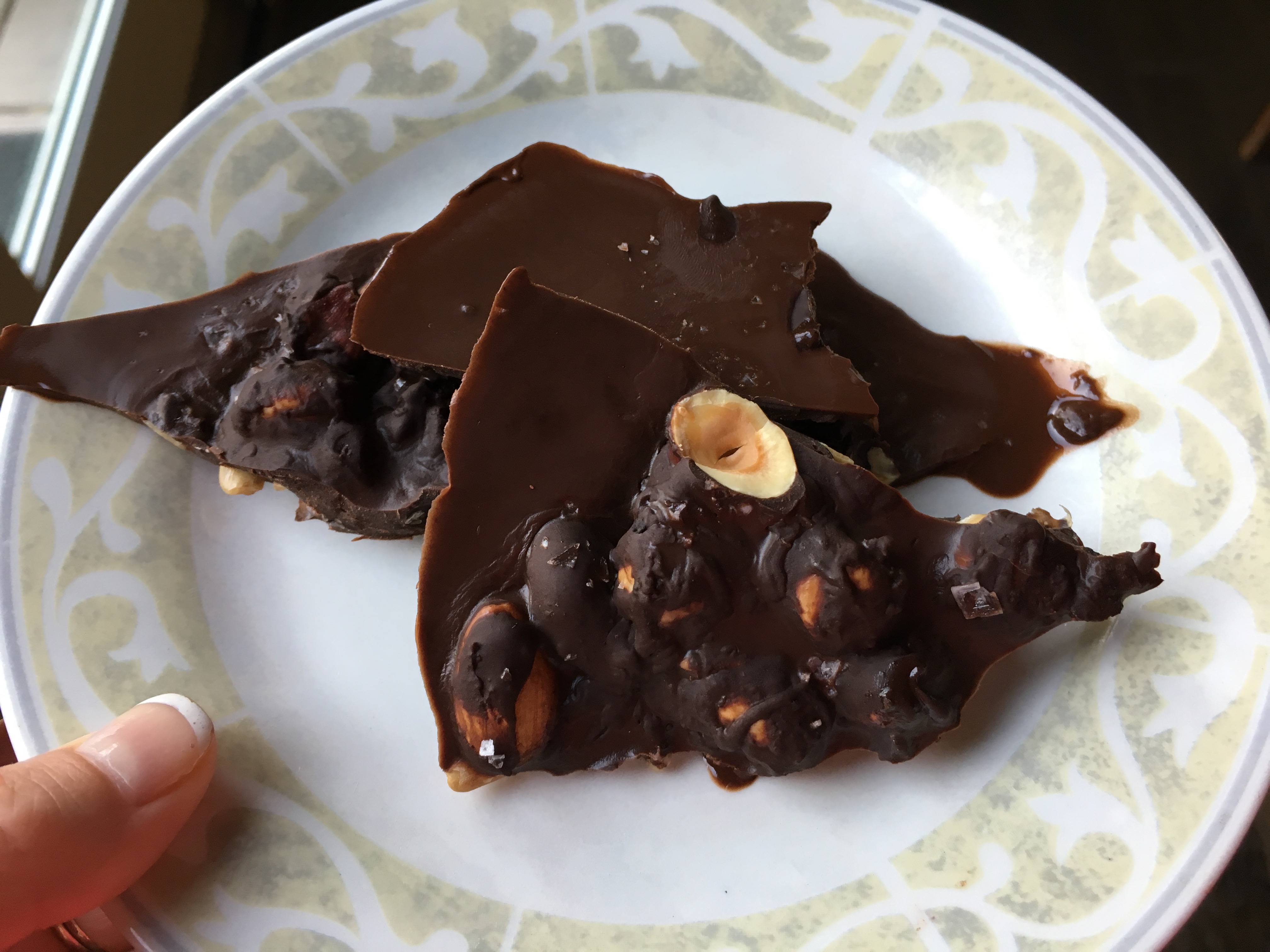 I did some trials with bark in anticipation of my 30 days.  This had Lily's stevia sweetened chocolate (<–really good deal for 4 packs of the baking chips) and coconut oil with hazelnuts, sunflower seeds, and almonds and flaked sea salt.  I have to store it in the fridge because the coconut oil gets to room temp way too fast in this summer heat otherwise.  Hazelnuts make the whole thing utterly insane for my taste buds.  It's a twist on a recipe I made a LOT last year.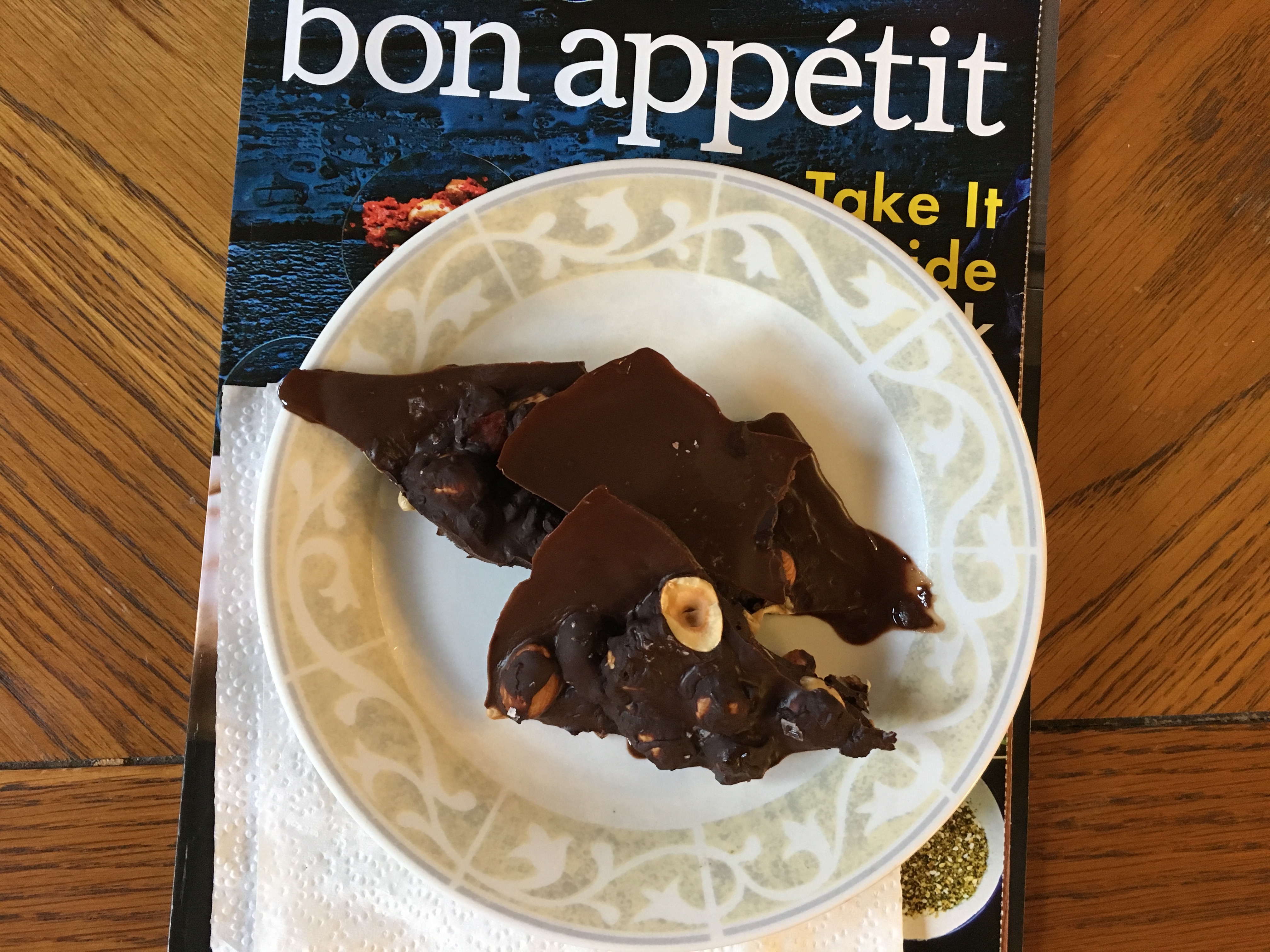 Not sure exactly how low in sugar it really is (Lily's chocolate still has carbs, obviously, and then there's all those nuts and seeds) but it was good either way.  Lord knows, I won't make it a full 30 days without any form of dessert, that's for sure!  This is a good way to keep me from eating a box of See's at the very least.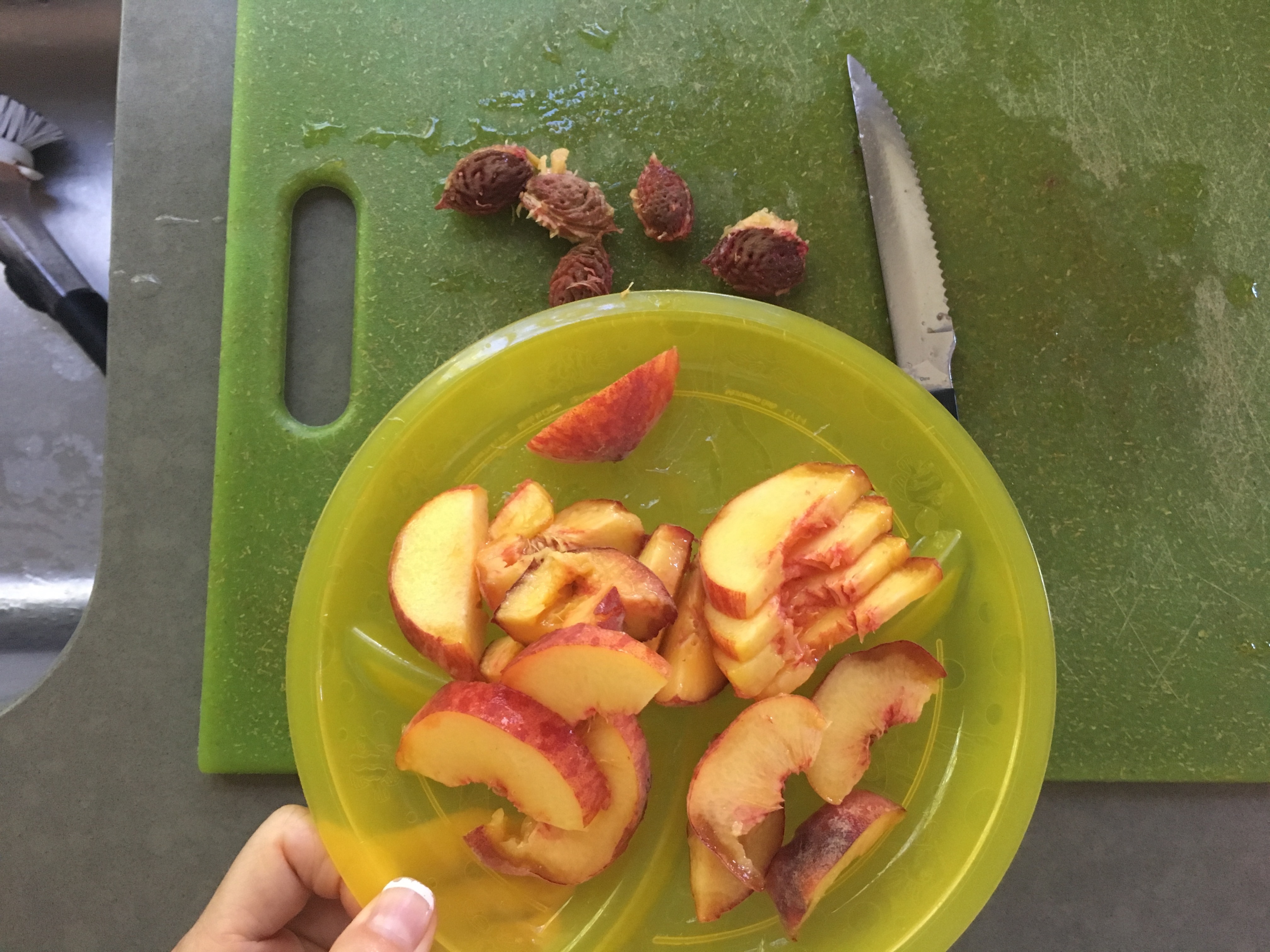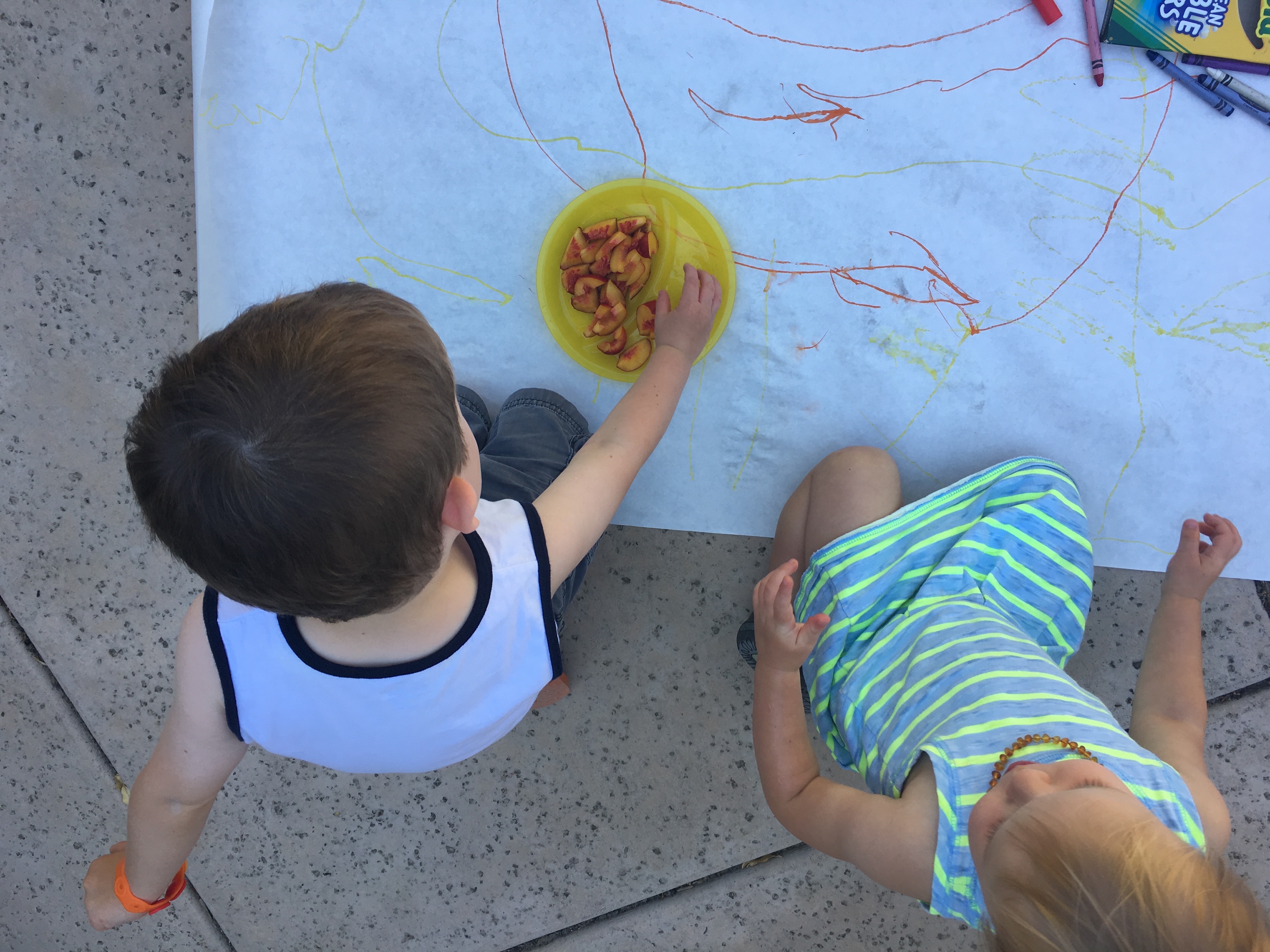 More outside breakfasting.  It wasn't even that hot but they still wanted to do it, so whatever.  After they ate every peach and nectarine in the house (5!) they got to coloring.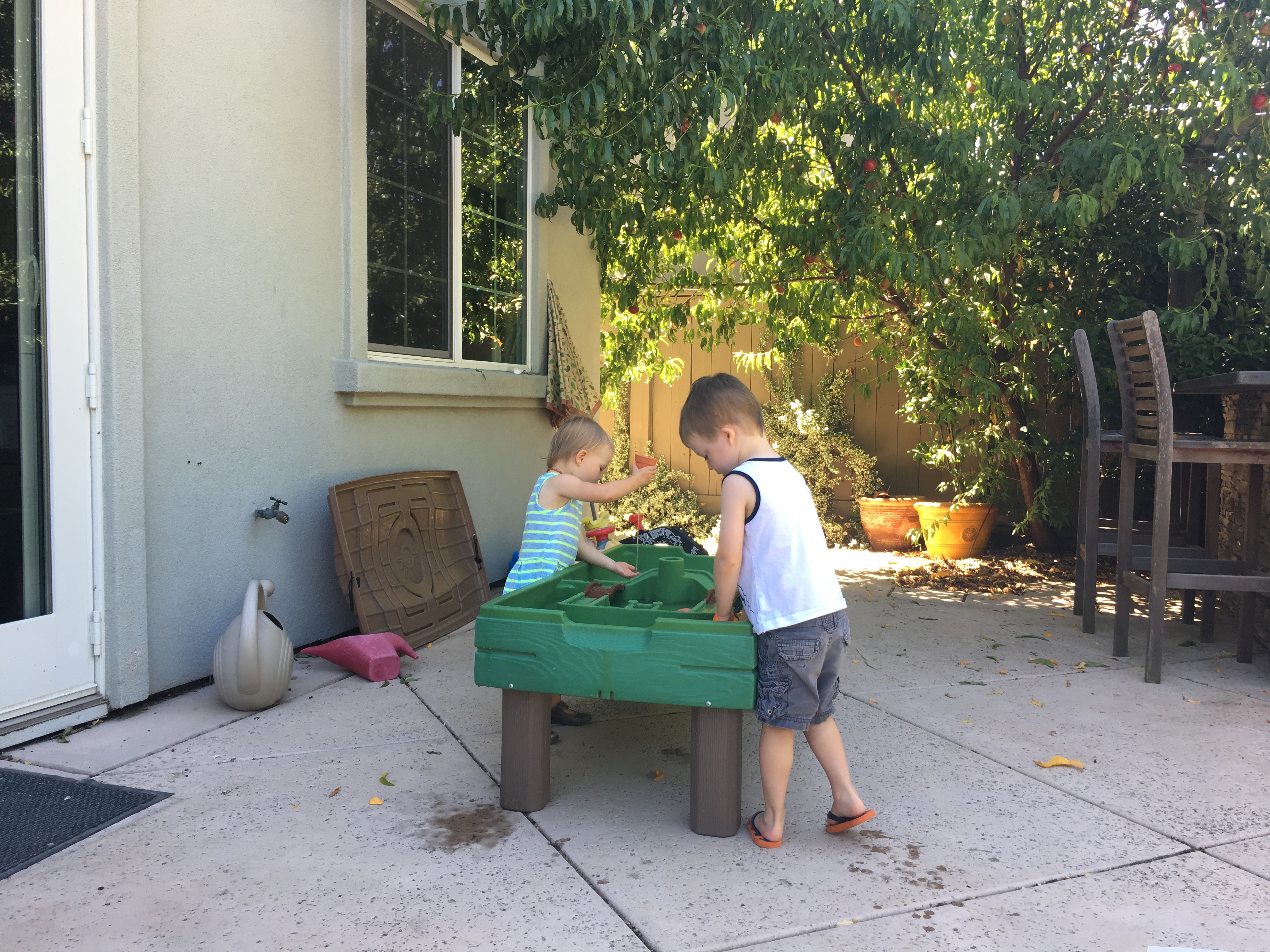 And splashing.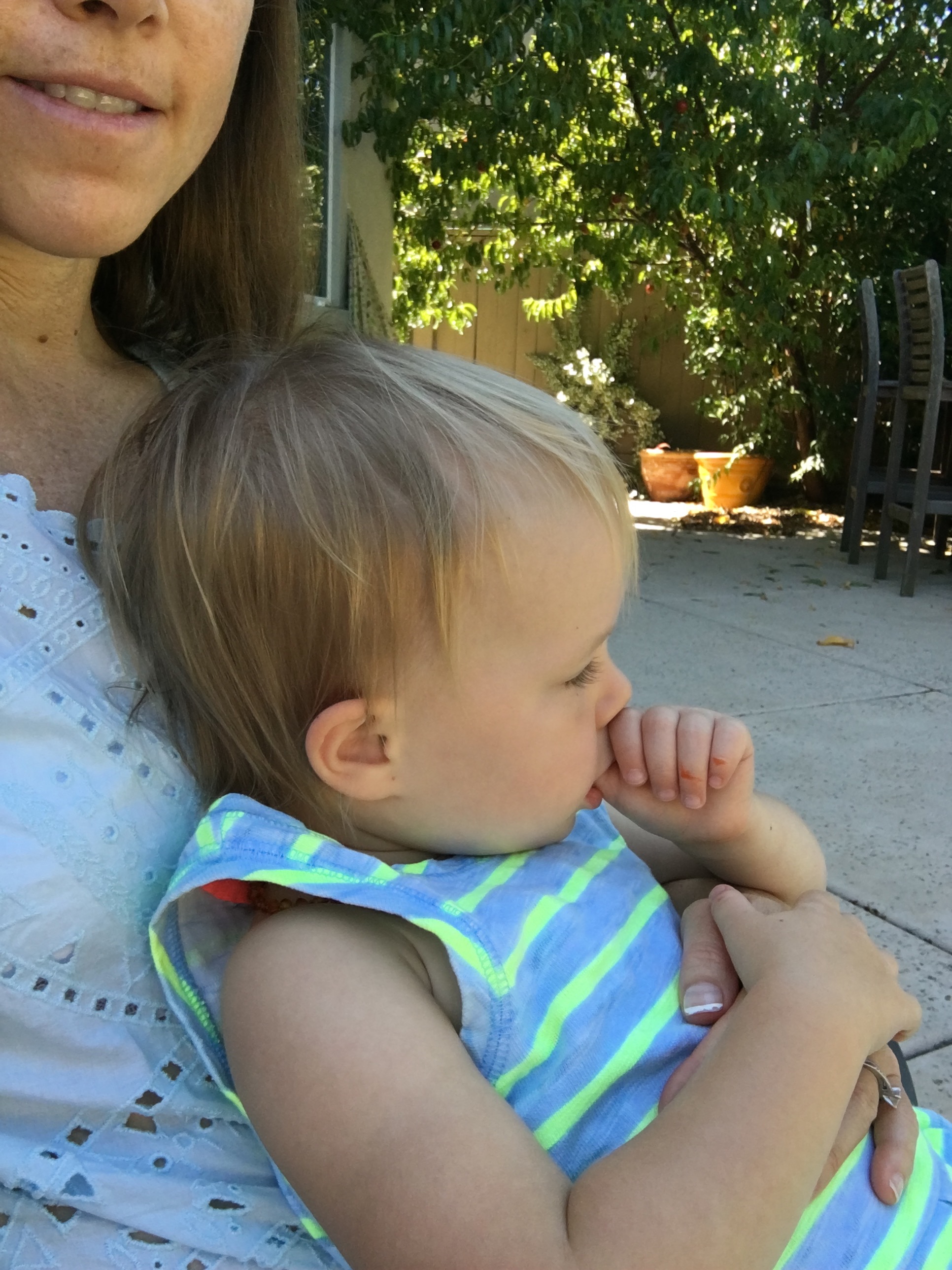 And snuggling.  WHAT??!!!!  Soaking it up.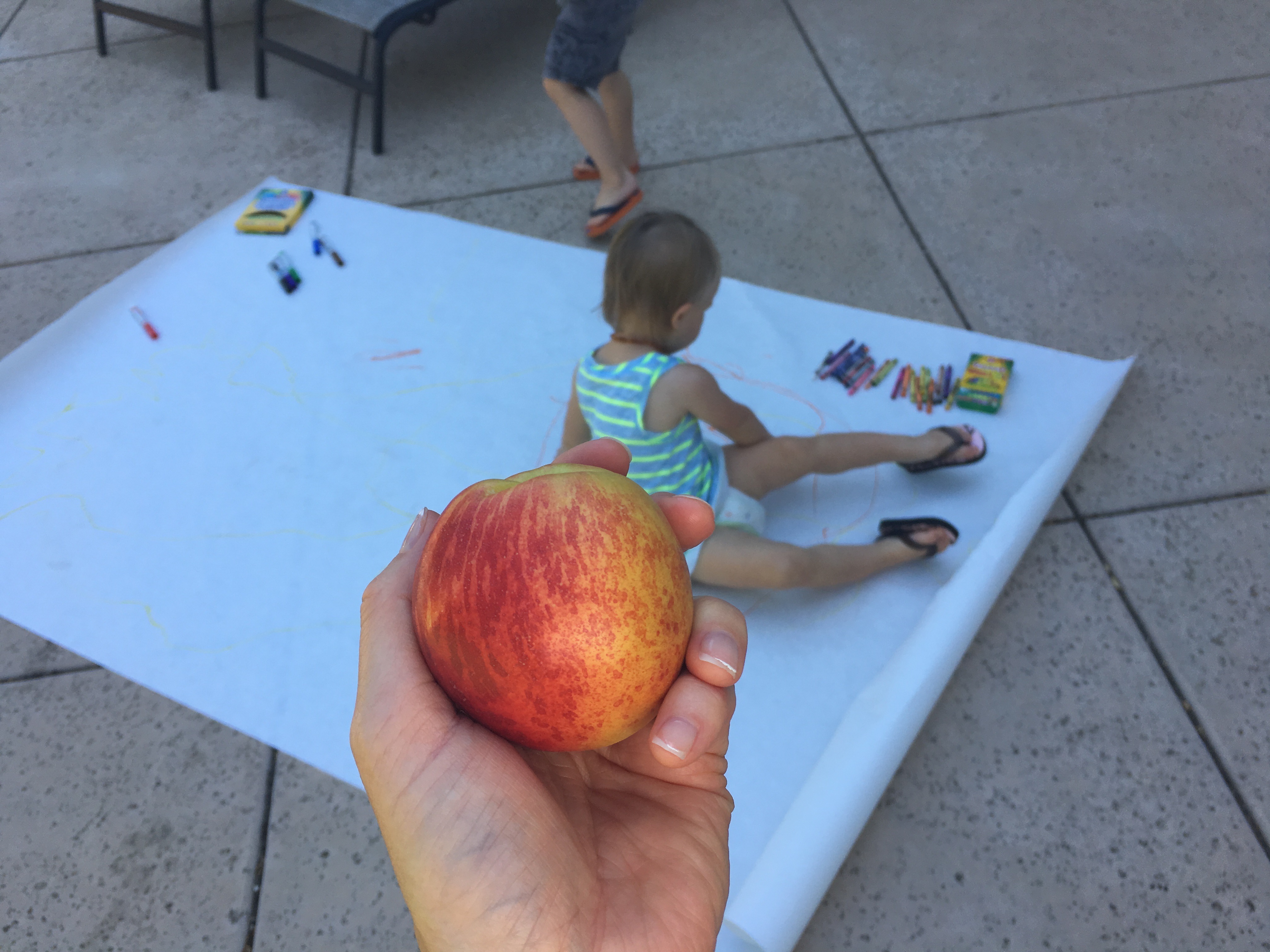 First one picked from our tree!!!!!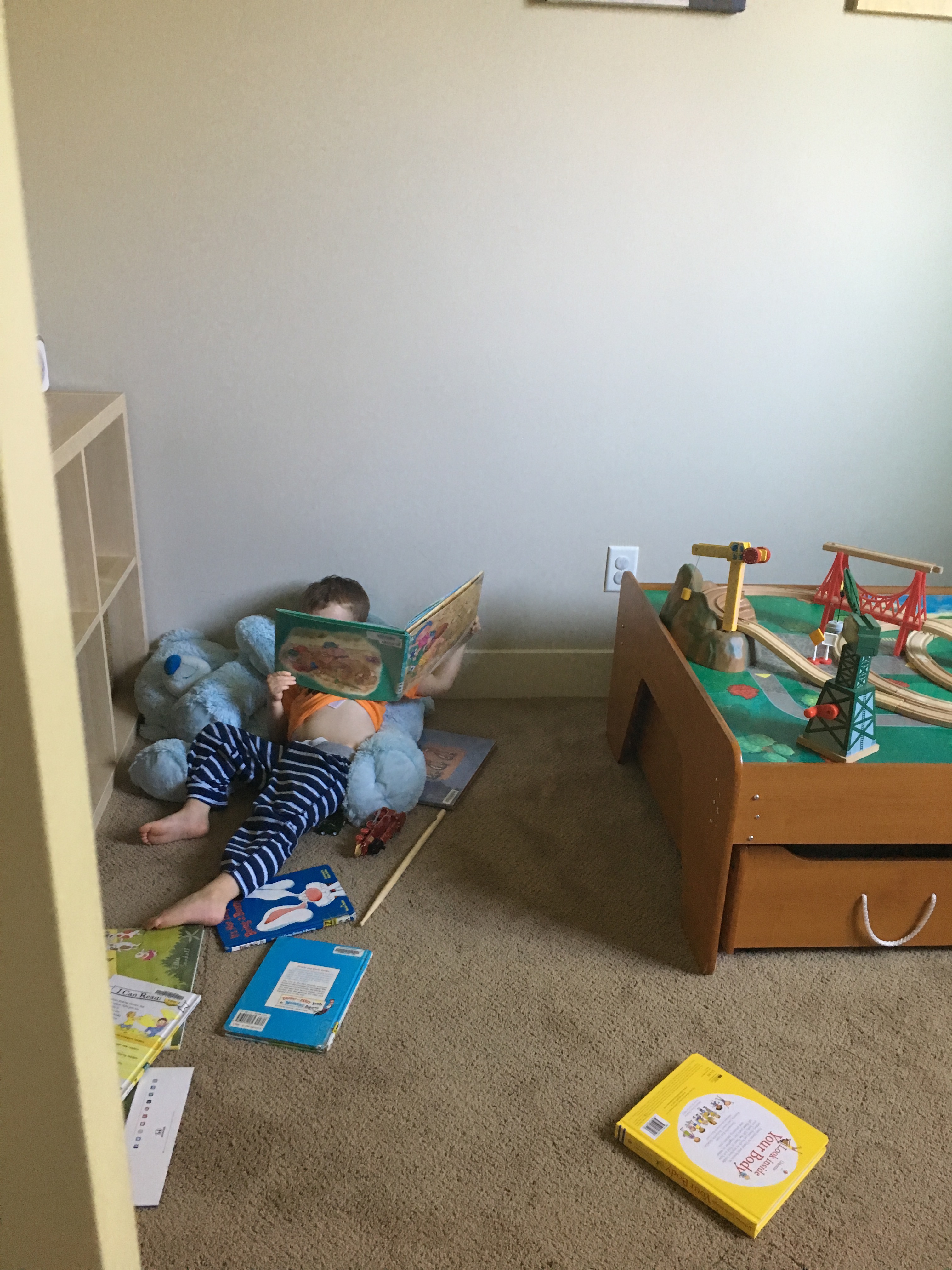 This is (me spying on him during) quiet time.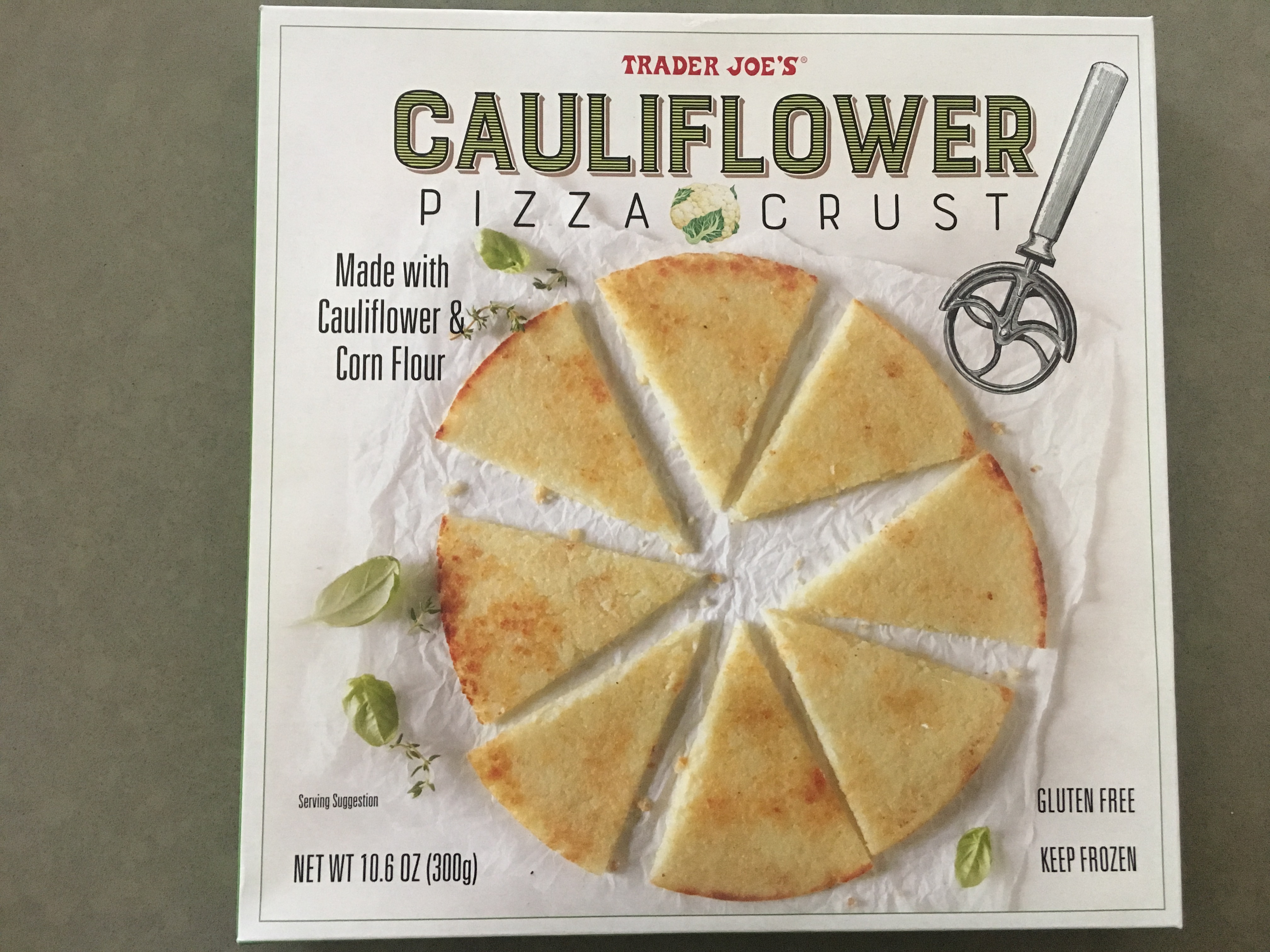 Allow me to introduce you to Trader Joe's cauliflower crust.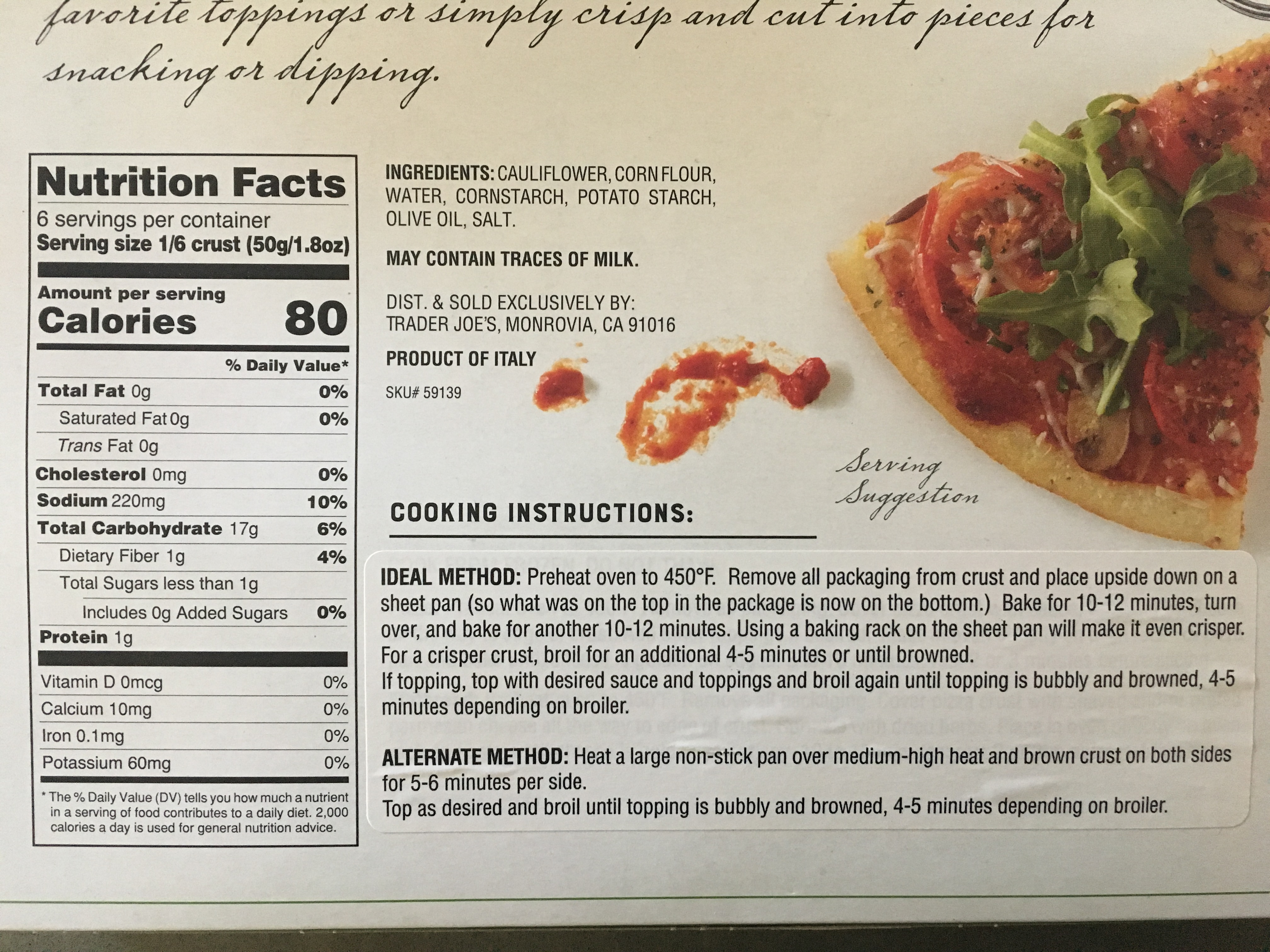 No it's not grain free – it has corn flour in it.  But IT IS dairy free!  Woo hoo!!!  Now that P is through his milk OIT I have no issues with the "may contain" or "processed on shared equipment with" milk warnings.  Which is huge huge huge.
And yet.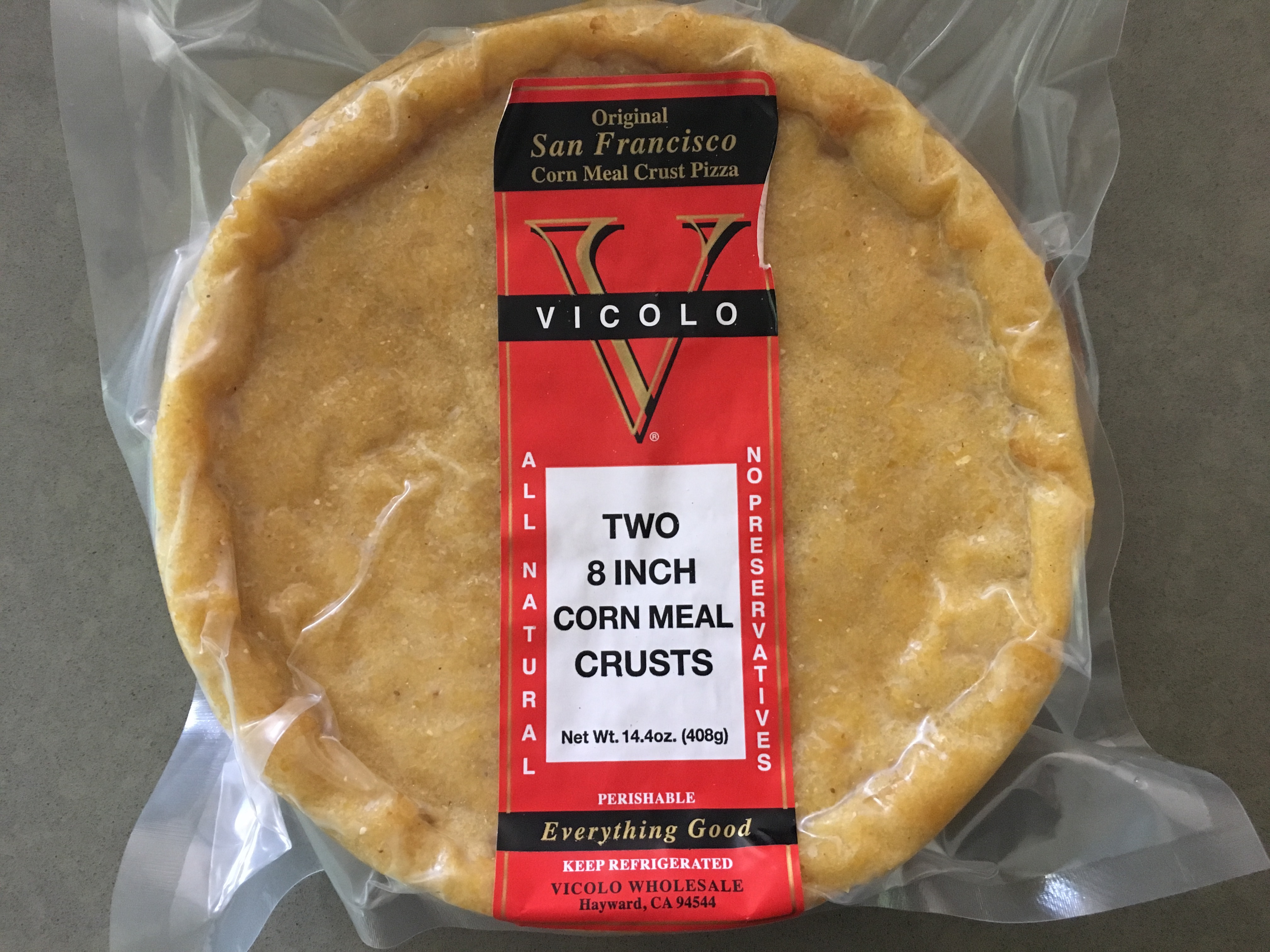 I still made theirs with Vicolo crusts.  Because they are growing kids who tolerate wheat.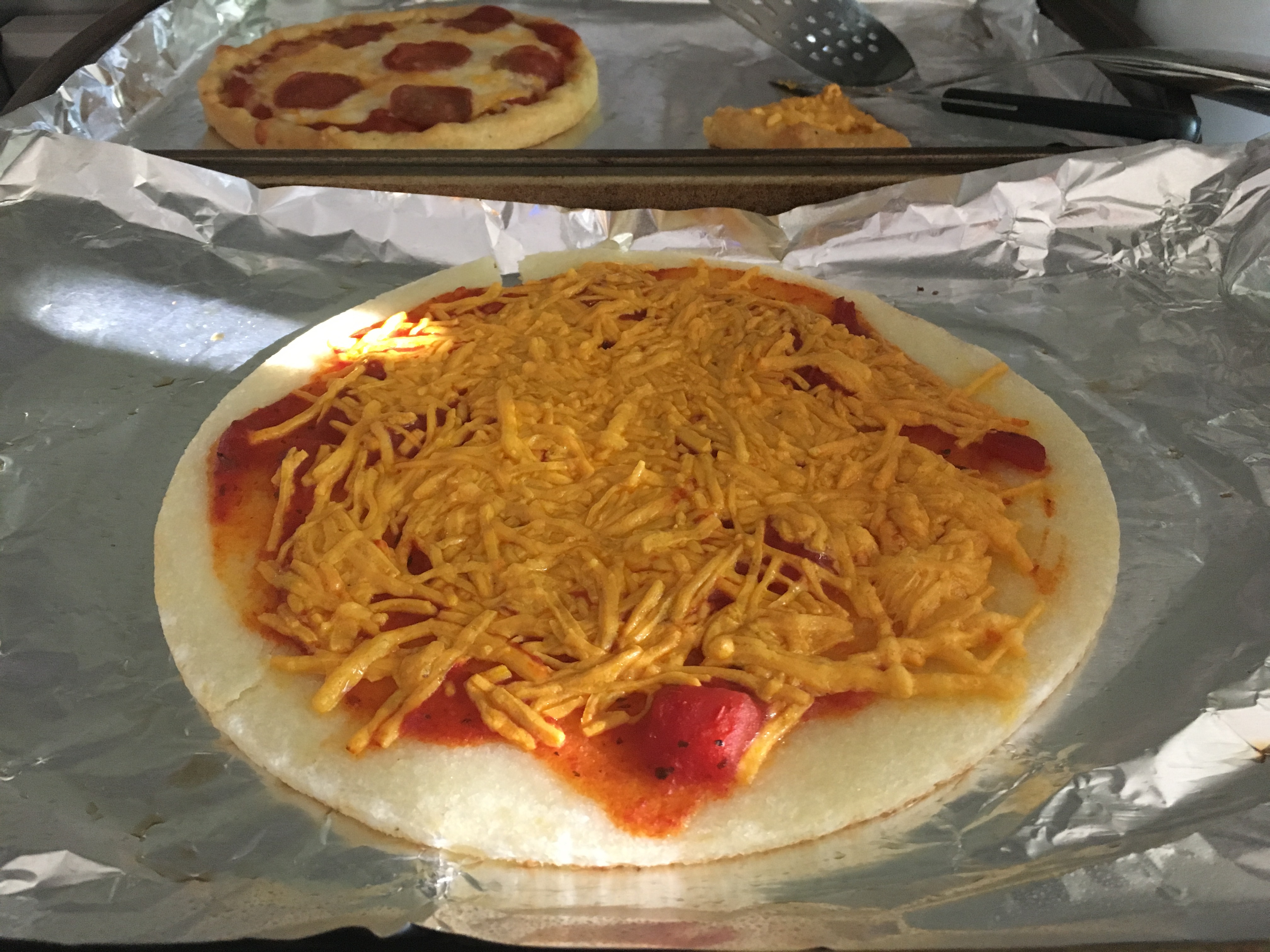 Mine and theirs had daiya cheese, but Kyle's had cow milk cheese.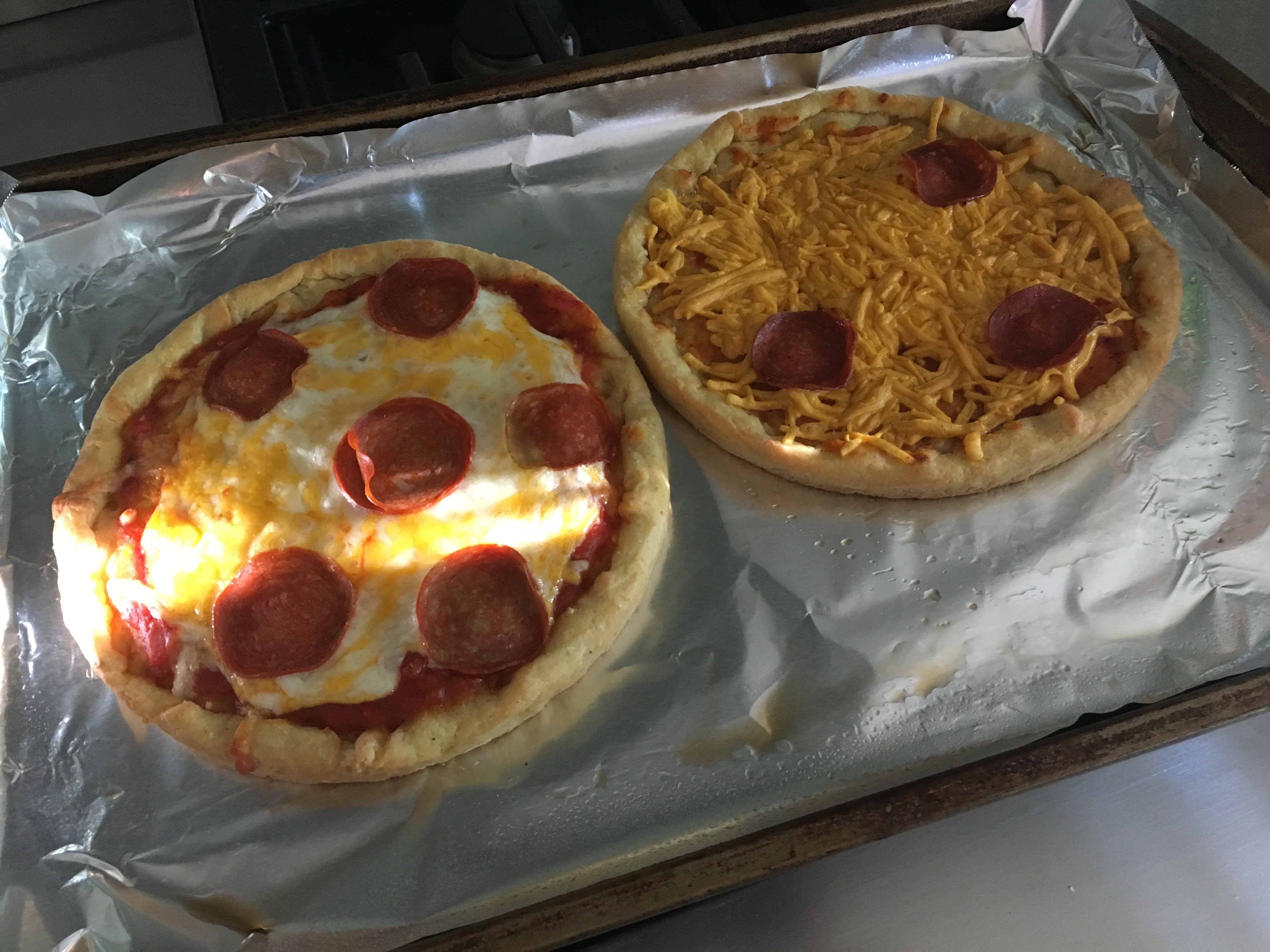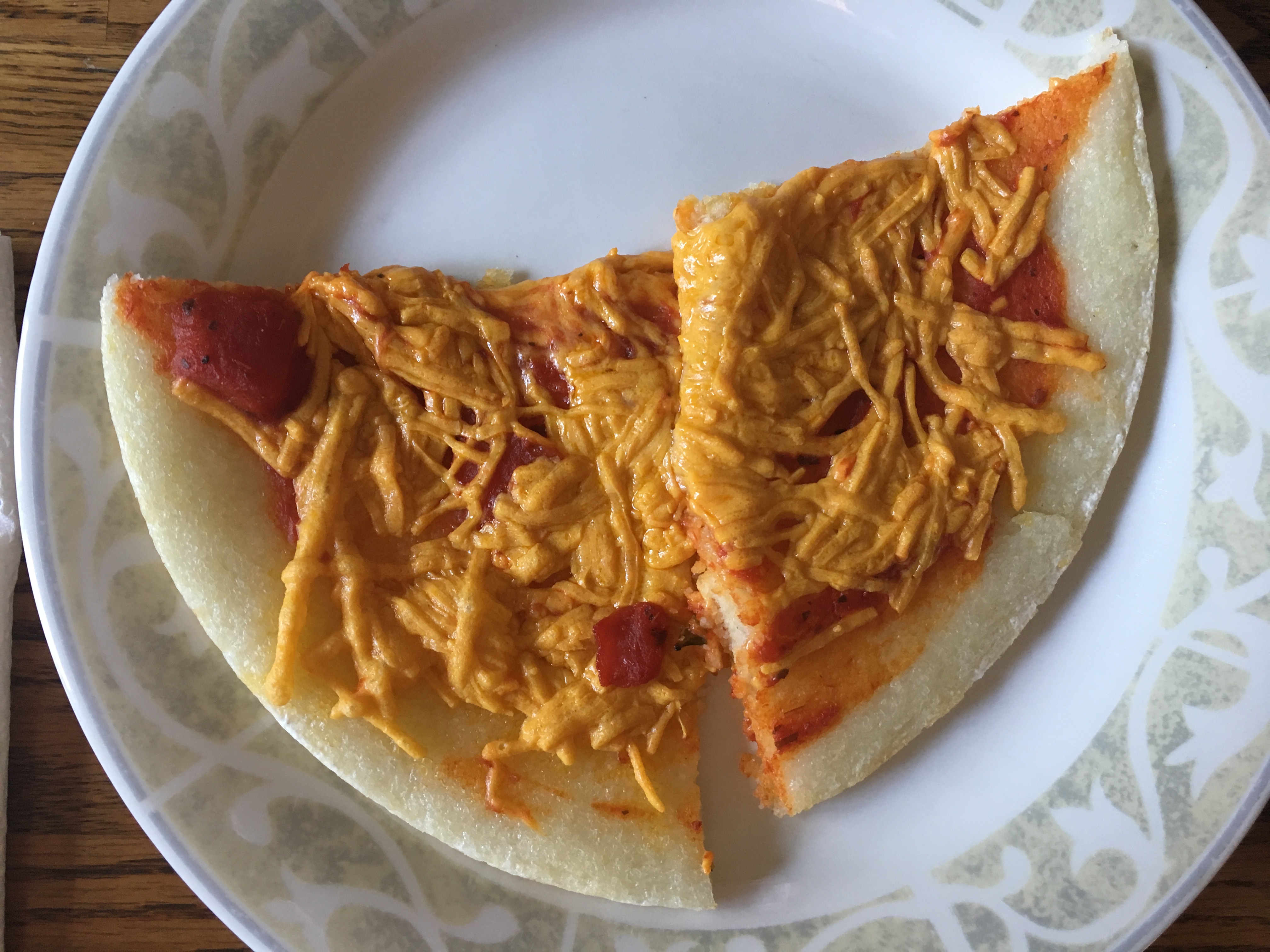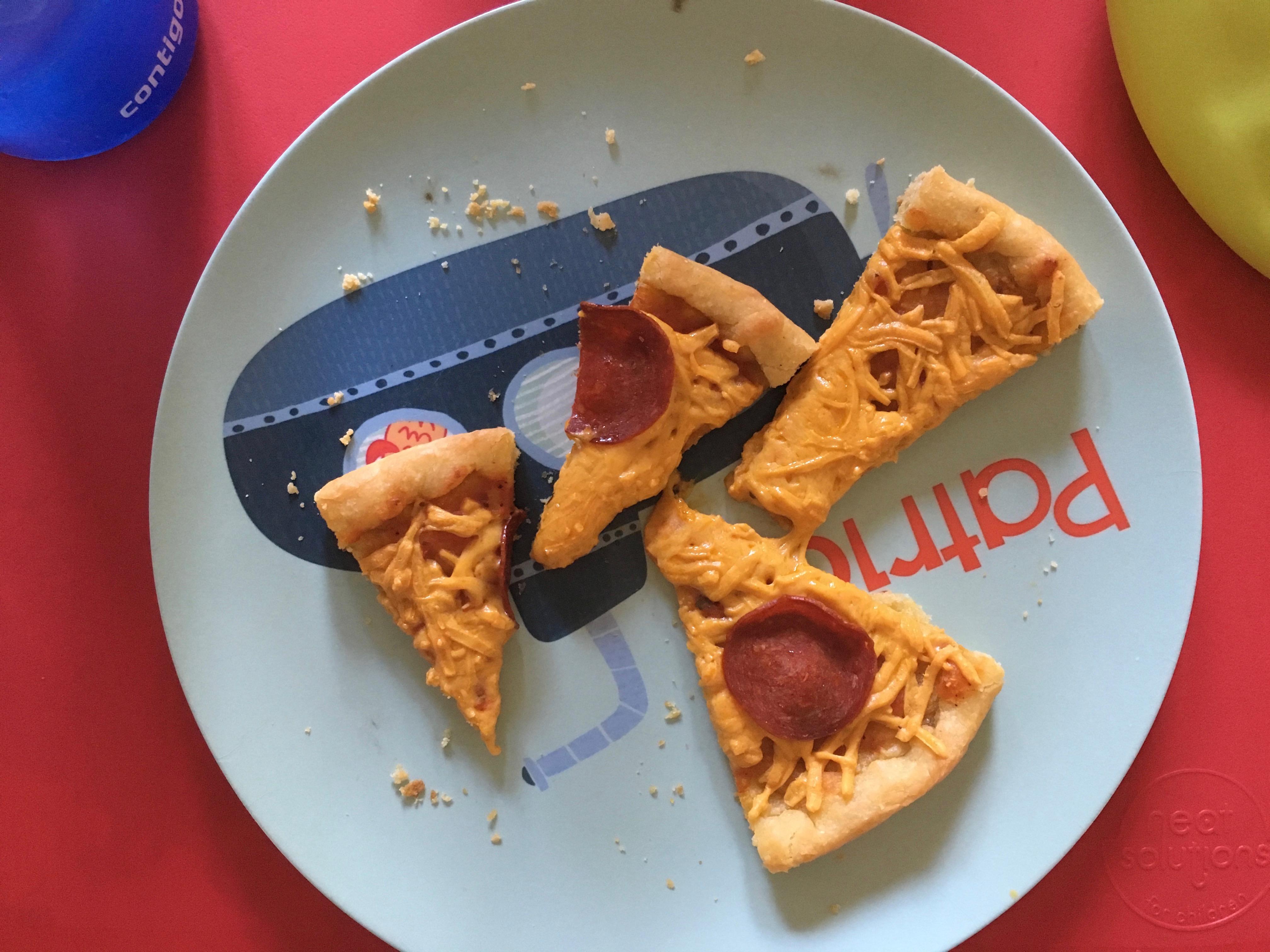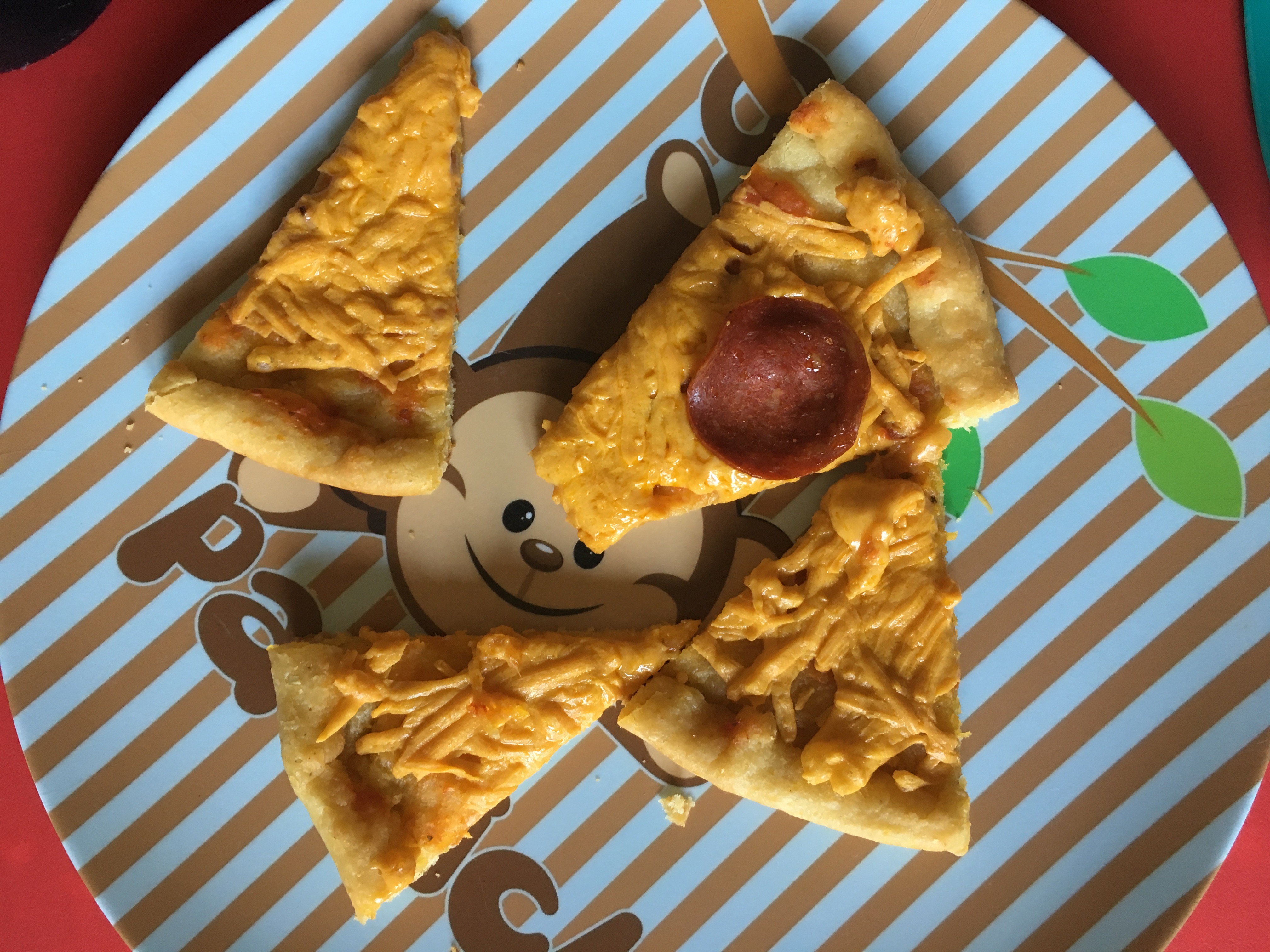 Official review: like it, will buy it again, and definitely think it's better than any other GF crust options.
It's not like a wheat crust. So don't kid yourself into thinking you're going to be digging into a fluffy doughy crust, but it tastes like cauliflower enough to know it's not all corn meal and filler starches and yet, it's still a good neutral platform for whatever toppings you want to shove into your face.  Well done TJs.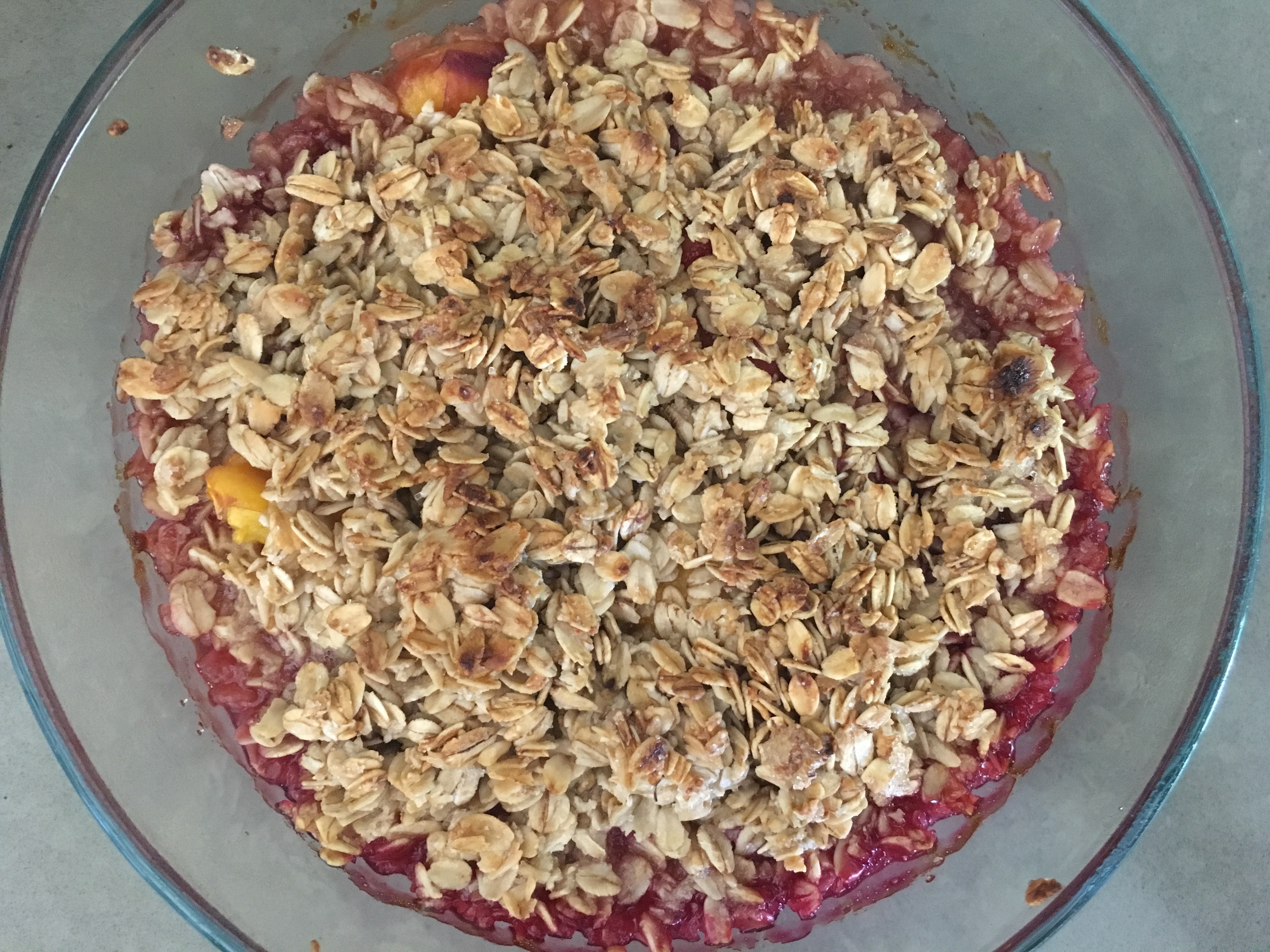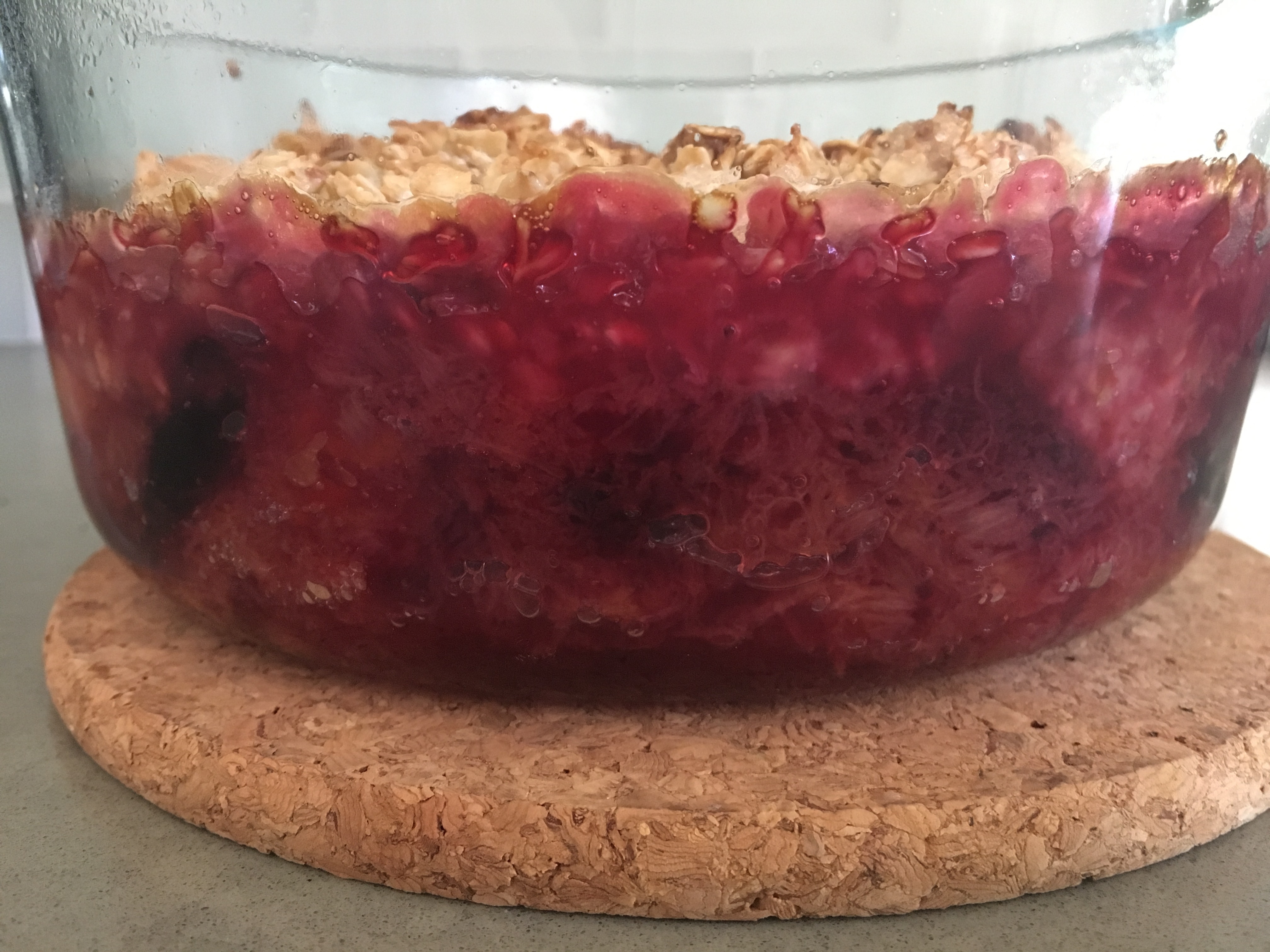 You know how I said the stone fruit was all gone? That's because the day before I made Kyle a cobbler with a bunch of plums, nectarines, and peaches from our friends. Crops are booming in Davis right now and everyone is giving bumper fruit away like crazy.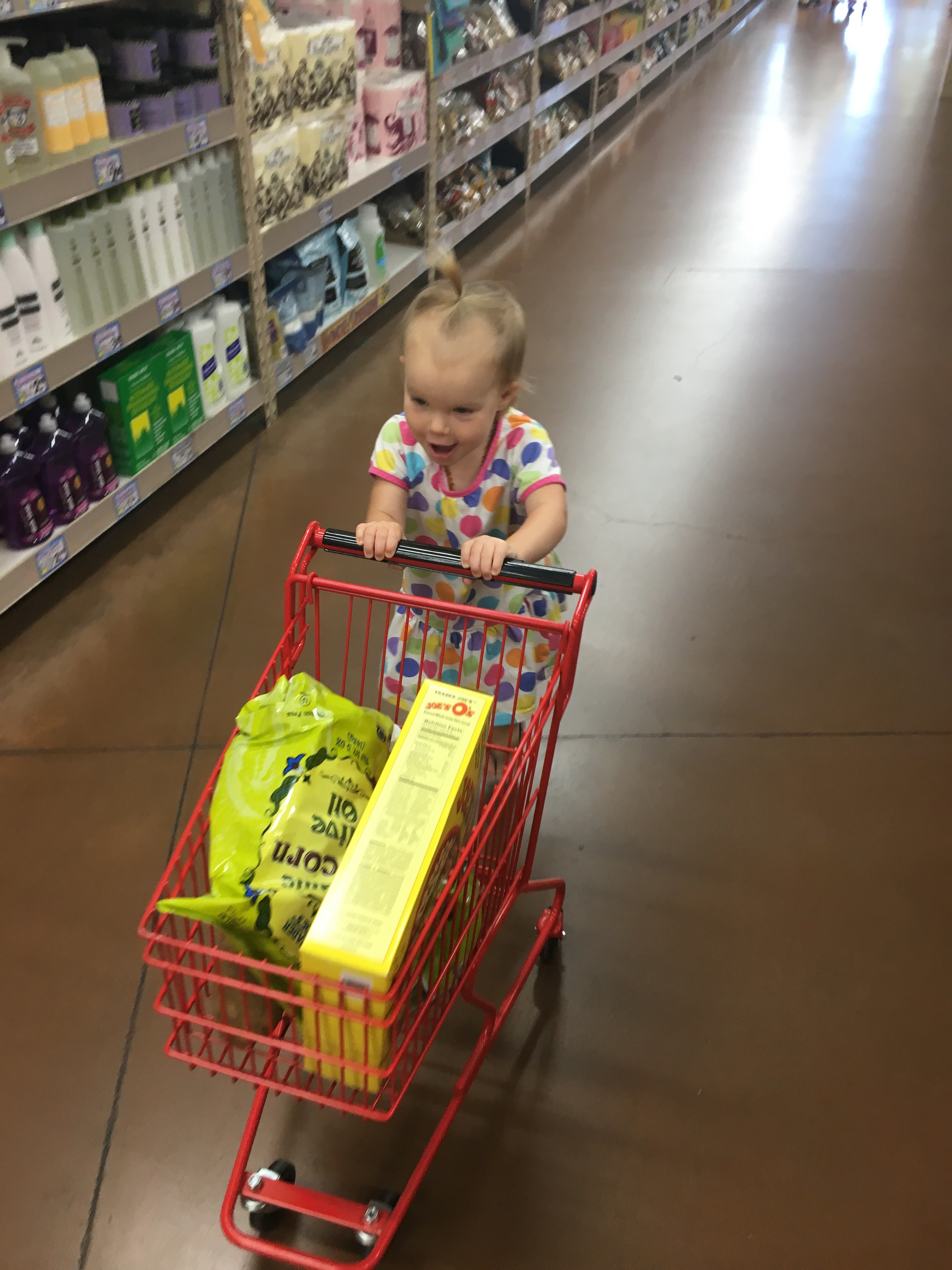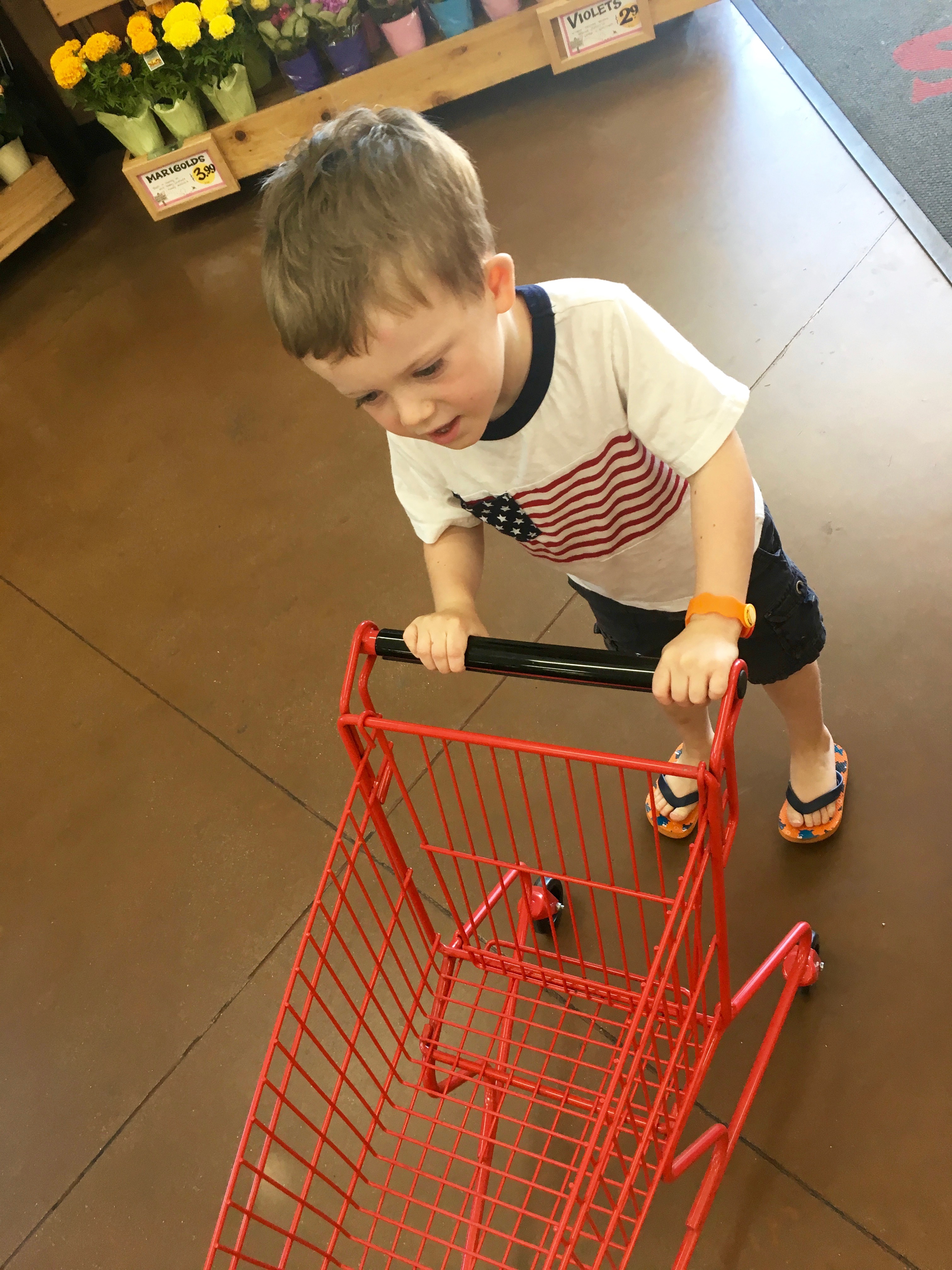 Our TJs just got these kids carts and I think it makes me hate shopping even more now. Blah. I went a few weeks without giving in, but they've seen so many kids use them now that I couldn't stand the begging any more.  They reluctantly "took turns" thereby extending our trip by an extra 20 minutes.  And the arguing!  Oh what a treat for my fellow shoppers.  I think this will be a once a year treat going forward.  😉
Our library has kid games and I'd never really considered letting them try them out before but I figured why not?  I think P is at a good age to begin to learn about computers – many of his peers are iphone savvy and I don't want him to fall behind because the reality is, technology isn't going away any time soon.  We can be as media free as possible, but they're going to need to learn how to navigate the world of screens eventually. I wonder at what age they start using computers in elementary school?  Kindergarden?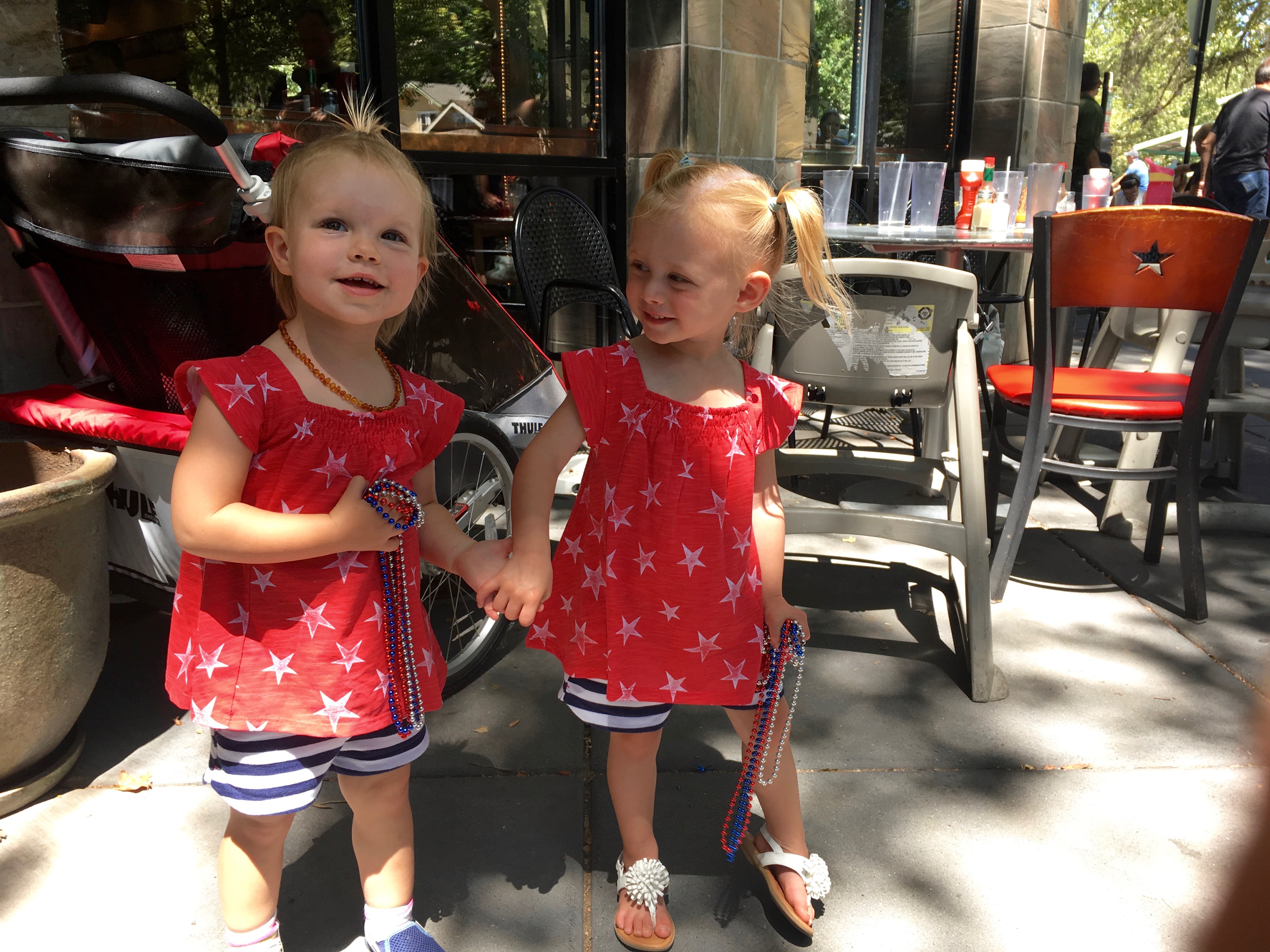 Finally to the FOURTH!!!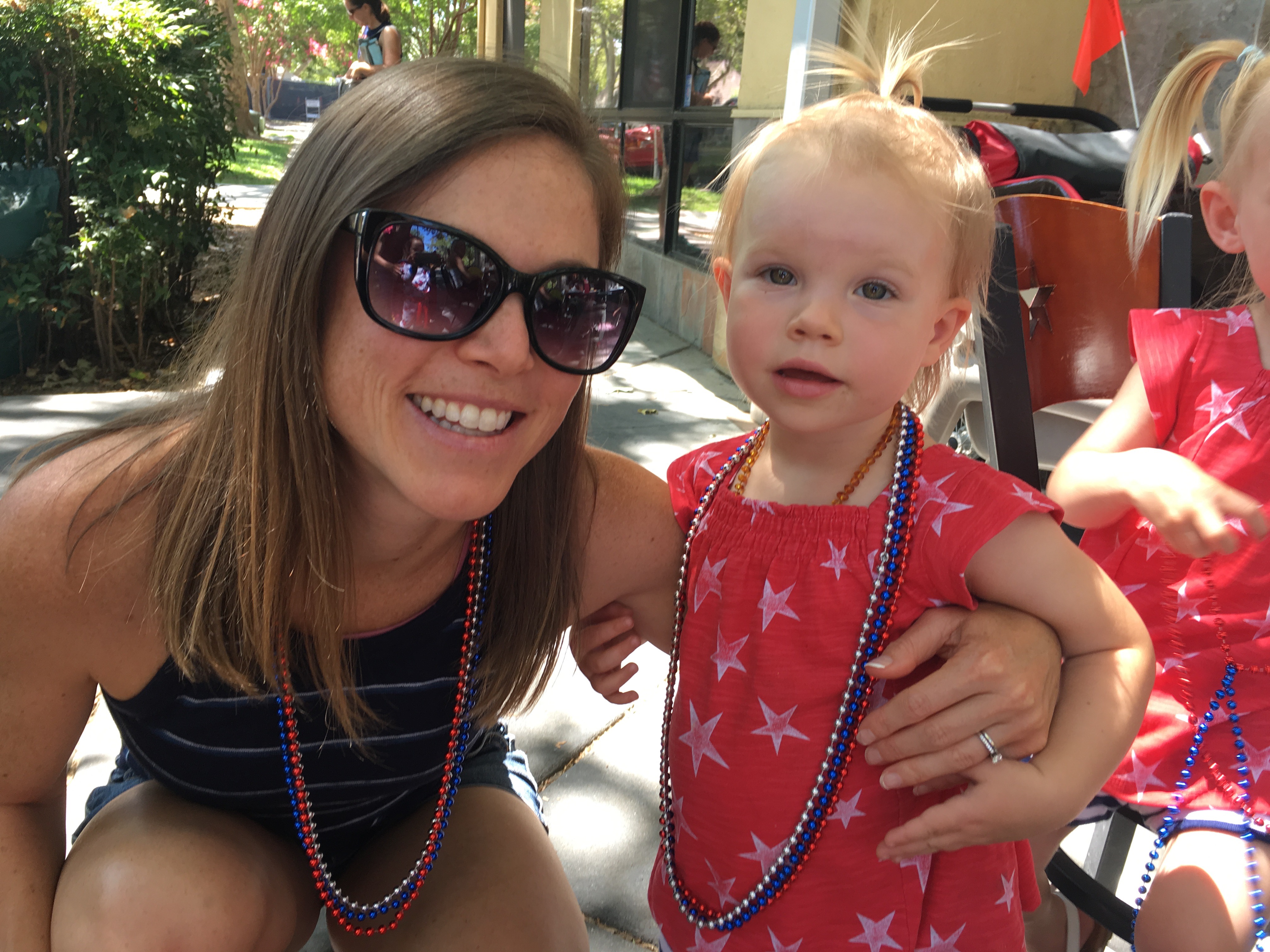 What a wonderful day.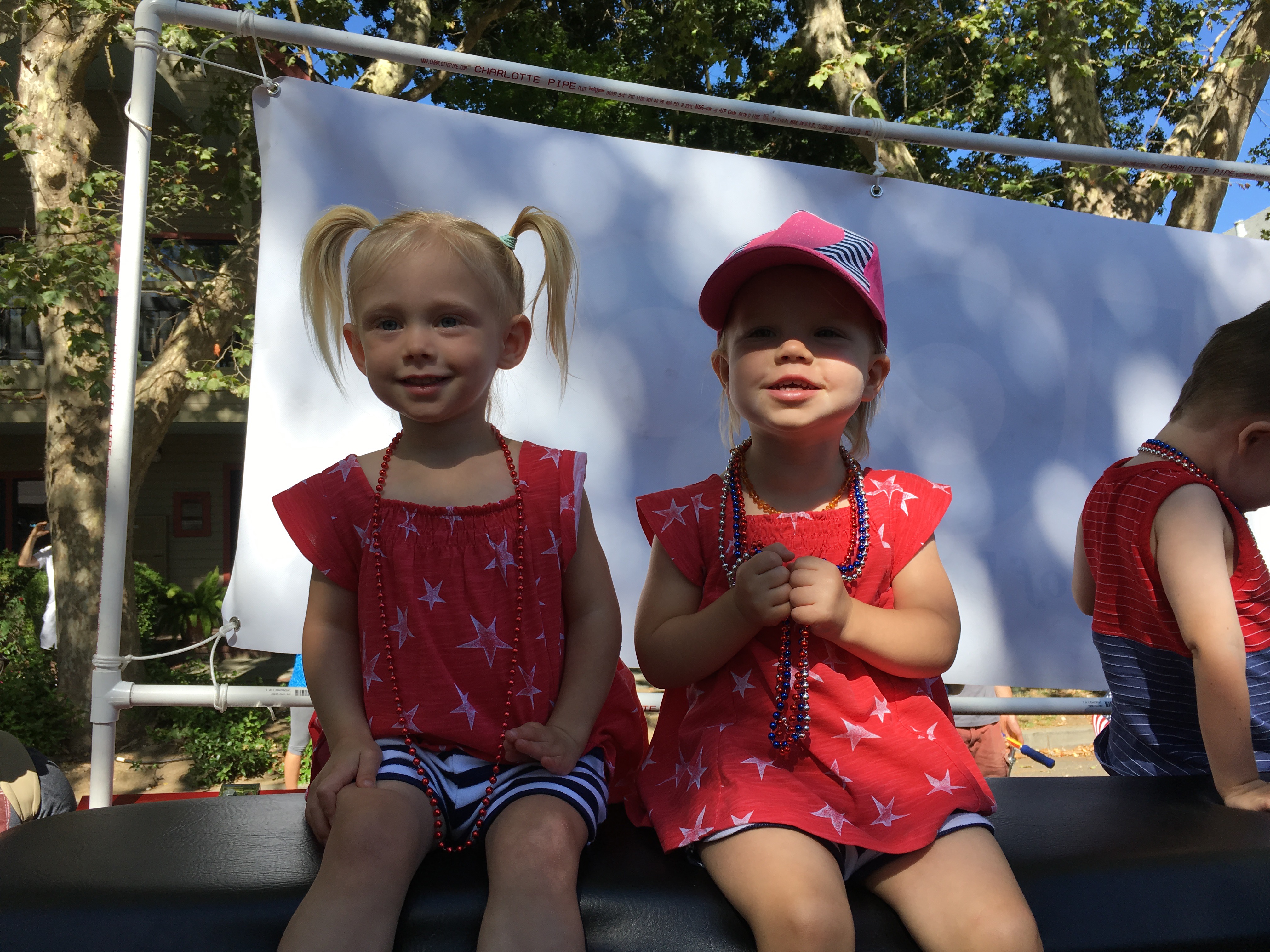 Valley girl got to hang with her bestie (the daughter of my bestie, Jess) because they came to stay with us over night.  Sleep over!!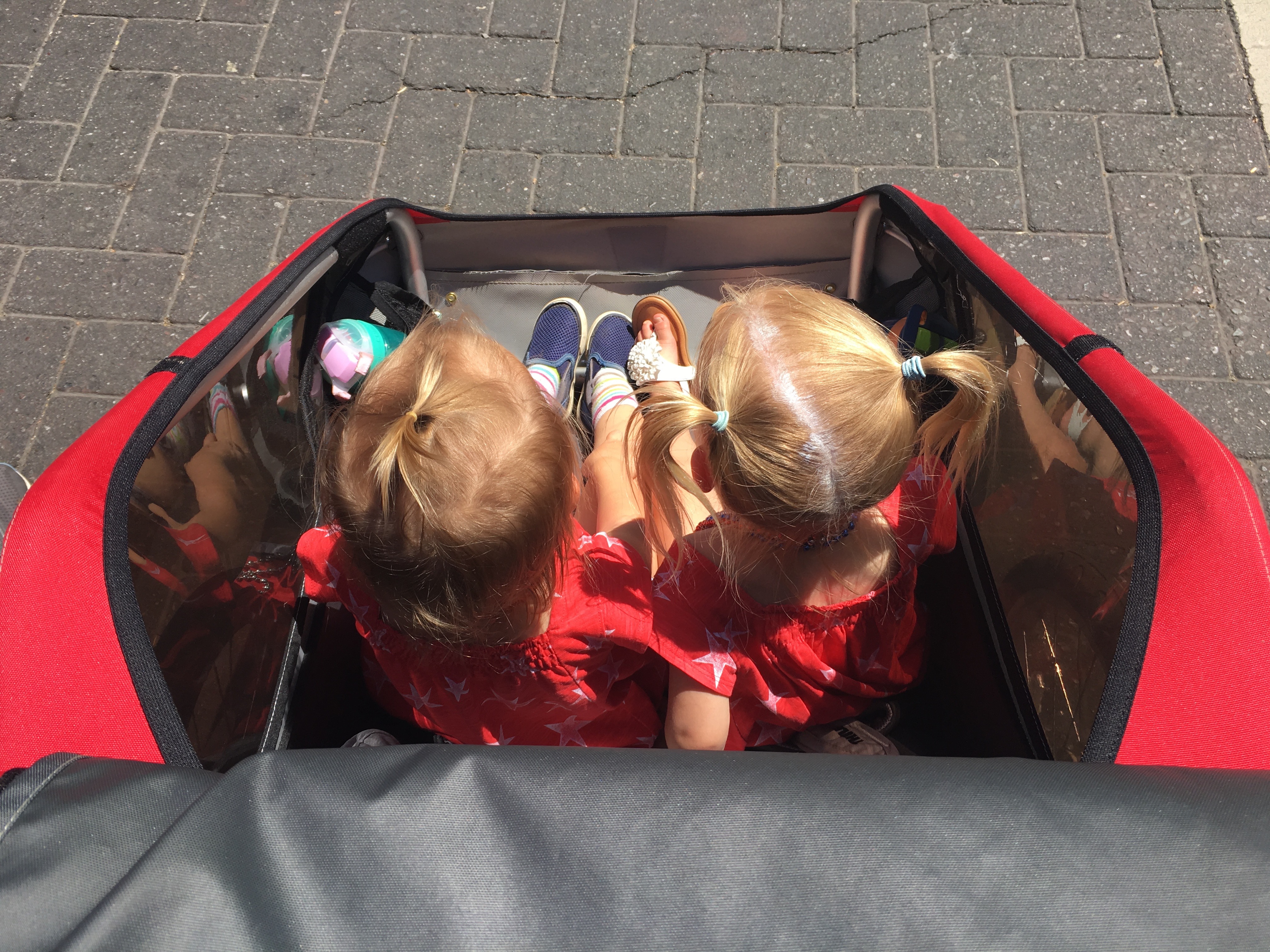 After feeding the kids a quick breakfast we rode our bikes downtown to grab starbucks before the parade.
I got the time wrong so we were way early, but that was fine since P was having a milk reaction and that meant we could chill and watch the bike races while waiting it out.
I loooove watching the bike races through downtown on the 4th.  We have gone every year since living here and I look forward to it pretty much all year.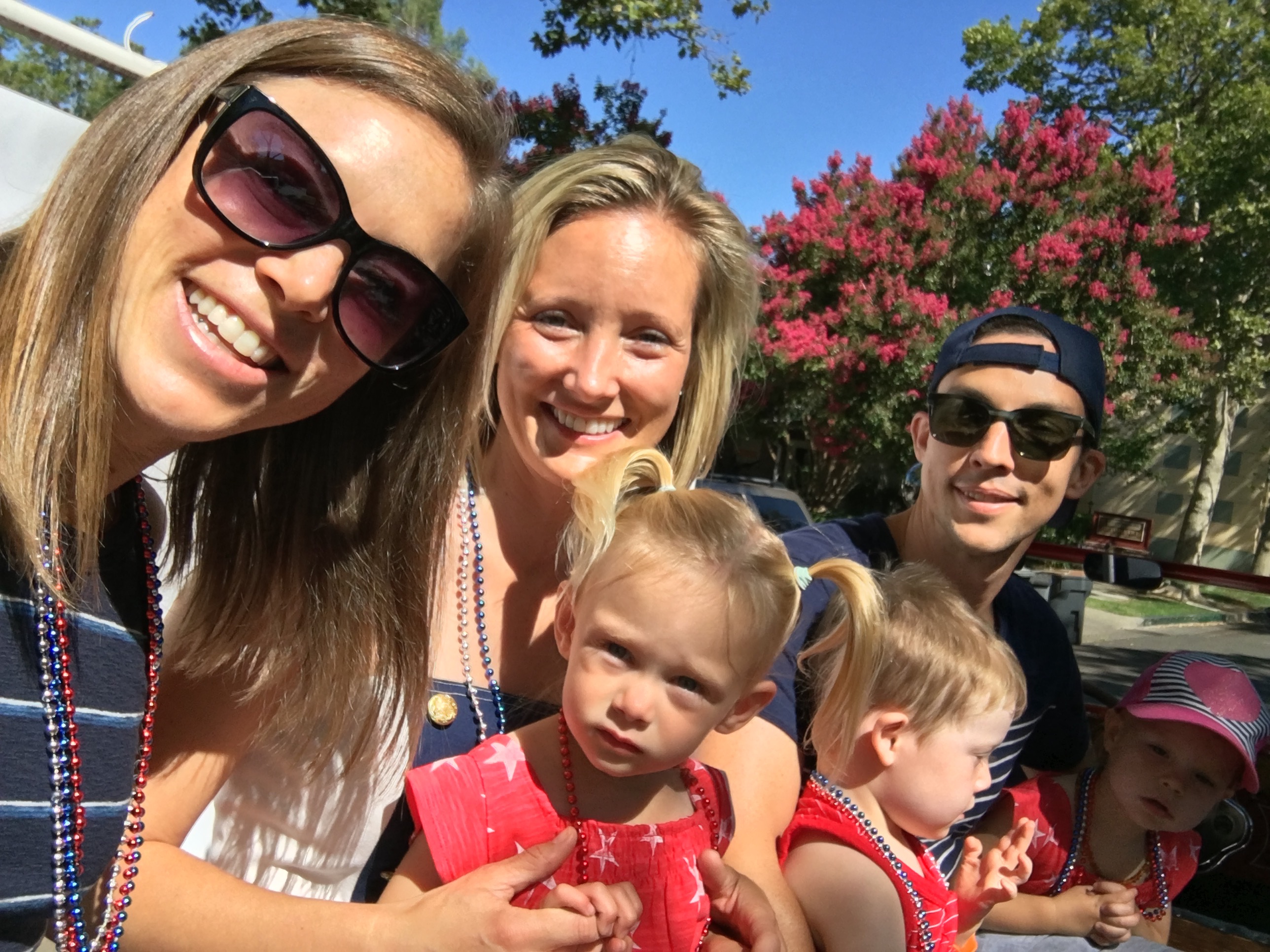 Parade party! We were in the local paper too.  🙂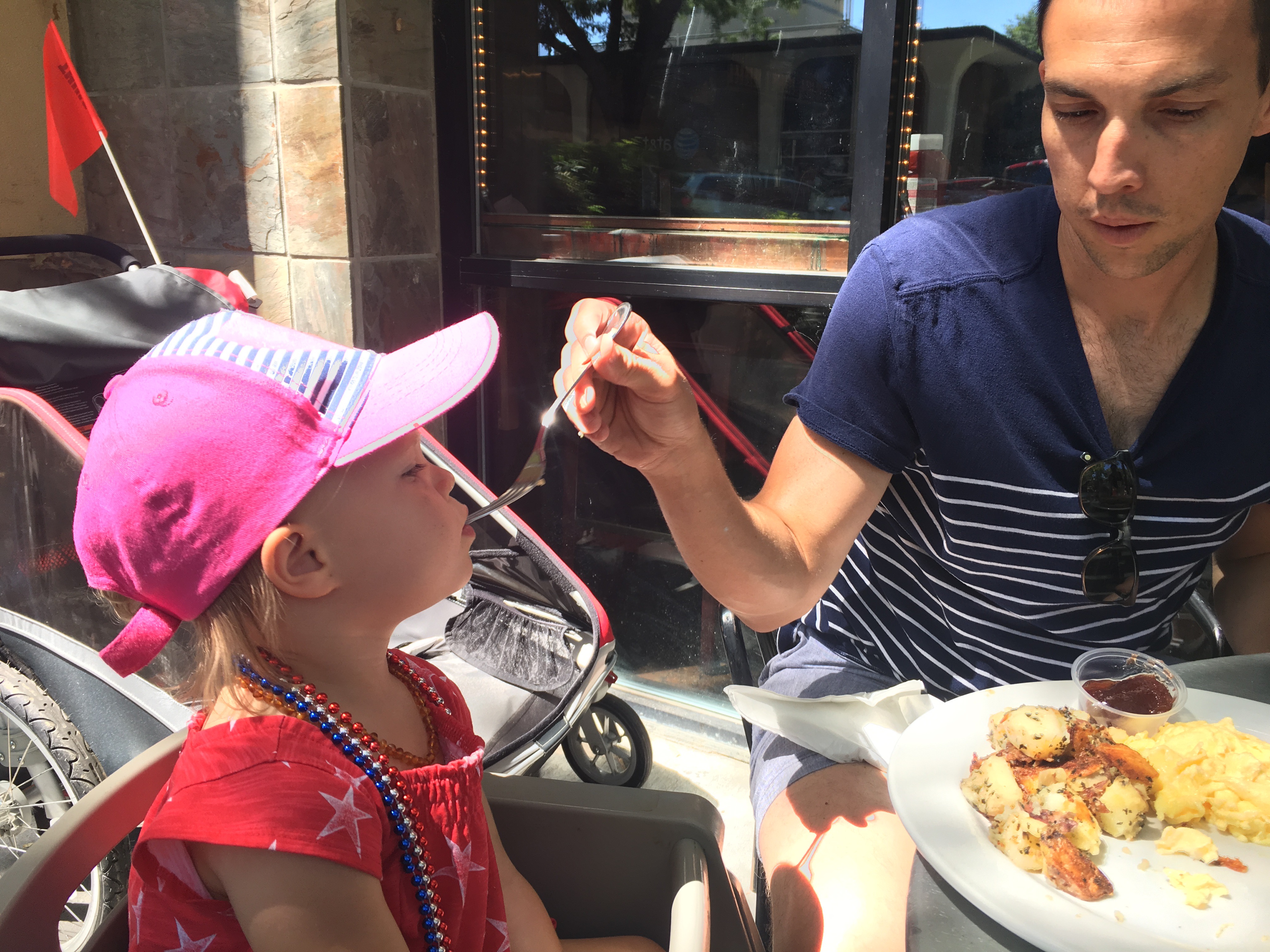 We went to brunch after, at none other than Crepeville.  My favorite restaurant in Davis (aka the only good restaurant in Davis). I got P and V a plate to share!!!  And P went to town on his food!  And was totally fine!  Turns out Crepeville doesn't use butter (only margarine) but it's still a big deal eating out these days.
We watched more races until coming home for naps.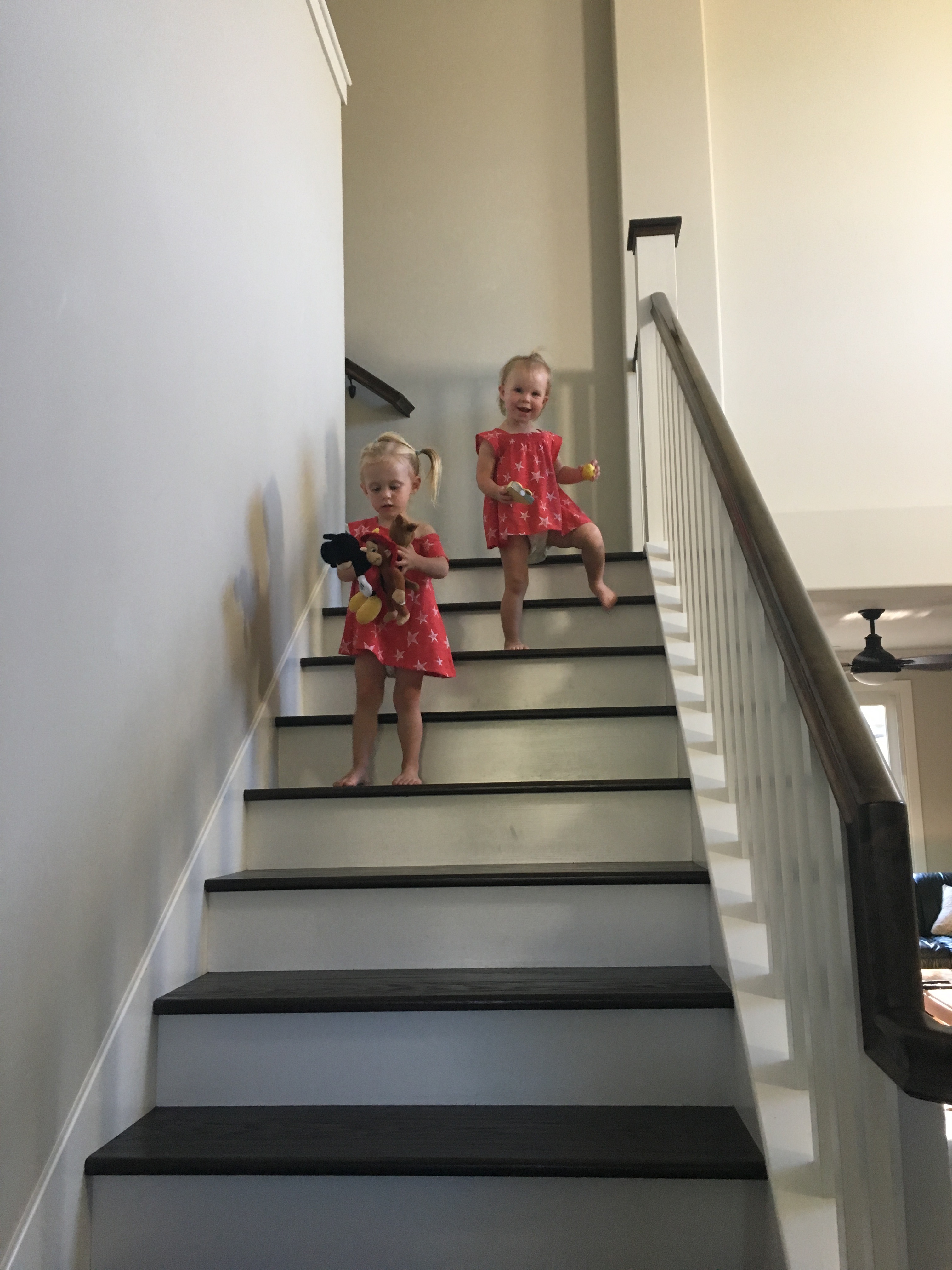 Look at these two!  Peas in a pod from the second they were together.
I made snacks for everyone and then we went to our neighbors place for a pool party.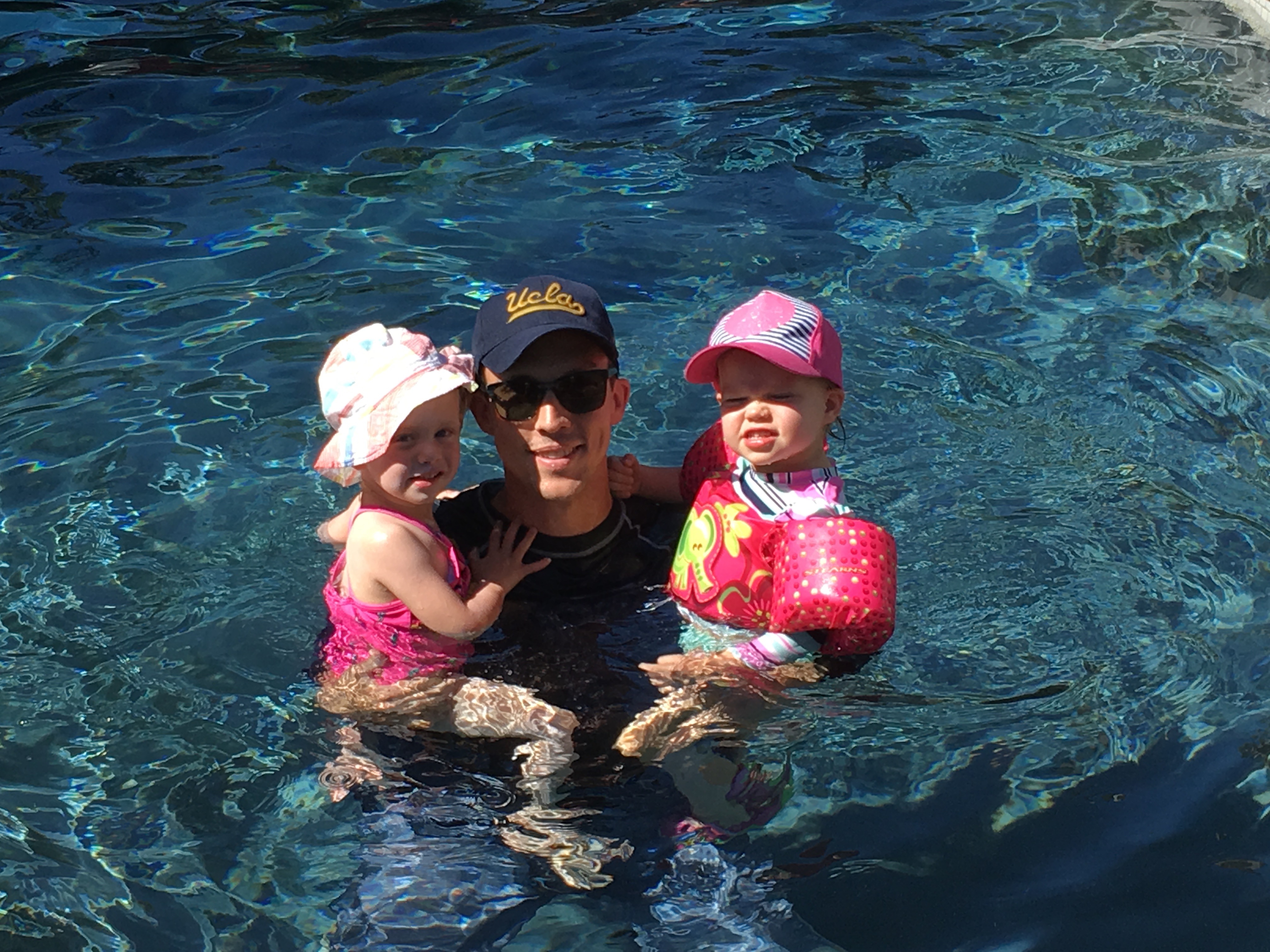 We had plans to hit up the food trucks and fair activities (sack races, live music, etc) in the evening, but we ate so much at our neighbors and were having such a good time in the pool it seemed silly to leave.
Eventually we called it a night (no fireworks for our crew).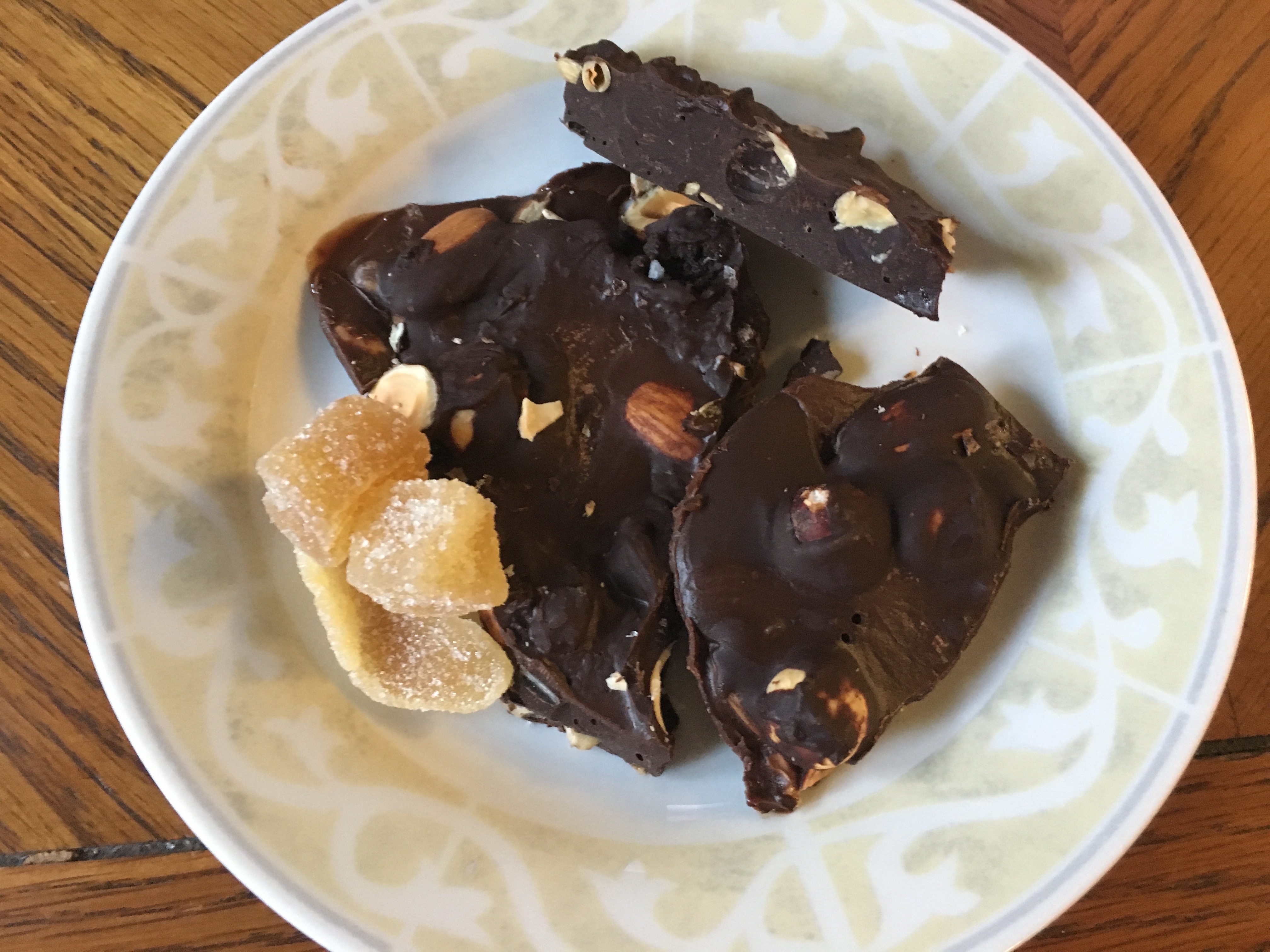 I was actually not hungry after nibbling all afternoon long (salt and pepper kettle CHIPS, gahhhh) but I went big with my chocolate anyway.  I had mega meal planning to do the next day.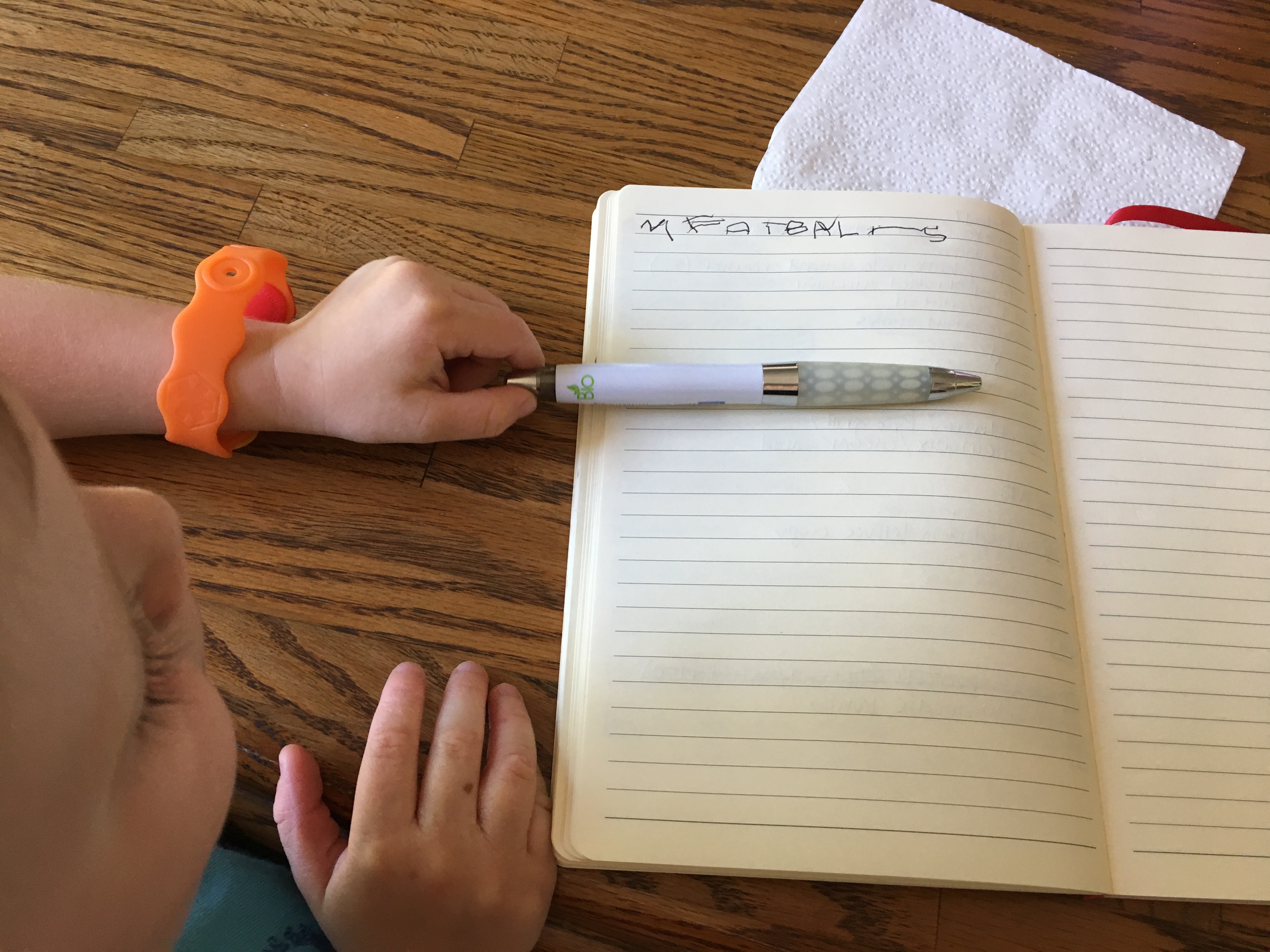 He wants meatballs apparently.