My mom's cousin, Patti, is like my Southern California mom.  Since I lived in Westwood while attending UCLA, we were practically neighbors, and she and her husband, Larry, took pity on me as a poor college student.  Whether I needed a quiet getaway to study, or a home-cooked meal, they were always happy to oblige.  
And let me tell you, they are beyond handy in the kitchen.
Patti's professional background speaks for itself, and on top of that, she even has her own food blog, which is amazing, just like her home-made goodies. 
She introduced me to the world of bread makers, slow cookers, and low sodium cooking, although I doubt she even realizes the impact all that had on me, since I was a broke teenager in those days without a kitchen, let alone the budget, to fuel my cooking experiments. 
When she and Larry went out of town, I was the lucky recipient of house-sitting duties, which came with a fully stocked kitchen (gadgets, appliances and food aplenty) at my disposal AND two adorable pugs 🙂
I could go on and on about how wonderful she is, but instead, I'll let her guest post do all the "talking"…enjoy!
Here's Patti Londre, blogger at www.WorthTheWhisk.com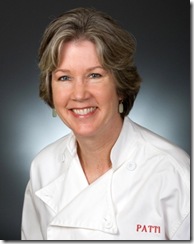 Laura gets a gold star for being a good sport – she is cooking and blogging while Elise is on vacation.  Who doesn't feel bad for Laura, the only family member who isn't in Hawaii?  
Hey, wait.  I'm a family member, too!  I'm a first cousin of Melinda, the mom of Elise and Laura (and Marie).  I went to grammar school with Elise's dad, Jeff.   Elise attended UCLA just a block from my home, we shared a number of meals together here and she pug-sat for us several times.  Elise will tell you one walk she had to carry a very heavy and stubborn pug dog back home, when Zoe decided she was done, that's it.
Larry, my husband, is a good pizza maker; Elise has eaten some of Larry's pizzas.   His dough is scratch-made, an adaptation of the pizza dough recipe in The Good Housekeeping Illustrated Cookbook.  Recently, he discovered fresh yeast at a restaurant supply store.  Now, his pizzas are even better.  We eat a Larry Excellent Pizza practically every week. The night of the final Lakers' win, we brought a pizza down the street to share with friends but sadly for Larry they were not Lakers fans so he kept leaving the table to check the score.
Pizza dough is not fast.  It is slow with several steps.  But all it takes is yeast, flour, water and olive oil.  Making pizza dough is a good project for a rainy day, and you end up with dough for two pizzas (freeze one for the next week).  Once you make your own, Boboli doesn't hack it.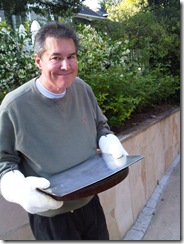 Larry's Excellent Pizza
Dough:
·       1 package active dry yeast
·       About 4 ½ cups all purpose flour (you can use maybe 1 cup of whole wheat and the rest all-purpose but any more WW and it is gummy)
·       1 ½ cups water
·       Olive oil
Toppings:
·       1 cup thick red pasta sauce – jar or homemade
·       About 1 cup of each, one to four things or mix-and-match different areas on your pizza – black olives, green bell pepper slices, sliced mushrooms, marinated artichoke hearts, pineapple, fresh tomato slices, diced onion
·       If desired, a meat:  sliced pepperoni, sausage, bacon, ham
·       ½ lb. shredded mozzarella cheese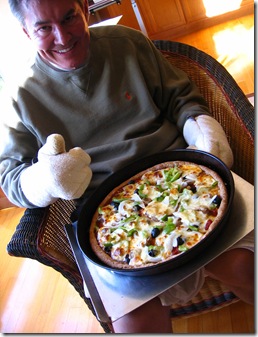 Start early in the day to make the dough.  In a large bowl or bowl of stand mixer, combine yeast, 2 cups flour and 1 tsp salt.  In 1-quart saucepan over low heat, heat water until very warm (120 – 130 degrees F).  With mixer at low speed, slowly blend water into dry ingredients.  Then at medium speed, beat 2 minutes, occasionally scraping bowl with rubber spatula.  Beat in ½ cup flour to make a thick batter, continue beating 2 minutes more.  Stir in about 1 ½ cups additional flour to make a soft dough.
On a floured surface, knead dough about 8 minutes, adding more flour if needed.  Shape into ball, place in a greased large bowl, cover with a towel and let rise until doubled, about 1 hour.
Punch down dough, cut in half.  From this point you can put half the dough into an airtight container in the freezer for another time, or make two pizzas.
Place dough on greased 12-inch pizza pan or cookie sheet, cover with a towel and let sit for 15 minutes.  Preheat oven to 450 degrees F.  Using your fingers, press the dough half into a 13-inch circle.  Pinch up edges of dough to form a rim.  Brush lightly with olive oil.  Bake 10 minutes before adding toppings.  Then spread pasta sauce, toppings and cheese on top.  Bake 10-15 minutes or until crust is golden.  Cut into wedges.