My lovely middle sis, Laura, is the only member of the Hippie fam that couldn't make it to Hawaii (miss you Laur!)…so she's steppin' up to the plate with the food blog.  Laura hearts grubbin' just as much as her big sis, so it's no surprise her food will make you drool a bit, too.  Unlike me, she does enjoy meat (and other animal products), but she's also a big fan of all veggies, beans, and grains. 
So without further ado, here's my FIRST guest blogger: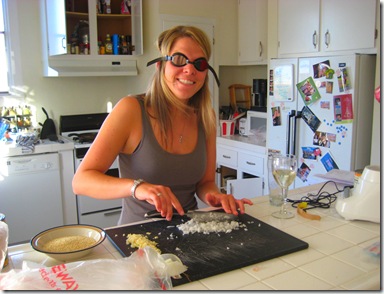 I think Elise has been trying to get me to be a guest blogger ever since she drunkenly told me about her blog when we were on vacation together back in Barcelona, so this has been a long time coming.  I must say though, it's a bit depressing that I am filling in for her while she (and my ENITRE family) are in Hawaii without me (okay, that was my small pity party…and now I'm over it).  Anyway, I'm not a vegan and, in fact, am a huge meat-lover.  But I love to cook healthily and became obsessed with quinoa about a year ago, so I decided to try out a new quinoa recipe for this blog.
Quinoa with Corn and Black Beans
Ingredients:
– 1 tsp vegetable oil
– 1 onion, chopped
– 3 cloves garlic, peeled and chopped
– 3/4 cup uncooked quinoa
– 1 1/2 cups vegetable broth
– 1 tsp ground cumin
– 1/4 tsp cayenne pepper
– salt and pepper to taste
– 1 cup frozen corn kernels
– 1 can (15 oz) black beans, rinsed and drained
– 1/2 cup chopped fresh cilantro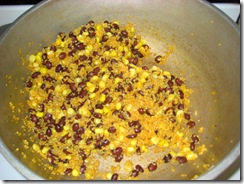 Directions:
1. Heat oil in saucepan over medium heat. Stir in the onion and garlic, and sauté until lightly browned.
2. Mix quinoa into saucepan and cover with vegetable broth.  Season with cumin, cayenne pepper, salt, and pepper.  Bring to boil. Cover, reduce heat, and simmer for 20 mins.
3. Stir frozen corn into saucepan, and continue to simmer for about 5 mins – or until heated through. Mix in black beans and cilantro.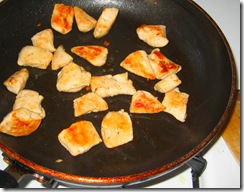 I LOVE avocado, and think that it goes well with just about every dish so I added some avo and tomato to the top, once cooked.  While the quinoa was cooking, I also grilled some chicken (with a simple lemon, garlic, white wine marinade) and had that on the side/mixed in with the quinoa dish.
This dish was FAN-TASTIC!  It was super easy and quick to make and I only encountered one minor problem when my hyperactive tear-ducts were exposed to the most potent onion I've ever chopped.  My eyes were honestly tearing uncontrollably and it was really becoming quite problematic.  The solution??  Swim goggles!  I haven't swum (seriously enough to need goggles, anyway) since pretty much high school, so WHY i had swim goggles in my apartment was beyond me…and when my roommate walked in on me chopping away with goggles on, she felt the need to capture it on camera (see above pic).  Good times.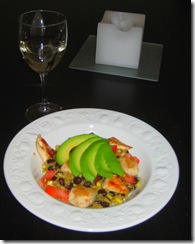 Here is a pic of the finished product.  My roommates and I agreed that this was a recipe that will become a staple in our apt.  And I had plenty of leftovers to bring to work the next day!!
(you know, because I'm not on vacation in Hawaii…haha)
Hope you enjoyed my sister Laura's first guest post…hopefully she will do a few more to come.  Maybe if she gets a lot of positive feedback/commentary?
Hint Hint: leave love.