There won't be many pictures in this post because I was in the sun ALL. DAY. LONG.  I can't get over it.  I took 4,601,546 pictures of cherry blossoms and dogwoods today.  Literally.  My computer nearly exploded with all the megabytes I tried to upload from my camera.  Did I just use a techie term?  Why yes I did.  There's hope yet. 
Anyways, here's how I started the day – whole wheat sando thin with Justin's maple almond butter and banana slices (along with unpictured javahhhh).
I had a bushel of apples while taking the city by storm on foot.  I came back in the late afternoon for a cool refreshment.
Berry delicious. 
1/4 block silken tofu
1/2 cup frozen mixed berries
frozen 1/2 banana
1/2 cup water
ice ice ice baby
It's pretty much the only way I will drink water, so nowadays I have been trying to make my green monsters and smoothies with all water and ice (in case you cared).
After this, I was back outside.  I multi-tasked and made some phone calls while covering the UWS from park to park (Riverside to Central).  I really meant to go on a run later, but instead, I laced up and did more speed walking in the Park's unchartered territory (well, unchartered for me…I certainly wasn't off-roading it).  And by speed walking, I mean dancing/skipping to The Shins.  If you saw me, I'm sorry. 
I got home after 6 pm and it was STILL light outside – love it! 
I had no desire to cook so I heated Amy's Tom Kha Phar Thai Coconut soup.  Since I knew there was no way it would fill me up, I fiber-ed it up.  How you ask?  I steamed kale, broccoli, and peas to pour the soup over.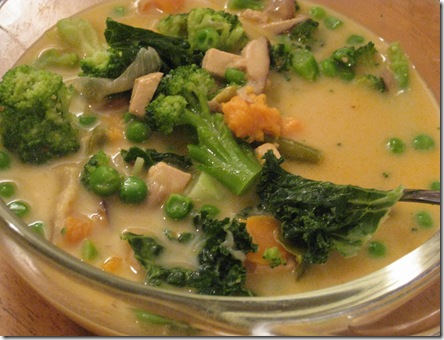 Ok kids, this is what you MUST do to your next soup.  The kale and extra veggies with the coconut milk took the (already amazing) soup over the edge.  Period.  End of discush.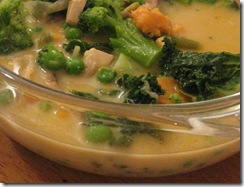 Another random thing I've been meaning to point out (that the kale and sweet potatoes in the soup reminded me of) is how green and orange pretty much always go together.  Is there an exception?  Hmmm…none I can think of.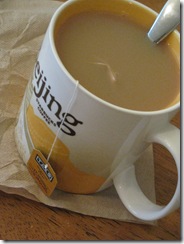 I had six (!!) huge mugs of non-milk milky tea after dinner.  Dehydrated?  Not any more.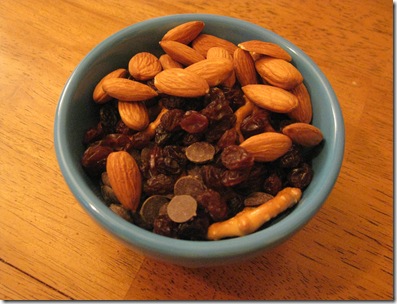 And to close the night out, I had a dessert bowl with almonds, carob chips, raisins, and (way under there) spelt pretzels. 
Full day ahead of me tomorrow.  Ciao!