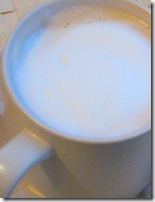 Even with a huge cup of frothy coffee, the morning still sucked.  After reading that Sarah decided it was time to bow out of the food blog world (darn creepers stalking her lovin family) I knew I needed something more substantial than my normal cup of joe!  So I dried my tears and busted out the blender.
This Amazing Grass smoothie contained half a plain greek yogurt (Chobani of course), half a frozen banana, almond milk, and a chocolate-y packet of lawn shavings.
I stirred melon and dried cranberries into the rest of the greek yogurt – and after that I had a Superfruit Kombucha.  I wonder what a superfruit is?
Lunch was nothing new.  My apartment's contents are fairly predictable, so it's merely a matter of tweaking the combinations.  In the above salad was seaweed, sesame seeds, matchstick carrots, dried cranz, and chickpeas.  It was a nice mix of crunch, sweet, salty, yum.  I hope y'all know what that round red thing is on the left.
After some time to digest, I finally managed to drag my butt off the couch.  It was really difficult.  Suddenly I'm lazy lazy hippie.  Why can't I get motivated!!!  I didn't even work yesterday, and I still managed to use the weather as an excuse to skip exercise.  Jillian would be so mad at me.  I think I need some JM bootcamp action.  If only she were my personal trainer.  Sigh.
At the gym today I elliptical-ed until Top Chef ended I got bored.  Talk about an uninspired workout.  Post sweat sesh endorphins felt nice, but I couldn't help but feel annoyed at my pathetic cardio routine.  I know I shouldn't compare my current activity to my former, but how can I not when I used to train with 6 miler runs a day MINIMUM.  Sorry for the whine.
I did huge amounts of grocery shopping on the way home, and after I showered I set to work on dinner.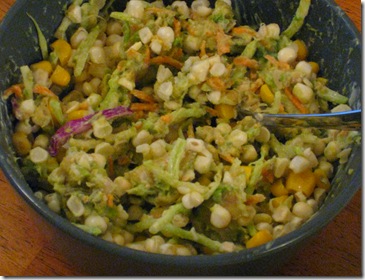 Holy GUACAMOLE!
Dinner at Gena's last night whet my appetite for guacamole in a major way, so I was craving avocado all day…hence the guac-fest for dinner.
1 1/2 avocados
shredded carrots
broccoli slaw
raw white sweet corn and yellow corn
squirt of lime juice
stevia packet
I used the leftover lettuce cups from the other night into which I scooped the guacamole.  Yowza, I could eat this every single night.
I waited a few hours to have dessert because I wanted to allow my tummy to digest (and I'm trying to integrate more of the food combining principles into my diet).
Not only was dessert (aka after-dinner dried fruit/nut snackage) in line with the food combo laws, but it was also SO unlike me!!  Can you believe what an amazing influence the food blog world has had on me?  Your eyes aren't playing tricks on you, I actually willingly ate nuts.  NUTS!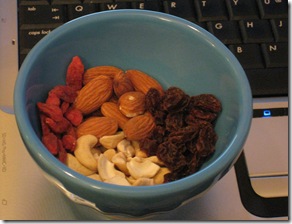 So nutty!
I got cashew pieces (cheaper than whole ones, great tip Gena), raw almonds, raisins, and goji berries.  I had never tried goji berries before, and finally got over myself, and bit the bullet.  It had the texture/consistency of a harder raisin, but wasn't as sweet.  It's hard to describe. Try them for yourself and see!!  They have numerous health benefits too, including antioxidant and neuro-protective properties, cardiovascular and inflammatory disease prevention, and anticancer actions.  I'm down with that.
What new food or food combination have you tried because you've seen them on blogs?
I couldn't even begin to count the positive ways this community has affected me.