I've been keeping up with weekly meal planning for almost a year now – with random weeks off due to travel/holidays/etc..  But for the most part, it's been a very successful technique in keeping our food budget in check. 
I thought it would be way more expensive once we started including meat, but it hasn't been too significant of a difference because the marginal increase in animal protein is balanced by the fact that we all eat the same thing (thus, a decrease in overall ingredients).  One meal as opposed to three.  At least for dinner.  I pack Kyle's lunches and they do contain wheat and dairy and (until we run out entirely) nuts, since he's not nursing and out of the house when he eats them, it's no big deal.  Otherwise, we are a communal diet family. 
I slipped up a bit this week because I had some mad tempeh cravings, but otherwise here are the allergy friendly dinners we shared.
Salmon burgers over a huge salad with TJ's Caesar dressing.
I called and left a message with Trident Seafoods about their facilities and they called me back and were so helpful!  They are all peanut and tree nut free, and one of their two facilities is sesame and free and the other is not but they still clean it thoroughly between the use of sesame products.  The customer service rep showed me where to look up the ID number of the product (on the bottom of the package) to determine which facility it was made at.  We happened to get a package from the sesame free facility!  And since the package is already labeled as gluten free, we are in the clear.  Win! 
Kale, quinoa and tempeh Caesar salad.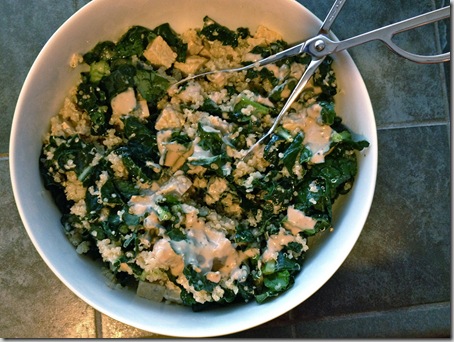 I can't get enough Caesar dressing lately.  TJ's makes a non-dairy version that's pretty great.  Unfortunately, it's not vegan, but at least P was spared one allergen (the tempeh is soy, of course).  From now on I'll probably nix the tempeh or use chicken instead, but since we are on a budget, I didn't want to let the tempeh that's been in our fridge for the past month go to waste.  I've been eyeing it for far too long and I finally caved.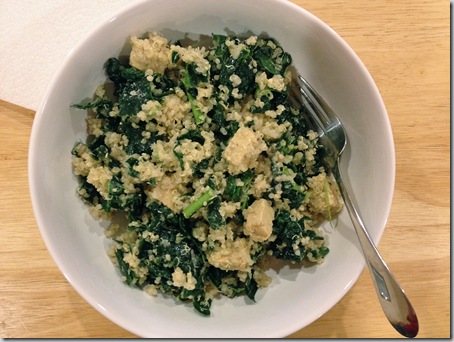 It was so good, but not worth the poor eczema flare P had as a result.  I had thought eating it at dinner and waiting 12 hours overnight wouldn't be too bad, but I think it takes longer to clear out of my system.  At least in that amount.  🙁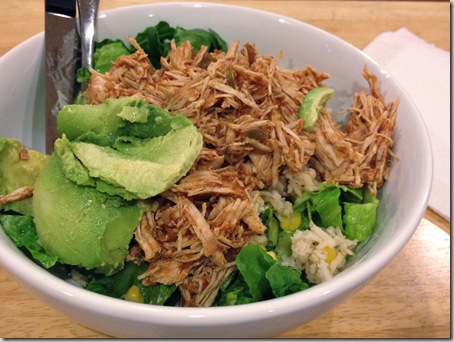 Home-made Chipotle bowl.
For the rice, I mixed corn, cilantro, and lime juice into brown rice.  For the chicken, I cooked two breasts in the crock pot covered in salsa for 8 hours on low.  It shredded in 5 seconds and made for minimal hands on work.  Kyle demanded a repeat of this meal immediately, so I suspect it will be a regular.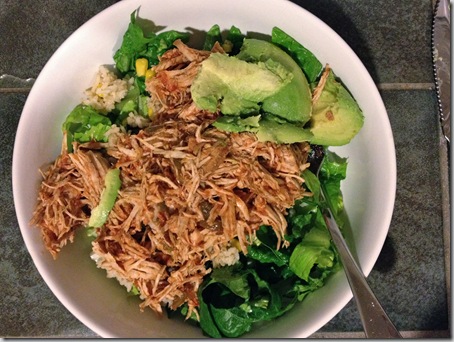 It was seriously easy so that's fine by me.  I served the chicken and rice with romaine and avocado.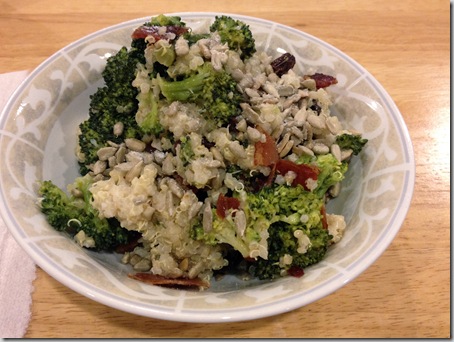 I've made this broccoli salad previously (both times adding quinoa).  Just as good this time (I had two more huge servings and the leftovers for lunch the next day).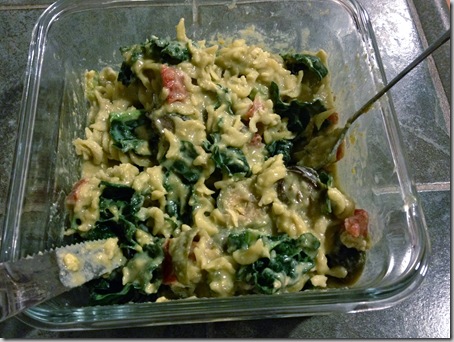 I actually made us two separate meals this night because we didn't have very much GF pasta after P ate dinner (his appetite keeps surprising me!).  So Kyle had wheat pasta with this pesto (frozen from our summer produce) and I had the (above) mish mash.
Since you probably can't tell, it's TJ's pasta with kale and roasted veggies topped in an avocado/nutritional yeast sauce.  Despite appearances, it was delicious.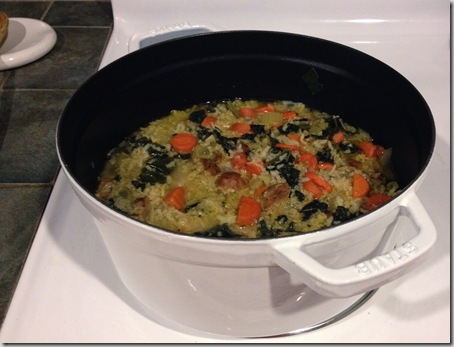 Kyle's dad was in town on Friday night (Valentine's Day) so our romantic dinner was re-scheduled for Sunday.  I made a stew with veggies, kale, rice, and sausage.
Saturday was P's first birthday party, so we treated ourselves to sushi that night.  No pics because I devoured it superfast.  Avocado inari is my fave.
And here are a few more meals that I photographed from the previous week but never shared…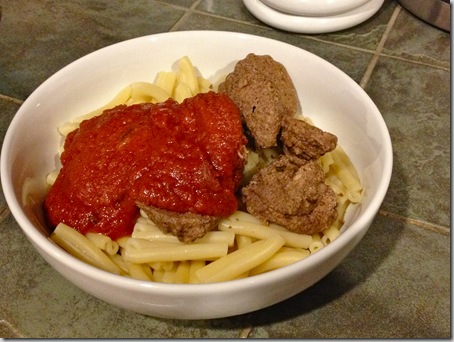 Pasta with marinara and home-made lentil "meatballs".  I made extra pasta for Kyle's lunch the next day, as well as extra GF pasta for me & P.
He loves pasta with olive oil or chicken broth.  Frankly I can get him to eat anything with chicken broth.  It's how I shoved brown rice and squash down his throat just yesterday.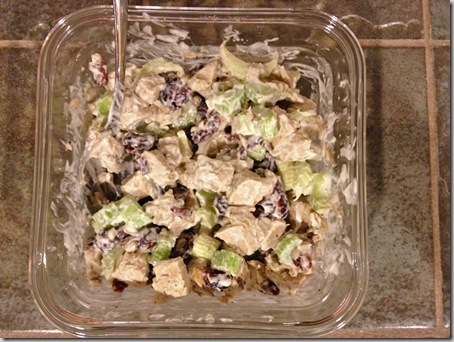 This was a Sonoma "chickn" salad made from Beyond Meat chicken-free strips.  I love their products so much.  They are getting "beefy crumbles" soon which should be interesting.
I basically tweaked the Whole Foods version of the Sonoma salad that first introduced me to Beyond Meat's product – mayo, dried cranberries, sunflower seeds, celery, salt & pepper.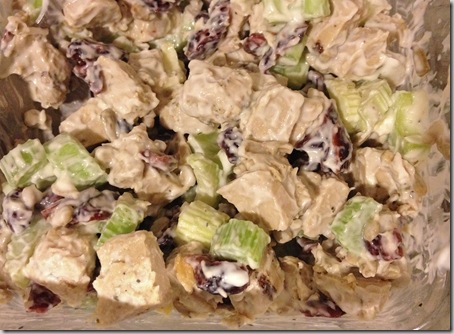 Served atop a salad (or on a sandwich the next day).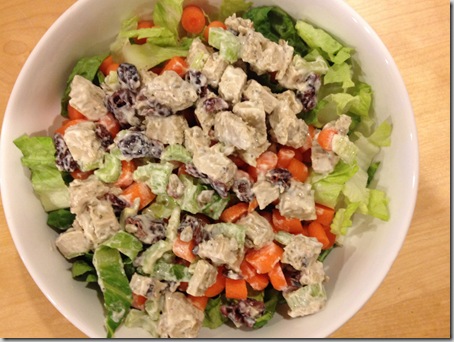 In addition to Caesar I'm really into mayo these days.  It's all about the condiments, baby.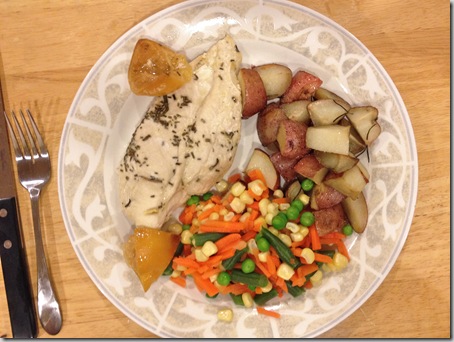 Rosemary and lemon chicken and red potatoes with mixed veggies.  We all ate this one, no alterations needed.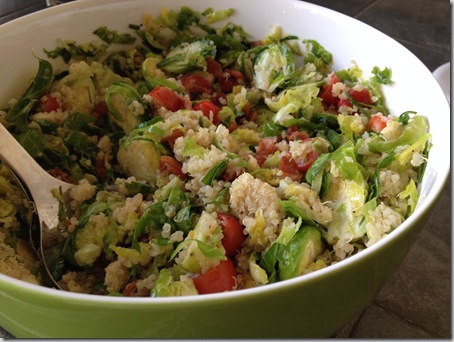 Spoon Fork Bacon's shaved brussel salad with quinoa instead of pretzel bread and bacon instead of pancetta.  So good we made it again for P's birthday party.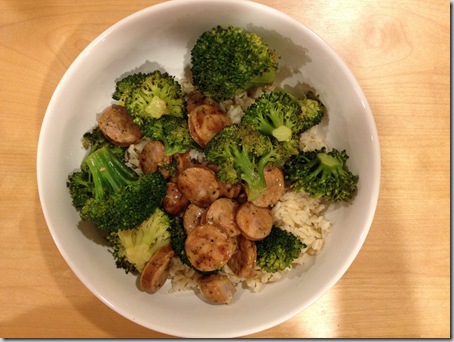 Brown rice, broccoli, and organic chicken sausage.  I wasn't too keen on the sausage, to be honest.  The flavor was fine, but the texture weirded me out. 
So there you have it – an assortment meals for our omni family.