It's hard to write about food…all I want to do is chat brag about my baby boy.
He's perfect. 
So don't be surprised if this blog veers a little in the family/baby direction. 
But for now, I'm here with food stuff.  Even more than before, I need super fast meals.  Preferably healthy ones that can be made one handed.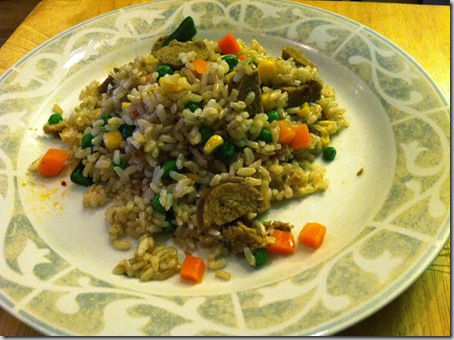 I've basically been relying on the rice cooker and crock pot, per usual.  [You can see this post for my go-to quick & easy week night meals] 
Love me a brown rice stir fry.
Add in frozen veggies, tofurky sausage, and a few glugs of oil and you've got dinner.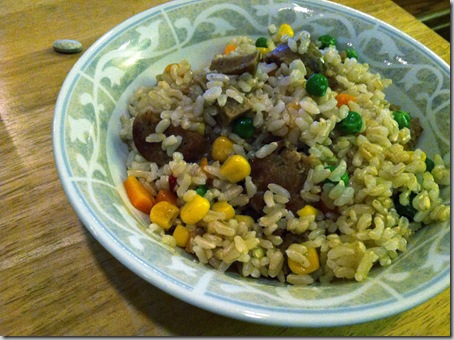 Next trick I've been using is salad dressing as a marinade.
It's idiot proof.  Tempeh and tamari miso dressing and the oven.  That's all you need.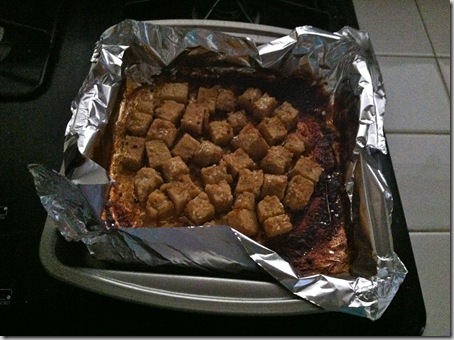 I baked it for 30 minutes on 350 degrees.  Then I combined it with quinoa and corn.
Quinoa quiche but bigger.  Turns out Kyle and I are total pigs…and even though I made this in a big a$$ casserole dish it still didn't last longer than a day.
And, of course, the always popular hippie bowl (quinoa, seitan, spinach, coconut aminos).  <— first time buying coconut aminos instead of Bragg's aminos and I'm not sure how I feel yet.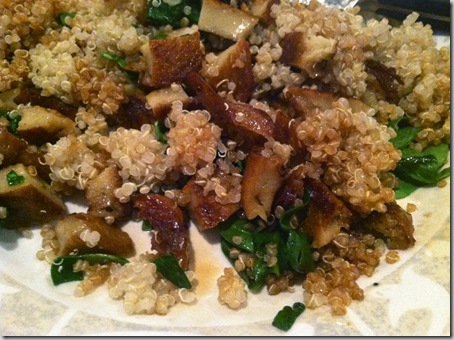 So those are some dinners. 
Pretty soon I'm going to step it up a notch in the meal department, so there will (hopefully!?) be actual recipes coming your way.  My kitchen is calling to me in a major way so as soon as I figure out how to dice veggies with one hand use the moby wrap, it's game on. 
You know what?  That would be an awesome Top Chef challenge!  Have the chefs try to play single/stay at home mom for a quick fire and cook with a baby.  Suddenly stir fry doesn't sound so bad, huh?