Kyle and I skipped town for the weekend to celebrate my birthday.  It was an epic trip in so many ways.  P and V stayed with my parents and had a ball…I'm not sure who was more delighted, my parents or the kiddos, but that certainly made it easy to leave them.
This was the first time we were away (overnight!) from them and so we took advantage and maximized our vacay…priority one: relaxation.
Sleep, pool, book, massage, sleep.  Heaven.
We got some bomb food too because, duh, that's what you DO when you travel!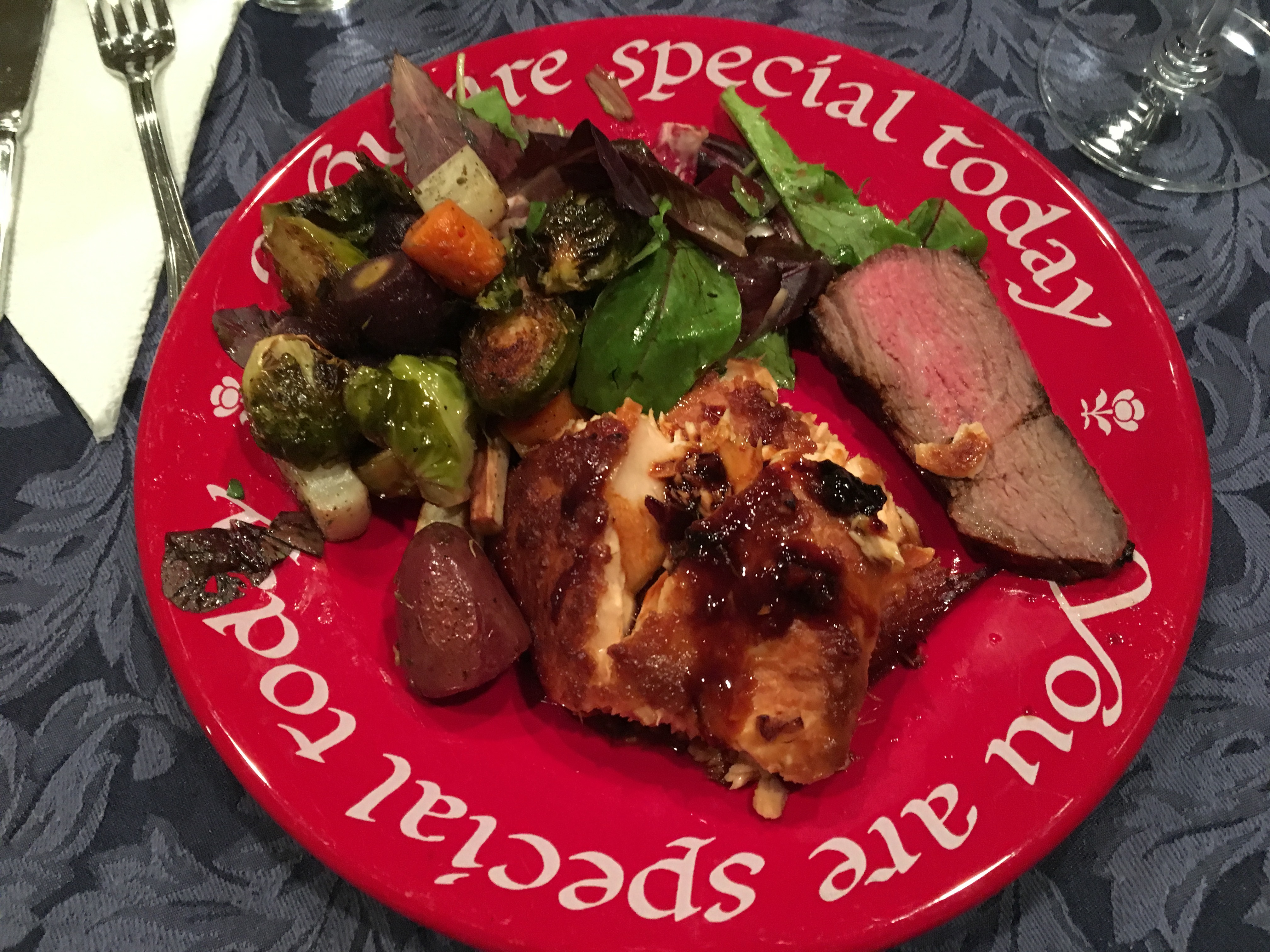 On Friday night we all had dinner at my parents' house, including my sisters and their dudes.  P loves his uncles something fierce.
I got the special plate, naturally.  My eyes were bigger than my stomach and I ended up pawning off the beef and some of the salmon to Kyle.  I went back for seconds of the veggies though.  Roasted veggies for-eh-ver.  And my mom made an apple cobbler for dessert which we ate while watching my sister's wedding video.  Good family times.
The next morning at the airport…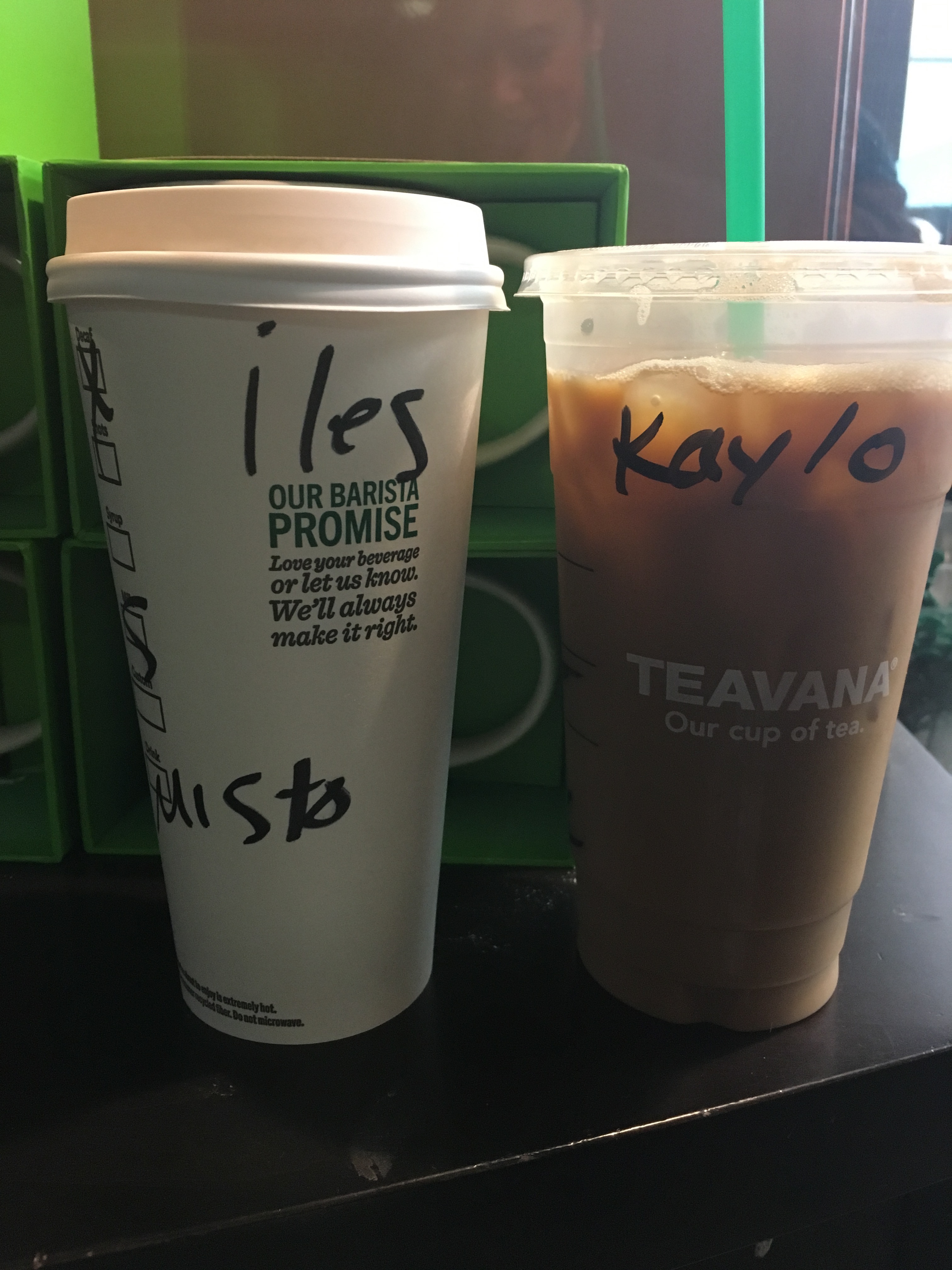 HAHAHA.  iles + kaylo 4ever.  I'm used to my name being butchered, but wow.
On the positive side, I love that sbux has stevia now.  It makes me want to continue to go there even though I have sworn them off so many times.  Ugh.
Our flight was at 8 something, so I got a chance to nurse V and say goodbye to both babes before we grabbed an uber to OAK.  From there on, it was adult time!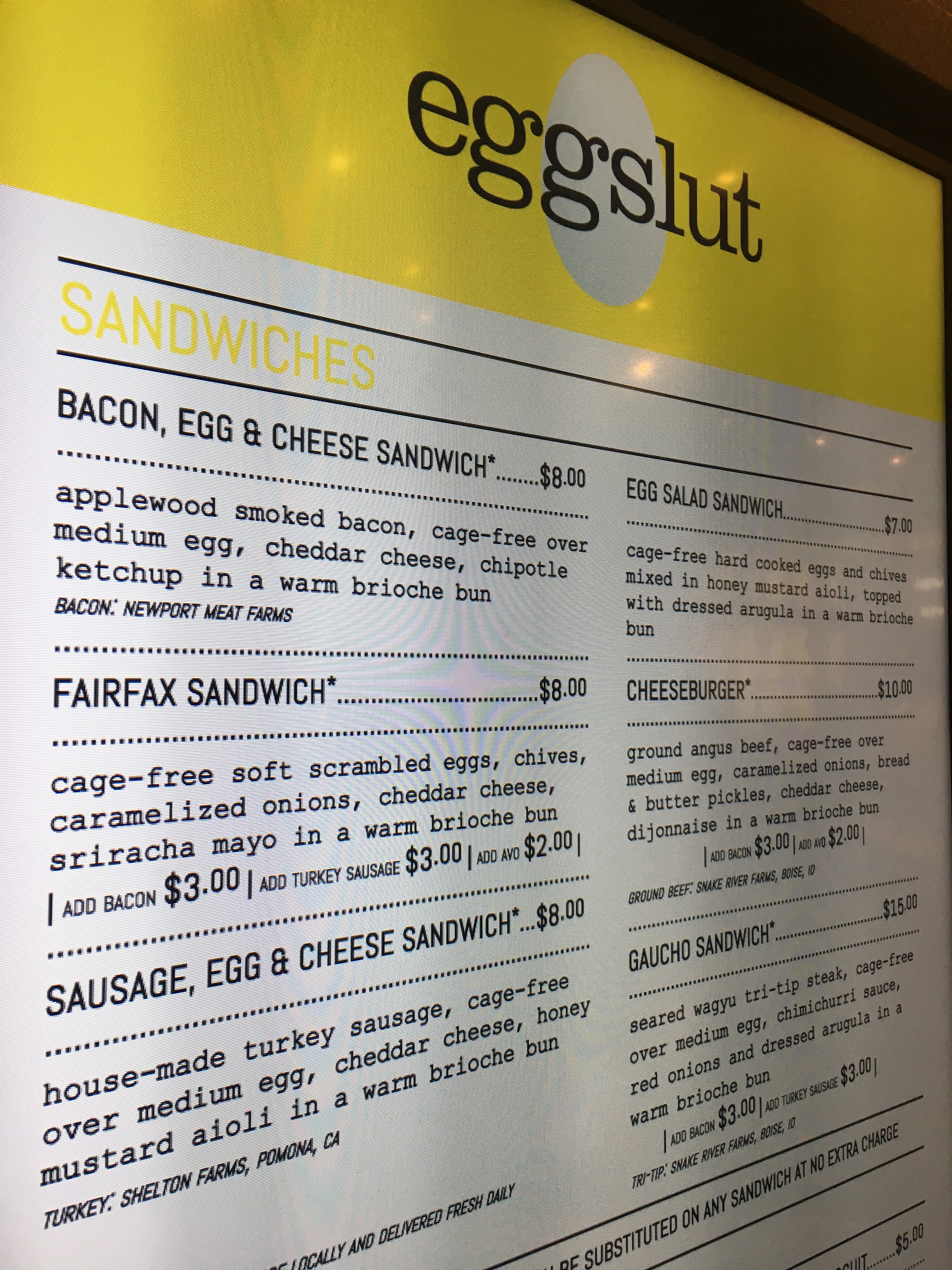 We tried to be as quick as possible in dropping off our luggage and getting to food because we were both starving…and then we saw the line for eggslut.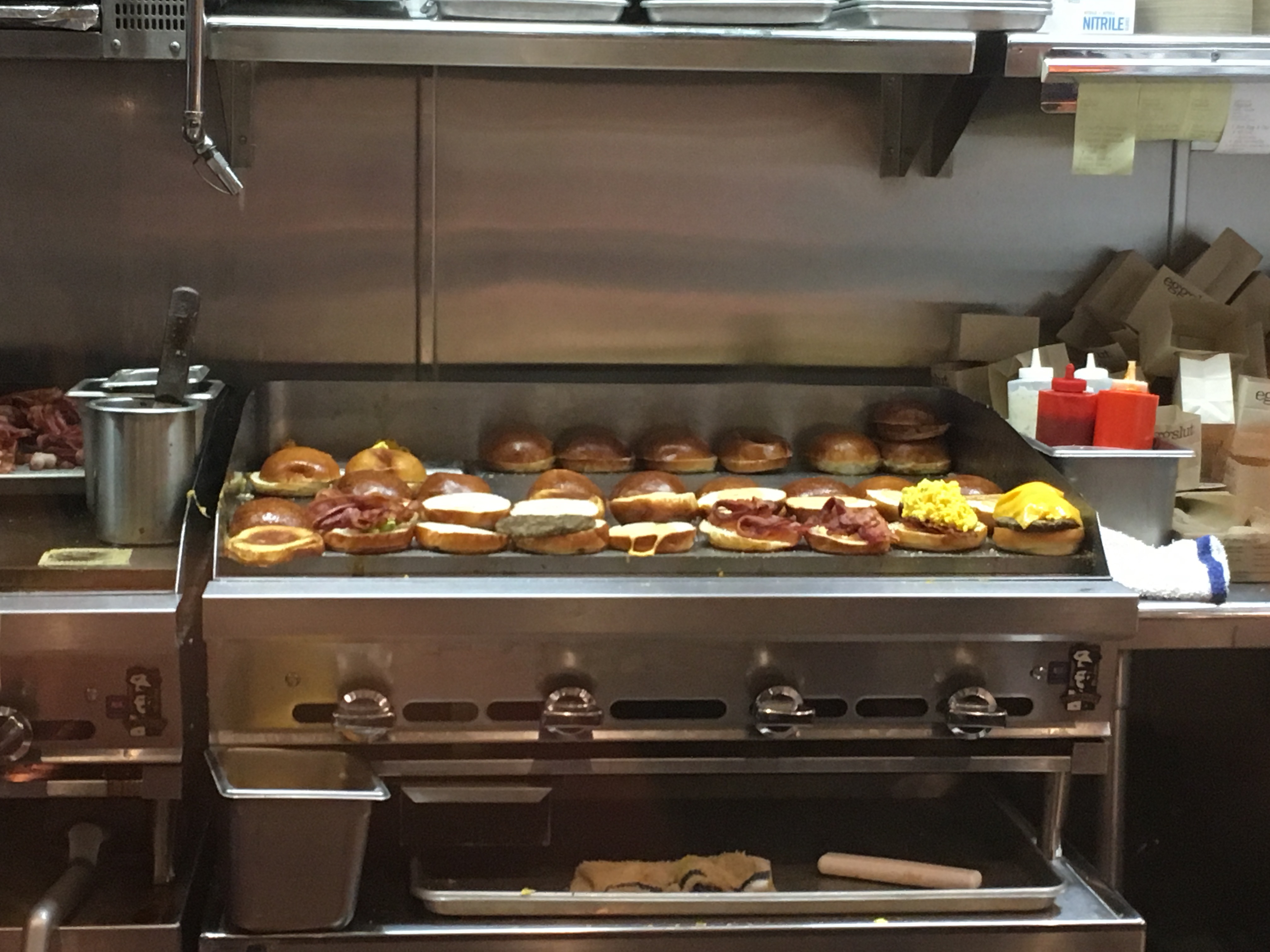 Still, we waited. Because that's what you do for good food.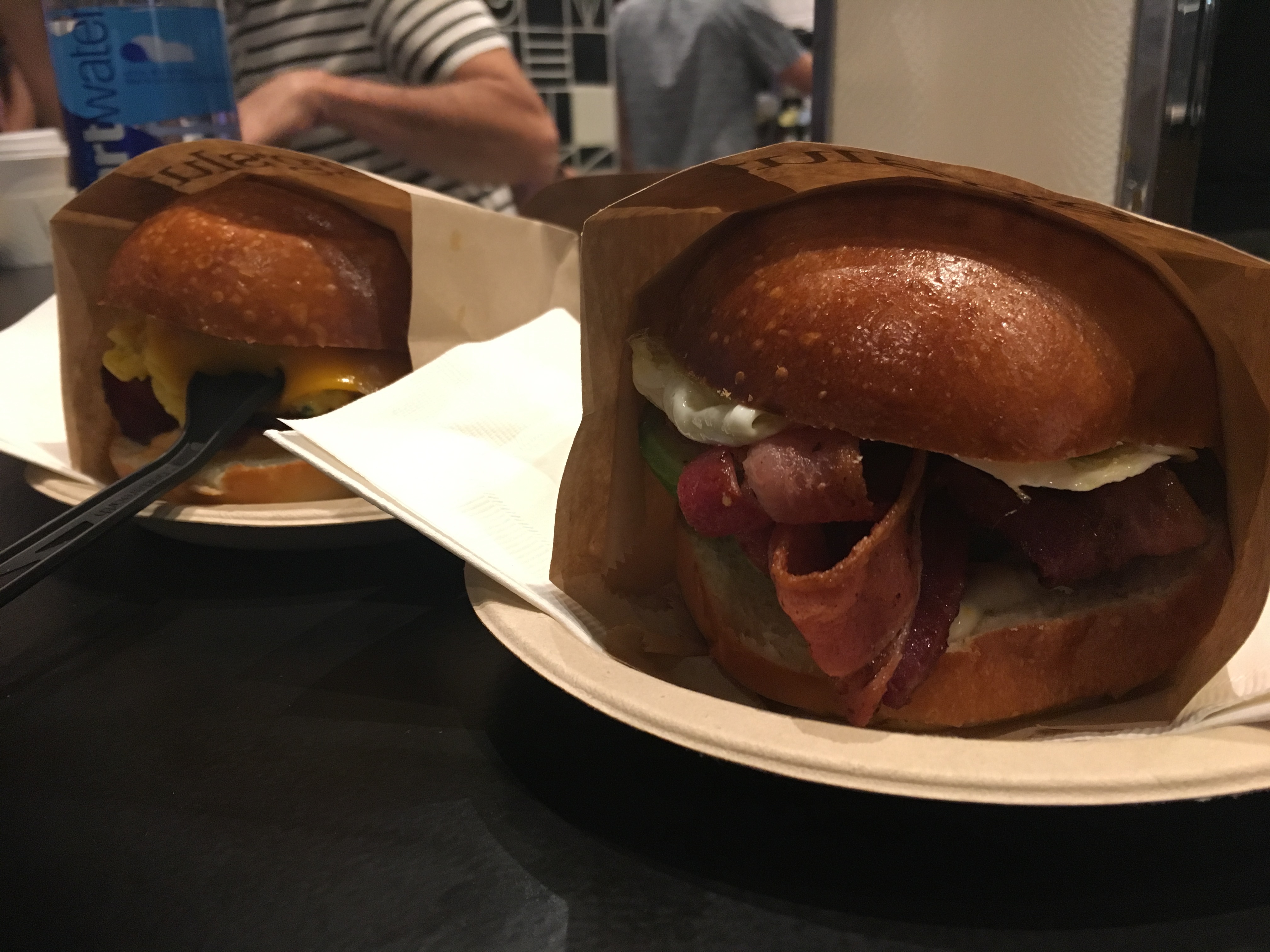 WORTH. IT.
For the rest of the day we drank (mimosas!) and watched football and lounged by the pool until our room was finally ready.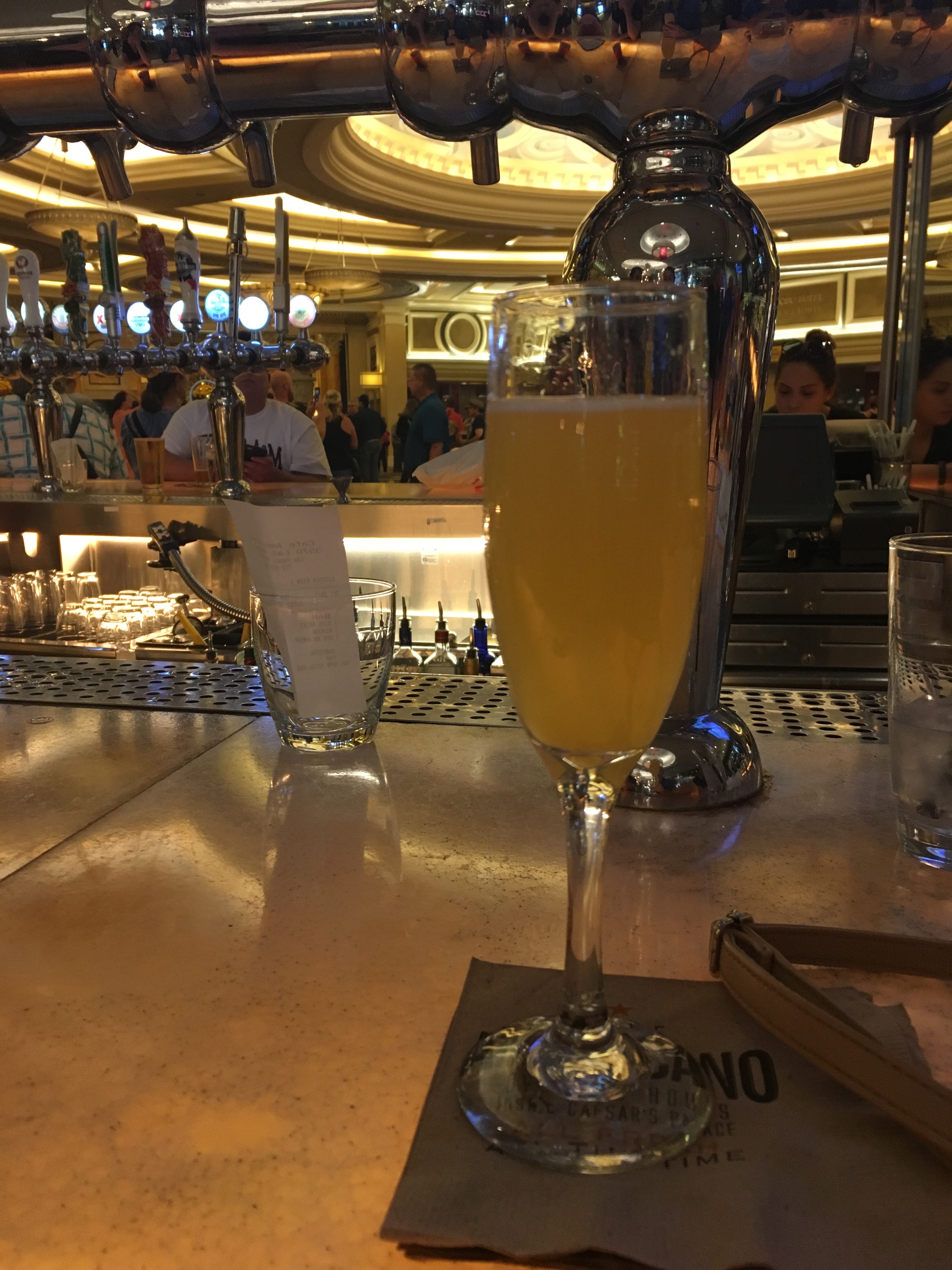 I'm not entirely sure why, but they upgraded us to the pent house level at Caesar's.  It had a jacuzzi 🙂
Not too shabby!
I can't find any photos of dinner (maybe I took them on Kyle's phone?) but we went to Tao and it was PHENOMENAL.  I have nothing but fantastic things to say about the service, the food, the drinks, the ambiance…all of it.  It's almost impossible to choose a restaurant in Vegas because every well known chef has representation, which is a blessing and curse for a foodie with only a couple of nights in town.  Anyway, Tao was recommended to us by someone who frequents Vegas and I'm glad we took her advice because she was dead on.  She also told us two must-order items on the menu – the miso glazed chilean sea bass and the lobster wontons – which we got and loved.
We also ordered the special because it sounded way too good to pass up.  It was a short rib dish with sweet potato buns and lettuce cups for serving and. it. was. so. so. good.  So delicious, in fact, that we basically stuffed ourselves to the breaking point and both felt rather uncomfortable after.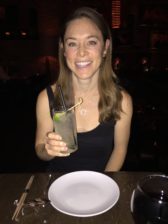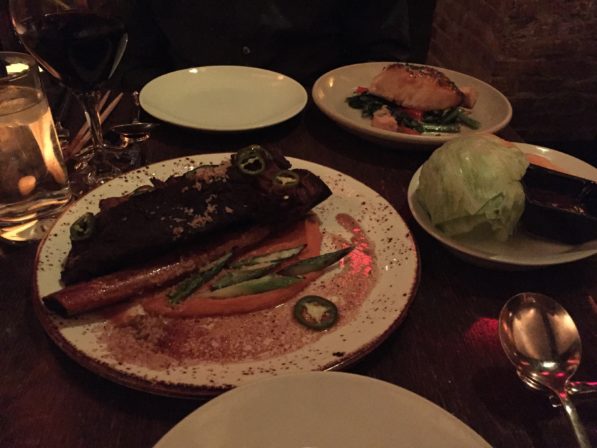 Last night of 33 🙂  I got a fancy drank because I can't turn down a twist on a moscow mule.  Ginger love.
After dinner we walked 800 miles (down to the opposite end of the strip) to see Michael Jackson's ONE.  !!!!!!! What a show!  WHAT A SHOW!!  Honestly, make a trip to Vegas just for this show.  It made me miss MJ.  But also, it made me want to d a n c e. Such a great night.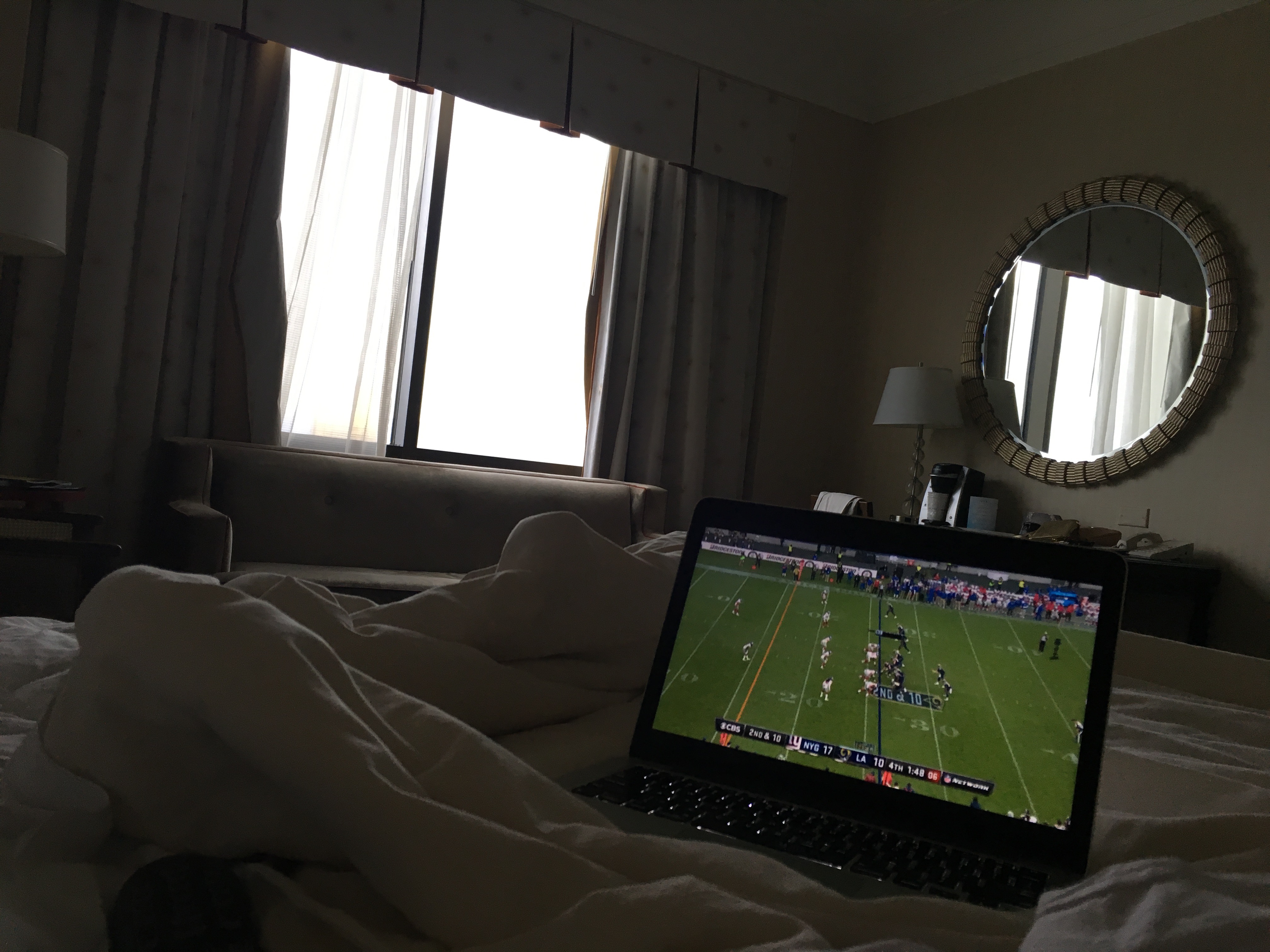 I slept in like whoa on Sunday morning, so that was great.  When I finally did wake up there was football on to greet me.  And then Kyle went downstairs and grabbed me a coffee so I didn't even have to leave the room bed.  Sloth birthday underway…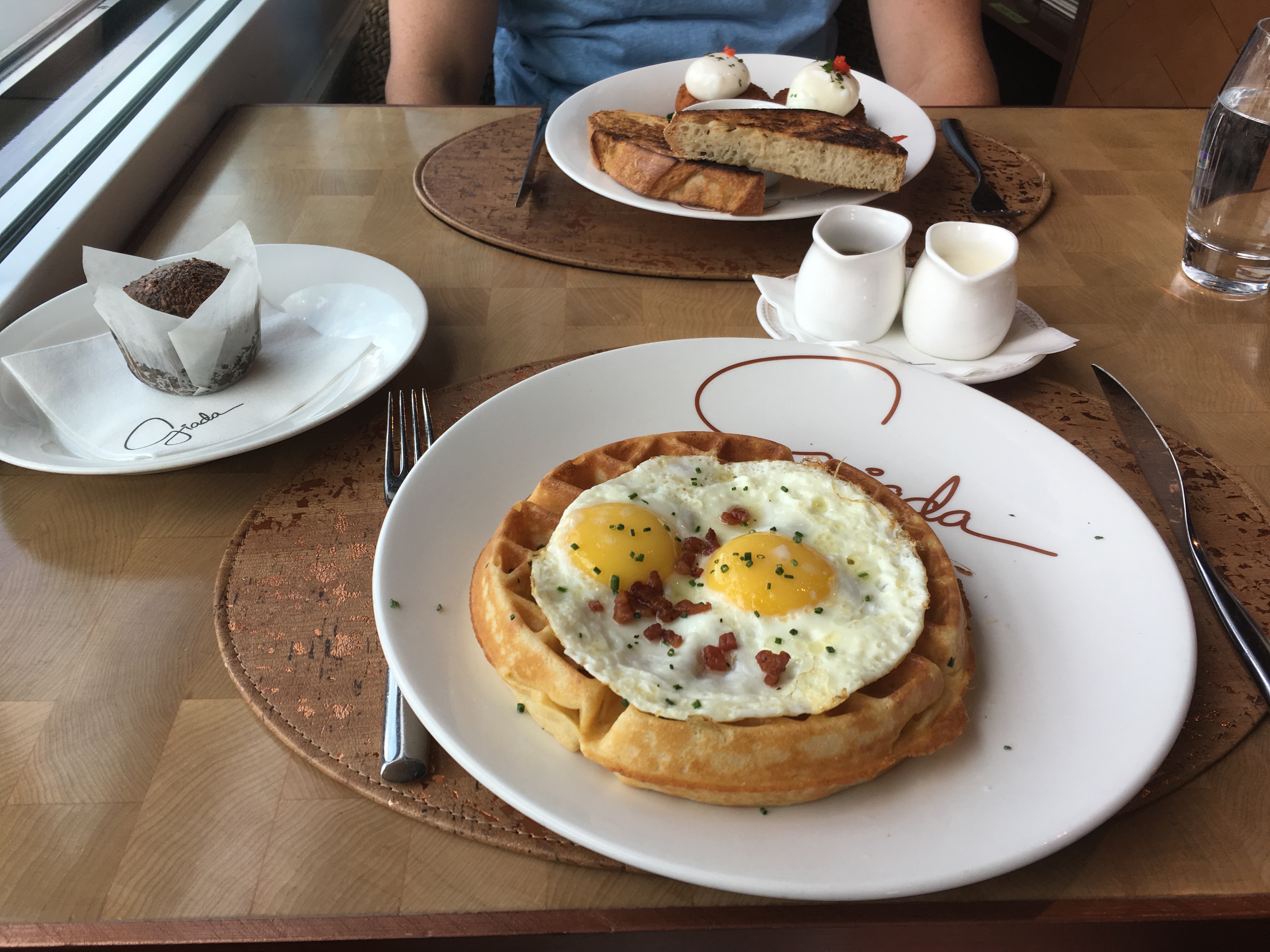 Eventually we went to brunch.  Across the street (which in Vegas is still a 15 minute walk somehow) at Giada's in The Cromwell.
It was v difficult to narrow down our choices because the menu was legit droolworthy.  But Vegas is no time for granola and yogurt.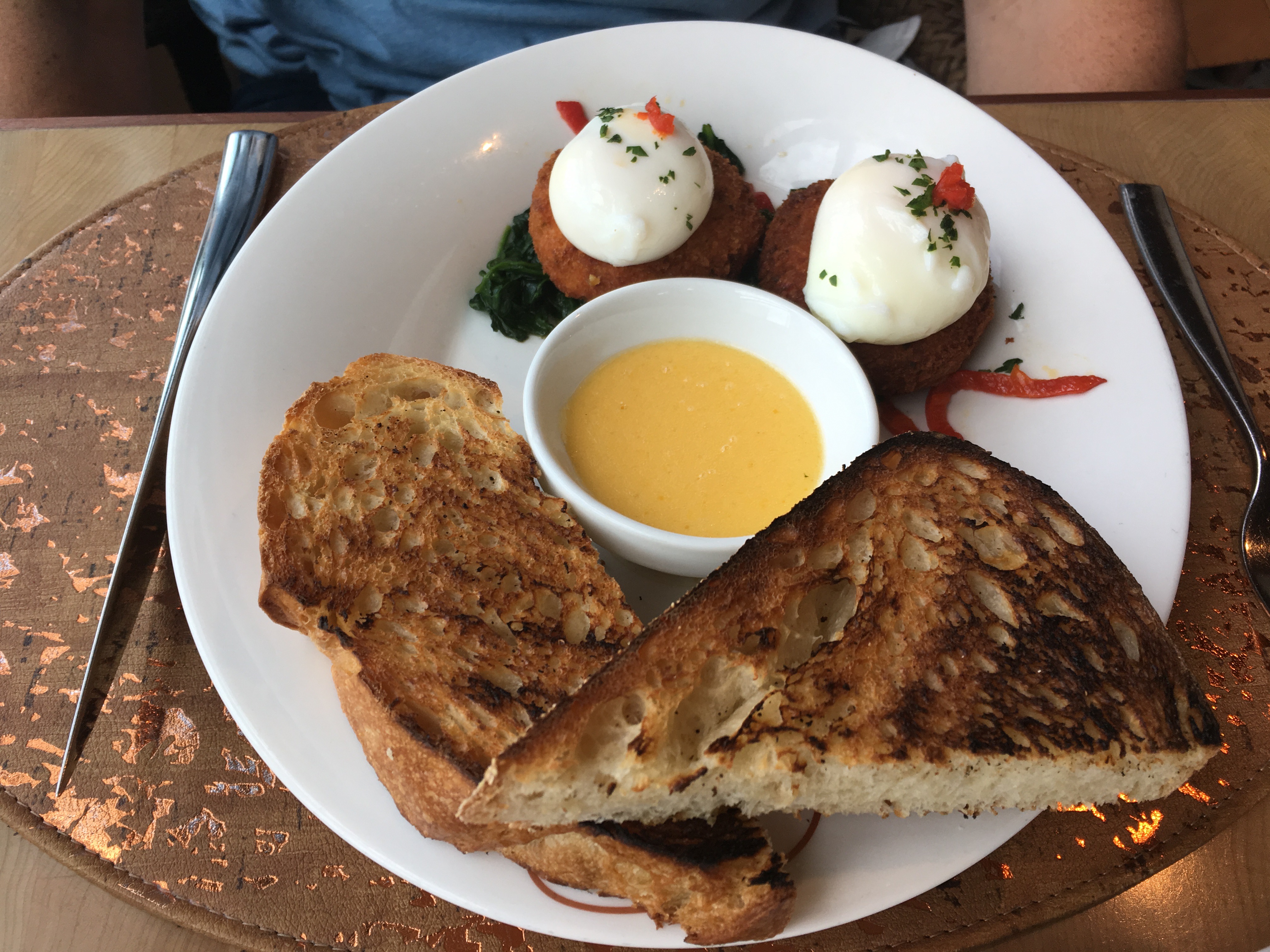 Kyle got the benedict on salmon cakes and I got the polenta waffles with fried eggs.  Mine came with a ridiculous maple syrup and hollandaise something or other that I went to town on.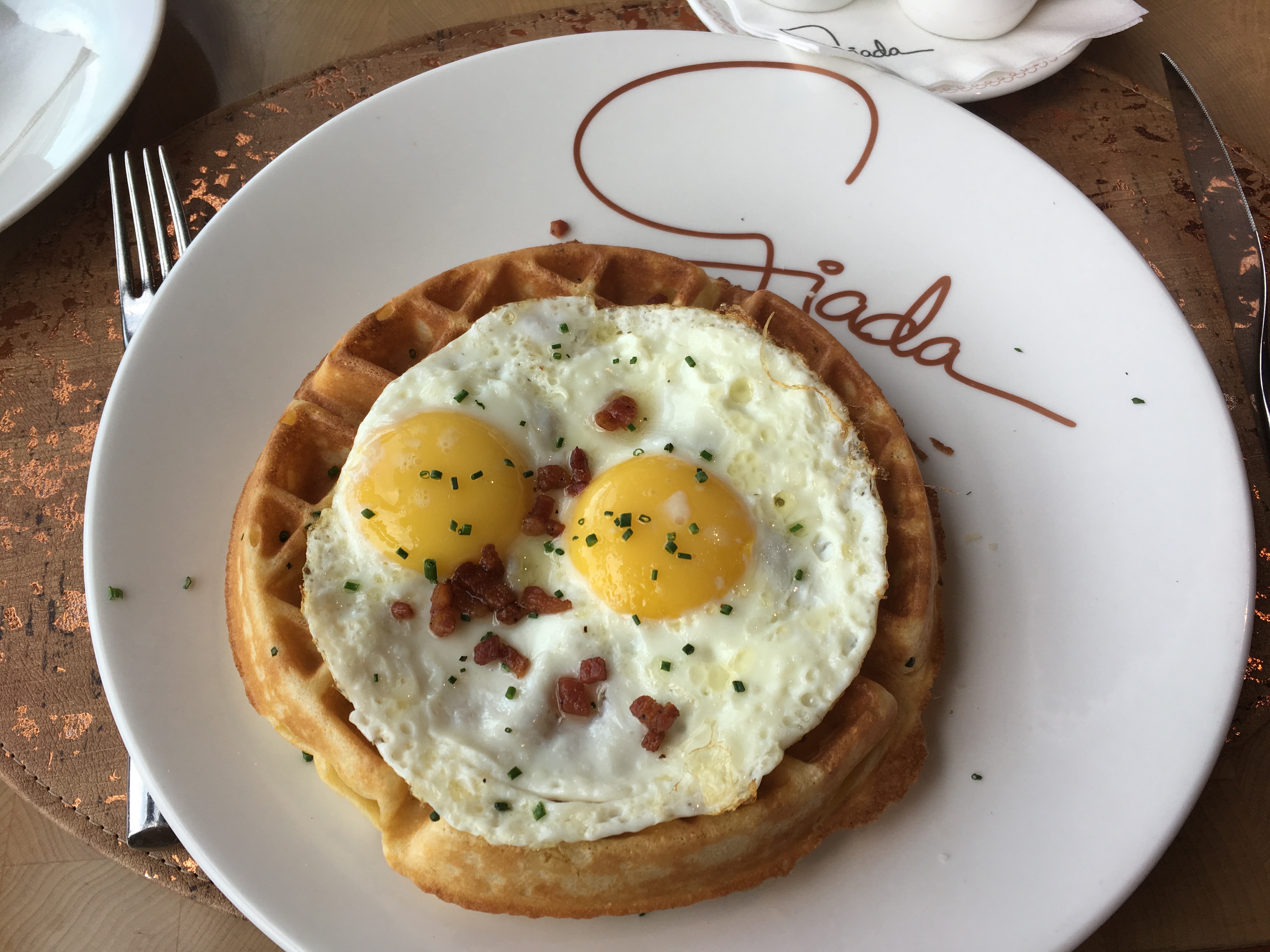 And then I polished off every last bite.  Yes I did.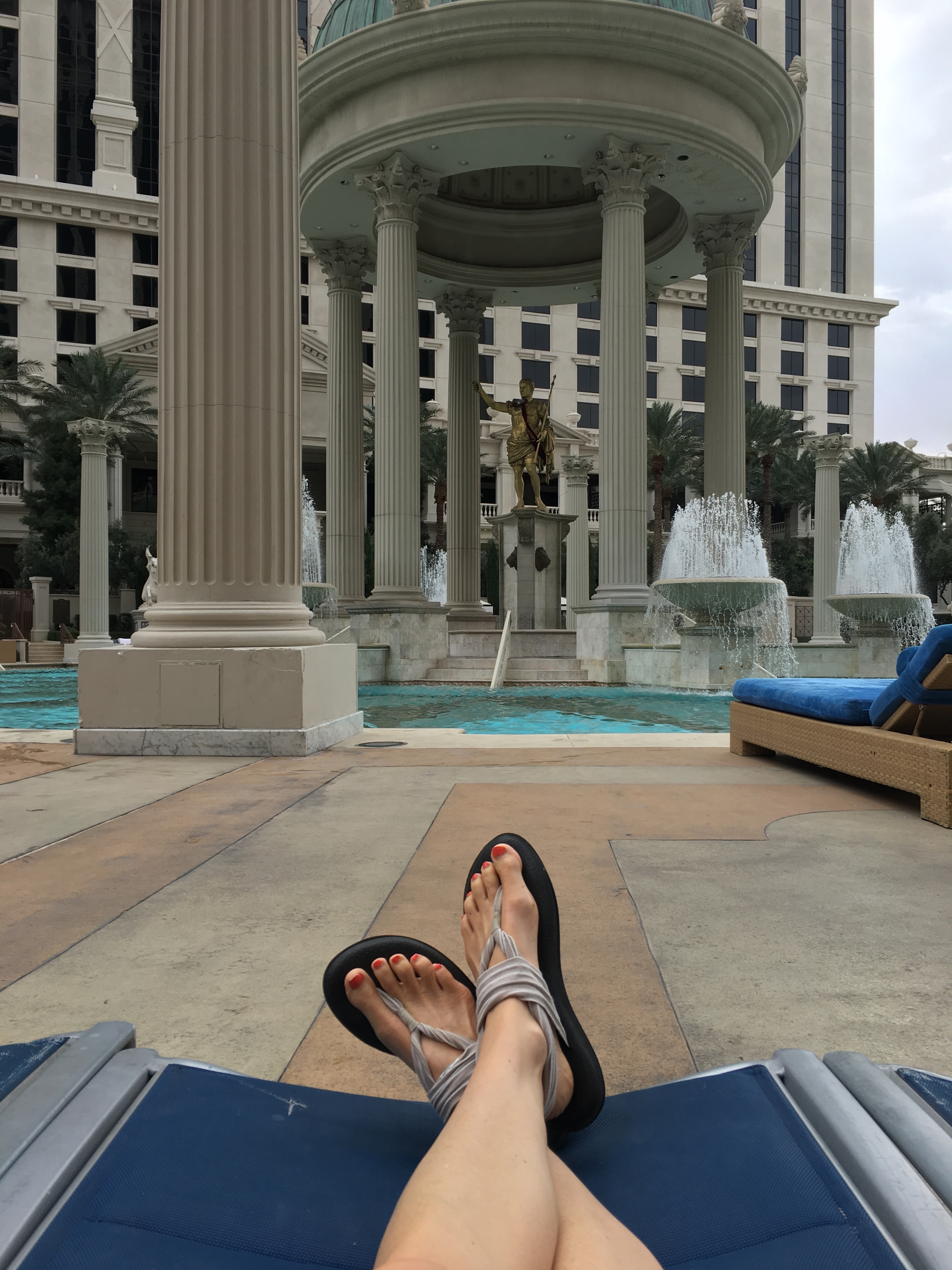 Happy birthday to mama!
We lazed the afternoon away at the pool where I started a book I will likely never finish and drank more mimosas.  At some point we got lunch, went to the gym (I know!?), and got massages.  I probably could have stayed in the spa all night, but we had dinner reservations.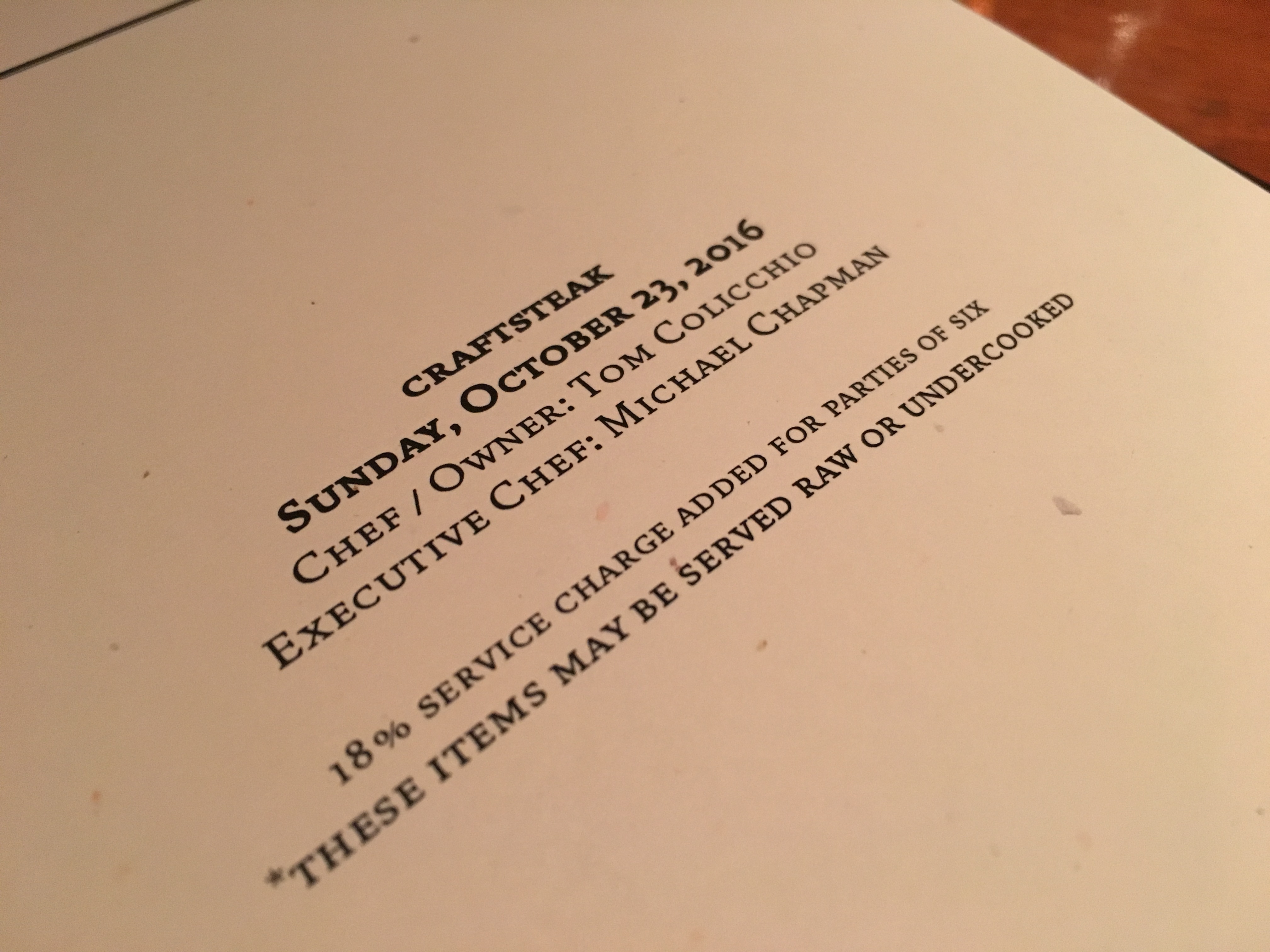 I mean, when you are a Top Chef fan, you have to right?
Kyle still maintains that craft in NYC was one of his fave meals of all time.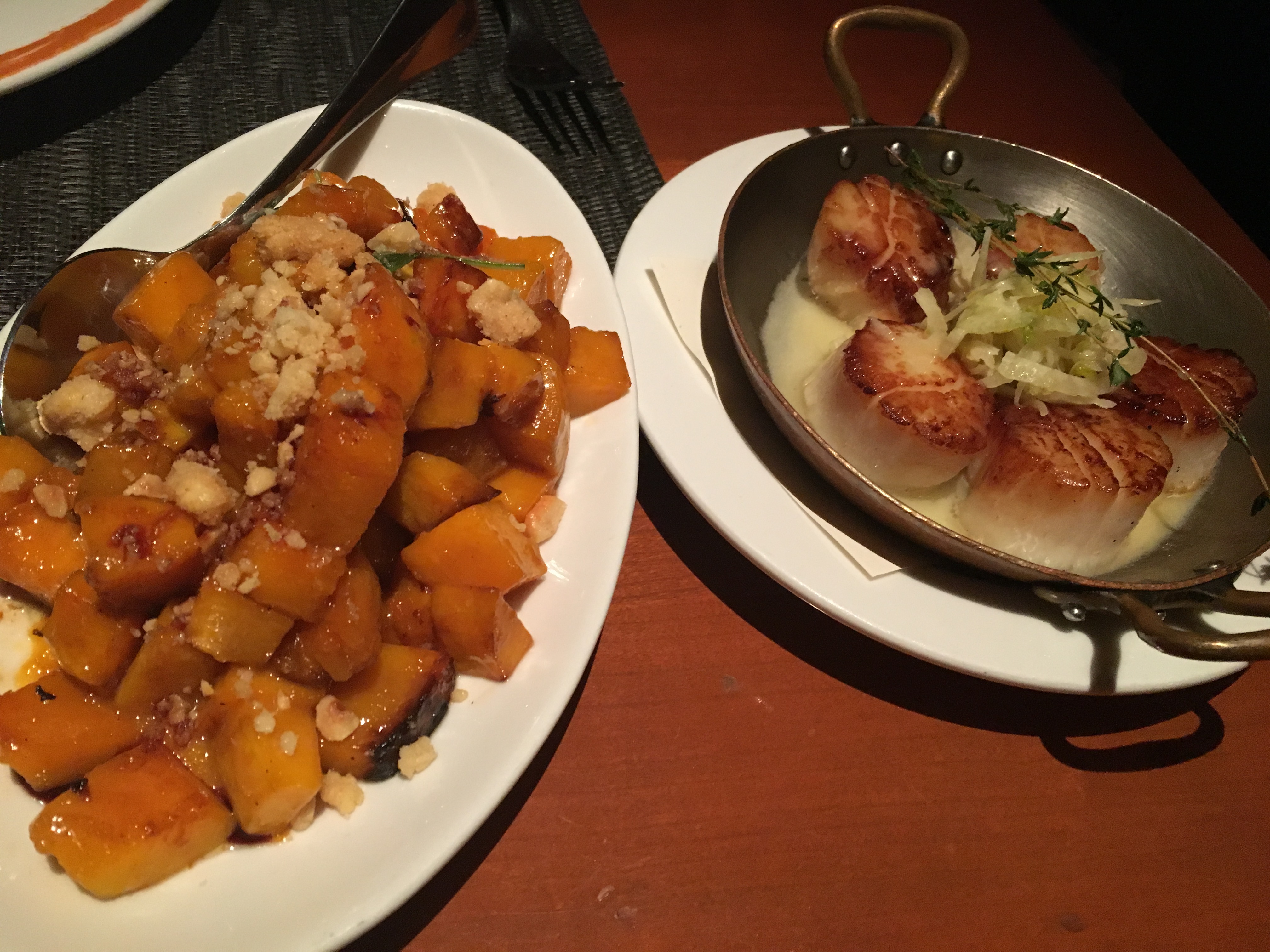 We got a few things to share, including the butternut squash and brussels sprouts side dishes, which were as mouthwatering as they sound.
And then we got the short ribs and scallops.  Talk about a meat-y weekend!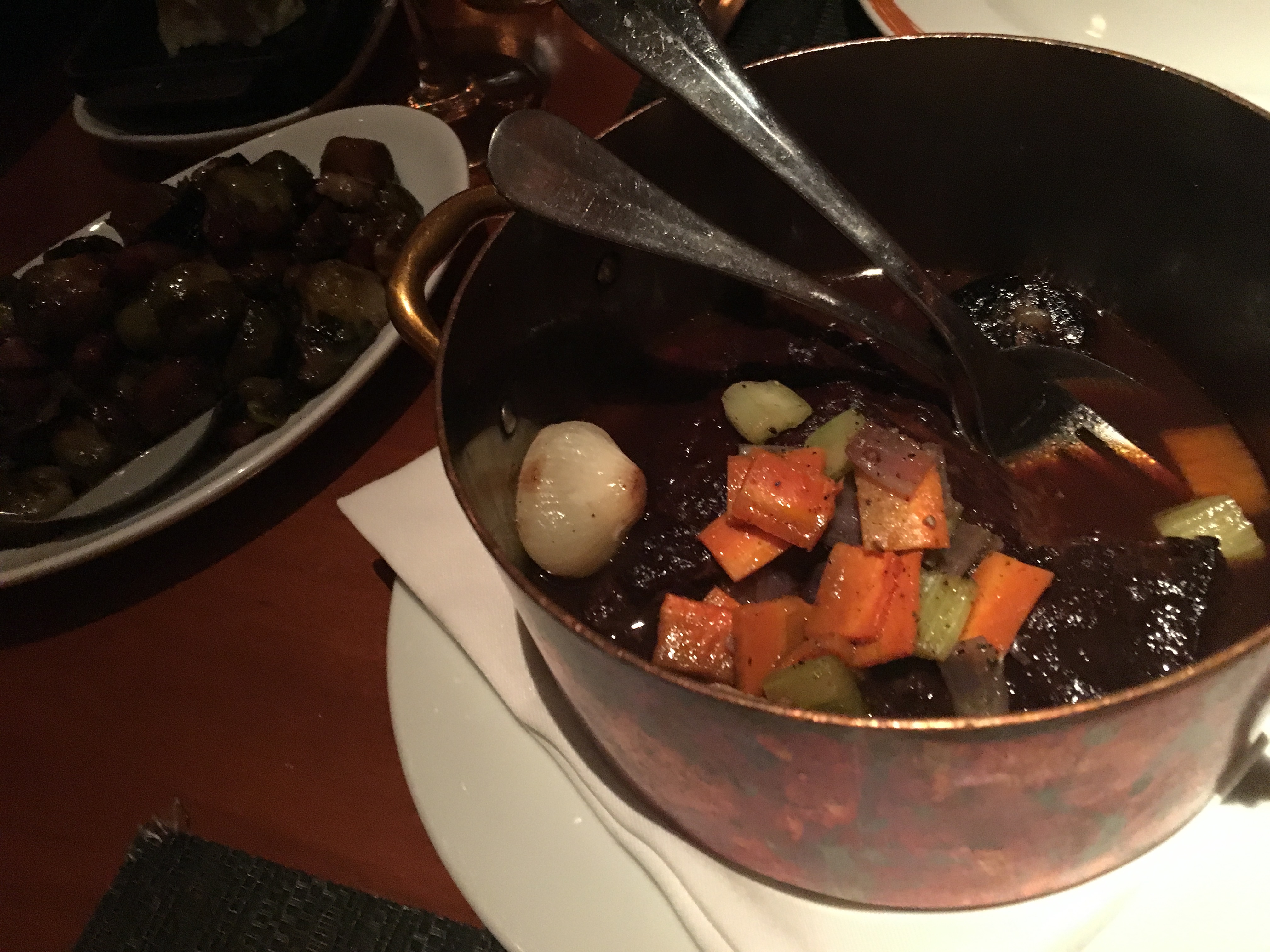 When in Rome!!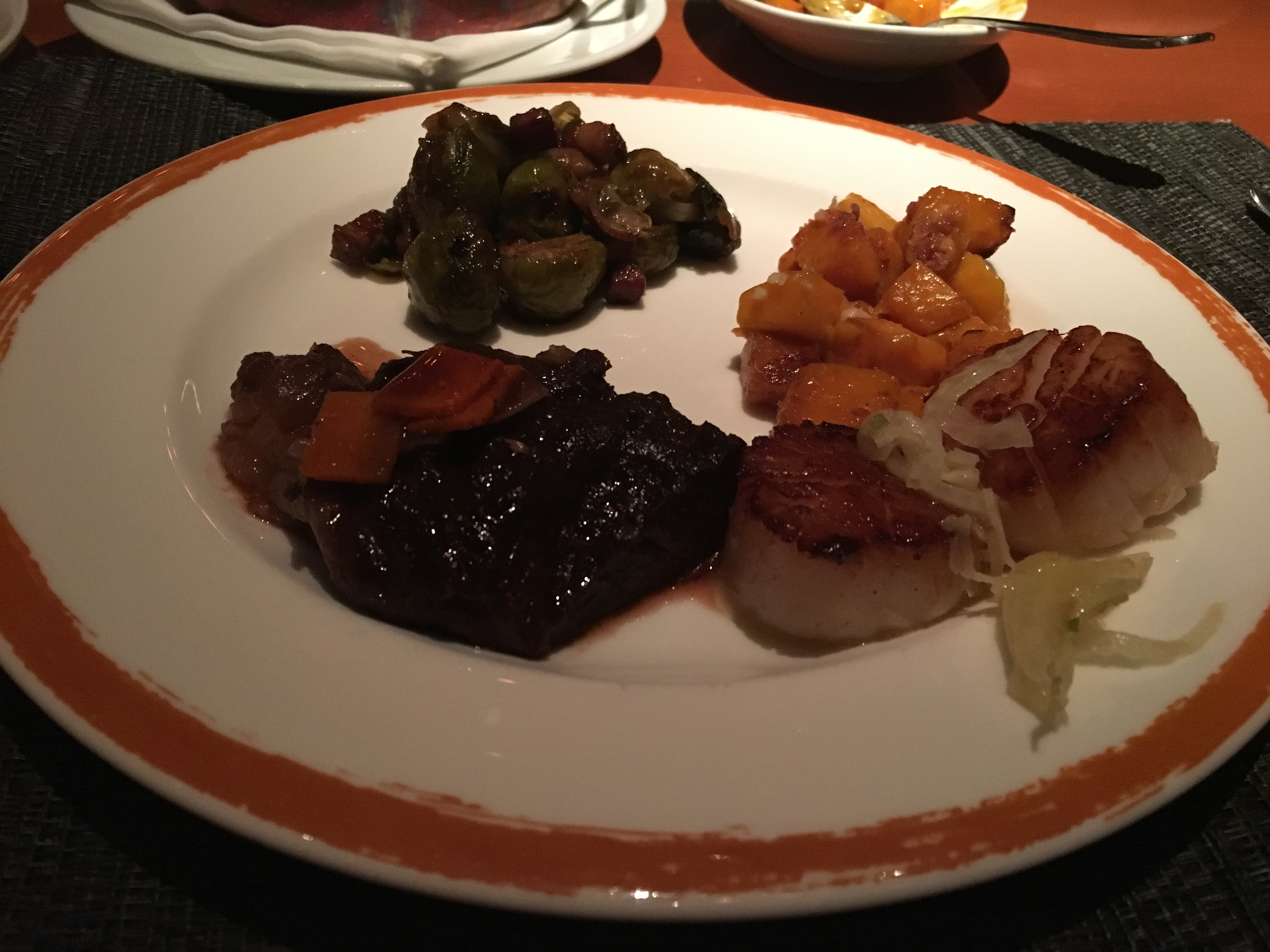 Seriously, it was an exceptional meal that I could gush on and on and on about, but I won't.
Monday morning was a shock back in to reality with a 5 am wake up to catch our 7 am flight (ouch).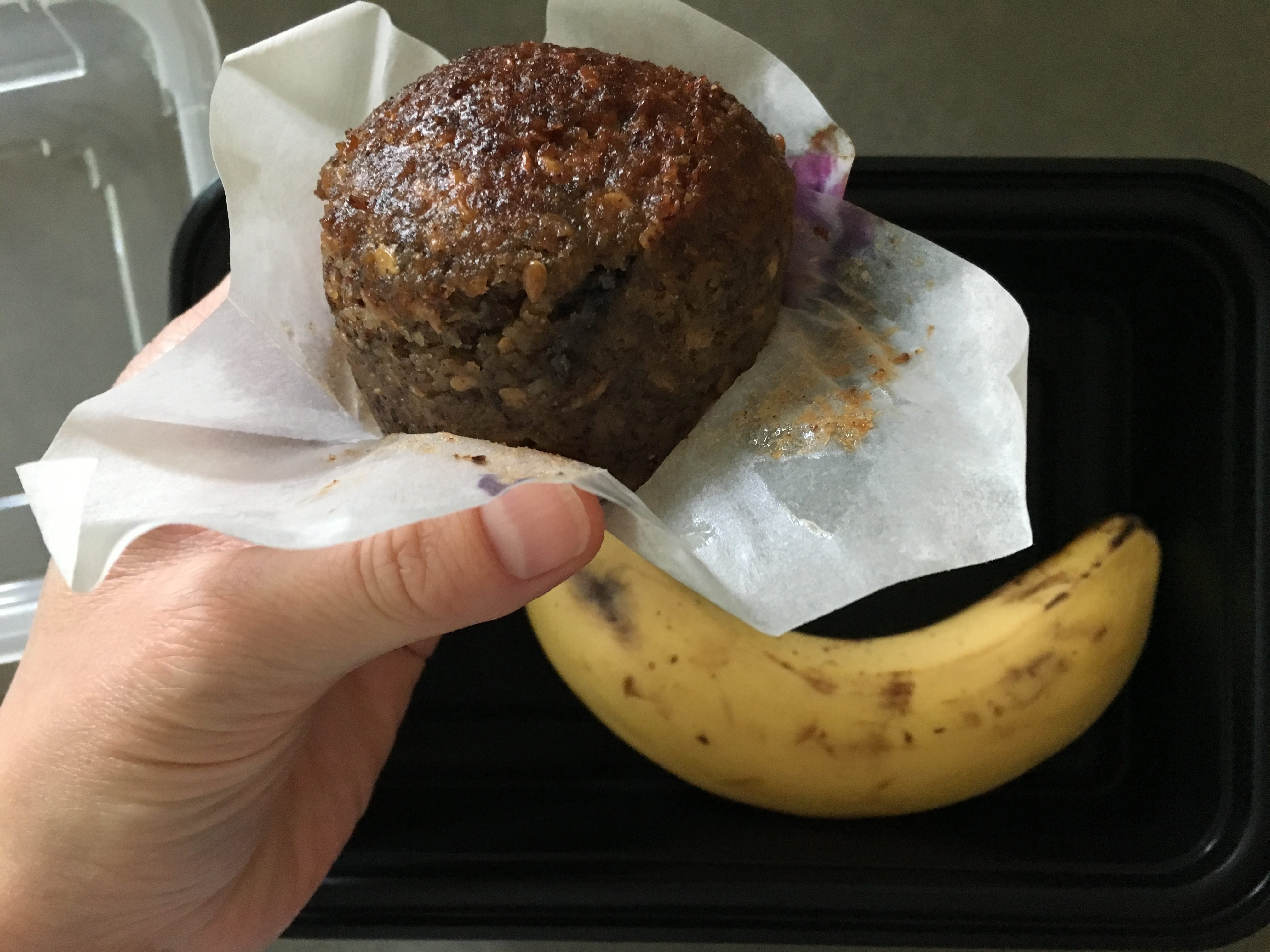 I had a GF blueberry muffin from Giada's and banana to help me out, but saved my venti dose of coffee for the drive back to Davis (after getting the kids).
It was a rather long day, but also flew by somehow.  I was super excited to be back with my little ones, though.
I made my life easy by getting take out earlier in the day so I could spend nap time doing laundry (the smoke in Vegas!!!), cleaning, and getting crap done around the house…and then P had swimming lessons.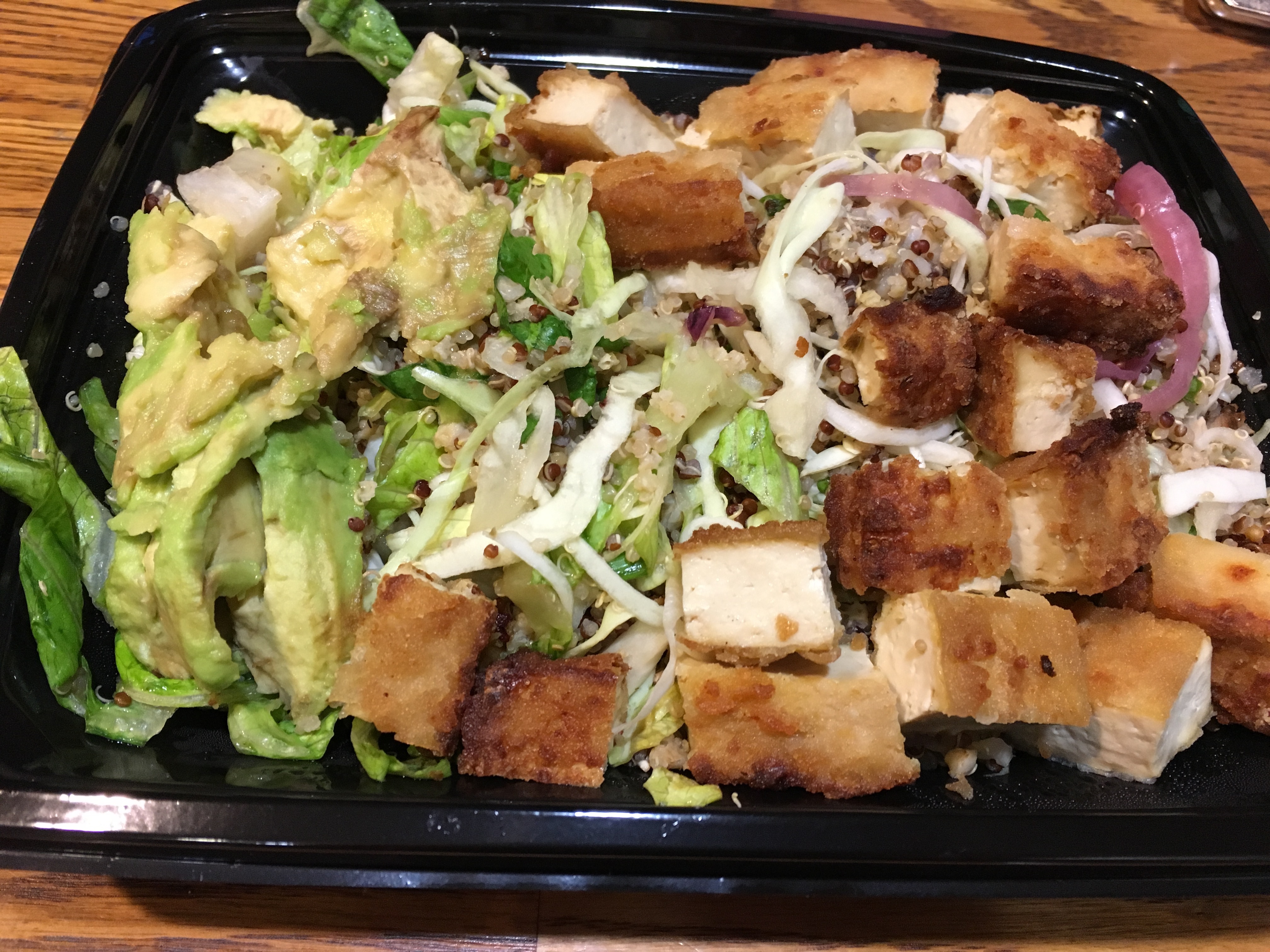 I had planned on going to Veggie Grill before coming home to Davis because I was driving through Walnut Creek already and I had a BOGO free entree thing for my birthday.
I got the grains and greens bowl, which has become my new go to, trumping the all hail kale salad.  Unfortunately, this time it was totally messed up and they left off half the ingredients, including the carrots, almonds, cilantro, and Thai dressing.  Major bummer.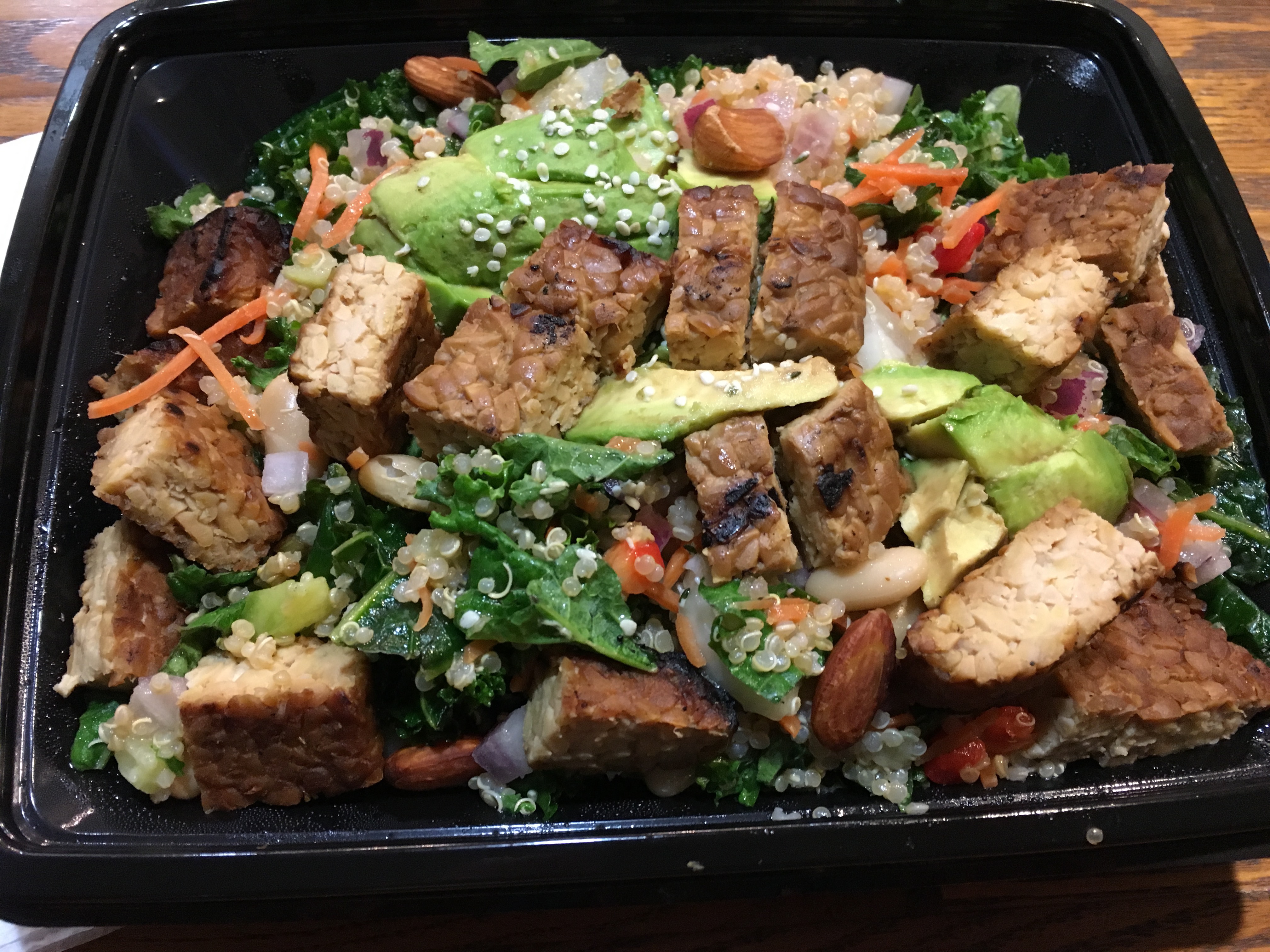 Kyle got the quinoa bolw with blackened tempeh and it looked legit.
He won in the ordering contest for sure.
This is how much chocolate I came home from Vegas with (that bag is massive).
I went to town at the bulk bins section with all the peanut stuff because we were away from P, but then I had some left so now I have to eat it in sterile conditions and basically wipe down the area Dexter style afterwards.   Don't worry, it'll be gone soon, I'm sure.  😉
More birthday fun!  Cookbook, chocolate, and cookware…my family gets me.
Yay to 34!