On our first weekend day in Palm Beach we decided to go out to breakfast as a family since Kyle was free from his work stuff.
But first we had to deal with a bit of drama with our flights.  The terminal we were supposed to fly out of was closed because of the shootings the day before so they wanted to switch our flight (which was supposed to be the next day) so we were on the phone back and forth with the agents and Kyle's work peeps to try to figure out a solution.  To make a long story short, all of Kyle's work stuff got switched around and he ended up having a meeting in Tampa on Monday, and since our flight was not happening, we decided to try to get flights home together and just add a few extra days to our trip.  We were scrambling all weekend to figure out a way to make it all work because there were no hotels available in Tampa (we later realized it was because the college football championship was in Tampa that night) so we ended up getting a hotel and flights in Orlando for Tuesday evening.  Yep, that's the abbreviated version!!
Anyway, we went to Another Broken Egg in Harbourside Plaza after super delirious gym workouts.  I took this horrible picture of my gluten free jumbo pancake, which I shared with V (along with some of Kyle's eggs).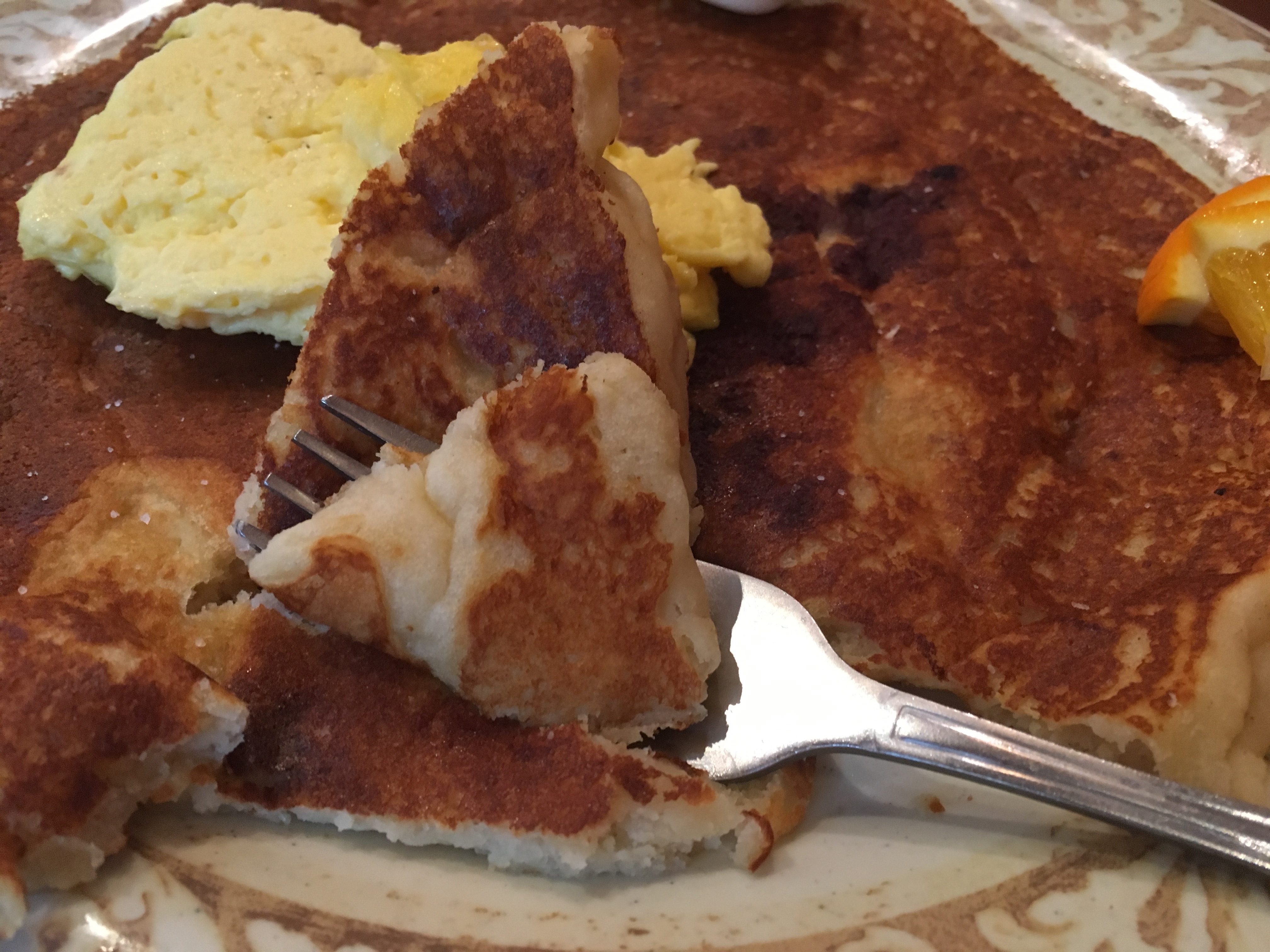 She also ate the orange – peel and all – which P found hilarious.
I packed a sunbutter and jam sando for my big boy, but his appetite was still nonexistent.  Poor guy was up ALLLLLL night coughing.  And whenever he wasn't coughing, he could barely stay asleep due to the insane fevers he was running.  Kyle and I took turns with him in the attached room so as not to wake V.  It was a really long night.  He was restless and I was worried like crazy that his cold was in the process of turning into pneumonia.  It was scary being so far from home and we just switched insurances so I couldn't even email our MD because we hadn't chosen a new one yet!  Kyle took three showers with him over the course of the night which helped dramatically, but only last about an hour until the steamy effect wore off and he was all congested again.  Needless to say, we had no major plans for Saturday.  We did swing by CVS though, so I could get a whole new arsenal of meds.  P isn't yet four but desperate times call for desperate measures and so I got him guaifenesin.  He just needed an expectorant so badly to help him get that gunk out and he was refusing to let me do any chest PT on him anymore.  I also needed more Tylenol.  We were dosing around the clock at this point.
Storms hit on and off all day, so it was basically a sick day.  Lots of indoor time in that hotel room…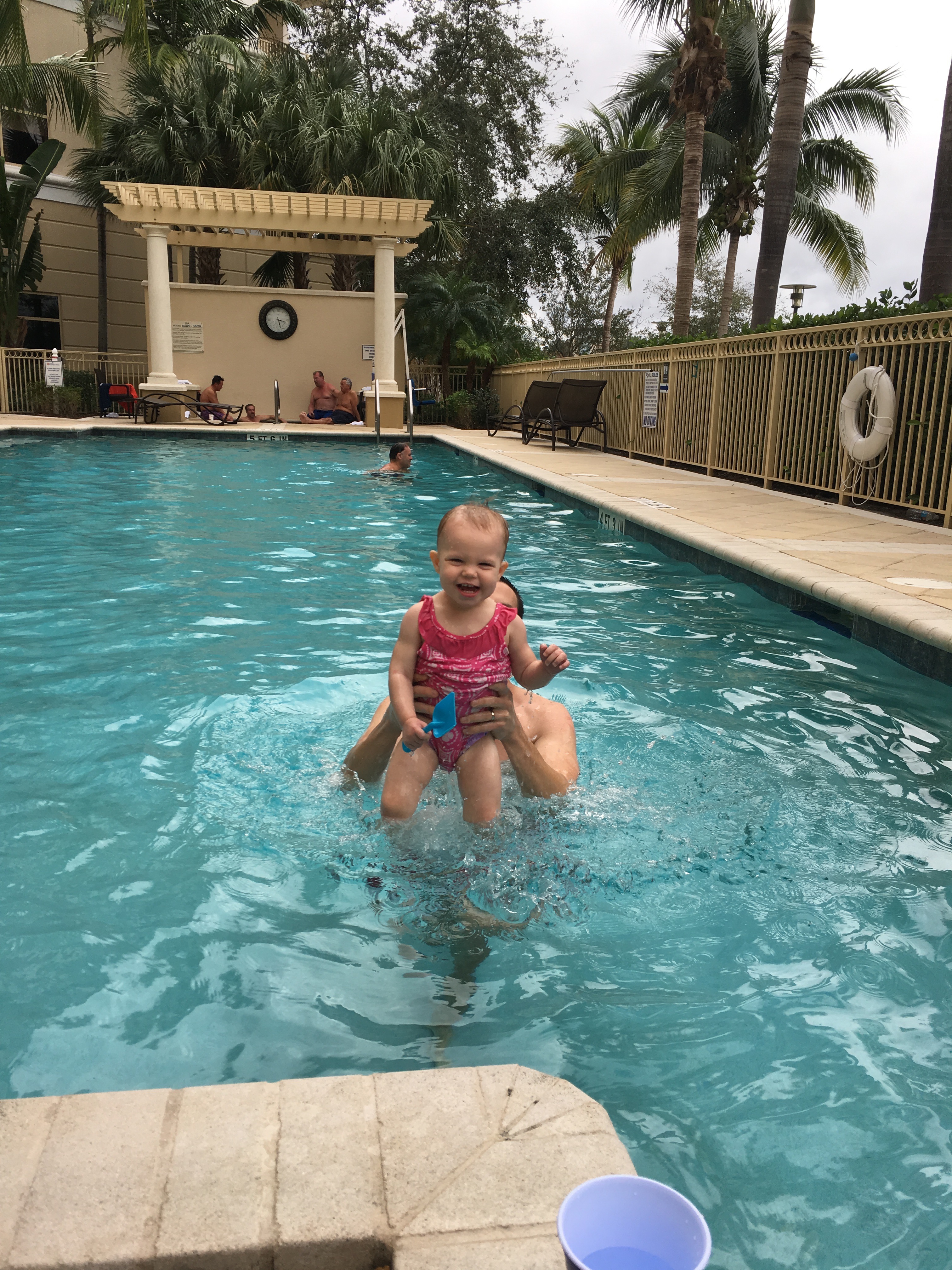 I felt so bad for Kyle that he didn't get the fun beach time with the kids that I got but V was still relatively healthy so we went to the pool during a break in the rain, so the two of them could play.  It wasn't super warm, but it was still nice enough for us.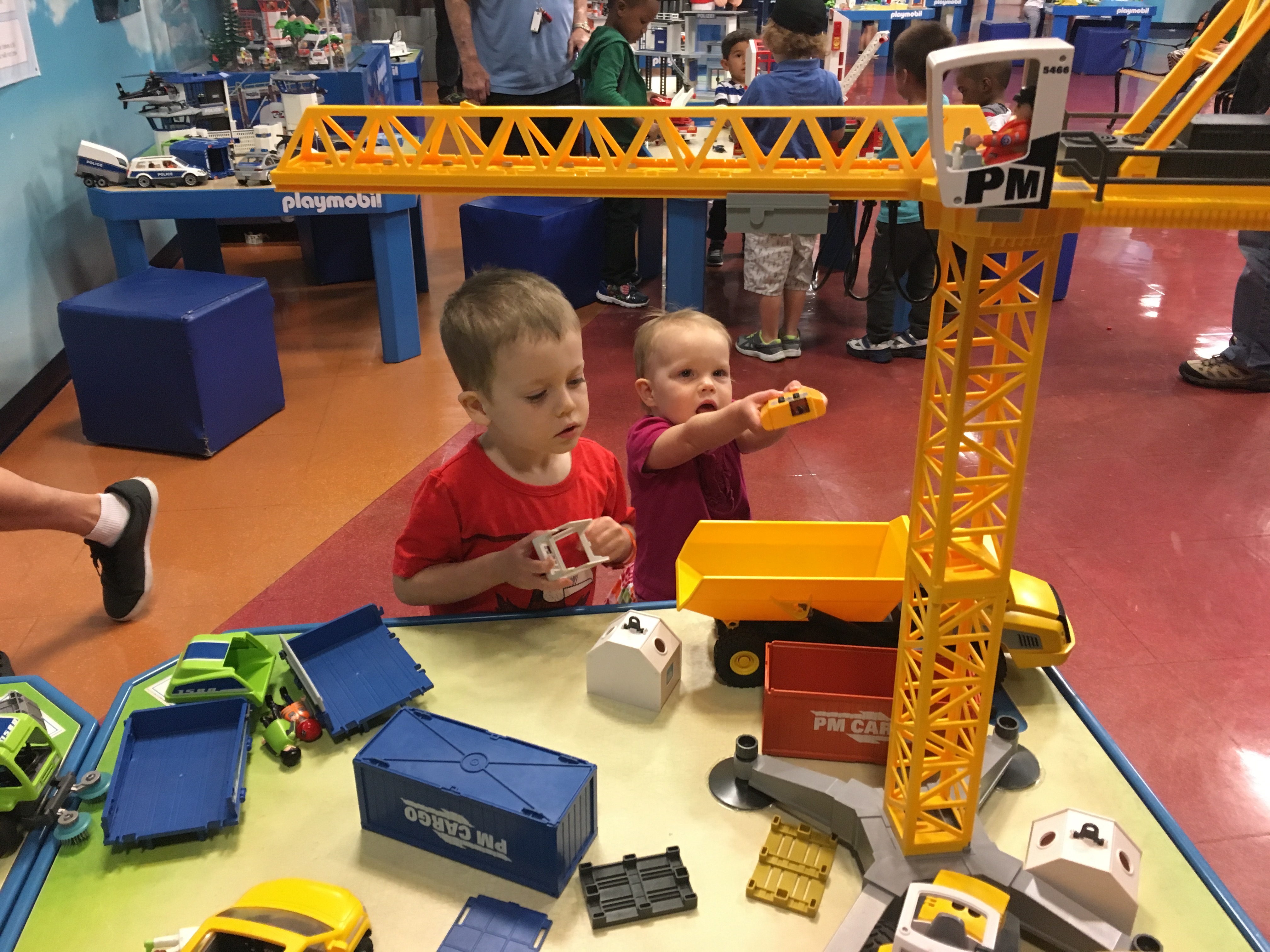 After some really terrible naps and (gasp!) Disney channel for the kids, we decided to get out of the hotel room.  I had researched some indoor options in case of rain so I had the Playmobil Fun Park all queued up for us.  It is only $1 per person and is basically a room with a ton of legos.  Or whatever their brand of those blocks is called.  There were about 20 tables with different themes and all the corresponding people/figures/vehicles/etc to play with and both kids loved it.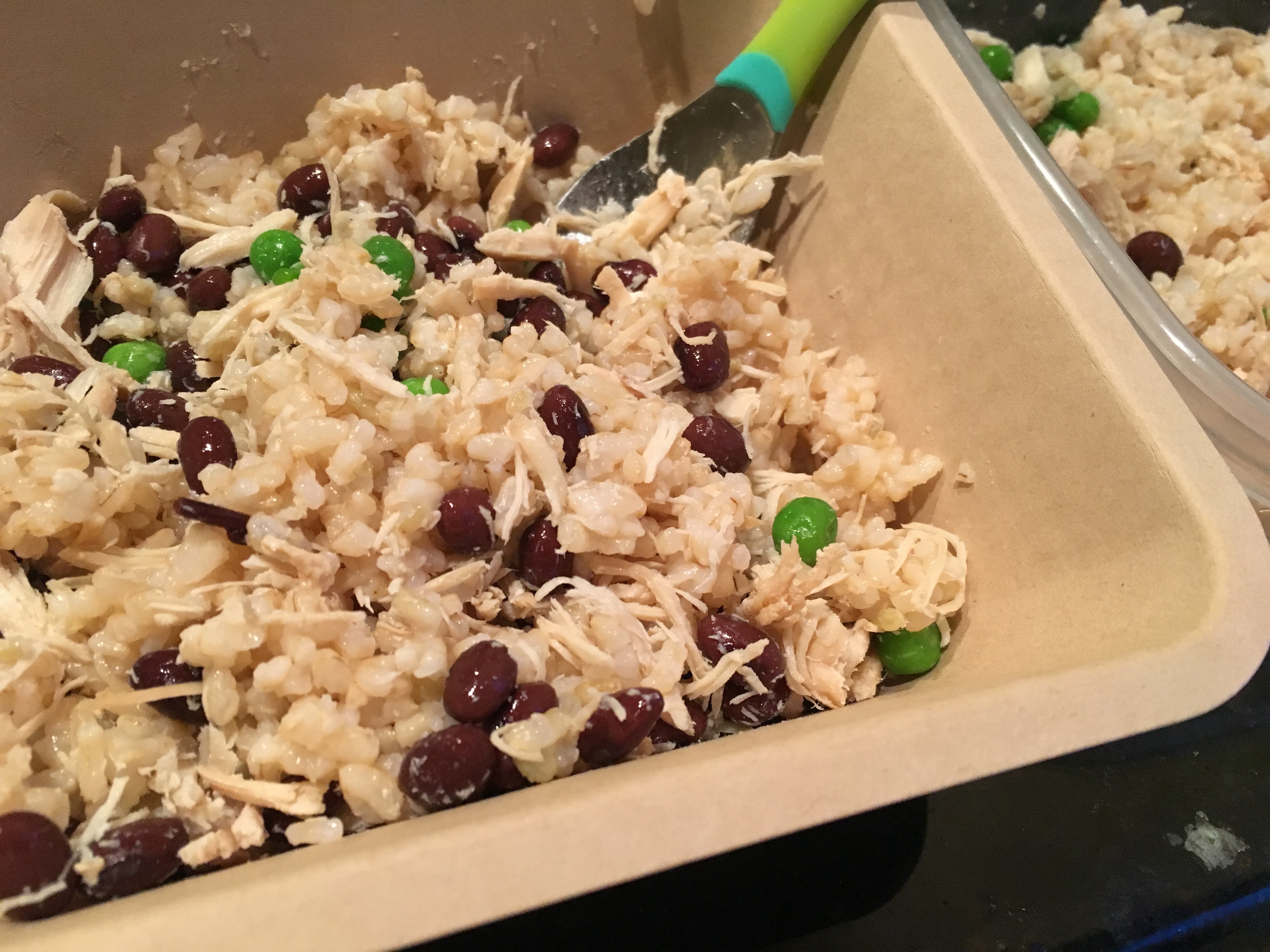 I made this super fancy (NOT!) brown rice, pea, black bean, and chicken combo.  Thanks to a little tamari it was actually eaten rather eagerly!  When the meds were working, he seemed decent, but otherwise things were not good.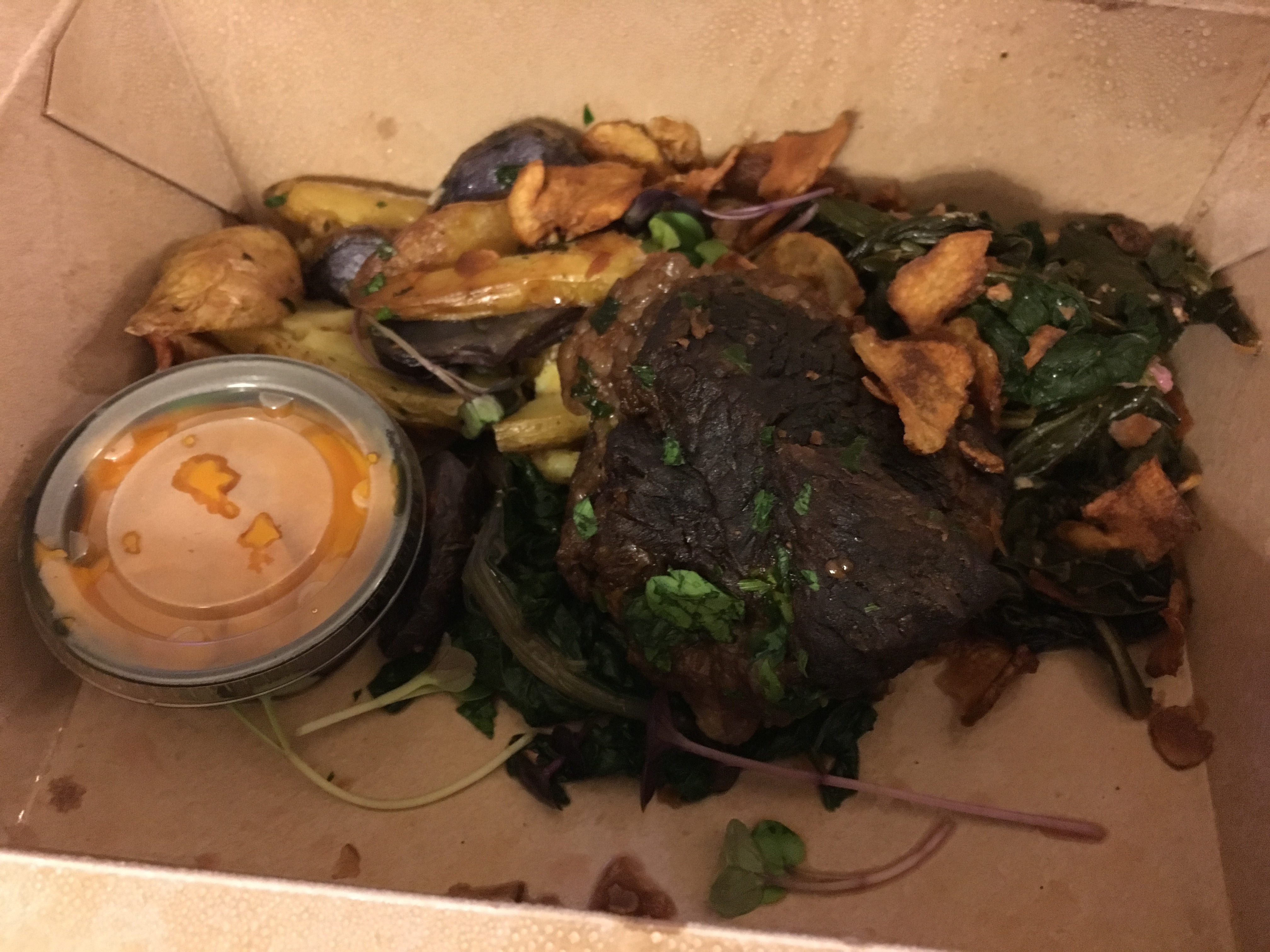 Kyle and I got take out from The Cooper that night.  We shared braised short ribs with smashed fingerling potatoes and a crazy good jus and spaghetti squash with scallops and pepitas.  Both were so good.  I'd go back there over and over to try everything on the menu.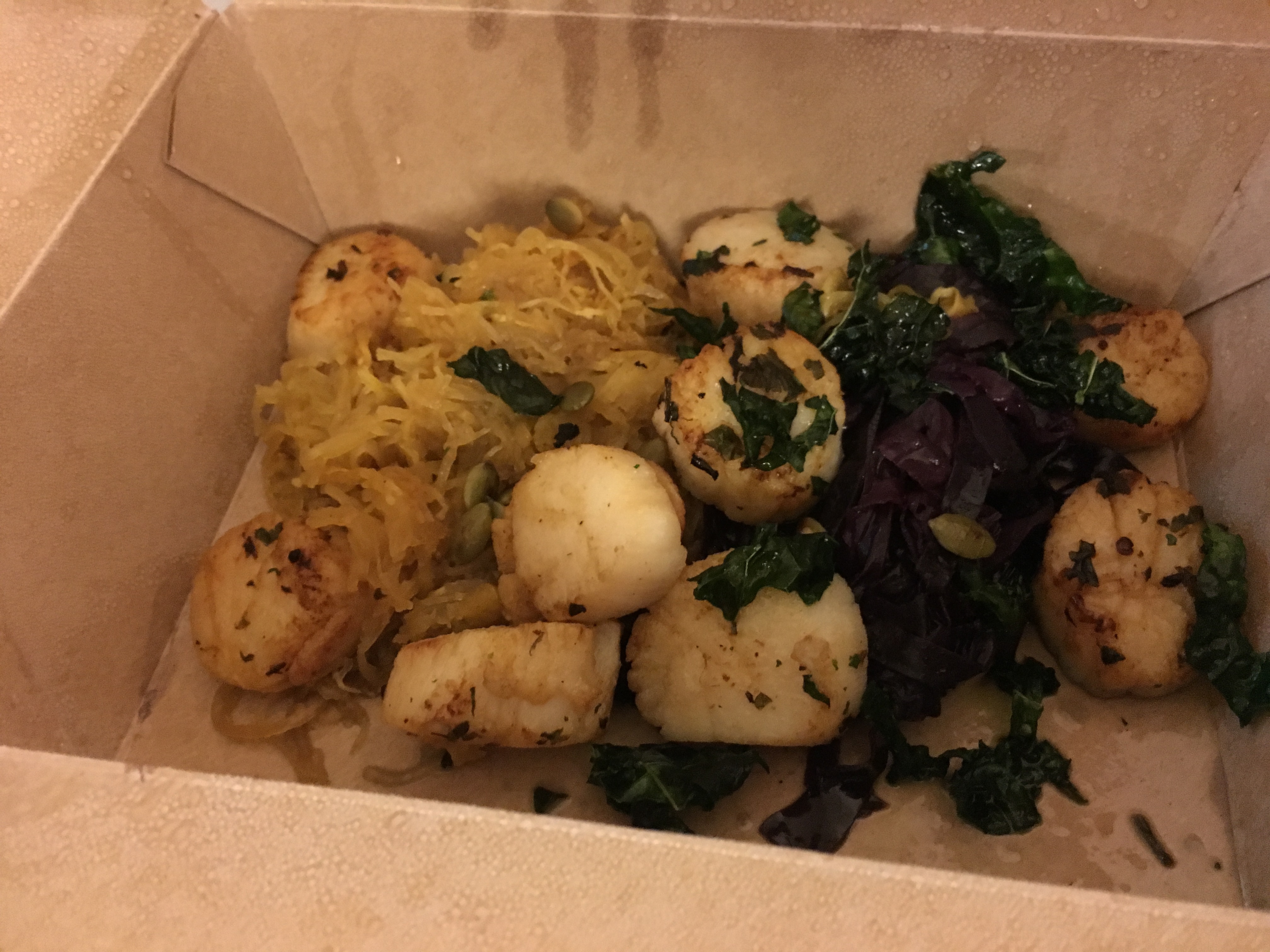 Our chocolate was interrupted by this little guy's sickness.  🙁  🙁  🙁
Another long long night.  We slept with him in our bed so we could keep calming him down when he started shouting and crying out (fever dreams, man!!).  Not much sleeping happened.  Lots more ice packs and showers though.