Twas the day before Christmas and we were happy as could be in our sunshine-y bubble of a vacation.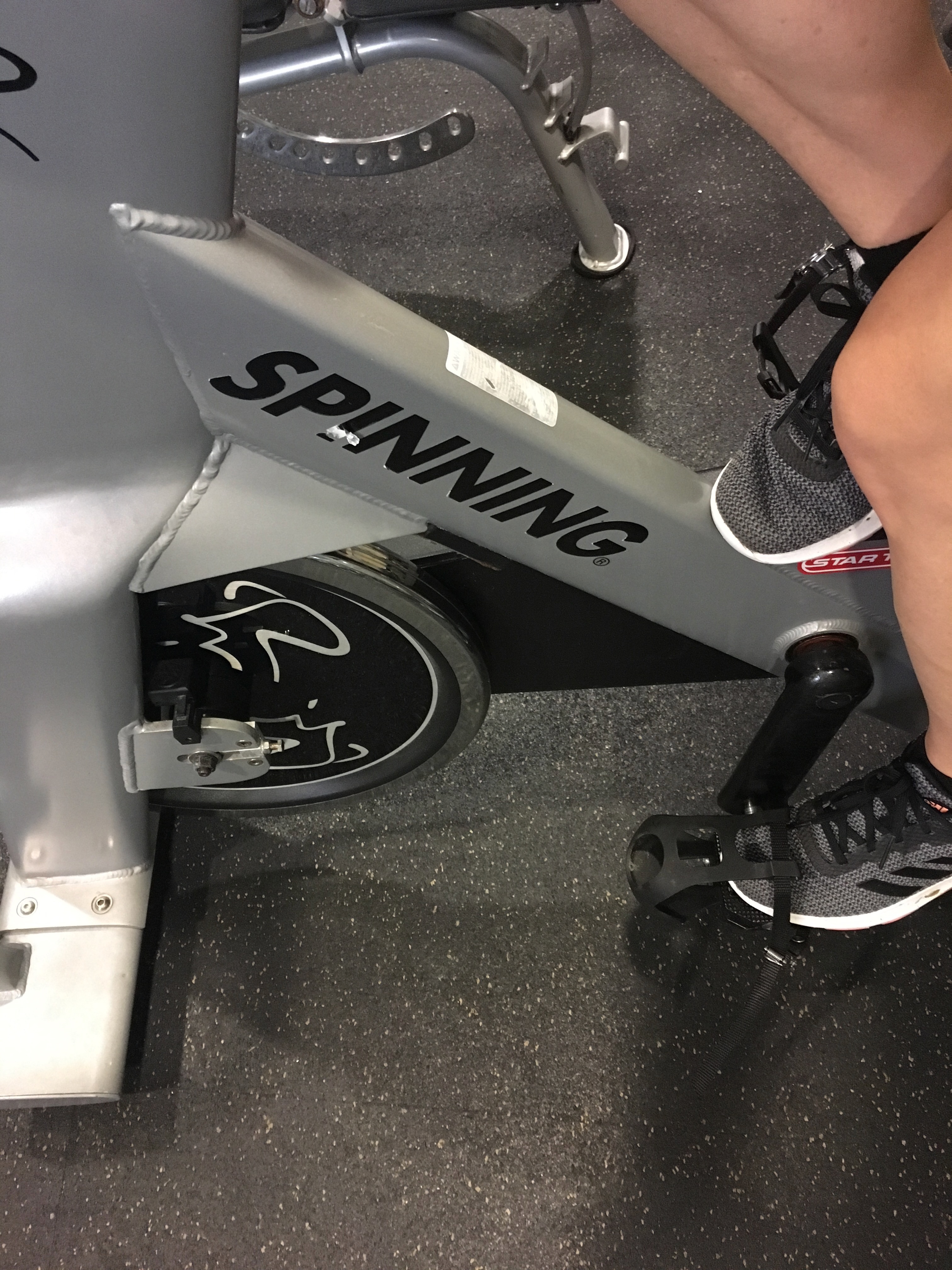 I did a spin class at the hotel gym, which was as mediocre as could be.  I'm not a proficient spin person but even I could have taught a better class.  The energy was non existent, which is kinda an integral part.  Oh well.  I still pushed myself as best I could and got a good sweat.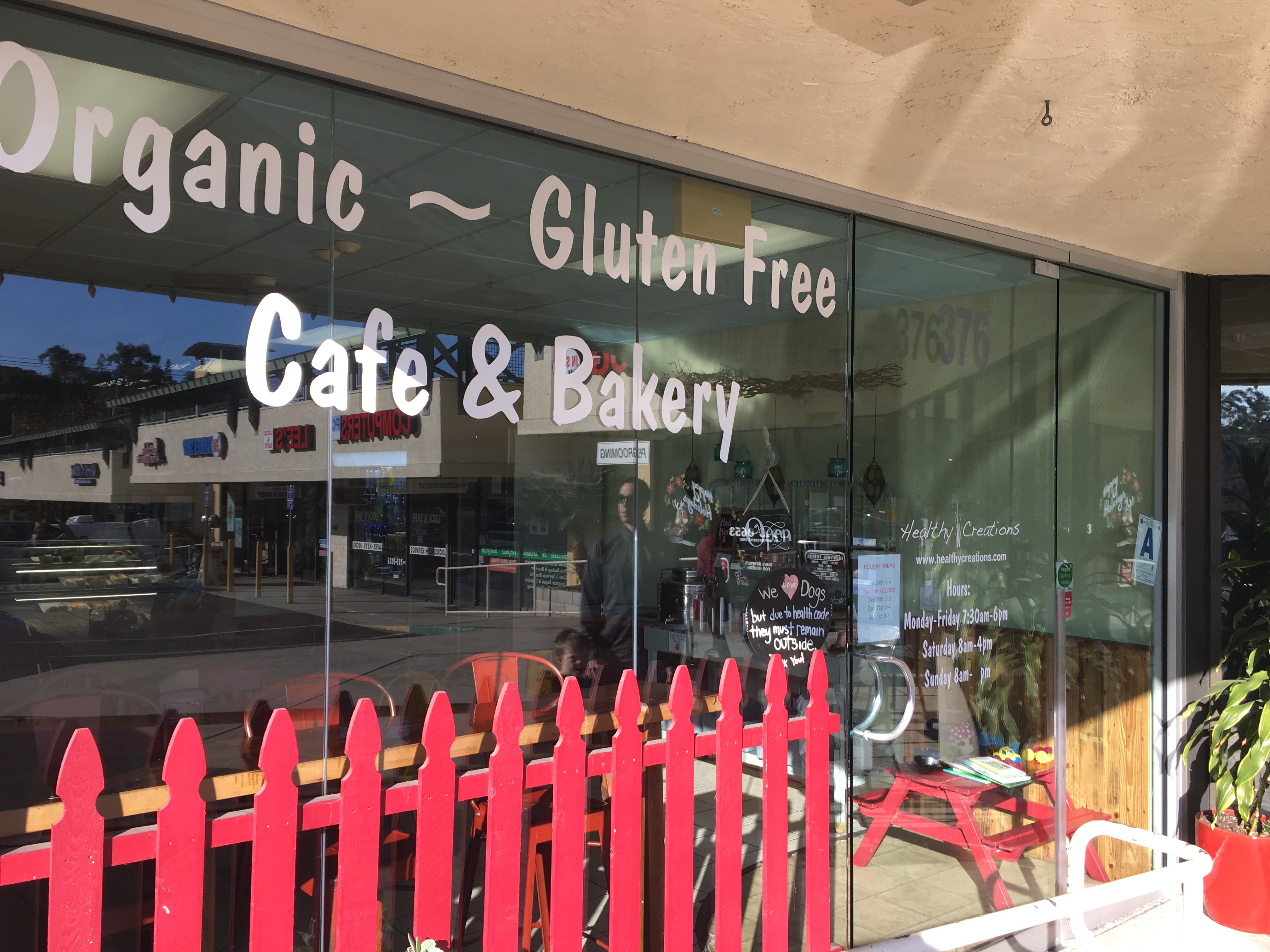 We ate breakfast at a place called Healthy Creations that was gluten free, with an emphasis on organic, vegan and grain free options.  I can't believe how many places like this exist in the greater San Diego area, but then again, I can, because it's mainly Davis that is behind the times.  Oh how I wish we had more places like this near me.  I wanted everything in the cafe, including all the items they sold separately – paleo lasagnas with cashew cheese, grain free tortillas, rolls, loaves, and waffles…and SO MANY other treats.  The person who took our order said get items asap if we wanted to take them home because they sold out quickly.  And I did!  A sinful cinnamon roll and superfood protein & fiber bar to go, please.  And coconut bacon.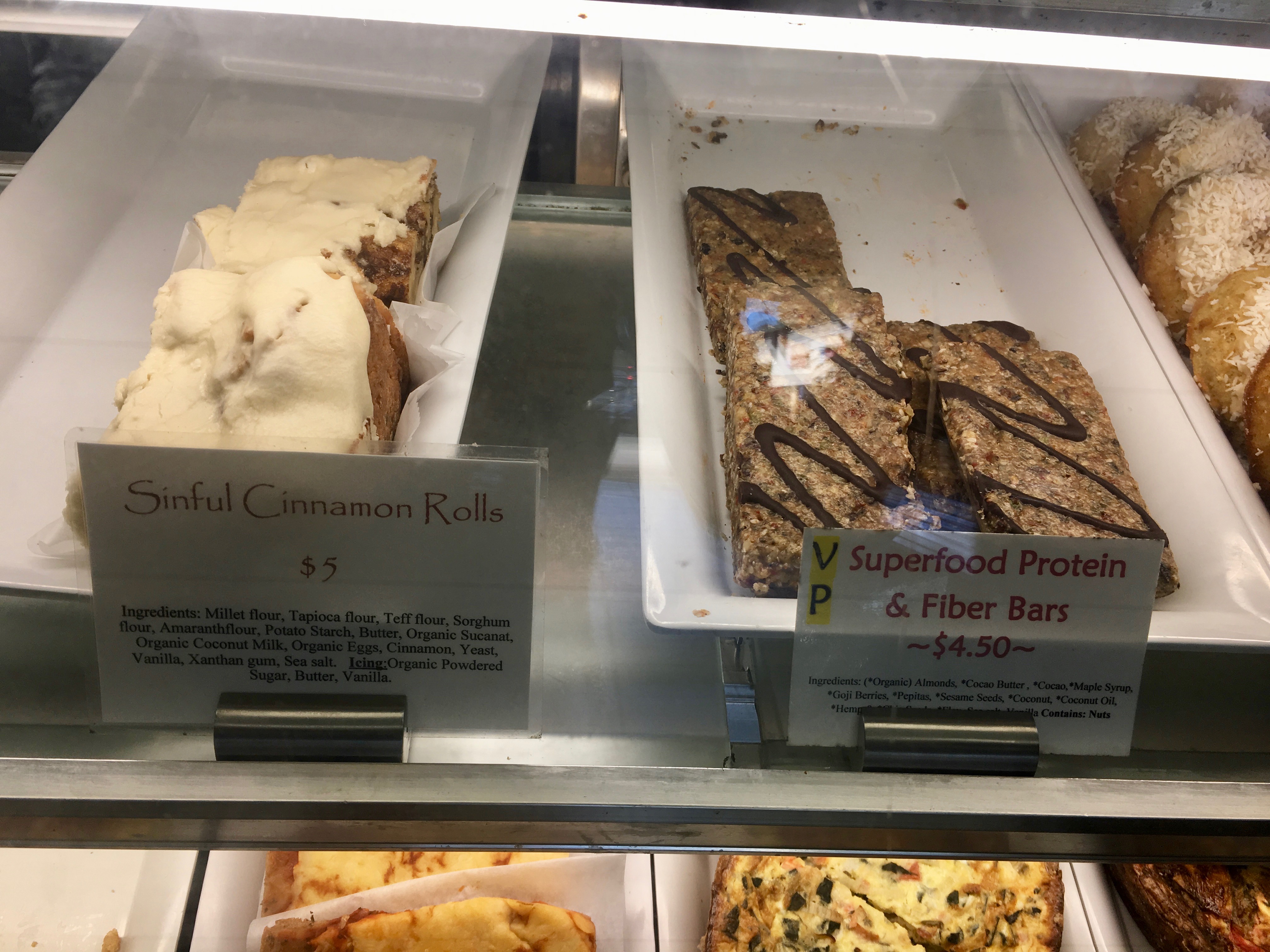 It's a good thing we weren't able to take refrigerated or frozen goods back home with us or I would have bought all the waffles and chicken tenders and coconut yogurt and kefir soda that I laid my eyes on.  ANYWAY.  If you find yourself near Healthy Creations, there are so many things on the menu that are a must.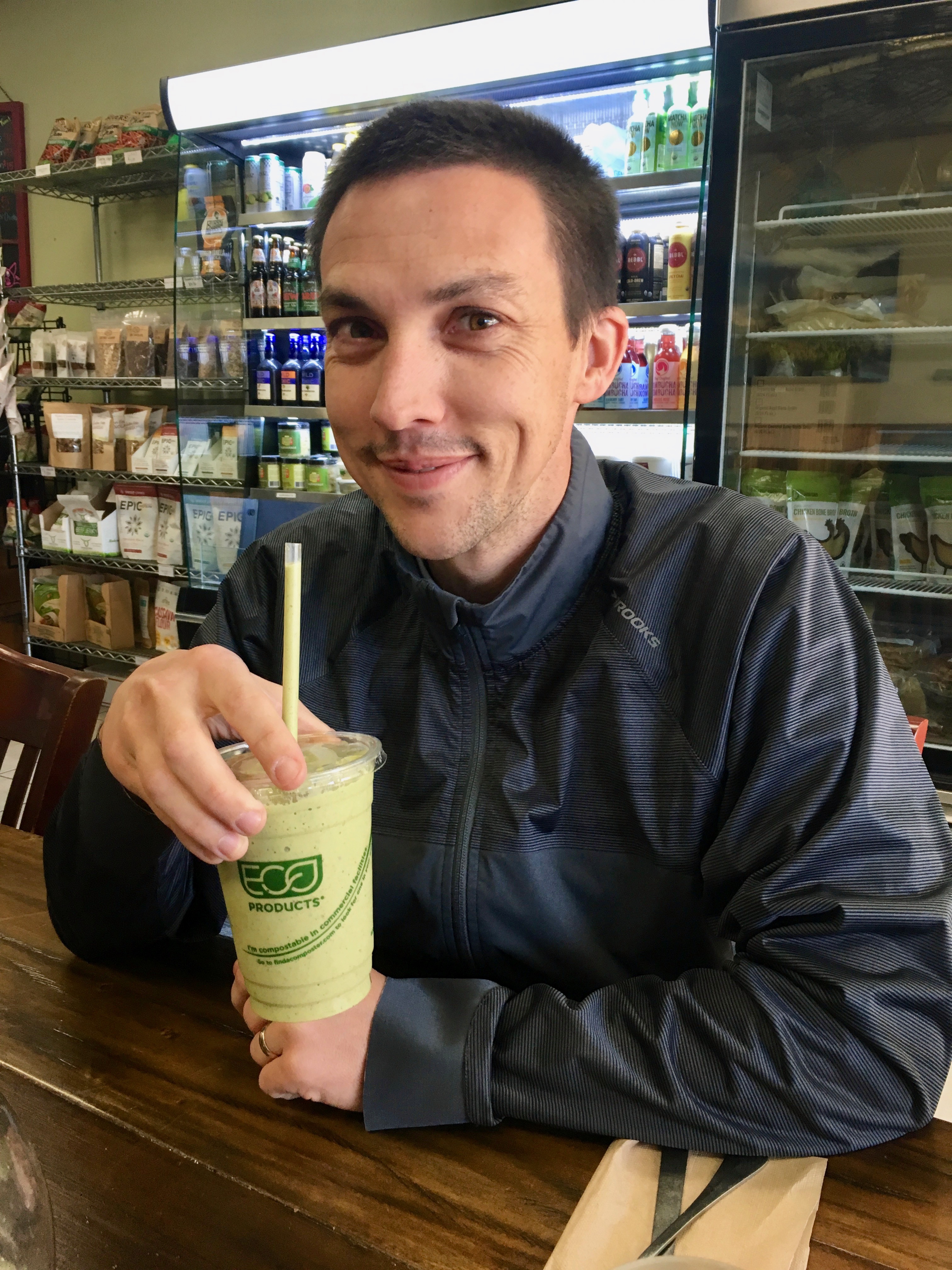 Kyle got the powerhouse smoothie which had cashew milk, banana, almond butter, pumpkin seed protein powder, dates, kale, cinnamon, chia and vanilla.  We all shared it, and agreed it was THE best smoothie we'd ever had.  I'm going to have to remember to re-create all of these delicious things once we get home.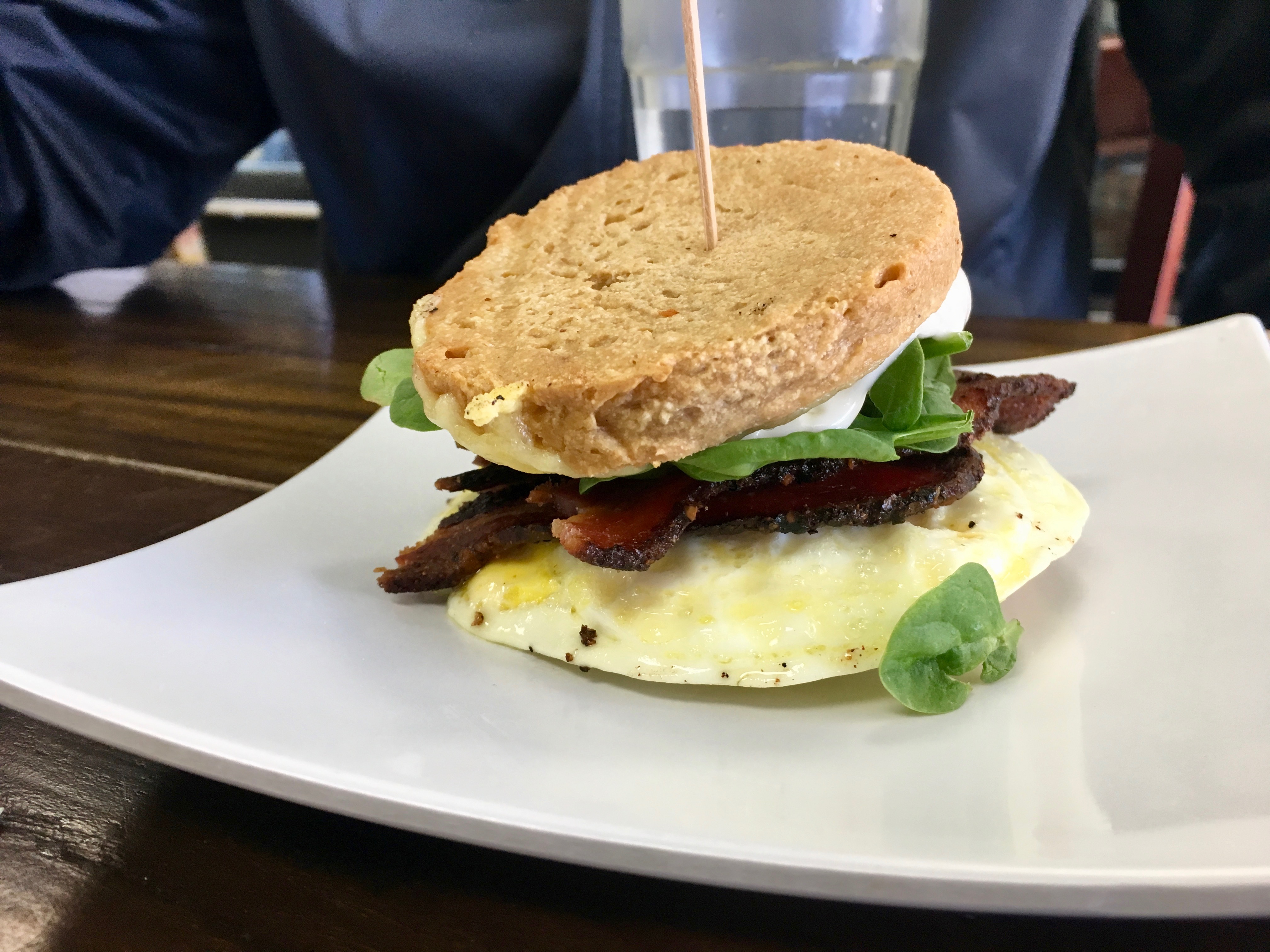 He also got the breakfast egg sammie with english muffin, egg, spinach, havarti cheese, garlic aioli and bacon.  He said it was the perfect breakfast sando -amazing flavor and perfect portion.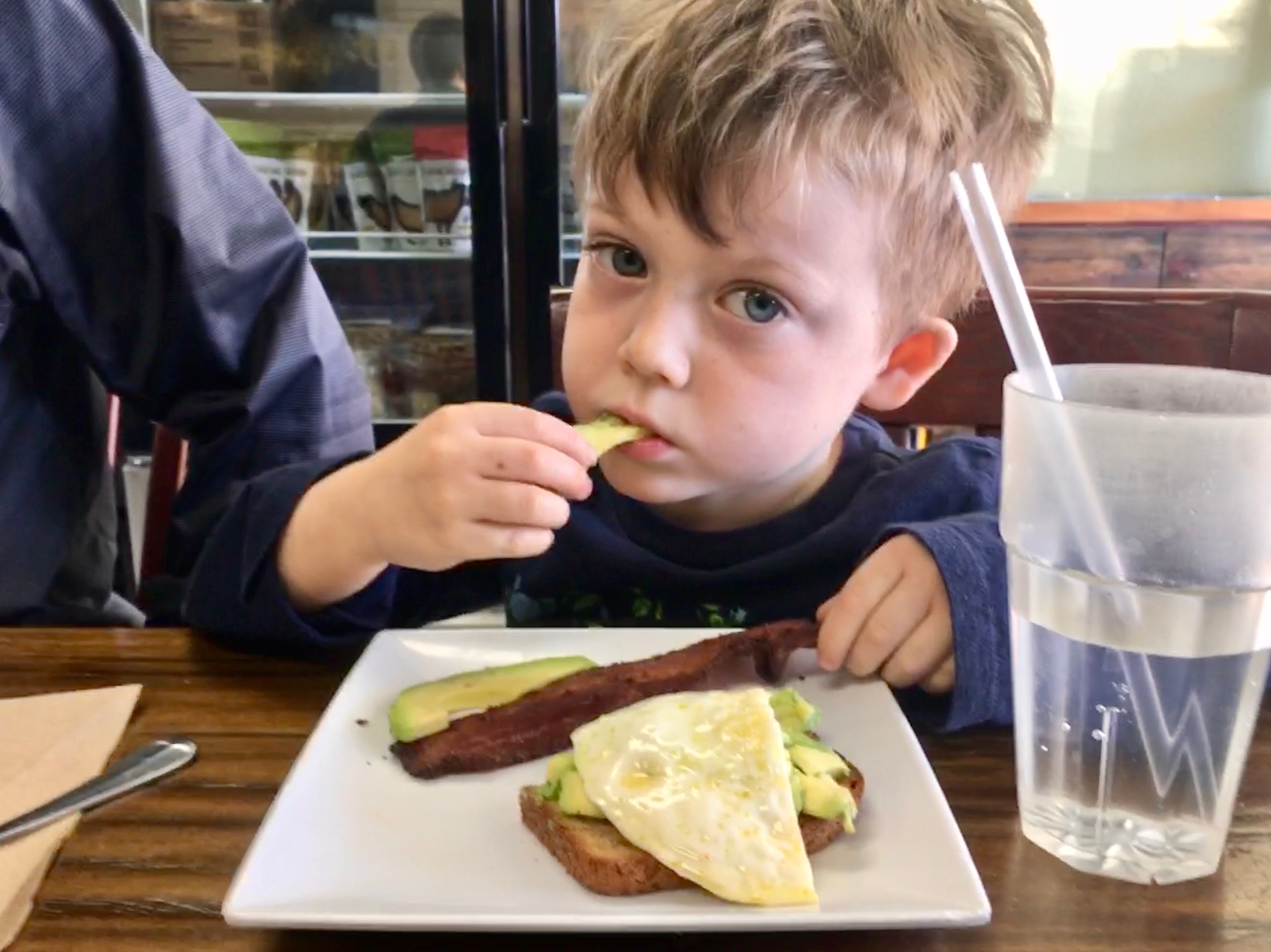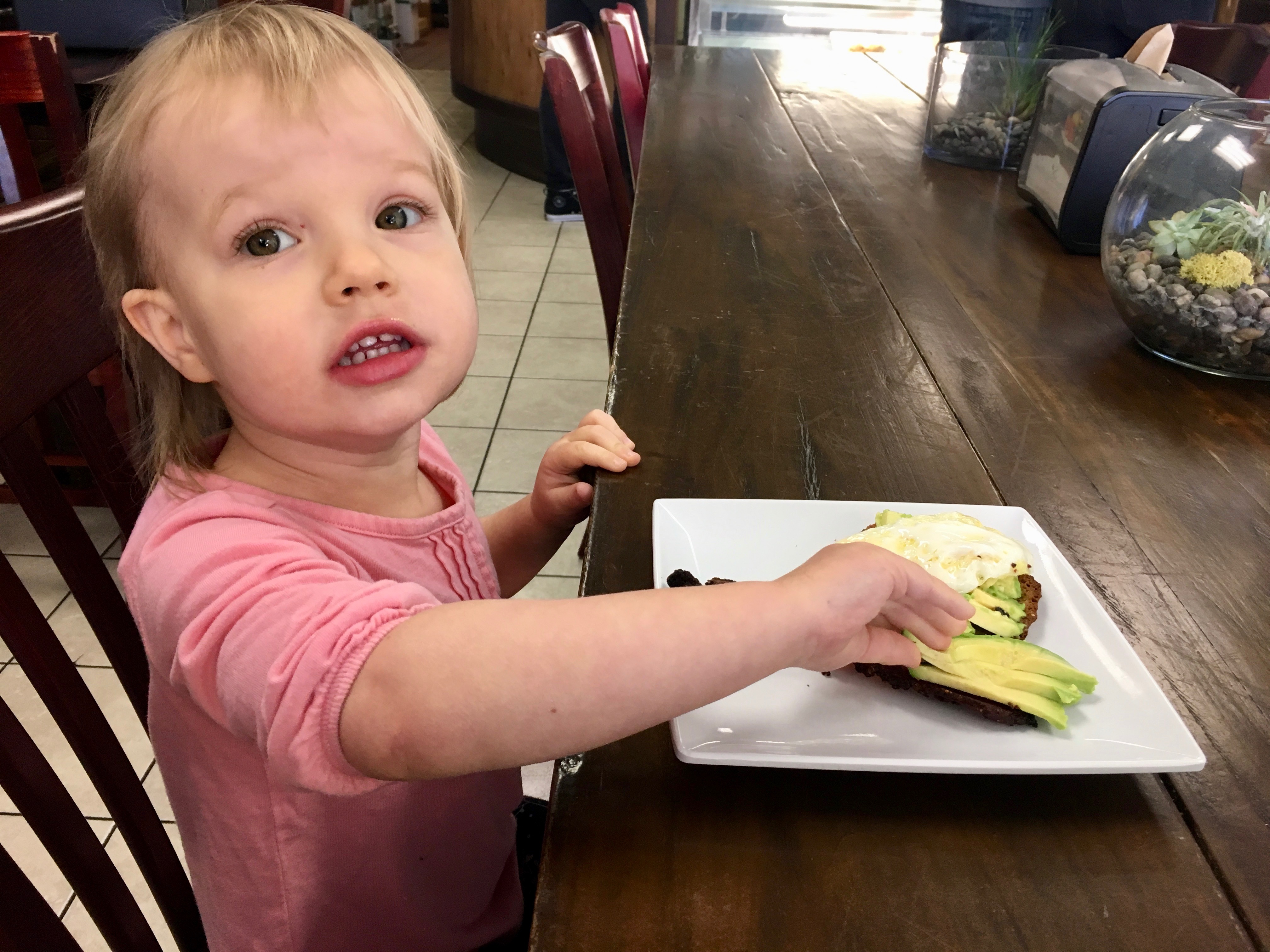 The kids split a fried egg toastie minus the feta, which they split in half for them.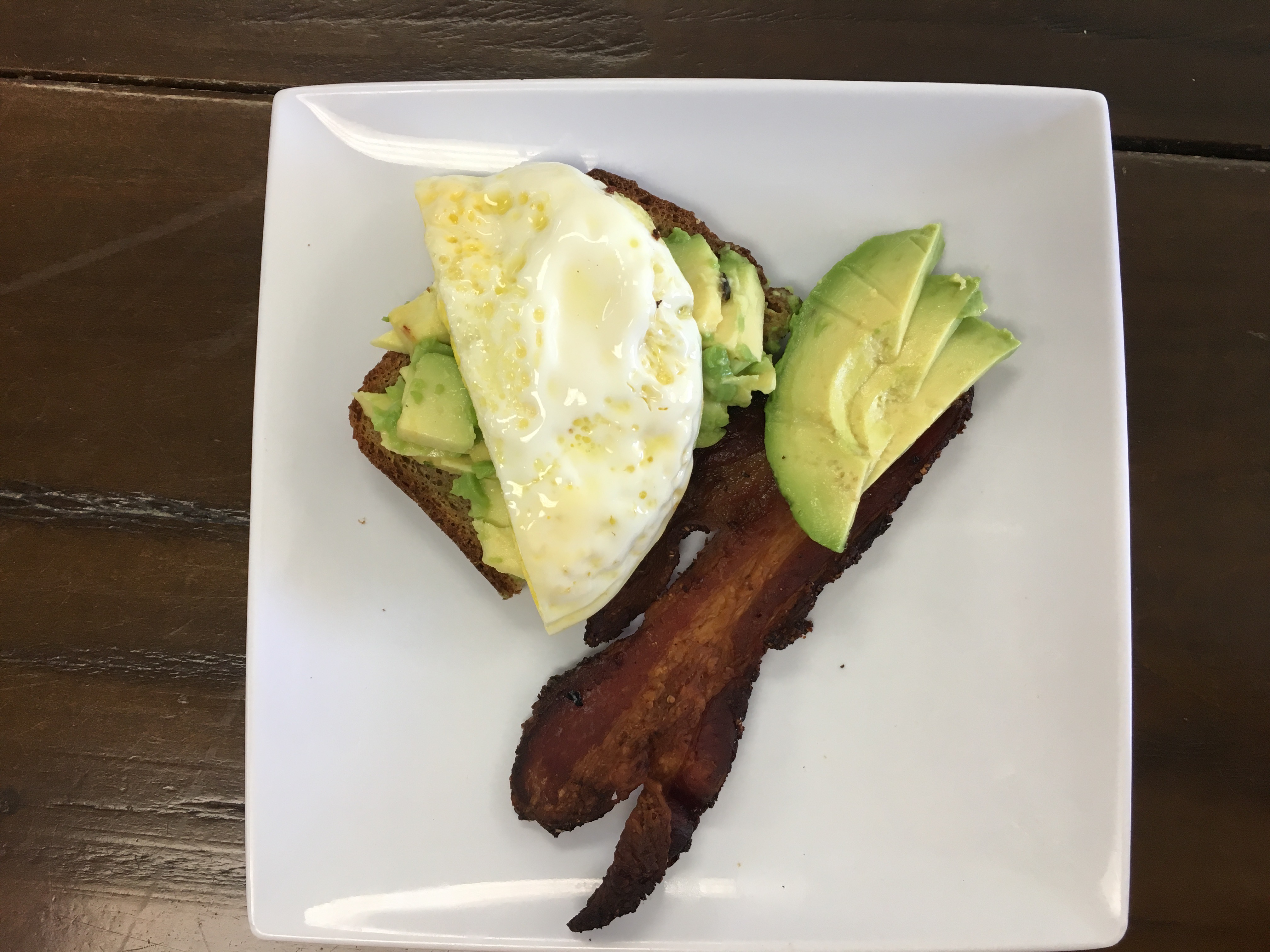 And I got the paleo waffles with coconut creme, berries, and maple syrup.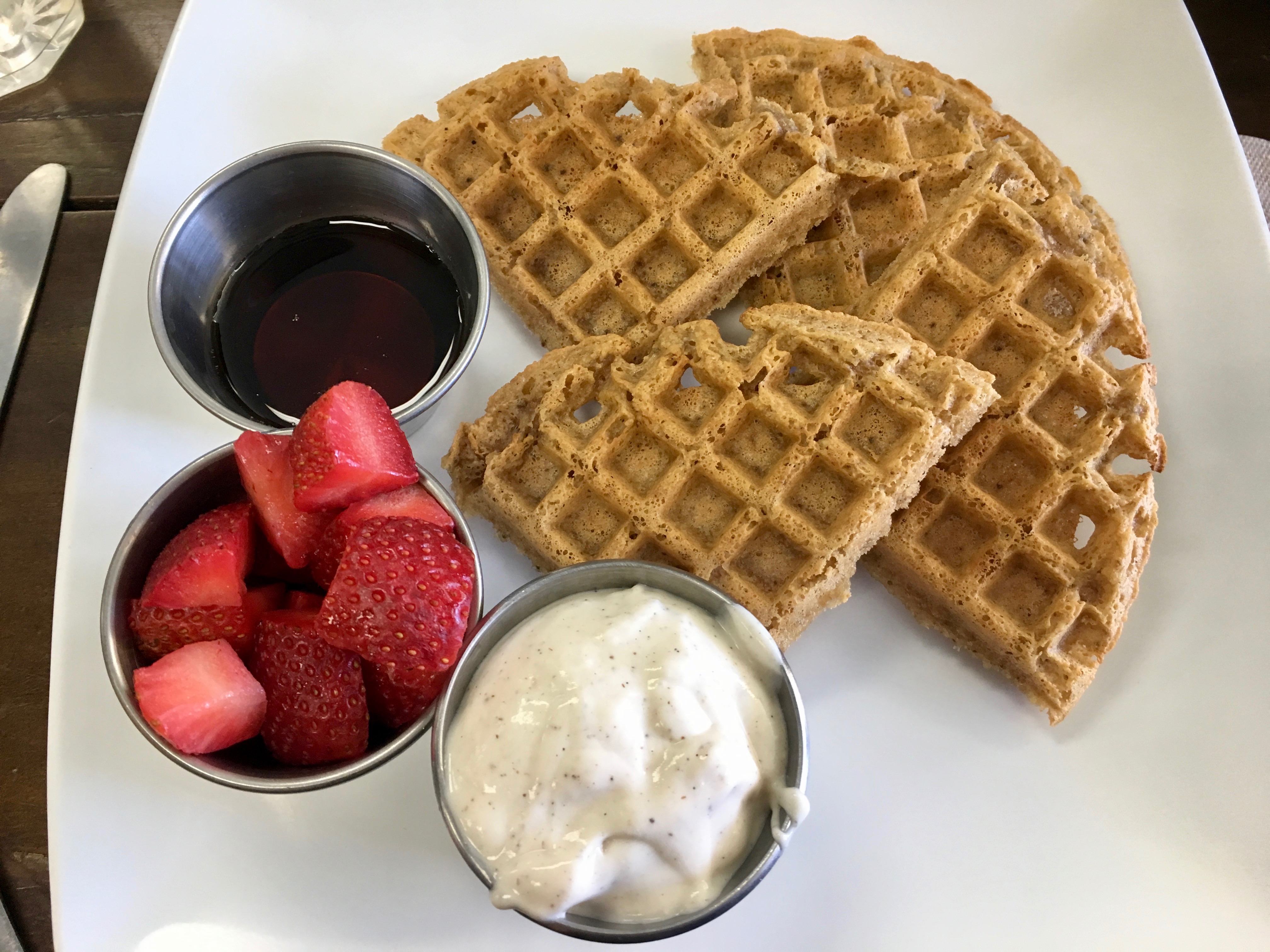 It wasn't that great to be honest.  It was too dry and crunchy and was more of a toasted crispy thing than a waffle.  Definitely not doughy or soft in any way.  It was good enough when combined with the syrup and coconut creme, but a waffle it was not, and for that reason, I can't give it my stamp of approval.
Back to the pool!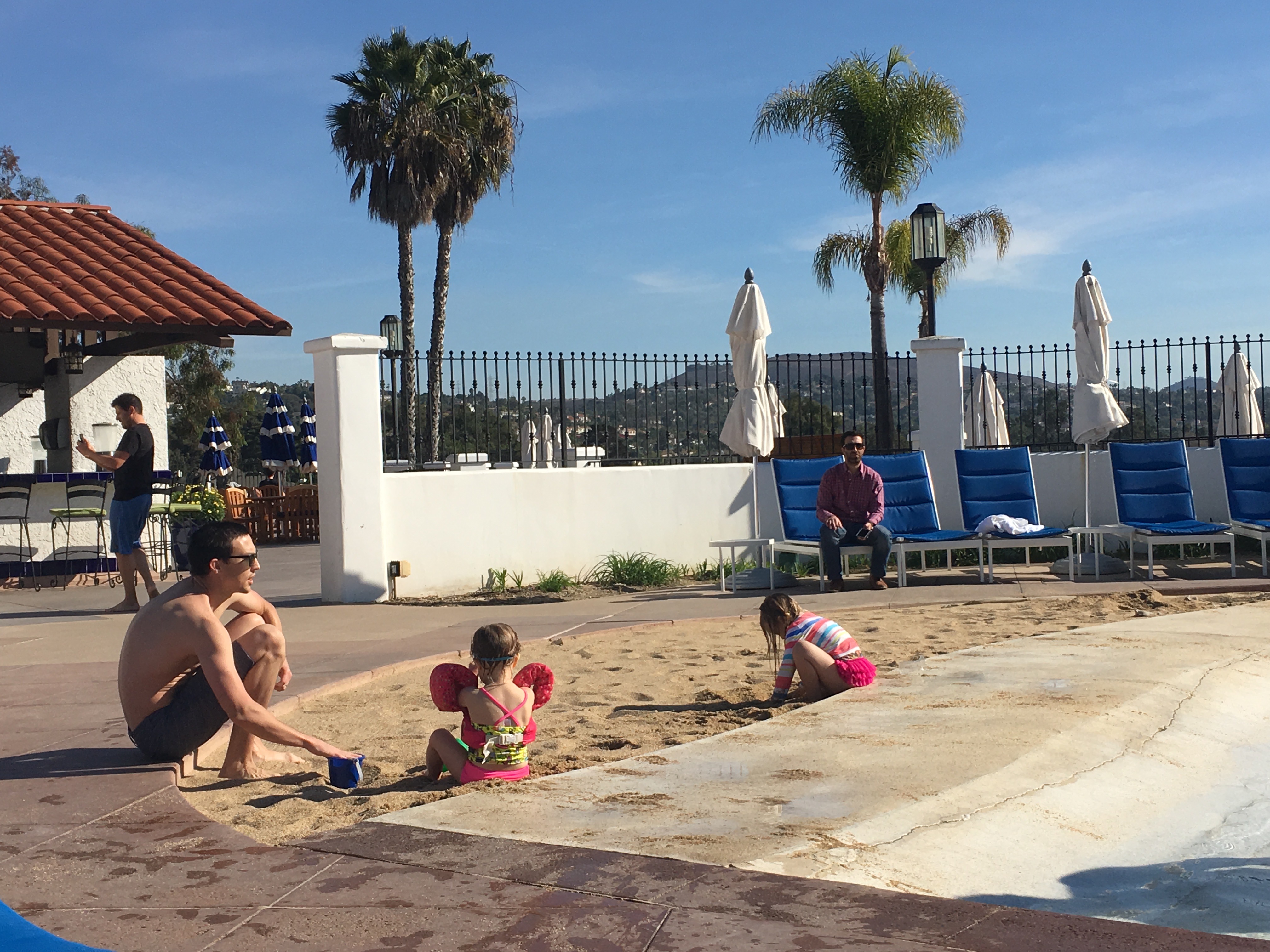 Until naps…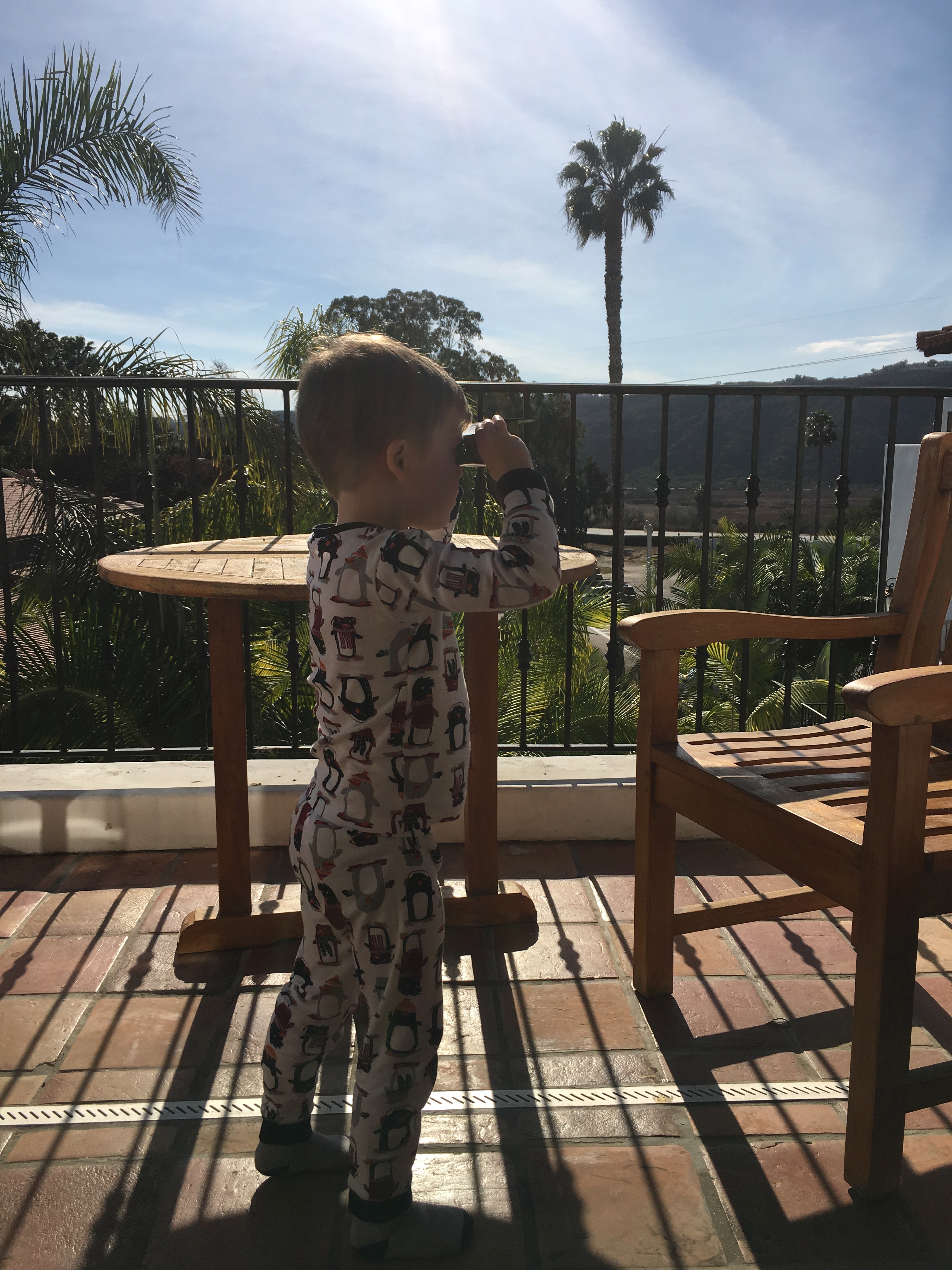 Quiet time bird watching from the balcony.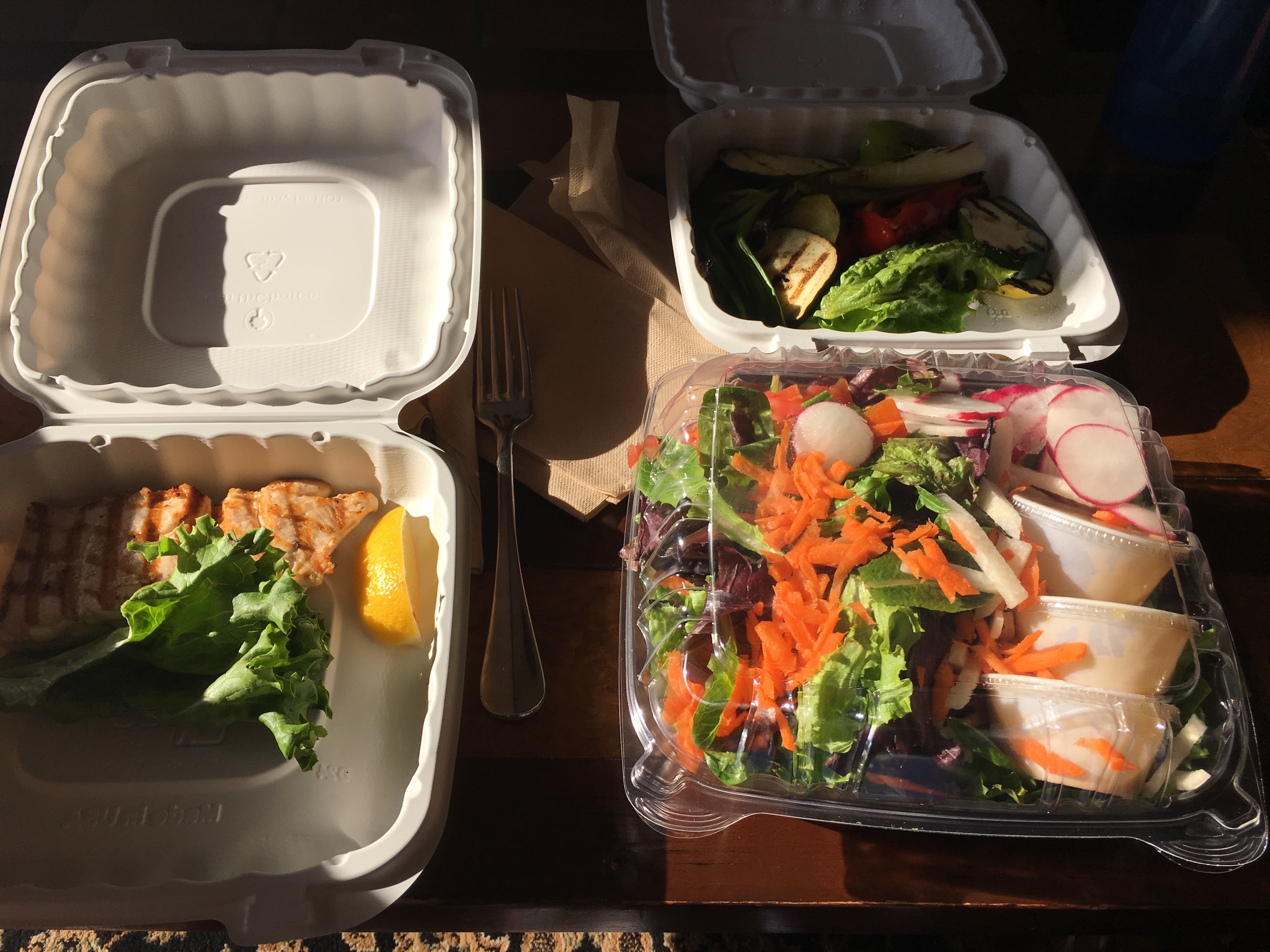 For lunch Kyle grabbed us both take away from a place called the Lotus Cafe & Juice bar.
I was super indecisive and tweaked one of their salads to the point of unrecognizability – as I do.  I had brought a ripe avo from home that I knew I could add, so I just got the Harvest salad with grilled seasonal veggies, balsamic vinaigrette on a bed of organic baby greens with carrot, tomato, radish and jicama. Plus grilled salmon.  And extra tahini dressing.  Hashtag soggy salad lover.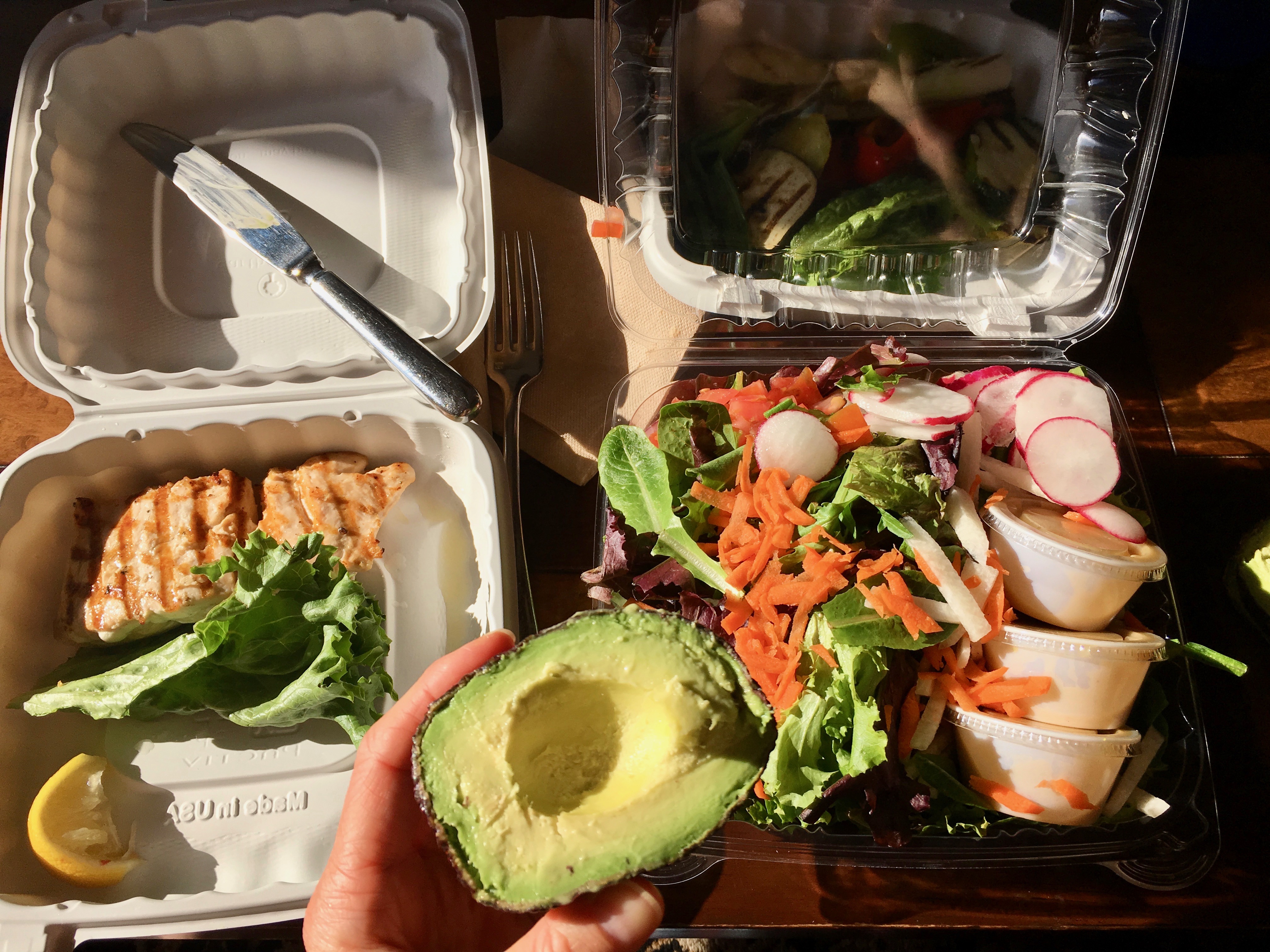 I had read really good things about the tahini dressing (yelp reviews ftw) and it was as awesome as people said.
The portions were SUPER generous and I wound up with lots of leftovers because it was basically three containers worth of veggies. Yes please!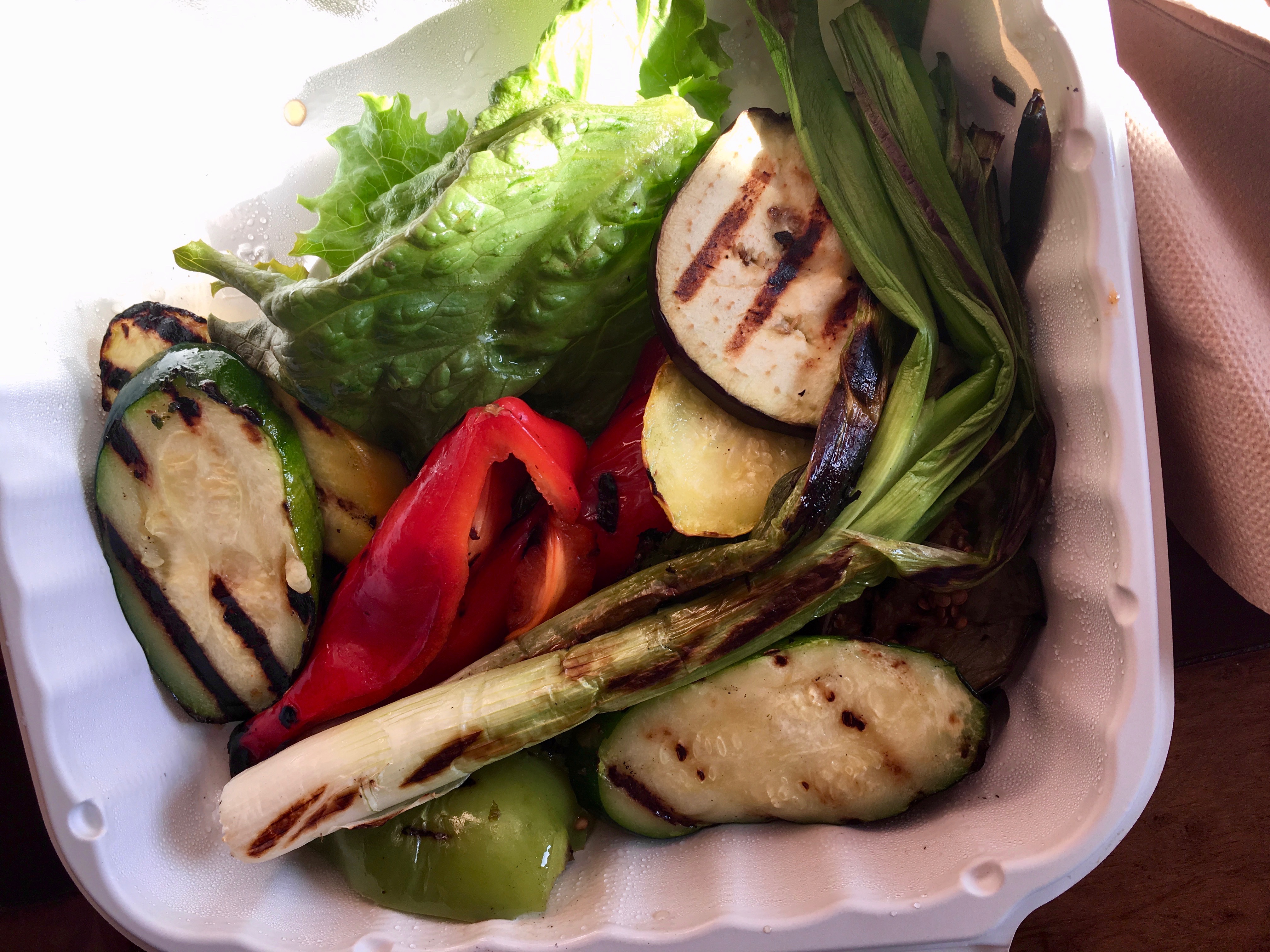 The kids ended up eating most of these roasted veggies after nap time and then again the next day for lunch (they ate leftover plates in the room for most of their lunches). They even liked the grilled green onions!  Shocked me big time.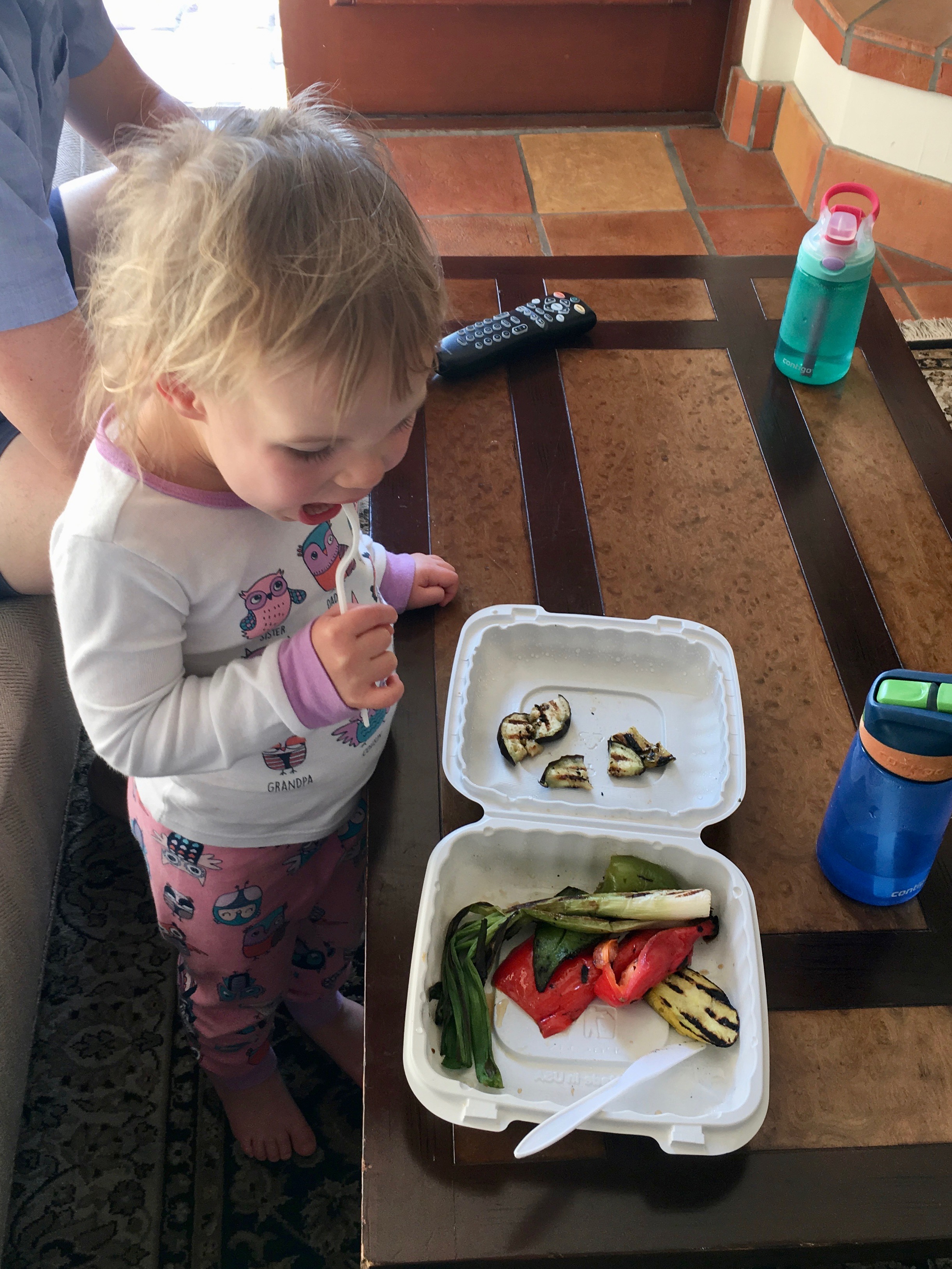 Bed head.
Aside from the dressing though, I don't know that the salad stood out in any phenomenal way.  But I was happy to get some greens in anyway, because I was jonesing for veggies after a few meals without them.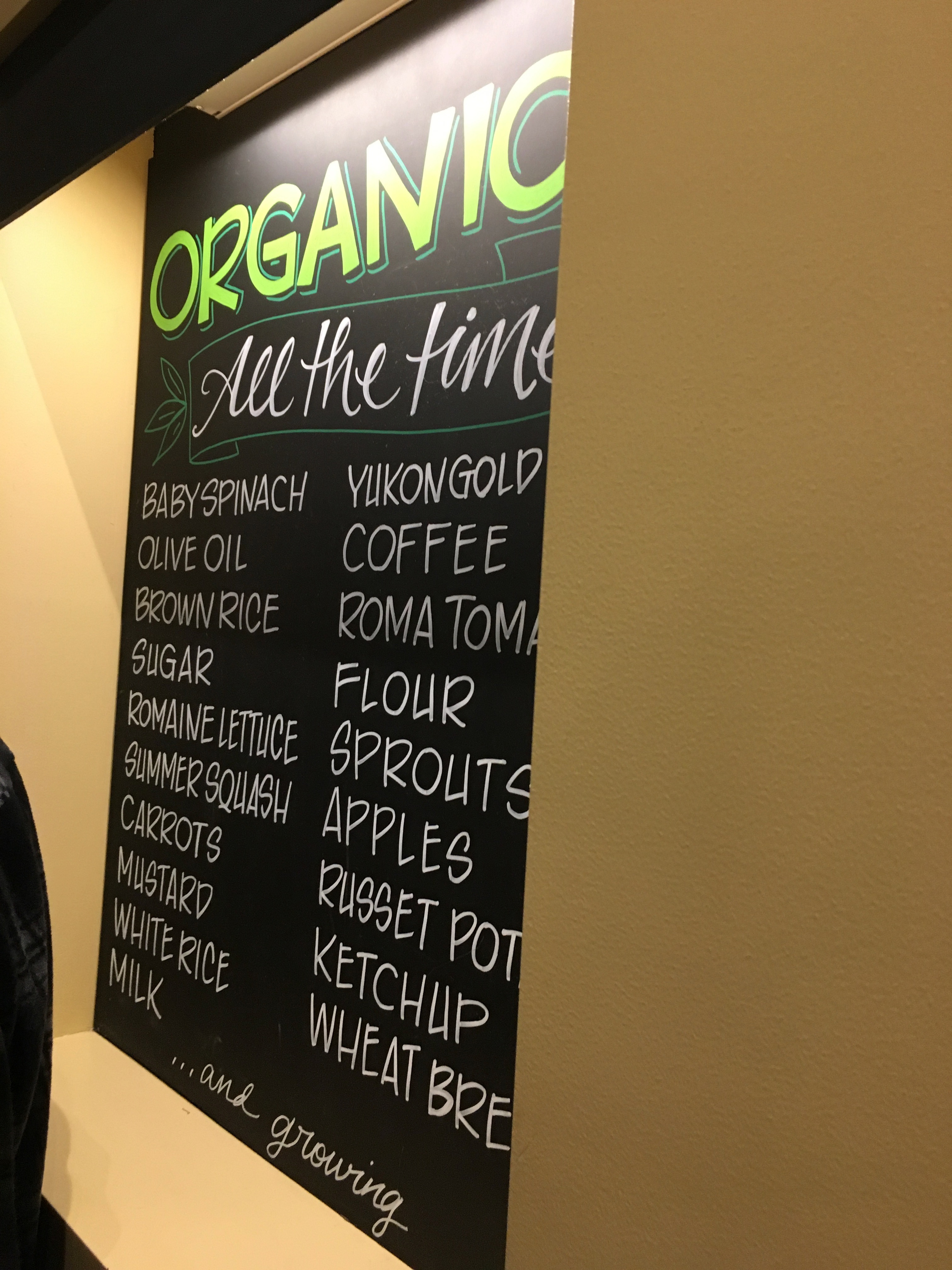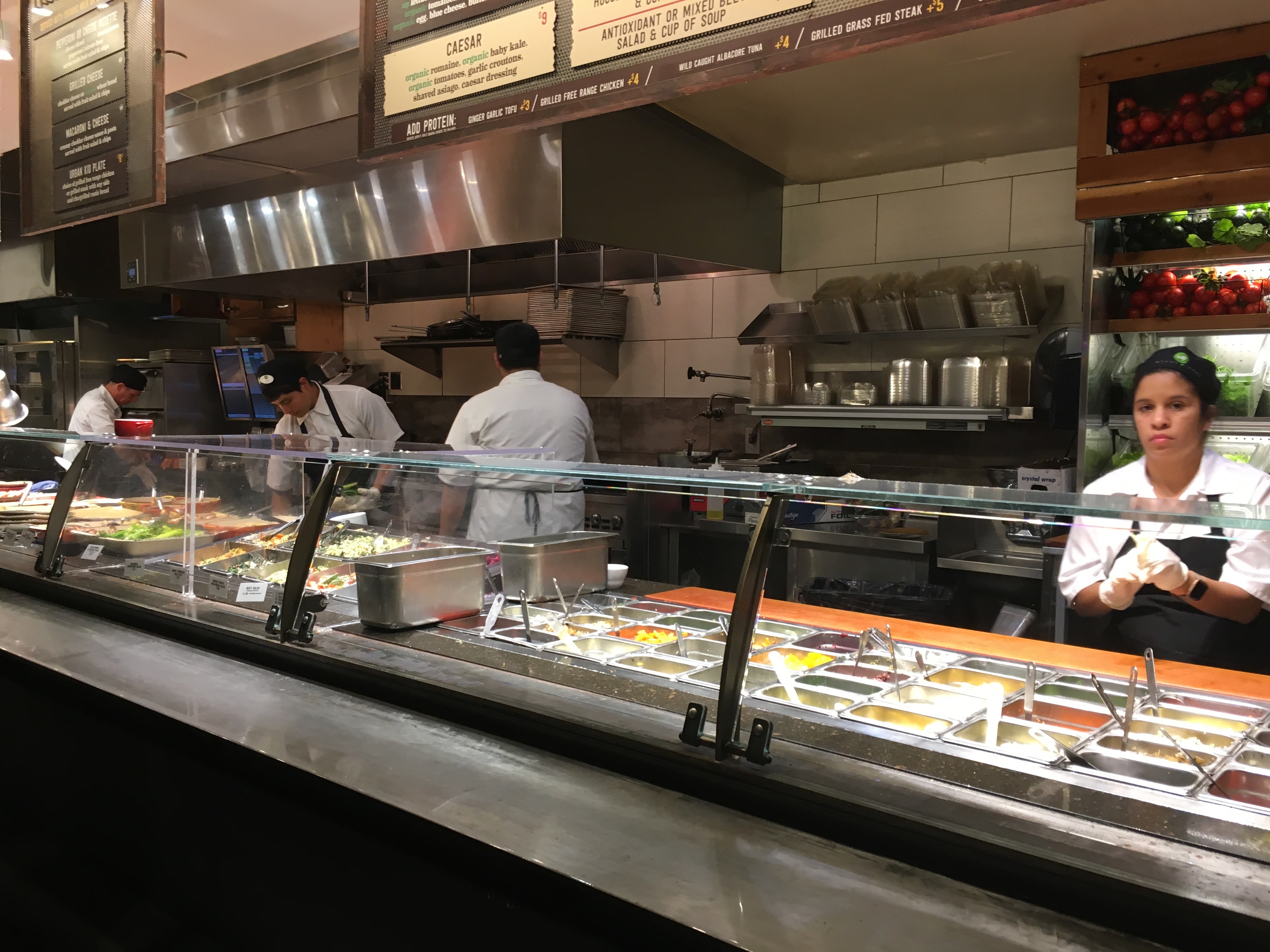 For dinner we went to a place called Urban Plates and got take away to eat in our room.  Sometimes eating out with kids is a pain, so why not just bring it back to dine in?
The concept is like Tender Greens – you can order a plate or a salad.  The plates come with your choice of protein and two veggie sides.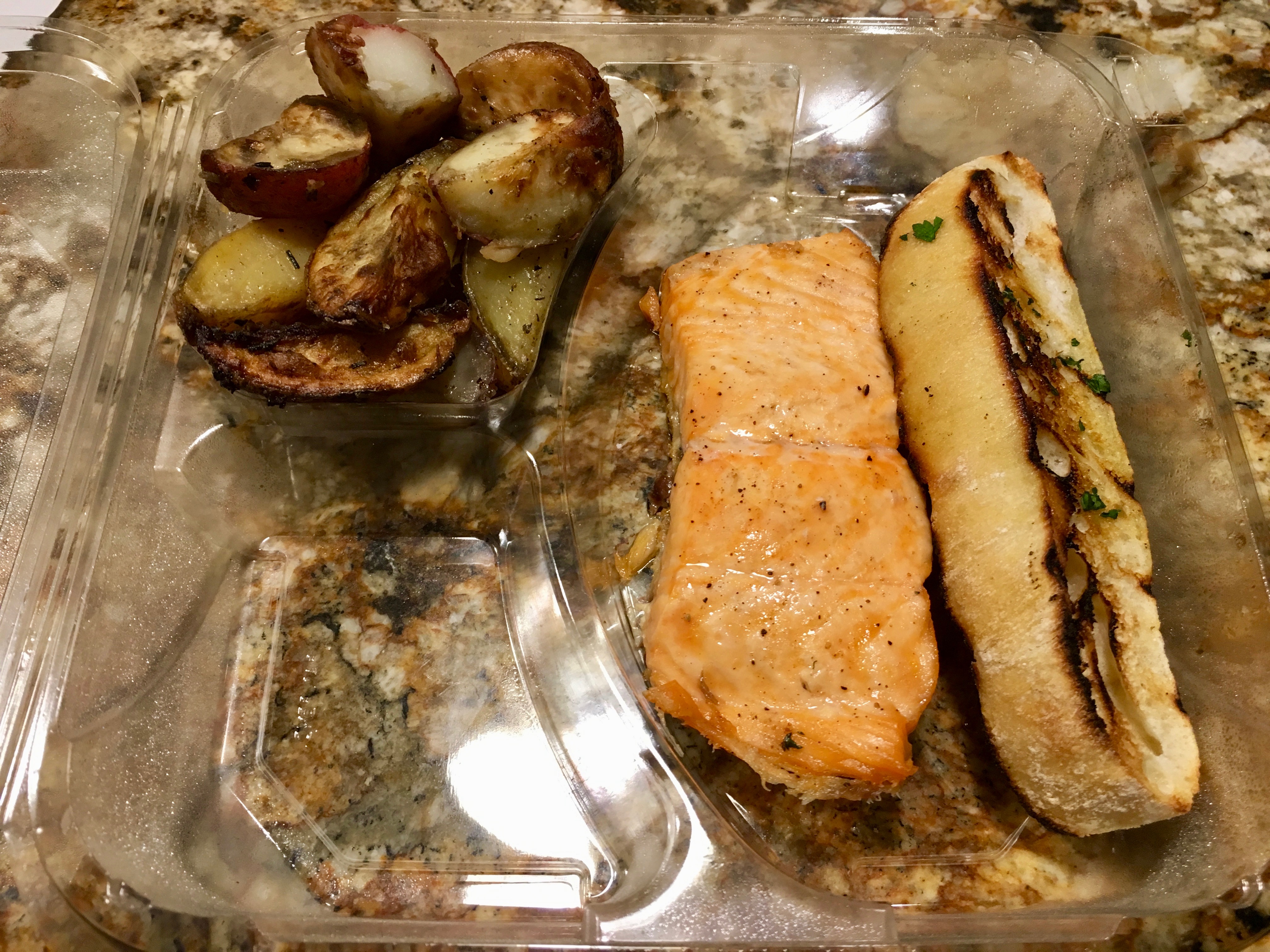 For the "kids meal" I picked grilled salmon, and roasted potatoes (with bread). It also came with organic whole milk, which was perfect, and ended up being two doses worth of dairy for P that week.  He prefers cheese, but I want to keep him doing milk every so often.  I brought cheese with us, but got greek yogurt from the breakfast buffet to split into a few doses worth as well. He only needs 4 g of protein for his dose and the tub of yogurt here at the resort had 19 g (so that's a lot of doses!).  I didn't measure it (because I don't have a food scale here, obvs), but just erred on the side of more since I know he can handle up to 7 g no prob, and then gave any too small portions that were leftover to the little lady who is perpetually angling for her own "dose".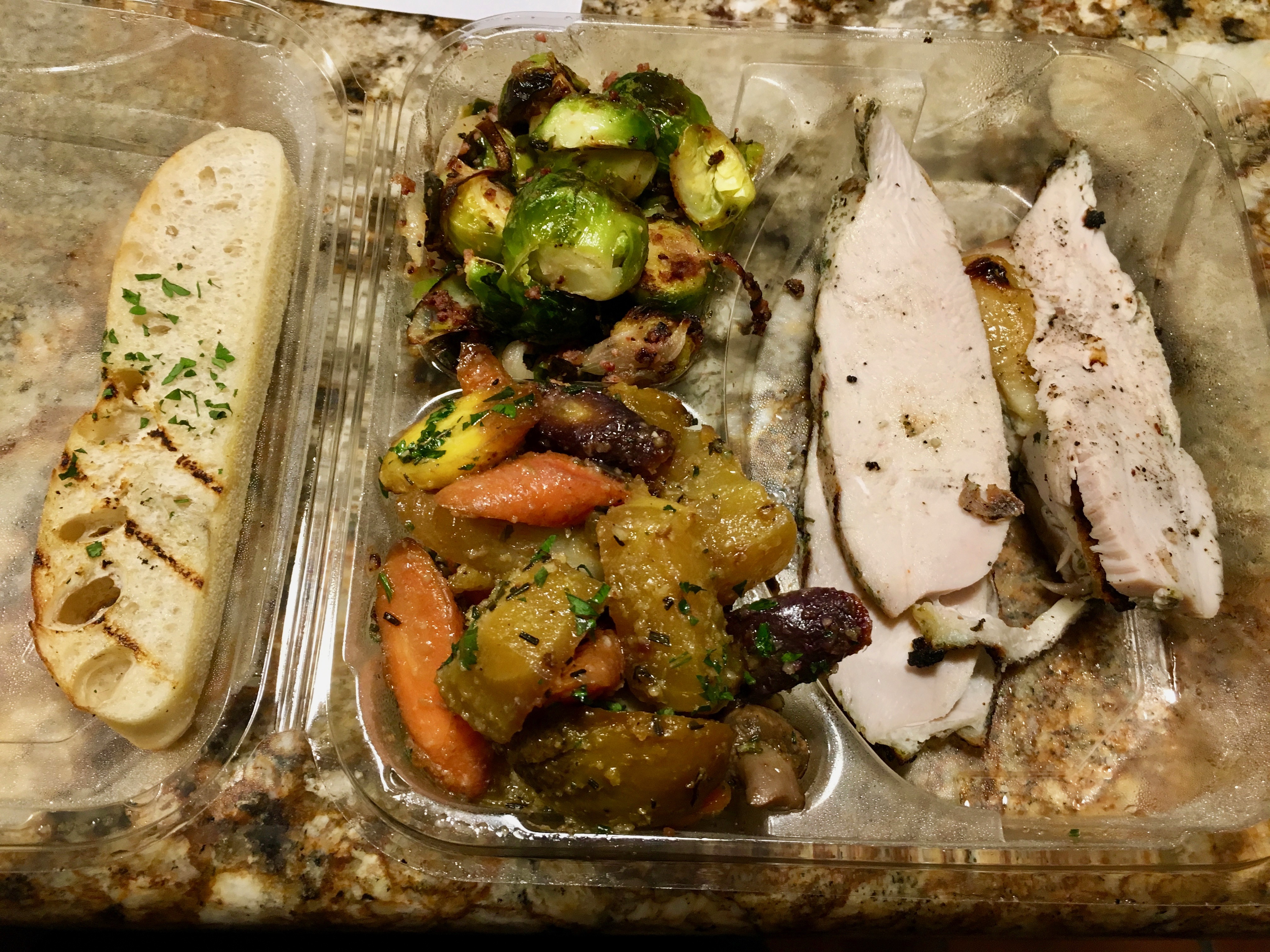 Kyle and I two plates to share, although there were things we both knew we would mostly want and things the other person would mostly want.  Mine (above) had roasted chicken with roasted Brussels sprouts and roasted carrots/beets as my sides.
He got steak with roasted potatoes and broccoli. Both came with bread too, but I gave my bread to the kids so they could each have their own.  The chicken was LEGIT the most flavorful and juicy meat ever.  I tried a slice of Kyle's steak which was also great.  And then there were the side dishes!  I can't even decide what was the best part of the meal they were all so so good!  The carrots and beets were to die for. The kids swooped on several of my brussels too.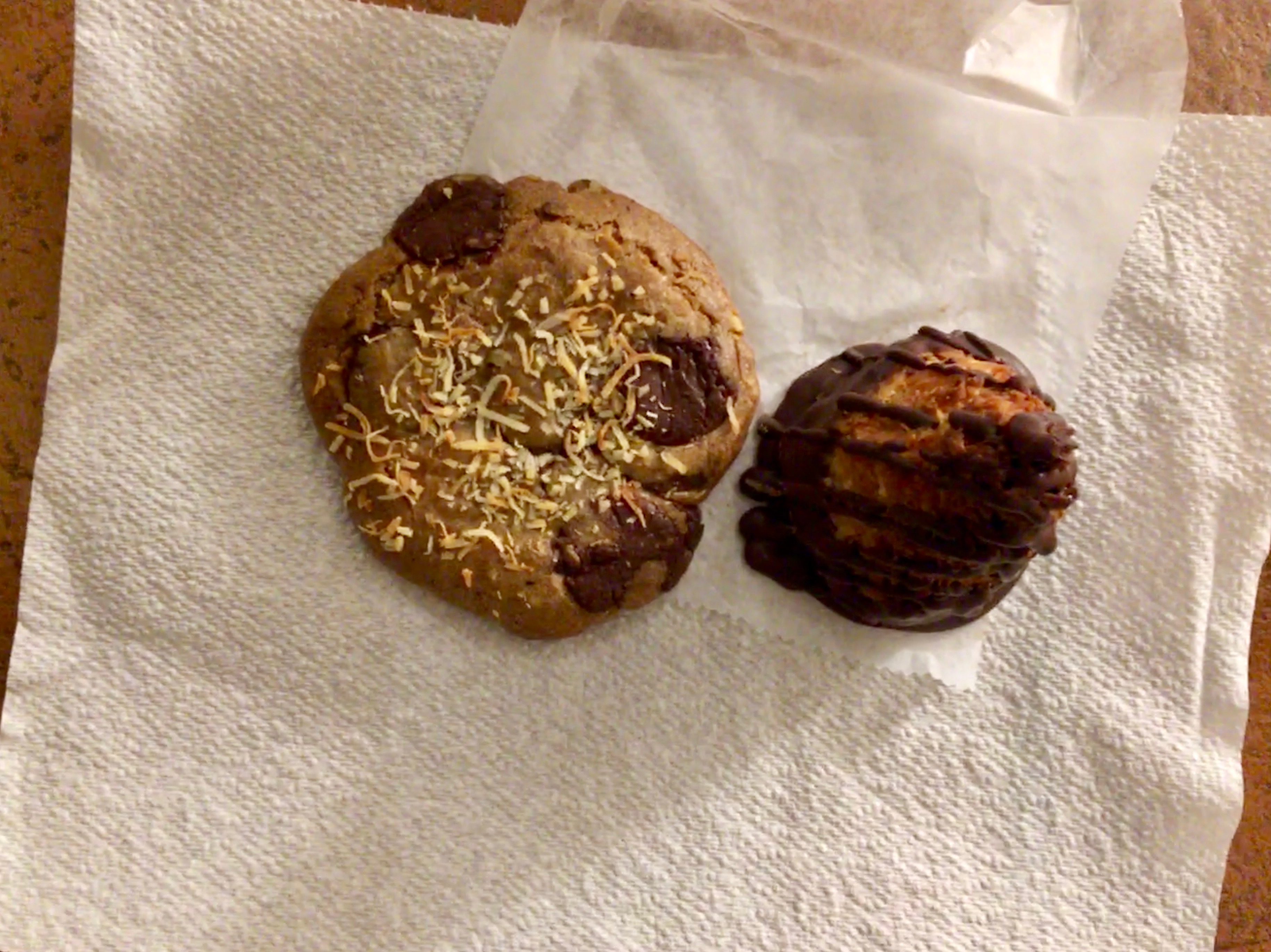 We almost forgot to put out cookies for Santa!!  Good thing Urban Plates has gluten free chocolate chip coconut cookies and chocolate covered macarons.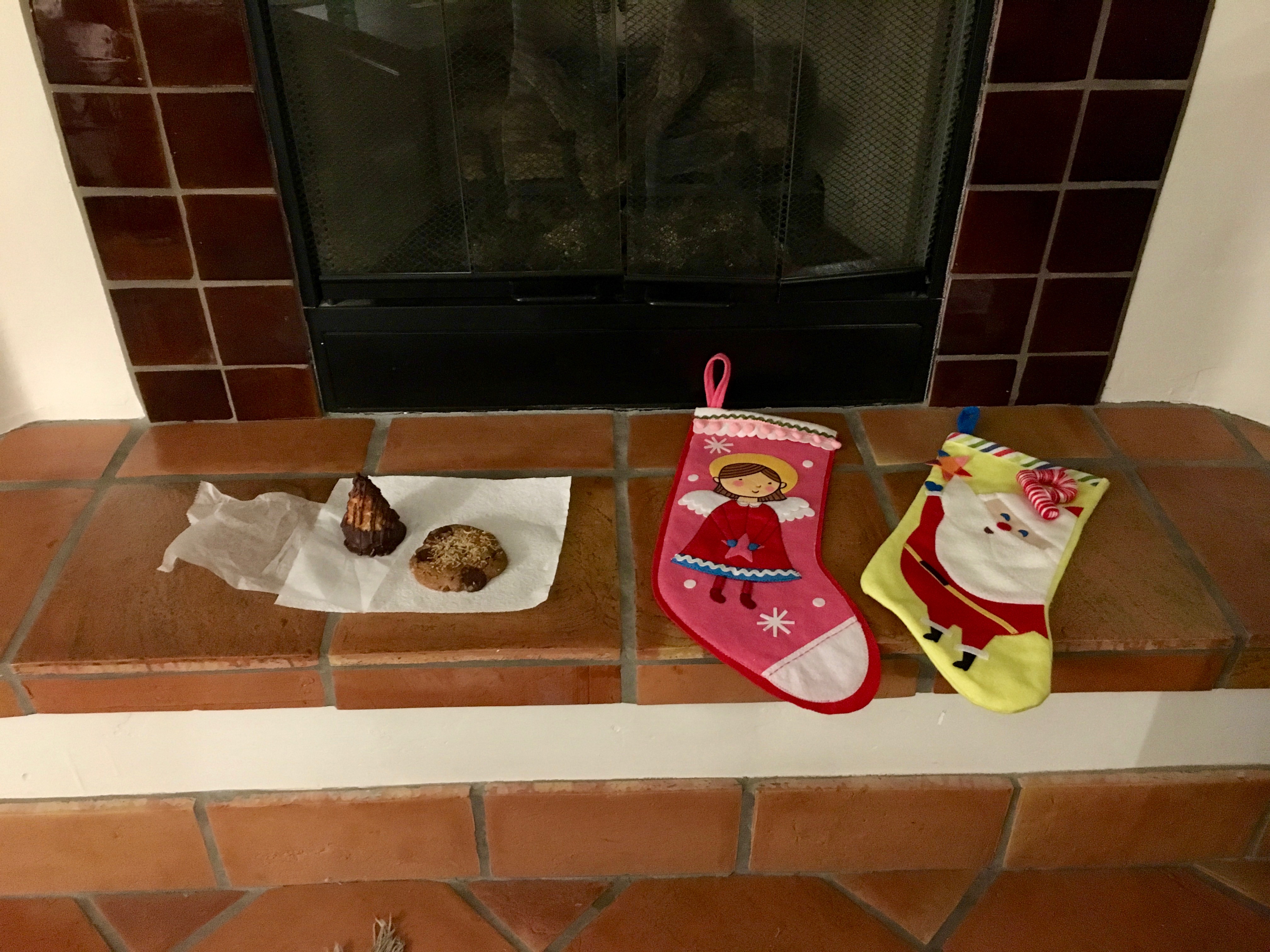 I wish I had photographed that macaroon with my hands next to it because it was HUGE.  And, ahem, delicious.  Santa was too full to try the cookie, but I hid it away for later.  I have already started a collection of sweets that I'm bringing home with me and it's only day 2 but I already can see I'm going to need a bigger food storage system to get all these goodies home…