Another Wednesday of stroller strides followed by park play.  I forgot my almond milk chai tea so I had to wait until nearly noon to drink it.  C'est la vie.  The kids have so much fun playing at the park with my workout buddies' kids that I am willing to stay as long as they want so their positive attitude about stroller strides remains.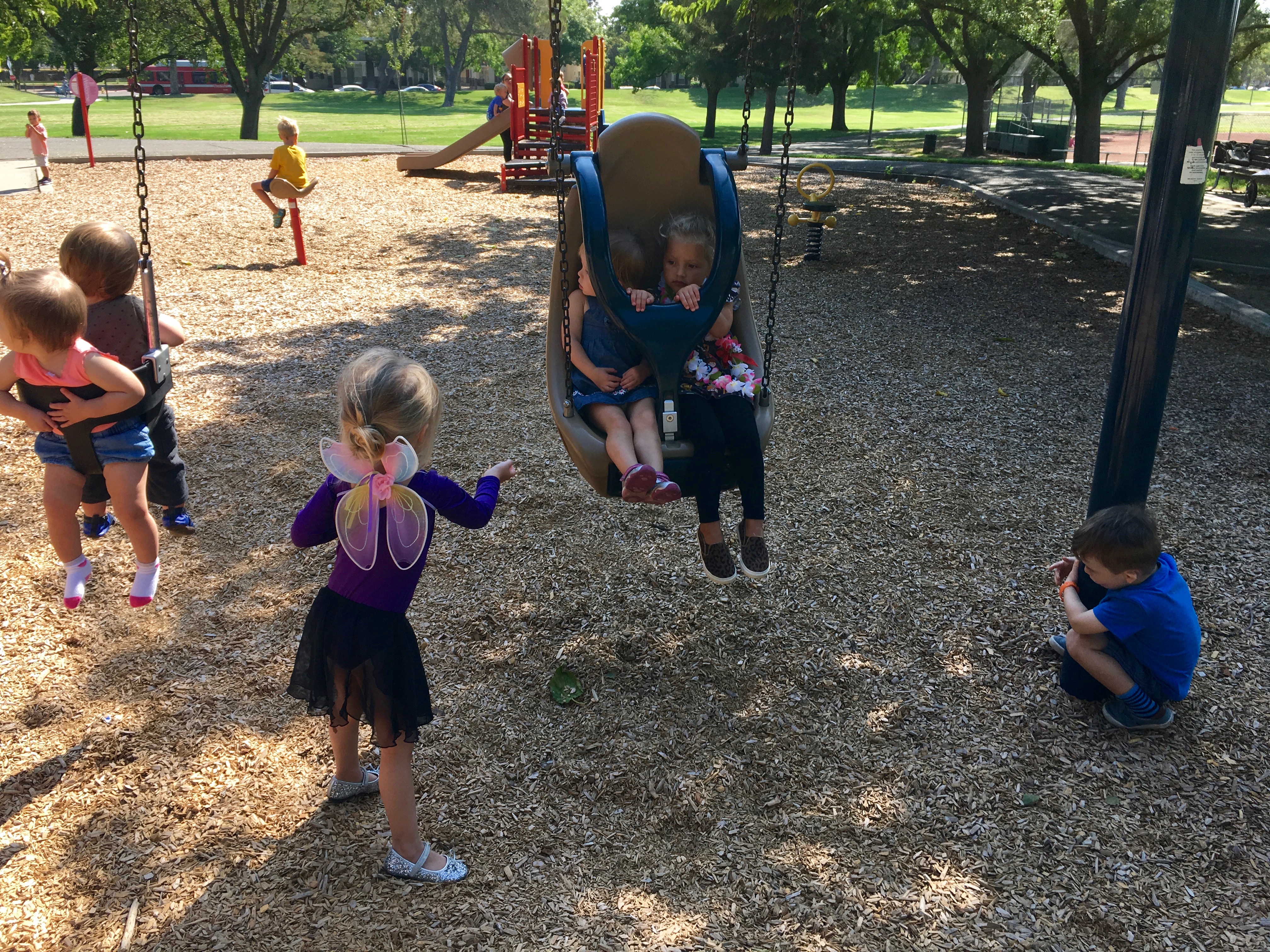 How to fit all the kids on the swings at once…?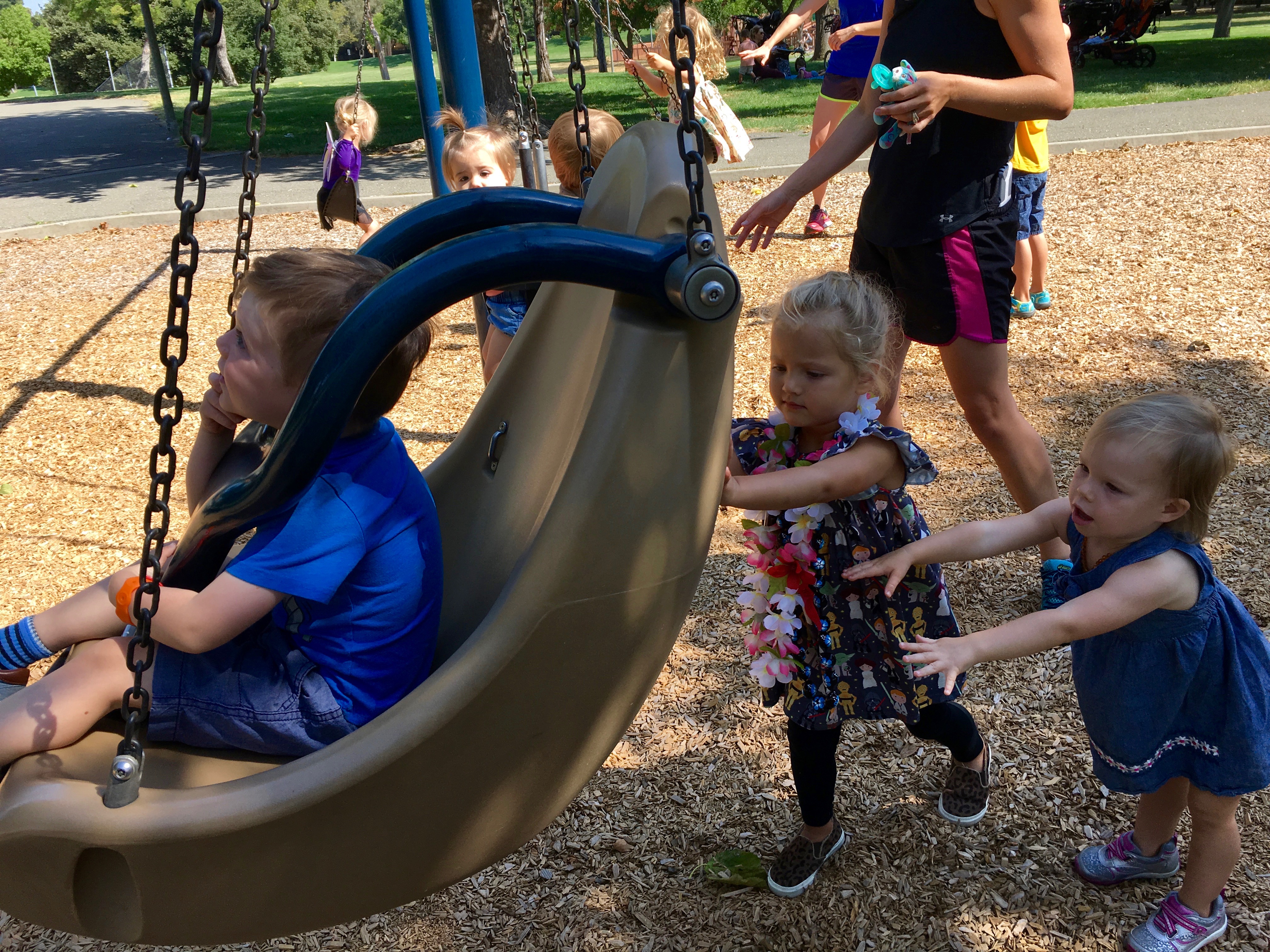 Good times 🙂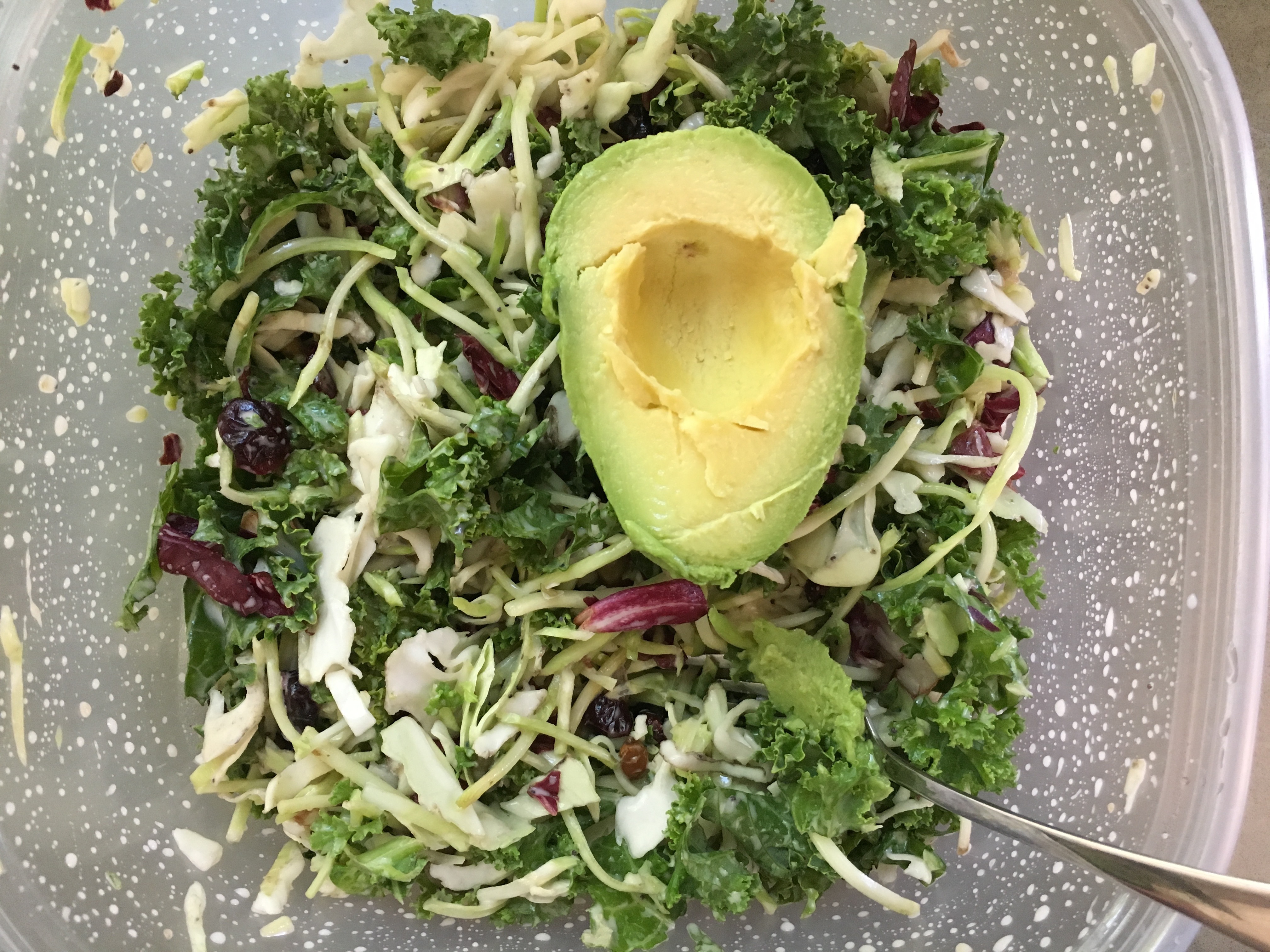 Since I had so little that morning, I ate a massive lunch.  This is meant to be 6 servings of salad I
(it's a HUUUGE tupperware) but I'm special like that.  Plus avo.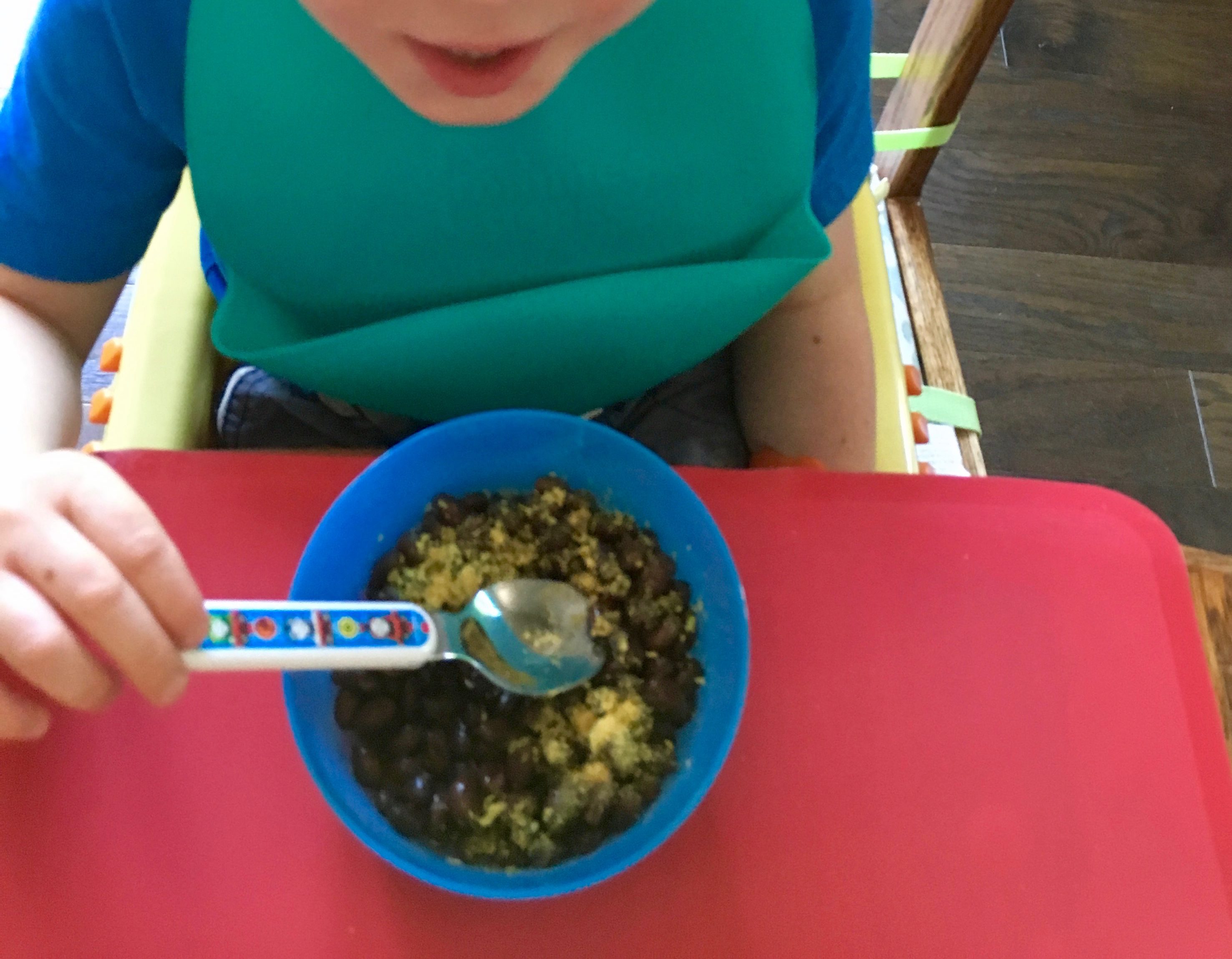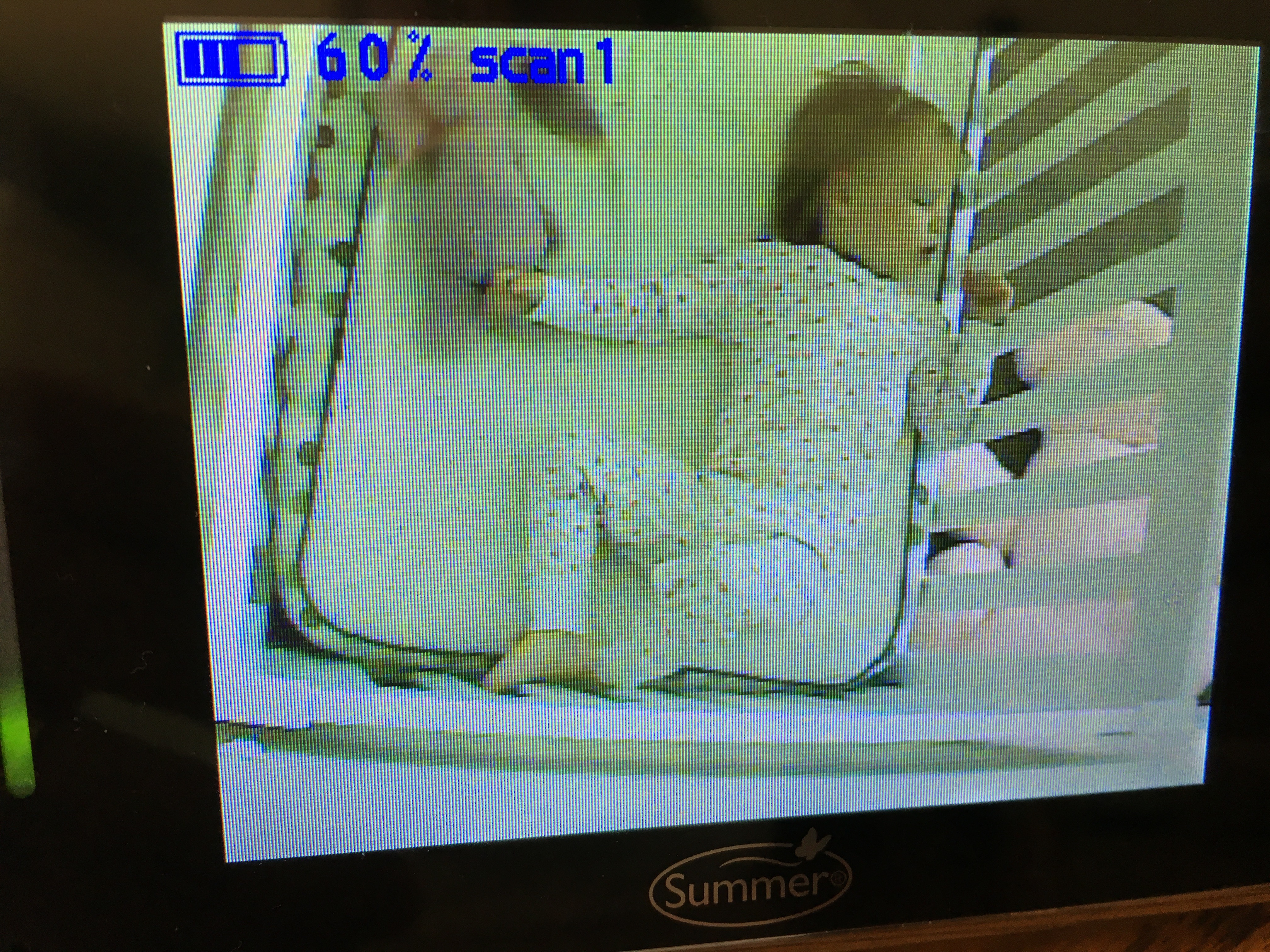 Snoozy snooze.
The kids had black beans with nooch for lunch (and melon, etc).  I got an email question last week about my thoughts on the "What the Health" movie.  I haven't seen it yet, but am definitely interested.  It's gotten very mixed reviews (vegan propaganda/bad science), so I'm curious enough to tune in and judge for myself.  I read The China Study and watched Forks Over Knives and Food, Inc, and many other similar documentaries, but it's always good to keep your mind open and keep learning.  The same email also asked about my transition away from veganism. A long time ago (ok, 3 years, so not that long) I started a draft about this very topic.  But it was so convoluted and I couldn't get my thoughts properly organized…it was like a thesis paper exploding onto my blog…and I didn't really like it.  But I'm happy to discuss our family's dietary journey because, after all, this is a food blog and I go into great detail about everything else I'm going through with my own gut.
Have any of you guys seen What the Health?  What did you think?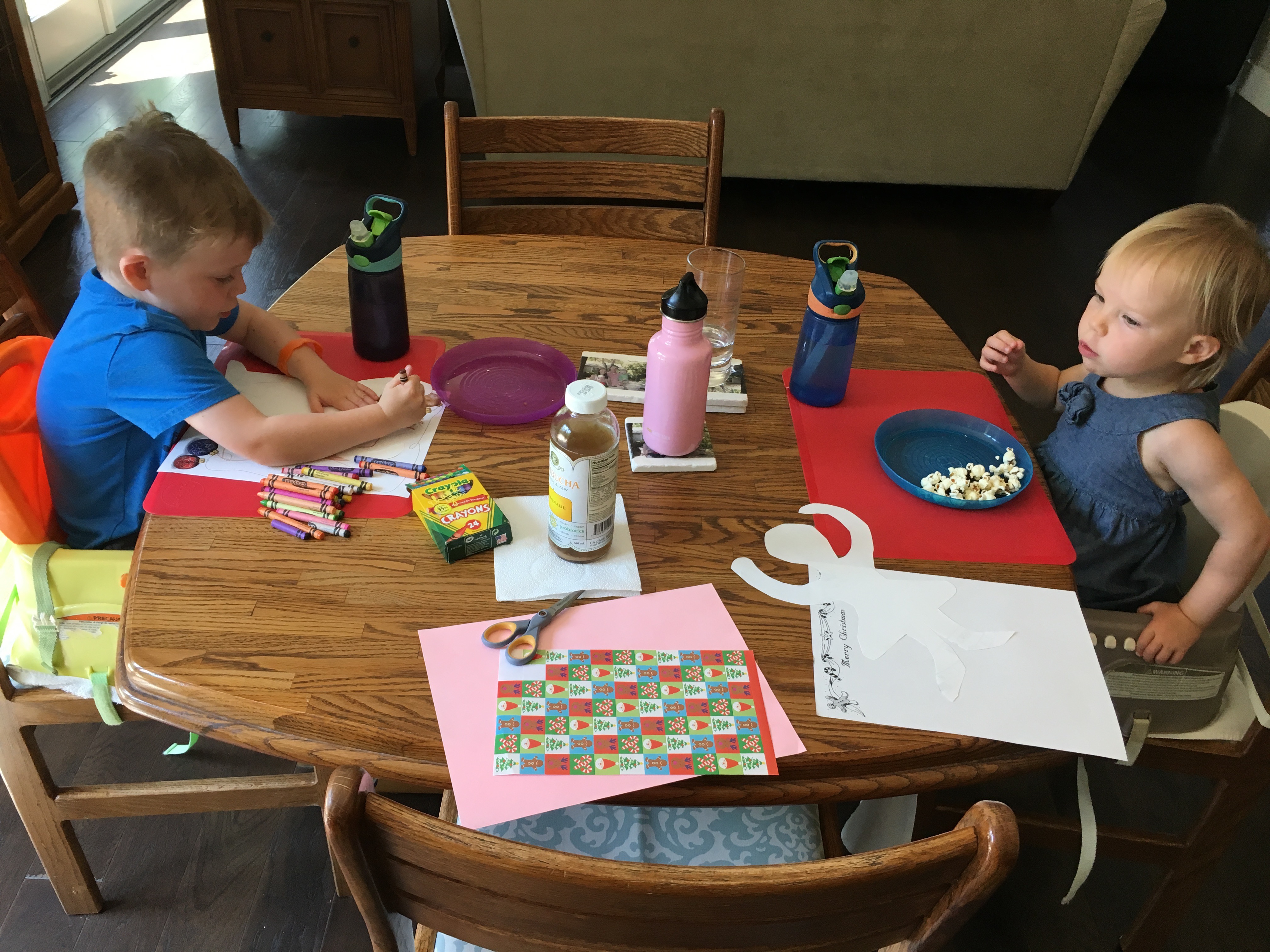 After naps we were supposed to meet friends at the train station but first we JUST HAD TO do an art project. Remember the Nutcracker obsession?  The one that I was barely able to cut off in April?  Yeah, that's back in action.  Pattycakes found the Nutcracker book at the library and really wanted to get it, so I said fine, and now here we are in August, reenacting the ballet and doing Christmas themed arts and crafts.
We still met our friends…with colored Clara paper dolls in tow.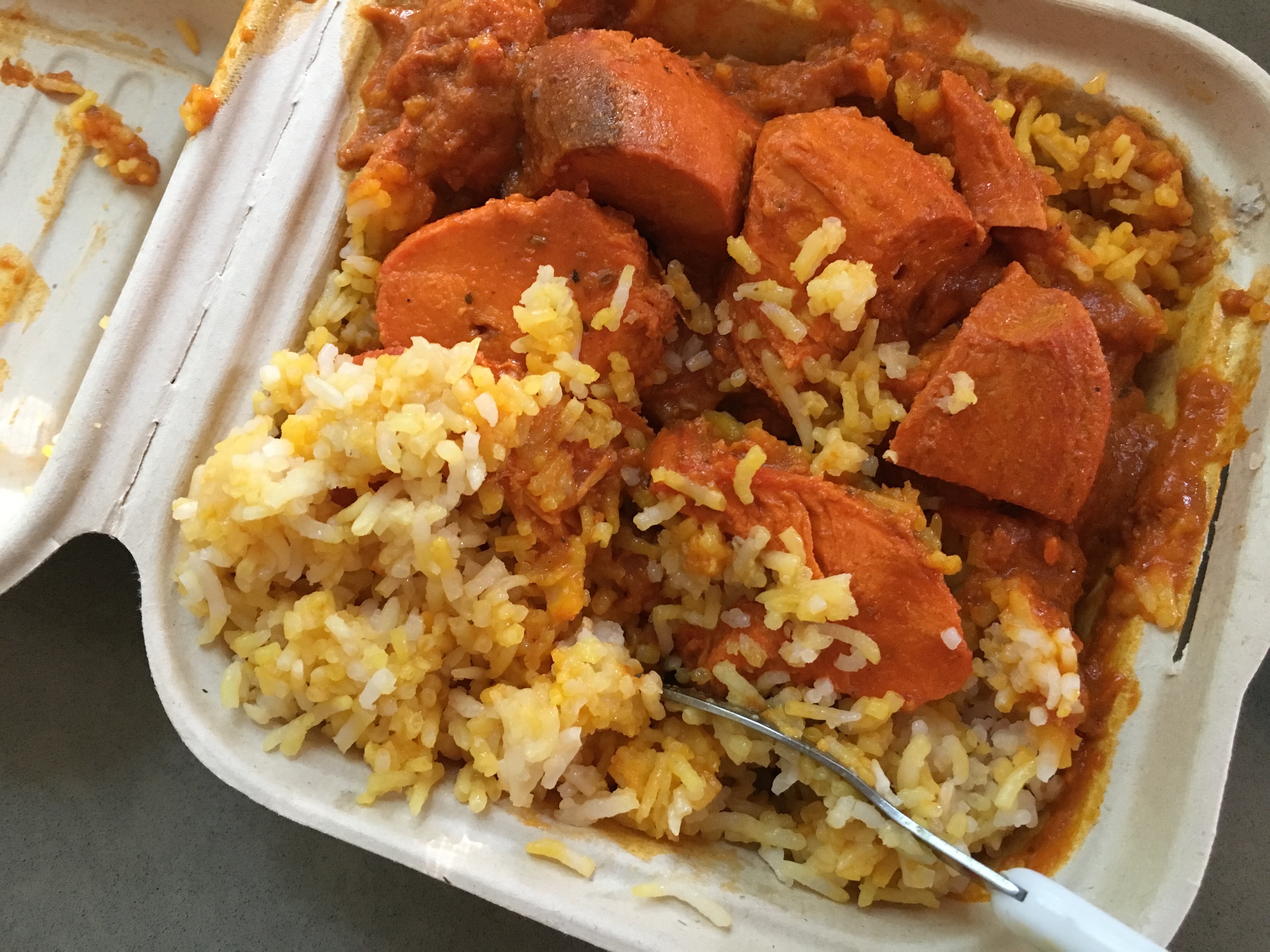 Kyle was gone for dinner, but I had promised the kids that I'd get them the same Indian dish (chicken tikka masala) from Farmer's Market that I got last week (they tried some and looooved it).  I got enough for the whole family and brought it home to eat.  It's from Kathmandu Kitchen and they LOVED it!  Since I knew in advance that we were getting chicken for dinner, I made sure to give the kids (and myself) a plant based lunch.  There's a lot that you'd never know from reading the blog (it's a crazy maze of lists and tallies and whatnot inside my head), but when it comes to meat, I'm very conscientious about how much we eat. I'm hopeful that I can raise kids who have a wide range of food preferences, while understanding the meaning of their choices…for now, we eat animals and plants.
As far as the transition away from veganism goes…if you've been reading for a while you probably know this story already.  Just in case, here are some bullet points:
I like plant based food.  I like avocados and nuts & seeds and kale and hummus and could probably live off carrots…you get the point.  Back in 2011 (?) or so I discovered the low fodmap diet and that was revolutionary for me.  I implemented it as best I could while still avoiding meat and it was working for me.
Then I had a child with food allergies.  Six, to be exact.  To mostly plant based foods.  Peanuts, tree nuts, soy, gluten, sesame, and dairy.  That was really really hard.  It's not something everyone can relate to, and for a while I felt a great deal of backlash here on the blog, but I didn't really have a choice about what I fed him, so I did what I think anyone would do and fed him the best diet to keep him healthy.  I was also working as the sole provider for the family back then, while Kyle started his business, which comes with a whole other set of stressors. So the idea of cooking different meals for us all seemed completely insane and impossible.  I was terrified of having anything in the house that could lead to cross contamination and so we all adopted his diet.  There were ways to modify things while still keeping his meals allergy free, but for the most part I transitioned to a peanut/tree nut/dairy/soy/gluten free diet for a while.  Luckily, over time, he "outgrew" some of his allergies, and one by one, we were able to eat things like hummus and wheat bread again, and that made plant based eating easier.
Nowadays, we have the luxury of eating ALMOST ANYTHING we want.  He has graduated milk OIT and is slowly working through peanut desensitization, so our options are basically back to where they were before we found out about pacman's allergies.  So will we go back to a veggie lifestyle?  I often think about it, but for now the answer is I don't know.  I've lived with restrictions for so long now, it feels amazing to have the freedom we have.  But is that the right reason to consume animals?  Is that the best diet for us?  If you ask my son what his favorite food is, he will tell you "bacon" in under 1 second.  The funny thing is, he gets bacon once a month or less.  But it's a taste you can't undo.  Same with "meatballs" and "burgers".  He has now had vegetarian versions of both and doesn't dislike them, but definitely doesn't love them the way he loves animal protein.  But 2 and 4 years old is kinda young to delve into the flaws of our food system and factory farming and slaughterhouses.  He knows where his food comes from and we are as transparent as possible, but he is only four, so, you know.  With time he can learn more and then make his own decisions.
How's that?
I had a kombucha after dinner and then some leftovers from yesterday's dinner on the late night because I was feeling slightly hungry again but didn't want sweets (!).