Since I couldn't decide on my birthday meal I told Kyle I was making it a double header.  Not like he cares – it is really no different from me cooking any other night.  Except that usually I get his input on the weekly menu (or at the very least his blessing) and for this week I kinda just said this is what I'm making because it's what I want.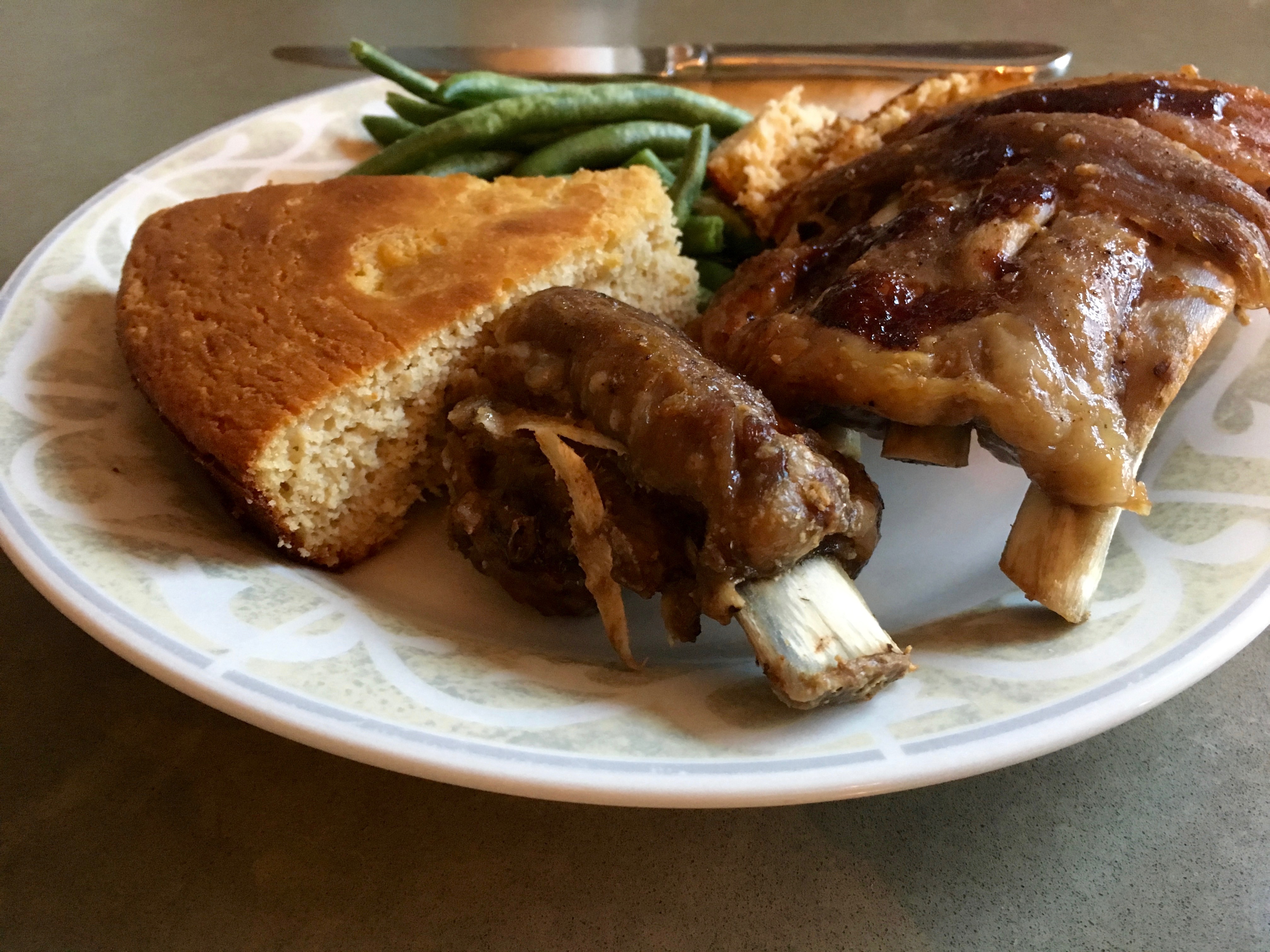 But it was ribs, skillet corn bread and green beans, soooooo…he was hardly putting up a fight.  😉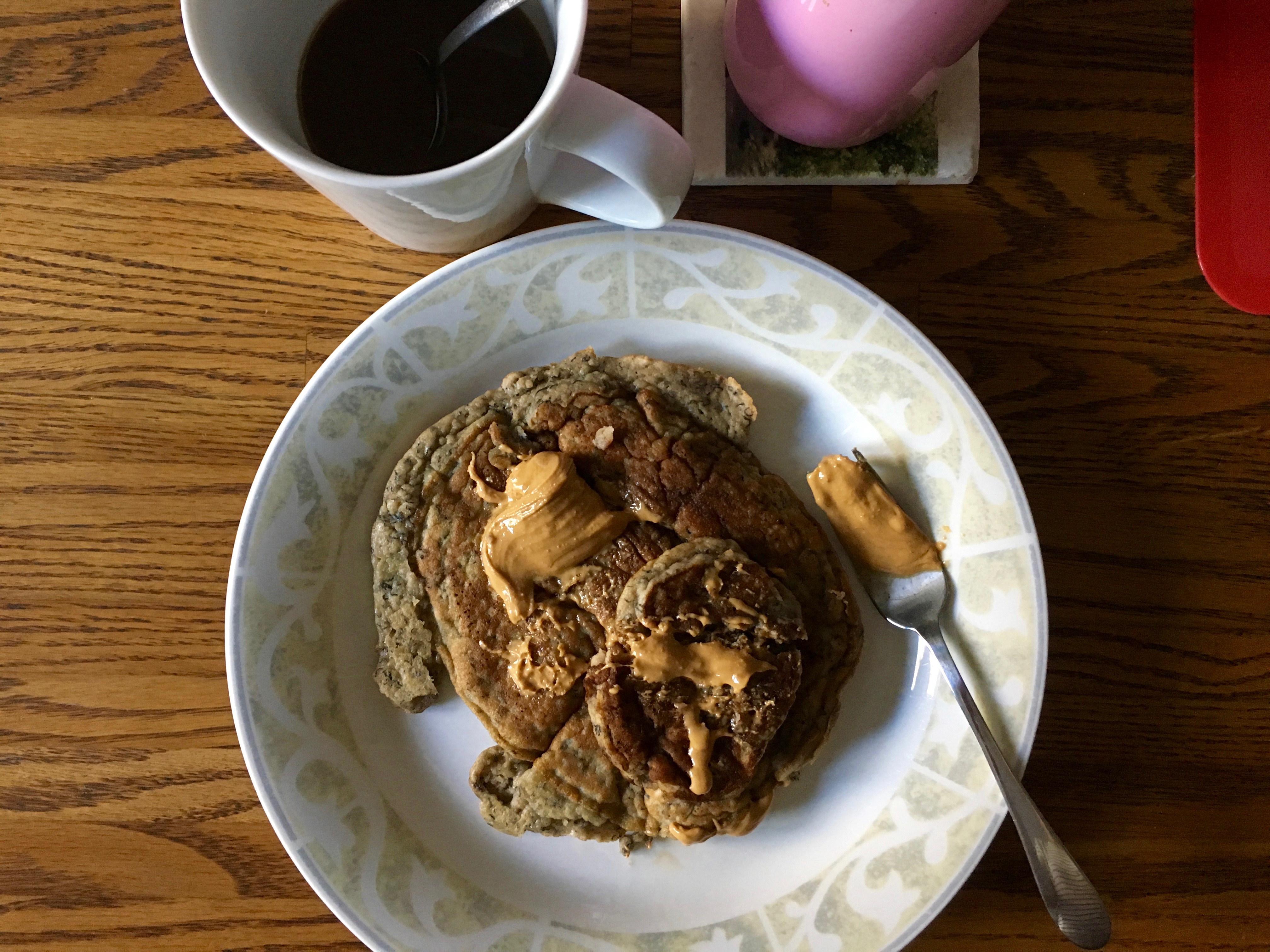 I had leftover pancakes with cashew butter for breakkie.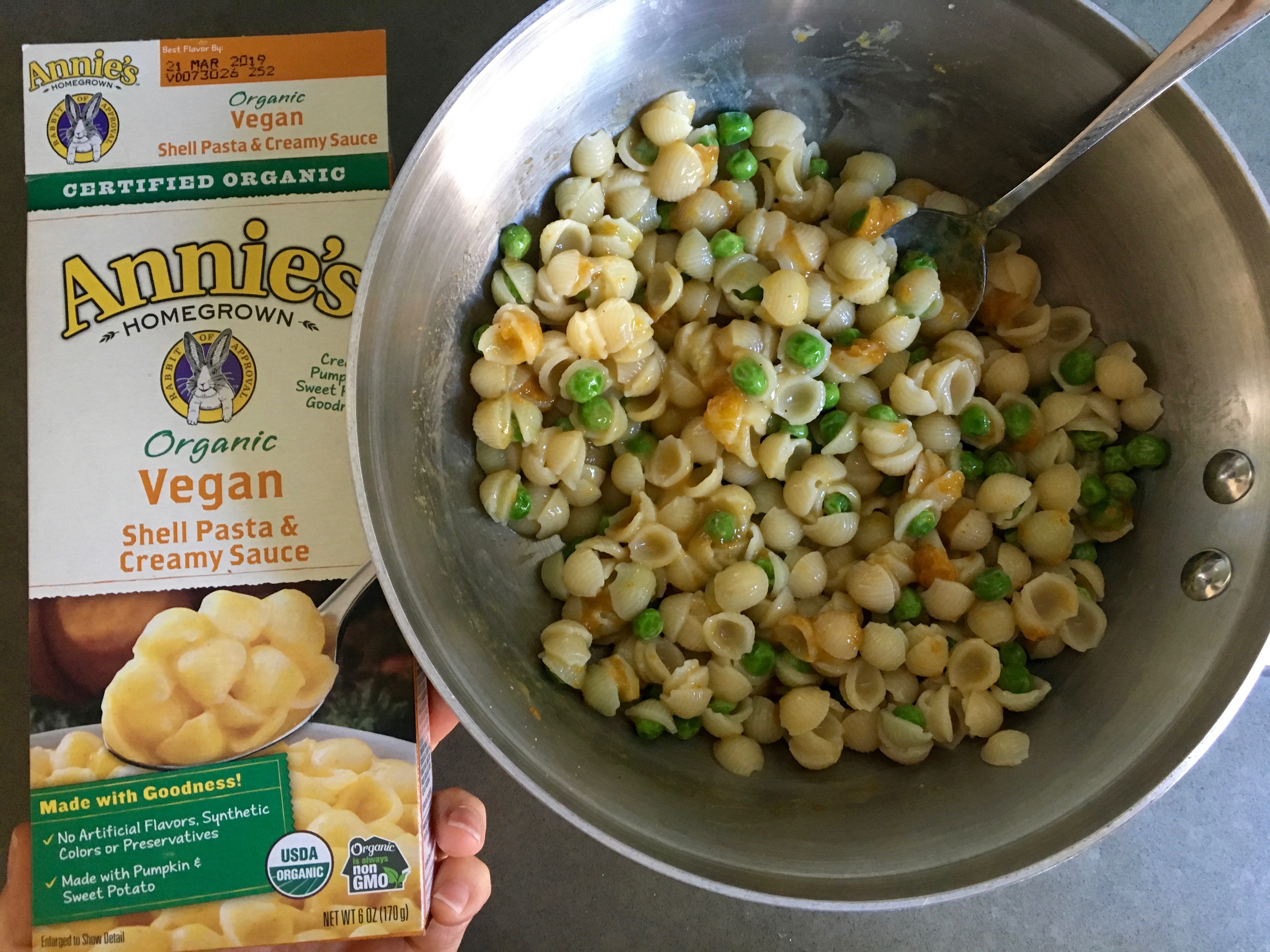 I made the kids vegan shells n cheese with peas for lunch, which they LOVED and finished off in entirety.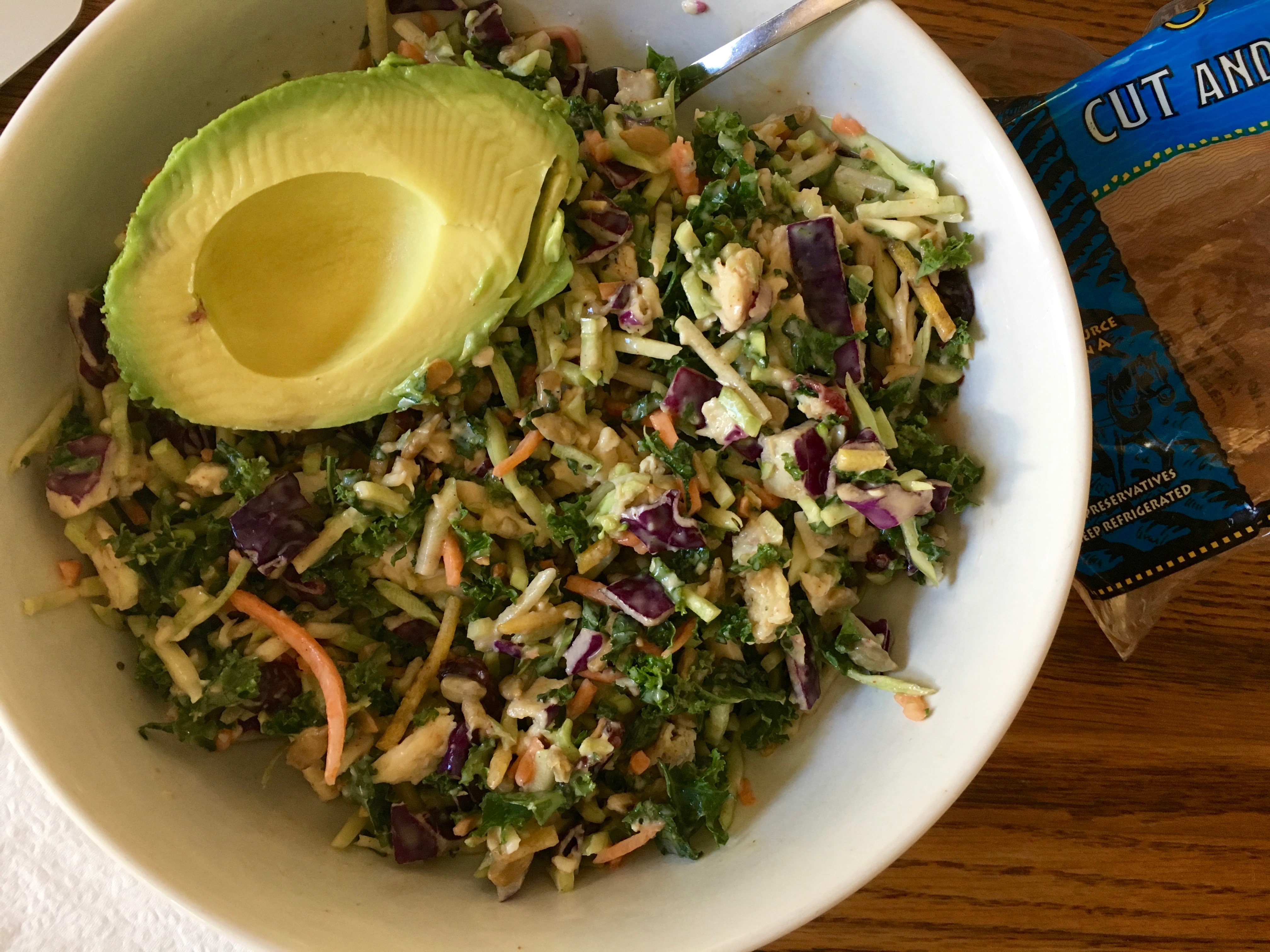 Then I ate this salad from TJs for my lunch (with avocado added per usual).  I only bought ONE of those salads this week because I'm committed to weaning myself off pre-made salads.  They're good to lean on in a pinch, but I'd rather make my own.  It just takes time to plan out – prepping dressings, chopping veggies, and getting the toppings/add-ins ready – that I have to remember to fit into my life.  This past weekend was busyish (and Kyle was forcing me to relax), so I didn't do as much prep as I typically do.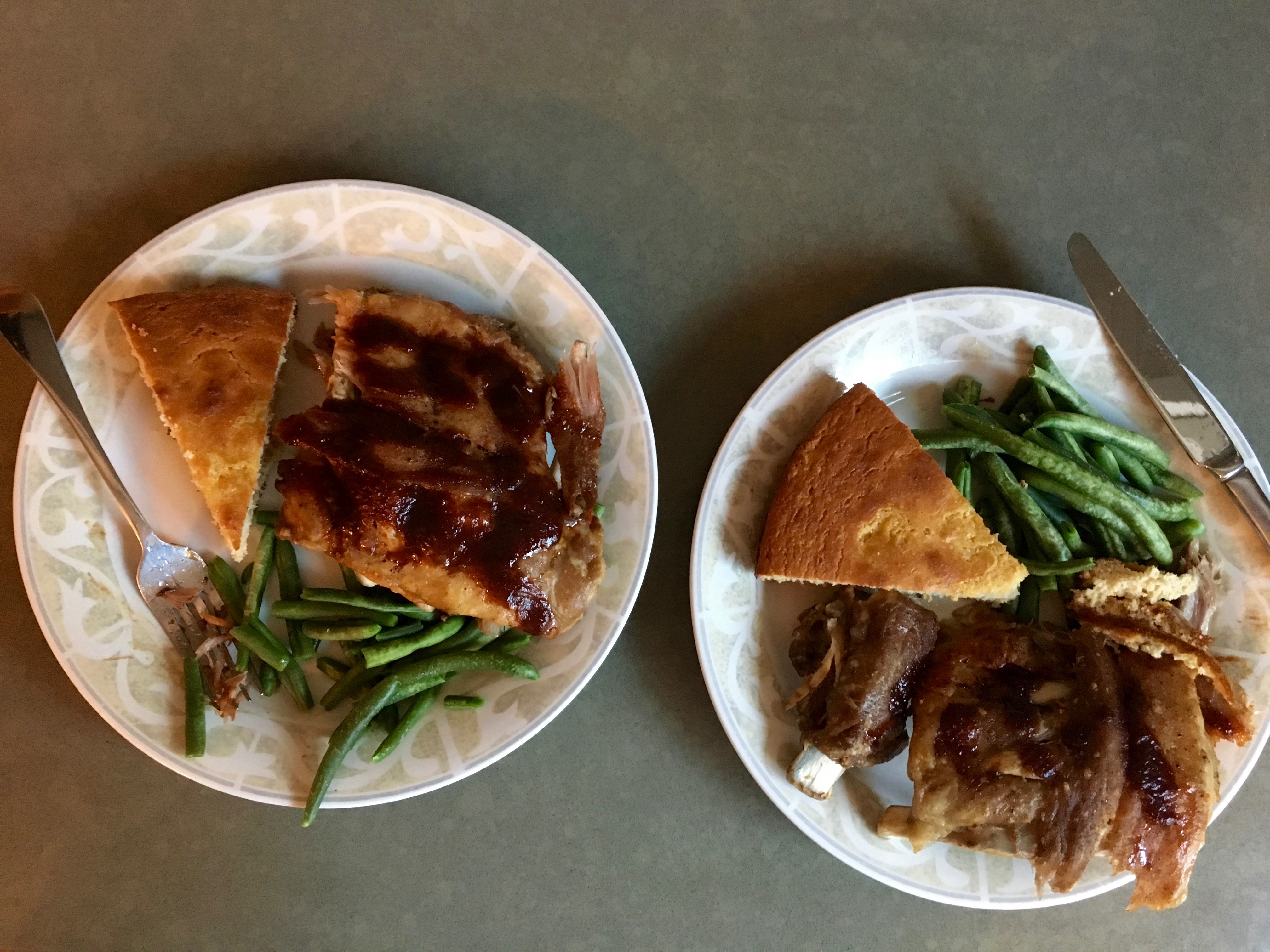 Now let's discuss dinnah.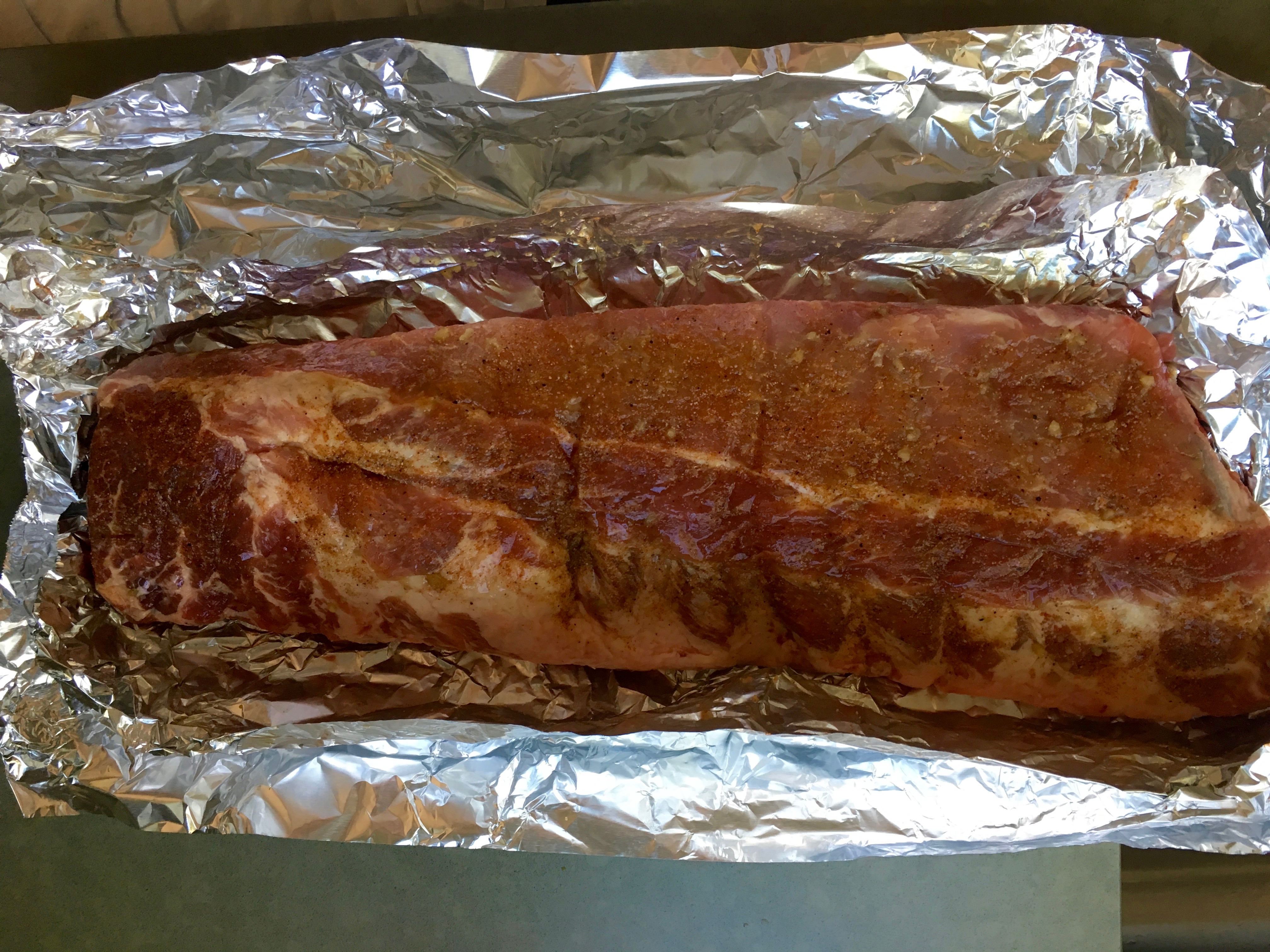 I followed the rub recipe from Ready Or Not and then put these in the fridge the night before so they had had a decent amount of time to sweat before I set to work on them the next day during naps.  I actually had to work quickly because I had to make skillet cornbread too and finish it all before a landscape consultant came by at 2.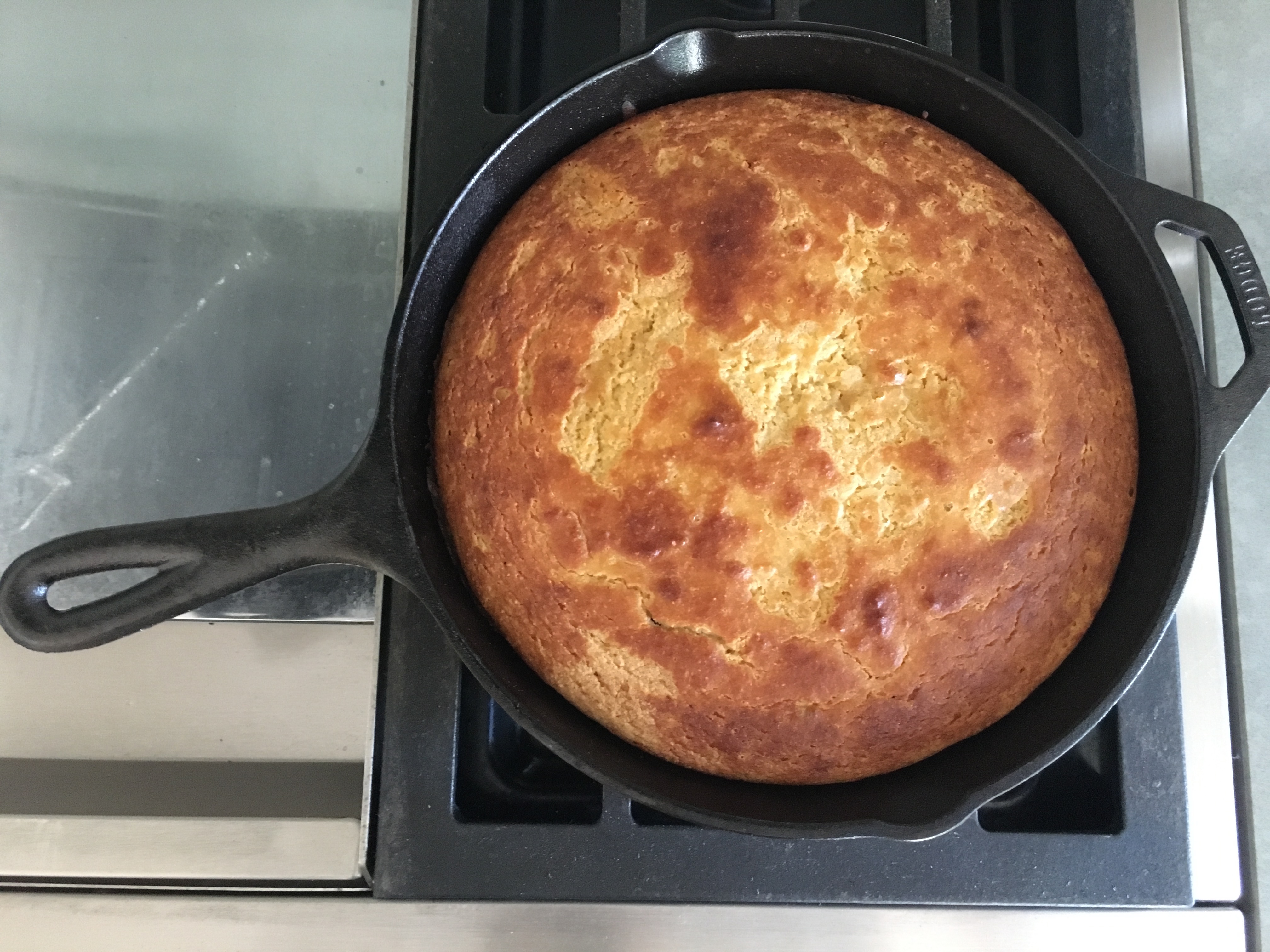 DUDE!  This is the skillet cornbread from Danielle Walker's cookbook, Celebrations.   And I was VERY skeptical of a recipe that used the name cornbread, but doesn't in fact have any corn or cornmeal in it.  Or grains at all. But I was eating my words after tasting it that night because oooooooeeeee was it ever something good.
But I'm getting ahead of myself.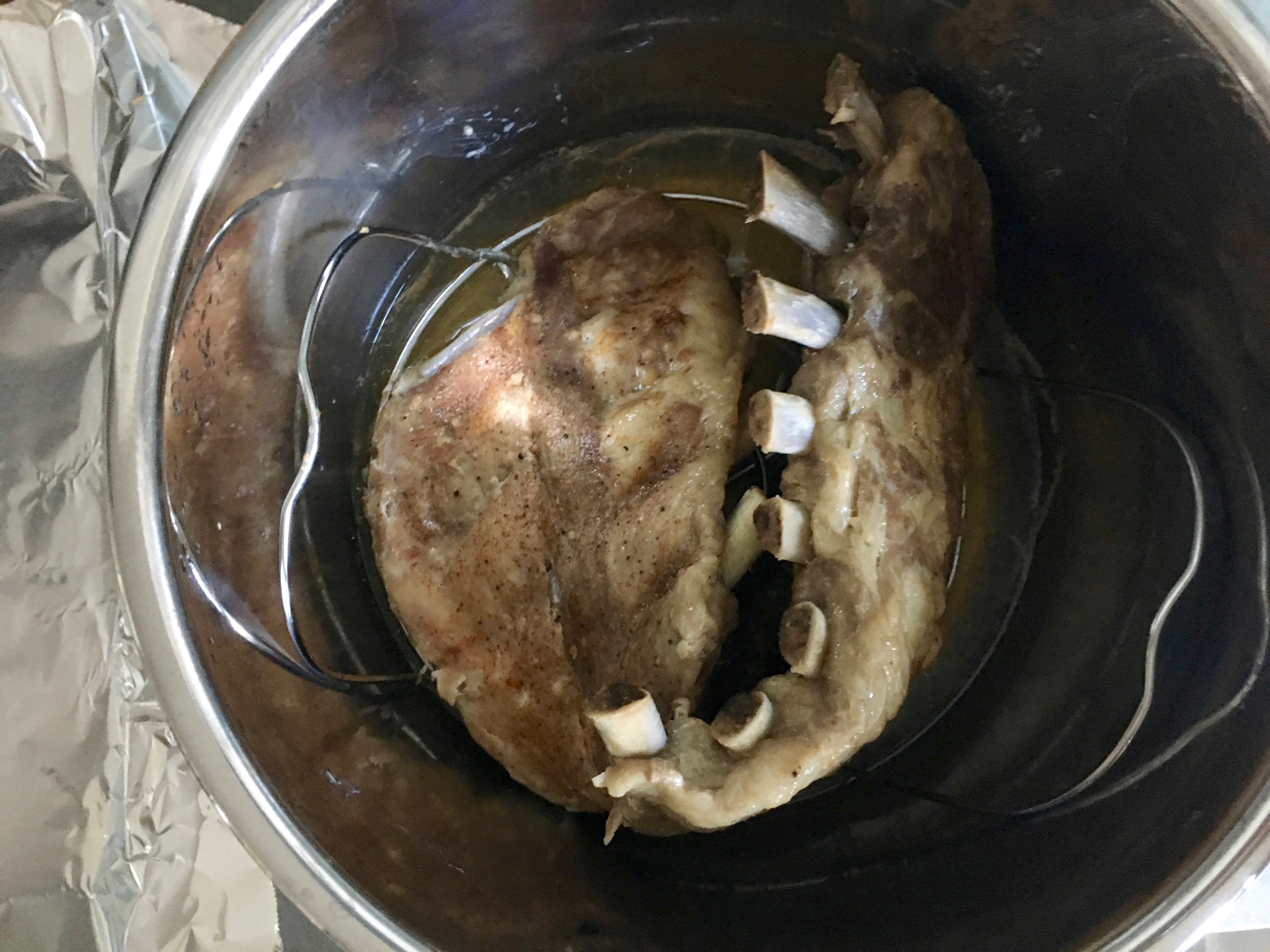 I put the ribs in the instant pot so I wouldn't have to deal with them.  Normally they take a couple of hours.  Aint nobody got time for that.  Push some buttons and be done with that.  Next!
[PS I have this instant pot – for the few of you who have commented or emailed about which model I got]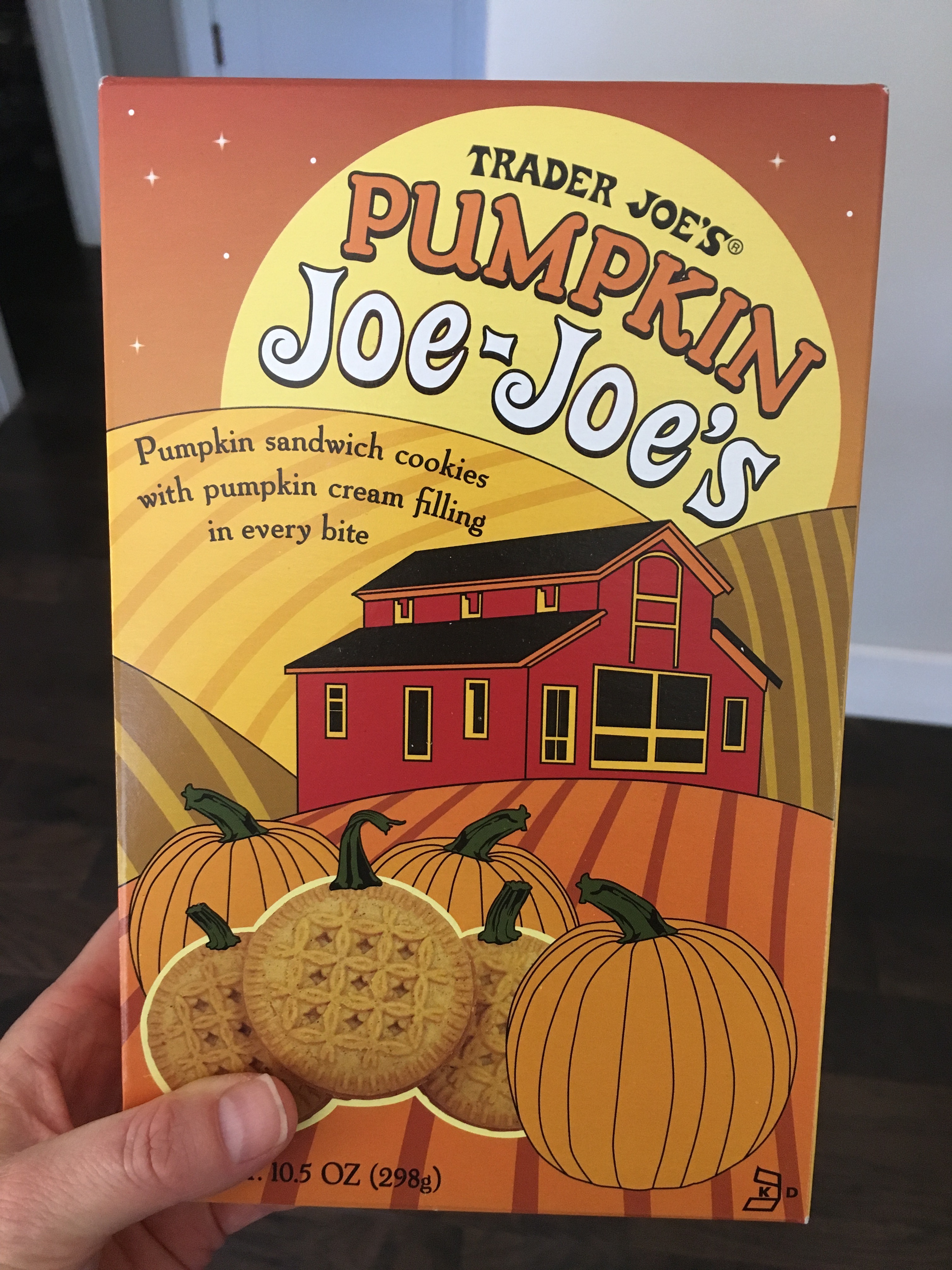 Ummm…soooo…I rellllly don't like buying processed food but look what "the kids gave me" for my birthday. What the heck am I supposed to do now???  I'm kinda annoyed by this actually because I dodged buying these the week before when the kids saw them at the checkout end cap.  I was vague about why I didn't want to buy them because I felt awkward saying "they're crap" in front of the TJs employee and other shoppers but I guess I wasn't firm enough.  So now I have to be excited that they got them for me!?!?  When all it really means is they want them for themselves.  Blah.  They have asked about them every day since so I finally caved and gave them one each.  Meanwhile I am reading a cookbook by Michelle Tam about converting her family to eating real food and ditching said crap.  Super.  I feel like I'm going in the reverse direction.  It's a tricky spot because Pacman is getting over his food allergies that were so limiting before, which I want to celebrate; and yet, I feel guilty that I'm no longer making hemp milk and fruit/seed bars from scratch, etc.  Kyle thought I was insane when I brought it up to him – and he may be partially right – but I still feel that pressure to give them the very best.  The balance is not sacrificing my sanity in the process.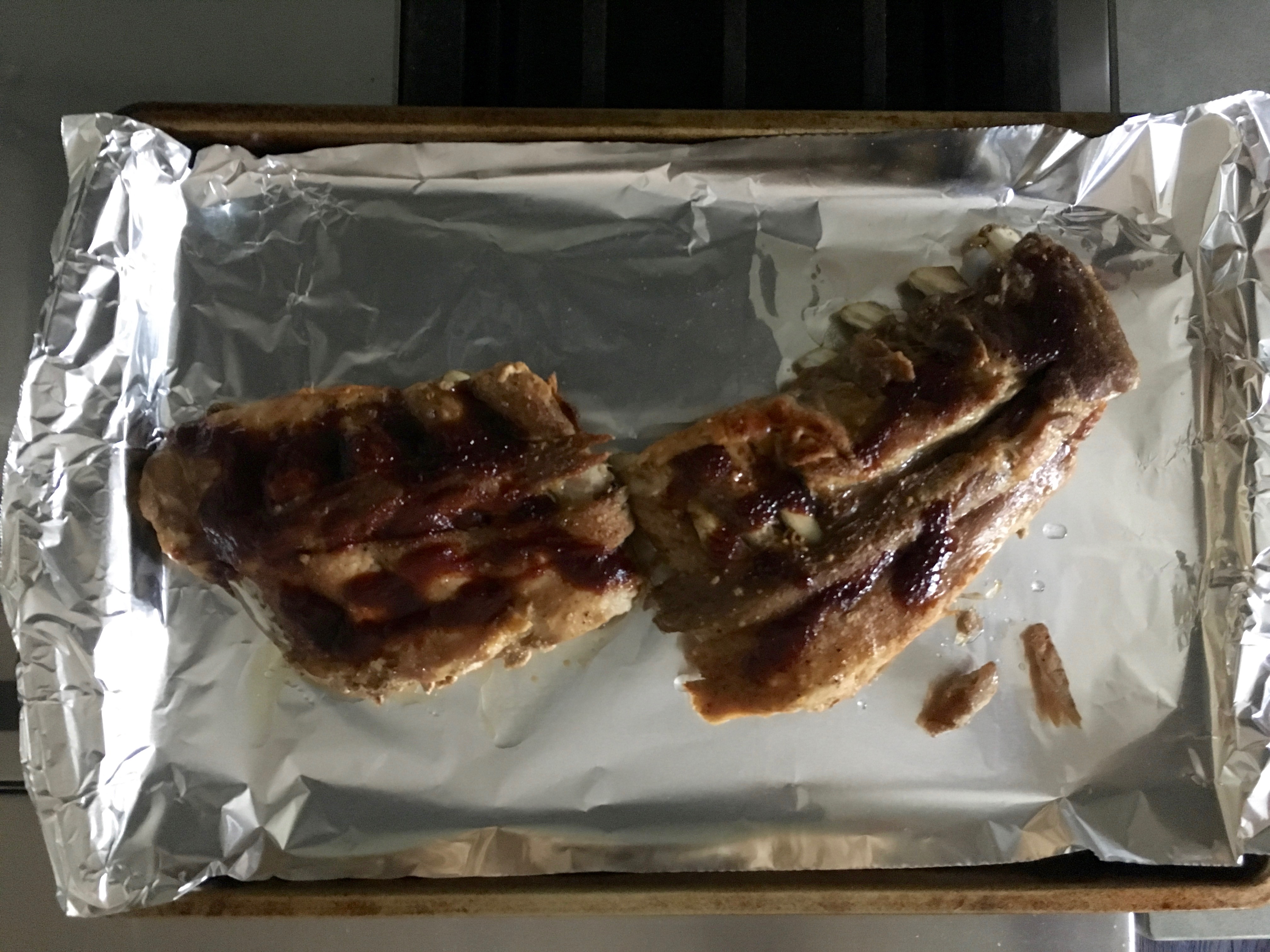 Just before dinner that night I added some BBQ sauce to the already-cooked-in-the-instant-pot ribs (not a ton because I don't love the overpowering insanely sweet nature of store bought BBQ sauces and I haven't – yet – made my own) and broiled them for 5 minutes.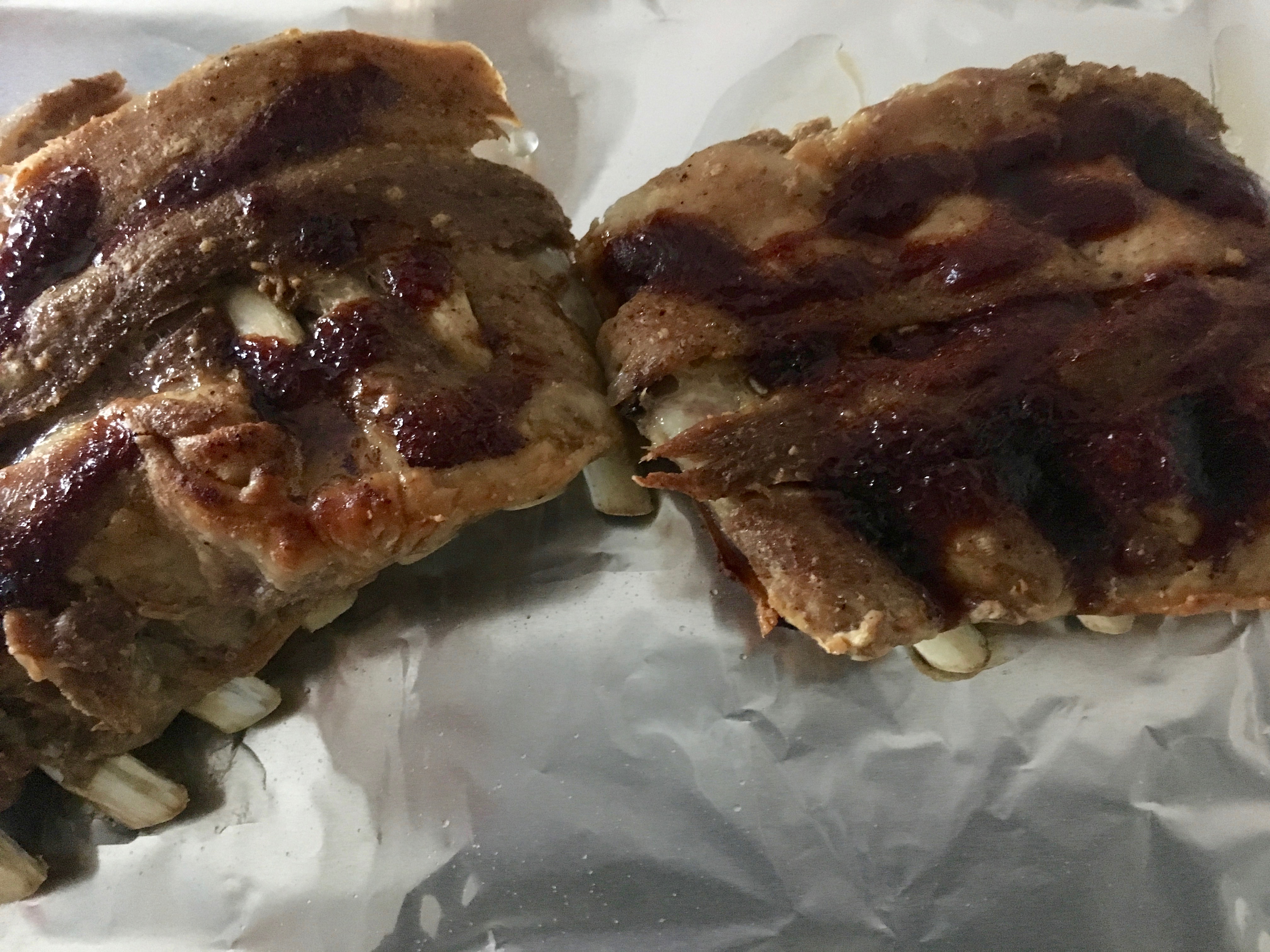 Voila!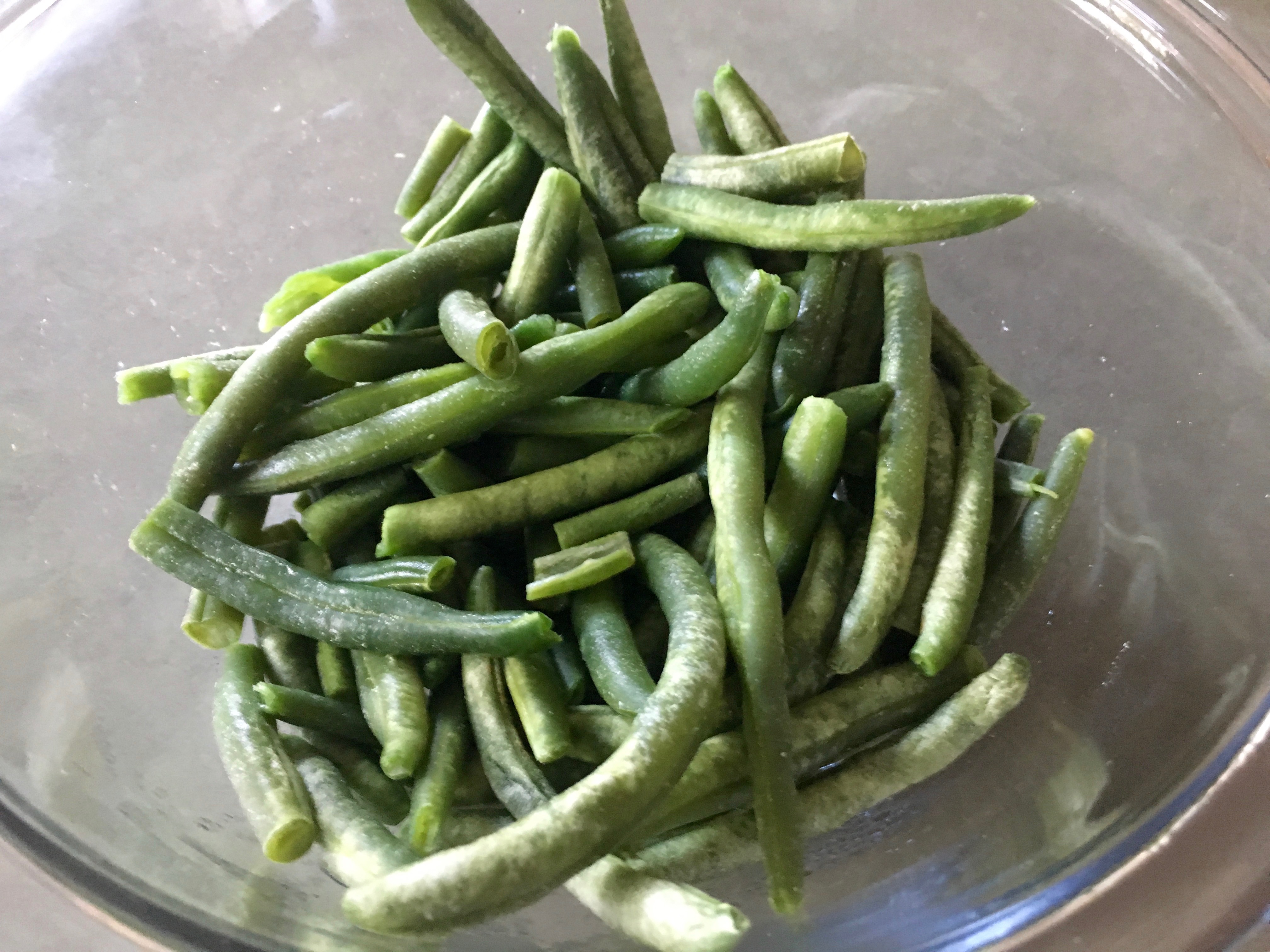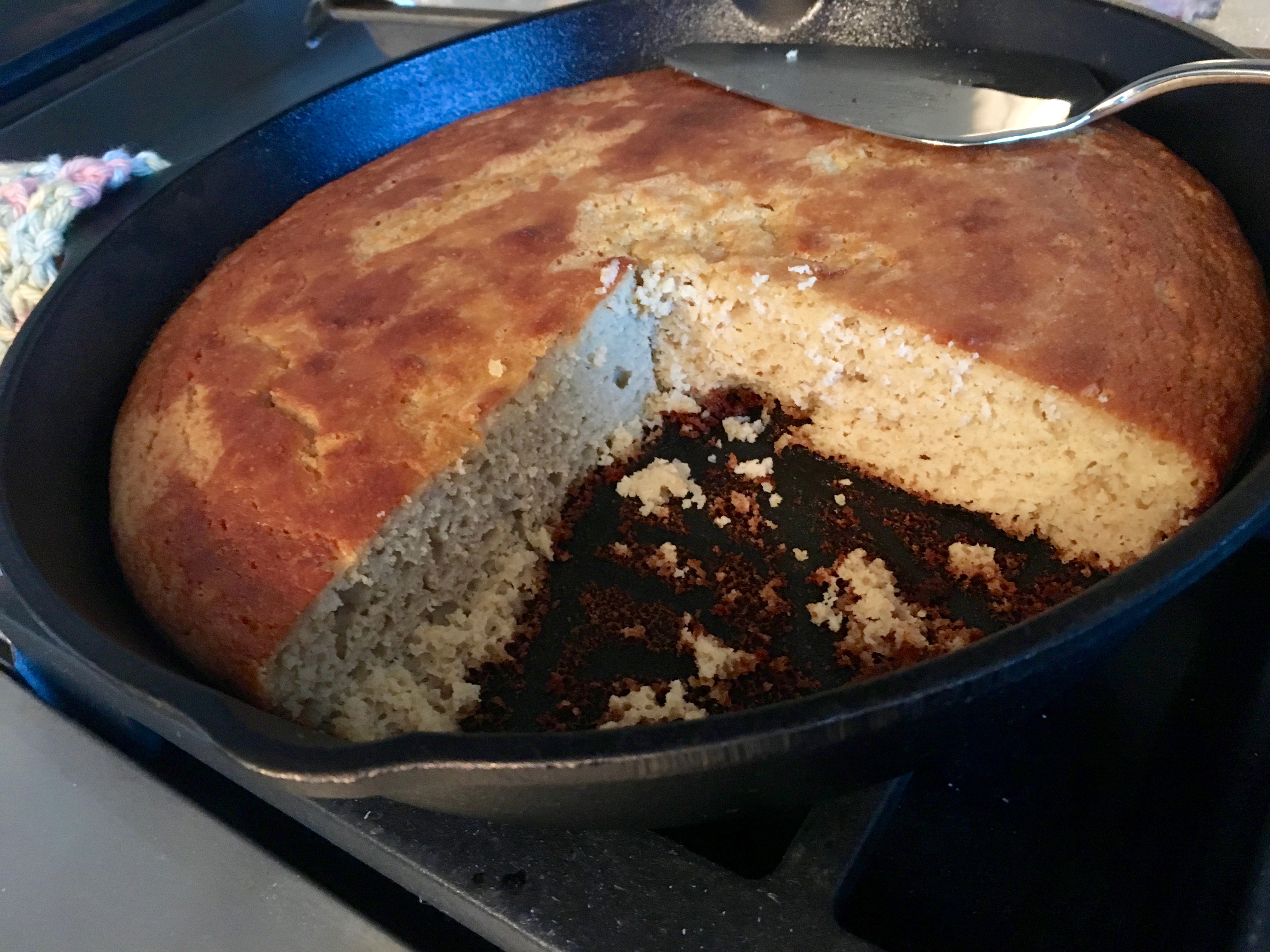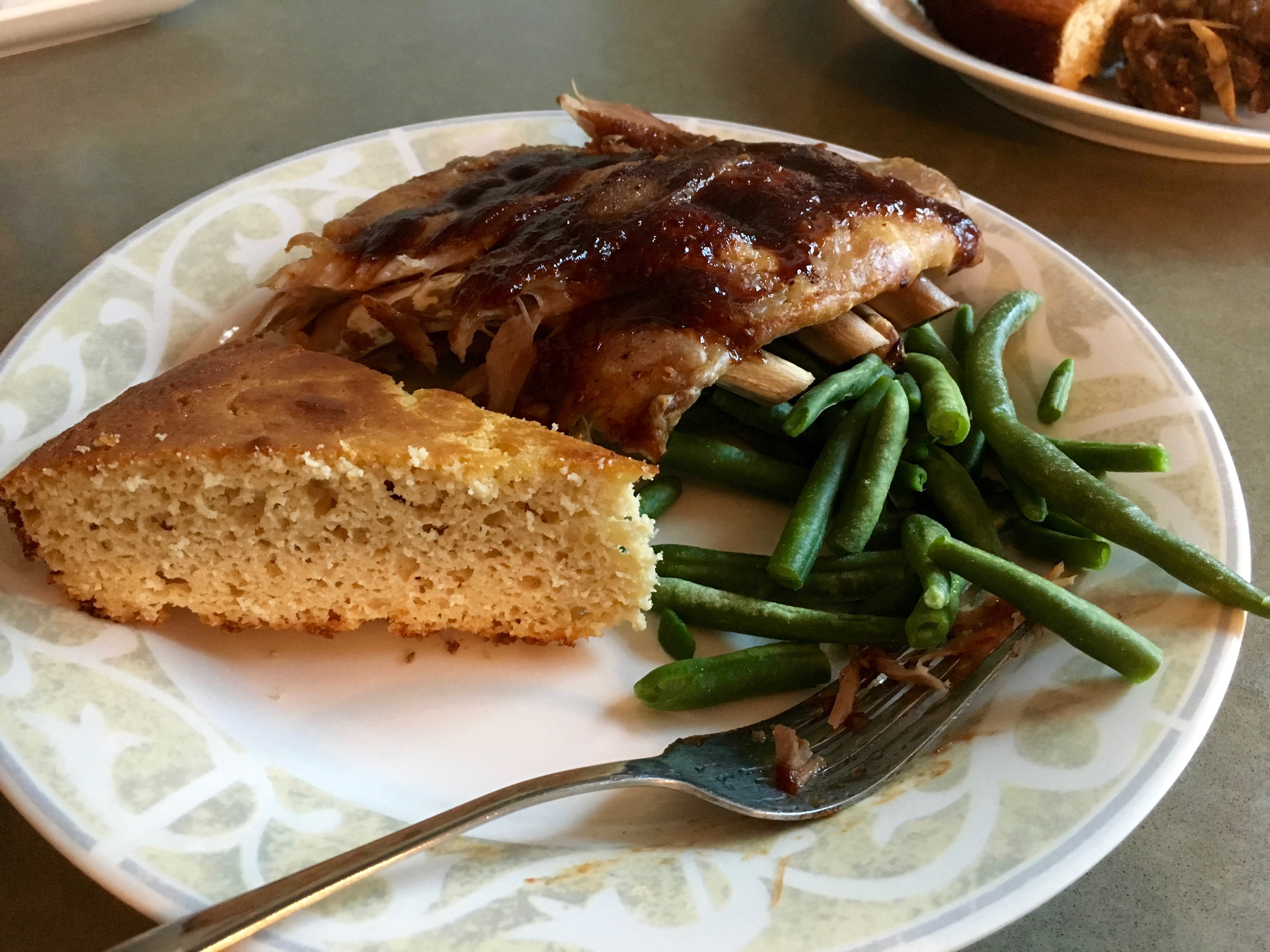 Served with the cornbread and green beans.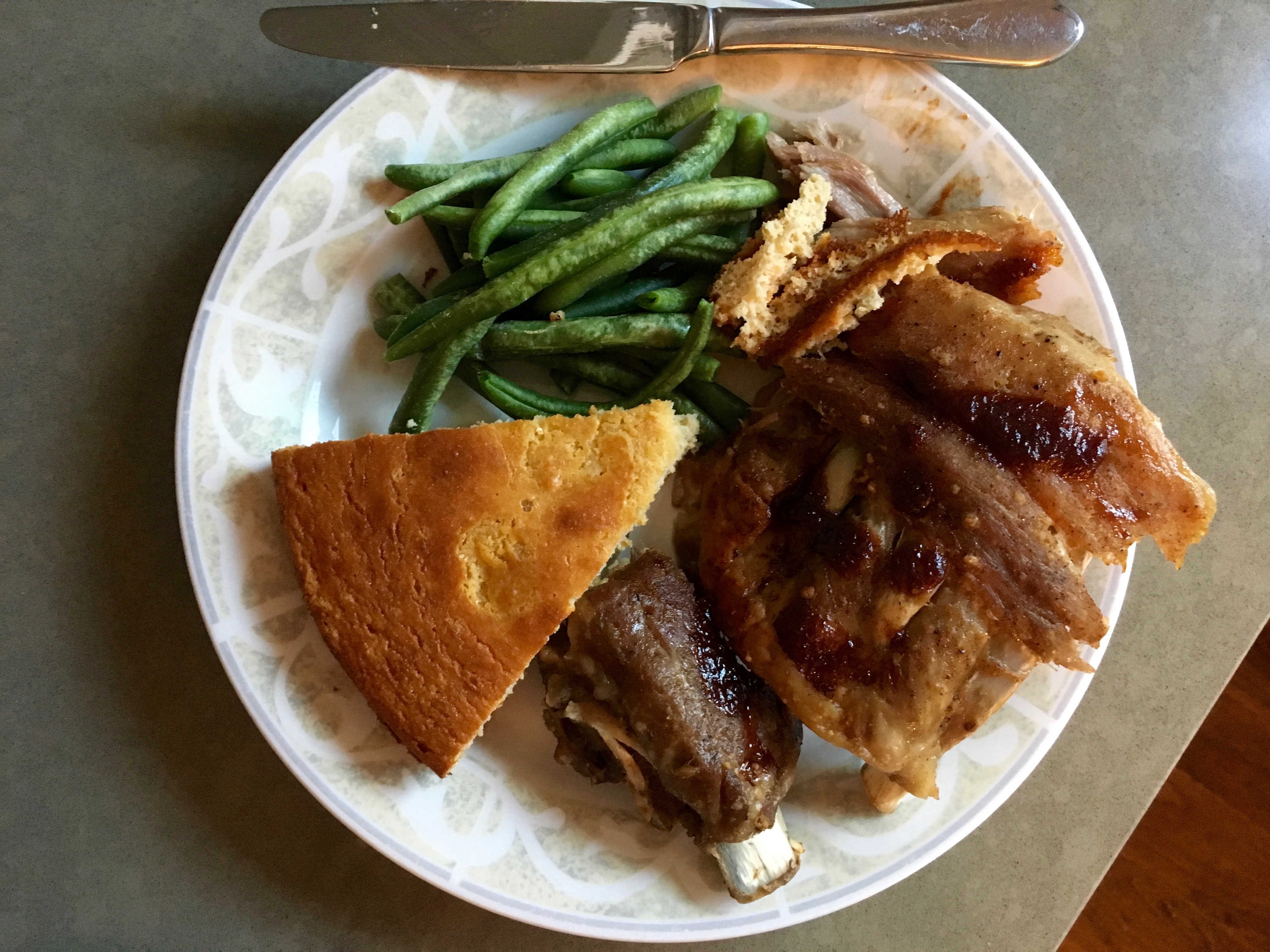 What.  A.  Meal.
I stuffed myself silly and was beyond pleased about the entire thing.  I knew I wasn't having dessert, so I committed to glutton status and went for it.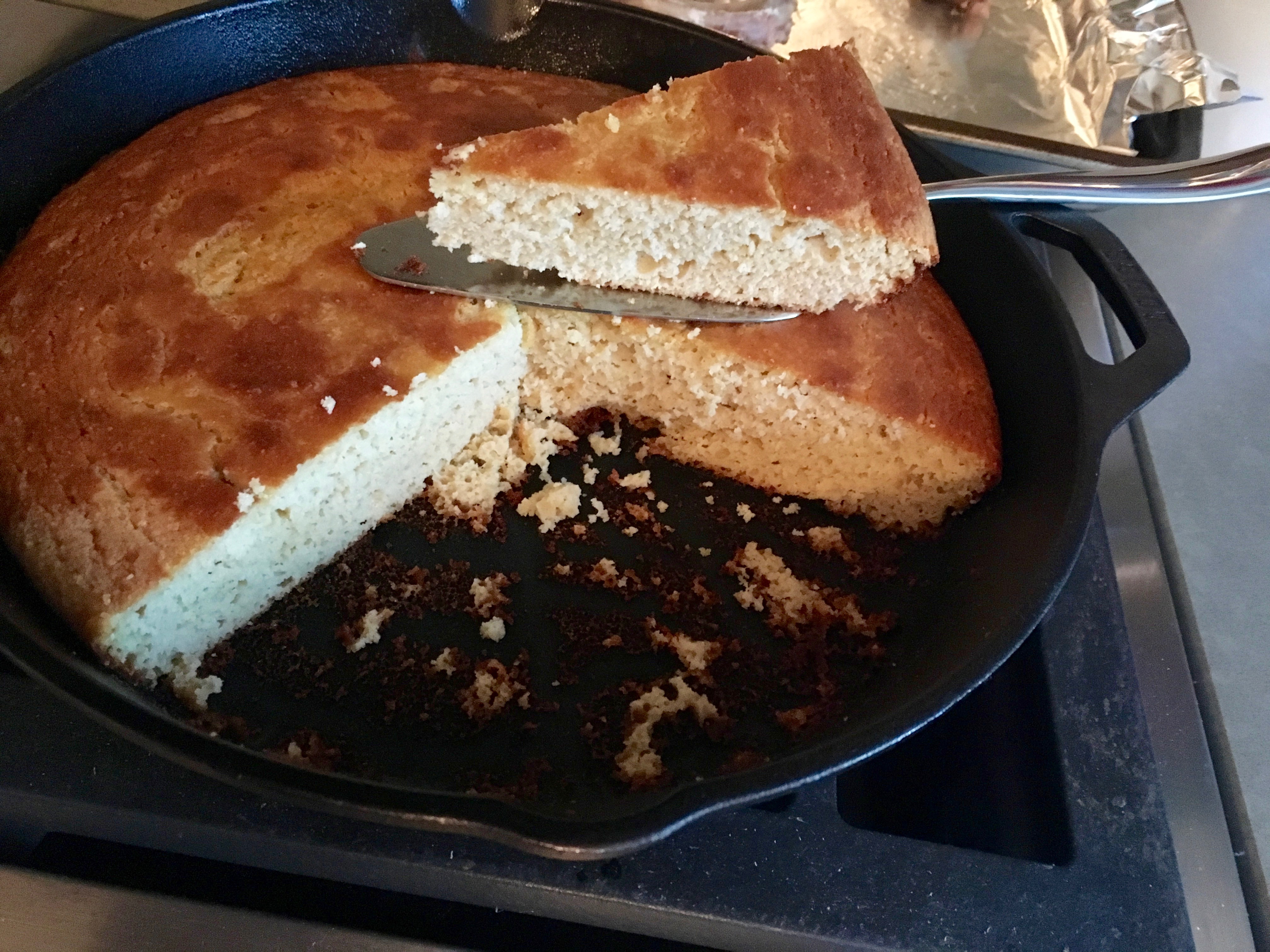 This "cornbread" is so good.  The kids kept asking for more and more and more.  I ended up freezing the remaining portion for another meal since I didn't know how to store it in the skillet and have no immediate plans for it in the future.  The ribs are gone, obviously.  Instant pot ribs are the way to go!  After all, that's basically the recipe my friend made that finally turned my mind on the whole IP debate.