Like I said before, these are a cross between cornbread and muffins and fruit pie.  Slightly sweet, hearty yet delicate, and light enough to eat a few without feeling like a sloth afterwards.
Good for breakfast, snacking, or dessert!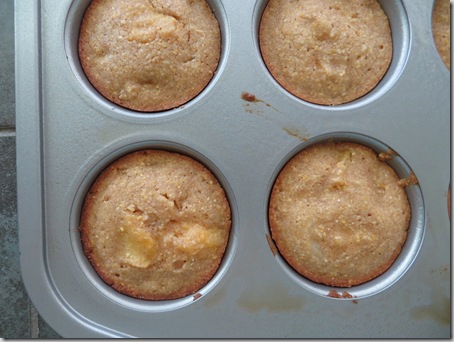 Hearty Gluten Free Peach Muffins [vegetarian, gluten free, yields 12 muffins]
Ingredients:
1/2 cup almond flour
1/2 cup cornmeal (medium grind)
1/2 cup brown rice flour
1/2 cup sugar
1 tsp baking powder
1/2 tsp cinnamon
1/4 tsp salt
1/3 cup vegan butter/coconut oil, melted
1 egg
1/4 cup goat's milk plain kefir
2 tsp vanilla extract
4 small (really ripe) peaches, skinned and chopped (+juice)
Directions:
Preheat oven to 350 degrees.
Wash and chop peaches, reserving the juice from them, in a bowl.
In a large mixing bowl, combine dry ingredients (flour through salt).  In a separate bowl, combine wet ingredients (butter through vanilla) in a separate bowl then add to peaches.
Fold wet ingredients into dry ones.
Pour into greased muffin molds. 
Bake for 27 minutes (or until a toothpick comes out clean) at 350 degrees F.
Let cool, then pop out of pan and dig in.
These are not very sweet and pretty hearty thanks to the non-wheat flours used.  Almond flour is definitely a nutrient dense ingredient and both corn meal and brown rice flour are heavier alternatives to wheat flour. 
This is what makes them an awesome breakfast/snack food.  You won't have a blood sugar spike and you'll feel satisfied.  The egg and kefir bring extra superpowers to the table as well.  For a fluffier muffin, the recipe could probably stand an extra egg or more baking powder, but this is a perfectly good handheld gluten free peachy bite.
Notes:
Goat's milk kefir is lactose free, but if you want a vegan option, sub plain coconut or almond milk yogurt.  Additionally, the egg will need to be subbed out (for a flax or chia "egg" or egg replacer like Ener-G), but I can't say how this will affect the outcome as I haven't tried it myself. 
Peaches do have FODMAPs, so if you're sensitive to polyols or fructans, use a FODMAP free fruit like strawberries, blueberries or raspberries.  [approximately 1-1 1/2 cup of fruit]
Baby monitor not included. 
And voila!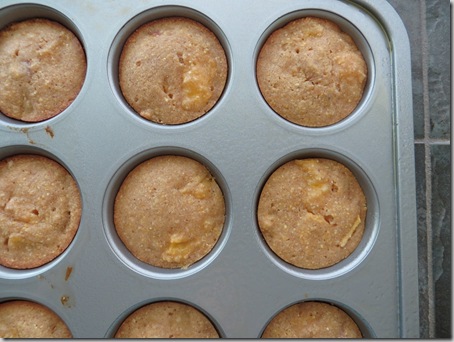 Feel free to reserve the skins to eat separately.  I rubbed mine with oil and then baked them at the same time as the muffins.  Once the muffins had finished, I continued to dehydrated the skins with the oven turned down to 125 degrees.  Some ended up chewy like fruit leather snacks and some crisped up like chips.  I'm guessing this difference had to do with the size difference in the pieces of skin.  Tasted good! 
I'm sure they'd be good in a smoothie too.