Peaches!  Finally!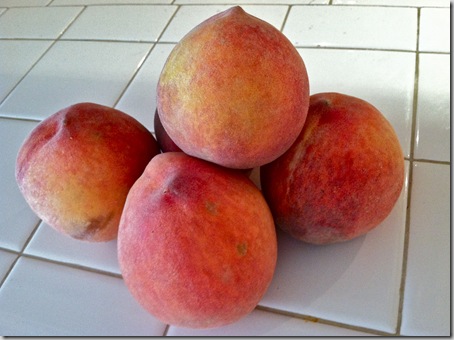 This is a portion of my haul home from the Brentwood Farmer's Market.  Which is awesome by the way – definitely better than the Santa Monica Farmer's Market (as much as I hate to admit it).  The selection is way beyond produce…they have tons of kinds of hummus…Kombucha…fresh breads…jams…BBQ…baked goods…everything!  Seriously stellar.  Kyle and I went this past Sunday (the one day of the Labor Day weekend I had off) and came home with figs, peaches, strawberries, and peanut butter chocolate chip cookies.  I'm totally getting off track here.  Back to the peaches. 
I did the watermelon thing for most of summer, but neglected stone fruit in a major way.  Peaches, plums, apricots and nectarines are kinda awesome, so I don't know where I've been!!
I got these peaches with the specific intent to make a pie.  But I decided they were too sweet to use in a pie, so I saved a few to eat solo and made mini crumbles with the rest.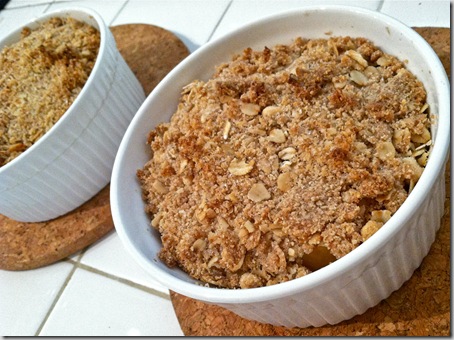 Two personal peach crumbles [vegan, gluten free]
Ingredients:
2 medium sized peaches
1/2 cup whole rolled oats
1/2 cup almond flour
1/4 cup coconut sugar
1 tsp cinnamon
3 tbsp coconut oil/vegan butter (Earth Balance)
Directions:
Pre-heat oven to 375.  Slice the peaches thinly into crescents and then divide between 2 6" ramekins (sprayed with nonstick). 
Mix dry ingredients (oats, almond flour, sugar, & cinnamon), then cut in oil/butter until well incorporated (it's okay if there are chunks).
Top peaches with the crumble and bake for 25 minutes on 375.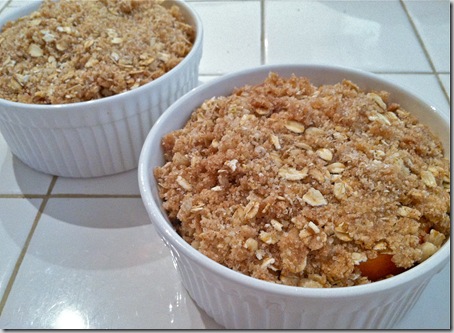 Here's the finished product.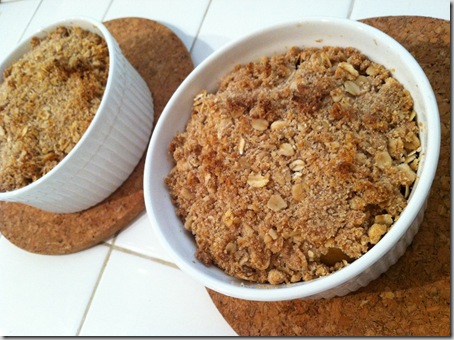 Hot out of the oven, you'll want to shove your face in these. 
Good news – they are pretty healthy.  I used minimal amounts of sugar and butter, leaving the peaches to shine on their own.  You could certainly add more of each if you'd like.  But it was basically my way of saving room for the vanilla bean ice cream calories that should go on top of this.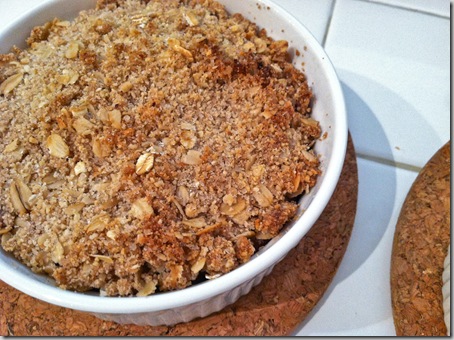 It's still summer as long as you're eating this!
*This could work for any fruit – apricots & blackberries, plums, etc.  Or if you're already welcoming fall, try apples & cranberries. 
*Almond flour is widely available at many conventional stores now, in addition to health food markets.  If you can't find any near you, you can order it online or make your own by blending almonds until it has reached a fine meal-like consistency (stop before it turns to almond butter though!).