Since I am working all day shifts this month (hooray!) I have been doing my usual 4 am rise-and-shine before work.  Taking Jillian on at the crack of dawn may seem crazy to most people, but I feel like a bada$$ when I'm done.  So worth it.  Since I did level 3 of The Shred the previous day, I decided to switch it up on Wednesday.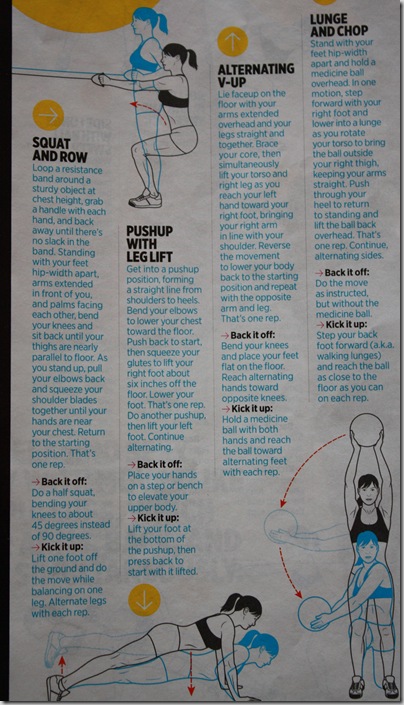 I buy fitness magazines from time to time (they are my rare grocery store check-out treats), but I never do the workouts inside.  Not that I'm an expert trainer or anything, but I can generally throw a mini-morning workout together without the help of a magazine (I mean, I own all of Jillian Michaels' DVDs plus I'm a frequent ExerciseTV viewer).  So typically when I feel on the lazier side, I sideline The Shred and do my own thang.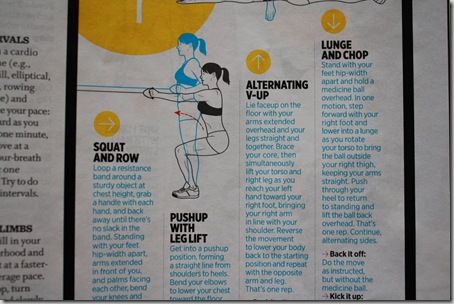 Wednesday, I had no motivation to brainstorm a routine on my own though.  Truthfully, I almost hit snooze (which I NEVER do!).  Fortunately I had last month's Women's Health on hand.  The mag had a few boot-camp circuits, which definitely came in handy.  I did the routine twice through with some extra cardio (jumping jacks, plank jacks, squat jumps, etc.) in between each of the four exercises. 
I have a Fit-lastic assist strap which closes my resistance band in the door to create a resistance rowing machine.  So many uses!  And since my body's still on the mend, I've been using resistance bands a lot this past week.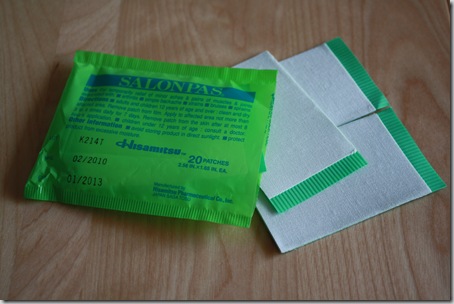 Speaking of my neck and back…these Salonpas things were given to me by a patient's family yesterday after they learned of my injury.  Sometimes I am blown away by how kind my patients and their family members are.  It's really a joy when I get sweet patients because I always feel like they trust me and the care I'm giving so much more when we develop a good rapport.  Plus the day goes by way faster when I get to chat with them. 
Anyway, if you are interested, Salonpas are apparently available at Costco.  They are basically like icy hot but in a patch form (the only ingreds are Methyl Salicylate and Menthol).  It truly made the labor of my job tolerable.  Side benefit – I smelled minty fresh.  :) 
Oh, is this a food blog?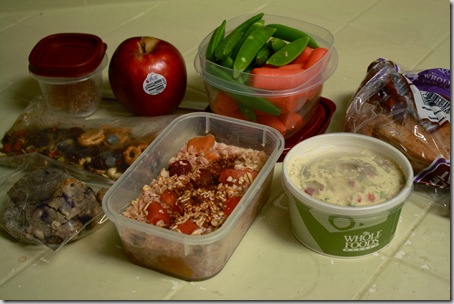 Work fooooooood.  My pre-work breakfast was the coconut blueberry scone (zoomed in below).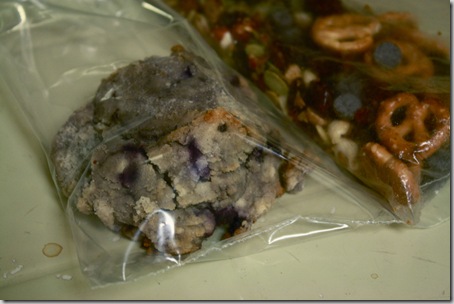 Breakfast two (after morning rounds) was a fruity chia oat pudding concoction.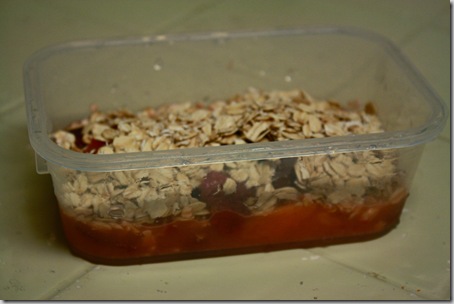 Step 1: thaw frozen fruit
Step 2: add 1 tbsp chia seeds to thawed fruit juice
Step 3: add oats
Step 4: stir together
Step 5: sprinkle cinnamon on top
Step 6: let it gel overnight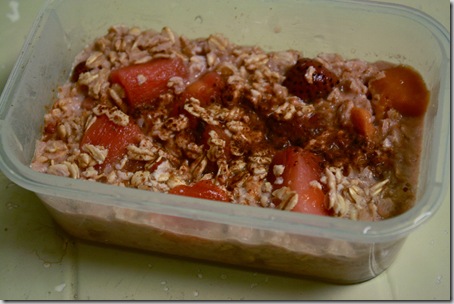 Like a breakfast berry cobbler.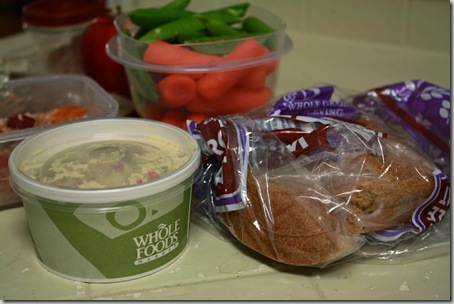 For lunch I had tempeh salad from WF with various dippable items – 3 slices of bread, carrots & snap peas.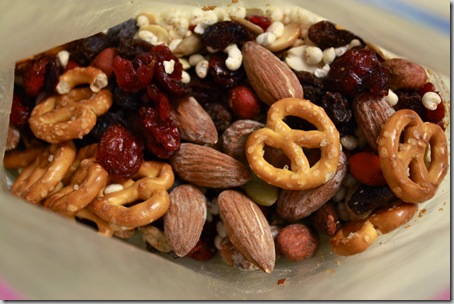 Snack attacks were covered by an apple and trail mix (pretzels, cereal, raisins, dried cranz, nuts, seeds, carob chips etc.).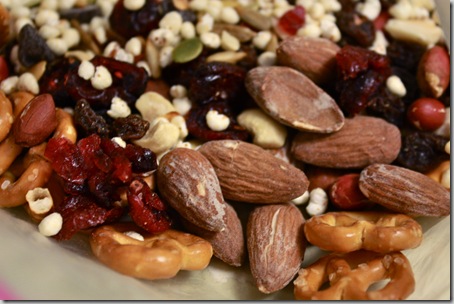 Salty.  Sweet.  Superb.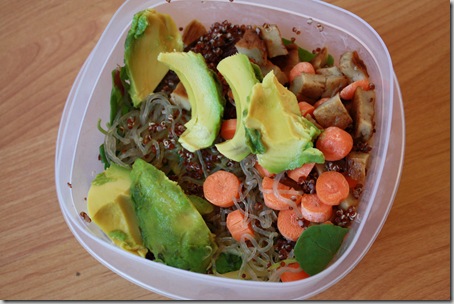 When I got home, I had a massive salad already made and waiting for me.  I added half an avocado and dug in.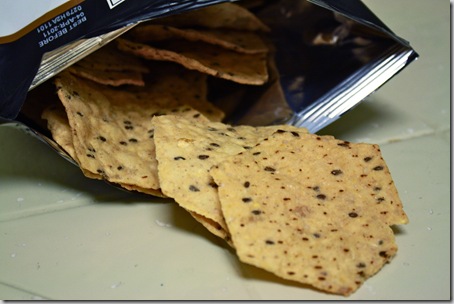 I had Food Should Taste Good's multigrain chips on the side (plus some added into the salad too).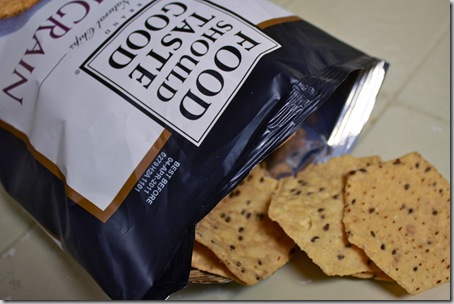 When Kyle got home I was half way into the US women's soccer game and half way done with the bag of chips.  I set both aside and focused on the game.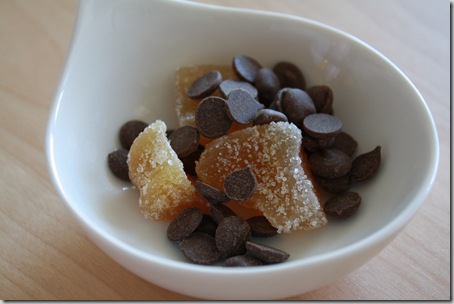 I had carob chips and candied ginger for dessert (more than shown).  Kyle had chocolate from a foreign country.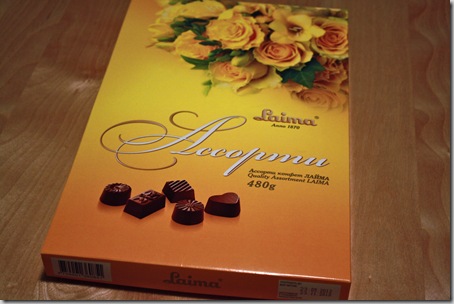 Ok, I'm not sure it was actually from a foreign country, but that's definitely not English.  A patient gave it to me last week and Kyle has slowly been working his way through it.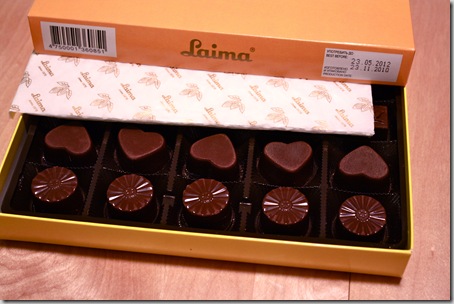 My husband is very fortunate that I'm lactose intolerant and 99% of the gifts I receive from patients are chocolaty.  
Do you do workout routines from magazines?
For the other health care workers, what's the most random gift you've ever gotten from a patient?  I once got a dozen apples, which probably would have been weird for anyone but me. For the non-health care peeps, do you have gift giving at your job (or any other perks)?