I woke up Saturday sooo excited.
a) Friends in town!  Hooray!!
b) Golfing date!
c) A non-work weekend!  Finally!!
[Whoa exclamation points]
You probably can't tell the volume of Earth Balance in either of these photos, but since the bread was home-made it soaked it all up like a sponge.  There was probably a quarter of a cup of butter.  Pretty awesome, huh.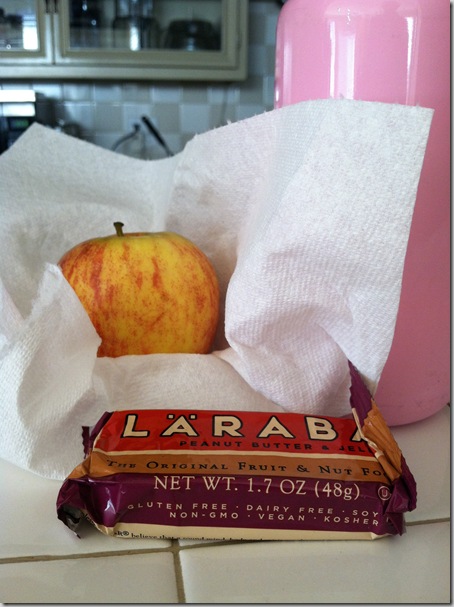 Golfing snacks.  I only ate the apple.  9 holes later we all headed back to Santa Monica for some brunch. 
Zengo was packed, but we eventually got a table for 9 (in our own private little cage thing).
And that's when things got scary good.  You see, they have an all you can eat/drink thing for $35 per person, but the entire table has to do it.  Oh, and it ends at 3 pm.  By the time we were seated it was already 2 pm…which meant we had an hour to get our money's worth.  Such pressure!!  For the record, I was not thrilled at the prospect of having a time crunch in stuffing my face.  Furthermore, I wasn't looking forward to throwing back 15 mimosas in 60 minutes.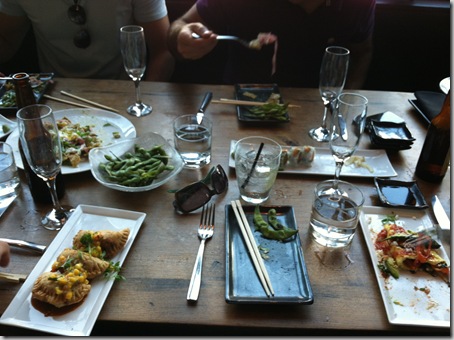 But I was alone in this sentiment, and so the brunching began.
I definitely didn't get photos of everything (namely the meat courses or several duplicates we ordered).  Here are the prettiest of the meal.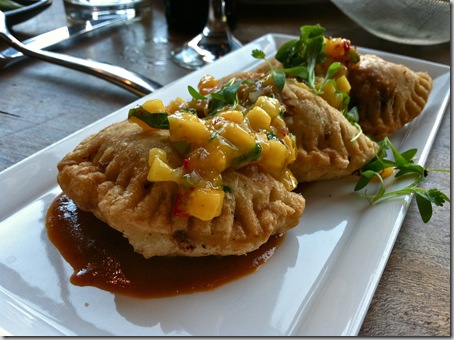 Thai Empanadas.  Pronounced with an ñ after a few drinks.  [Poor waitress]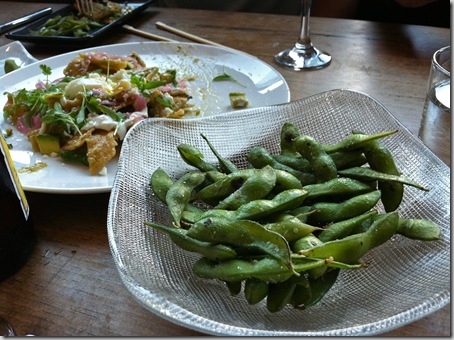 Kaffir Chilequiles (aka breakfast nachos) & blackened edamame.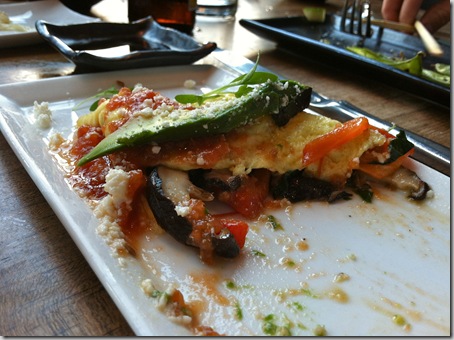 Market Vegetable Omelet.  Delish.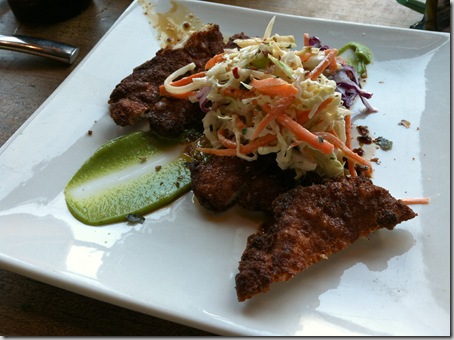 Crispy Chicken Katsu.  The cabbage slaw was yummy.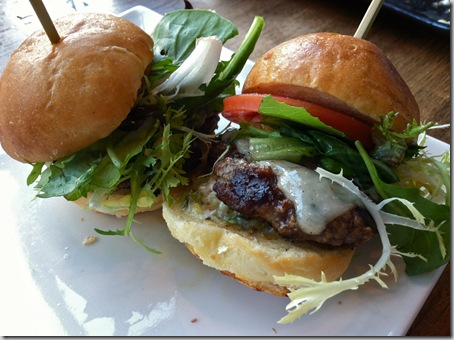 House Ground Beef Sliders.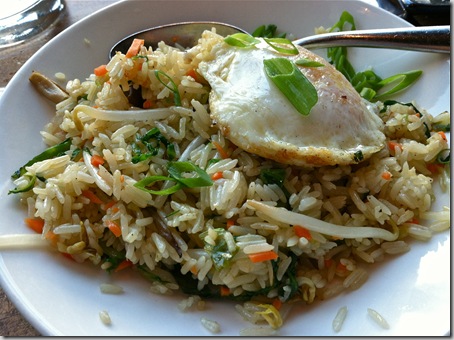 Vegetarian Fried Rice.  We got a few of these and I ate one plate entirely on my own.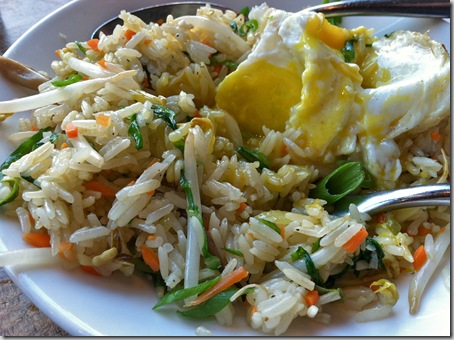 That egg on top oozed yolk to perfection.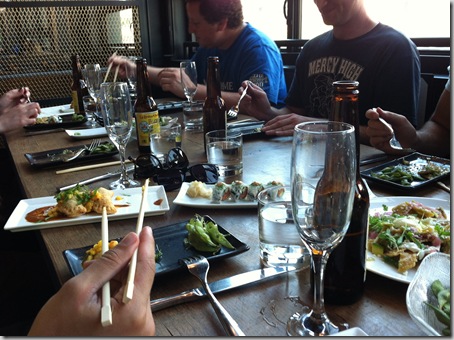 You can see the chipotle yellow fin tuna sushi rolls in this photo.  And a lot of empty mimosa glasses.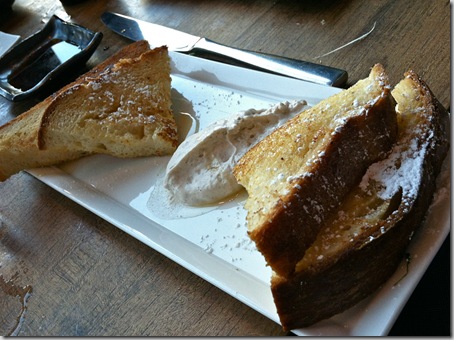 Pan Dulce (aka Mexican sweet bread).  Amazing.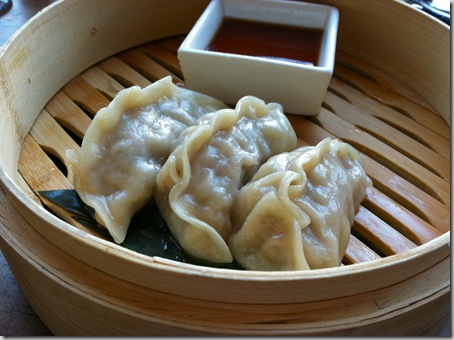 Pork Mushroom Gyoza.  There was a debate over this meal as I was told it was the vegetable pot stickers.  It was not, and I rather violently spit out the pork.  [Poor waitress]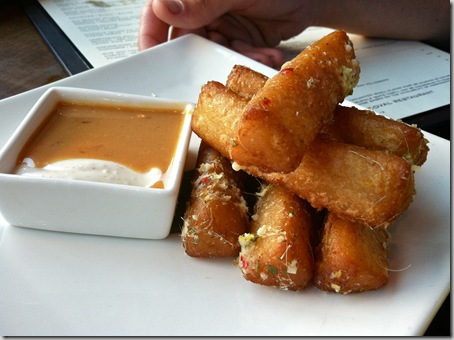 Yucca Fries.  BEST DISH OF THE MEAL. 
I tried the first ones and immediately ordered a few more.  And basically dominated them all.  The miso mustard dip was insane.  Ahhhh fried food, I hate that I love you.  I wish my GI tract loved you as much as my mouth.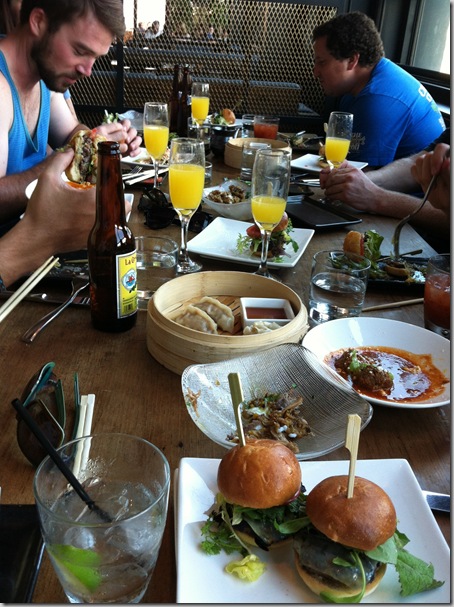 Unpictured orders:
Peking Duck Hash
Bacon Fried Rice
House Made Meatballs
We were all totlly stuffed when we left, so it was pretty impressive that we didn't have to be rolled out.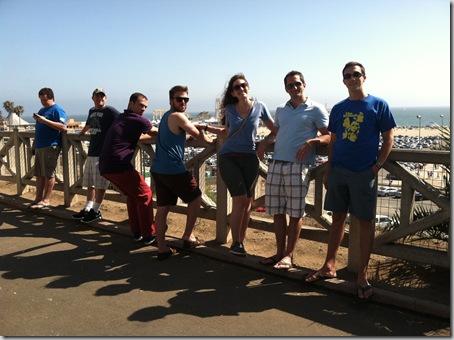 We stumbled to the beach to lie around for a bit and let our booze/food comas wear off.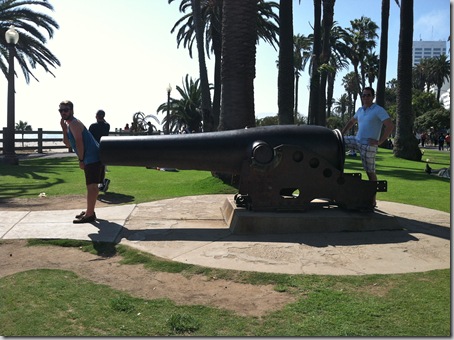 The boys threw around the football.
Not long after we found ourselves at Back on the Beach Cafe.  For, yes, more drinks.  Oof.  I stuck to iced tea/lemonade.  Because I'm smart not insane.
By this time our group had grown a bit, and we all swore we were never going to be hungry for dinner.  So rather than rally for a night out, we would be mellow and BBQ at someone's house. 
Veggie burgers.  Grilled corn.  Asparagus.  Fruit.  Lime tortilla chips.  Guacamole.  Etc.
By the way, there was something weird about the grill that made the corn turn totally black.  Not the most flattering thing to eat.  I had goth-inspired lip liner almost immediately.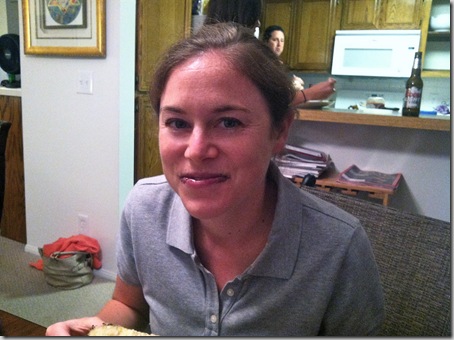 Cute.
But I wasn't the only one…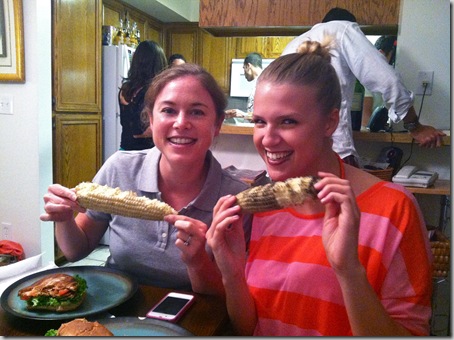 Sorry Kailey. 🙂
All in a fabulously packed Saturday.