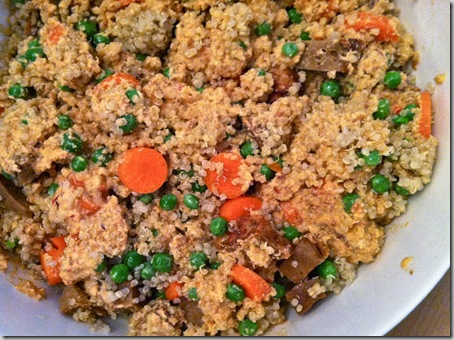 I got pretty lucky with this recipe.  I made it with the scraps I had on hand, and it turned out so great I think it's worthy of repeating.
Quinoa & Seitan with Red Almond Sauce
Ingredients:
Salad
1/2 cup peas
3-4 large carrots, chopped
2 1/2 –3 cups cooked quinoa (or the yield from 1 – 1 1/4 cups dry quinoa)
1 1/2 cups seitan, cubed
Sauce
1 cup almonds, soaked (2 hours to overnight) and drained
1/2 red bell pepper
2 tbsp soy sauce
1 tbsp sesame oil
1 tbsp brown rice vinegar
1/2 –1 cup water (until you reach desired consistency)
Directions:
Make seitan.  Also known as wheat meat.  If you've never tried making this yourself, it's SOOO easy.  Promise you will love it.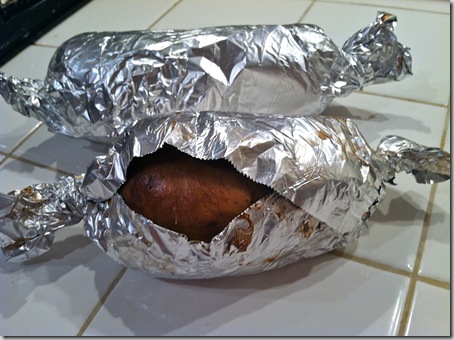 I made a very simple seitan to keep the flavor neutral and get things done quickly.  My log seitan recipe works perfectly, but I didn't want to use additional flours so I just used 1 1/4 cups vital wheat gluten, 1 cup water, 1 tbsp soy sauce, and a dash of nutritional yeast & paprika.  Mix until you have a blob that holds together.  Halve it and form into two cylindrical shapes and roll up in foil like tootsie rolls.  Bake for 20 minutes on 375.  Wait for it to cool to slice.*
This seitan was chewy and neutral, but tasty enough to nibble on plain (try to avoid that).  Chop the wheat meat into cubes.
While the seitan is in the oven, start cooking the quinoa.  I use the rice cooker, so I don't really have to worry about it while I prep the rest of the stuff. 
Add peas and chopped carrots to a large bowl.
Add the seitan.
Then the quinoa.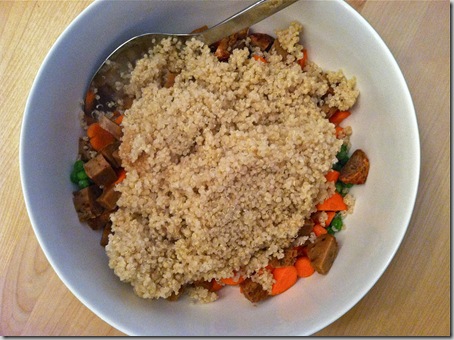 Next make the sauce. 
How much water you add, will determine the consistency of the sauce.
I added water until it was just barely able to blend, so it was pretty thick, but a thinner sauce is fine too.  I don't actually know how much water I ended up using altogether.  Use your own good judgment.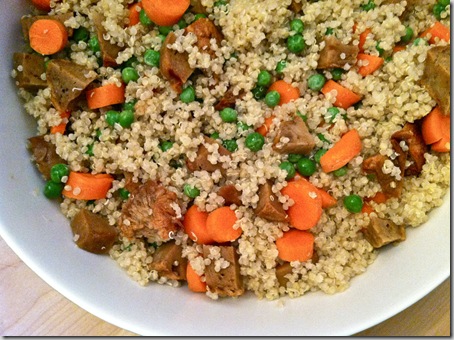 Salad meet sauce.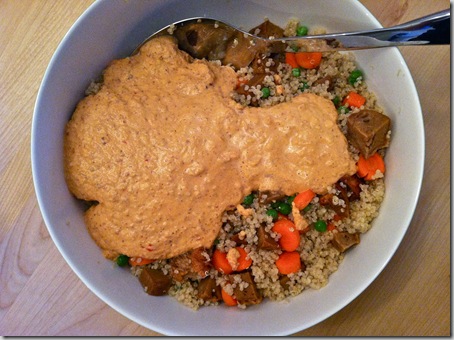 Oh yeahhhhhh!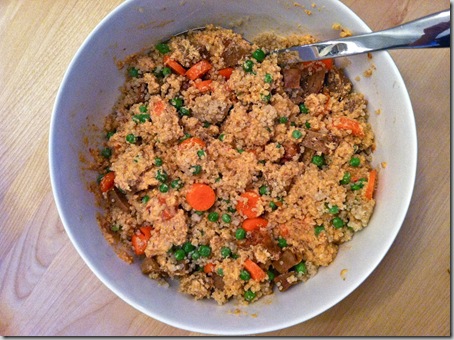 Totally 100% amazing.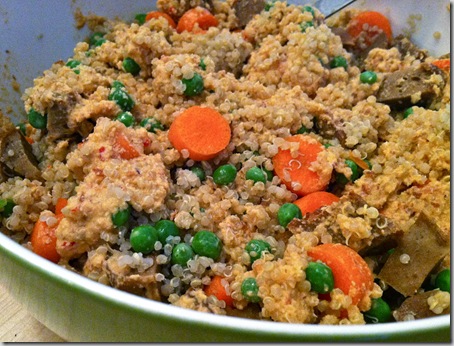 And protein packed!  And vegan!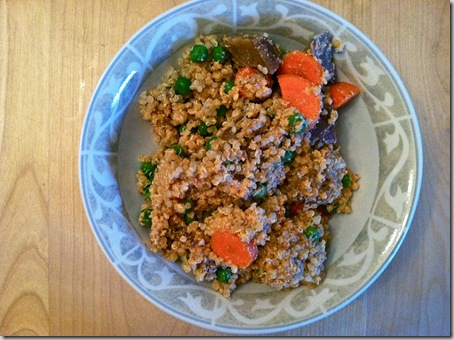 Kyle and I both had seconds and there was still a little bit left over.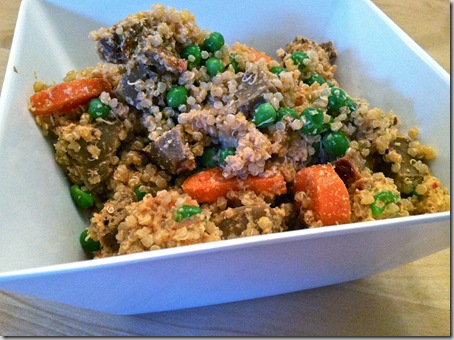 I already want this meal again.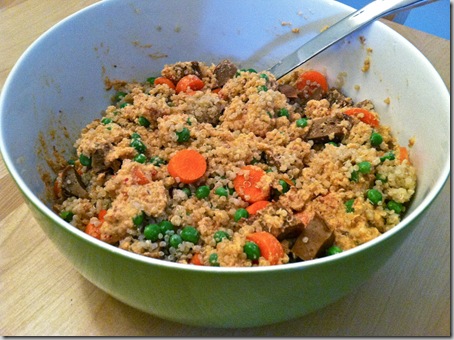 *Don't be scared off by seitan!  Try it!  You'll be shocked by how simple it is to make and how hard it is to mess up.  The sauce in this recipe is forgiving, too, so if this is your first time working with vital wheat gluten, it's a good place to start.