How to find an exercise/fitness routine that's right for you?
Trial & error is the long (and unfortunately time consuming) answer.
I know lots of lifestyle factors and personal preferences come into play here, but more than anything else variety is definitely key in keeping yourself stimulated mentally and physically.  At least that's my personal work-out philosophy.  Bodies plateau when a fitness routine becomes…well…routine.  So it's critical to keep your muscles guessing.
Another thing to bear in mind, is that our bodies change over the course of our lives.  So what interested and worked for me in my teenage years may not do it for me now.  However, what's not to say years down the road I pick that hobby back up again?  In other words, what you enjoy at one point in your life may be different later on, so don't give up on an activity.  Just keep it on the sidelines until you're ready for a change.
Things to consider:
Are you motivated by group exercise?  Team sports?  Or do you prefer to sweat solo?
How much time in the day/week do you have to devote to exercise?
When is your energy level at it's peak?  AM?  PM?
How much are you willing to spend on workout equipment, gym memberships, etc?
Workout classes
Most gyms have a wide variety of classes for people who like group exercise.  Sure, gym memberships cost $$ but if you're the kind of person who wants options this is a worthwhile investment.  And once you've joined, you don't have to spend money on much else.  The equipment is all there for you, all you need to do it show up.
Pick a gym after a trial period…try classes, machines, personal trainers, anything and everything you'd like to take advantage of once you've joined.  Test various hours and make sure you have access to what you want, when you want…and then do it!
Make your membership fees worth it.  Body pump, spinning, zumba…whatever.  You can go to as many classes as you want, which means you have unlimited choices in finding a good fit.
I'm a total klutz so I steer clear of group classes, especially ones that involve choreography.  But if that's your scene, I've heard it's a lot of fun and a great workout.  The only part of not having a gym membership that I miss is spinning classes.  Fortunately, the West Coast weather allows for the real deal…which brings me to the next form of exercise.
Cycling
Before I moved to NYC I did a ton of biking…to school, to work…the streets of West LA are bike-friendly if you know which ones to take.
After moving to the East Coast I was without my wheels, which was fine since the weather was rarely between 40 and 90 degree anyway.  Snow and bike don't mix.  Neither do swampy summer days with humidity that gives you an afro.  But none of that mattered since it wasn't deemed safe enough of a commute by Kyle.  Or my mom.  I'm getting off subject.  My point was, moving back to CA meant I got to ride my bike again.
This is one of my very favorite forms of exercise.  I ride 1-2 times a week (more if I'm commuting to work) and it always leaves me on cloud nine.
Group exercise with bikes is more difficult as it relies on your friends to own bikes too.  But if they do, it's a great weekend activity if you're friends are into it – combining fun hang-out time with fitness.  Two birds!
Obviously price is an issue in cycling because bikes aren't free…and you need a helmet, a lock, and (probably) a velcro-pack to carry small items in.  So yeah, this is definitely a more pricey form of exercise.  Upkeep on a bike can cost quite a bit too.
There's also the matter of storage space.  If you're in a house..lucky you.  If you're in an apartment building, make sure any public bike rack is safe and secure.  If not, you're looking at a new balcony accessory.
Another factor in determining if biking is a good fit for you is where you live.  Like I mentioned above, some cities and some seasons aren't ideal (even winters in LA aren't great for biking).  But if you already have the gear and the weather on your side, pedaling into the sunset is one of the most enjoyable ways to exercise.
Running
Ah running…my life long love.  I'll never truly be anything but a runner because it's something I've always done.  When I try to think back I can't recall a time I didn't run.  Then I got into racing and those became a hobby too.  My phases of competitively training and running fluctuate depending on my mood.  Currently I'm in a relaxed and leisurely relationship with the sport, and I'm ok with it.
In any event, don't think that a lack of experience/background means you're not cut out to be a runner.  The best thing about it is anyone CAN do it.  Speed doesn't matter because it's an individual activity.  The only person you're up "against" is yourself.  Go fast, go slow, go far, go around the block.  It's impossible to fail.
Also, it's the cheapest activity you'll ever try.  All you need are shoes.  And you can do it anywhere.  If you're a solo type of person, here's your me-time.
Getting started with running is as simple as jogging around the neighborhood.  It sounds stupid, but seriously, go as far as you can go…and then try and go further the next day.  If you tire easily, don't be discouraged.  Endurance takes time and running will always be waiting for you.
If you need help staying motivated, create a reward system for yourself, set goals, and recruit others to hold you accountable.
Examples:
Buy yourself a new sports bra if you run x times this week/month
Make gym dates with a trainer
Make a chart and cross off mileage as you do it
Log times/distances/activities on the computer or journal to see your progress
Arrange to meet a friend at group classes
Schedule classes into your day ahead of time
Enter races in the future
Meet friends for lunch at a place you can bike to
Set out your shoes/clothes/gear in the PM so it's ready when you wake up
Yoga
I'm less of an expert in this category so I'd like to invite all you yogis to leave comments chiming in with your knowledge on ways to get into yoga and stay inspired.
I'm still in the beginner stages of practicing yoga, but what I have come to realize is how much it spills over into all aspects of your life.  Having good posture and holding your core together are just the physical effects (and they're no small feat either).  The calm and inner peace that I feel each time I leave the studio are some of the other invaluable benefits.
The kinds of yoga vary greatly, from Ashtanga and Power yoga, to Iyengar, to Vinyasa, to Bikram, and everything in between.  I still have so many to try myself!
To the other beginners out there, let me reassure you…people have always been so inviting and supportive.  Nobody is perfect.  Everyone has some part of their practice to work on – great or small – so you're never alone in your quest to get better.  Similar to running, you just focus on you.  Nobody else cares because each person is too busy focusing on him/herself.
Like strength training, yoga gets you strong.  Your muscles may not feel worked in the moment, but you'll notice them eventually.  Hell, it may even add peace to your life due to the introspective nature of it.  Physical, mental, and spiritual exercise all in one.  Now that's a good workout!
Strength Training
I've posted about my love for Jillian Michaels before.  I never believed in anything but cardio before I discovered her DVDs.  Now I think twice before knocking a 20 minute workout.  You can see my thoughts on those workouts here.
As far as strength training goes, I pretty much stick to Jillian's videos (1-2 times a week).  Occasionally I'll do Jackie Warner's arm and abs routines if they are available on demand.  But I still haven't found anything else that comes close in comparison to Jillian's workouts.  I sweat and feel sore the next day, which makes me know it's working.
As for equipment, my home set-up is as follows: 5 lb weights x2, 10 lb weights x2 (mostly for Kyle), yoga mat, balance board, resistance bands x2, large inflatable ball, wii (kidding).
I don't always use everything listed, but I only mentioned what I personally like.
Miscellaneous
Don't forget about checking your area for community sports leagues…like soccer, kickball, and/or dodgeball.  I know Santa Monica even has lawn bowling!  Are there places to go on hikes in your area?  Is there a swimming pool nearby?  Go for it!  Or for the cooler climate crowds, maybe look into ice skating or skiiing?
You won't know if an exercise is a good fit for you until you try it.  And be sure to give each activity a few tries before you dismiss it.  Like a toddler trying new foods, sometimes it doesn't connect until the 10th time!
Have an exercise to add?  Leave a comment below sharing how to get started and stay motivated.
I tried Krav Maga and if I had the $ to go regularly I would do it in a heartbeat.  It's one of the most grueling and intense exercise sessions I've ever had to date.
Hope this helps!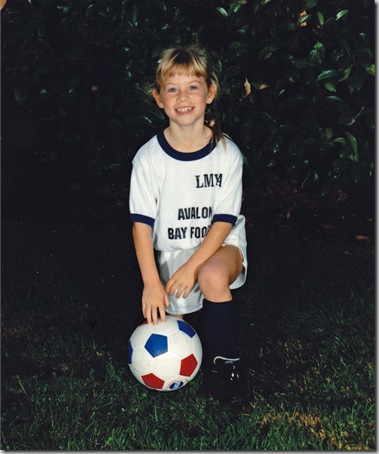 [The start of a lifetime of sports and fitness]