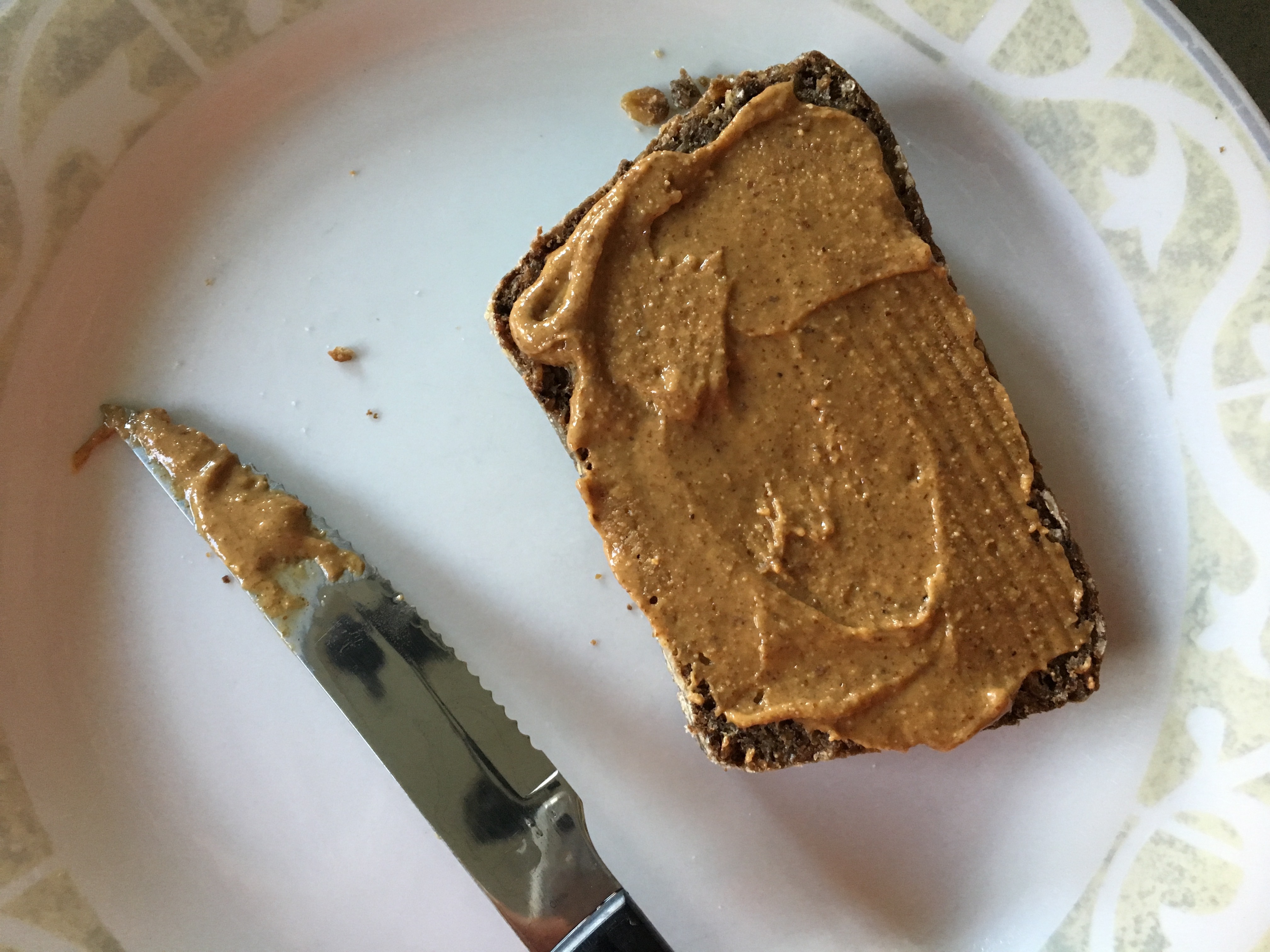 I should just take a photo when I have something that's NOT nourish bread and nut butter for breakfast.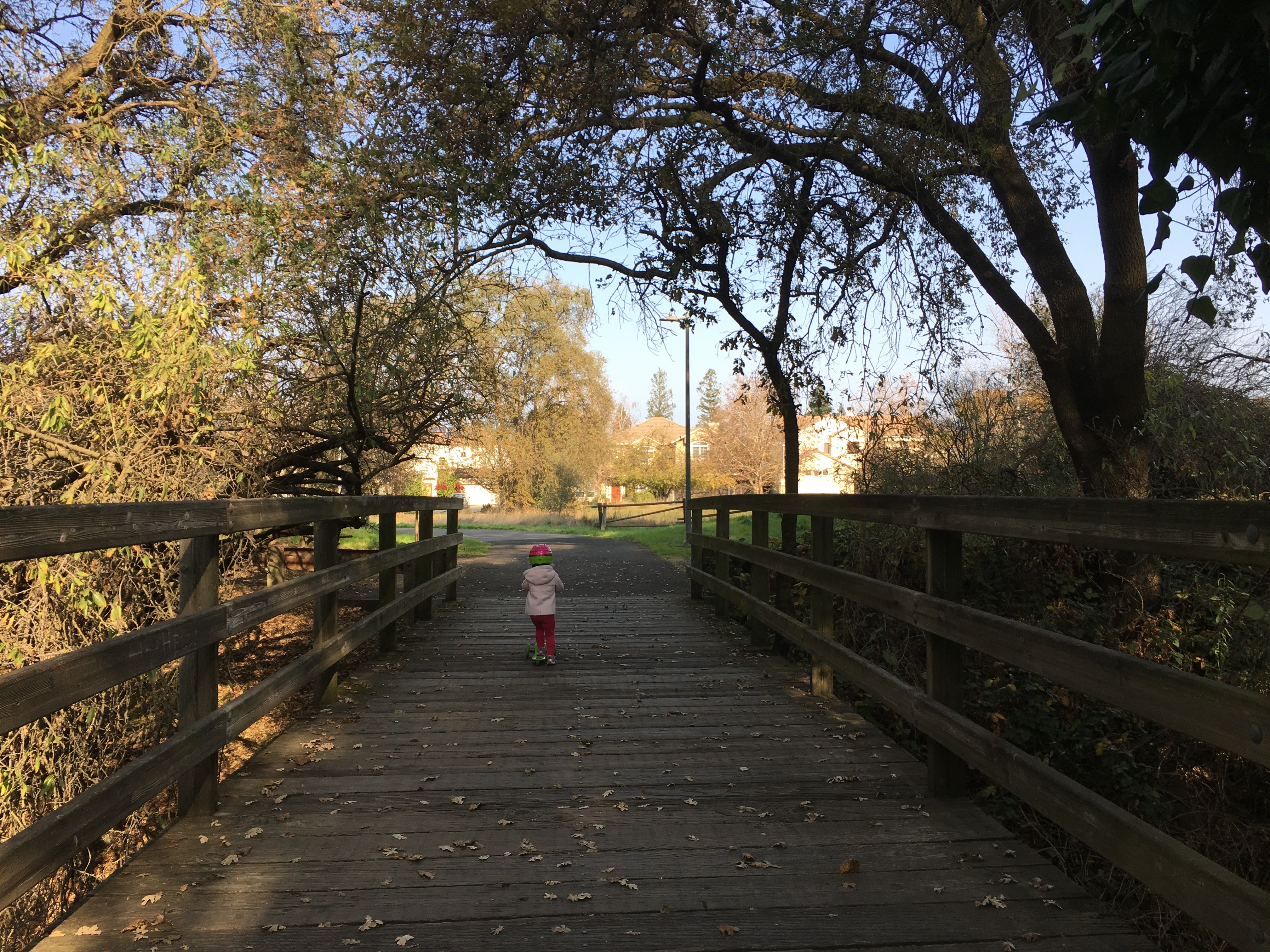 P wanted me to ride my bike to school to drop them off the day before, but I had planned to go to stroller strides so we did a rain check until this morning.  I wasn't really excited about it, but it wasn't as cold as I thought it would be and in the end, I'm glad he inspired me to get on my bike.  Cycling is a hard sell in December, but with the right gear it's fine.  They were oblivious to the brrr factor entirely, because the chariot has a nice seal that keeps them toasty warm inside.  Also, they had "Wow in the World" on in the trailer so they were loving it.
Per her request, V and I spent the whole morning scootering.  We went to the park that's about a half a mile from our house and she rode the whole way.  She's fast!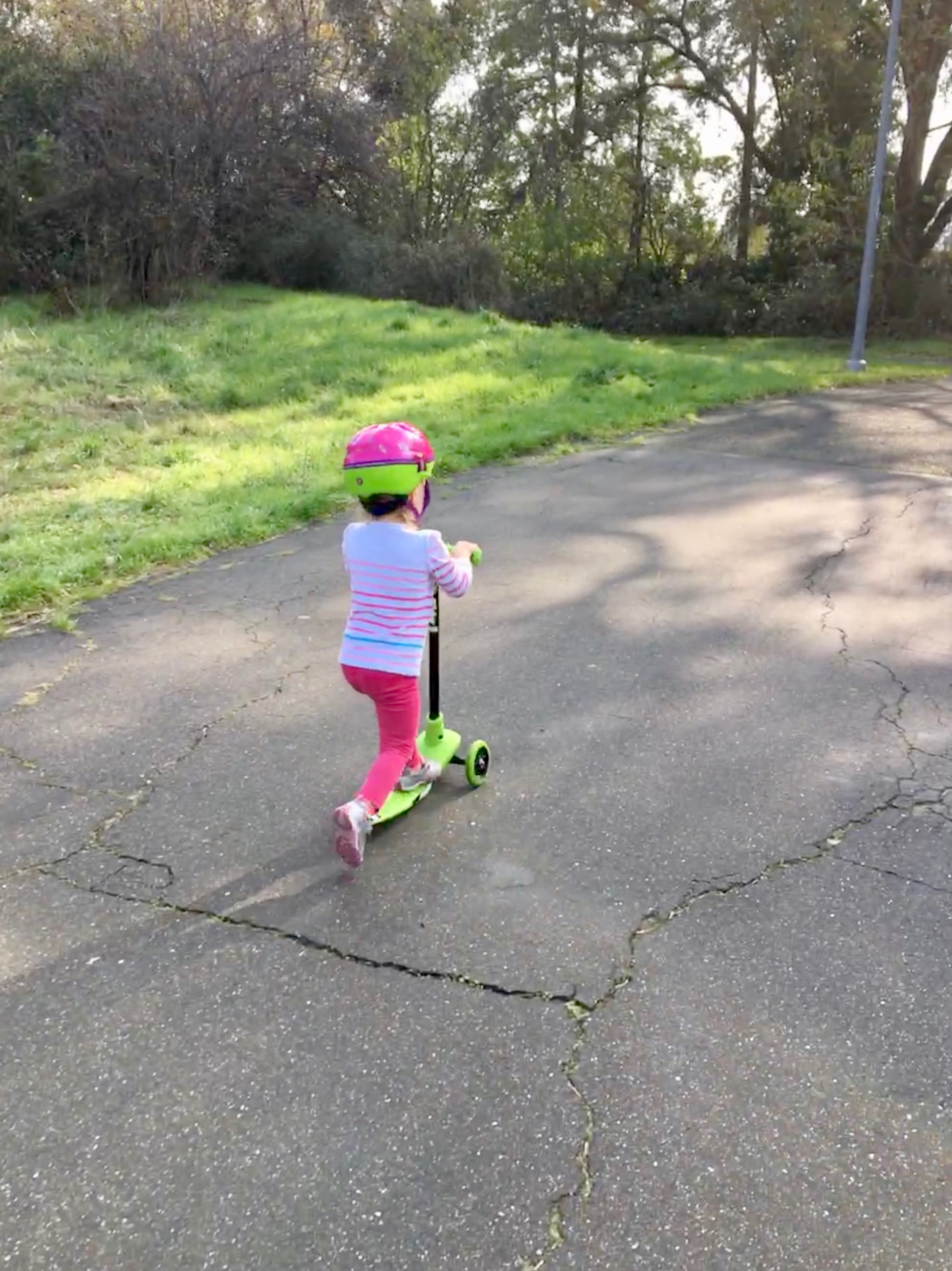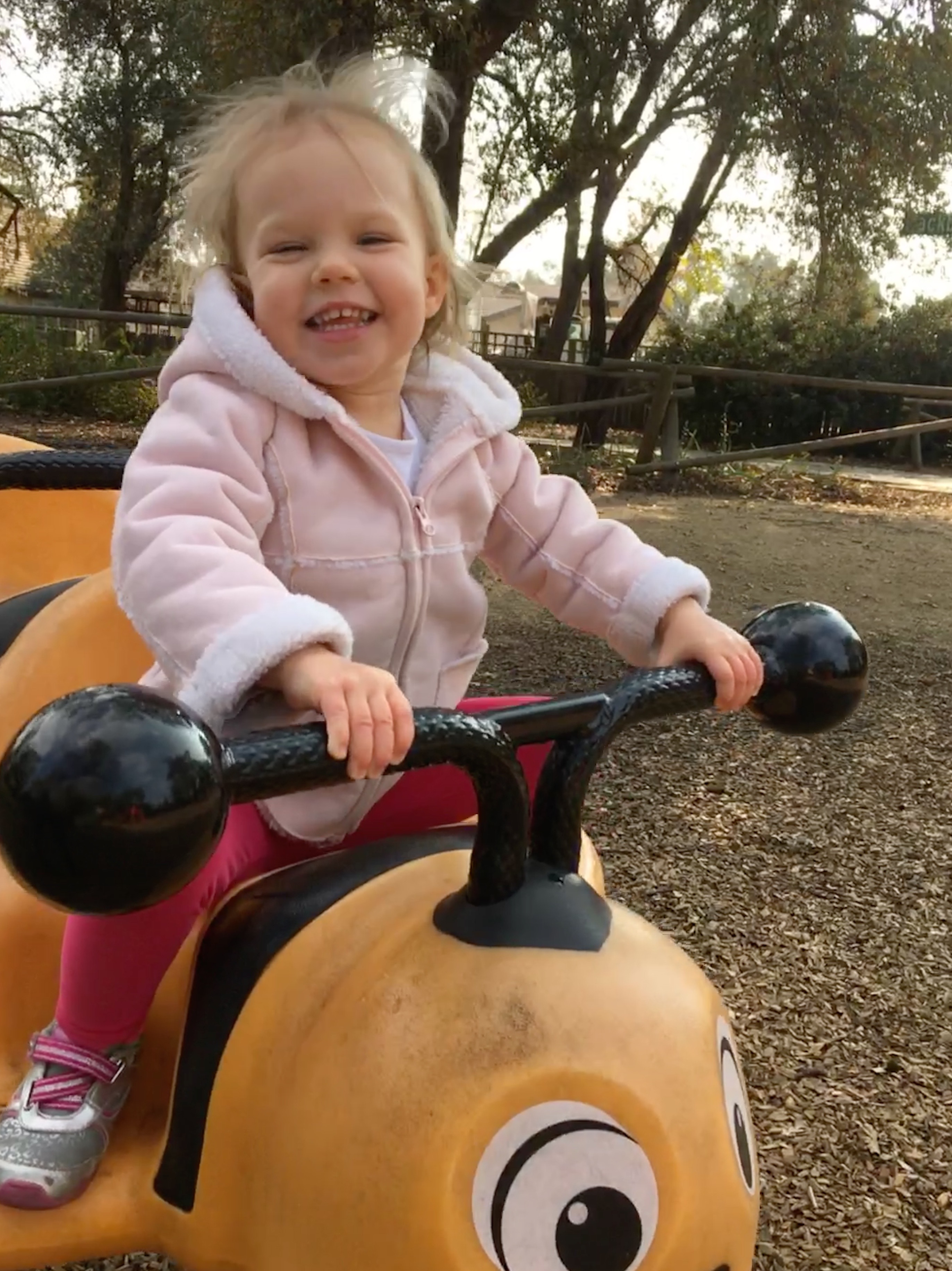 By the time we got home we had to get straight into the car to go pick up P.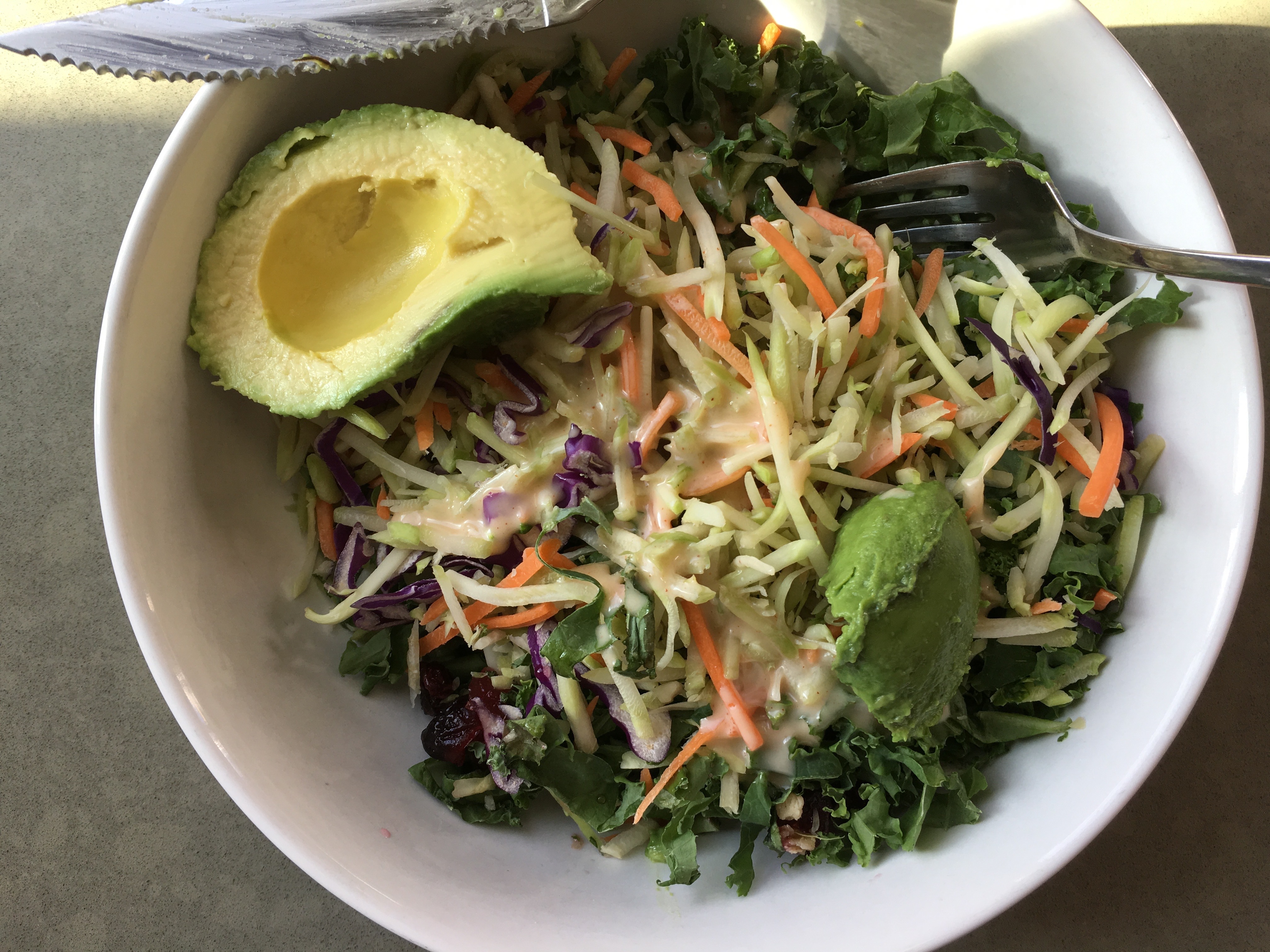 I went back to my favorite kind of lunch – a kale salad with avo. I can't stay away for too long before the cravings call, even in winter.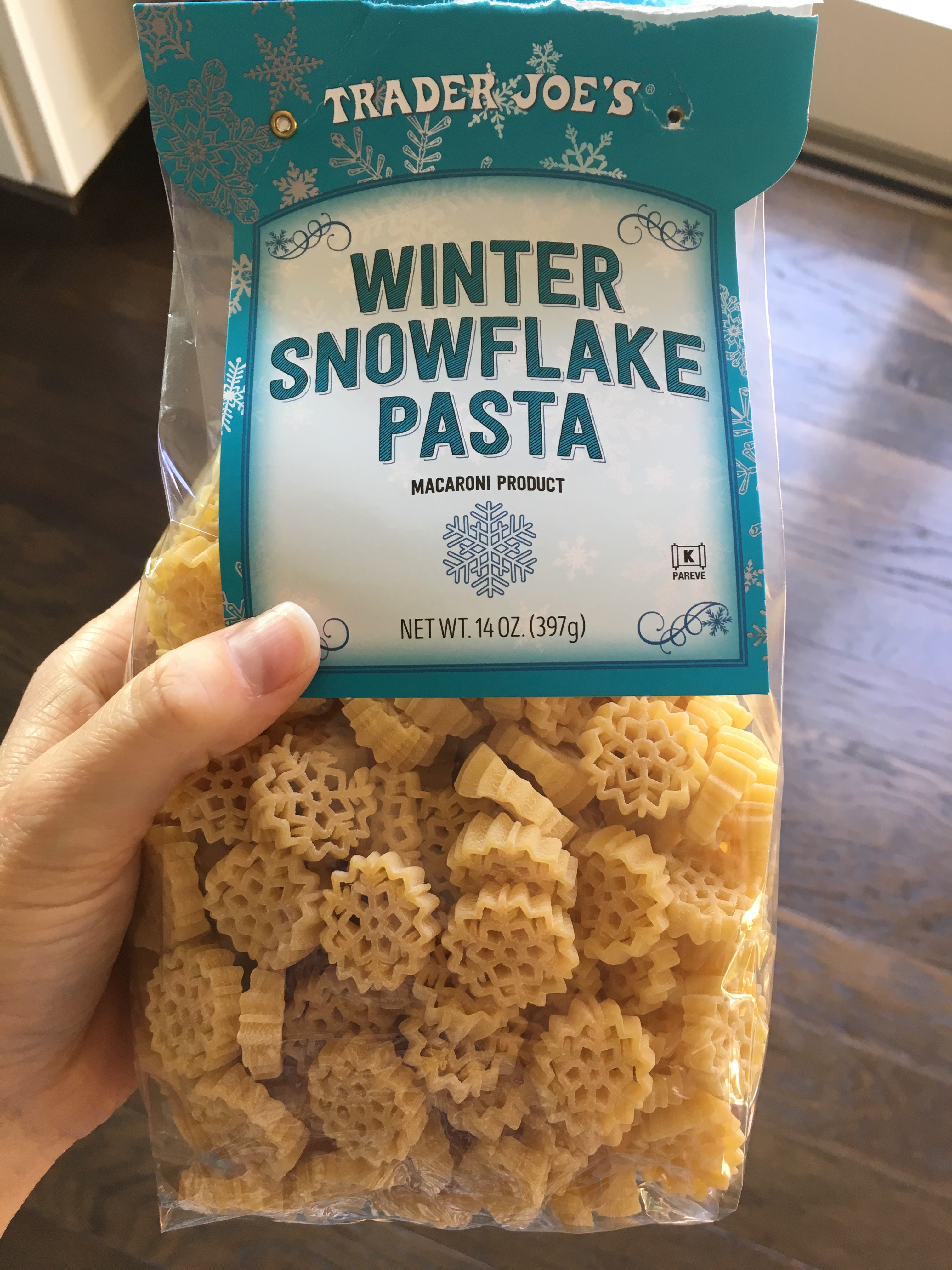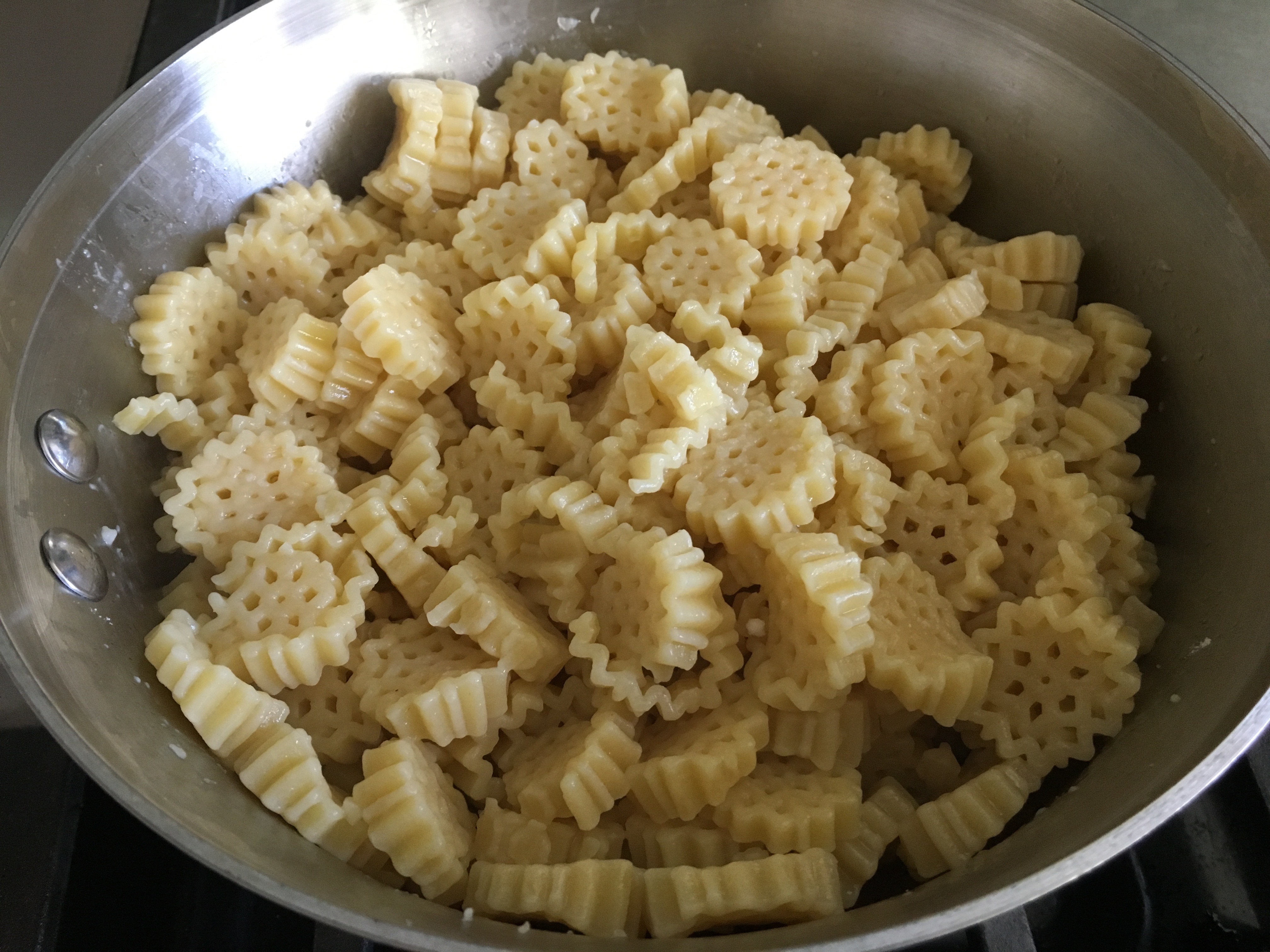 Speaking of winter…
I bought this impulsively at Tjs because I figured it would be a hit with the kids so I prepped the whole thing (some for dinner that night, but the rest for lunches).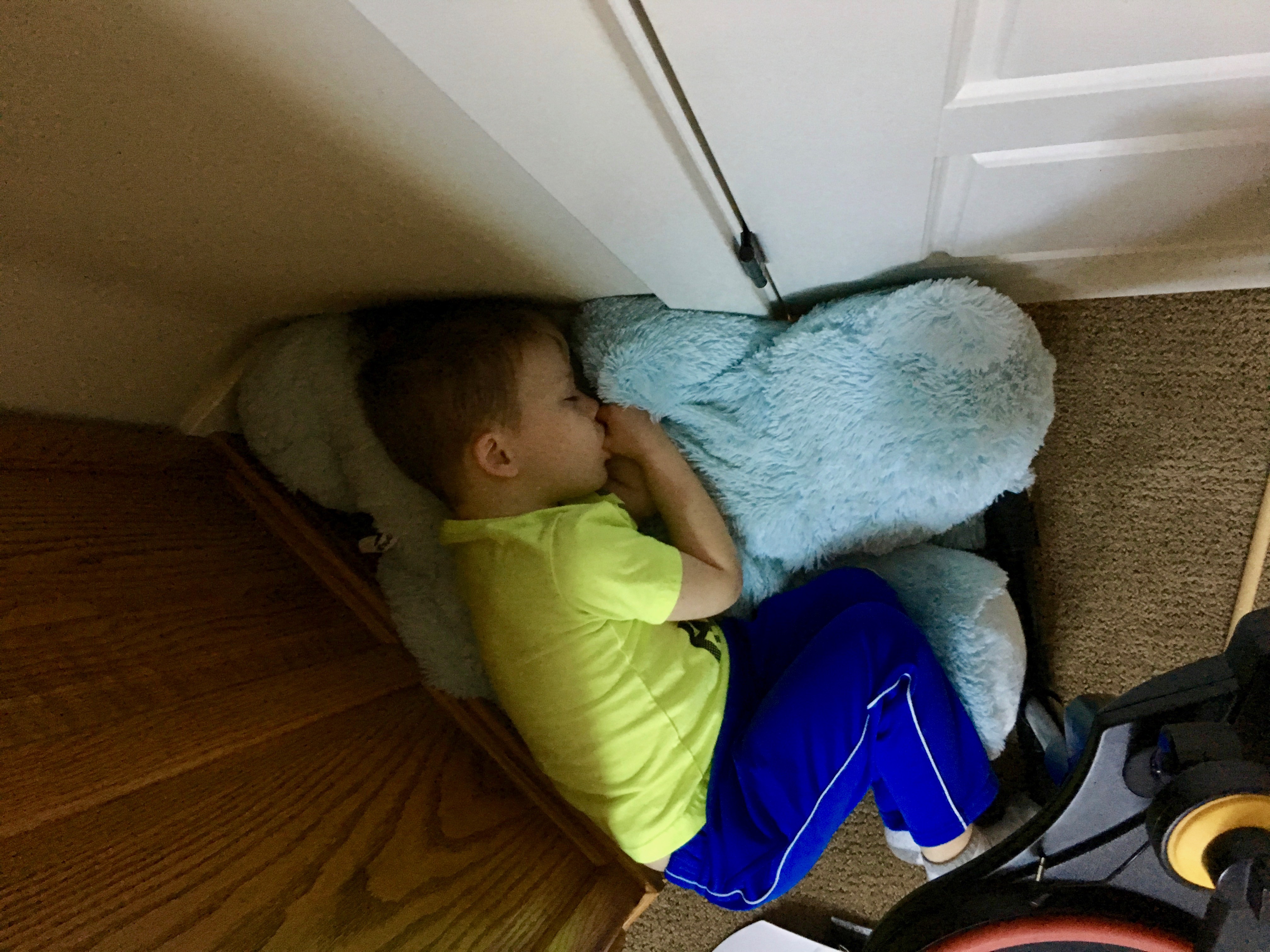 Quiet time turned into a nap time.  Oops!  He crawls into this little corner spot to listen to music and read books when he's in a mellow mood.  I guess he was exhausted.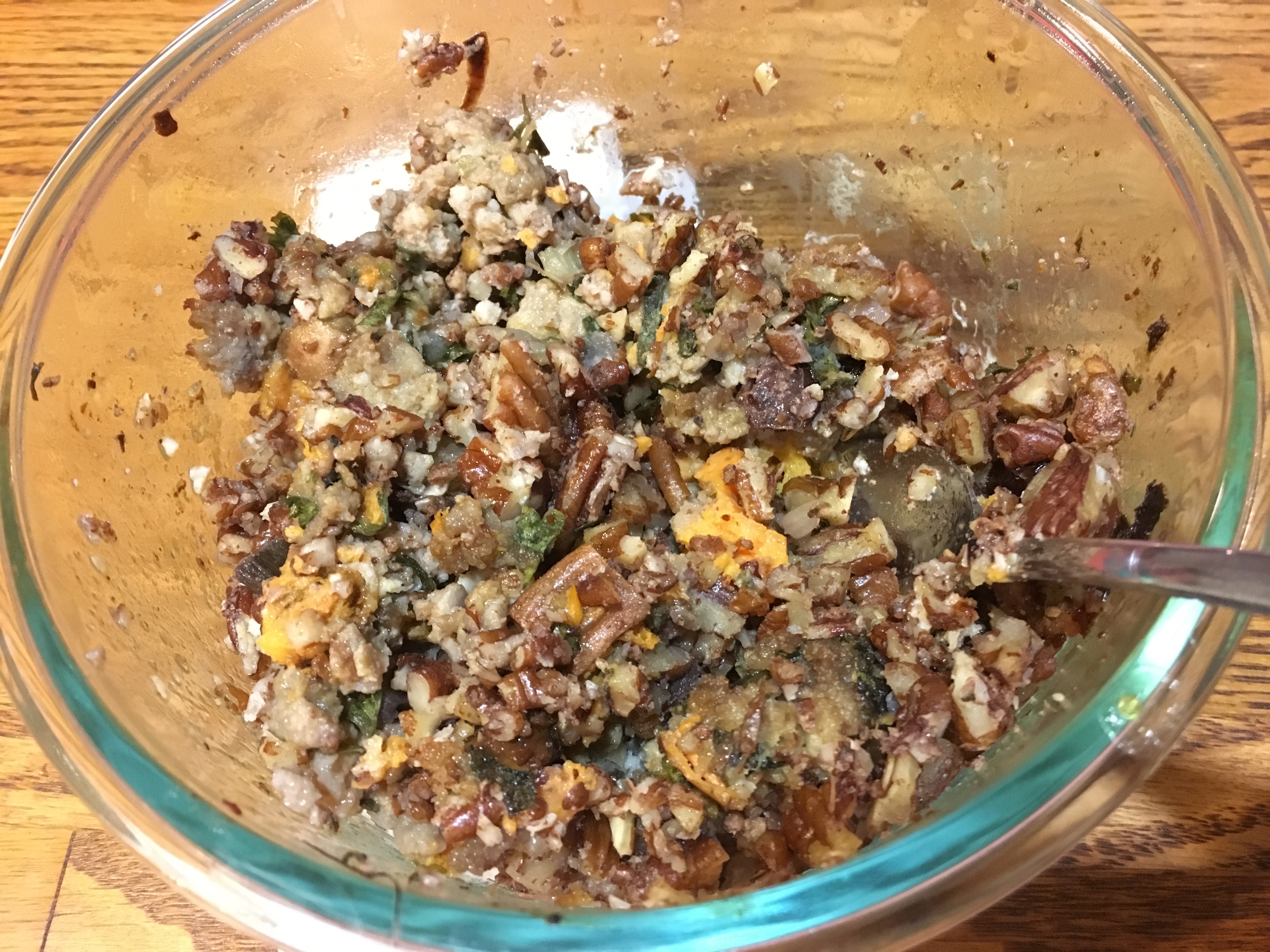 Even though we had more meals planned for the week I decided to use up some leftovers first.  We all had different odds and ends.  After finishing this sweet potato pecan dish I wasn't quite full so I had one of the leftover fried chicken pieces from the previous night.
I kept my streak going with no dessert and a kombucha instead and didn't even miss it!
Pattycakes has been begging me to let him go to "stay and play" with some of his friends, which is the optional 12-2 hour stretch after his preschool gets out.  I keep telling him we will find a time, and Thursday was that day.  He was SO EXCITED.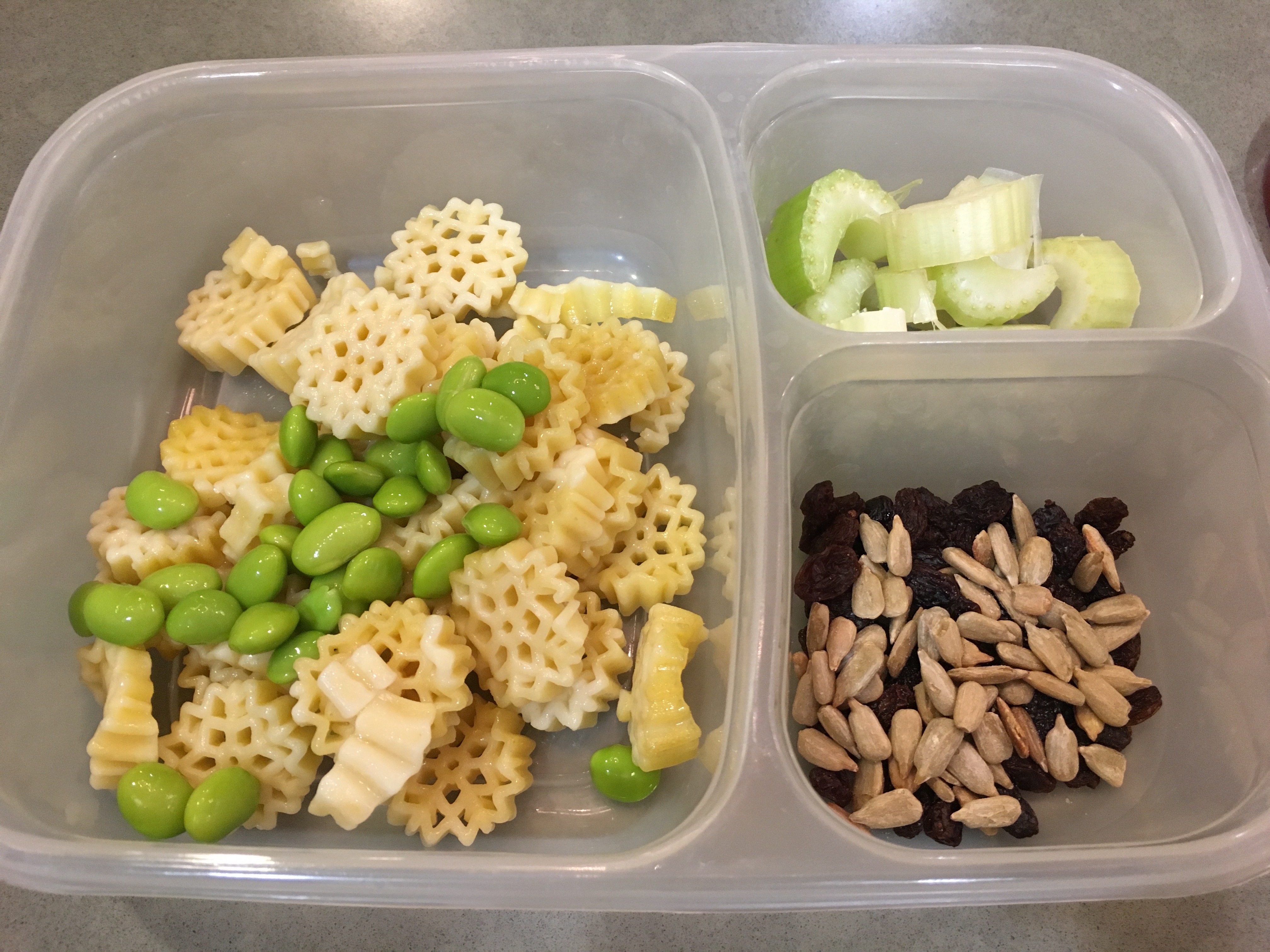 I packed him lunch to eat at school the night before.  He liked the cool compartments.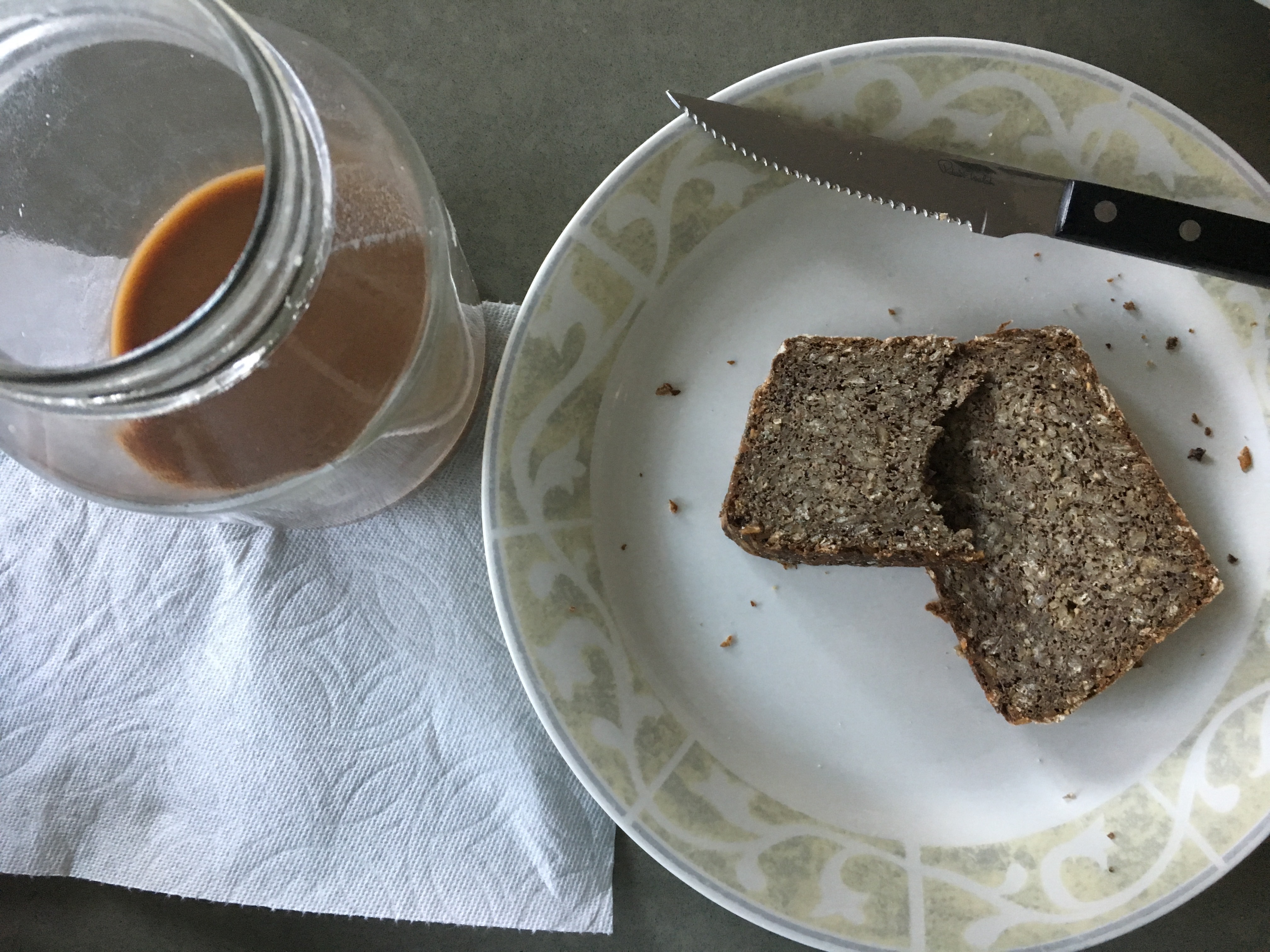 The next morning was much of the same.
I finished off the last of my home-made cashew creamer (which is why my coffee is in the jar – don't want any to go to waste!).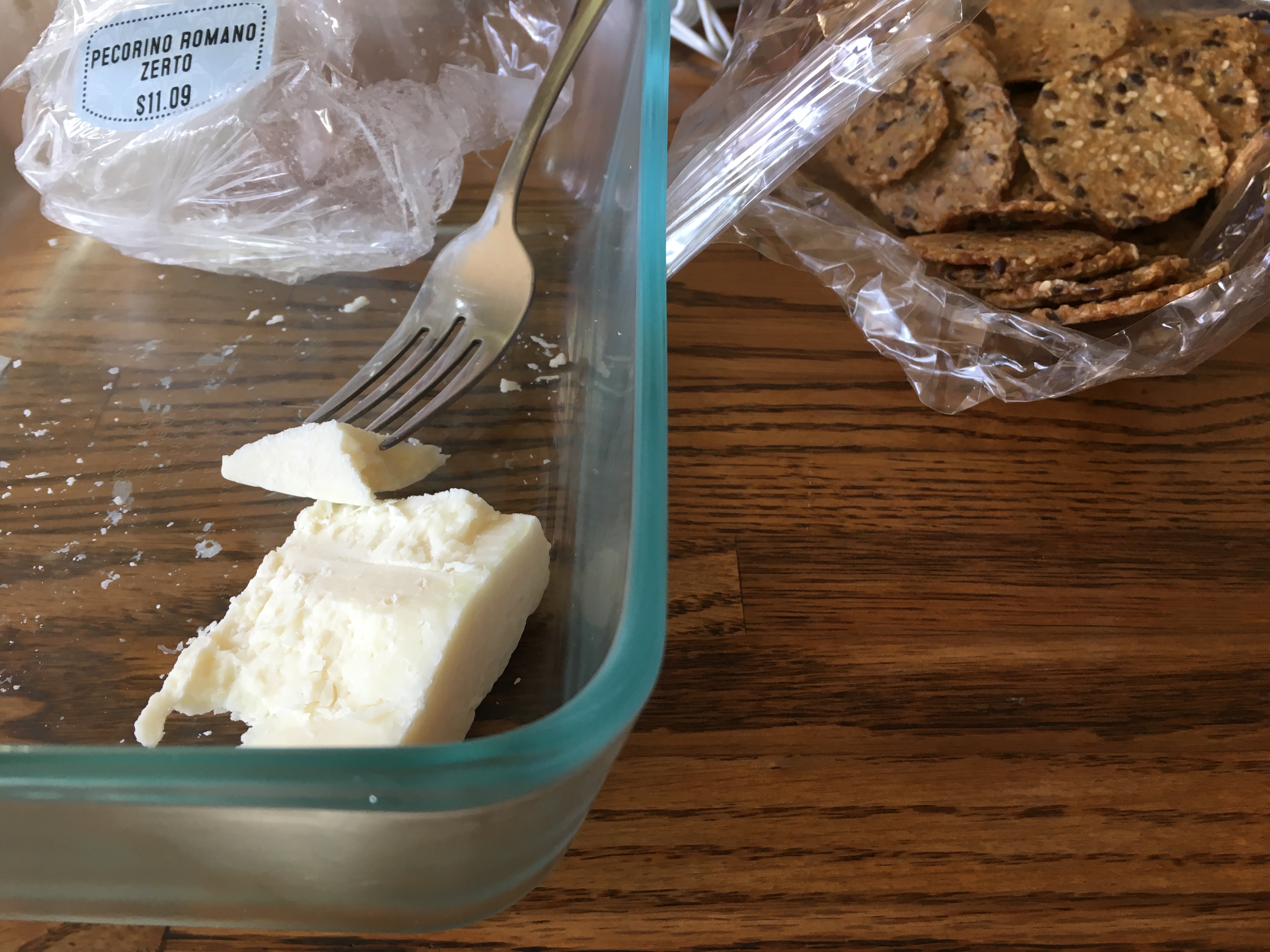 I had a snacky afternoon and then Kyle dropped P off just after 2 and I realized how much I missed him!  Those extra two hours were great for me to get V to her nap when she wanted, but I still want that lunch time to chat with my big boy. Anyway, we can't do stay and play on the regular since I can't pick him up while V is napping (we had to plan for a day that Kyle was free to get him) so I still get him mostly to myself.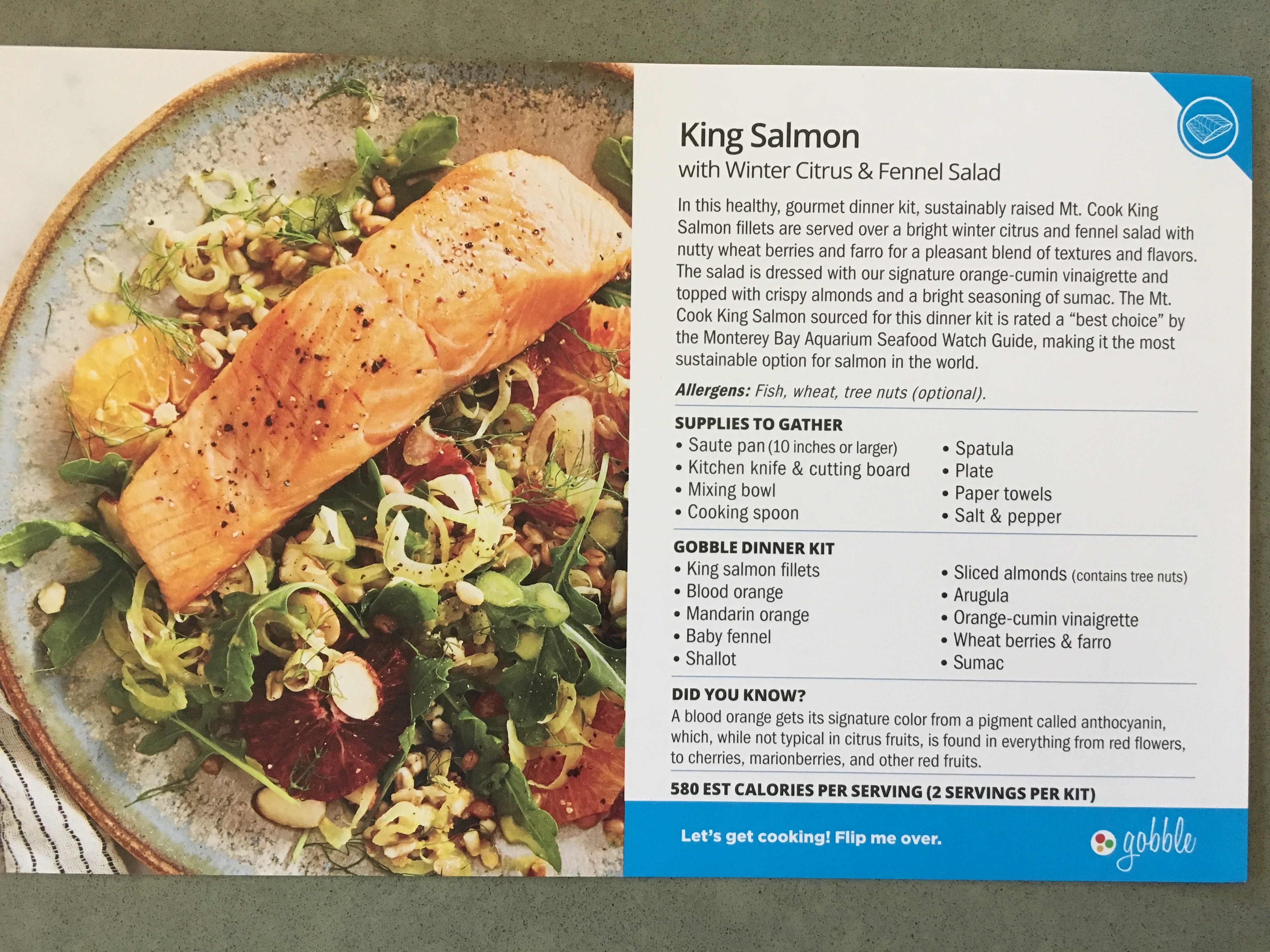 Dinner plans thanks to Gobble!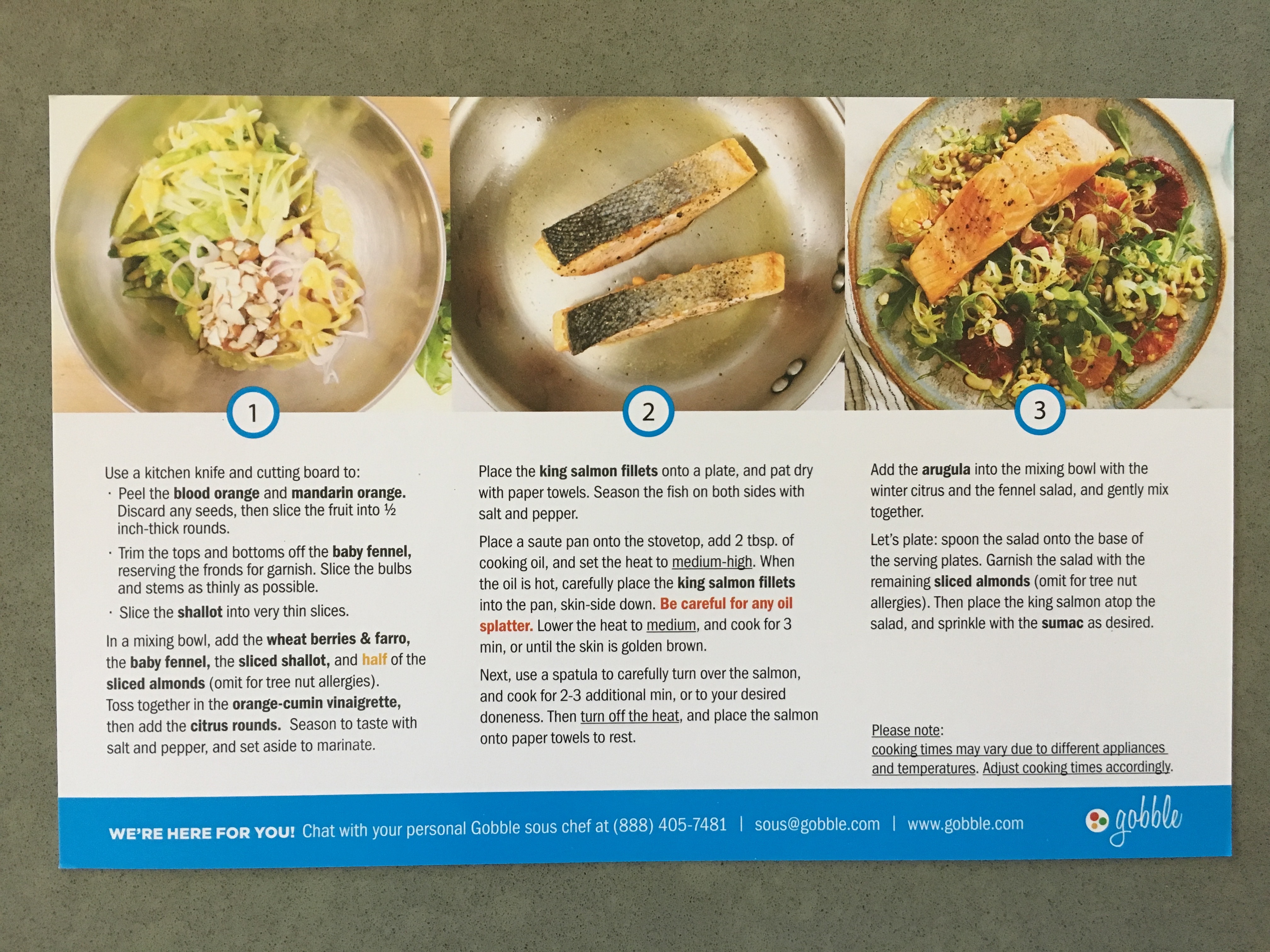 I got four servings but knew the kids wouldn't be into the fennel and raw shallots so I kept some parts of the wheat berry salad separate for them.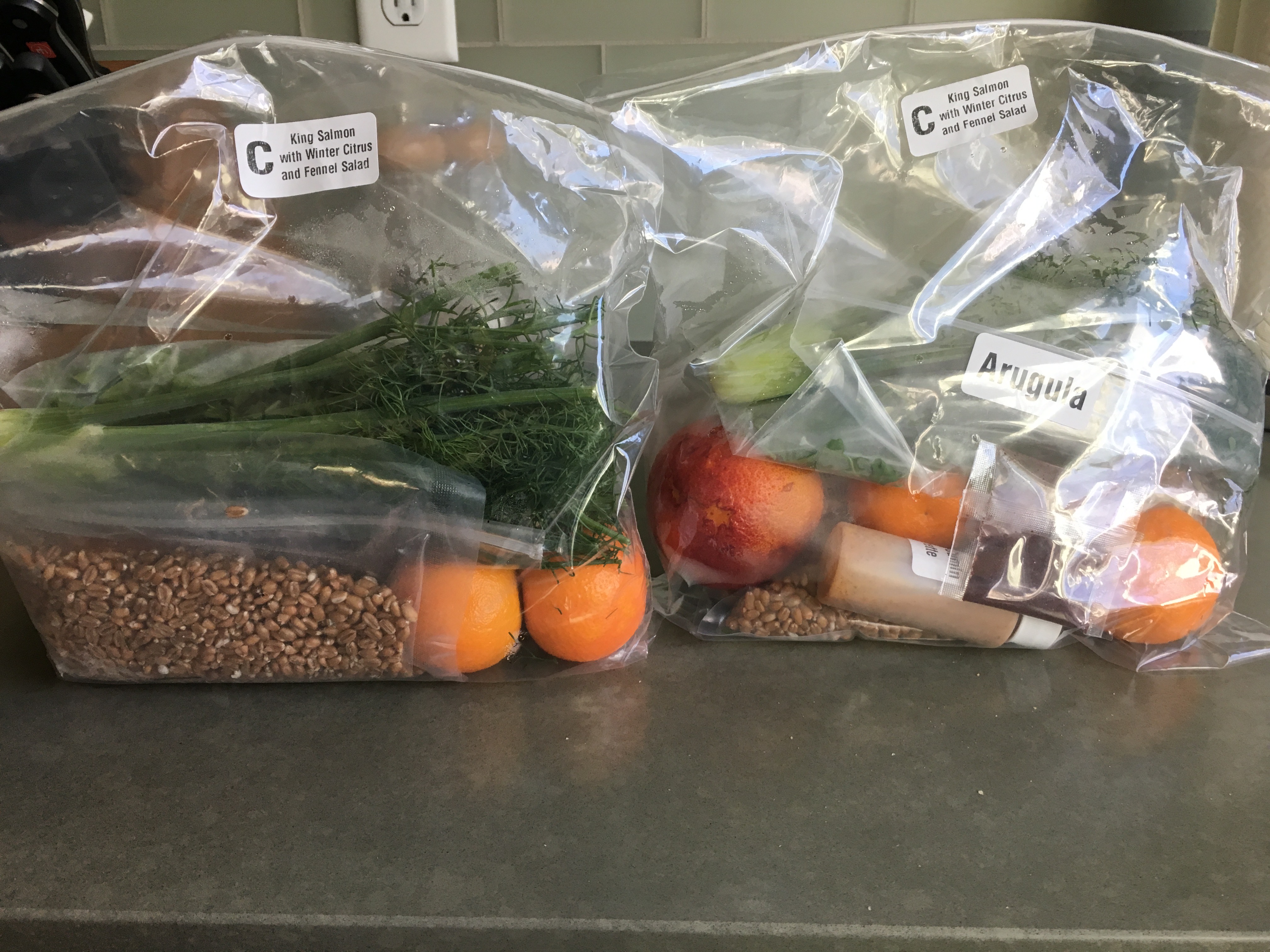 I made the salad in advance but left the rest to dinner time. We had a play date with friends that afternoon.  But first, Jamba Juice!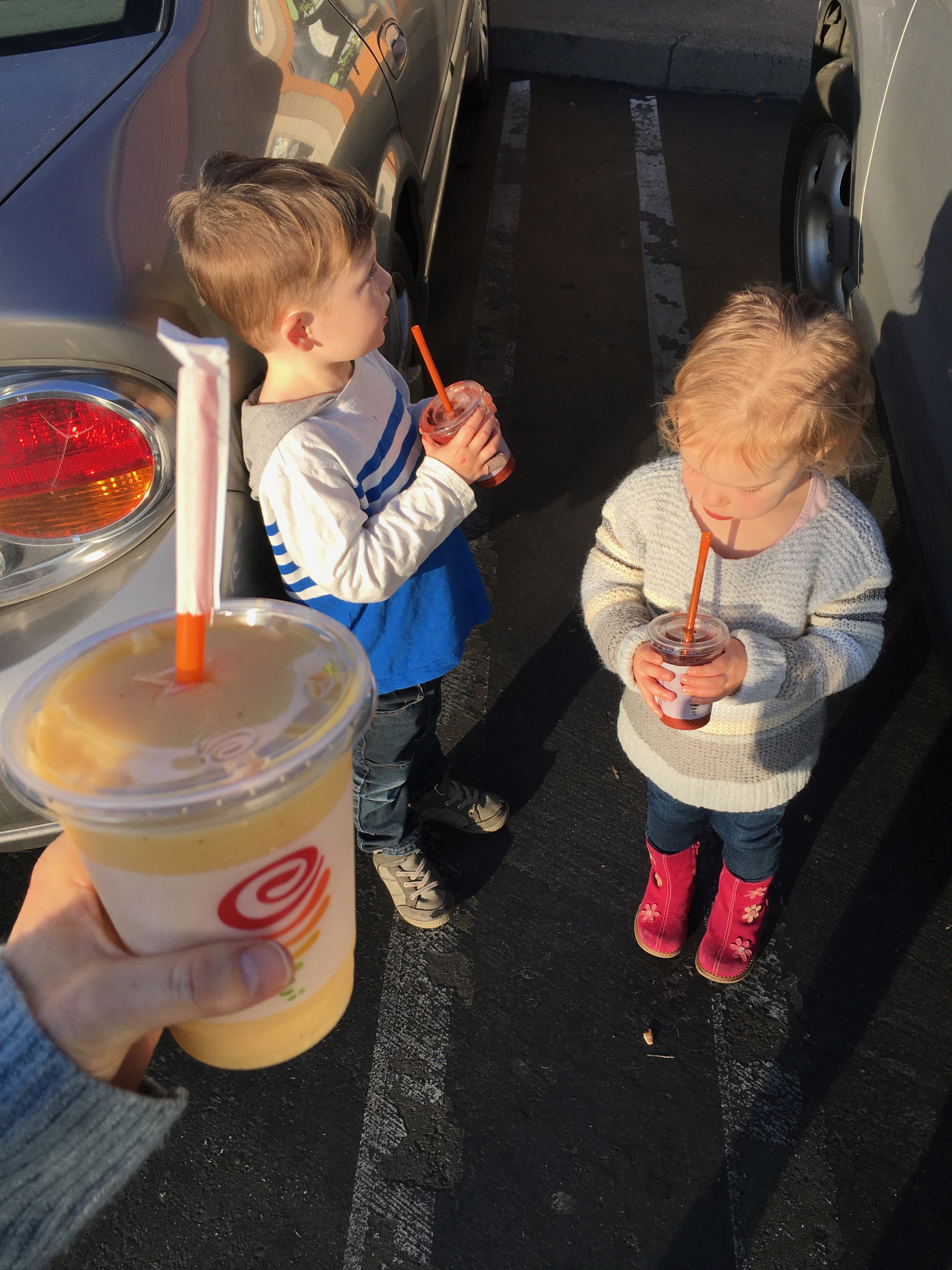 We brought one to my friend too because she had oral surgery and couldn't do much in the way of chewing.
Jamba Juice is still the place I trust the most with their allergy free blenders and understanding of dietary demands. I saved the last few sips of P's smoothie for dosing that night (more on that later).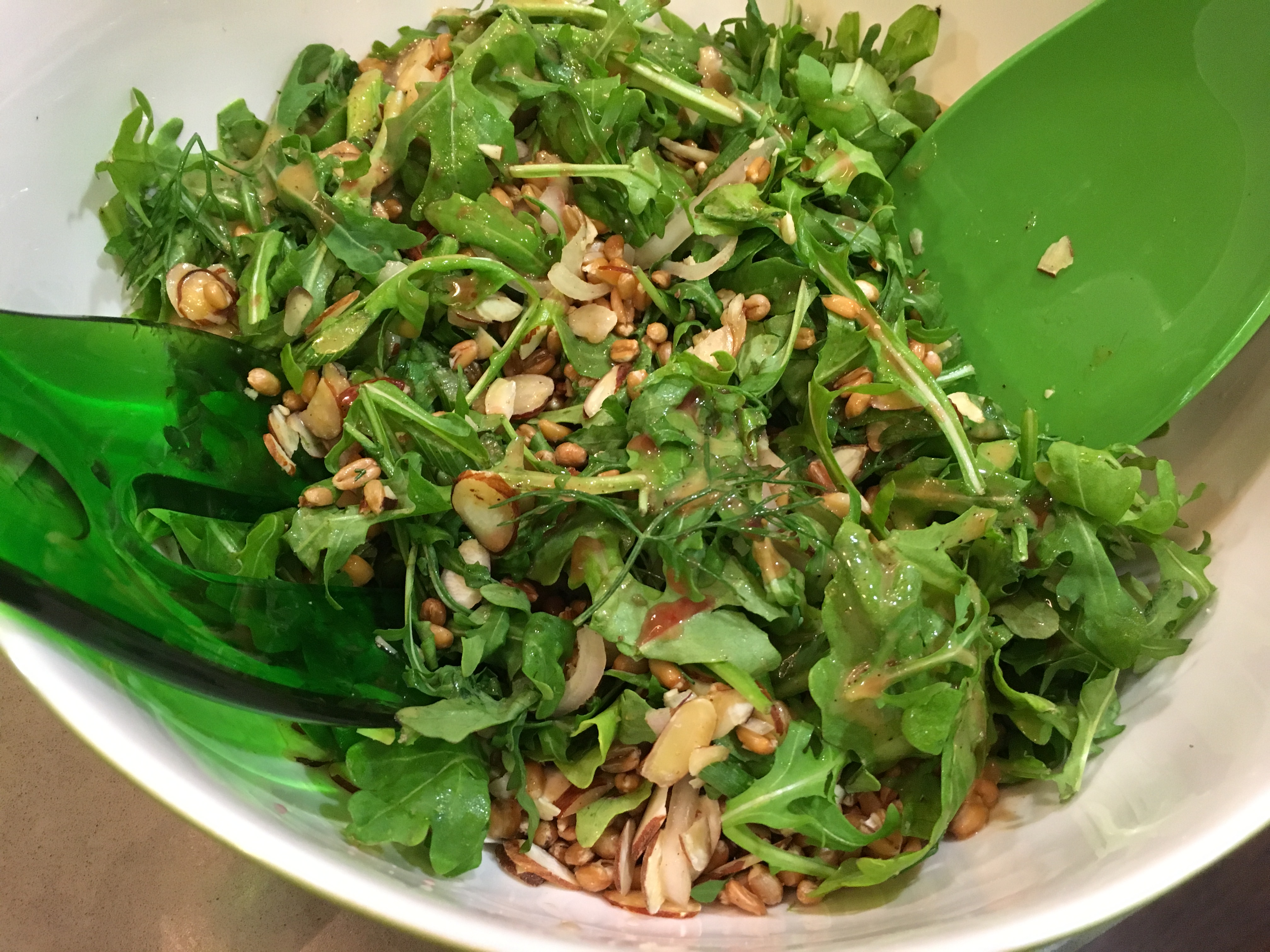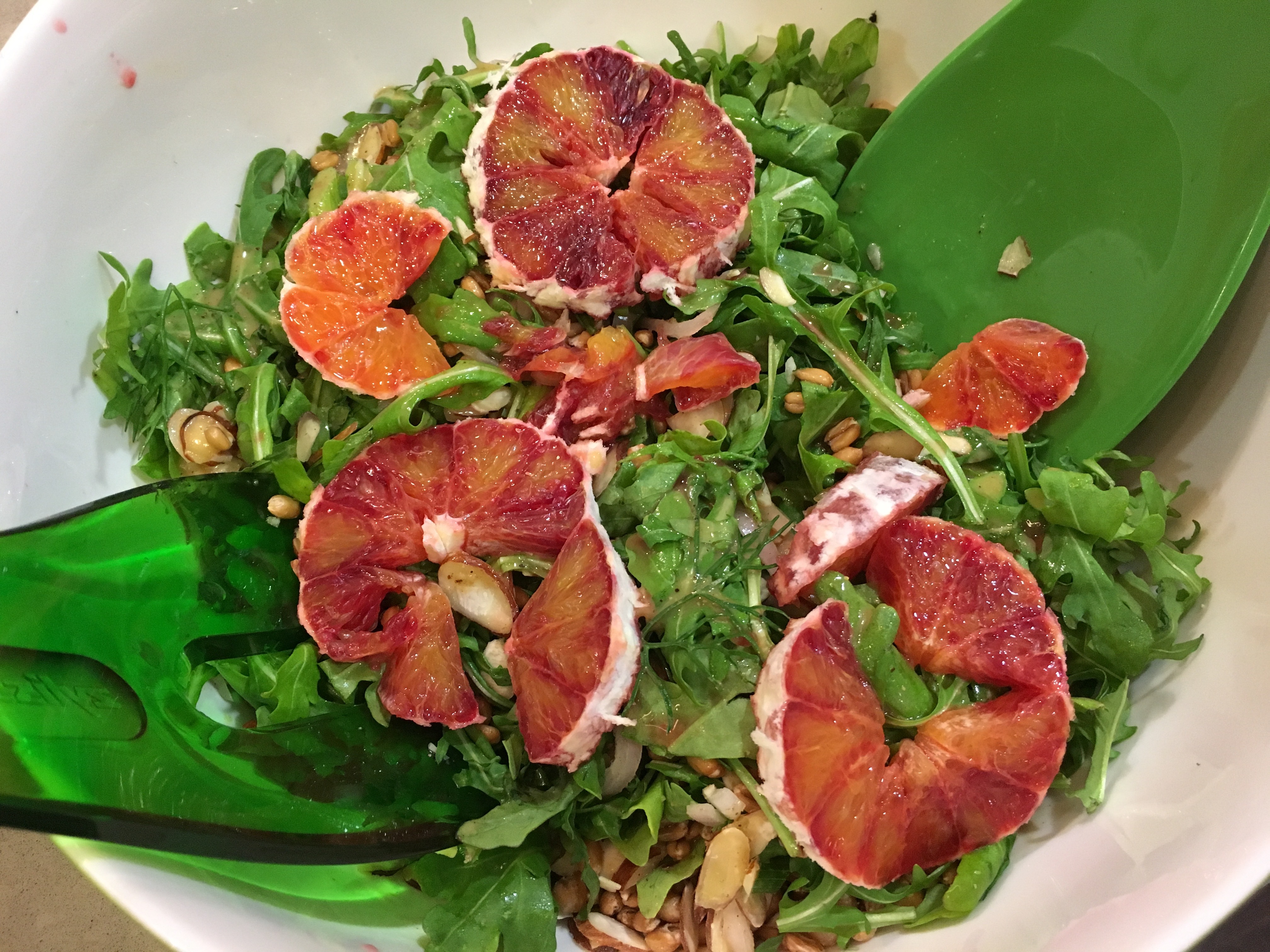 I'm starting to think salmon is my favorite food.  I want to eat it always and have to consciously not eat it for lunch and dinner.  I need to get to Costco to restock my smoked salmon stash.  In the meantime, if I see a gobble meal that has salmon, I'm definitely going to get it. I typically do salmon with Asian inspired ways, but this recipe had a blood orange salad with orange cumin vinaigrette (DELISH!) and sumak on top of the fish.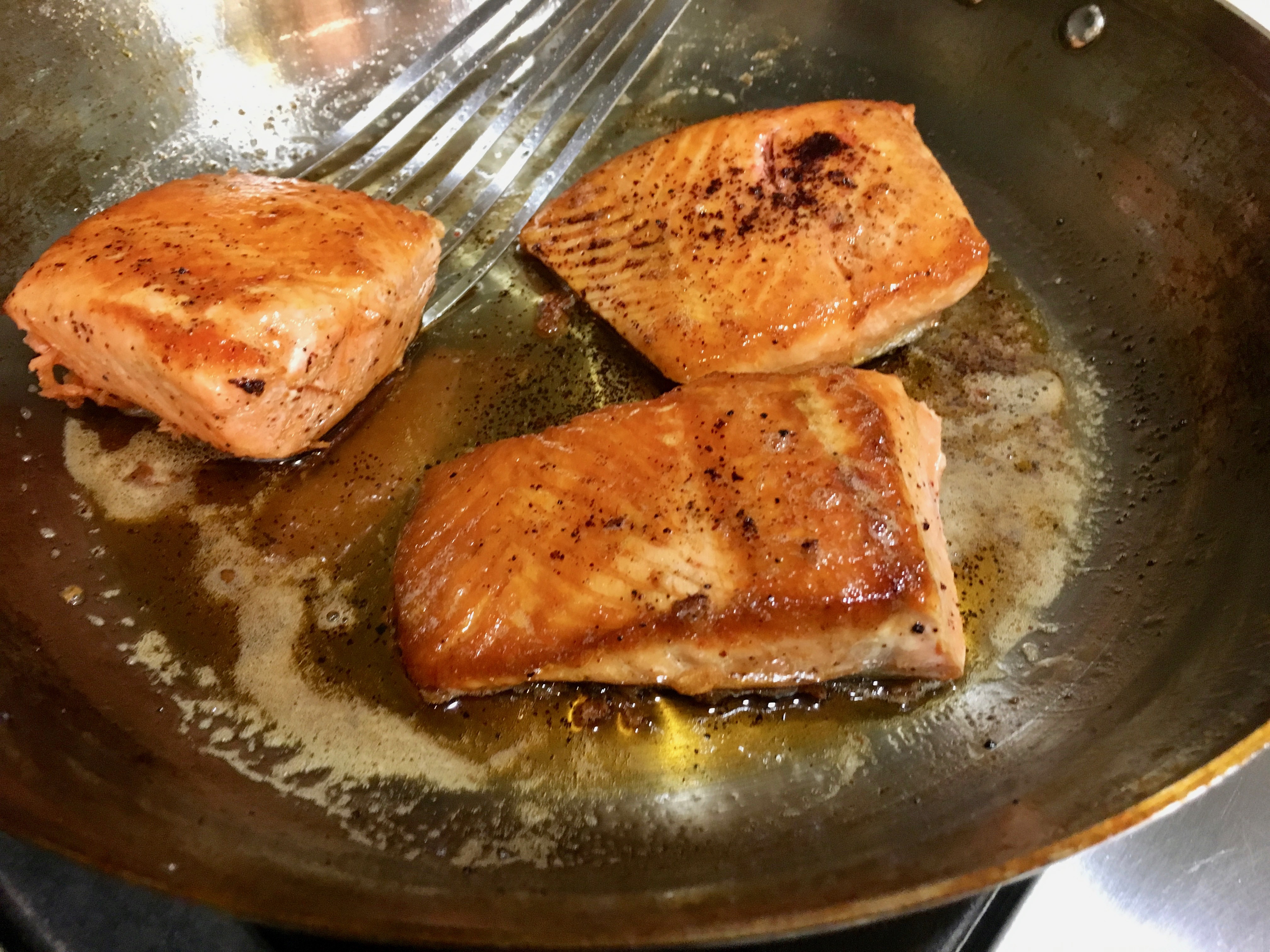 There were four filets, but one is missing from the photo because I'd already plated some for my starving kids to dig in while the rest cooked.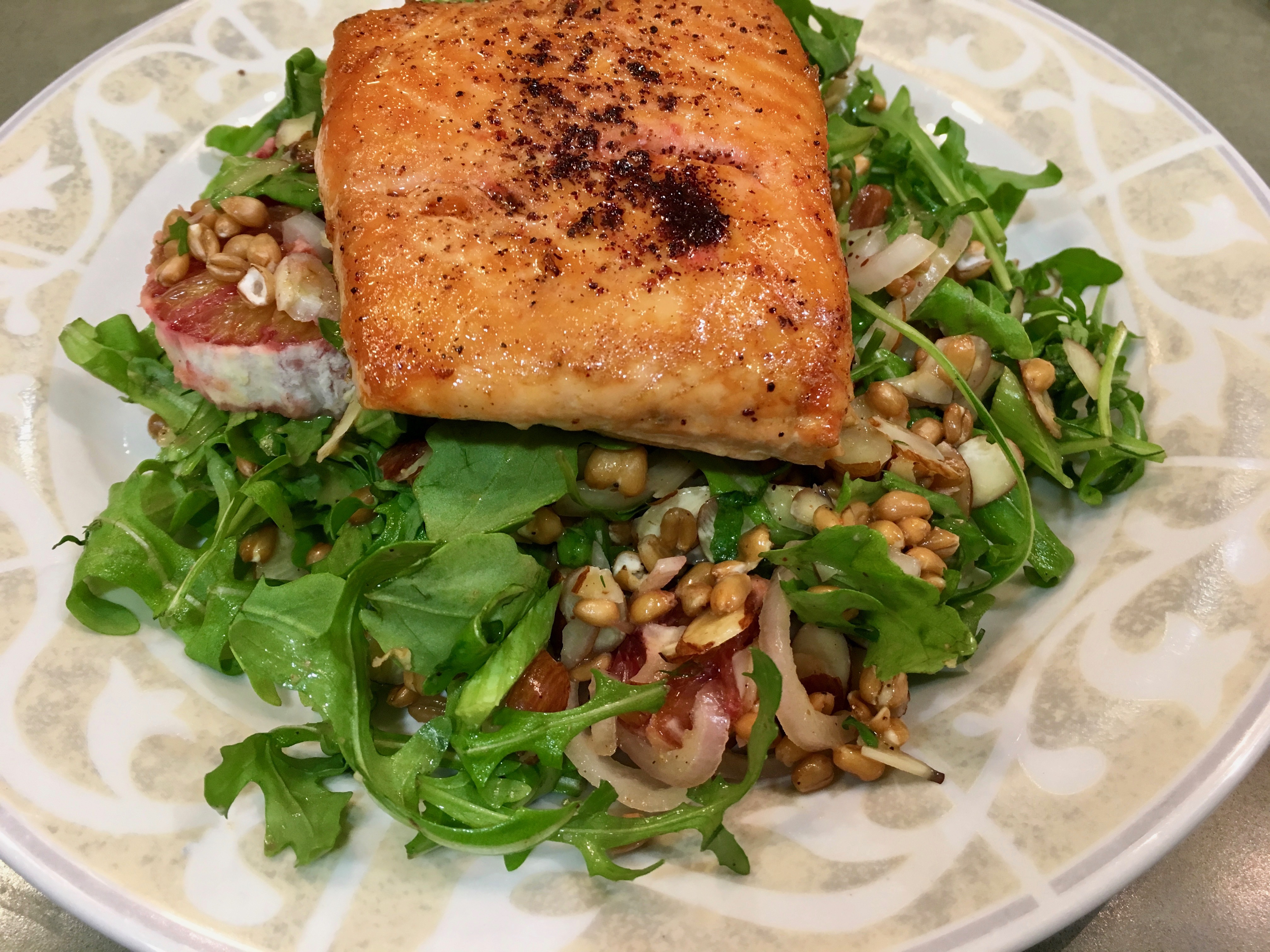 Looks fancy huh!
I tried to give most of the shallots to Kyle and then most of the fennel fronds for me, per our preferences. 🙂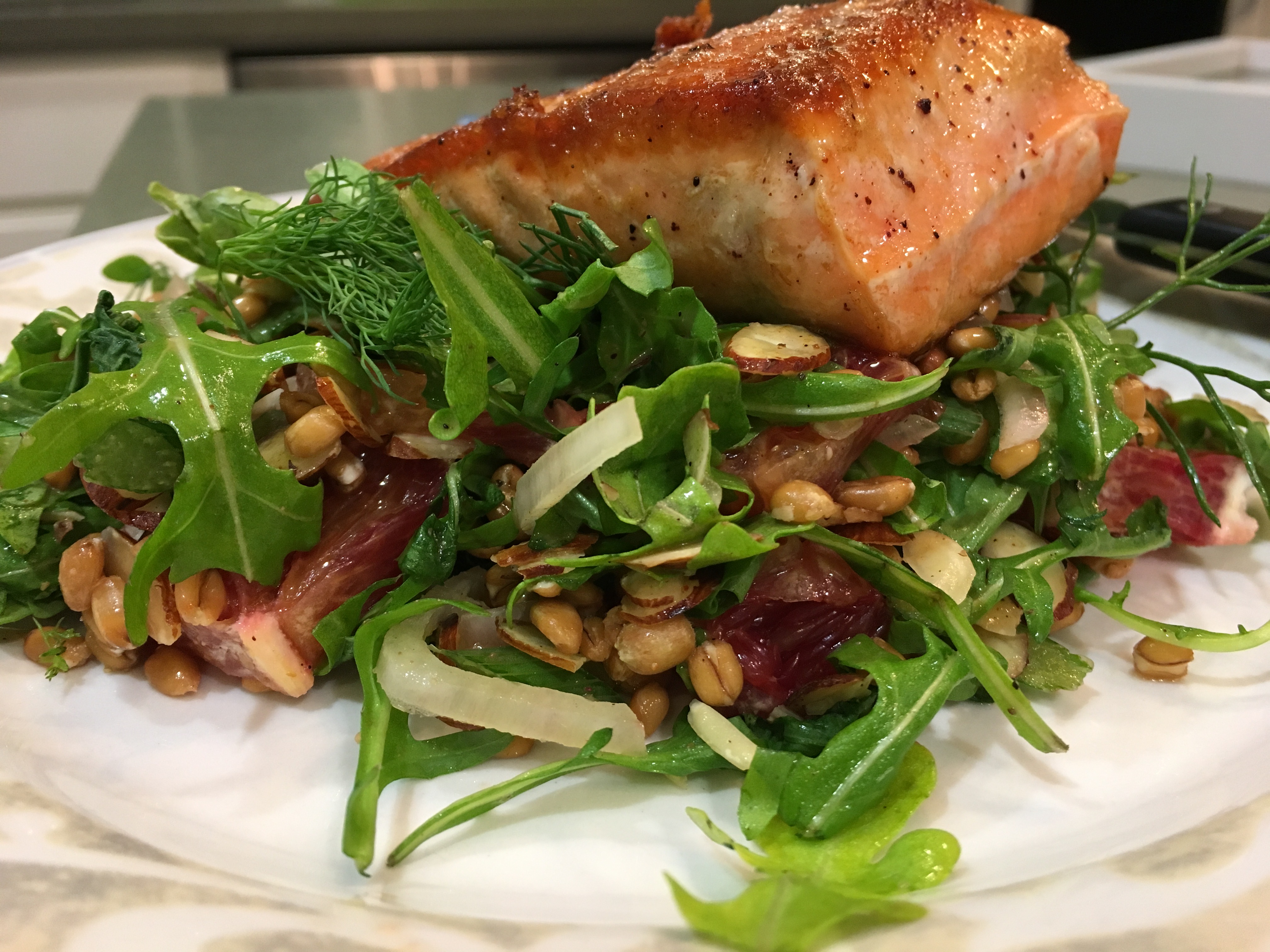 This was a good meal, but it didn't necessarily wow us like others have.  The salmon was delicious, but that's just because salmon is delicious.  I did like that it made me use fennel though, because I'd never buy that otherwise (since nobody else in the family is a fan).  And the kids ate arugula too, which was probably a first.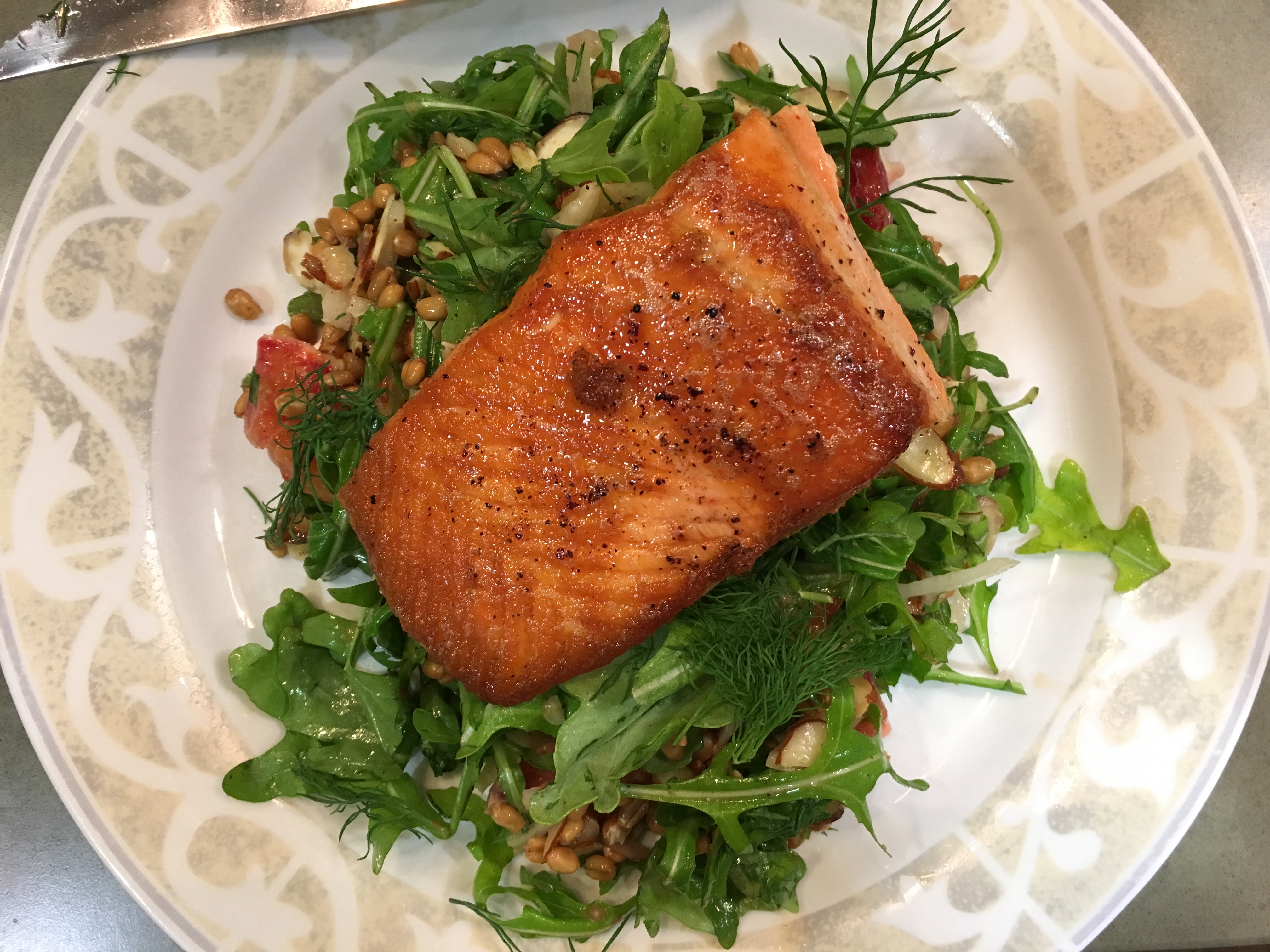 P drank the last sips of smoothie after his dinner was done and I didn't tell him I'd put his dose in it and he totally slurped it down without any drama, which was sneaky (and risky) on my part, but he was pretty happy to find out that he already took his dose after the fact.   Now I know that there's a big mental component to the peanut dosing, as opposed to a true dislike (of the flavor).  TBD on how I will proceed.  We have OIT on Friday so I have a bunch to discuss with them.
Heading in to the weekend like…