Every day there's a new pumpkin recipe on some blog or another.  And I drool over every single one.  But I've been pretty lazy and aside from one batch of pumpkin oats, I haven't done much else to resolve my lusting taste buds.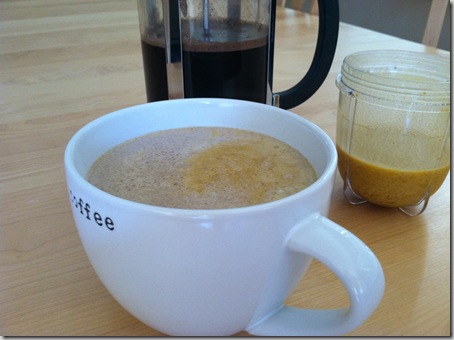 The other night I put a can of pumpkin out on the counter so when I woke up I'd see it and do something (anything!) with it. 
Here's the problem.  In the morning I tend to be at my all time laziest.  Adding almond milk and maple syrup to my iced tea is almost one step too many.  And if it weren't for my growling stomach hungry baby bump, I'd put off breakfast for a while.  Yeah, I'm not a morning person. 
But it was a Sunday morning.  And there was football on.  And I got to lounge on couch with Kyle.  So things were good.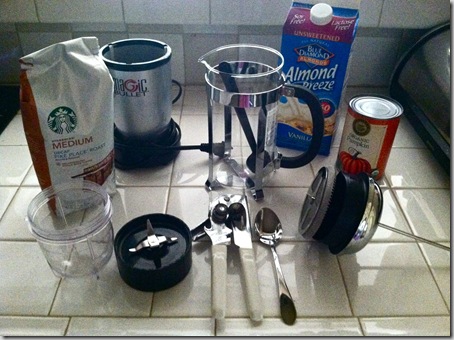 So I was inspired.
I brewed a full French press of decaf coffee and then got to work on making some pumpkin flavored almond milk.
I didn't measure things, but since it was SO good (and I know people want to know), here's approximately what I did.
Ingredients:
~1 cup unsweetened vanilla almond milk
~2-3 tbsp pumpkin puree
~1/4 tsp pumpkin spices (make your own or buy it)
~2 tbsp maple syrup
And then you just blend in a blender/magic bullet until it's all mixed.  This makes a lot, so I hope you have a big coffee cup!
Side note: this is exceptional without coffee.  I had a few sips of it before adding it to the java and was tempted to just skip the coffee altogether.  I let Kyle sample some too, and he agreed it was exceptional.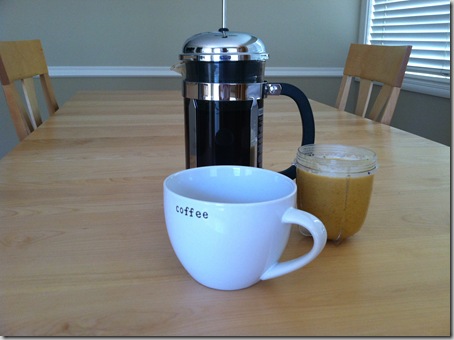 To make a pumpkin spiced misto, add half the pumpkin almond milk to coffee.
To make a pumpkin spiced latte, add the whole thing to a shot of espresso.
To make a pumpkin spiced almond milk, forget the coffee.  Just heat the mixture after you blend it.
Ever since the summer (and pregnancy) hit, I haven't been into hot beverages, but I am now craving a full mug of this warm yumminess every morning.