I have been completely lagging in showing off my work eats.  Packing up my food for the hospital is an art form, but it's one I've perfected.  Blogging about them, however, takes more time and I'm always exhausted when I get home from 12+ hours on my feet.  And of course, there was the unexpected drive down to Newport Beach this weekend…so I'm definitely behind.  Not to throw excuses at you, I'm just saying, I have weeks of hospital food stored up.  How excited are you!?  Ha!
Here what's to follow: on-the-go meals that are (no) FODMAPS or (low) FODMAPS as indicated.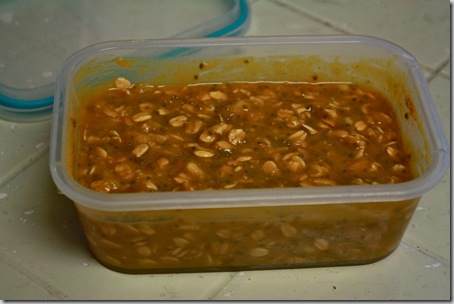 Breakfast: Oatmeal with pumpkin, chia seeds, mashed banana, NuNaturals stevia.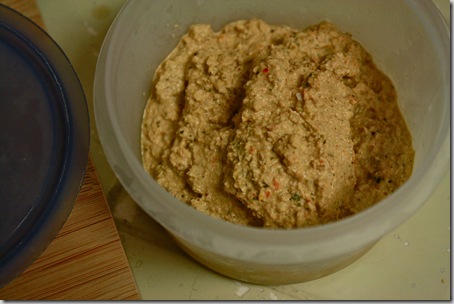 Lunch: Leftover protein pesto with baby carrots and Glutino GF pretzel twists for dipping.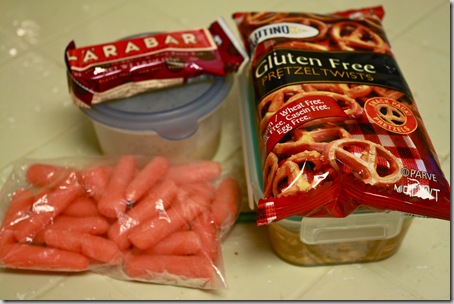 I've had Glutino pretzels before and because of what happened on that fateful day, so long ago, I haven't bought them since.  It's pretty easy to guess what happened…family sized bag…cross country flight…salt addiction.  You know, the usual Elise routine.
Glutino makes the absolute best GF products.  I love 'em like crazy, and you'd never know they were without wheat.  I may not be an expert in gluten free living (yet), but I've tasted my fair share of snack foods and these are actually better than regular pretzels.  They are so so so good.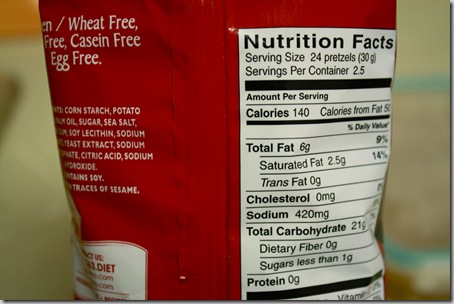 What's especially nice is that they are also vegan.  So many GF products compensate for the absence of gluten with eggs or dairy, but tons of Glutino's goods are vegan in addition to gluten free.  I love how dedicated the company is to making quality products (that taste exceptional) for people with food allergies.  They are so on top of it.
Thank goodness this was a snack sized bag because there was no stopping me.  Mmmm…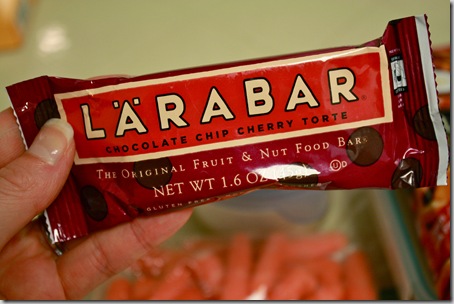 Snacks: Chocolate Chip Cherry Torte (new!) Larabar, Ghirardelli Sea Salt Soiree and TJ's candied ginger, and fresh grapes & strawberries.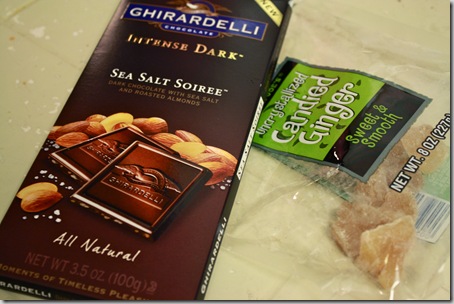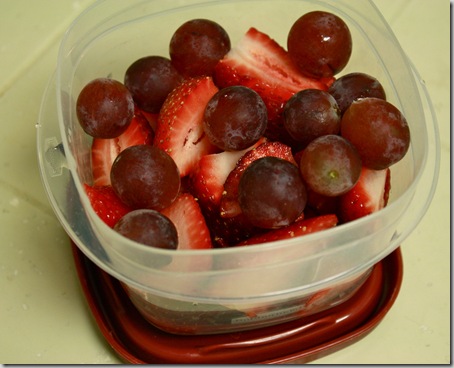 I don't really know where grapes stand in terms of FODMAPS (strawberries are fine), but as long as I don't eat six pounds in one serving I think I'm ok.  Best to bring them to work portioned out, otherwise shoveling down half a vineyard's crop is entirely likely to happen.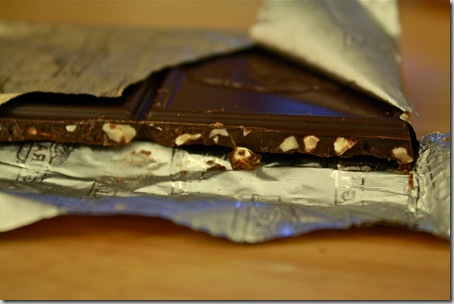 I had the last few squares for dessert later that night.
Next up?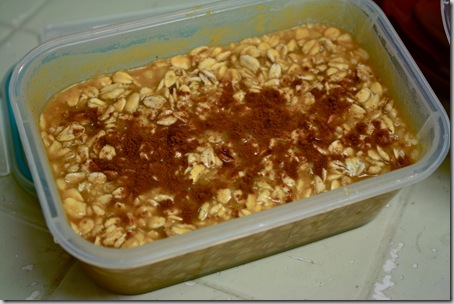 Breakfast: Oatmeal with pumpkin, banana, cinnamon and NuNaturals stevia.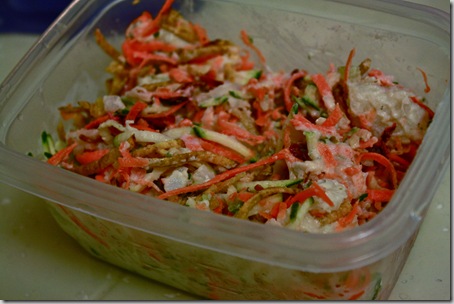 Lunch: potato salad with Yukon gold potatoes, cashew faux-mage, vegan mayo, carrots, zucchini, red & golden beets, and salt & pepper.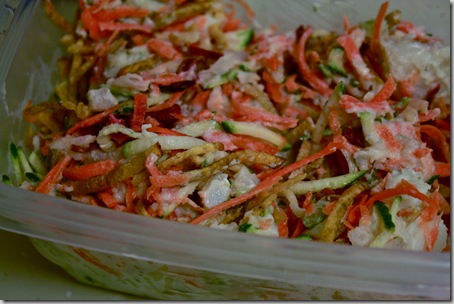 Normally I may have thought of adding onion or garlic, but those are FODMAPS no-nos.  In fact, they are commonly considered one of the hardest things for IBS people to tolerate (makes sense that I have a bit of an aversion to them).  A few sources say that powdered forms of the two are ok, but since I'm not a huge fan anyway, nixing them didn't exactly break my heart.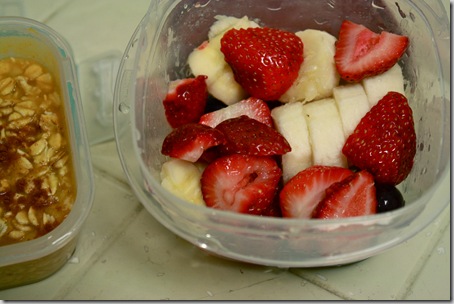 Snack: banana slices, strawberries, & grapes, carrots, corn nuts, and Candle Cafe's oatmeal raisin cookie.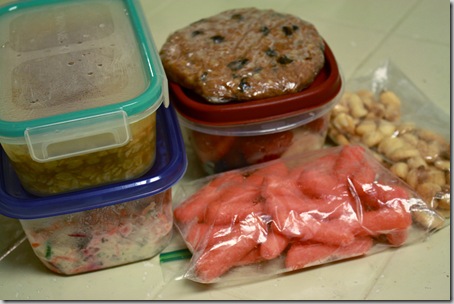 I'd be lying if I said I didn't break into this guy on the way to the hospital.  It was 6 am and I wanted a cookie – what can you do?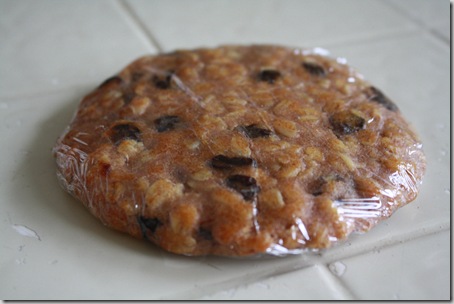 It was not a sweet cookie, that's for sure.  Definitely tasted "healthy," which makes sense since it's low in sweeteners (maple sugar is the only thing it had, if I recall correctly).  Still yummy for sure.  As if you had any doubts.
And then…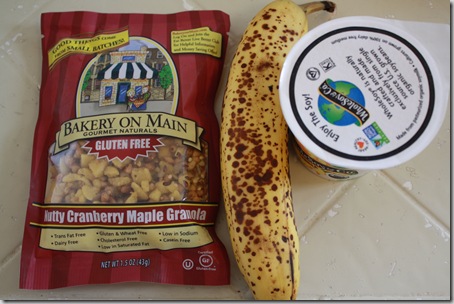 Breakfast: Bakery on Main Nutty Cranberry Maple Granola with banana and vanilla soy yogurt.
*There are trace amounts of honey in the granola, but not enough to cause any GI reactions.  I'd also like to note that I, personally, have experienced no problems with soy either, so tofu and soy yogurt are foods with FODMAPS that I have reintroduced without issues.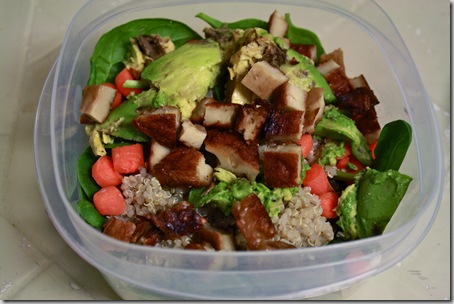 Lunch: spinach, carrots, quinoa, seitan, and avocado.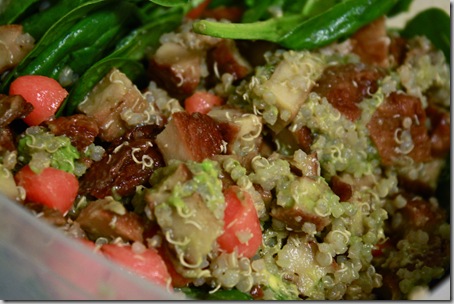 A lotta lotta avocado.
I guess I don't have any pics of the snacks I brought with me?  If I had to surmise (who says surmise?), Larabars, corn nuts, and carrots were probably involved.
Starting again.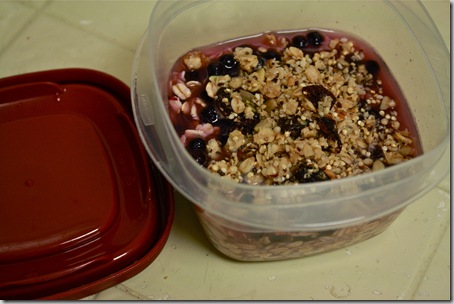 Breakfast: oatmeal with blueberries and quinoa granola.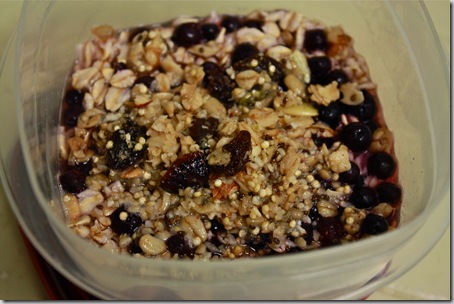 This is still the most popular post on HHH.  I don't think I can ever outdo this recipe.  It's just that good.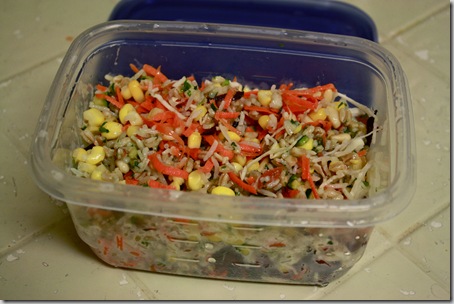 Lunch: rice with pine nuts, tomatoes, zucchini, carrots, corn, live oil, red wine vinegar, parsley, salt & pepper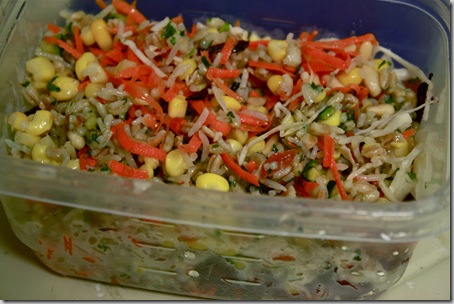 A rice Provencal of sorts if you will.  The pine nuts and olive oil truly make this meal, otherwise it's just a sh!t ton of veggies and rice.  Not that there's anything wrong with that…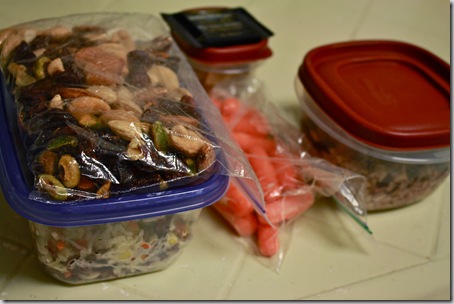 Snacks: dried fruit and nuts mix, carrots, candied ginger, Ghirardelli's chocolate.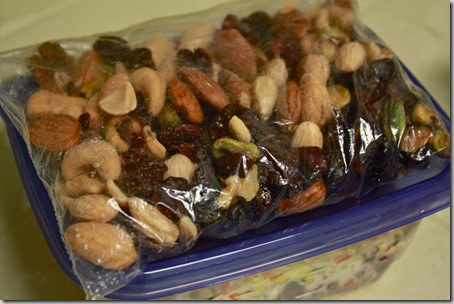 Never in a million years did I think I'd finish all these nuts.  But I did.  Friggin' salt.  It gets me every time.  I'm a sucker for the sodium I tell ya.
See?  The elimination phase of FODMAPS isn't that hard.  It just means getting crafty with the carbs that I can enjoy – like rice, quinoa, potatoes, millet, and oats.
Next week I am beginning my first challenge phase.  I haven't decided which to begin with, but it will probably be whichever group has apples (because I miss them the most).  I have to plan it out first, though.  I will recap the elimination phase in the coming week though.
I have to say, I'm a bit nervous to move forward since I've been feeling so amazing with the current plant-based elimination phase…but I know it will be good to learn how I react to higher amounts of foods with FODMAPS.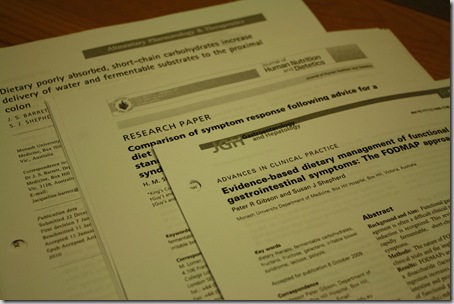 Did I mention I've been researching this like crazy too?  Scientific journals are blowing up with this stuff right now.  It feels pretty great to be at the forefront of something that could make a huge difference in the lives of so many people who live in pain.
Which group of FODMAPS would you reintroduce first?