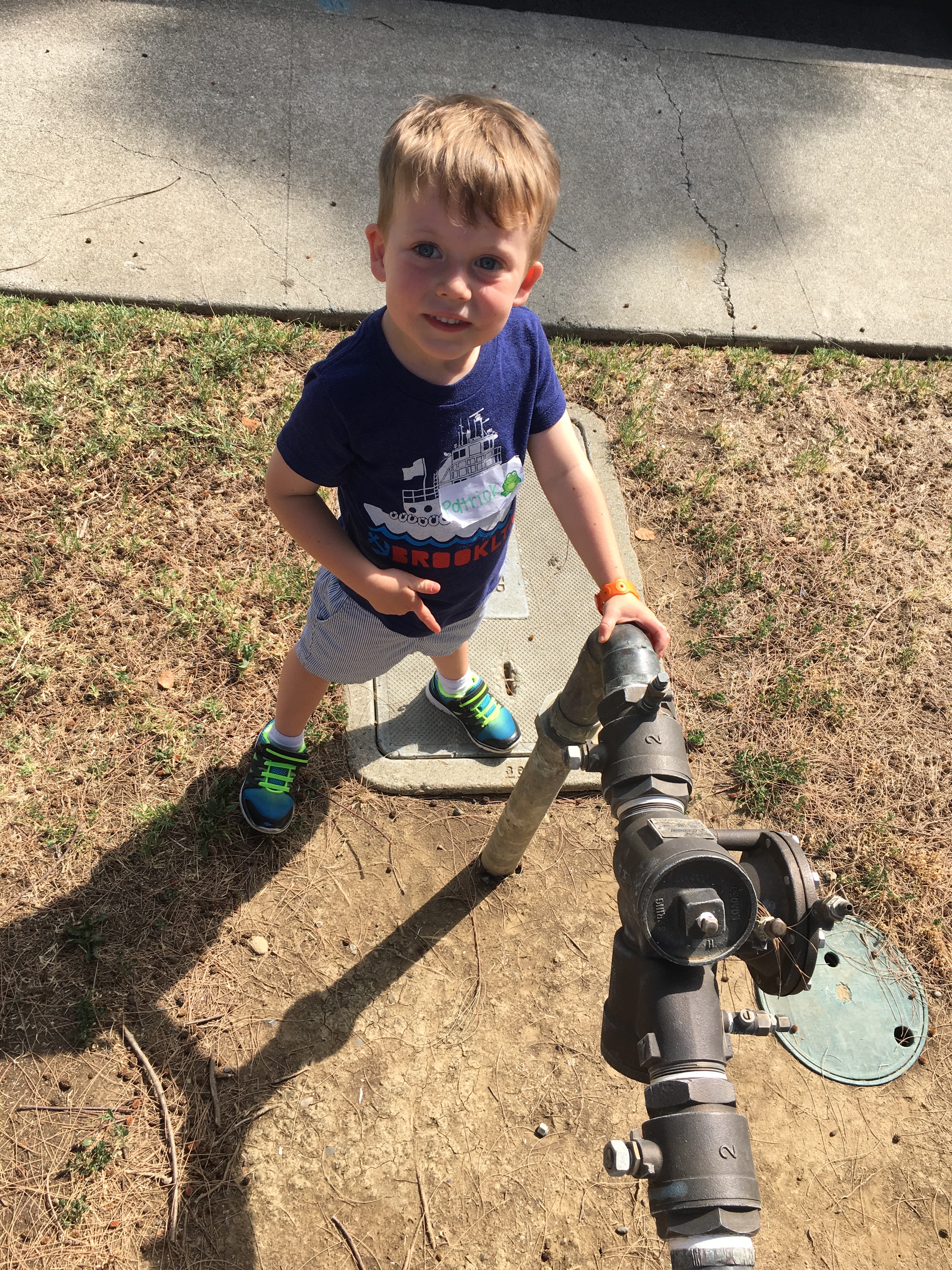 Soccer with my man.  Soaking up the time with my guy because he is going back to school and then our one-on-one time will be pretty minimal, especially with V in her cast.  Also, Kyle's mom is leaving.  And Kyle's out of town for something like 20 days in September…oof.  But hopefully she will be out of her cast then and it won't be as complicated as it is right now.  Trying not to think about it!!!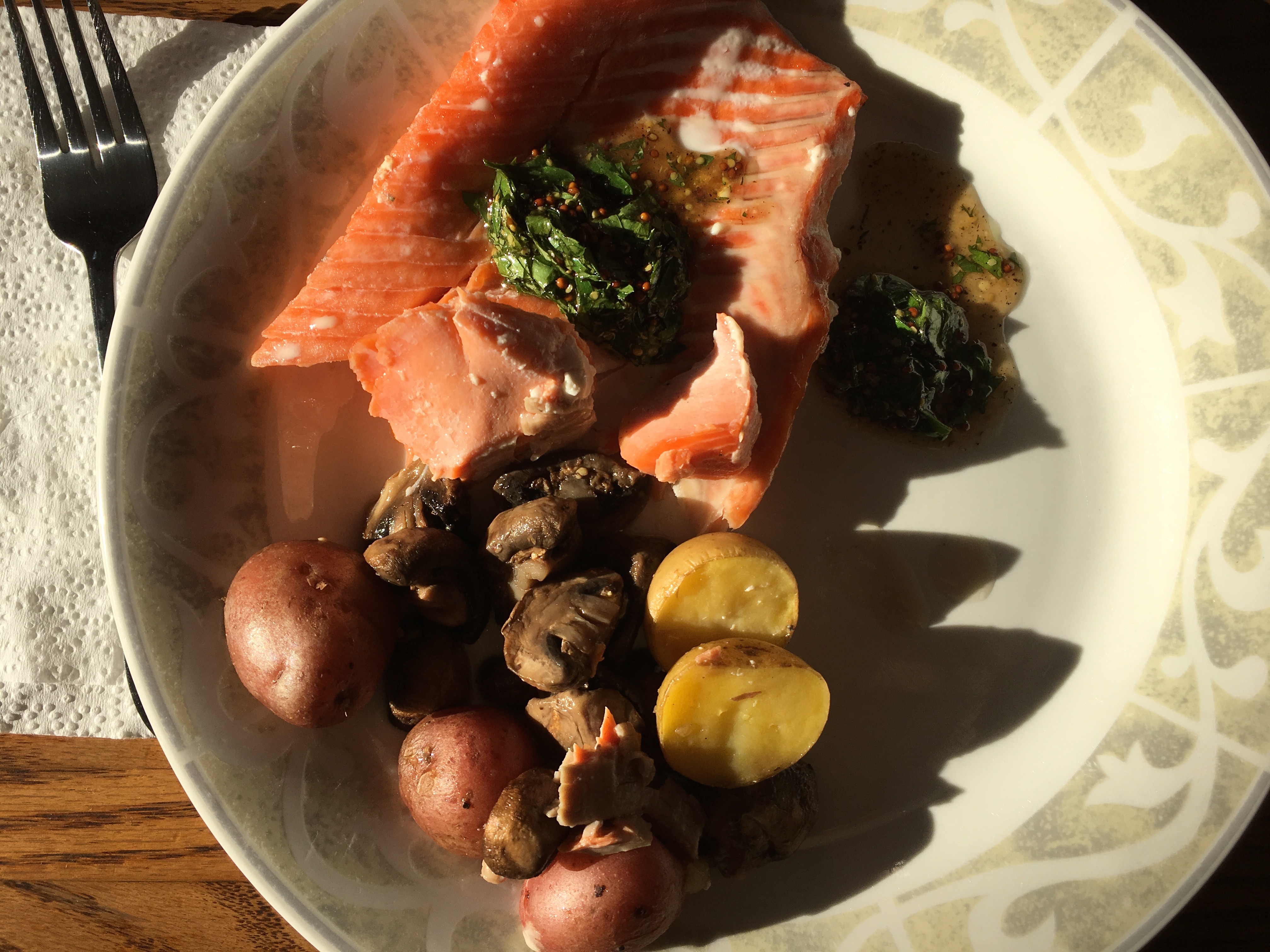 Going back to Thursday night, we ate dinner altogether in Davis before I hit the road with P.  My friend made us salmon and roasted potatoes and mushrooms, and it was great. The herb dressing on top was the best part and I'm still waiting on her to share the recipe.
Even though my parents are out of town, their house is still a nice half way point to Fremont, so we spent the night there, just me and P.  I brought chocolate, of course.  And first thing the next morning we were off to OIT.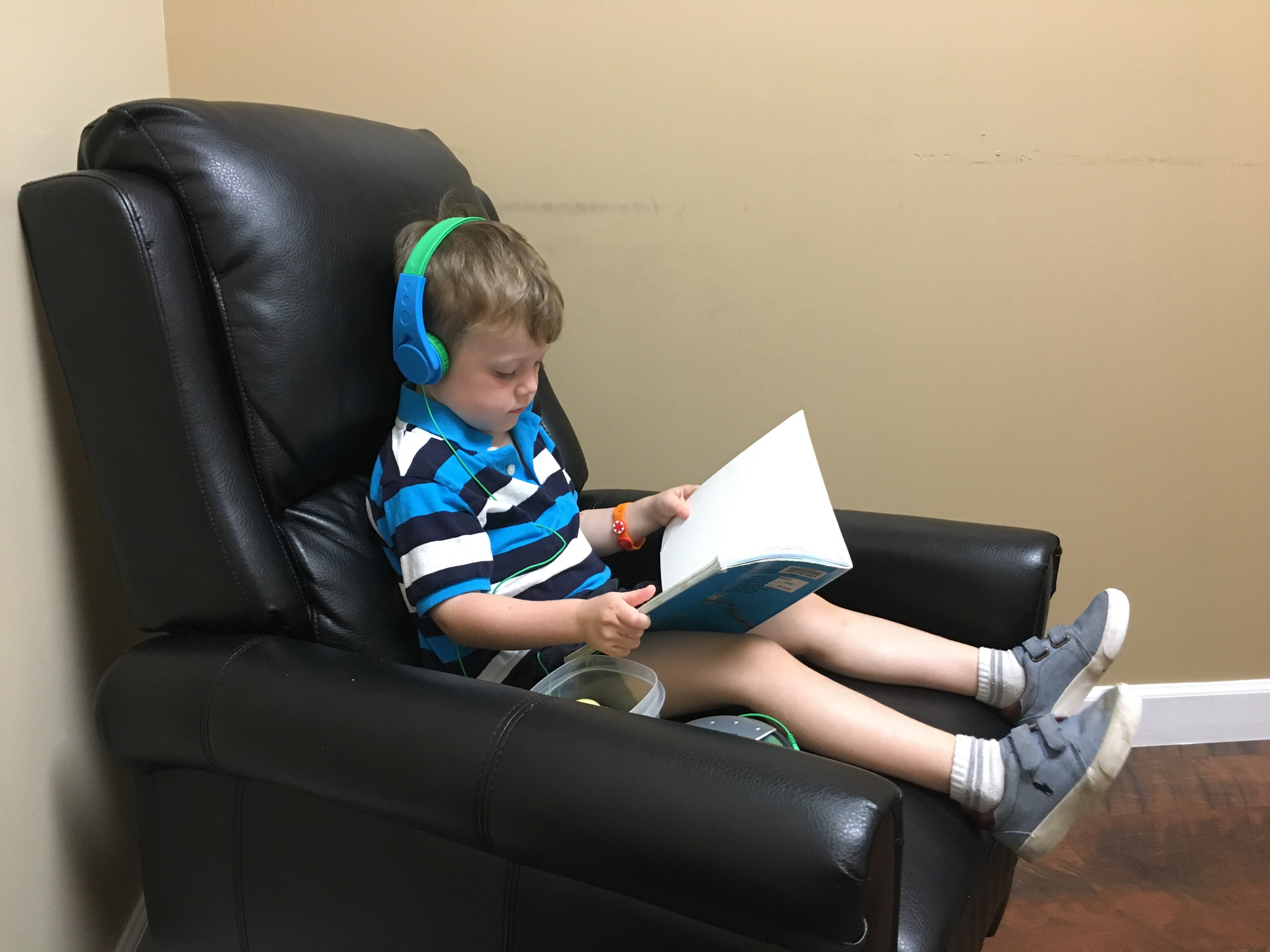 Another half day of updosing success.  We celebrated at WF for lunch.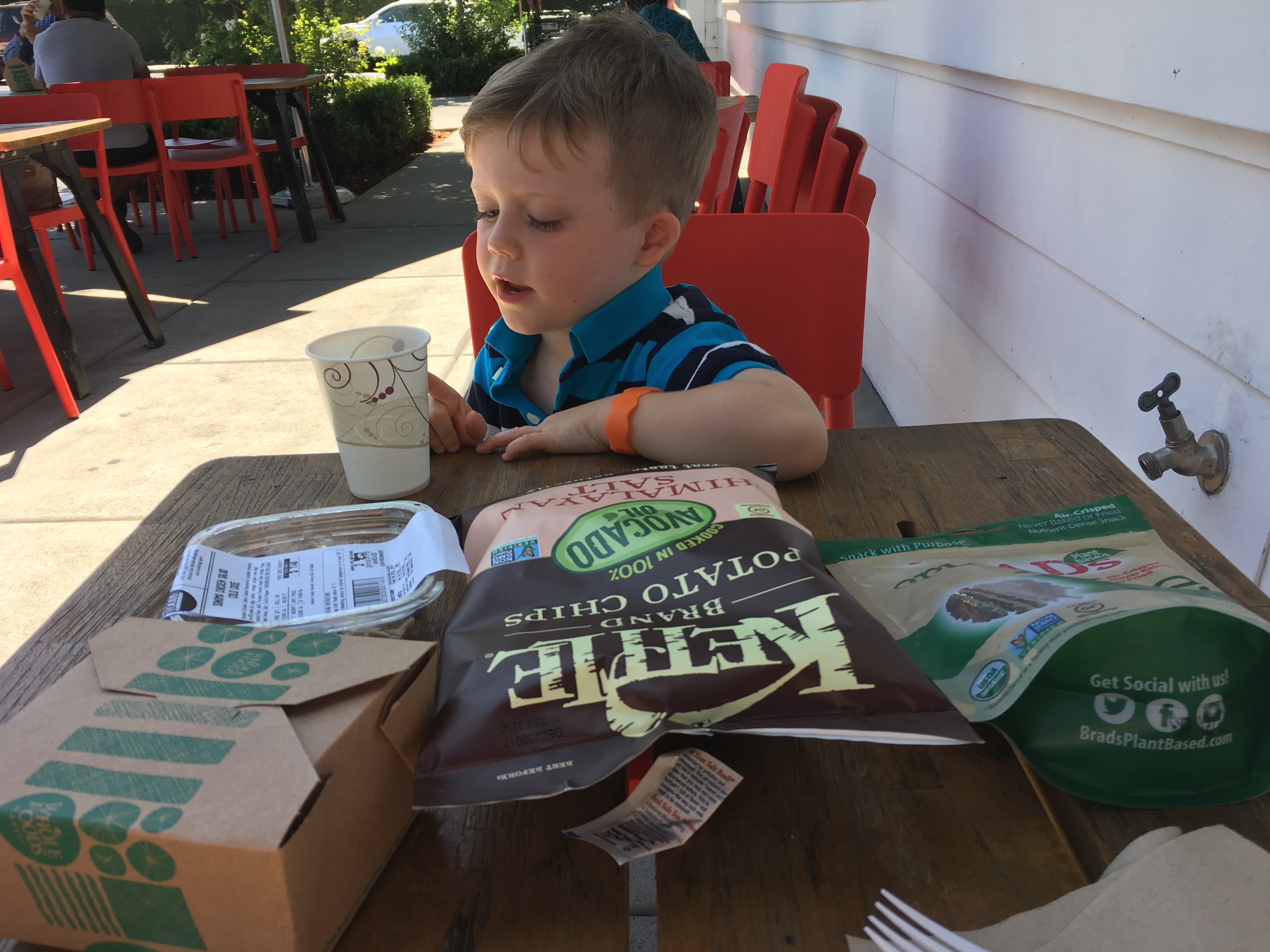 He had been snacking consistently for the whole appointment on stuff I had packed so he wasn't very hungry, but I was starving.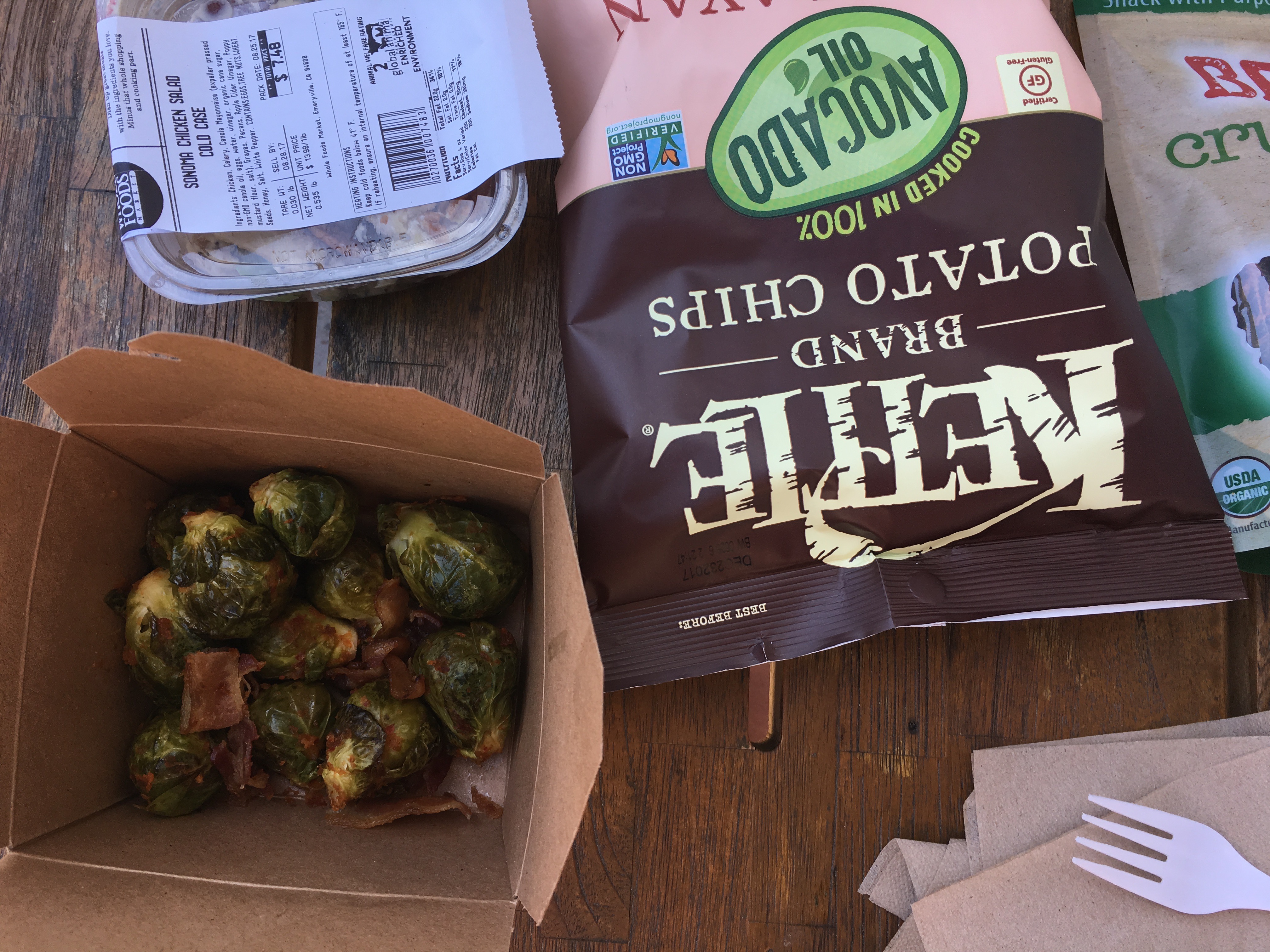 I got kimchi fried brussels sprouts, kettle chips (a new kind cooked in avocado oil), kale chips, and sonoma chicken salad.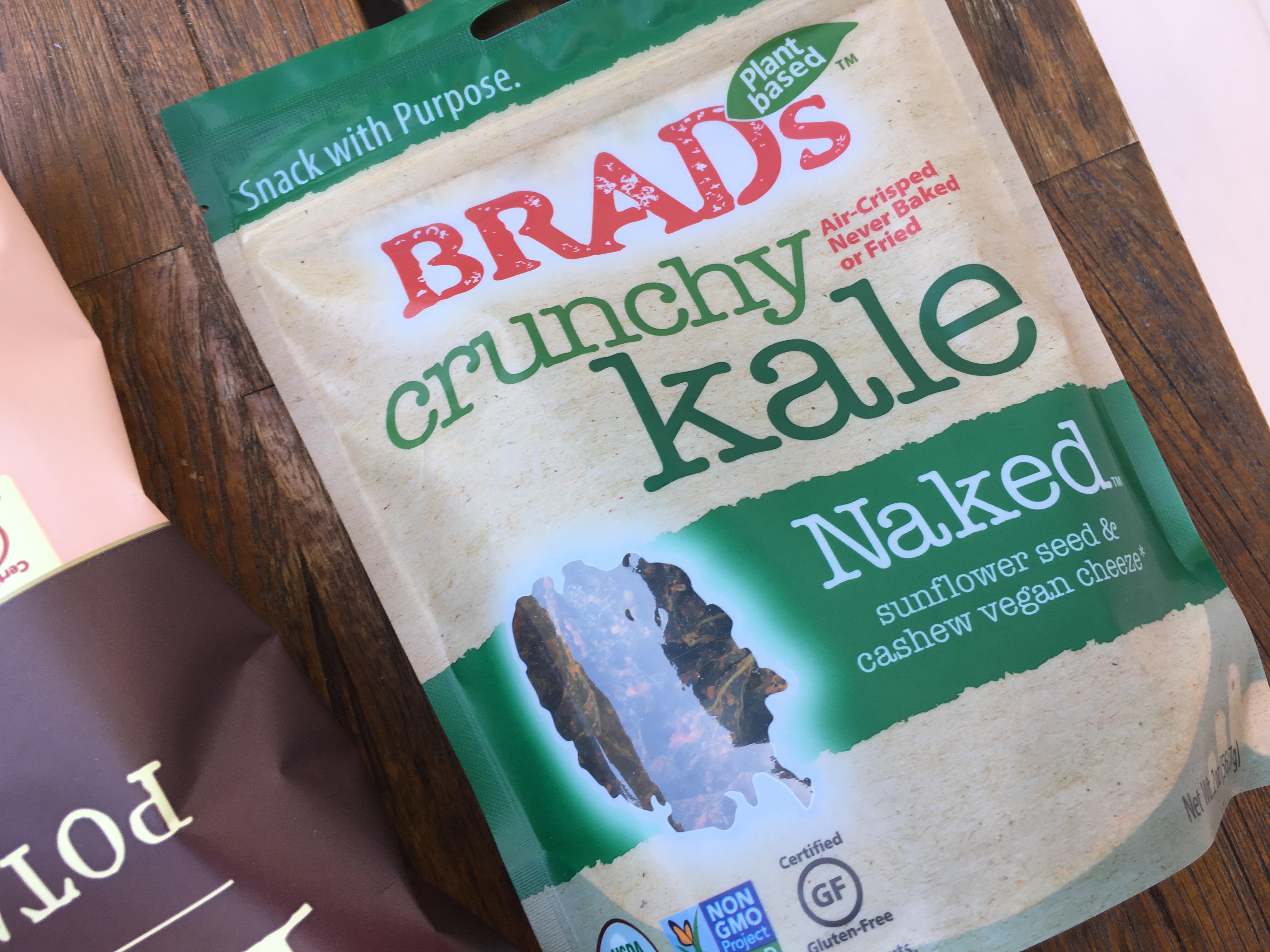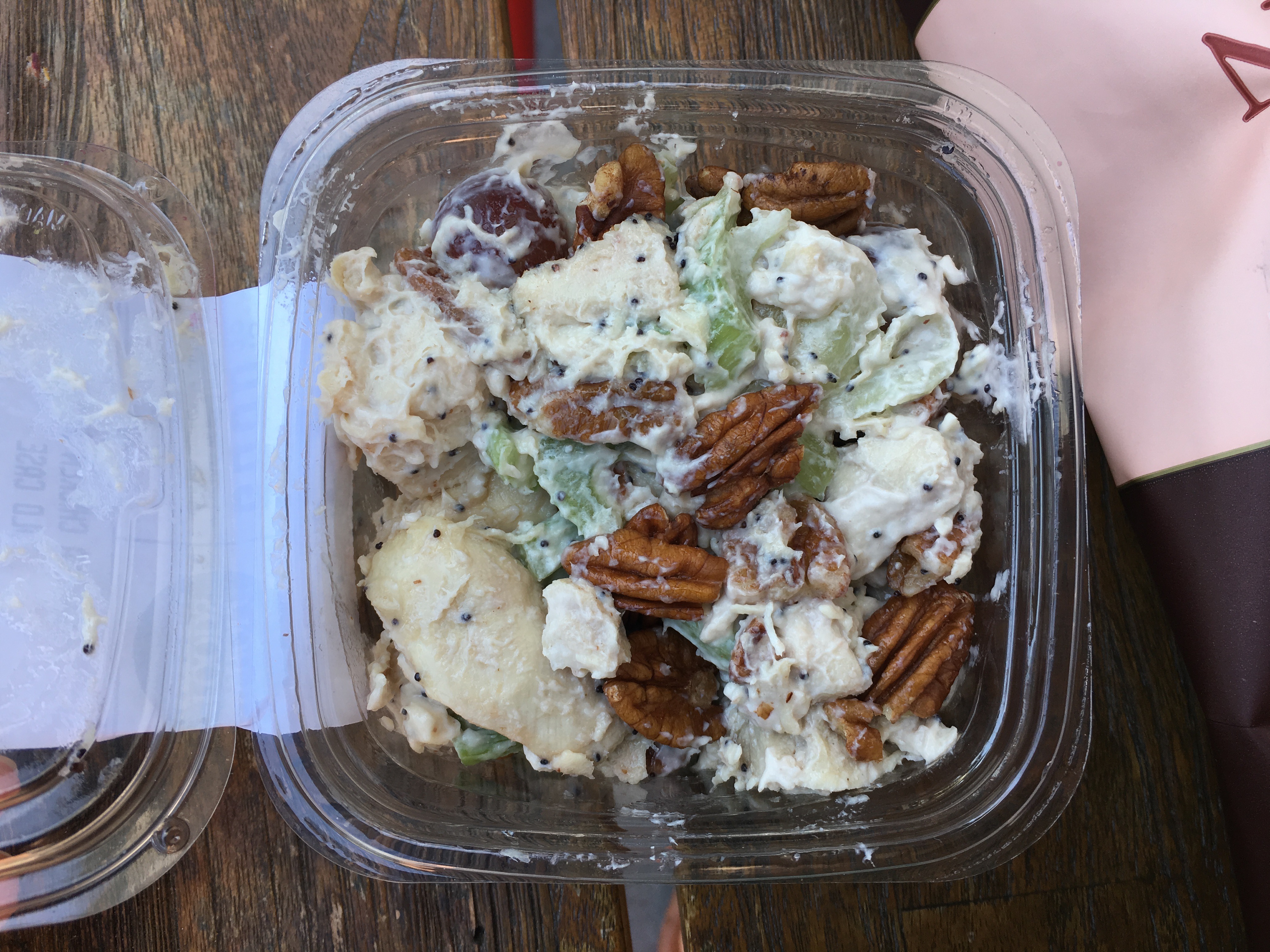 I was actually in the mood for tuna salad, but theirs had red onions in it (no thanks) and I was 99% sure we were having sushi for dinner, so I thought that may be too much fish.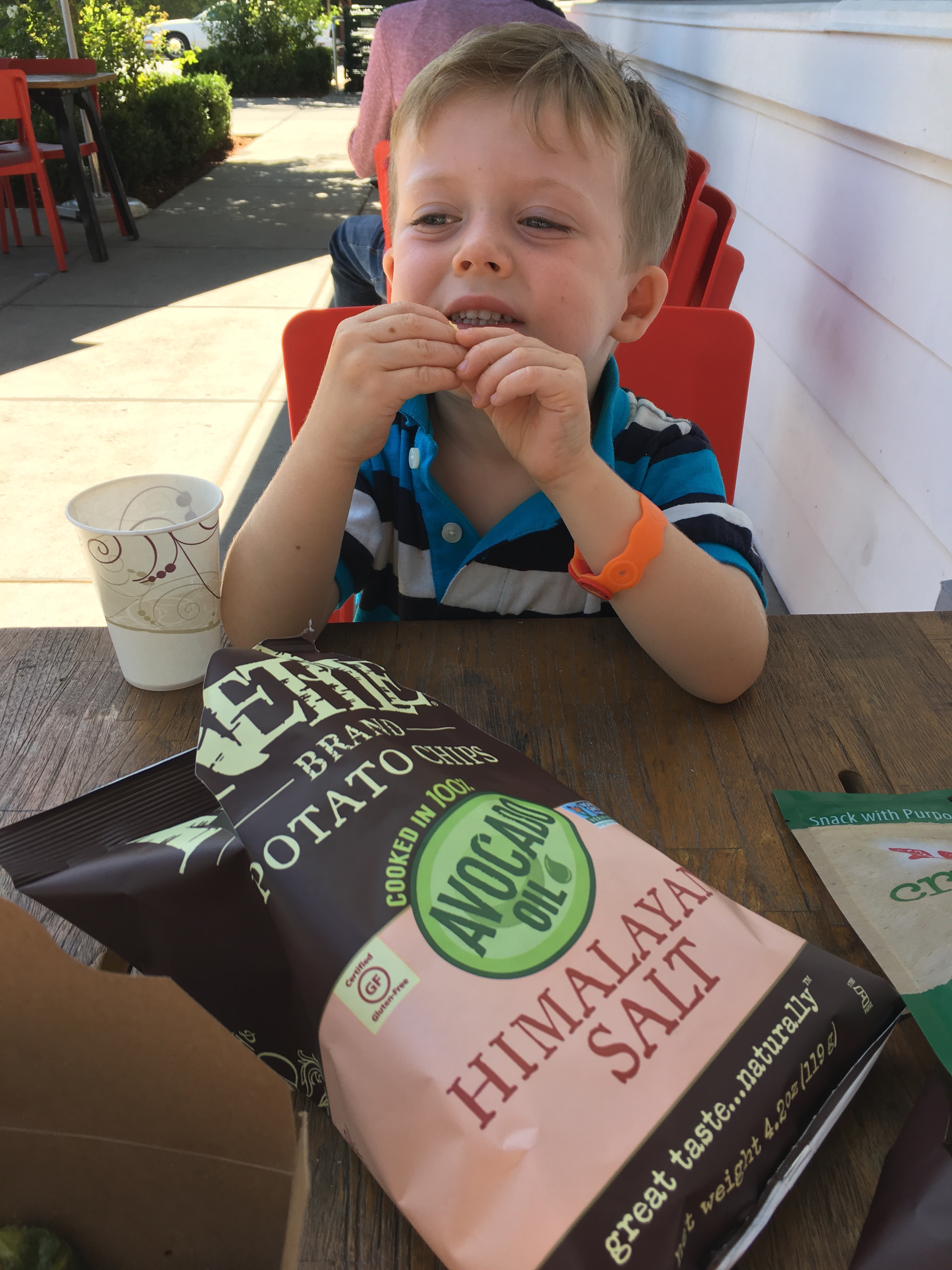 No such thing as too many chips though, right???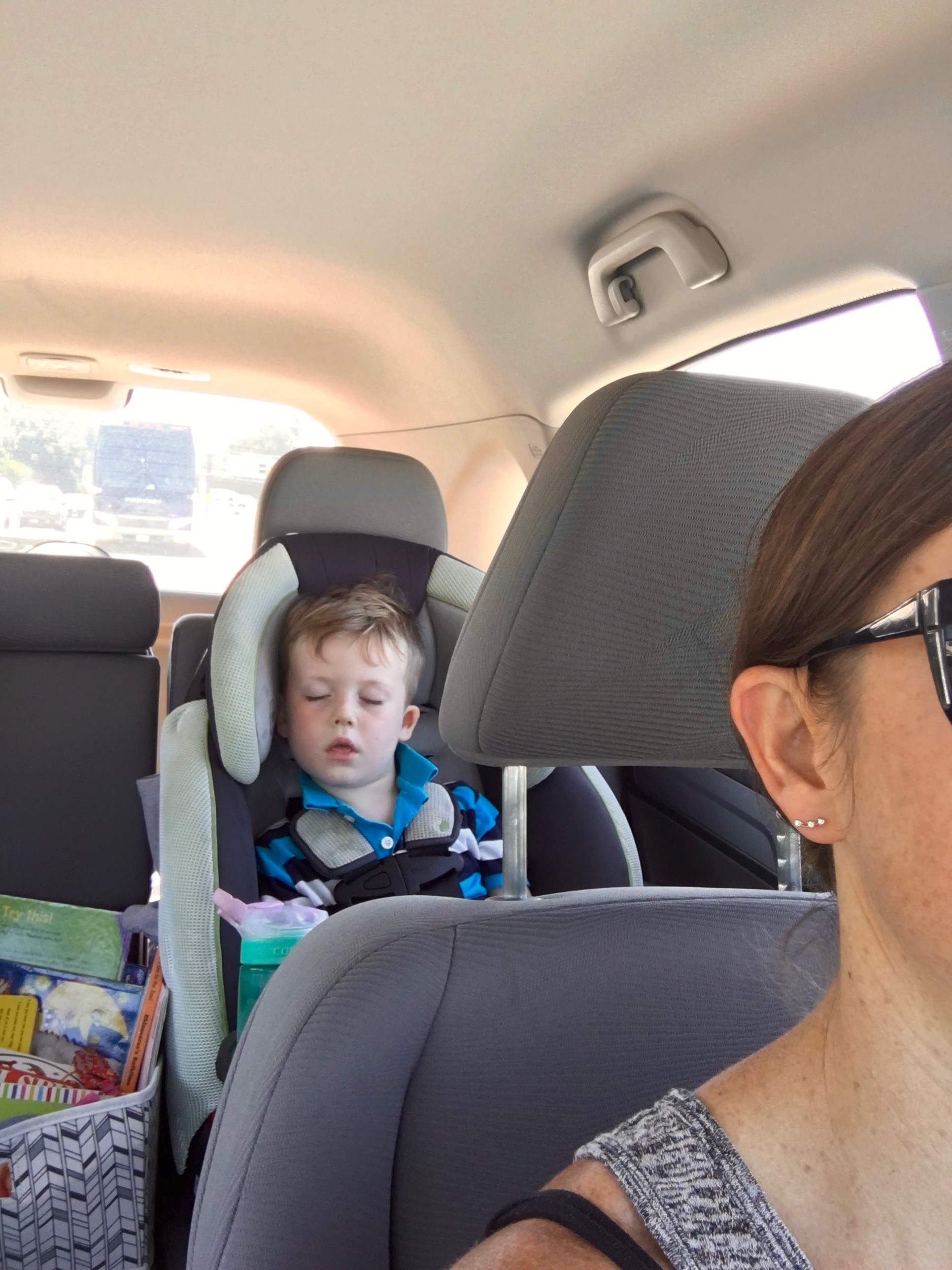 It didn't take him long to zzzzz…which was great since the drive home took over 3 hours. UGH.  The worst.  I'm definitely taking next Friday off OIT.  Fortunately we are back on schedule now – not that there's an "off" schedule per se, since we can do whatever we want with regard to his appointments.  Everything from the amount of up doses to the frequency we attend is in our hands.  And I know I had previously said that we were going to take it exceptionally slow with peanuts…buttttt…it's hard to not want to progress as fast as possible! The truth is, it's hard on his little body so I just have to keep reminding myself to play the long game and go slow and steady and just be grateful that he's doing as well as he is on these minuscule teeny tiny doses. It is pretty amazing.  I'm glad that Beverly was in town to watch V for the time that we were away.  And now we have two weeks on this dose before another increase.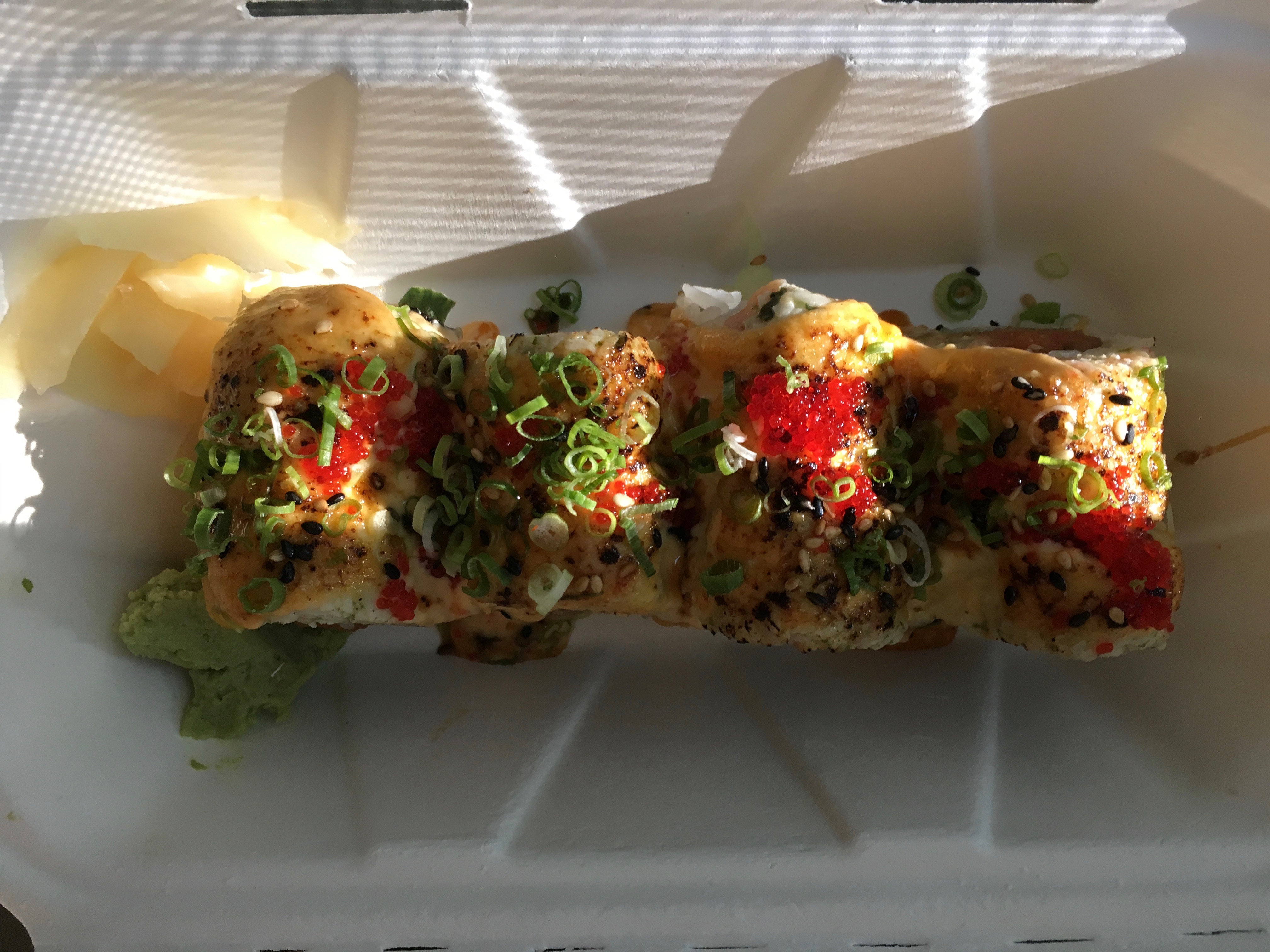 SOOOOOSHIIIIIIIII!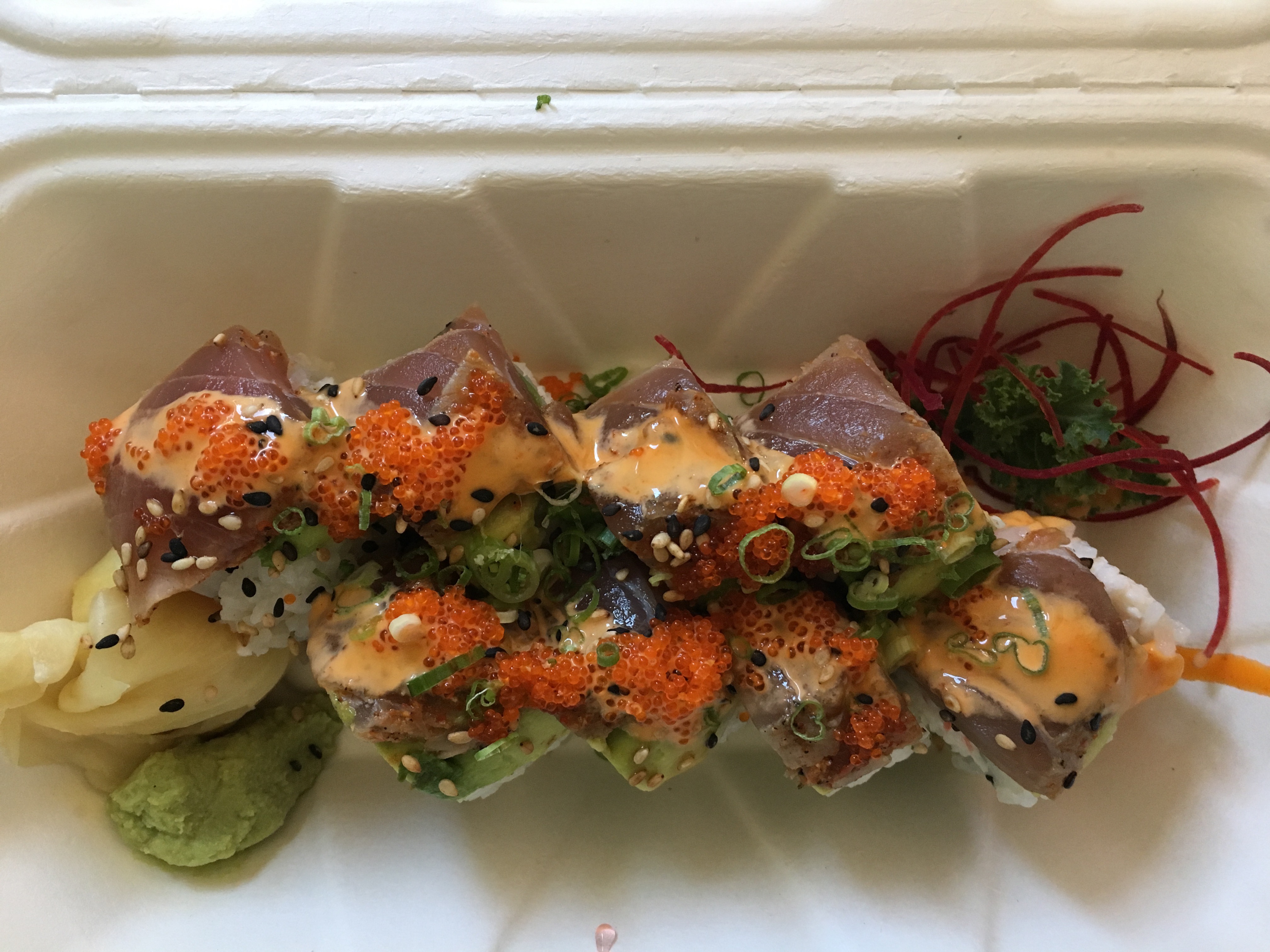 Are these rolls the most gorgeous or what!?!  The last time I ate at HUKU was when Kyle's parents were in town and now Beverly wanted round two.  By the end of her time here in Davis she will have eaten at more restaurants than I have.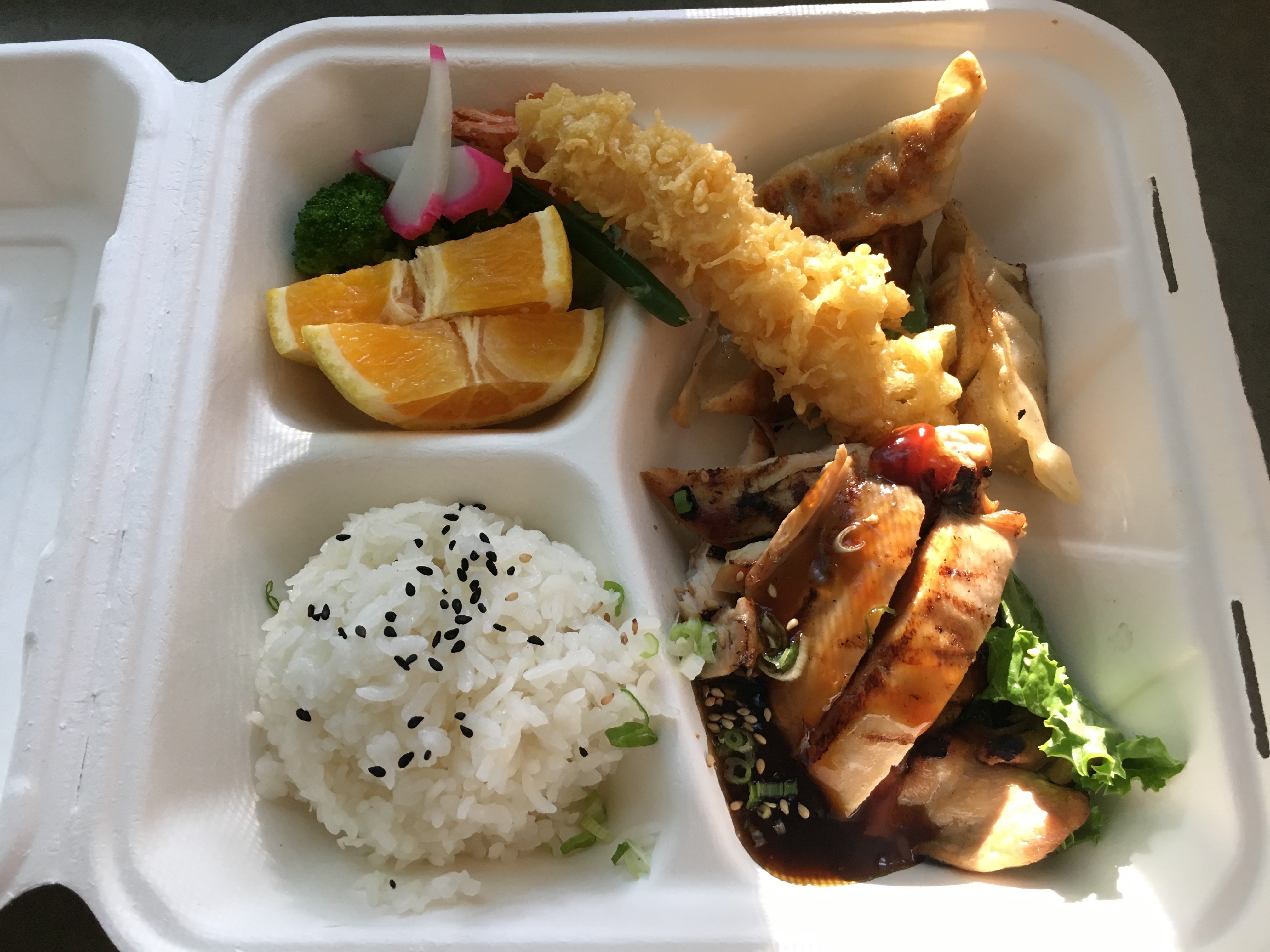 The kids shared this bento box, which was adorable.  Beverly did the ordering and made sure the food was peanut free (she went in person and took care of everything, which was exactly what I needed after a long day because my mind was mush and my whole body ached from being in the car so long). She picked out so many good rolls, I can't decide which I liked best.  The seaweed salad was also phenomenal.  I had been craving one!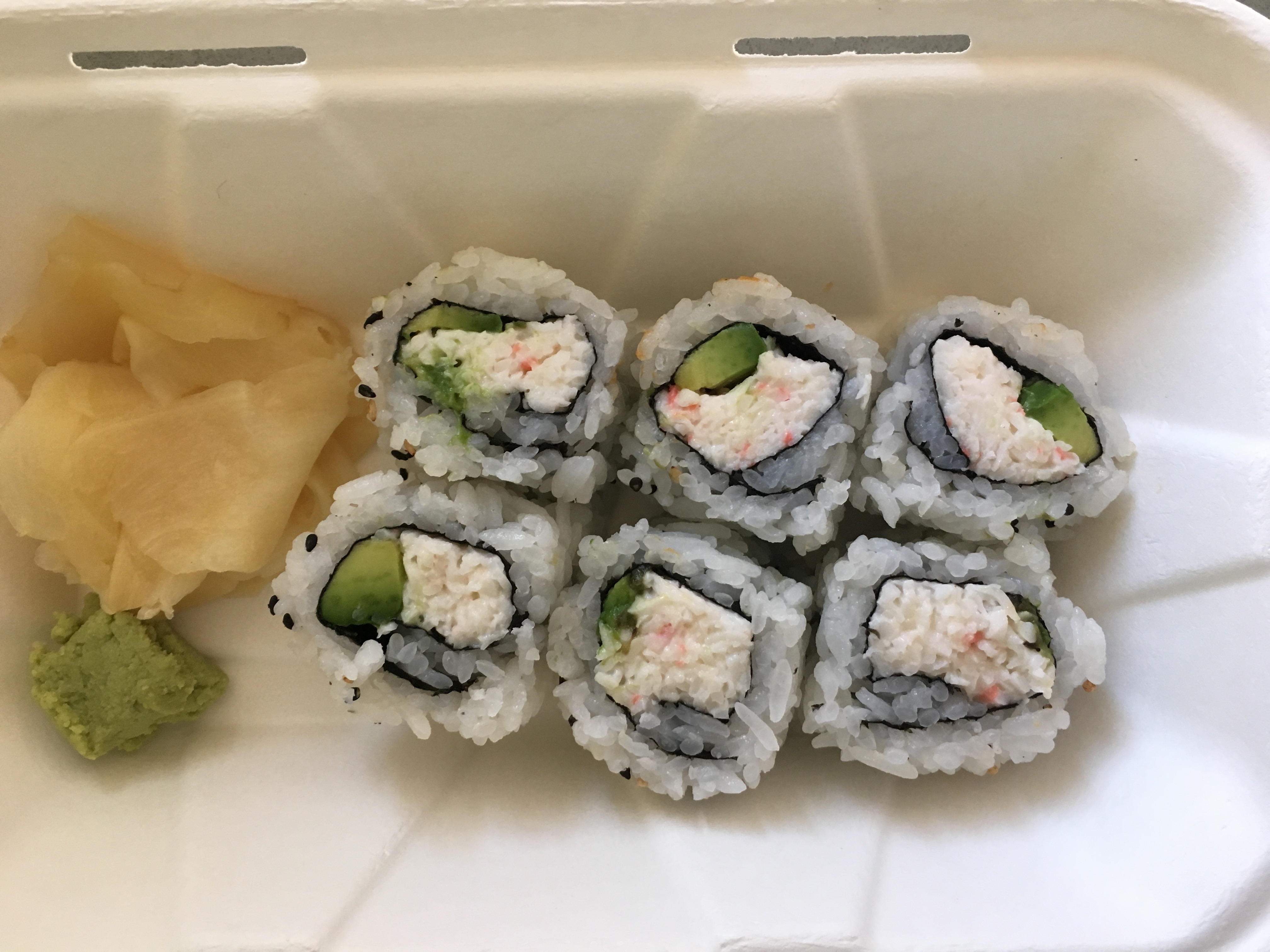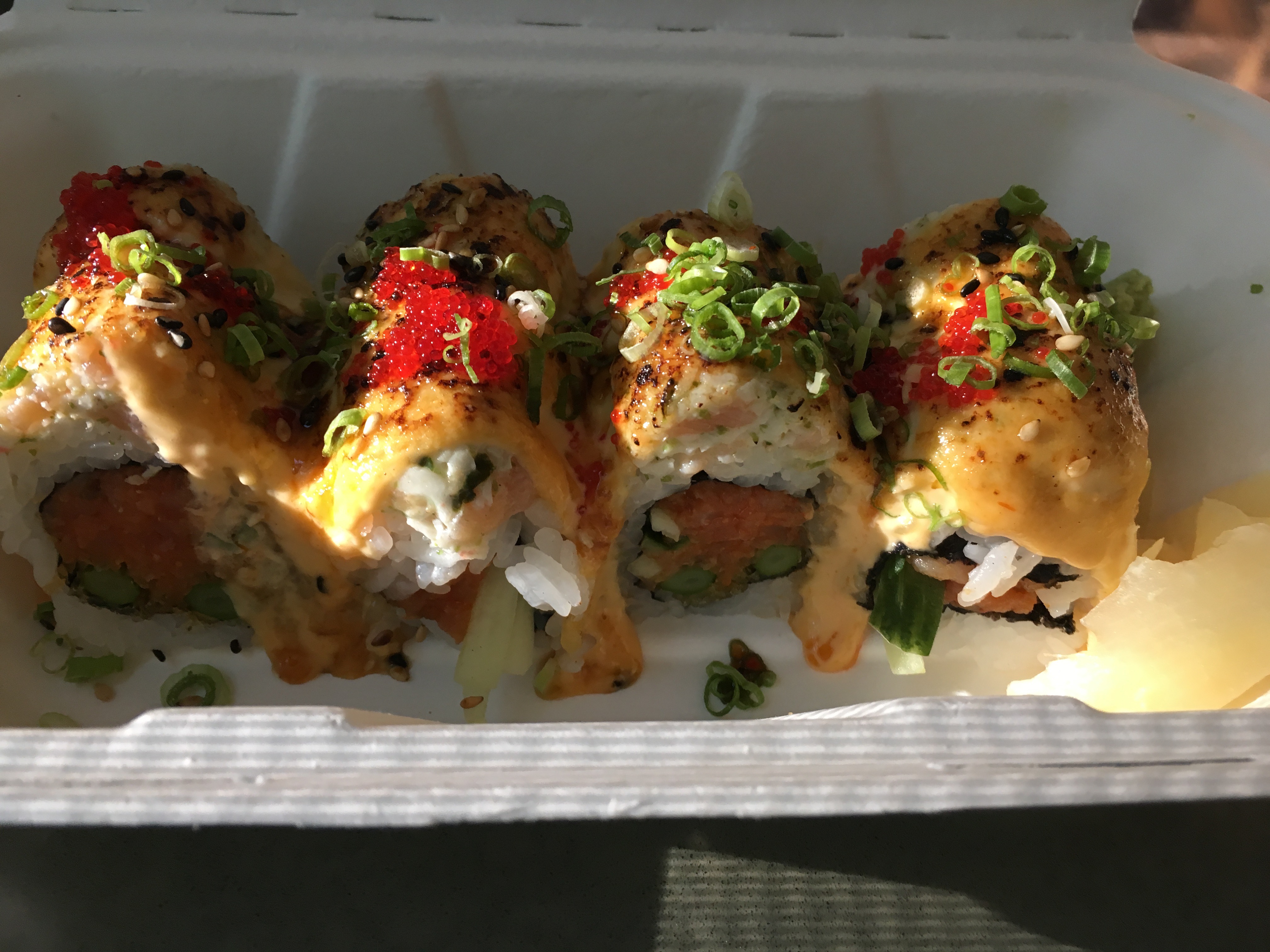 I have never ordered bento boxes from a sushi place, but it's a pretty economical option!  This provided enough for their dinner and lunch the next day.  Granted her appetite is still pretty minimal.  I was also quite impressed at how adventurous they were in general!  Gyozas, tempura, and rolls, all for the first time!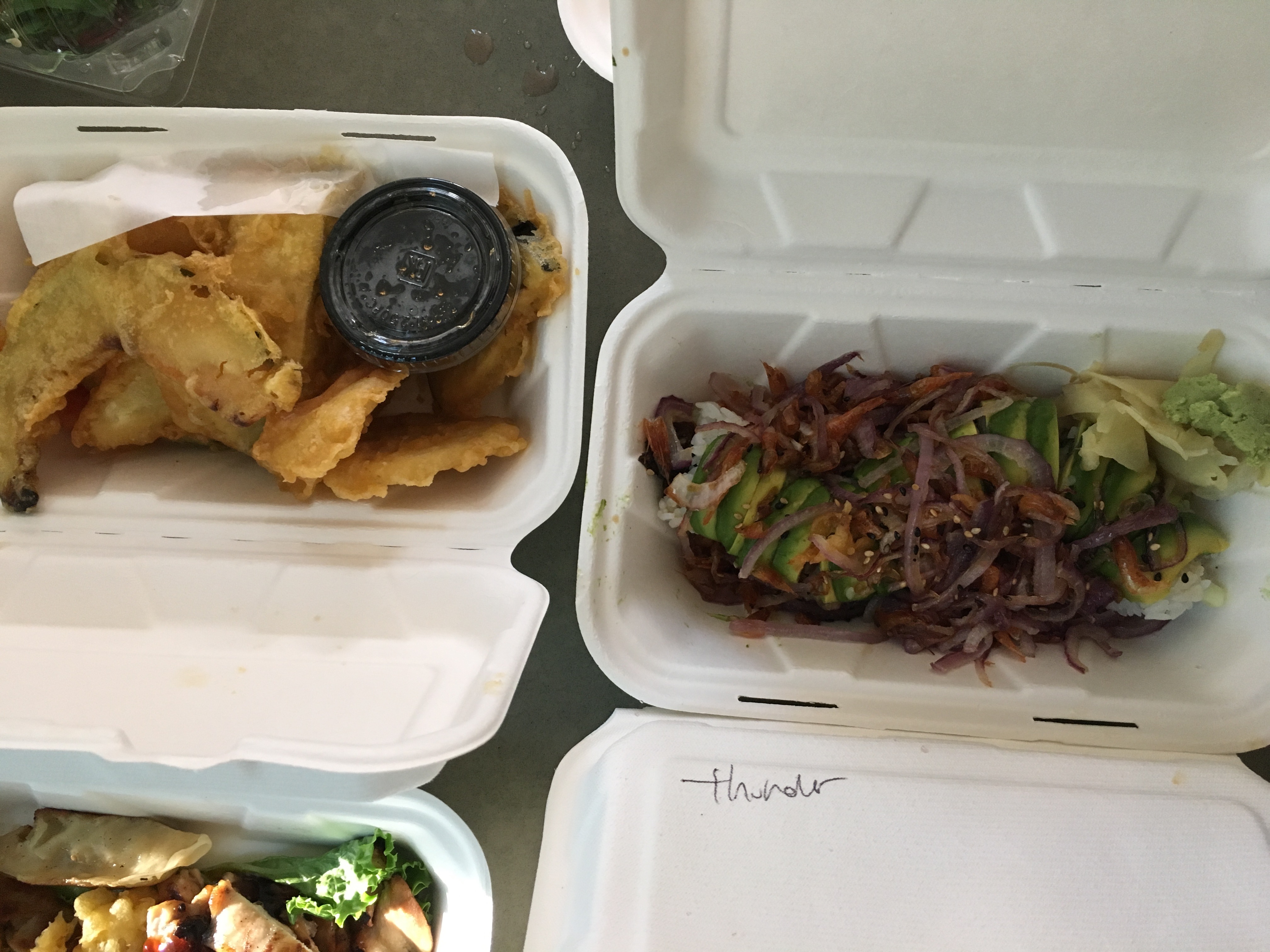 I had a few kinds of tempura but the sweet potato was a delicious surprise.  🙂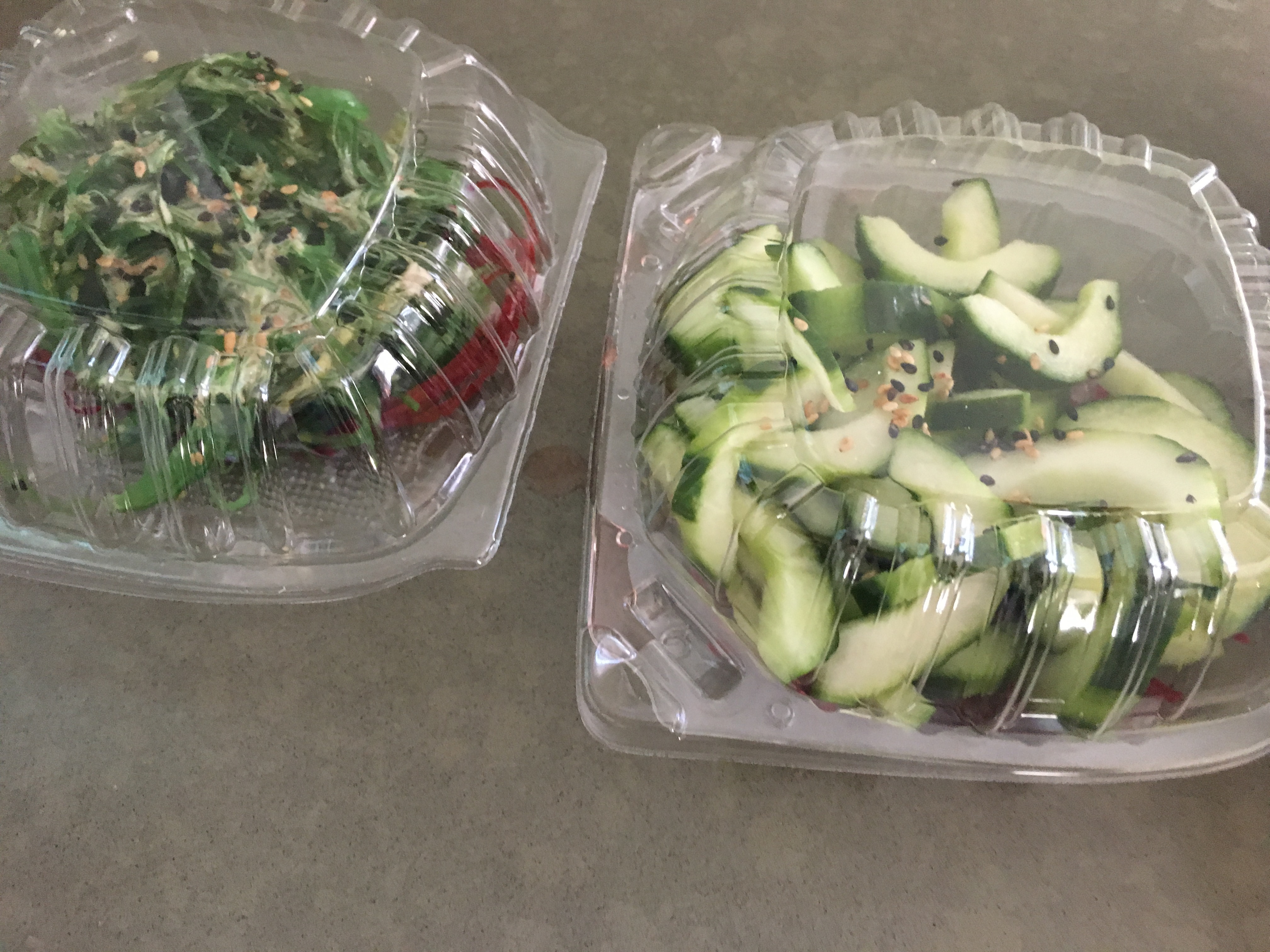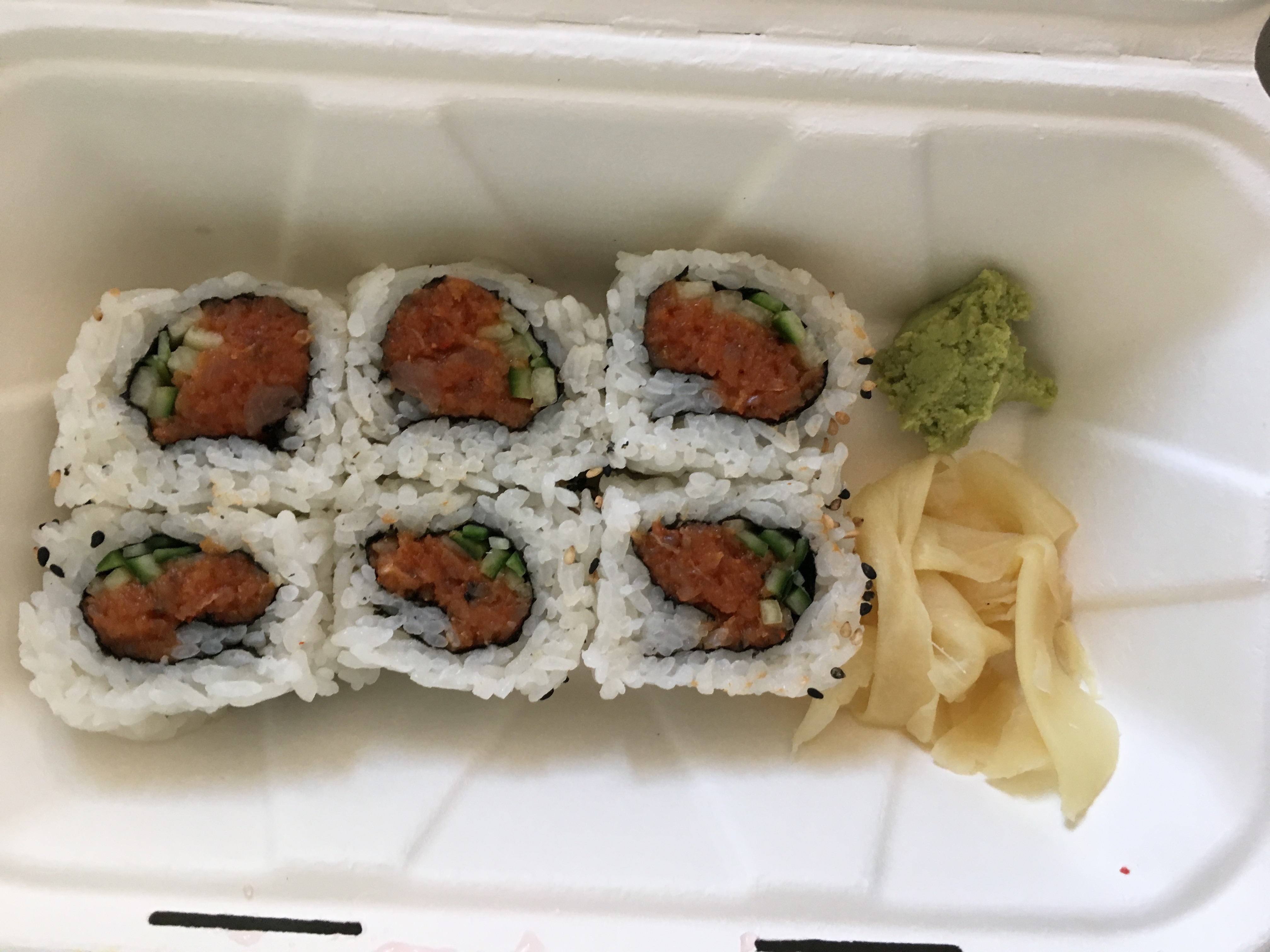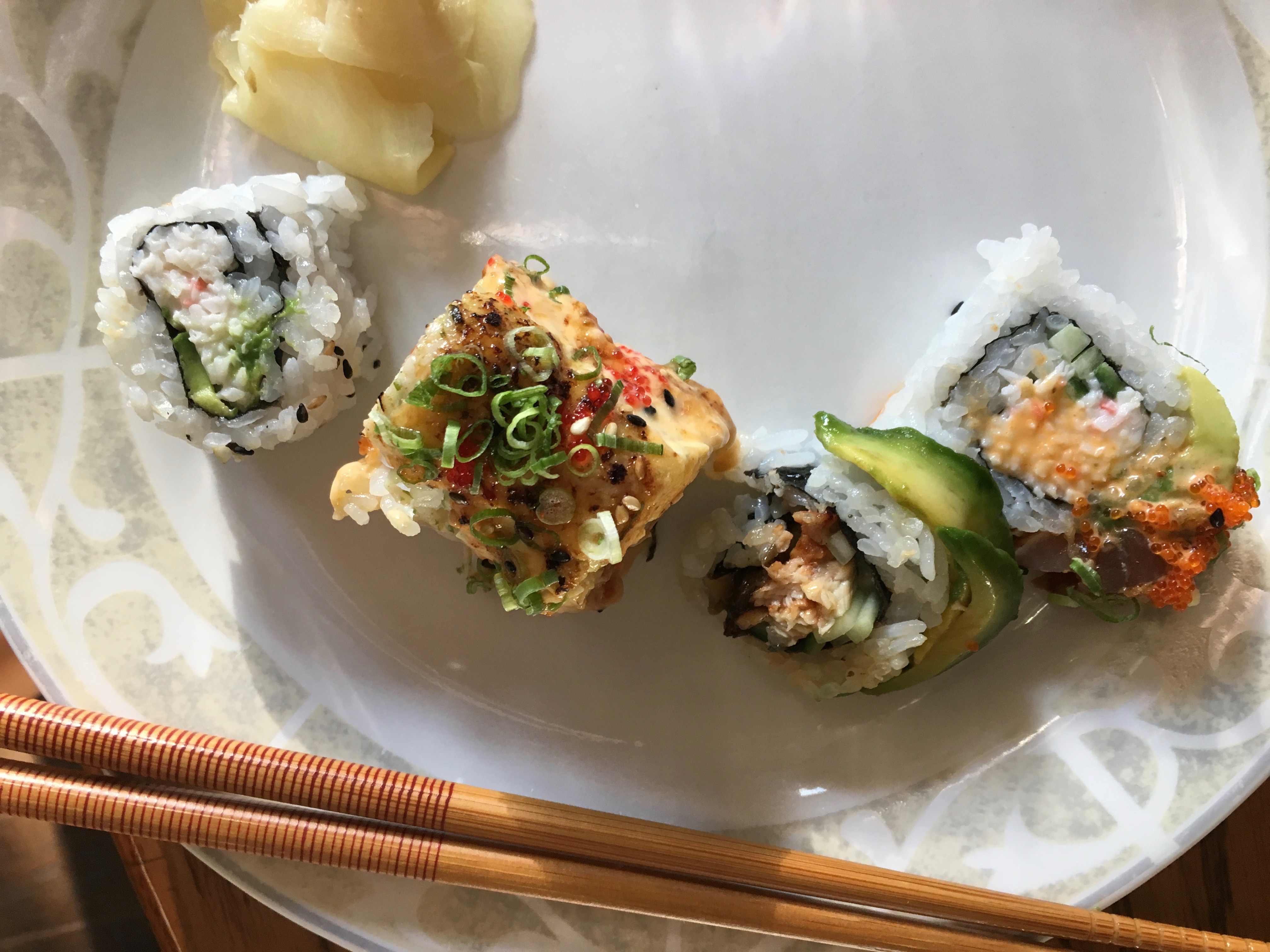 SO many helpings, I was stuffed for the rest of the night.
TGIF!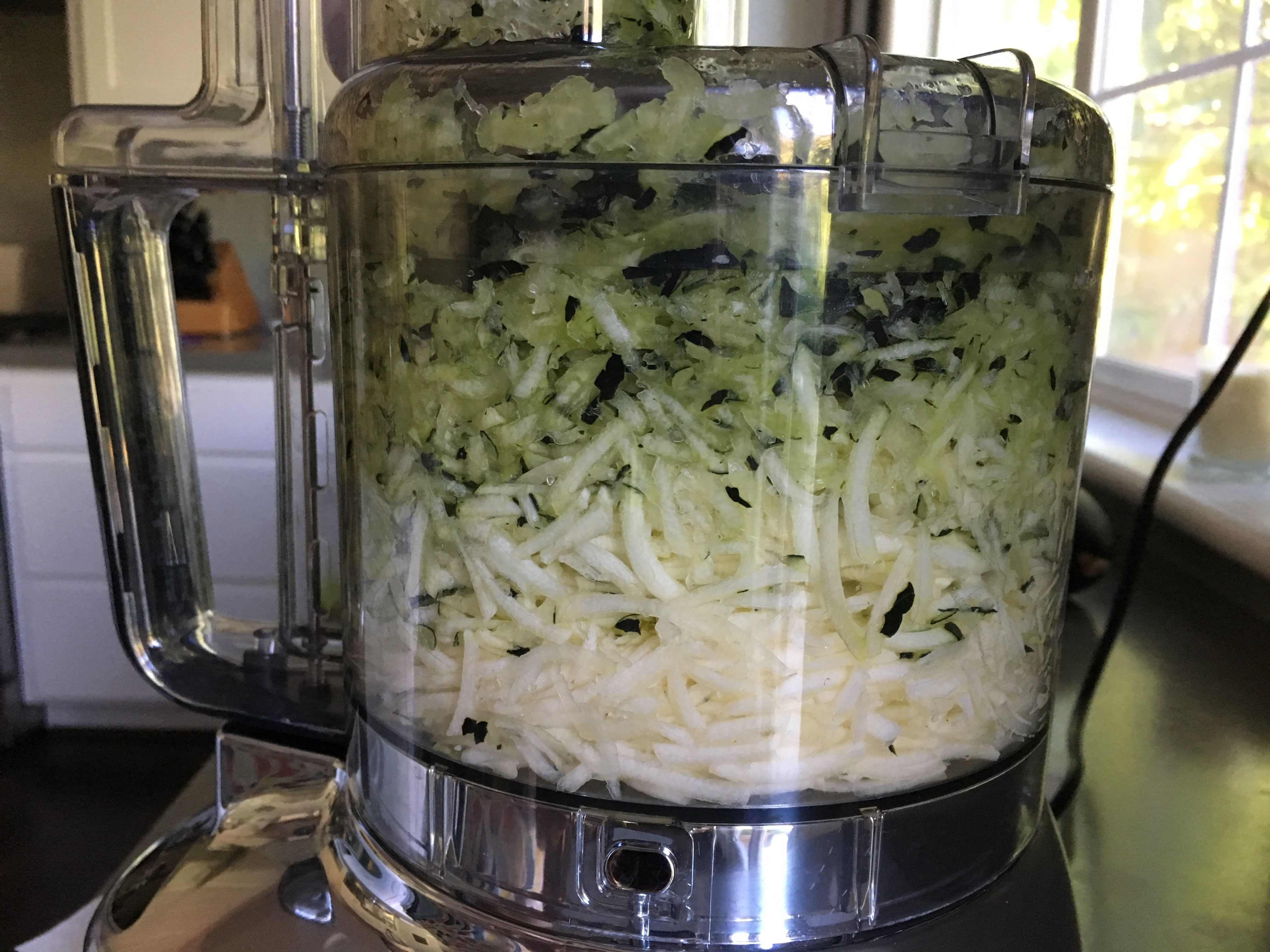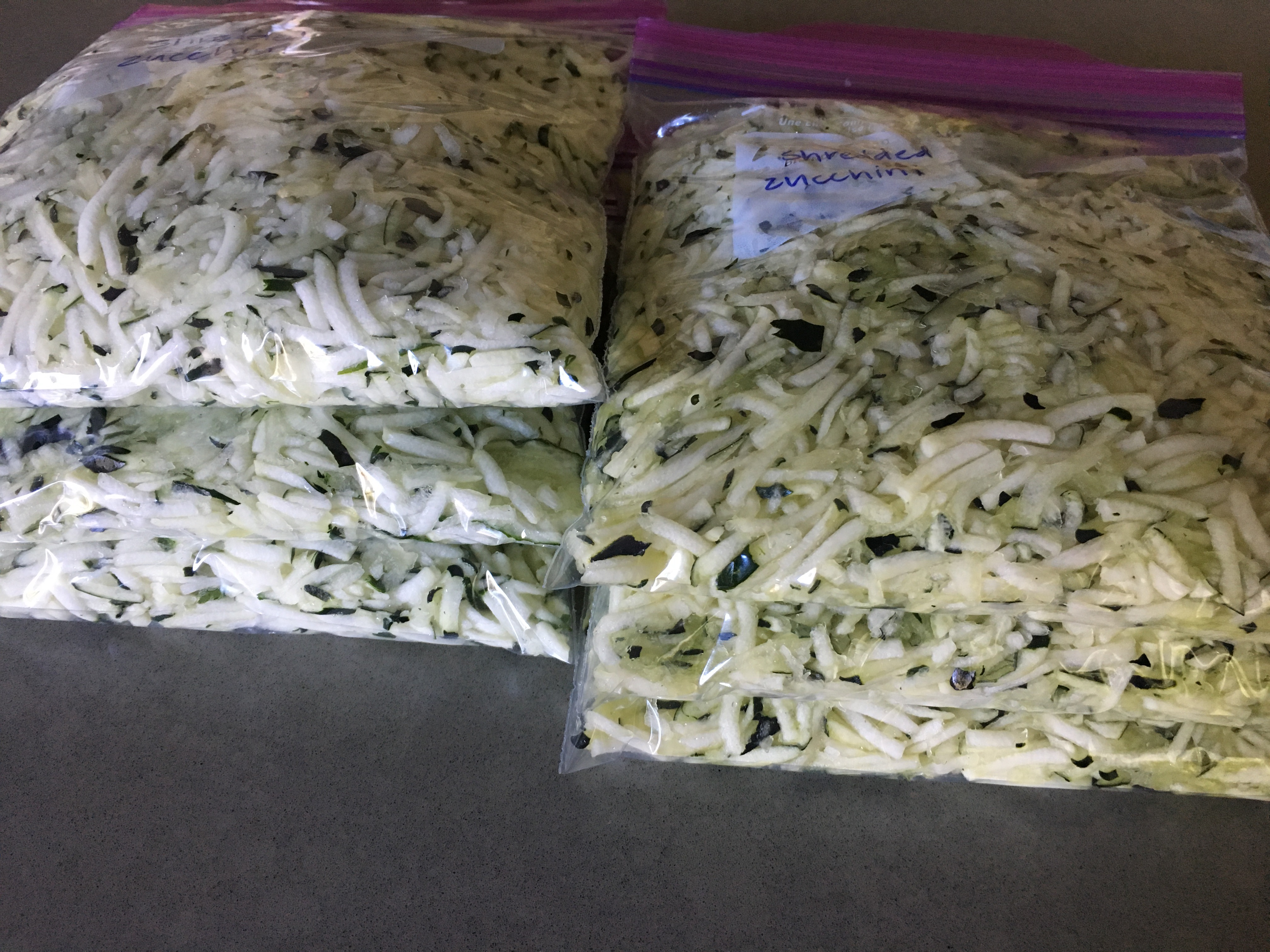 I had a pretty productive Saturday, thanks to my two other adult helpers on hand.  I went on a bike ride, made oatmeal for everyone, and then Kyle took the kids to farmer's market while I stayed home and shredded a million zucchini to freeze, baked banana bread, and vacuumed the house.  And then I cleaned this hand me down doll house.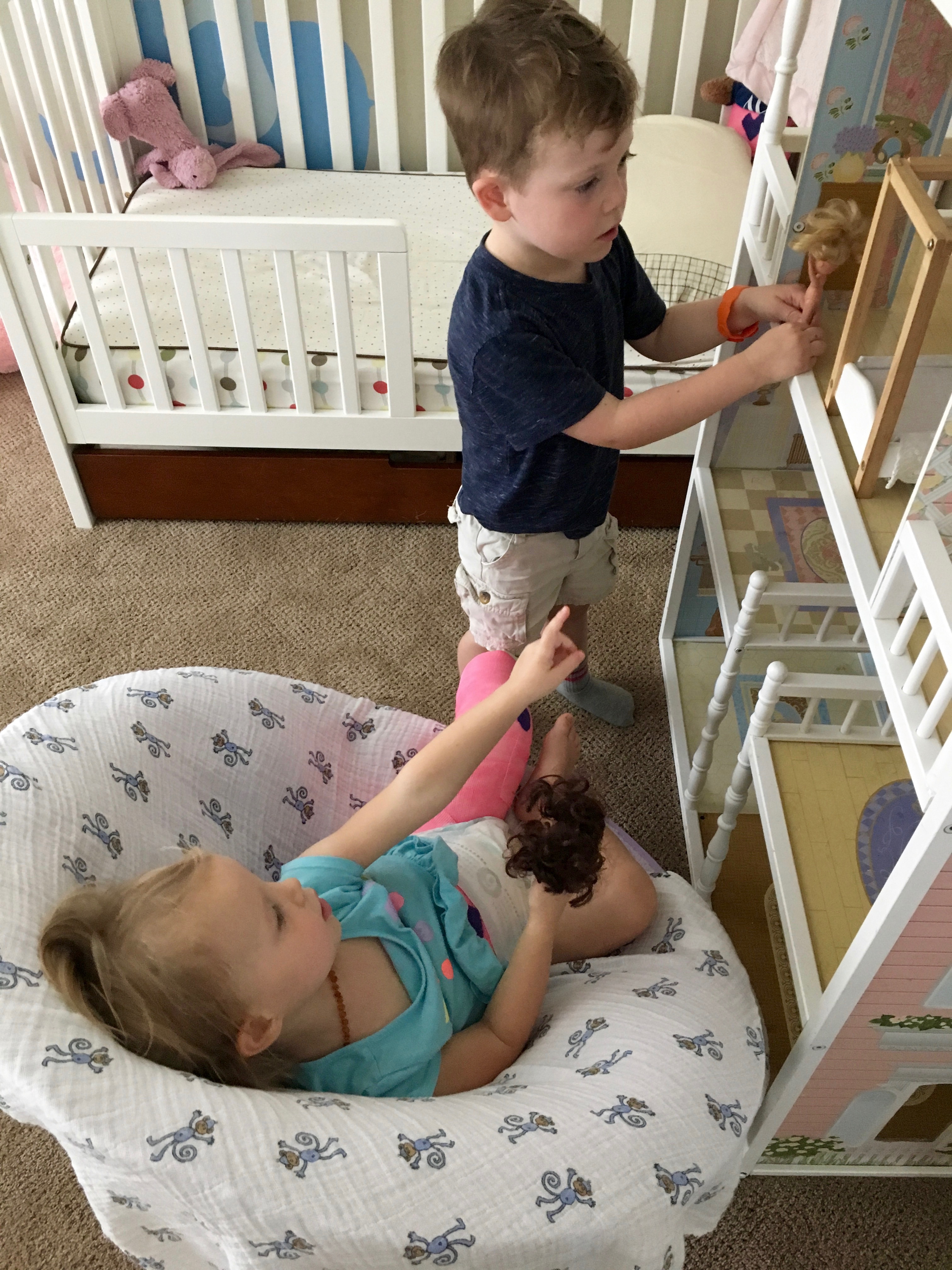 Which the kids were so excited to come home to!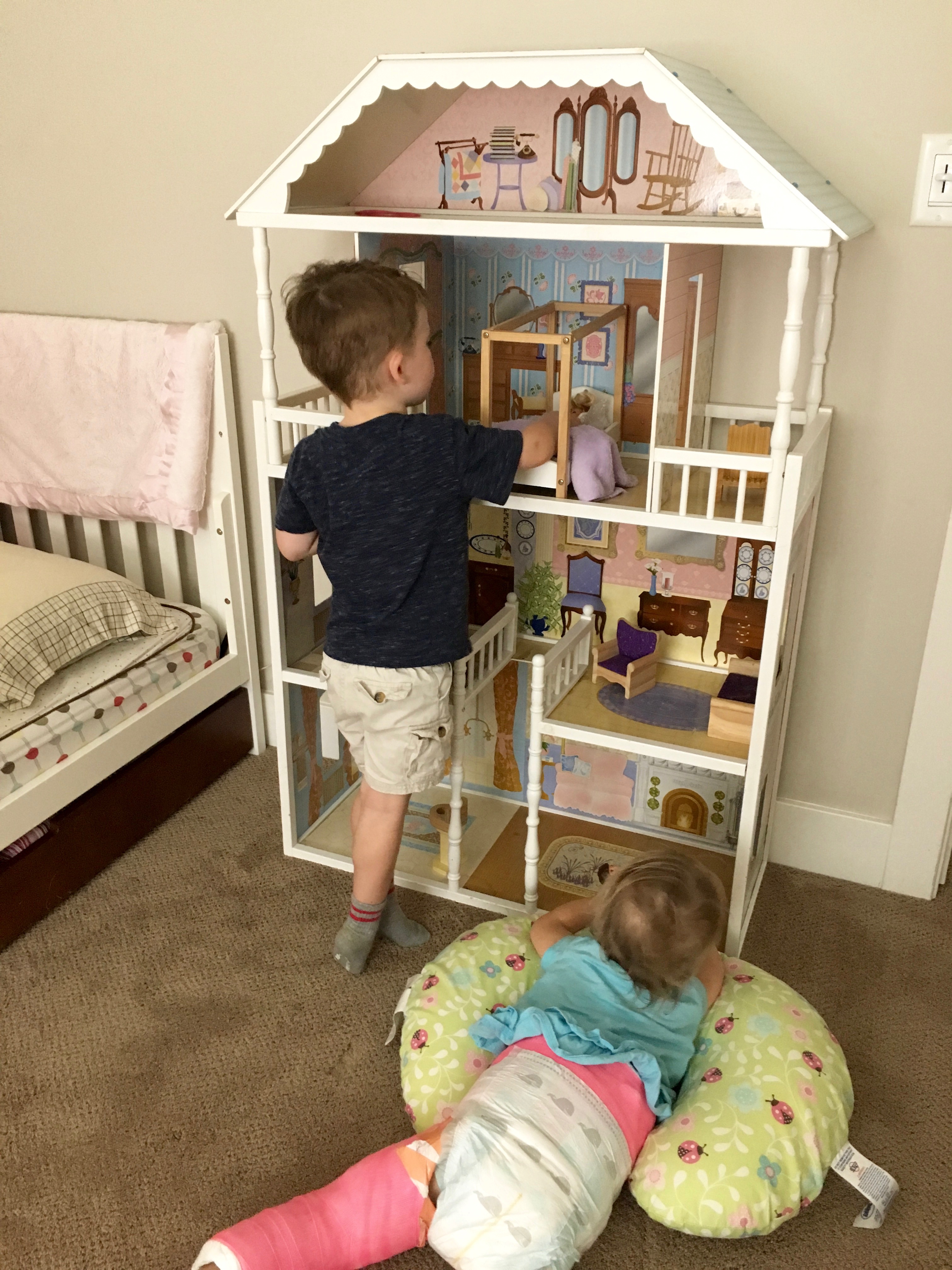 It has actually encouraged V to do more physically too.  She is now attempting to stand and walk and move around (climbing up on to couches and beds) on her own. This is simultaneously exciting and terrifying, but not at all surprising.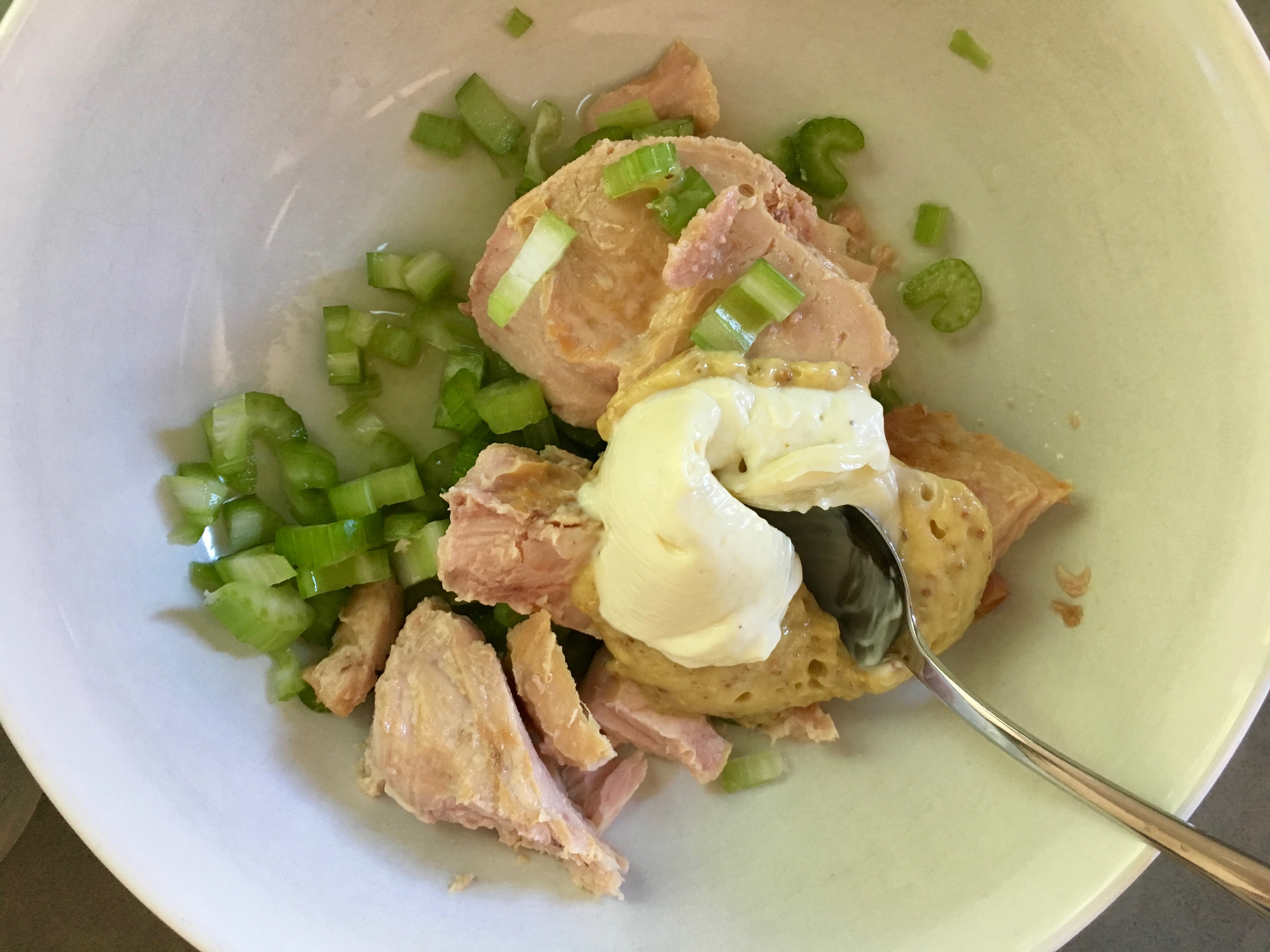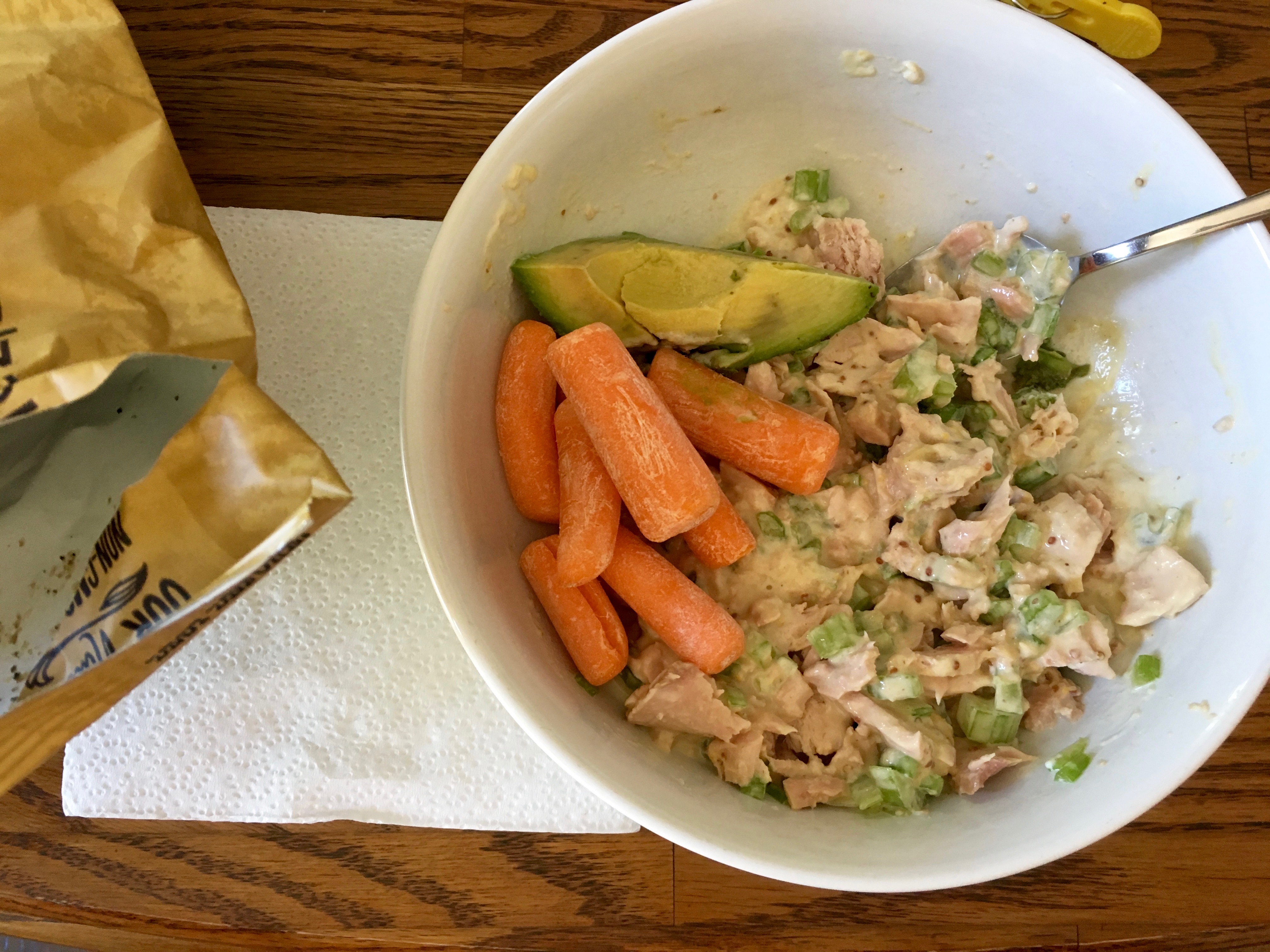 Got my tuna salad craving satisfied.  Along with more chips.  THOSE CHIPS.  Ugh.  They are so addictive.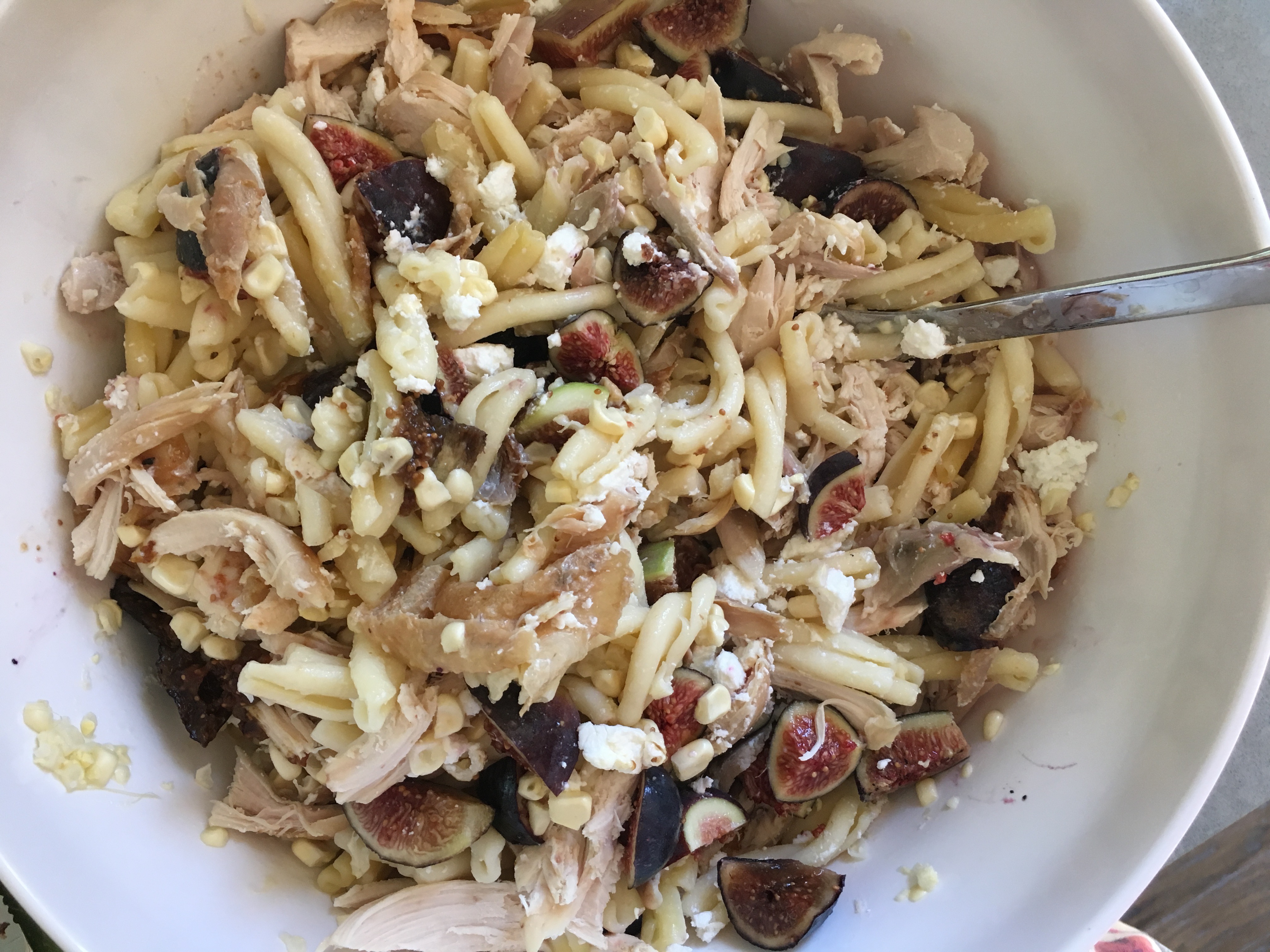 This was the "something out of nothing" dinner.  Which is a particularly good skill of mine, but I'm always nervous when I'm doing it for other people.  We had pasta, corn on the cob, figs, and goat cheese. Beverly ran to the store for a rotisserie chicken and boom, we have a meal.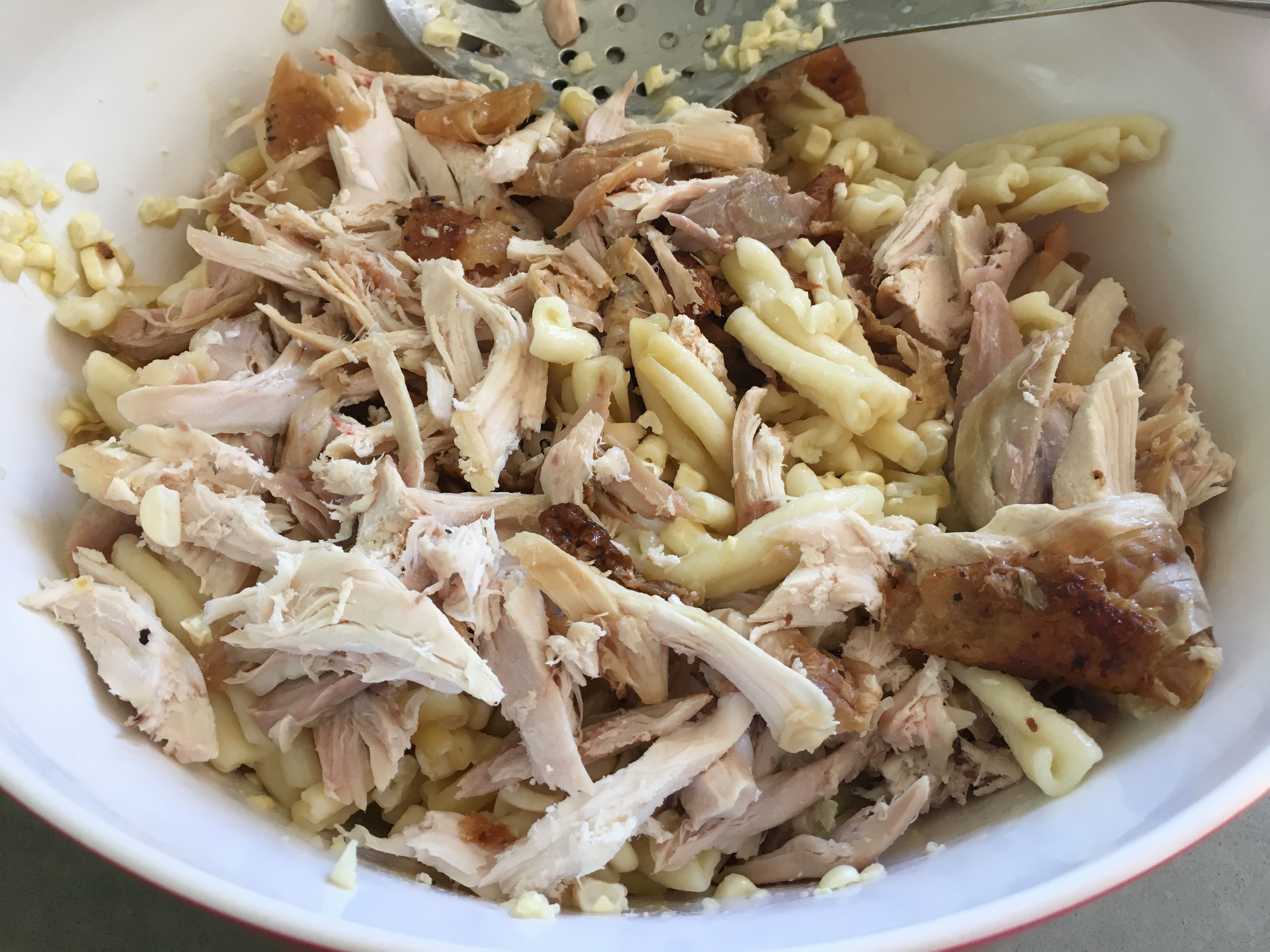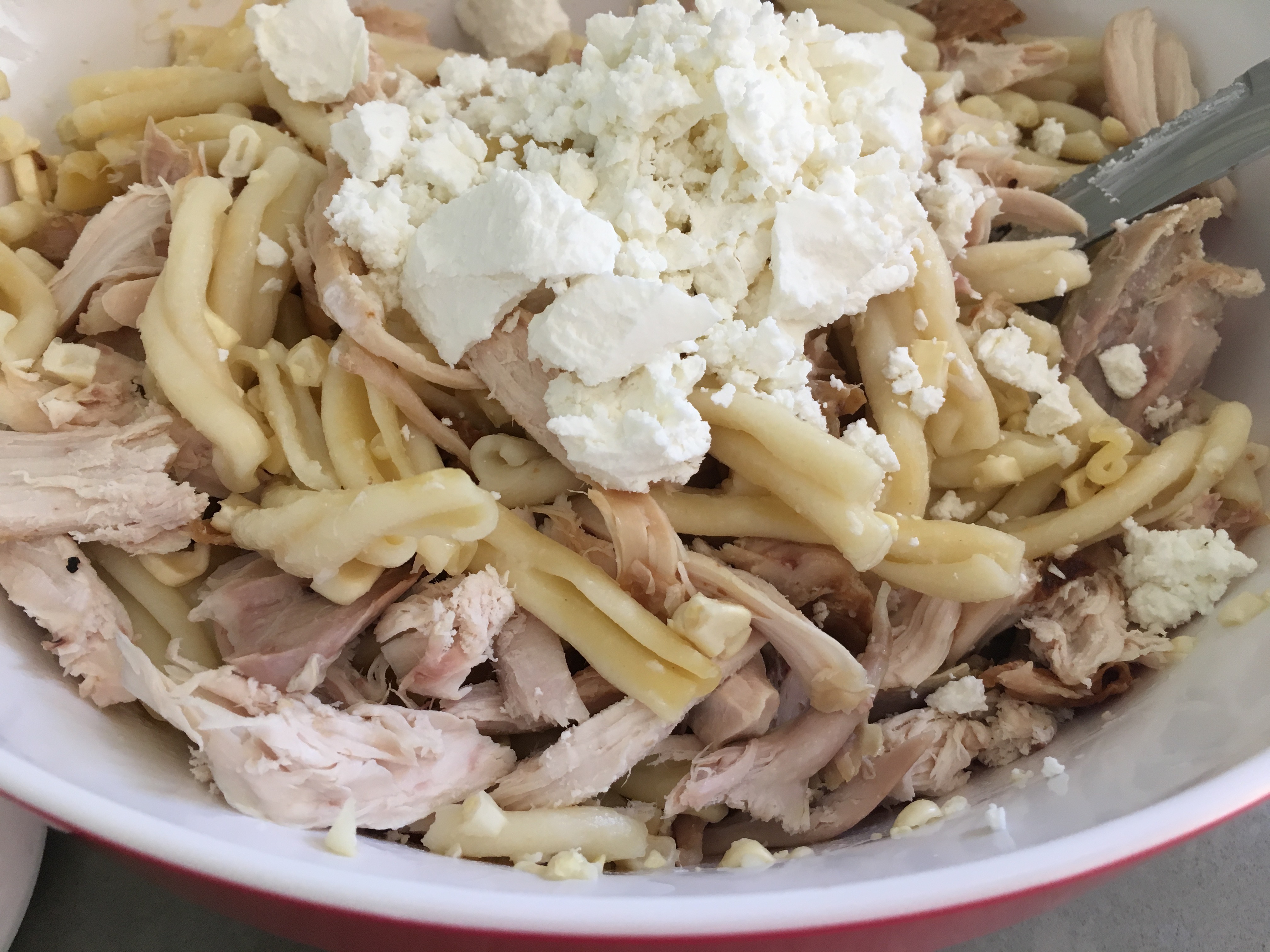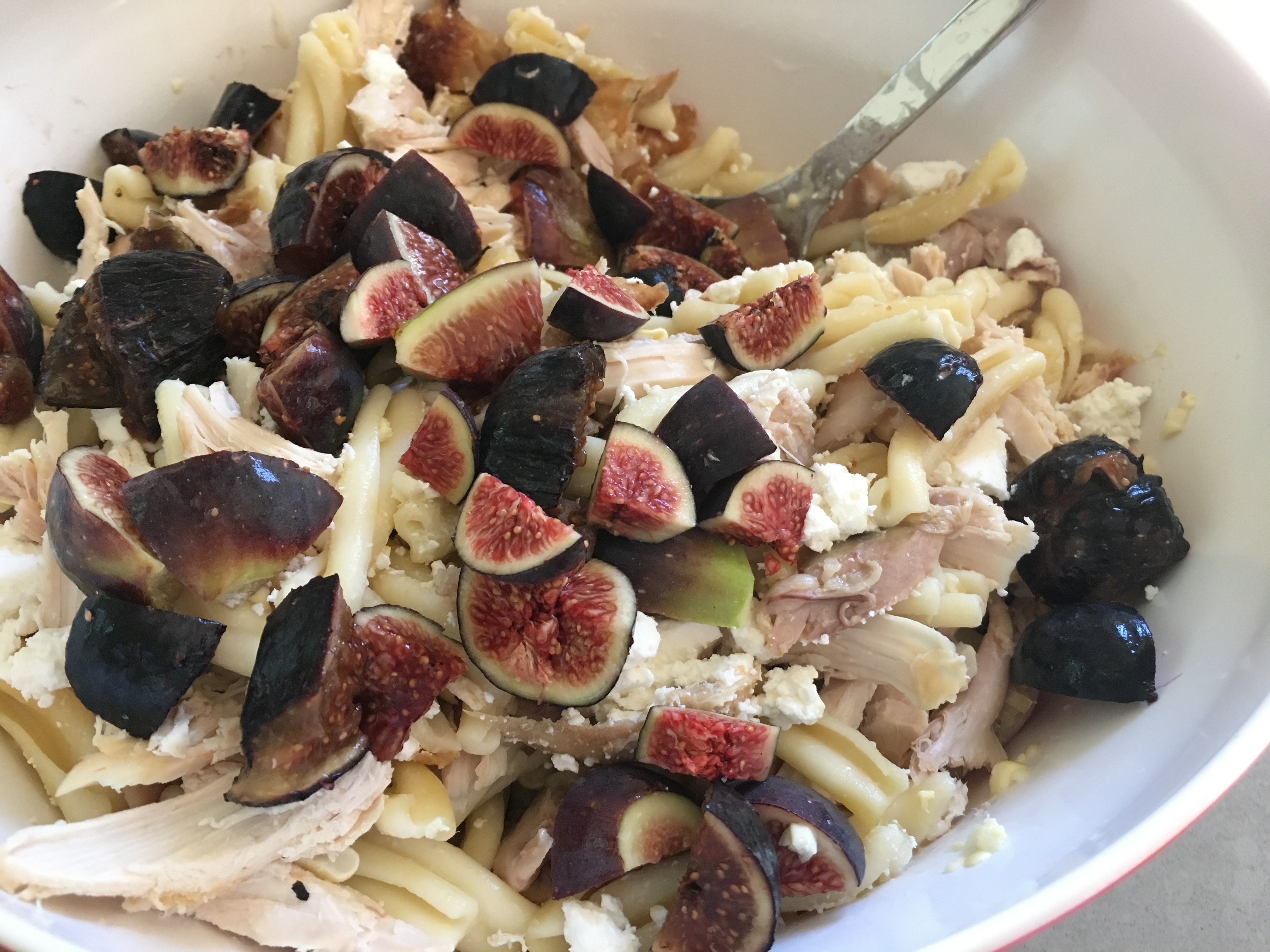 It was basically done during nap time, so Kyle and I took P to the community pool with some friends that afternoon.  I had taken V a couple of weekends ago, but Kyle and P were out of town on their boys weekend, so P managed to squeeze in one trip to the pool before it closed down after Labor Day.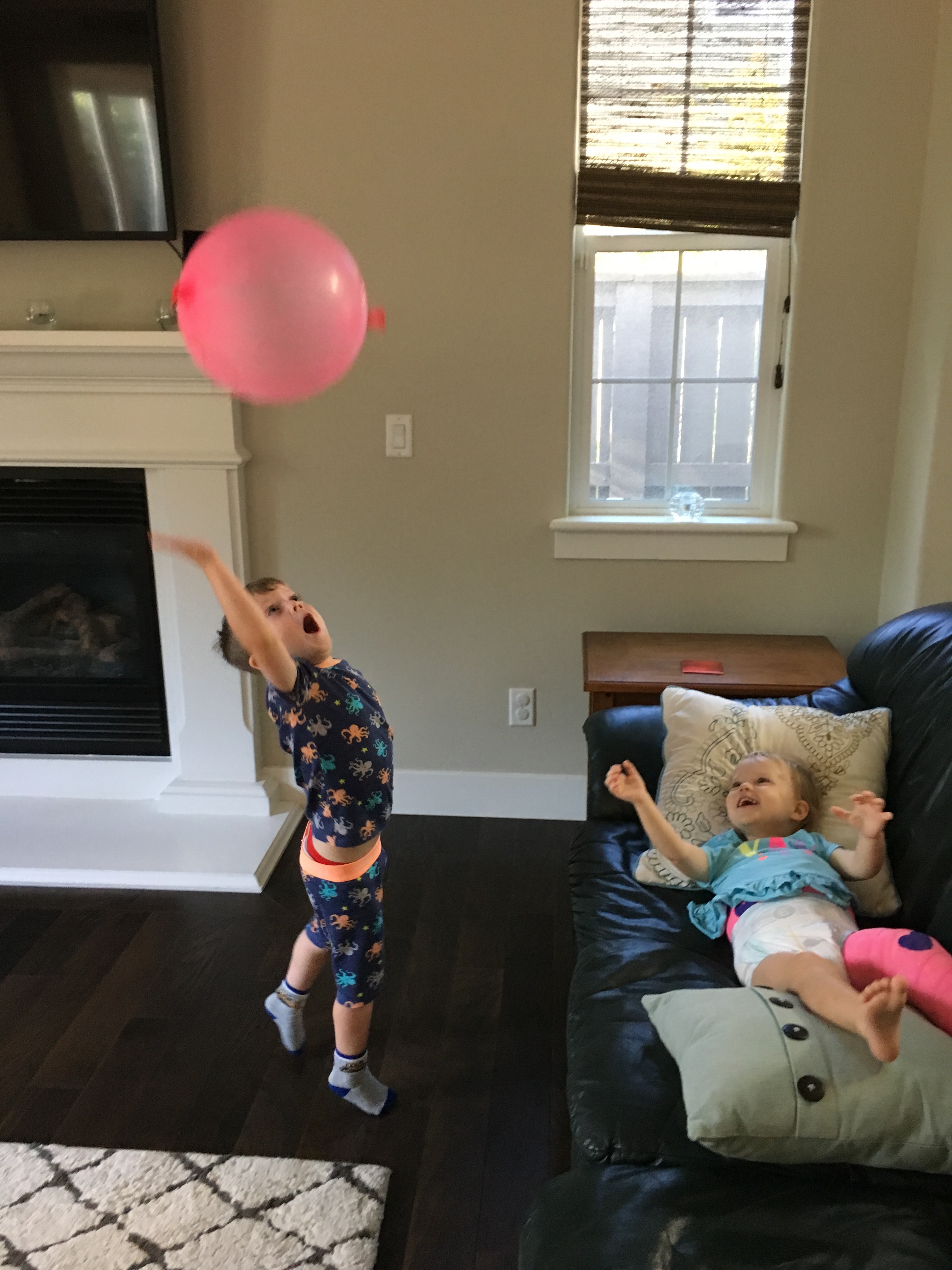 Pre-dinner pay time.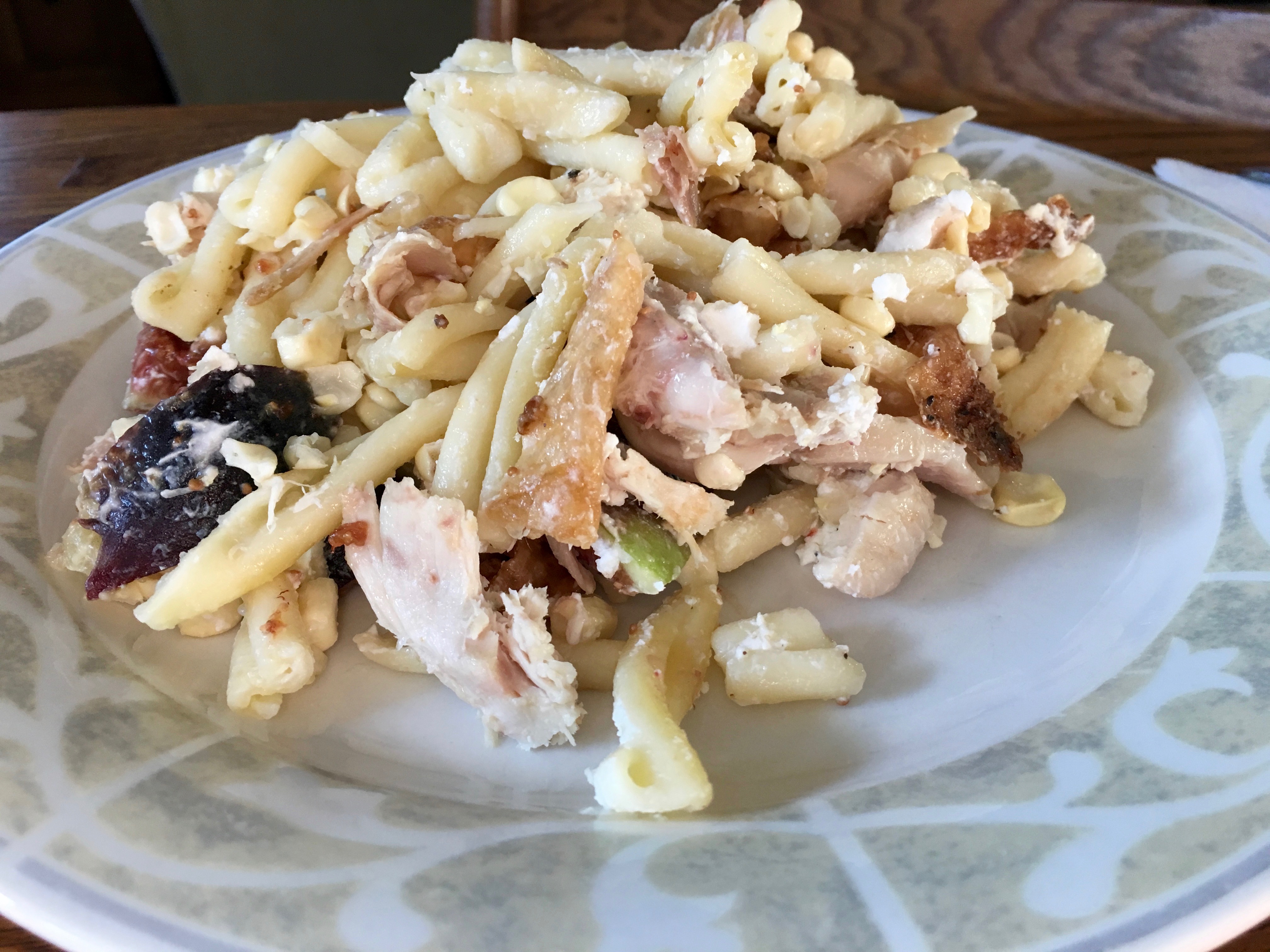 I meant to add basil or balsamic but it was good as is.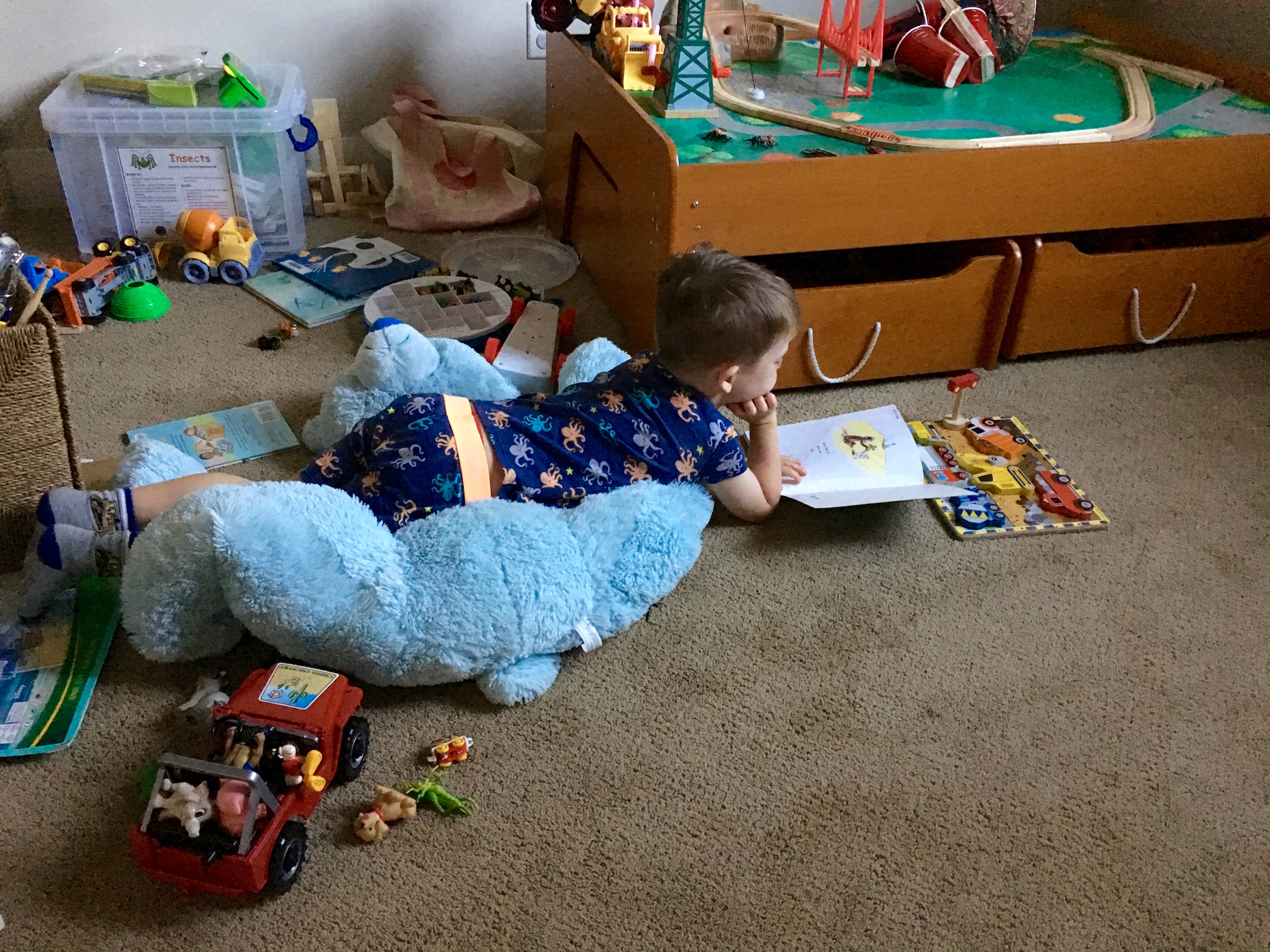 Quiet time after his peanut dose.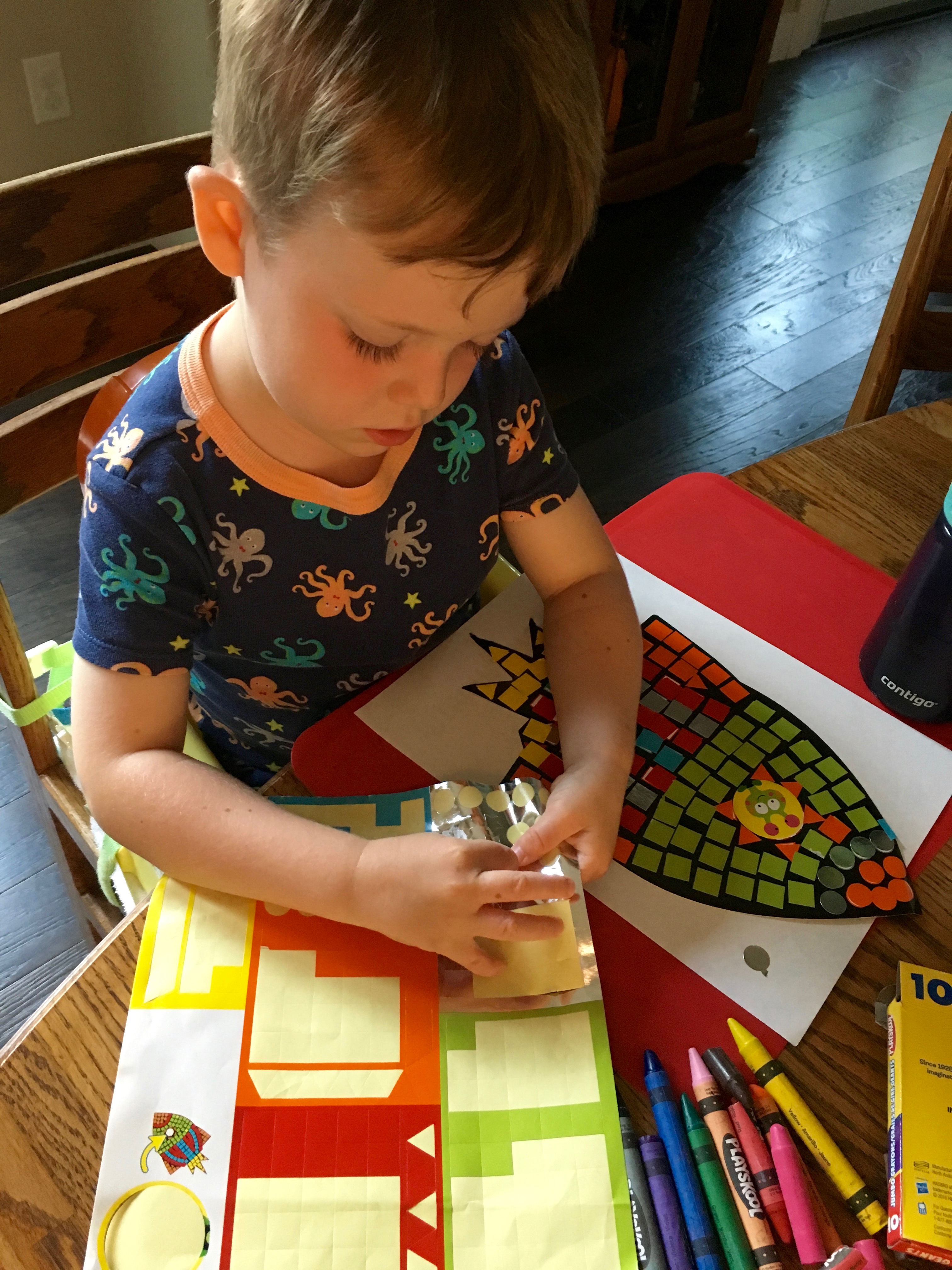 Followed by more quiet time after his milk dose.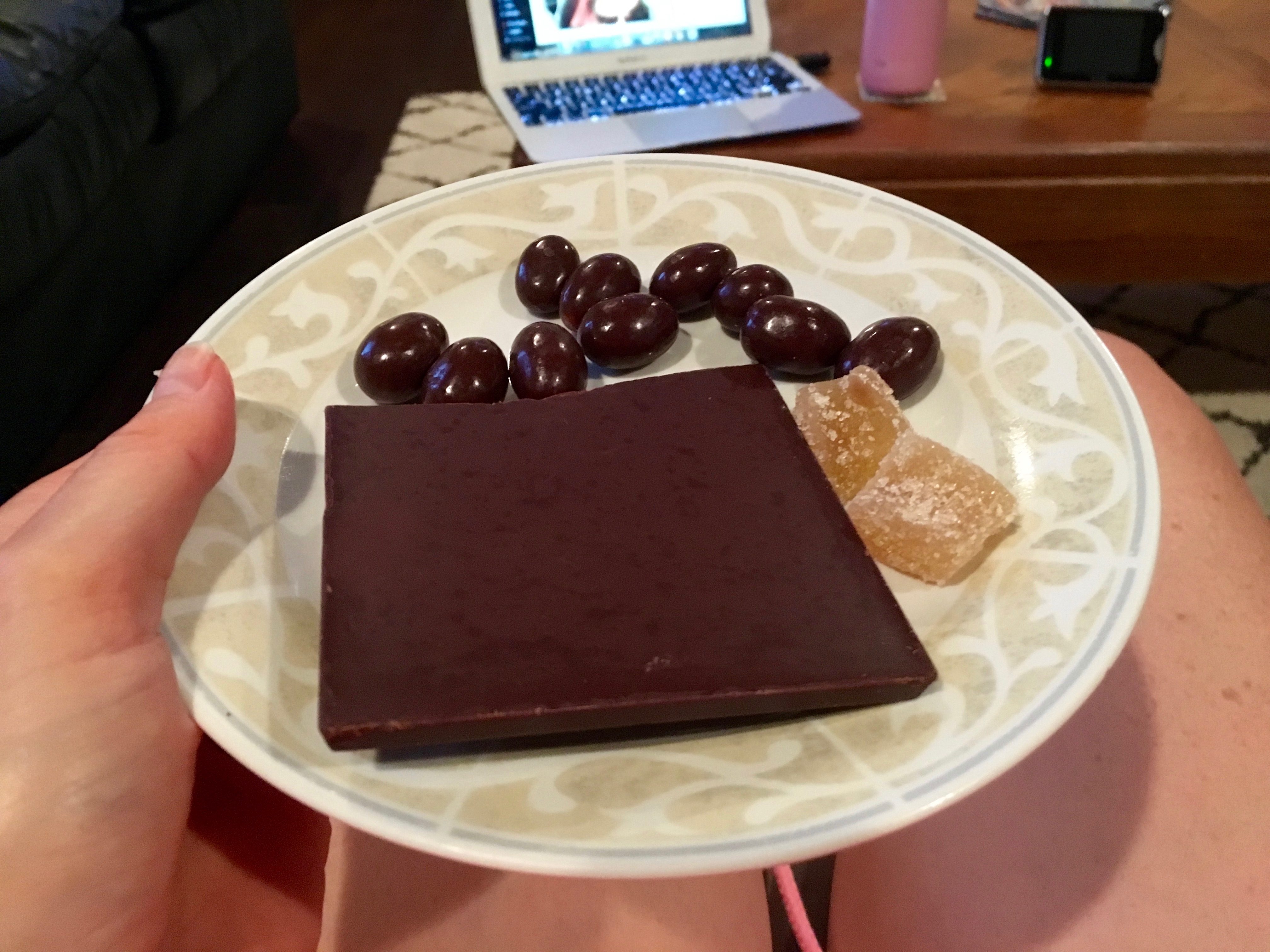 Kyle had a guy's night so Beverly and I got our chocolate on with an episode of Naked and Afraid.  Have you ever seen this show???  It's INSANE.  She had been telling me about it and I couldn't wrap my head around it.  It's not like these people even win anything?!  What the heck!  People are crazy.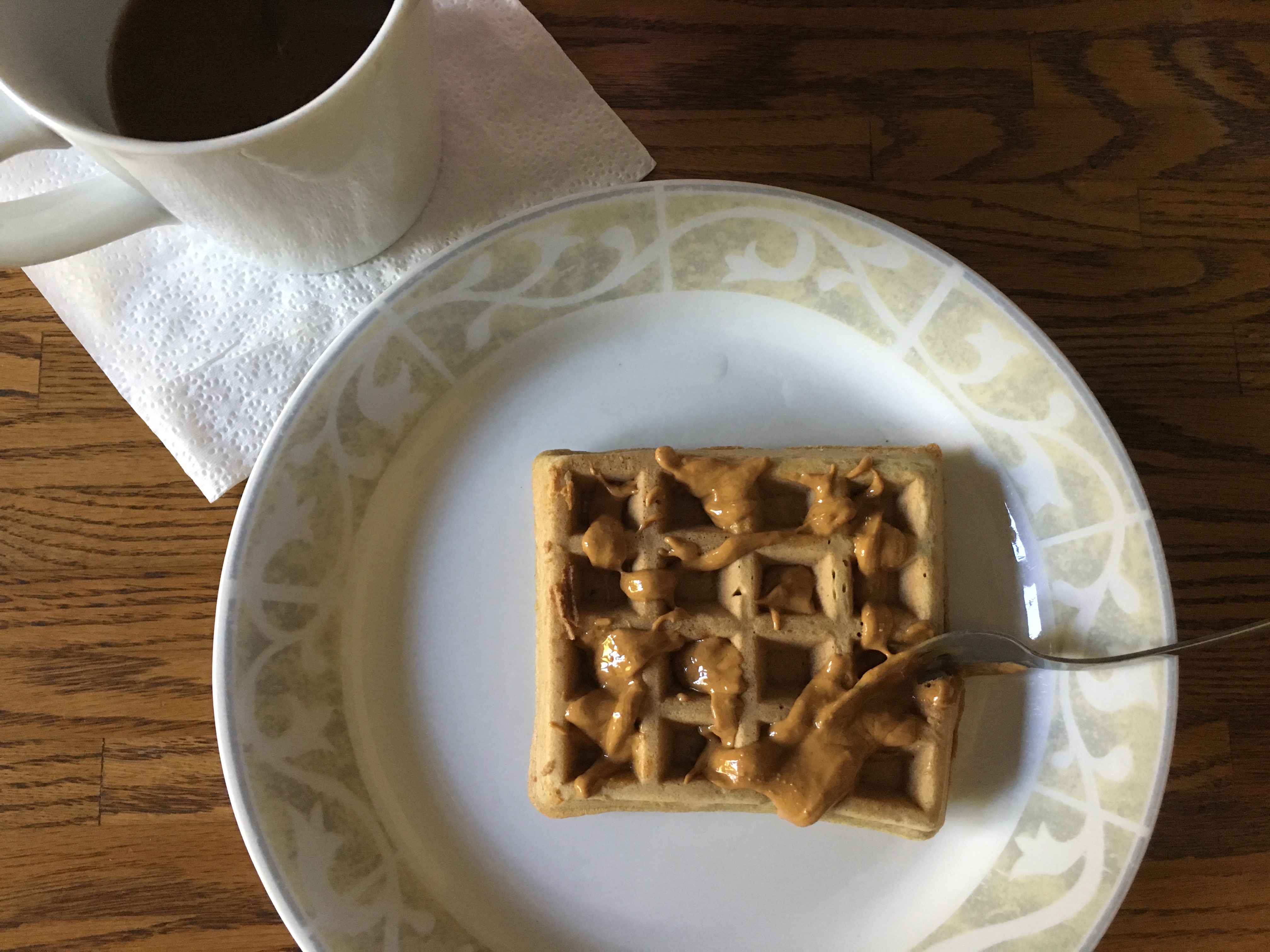 Goooood morning to me!
I went on a run, fed everyone, and then sat down to a nice cashew butter coated waffle and coffee.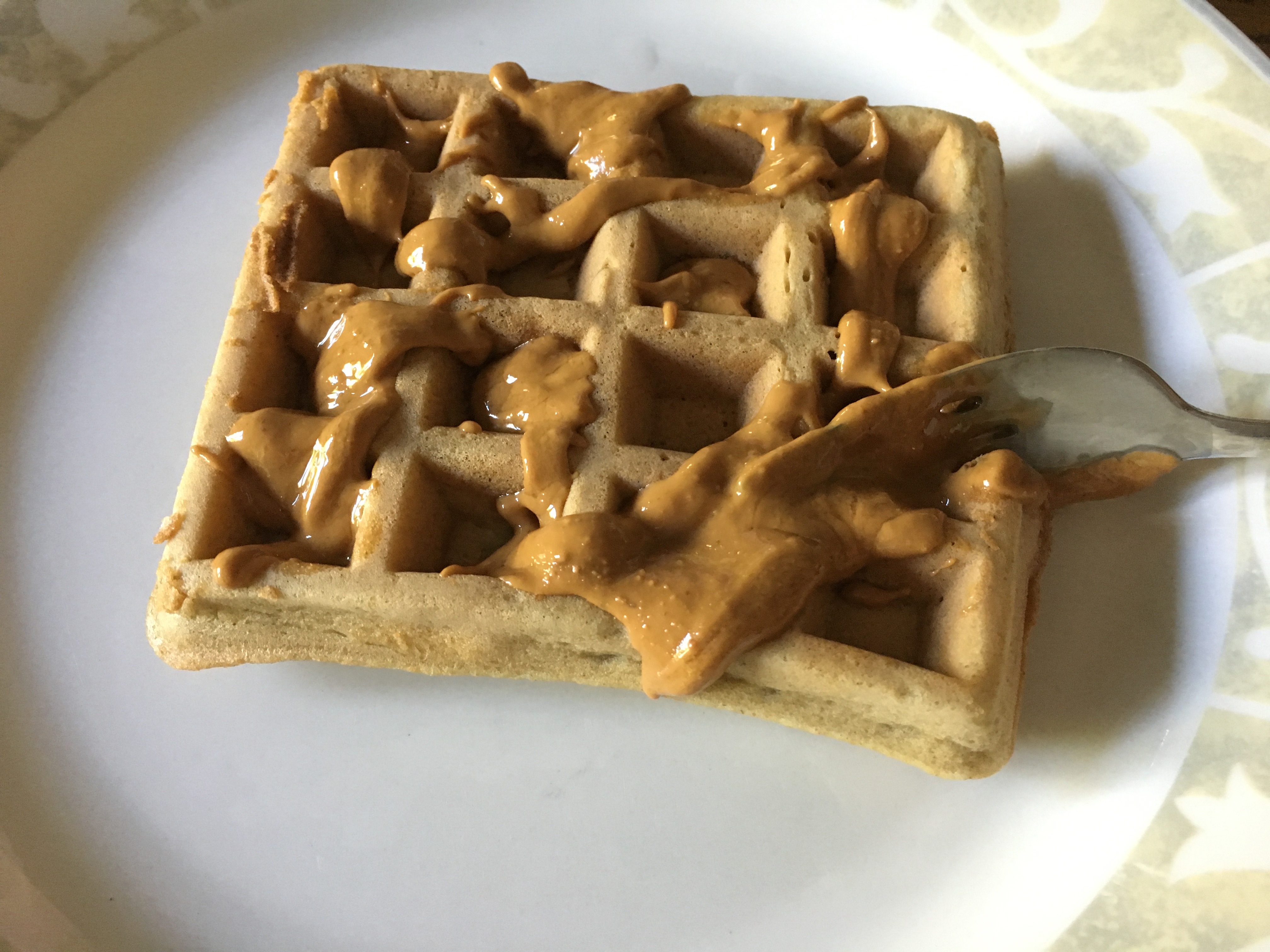 Exhale.
P and I went to church and then he accompanied me to Costco afterwards.  The first half was more fun, obviously, and I couldn't help but reflect on how much has changed in just a week. Last Sunday I was weeping all morning and super emotional with the recent changes in V's health.  And this week she has been so upbeat, which in turn makes me happy.
I got a ton of stuff at Costco, so now I feel set for the foreseeable future. Because Beverly is going home and then I'll be on my own to navigate the balancing act that is my life without the extra pair of hands I've come to rely on.  I know I can do it, I'm just a little apprehensive.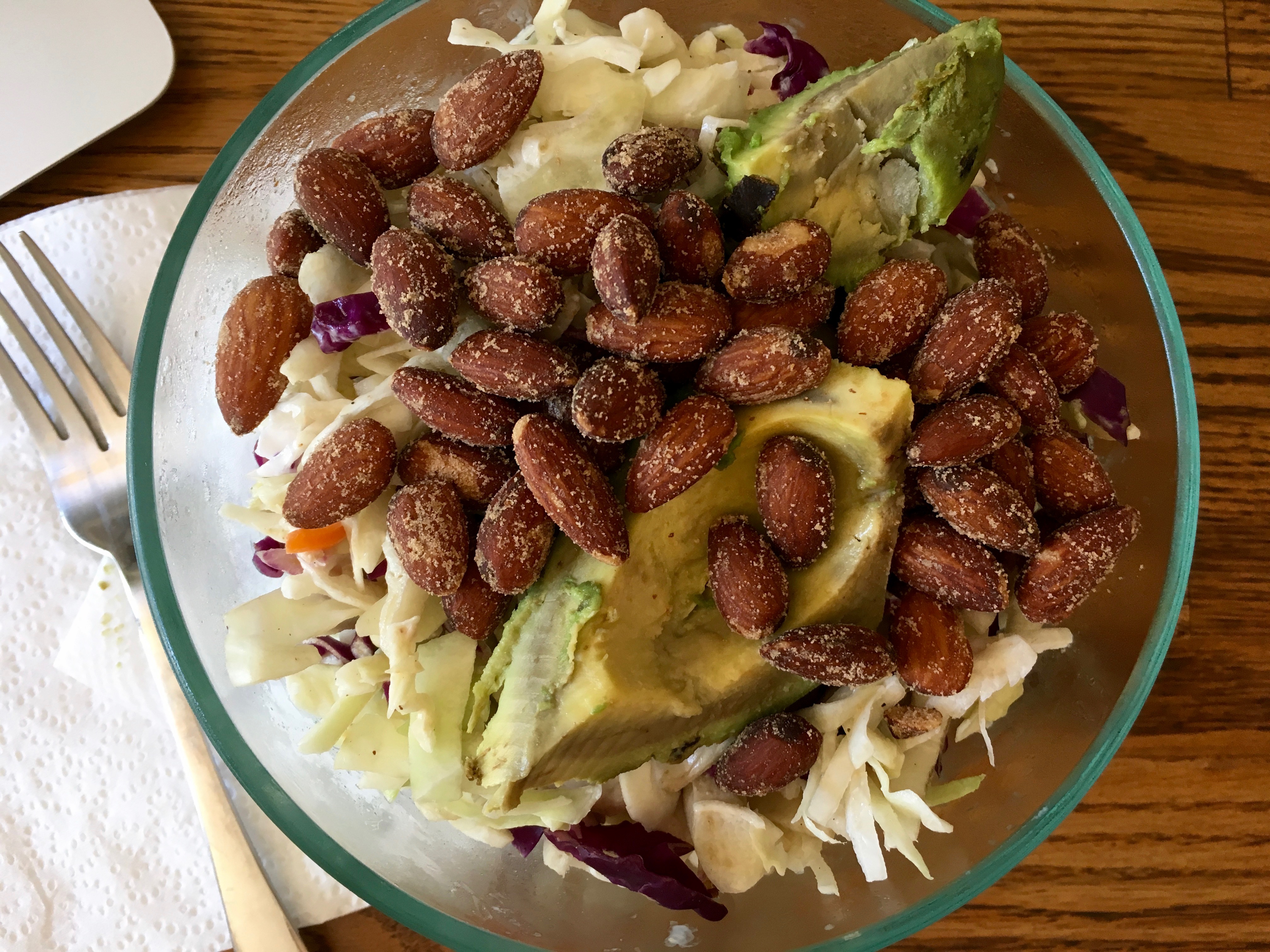 Random lunch cleaning out the fridge – leftover slaw, avocado, and smokehouse almonds.  I had more almonds and carrots and then a kombucha too.  I was trying not to ruin my appetite for dinner because Kyle and I had a date night planned.  🙂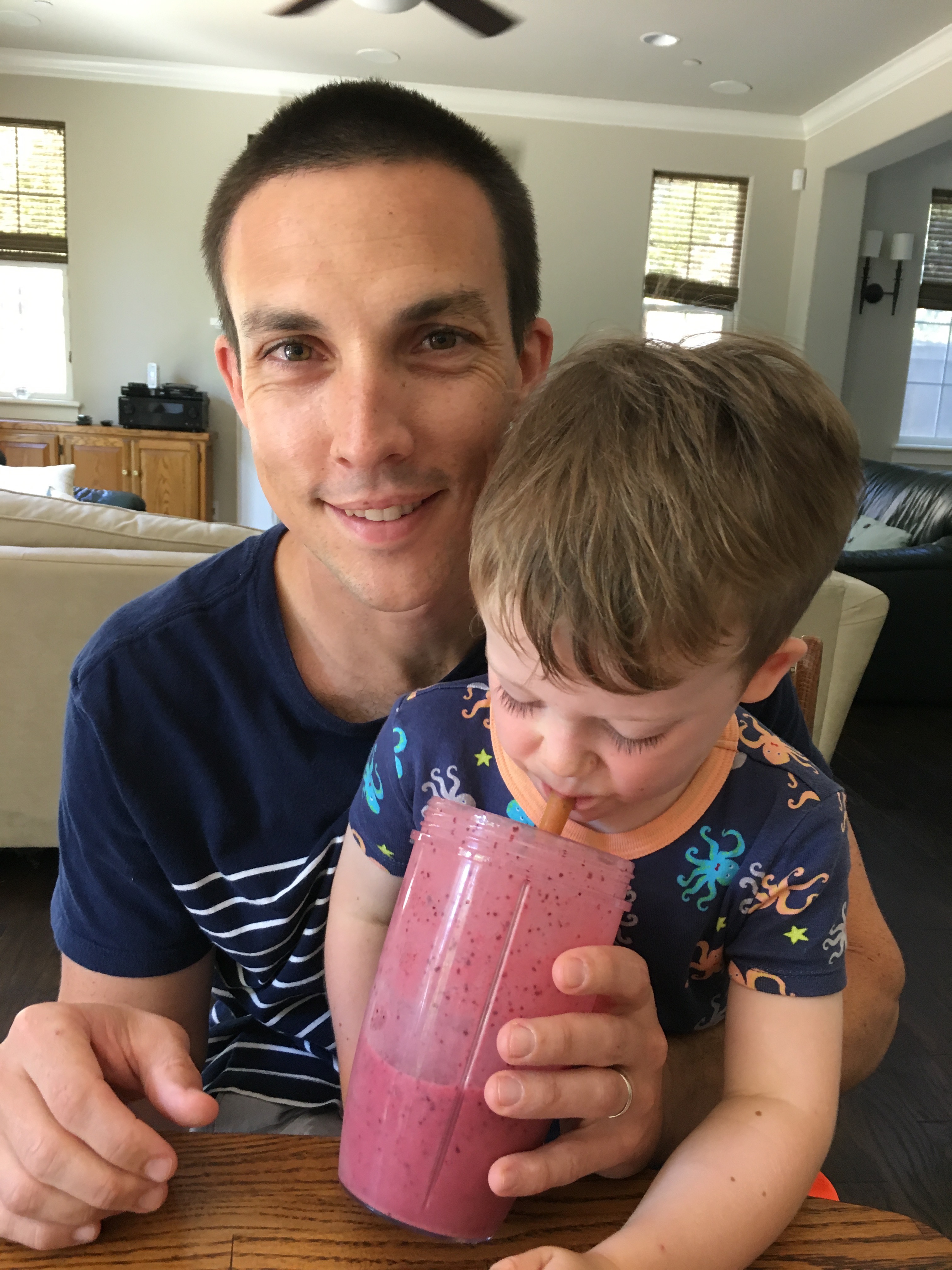 Afternoon smoothie break 🙂
Aaaaaand, taking the side rail down has backfired.  She has greeted us at the doorway upon waking twice now. She's fast too!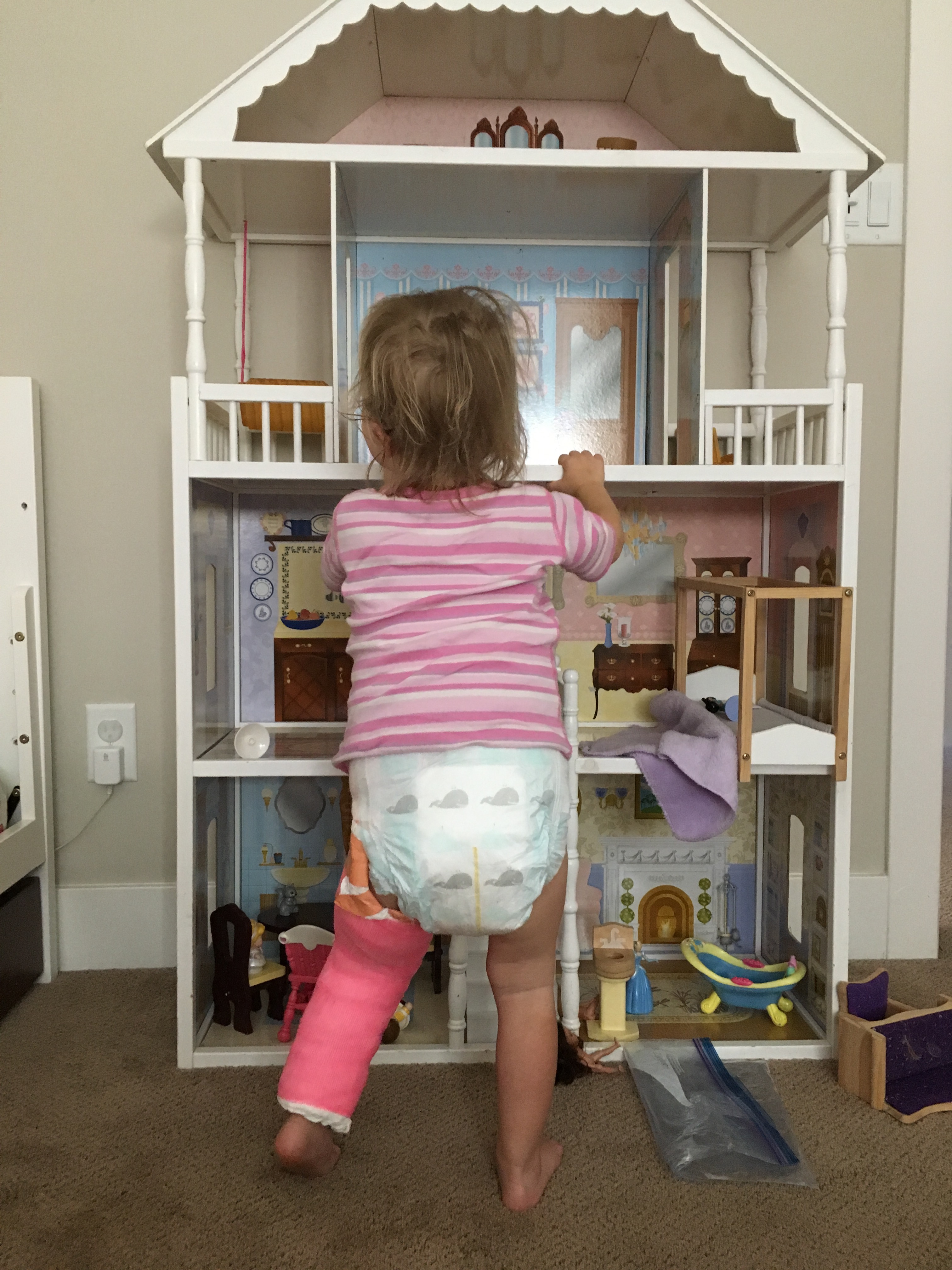 It's like she's a baby checking off all these new skills this past week…she rolled over!  she crawled!  she pulled herself up to standing!!  What a week.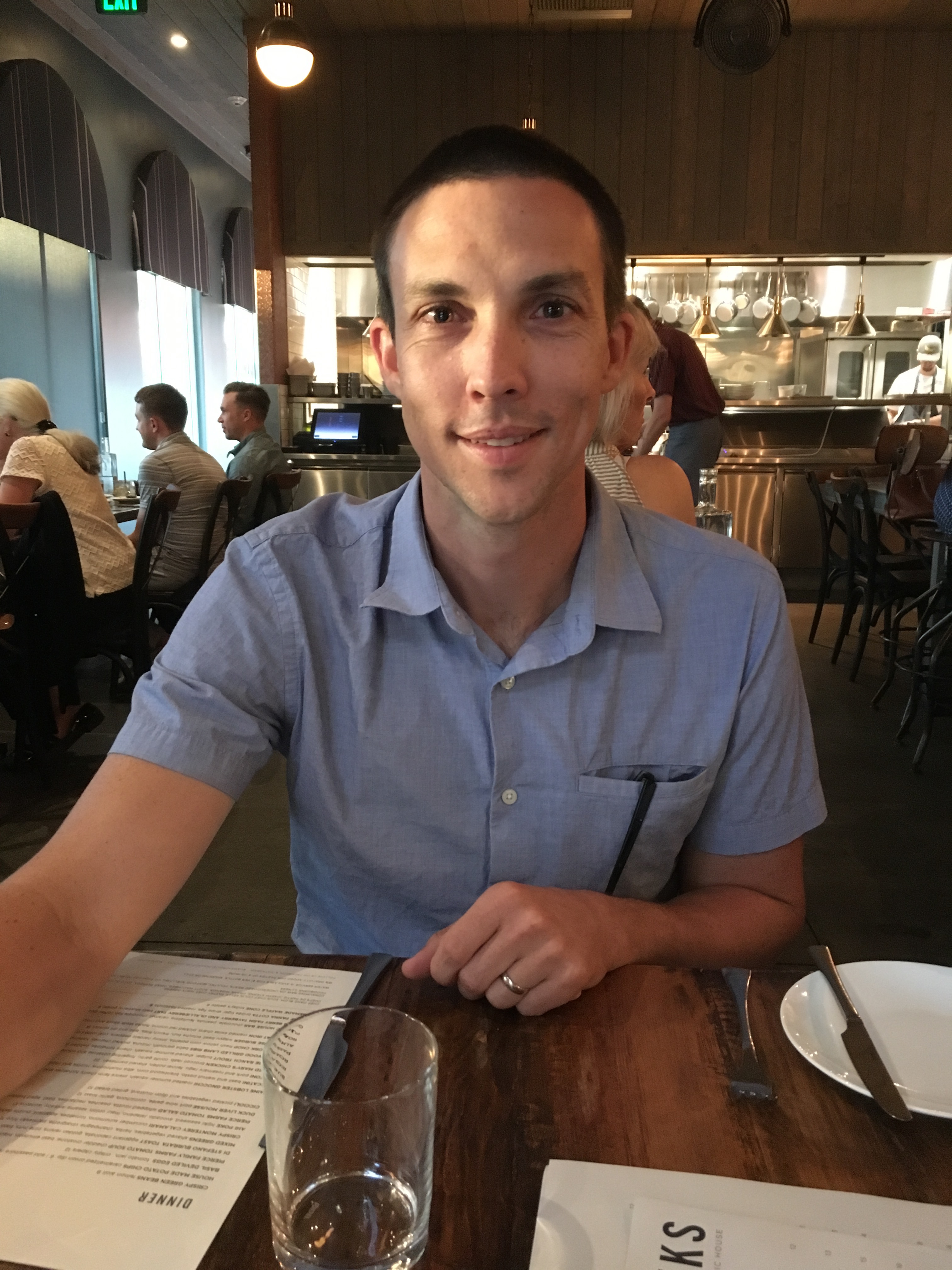 That night we went out on a date to celebrate our SEVEN year anniversary.  It was a day early but it was grandma's last night in town so we were happy to jump at the chance.  🙂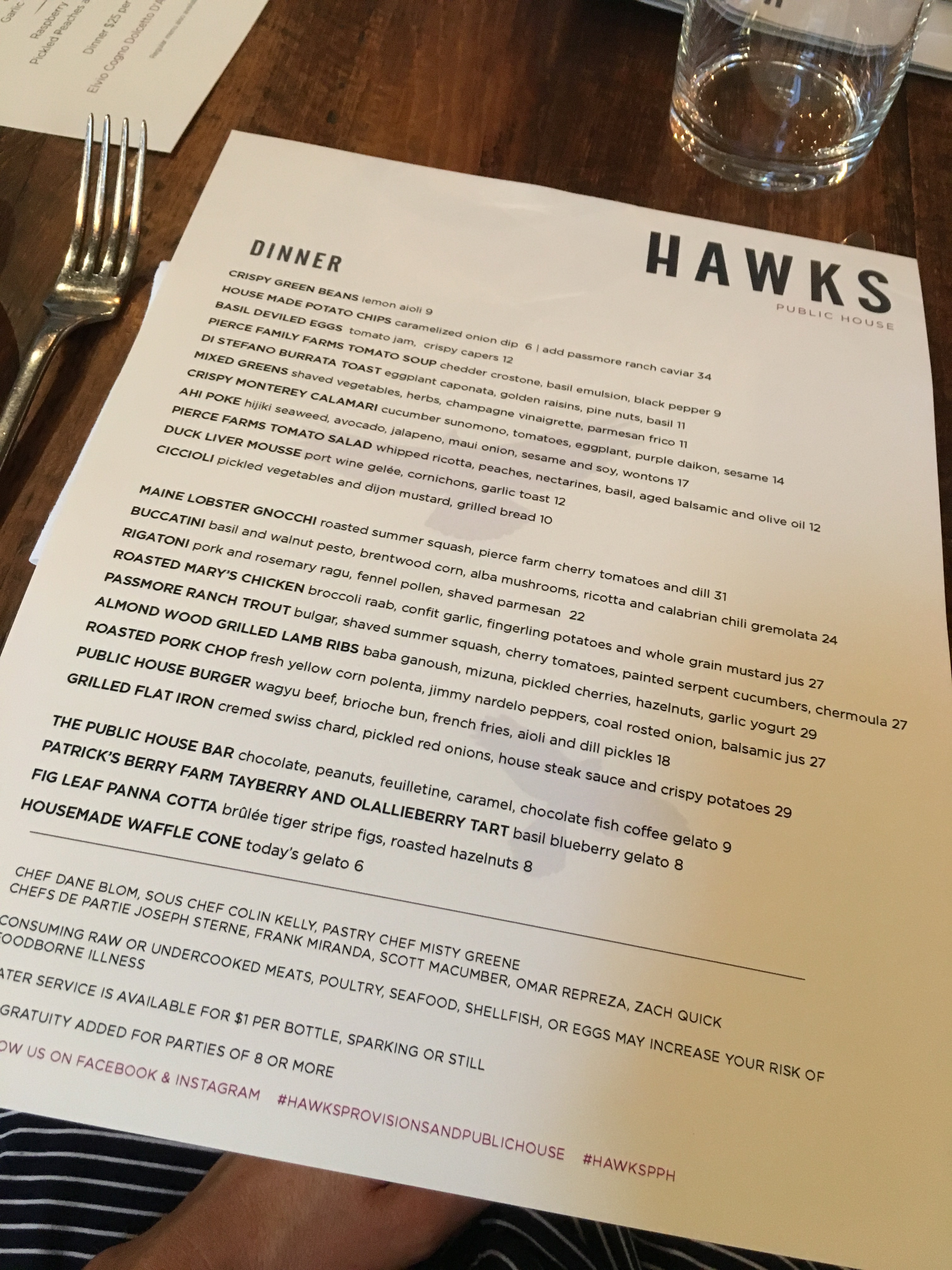 We went to Hawks Provisions and Public House in Sac. The provisions is open mid day on weekdays for take away in the area, but the public house is the nice restaurant part.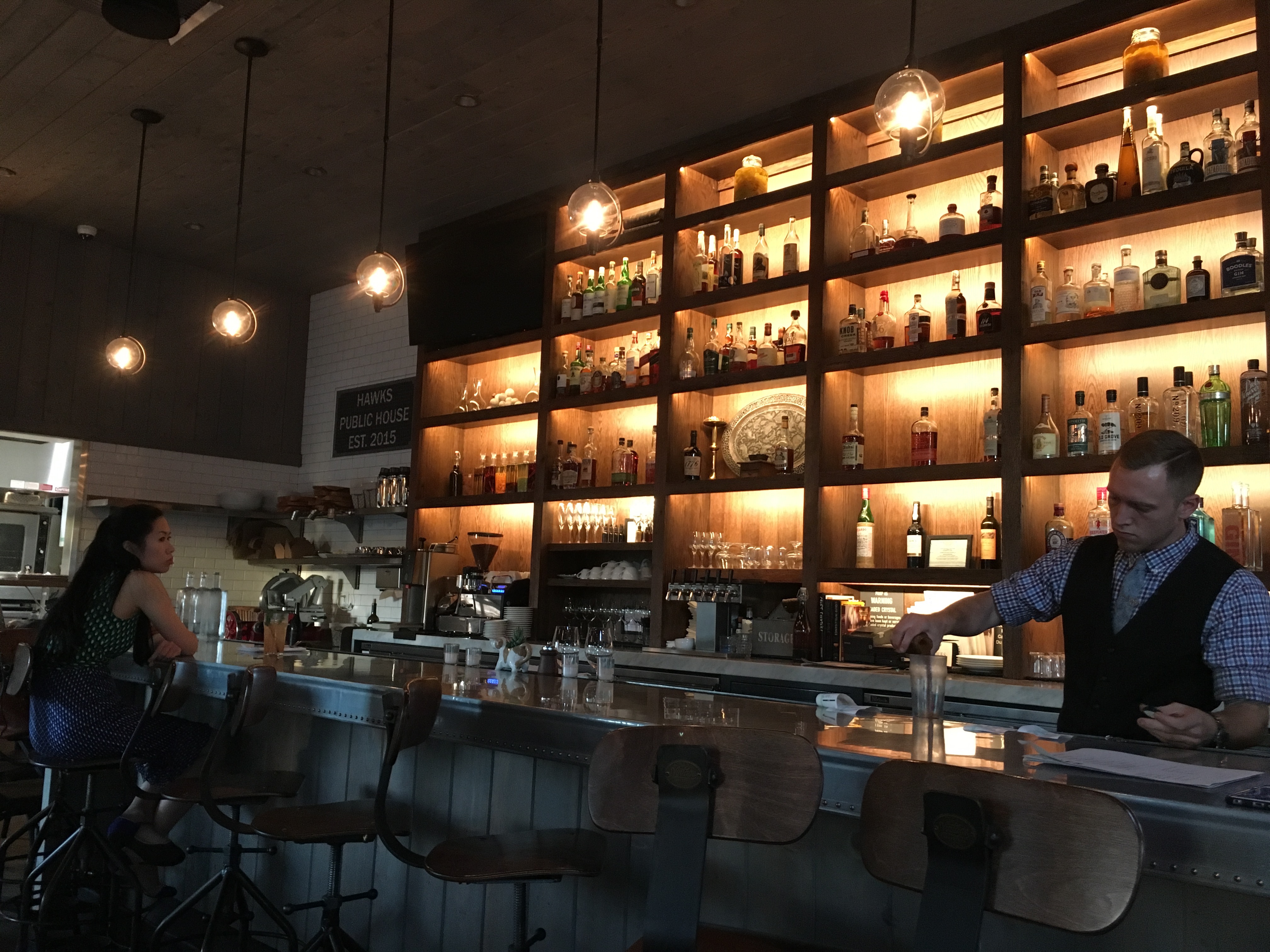 I liked the vibe a lot.  The bar was cool looking, and the staff was exceptional.  Sometimes you only notice staff for being bad, and if they are fine then it's fine and no need to comment, but in this case I feel like it was so good it is worth mentioning in a positive way.  I was talking to our waiter about the menu and his favorites and it evolved into a longer conversation about food and the restaurant scene in Sac which ended in him asking if I was "in the industry"…I told him "no, I just like food!" HA.  🙂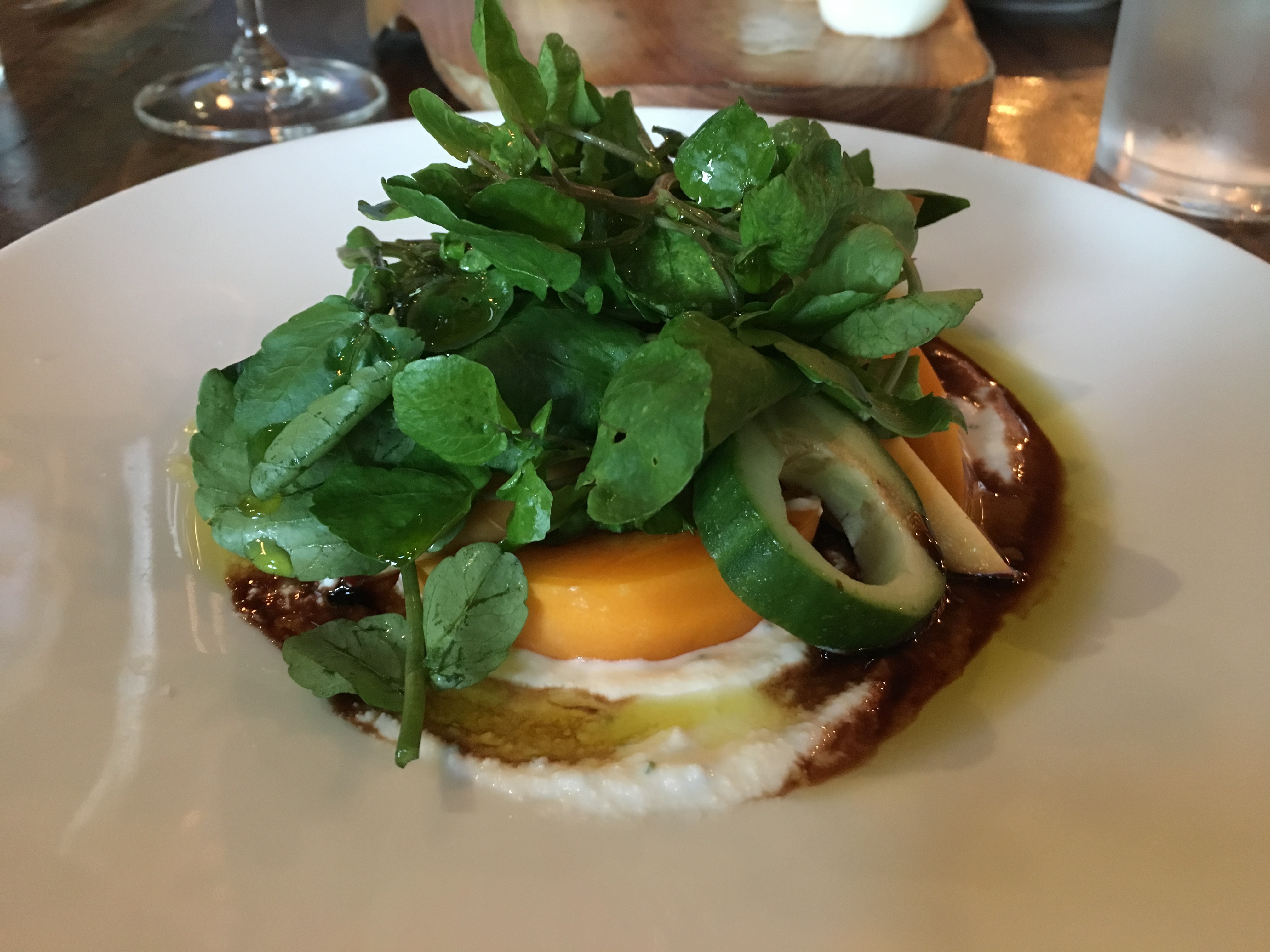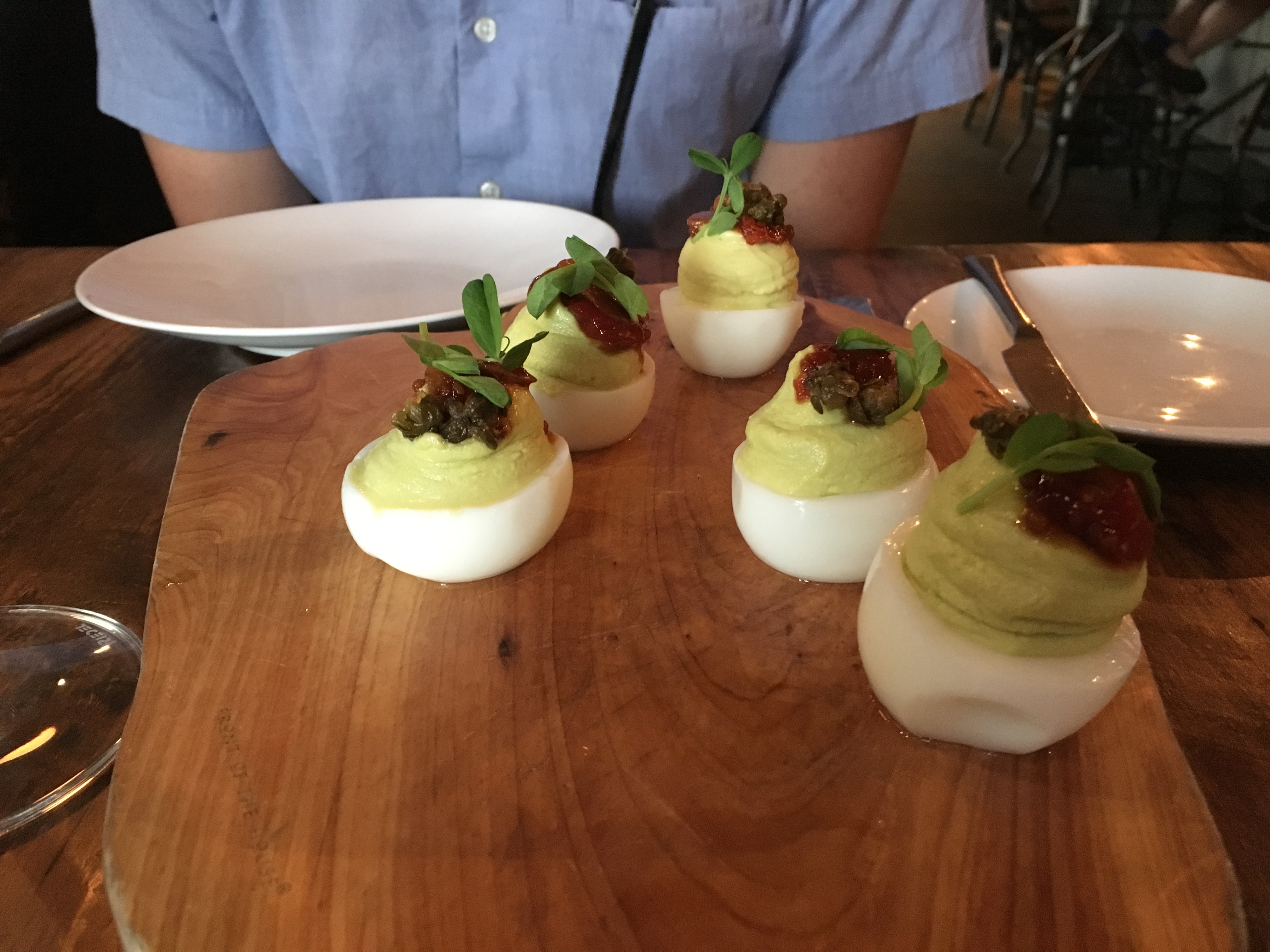 We got two starters to share – including the tomato salad with peaches and ricotta and the basil deviled eggs. Both got four thumbs up.  The dressing on the salad was super.  And those eggs!  Wow oh wow.  There were fried capers on top and some kind of tomato chutney thing and then the basil whipped yolks…dang was it ever delish.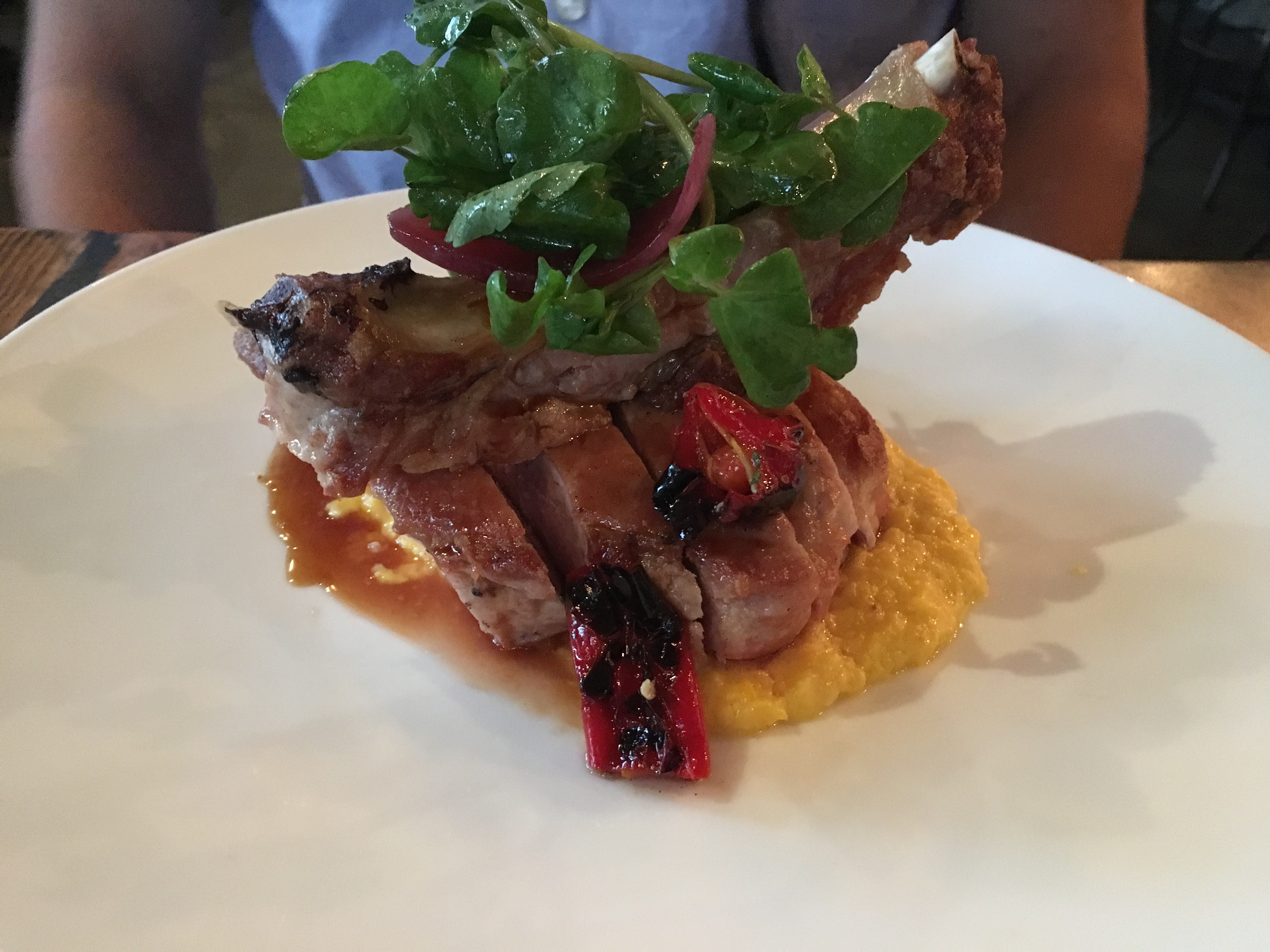 Kyle and I each ordered an entree but shared them with each other. He got the pork chop with polenta and I got the flat iron with creamed greens and pickled red onions and roasted potato wedges (aka fries).
Both of the meats were good, but my steak was outstanding.  And the sauce I got with it was such a unique tangy spicy sweet combo.  Kyle used it for his pork.  I gave him 99% of my creamed greens too, because that amount of dairy wouldn't work, but I still had more than enough.  The portion sizes were actually perfect.  We both cleared our plates and felt quite full, but any more would have been too much.
We had planned on going out for dessert afterwards but we were both so stuffed!  We went back to stroll around downtown Davis, but it was so hot we just went home.  The kids are exhausting and I'd rather start Monday ahead on sleep.  Because now Beverly is gone, wahhhhh.