I'm slightly embarrassed by how long this post has taken to write.
I prepped the ingredients over a week ago.
I steamed the squash, cooked the quinoa, thawed the spinach and edamame, and assembled the team of seasonings.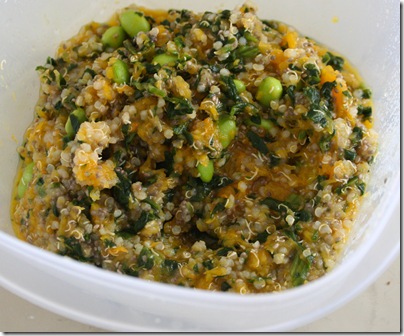 Then I mixed everything together in a tupperware and forgot about it.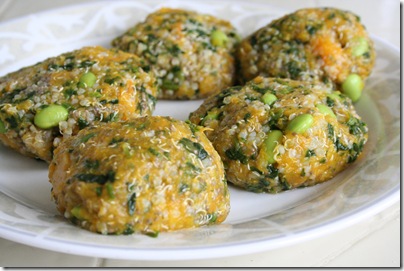 The other day, however, I remembered it in the back of the fridge and quickly took action.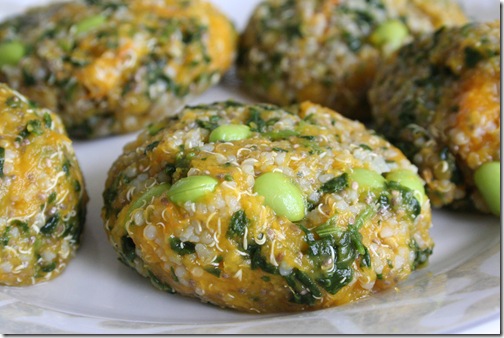 I formed patties out of the mix, rolling them smooth between my palms before adding them to a hot pan.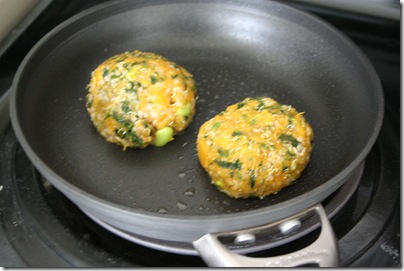 Blurrrrry.
Some were too difficult to flip and kept falling apart, so I split those ones in half so they could finish cooking and still maintain a patty shape (like sliders).  The rest held together well though, which leads me to believe the recipe could probably handle more chia seeds.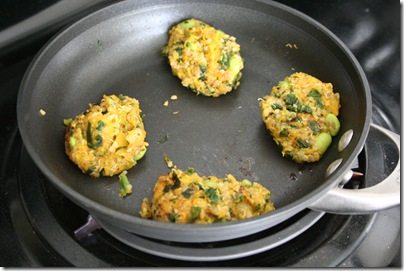 In the end I had some beautiful squash pattycakes.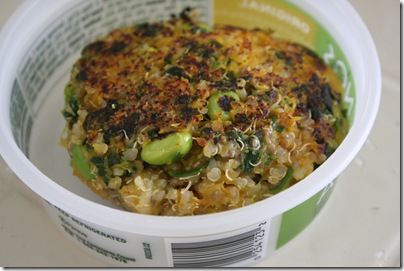 Yes, I used old hummus containers to store them individually.
Squash Patty-cakes
Ingredients:
1 cup quinoa
yield of 1/2 butternut squash (~2 cups)
1/8 cup frozen chopped spinach, thawed
1/4 cup edamame
2 tbsp chia seeds
2 tbsp non-dairy milk (I used coconut milk)
2-3 cloves chopped garlic (or more to taste – I used 1 tbsp Garlic Gold)
2 tsp onion powder
pinch of chili powder
1 tsp paprika
salt & pepper to taste
**Next time I would add in breadcrumbs or an extra scoop chia seeds to help them hold together better**
Directions:
Over-steam the butternut squash so it's mushy and easy to mash with other ingredients.  Add chia seeds, non-dairy milk, frozen spinach, edamame, and quinoa and let it all gel together.
After a while, add in the garlic, onion, chili powder, paprika, salt & pepper.
Fry in a pan, flipping as needed so both sides end up with a brownish sizzled outside.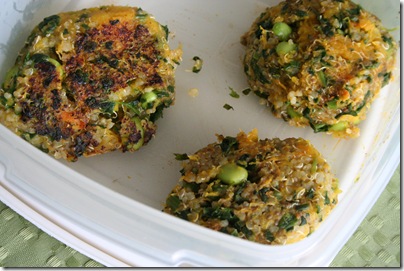 Store in tupperware (or freeze them) for easy eatin' over the work week.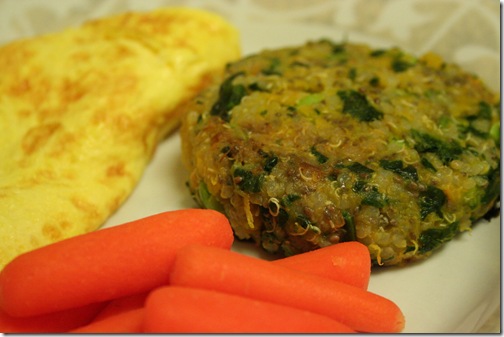 I loved the texture of these so much.  They weren't hard like veggie burgers.  Instead they were soft inside, similar to the famous Plant Burger (from SF), but with a crunchy quinoa crusty exterior.  I love it.
I do think they would have held together more with the addition of another tbsp of chia seeds or maybe some breadcrumbs.  I have a few ideas for variations dancing around in my head…
In the meantime, I have a few more home-made pattycakes left.  I love that the main ingredients are all my favorite things – quinoa, squash, spinach – what's not to love!
Random little tidbit: Spinach is often praised for it's stellar nutritional profile, because it is truly loaded with vitamins and minerals.  But in addition to the massive amounts of Vitamin K, Vitamin C, manganese and folate (all good things), spinach has glycoglycerolipids. These are known to help protect the lining of the digestive tract from damage, especially damage related to unwanted inflammation.
For anyone with IBS, IBD (Crohn's and Ulcerative Colitis), and/or other GI disorders, this is a key quality that can be very beneficial in calming irritations or flare ups.