When I say sticky orange tempeh, I mean it.  This is sticky sweet yummy.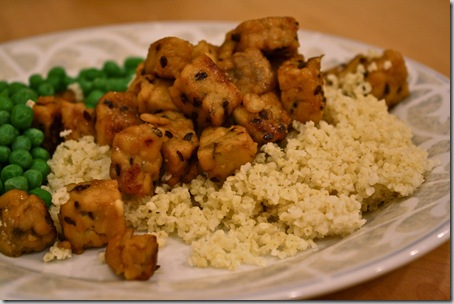 Can you tell from the way the sauce coats the tempeh?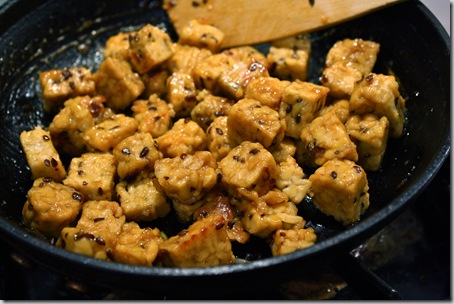 I'm not a tempeh lover…it's just not my fave (unless someone else – like a vegan restaurant chef – prepares it).  So I was pretty surprised by how much I liked this dish.  I really really liked it.  I could eat tempeh like this every day of the week.  Seriously.
Sticky Orange Tempeh [vegan, gluten free]
Ingredients:
1 block (8 oz.) tempeh, cubed (I used Lightlife's organic flax)
1/3 cup fresh pressed orange juice (I used both oranges & tangerines)
1 tbsp maple syrup
1 tbsp tamari
1 tsp arrowroot
To make it a meal…serve over a grain (I made brown rice for Kyle and millet for myself) and pair with a veggie side (I made peas).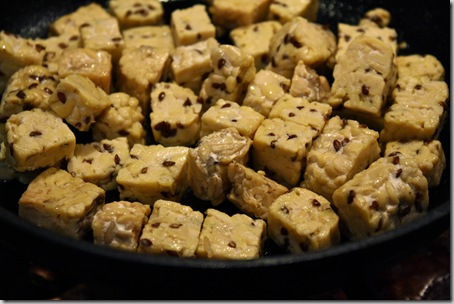 Directions:
First make orange sauce by combining OJ, maple syrup, and tamari.  Set aside.
Add 1-2 tbsp of oil to the pan and add cubed tempeh.  Let it brown until it gets a nice bronze crispy edge.  Keep the lid on, so it can snap crackle and pop without burning your face off.  Don't worry if it seems like it's burning, it'll be fine.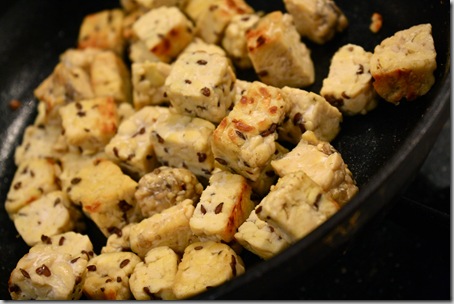 Over the next few minutes, flip the tempeh so all the sides get the same treatment.  Then add the orange sauce and turn the heat down.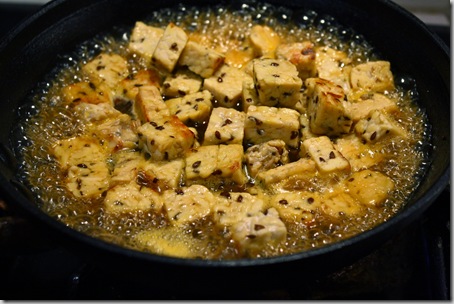 Wait for the sauce to reduce a bit, then add the arrowroot, sprinkling it over the tempeh.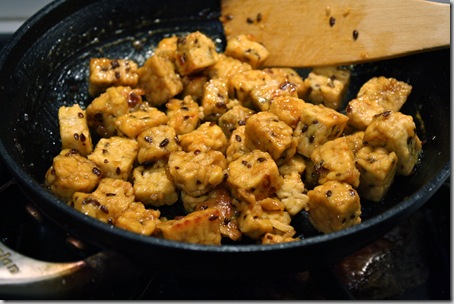 As you stir in the arrowroot, it'll thicken up and get sticky almost immediately.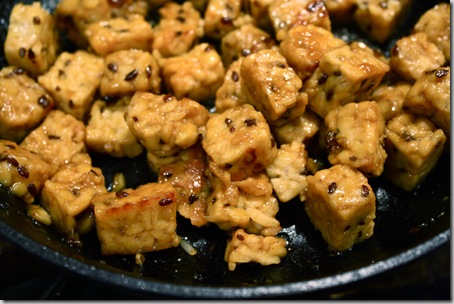 Let it cook a little bit longer and then serve it up over whatever grain you want.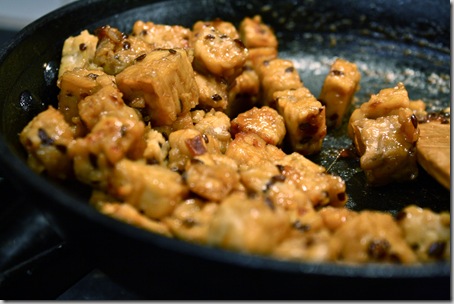 Like I said, I went with millet.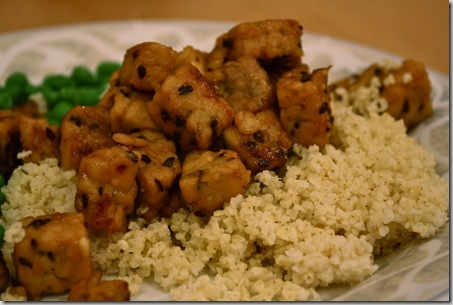 I love millet, but it can be a bit dry for some.  This was an especially fluffy batch, so I was perfectly happy with the tempeh and peas alone.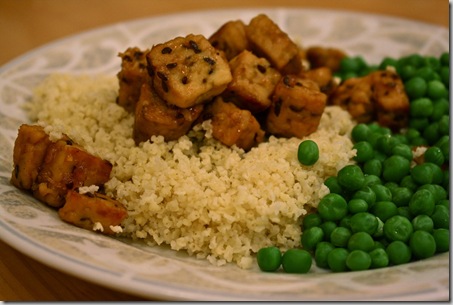 If you've never tried millet, it's a lot like cornbread in flavor (in my opinion).  I love the stuff.  I could eat it with just a drizzle of olive oil & dash of salt.  Or with a chunk of Earth Balance.  It pairs really well with winter squash, like delicata and butternut, too.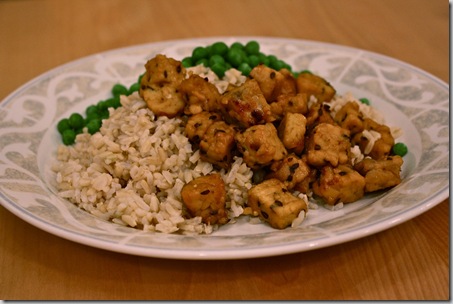 Kyle had his with brown rice (because we only had enough rice leftovers to serve one person and he's a rice lover).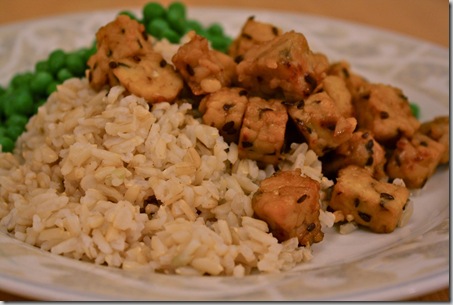 Kyle liked the dish a lot too, but he is a big fan of tempeh.  He prefers it to any other vegan "meat" alternatives.  I slice it to put in his lunch sandwiches (plain!) with hummus, mustard, and avo (and sometimes cheese).  Easiest meal ever.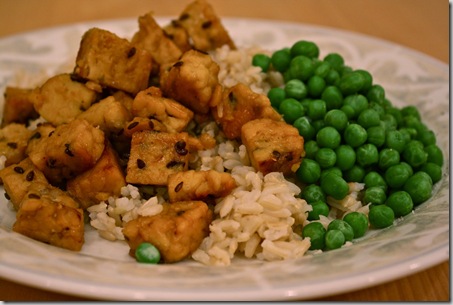 There weren't any leftovers.  So if you're making this for a family (of more than 2 people) adjust it accordingly.