Right after I posted the other night I realized my optimism about returning to a 100% healthy state was premature.  Details aren't necessary, but I was up til 3 am – in and out of the bathroom (pretty sure you can fill in the blanks).
Fortunately, a big shipment of Vita Coco arrived earlier that day…
100% pure coconut water.  Hydrate naturally.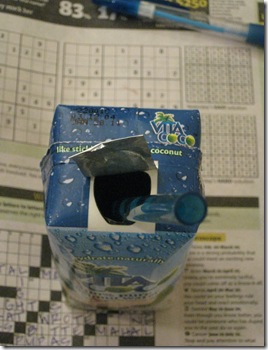 Exactly what I needed to do.
I am not in love with them…and I think Kailey described the flavor best when she said it's like the leftover juice from those snack-pack fruit cups, but I still downed it like a champ because my bod needed the electrolytes in a mayj way. 
I'm not gonna sugar coat it, it was a rough night.  I cried a bit (as if that would help) because I was (am) frustrated by the lack of cooperation of my GI tract.  Lately my stomach has been so much more sensitive and I can't figure out why.  I've been trying to ignore it for a while, but I think I need to get back to my more strict vegan ways because that's usually when I feel best.  I don't know…
Thanks to hulu and facebook, my late night wasn't too boring, but my sleep schedule is completely out of whack!
I got up at 9 am and felt drunk or something.  Then I fell back asleep and woke up to my phone ringing at noon.  Crap.  Another day wasted. 
I had plain tofu straight out of the tub for lunch.  This is kinda one of my dirty little secrets.  I looooooove plain 'fu.  I could easily eat an entire block it all by itself.  But not with my current stomach sitch.  I had a few servings and called it quits. 
Rather than spend another day in front of the tv, today I was a bit more productive in my sickly state.  No, I still didn't leave the apartment.  But I did accomplish quite a bit from the comforts of my couch.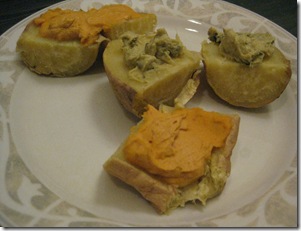 Later on I made sweet potato/hummus snack, which was not only perfect for Sarah's sweet potato challenge, but also was very easy on the tum.  This SP was different from the ones I usually buy (it was almost white on the inside), but it was still sweet and yummy.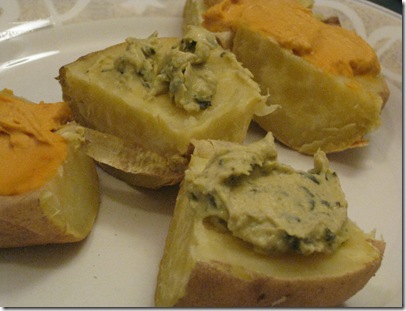 I steamed it in the micro, cut it into 3rds, halved each portion, and smeared hummus onto the open faced parts.  Deee-lightful.
I used both roasted red pepper AND spinach artichoke because I couldn't pick just one. 
For dinner, we were supposed to go to HanGawi – a vegetarian shrine in midtown, specializing in Korean vegetarian food.  I've been wanting to go here FOREVER, so I was pretty excited.  Too bad I felt like a$$ and we just couldn't make it.  I was truly devastated, which only further angered me, and thus my stomach.  I swear, stress just aggravates any symptoms I already have and exacerbates them eight-fold.  I hate my GI tract.  Get it together man.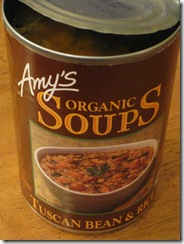 So, instead of fine dining, I went with a safer (read: more GI friendly) consolation prize of a meal…which may as well be a second entry to the aforementioned sweet potato challenge.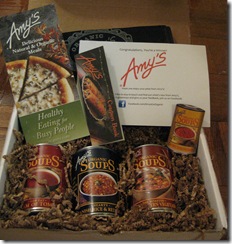 This meal was made possible thanks to Valerie's brilliant contest that I was lucky enough to win.  I love love love Amy's products, so it was a big win in my book.  In addition to the soups, I scored coupons, a cute bag, and a magnet.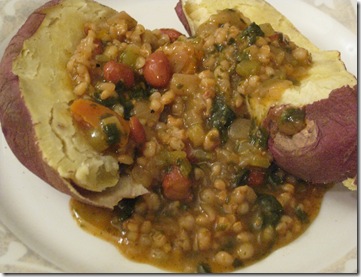 I tried the Tuscan Bean and Rice over my second sweet potato of the day (not even close to a record for me, but still worth noting).  So yum. 
I had the second half of the soup in a bowl, mixed with left-over steamed BN squash.  That Amy knows her stuff.  This company is freakin' money.  My stomach was both full and happy, thus, I was happy.
Kyle got home and we snuggled up to Slumdog Millionaire. 
I made a bomb berry smoothie with the following ingreds:
POM pomegranate juice
Vita Coco coconut water
frozen mixed berries
xanthan gum
ice
Holler!  Although I was far from warm, the coolness of this drank was really refreshing. 
Still, I ended up having tea right after to warm myself back up.  I so silly.  Fingers crossed that tomorrow I will be able to return to the land of milk & honey soymilk & stevia solid foods.