Vegan. Gluten free. Mega nutrients.  And deeeeelicious.
Stuffed Sweet Potatoes [vegan, gluten free]
Ingredients:
2 sweet potatoes
1/4 block (~4 oz.) firm tofu
1/4 cup hummus (I used Sabra's spinach & artichoke)
1/4 cup chopped greens (I used frozen chopped collards)
1 carrot, shredded
salt & pepper (to taste)
Directions:
Pre-heat oven to 350 degrees.
Scrub potatoes, poke with fork a few times, and microwave for 6 minutes (rotate half way through).
Meanwhile, combine the rest of the ingredients (tofu, hummus, greens, carrots, salt & pepper) using a fork to mash until texture resembles ricotta cheese.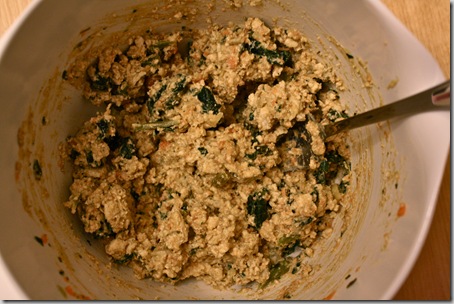 Once the potatoes are done in the microwave (and semi-cooked), slice them open and scoop out some of the flesh.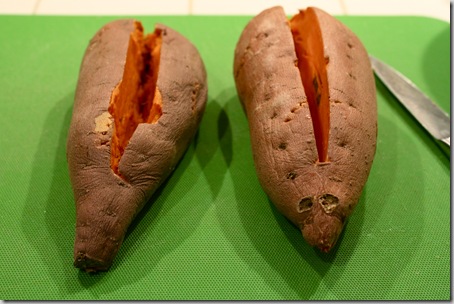 It's okay if you don't get all of the flesh (I left ~15% around the skin) and it's okay if the inside is still a little hard (it will have time to cook a little more in the oven).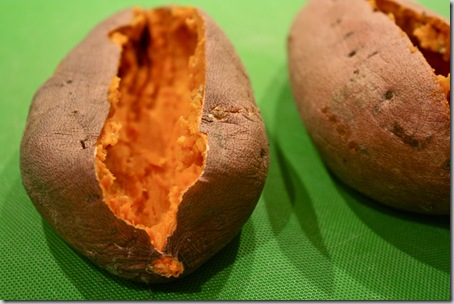 Next combine the sweet potato with the tofu hummus mixture.
Then pack it into the potato.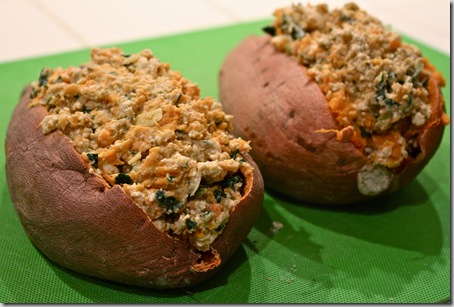 This may sound weird (ok, it will definitely sound weird), but as I was doing this, I felt like a plastic surgeon inserting implants into a tiny incision.  I was trying to leave the potatoes with as small of a slit (scar) as possible while still getting everything in.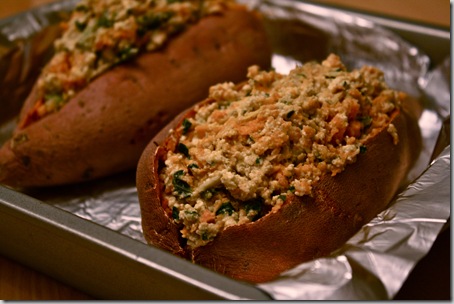 To get crunchy skin, I rubbed some oil on the outside with some salt.
Then I placed them in a pan lined in foil and non-stick and baked them (at 350 degrees) for 15 minutes.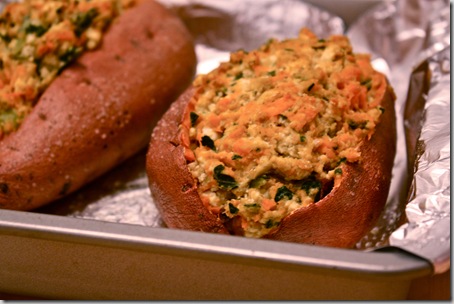 I cranked the oven up to broil for the last minute so they'd get golden bronze on top.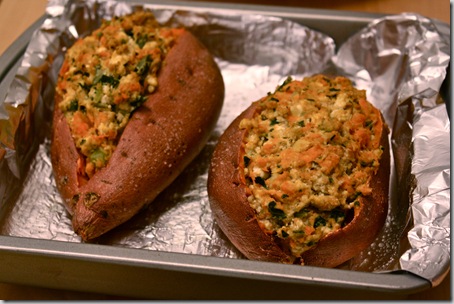 Gorgeous!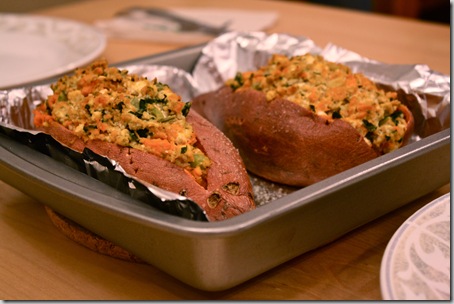 Dinner is served.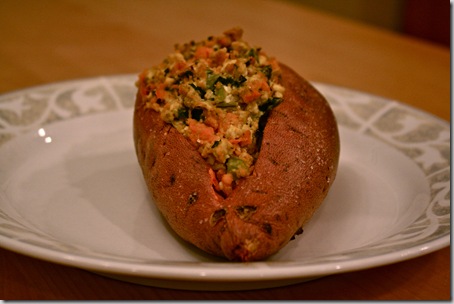 Nutrition Facts [per servings]
Calories    199.0 <—whaaa??  that seems off (way too low for dinner)!
Total Fat    7.7 g
Saturated Fat    0.7 g
Polyunsaturated Fat    0.1 g
Monounsaturated Fat    0.0 g
Cholesterol    0.0 mg <—duh, it's vegan
Total Carbohydrate    30.4 g
Dietary Fiber    5.9 g
Sugars    9.9 g
Protein    5.6 g
Vitamin A    187.2 % <—now that's what I'm talking about!
Vitamin B-12    0.0 %
Vitamin B-6    23.8 %
Vitamin C    37.5 %
Vitamin D    0.0 %
Vitamin E    5.5 %
Calcium    9.8 %
Folate    8.4 %
Iron    8.9 %
*You can see the complete stats if you enter the ingredients on this site.  [Percent Daily Values are based on a 2,000 calorie diet]
I have to be honest, I only calculated the recipe because I wanted to see how much Vitamin A (B-carotene) I was getting from the carrots and sweet potato, but the low calorie count is pretty shocking.  I mean, I graze all day, so my dinners aren't what they used to be.  But Kyle was completely satisfied with this meal!  As an entree!  Maybe I entered some data wrong or something.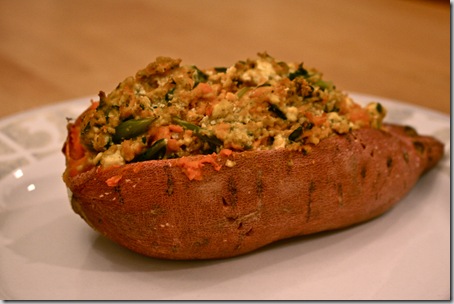 The beans (from the tofu and the hummus) give it staying power, but I suppose if you wanted to really bulk up the meal, you could add in whole beans (chickpeas, kidney, cannellini, etc.).  Or if you're looking for a meat-y filling, try swapping in TVP for something (just rehydrate the dried stuff with an equal amount of liquid).  Nutritional yeast always makes things better too.  Really the options are endless.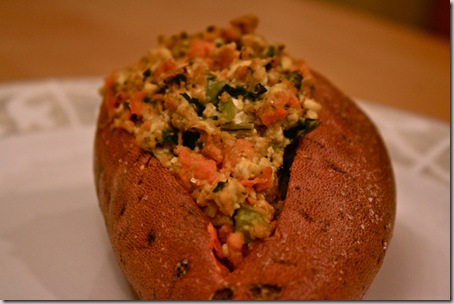 Notes: Any hummus will work, but the more flavorful ones will be more intriguing for your tongue.  I used spinach & artichoke and it was awesome.  Had I used plain hummus, I probably would have tossed in some spices.
I used frozen chopped collard greens and shredded carrots for contrasting textures (and to pack in even more nutritious ingredients).  You could use any green though (kale, spinach, etc.) or any other veggie (corn, peas, bell peppers, etc.).
Just remember, too much stuff will be harder to pack in!
Side view.