My second glucose test was this morning.  This time I had to drink 100 g of glucose.  After fasting for >8 hours. 
So last night I got home from work, showered, ate a low carb dinner and tried not to think about how my body was about to enter starvation mode.  My seitan and daiya dinner would have made Mr. Atkins so proud.  My body really doesn't like being without whole grains.  I was itching to throw my vegan "cheese-steak" on some whole wheat bread.  In the end I added a bit of quinoa to the mix (because I knew I'd never survive off protein alone).  Before my zero hour arrived I had some dessert (a few spoonfuls of peanut butter) and not long after I went to bed. 
I anticipated heading to the hospital as soon as the lab opened in the morning, which was 6 am.  This meant no food after 10 pm.  But I can barely keep my eyes open past 9 pm on work days, so I really only had between 8:15 and 9 pm to fuel myself up.  [I got home from work at 8, but took the time to shave while in the shower, thereby costing me an extra 5 minutes and delaying dinner ever so slightly]
Kyle was so sweet, offering to accompany me to the hospital and distract me while I waited out the torture.  He even woke up to get ready before I did to avoid eating in front of me.  It was still dark when we left the house at 6:30 am, but my stomach was already wide awake.  So was my baby – kicking and rolling and punching away – begging me for food, no doubt.
I checked into the lab and they took my fasting glucose, after which I got to chug the glucola.  It was even more concentrated than the one I had last week.  Honestly, I don't think I've ever consumed 100 g of sugar in a single day before, let alone one sitting.  It felt so horrible knowing what I was putting into my body was pure crap and I didn't even have a choice. 
The first hour was the worst.  Not just the waiting (which was incredibly boring), but the way I felt.  I thought I might puke for the first 30 minutes.  Kyle and I read trashy magazines to pass the time, but I got bored with those.  So then we looked at furniture (still on the hunt for a inexpensive but semi-nice dresser that will double as a changing table).  Blah.  Sitting in the waiting area was so boring.  Should have brought the iPad to watch something.  Finally it was time to get the first hour check. 
The second hour was a breeze.  We walked to the hospital cafeteria because I needed a change in scenery and I did a crossword.  I'm pretty happy when doing crosswords, especially the Daily Bruin ones, so this made the time fly by.  However, I'm also a crossword geek, so I finished it with plenty of time still to spare waste.  Thumb twiddling.  Finally it was time to get the second hour blood test. 
For the last hour we walked to the on-campus store.  We looked at baby clothes from our alma mater and dilly dallied the time away.  On our way back to the lab, Kyle ran into a former professor (I really dislike meeting people for the first time while pregnant…I feel like I need to add a disclaimer to everything from my appearance to my brain function).  In any event, I fiiiiiiinally had my last blood draw taken and bolted.  Kyle was waiting with the car in the turnaround because we were planning on going somewhere for brunch, but I was so wiped out, I just wanted to get home. 
I thought I'd feel starving by the end of it, but my appetite seemed to go away after the second hour or so.  I mostly just felt gross. 
We stopped at WF for groceries and by the time we got home I started feeling pretty bad.  At this point it was 10:45 which meant I'd gone well over 12 hours without food.  Not surprisingly, as I was making breakfast, I got really shaky and weak and faint.  Fortunately, my breakfast didn't involve much preparation, so I had a nice warm plate of eggs and tempeh bacon pretty quickly thereafter. 
It took my body a while to feel okay again.  My hands were shaking for most of the time I was eating and I had to lie my head on the table in between bites.  I'm sure my body was pissed at me.  It was probably wondering WTF I was doing drinking super syrupy soda for breakfast with nothing else. 
The meal made me feel better though, and by 11 o'clock I was feeling "normal" again (normal is a relative term during pregnancy).  Truthfully, I was so unsatisfied with my carb-less breakfast.  I really wanted bread or potatoes or something, but after chugging pure sugar first thing in the morning, I couldn't help but feel guilty about the imbalance in my diet.  Such a dilemma.
In the end I had some roasted purple potatoes a while later because I knew ignoring an entire macronutrient wasn't going to lead me anywhere good.  I'm also 100% certain my body isn't on board with the paleo/atkins/dukan approach. 
*****
Now I'm (impatiently) waiting for the results.  If I weren't so afraid of the legal side of medicine I'd log in with my work ID and check the results myself.  It's a good thing I'm not on campus because then I'd really be tested…
*****
Well, I couldn't wait any longer.  So I emailed my provider and asked if the results were back.  Good news!  I passed!  So I guess the first glucose test was a fluke and my random dizzy spells and such are just the normal pregnancy symptoms I suspected (and blew off) before. 
10/30/12  1008   (COLLECTION TIME)    10/30/12  1009  (IN LAB TIME)
-  GLUCOSE,3 HOUR                     67 mg/dL                     65-110
10/30/12  0910   (COLLECTION TIME)    10/30/12  0914  (IN LAB TIME)
-  GLUCOSE,2 HOUR                     95 mg/dL                      <140
10/30/12  0810   (COLLECTION TIME)    10/30/12  0817  (IN LAB TIME)
-  GLUCOSE,1 HOUR                     92 mg/dL                      <185
10/30/12  0705   (COLLECTION TIME)    10/30/12  0706  (IN LAB TIME)
-  GLUCOSE,FASTING                    77 mg/dL                     65-100
Clearly my body was ready for food by the last hour!!!
Now that I see how well my body tolerated the 100 g glucose, it seems odd that my first test (after drinking 50 g) was a whopping 147, but who knows. 
I'm just happy to be able to continue my normal diet throughout the remaining months of pregnancy.  I was trying to be open minded about the idea of meeting with a dietician in the event of an abnormal fasting GTT, but it definitely didn't seem appealing.  Not to sound arrogant, but considering how (healthfully) I eat and (often) I exercise, it didn't seem like there were many things for me to change, which is why I was worried insulin may be the next step.  But all my concern was for naught.  Typical Elise, overanalyzing everything to the extreme.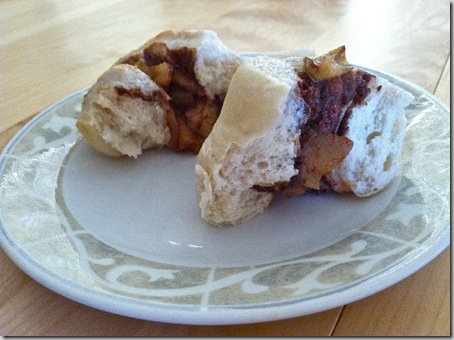 Hooray for carbs! 🙂