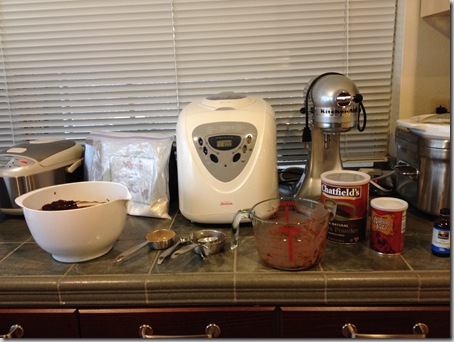 This past weekend's mission was to test run a chocolate cake for P's first birthday.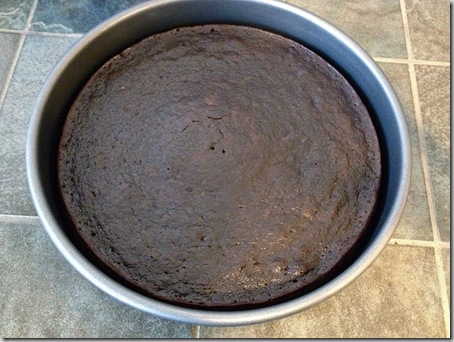 Mission: accomplished.  🙂
Like, SO accomplished.  I was beside myself with pride when it turned out.  Now I can serve a cake for everyone to enjoy that will make my son feel normal!!!  Hooray!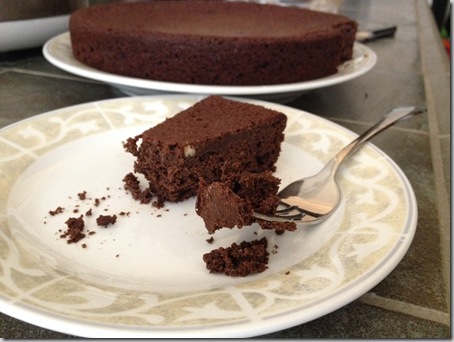 It is chocolaty and rich and tastes indulgent, despite having no added sugar.  It's also free of grains.  And nuts, seeds, soy, wheat, and dairy.  And it actually tastes good.  Scratch that.  It tastes great.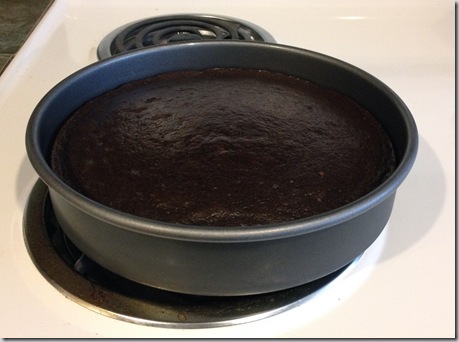 Grain free, allergy-friendly chocolate cake [wheat/gluten free, grain free, nut free, dairy free, soy free*]
Ingredients:
3/4 cup enjoy life chocolate chips*
1/2 cup coconut oil
1 banana
4 eggs
1 tsp vanilla
1/4 cup cocoa powder
2 tbsp coconut flour
1/2 tsp baking soda
1/4 tsp salt
Directions:
Pre-heat oven to 350 degrees F.
Melt chocolate chips and coconut oil together until smooth.  Add vanilla.
Combine eggs and banana and blend with an immersion blender or in a standing blender until frothy.
Add chocolate to whipped egg/banana mixture (starting with a little bit at first so the warm chocolate doesn't cook the eggs).  Stir until combined.
Add the dry ingredients to the wet ones.  Again, stir until combined.
Let sit for a few minutes to thicken.
Meanwhile grease a cake pan with coconut oil.
Pour batter into cake pan.  Bake for 20 minutes (or until toothpick inserted in the center comes out clean).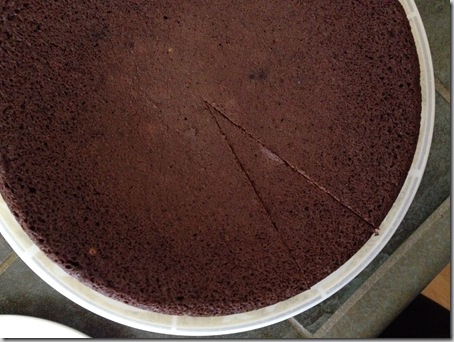 [optional] Chocolate frosting [vegan, dairy free, nut free, soy free, wheat/gluten free]
Ingredients:
1/2 cup chocolate chips*
1 can coconut milk
[optional] pinch of salt
Directions:
Chill your can of coconut milk overnight and upon opening it, scoop the solid layer on top into a mixing bowl.  This (cream) is the portion you will use (but feel free to save the liquid portion for another use).
Combine coconut cream and melted chocolate chips and whip until smooth and thick and delicious.
Let both the cake and the frosting cool to room temperature before icing.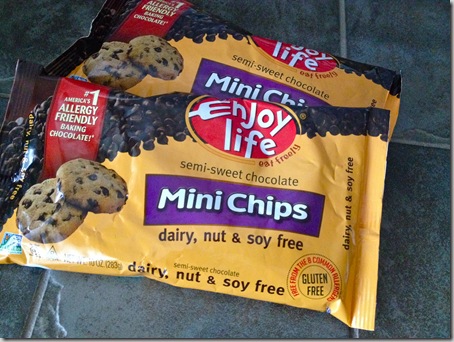 *Make sure you check the ingredients of the chocolate chips you use.  Enjoy Life brand is definitely allergy friendly (as noted by the dairy, nut & soy free label), but various brands of dark chocolate chips may be suitable as well.  Soy lecithin is often safe for those with a soy allergy, but please check with your MD or allergist first.
YUM!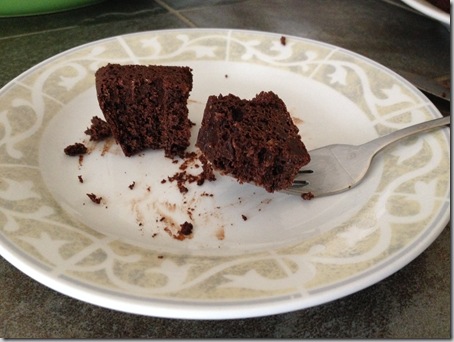 Happy 1st birthday little boy.  I am so happy to be your mama.
Elise February 10, 2014 chocolate, chocolate cake, coconutallergy, recipe Read more >