More substantial than fruit and veggies, I need (quick) snack ideas that have both nutritional and caloric oomph.  Preferably ones with protein and fat (since carbs are easy to come by in my experience).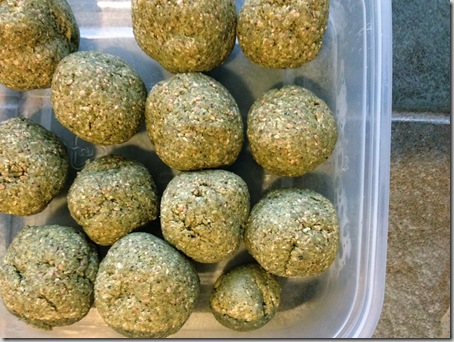 Balls for the win.
These look so hideous it's almost embarrassing to post.  It's not a wonky camera mode, they are really that green color.  It's because there's green stuff in them.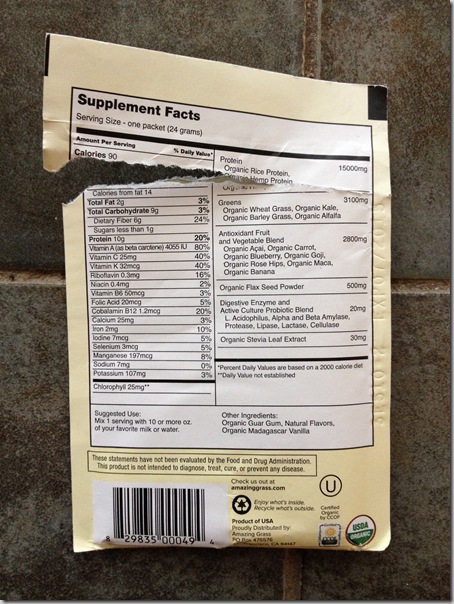 Frozen Green Chai Vanilla Bites [vegan, gluten free, soy free, dairy free, nut free]
Ingredients:
1/2 cup unsweetened desiccated coconut
1/2 cup sunflower seeds
1 tbsp protein powder of choice (I used Amazing Grass chai vanilla infusion)
2 tbsp chia seeds + 4 tbsp water
[optional] 1 tbsp liquid sweetener (maple syrup, honey, agave)
pinch of salt
Directions:
Add everything to a food processor and pulse until it all comes together and forms a large ball.
Roll into smaller bites sized balls and store in the fridge or freezer. 
Notes: the amount of sweetener is up to you and will vary based on what protein powder you use (i.e. if it is sweetened or not).
The pairing of chai and vanilla and coconut in these is awesome.  I totally recommend Amazing Grass' vanilla chai infusion.  It's got that characteristic "green" taste (and color), but has a delicious unique chai flavor.  I love love love chai.
Chia gel on the left, ready to roll on the right.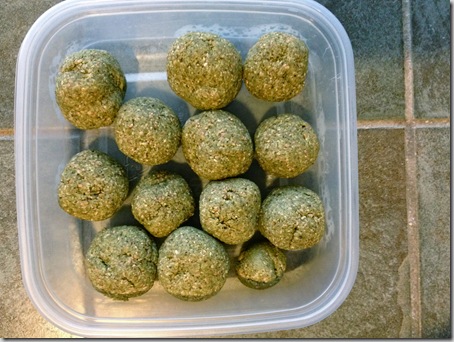 Depending on the size, you should get ~12 balls. 
These are nutrient dense like whoa.  Thanks to the Amazing Grass powder, they have (rice and hemp) protein, plus the sunflower seeds, chia, and coconut offer fat (and a million other fantastic nutrients) as well.
More allergy friendly snack ideas:
dried coconut / dried fruit
banana chips
glutino pretzels with sunbutter
home-made bean dip
tortilla chips with salsa/guacamole
avocado on wheat free crackers*
pepitas / sunflower seeds
hard boiled eggs
As you'll notice, several of these require you to make them yourself.  In the safety of your own kitchen, you have 100% control over what goes into your food.  Time consuming, for sure; but at least you'll be less stressed because you will be sure of the exact ingredients. 
Other ideas??  Feel free to chime in! 
*If you are eating something pre-packaged, be sure to check ingredients lists carefully.  If it's a gluten free product, it may still have some other source of allergen (case in point Mary's Gone crackers, which are wheat/gluten free but do have sesame seeds).  Unless something is made in a certified peanut/tree nut-free facility, there's always a risk of contamination.  I've called a few companies and so far everyone has been really helpful in making sure their customers are informed.  Be a responsible consumer – don't be afraid to get in touch with customer service and ask questions!
Elise February 13, 2014 chia seeds, coconut, protein powder, sunflowerallergy Read more >