OIT update:
He is up to 1/8 cup of whole milk and the MD predicts another couple visits until maintenance!! Maintenance is 1/2 cup (taken twice a day) and is meant to provide "free eating" as determined by our personal experimentation afterwards. You aren't supposed to eat any additional dairy (more than the two 1/2 cup doses per day) for the first month, but after that you can kinda trial and error to see what you tolerate…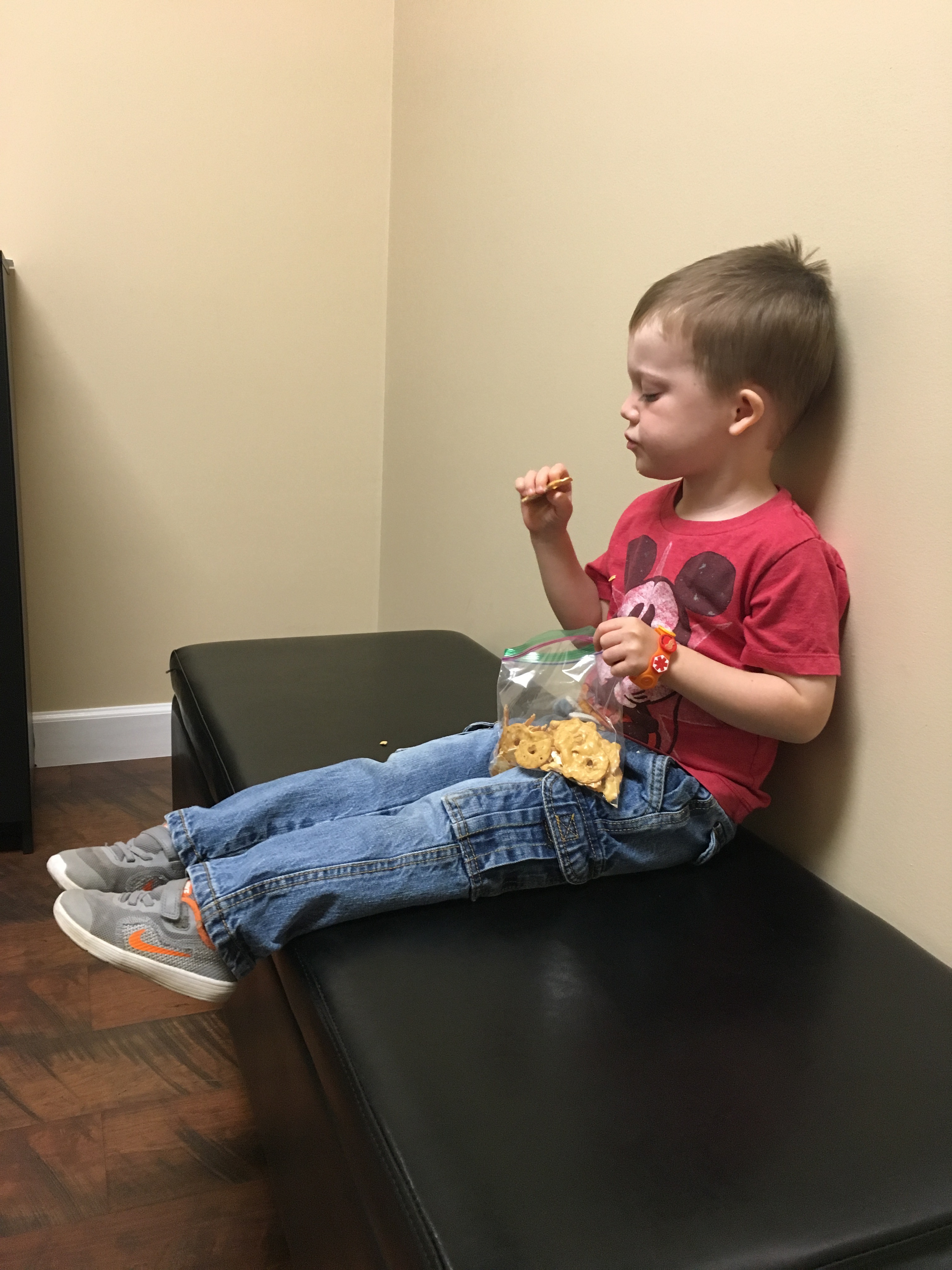 We haven't tested it, but the MD also thought he'd be safe with butter by now if we wanted to eat at a restaurant.  Insert all the !!!!!!!!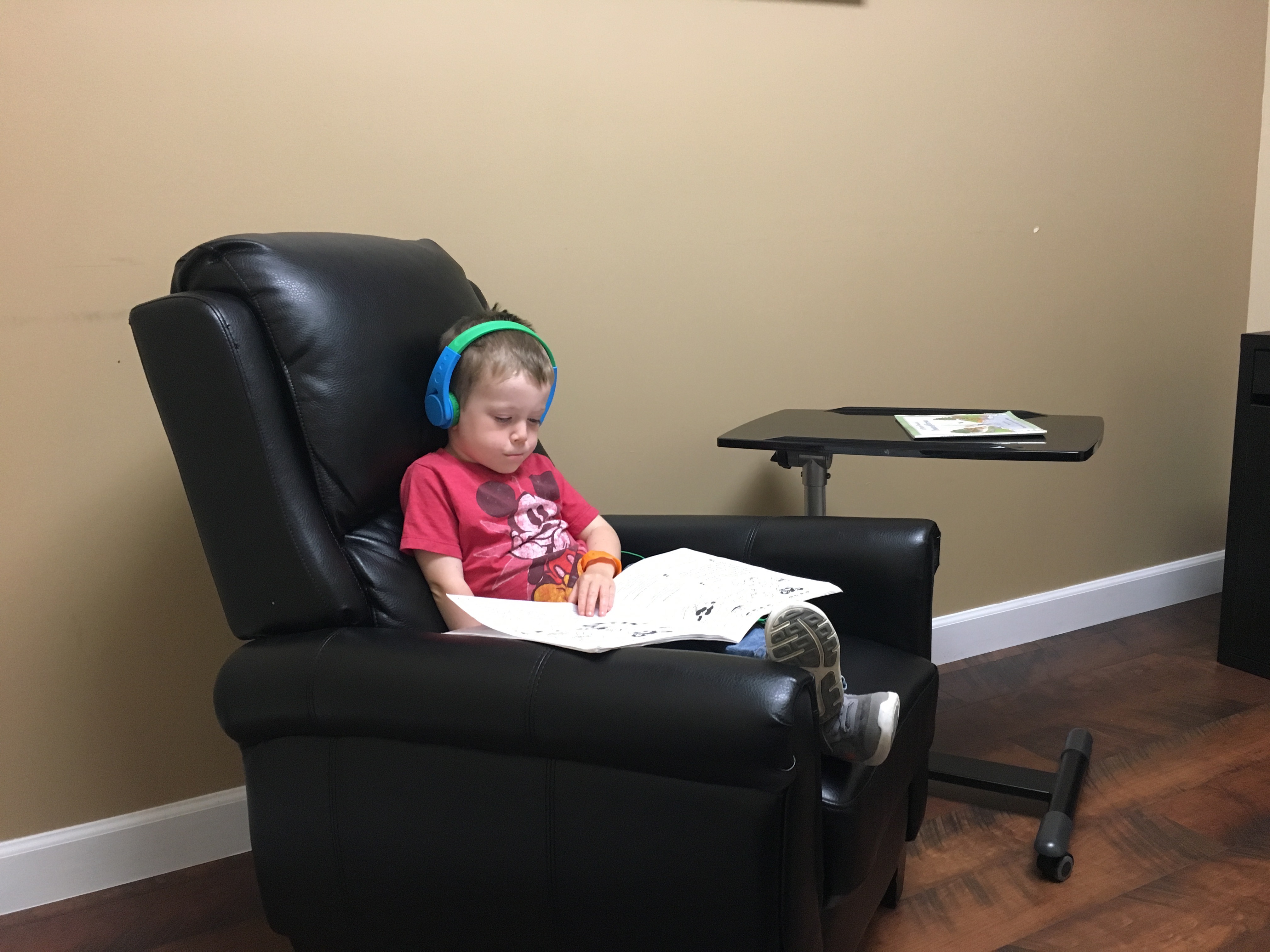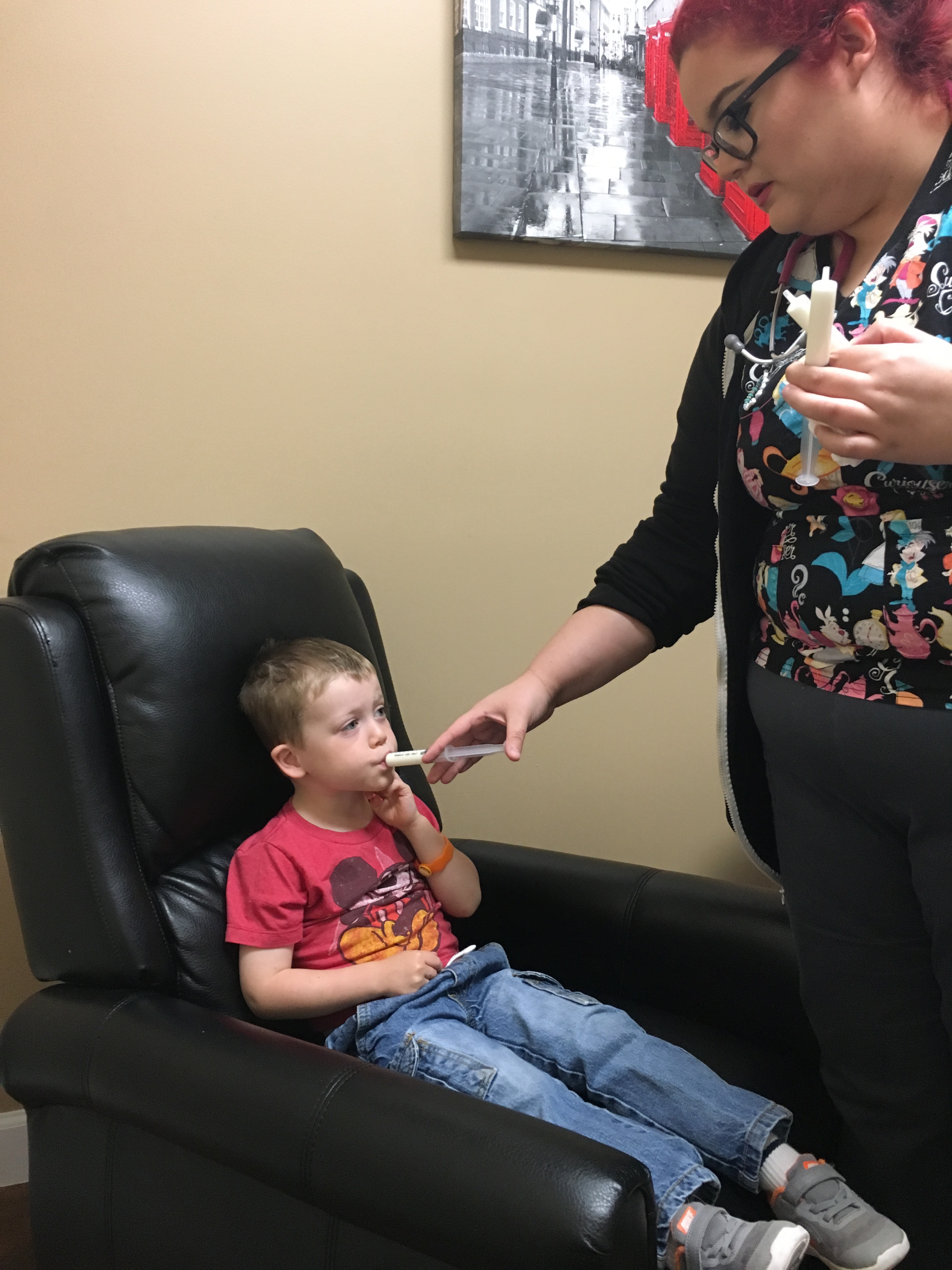 We have probably checked out 100 books-on-cd from the library at this point…thank goodness he doesn't mind re-reading things over and over.  And over.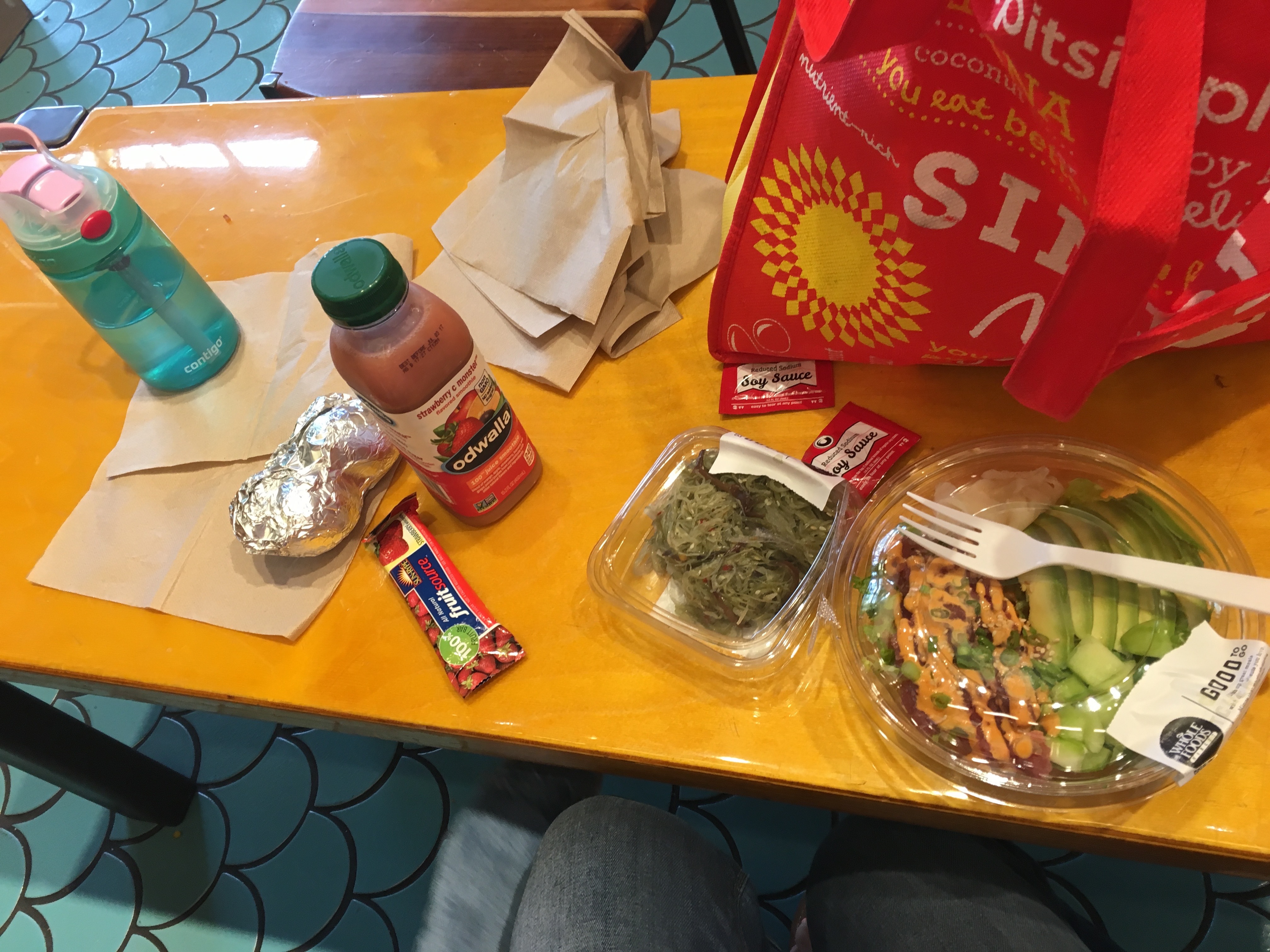 Another post appointment celebration at WF.  I got a poke bowl and seaweed salad.  Overpriced but good nonetheless.
I brought him hard boiled eggs but bought him a juice as a treat.  After all the carby pretzel snacks, it's good to get him eating real whole foods.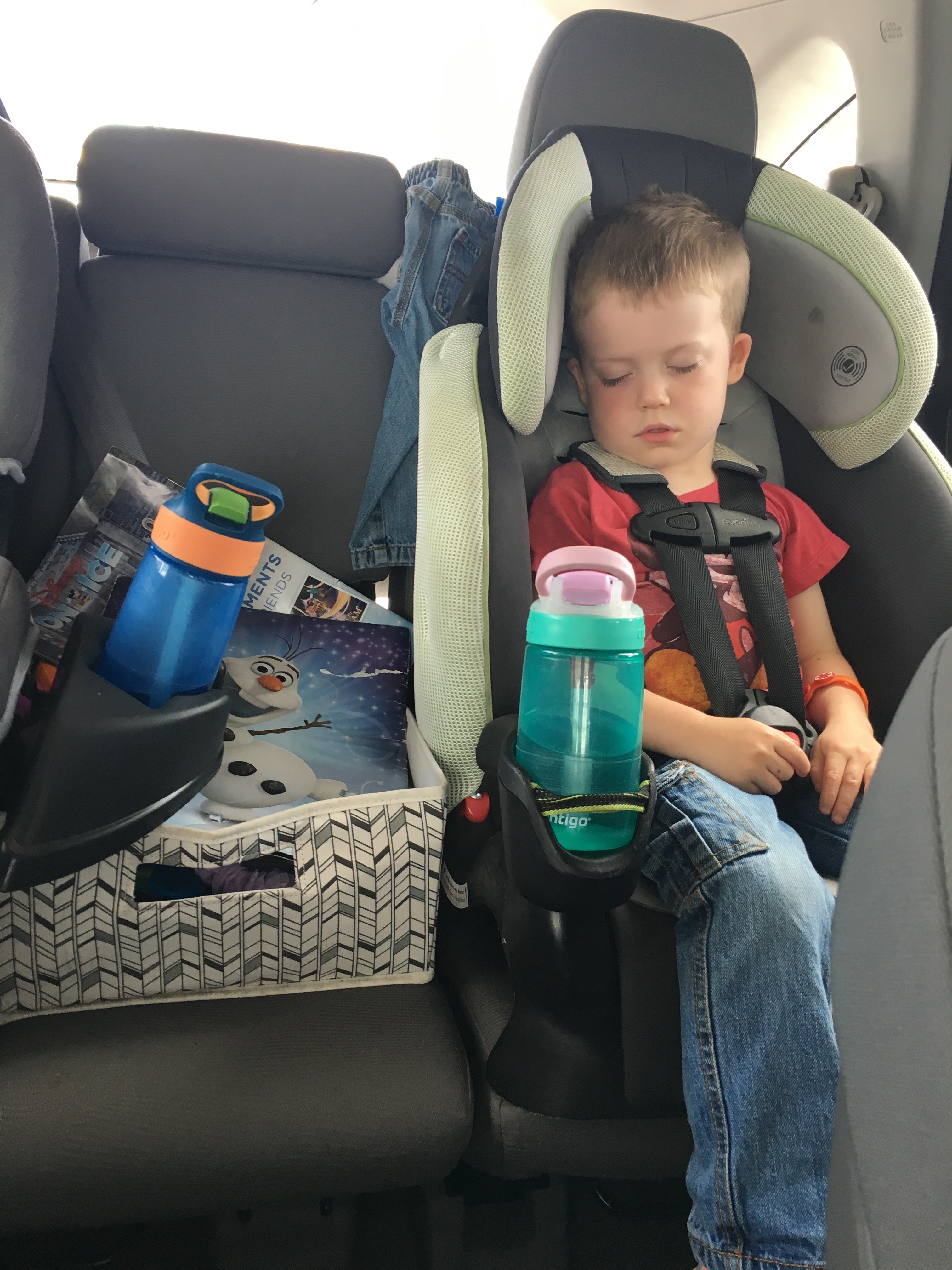 We hadn't even driven a block since leaving the WF parking lot and he was already ZZZZ…
I can't emphasize enough how awesome he is as a patient.  Such a brave and patient boy.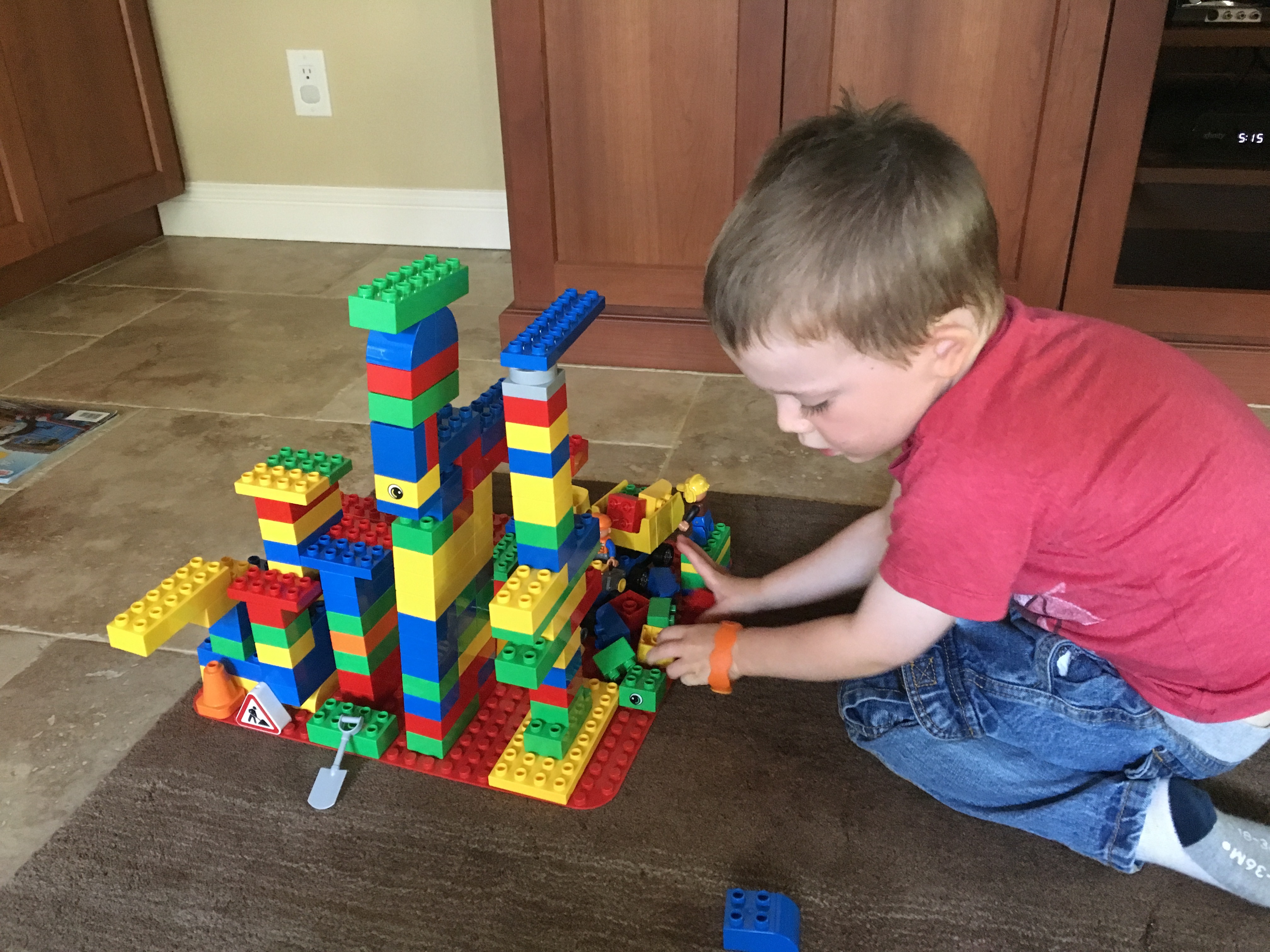 He was still asleep when I got back to my parents' house so I just hung out in the driveway (with the car's AC on for him) until he woke up.  Since we had plans the next day in the East Bay we didn't have to rush back to Davis.  P was happy to stay and play at grandma and grandpa's rather than sit in traffic for the next few hours. 🙂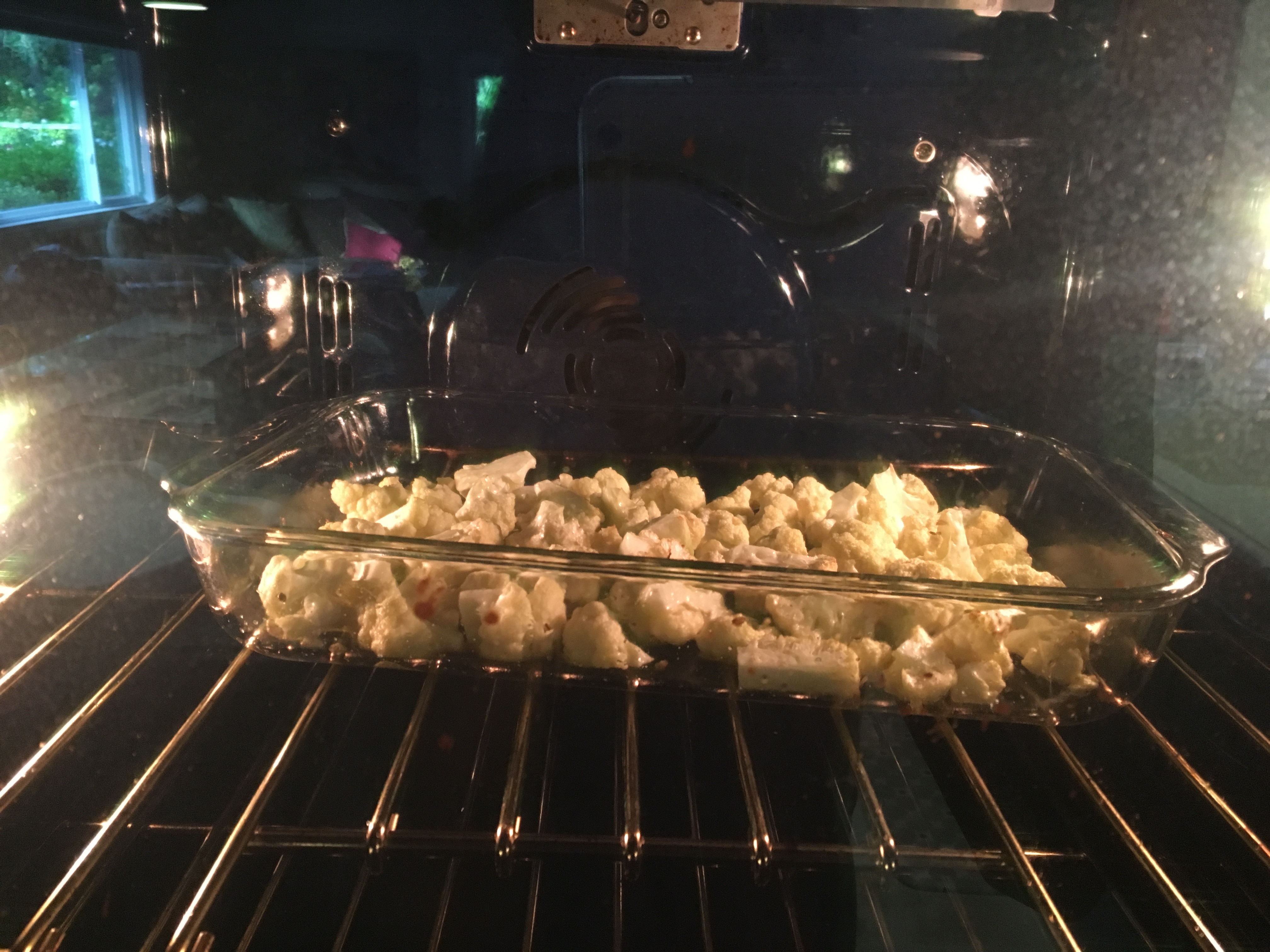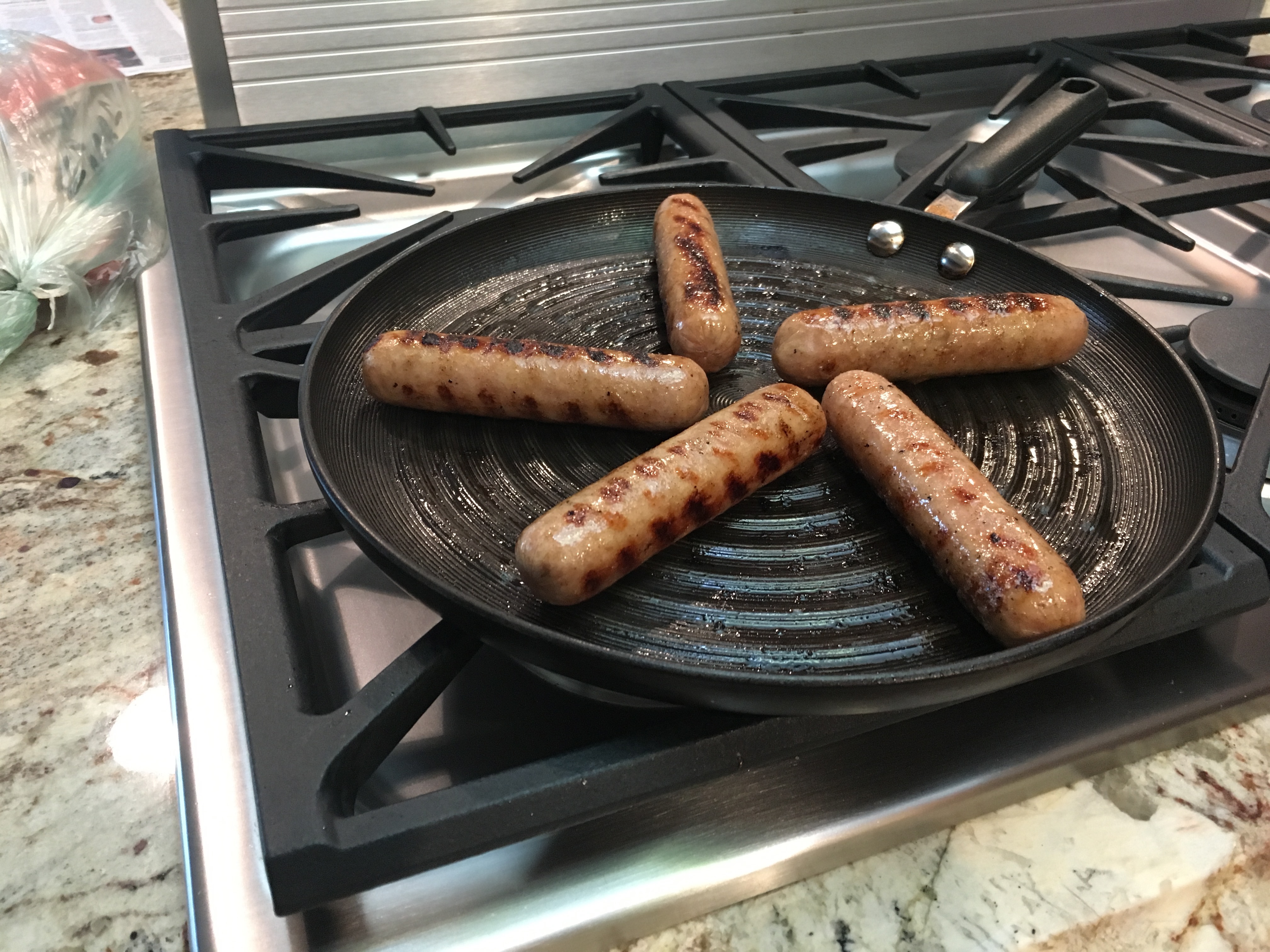 Roasted cauliflower, sausage, kale salad, focaccia, and sirloin for dinner.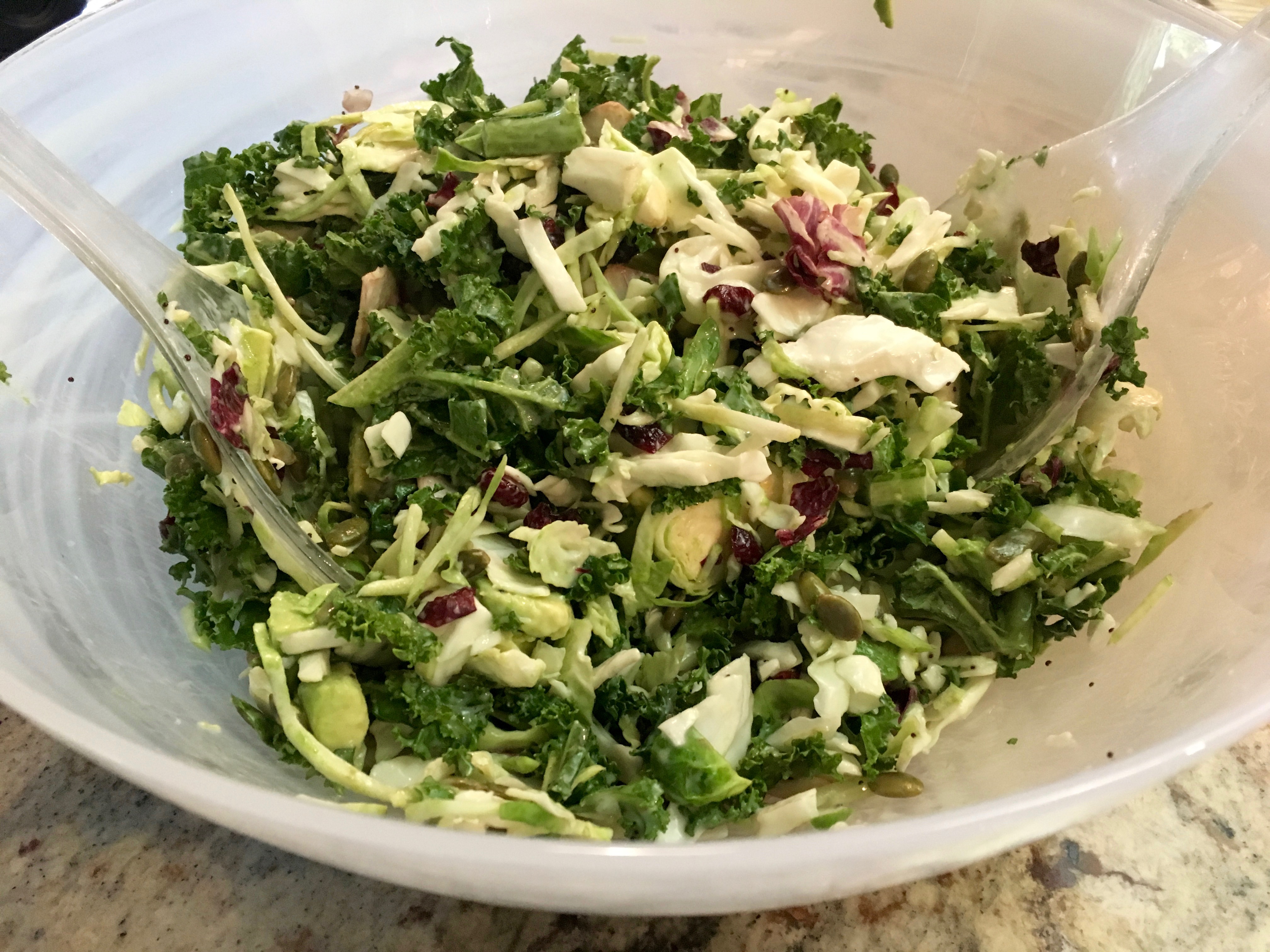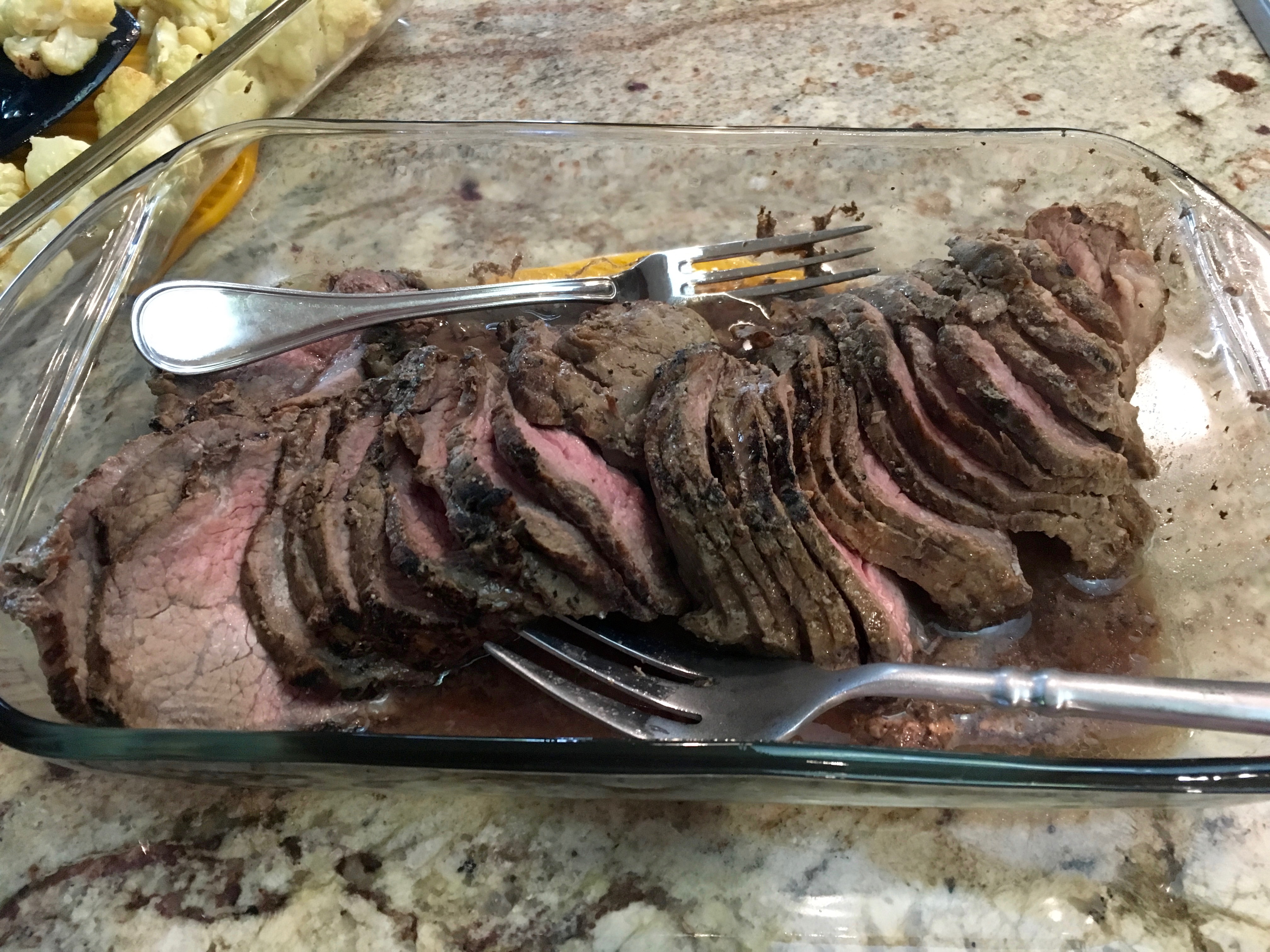 That! salad!  I could eat on repeat for the rest of time, easy.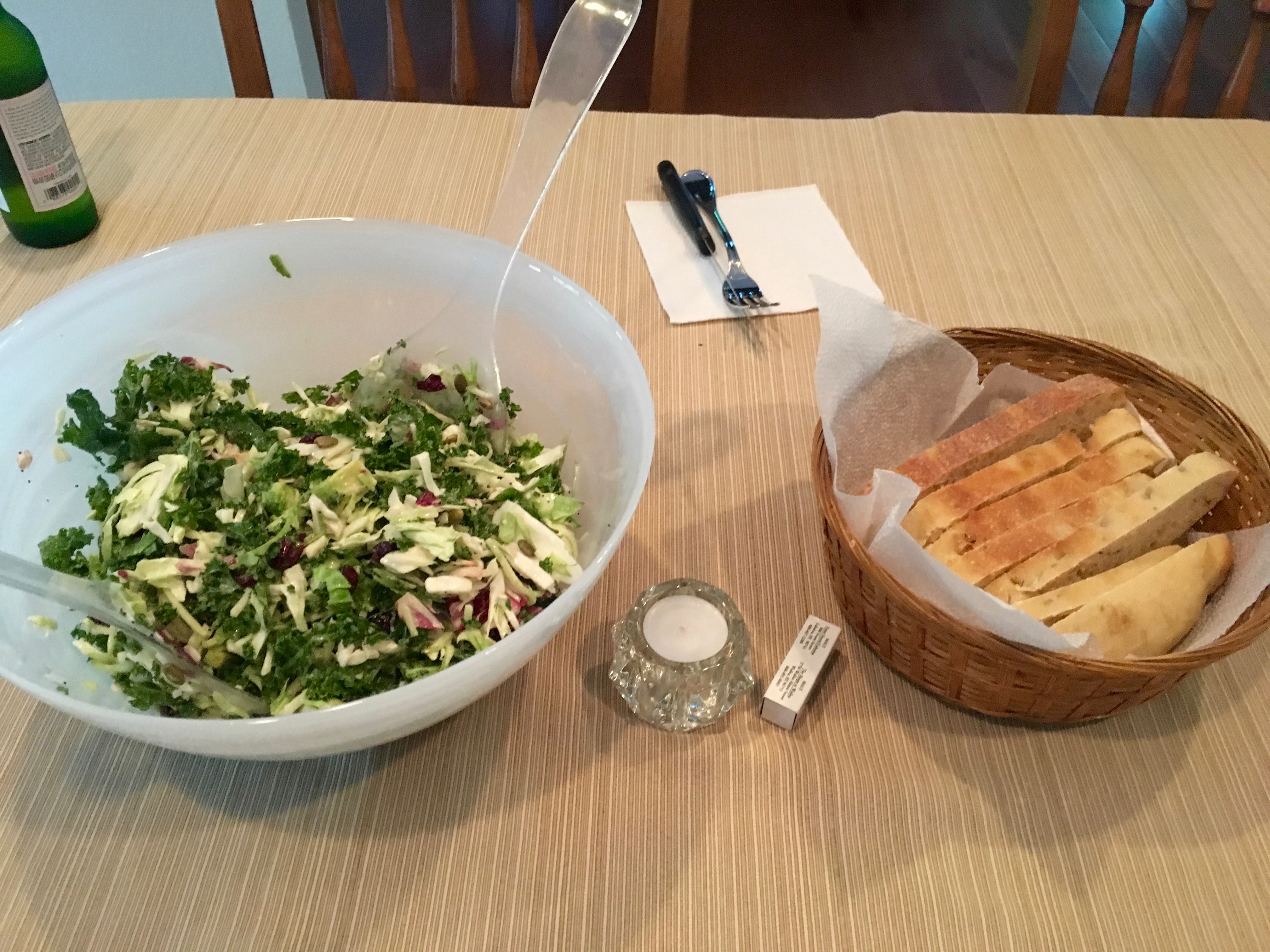 Miraculously, I kept my portion in check, so as to save some kale for the rest of the table. 😉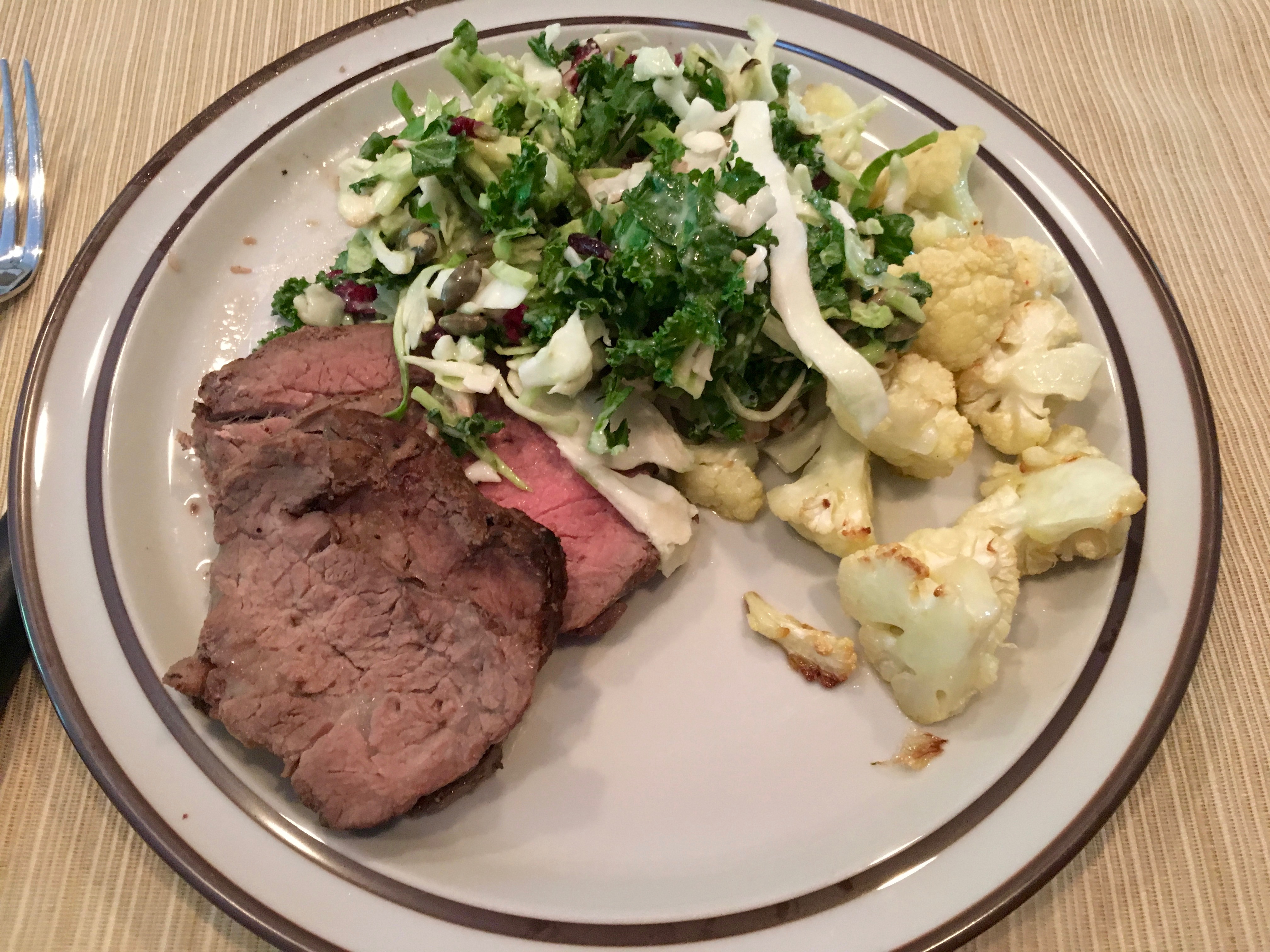 Just meant more room for dessert…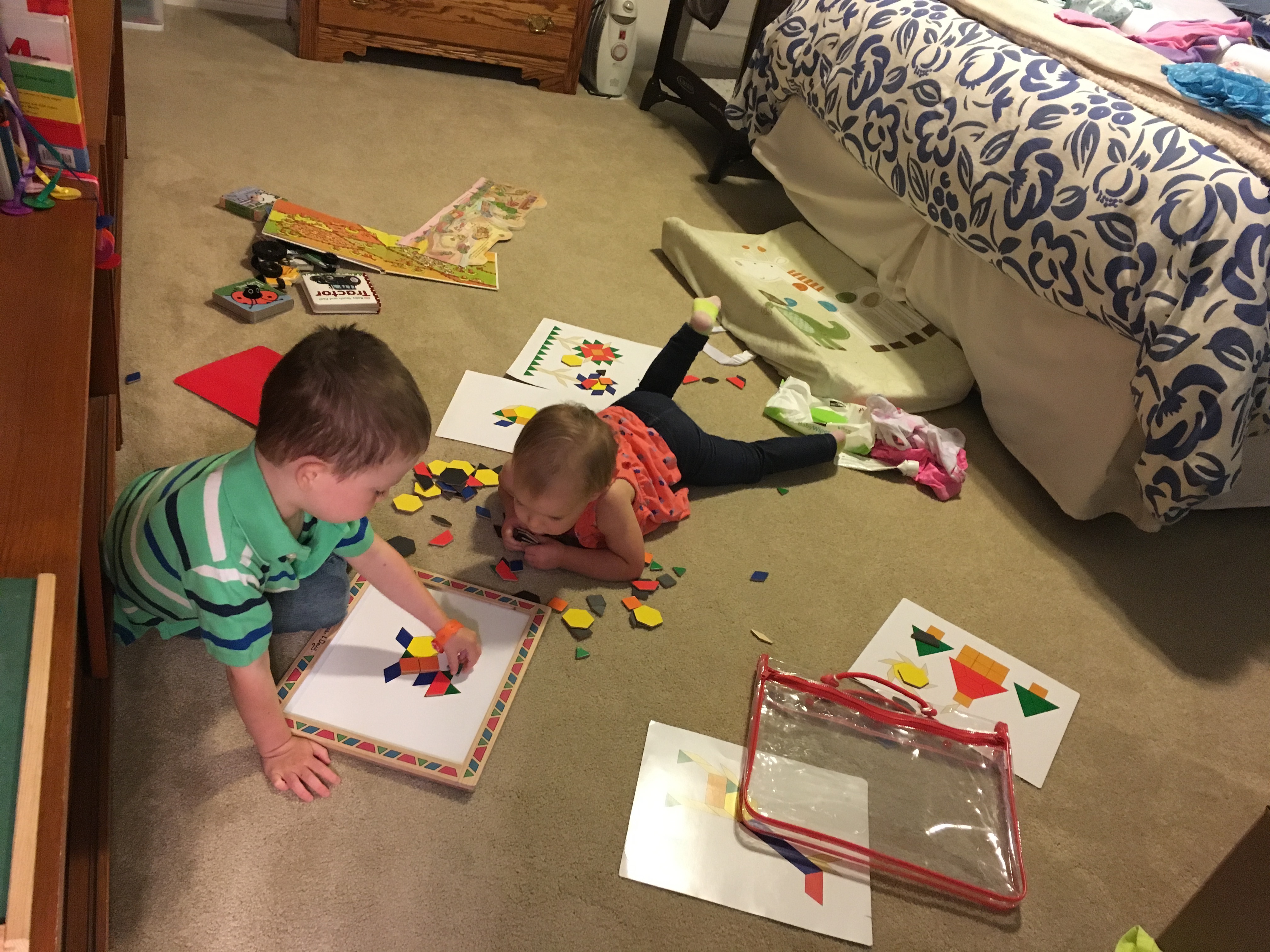 Kyle and I each went on a run the next morning.  I managed to shower without too much sibling fighting.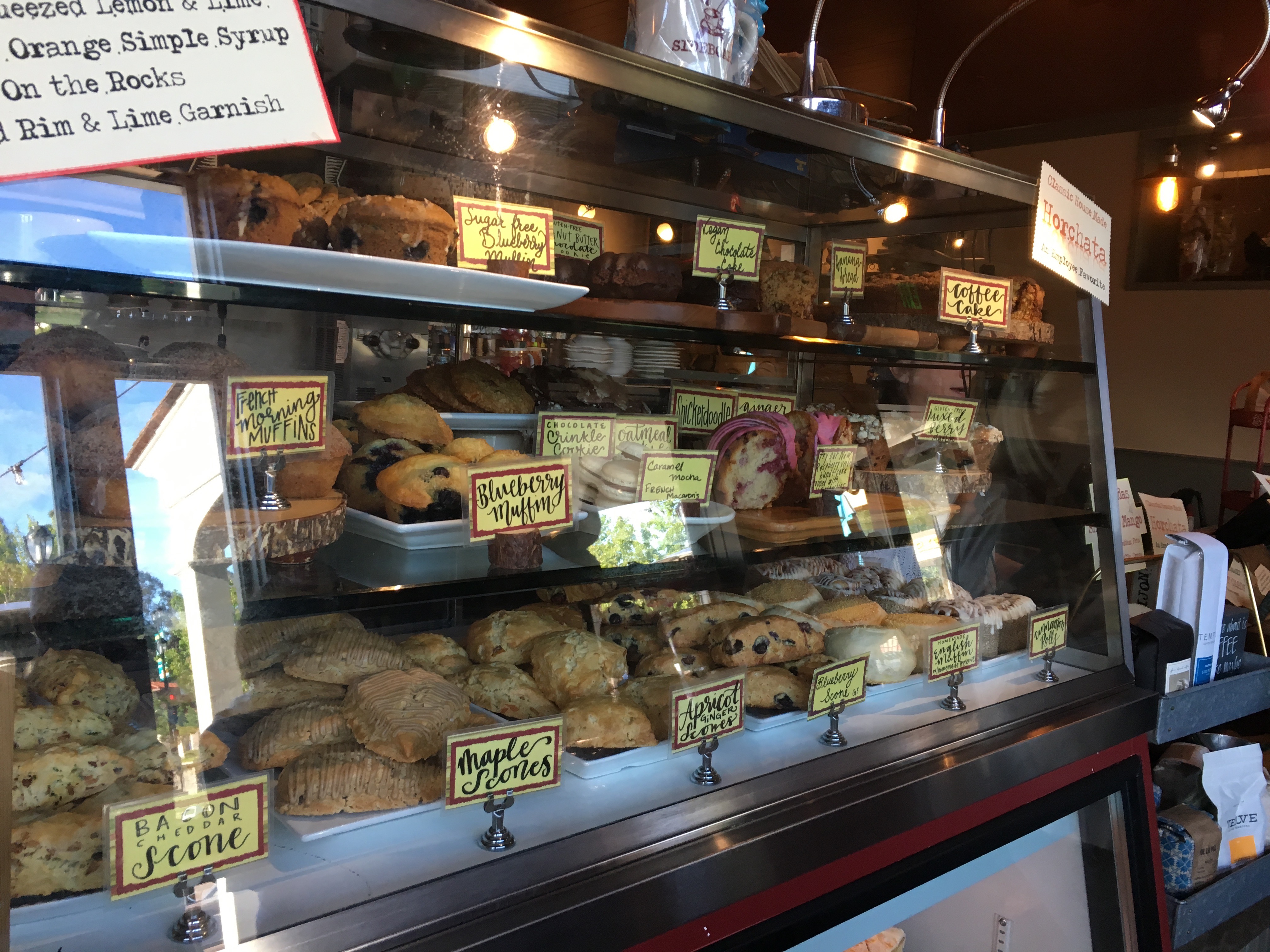 After getting ready we headed to Sideboard which I've been meaning to hit up ever since a location opened in Lafayette.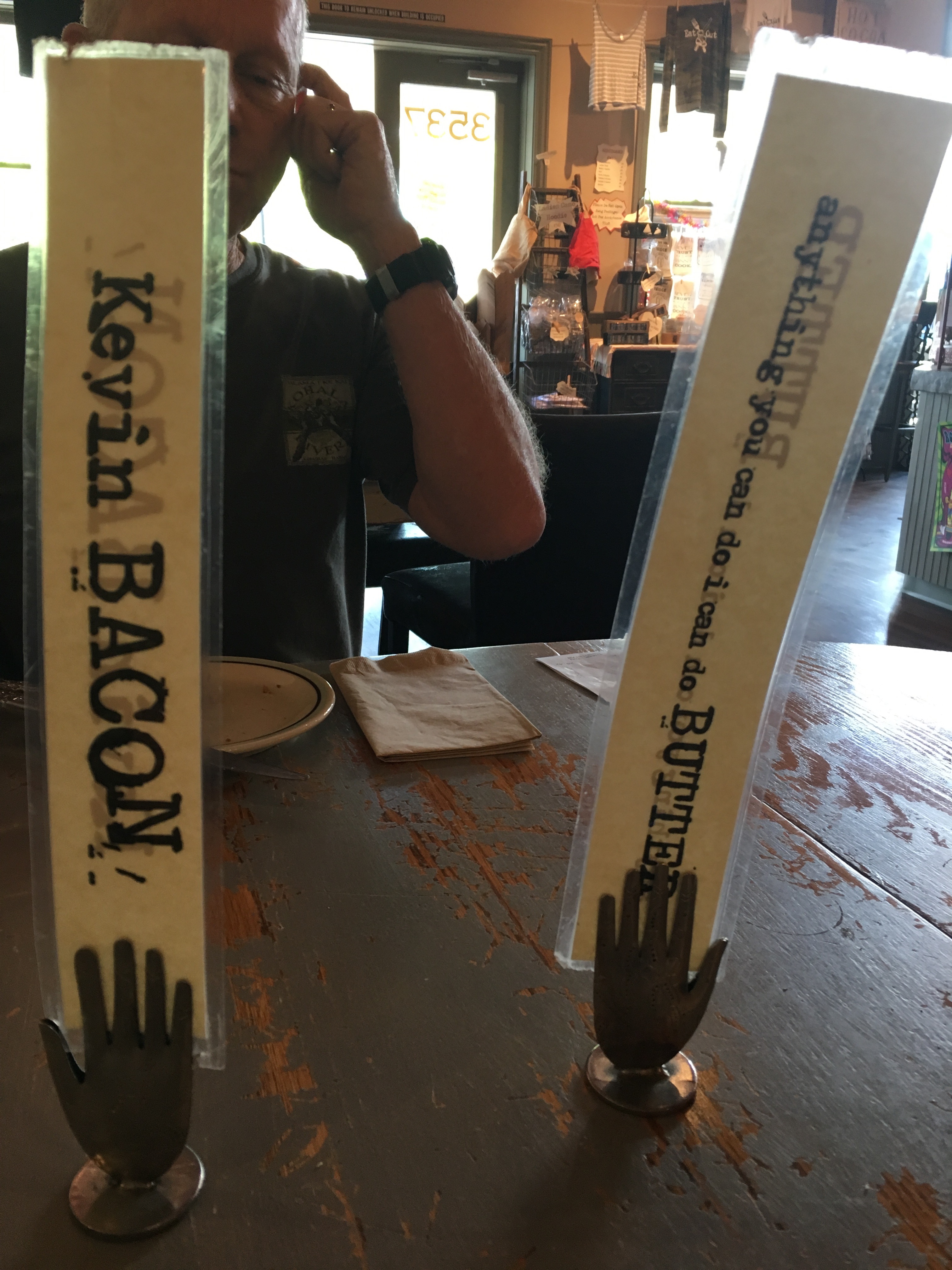 Ordering was a hard decision.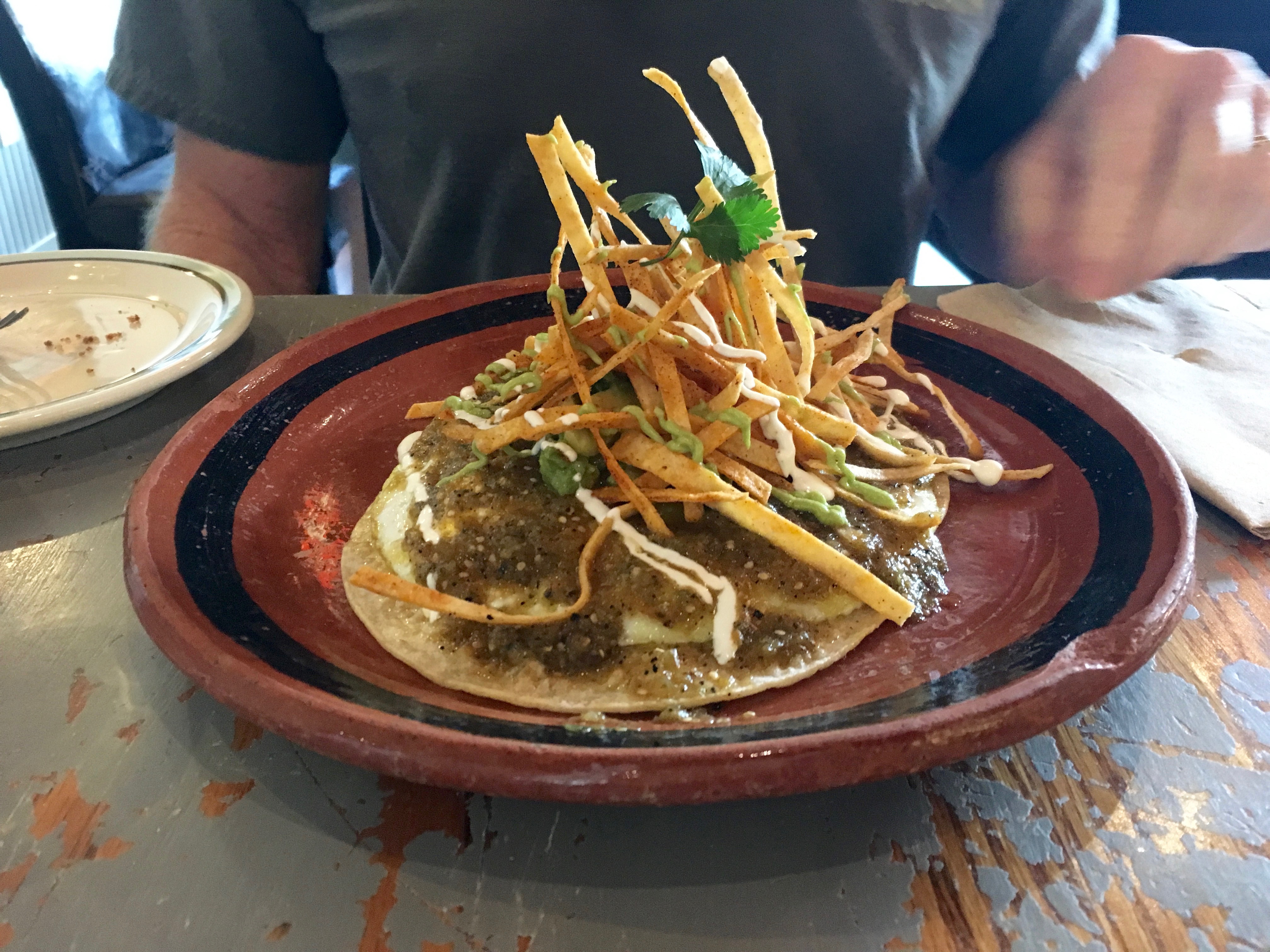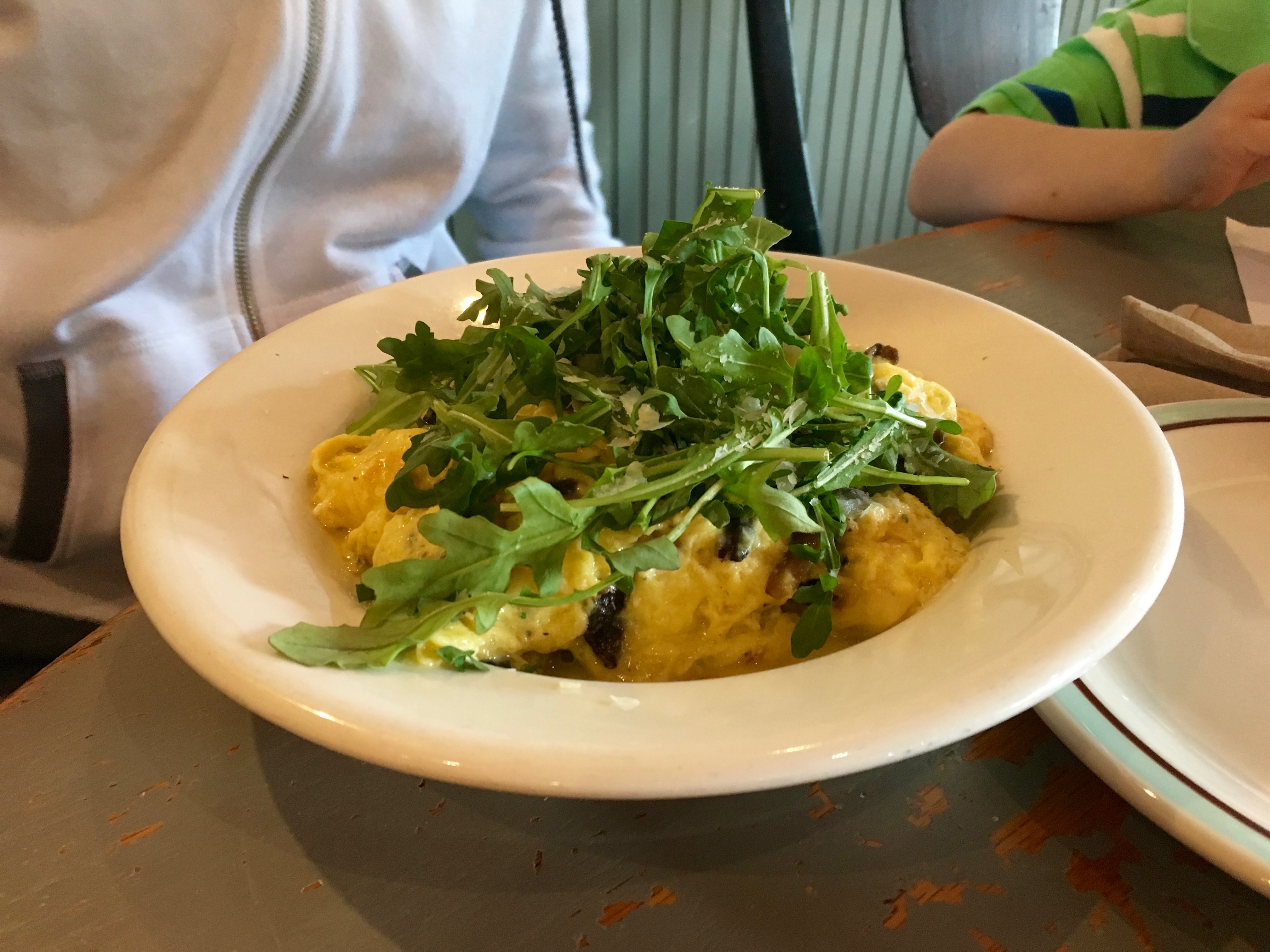 Dad's chilaquiles on the left, mom's eggs on the right.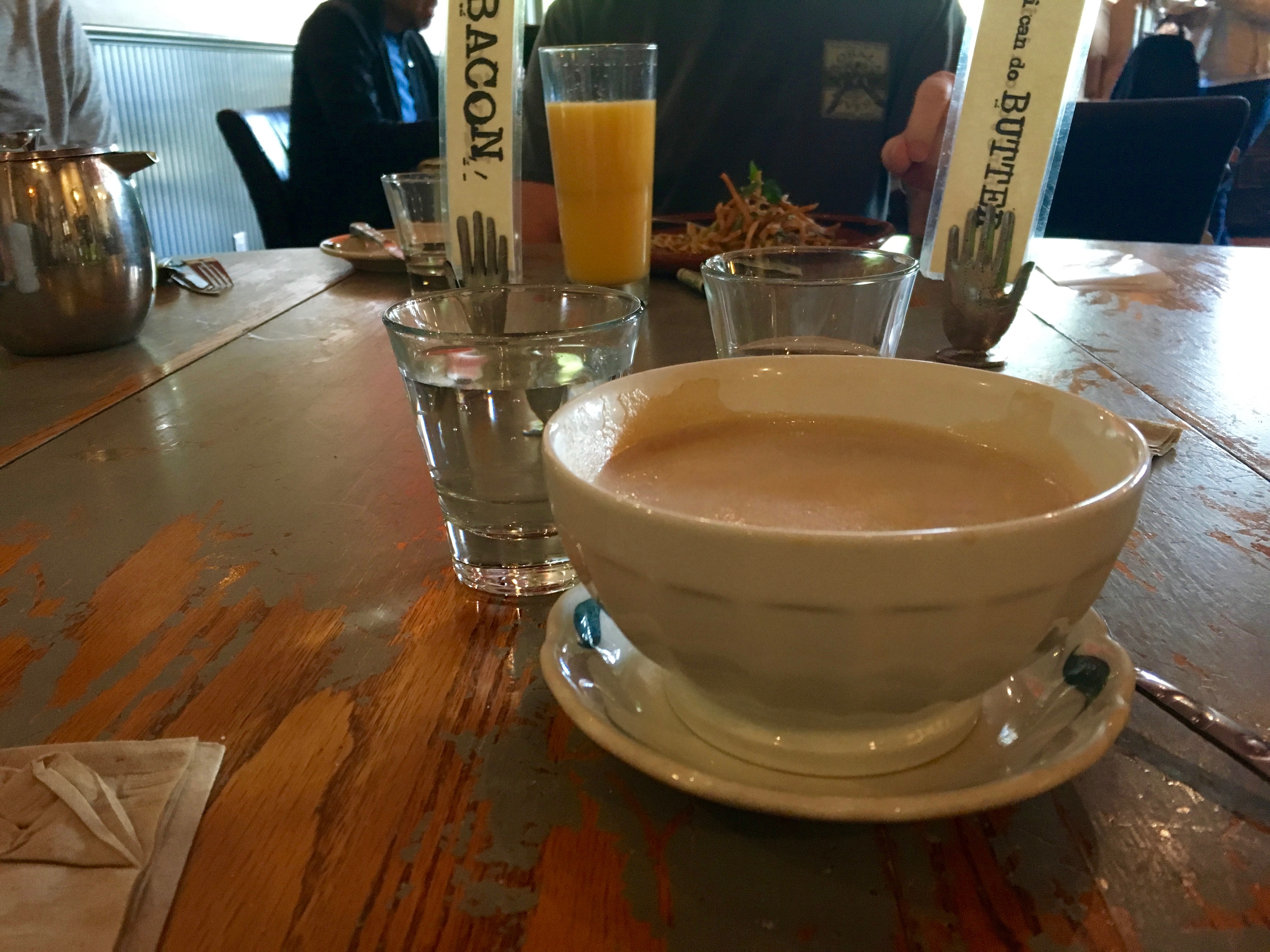 Coffee bowl the size of my breakfast had cafe au lait with califia almond milk.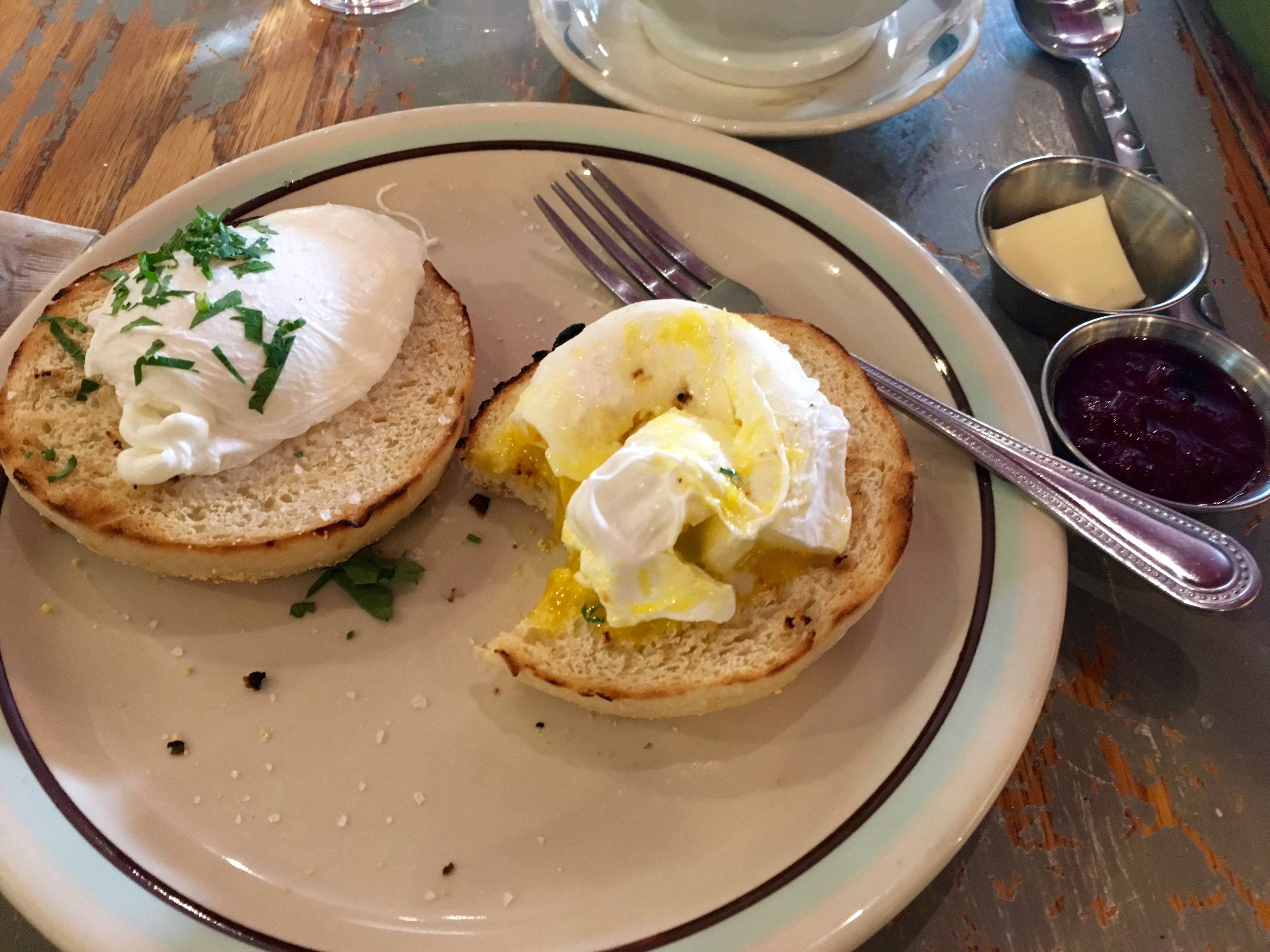 For food I got the home-made english muffin with two poached eggs and home-made preserves.
It was delicious and the portion was perfect.  I finished it all and felt full but not stuffed.
Kyle got the breakfast mac n cheese (!!!) and said the same.  It was gluttonous by nature of the order but the amount wasn't obscene so it was great.  I brought food for P and V but my mom and I both snuck some food off our plates to my little girl.
Unfortunately, from there we had a bit of a scare.  I learned two key lessons: (1) P needs to really eat a solid amount of food before dosing and (2) at least for the first few days after updosing in the office he needs to remain truly inactive after his dose.  I had been pretty good about the first thing – I don't give him milk until he has eaten a good proper meal.  But we've been pretty lax with the second, particularly after breakfast.  He goes to gymnastics and school and whatever else, sometimes a mere 15 minutes after finishing breakfast and getting dosed up.  For the first few days after updosing we need to really keep him from being too physically active.  He has had an issue once before, but not as serious as this time…we went to the lawn right in front of the restaurant to race paper airplanes after we'd all finished eating and on the way to the car I noticed he was off.  He was sneezing endlessly, and before we knew it he was totally congested.  My parents live close, so within minutes I gave him his albuterol inhaler and Zyrtec.  His wheezing stopped after that, but his body slowly broke out in hives and ended up completely covering his body.  Once his face puffed up I got nervous enough to call the MD.  He answered right away, told me what to do (another dose of zyrtec and pepcid) and fortunately it didn't get any worse.  No epi, no vomiting. It's a good reminder that this process is not riskless. P was pretty miserable until the zyrtec kicked in, which finally allowed him to breathe.
We had a play date planned but P wasn't ready for that so Kyle went with V and the two of us stayed back and read books and did puzzles.
Once his hives were gone, I gave him a bath and then he helped me make lunch for everyone.
I'm trying to get him into tuna, so having him help me in the kitchen making some is step number one.  he tried a few bites just out of curiosity and even though I don't think he liked it too much, he asked for more and loved the idea of dipping pretzels into it (duh).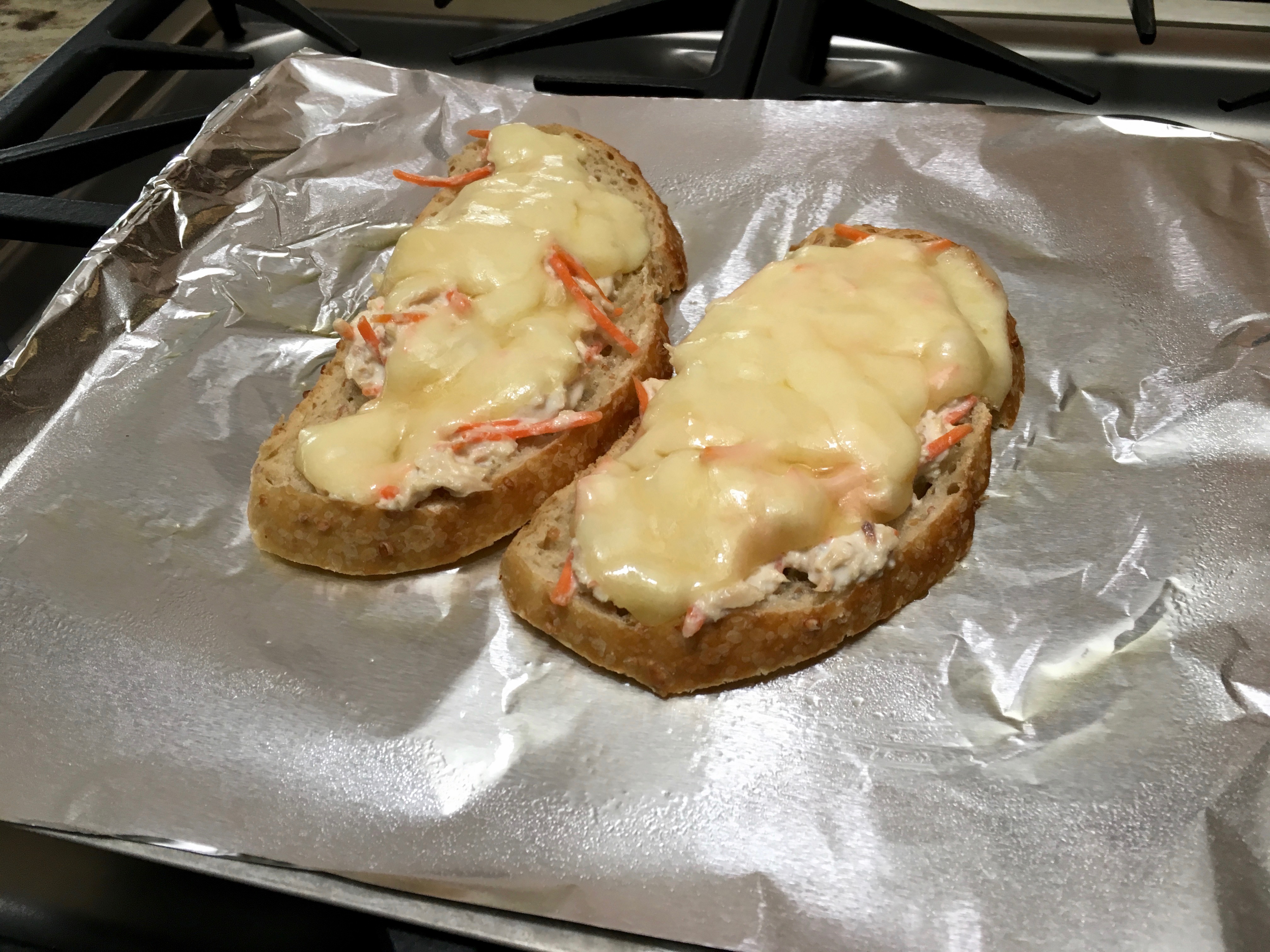 Kyle's turned into a tuna melt.  I had mine plain with avo and salty chips.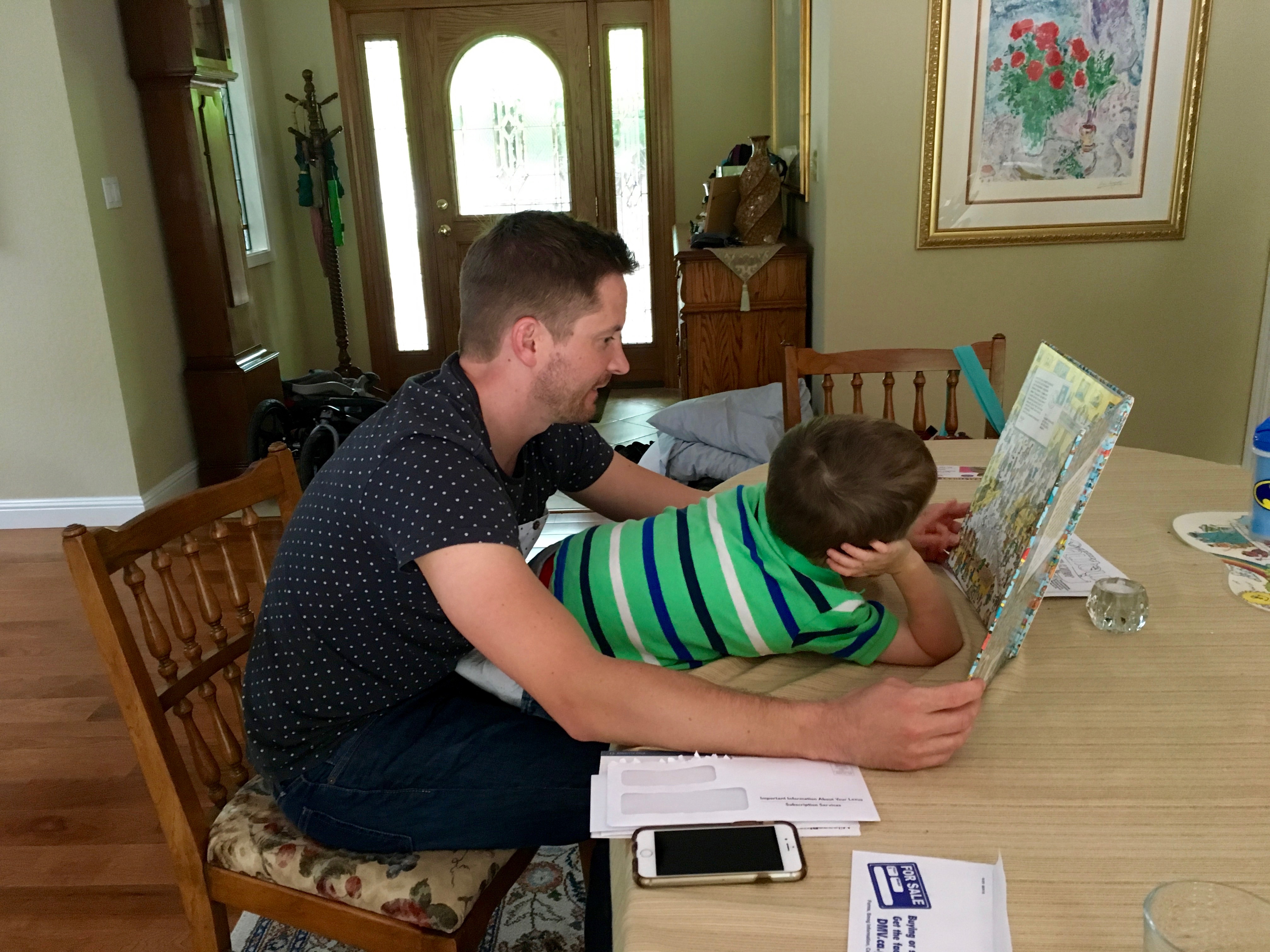 I don't have any more pics from the evening, but it was a fun night at my sister's.  Her husband-to-be grilled for us all and Marie had made an awesome spread of gluten free and dairy free fare, including cornbread muffins, bacon wrapped dates, strawberry spinach salad, and roasted green beans. And since we left before dessert she sent us home with chocolate brownies.  PS we made it til 8:45!!!  Without the kids melting down!  And thanks to the heaps of chips and guac P had over the course of the evening, before he even tackled the skirt steak, he had no issues with his dose. Phew!
The kids are pretty easily entertained at their place thanks to the swing set in the back yard, which is great since we are staying there the night before and night of their wedding.
We had dessert back at my parents' house after getting the kids in bed.  It wasn't too hard since they were both super ready to crash.  I laid in bed with P for a bit getting in extra snuggles and he fell asleep with me right then and there!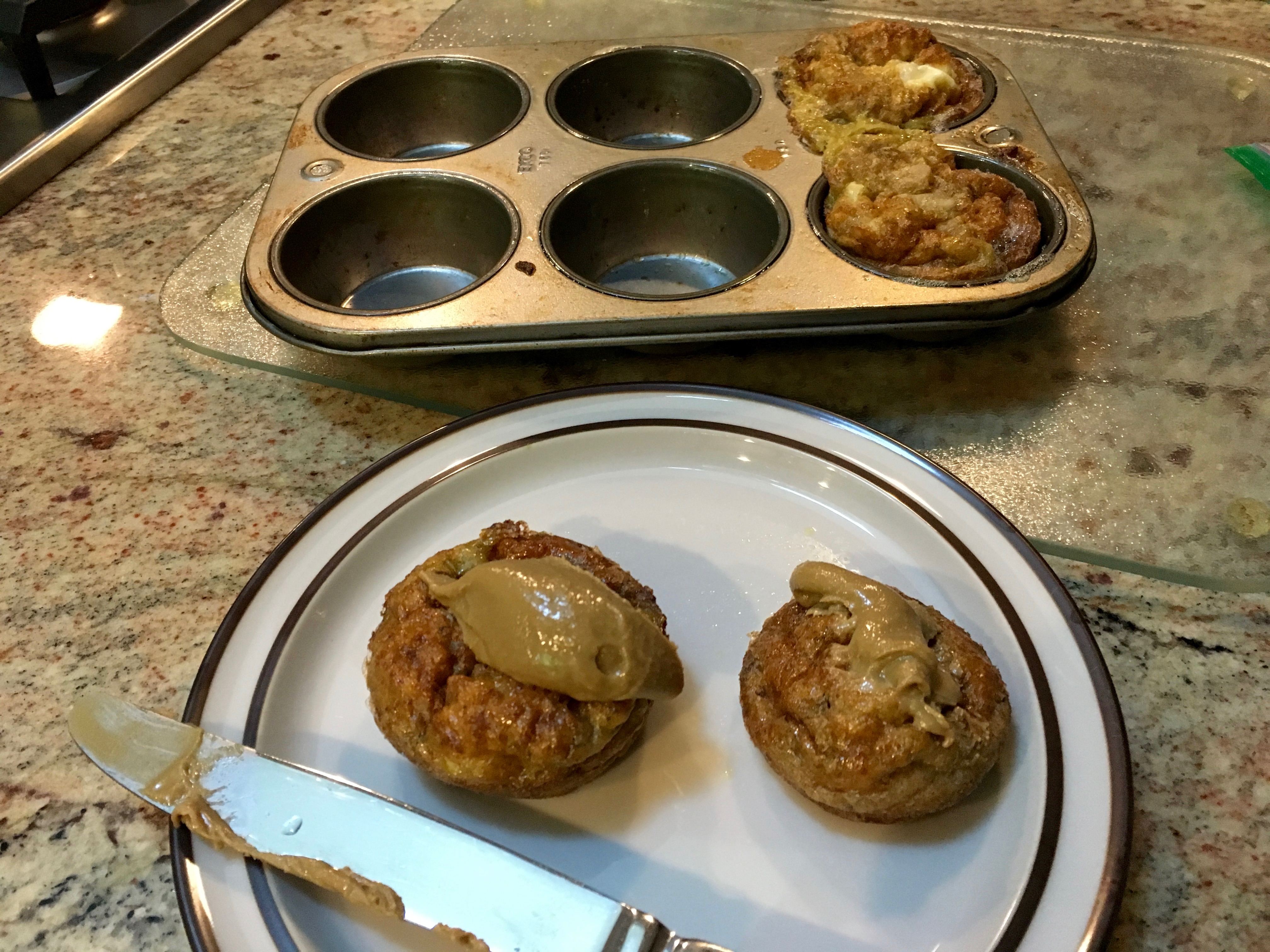 I made oatmeal for the kids the next morning and baked the leftovers into muffins (added an egg first) for myself after they were done.
Since we had all stayed up late the previous night, we actually got to kinda sleep in in the morning. V was up at 6:30 but then snuggled with Kyle on the couch for another hour or so in and out of sleep.  P and I got a similar snuggle sesh in – he got up to pee at 7, after which I pulled him into bed with me and we both fell back asleep until 7:45.  Livin' the Sunday dream!
While the extra shut eye was super awesome, we didn't get back on the road to Davis until way later than I was expecting so we were late for a play date with friends.  They also both slept part of the way so naps were a no go that day.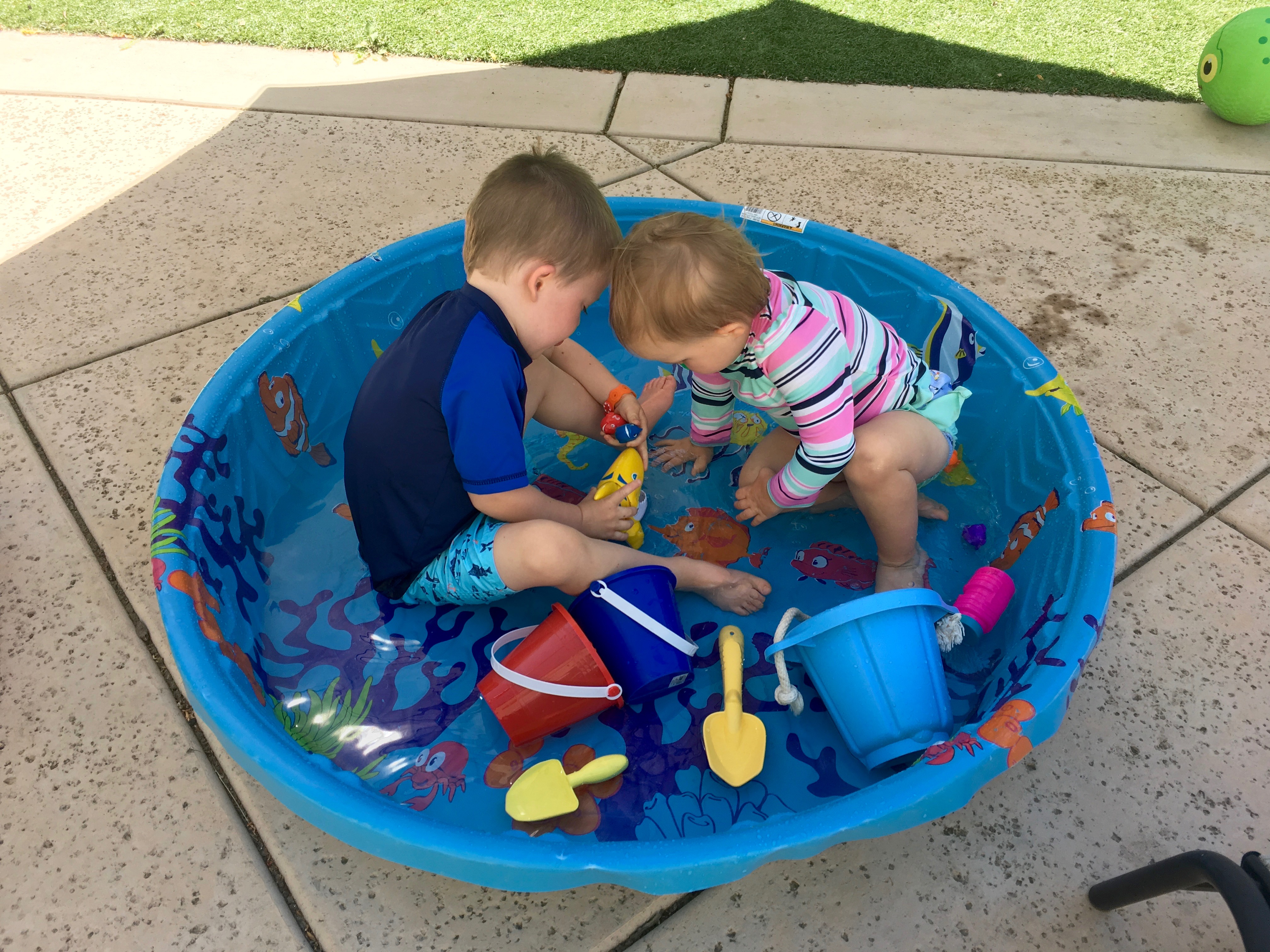 We spent the afternoon playing in the yard – busted out the pool for the first time this year!  And sprinklers too!  No more drought to worry about after the non stop rainy winter and spring we had.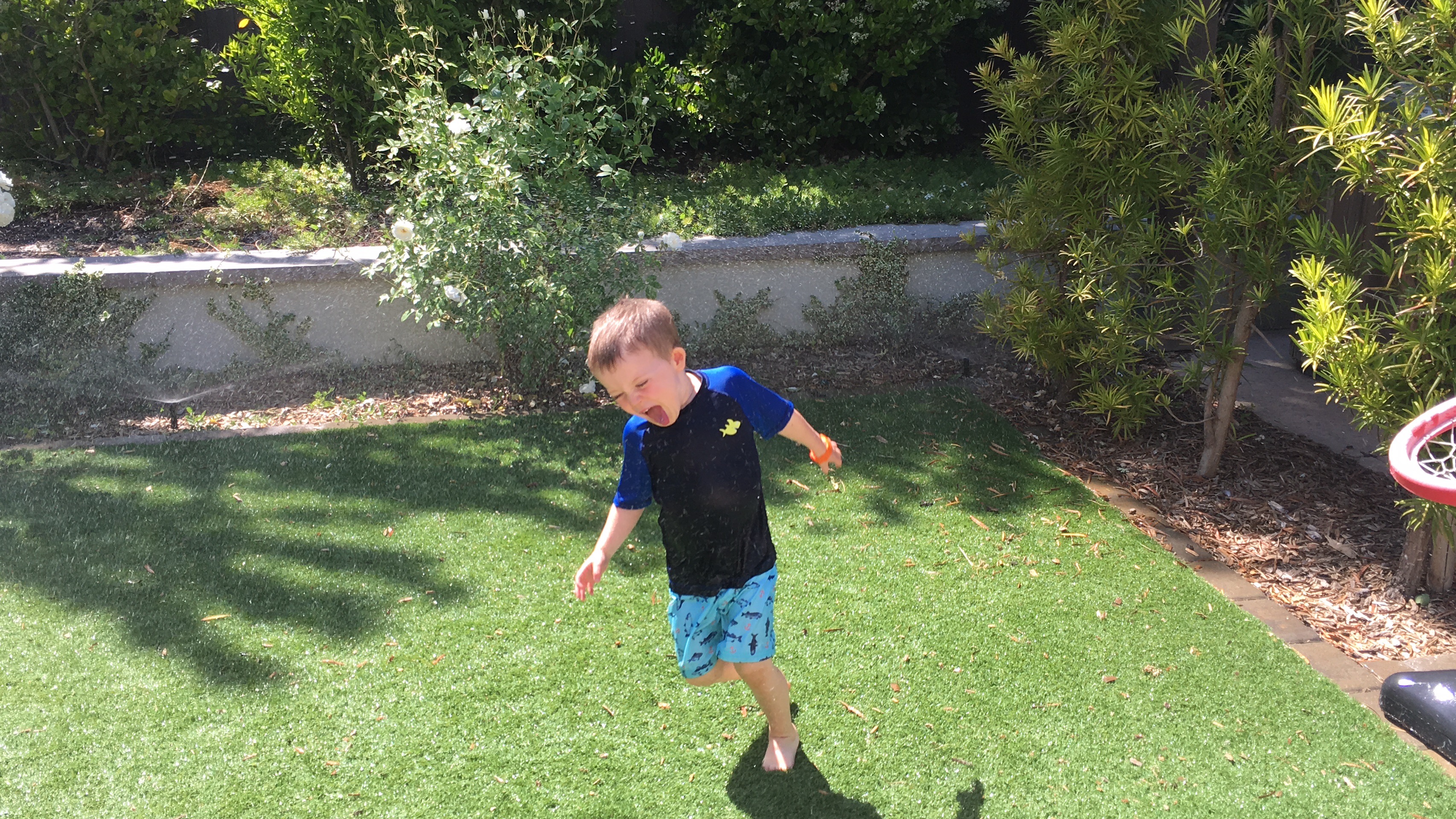 At some point we made it to the store for groceries but otherwise it was a very low key afternoon.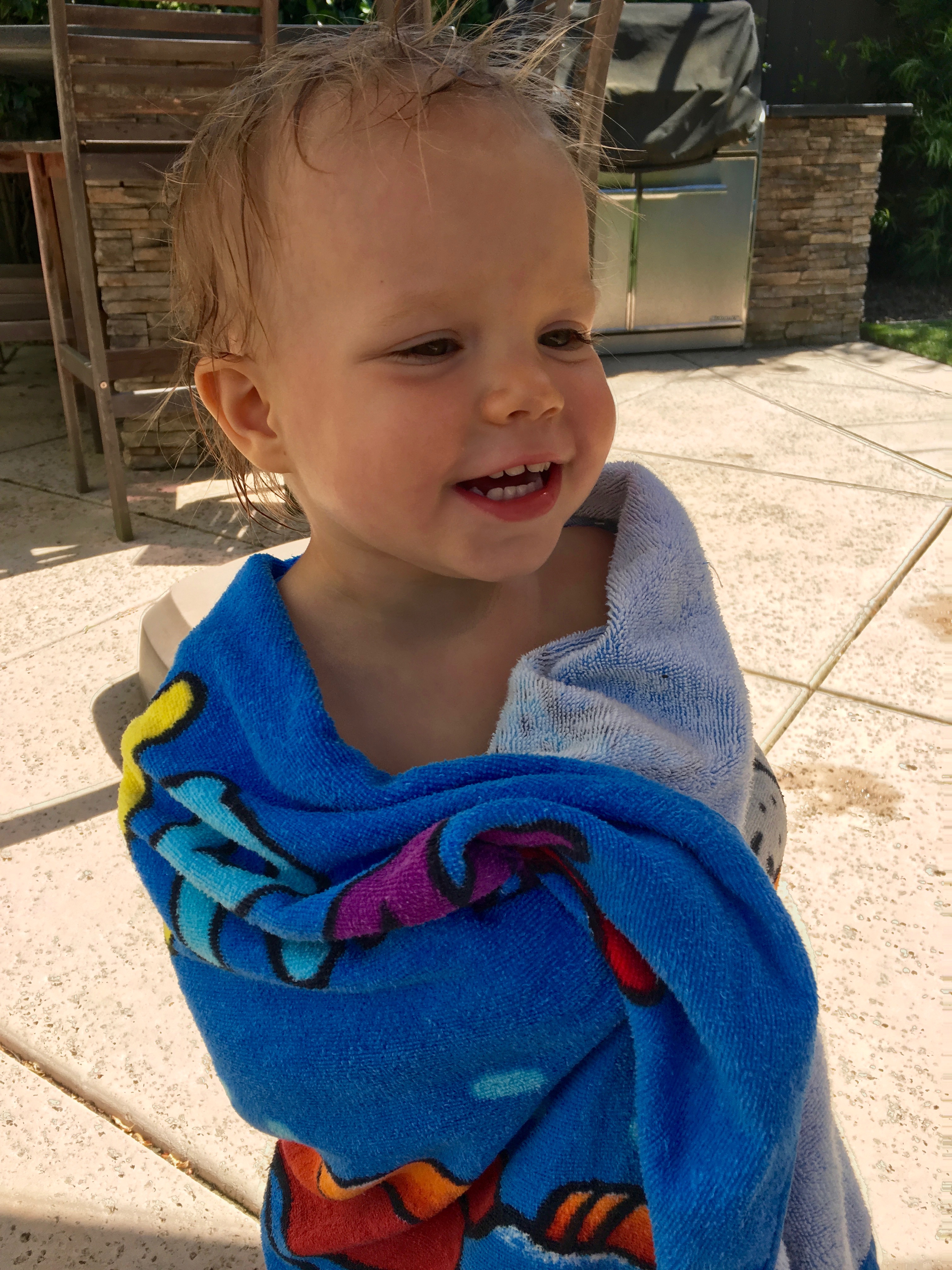 Cheeeeeese.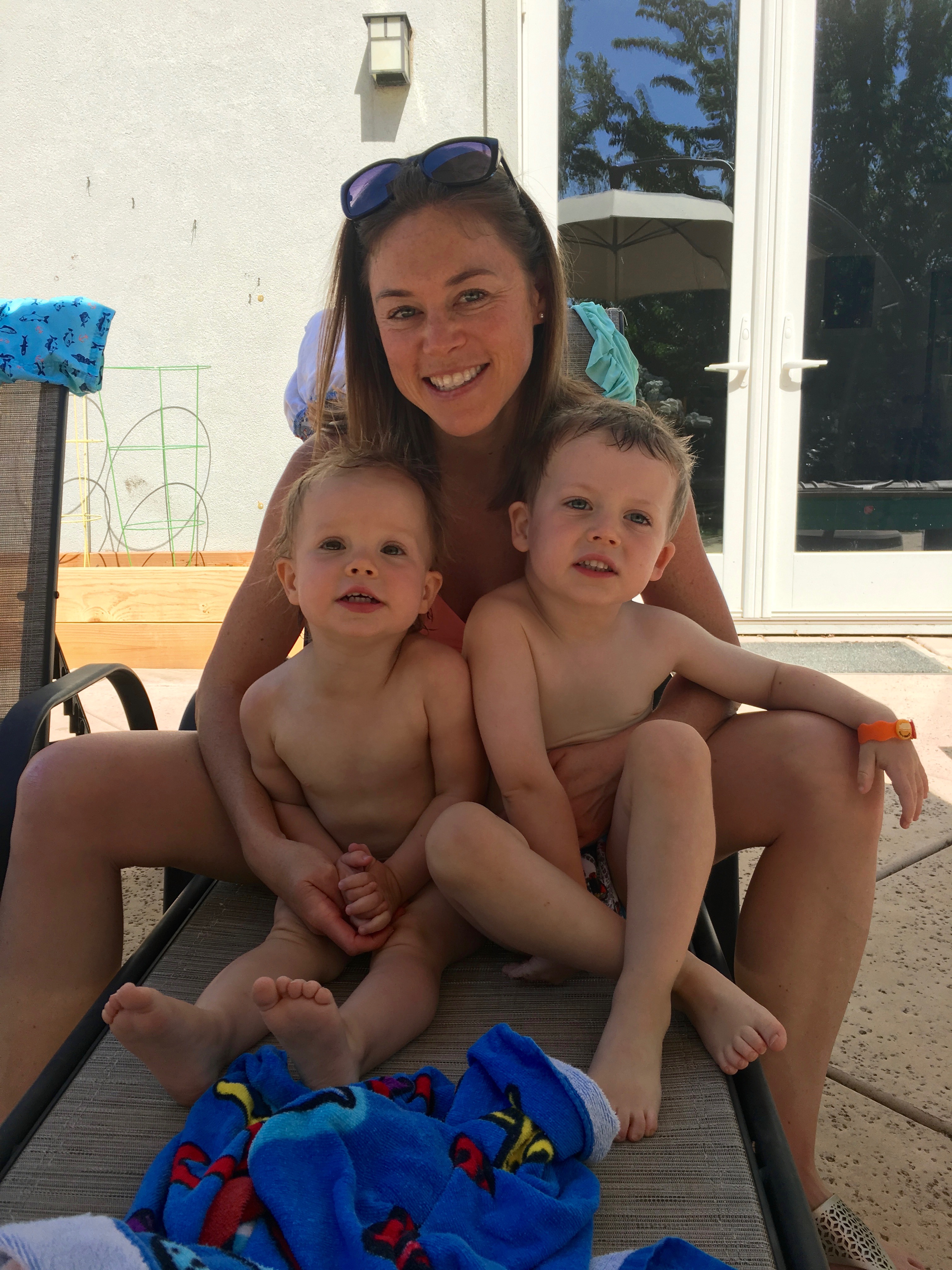 My water babies.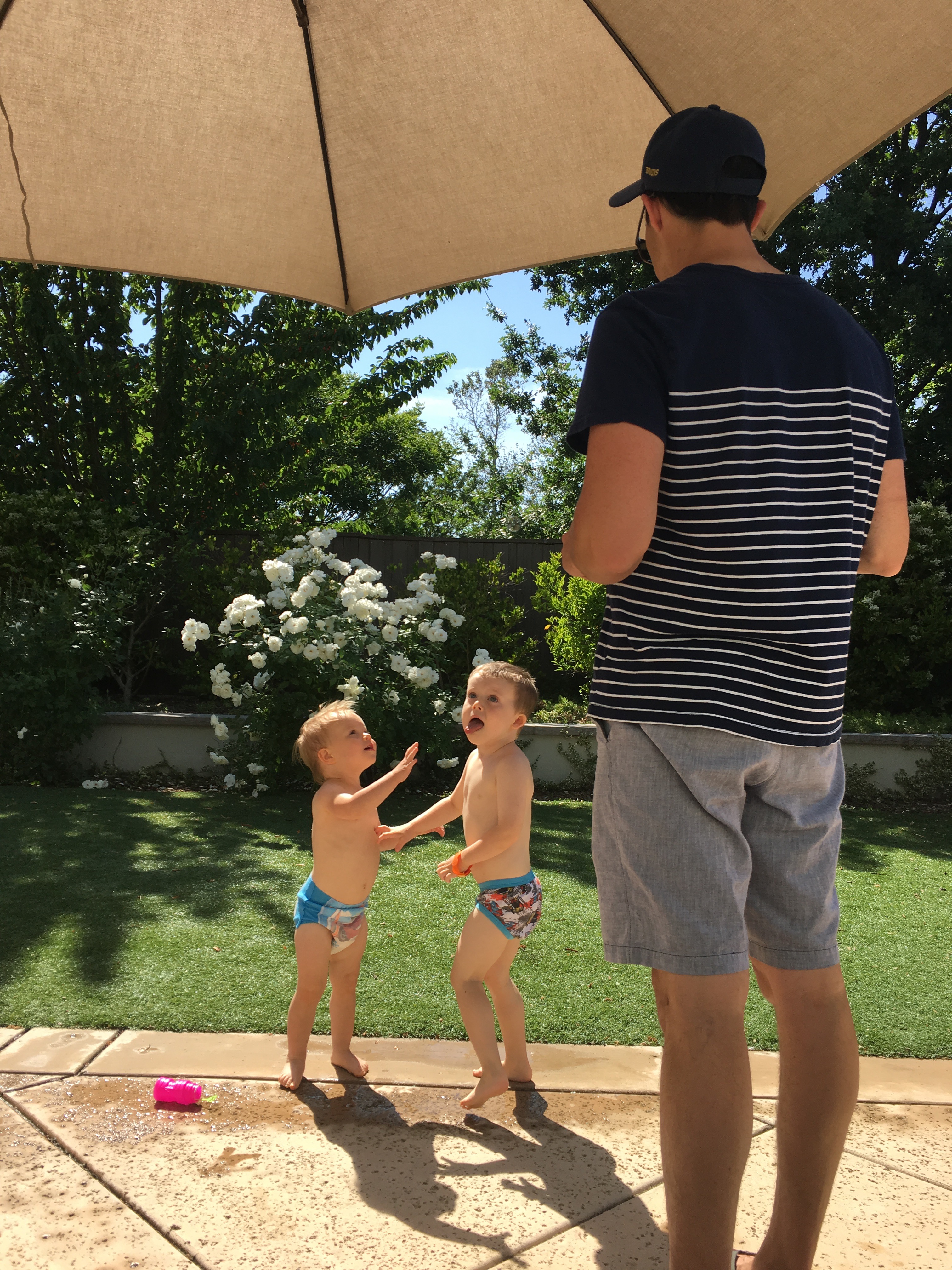 At some point they changed out of their suits but then wanted to stay outside…and somehow we ended up doing naked bubbles.
I made skewers for dinner.  We had too much food and not enough skewers.  Mayj dilemma.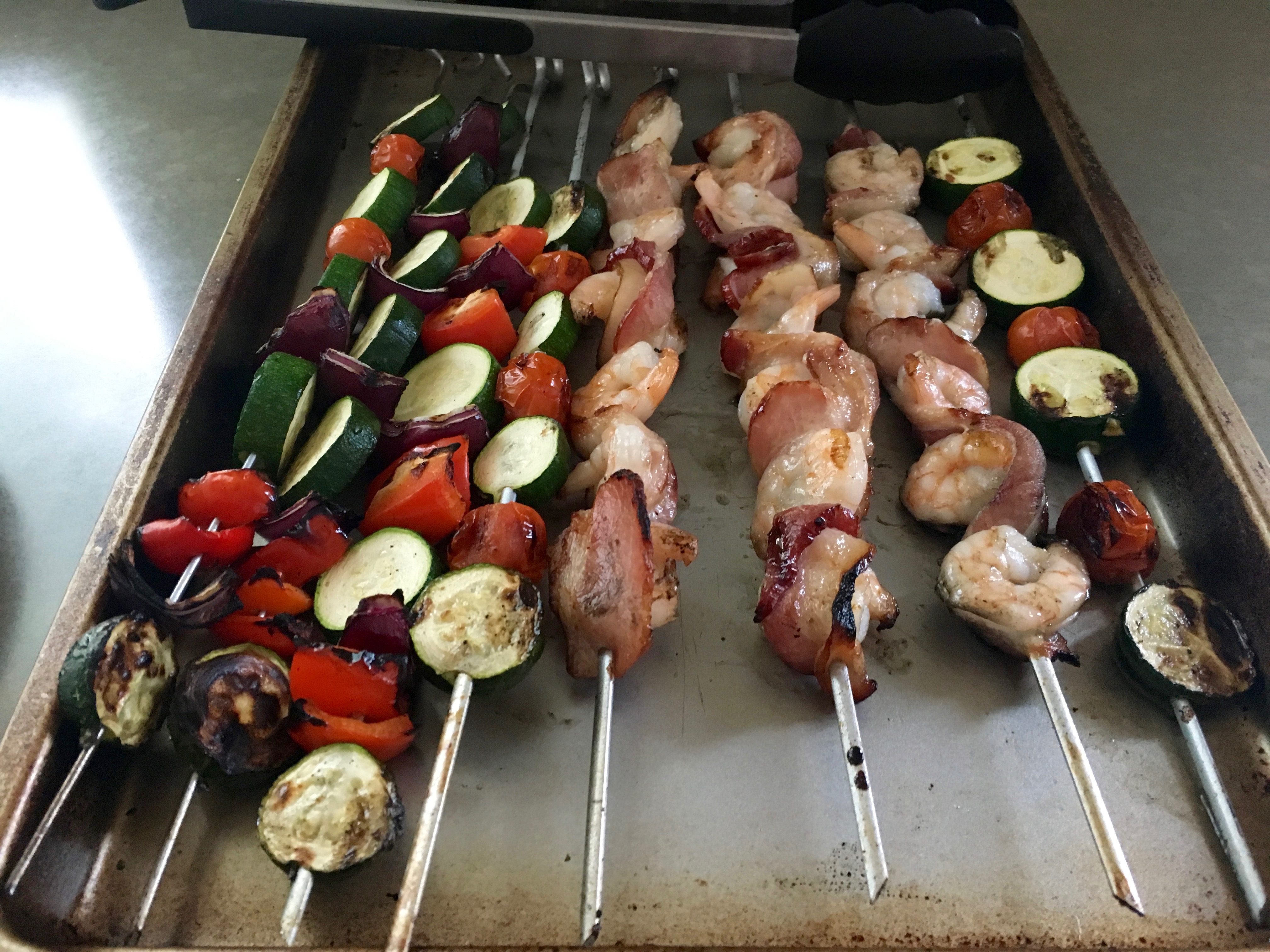 Threw some potatoes in the oven to bulk up the meal.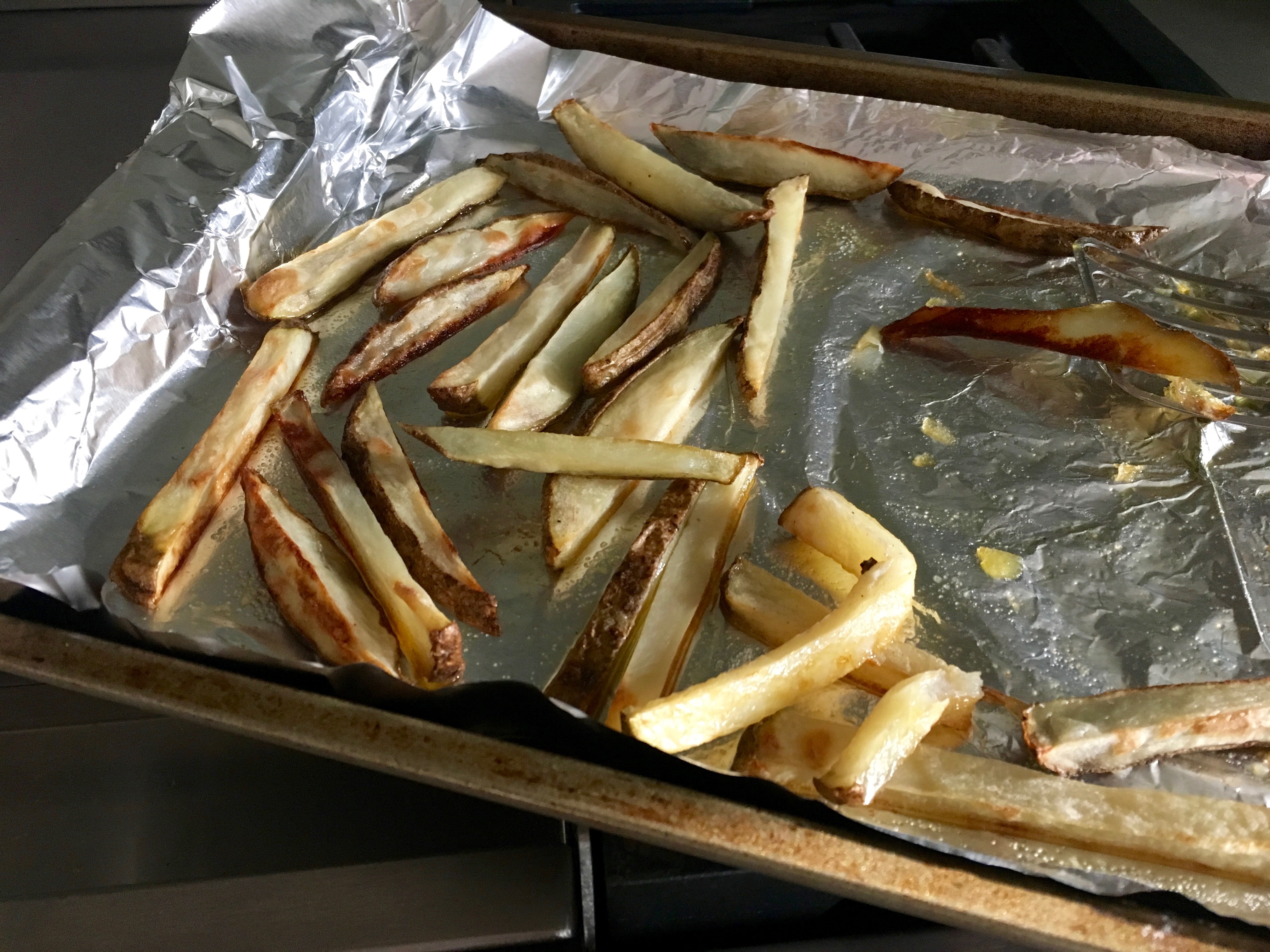 Kyle steered clear of the zucchini obviously, and in turn I gave all the red onions to him. Marriage!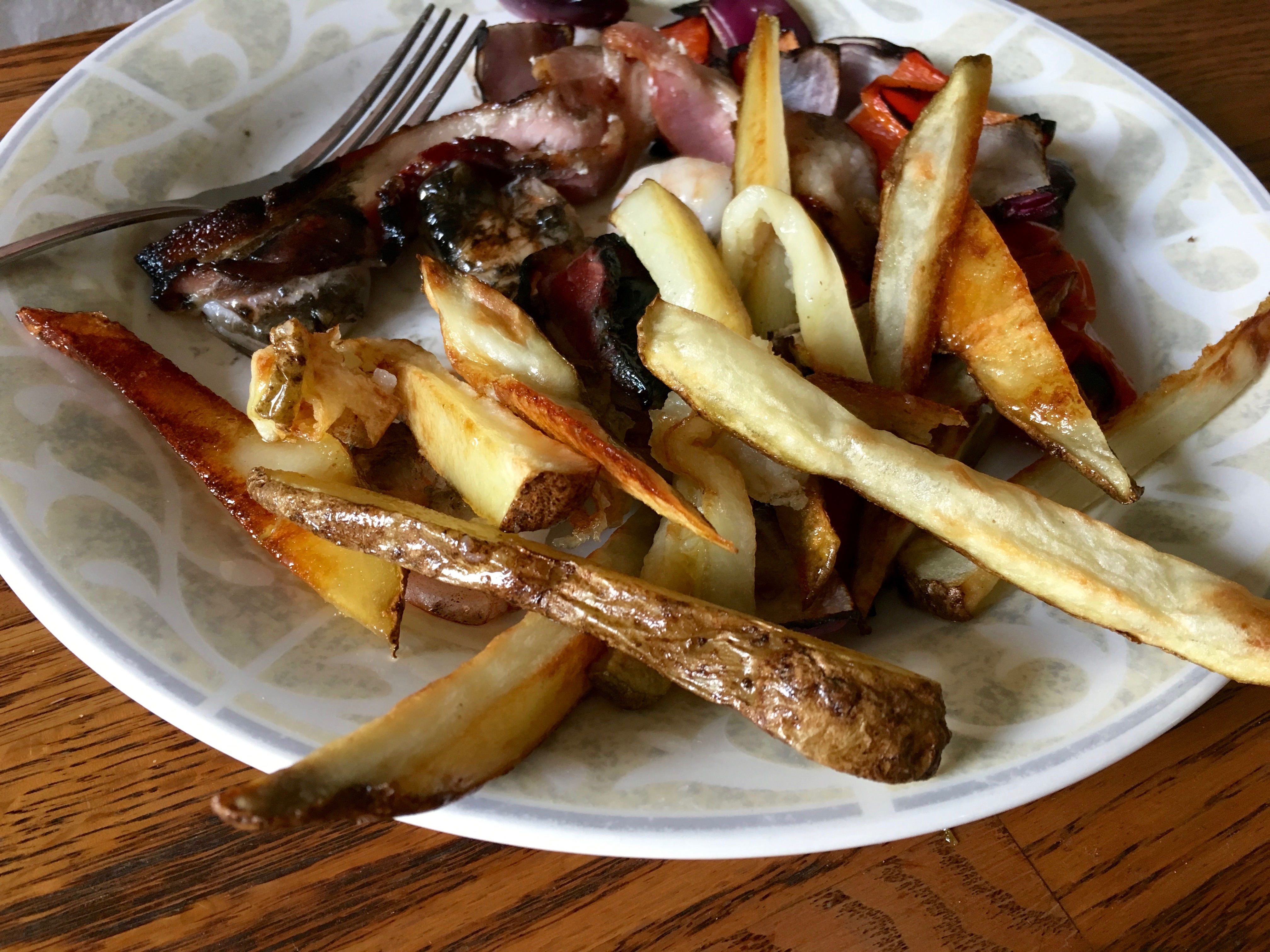 Home-made ice cream takes FOREVER to thaw.  Anyone have tricks??  There must something in the store bought stuff that makes it melt quicker or something?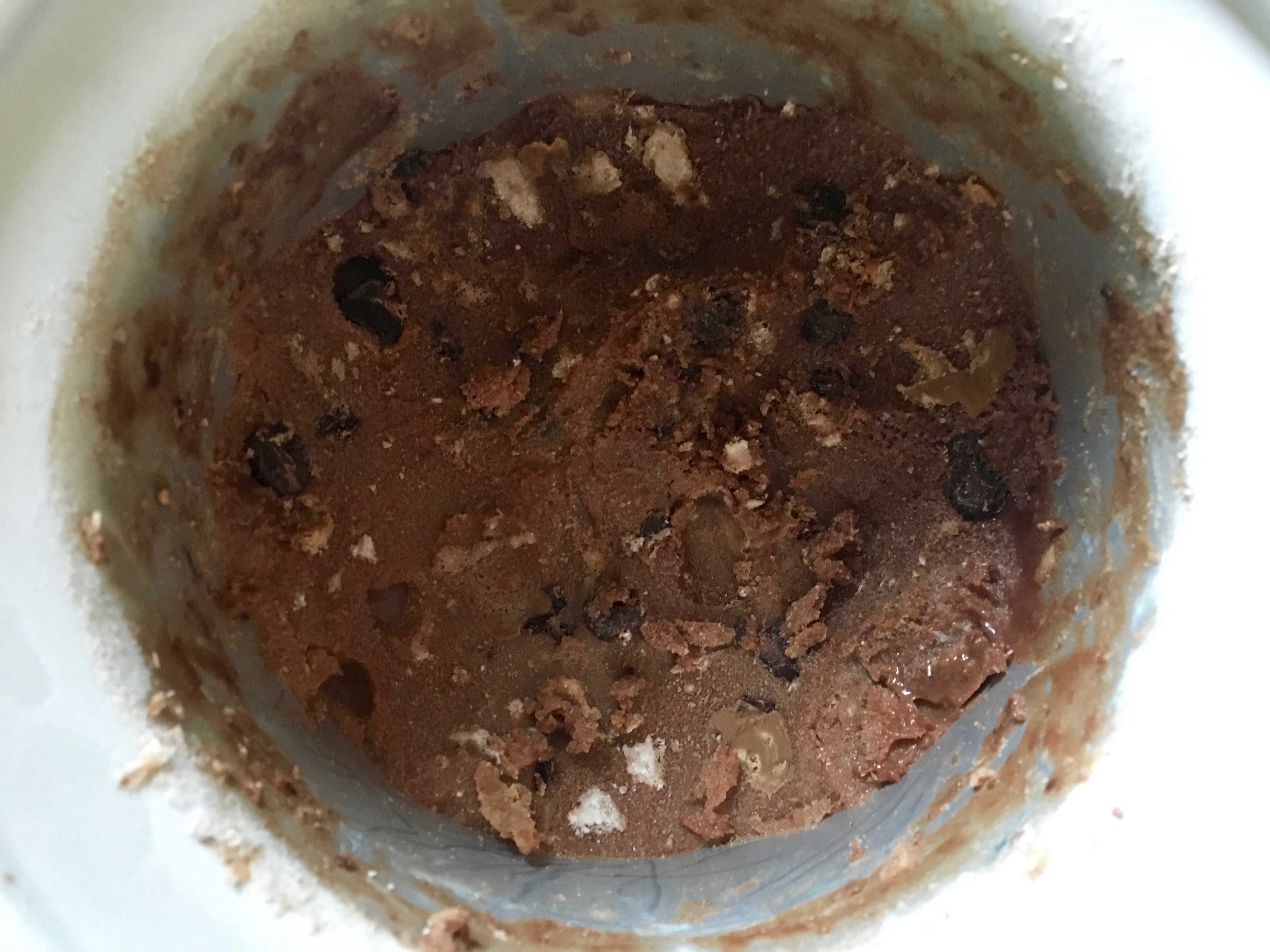 Maybe I need to figure out something that's not the churning part of the ice cream maker to store it in (since you're really not supposed to store it in that anyway)?  Ideas/suggestions welcomed.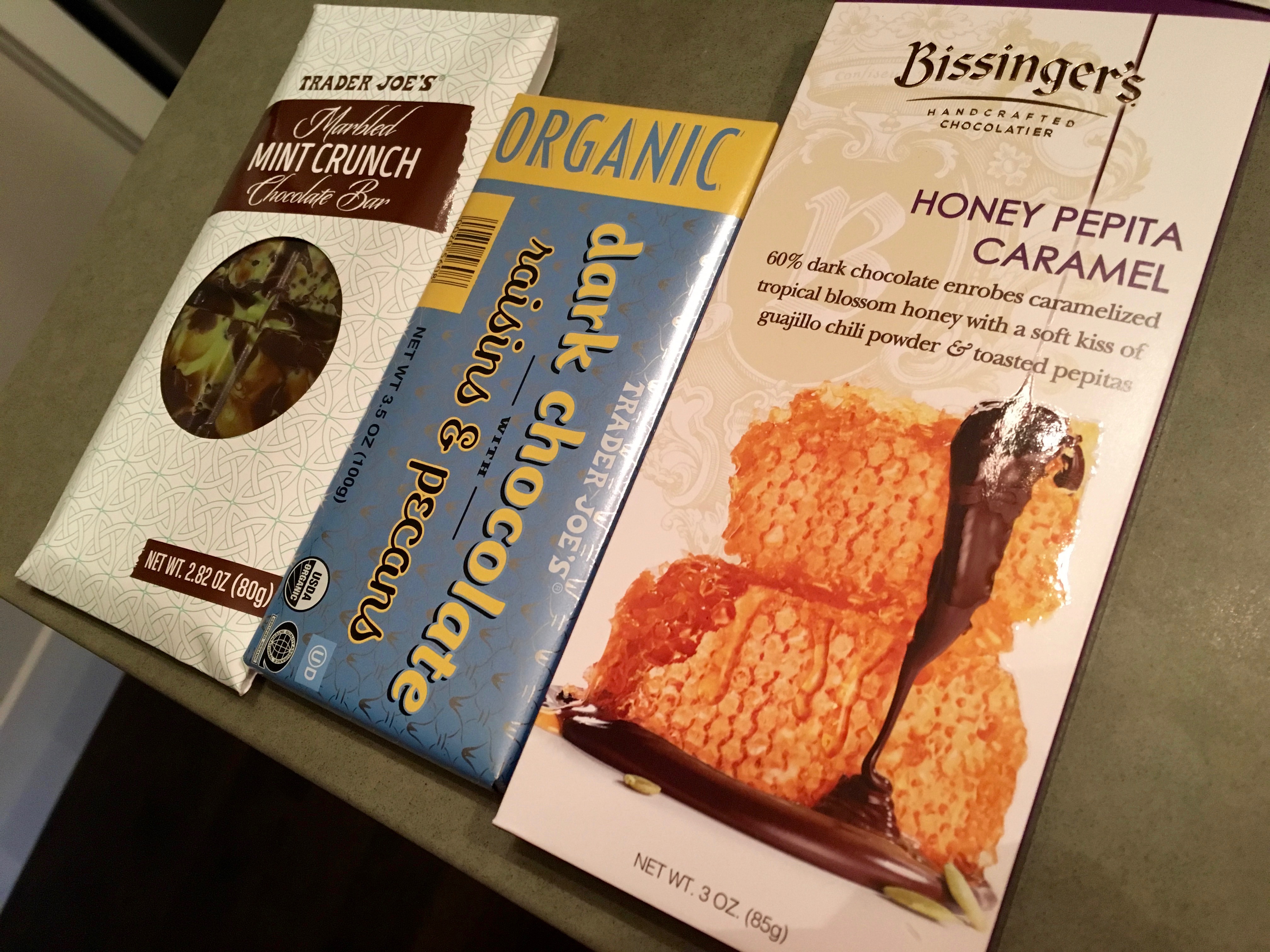 The Bissinger's bars were on sale for a more reasonable 3.99 per bar so I had to try this one.  I've tried the coffee crunch flavor before and this was just as good if not better.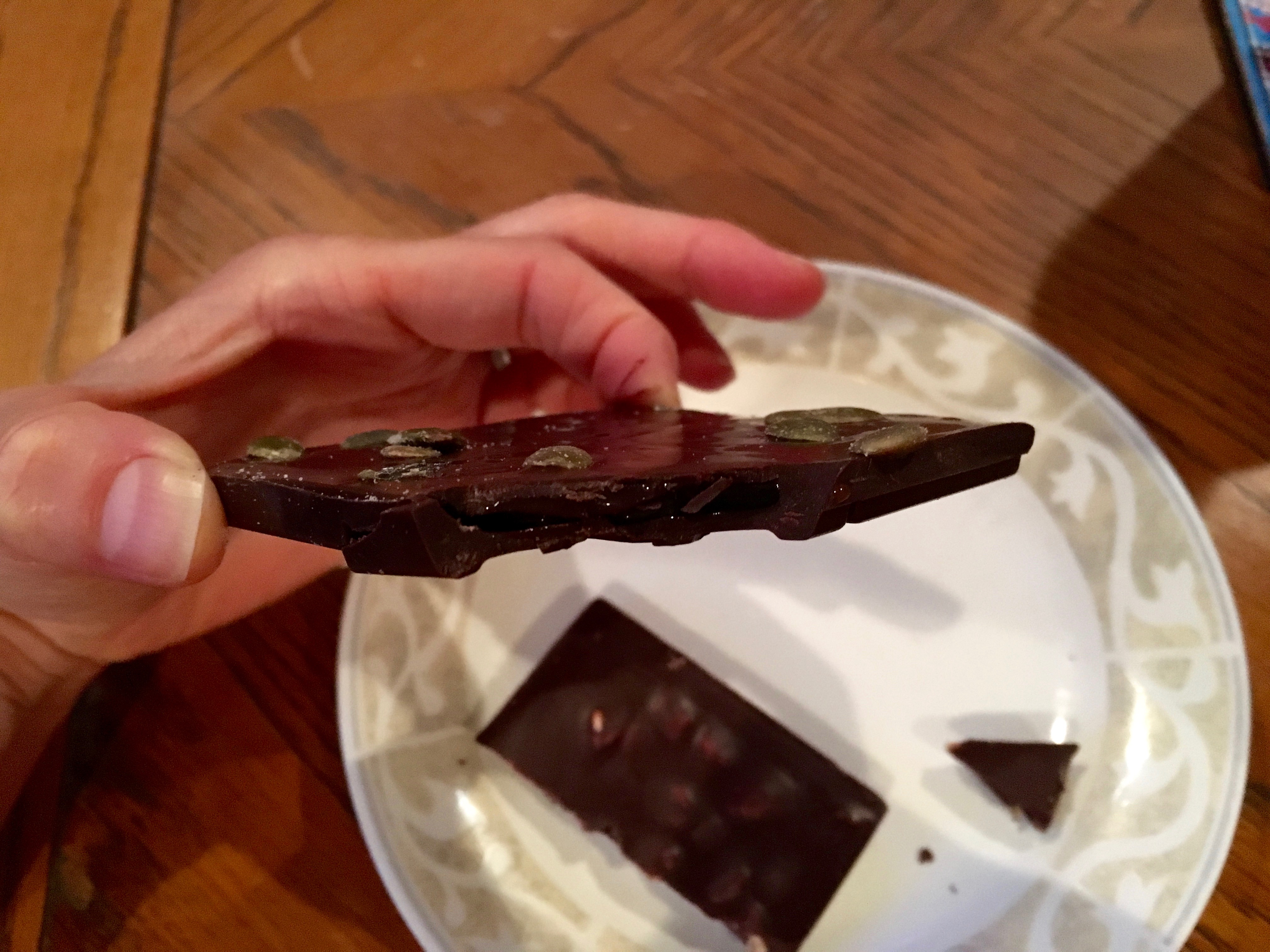 The inside is filled with caramelized honey instead which is a nice twist on the typical caramel center of other bars.  The chili powder is subtle but there in a nice way that gets you every once in a while and while I am always looking for more nuts and seeds in my bars, I didn't mind that the pepitas were underrepresented in this one.  It was a good bar that I'm happy I got on sale, because $6 is an obscene price for it otherwise.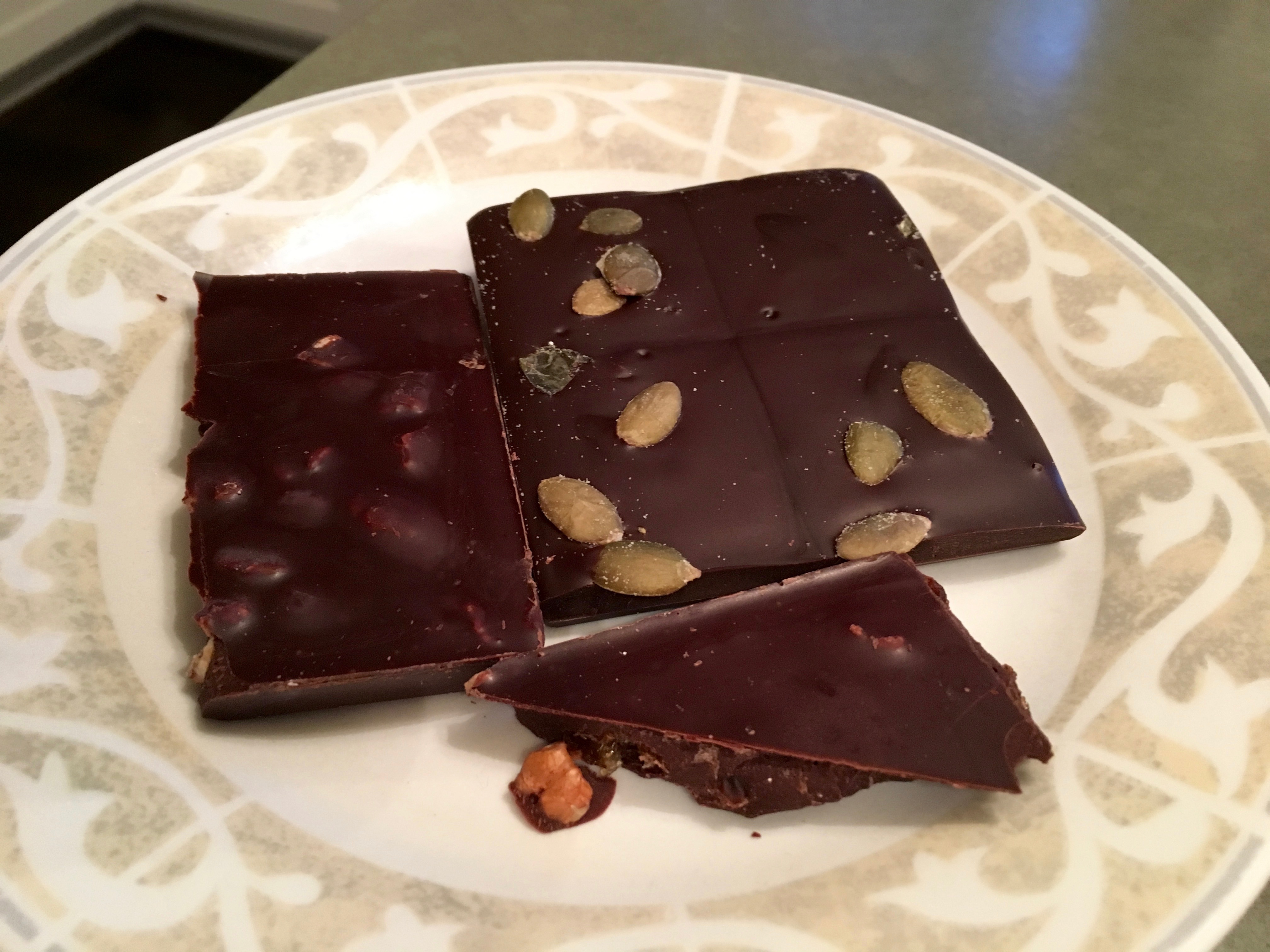 But I'm not a chocolate snob, so for me the TJs raisin and pecan bar was actually the best of the bunch.