Alternate title: We took the kids to DISNEYLAND!!!!!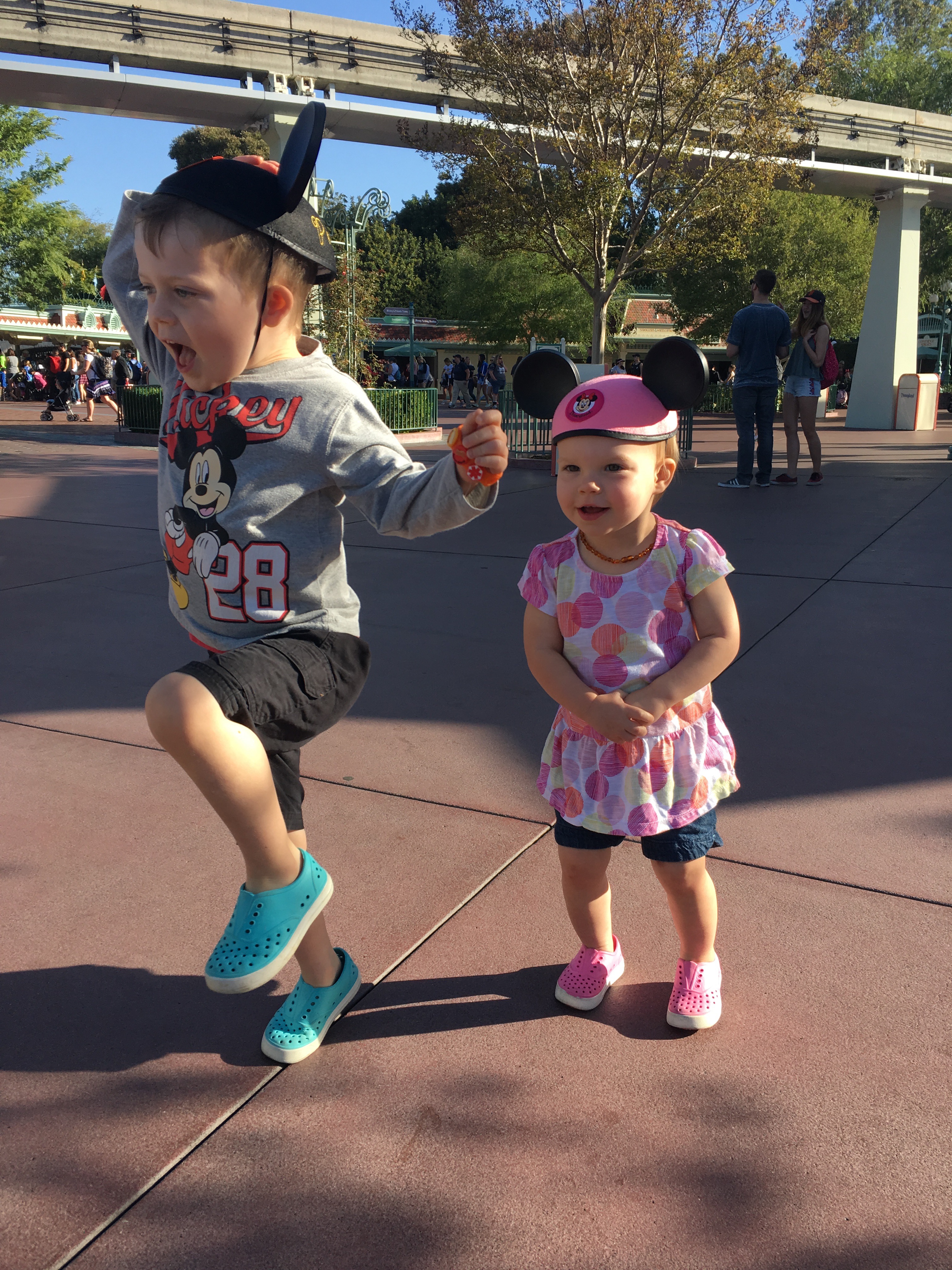 I don't know what to say that can adequately describe the magic of this day.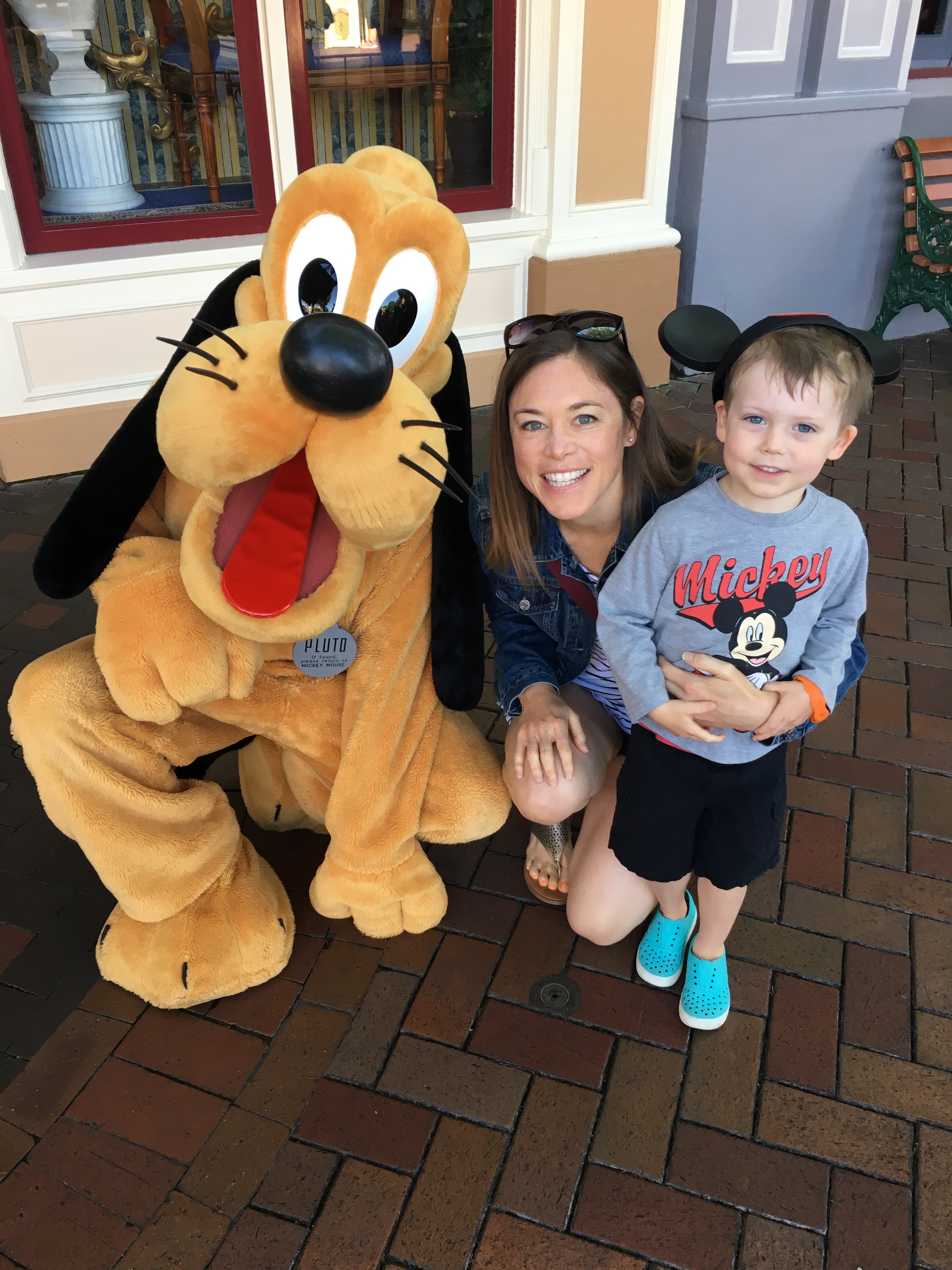 I packed a bunch of food for the kids, including muffins for breakfast, and both of Pattycakes' OIT doses in a mini cooler.  We asked vendors for ice a couple times over the course of the day to keep it chilled, which worked out nicely.  I think I saved a decent amount of money by bringing so many bars and such, but we also bought plenty of fresh stuff throughout the day.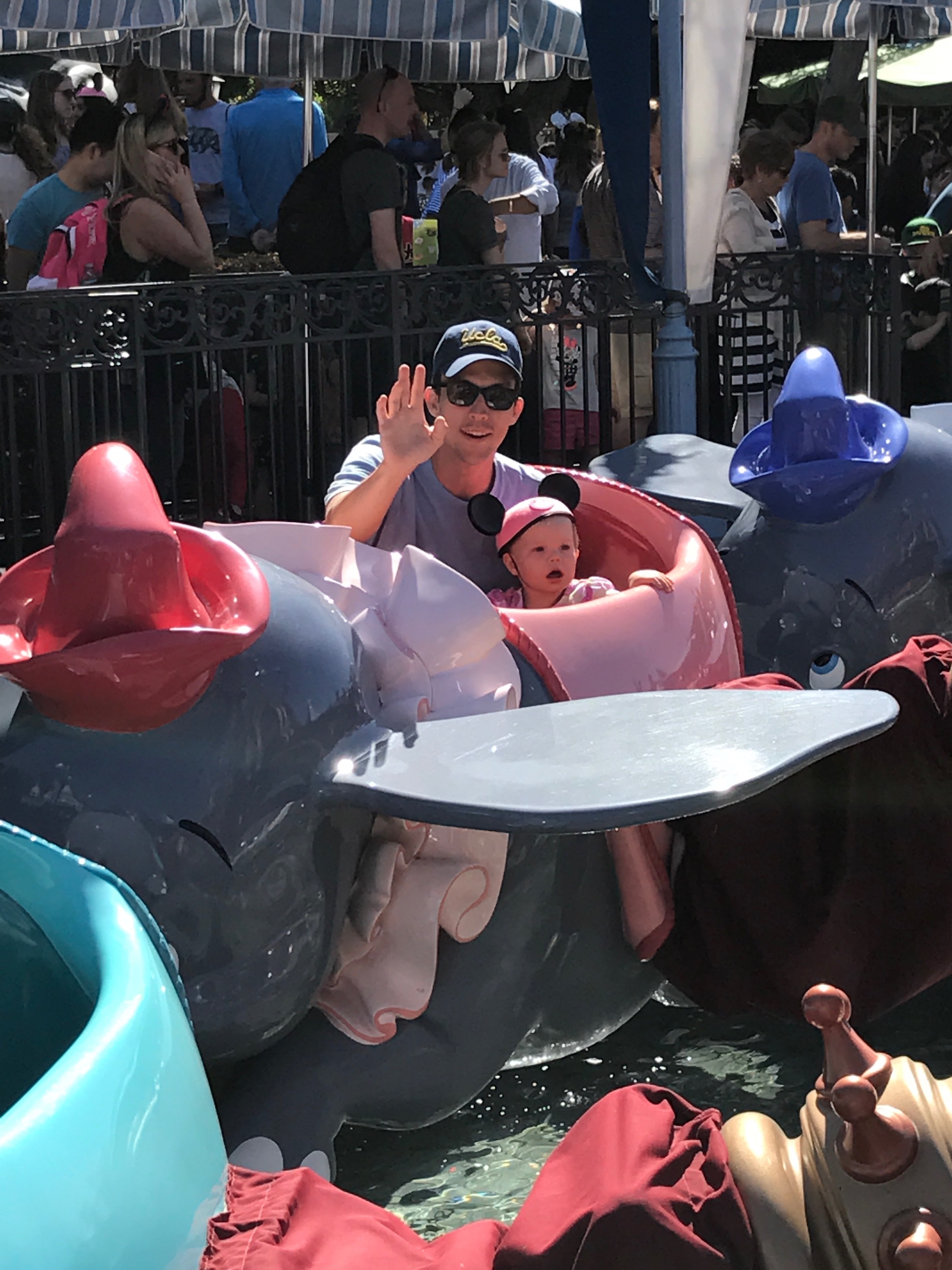 Kyle and I didn't eat anything until we got to the park, so we made our way to the Starbucks on Main Street as quickly as possible once we arrived (after meeting Pluto, of course). I think the Starbucks staff at Disneyland is the best of the best.  I say that as an experienced 'bux customer.  😉 I can tell when someone understands my order, and when someone is going to mess it up.  This lady knew her stuff and I could tell it was going to be made right.  And it was.  Boom.  Automatic points for Disney.  Side note: why is decaf SO HARD for normal Starbucks employees. It's not like I'm asking for anything complicated, but it literally gets made wrong 75% of the time.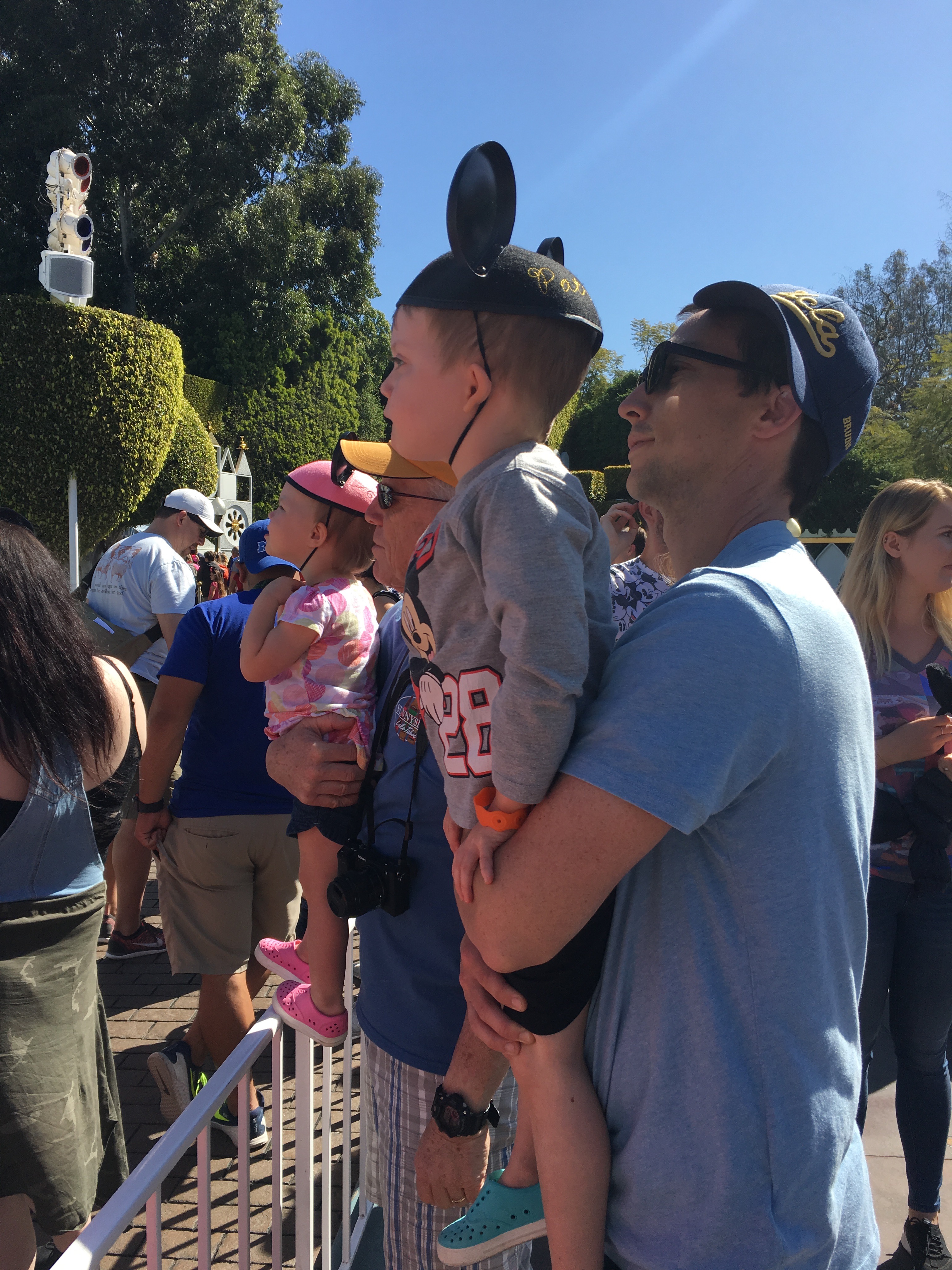 Watching the clock at "It's A Small World".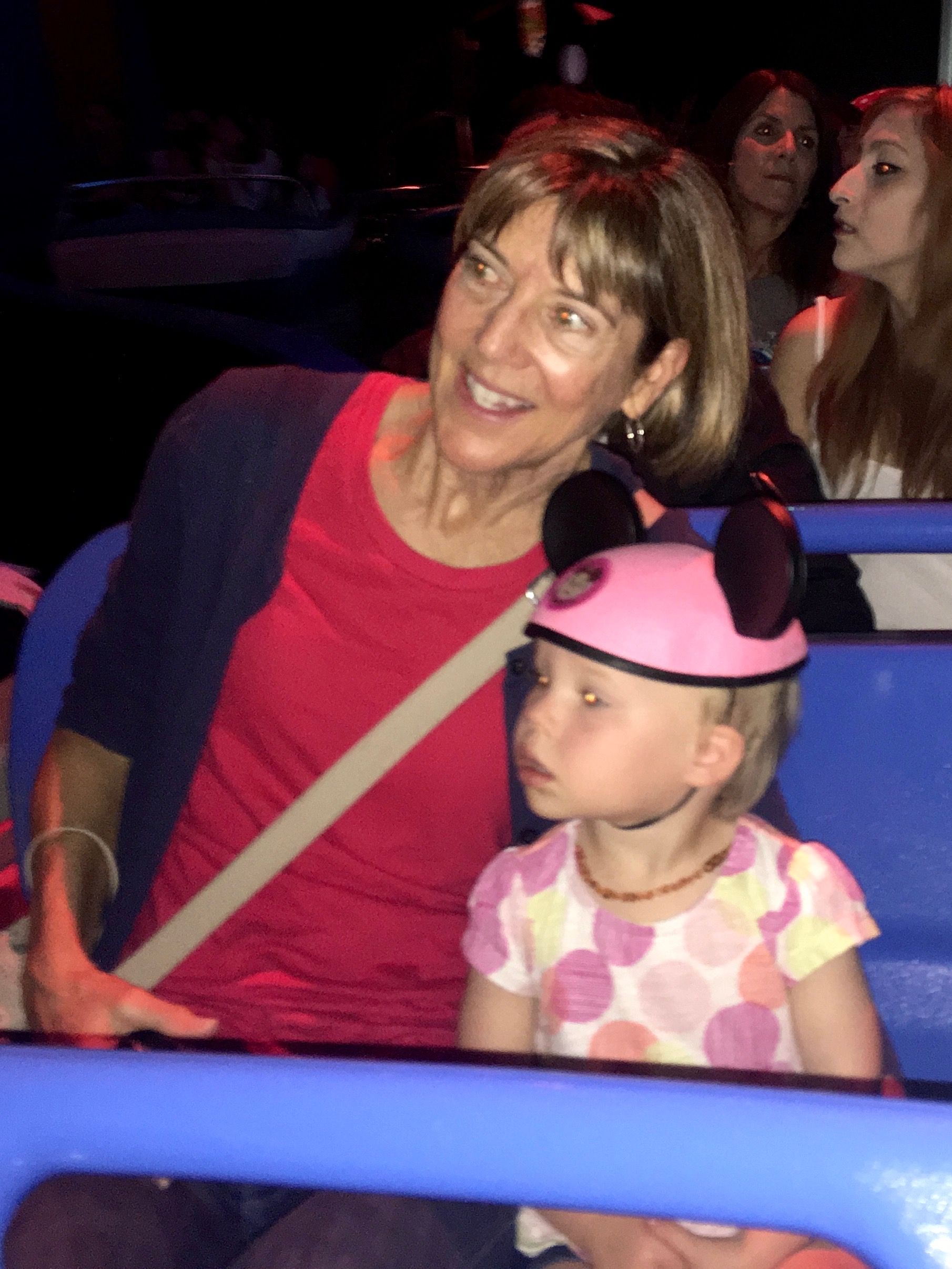 My parents spent the weekend in LA just to join the kids in their Disneyland debut.  It was so special sharing the day with them…and invaluable having so many extra sets of hands to help.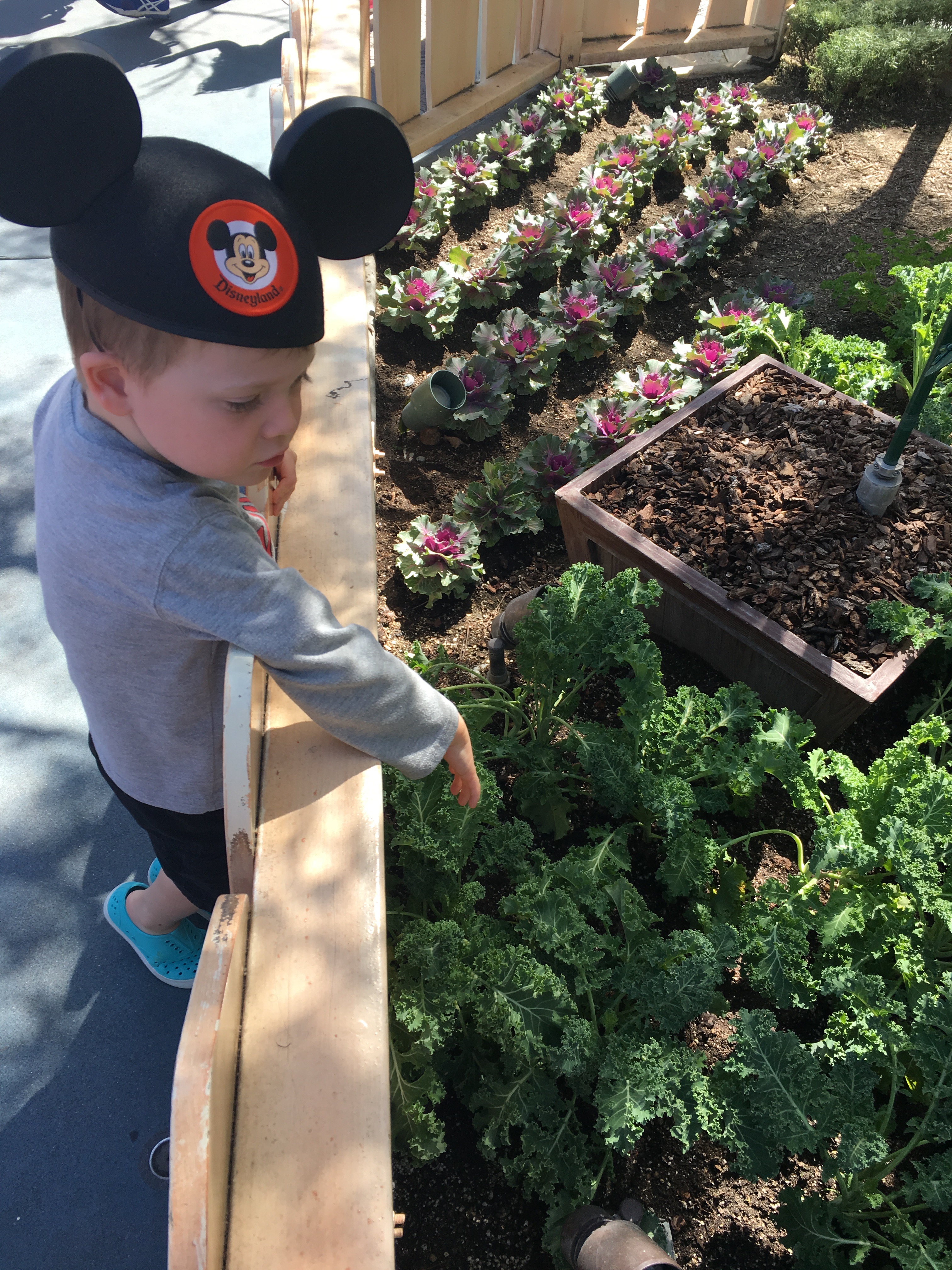 P spotted the kale (in Goofy's garden) and asked me if he could have some so I said sure.  Next thing I knew, he and V were downing lettuce.  Free greens?!  Why not!?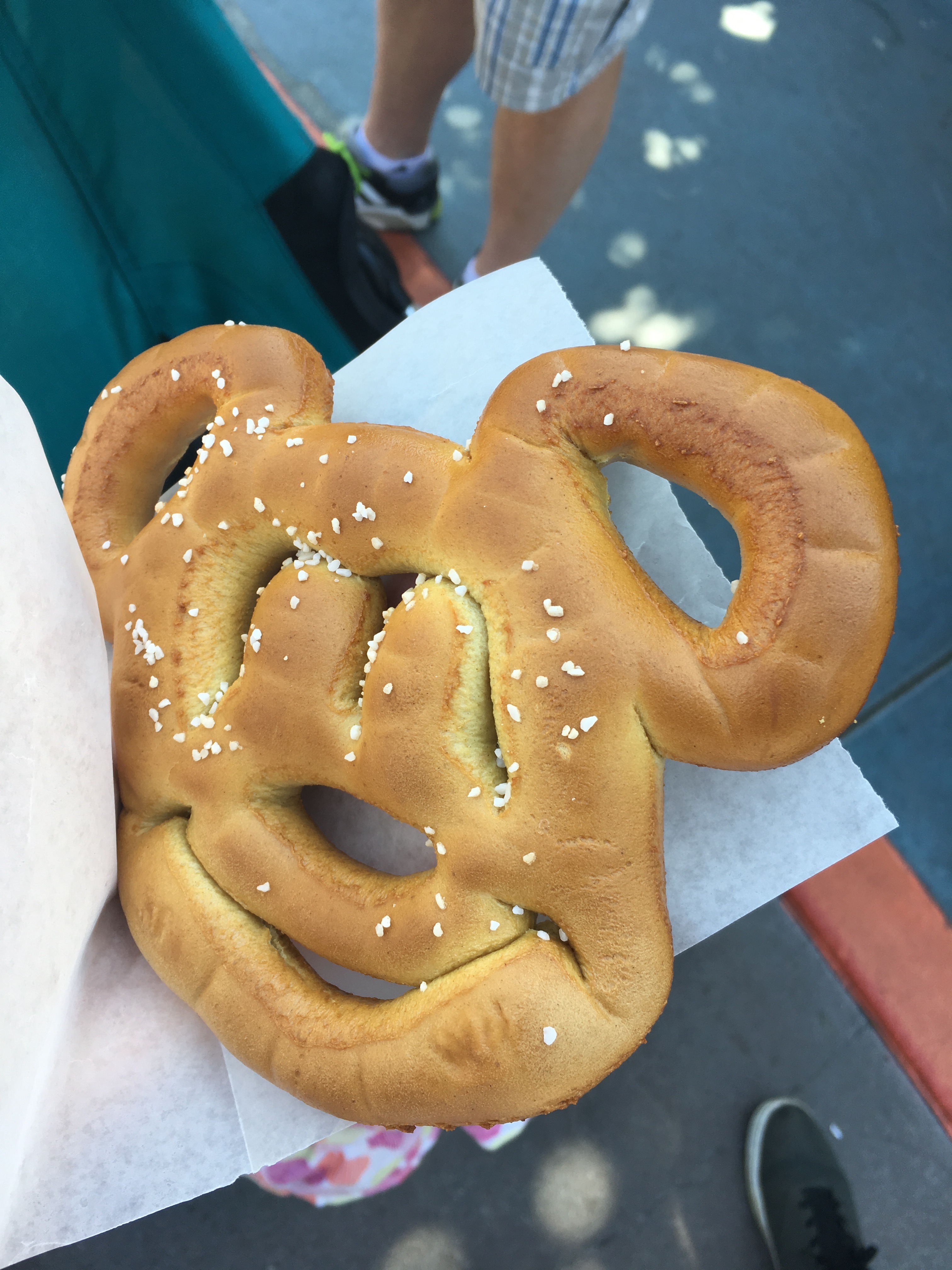 I didn't have much for breakfast, so I dug into this soft pretzel as a morning snack. Mmmmm…mickey pretzels!!  They're vegan fyi.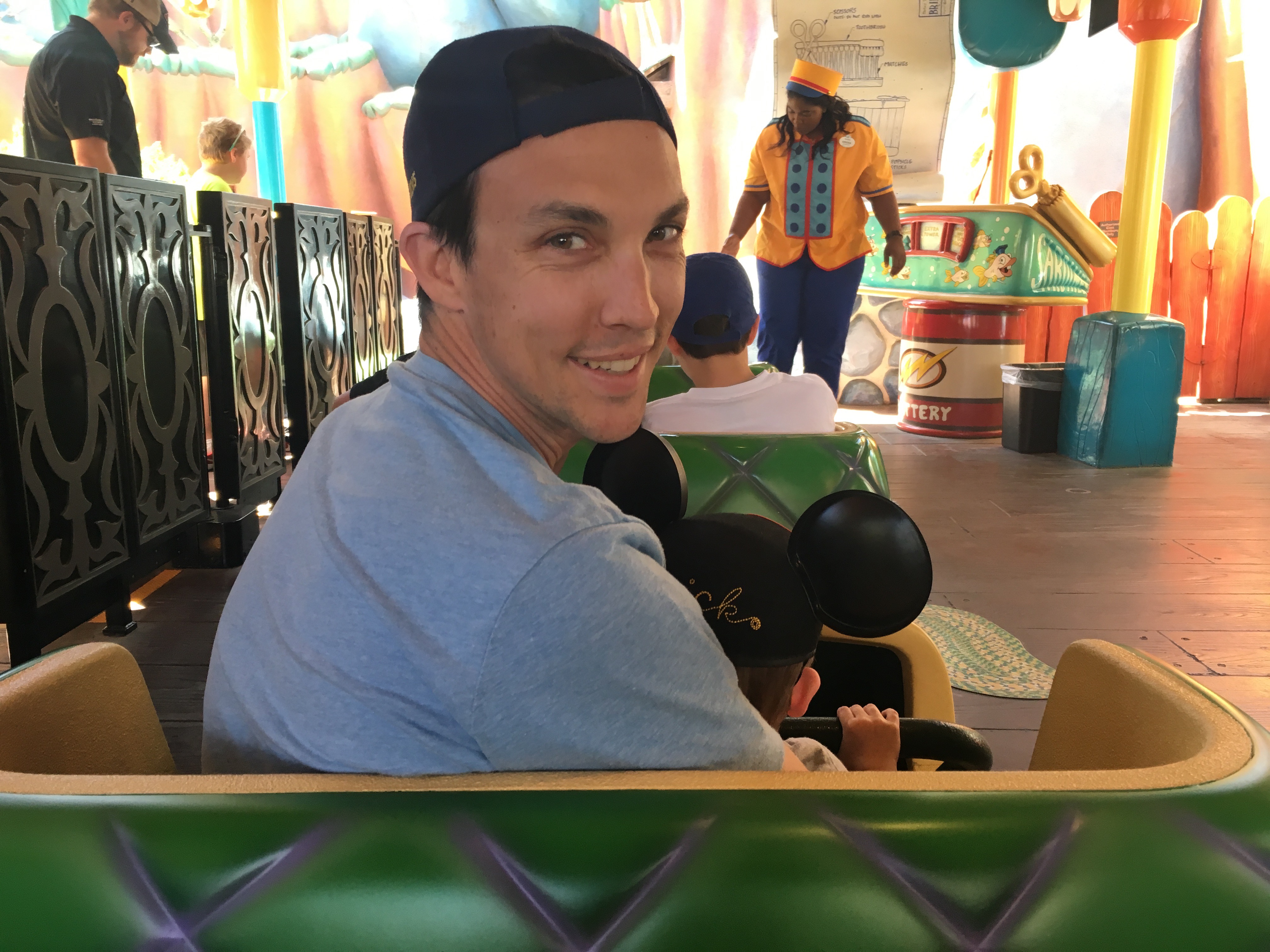 P on his first roller coaster (!!!!) which he insisted on going on.  Kyle and I were very skeptical, but decided to take his lead, and he was pretty adamant, and….yeah, he liked it!  I did too, because I like roller coasters, but I never thought he would. So awesome.  My parents were with V while we did that, so afterwards we met back up with them.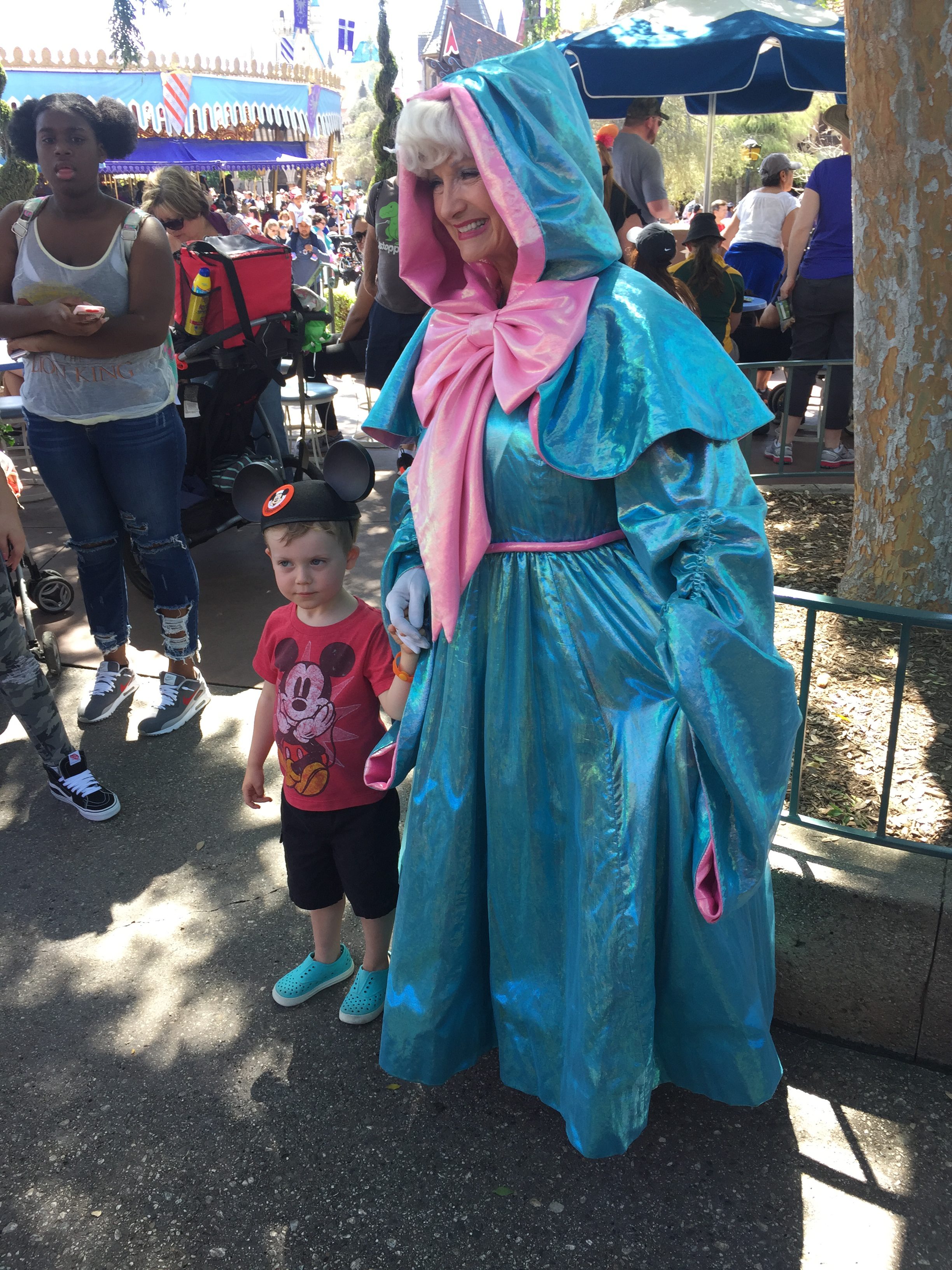 With the Fairy Godmother.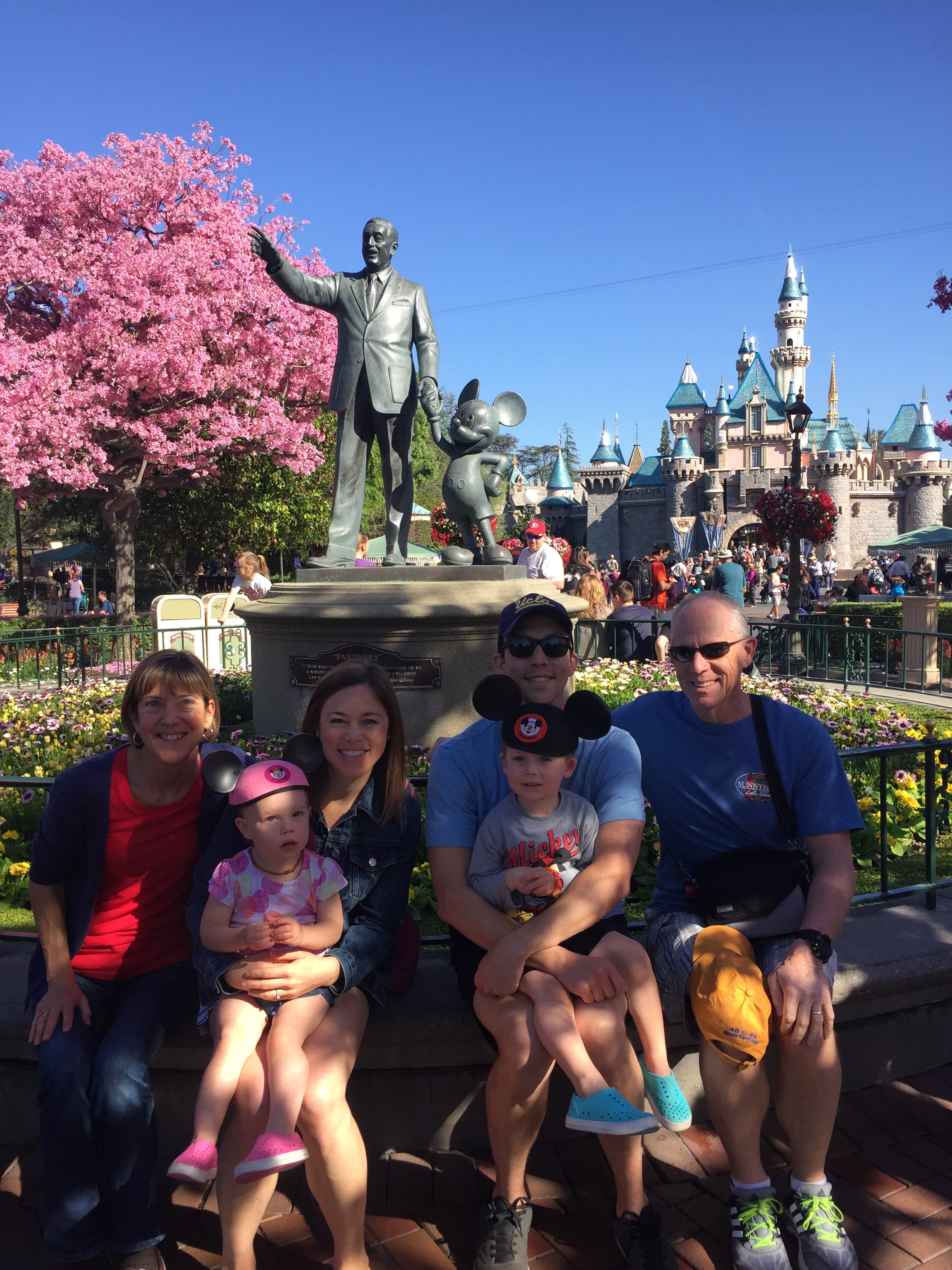 Say CHEESE!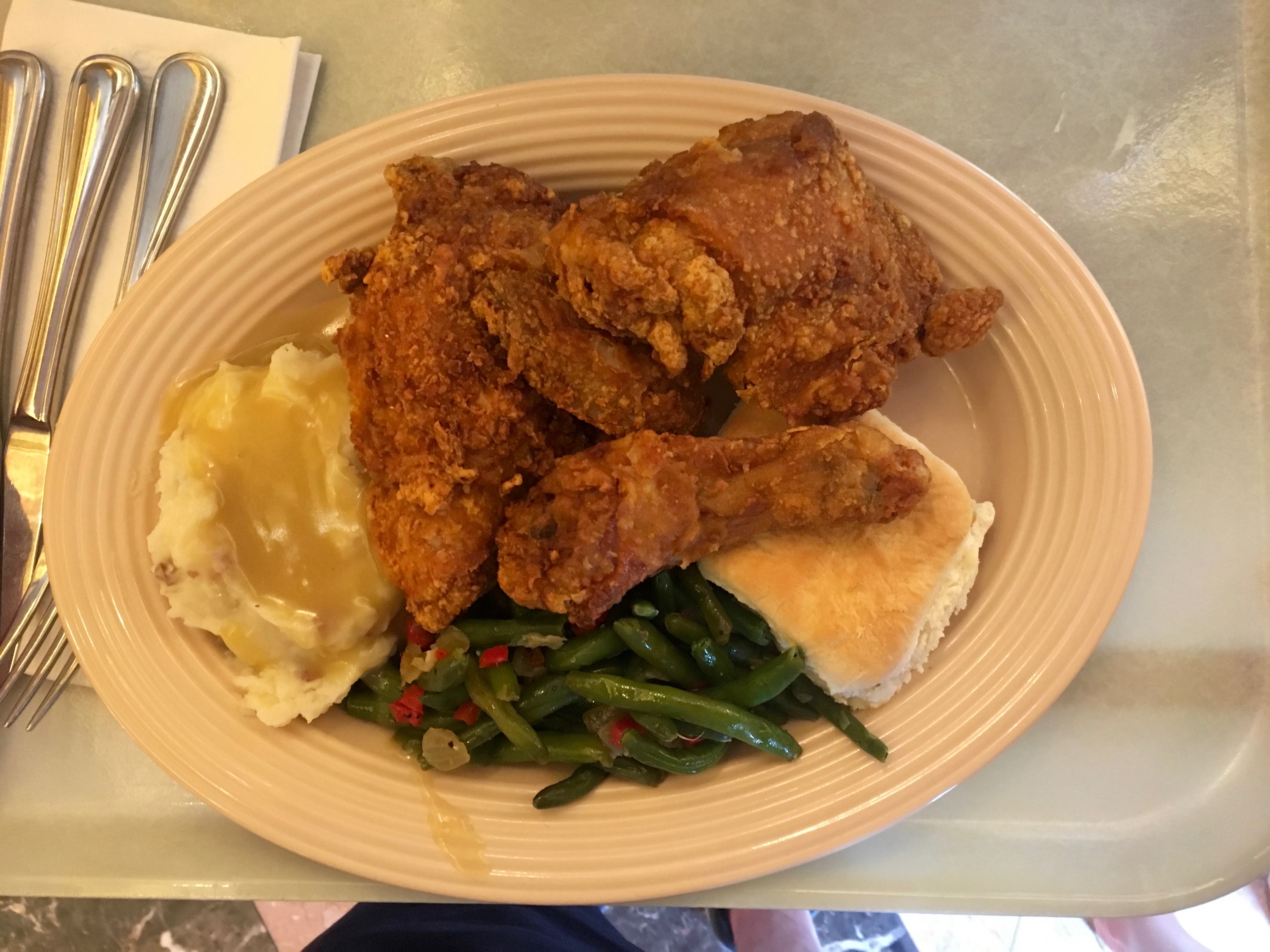 For lunch, we went to Plaza Inn.  I had done research beforehand, and knew which restaurants had allergy friendly menus.  The park has an app which is super helpful btw – not just for the restaurant scene, but for ride waiting times, locating characters, etc.  Anyway.  We went to Plaza Inn, and I asked to speak to someone about the allergy friendly menu.  A spoke to a woman for a while (she gave me menus which we went over together) and she got me the chef just to reassure me further.  I felt pretty confident about their knowledge and after watching the service for a bit I trusted the way they served and how they avoided cross contamination.  So I ordered both kids the baked chicken leg and rice.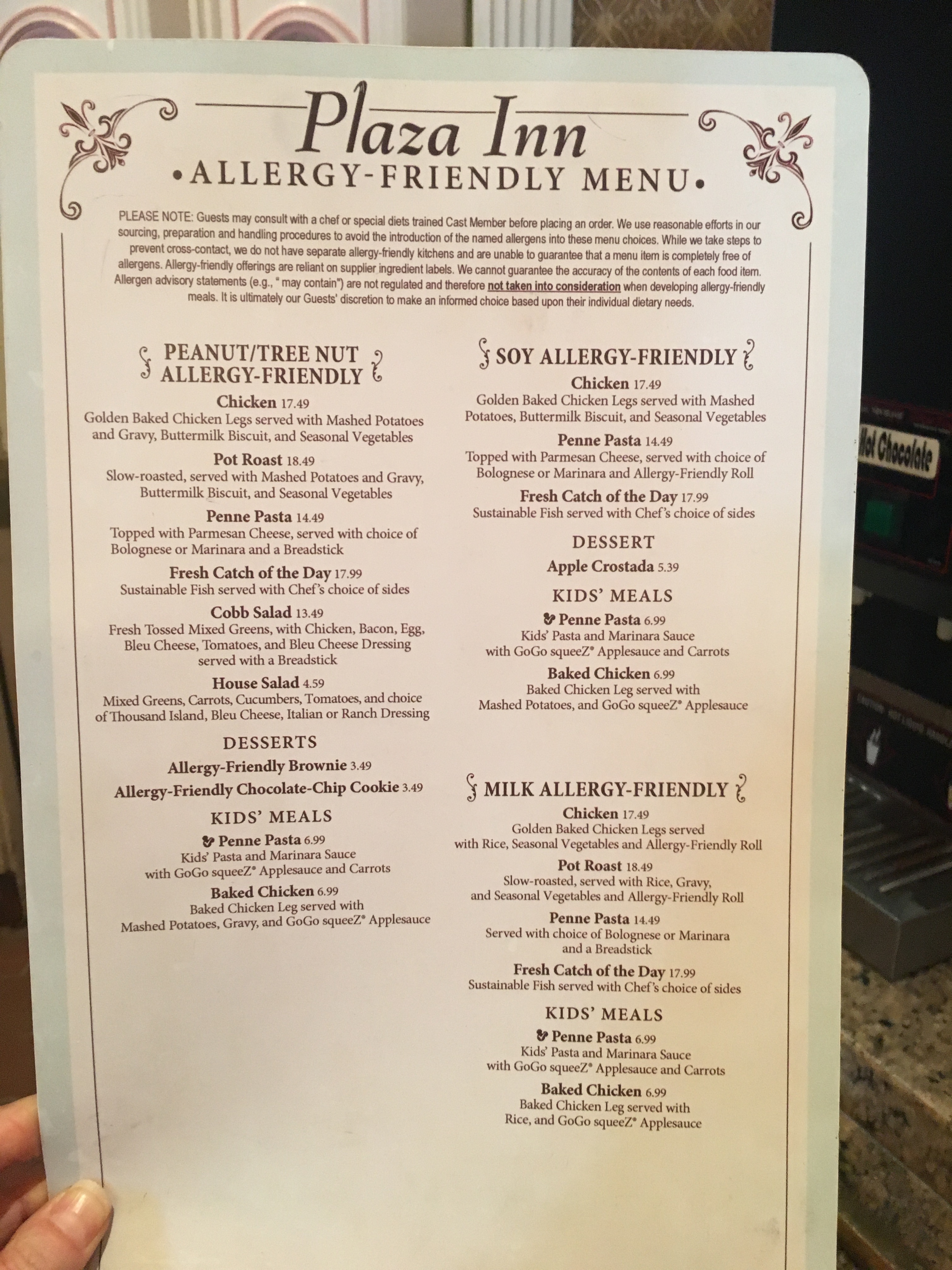 The kids' meals come with water or juice and a squeeze pack of applesauce.  All for $6.99!  Not bad at all! I got both kids the same thing so they could share without risk of contamination.  When I ordered they had a special note pad that noted the allergy and they prepared it in a separate section of the restaurant from the normal buffet line.  Ordinarily they don't use note pads to take orders (it's not a waiter place) so I knew this was all a very calculated and systematic means of keeping people with allergies safe.  SO FANTASTIC!!  GO DISNEY!!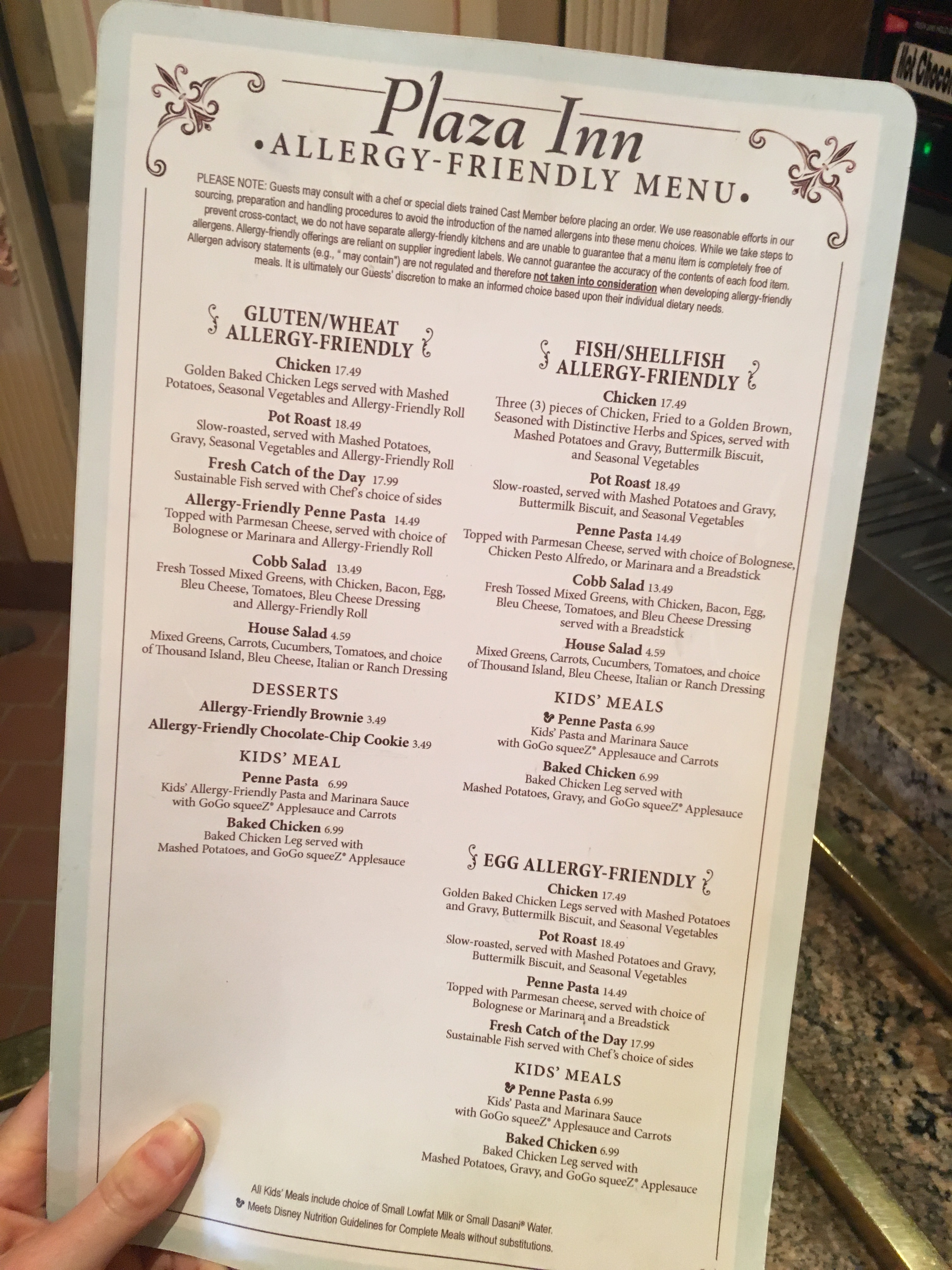 Here are the other allergy friendly menus, for anyone else to see.
As you guys know, I don't trust anyone to cook for P.  The only restaurants he has eaten at in his whole life are Disney's Breakfast with Mickey (a year ago) and Jamba Juice.  So this was huge.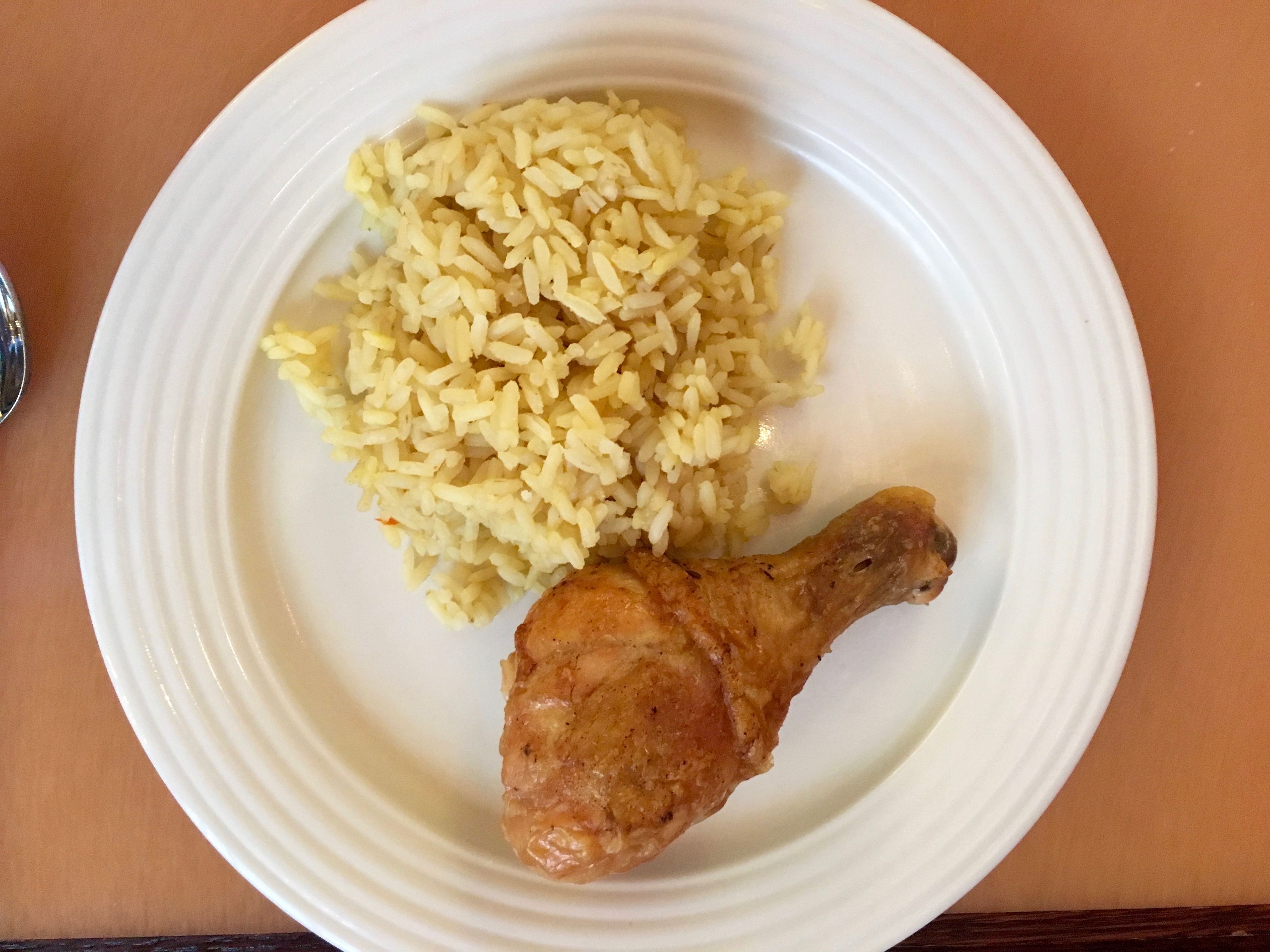 They both enjoyed it and ate all the chicken, but I saved the extra rice and applesauce pouches for later that day.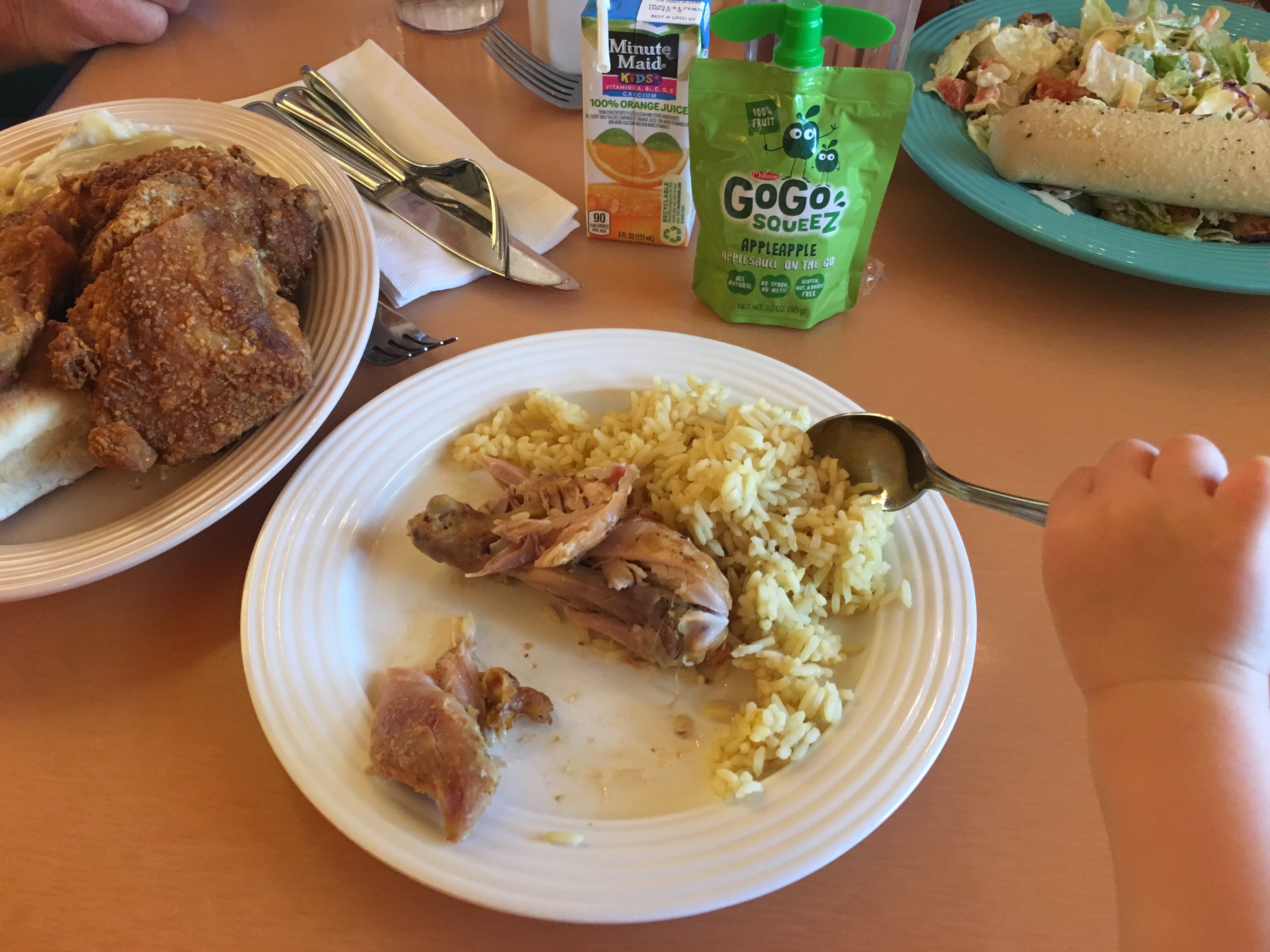 I made the mistake of getting one orange juice and one water, thinking they could share both.  But obviously that didn't happen and so I returned the water and they both got their own juice.  Whatever.  Everything is a treat at the land of magic.  Including juice!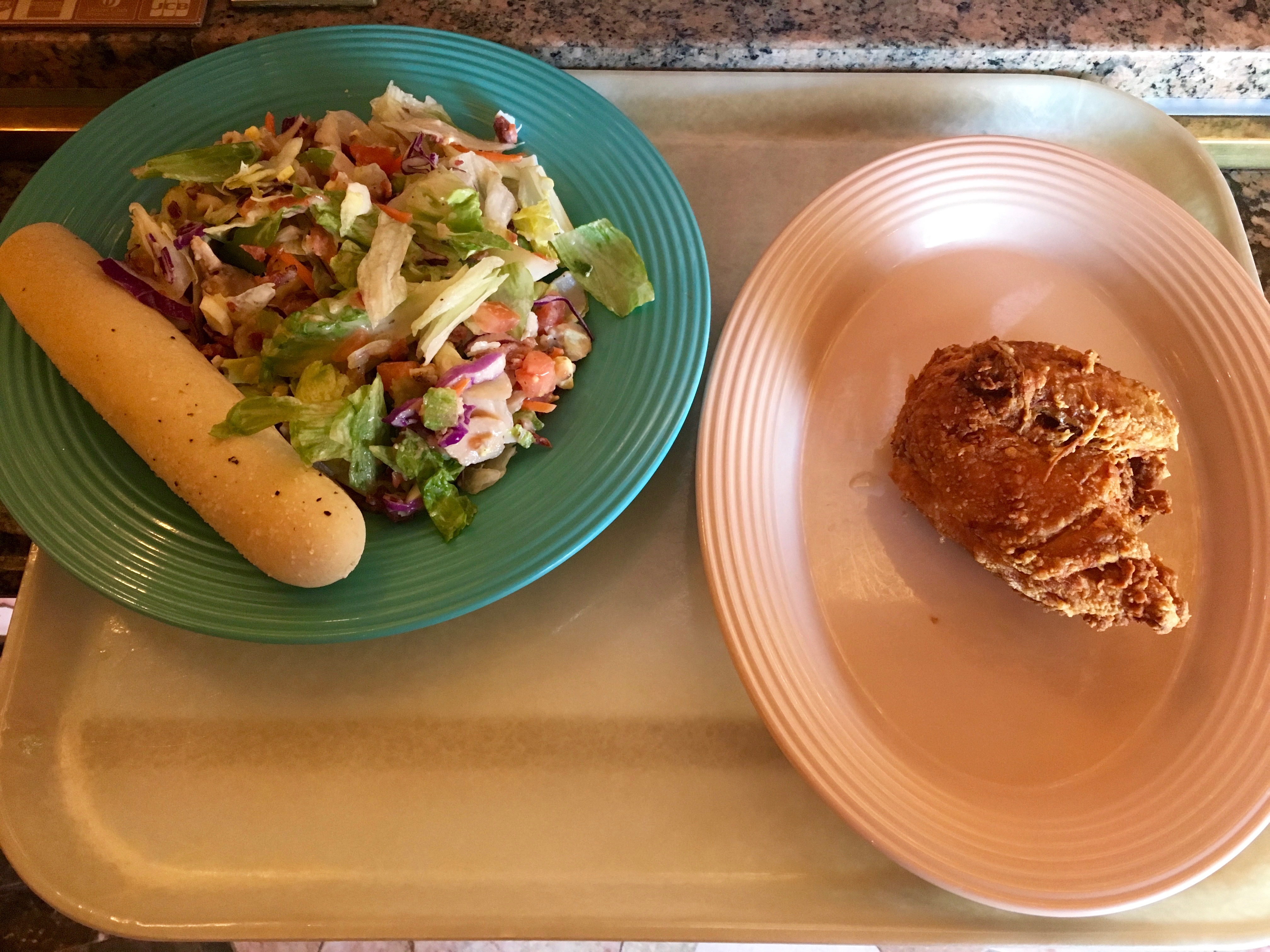 Since you can get whatever you want, in whatever portion you want, I got one fried chicken breast and a salad.  It's usually a Cobb salad, but I nixed the bleu cheese and asked for Italian dressing instead of ranch.  Done without batting an eye!  They toss it in front of you, and she must have known I was avoiding dairy since she grabbed a different bowl from the one she was using for everyone else's (dairy-ified salads) to toss mine.
Watching him meet the characters was the cutest thing ever.  He was in awe in the sweetest most innocent way.  I was slightly worried that he wouldn't know very many characters since he hasn't seen any of the movies, but we have almost every Disney story on our bookshelf and while he has favorites that we read back to back to back to back, we have read all of them at least once, even the rare ones like Herbie the Lovebug and whatnot…and of course we check things out from the Davis library too. My worrying was for naught.  He was pointing out Tangled and The Princess and the Frog characters to me!  How does he remember this stuff!?!
He knows Toy Story pretty well because I got him the book on cd from the library a while back and he listened to it approximately 85 times.
V, on the other hand, only really knows the OG gang (Mickey, Minnie, Donald, Daisy, Goofy…) but is super into them.  These are her favorite stories and we read them several times a day.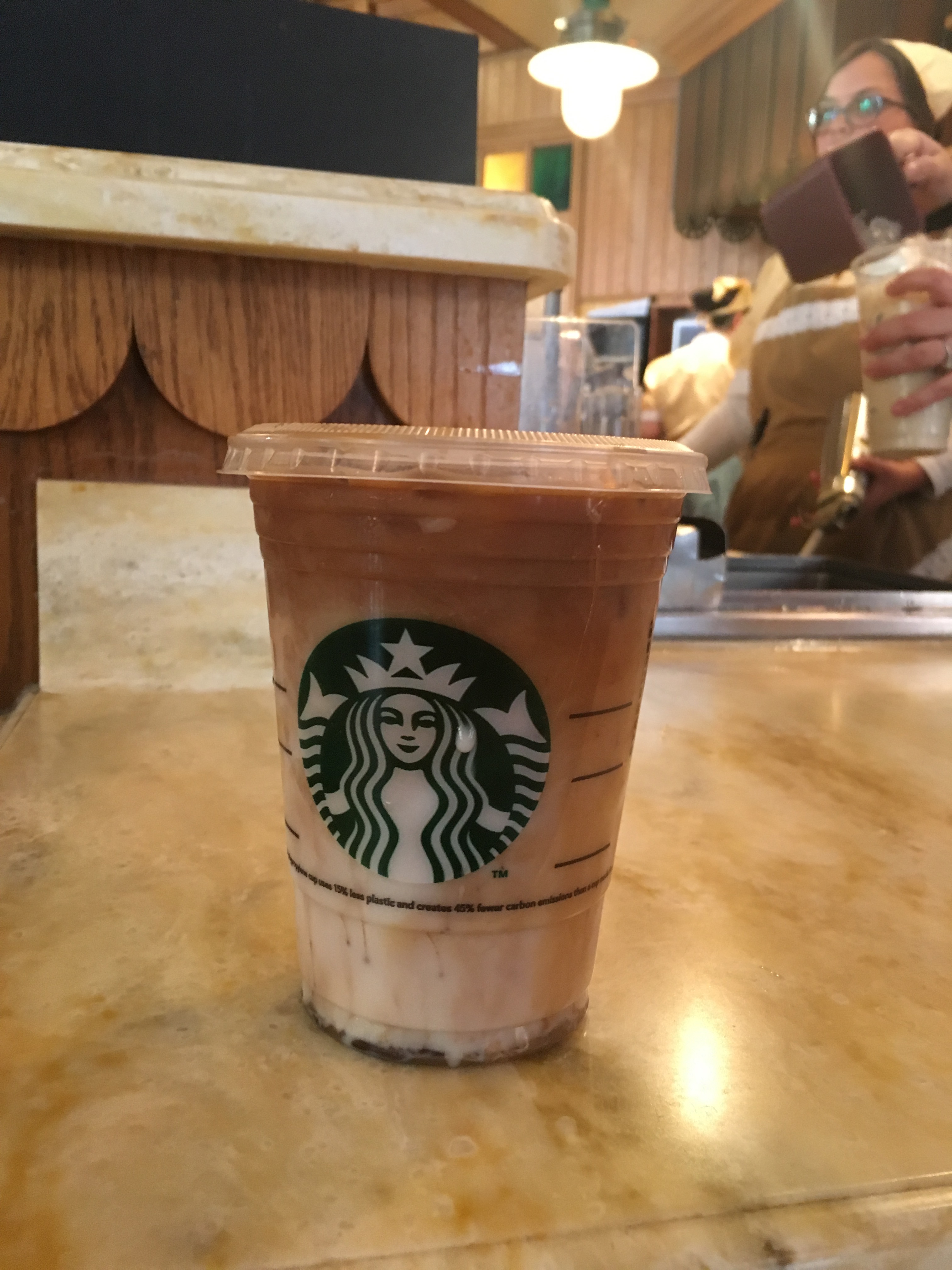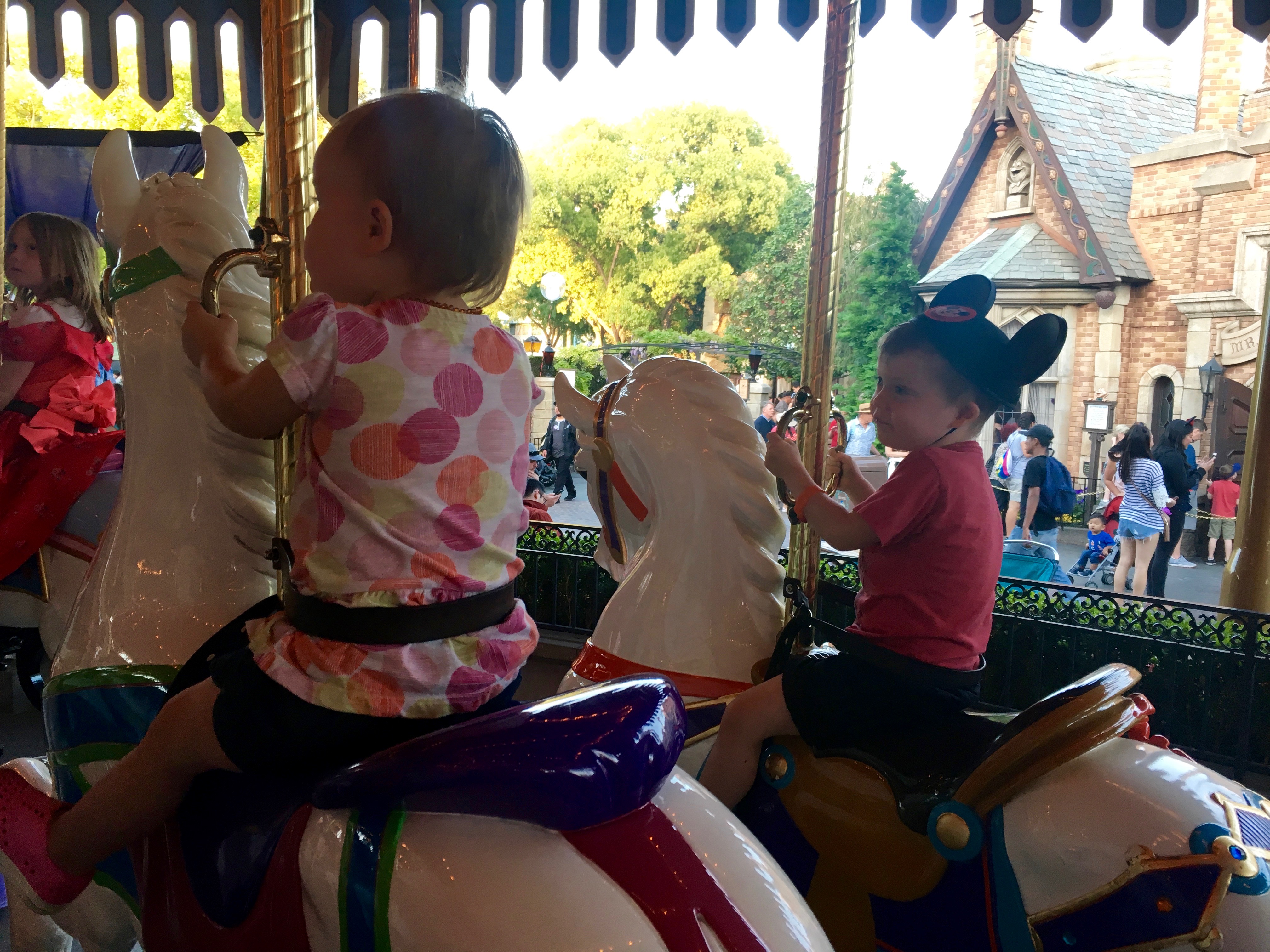 It was so hot out and I really wanted something sweet to treat myself that afternoon, so I got the new iced coconut mocha macchiato.  Have you guys tried it?  My sister had mentioned a while back that she had and liked it.  Whoa buddy was it every sweet!  I was watching as they added heaps of syrup – caramel and chocolate and who knows what else!!  It was decadent and I was happy as could be.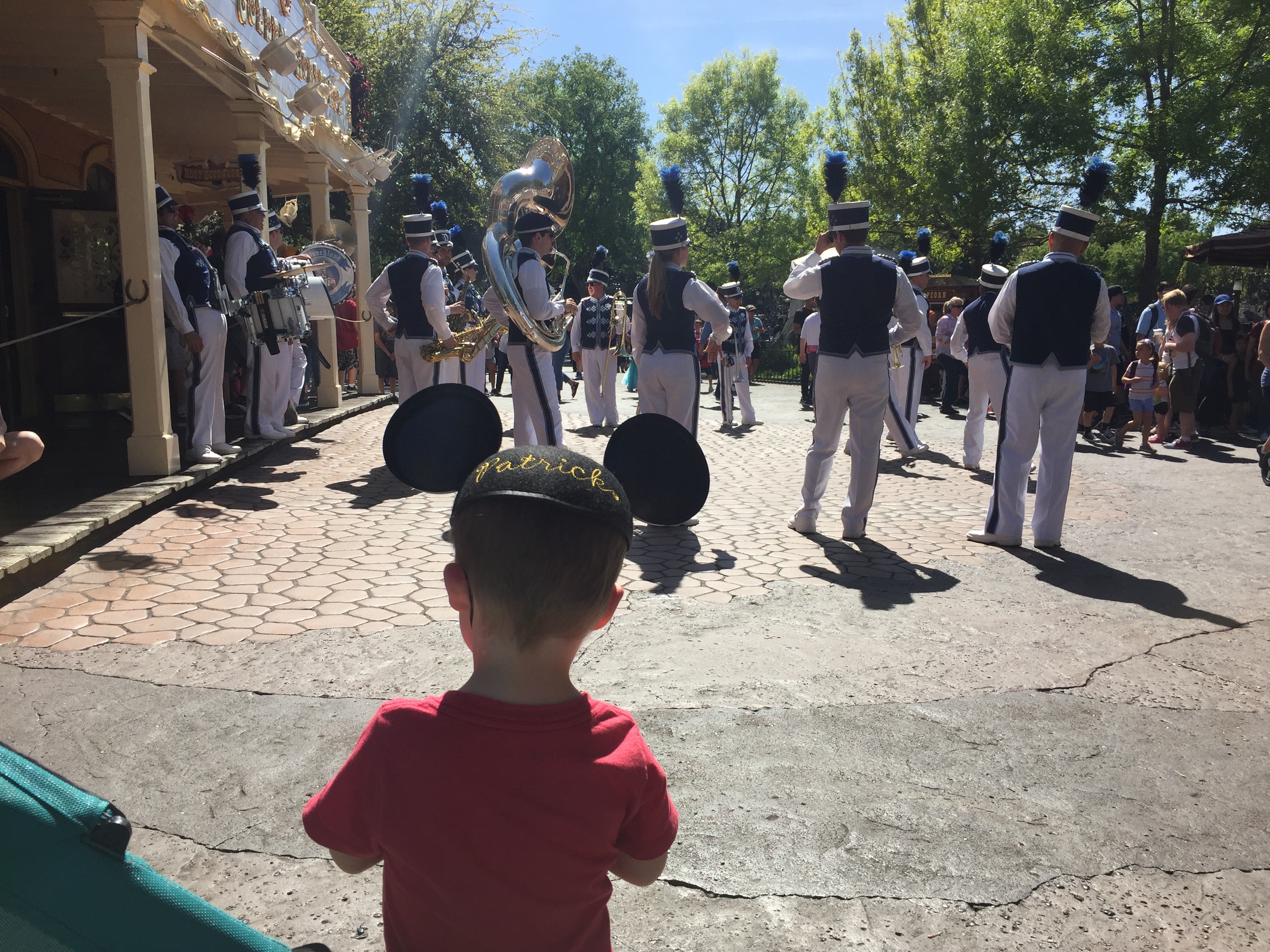 Thanks to the Disneyland app, we were good about keeping on top of the musical options.  The marching band captivated P.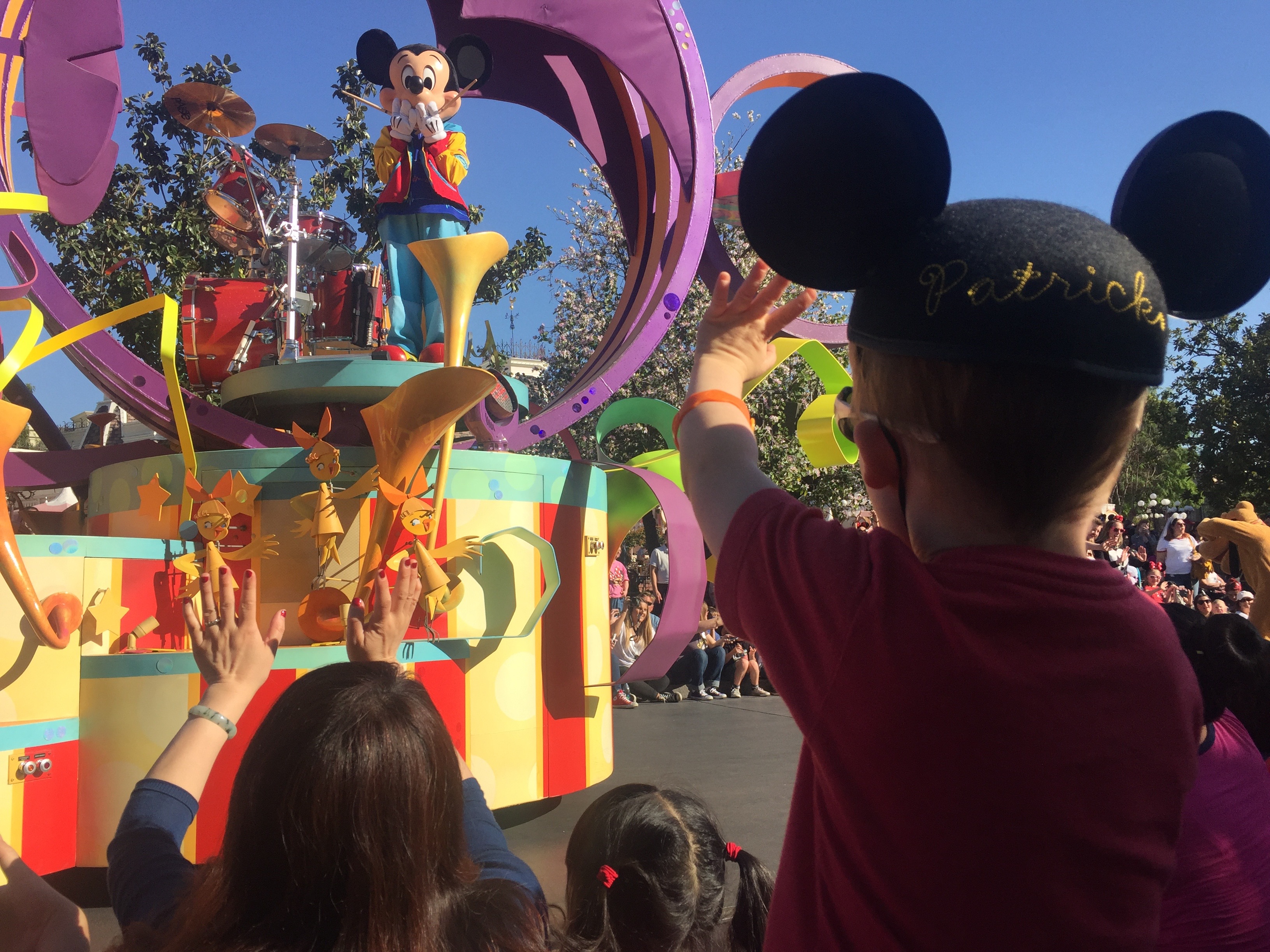 And then later we watched Mickey's Soundsational parade…just, wow.  Every character he could want to see, with live dancing and music!  His dream come true.  And mine to watch it all through his eyes.  V danced a bit too, before having a bit of a meltdown.  For a 2 year old she did great. And for skipping naps, they both hung on way longer than I thought they would.
We even made it to the 8:30 showing of the electrical parade!  V fell asleep halfway through, in my arms, which I didn't mind one bit.  🙂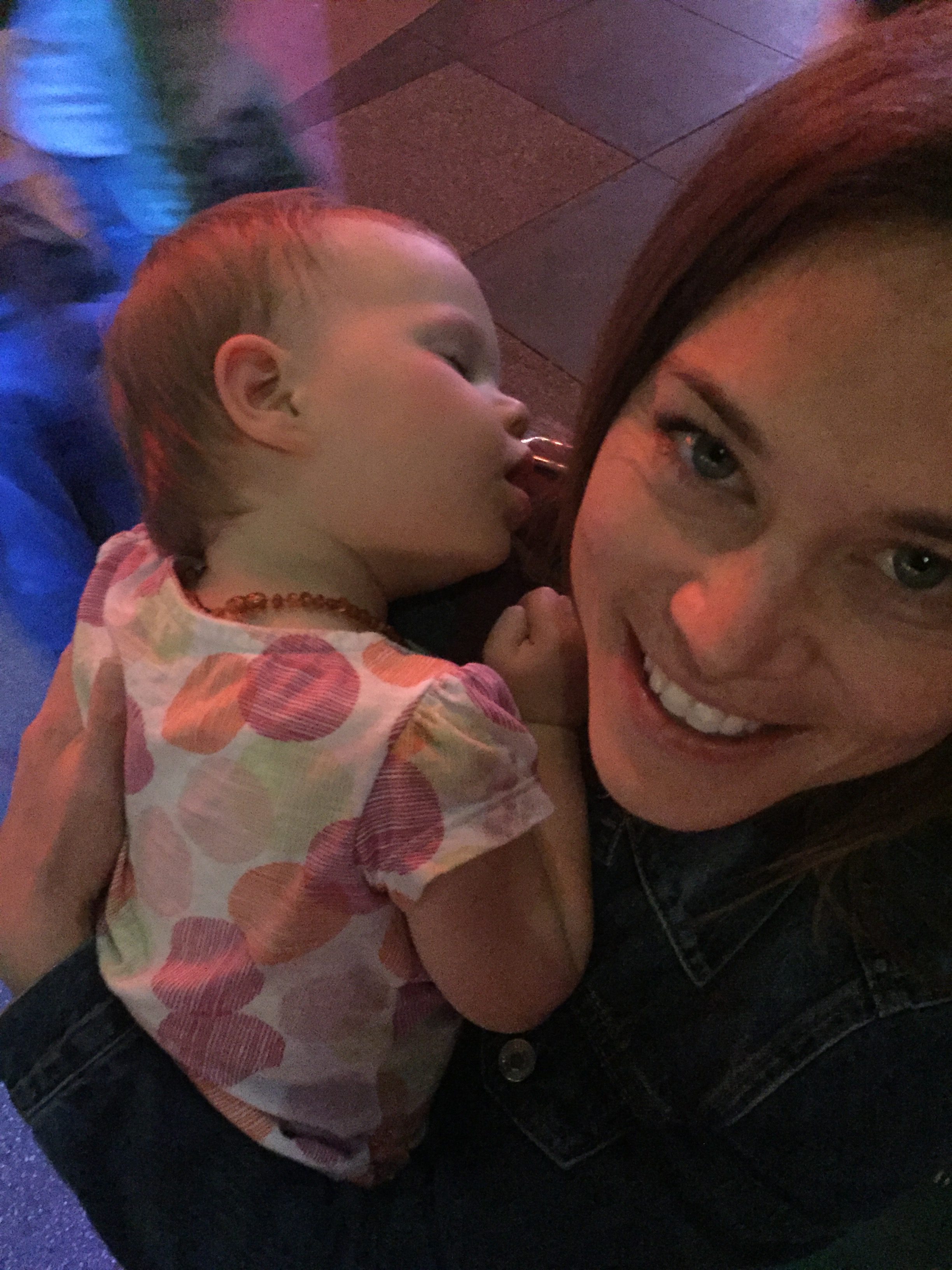 And as soon as it was done, P got in the stroller and passed out, too.
So we went to get chocolate candy and ice cream and heard the fireworks overhead as we left the park…completely exhausted but thrilled to no end about the day's excitement.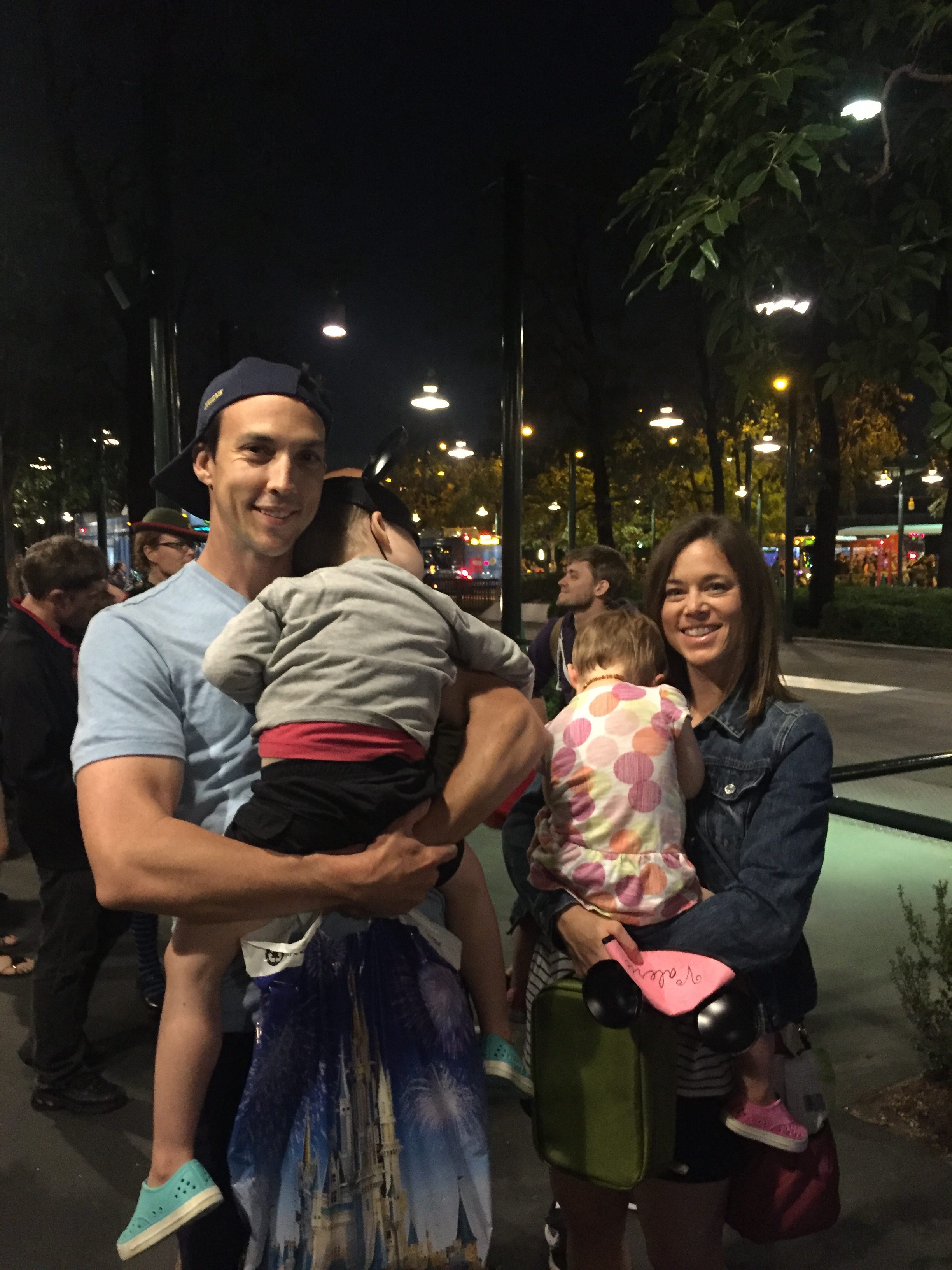 Sadly the stroller did not get to accompany us back to the car, so we ended up hauling the kids for-eh-ver from the park to the bus to the lot to the car.  They slept in our arms the whole way, and then stayed asleep the whole ride back to Venice.  What a day!
Elise April 3, 2017 Uncategorizedallergy, disneyland Read more >