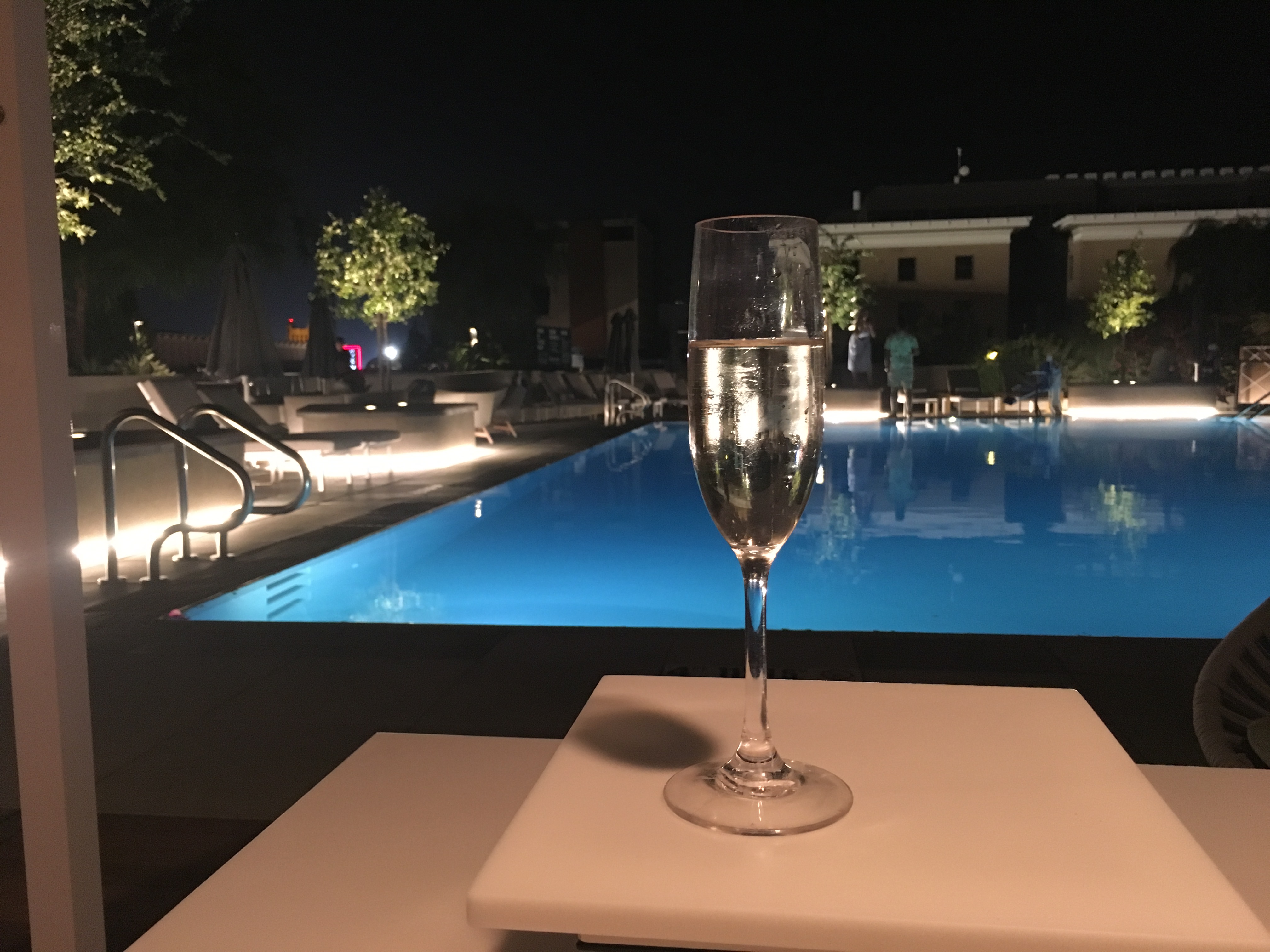 I can hardly believe it, but a group of NINE of us all managed to free our schedules and go out for dinner and drinks.  It's hard enough to get three or four people together over the summer, so this was a pleasant surprise considering how last minute it was.  And by "last minute" I mean, planned two weeks in advance as opposed to two months in advance.  That's about as last minute as it gets for me (and everyone else I know with summer travel and kids activities around the clock).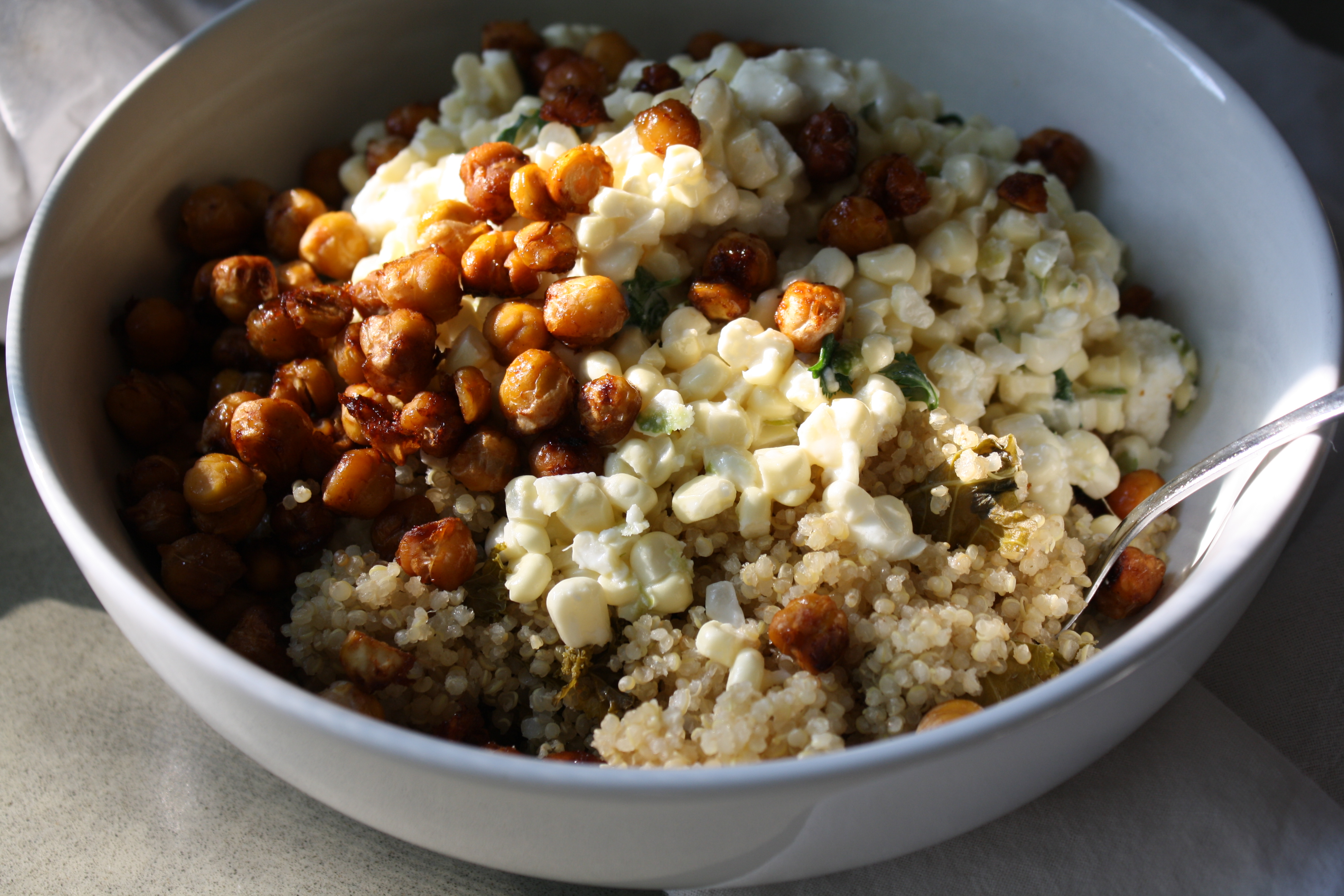 Did I leave my family high and dry for dinner??
You KNOW I didn't.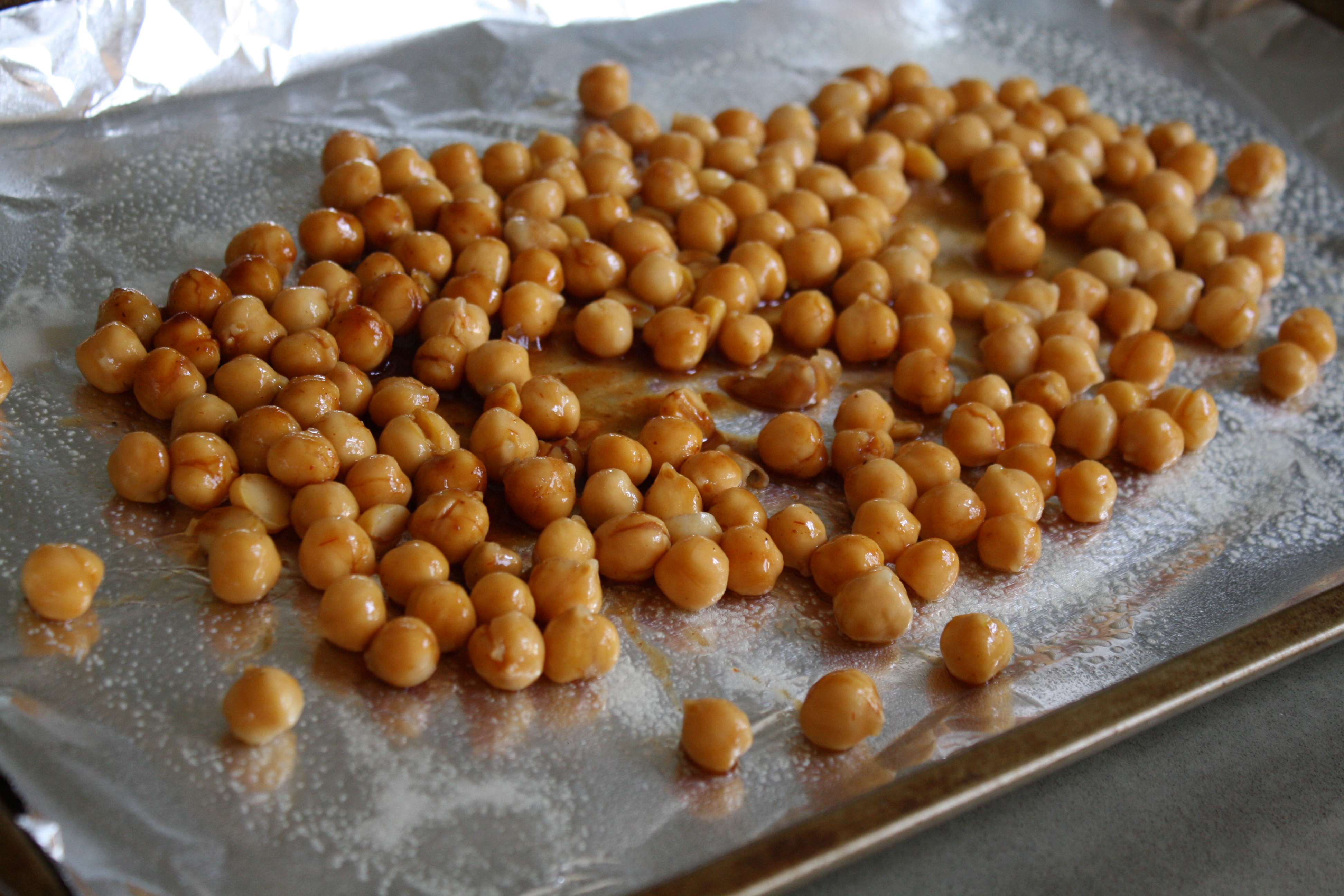 I had a bit of leftover elote (Mexican corn salad) to use up and decided to make BBQ some roasted chickpeas and quinoa with kale to turn it into a flavorful bowl.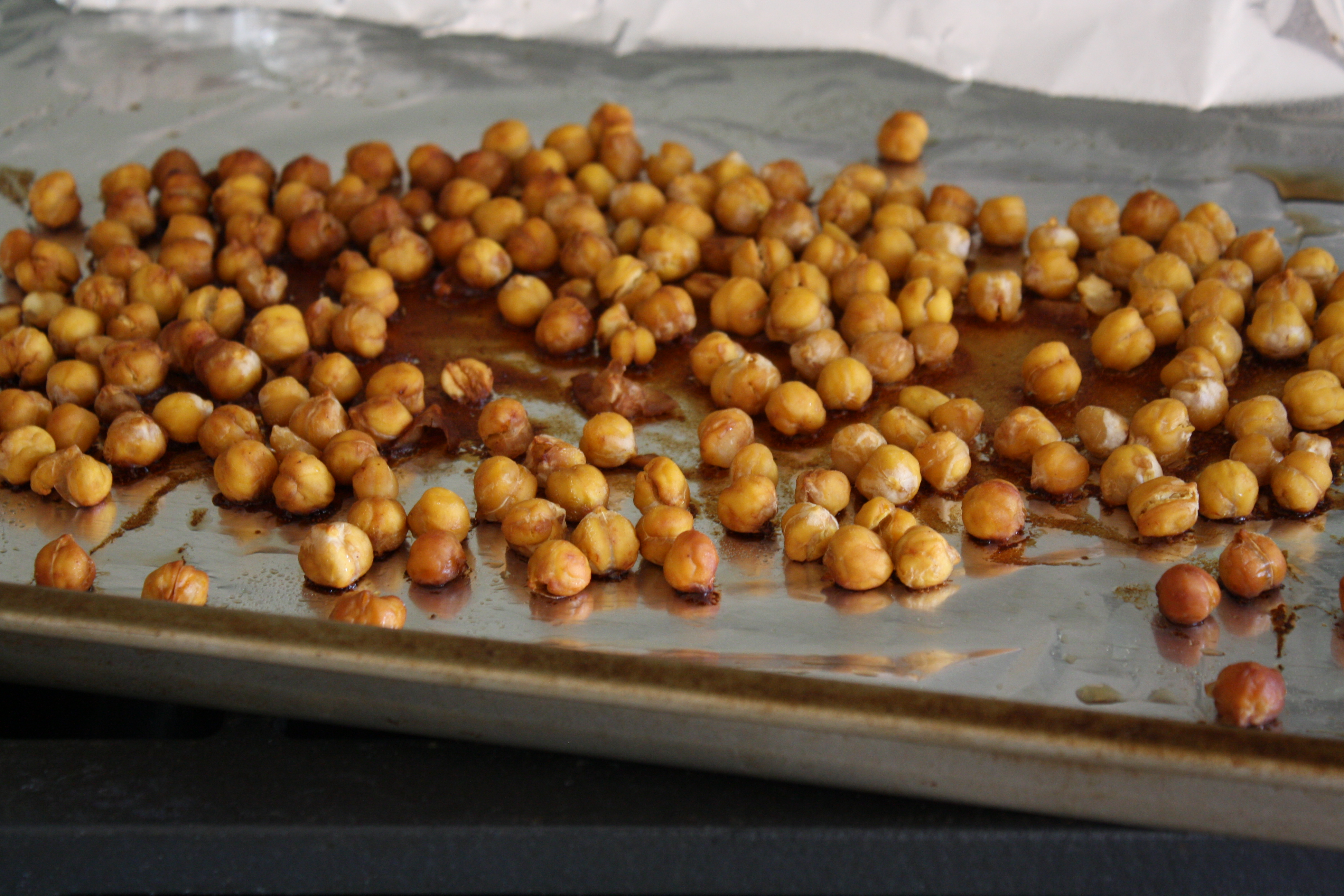 To make the roasted chickpeas, I tossed them in some BBQ sauce and baked them for 20 minutes at 350 degrees.  After the time was up on that, I turned the oven off and left them in for an additional 20 minutes.  I wasn't sure how the kids would like them since they like plain ones so much and are hit and miss with condiments like ketchup, but they were a huge hit.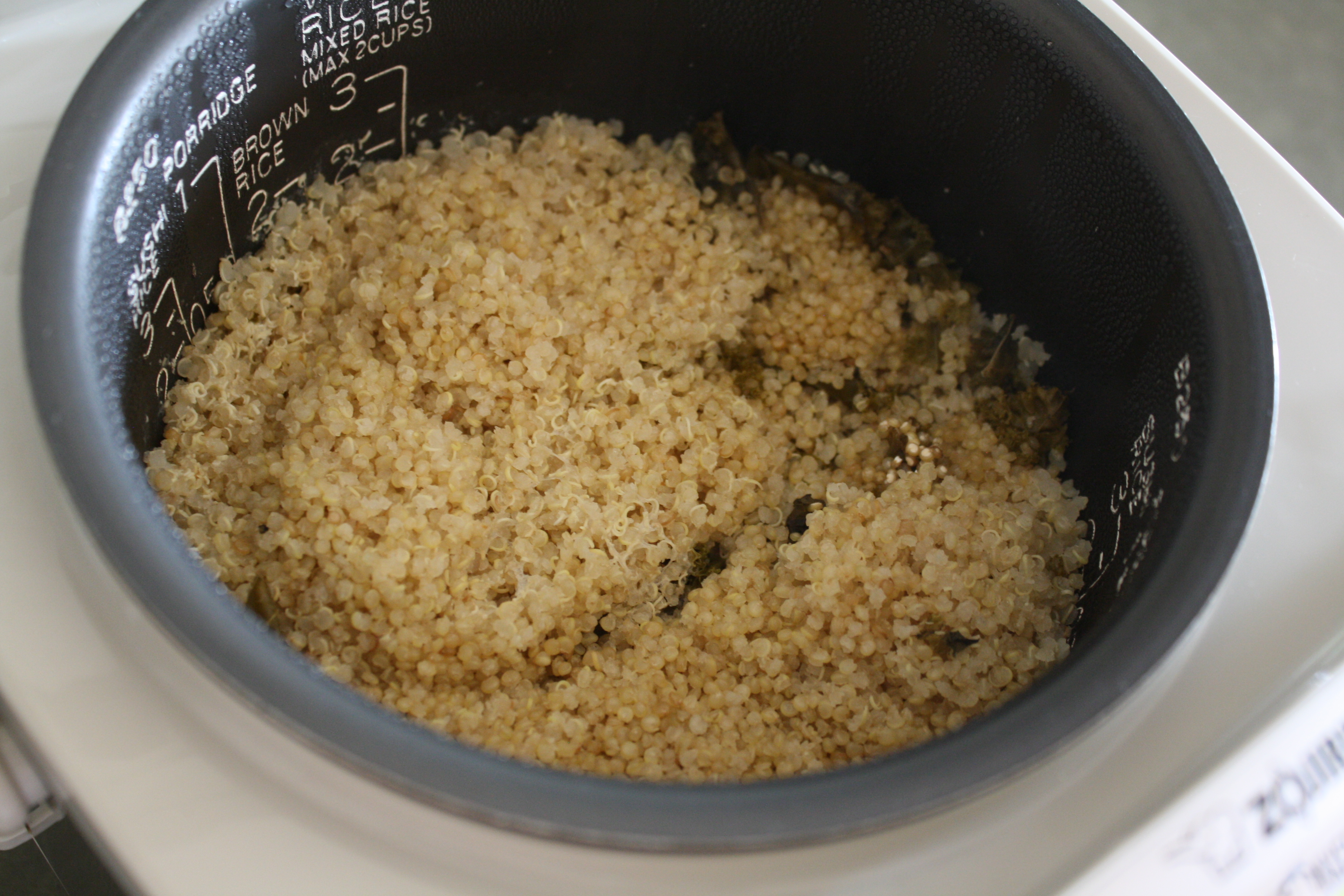 I made the quinoa in the rice cooker, per usual, but added ripped up kale with it.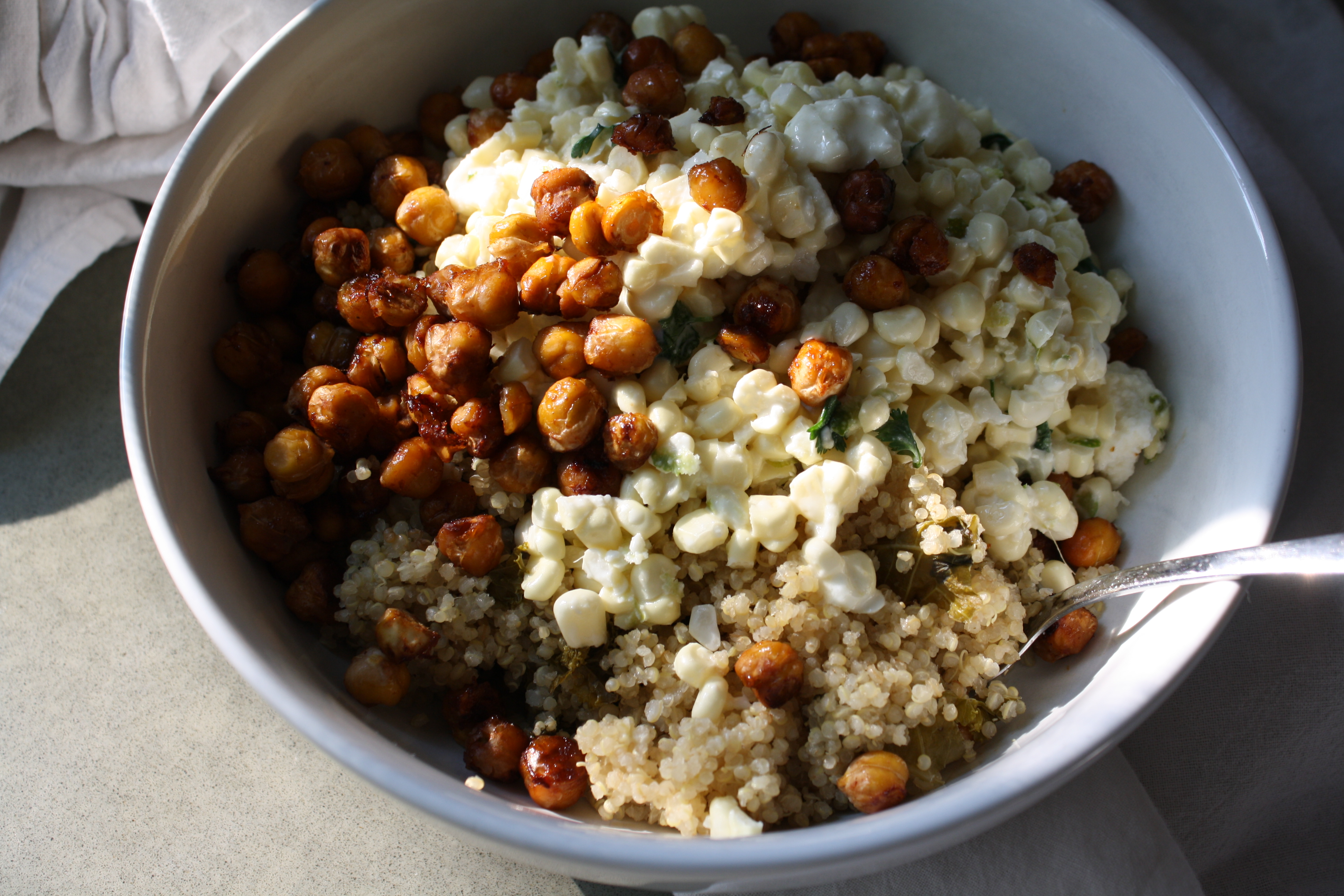 And then when it came time to eat, I just assembled them all together!
The mayo/lime/cotija sauce from the corn salad coated it all and the chickpeas offered a nice crunchy texture to contrast the dish.  Kyle was super thrilled to get the corn leftovers too because it's apparently one of his favorite dishes (news to me!).  I should have made more quinoa, because the kids actually wanted seconds but it was all gone…oops!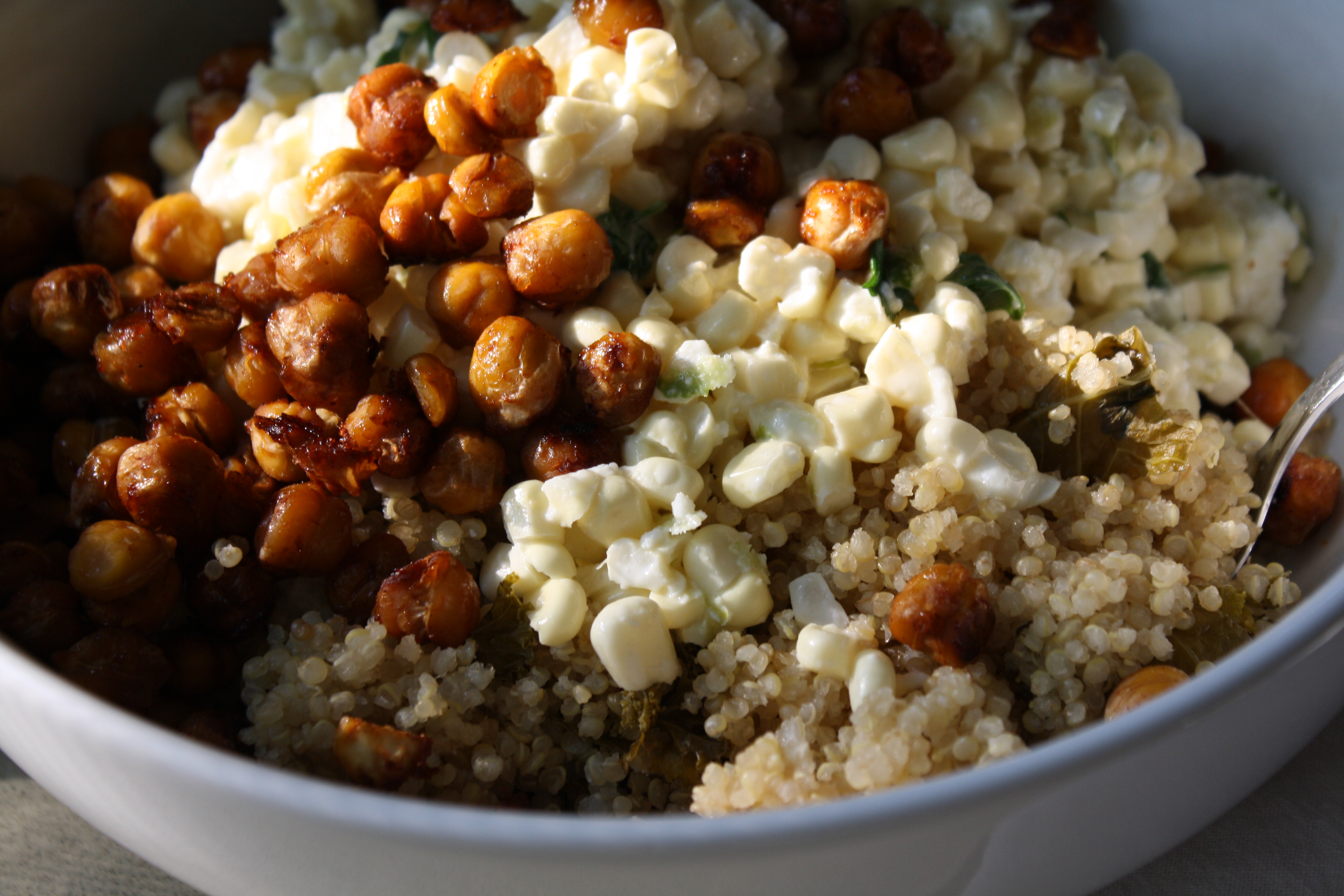 BBQ Chickpea + Elote Quinoa Bowls
Ingredients:
1 can (~1 1/2 cups) chickpeas
2 tbsp BBQ sauce
1 1/2 cups quinoa
1 cup shredded/chopped kale
4 ears corn, removed from cob
1/2 cup mayo
1 lime, zested and juiced
1/4 cup cilantro leaves
1/2 cup cotija cheese, crumbled
pinch of salt
(optional) cayenne
Directions:
Pre-heat the oven to 350 degrees F.  Drain and dry chickpeas and toss in BBQ sauce.  Pour onto greased baking sheet.  Bake for 20 minutes.  Once 20 minutes is up turn off the oven but leave them in the still hot oven for 20 minutes.  Then remove and let cool.
Make the quinoa according to package instructions (I think a 1:1.5 quinoa to water is best).  Either add kale in to cook with it (if you are using a rice cooker) or fold it in at the end when it's still super hot.
Make the elote salad with the remaining ingredients.
When ready to serve, place quinoa on the bottom, add the corn salad next, and top off with the BBQ chickpeas.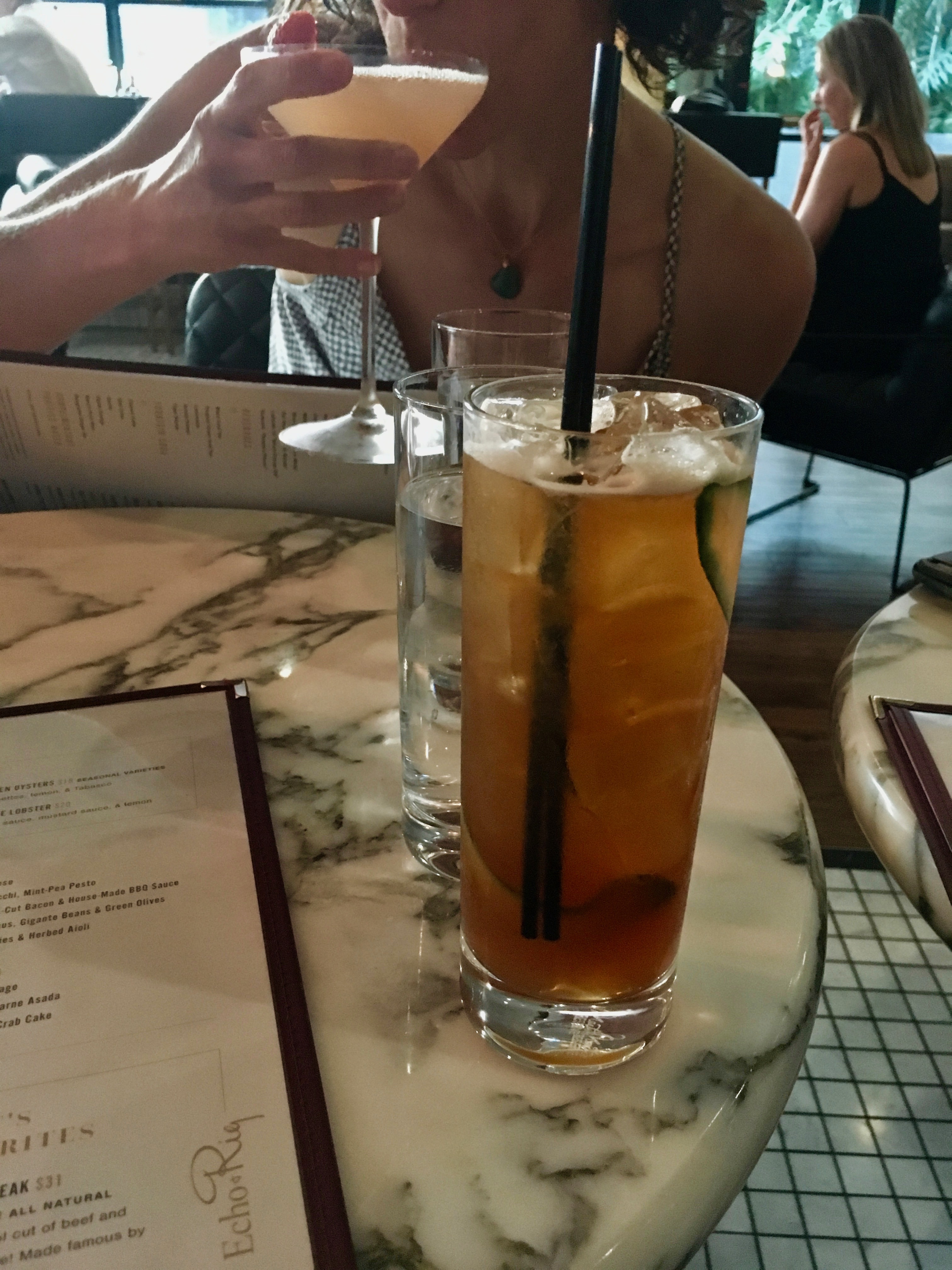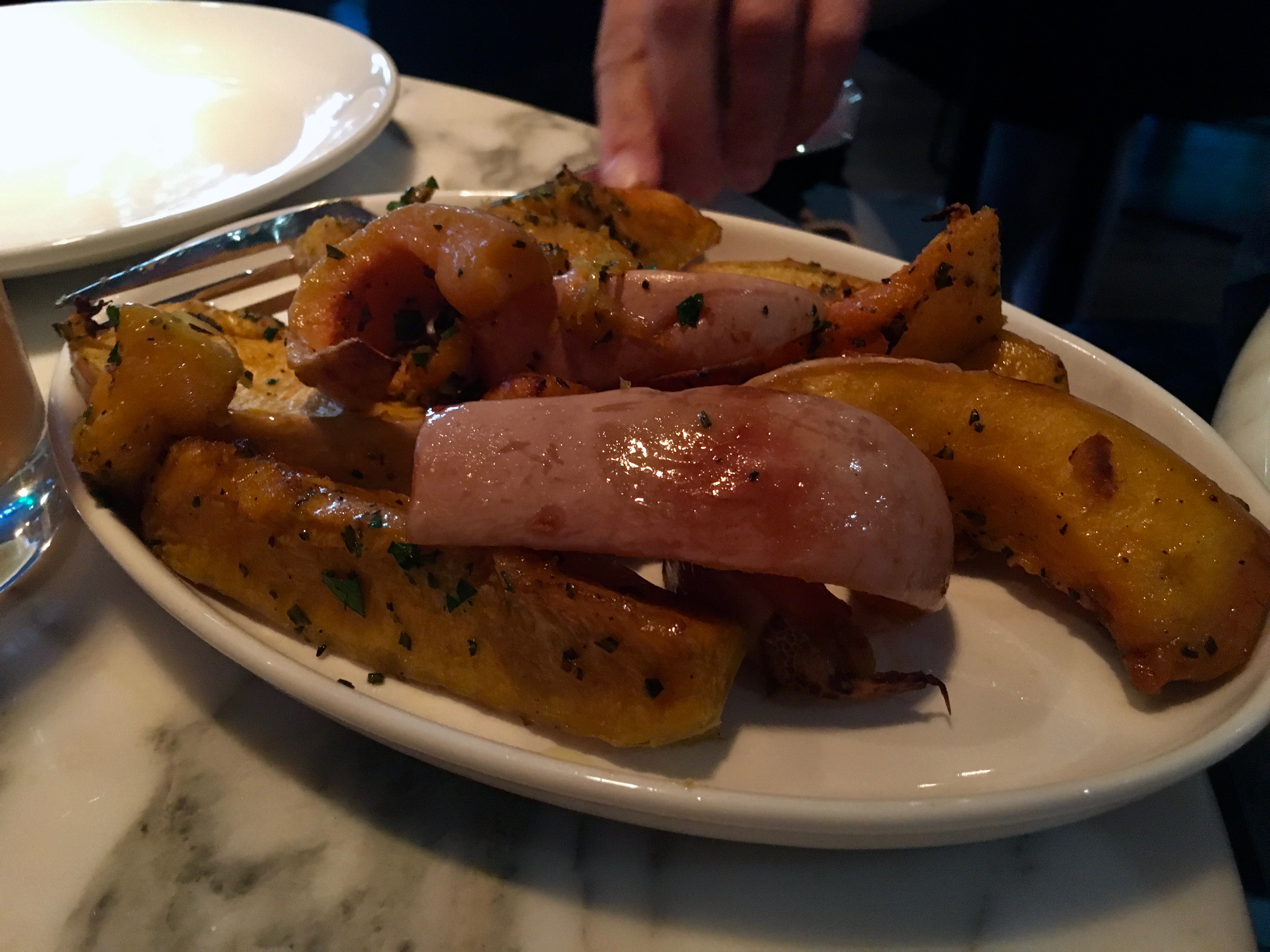 Meanwhile, I was at Echo & Rig ordering a cocktail and shared plates.
I went with the Euro Connection (again) and then my friends put me in charge of ordering the food…which is my happy place  🙂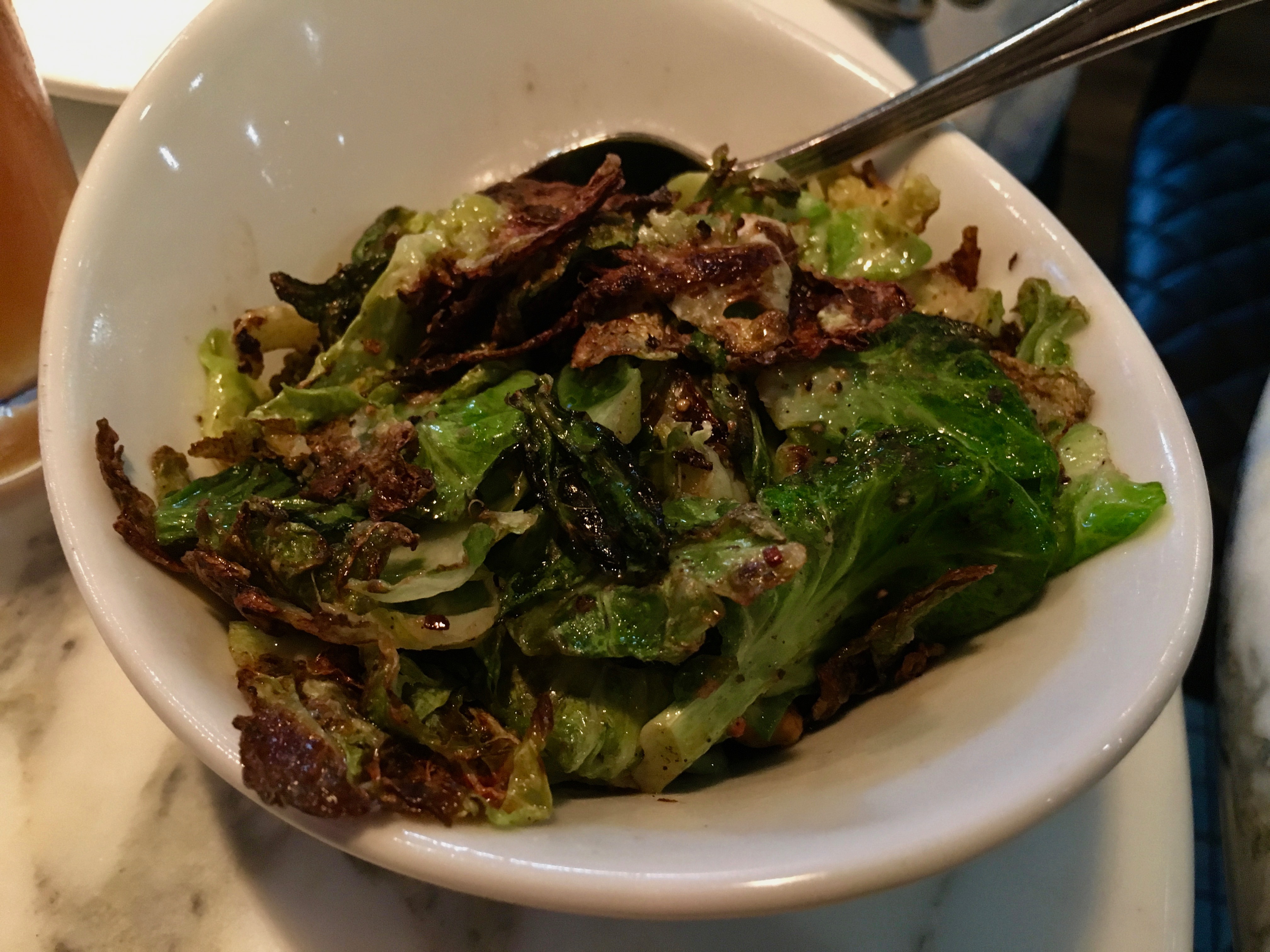 The Brussels sprouts were THE BEST.  I know that's so cliche, but the lemon dressing and the sauteed pistachios were out of this world with the crispy fried sprouts.  Everyone agreed they were the star of the show.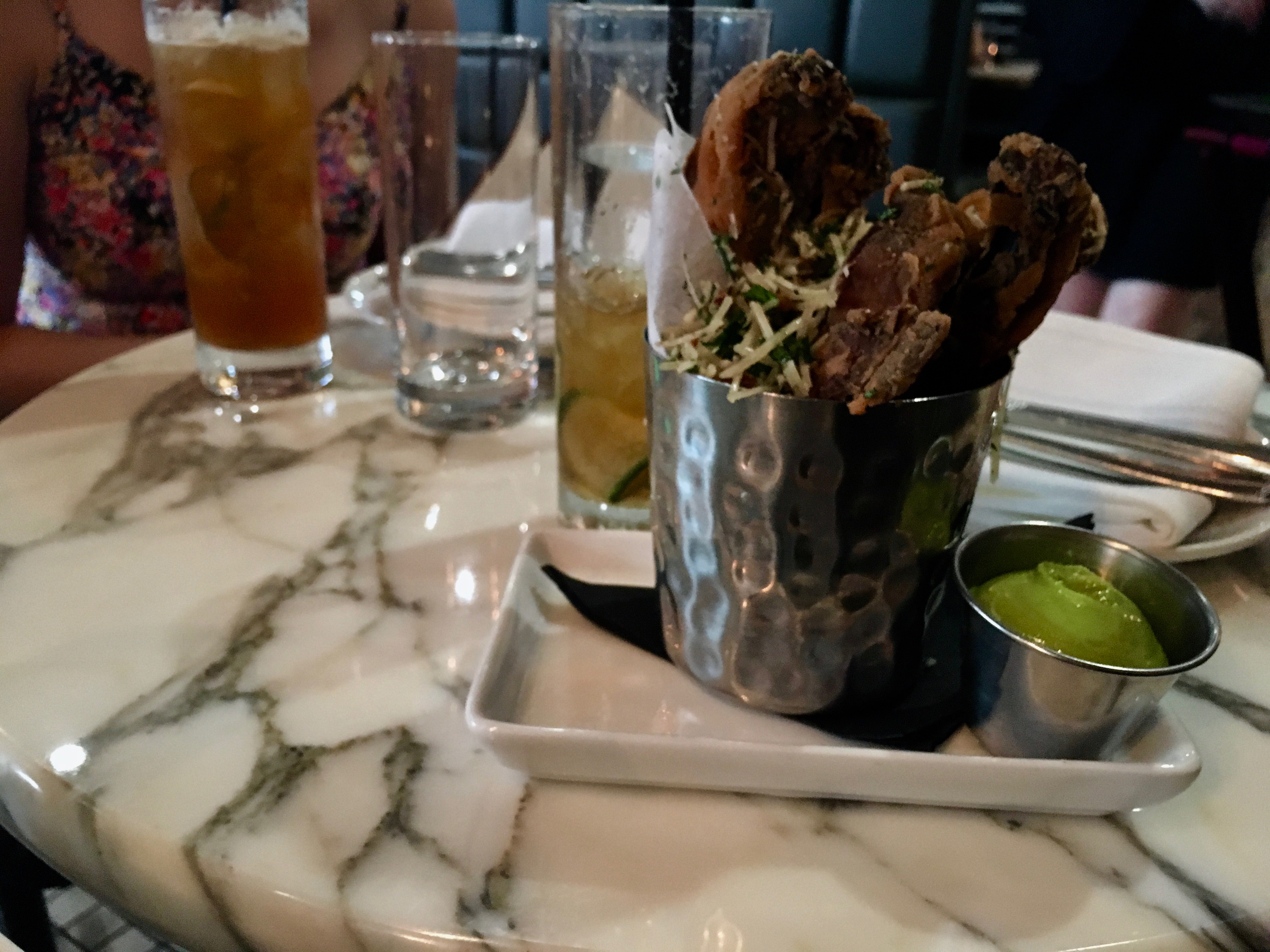 I got two orders of the portabello fries because they are a must have and for a group of our size, one order would not do.  They were another hit.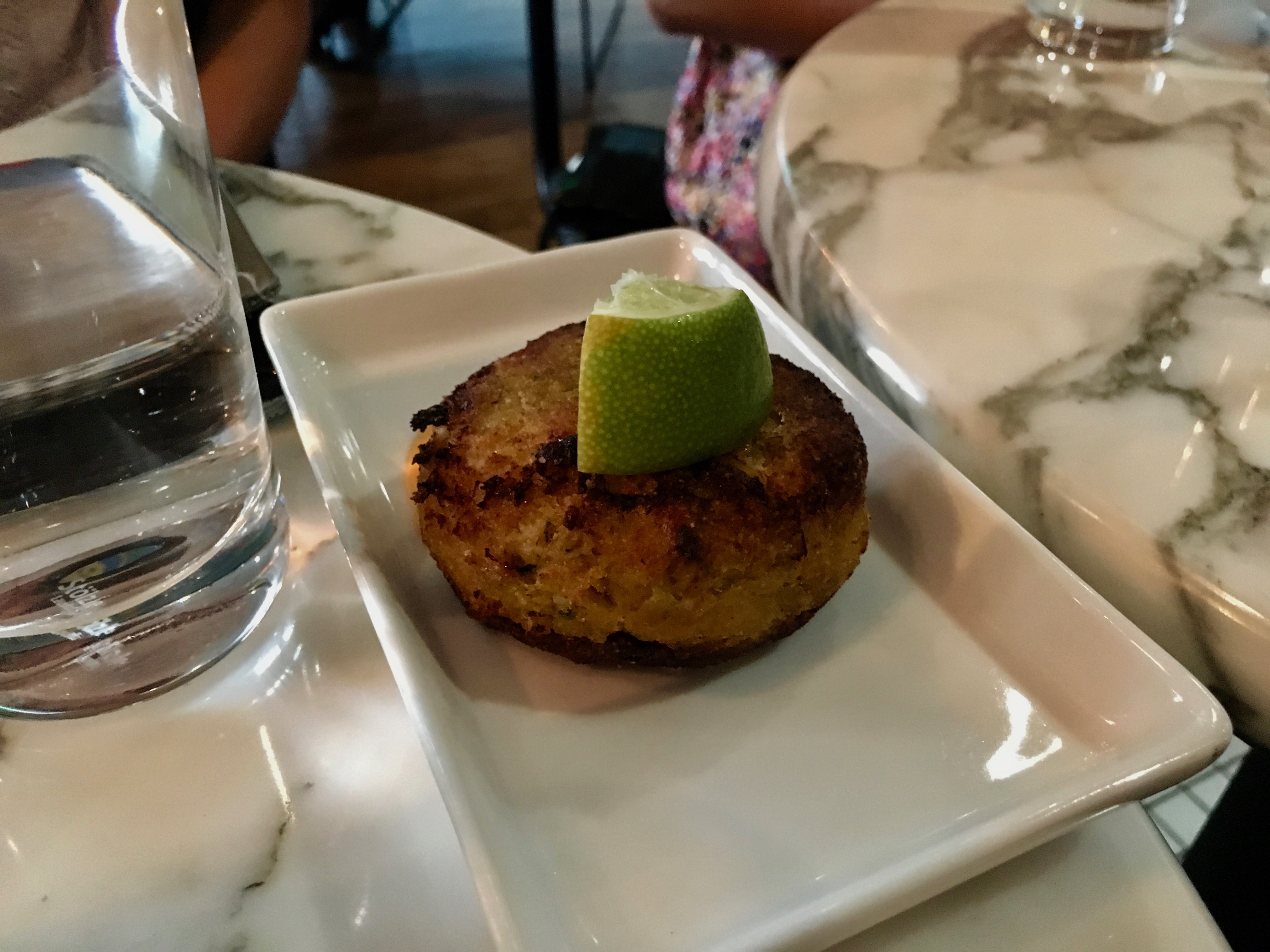 The crab cake was okay but because of how amazing everything else was, it didn't stand out in my mind.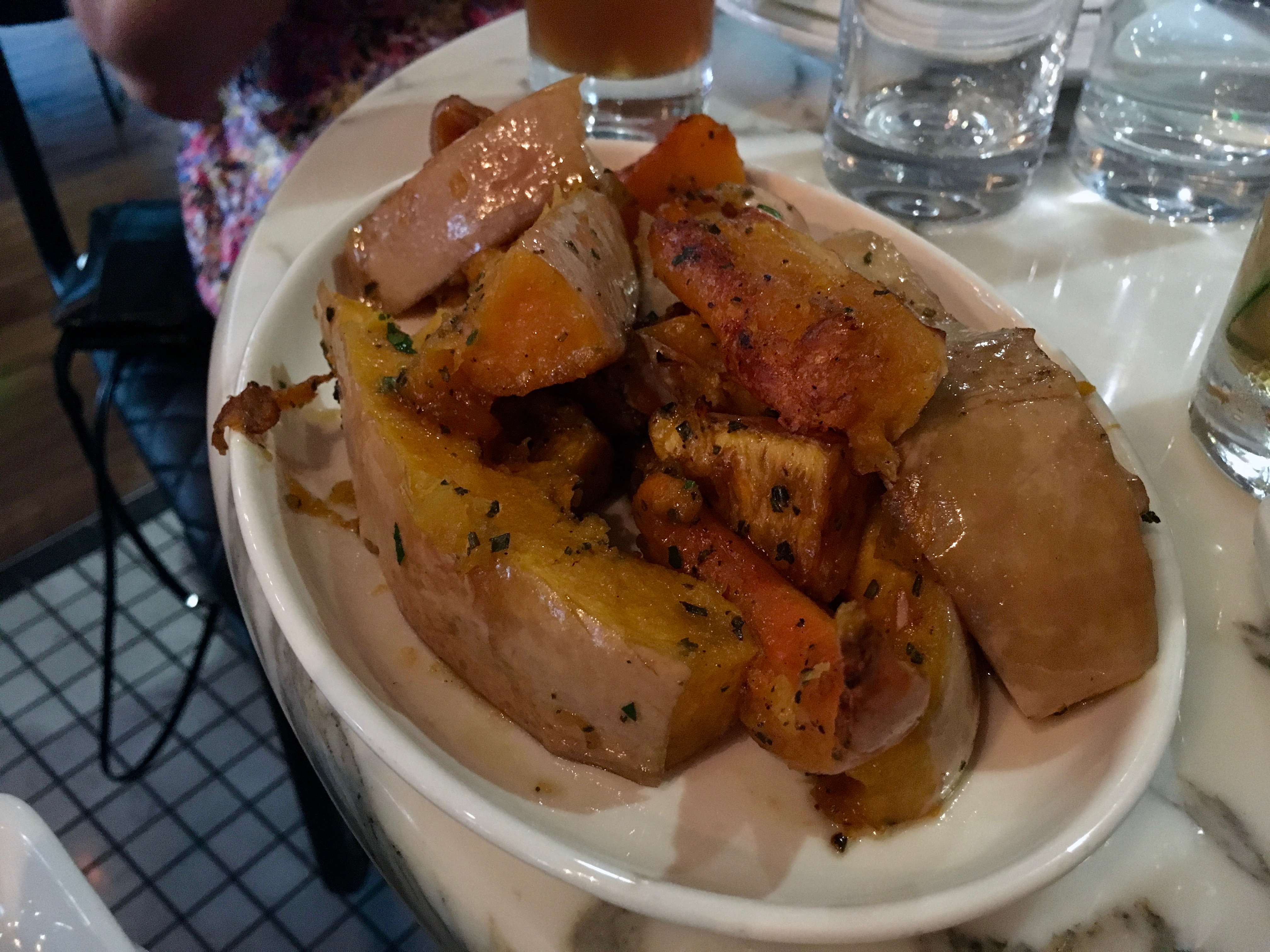 The roasted squash was a highlight for me (again).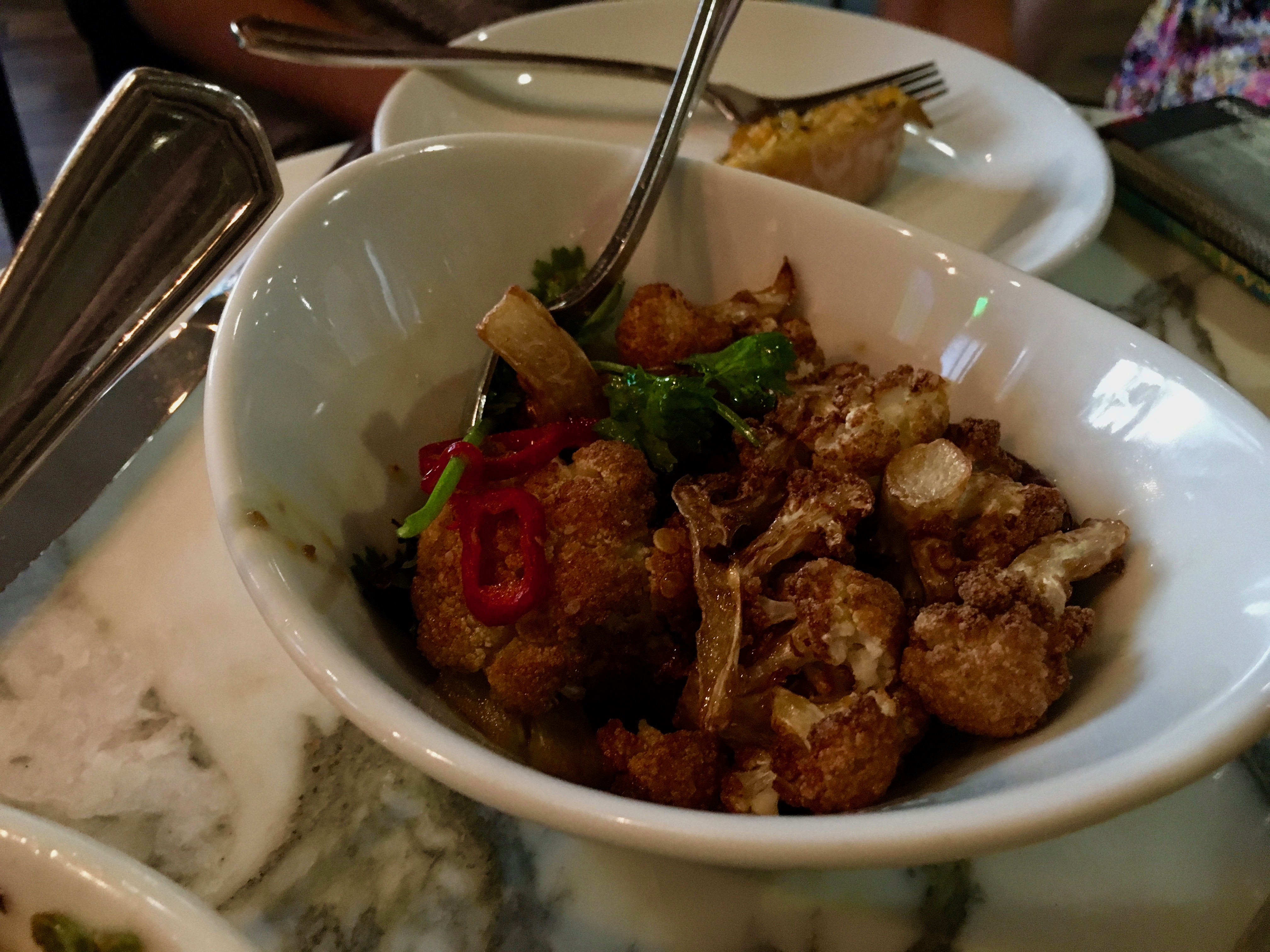 And while everyone else seemed to loooove the cauli, I wasn't overly wowed by it.  Probably for the same reason as the crab cake.  Everything else was just so so good.
After Echo & Rig, we went upstairs to the new rooftop pool and bar, Revival. It was trying so hard to be swanky, but let's be real, this is Sac town, not LA.  Aside from the some times questionable crowd, the most important thing to note was the music.  It was awesome and really made me want to dance (which I didn't because we were all cozied up in a bungalow kind of thing chatting).
The most impressive thing about this night though, was that I was out until midnight and still managed to get P to camp on time and then to stroller strides the next morning.  Social life goals!