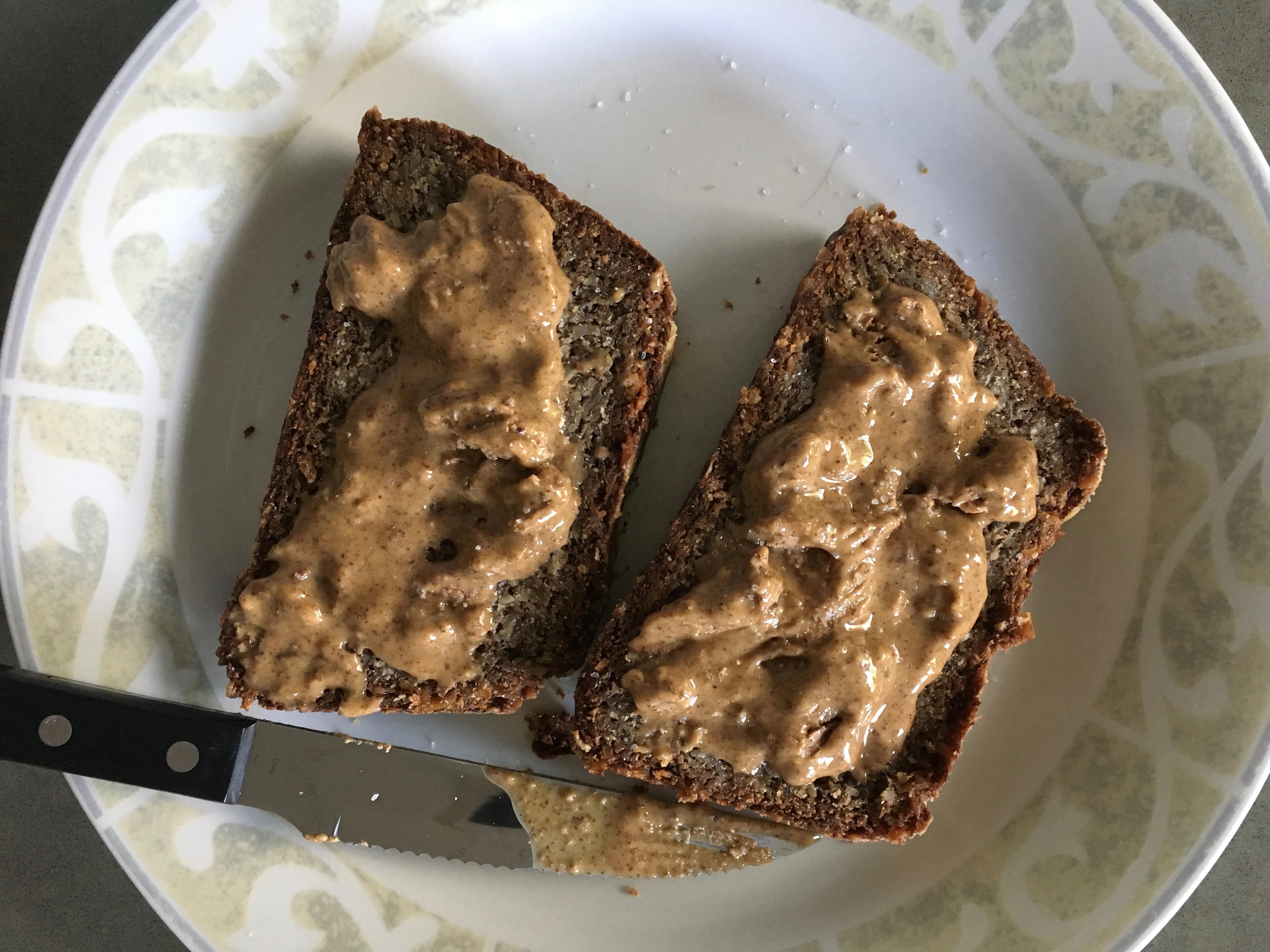 Now that I've had Nourish bread I can't go back to regular bread!!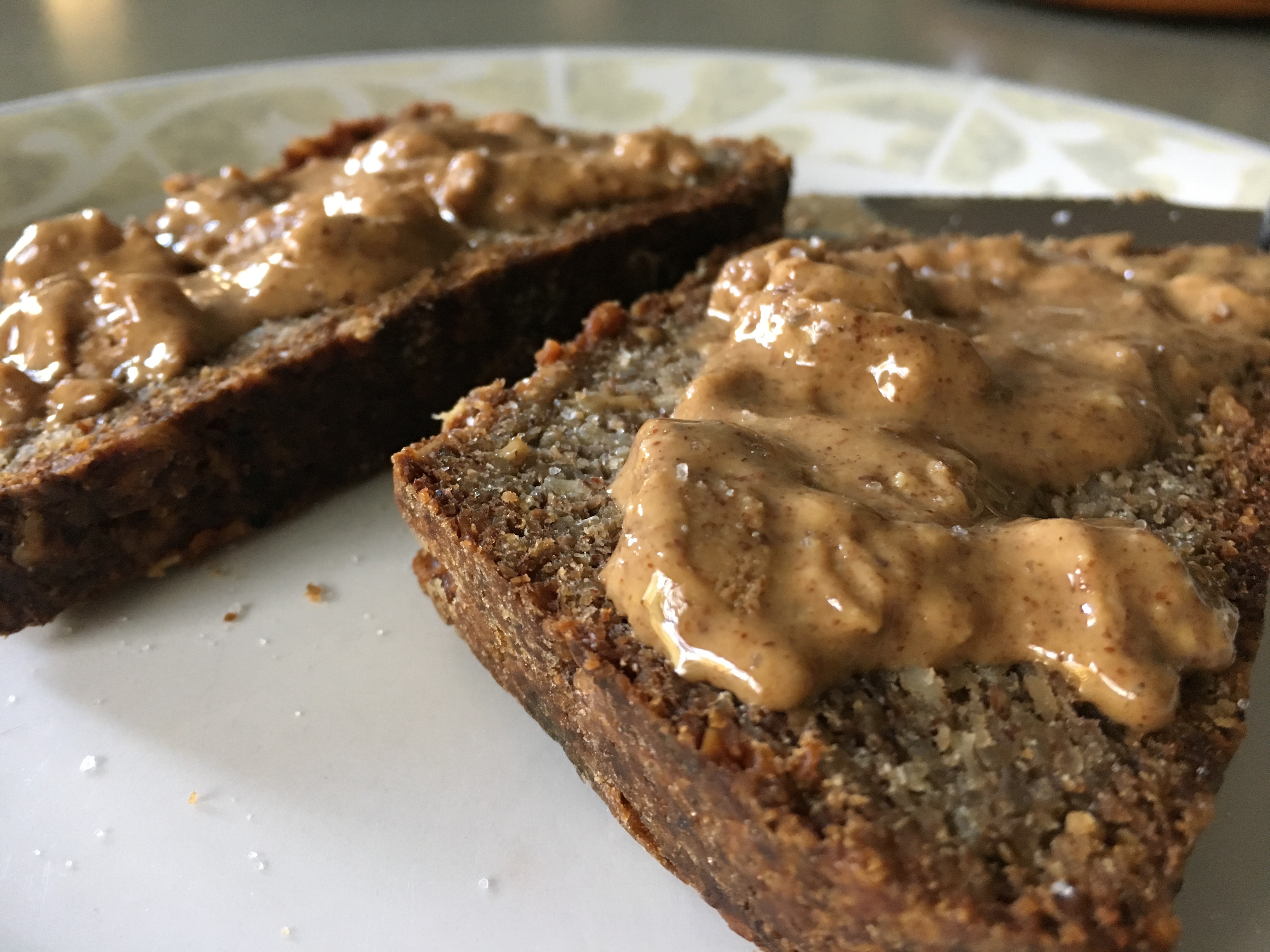 This time I topped it with almond butter.  I felt full after, but not weighed down or roll-me-to-the-couch-I'm-stuffed.  I was feeling pretty lazy though, truth be told, which I attribute to the grey skies.  Even though I went on a bike ride that morning, I was still lacking motivation to leave the house for church.  I don't think I could ever live outside of CA again.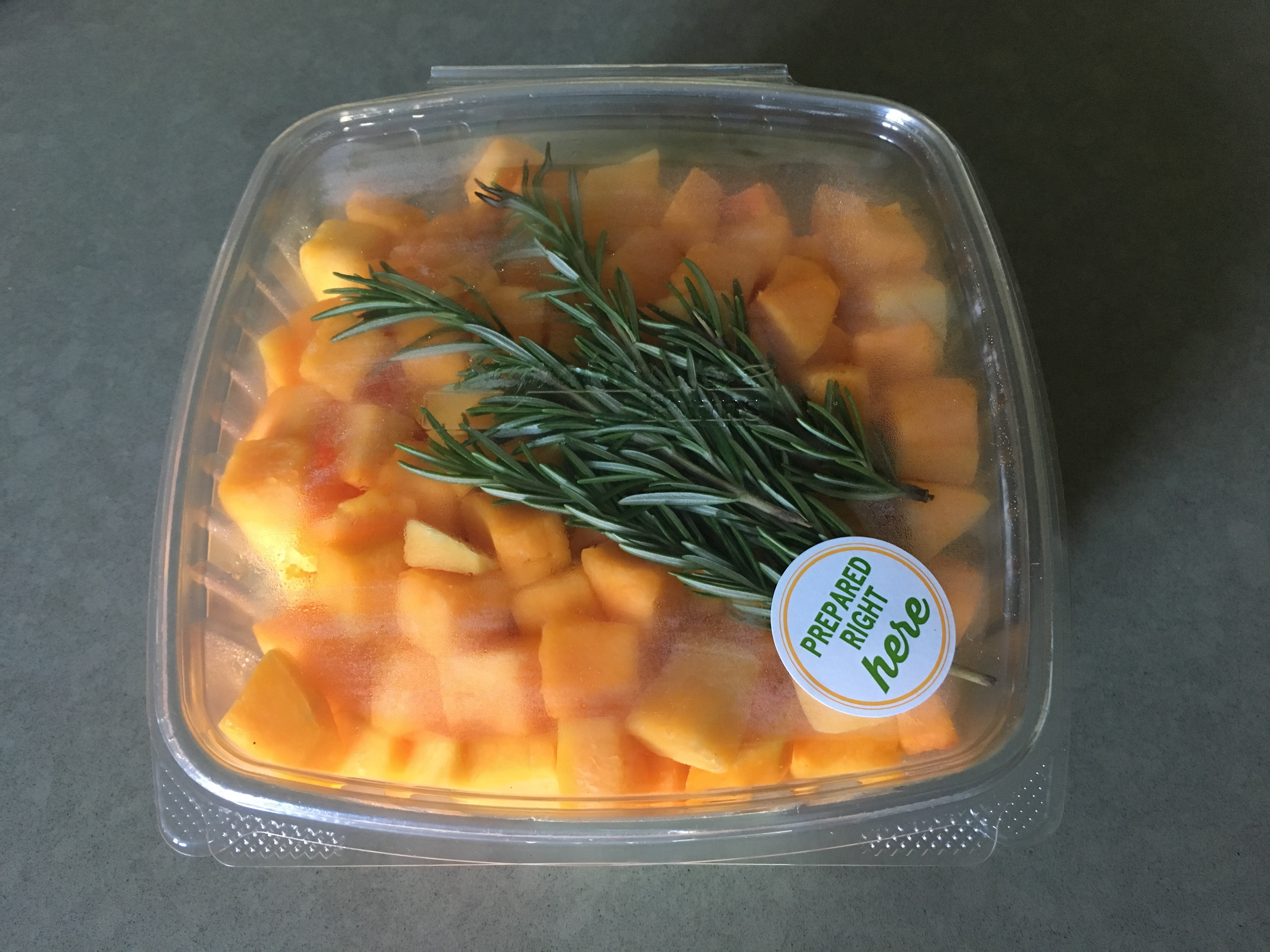 You can't tell how much squash is in here from the photo, but it is a really big tub.  And it only cost 3.99!!  I was in shock when I saw it (I was at the Safeway near my parents' house which is an exceptional Safeway and very different from the Safeway here in Davis).  I did a double take on my way to the kombucha aisle and came back to get it.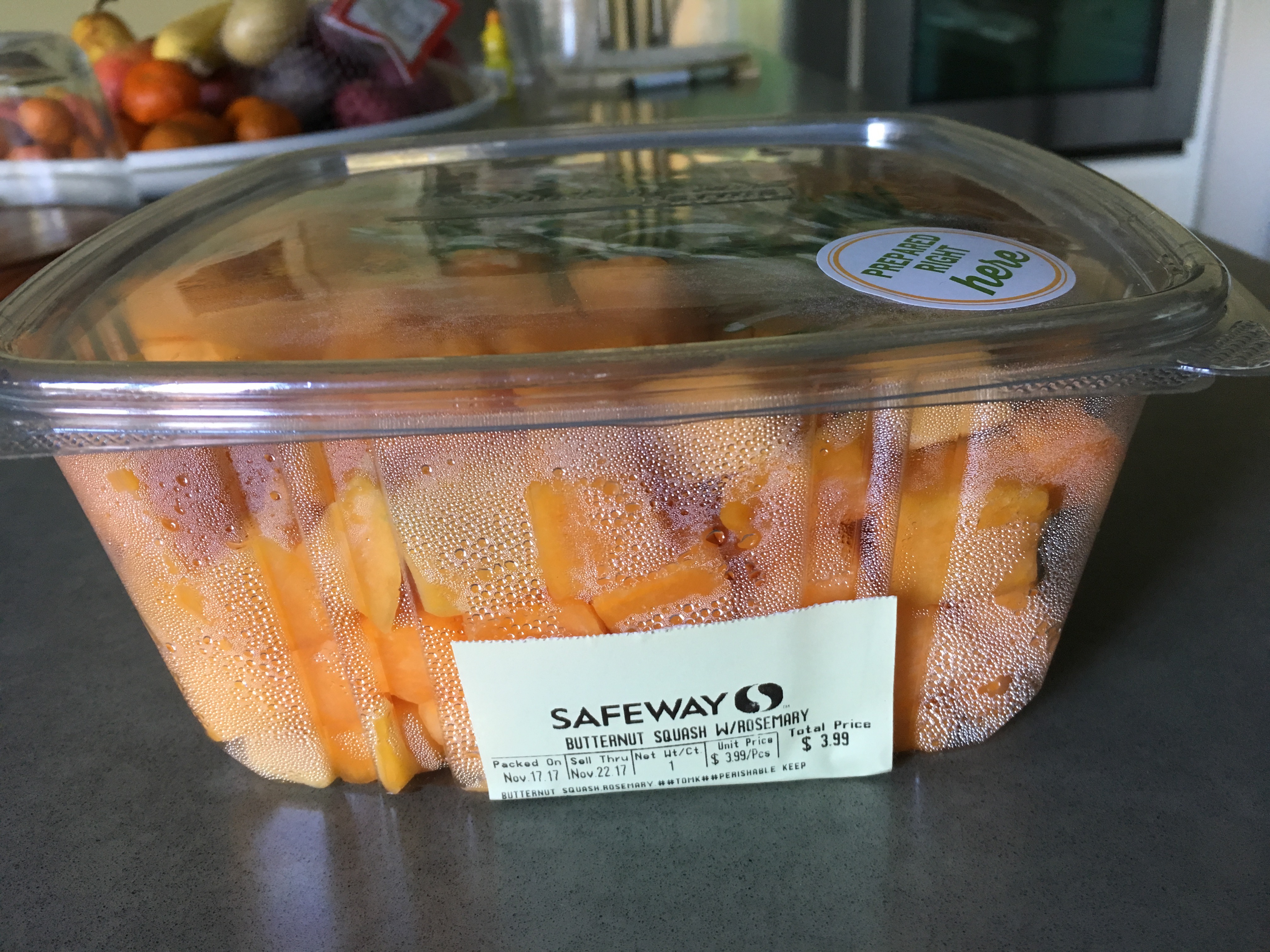 SCORE.
This is a better deal than TJs or Costco or any other place I've seen pre-chopped squash.  First off, the size of the cubes is smaller than the ones at TJs and way more realistic for eating and serving.  Thumbs up.  Also, it was clearly cut up hours before because it was packaged in house, which means I don't have the risk of it being slimy (an issue I have had both times I've tried Costco's packaged butternut, which I will never get again). Thumps up numero dos.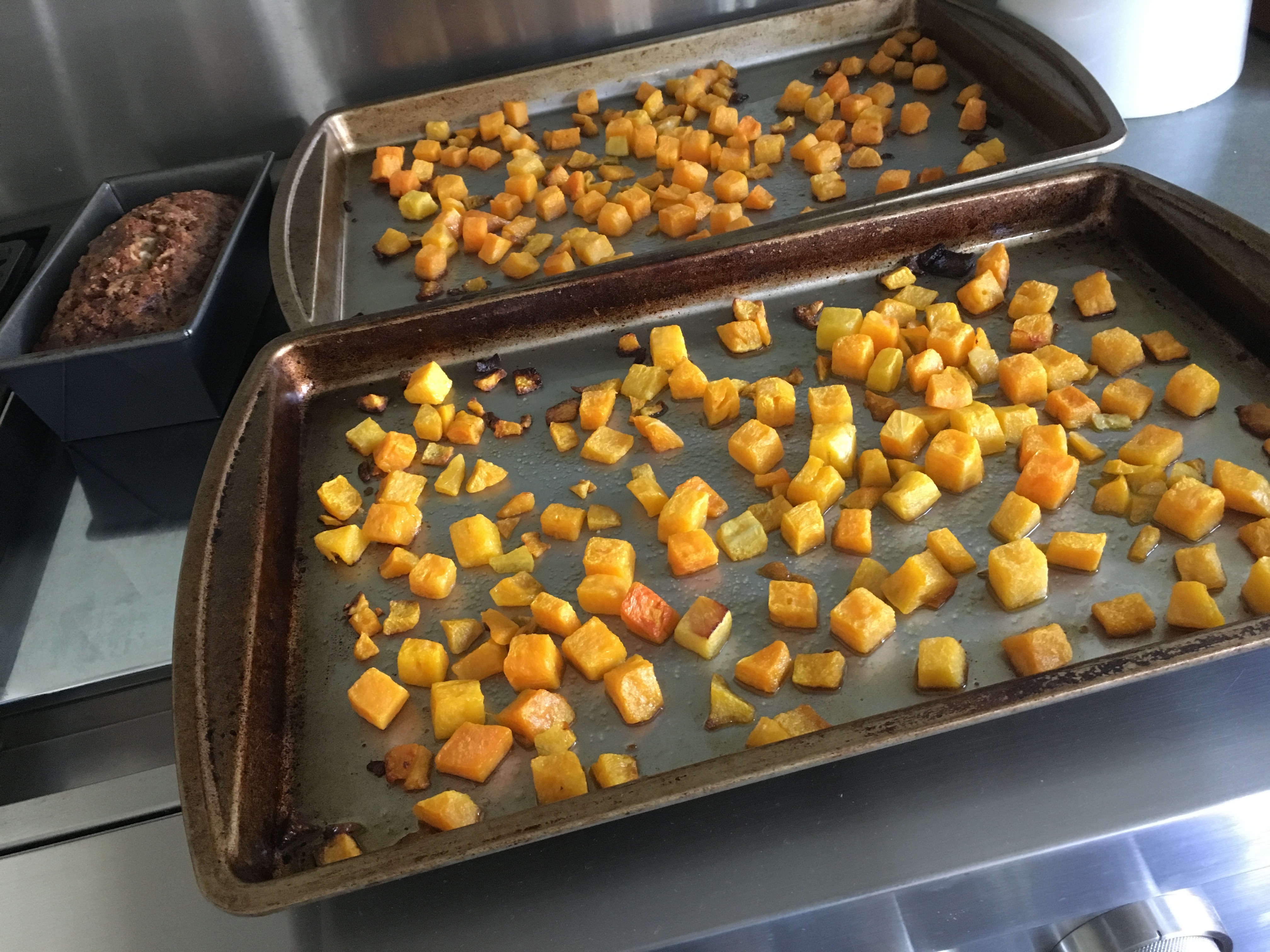 Roasting time!  I made banana bread for Kyle's breakfasts this week too.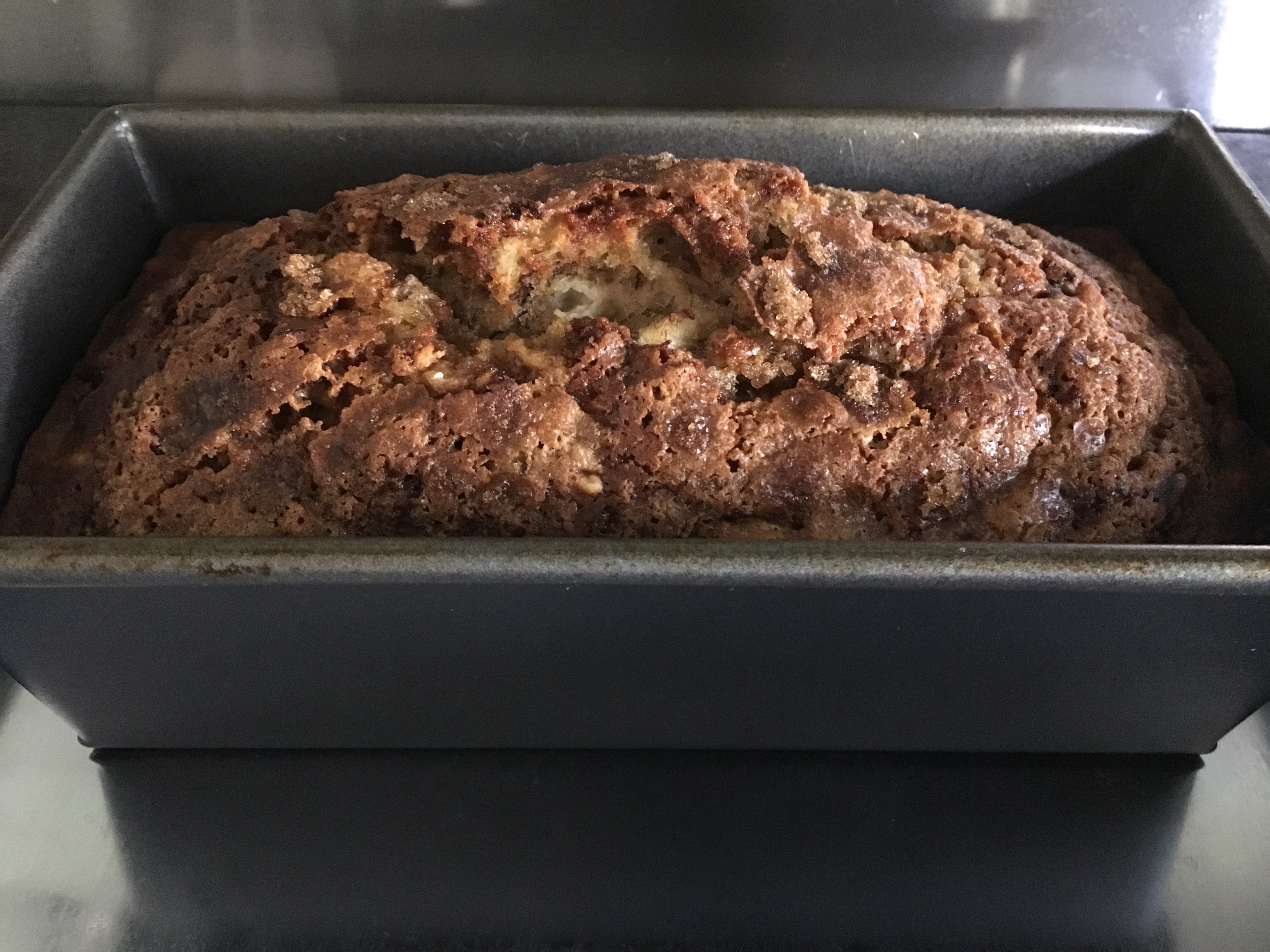 With a cinnamon swirl inside and a brown sugar crumble on top.  He had some this morning and texted me from the kitchen while I was upstairs showering to tell me how good it was.  🙂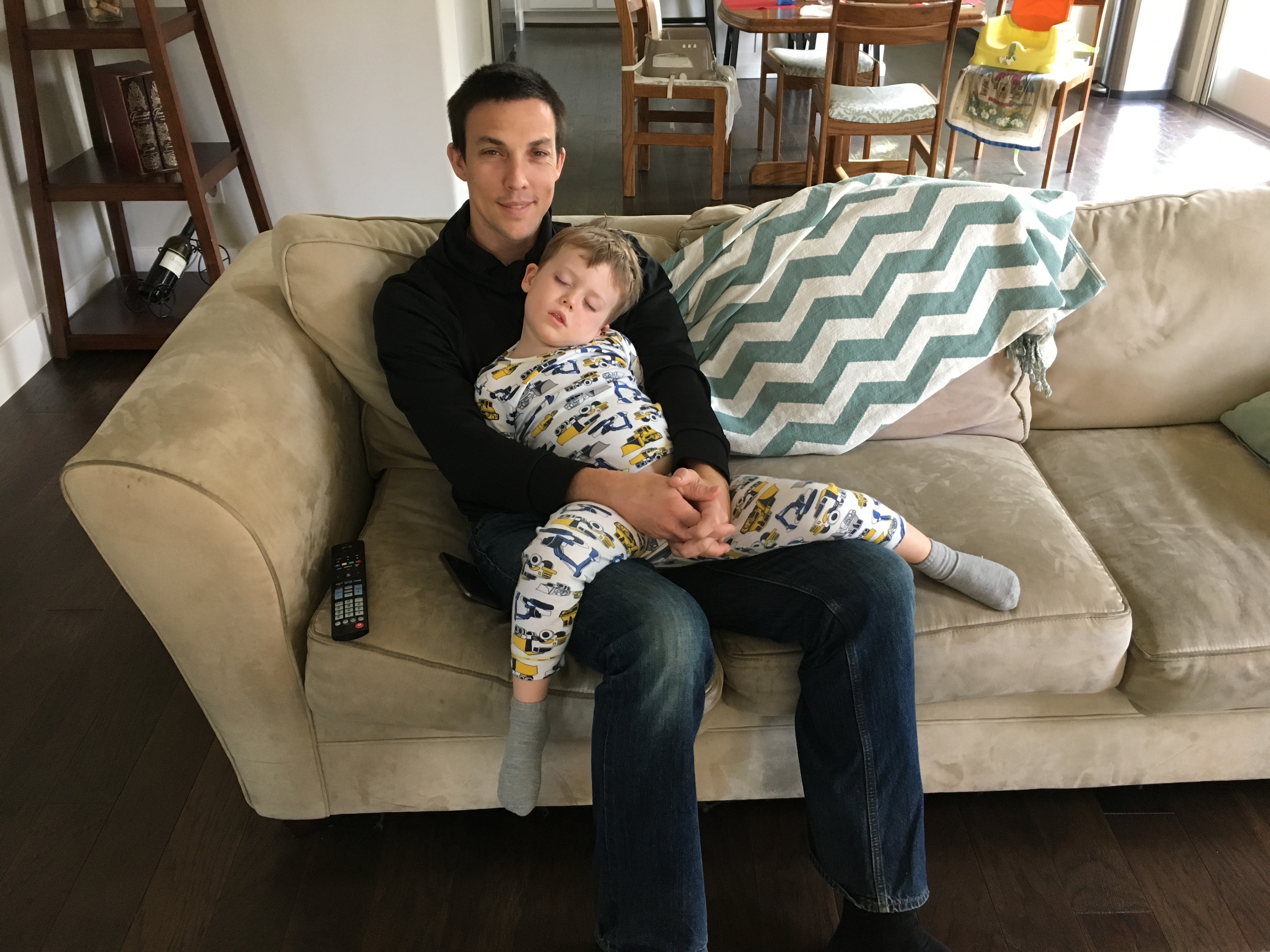 Exhausting morning?  He came out from "quiet time" to watch football and I told him he could watch until one commercial, but he fell asleep before then…
Eventually we transferred him to the couch.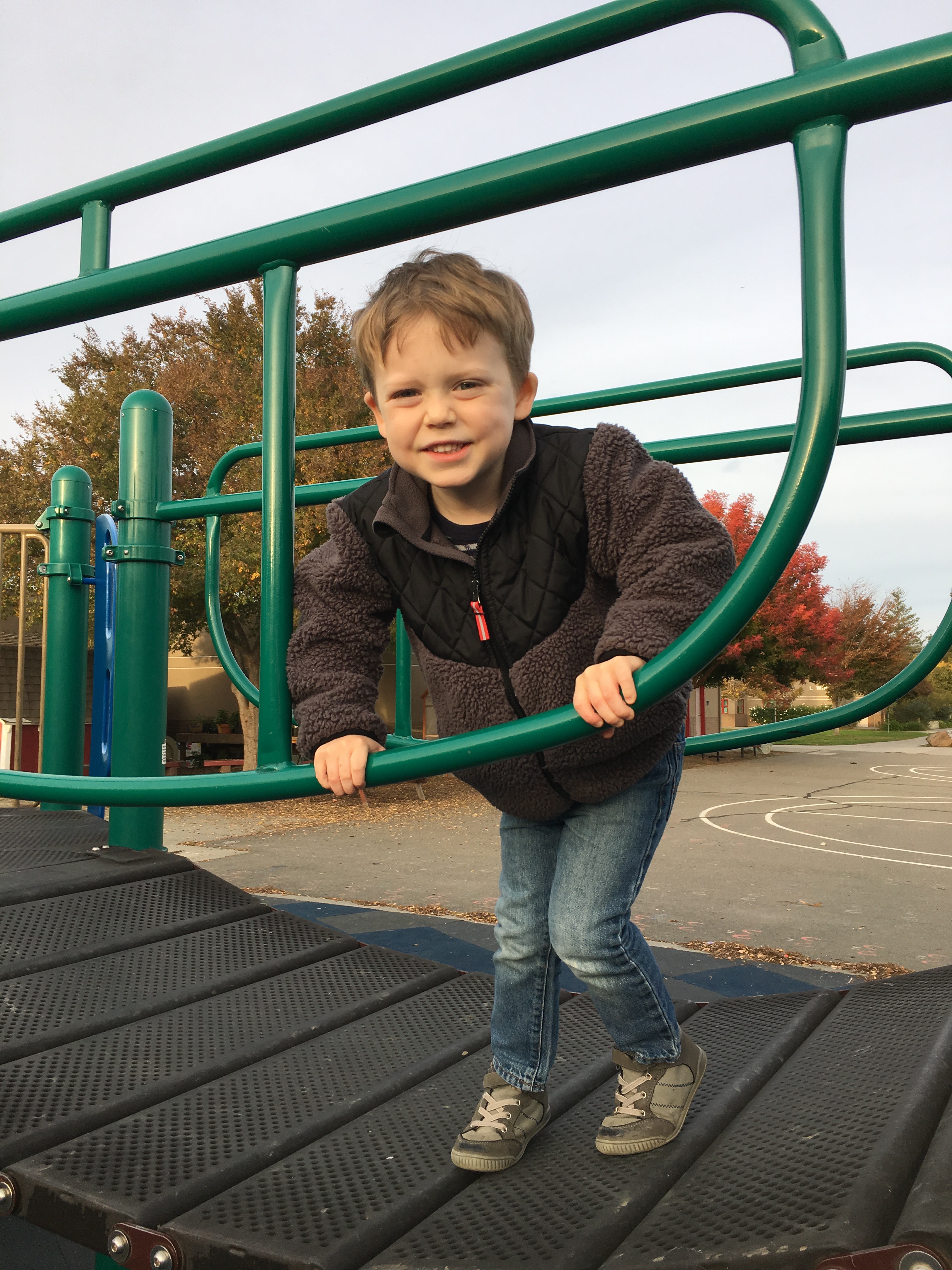 Kyle and I rode our bikes to play tennis that afternoon and then stopped at the park on the way home.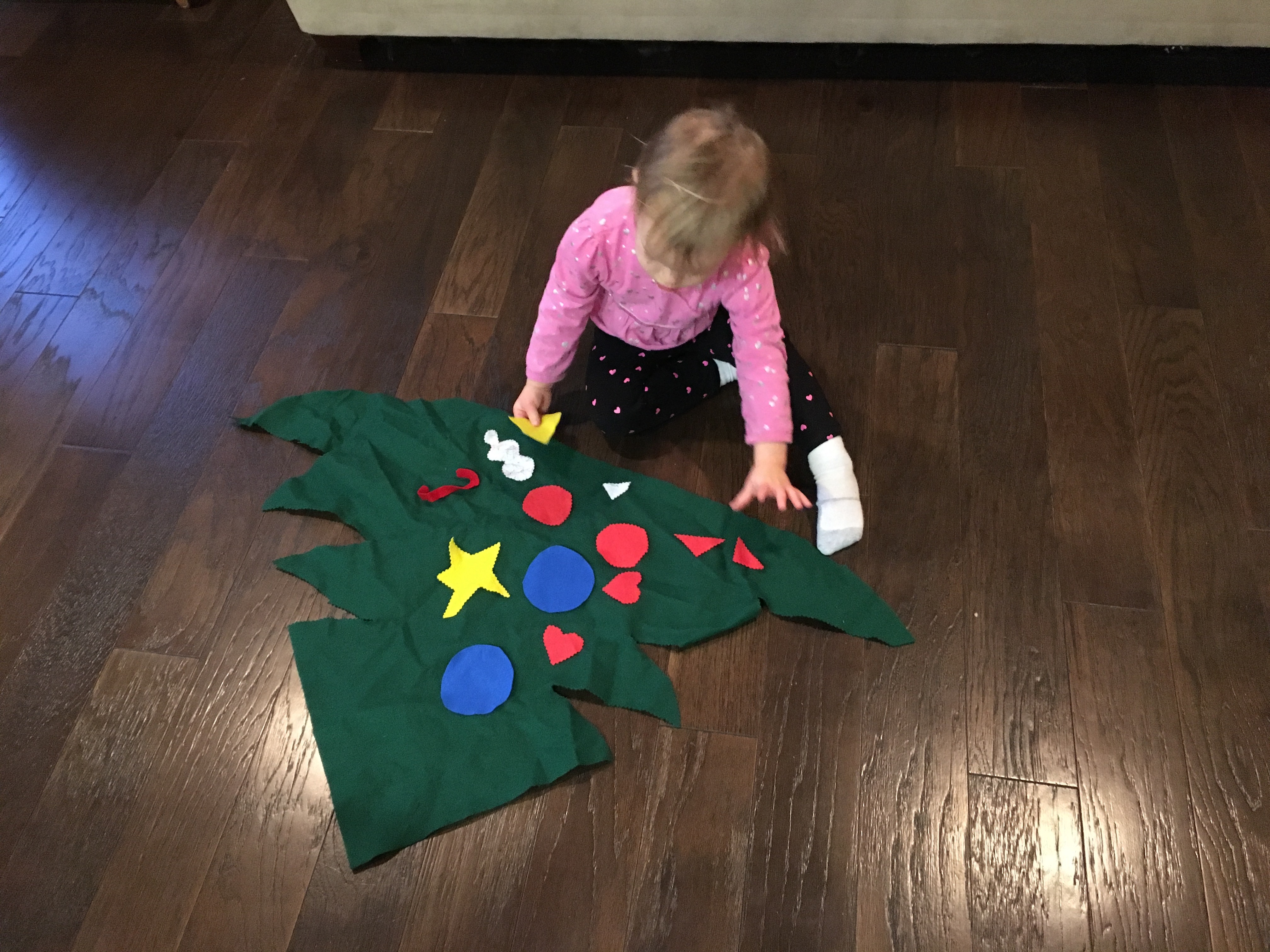 And then…we made a very bold move…and got out the Christmas decor!  You guys, our tree is up, the stockings are hung, the countdown (36, as of yesterday) is ON.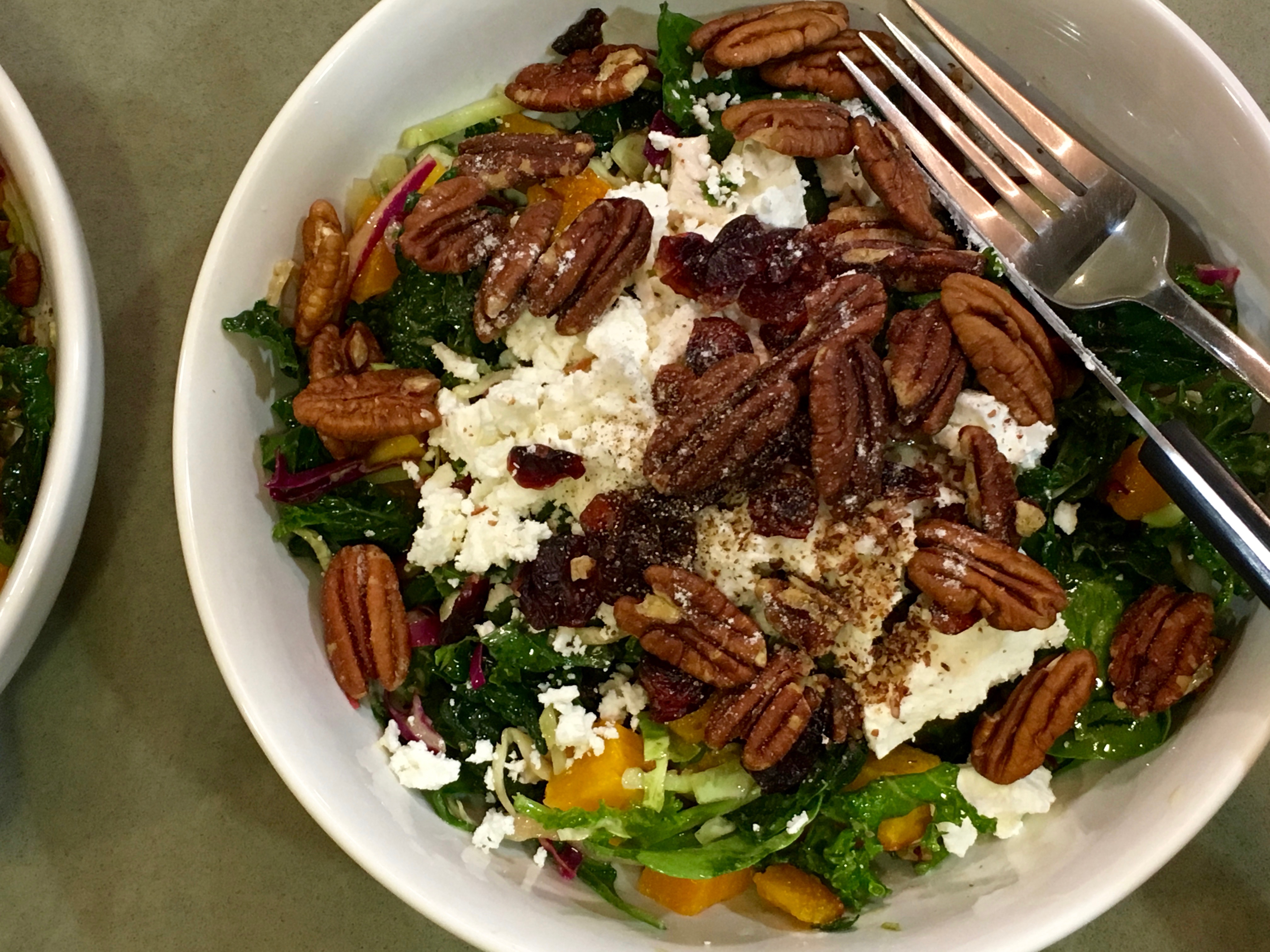 DINNER.  OMG this salad.  I'm going to write down what it had so we can all remake this 100 more times this season, okay?
Winter Salad [serves 2-4]
Ingredients:
4-6 cups greens (I used a mix of spinach, kale, cabbage, radicchio, and shaved Brussels sprouts)
1 butternut squash, cubed and roasted*
2 cups chicken, diced (~1 1/2 breasts)
1 cup pecans, roasted
1/2 cup dried cranberries
1/2 cup goat chevre, crumbled
champagne vinaigrette [see below]
salt and pepper (to taste)
Champagne vinaigrette
1/3 cup olive oil
2 tbsp champagne vinegar
1 tsp dijon mustard
1 tsp lemon juice
salt and pepper
Whisk together until emulsified.
*First roast the squash.  Pre heat the oven to 375.  Toss squash in olive oil until well coated, add salt, and spread onto a baking sheet.  Roast for ~35 minutes.  Broil for the last minute or two if you want extra bronzed pieces.
If you don't have already baked chicken on hand, you can bake this with the squash.  Depending on the size and thickness it may need more or less time though.
While the squash is roasting, make the vinaigrette in a large serving bowl.  Add the greens and toss (do this early if you are using cruciferous greens like kale and brussels).
Once the squash is done, pour pecans onto a baking sheet and toast them in the already hot (broil setting) oven.  Keep your eyes on them because they will burn.  They only need a few minutes!
Add the squash to the greens, toss again, and then add the rest of the ingredients (diced chicken, nuts, cranberries, and cheese).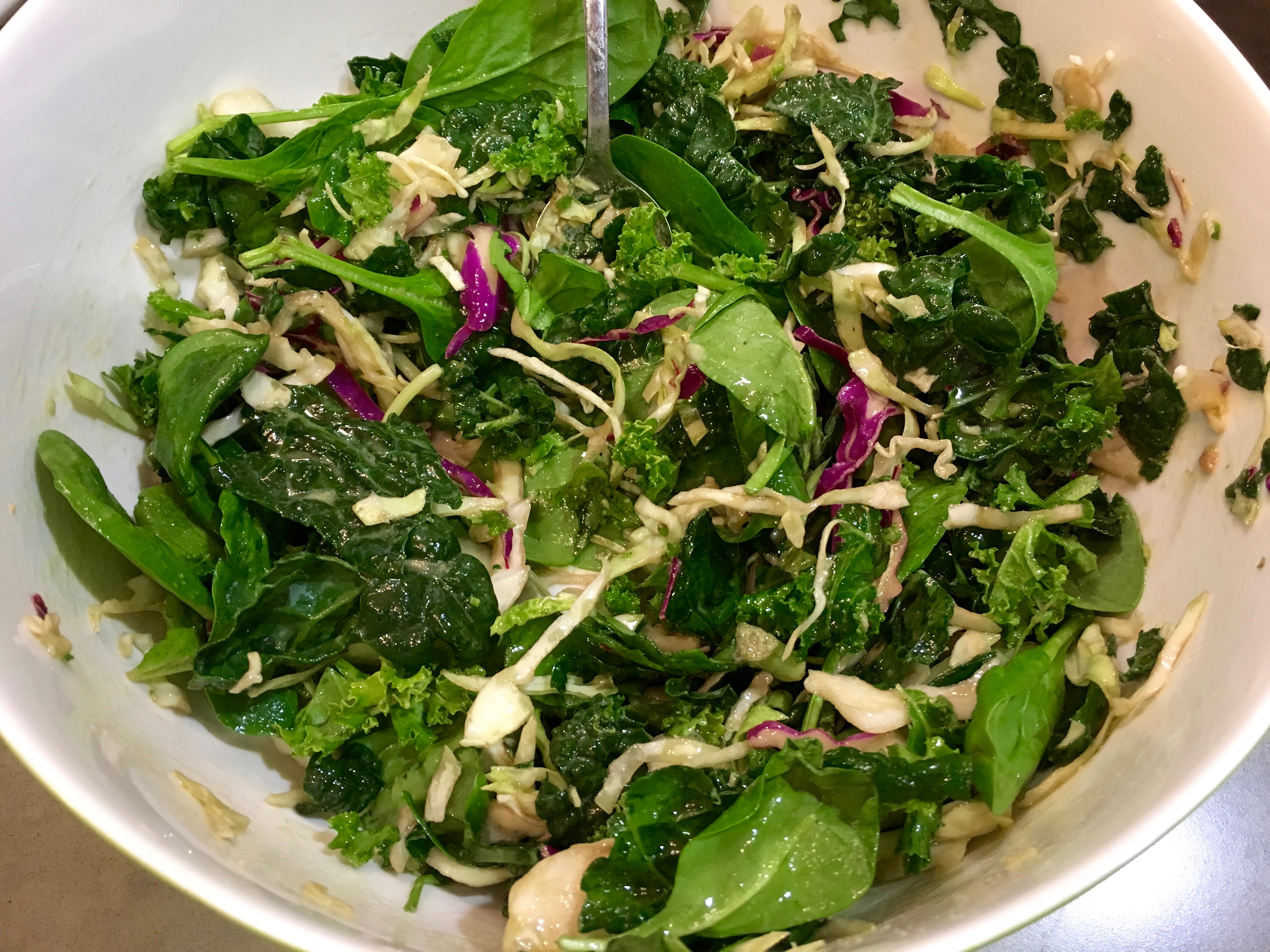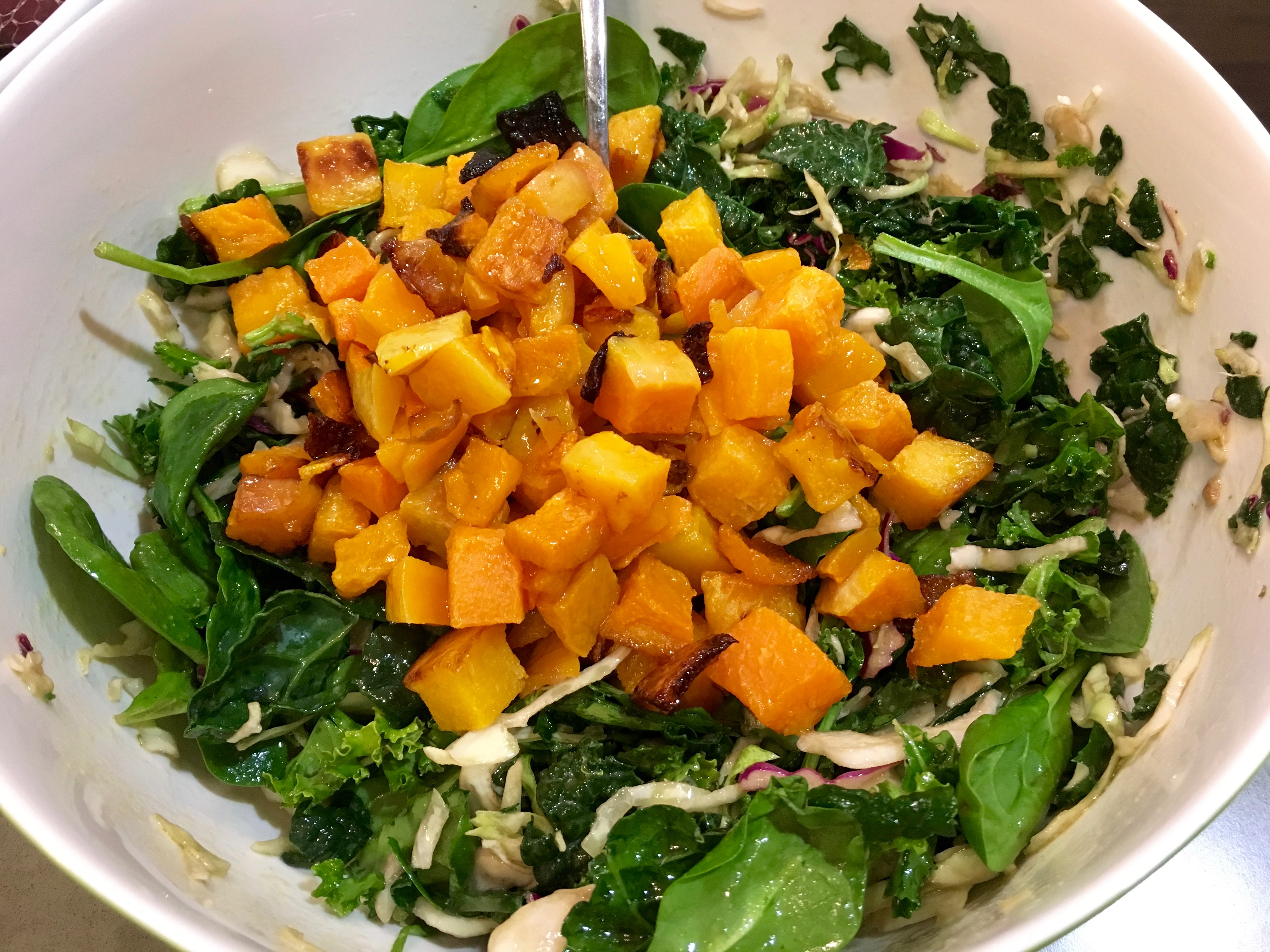 This salad is bomb.
I could eat it alllllll day.
I imagine any squash (or sweet potato!?) would do.
Likewise, any roasted nut or seed could stand in for the pecans.
It's pretty versatile, although this was definitely on the money as. is.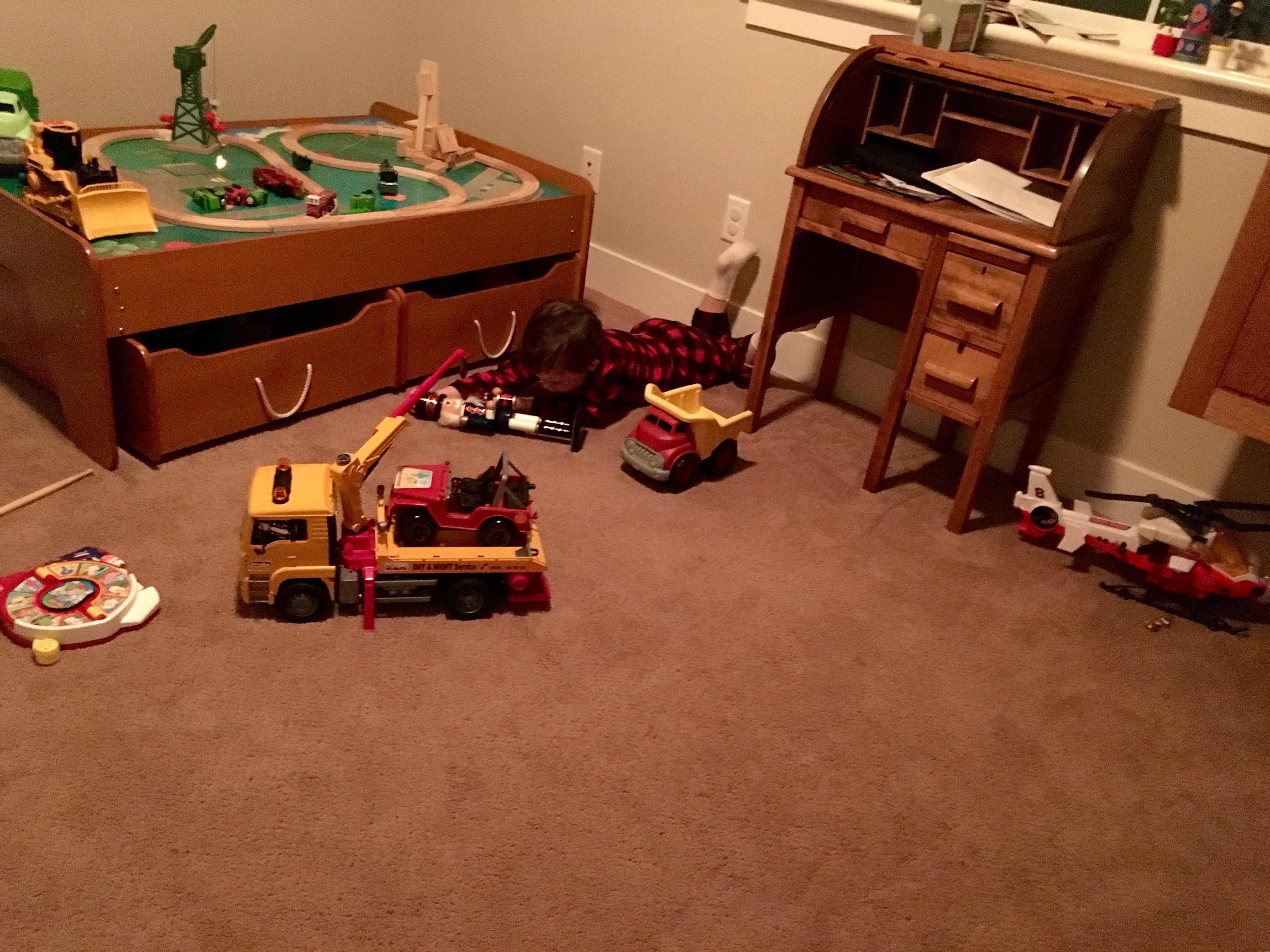 This sweetheart spent all his quiet time that night listening to the Nutcracker while lying next to his Nutcracker.  Christmas…full steam ahead.