So…hi again! 
I took some time off.  And it was lovely.  Maybe too lovely?  It made me wonder if quitting HHH was an imminent reality…
My free time is so precious now.  But I do love having this space to share my latest food and life stuffs…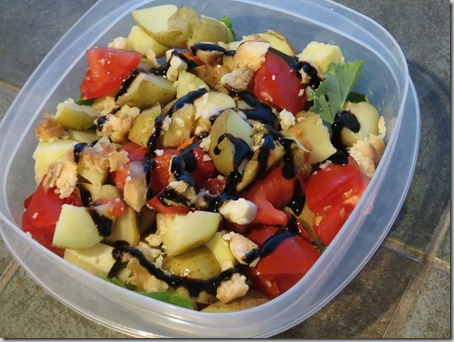 But I have a job.  And a kid.  And a husband.  And yadda yadda. 
I'm triaging my life like a freakin' ER nurse.  Priority #1 is family.  And as you have now noticed, the blog is definitely on the backburner.  That's how I roll.  C'est la vie. 🙂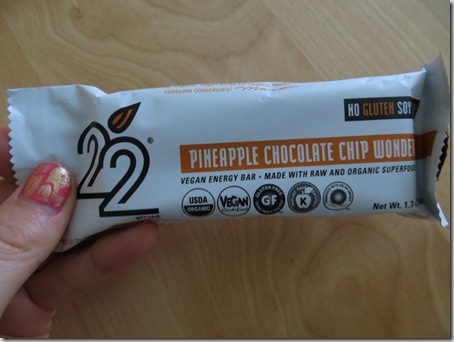 This was good by the way.  Not too much pineapple (I like pineapple but try to minimize most dried fruit because of the FODMAPs).  The balance of chocolate, dried fruit and nuts was all really even.  And it had crunchy stuff in it (brown rice crisps?) that made it not too heavy, even though it was a pretty dense bar.  Yummy flavor too.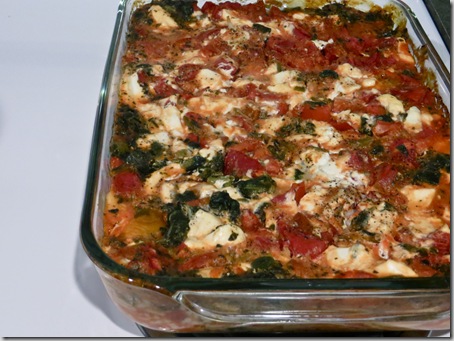 I made another baked spaghetti.
Just as good as the first!  Maybe even better since I used the tomatoes from Kyle's cousin's garden.  I've never ever ever tasted such juicy tomatoes – they were so ripe they were oozing with flavor.  Incredible!  I halved the marinara sauce in the recipe and used plain tomatoes instead because their flavor was so phenomenal and they were basically soft enough to make into tomato sauce.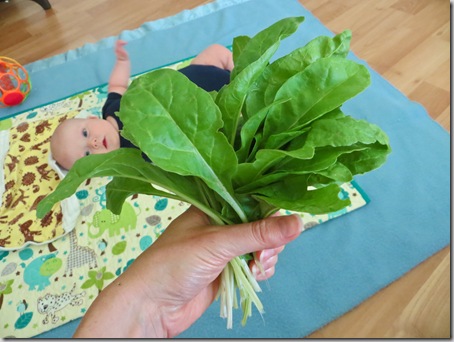 My own garden is thriving too.  I have kale and chard growing like whoa.  No complaints here. 
I made this random little meal with more of the produce from Kyle's family and our own greens.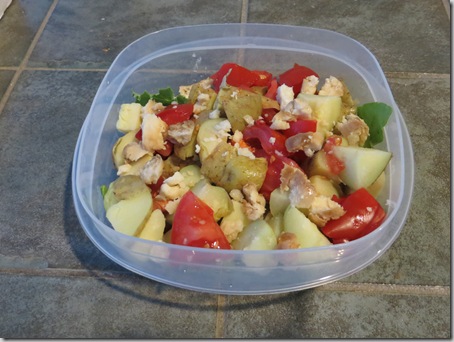 Chard, kale, cold baked potatoes, tomatoes, & smoked goat cheddar.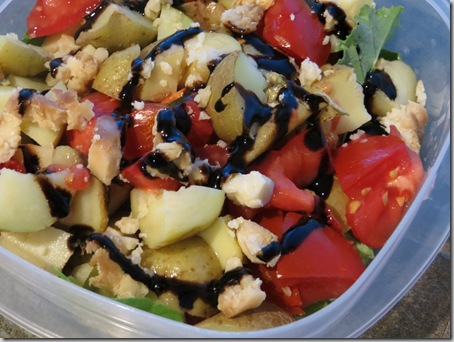 Topped with TJ's balsamic glaze.
That was my work lunch, while the below was (part 2) my breakfast (part 1 was a PB&J).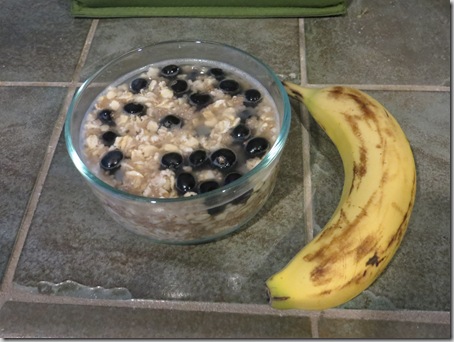 I was going to get strawberries last weekend at the farmer's market but the blueberries looked way too awesome.  Done and done.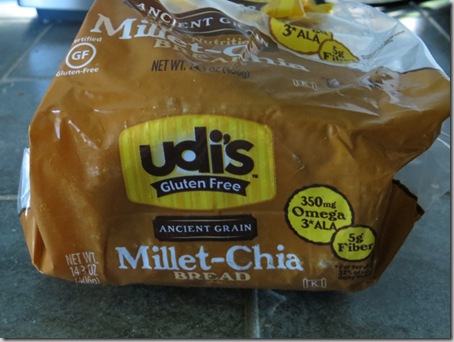 My PB&J (okay, it was actually a sunbutter & jam) sammie was on this bread.  It's my new favorite Udi's bread because it's got some superfoods in it.  I have been keeping it in the freezer and only thawing pieces as I use them, which I think is better at preserving it's texture/consistency.  Sometimes GF bread gets dry and crumbly when it's not fresh.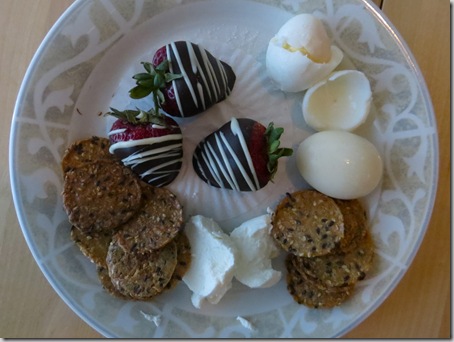 Post-work snack plate with hard boiled eggs, goat cheese, Mary's Gone crackers, and chocolate covered strawberries (from a patient's family).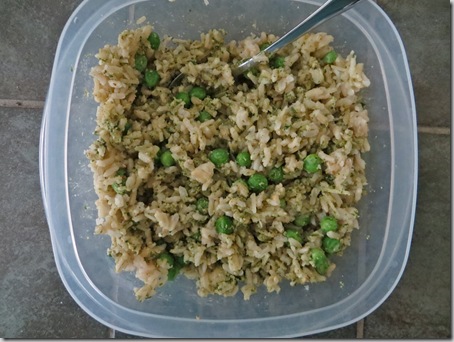 Brown rice, peas, pesto.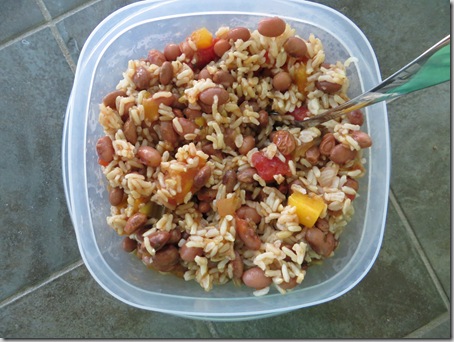 Brown rice, pinto beans, Sabra's mango salsa.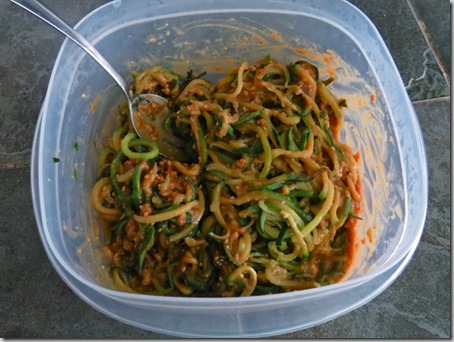 Thai peanut zucchini noodles.
And so on and so forth…heyo for the non-cafeteria work eats.  My hospital's caf isn't really too impressive, but it redeems itself with free coffee if you bring your own mug.  Decaf me up please!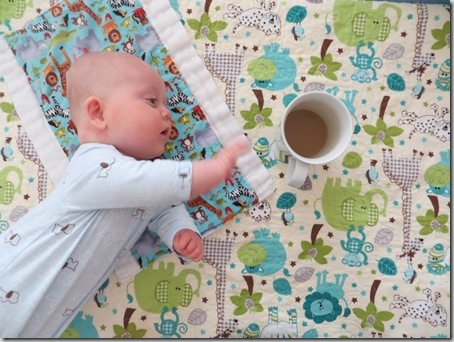 [Doesn't P look like he's into the java too!?  That's how he rolls.]
I know I've whined about pumping and missing my boys and all that jazz, but I really like my new job.  I am finding my groove, slowly but surely, and it does feel nice to have another purpose outside of what I do for my family. 
It makes the days off extra special (hence my desire to stay far away from the computer).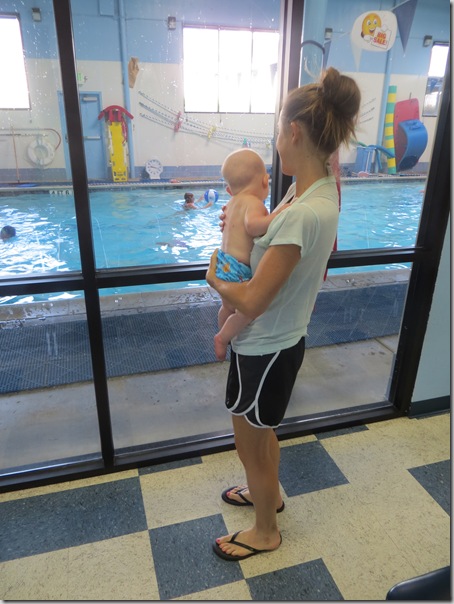 We have been up to so much!  We have swim lessons, mom and baby group dates, and mastering new things…like rolling!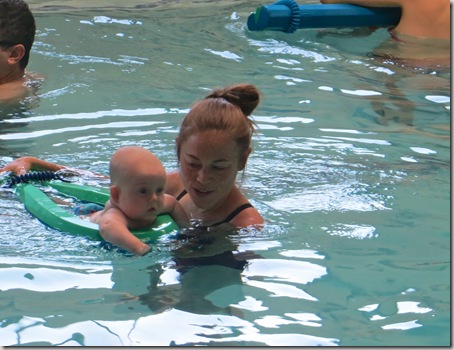 See you when I see you!