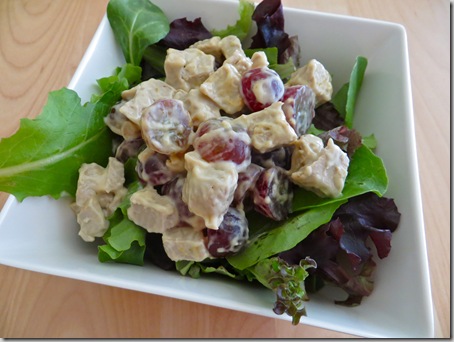 Vegan grape & chix salad [vegan, gluten free]
Ingredients:
1 cup diced vegan chik'n meat (ie Beyond Meat, gardein, etc.)
1/2 cup halved red grapes
2 tbsp vegan mayo (ie Nayonaise, NayoWhipped)
1 tbsp garlic infused olive oil (ie Garlic Gold)
1/4 –1/2 tsp curry powder
1/2 tsp mustard powder
salt & pepper (to taste)
Directions:
Dice faux chick'n meat and halve grapes.  Add to a bowl.  In a separate bowl combine mayo, oil, and spices.  Then add to the meat & grapes and stir until well coated.
Notes:
I used mustard powder because we hadn't yet restocked our pantry after the move, but whole ground mustard will work instead.  Feel free to increase.
This was my first time trying Nasoya's (new) whipped vegan mayo and to be honest I didn't notice a difference in texture.  The flavor is great and works really well in this recipe. 
Increase or decrease the amount of curry powder as your taste buds dictate.  The longer you let the salad sit (and marinate) before serving, the more the flavors will come out. 
I used garlic infused oil to add flavor and reduce FODMAPs, but you could also use plain olive oil and fresh/powdered garlic in it's place.
Optional additions/substitutions: chopped celery, red onions, apples.
If you can't find gardein or Beyond Meat near you, sub tempeh, tofu, chickpeas, white beans (or any other bean), or some combo!  The options are limitless.
It's good solo or atop greens.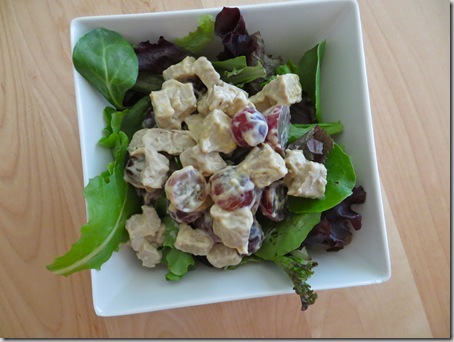 The recipe serves one (hungry) person or two people who have something else on the side.  Basically, I ate the whole thing, but I'm a pig I have an insane appetite. 
Enjoy 🙂