Love.  Love.  Love.
You can pretty much slap any romantic words in front of a meal name on the 14th and it's instantly a cupid-themed treat, right?  (Well, maybe not mushy)
This morning's oats were anything but ordinary – they were hot and steamy. 🙂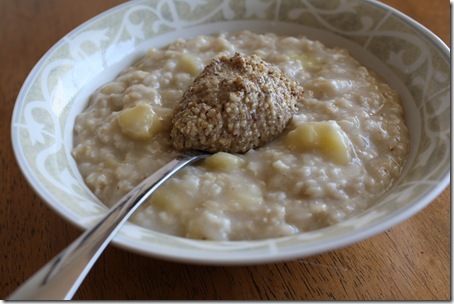 The add ins were semi-special.  Mostly because there was no moderation whatsoever in the amounts used.  Sure it looks like a simple spoonful of raw almond butter above, but I actually added in the entire remaining portion seen below.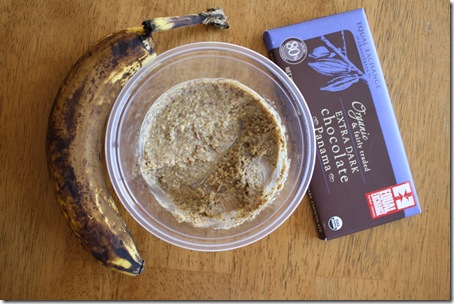 I also added the whole banana into the oats when they were cooking, which created a chunky texture and banana bread flavor.  Oh, and the organic fair trade chocolate?  Is there anything better than finding that waiting for you when you wake up in the morning?  No.  That's why I married him.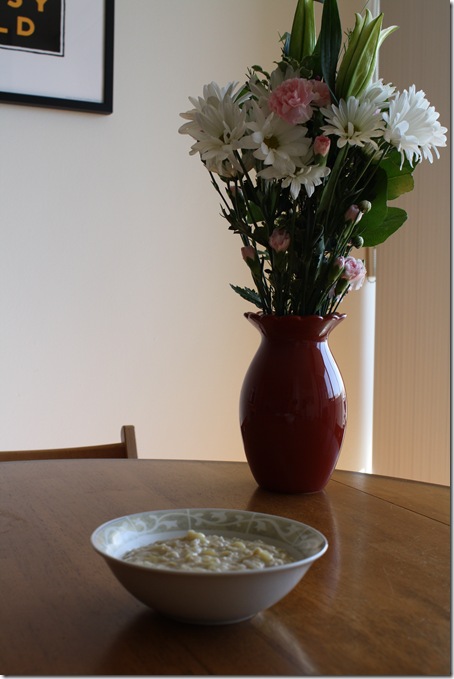 Pre-toppings.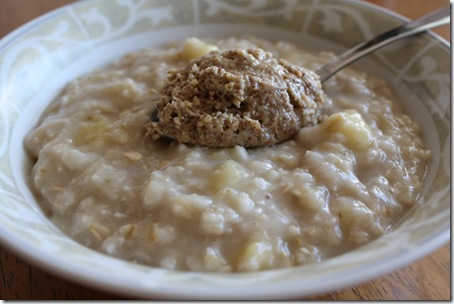 After polishing off this bowl (and the rest that didn't fit in the first bowl full), I set to work making Kyle a special treat.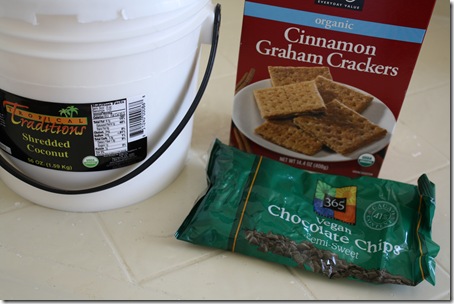 Shredded coconut, graham crackers, and vegan chocolate chips.  Whatever could this be?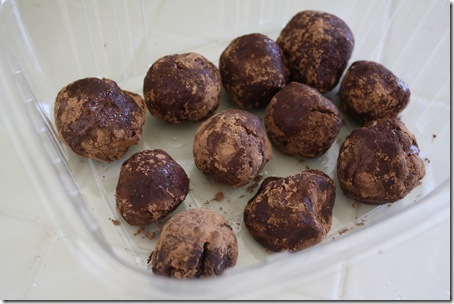 Vegan truffles!!  Kyle actually declared this the best thing I've ever made and refused to allow me to share the recipe with you guys.  I'm serious.  Ha.  So selfish.  Then he asked how many other forms I could make it into.  But I promised to honor his request, so for now, this one's in the vault.  Sorry!
I can share some of the process (which took all of 20 minutes to make).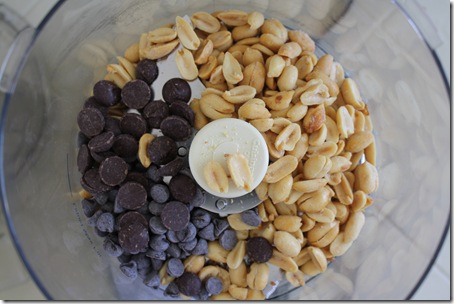 Pulsations.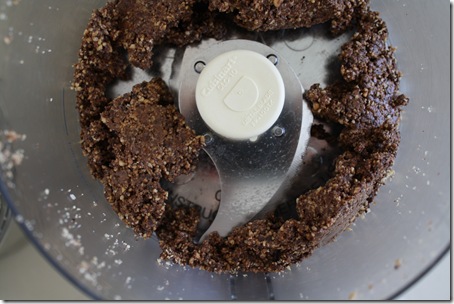 Looking good so far.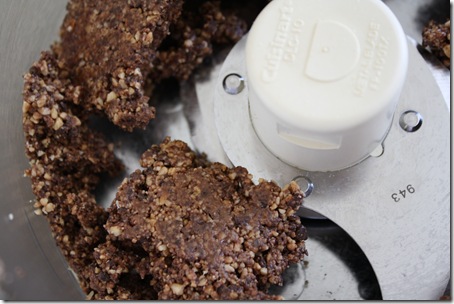 I was having a hard time not spooning the entire batter straight from the food processor into my mouth.  But I managed.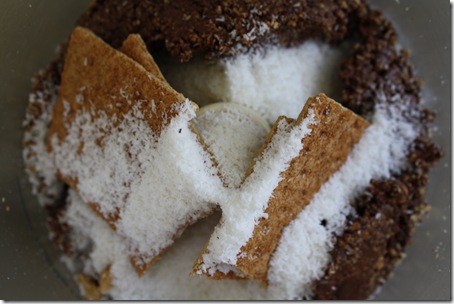 More pulsing.
I realize this looks like caca, and I was hesitant to post it, but you know what?  As a nurse I see the real deal every friggin' day so you can handle it. 
Melts in your hand and your mouth.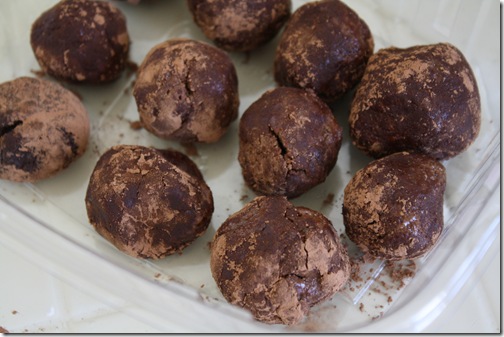 This was half the yield.  Let me just say, these vegan love truffles were soooo good.  They had a perfect melt in your mouth, chewy, buttery, sweet flavor.  Kyle was convinced they had both butter and sugar in them and said they tasted just like cookie dough.  Yum and yum.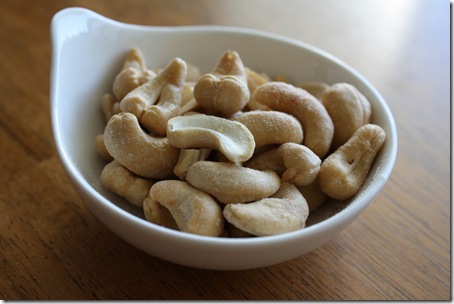 After my chocoloving coma wore off, I went back to the salty.  Cashews! 
In other romantic news, I rocked my sweat pants ALL DAY LONG.  That's a lie, I had a BLS class (CPR re-cert) from 8-10 am which required neither scrubs nor PJs, thus forcing me to resemble a human for a small part of the day.  I managed.  But as soon as I got back home I was back in sweats before my purse even hit the chair.  And that's not even an exaggeration. 
And that's when the fun began.
I was tweeting throughout my TV sesh…I watched the tivo-ed Grammy's and a bunch of other nonsense (Sunday night's Dateline about a nurse who may or may not have killed her husband…you know, normal Valentine's stuff…).
I did not work out.  I did not have normal meals.  I ate a sh!t ton of chocolate. 
And I still had room for dinner with my love.
(source)
We went to Monsoon, a sushi restaurant on the Promenade.  It was an easy choice since we could walk there from our apartment and we had a Groupon for the place. 
The seaweed and tofu salad that I got as a starter was the best part of the meal.  It was HUGE so I had most of it packed up to take home before our rolls arrived.  We got 3 fairly standard rolls (no photos) and it was just a simple, fun night out.  I''ll jump at any excuse to try a new restaurant on a week day. 
The decaf peach ginger tea was also pretty fantastic. 
Once we got home, we cuddled up to a movie…and not too long after I busted into the leftovers 🙂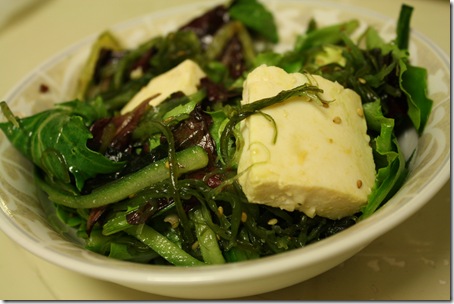 So simple, yet so good.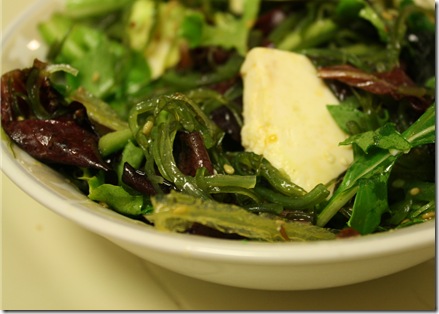 How is seaweed so delicious?  It never ceases to wow my taste buds. 
I had an obscene amount of chocolate after my second dinner.  And candied ginger.  I was up pretty late but my insomnia wasn't an issue since I'm on day shifts the rest of the week. 
If you're wondering, it actually was a coincidence that the "M" day of Alphebruary fell on the day Kyle and I went to Monsoon.  Works for me!