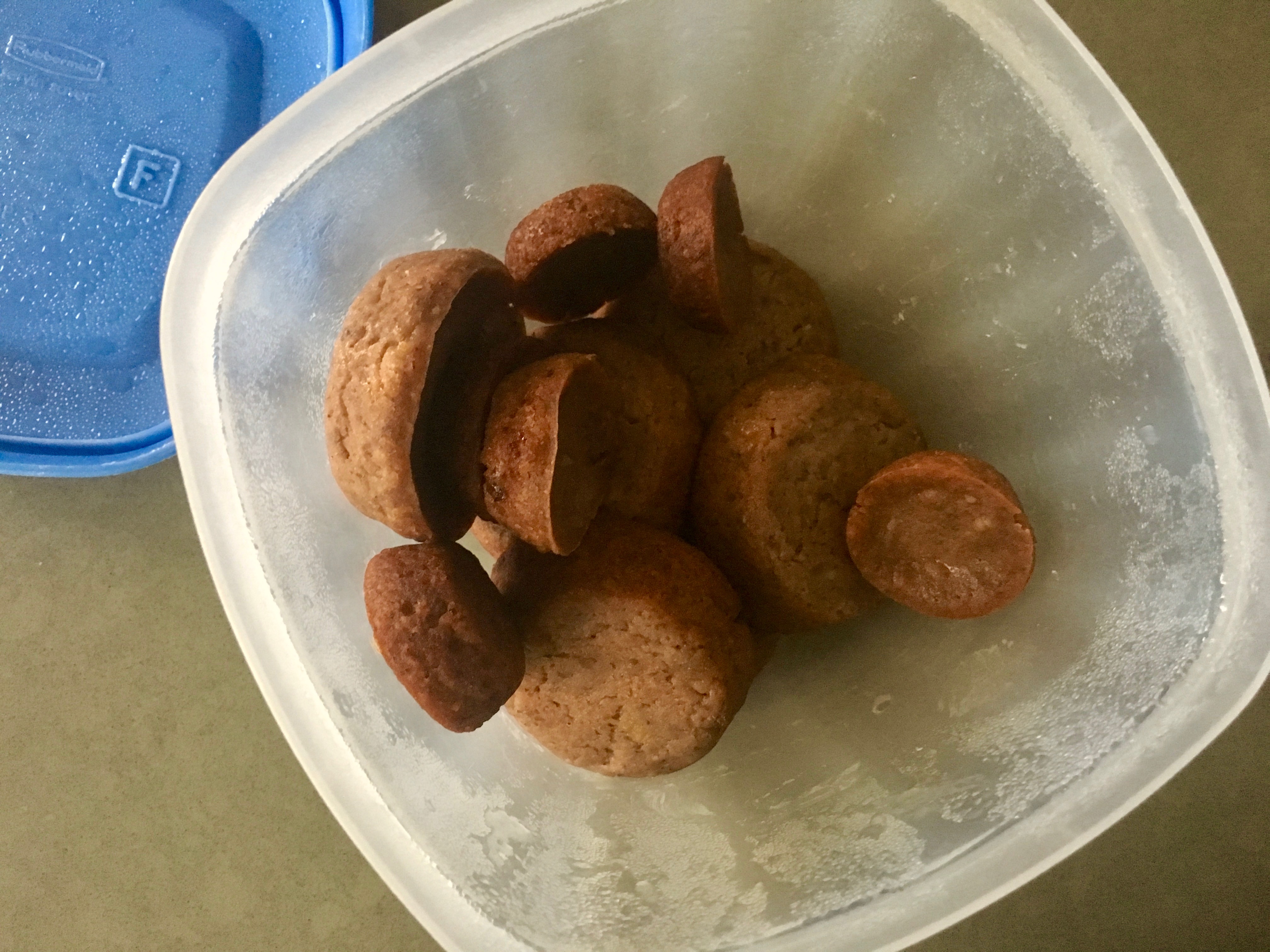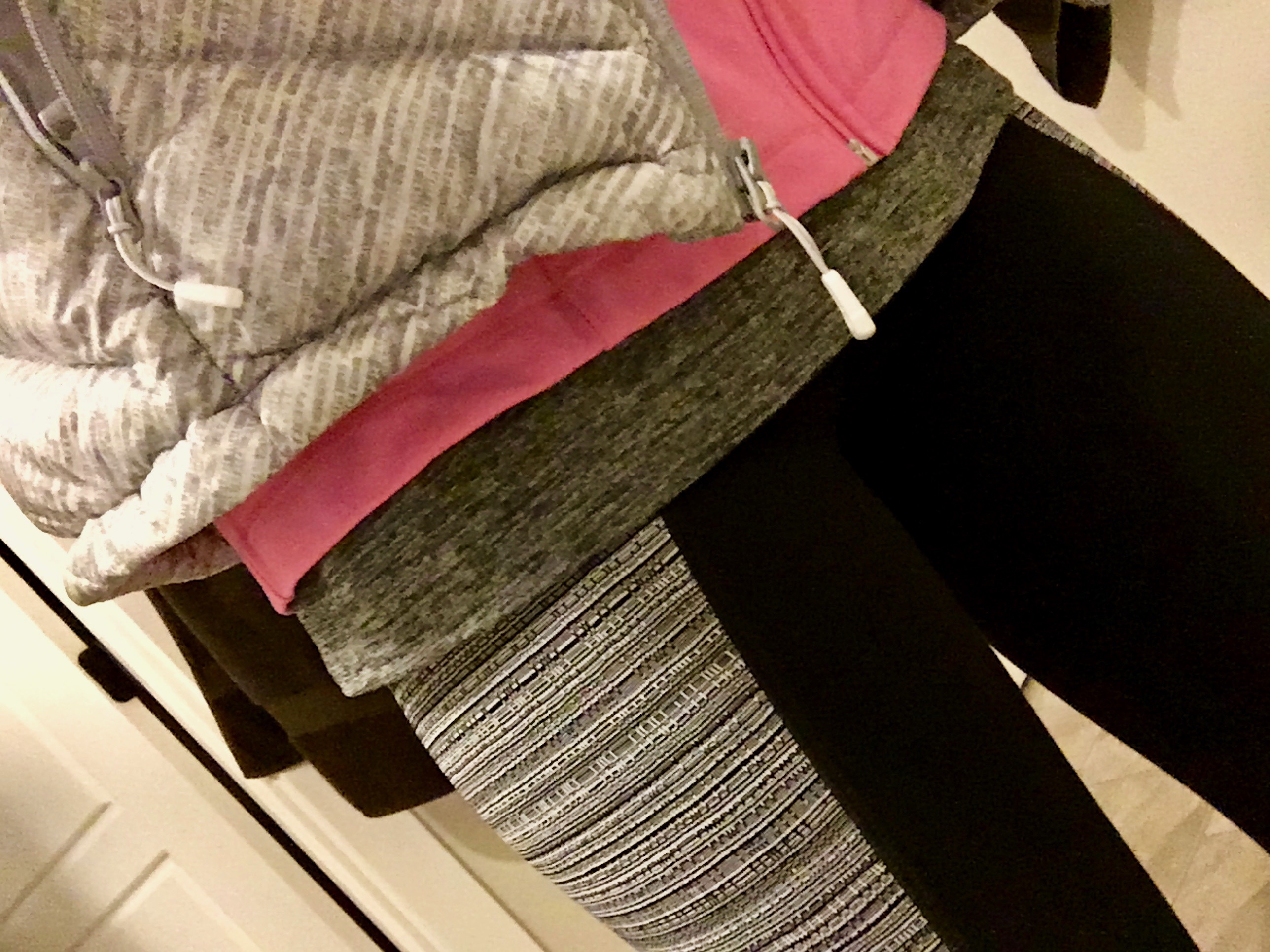 I made regular and mini muffins for breakfasting on Saturday but they were all gone by Tuesday.  Actually I have one left that has 2 grams of peanut "hidden" in it, for tonight, but the normal ones are all gone.
Q: How many layers does it take to exercise outside in the Winter?  A:  All.  All of the layers.
No photos of my breakfast, but I ate home-made granola at MOPS and had way more coffee than I usually do.  It was an awesome meeting and V did especially great in child care so I was pretty pleased about the whole morning.  I had kinda prepared myself for the worst, so getting time to myself with my mom friends (over breakfast and coffee, no less!) was a real treat.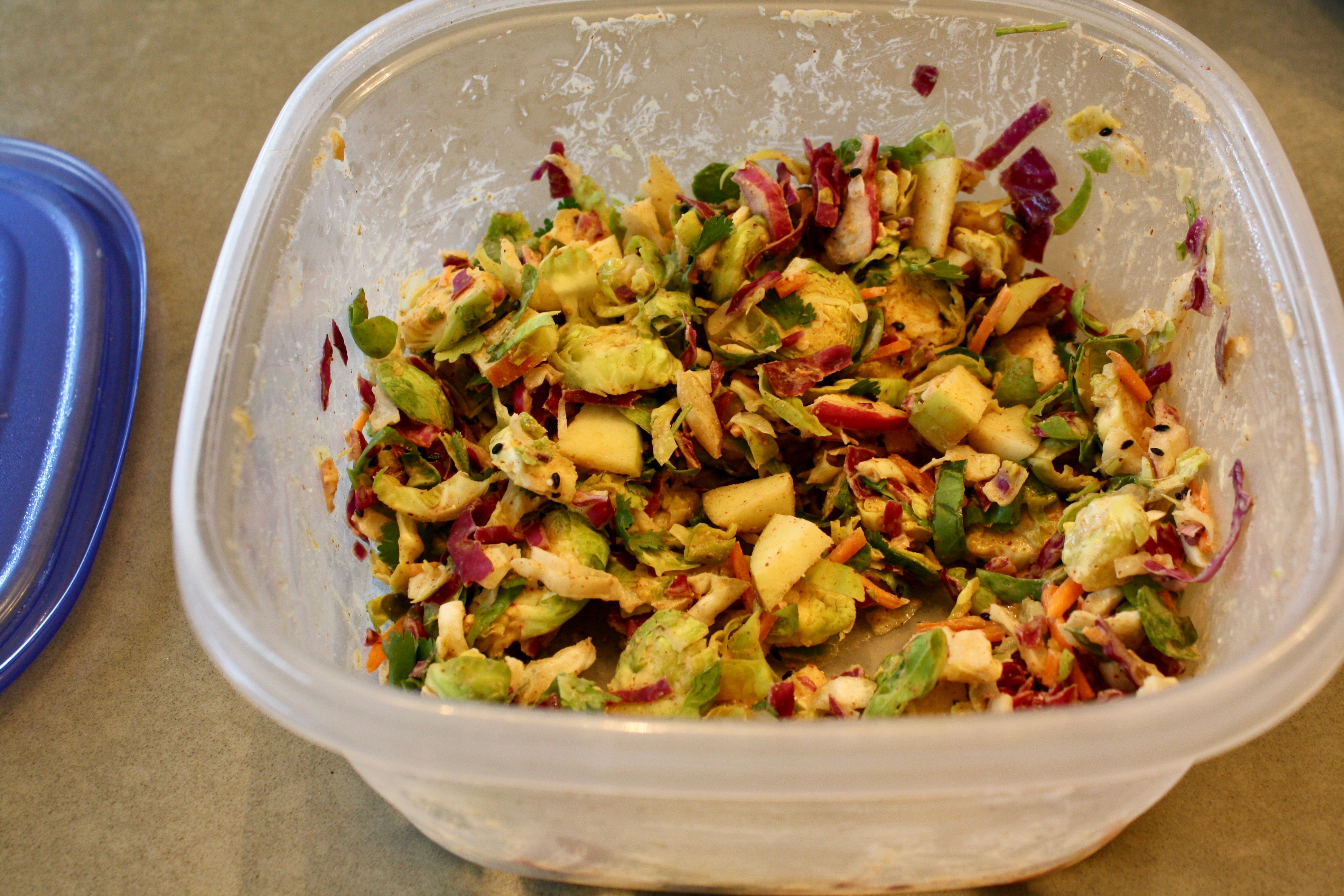 I had the rest of this brussels sprouts salad for lunch, but bulked it up with extra dressing and chicken since I only had a small serving remaining.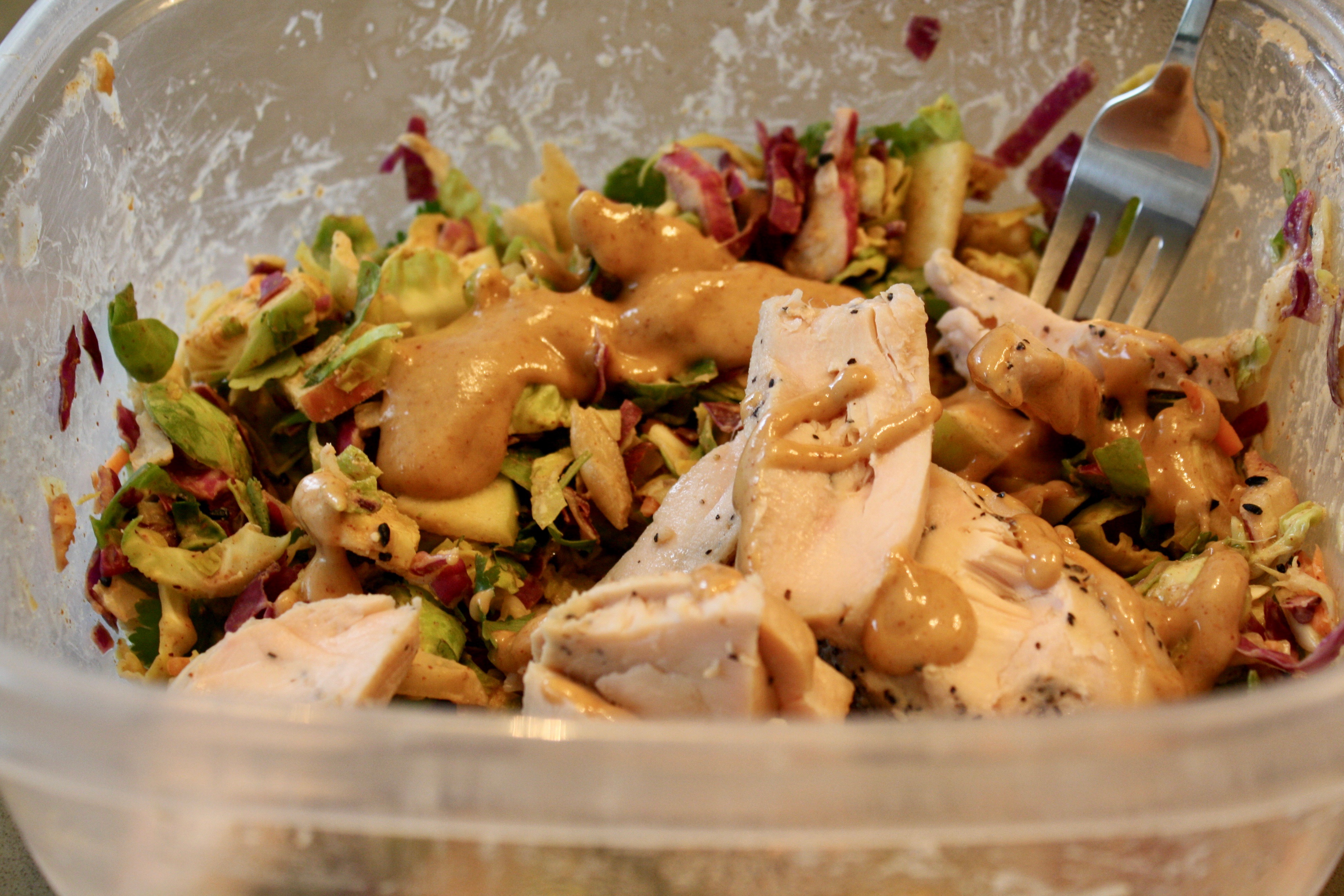 After that I got to work on dinner.
We had a full afternoon planned, but knew that it would be fine thanks to the instant pot.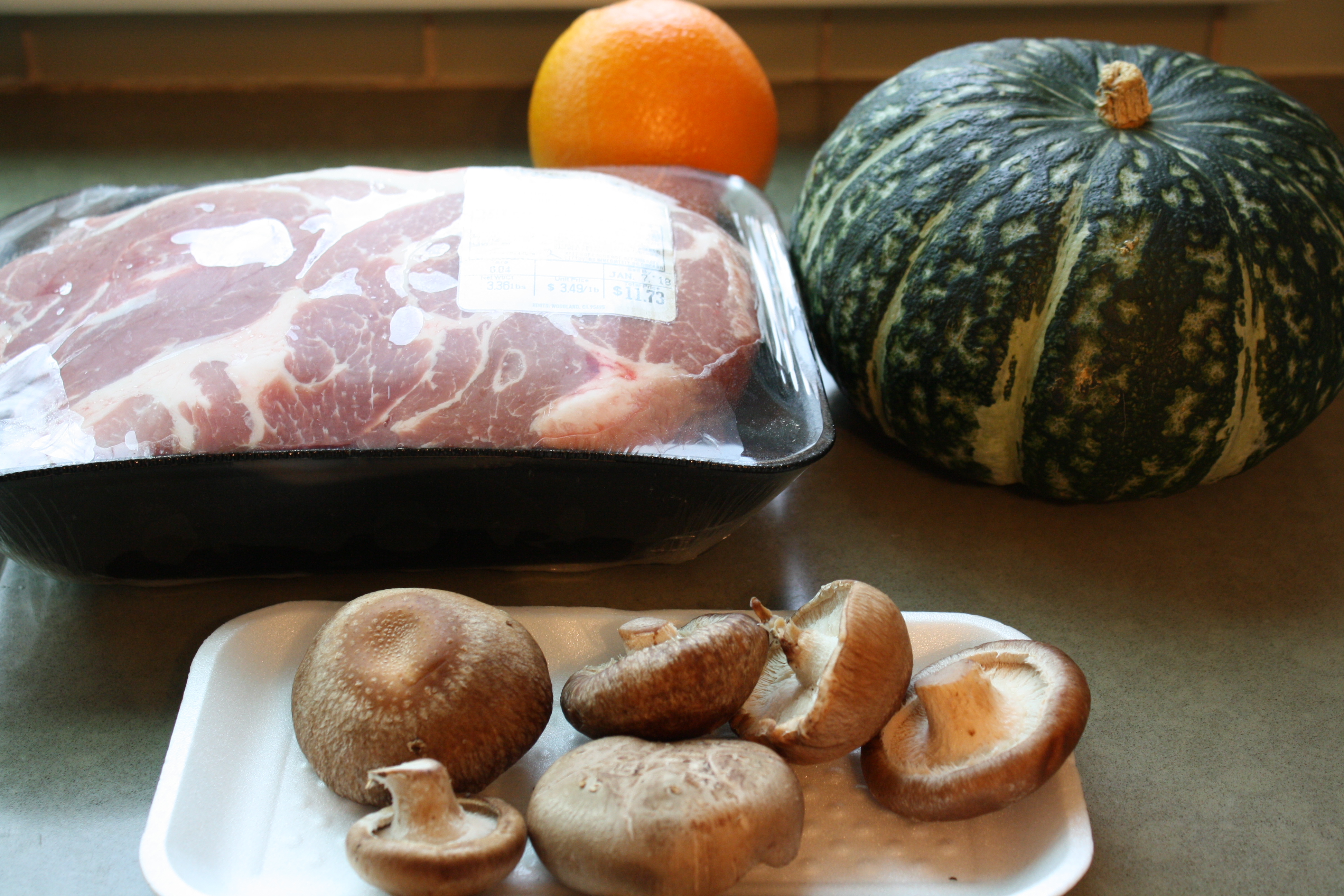 Just like the previous night's meal, this was from the Ready or Not cookbook.   I will keep linking to it because it is already one of my most used cookbooks and I've only had it for two months.  Seriously guys, get this cookbook.  You will NOT be disappointed.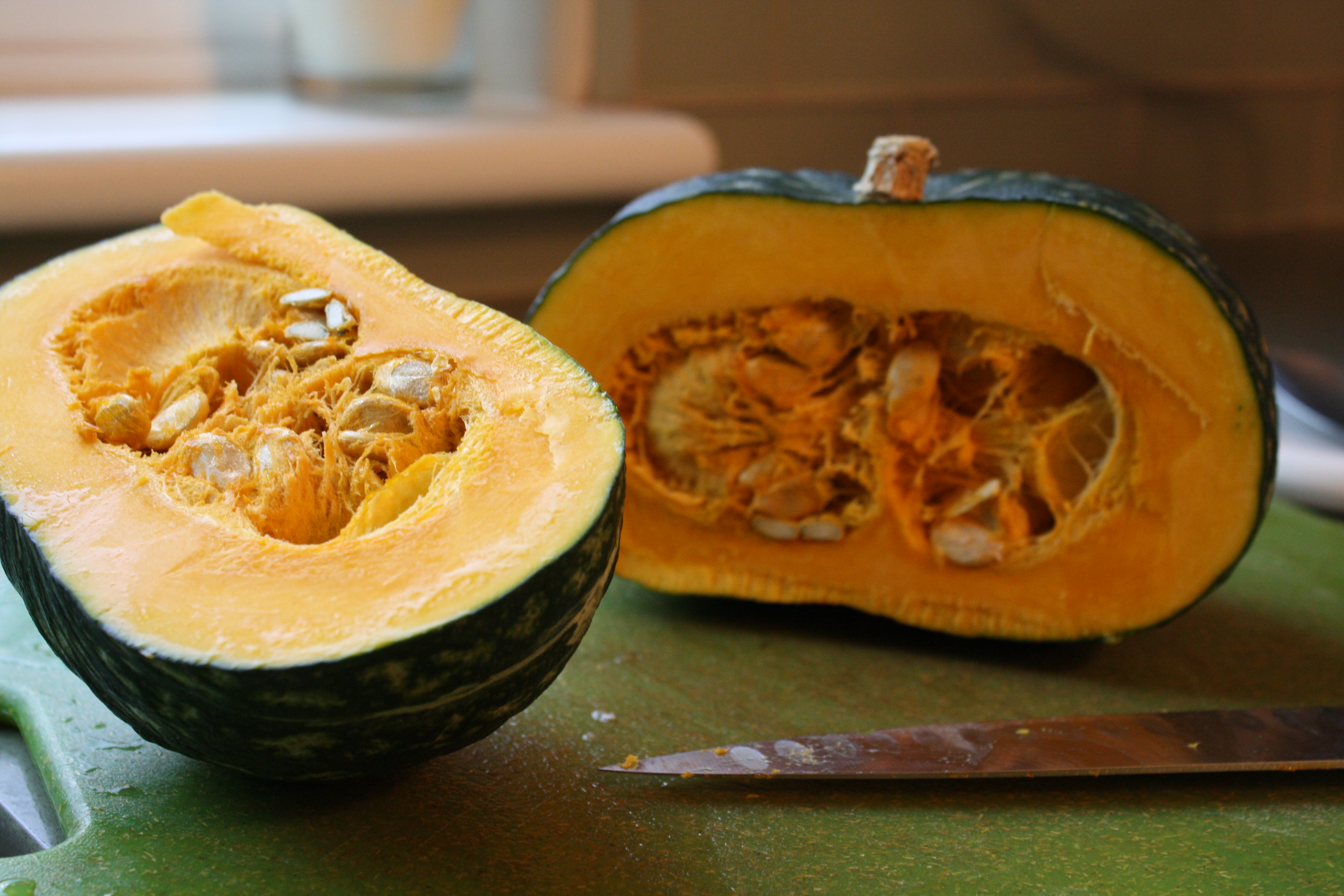 Kabocha squash is officially my favorite.  I feel bad for being so cliche.  It's soooo popular right now and all…Kyle's still ranks butternut above all.  I understand that.  Butternut is almost almost allllmost as good.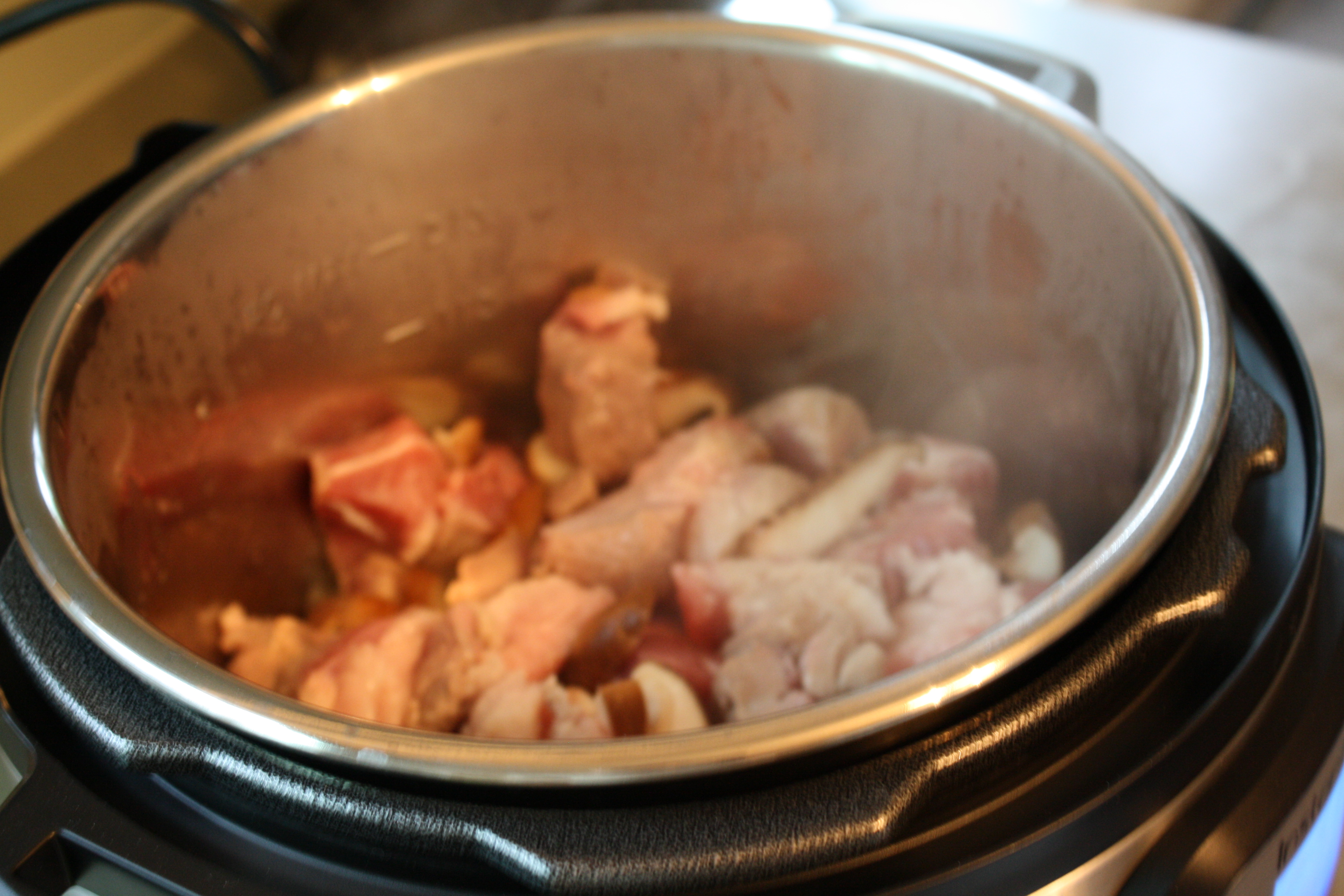 I sautéed pork and mushrooms in the IP and then added the squash before dumping this sauce on top and closing it up.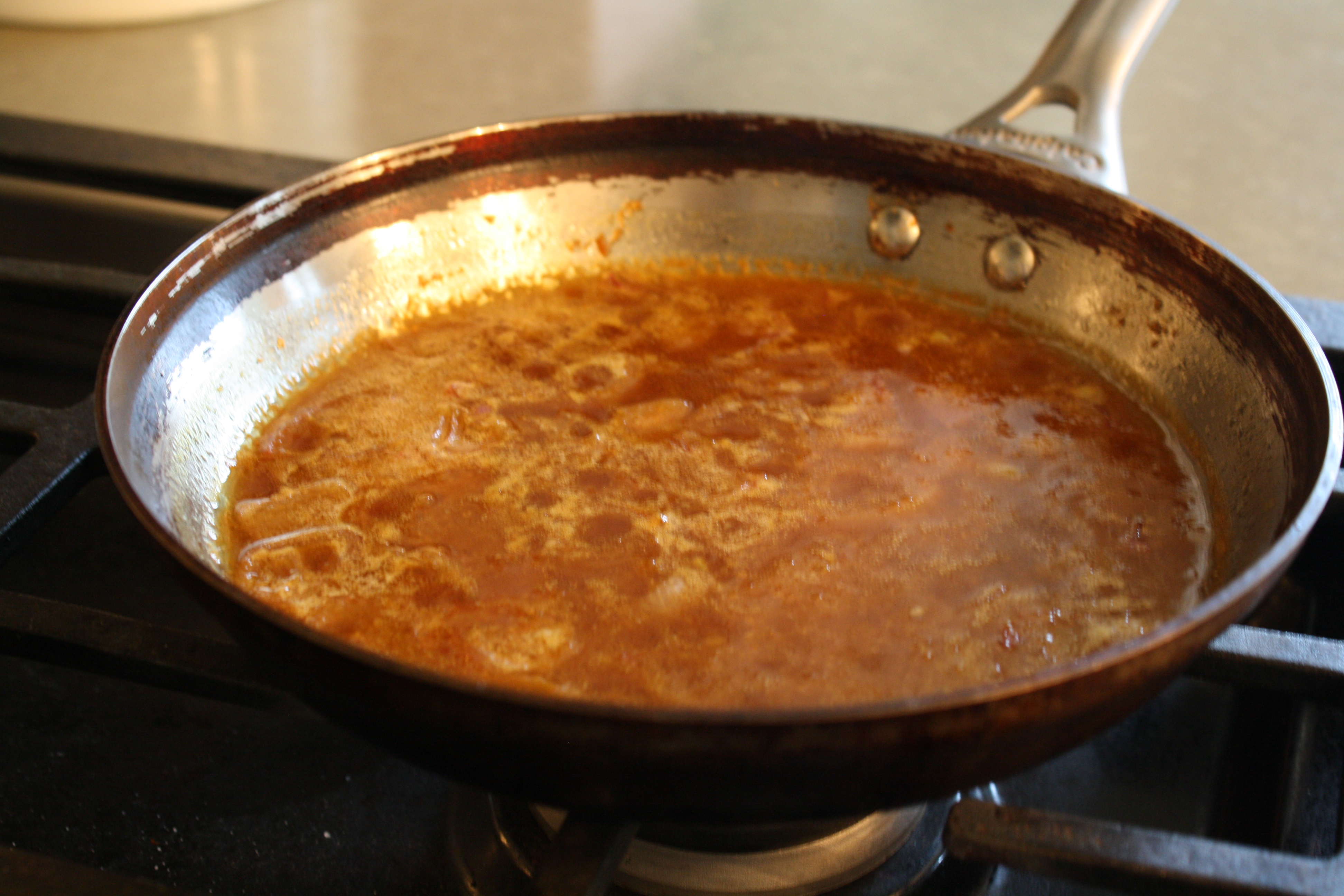 Then I sat back and put my feet up for the rest of the day.
Ok, not really.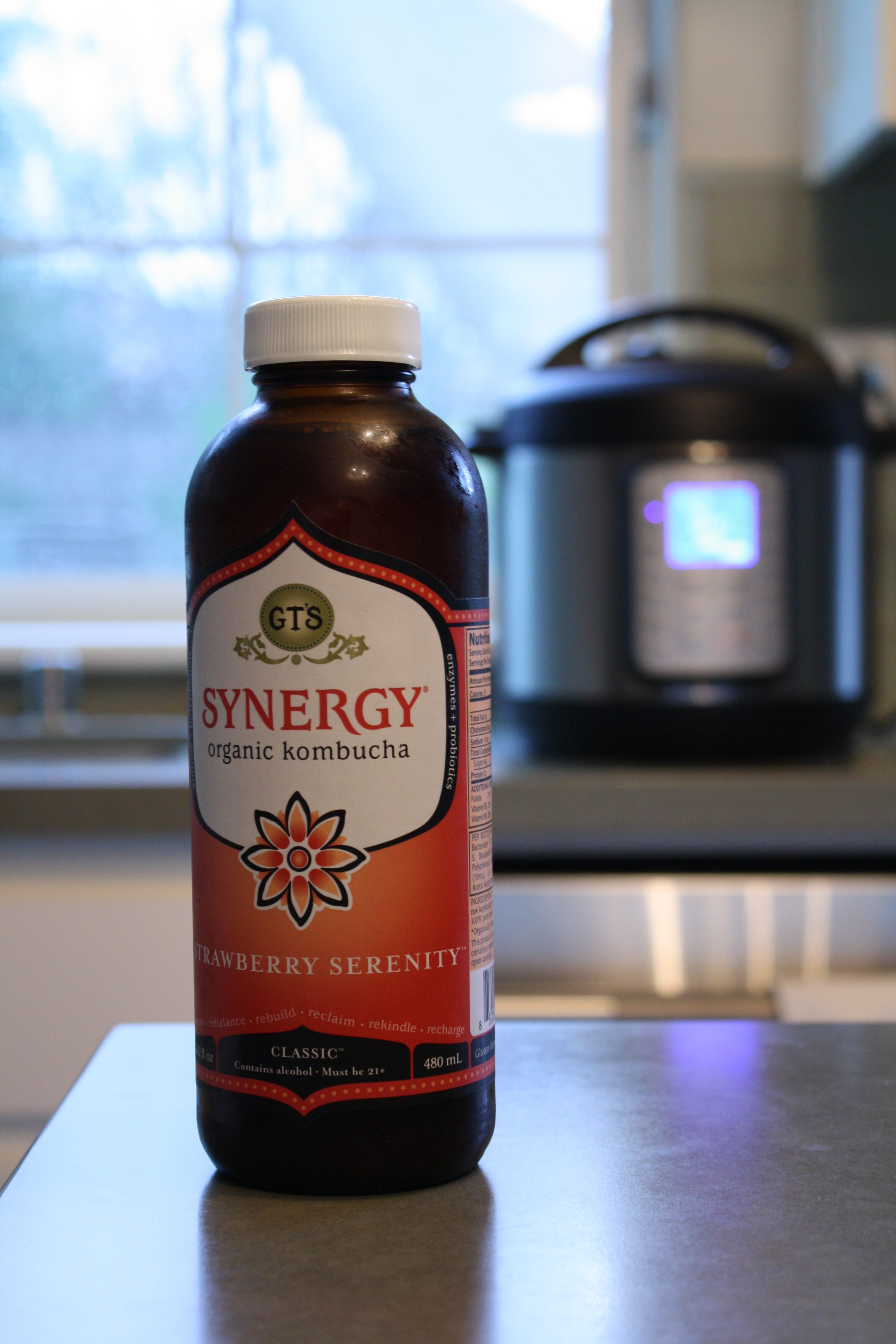 I did have this guy before naps were done and we had to go back out in the rain.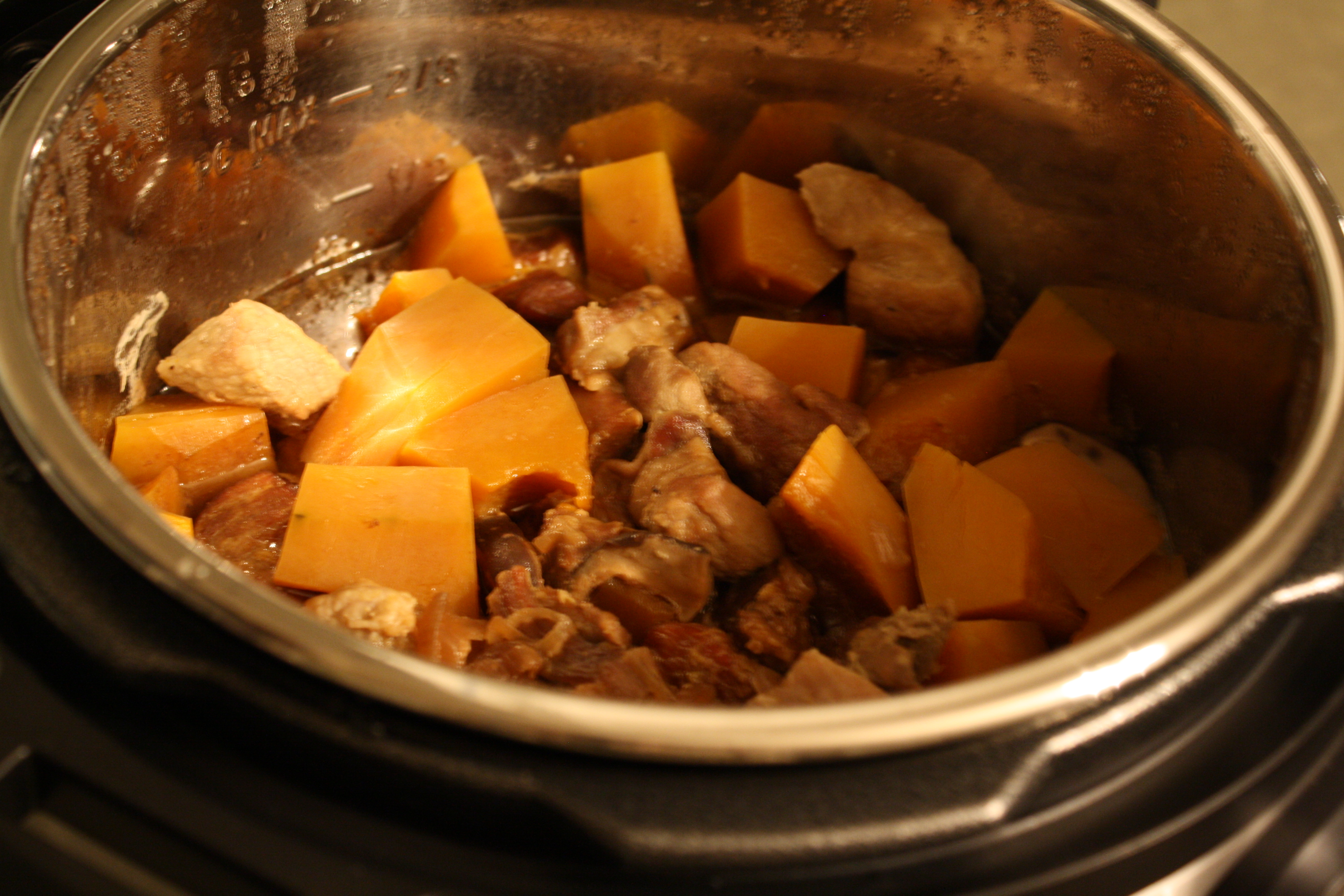 It was nice to come home to a cozy meal all done and waiting for us.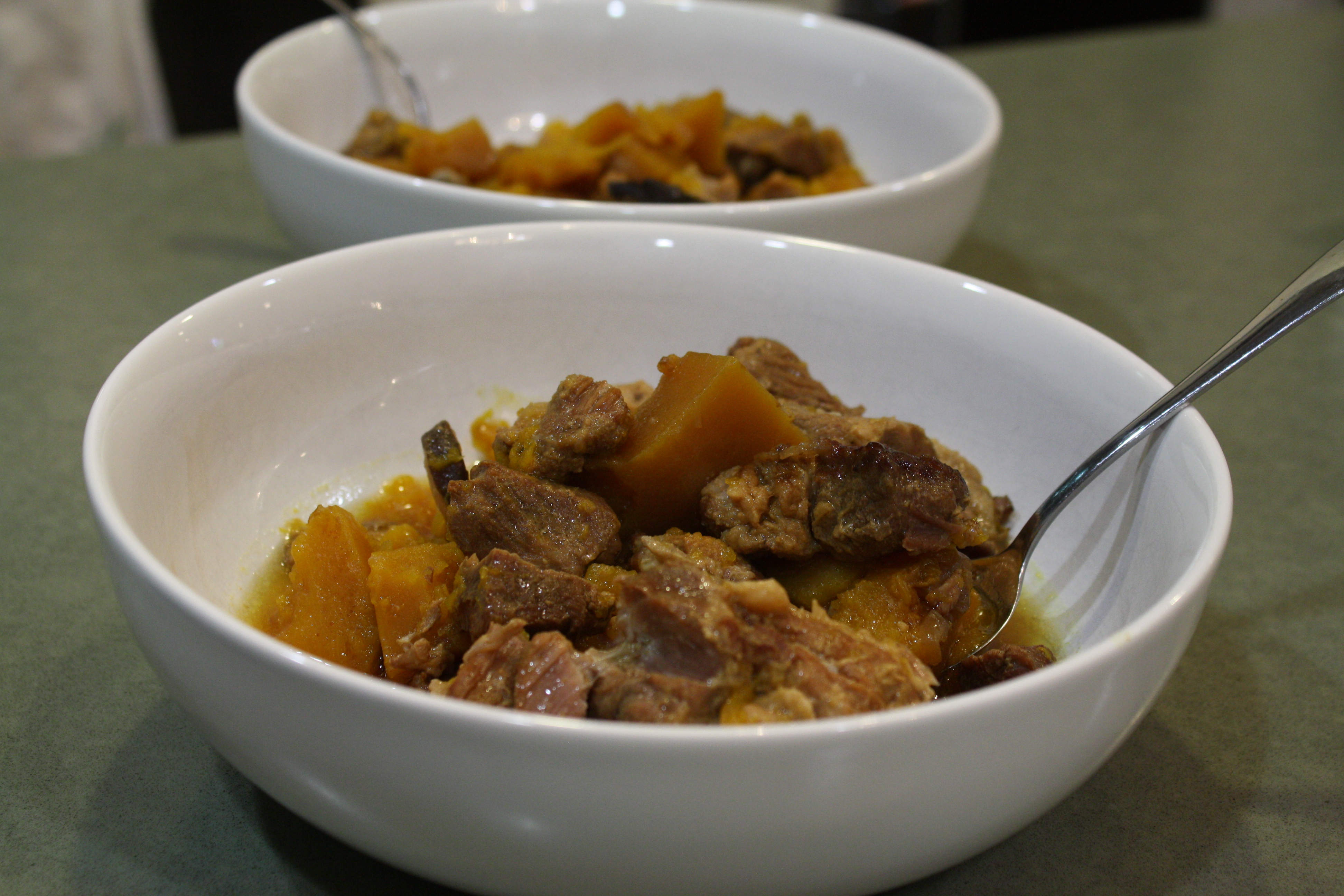 Y. U. M.
Not the most attractive to photograph, but definitely fantastic to eat.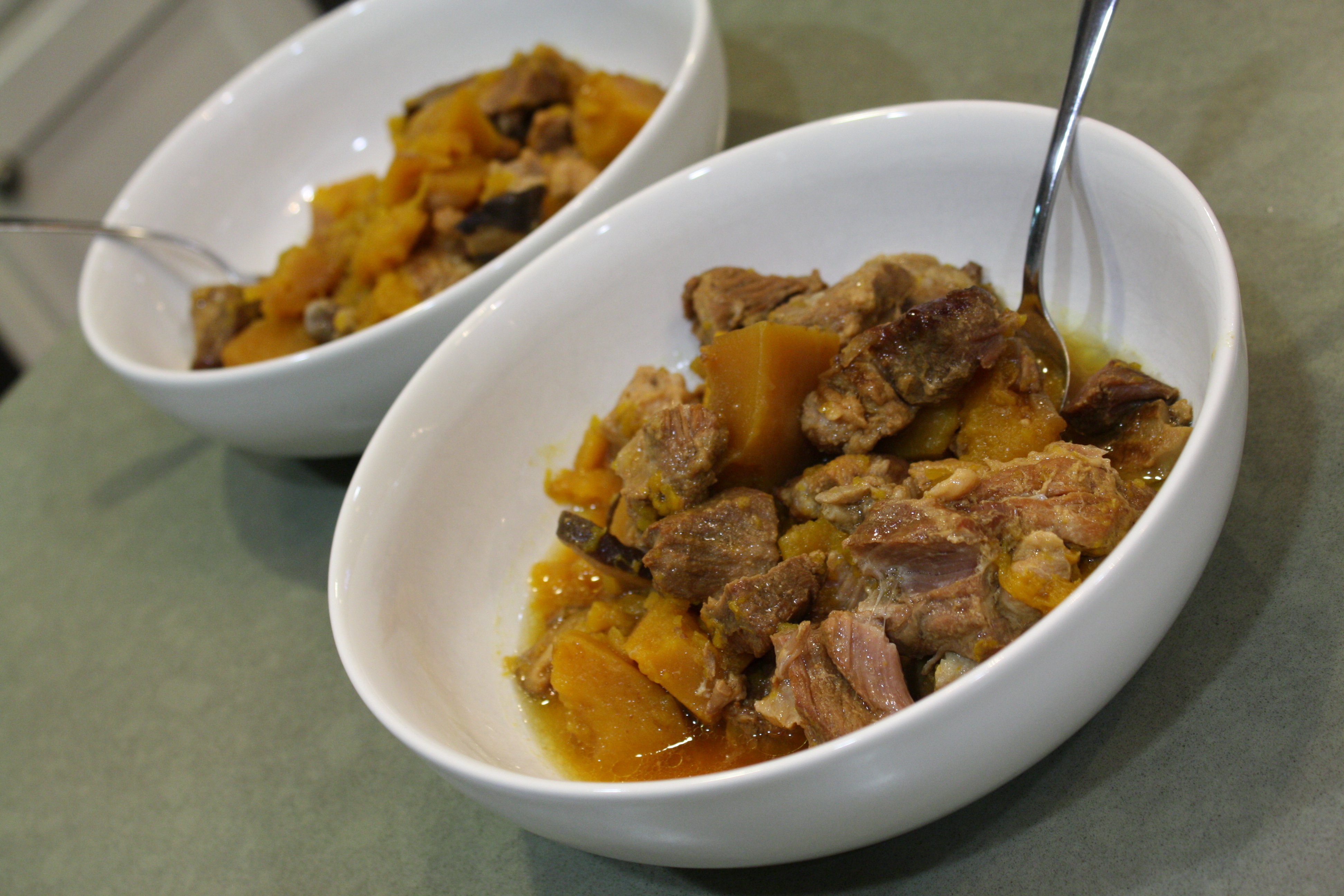 It was a winner all around.  Per usual for the nom nom paleo hit maker.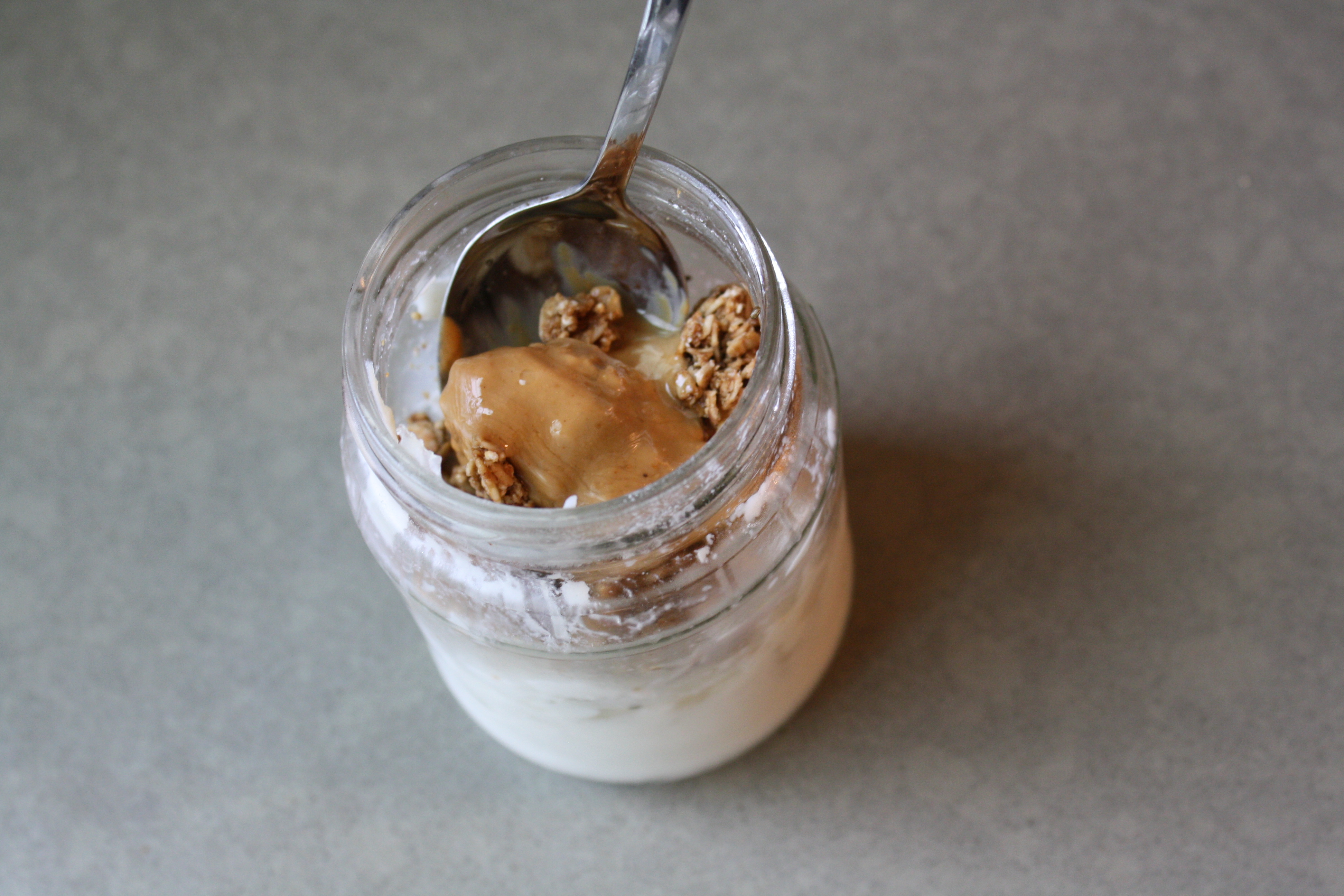 The next morning I had home-made cashew yogurt with granola and cashew butter for breakfast.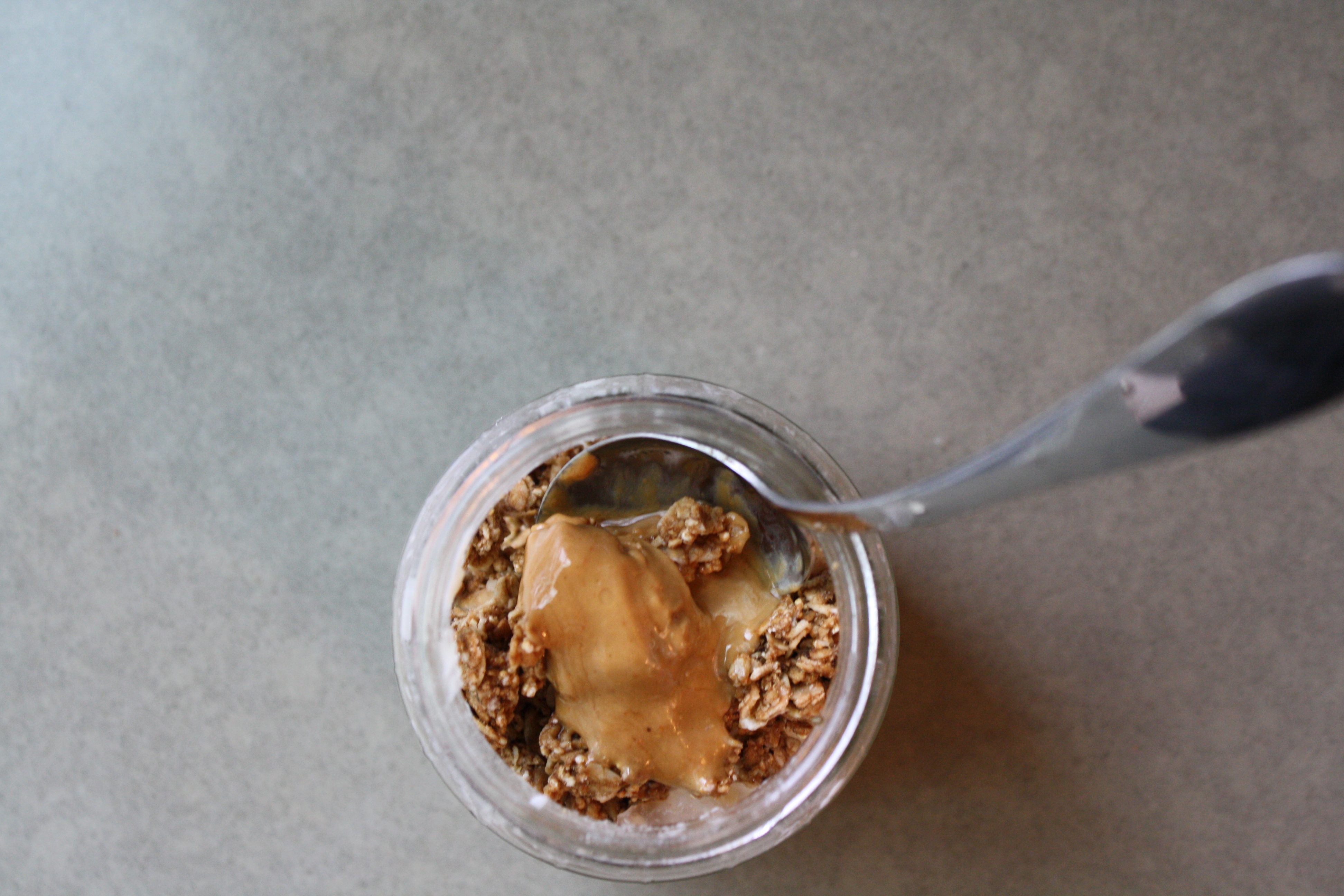 I made the yogurt a little too thick but I'm still working out the ratio of gelatin to milk at this point.  At least the "tang" of the yogurt was good.  Great, actually.
For lunch I had a Thai salad with kale, avo, and carrots,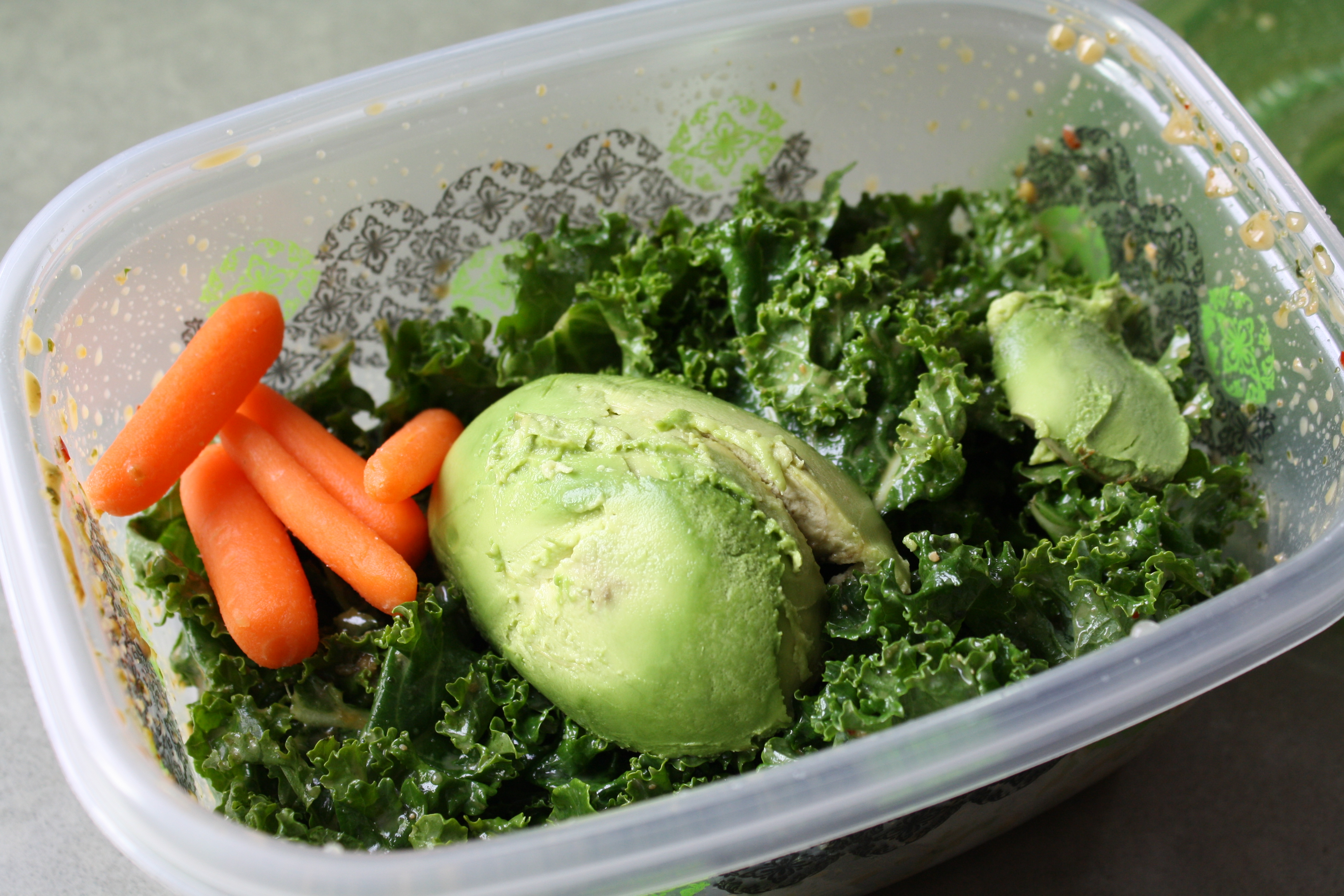 It may not seem like much, but the dressing is really what makes the salad.  I wanted to add more nuts, but I held off since I had a ton of nuts at breakfast with the nutty granola, nut based yogurt, and nut butter on top.  Kinda seemed like adding more to lunch would be overkill.  Can you even believe I just said that???  <— Maturity.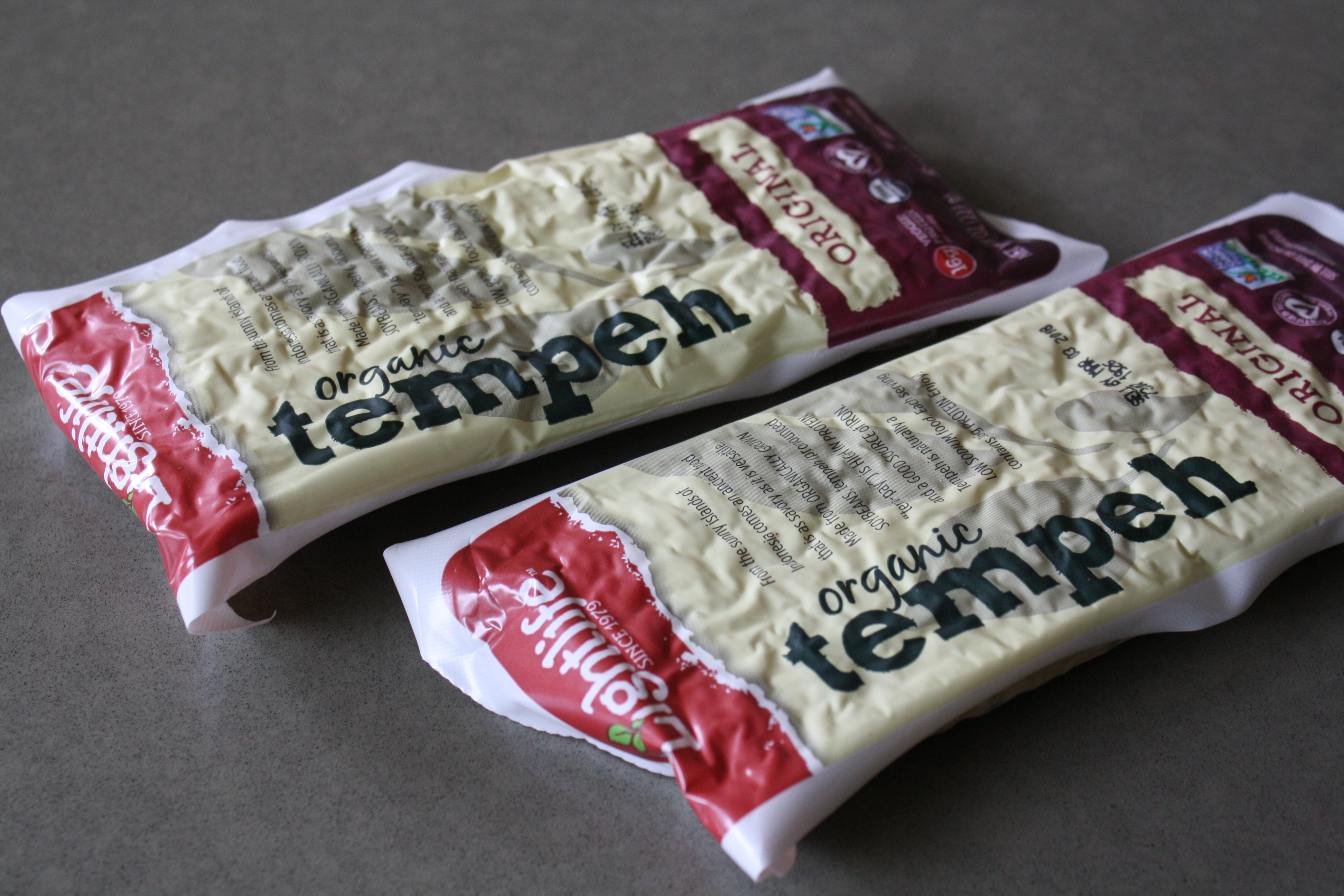 For dinner I thought I'd attempt to make my kids like tempeh (for the 349857th time).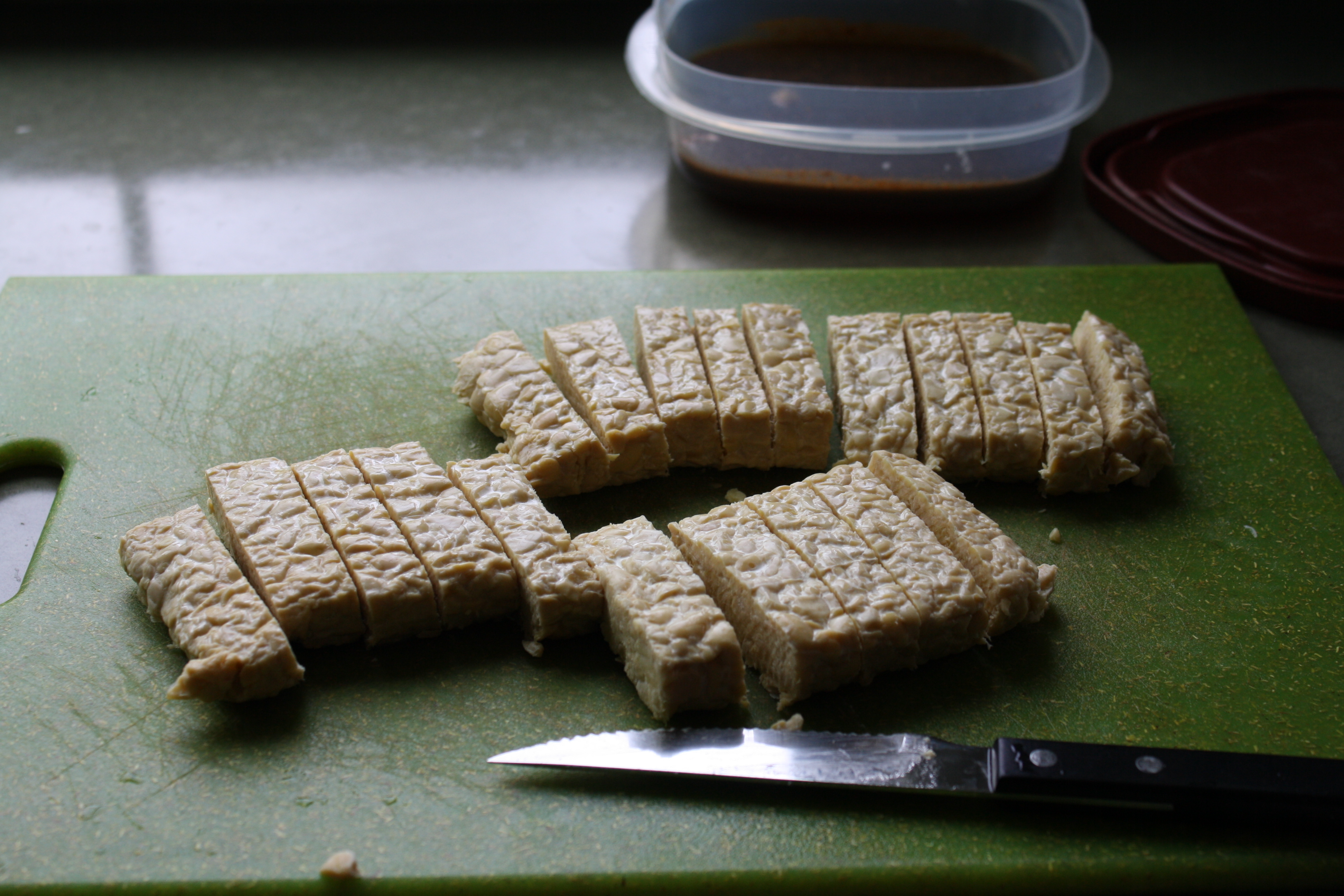 I marinated it all afternoon thinking that may help (spoiler alert: it didn't).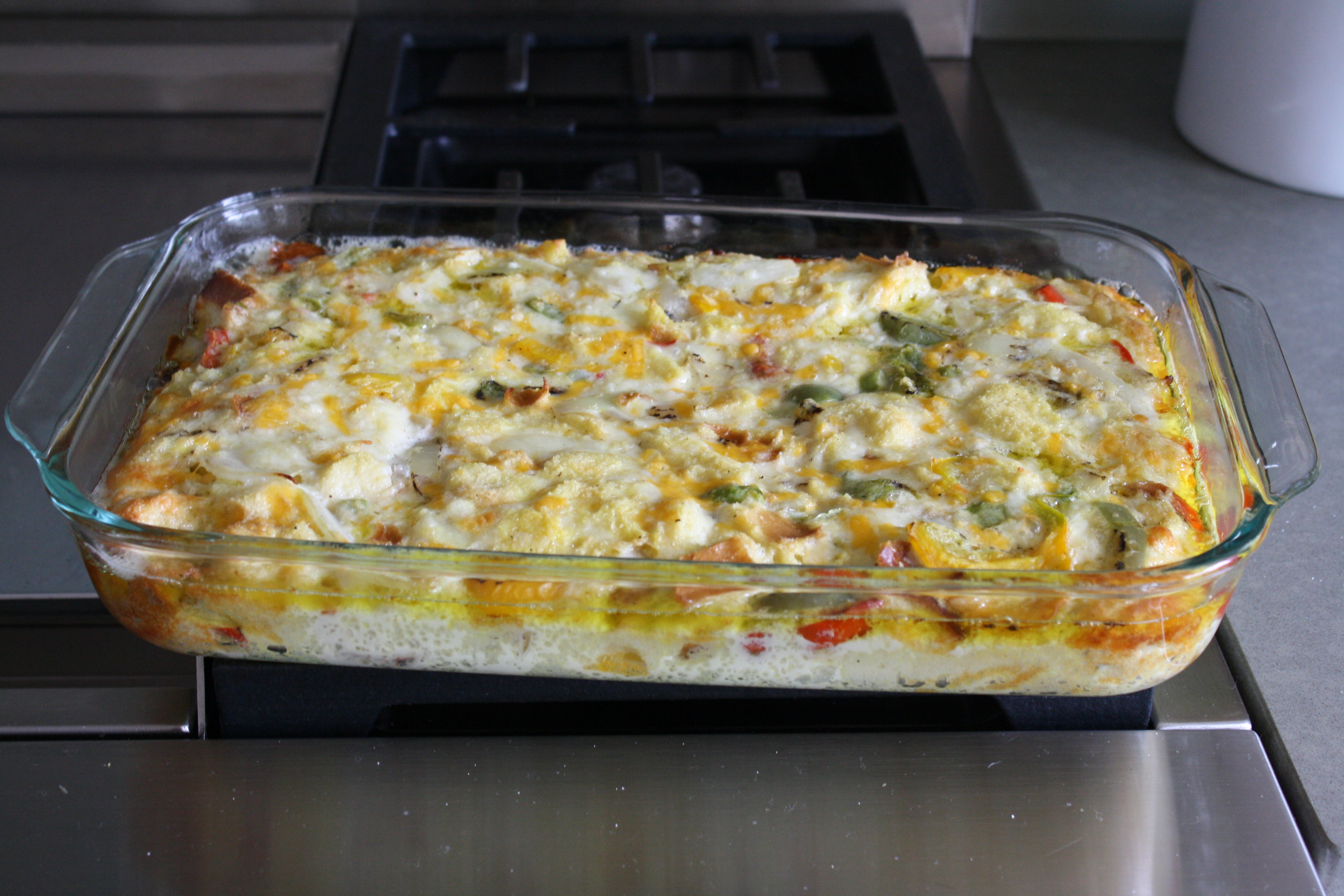 I also made Kyle an egg and cheese strata bake with grilled bell peppers and onions and old sourdough pieces.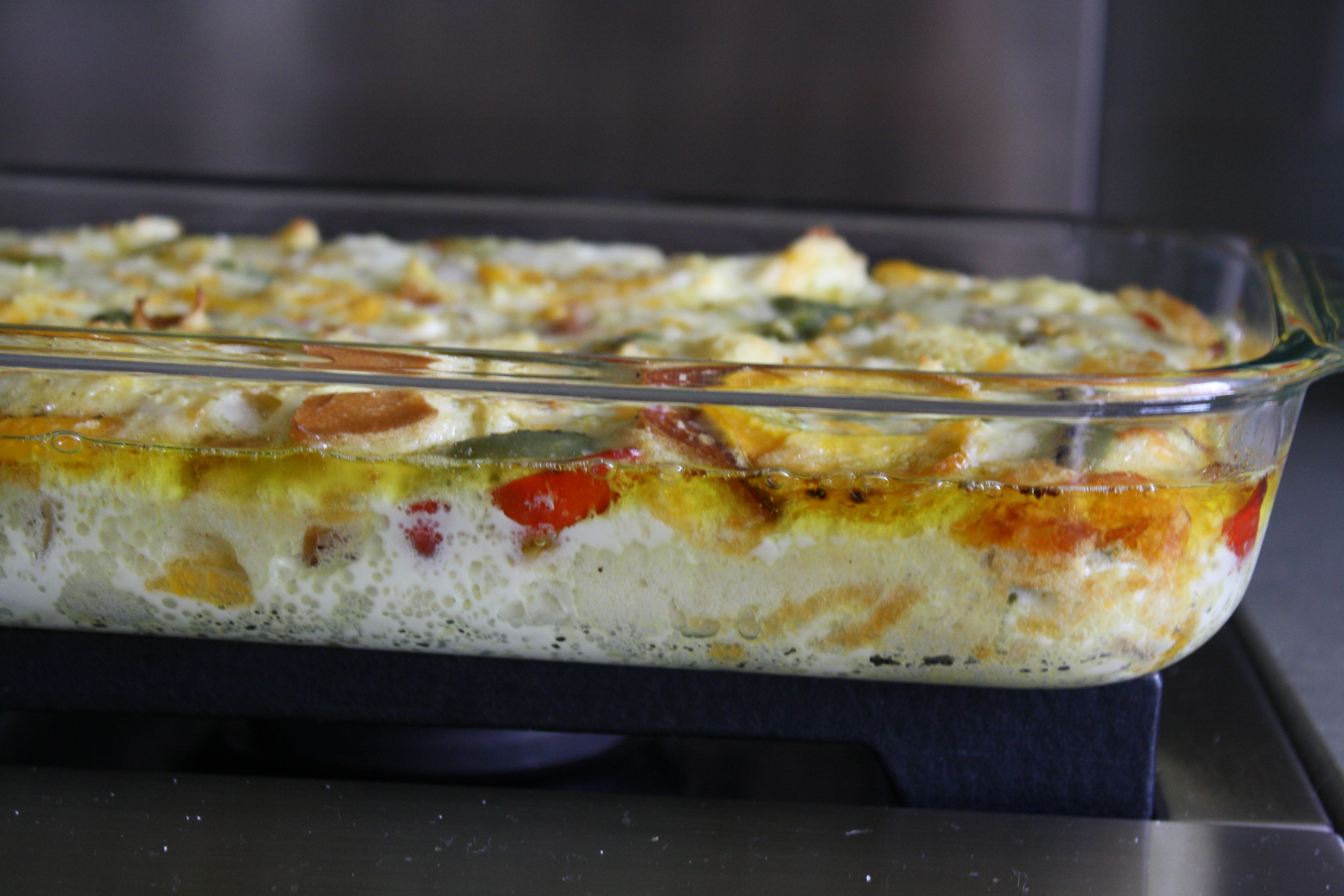 It was hot out of the oven when I took the pic, so you can see the olive oil bubbling on the edges.  Kyle loves when I make eggy breakfast casserole type things for his breakfasts.  I don't think he'd mind if I made these and lasagnas for all his lunches for the rest of time. Or Mexican food.  Always Mexican food.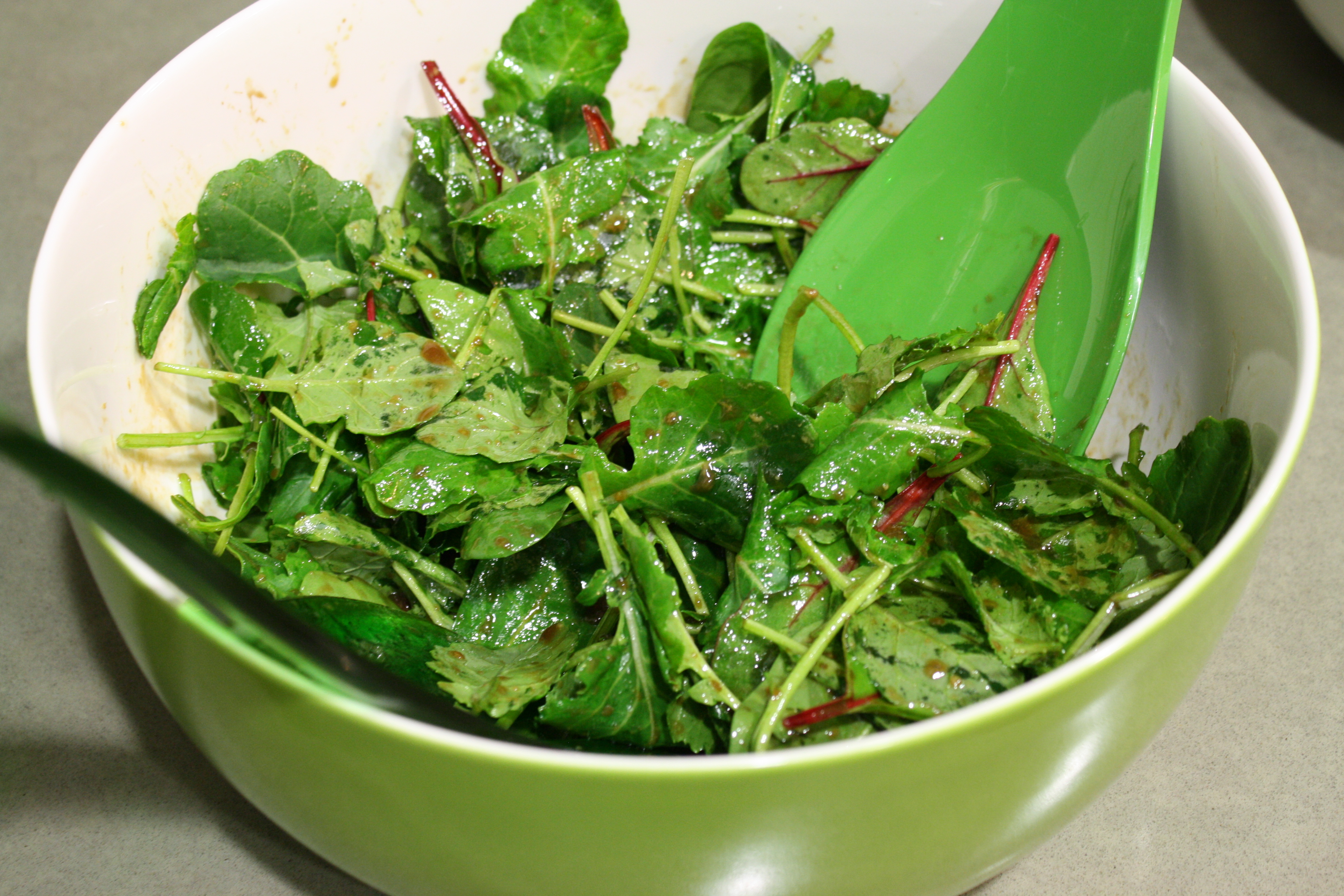 Dressing coated greens, a solid start to dinner…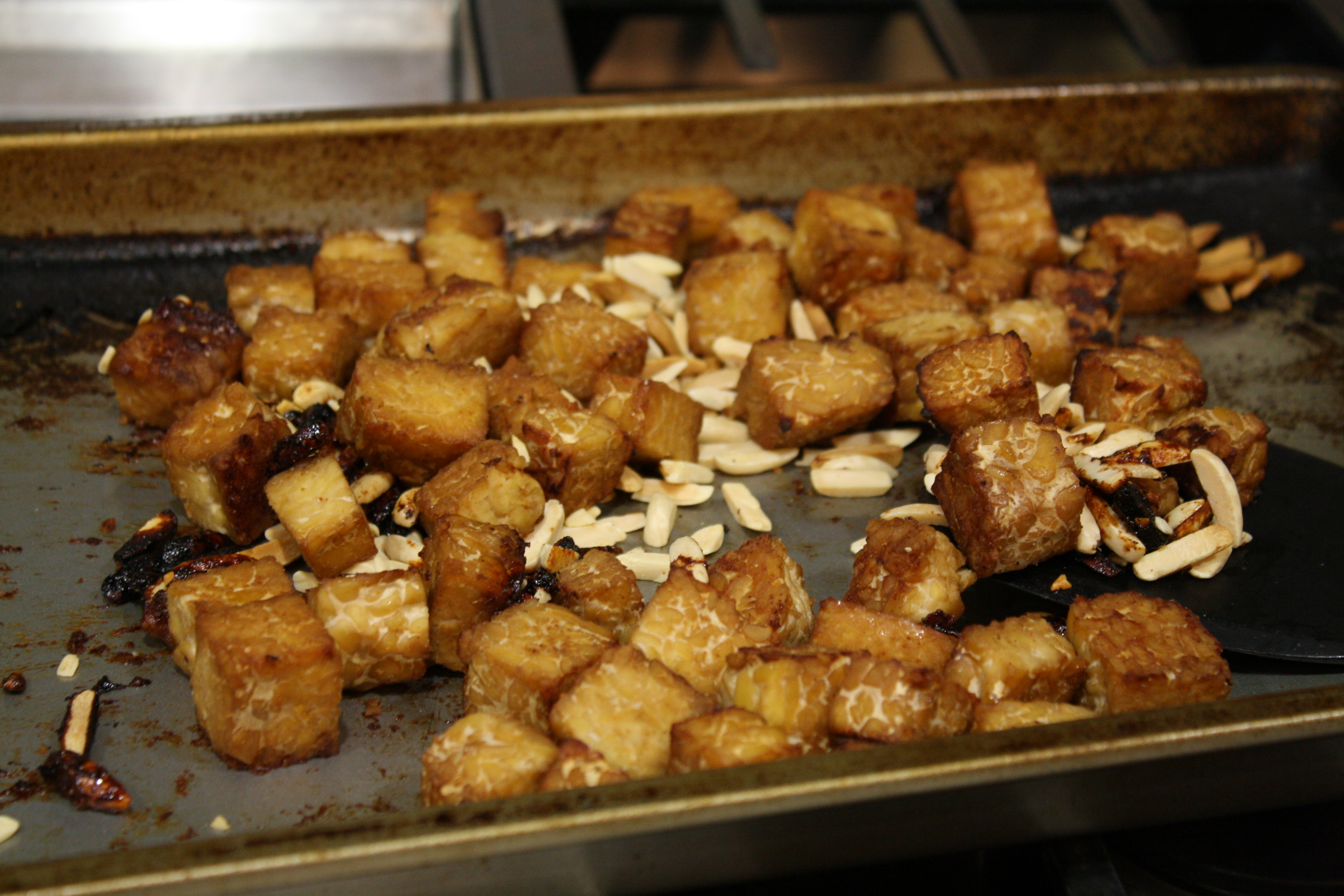 I roasted the marinated tempeh and then added some slivered almonds to the pan for the last 5 minutes. Got a little bit smokey in the kitchen because of the burning marinade on the pan, but no smoke detectors went off, so it's all good.  I will never forget the days of cooking in our NYC kitchen (if you can even call it that) and setting off the smoke alarms on a weekly basis.  It was nearly impossible to use the oven without doing so.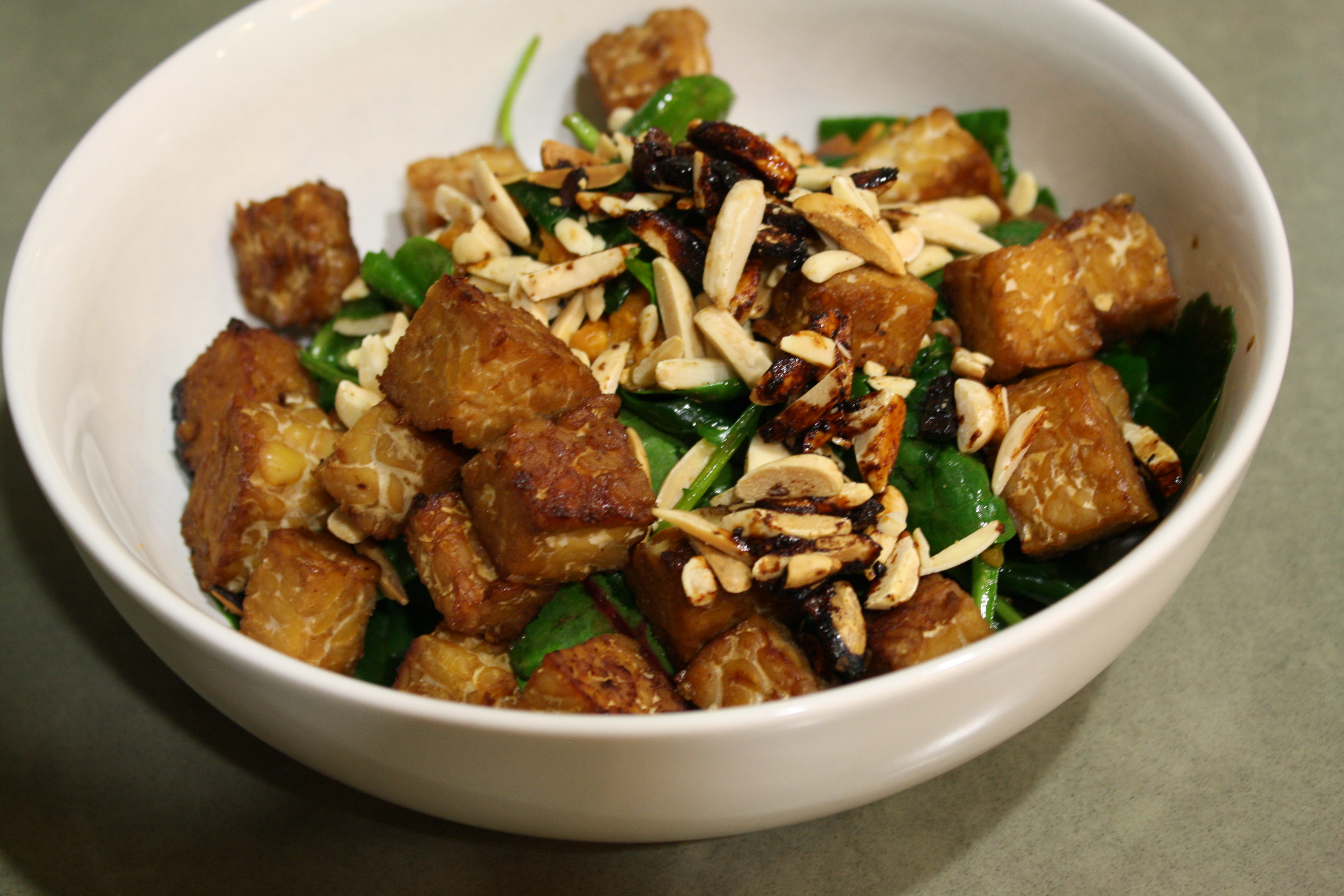 There was also roasted sweet potatoes in there.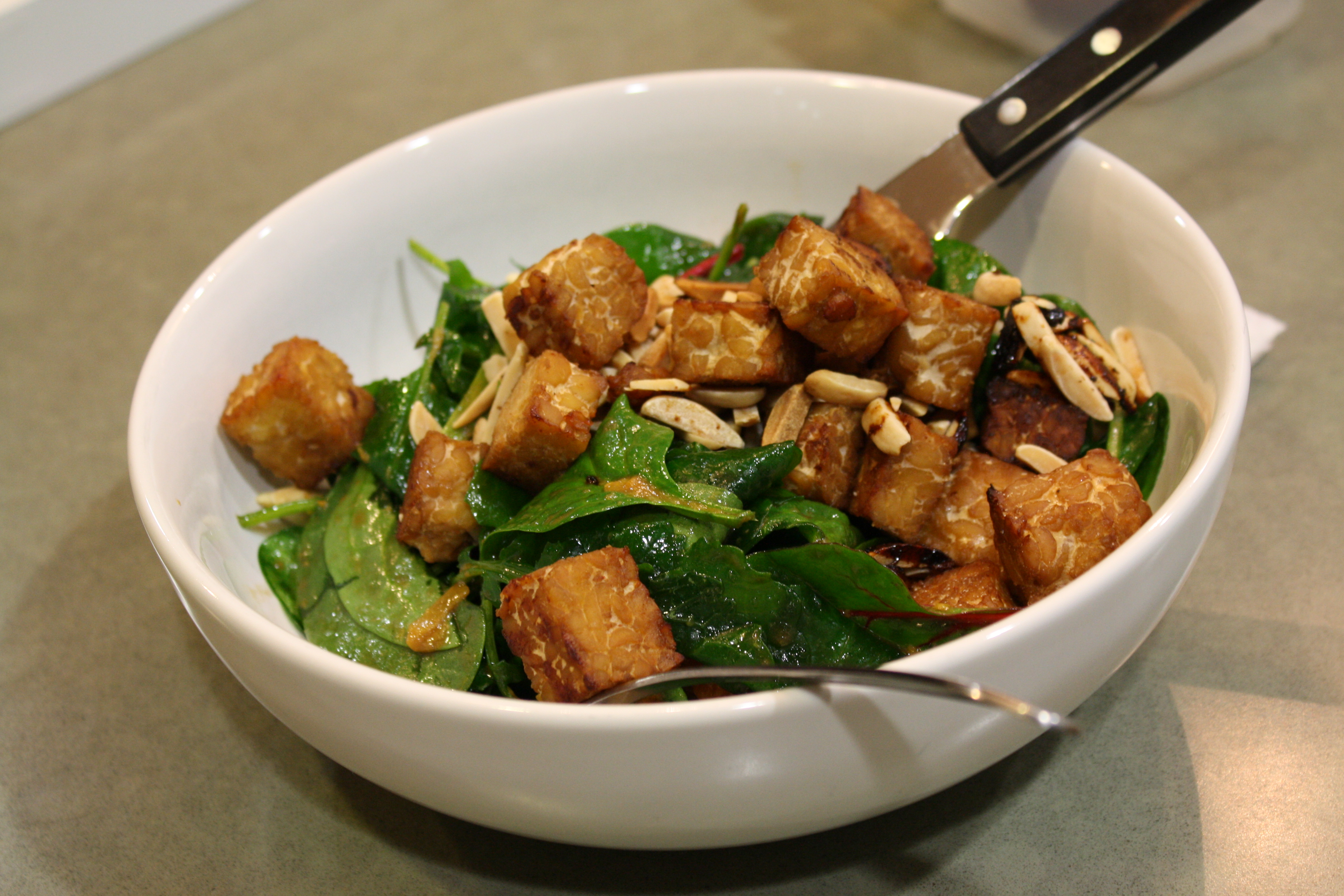 Which was the kids' favorite part, obviously.  They both tried the tempeh, which I advertised as "crunchy bites that were like croutons in the salad" and P was luke warm on them, but V gave a hard pass.  And she is a pretty adventurous and willing eater.  So I ate most of their tempeh portion and served them more salad (greens and sweet potato) and then some avocado too.  Oh well!  I tried.  Tempeh is still a no go.  I don't feel too strongly about forcing them to eat things that they very clearly don't want because they aren't picky eaters at all.  Not sure how I'd feel if meals were a daily battle, but luckily that's not my world.  Tempeh is also a pretty hard flavor to like if I'm being honest.  I love it, but I understand it has a weirdly bitter, nutty taste.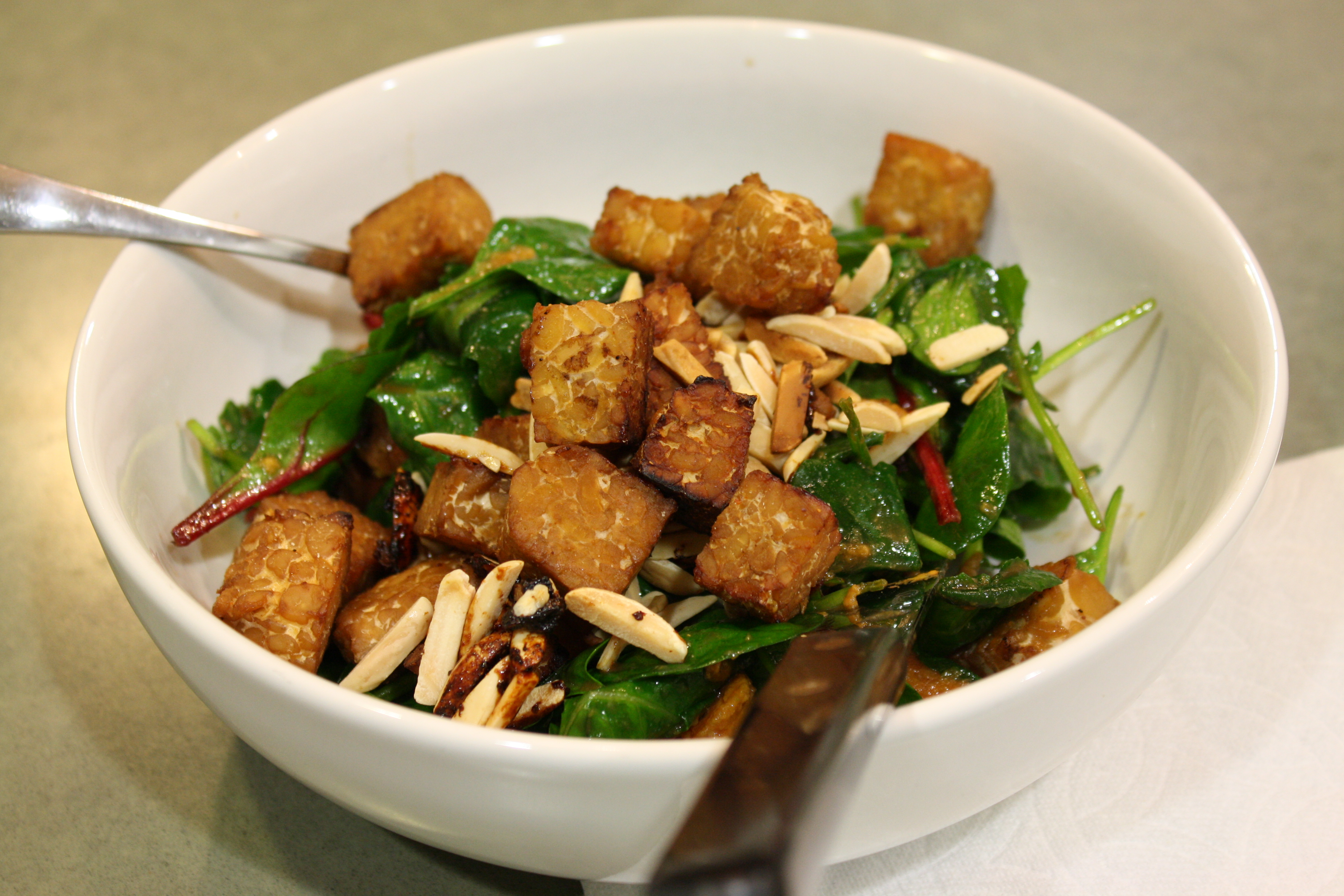 More for me!
Any other tempeh lovers out there??