My memory is gone.  Apparently this pregnancy brain fog thing is the real deal.  I forgot our garage code last month and had to call Kyle to remind me what it was (I have no idea how my mind blanked out about that since I punch in the four numbers so regularly).  And I almost missed a work shift because I had my schedule wrong (I am so lucky the charge nurse called me a few hours beforehand otherwise I definitely would have been a no show at the hospital).  I'm constantly going upstairs to realize I've forgotten why I went up there. 
And those are just the brain farts that I can think of right now.  Fortunately my patients haven't caught on…but seriously, what's going on in my head! 
I just grabbed my iPhone to check and see if I had anything worth sharing because the photographic evidence of my meals seems to be the only way I can keep up with blogging.  And I still haven't even been very good with it!
Here's what I found: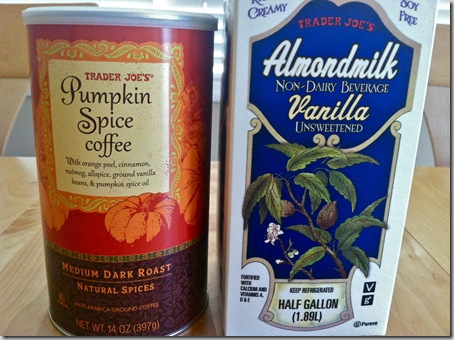 Doing our weekly grocery shopping at Trader Joe's lead to some new purchases.  The pumpkin spice coffee was the LAST one on the shelf.  Sadly they were all out of the pumpkin rooibos tea and the pumpkin chai blend (which I found out has dairy so I'm not too broken up about it).  Seasonal stuff is in high demand – especially if it involves pumpkin!  I'm so glad I was able to snag the coffee otherwise it would have been a pretty disappointing TJ's trip. 
The almond milk isn't seasonal, but it was my first time trying it.  Many people have mentioned it's as good – or better – than Almond Breeze's vanilla unsweetened.  However, I'm gonna have to disagree.  Sure, it's nice and thick like AB, and was awesome in coffee.  But on it's own, it's more vanilla-y and sweeter and just wasn't as yummy to guzzle solo.  To each his own.  I'll stick to Almond Breeze. 
Anyway, the coffee turned out to be a fabulous purchase and will likely last a long time.  We only use 1 tbsp or so of grounds in each brew (with whatever organic fair trade roast we've got on hand for the rest).  It gives a nice pumpkin flavor that's definitely present, but not overpowering.  I think I like it more than Kyle does (he says it's more of a once in a while kind of treat coffee), but he's been good to appease me.  I'm in a hugeeeee coffee (craving) phase right now, which is super unfortunate since I can't satisfy it the way I want to.  Basically, I'm drinking a lot of pumpkin coffee flavored almond milk.
Continuing the pumpkin trend…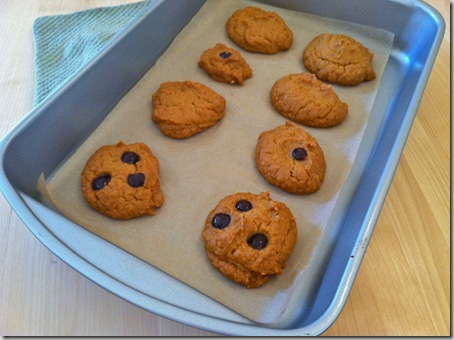 I made pumpkin molasses cookies.  On accident.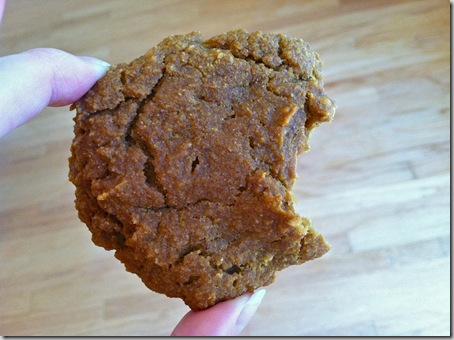 Don't hate me but I don't have a recipe for this deliciousness. 
Originally I was going to make pumpkin pancakes, but then I decided to use some of the molasses that's been hanging out in our pantry for the last year.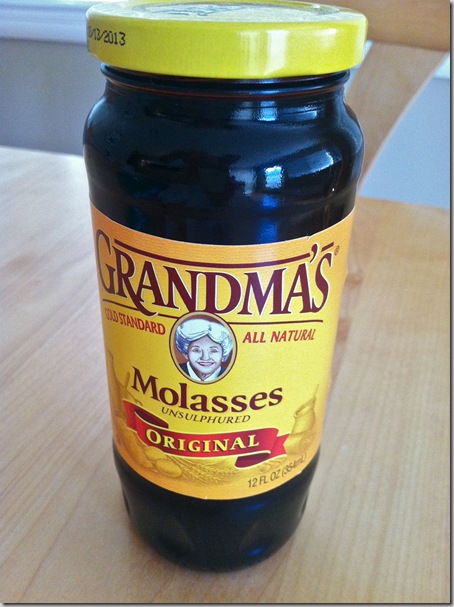 I don't know why or when I bought this but it's been bothering me that I've neglected it for so long.  When I got pregnant I told myself I'd use it way more to help keep my iron levels up.  But then I continued to ignore it.  Naturally.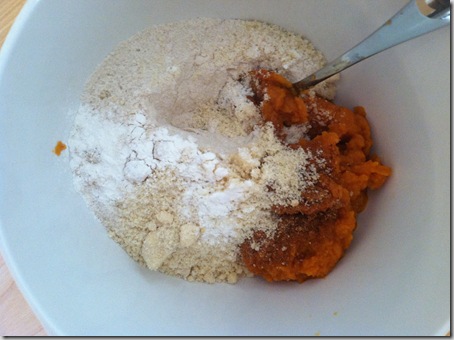 Once I started mixing things haphazardly, I realized that cookies sounded way better than pancakes.  So that's where the recipe went.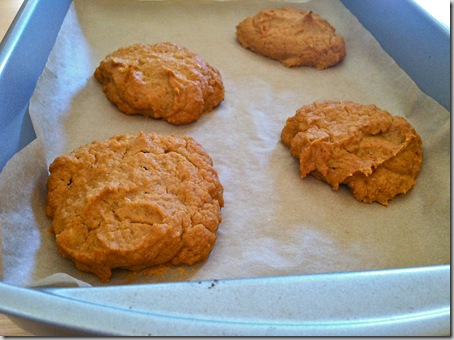 The first ones were massive (I guess I still had pancakes on the brain), so for the second batch I made them more normal sized.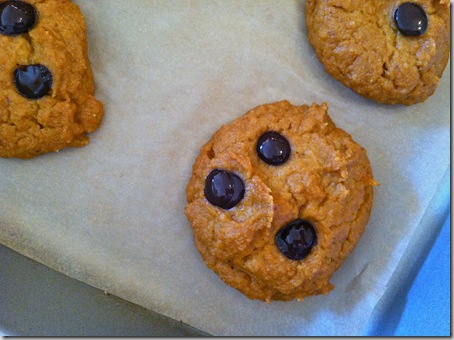 I added carob chips to a few…which turned out lovely (even though they look like creepy beady eyes).
I'm happy to say they tasted like a cross between pumpkin pie and gingerbread (aka yummy). 
And as if that lack of a recipe wasn't annoying enough, I have another one for you.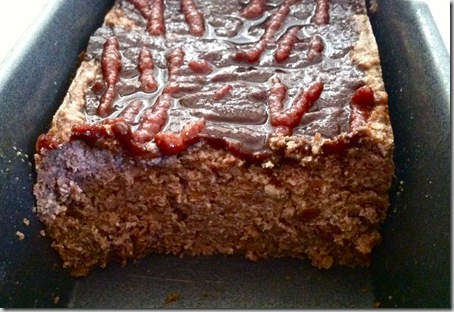 This lentil loaf was about as nutrient dense and protein packed as it gets.  I didn't measure anything, but I can tell you the main ingredients I used were pink lentils, walnuts and TVP.  With TJ's 21 seasoning salute as well.
I hate leaving you high and dry after the photo tease, so check out this recipe for a different (but equally delish) lentil loaf.  It's a fave in this house. 
BBQ sauce and ketchup for the glaze.  Baked in the oven.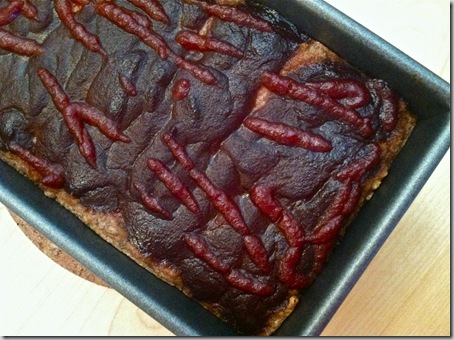 Served with a side of peas.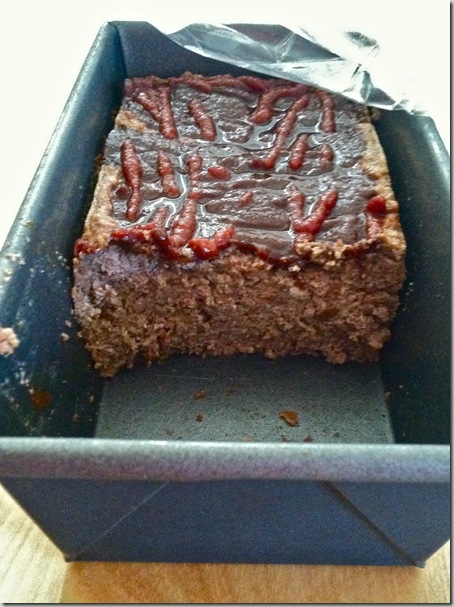 I actually left this for Kyle before I headed into the hospital on night shift.  He's always amazed that there's no meat in these loaves.  I feel like a sneaky wife, but it's one of the easiest things to make.  Lentils take no time to cook at all and you don't even have to worry about how well you blend them (or the other ingredients) since lumps are totally fine.  I used the leftover lentil water to help blend the walnuts and rehydrate the TVP, but it's a fairly simple thing to adapt based on whatever you have on hand.  No walnuts, try pecans or cashews.  No lentils, try garbanzos or any other bean.  No TVP, use bread crumbs.  Season as you want and bake until it's bronzed on top and the house smells like fall comfort.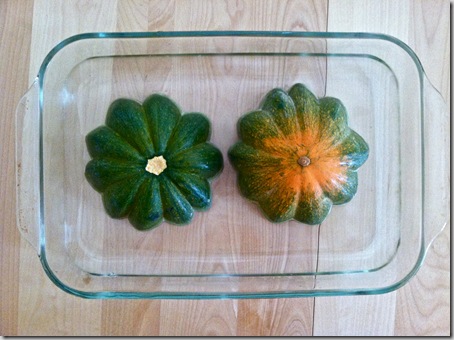 I've got more things coming and I swear I'll start writing the recipes down.  I clearly can't rely on my brain for anything.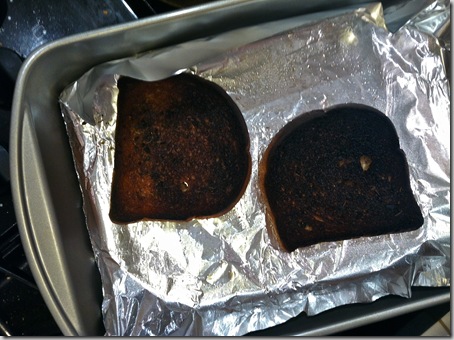 Including setting an oven timer for the garlic bread in the oven.