This week was fun.  Busy and not busy in perfect amounts.  One thing I've noticed about working part time is there's a big (HUGE) difference between 2 shifts and 3 shifts.  It may not sound like it, but I feel like the time off allows me to get so much more done.  And rather than fill it with errands and chores, I can actually hang out and relax and enjoy myself.  It's lovely. 
Here are some of the things I ate this week.
Breakfasts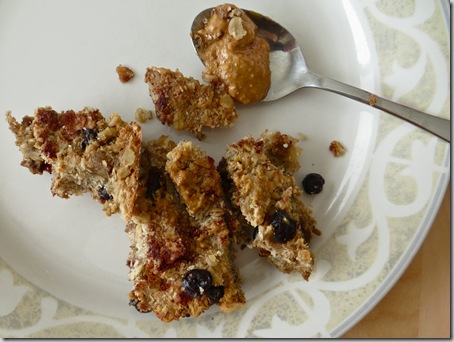 Baked oatmeal bars with blueberries [sorry about the crappy pic] and peanut butter.
I failed to take a photo of the huge dish I made, but it was bomb.  Initially I was going to try and make granola bars, but I scraped that plan half way through and just made a really thick oatmeal bar instead.  I didn't write down the recipe but I will next time.  It had all kinds of yummy stuff in it – chia seeds, blueberries, goji berries, almond flour, oats, and coconut oil.  I ate it before work on Saturday, and then made another serious dent in it on Sunday morning, and then finished the whole thing off on Tuesday morning. 
Monday morning was a savory one though.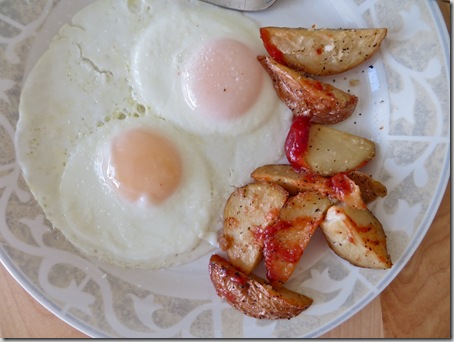 Two fried eggs with roasted potatoes and ketchup. 
I'm on a mega pepper kick.  Not usually my thing, but hey, I'm just gonna roll with it.  Don't worry I'm still a salt fiend through and through.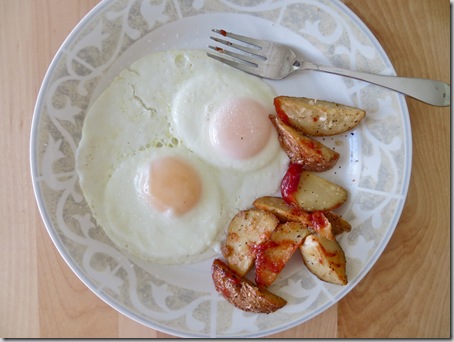 After Tuesday's breakfast I was out of fresh baked goodies, so I made a loaf of banana bread for the next few mornings.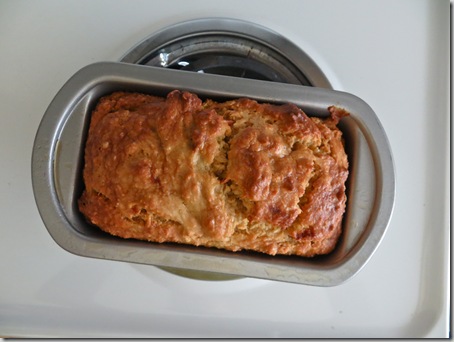 I had a slice before swim lessons on Wednesday morning.
And then another afterwards.  With nut butter.  Always with nut butter.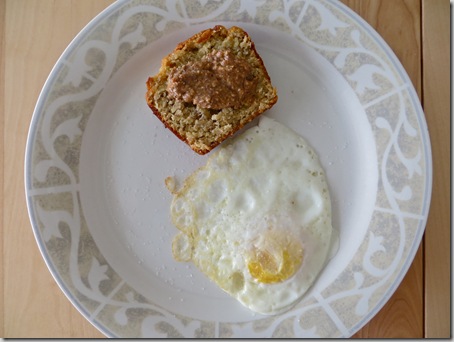 Another slice with an egg.
For work breakfasts I have been doing hack versions of the classic PB&J.  [Meaning I ran out of jam and have been using fresh fruit.  And almond butter instead of peanut butter.]  Blueberries on Thursday and banana slices on Friday.  Both on Udi's GF millet chia bread.
I like sandos only because they are easy to eat one handed while pumping at work.
I pump before my shifts too, but since I'm at home I have a table and can sit and eat like a proper human at the same time.  Multi tasking for the win.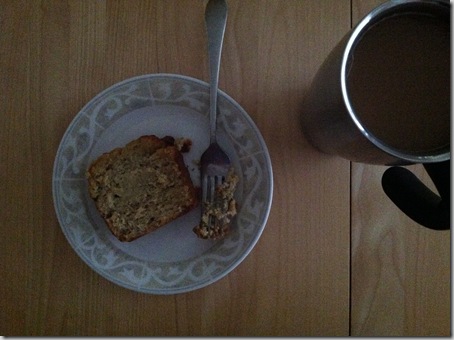 Here's the 6 am scene.  Banana bread and coffee.  Hands free thanks to the nursing bra!
Lunches
Admittedly I suck at remembering to photograph mid-day meals.  I'm just too busy doing other stuff.  I make a lot of snack plates though so you aren't missing much.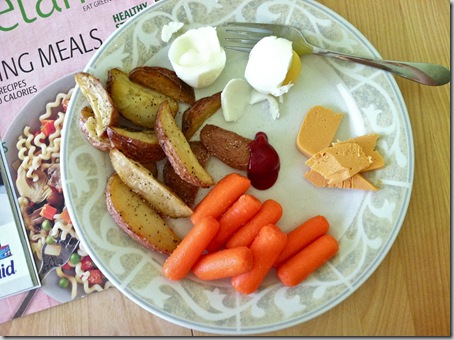 See? Snack plate with leftover roasted potatoes, carrots, daiya cheddar, and hard boiled eggs.  I probably had nuts on the side too because it's rare that I don't have nuts at a meal. 
This may sound crazy but this was my first time having tamales.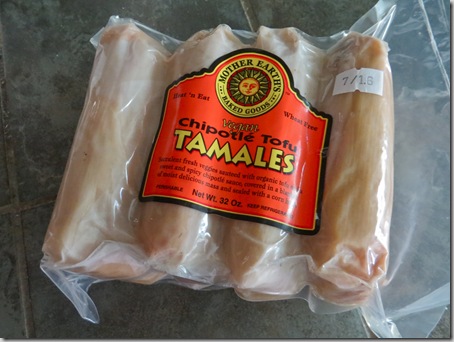 Impulse buy from Whole Foods.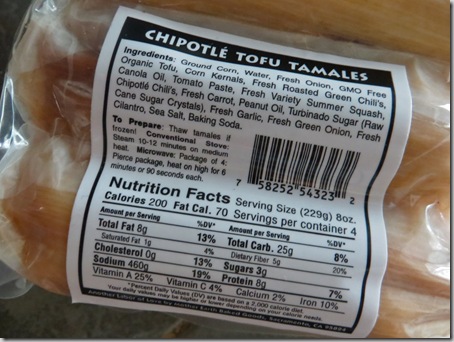 I really liked them!  I didn't know what to expect, but they were yummy.  The outside corn layer is thick so there wasn't a ton of inside stuffing – I'm not sure if that's how tamales normally are.  I thought the ratio was good.  Just enough tofu and veg.  Without the guacamole it has the potential to be a bit dry, but maybe not.  I will for sure buy again.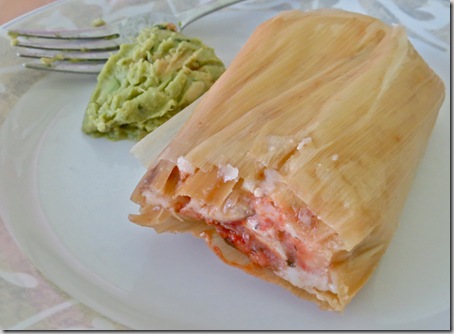 I had one for lunch with Sabra's classic guacamole.  Truth: I had WAY MORE guac than as pictured.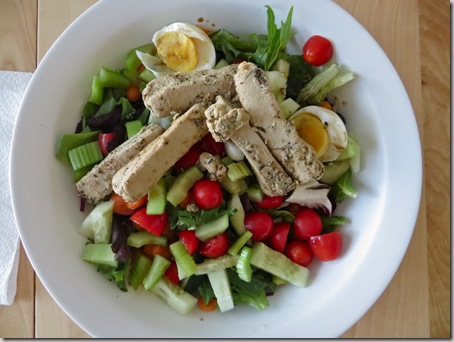 Salad with greens, celery, cucumbers, tomatoes, hard boiled eggs, and Beyond Meat.  No dressing.  Just olive oil and salt.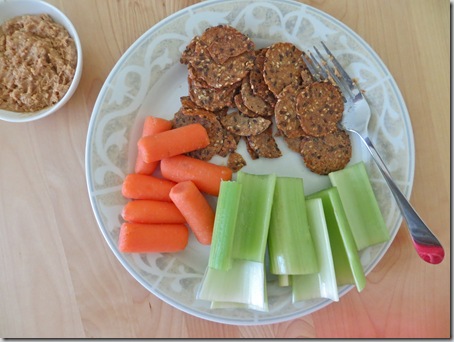 Snack plate.  The amount of peanut butter in the bowl is deceiving.  There's at least 1/2 cup.  No shame.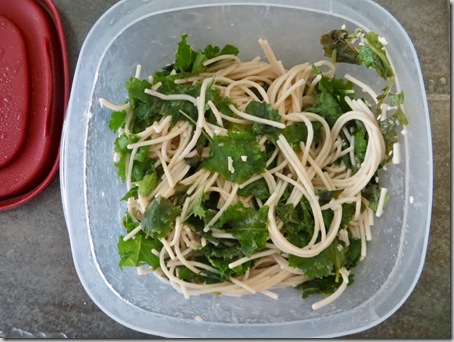 Work lunch: brown rice pasta with parsley, basil, and kale tossed in olive oil, lemon juice, sesame seeds, salt & pepper. [Greens/herbs from my garden, lemon from my neighbor]
Work lunch: salad with greens, tomato, roasted potatoes, smoked cheddar goat cheese, and quinoa.  The quinoa was an afterthought once I realized the salad probably wouldn't hold me over.  I also added some organic miso ginger dressing. 
Snacks
I have a few recent repeat offenders in the snack department, so here they are.
I never liked (okay, I hated) banana chips growing up, but for some reason I felt compelled to buy them this week.  It was my healthy compromise since I really wanted chocolate covering everything from the bulk bins.  Ummm, so yeah, they're really good!!!  I've been enjoying them as a dessert too.
Oh and Kombucha has reared it's expensive head back into my life as well.  On the daily.  Budget fail.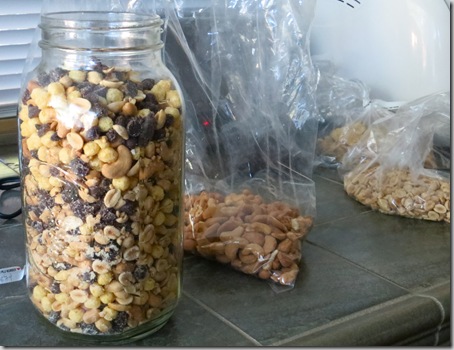 One thing that has saved a little cash flow is making our own trail mix.  As you can see above, it has raisins, cashews, peanuts, dark chocolate chips, and gluten free cereal puffs.  Not terribly innovative but definitely cheaper than the pre-made stuff.  The most important thing is that the nuts are salty so they cover the raisins in salt too.  Mmmmm.  We POUND through trail mix like nobody business so this is huge for the bank account.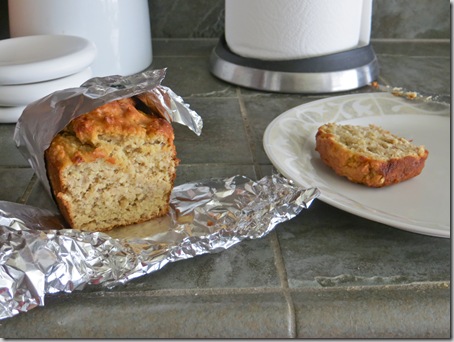 Between my breakfasts and snacks, I'm going to make another loaf of banana bread tonight since this one is almost gone.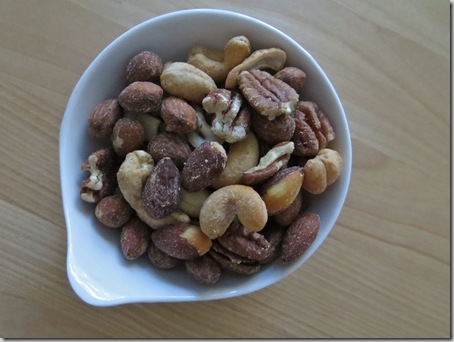 Always always always.  All day long.  Nuts for nuts.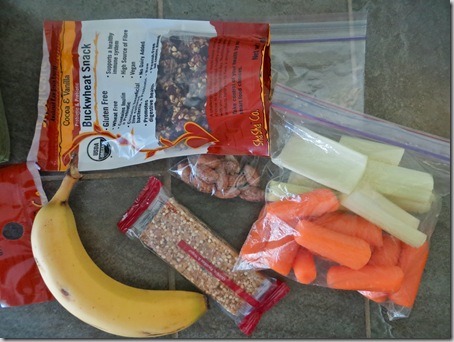 Work snacks: buckwheat granola (meh), carrots and celery, banana, Hail Merry vanilla maple almonds (love!!!), quinoa granola bar (didn't try yet).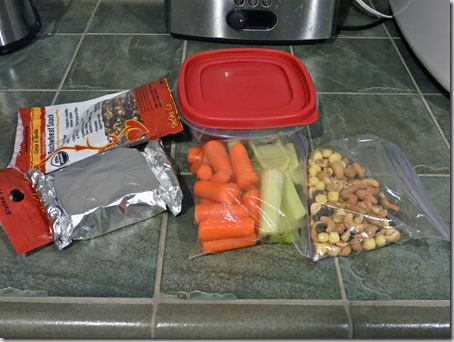 Work snacks: buckwheat granola, carrots & celery, trail mix.
Dinners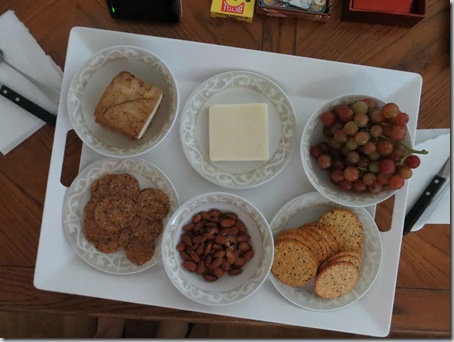 Baked tofu, Mary's Gone crackers, raw goat cheddar, grapes, Milton's crackers, and salty roasted almonds. 
A typical al fresco meal, but indoors (because it was so hot!).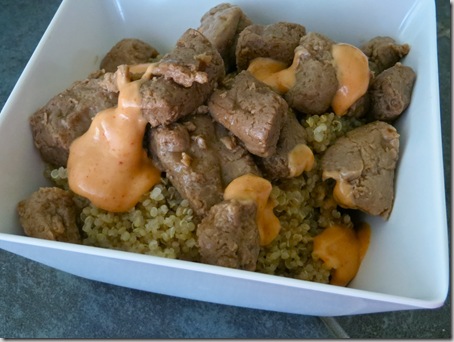 Seitan & quinoa bowl with sriracha vegan aioli.  There's chard from our garden under there somewhere.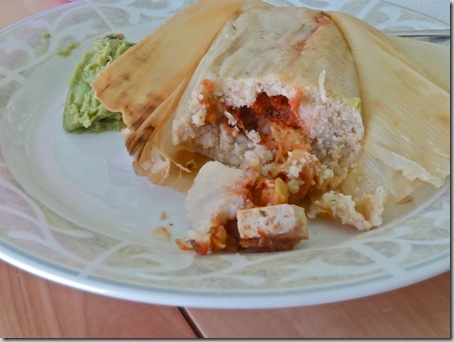 Vegan and gluten free tamales. 
This was round two of the aforementioned tamales (even though the pics are from the first serving).  I had the rest of the guacamole (yup, the entire tub just for meeee) and two more tamales.  Can I get a pat on the back for stopping (when I was full) after eating 3 tamales, rather than just finishing off the 4th one just because it was there!?!  So unlike me!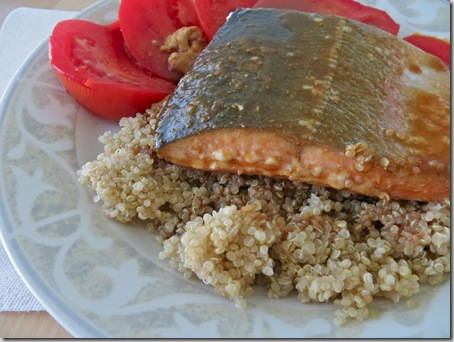 Quinoa with salmon and tomato slices.
Those tomatoes were some of the most flavorful ones ever.  Thank you home-grown produce!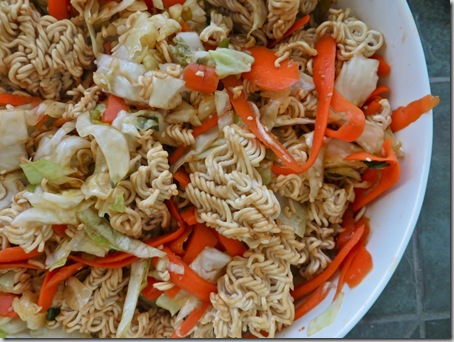 Imitation WF fumi salad.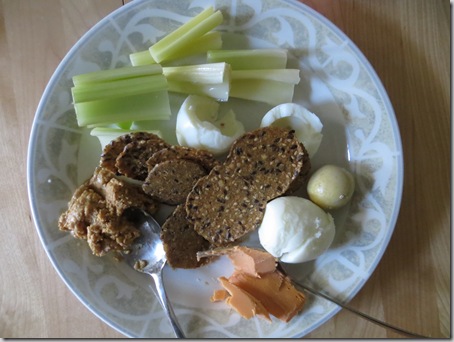 Post work assorted mish mash.  [I had the same thing the following night of work too, so no photo]
Holler if you want recipes to any of these and I'll try to eventually share!