Wednesday was a clean out the fridge day.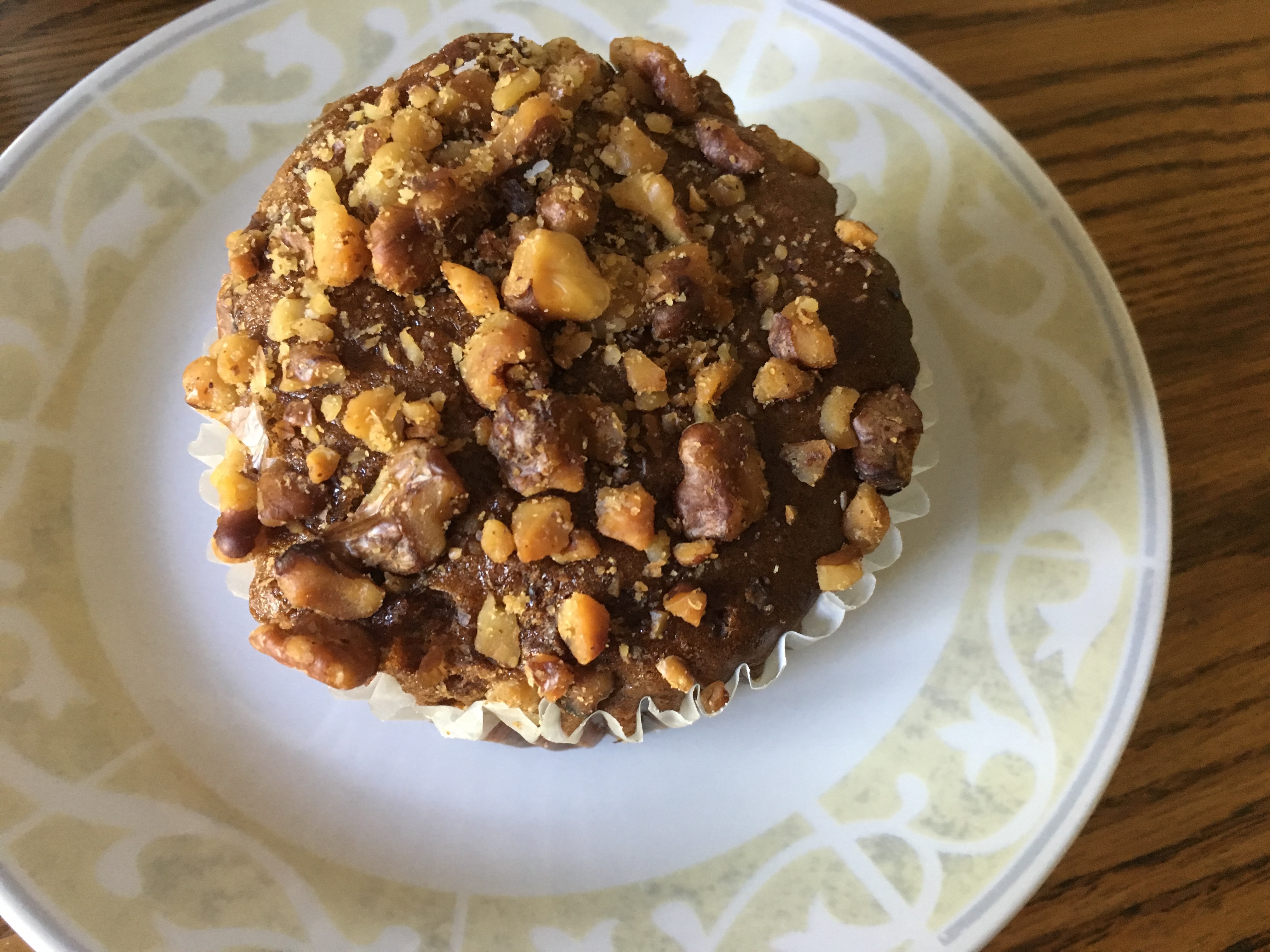 Starting with the extra (vegan GF pumpkin walnut) muffin I got at Temple on Sunday am.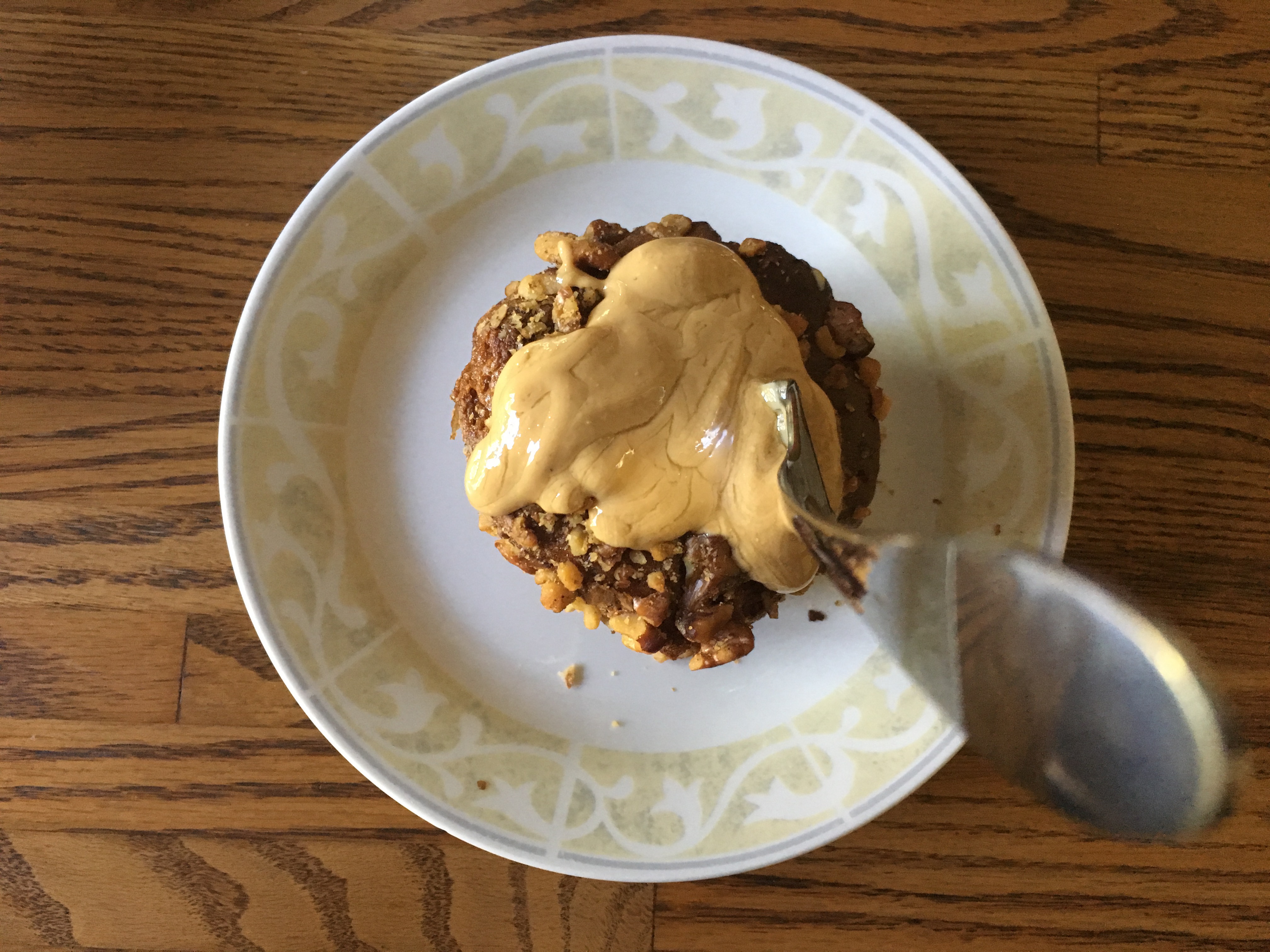 It got the cashew butter treatment, naturally.
I had just ridden my bike back from dropping P off at school and V announced she was still hungry (after a full pancake breakfast!).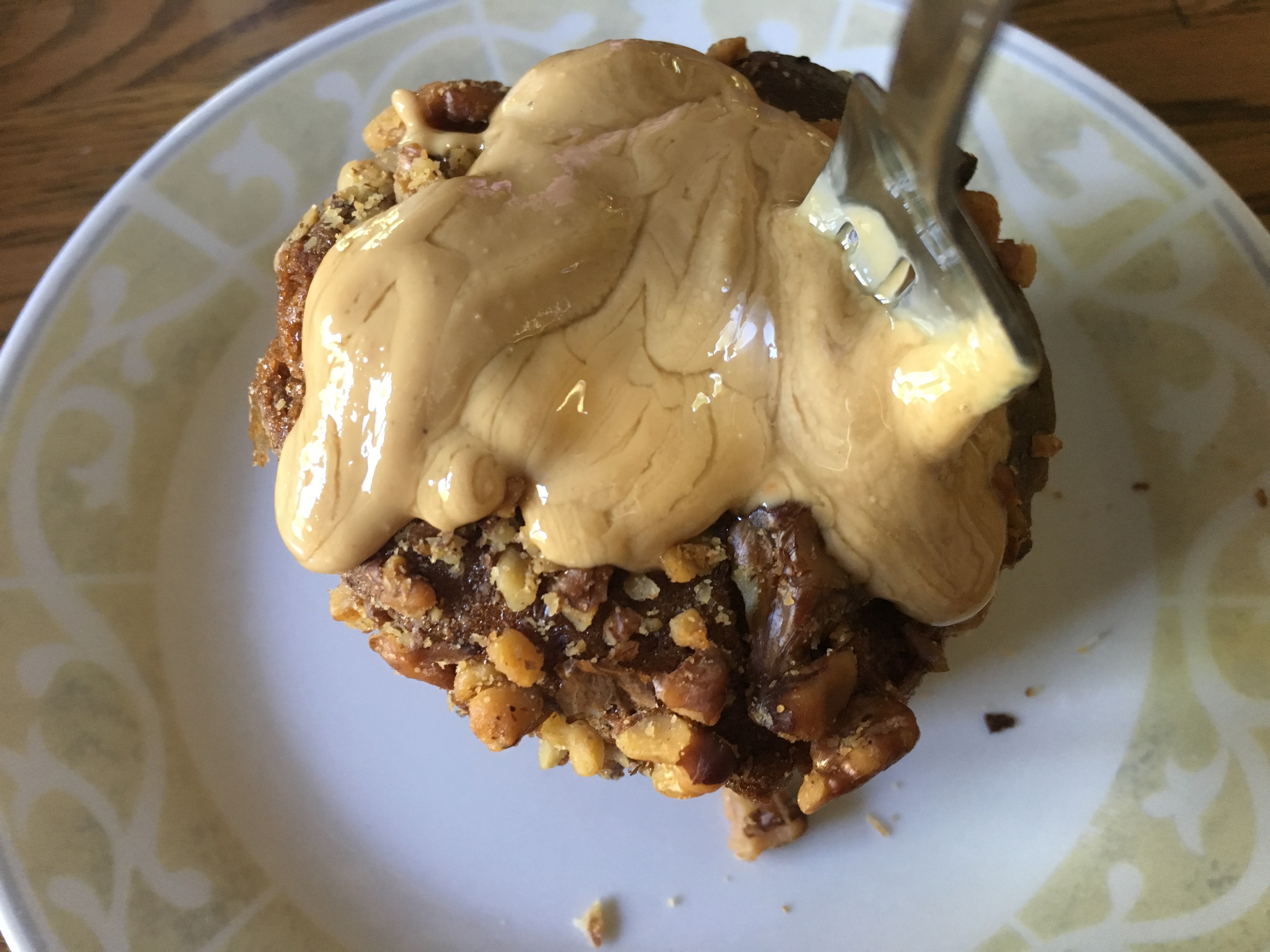 So I gave her some cucumbers to munch on while I ate my muffin.  I was really trying to avoid sharing my breakfast with her and she seemed happy to stick to her own fare, so that was a pleasant surprise.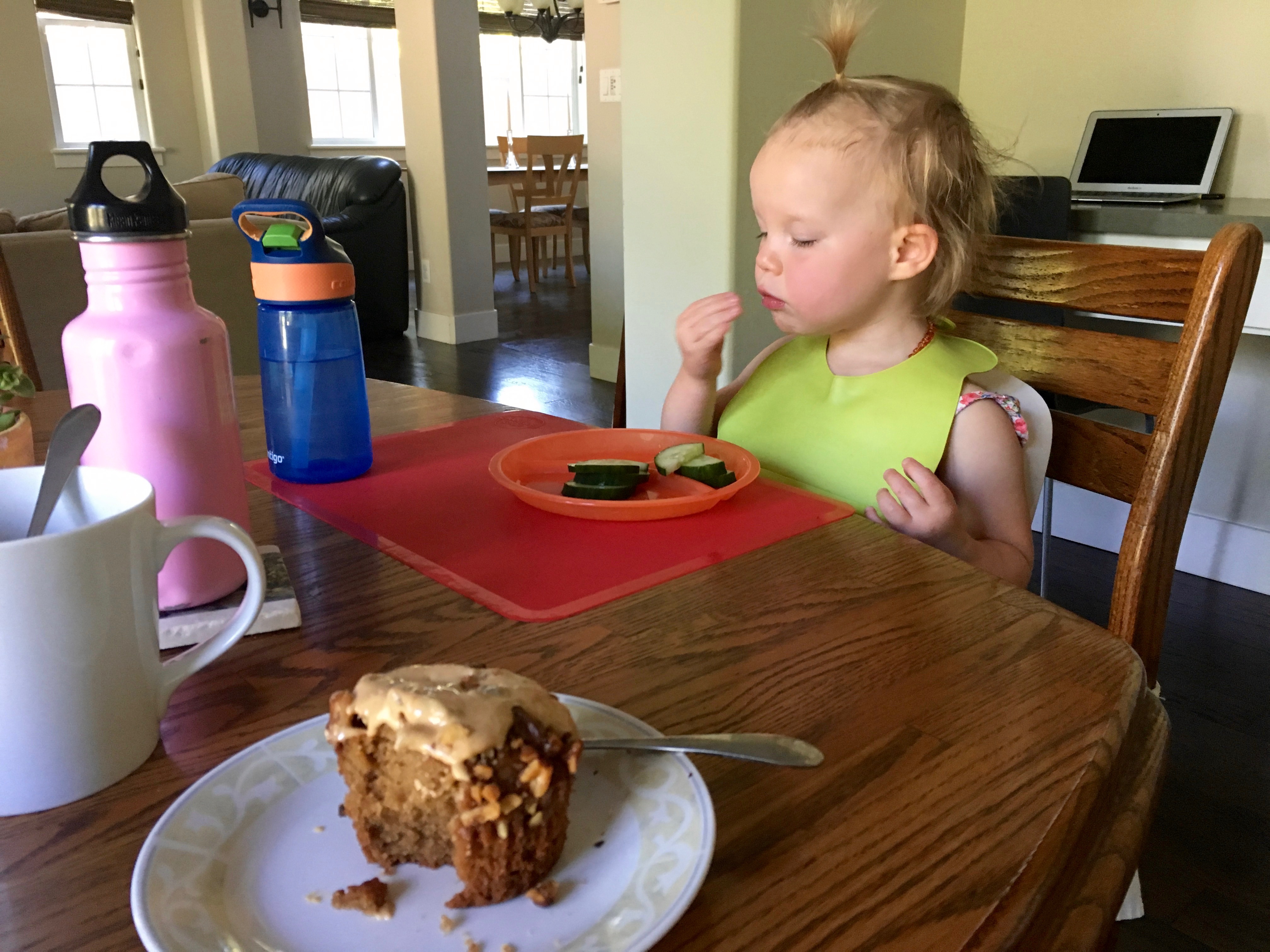 We spent the morning at the park until it was time to pick P up at school.  It was "bring your favorite food to school" day which is basically my worst nightmare, so I had my phone in my pocket all morning long.  I sent one mom's PB cookies back home with her, which made me feel shitty, but the teacher didn't tell anyone not to bring peanuts DESPITE IT BEING A "PEANUT FREE" SCHOOL so I had to be the bad guy.  Whatever.  It's my lot in life.  I hate doing it, but it's really my only option.  People who don't have kids with allergies don't get it.  The mom, of course, completely understood and just had a brain lapse so she didn't care about taking the treats back home, but still, I left feeling bummed about it.  I had to quiz every parent as they walked in about what they had brought…previously I have emailed people in advance of these kinds of events (Christmas and Valentine's Day, for example) but I was hoping I wouldn't have to do it again this time.  I should have anyway though.  It's something I'm going to have to get used to. I guess my fear is being labeled as "that mom" but I need to get over than because it's not about me or my rep, it's about my kid's safety.  I'll probably be doing it forever.  At least his OIT is going well though.  And also, the school he is going to next year is crazy super mega on top of it with allergens entering the school.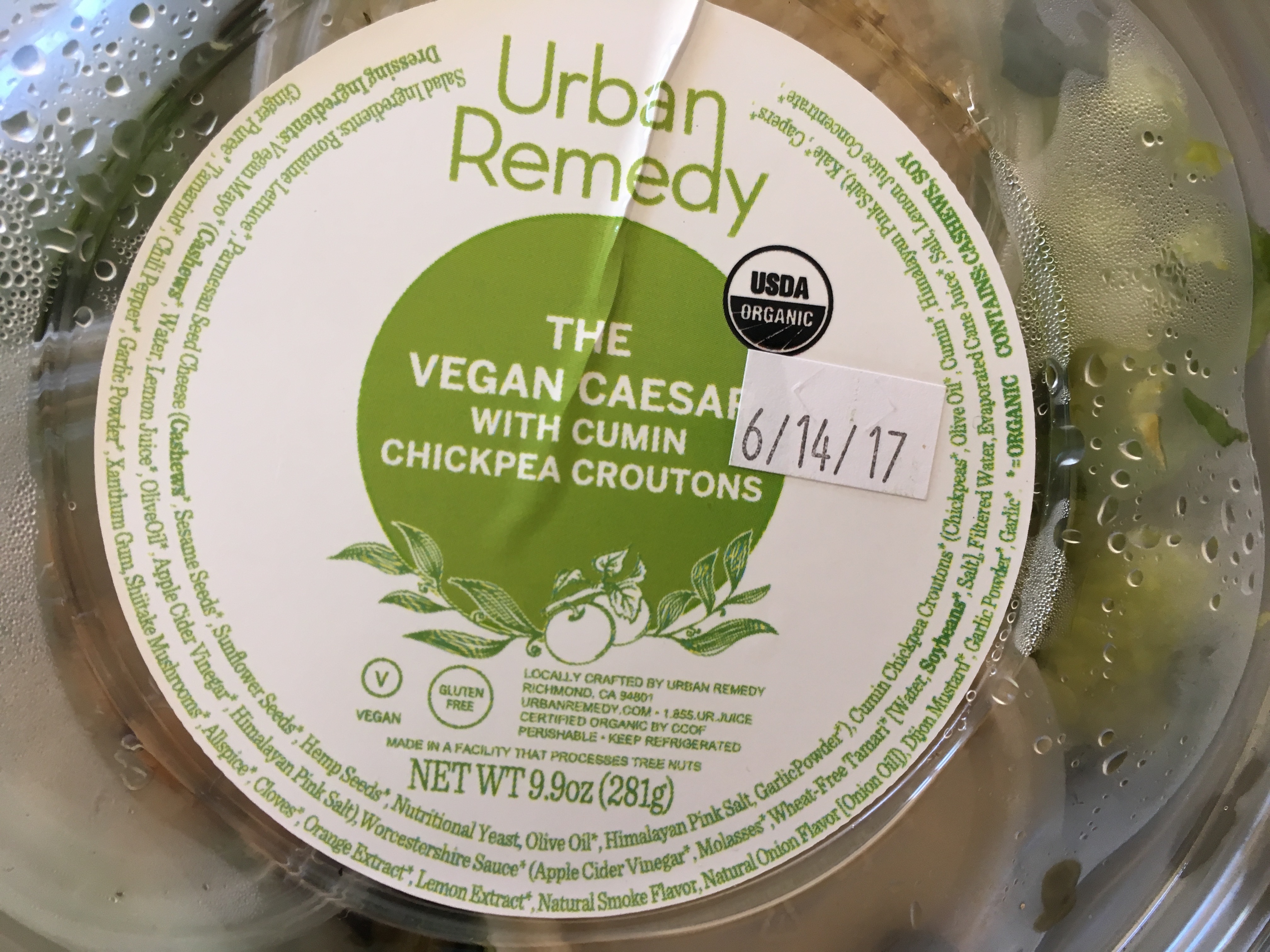 Ok so lunch!
I bought this at WF last weekend when I got the other Urban Remedy entree because I knew I'd want it as a treat one day mid week.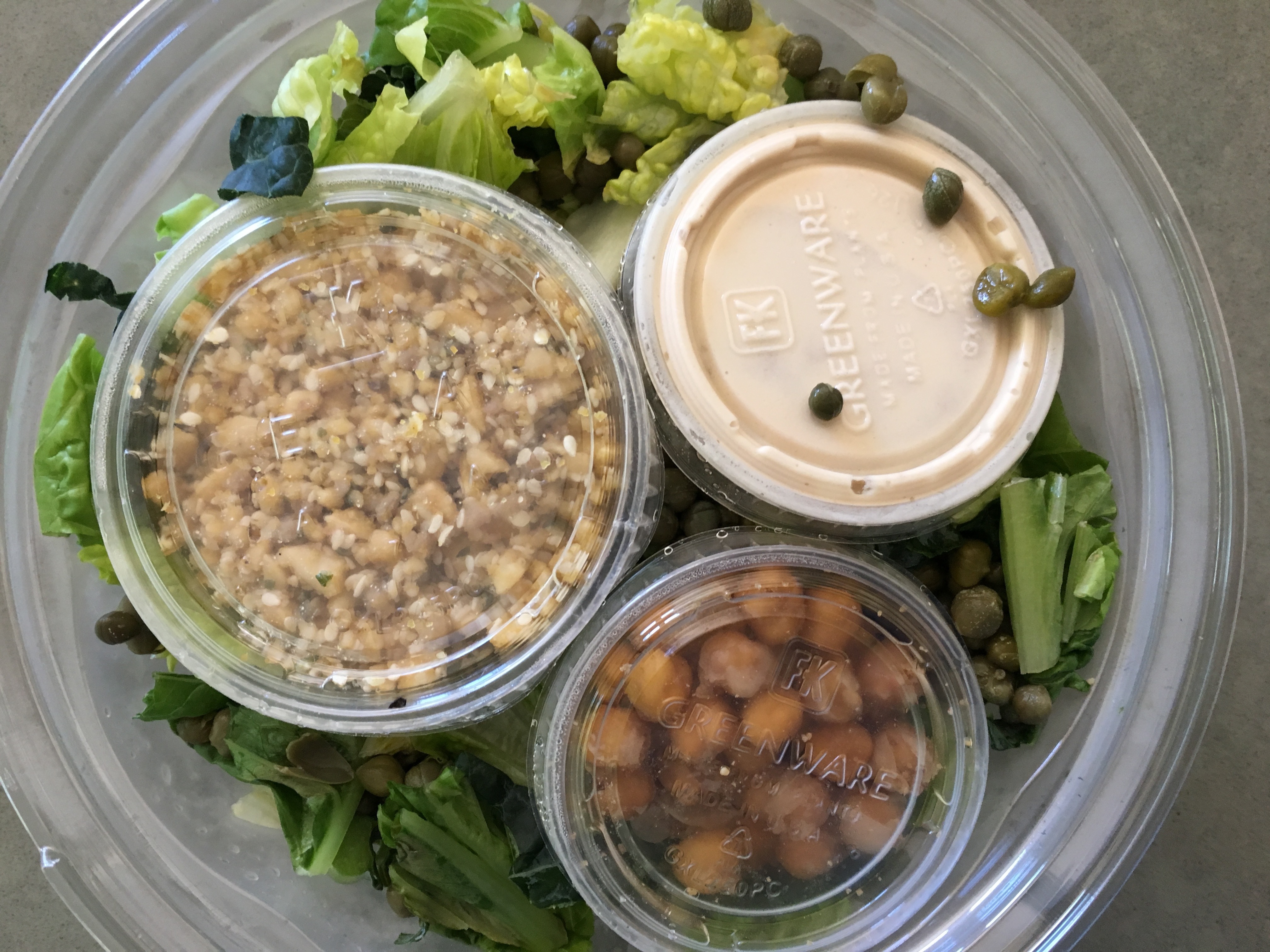 It was vegan and gluten free of course, and had cumin roasted chickpeas and a seed "cheese" topping with the most amazing dressing.
The "cheese" blend was sesame, sunflower, hemp, nooch, and salt and it was o u t s t a n d i n g.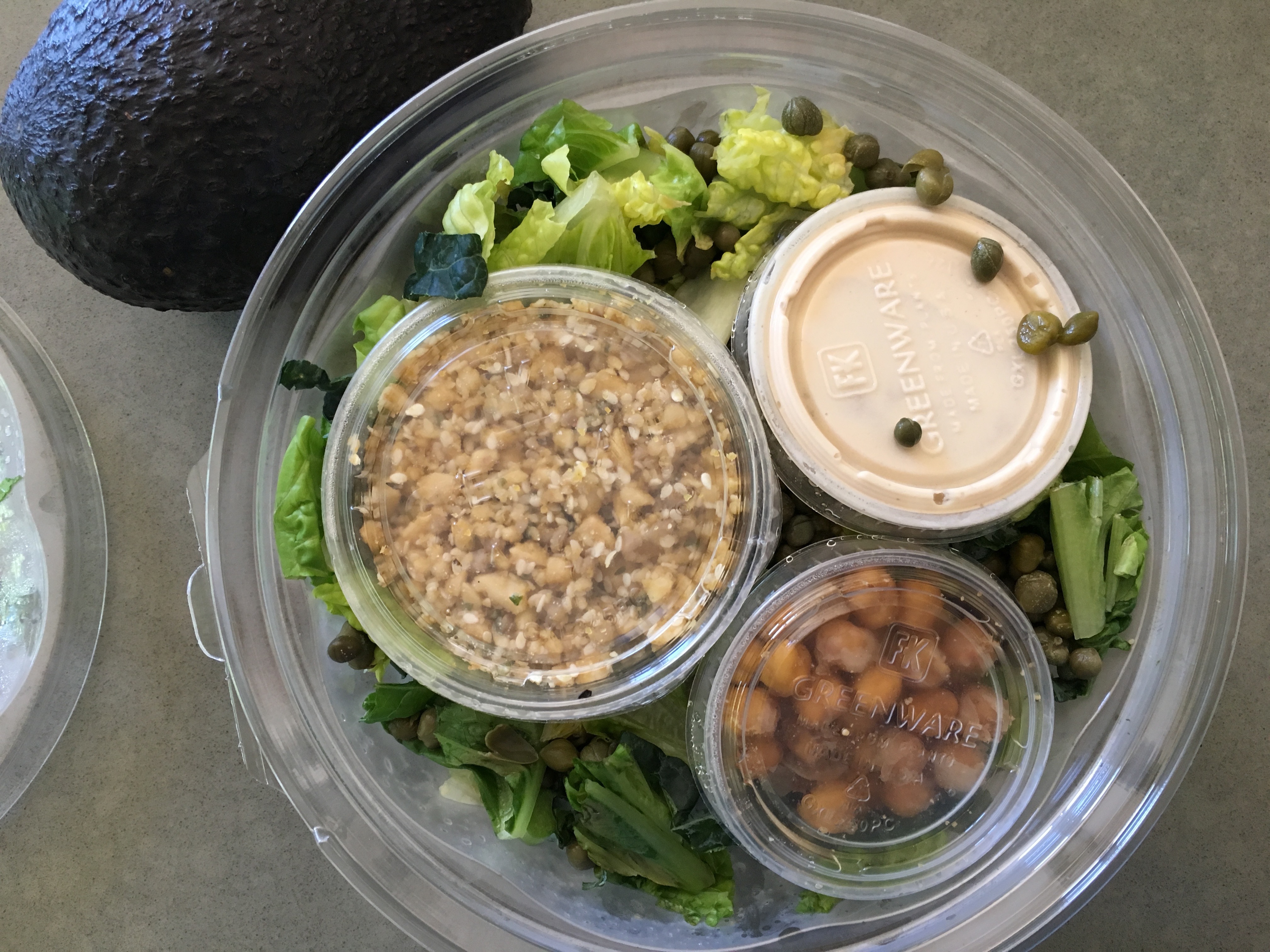 I added an entire avocado and I'm not joking when I say this: it was the best salad I've ever had in my whole life.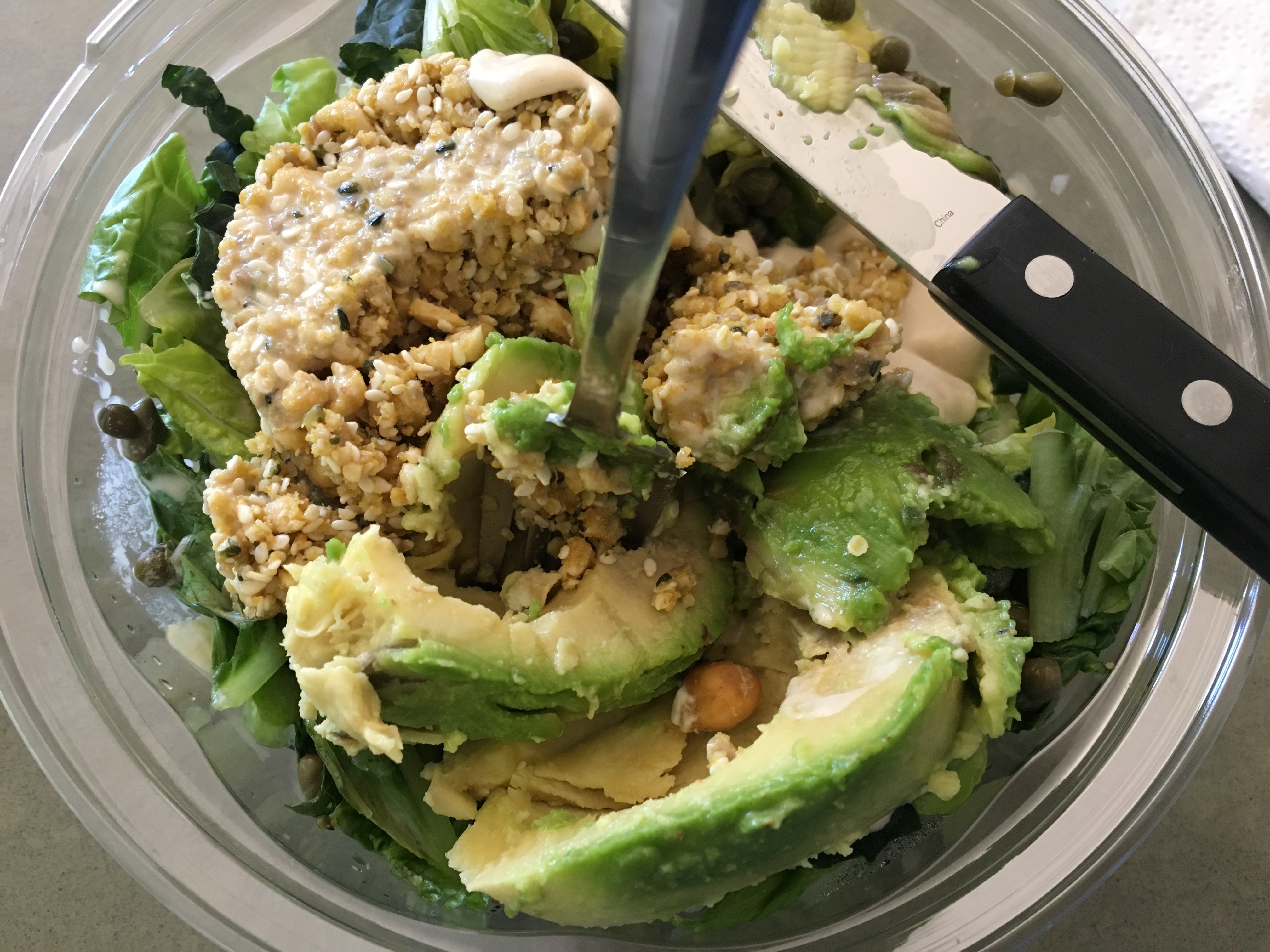 Every little thing was perfect!  The ratio of lettuce to toppings.  The capers.  The balanced dressing.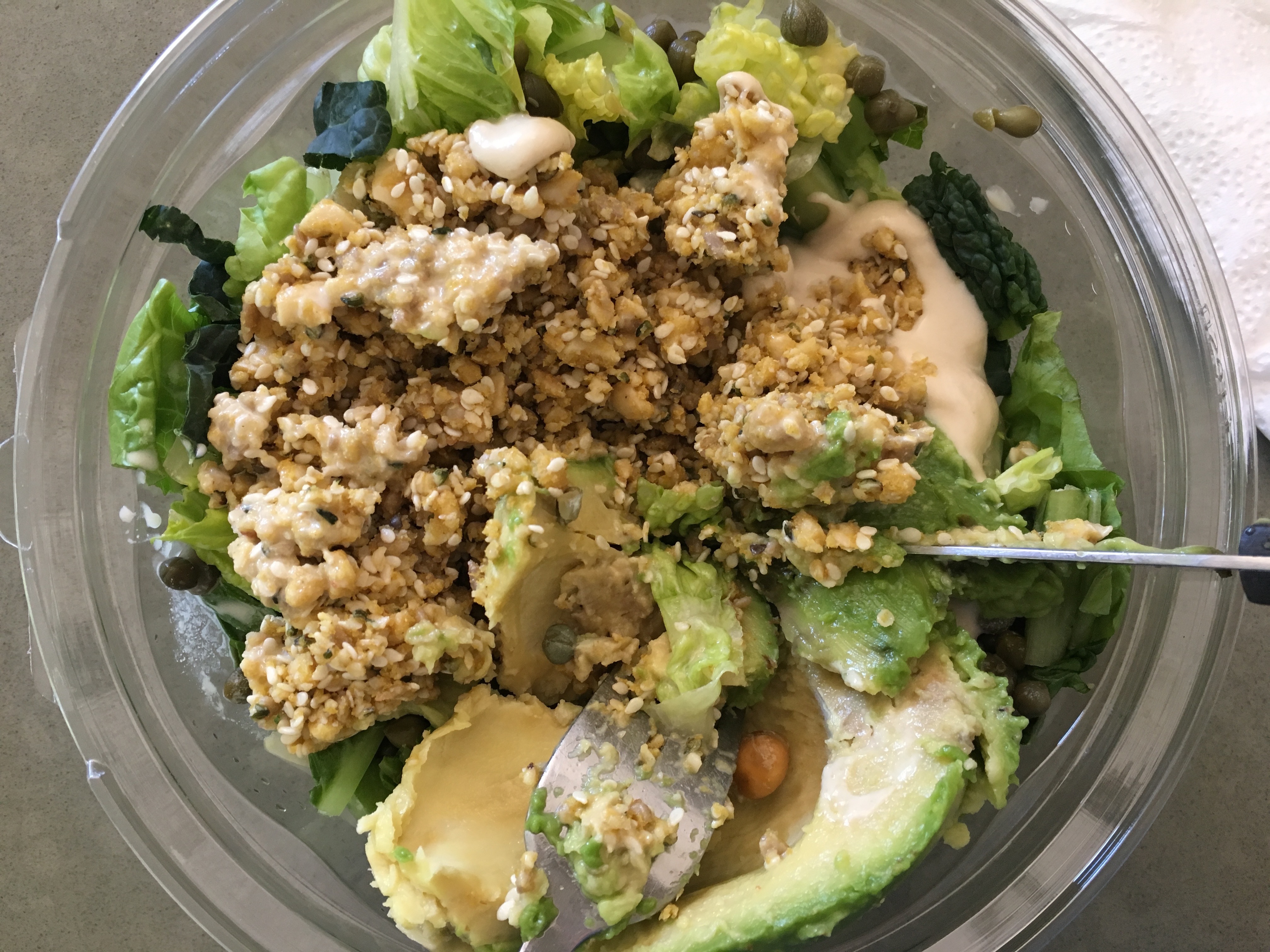 I would eat this for my last meal on Earth.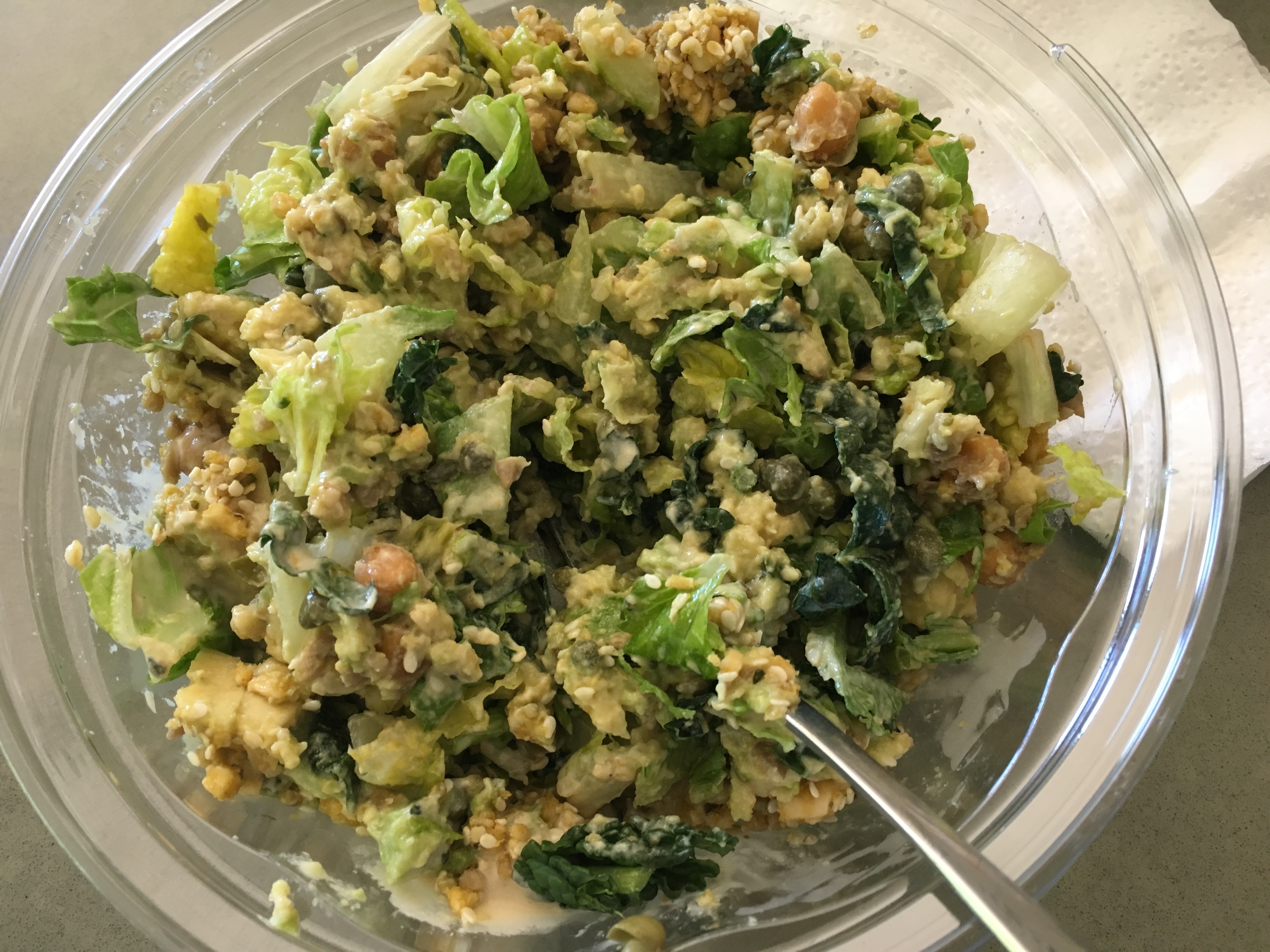 And it held me over!
I'm going to have to try to recreated it.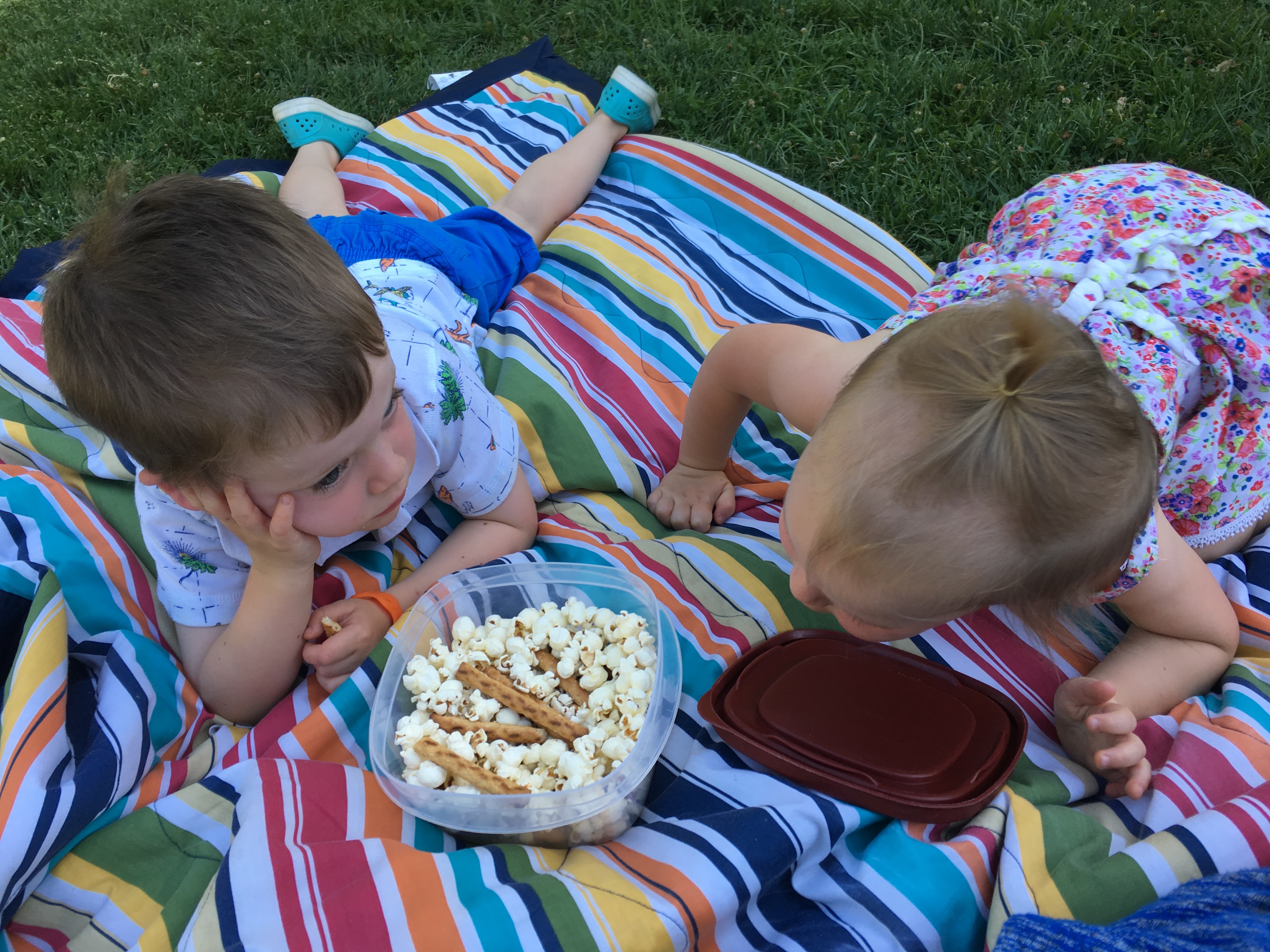 I brought their afternoon snack to market which they ate while watching and dancing to the music.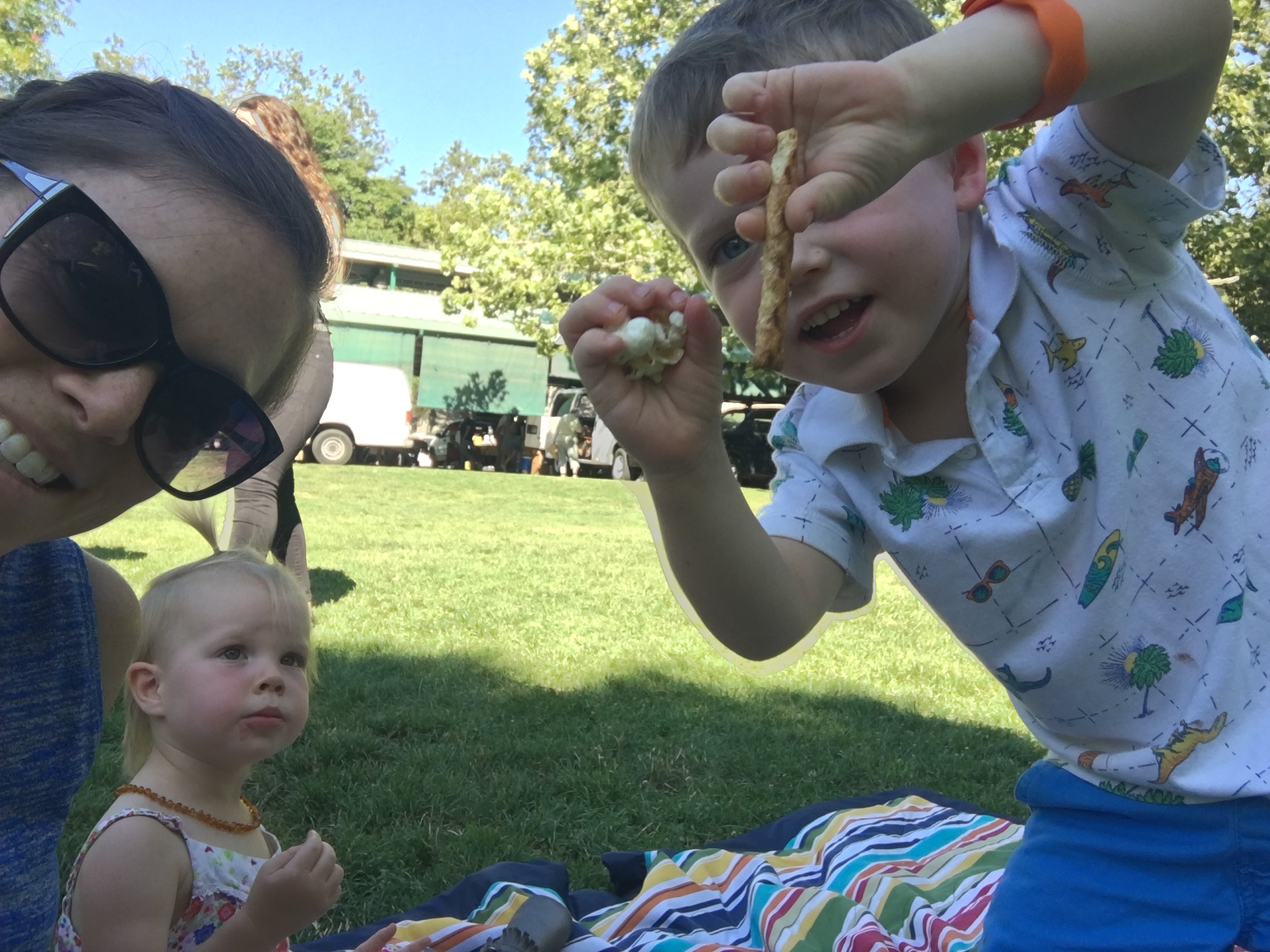 He wanted to show the camera that it was pretzel sticks AND popcorn.  Lucky kid 🙂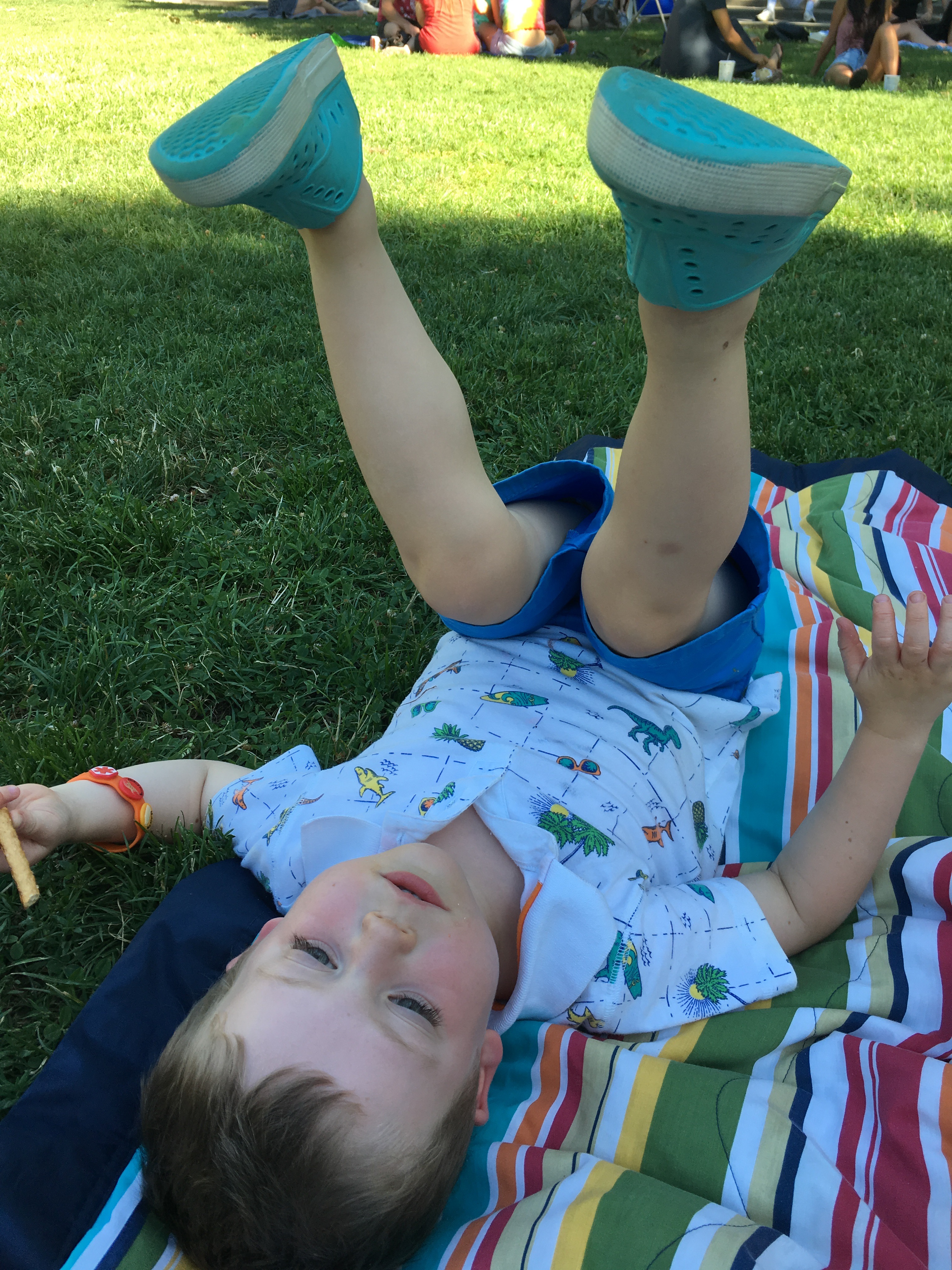 Relaxing all cool.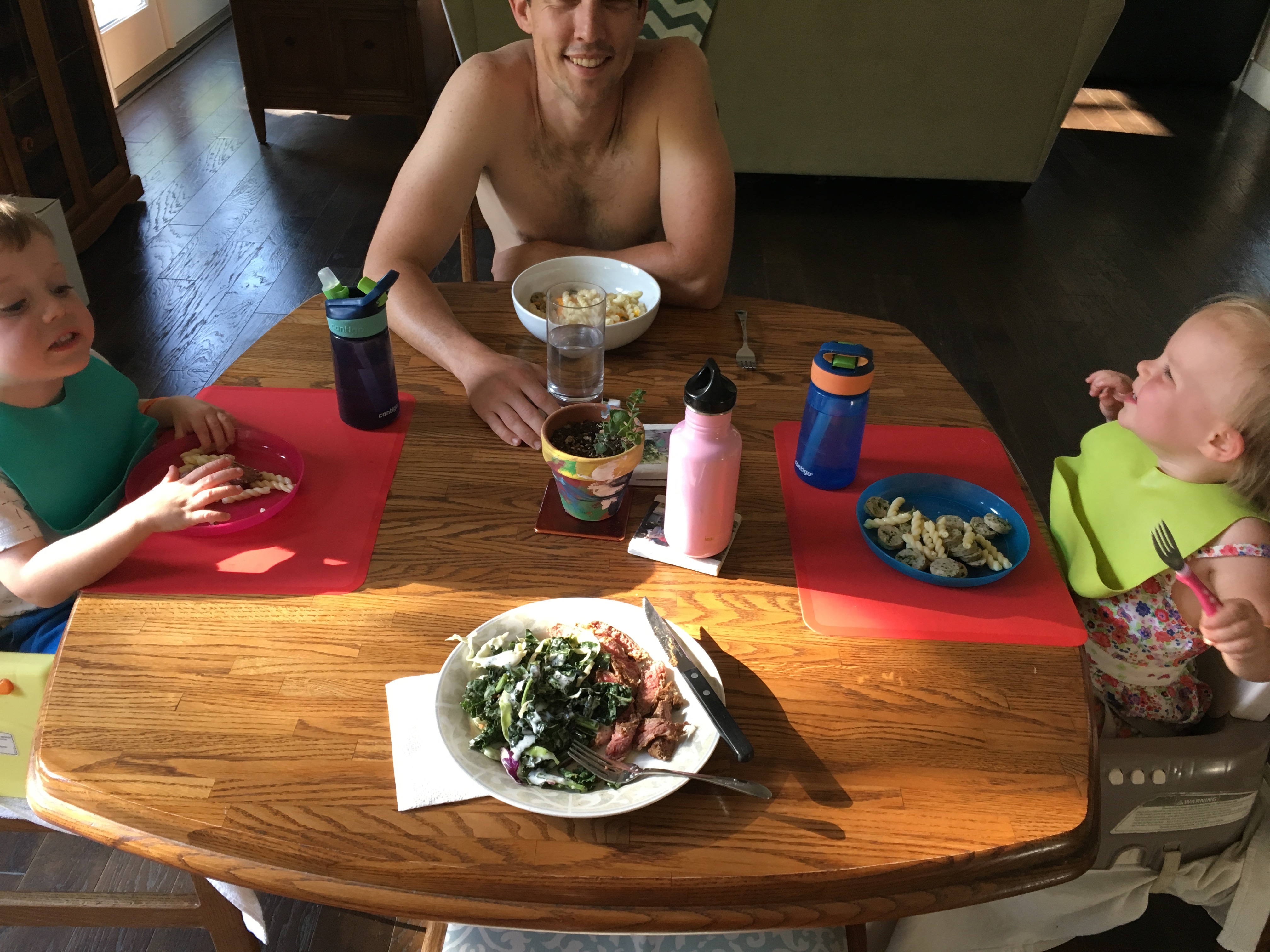 We did a fridge clean out of odds and ends for dinner…Pasta for Kyle and the kids, sausage for Kyle and V, steak for me and P, and leftover salad for me (which everyone kinda got bites of).
I rode my bike downtown that evening (once P's mini reaction to his dose was in check) for a girls' night.  Lots to celebrate, including law school and nursing school graduations, and a birthday.  I had this awesome blueberry and sage vodka drink with lime and lemon juice, which was so refreshing and then rode my bike home in the dark once the weather was cooler and it felt like the perfect summer eve.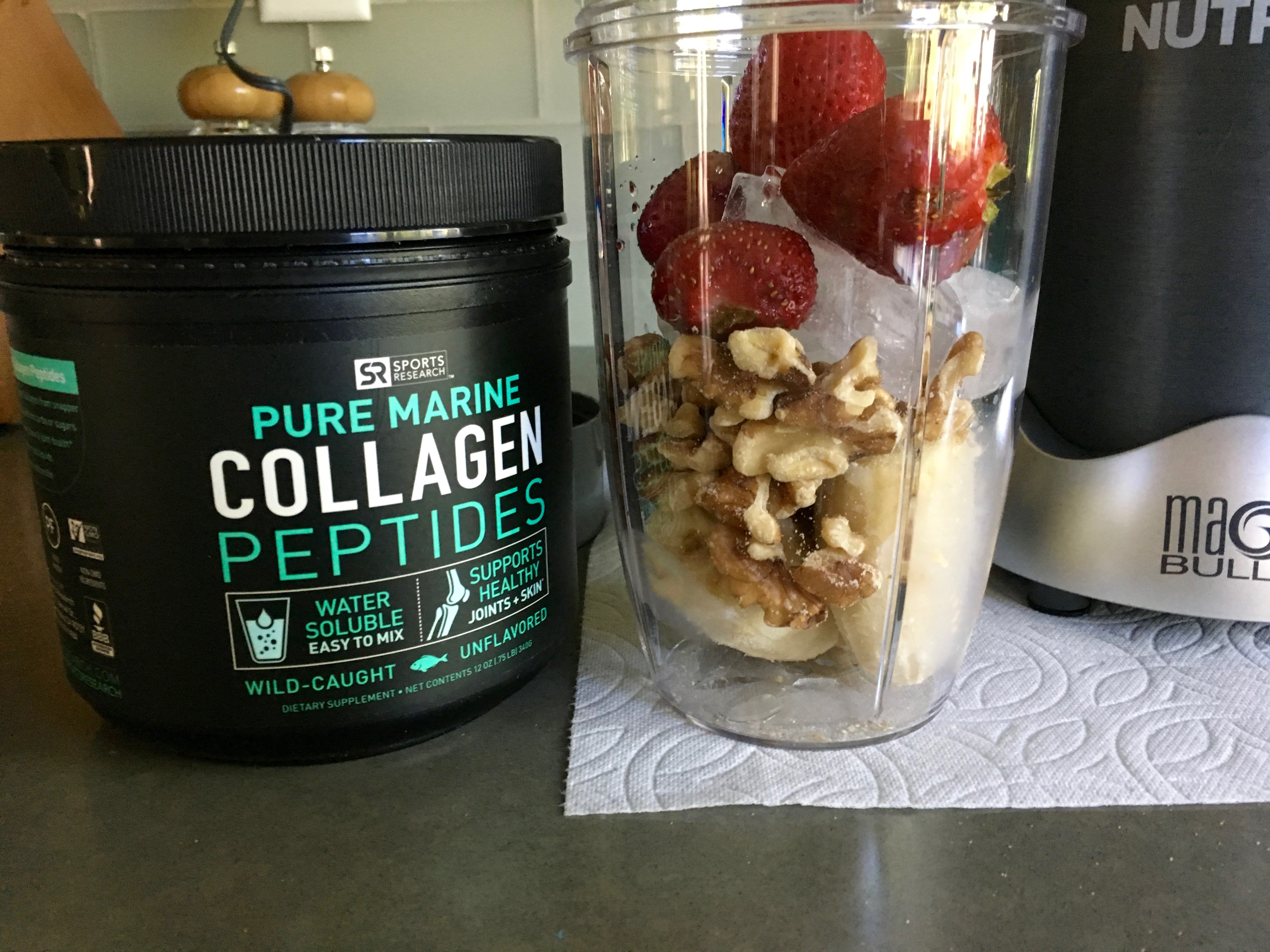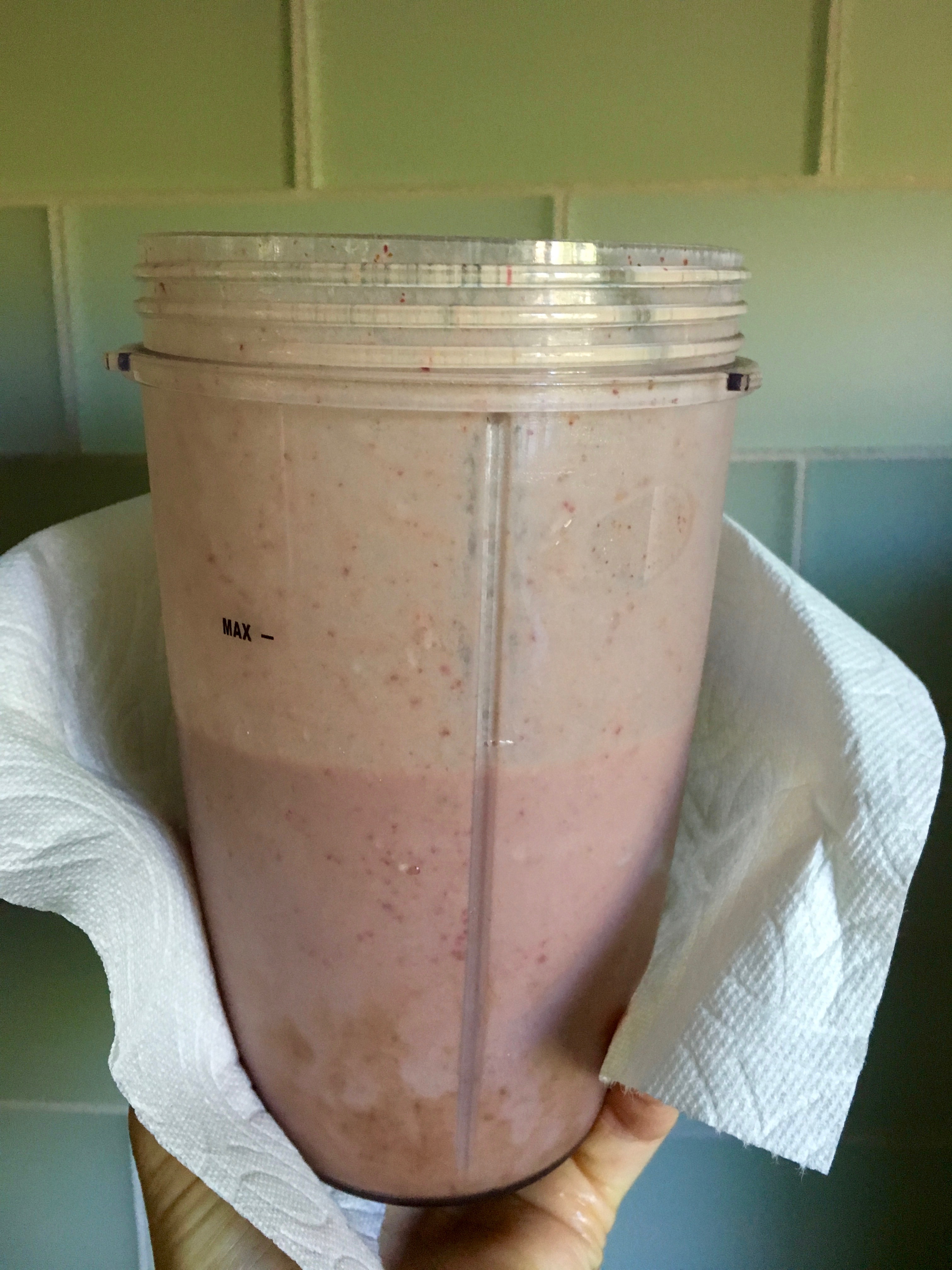 I balanced out the booze with a nutrient packed smoothie the next day.  I really really think the collagen is doing positive things to my gut.  I've been having reduced symptoms (especially ever since my GI bug earlier in the month) which has inspired me to take extra measures to keep my gut flora in balance.  Stay tuned for that post!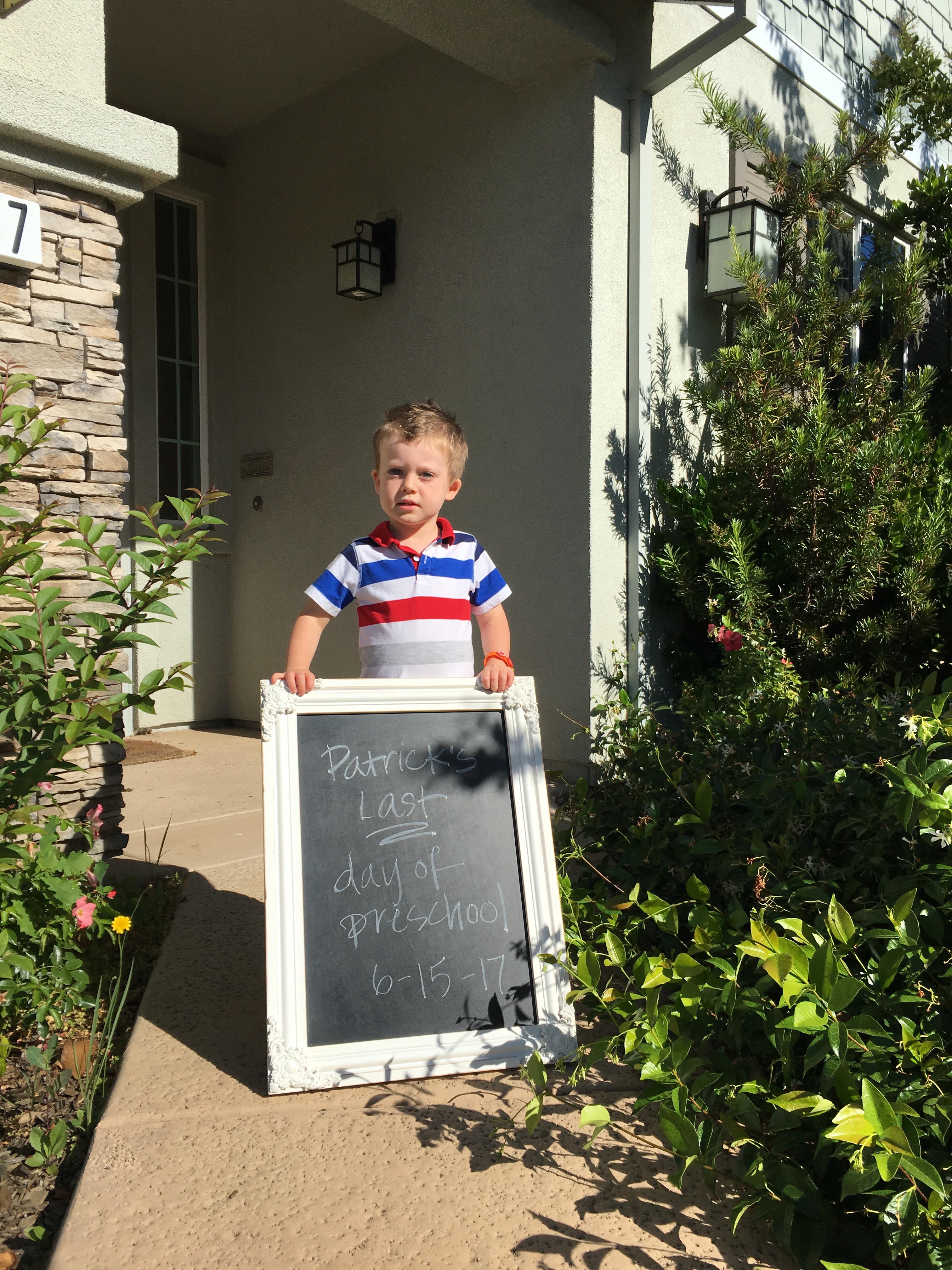 Oh my gosh how is this happening!
V and I went to his school pick up early because families are invited to join circle time on the last day.  It was so cute.  V was thrilled to play in the yard outside for a while before the bell ringer told us it was time to come in.  It was also adorable seeing their daily routine…counting to 30 before they go in and wash up…then doing circle time and singing whatever songs each kids requested for the last day.  It was an hour I will never forget and made me feel so good about his first year of school.  Allergy stuff aside, he truly thrived there and what else can you ask for as a parent?  I'm now regretting not signing up for more activities and camps and whatnot this summer because it's HOT in Davis and I'm used to having at least 3 mornings of him being fully stimulated not by me.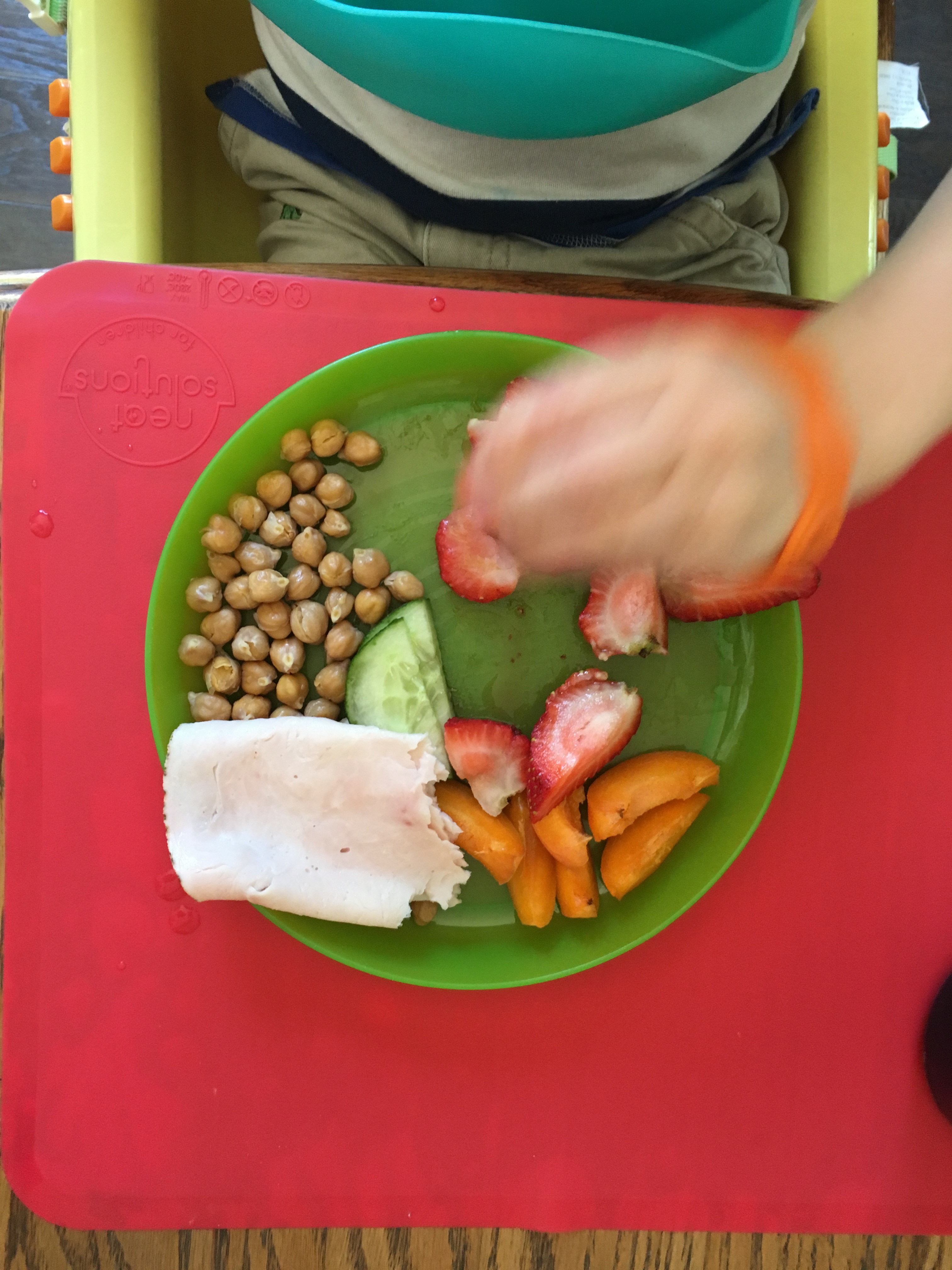 He had a huge snack at school but still had quite the appetite at lunch.  We did stay extra long at school though, so it was a late lunch for them both.
V was definitely way ready for her nap by the time we got changed into PJs and read stories. And then, even P was having a hard time during quiet time.  I asked him if he thought maybe he wanted to take a nap and he said yes, and then fell asleep the second I tucked him in.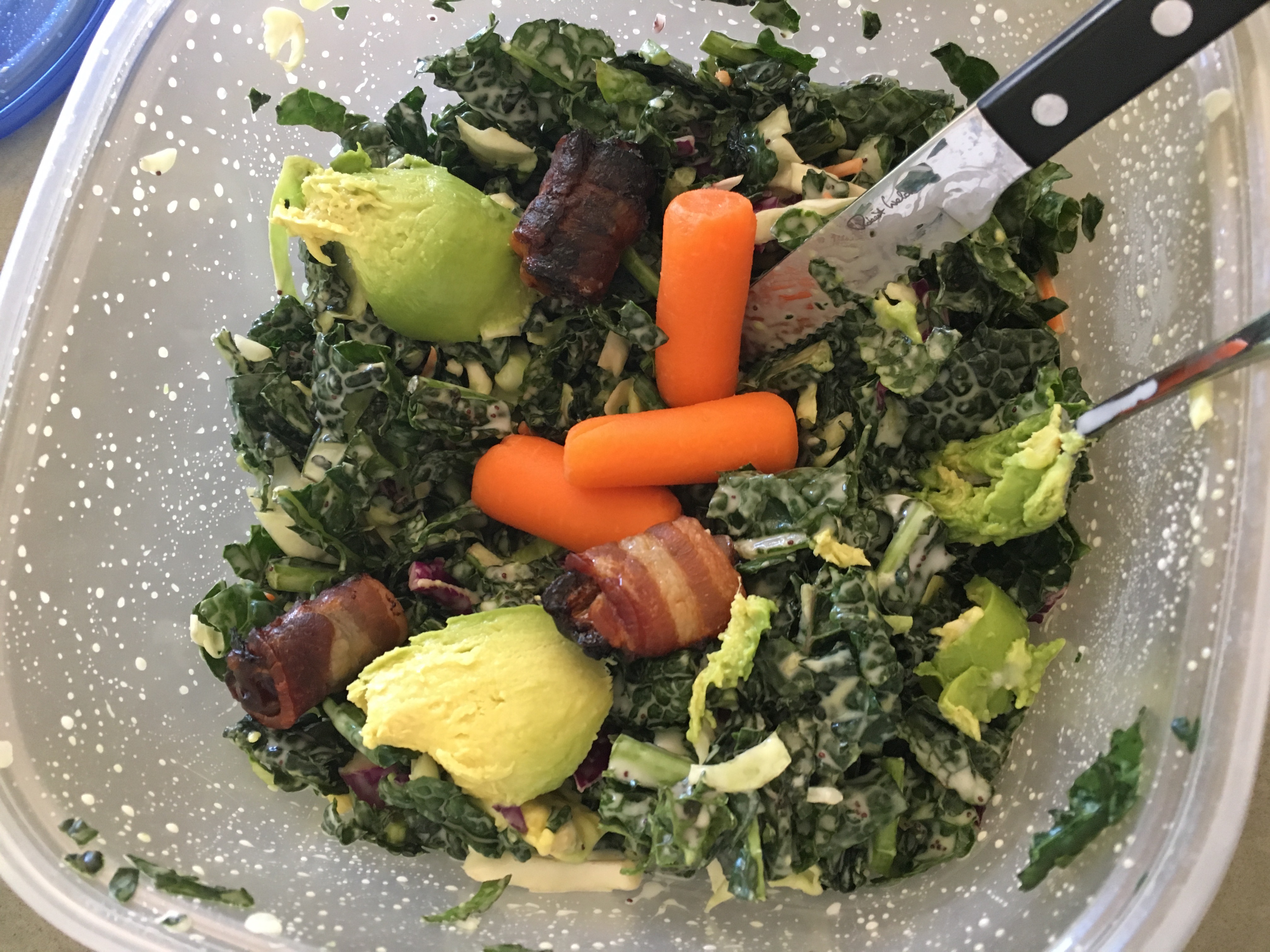 Which meant I had a nice peaceful lunch, followed by dinner prep.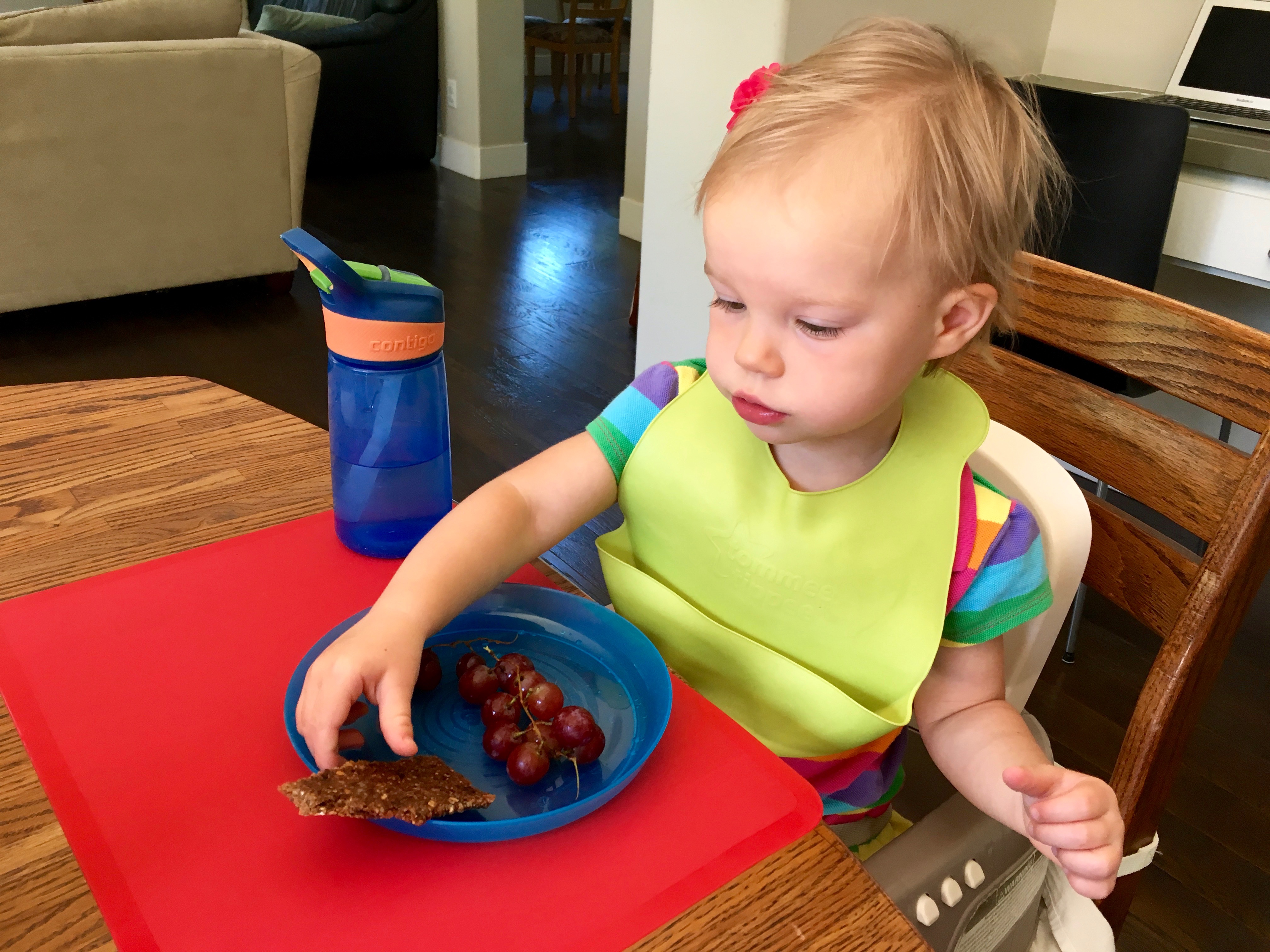 Soccer was cancelled because some of the coaches were sick so I coordinated a play date with my friends (who's kids were in the class that got canceled too).  We went to the shadiest park we knew of and set up blankets to hang out on while the kids played.  I brought a soccer ball and someone else brought an air rocket launcher and the kids played SO WELL together for hours without much adult intervention needed.  It was amazing!  V joined them for most of it too, which thrilled her to no end.  After they had run themselves into sweaty messes, we headed home for dinner.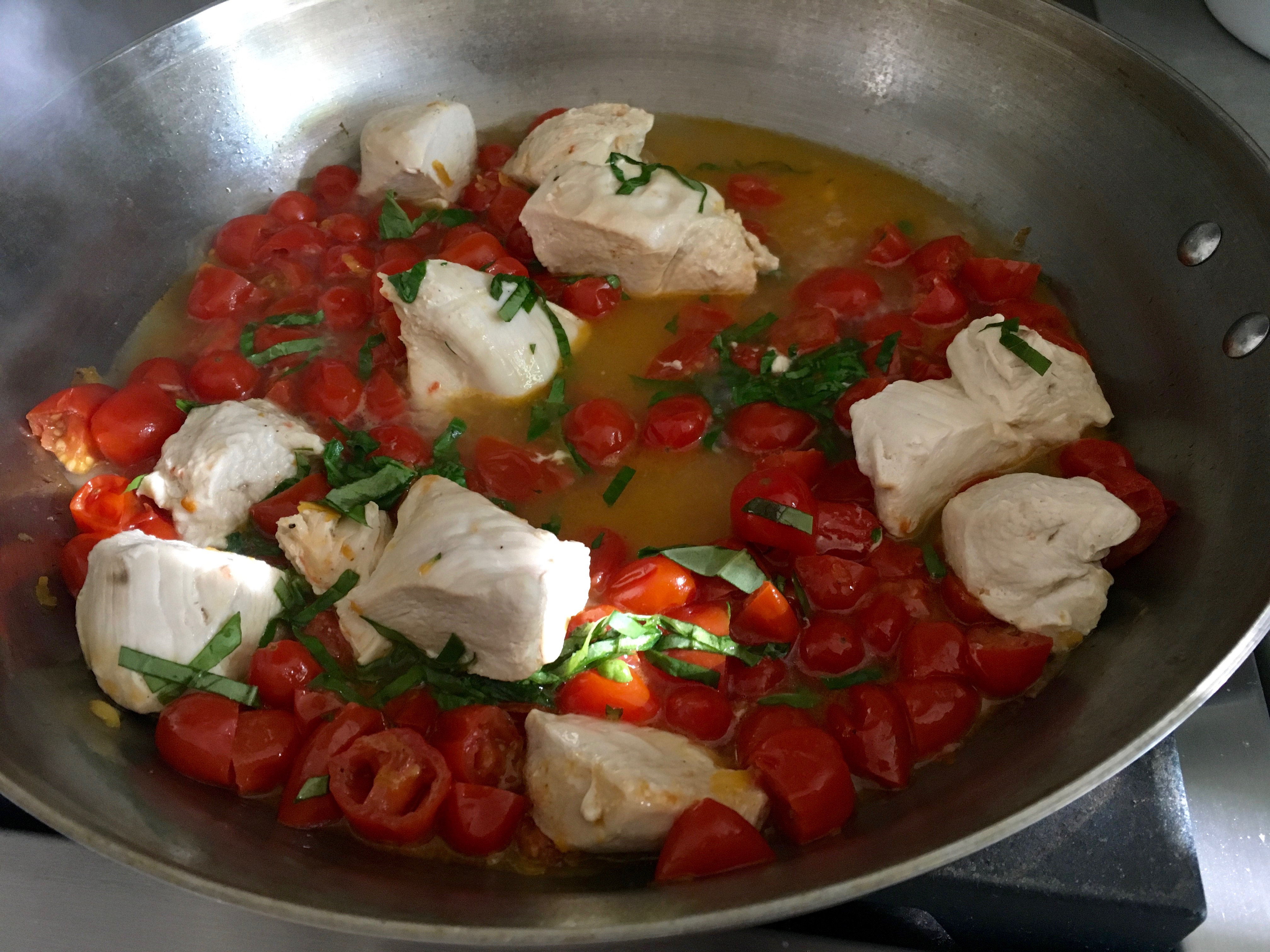 I used this recipe for the sauce, but swapped cod for chicken (next time I may use cod!). It was amazingly flavorful.  I highly recommend the recipe.
I served it over quinoa and gave P a tomato free version, which he totally gobbled up.  V was slow on the uptake but eventually realized she liked it.  Weirdo.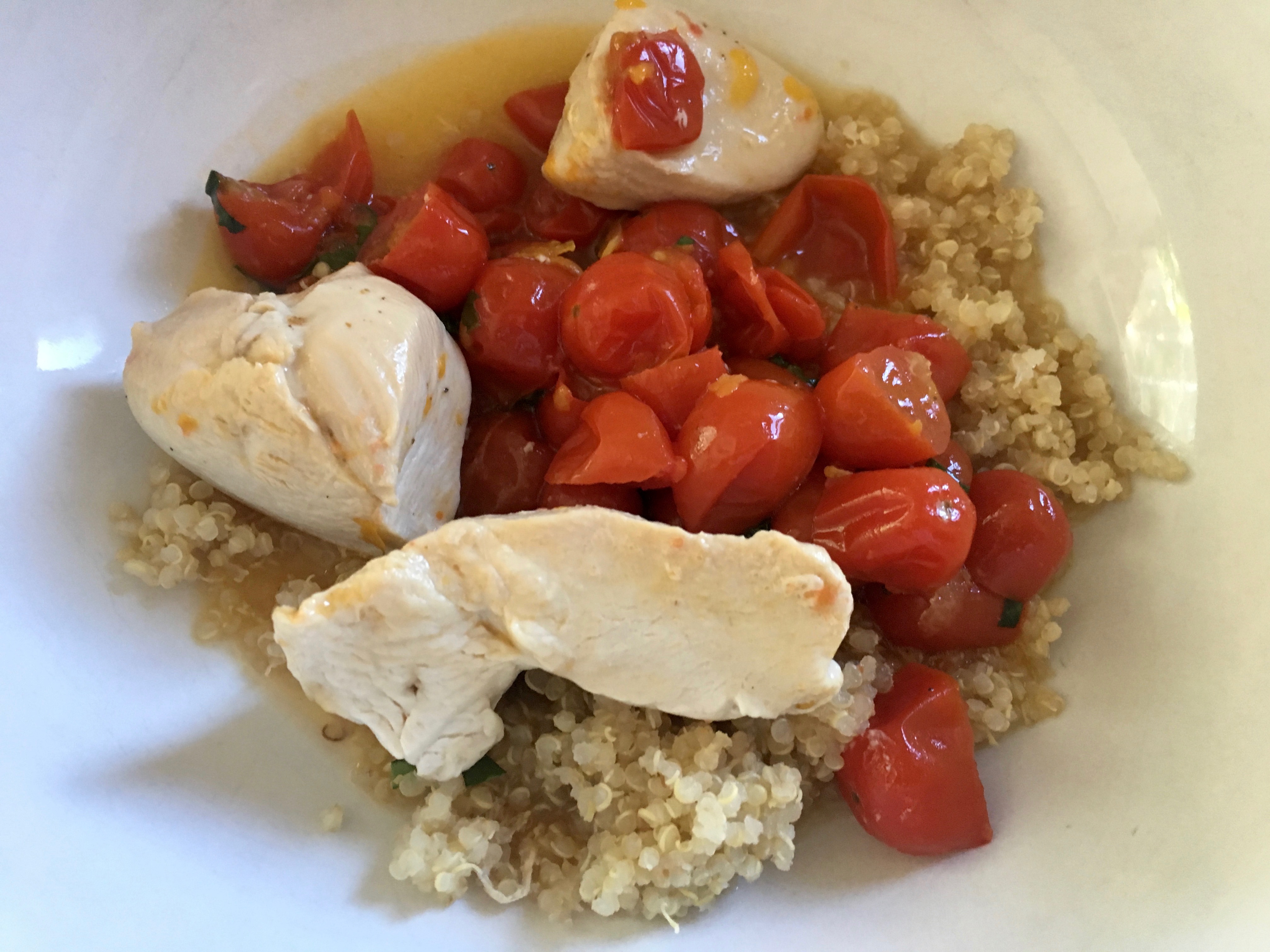 I went back for seconds, as did Kyle.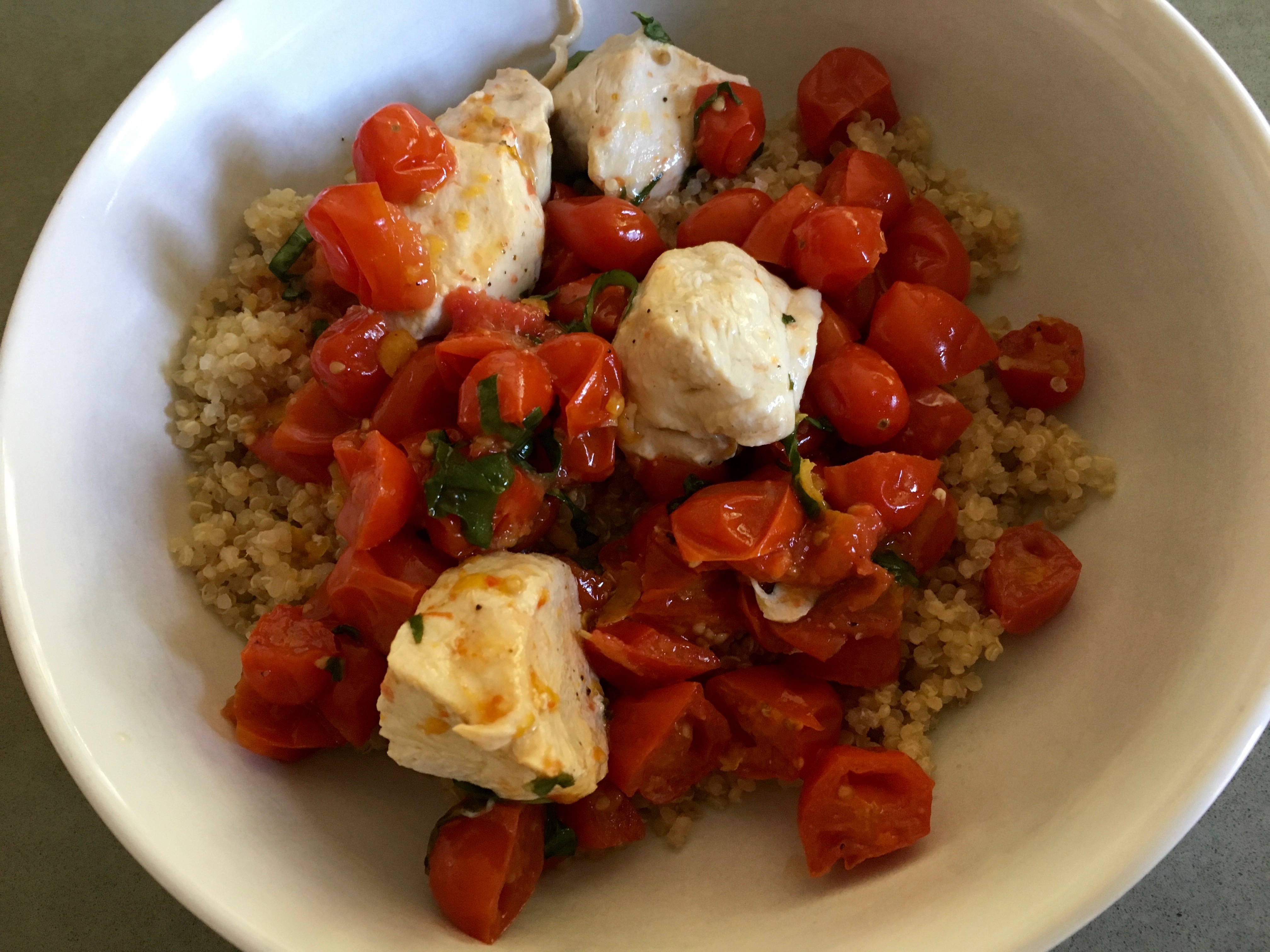 And then we packed the car up and drove down to my parents' house for the bath time and bed time routines.  And chocolate.  They were VERY nice to share their chocolove salted almond chocolate with me, despite having bought it for themselves.  🙂 🙂 🙂
I only have another week or so of pm chocolate sessions until I start a SIBO regimen that I've been looking into for way too long now.