I've been obsessed with Whole Foods' vegan tempeh salad forever.  If it's at the salad bar, I have a very hard time passing it up.  Sometimes I use the soup containers and just buy a 1/2 pint of it for a few days worth of meals…I add it to grains, greens, toast…anything and everything (click here for proof!).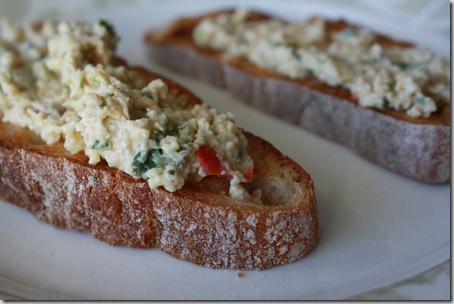 A google search combined with some of my own sleuthing (aka writing down the ingredient list off the WF container) produced this recipe…
Whole Foods vegan tempeh salad (vegan, gluten free)
16 ounces tempeh (I like Lightlife's flax tempeh)
1/4 cup sweet relish
1/4 cup celery, finely chopped
1/4 cup red onion, finely chopped
1/4 cup red bell pepper, finely diced
1/4 cup green pepper, finely diced
1/4 cup raw sunflower seeds
1/4 cup scallions, sliced *
2 tbsp tamari
2 tbsp parsley, finely chopped
2 tbsp lemon juice
1/2 tsp minced garlic *
1 tsp cumin
1 tsp dried dill *
1 cup vegan mayonnaise (I like Spectrum's Light Canola Mayo & Follow Your Heart's vegenaise)
*of course I tweaked the crap out of it by omitting the scallions, red onions & dill, using 1/2 tsp garlic powder instead of fresh, adding 2 tbsp tahini, and only using 3/4 cup vegan mayo.  While the OG recipe is fine for my tummy, my version is even lower in FODMAPS.
Directions:
Cut tempeh into chunks and steam for ~ 10 minutes (this minimizes the slightly bitter aftertaste).
Wait for it to cool and chop veggies to kill the time.
Once the tempeh has cooled, crumble it, add in all the spices/dried herbs, and mix thoroughly.
Next combine the seasoned tempeh with the chopped vegetables (and sunflower seeds).
Finally, add the mayonnaise.  Mix and serve.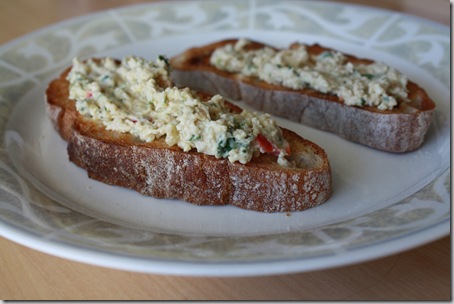 Enjoy!