This Monday I had MOPS and brought banana bread for my mama friends.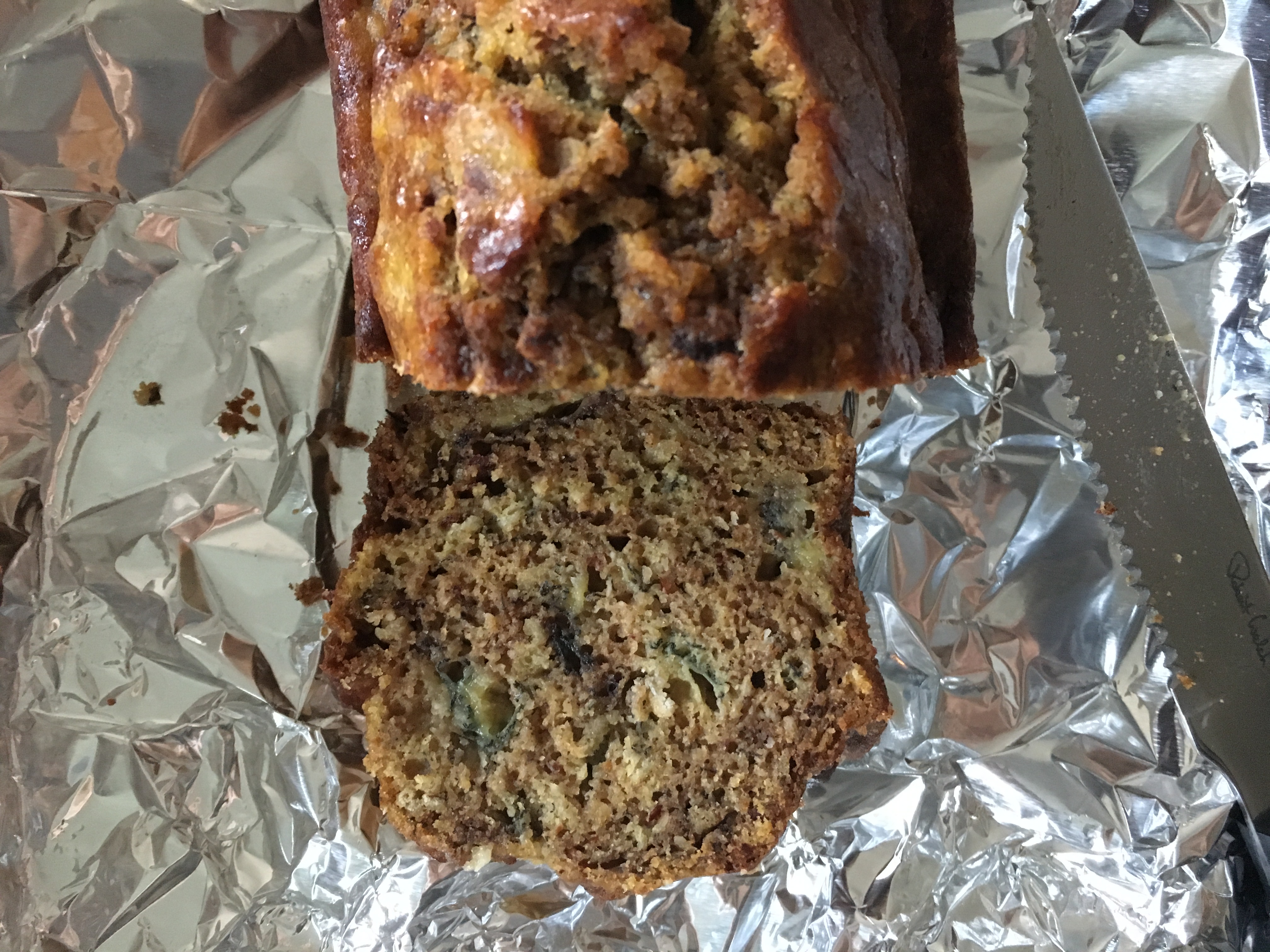 I made a bunch of loaves so the kiddos had some for breakfast.  They gave it the thumbs up.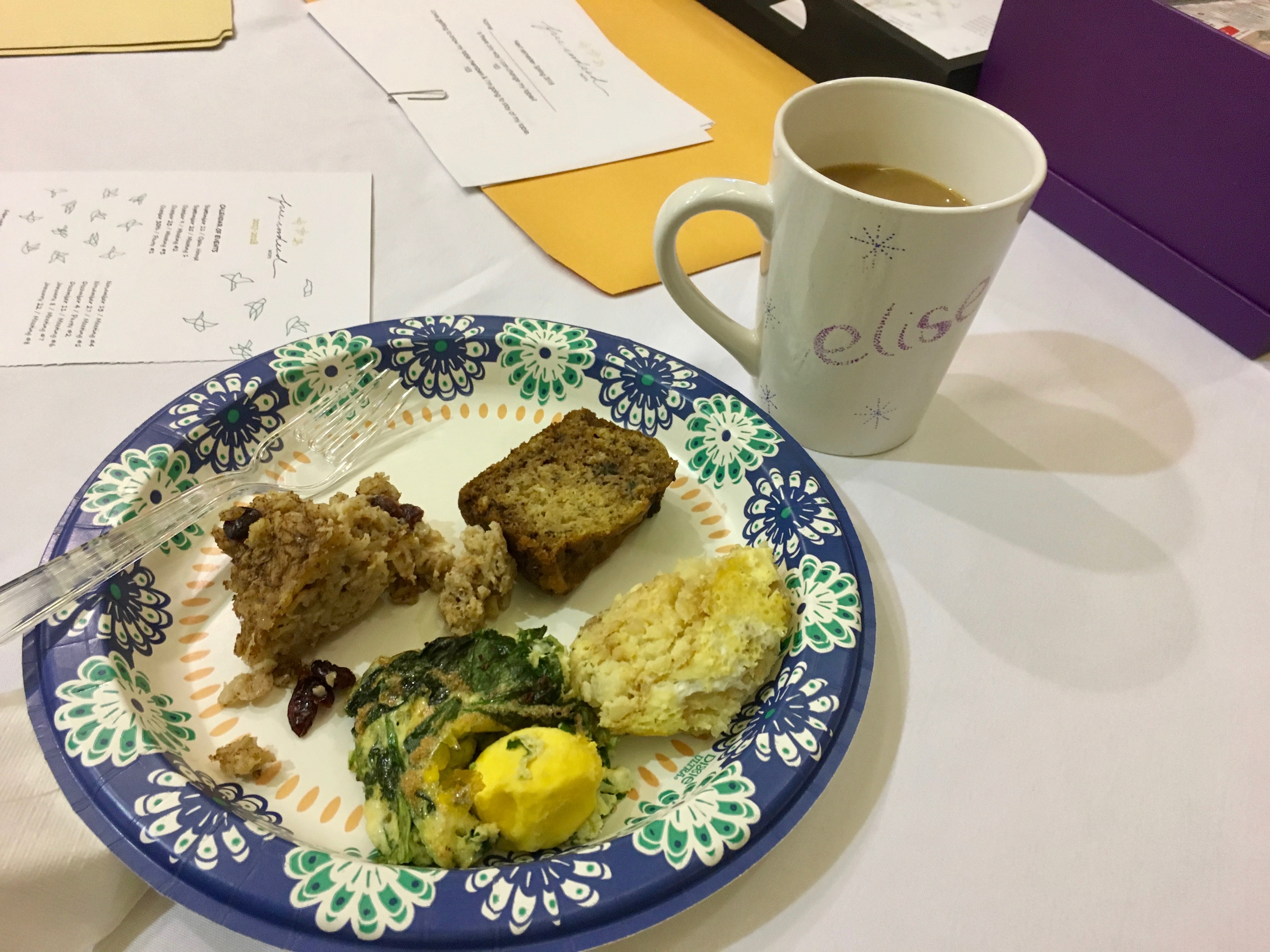 I had some of my own bread and nibbles of other stuff as well as heaps of coffee as we chatted the morning away.  It was a rocky start because V cried a lot when I dropped her off.  I stayed with her for a while and tried to get her comfortable but each time I'd start to talk her through my departure, she'd freak out and cling to me.  After a few times of this, the brilliant child care volunteer just told me to go.  It was so hard leaving her wailing.  I was nearly in tears myself.  But then one of my girlfriends went to check on her for me a while later and reported back that she was happy as could be so then I was able to breathe a bit easier and relax.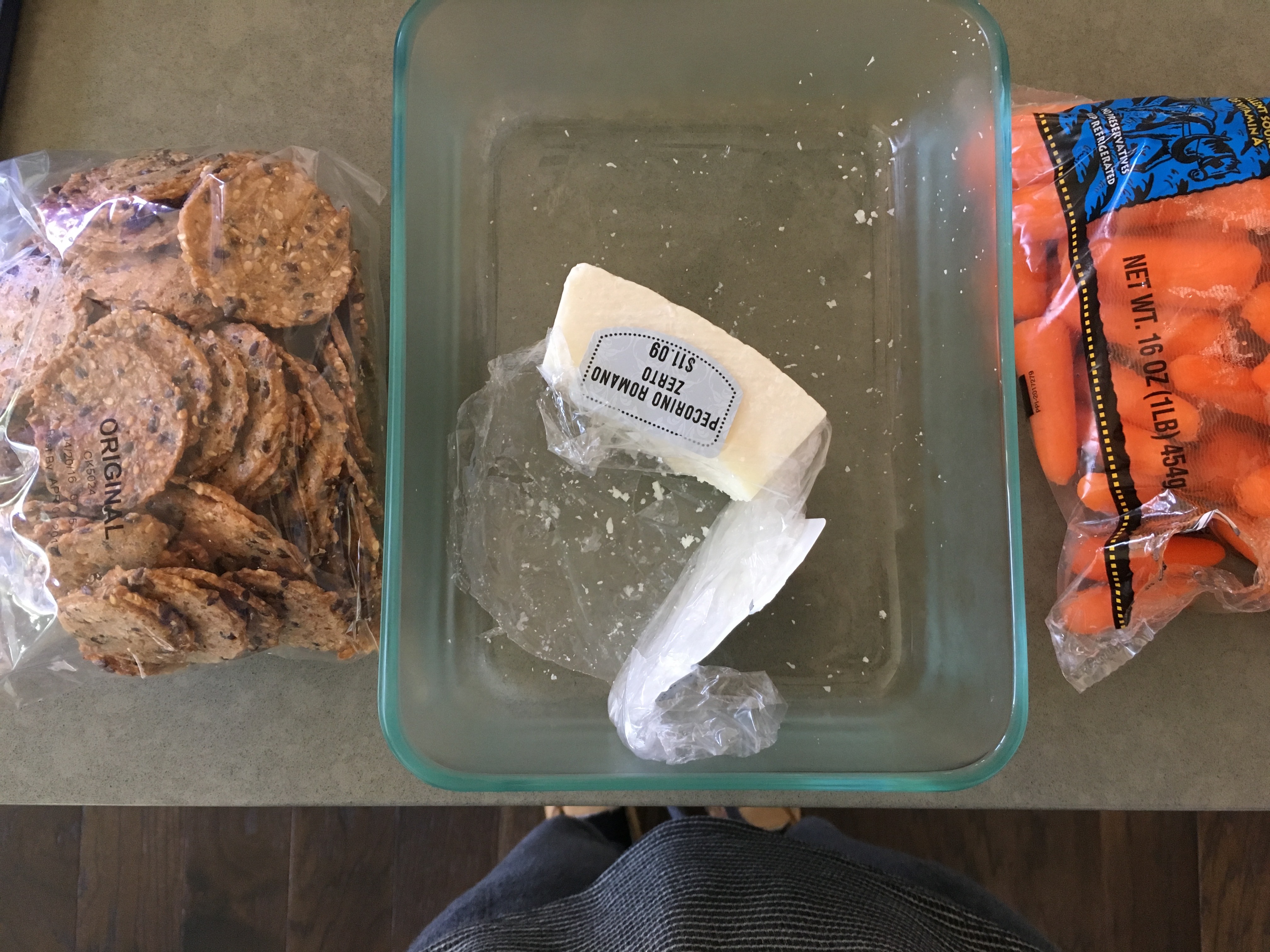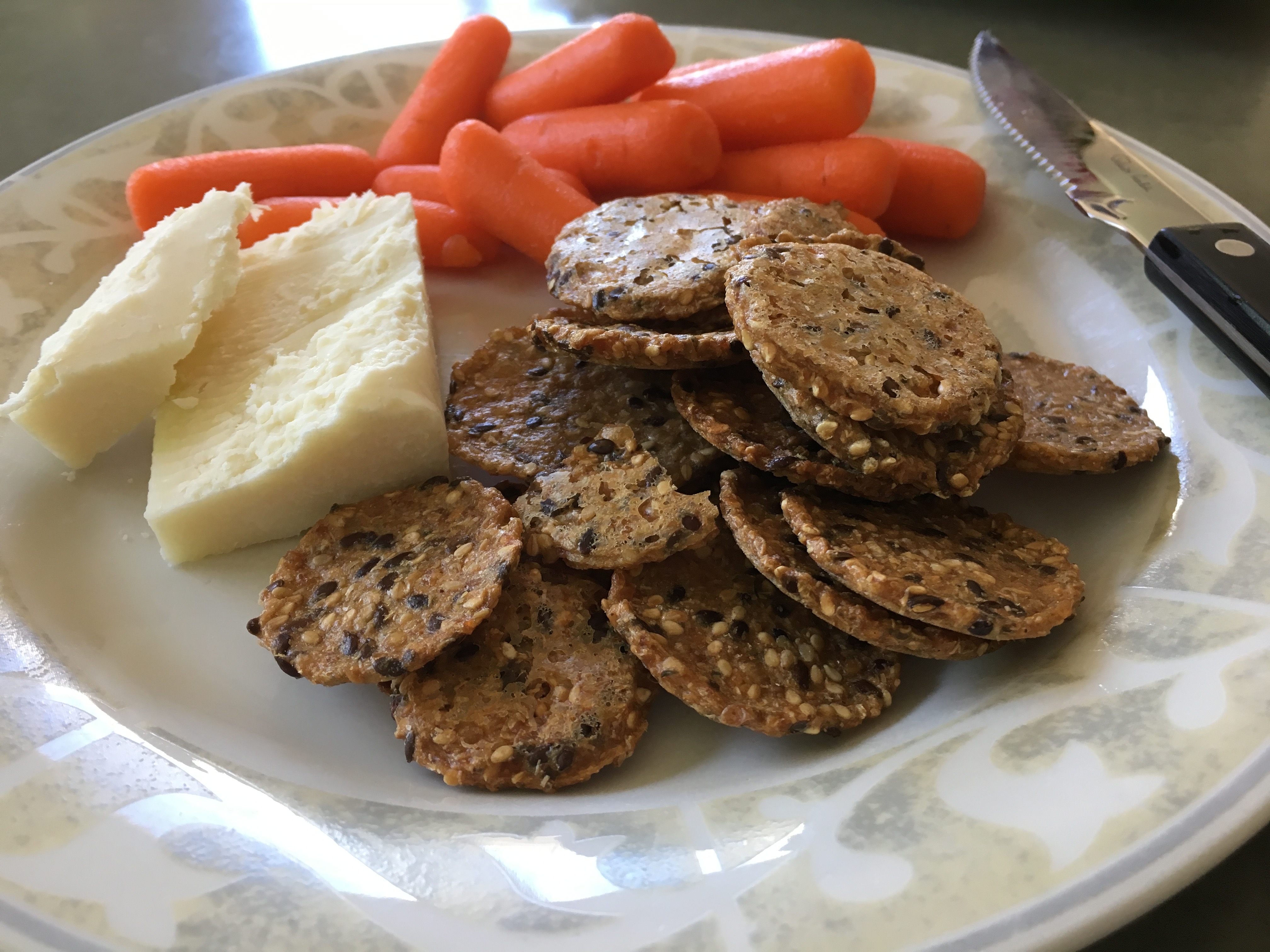 I continued my snacky eating for lunch too – because nothing really called out to me.  I knew I wanted carrots and Mary's Gone crackers, so I added sheep pecorino romano to the mix and called it a meal.
I went back for crackers three more times, but ate nice and slow to give myself time to tune in to my real hunger.
We hit up the park with friends that afternoon and it was the most perfect crisp weather.  We have been so lucky because even though the morning's have been downright frigid, it warms up to 60 degrees by the afternoon which allows us to get some fresh air and work off energy before dinner.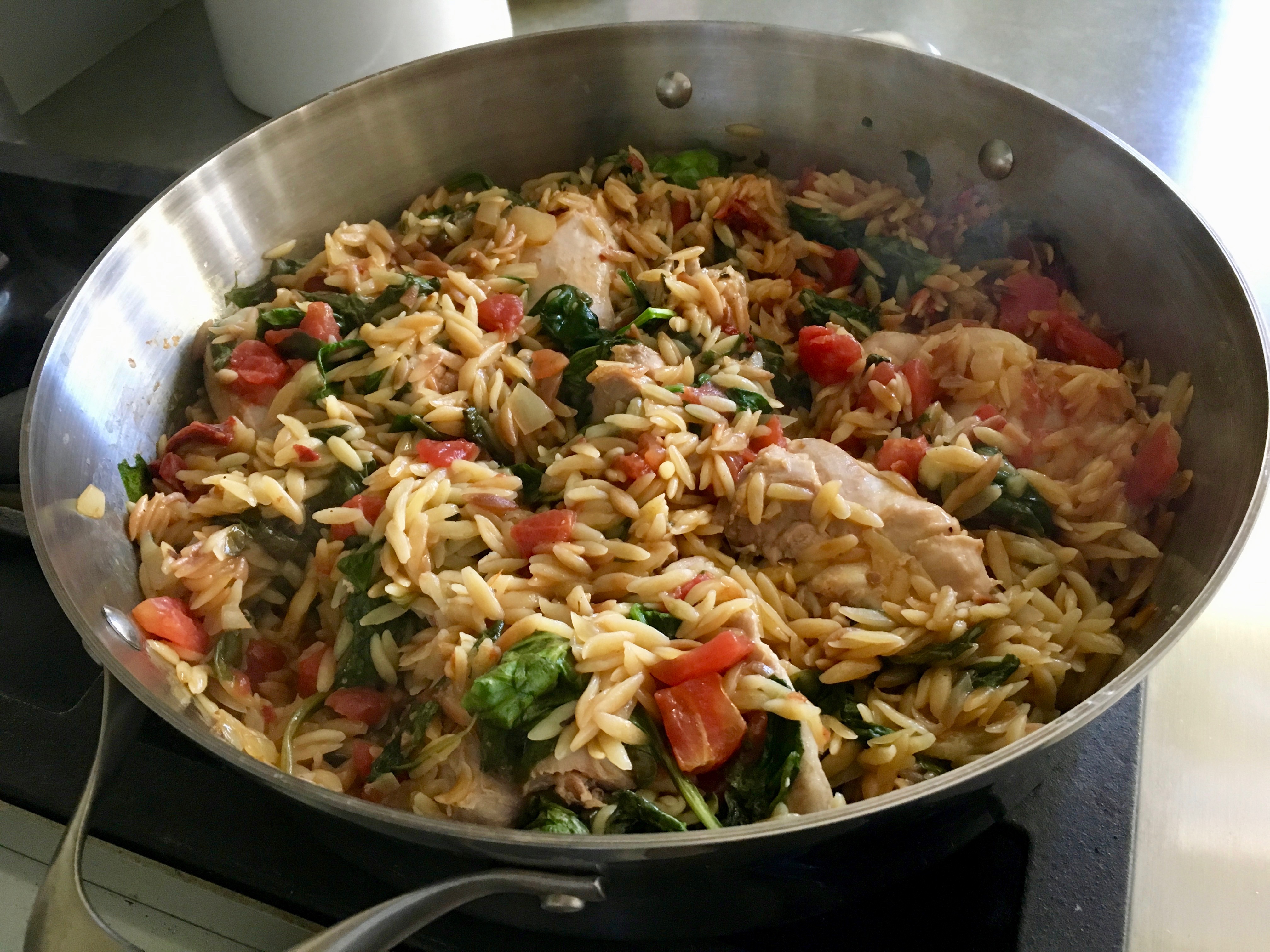 I made this really yummy meal and feel like I should share the recipe – even though it's not super precise.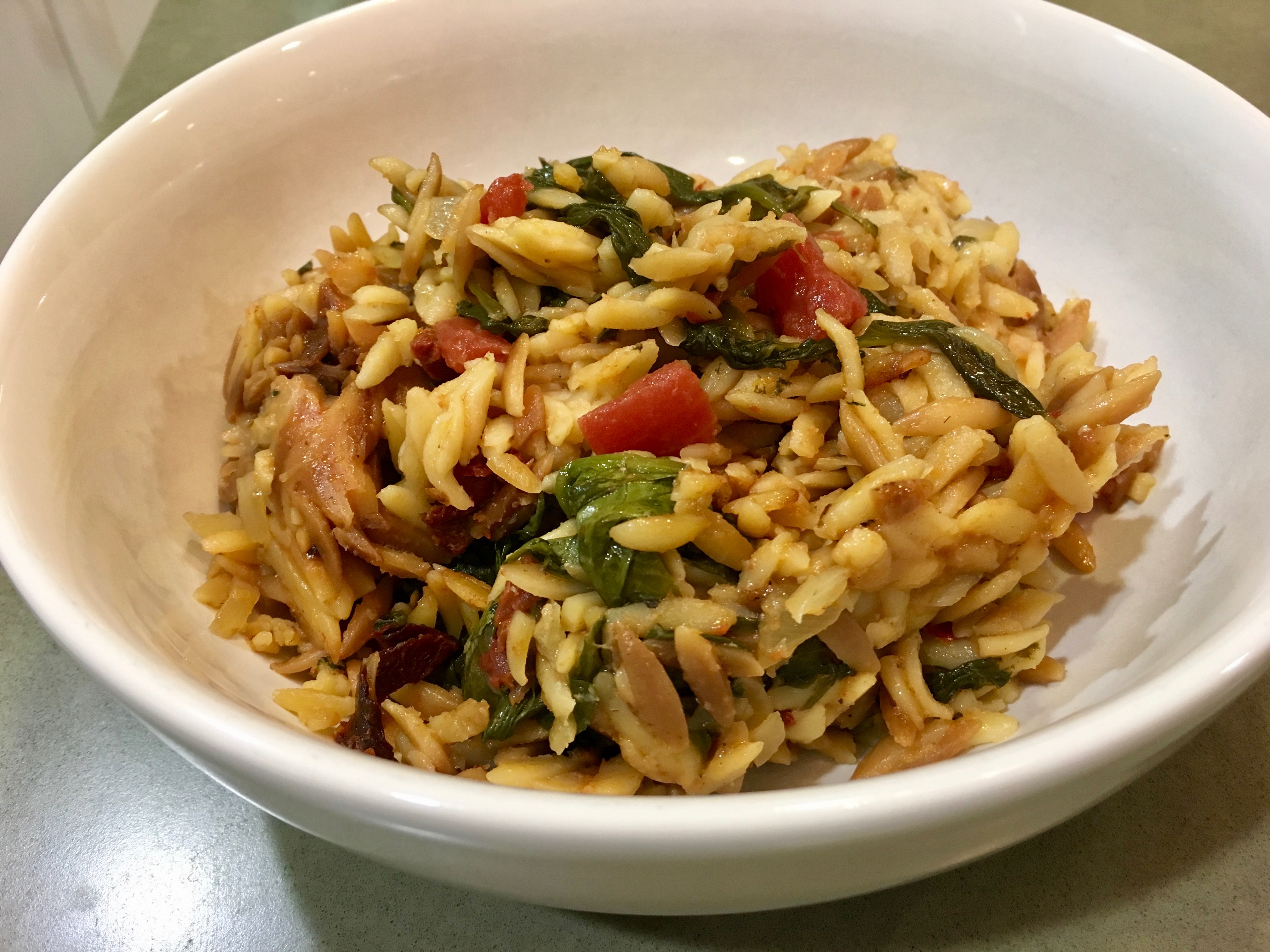 If you know of a place to find GF orzo, let me know!  I used wheat orzo and was ok with it because the rest of my day was low fodmap.
Spinach and Tomato Orzo chicken Skillet
Ingredients:
3 tbsp extra virgin olive oil
1 tbsp garlic infused olive oil (or 4 tbsp EVOO + 1 tsp minced garlic)
16 ounces orzo pasta
1/2 large yellow onion minced
2 tbsp roasted red peppers (with the oily marinade)
6 oz spinach
1 cup diced canned tomatoes
6 chicken thighs
3 cups chicken broth
salt and pepper as needed
*optional: top with shaved parmesan
Directions:
Add the olive oil to a large skillet and toast the orzo in it for a few minutes.  Then add the onions and roasted peppers and sauté until the onions become translucent.  Add the tomatoes and stir to combine.
Next add the chicken, clearing little holes for it between the orzo, and let each side sear.  Salt and pepper each one. Flip and sear the other sides of the thighs, then add the spinach and put the lid on so it can wilt.
Once the spinach has wilted, add the broth and stir it all up so the chicken isn't stuck to the bottom of the pan and the spinach is mixed in with the other stuff.
Simmer on low until the orzo has cooked through.  Salt and pepper to taste and serve.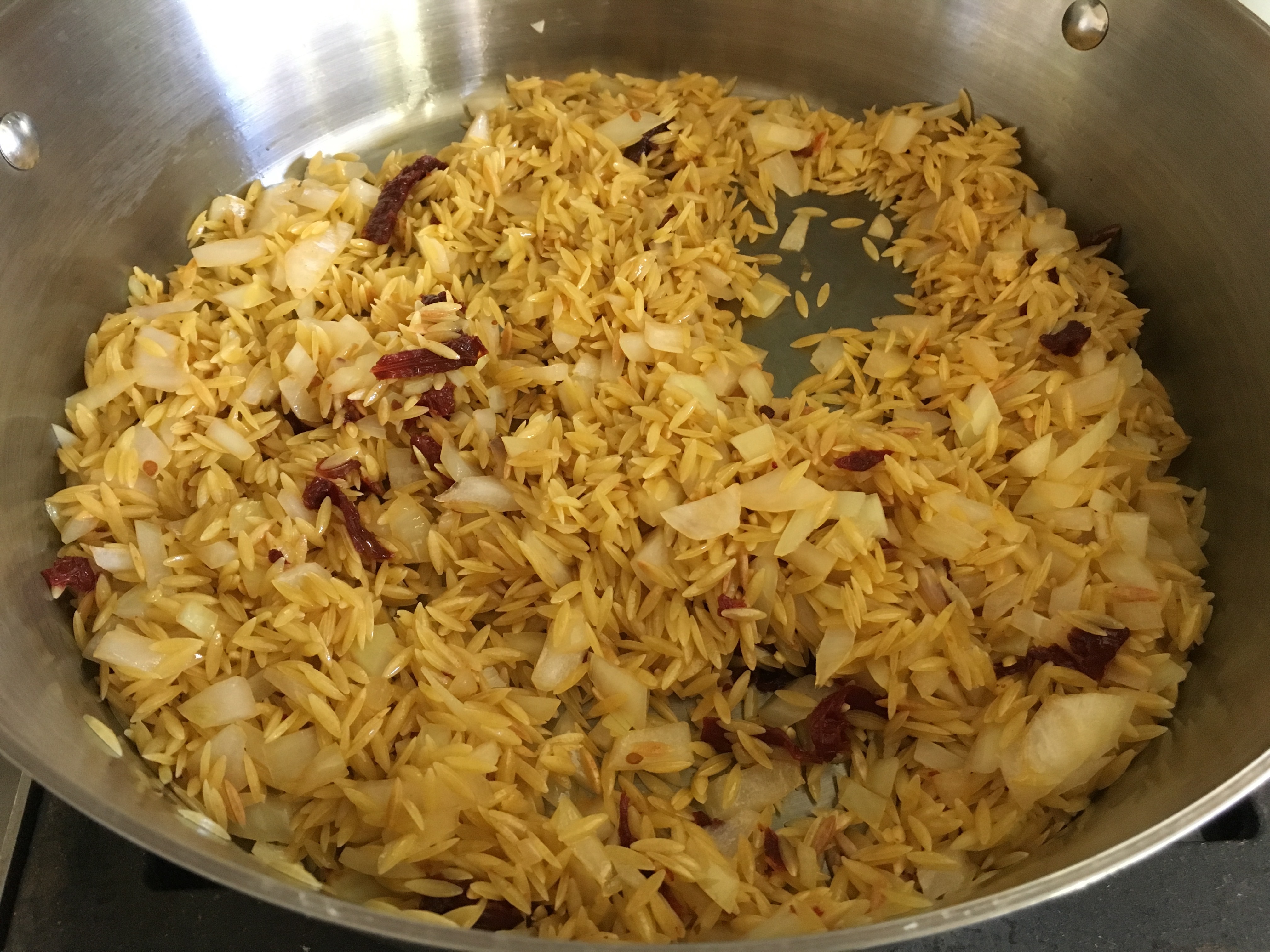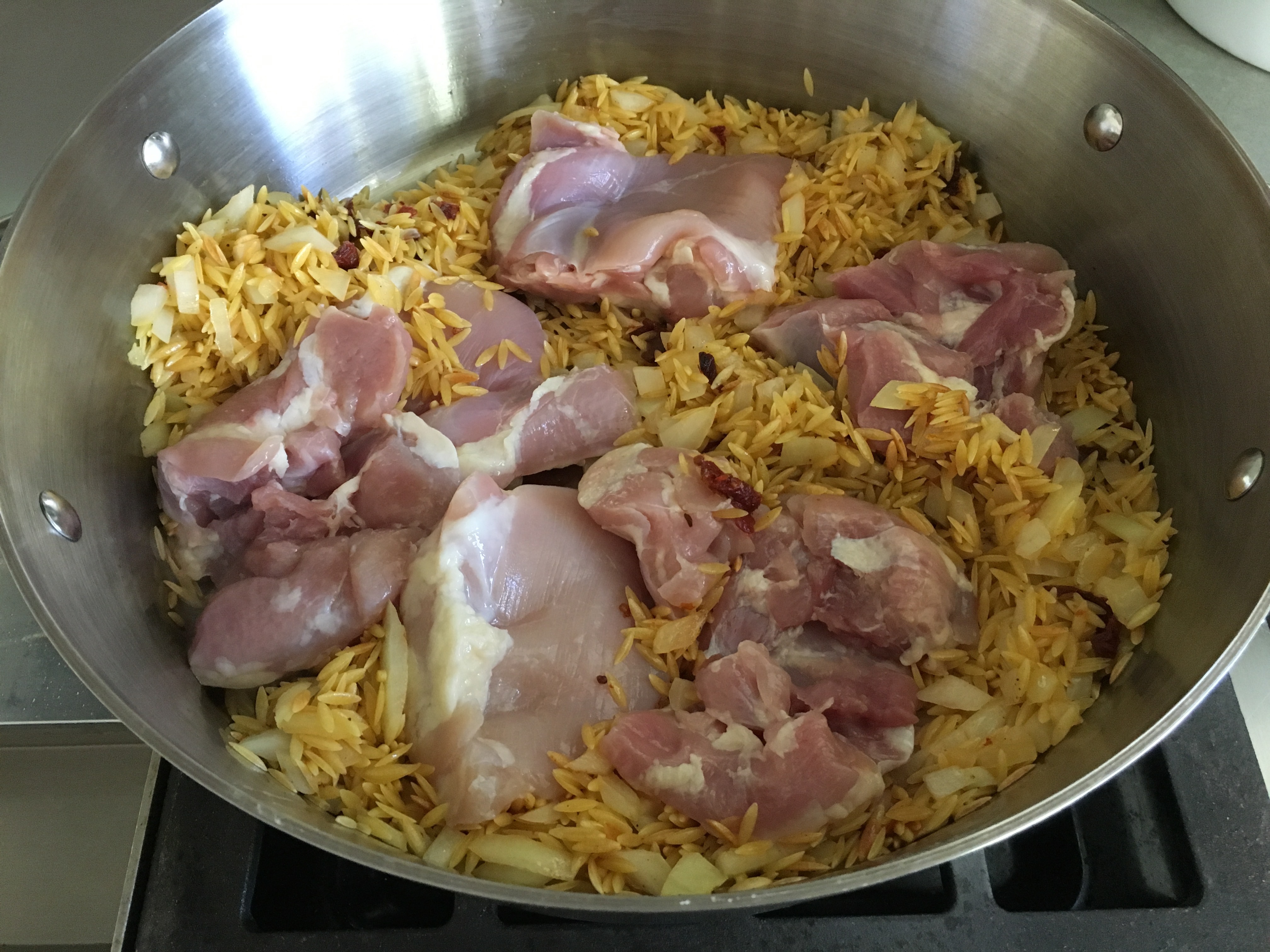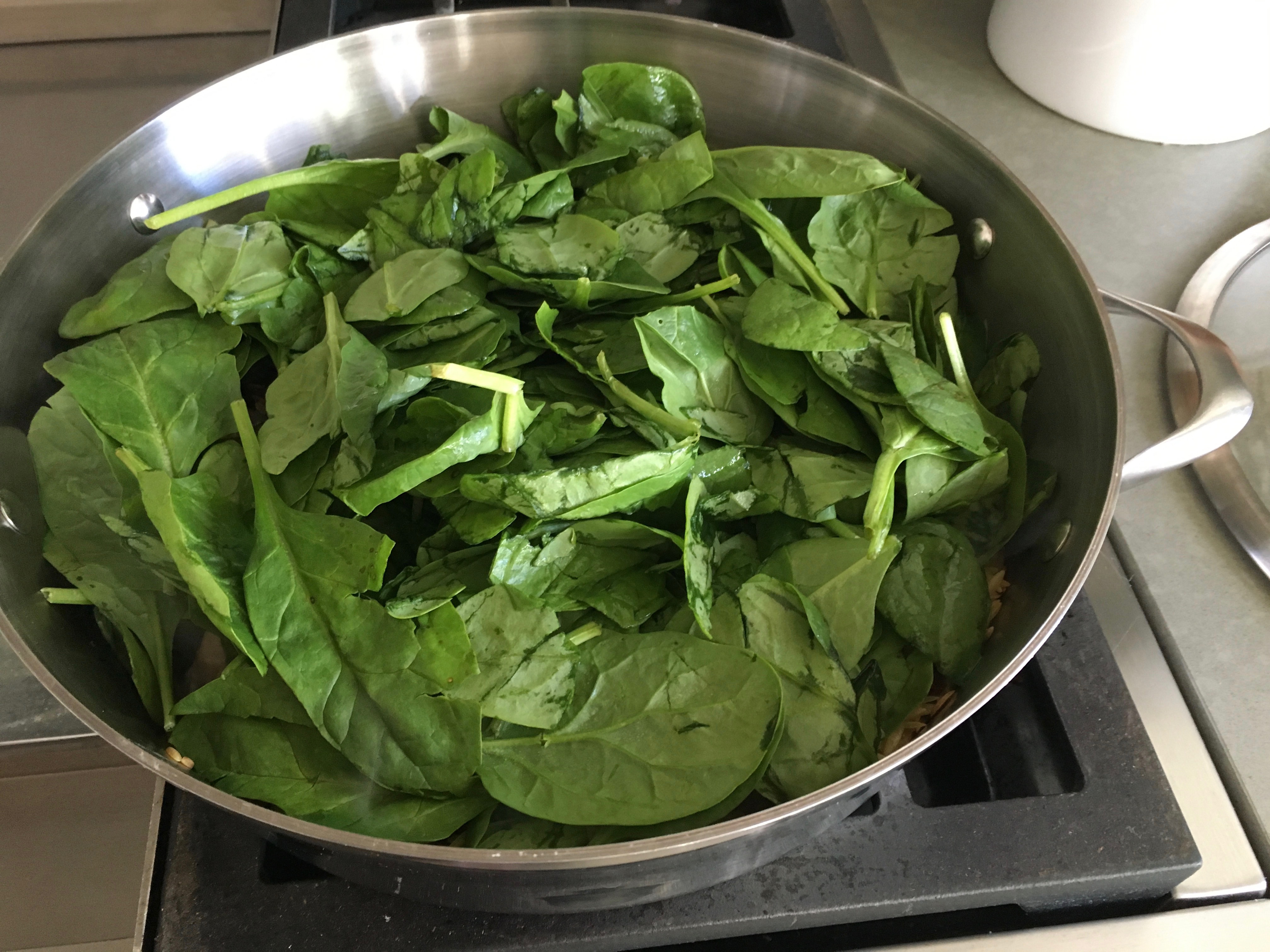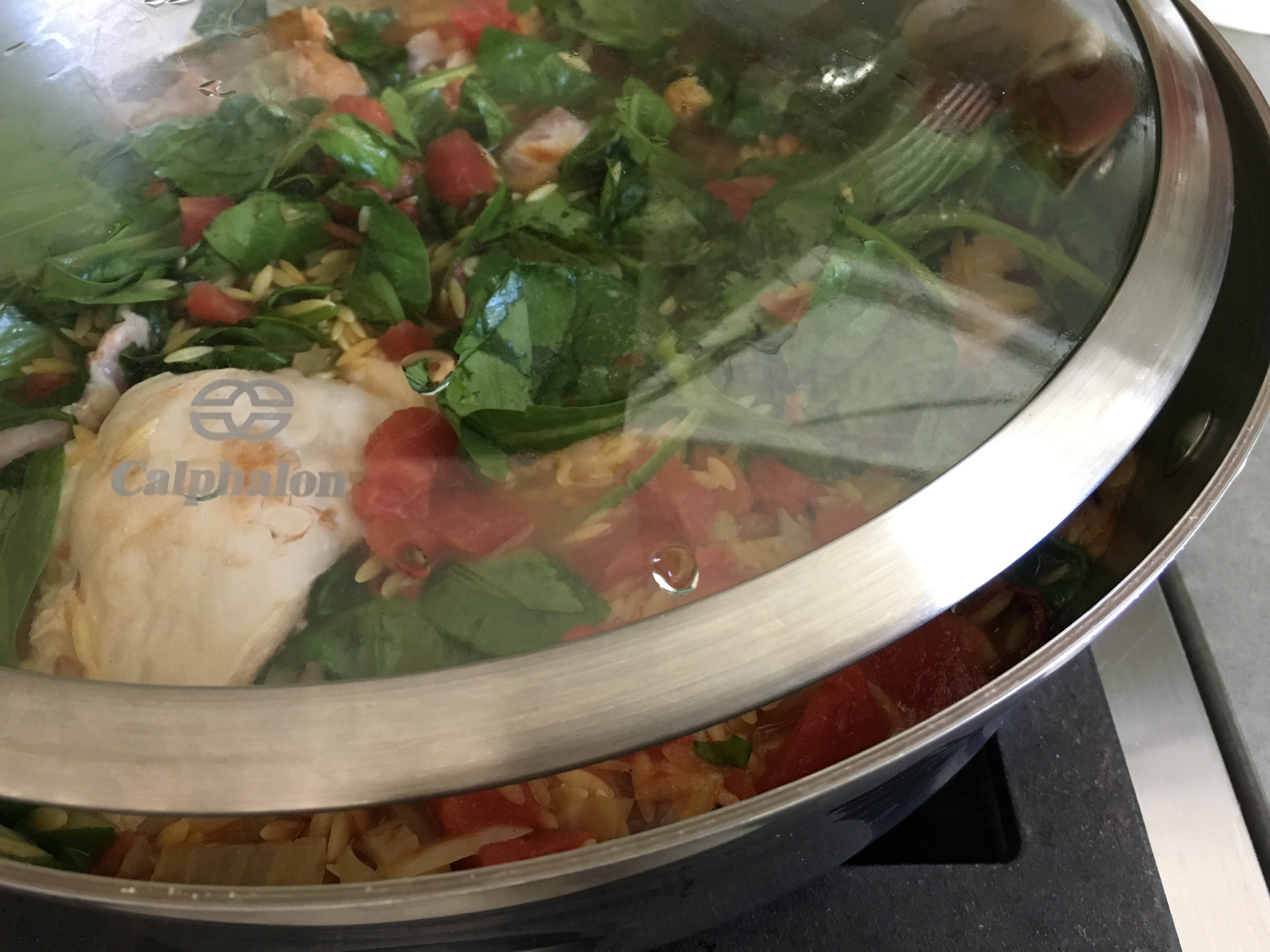 It's so easy to do ahead of time because you basically add things in one by one and then let it simmer (hands off!) while you go about your business and then it's ready for you when you want to eat.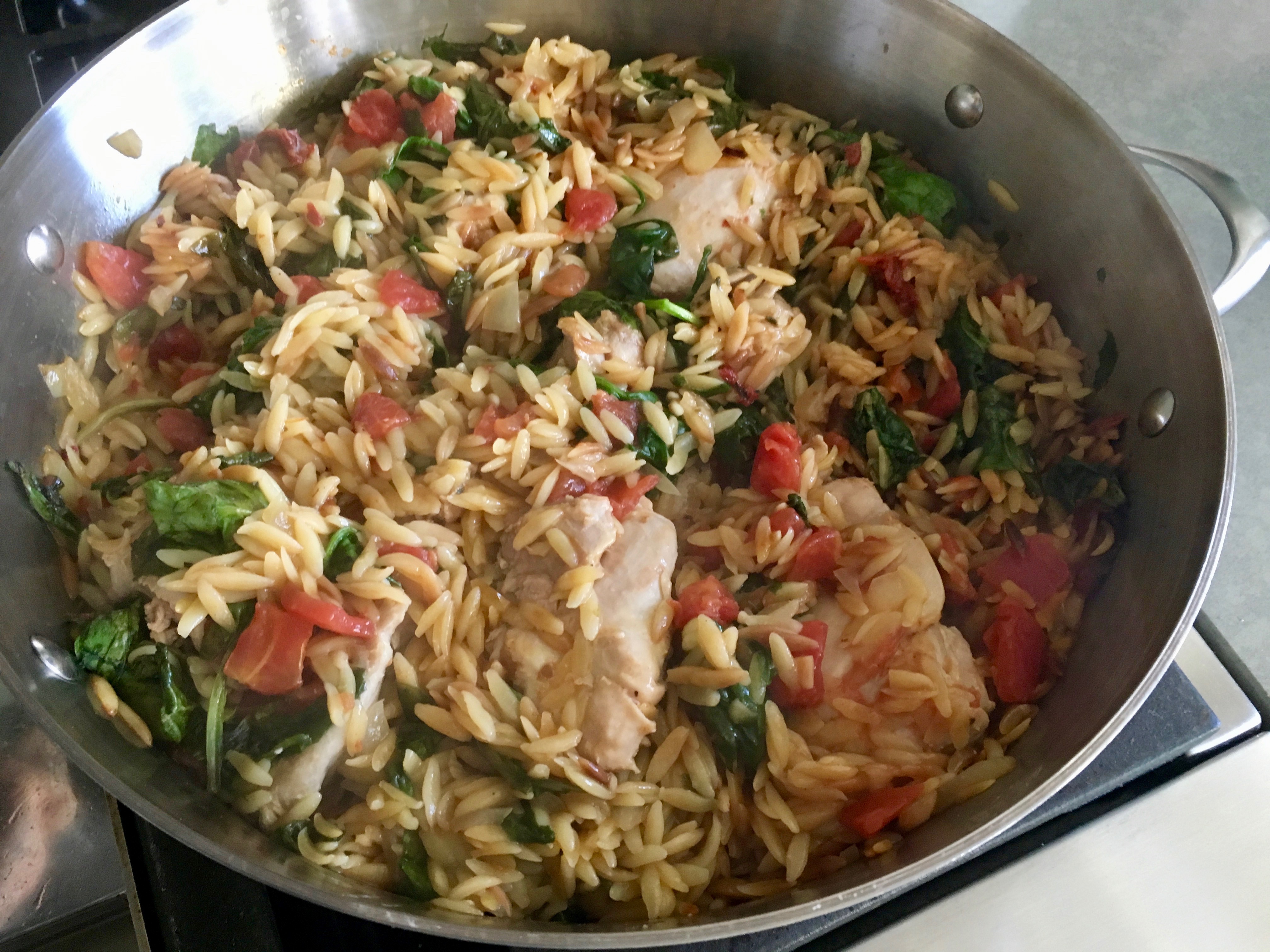 The kids LOVED this and ate a ton.  And there were leftovers too!  Kyle will get at least two lunches out of it, unless the kids claim it for their lunches.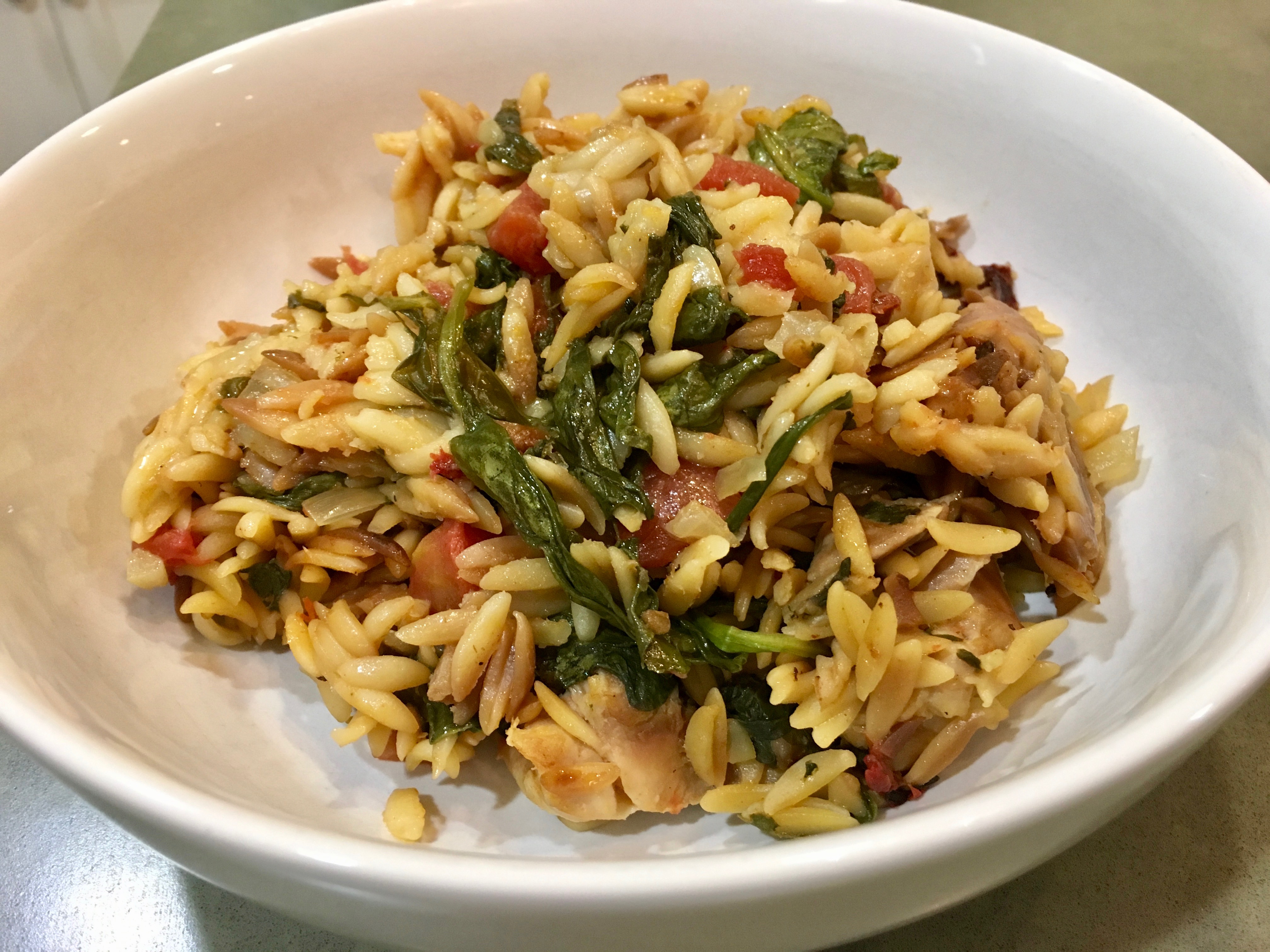 The best parts were the nearly fried orzo pieces that were all brown from the first step.  Yum.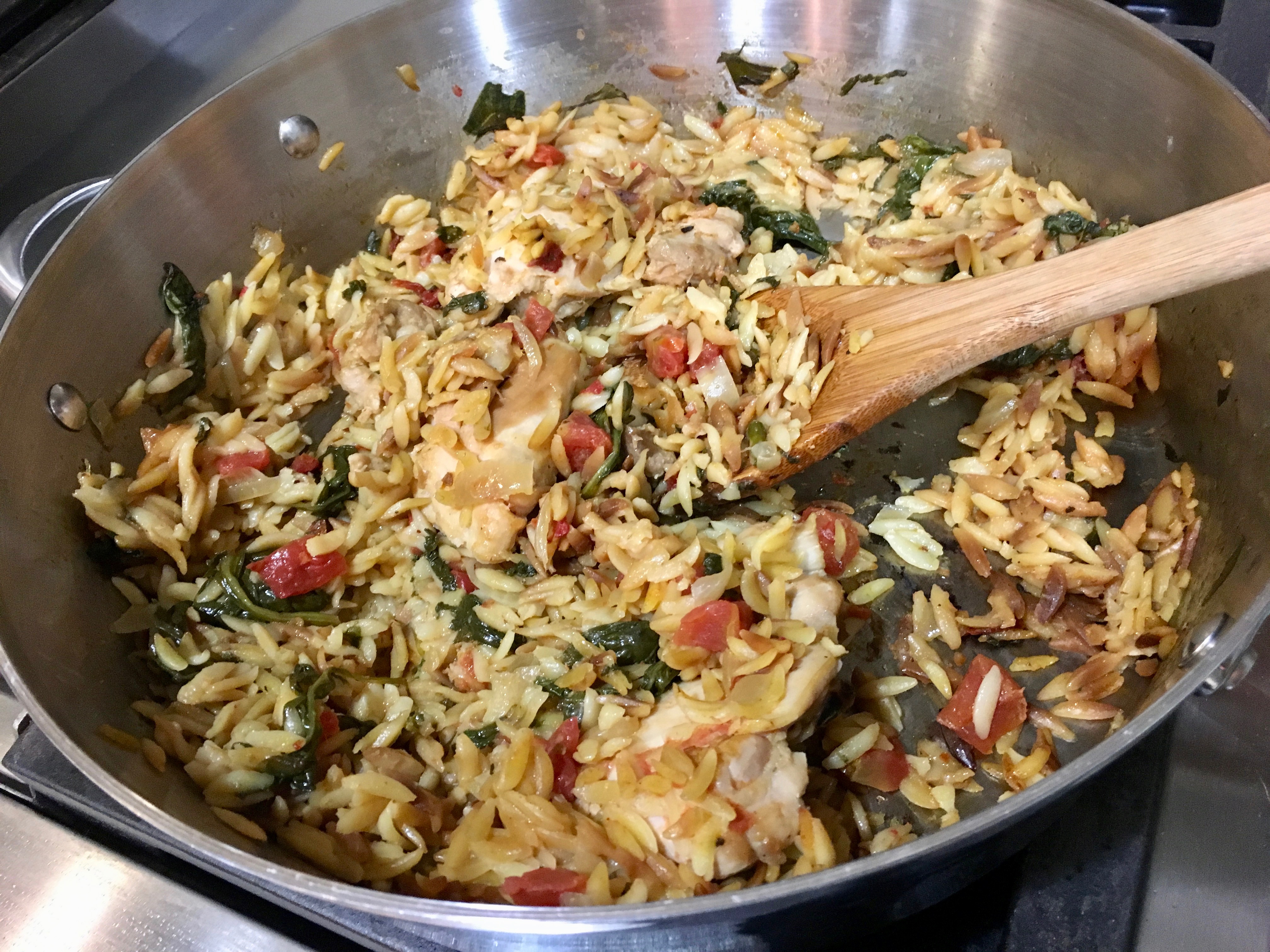 So many variations with this formula too.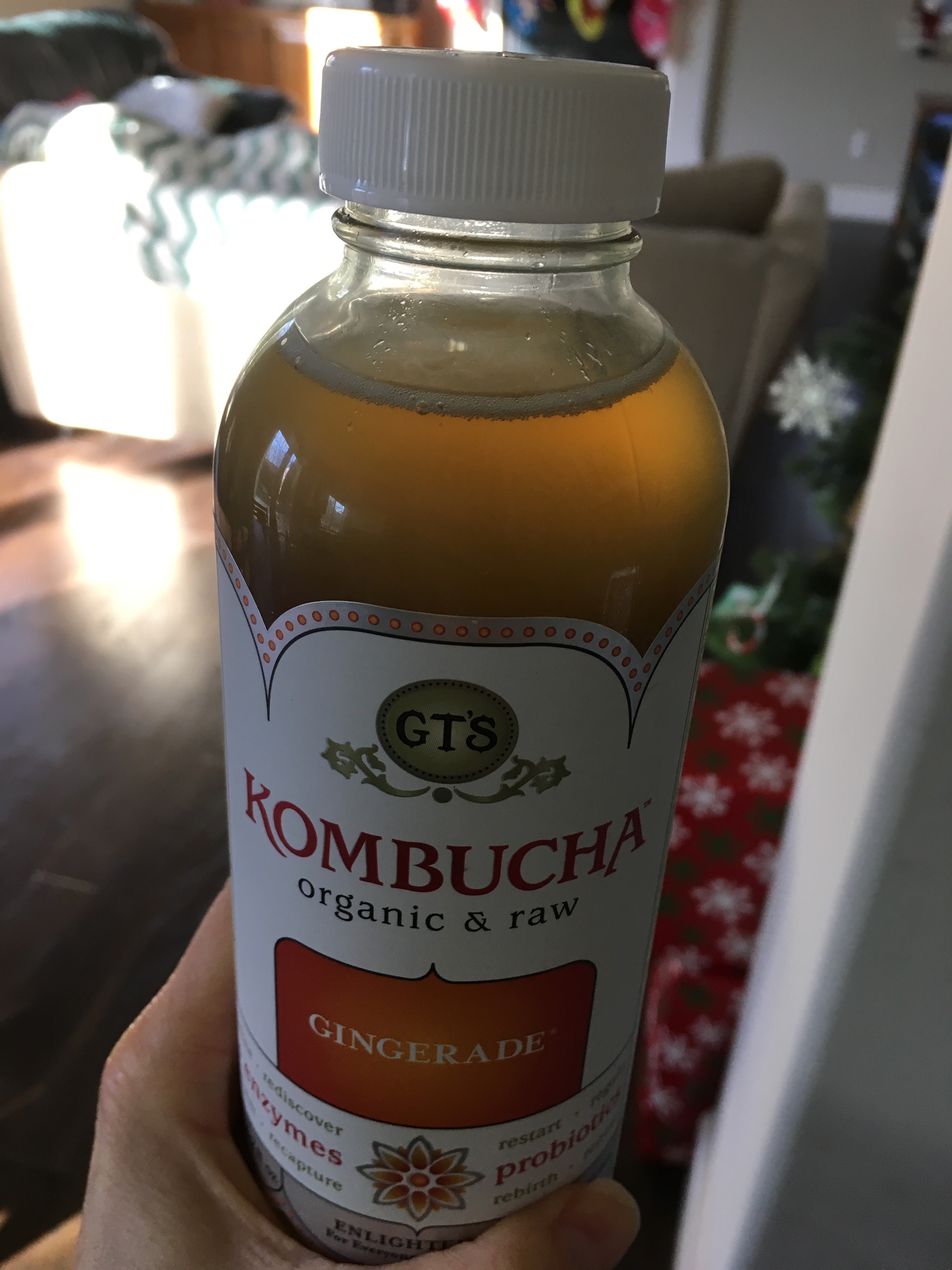 Booch to end the night.  Just like last time, a few days of no desserts and my sweet tooth is gone.  It's amazing what a little time off can do to reset your palate.