After our awesome start to the weekend I felt pretty tired and lazed the rest of Saturday away in sweats.  It was pretty great to be honest.  I don't usually let myself do that kind of thing (always trying to be hyper productive on the weekends when I have extra eyes on the kids), but I was really zapped of all my energy and gave myself the grace to just be.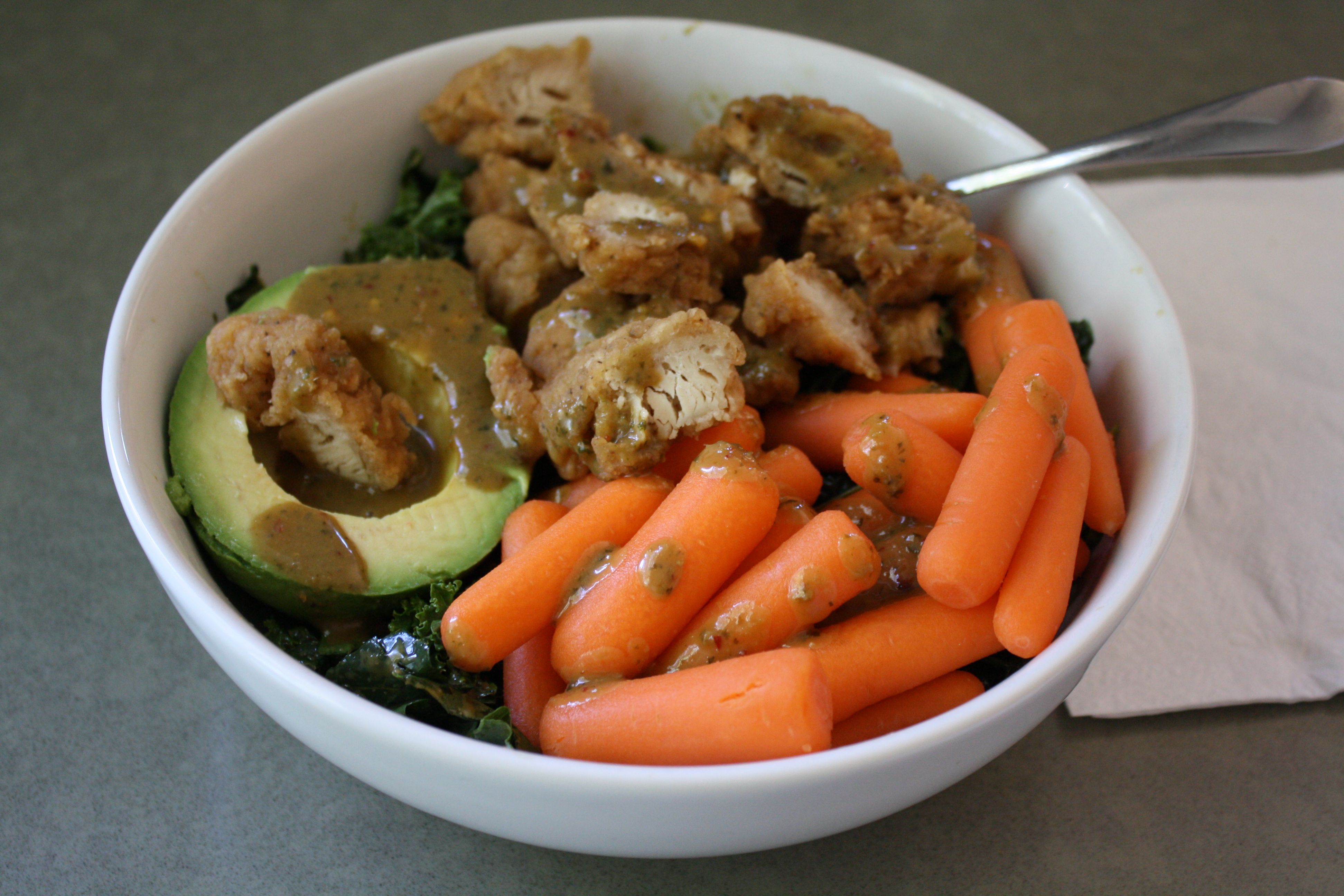 This lunch rocked my socks.  Like, ROCKED.  I want to make it again asap.  First I massaged both curly and dino kale in Nugget's Thai sesame dressing.  Then I added sliced chicken tenders.  And half an avo.  And lots of carrots.  And then more dressing.  NOMNOMNOMNOM.
Thanks to the (heavily) breaded chicken nuggets, I was 100% satisfied.  Yes guys.  I finally finally gave my body enough carbs to feel satisfied for longer than two hours after lunch.  Carbs for the win.  🙂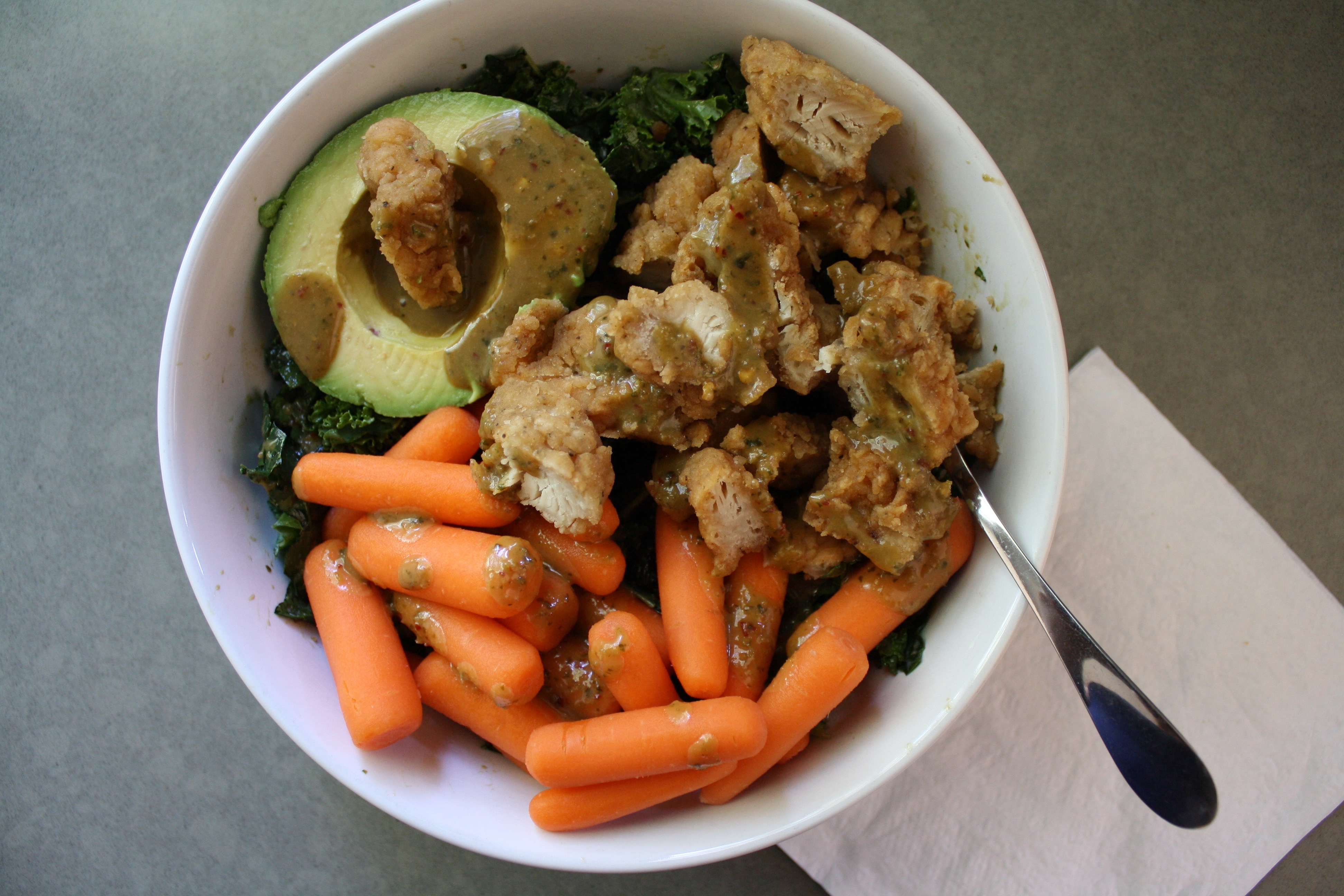 Now the question is…do I add chicken tenders to my grocery list to make this again??  [They were leftovers from last weekend's splurge in the prepared foods section of Nugget, but it was a pricey and not super healthy treat that I hadn't planned on repeating]  I'm going to say yes.
I did MAAAAJOR prep while crafting and coloring was going down.  It was meant to be a jellyfish craft, but he decided to make it a bug, sooo BUG IT IS.  Do you know how many crafts a package of paper plates can provide?  All of them.  All of the crafts. But this is not that kind of blog.  Back to the eats.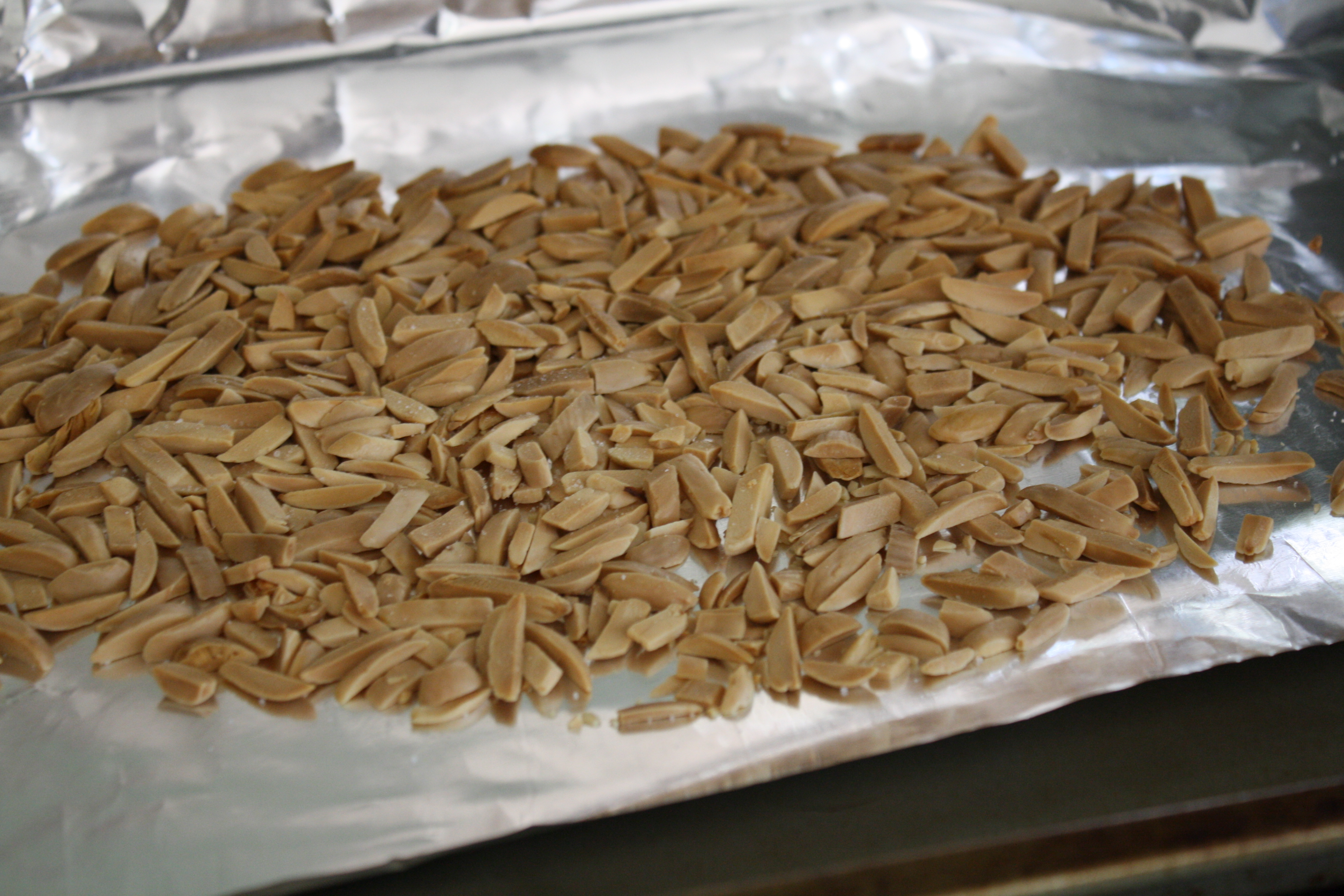 Prepping evidence (clockwise): lentils marinated in a dijon red wine vinaigrette, toasted almonds, quinoa, roasted Brussels sprouts.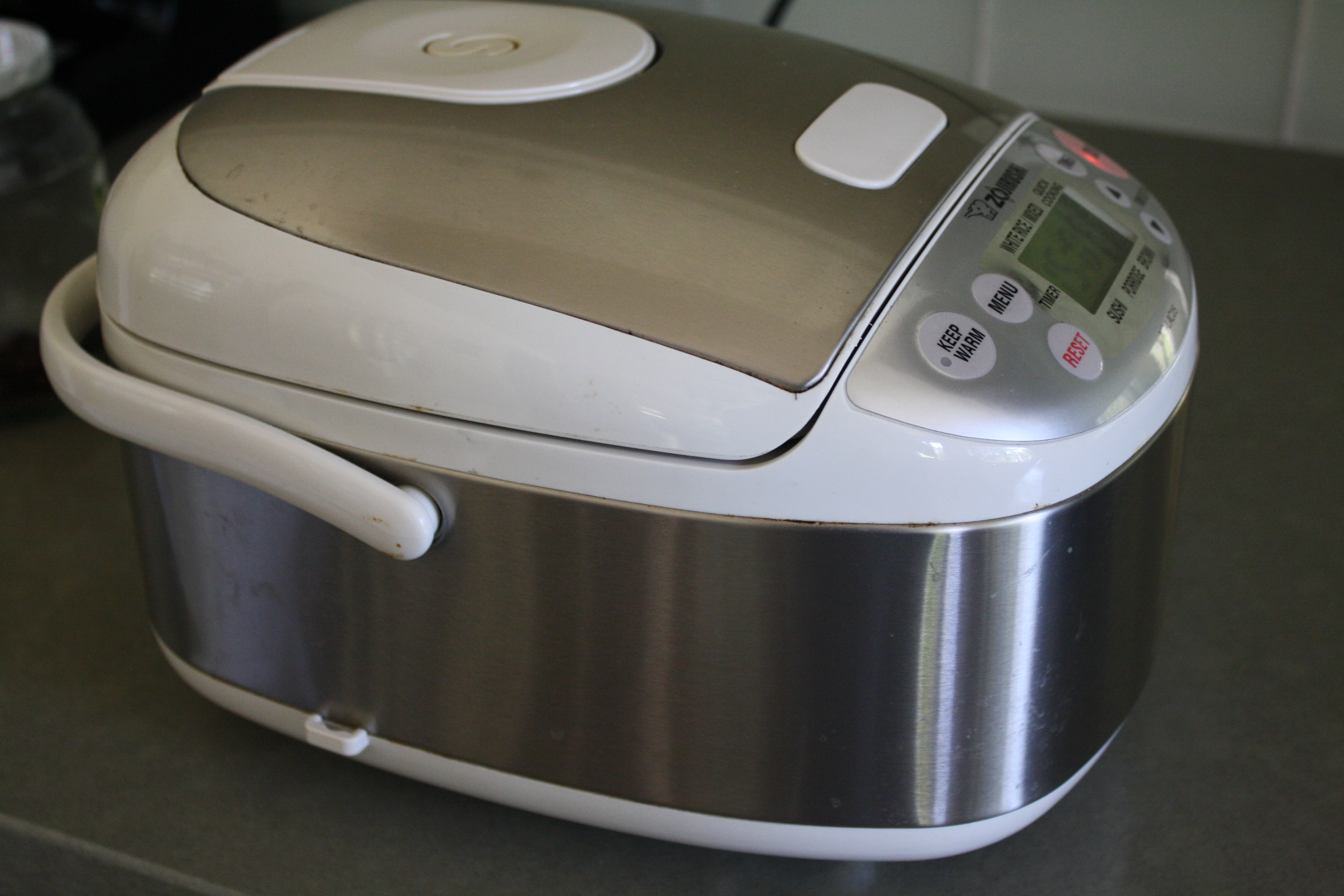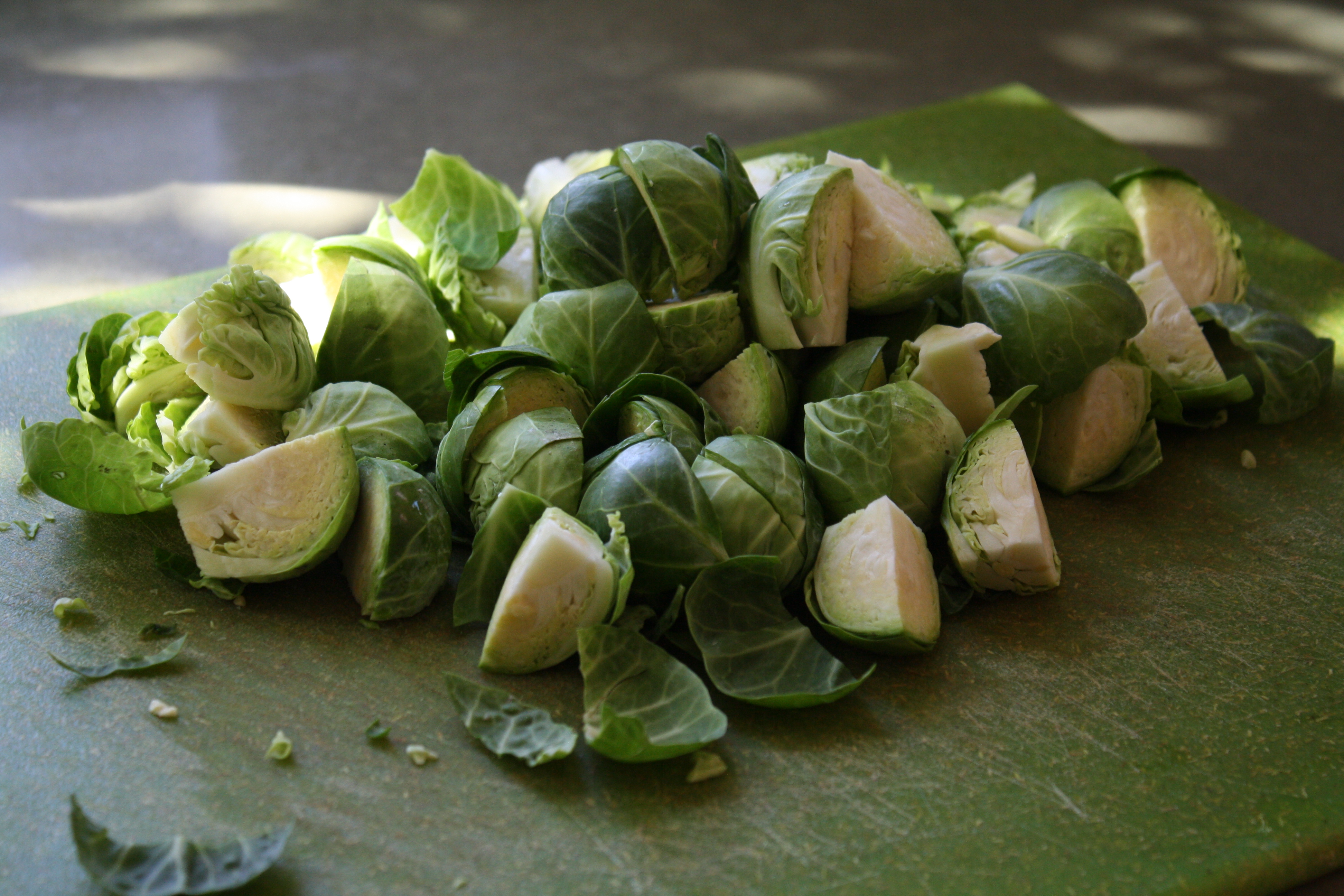 And since the oven was on, I just continued…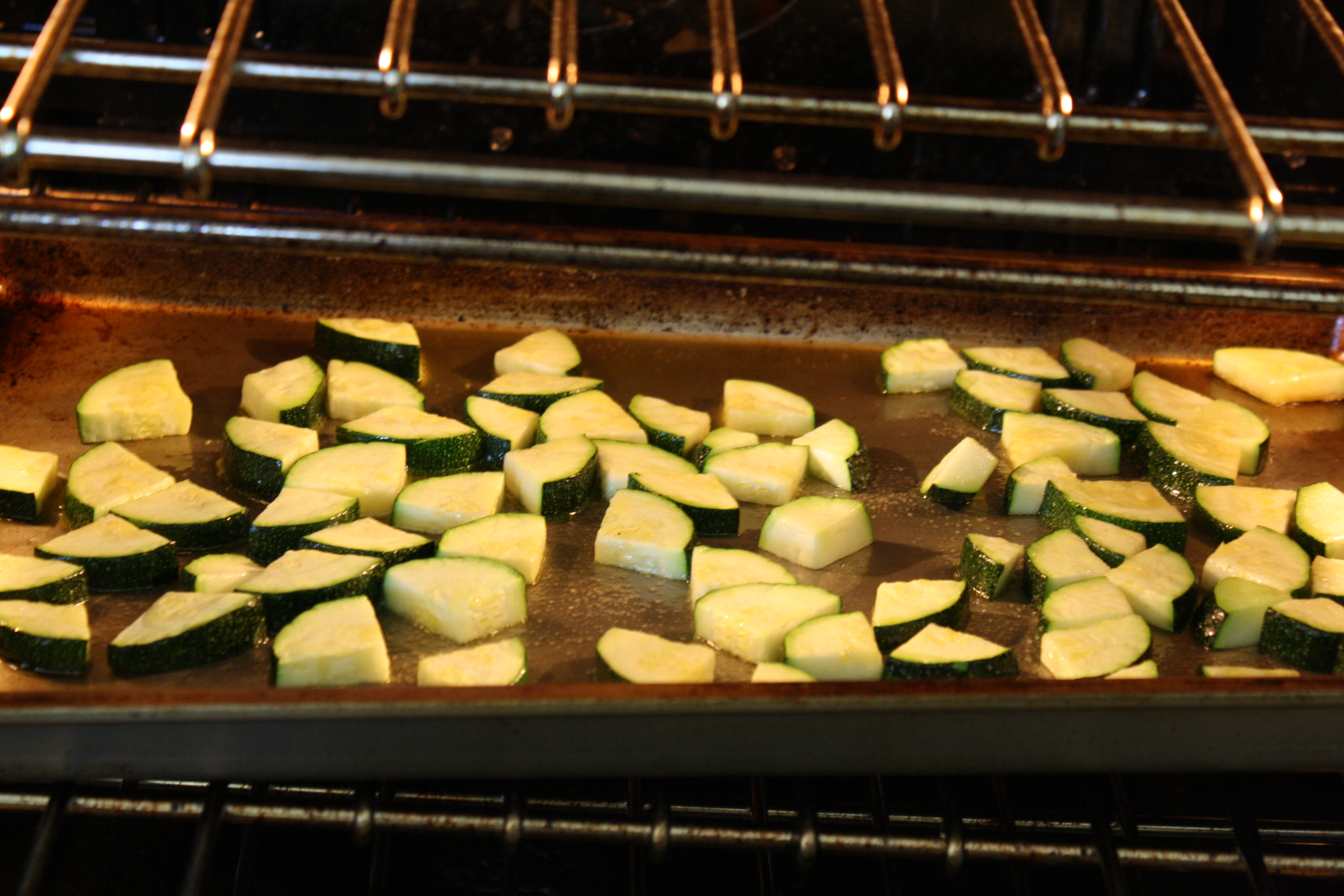 Roasting zucchini, salmon, and a few more veggies.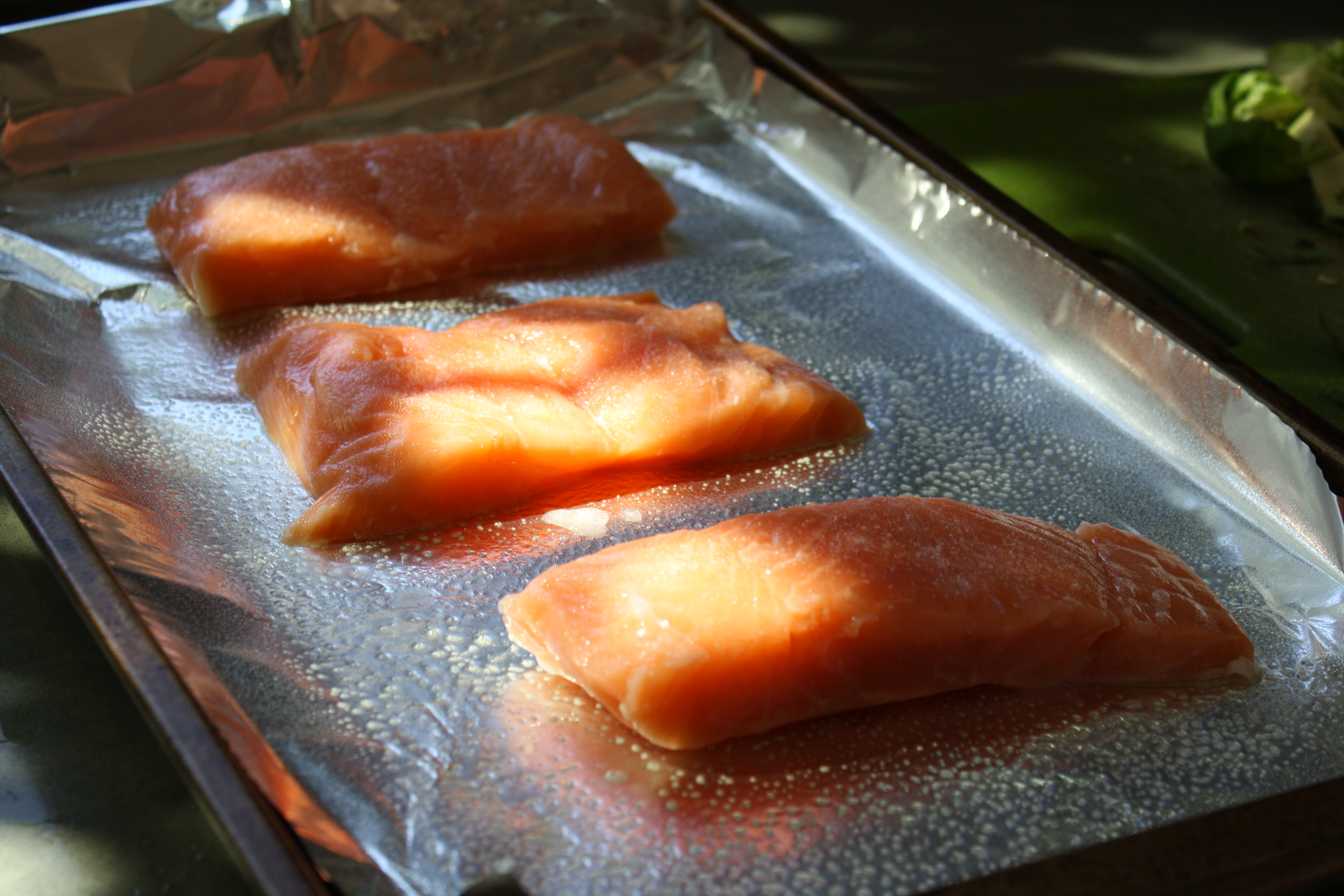 This is what we had for dinner, which I'll post in detail later.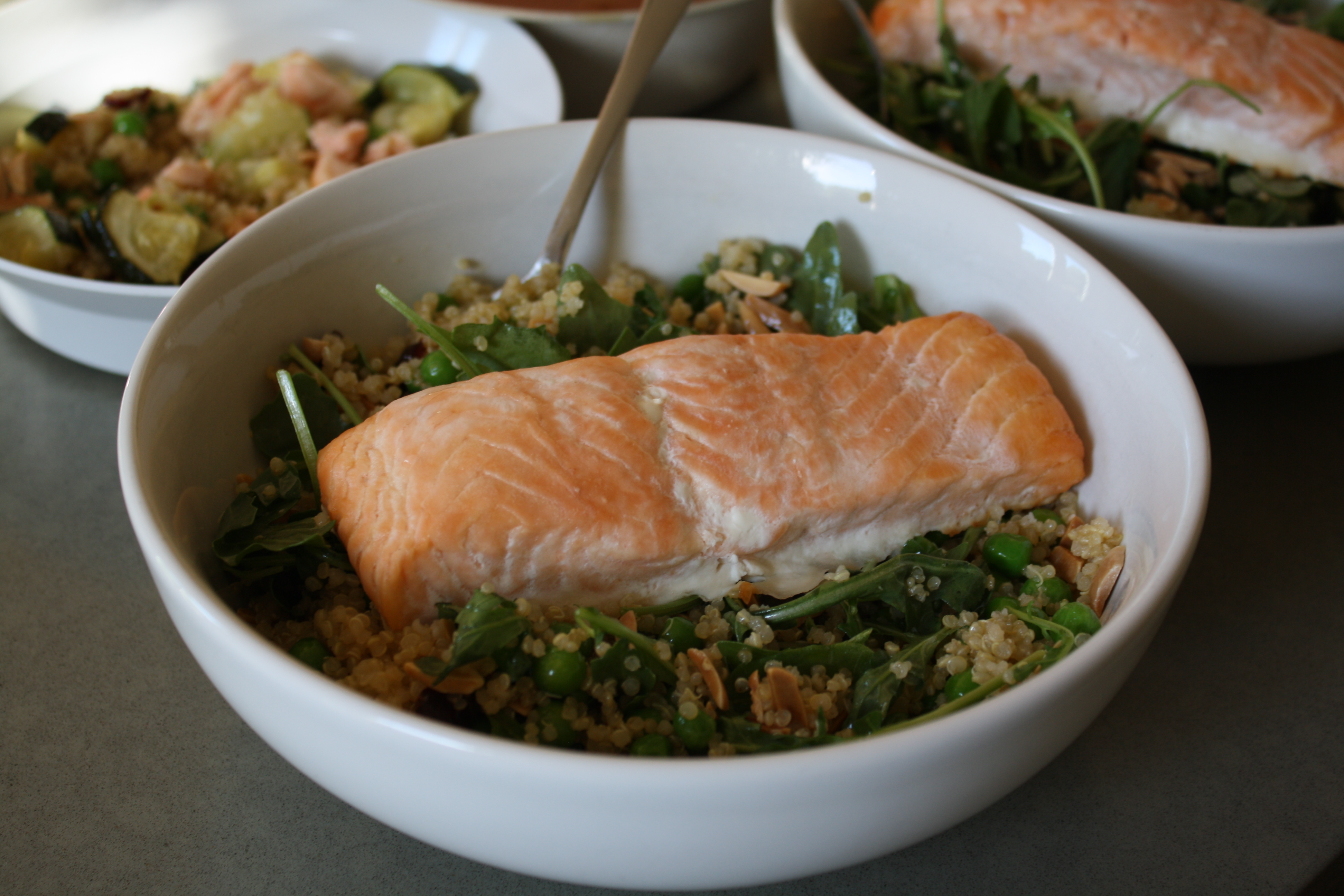 I pulled part of this dessert platter from the freezer – I actually prefer to eat the raw brownies frozen.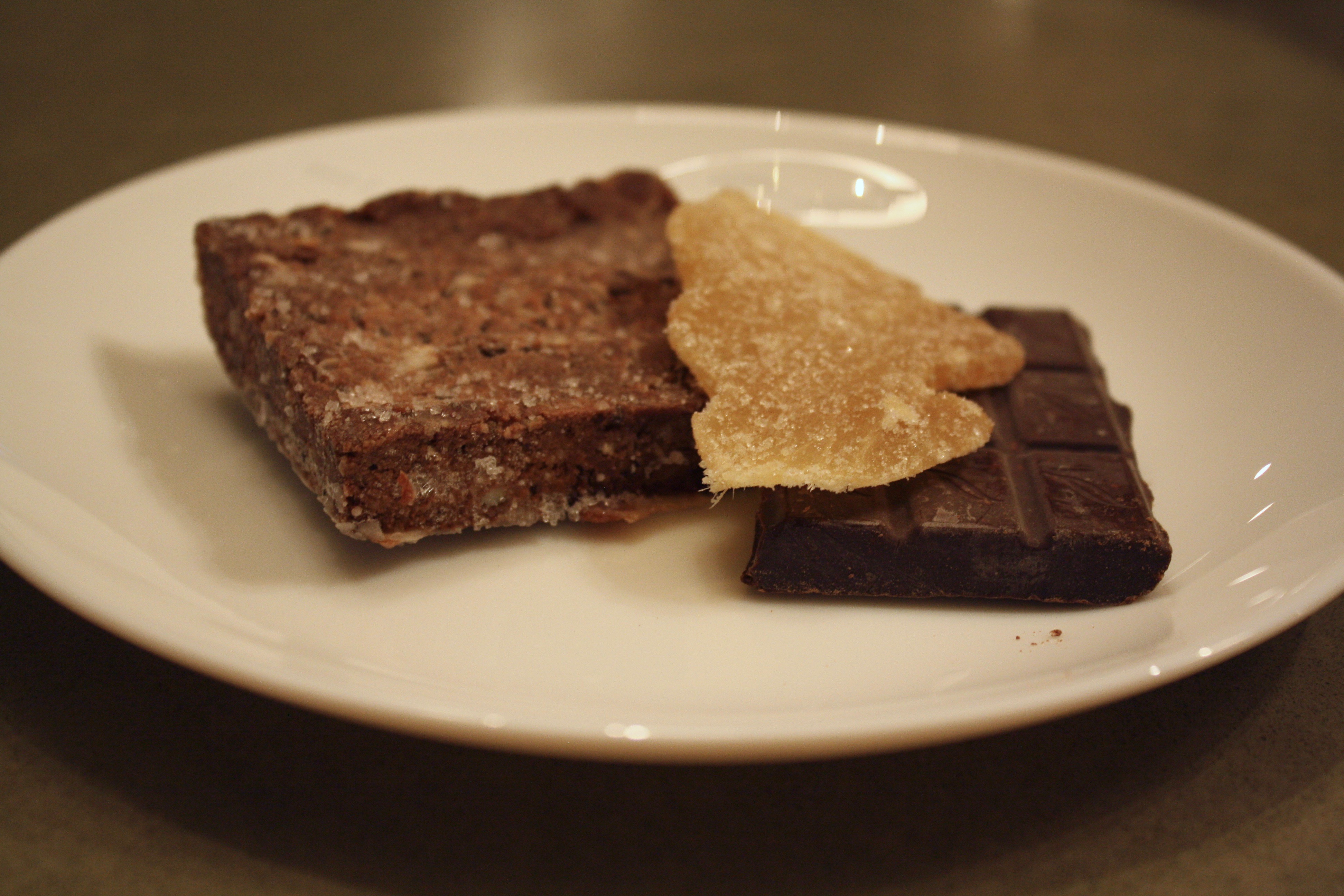 They have walnuts, dates, chia seeds, cocoa powder, and coconut.  I made a big batch to store the freezer a while ago but only have a few left.  I will definitely make more once they are gone.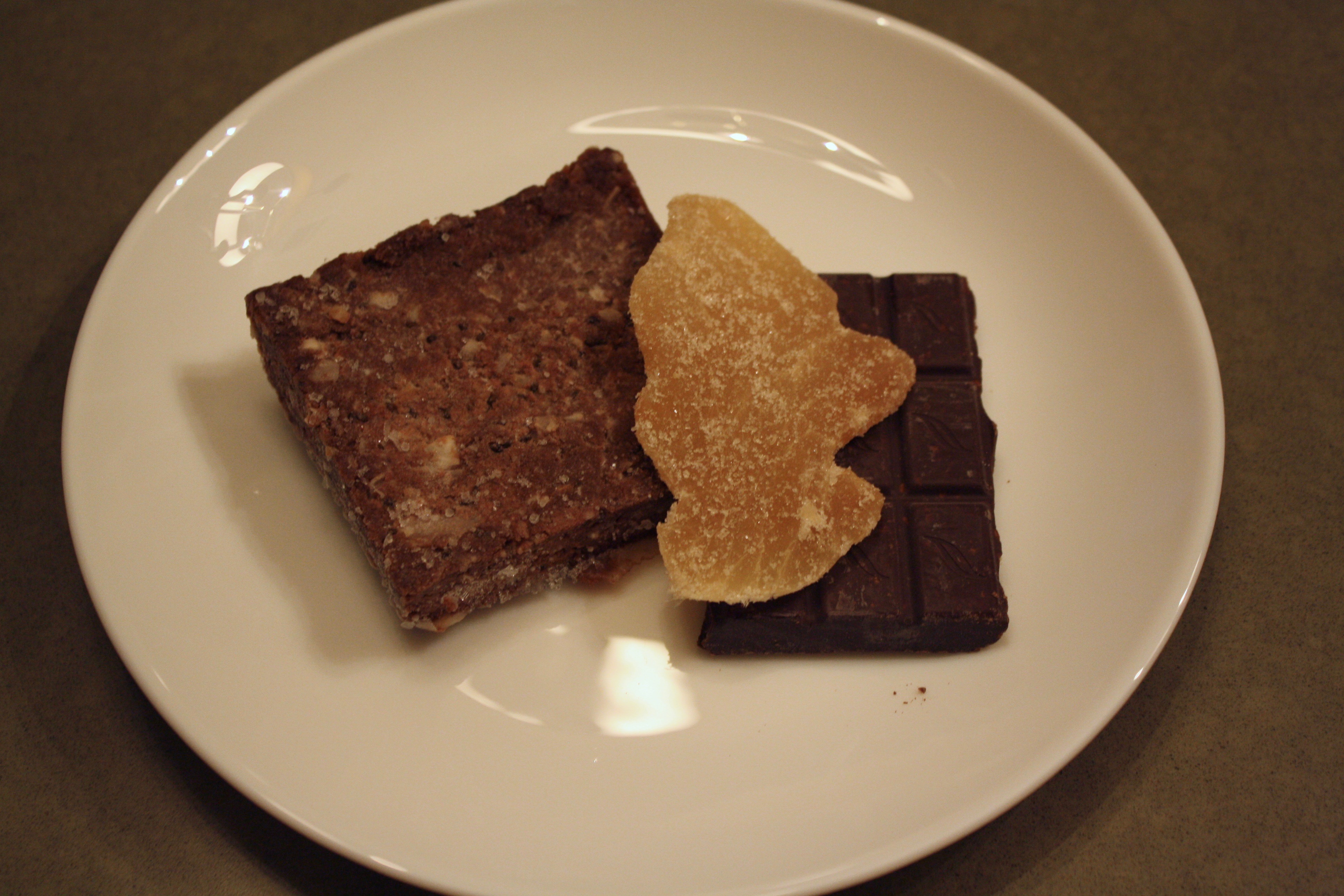 I went for a bike ride Sunday morning and then felt like a indulgent breakfast so I hit up the freezer for something yummy…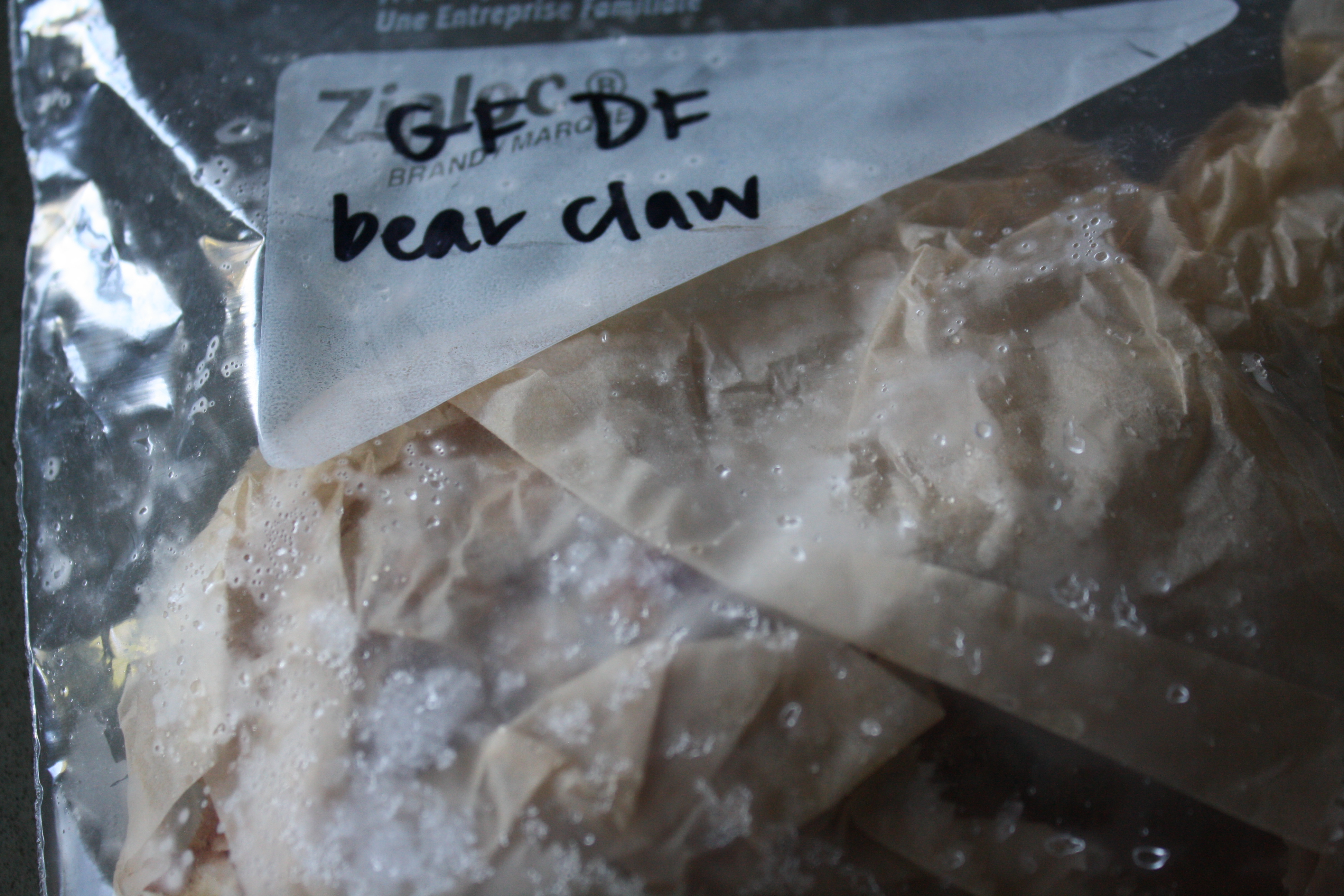 And came up with this beauty!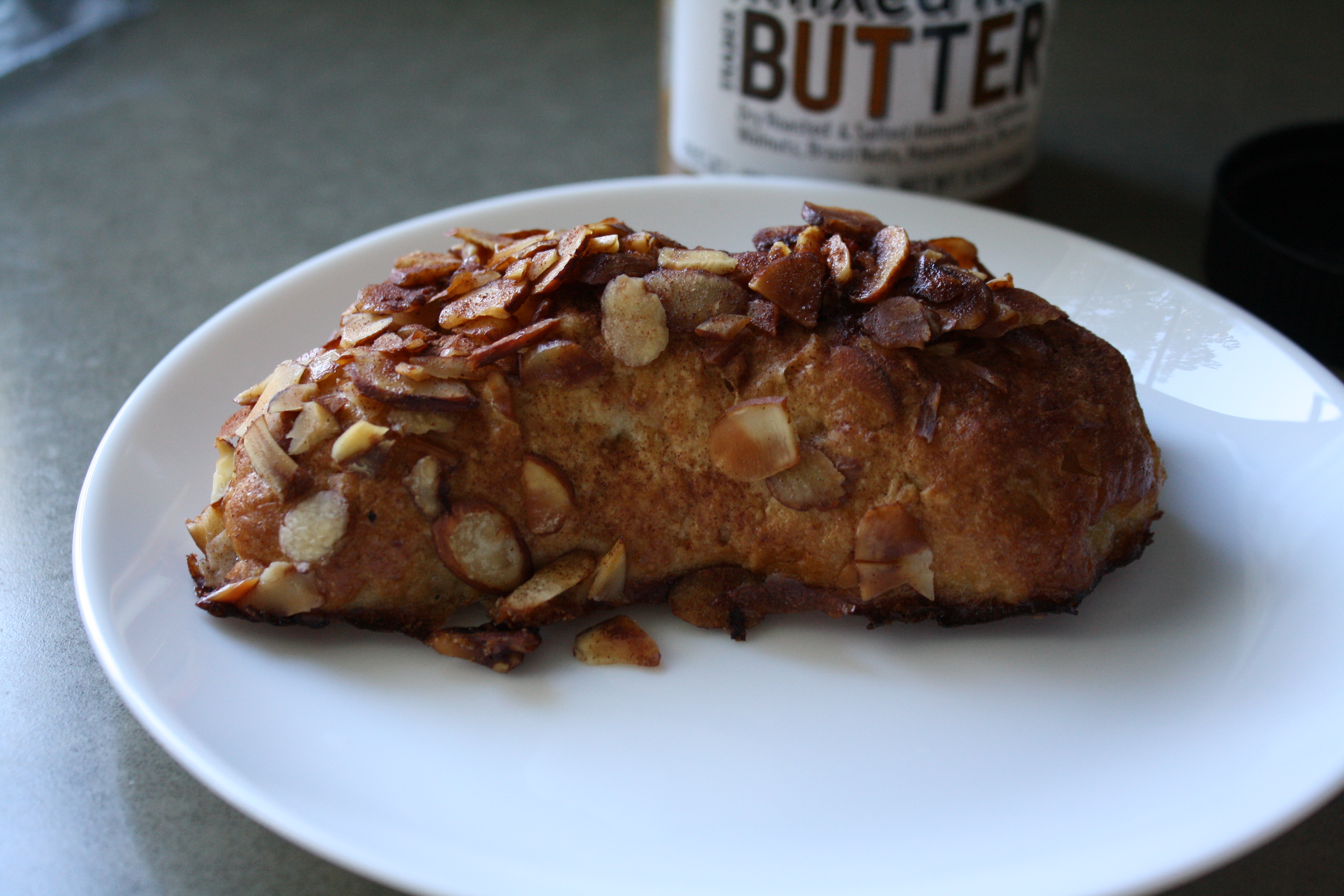 It's from Mariposa Baking Company (in the Ferry Building) which is a gluten free (allergy free) bakery.  I bought a bunch of stuff when I was there a while back to take home and freeze…and now I finally got to enjoy the fruits of my hoarding.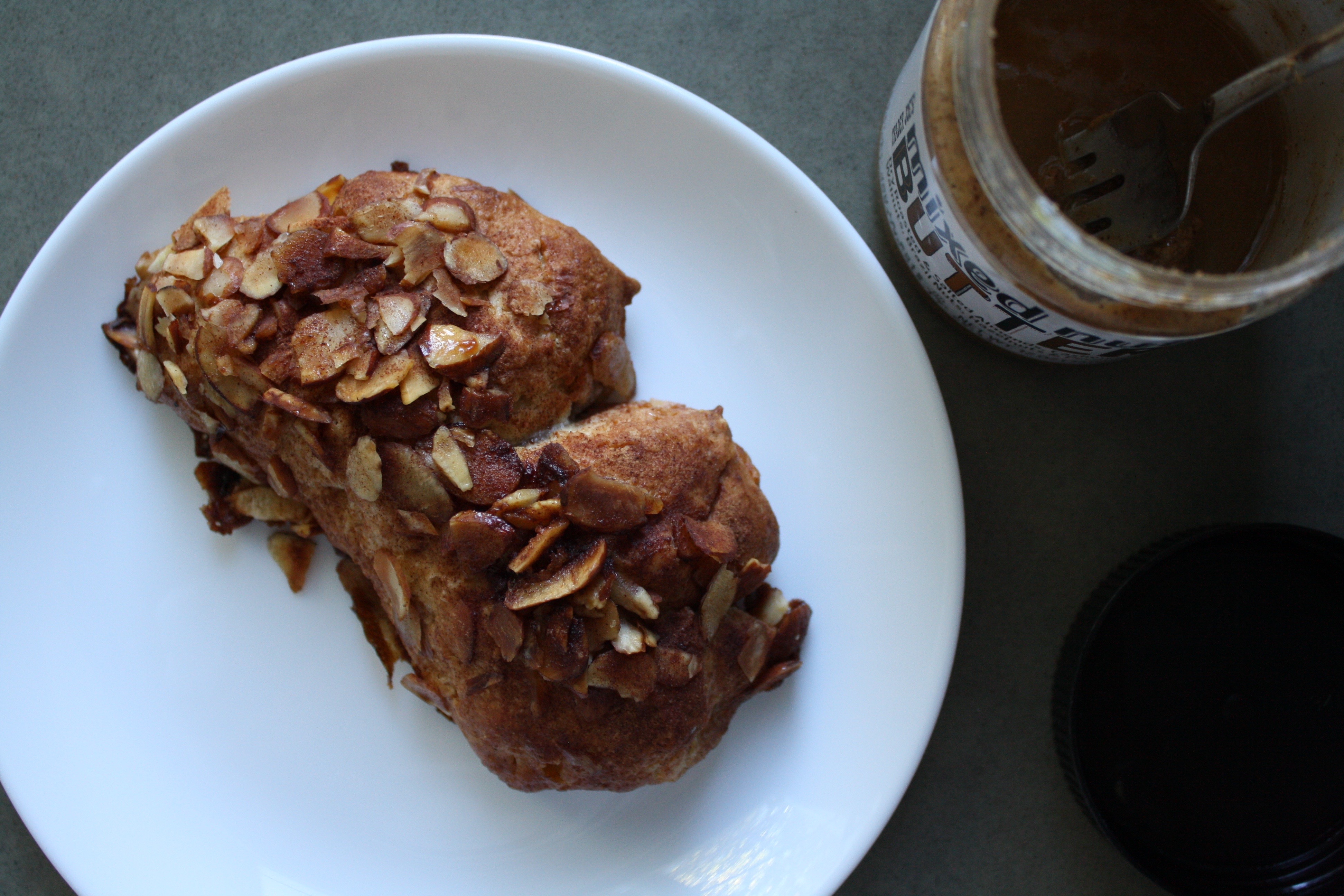 Ohhhh yeahhhhh.  I added mixed nut butter, because why not?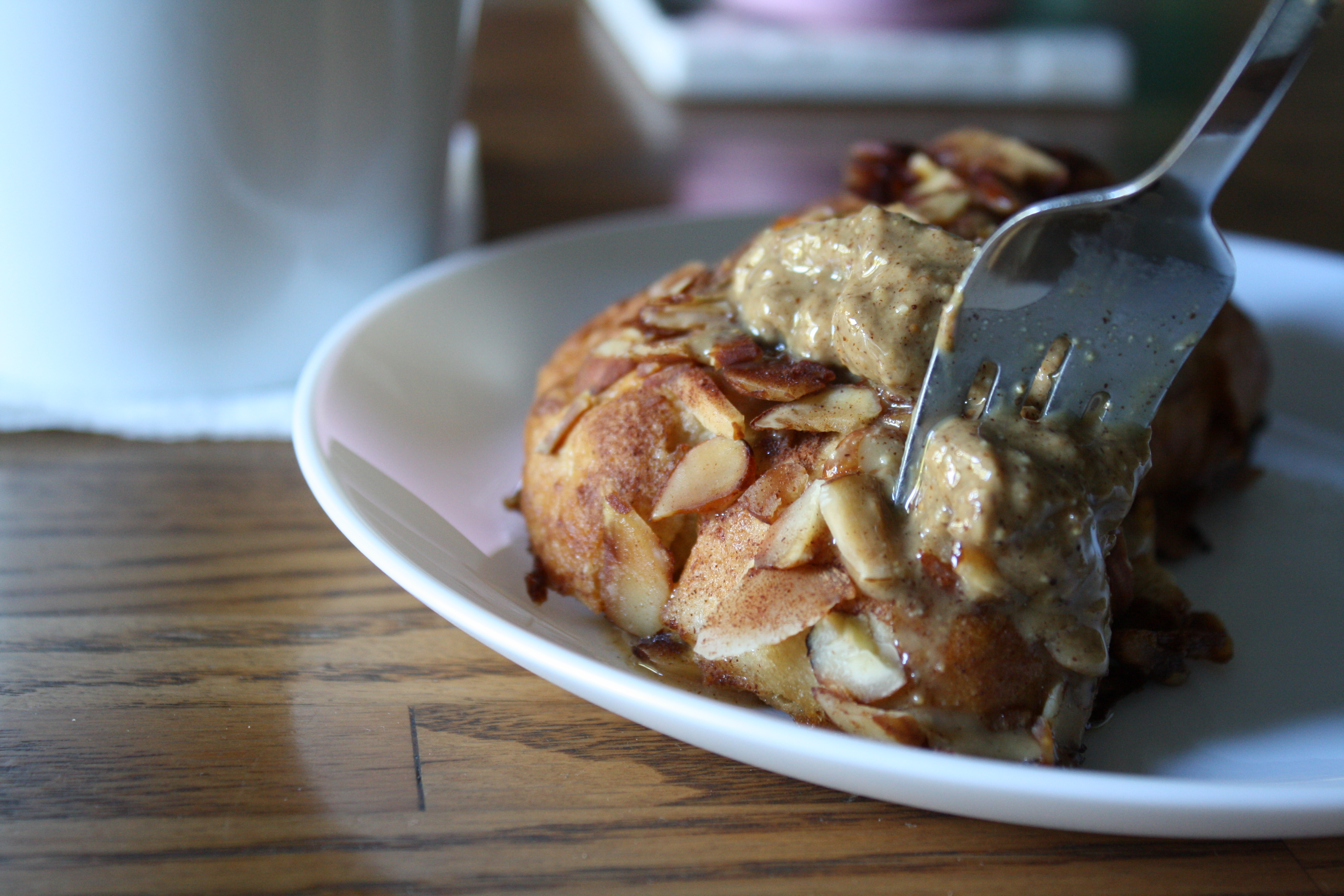 It was delish – not too dry but not gooey either, with a nice soft crumb and notes of almond extract above all else.
I didn't get back home until after noon and I was SOOOO exhausted.  Birthday parties take everything out of me.  And this was a party with tons of my besties…and still I came home more than ready to unload the kids onto Kyle.  Well, not really.  They were already fed, so once they had time to unwind it was nap time (for V) / quiet time (for P) / football time (for K&E).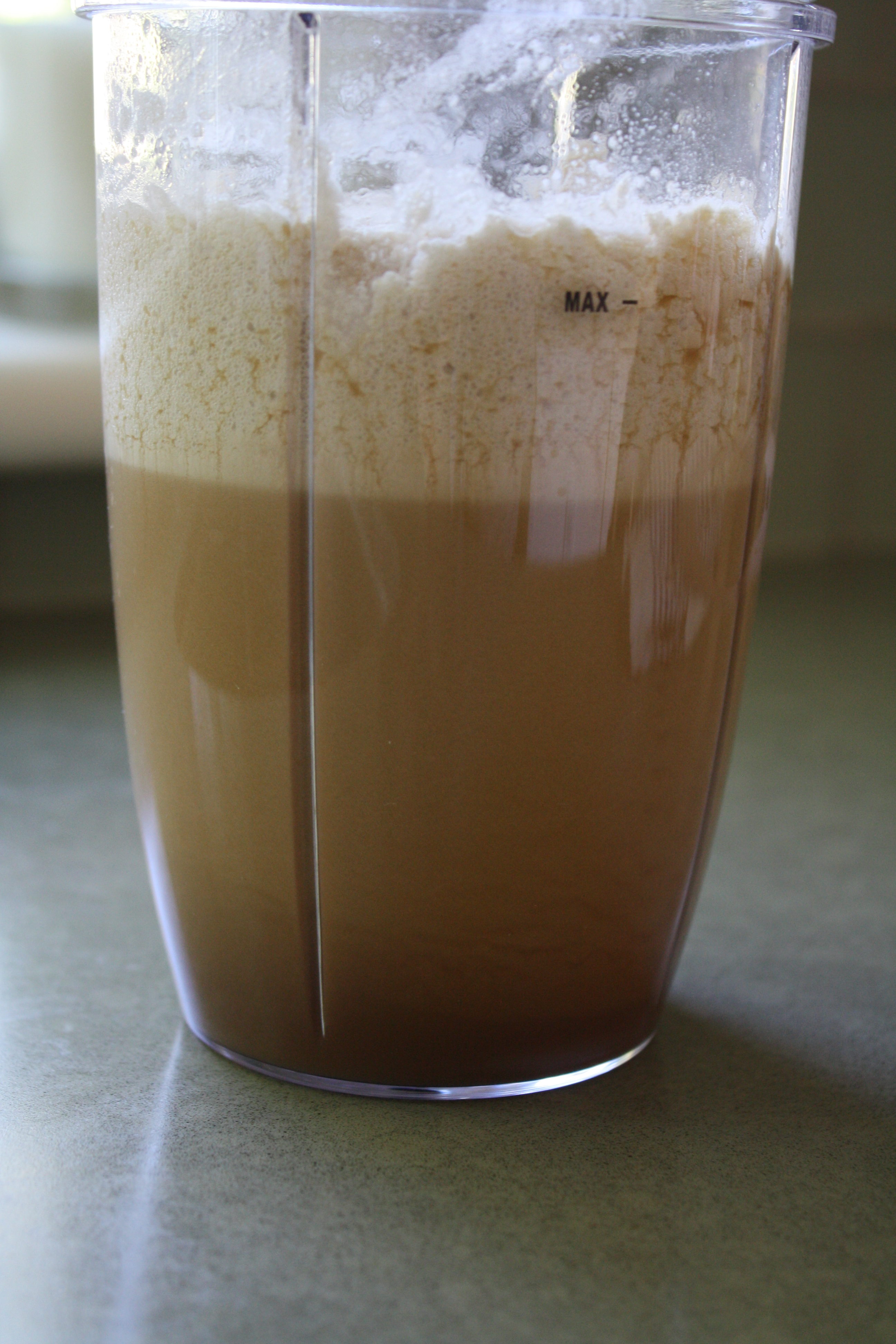 This beauty (cold coffee, ice, coconut milk, and chocolate almond milk) made me feel human again. You see that foam from the coconut???  Best. Part. Ever.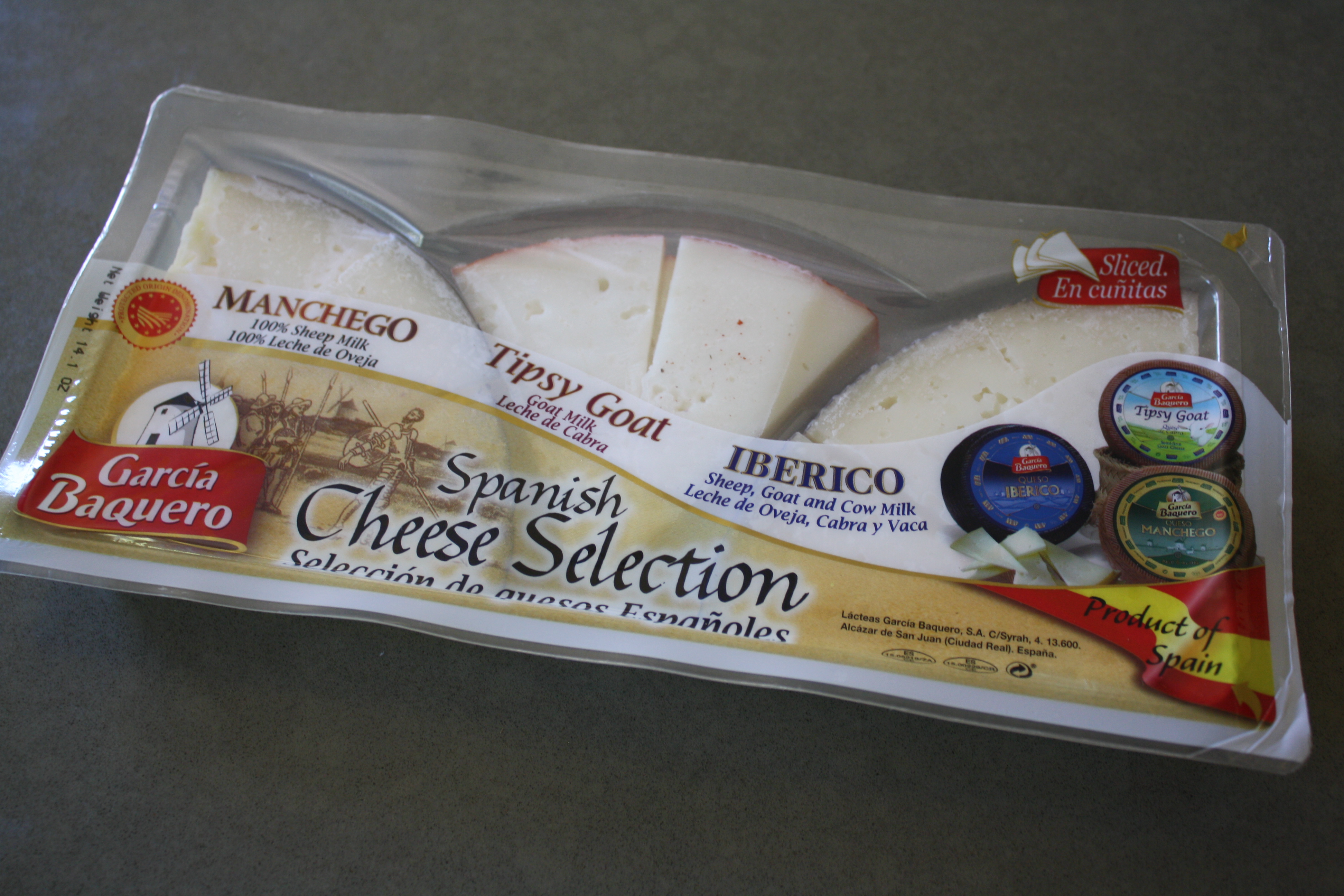 This was an impulse buy from Costco, but was pretty decently priced and I think I would go for it again.  Thus far I've only tried the tipsy goat, but it was good.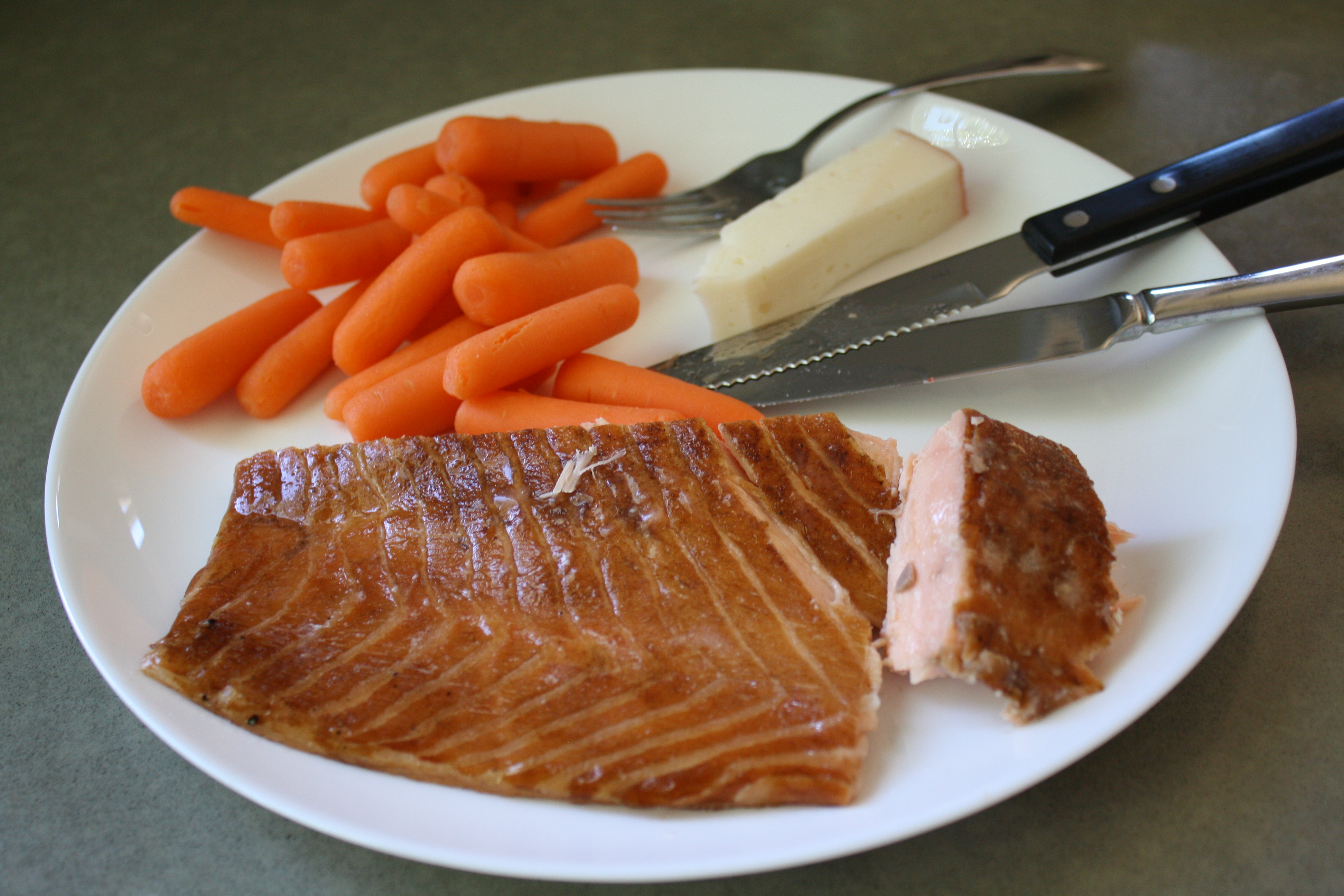 First snack plate of the afternoon. [I had two – the second had Lundberg chips and more cheese]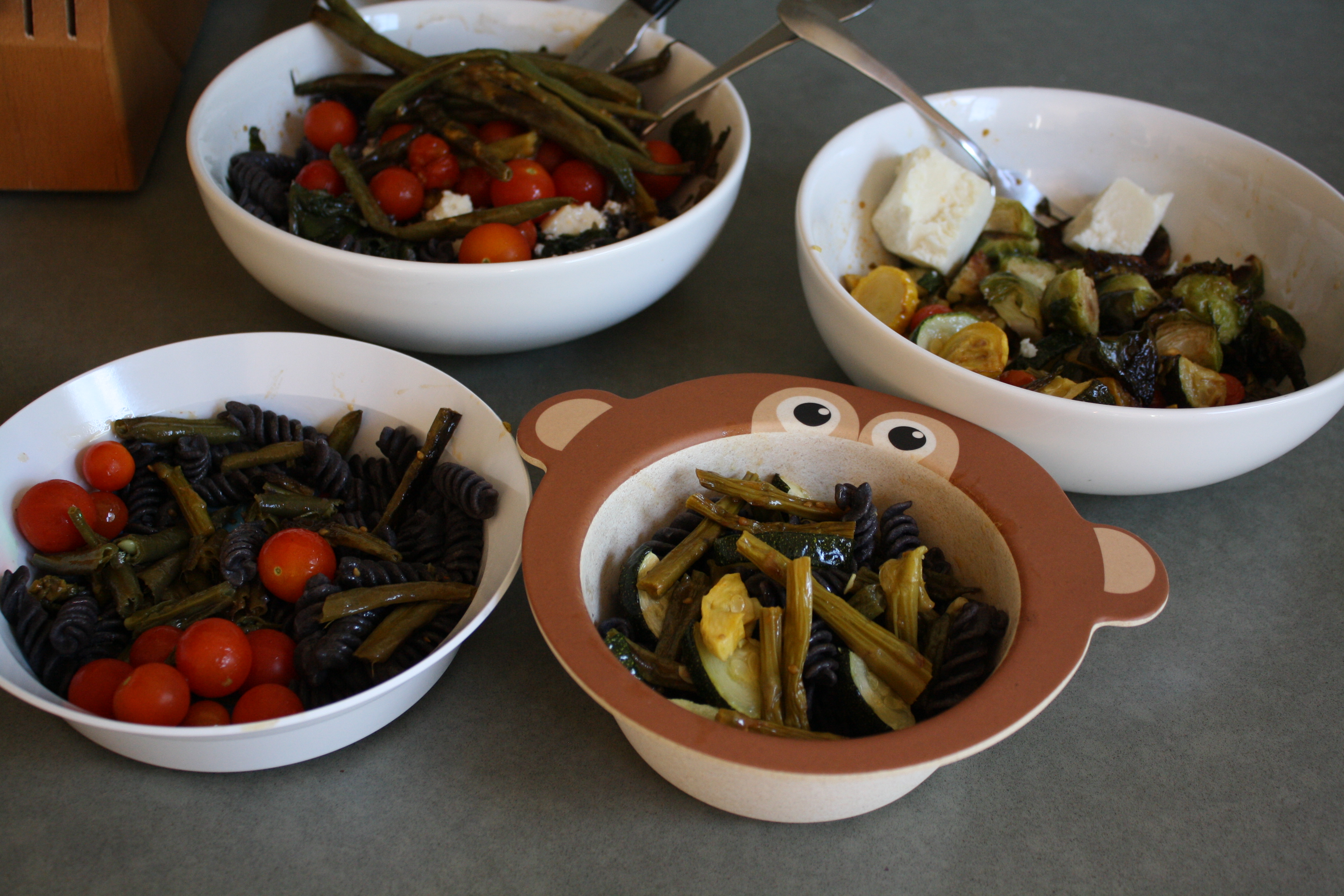 Dinner was leftovers in the form of black bean pasta, roasted veggies, and a variety of cheeses.
The kids' pasta had different veggies but I gave them mozzarella at the end of the meal (P prefers cheese for his dairy dose, but I mainly do milk so getting cheese is a treat).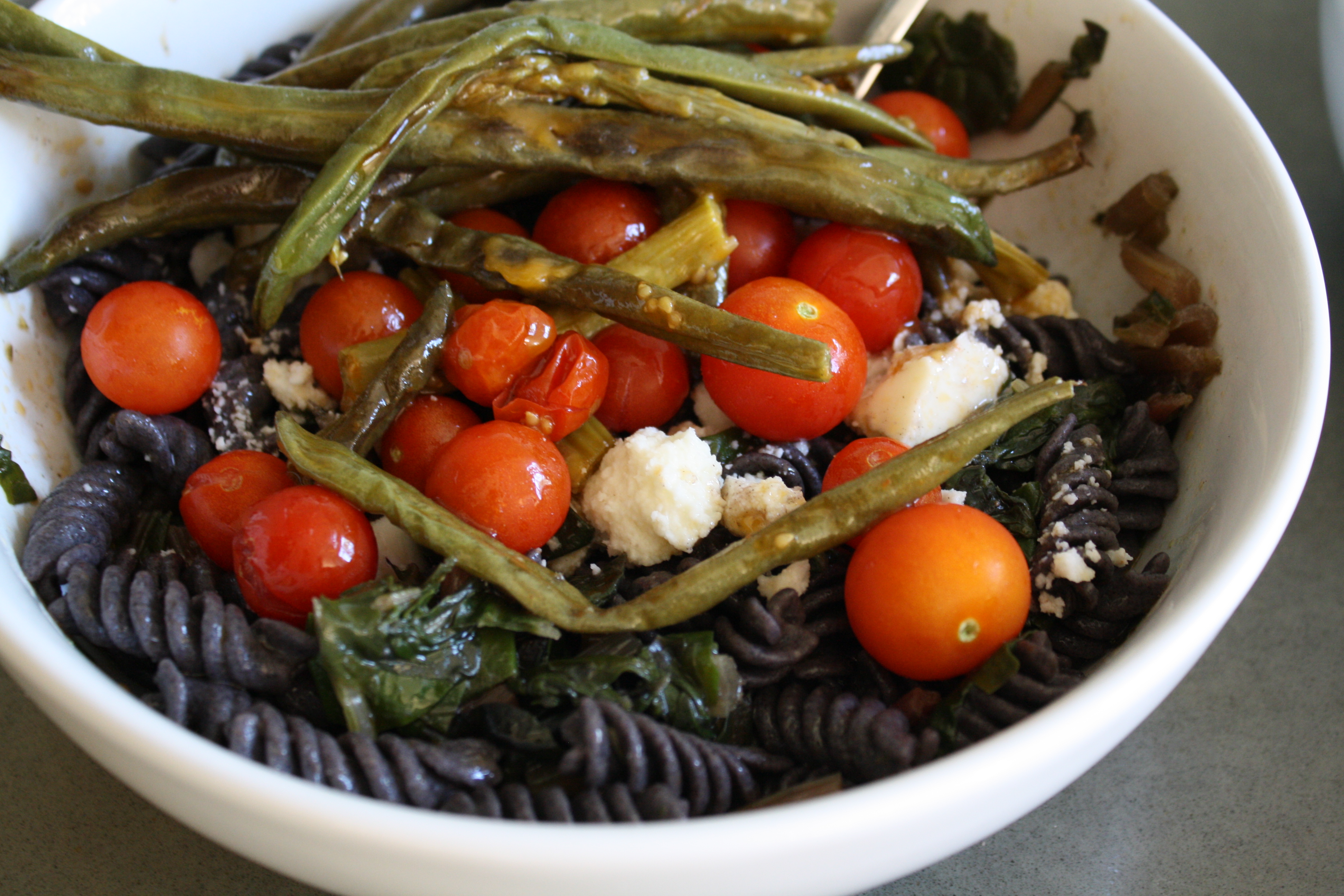 Kyle's was a Mexi themed bowl and had some of the roasted tomatoes and tomato oil plus cotija cheese.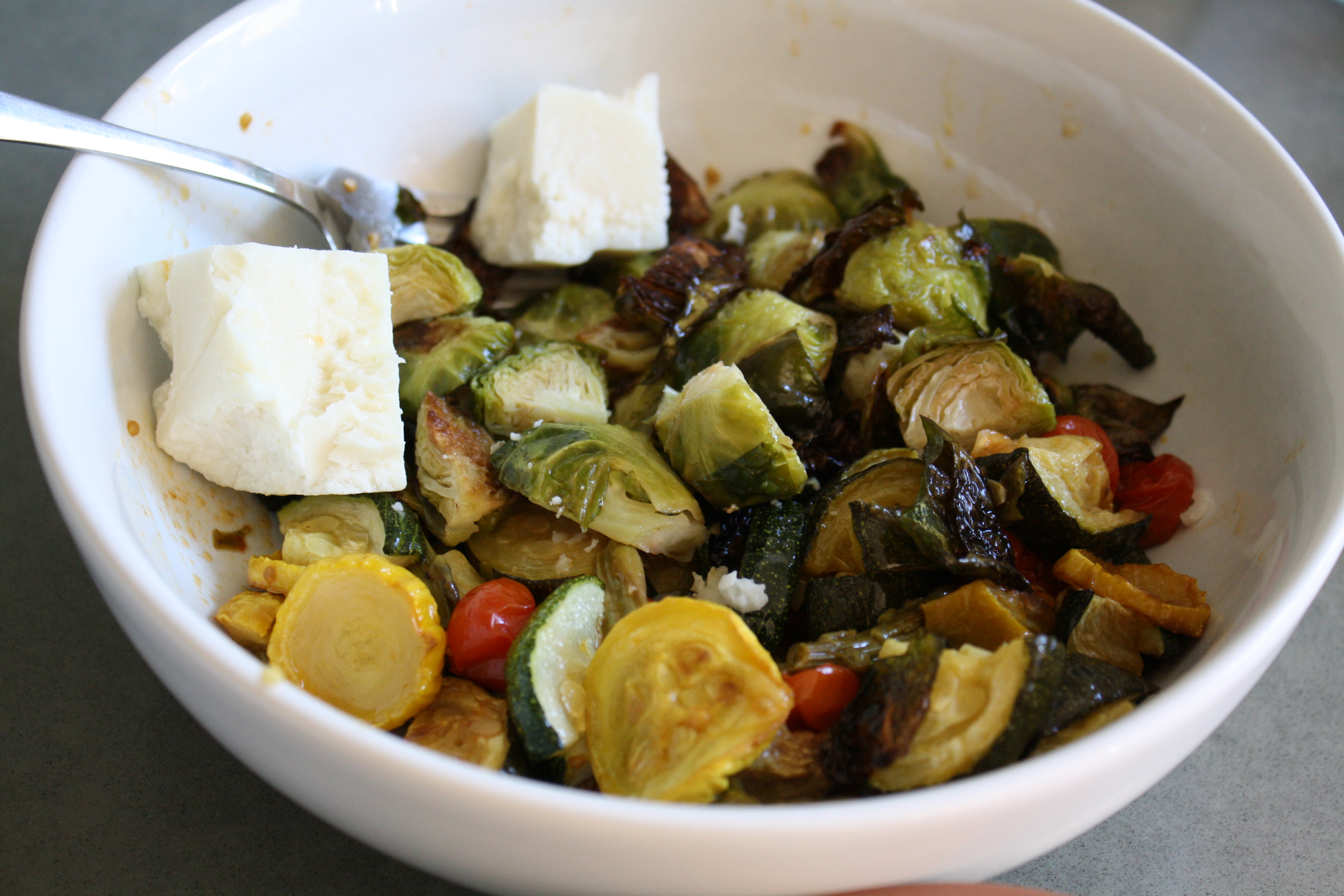 Sometimes you just want a heaping pile of veggies amiright???  In all honesty, I wasn't that hungry because we ate dinner on the early side (Kyle had to be somewhere) so I just planned on having an extra big dessert instead.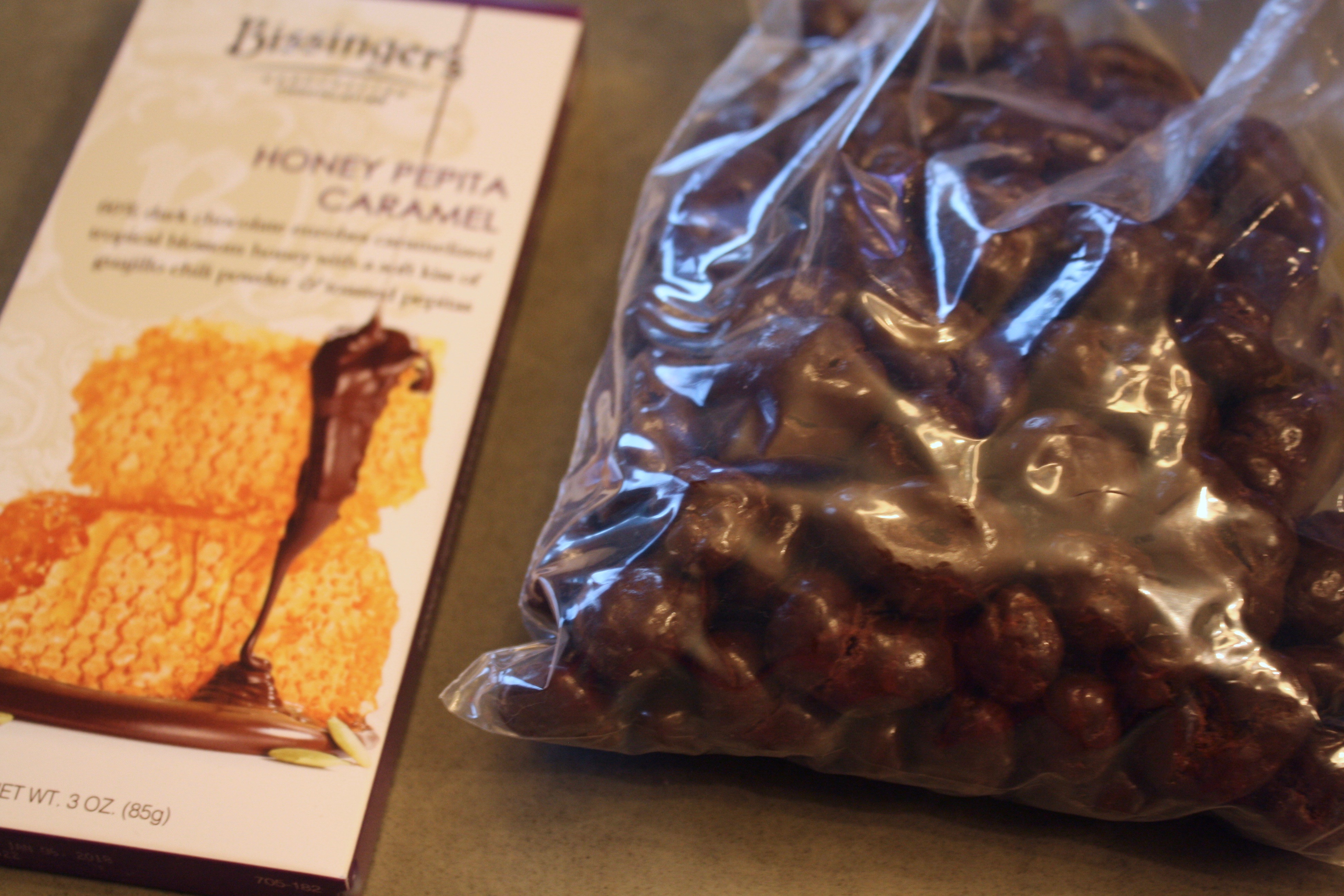 Such a huge sacrifice.  Not.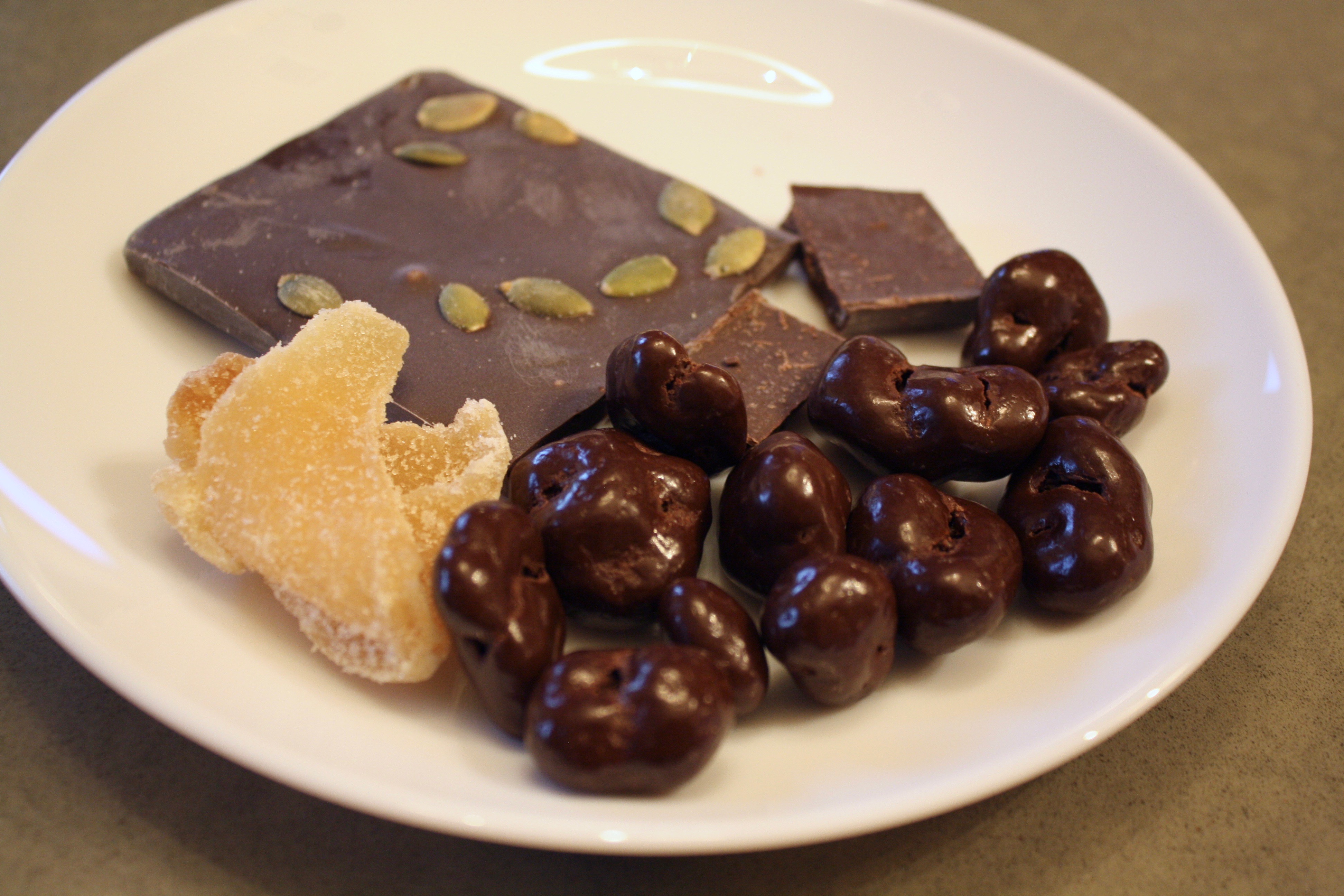 This was my first plate.  And then I finally got the kids in bed and enjoyed my second serving (the rest of the Bissinger bar) while watching football.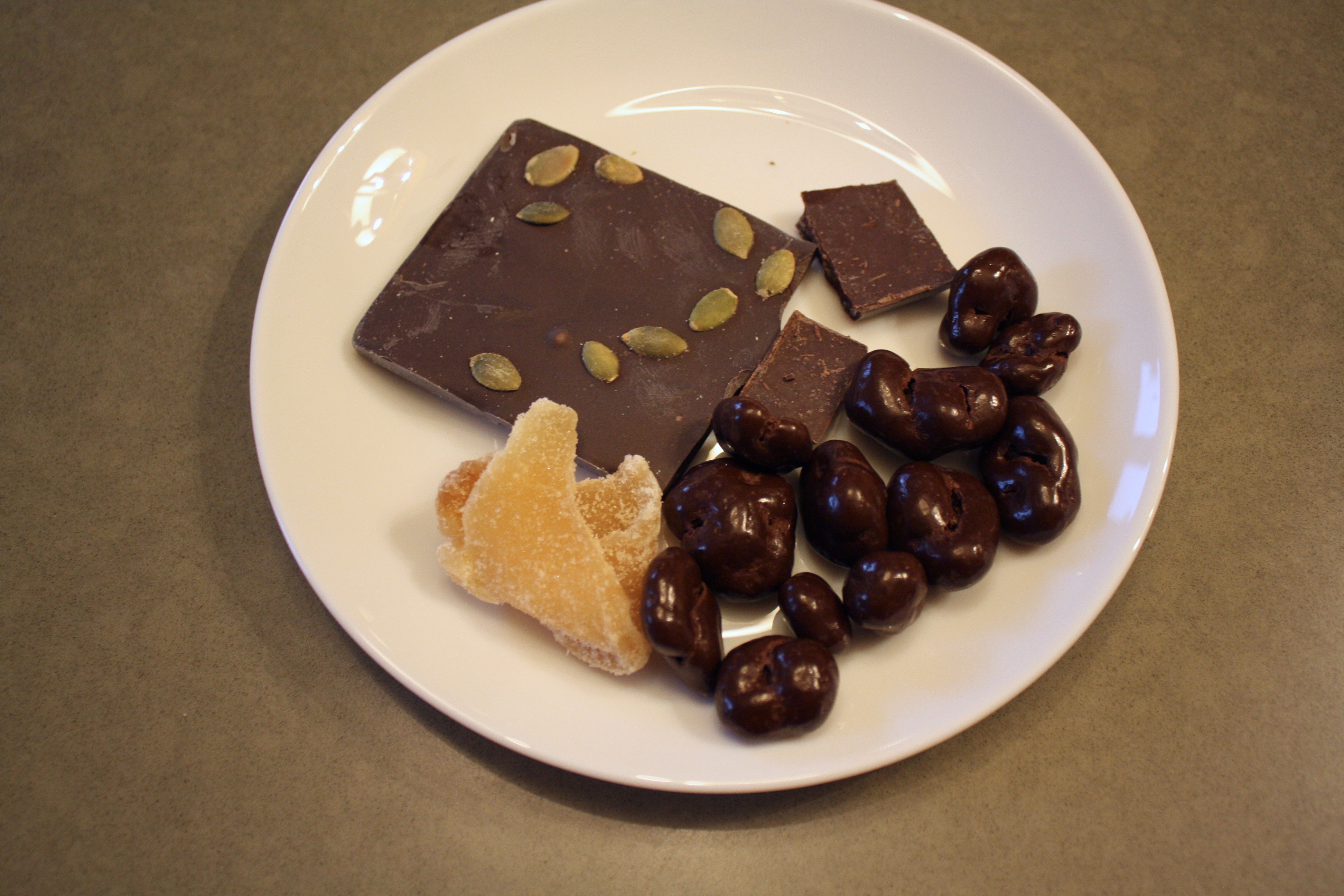 Dark chocolate covered walnuts may be the best thing at the Nugget bulk bins ever.  Although that's coming from someone who's fave nut is the walnuts, soooo, it makes sense.  P is with me.  He asked for walnuts as his snack at school again (he actually asked for grapes, walnuts, and carrots to be 100% accurate – he is basically the most amazing kid ever).
And that, mis amigos, is what it looks like when you graze your day away.  Not mad about it.  Bring it, Monday.