If I had to summarize what I have been eating over the past few weeks (while I wasn't blogging), the theme would be recipes from this cookbook.
I am obsessed and have more or less been eating one thing or another from the book every single day.
The most frequent have been superhero muffins, the DIY grain salad, and the Thai quinoa slaw…although the fennel and apple salad is hot on their heels. I feel like I am making the apple cider vinaigrette and lemon miso dressing constantly.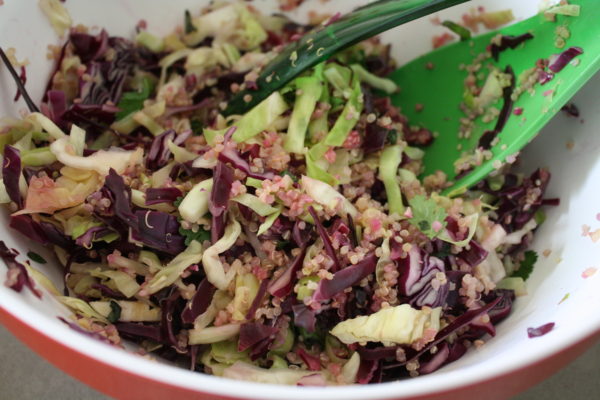 The Thai quinoa slaw has accompanied me to two different potlucks this past week alone!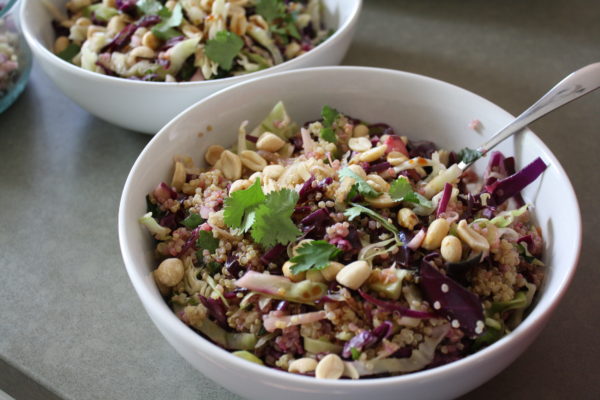 We have so much cabbage from the CSA it's kinda a no brainer.
And how cool that I can finally make meals with peanuts! Mr. P has been doing amazing with his dosing…maintenance mode has been smooth sailing and we have even done a few challenges here at home, increasing the amount to as high as 9 peanuts without any issues (his normal dose is 5). If I make him a PB&J sando I don't even measure the amount, I just smear on a knife-ful (making sure I eyeball it to be at least 1 tsp).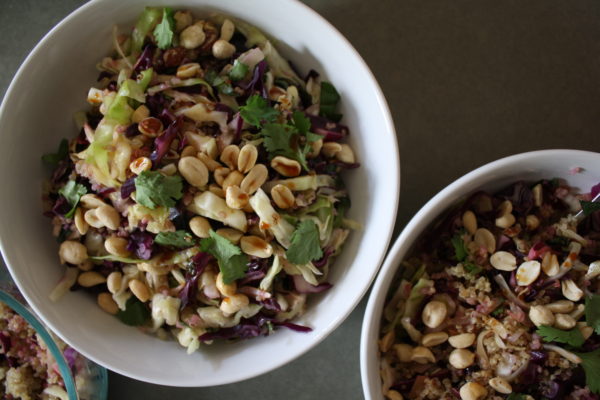 Anyway, it's good with almonds or cashews too.
And thanks to my parents' lime tree, I am able to make double and triple batches of the dressing.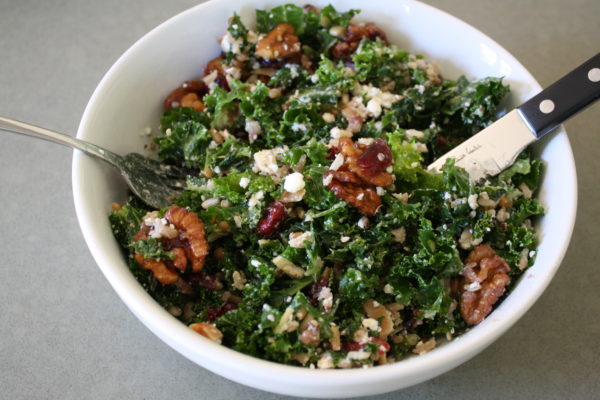 The DIY grain salad variation I've been into the most is the one that most mimics the WF salad that I love so much. It has kale, feta, slivered almonds, dried cranberries, and candied walnuts. For the grain I alternate between wheat berries and brown rice. I don't think the wheat berries bother my gut. I also add in snap peas.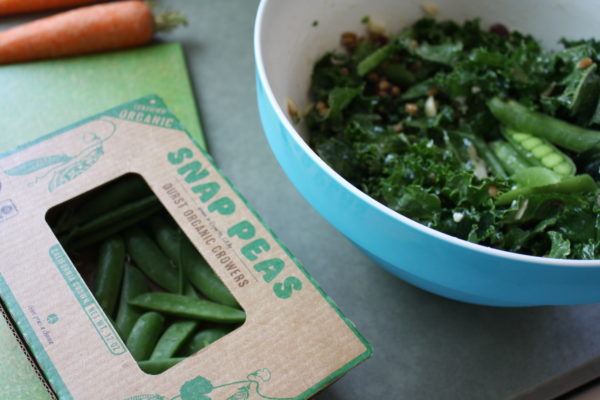 Check out this cardboard box the snap peas came in! I'm proud to support Durst Organic Growers because of their plastic free packaging – plus they are local!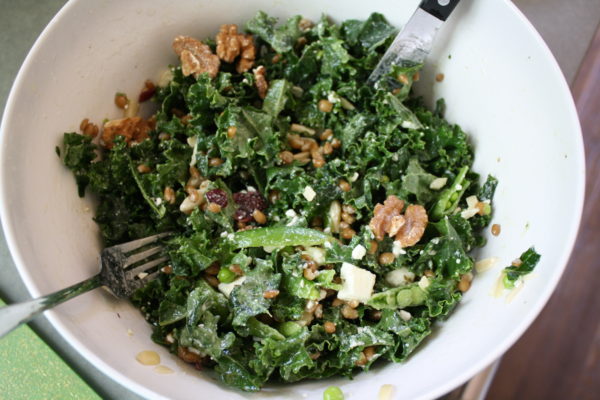 I used some of the meredith sheep and goat marinated cheese that I blogged about a while back. It's not cheap, so I buy it as a treat and really make it last, but the best part is that once the cheese is gone you can use the flavored olive oil and it totally makes a normal meal go above and beyond.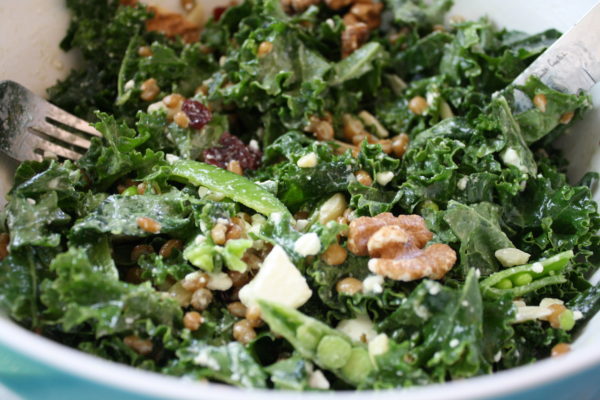 I use a ton of slivered almonds because I love the way they soften a bit after a few days…they kinda blend in with the grains.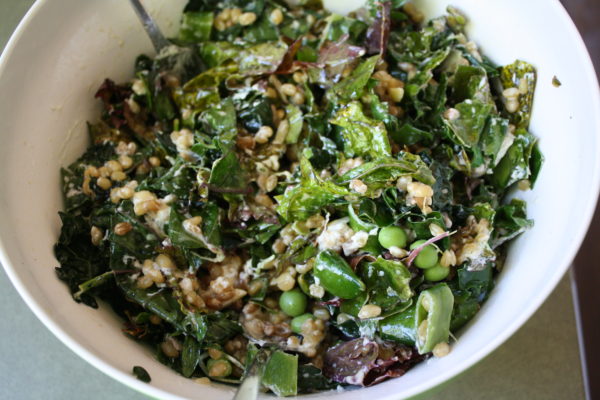 I know it seems like I'm just taking photos of the same thing over and over again…but believe it or not this is barely half of the amount I'm actually making/eating.
I guess it's a good thing the UC Davis student farm CSA keeps giving me five heads of lettuce a week!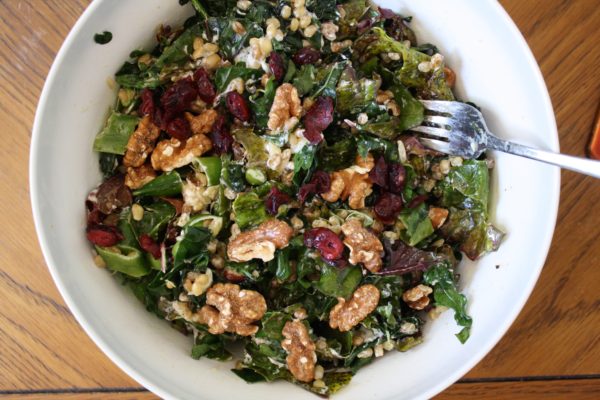 [It will actually be slowing down with the lettuce now that the summer crops are coming – squash and tomatoes aplenty!]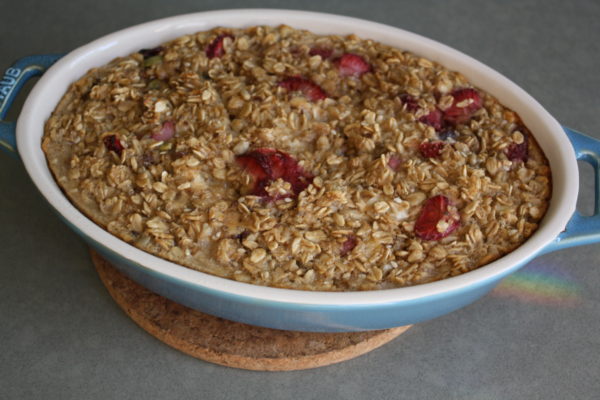 Pardon the interruption of salads. Here's a strawberry banana baked oatmeal, which was a big hit. Why is coconut sugar so exponentially better than any other sweetener??? I used to think maple syrup was the *ish, but coconut sugar has stolen my heart.
We baked walnut quick bread, but it only lasted two breakfasts 😛
I think zucchini bread is next on our list to tackle.
Guess what else we've been making on repeat…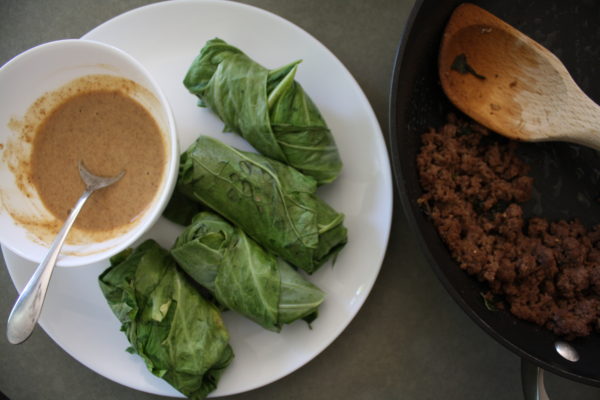 Thai collard wraps!
These are not from RFCFES but they are definitely a staple in our dinner rotation these days.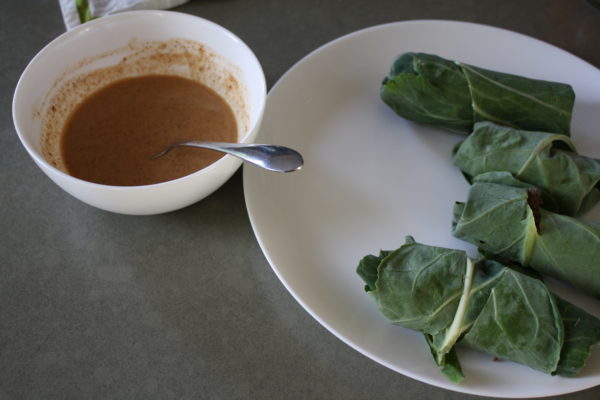 I make them once a week because we get collards in our CSA, but the kids love them so much that I have a feeling I'll be making this long after the collards cease to appear in our basket.
For the beef, I saute it with fish sauce, tamari, fresh grated ginger, brown rice vinegar, and then add in sesame and basil at the end. Sometimes cilantro depending on if I have it. Our basil plant is doing decently well now, so I am loving the addition of it in all kinds of meals.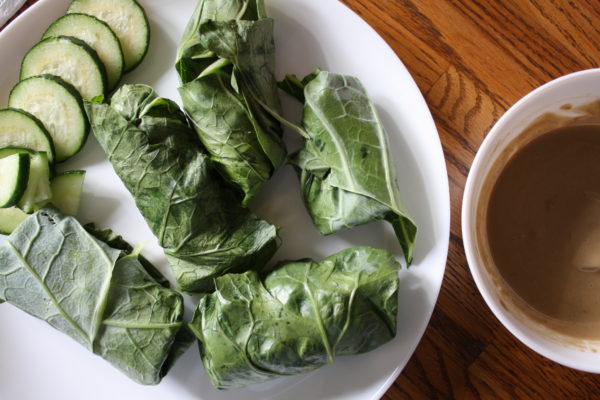 I switch between almond butter and sun butter for a dipping sauce – just adding water and a splash of tamari to thin it out a bit.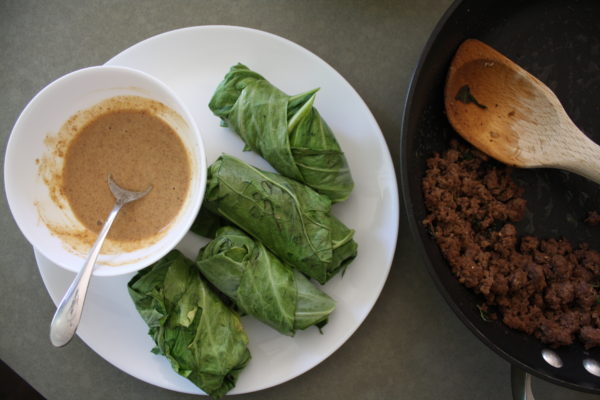 And when the bunch of collards is too small for our family of four…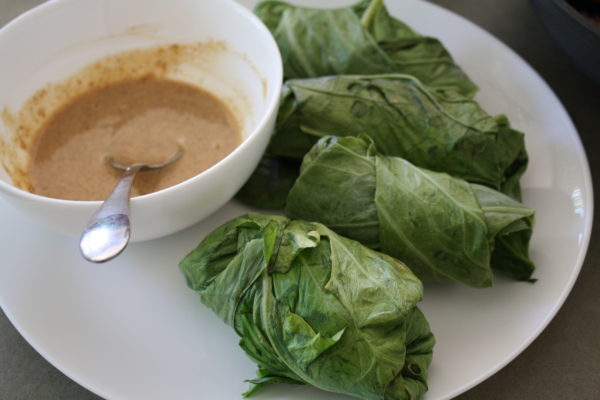 I have to get creative and use another kind of lettuce.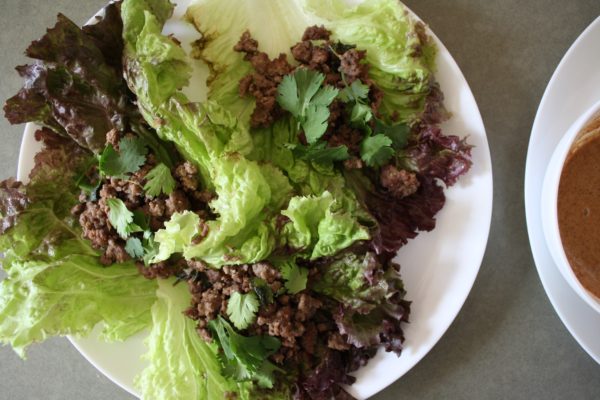 Which I usually give to Kyle because the kids aren't skilled enough to keep it from spilling all over the place (and I like collards the most).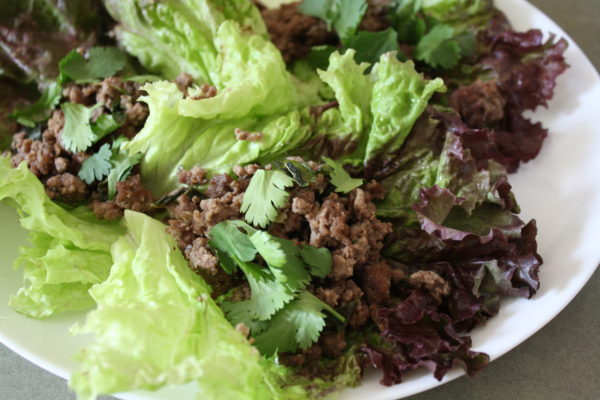 Final love affair to disclose involves salmon (and yet again, Asian flavors).
My parents have oranges coming out of their ears, so I took a bunch and made a few jars of orange miso salad dressing (also from RFCFES).
I still LOVE the Thai salad dressing from Nugget market, so I alternate between the two depending on which lettuce I'm using. Leafier greens are better with the lighter vinaigrette, whereas kale can handle either.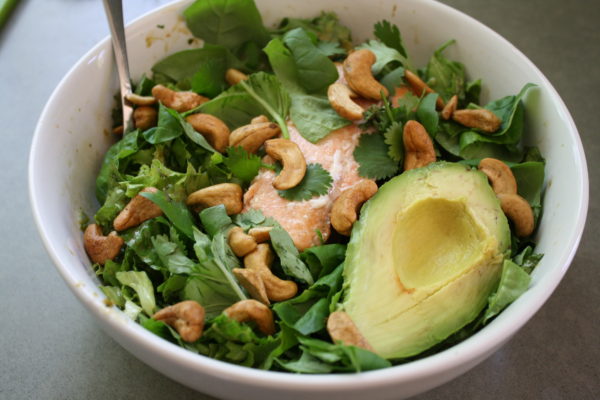 I also switch off between cashews, almonds, and peanuts.
On top of that you just need avo and fresh herbs (cilantro and basil) and a nice piece of salmon.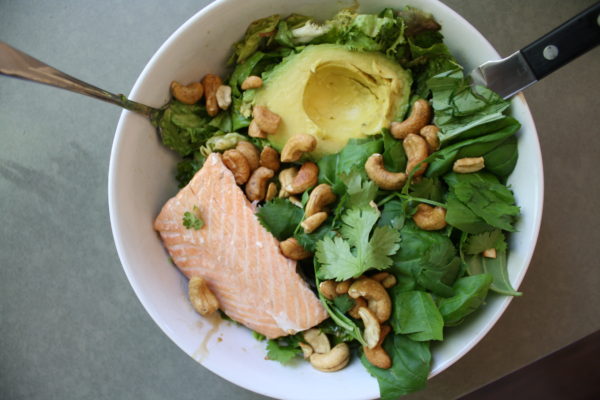 It took me a minute to figure out the best way to prepare the filets, but I struck gold when I started using a non stick pan and a hefty spoonful of coconut oil.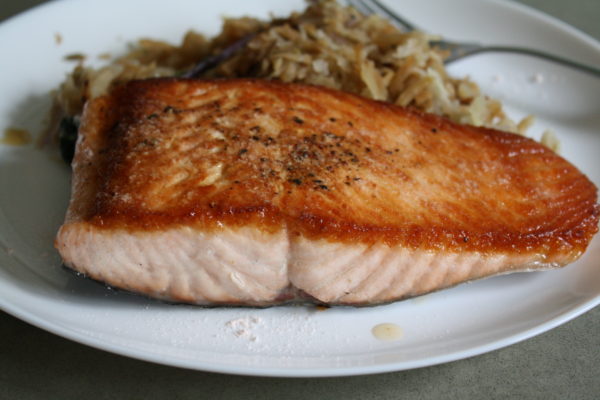 Ok, so I'm basically frying it. But OMG is it the best ever.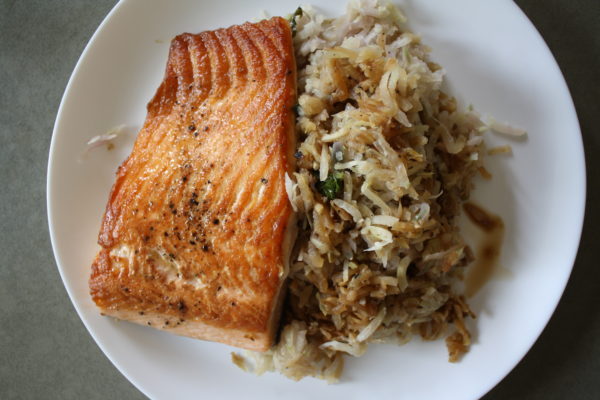 I like my salmon a bit under, so I sear it on high high heat for a few minutes on each side – until it gets a nice thick bronze crust – and then leave it to rest in the pan until I'm ready to eat.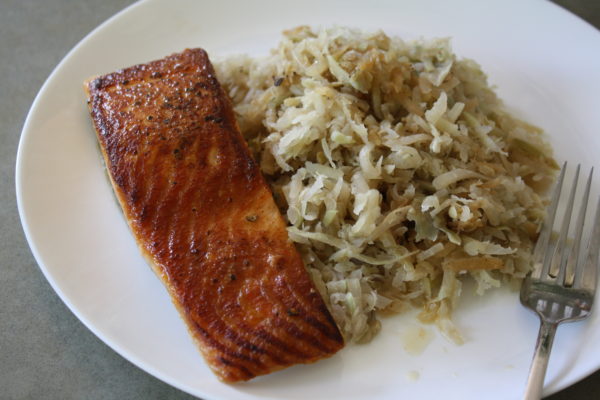 And in case you were wondering, yes, that is shredded kohlrabi.
I blogged about it back here but if you're looking for other ways to enjoy it, here are more posts to check out.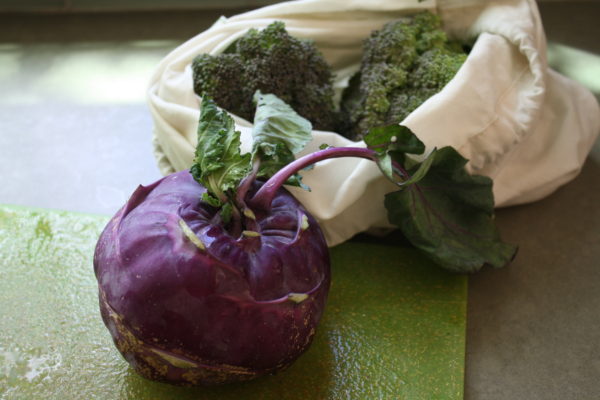 As annoying as it is to get out the food processor and prep it, doing a bunch at once sure makes lunches easy when the time comes.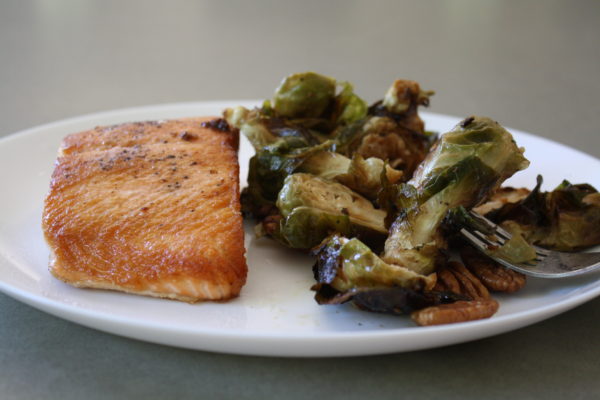 Is it acceptable to eat Brussels sprouts in June?? I love them so much it's hard to limit them to the winter season…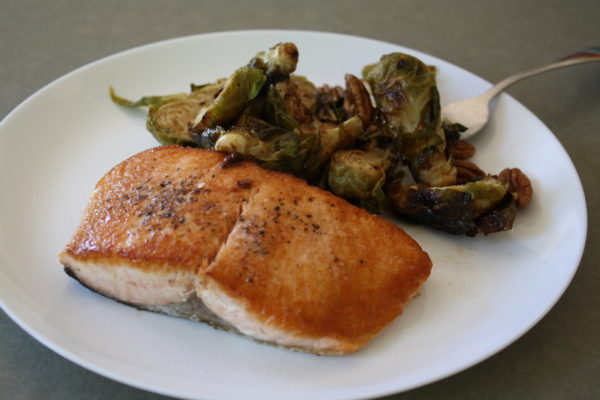 And now for a nice little collage of all the meatless (fish free) versions of these salads…
And that's basically what you missed from me last month.
Plus this (times 100).
Lot of chuao (I still have quite the stash thanks to the Nugget secret special sale where they were $1 per bar), mixed in with my other faves, like tcho, lula's, and see's.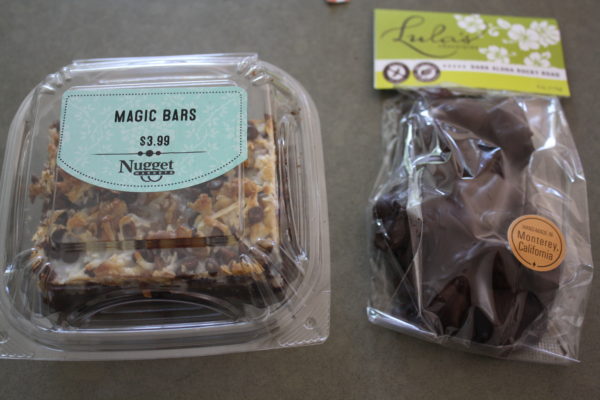 I got a few lula's for mother's day which I tried to ration, but that proved as hard as you'd think.
The aloha rocky road is hard to top, but the dark chocolate almond toffee is incredible. Luckily they are $$$$$ so they are reserved for very special occasions.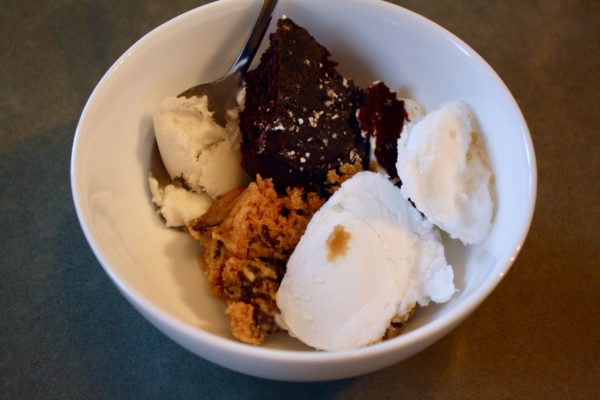 Another highlight included this insane combo of vegan coconut milk ice cream + gluten free vegan whoopie pie + vegan gluten free cookie dough.
I MEAN HOW DO YOU EVEN TOP THAT?