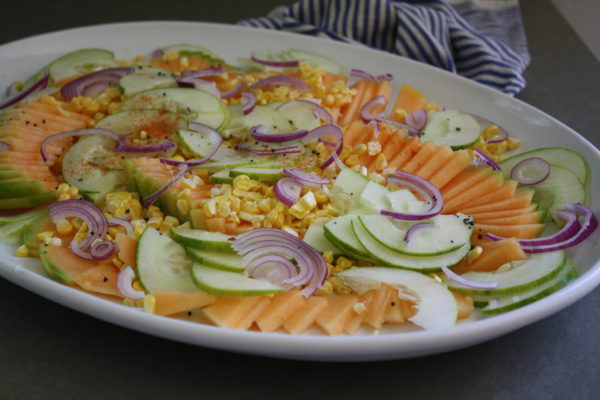 I used to LOVE blogging, but these days I love everything else I'm doing in real life so much more, which is why I keep neglecting this space. Even though I kept our organized activities limited this summer (or so I thought), it has allowed us to say yes to so many last minute / spontaneous things…like gatherings with friends!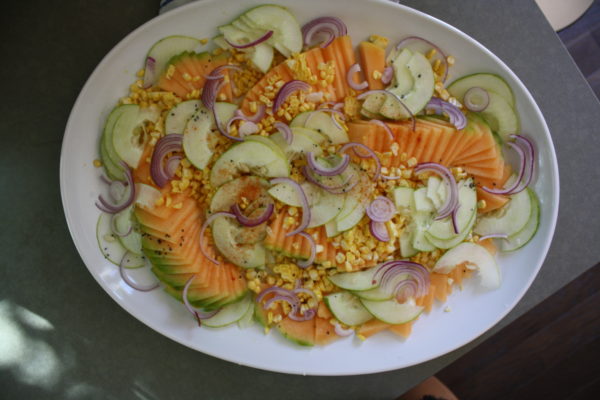 I've brought this salad to a few different potlucks and it's been well received by adults and kids. The key to it's success, I think, has to do with the fact that it is simple ingredients but an unconventional combination.
Also, it's light and refreshing (I keep it chilled until it's time to eat) and goes with so many things!
We've had it with salmon and burgers – even chicken shawarma!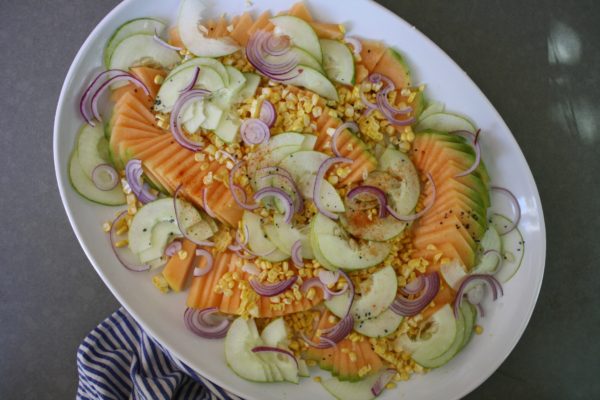 It also calls for seasonal ingredients, so thanks to our CSA I don't even have to go to the store! Pretty impressive stats for a side dish.
Have I sold you yet?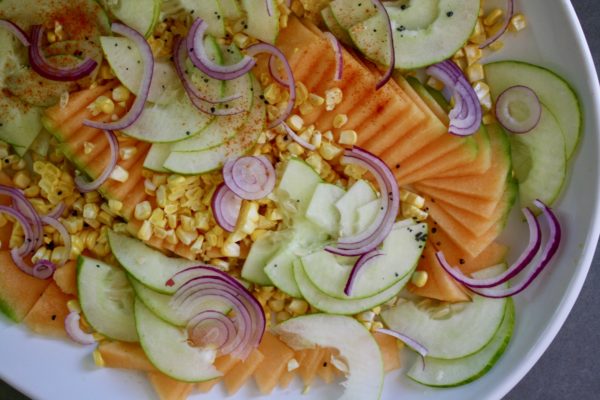 Cucumber Melon Summer Salad
Ingredients:
1/2 cantaloupe or honeydew, cut into wedges and then sliced thinly
1/2 large cucumber (or 1 whole smaller cucumber), deseeded and sliced into half moons
1/2 large red onion, thinly sliced
2 ears of corn, kernels cut off the cob (these can be raw or grilled)
black salt
cayenne pepper
champagne vinaigrette (see below)
Champagne vinaigrette
1/3 cup olive oil
1/4 cup champagne vinegar
1 tsp dijon mustard
salt and pepper
Directions:
Make dressing by adding everything to a glass jar and shaking until emulsified.
Slice the melon first and arrange on a large platter with the slices fanning out, leaving some holes for other ingredients.
Next slice the kernels off the cobs of corn. I like the corn to be raw because it is super crunchy that way, but if you have leftover grilled corn, that is also great. Scatter the kernels throughout the dish.
For the cucumber, cut it in half length wise so you have two long sections with the inner seeds exposed. Using a spoon, scoop out the seeds. Then slice them into thin half moons and layer onto the salad in similar fanning technique as the melon.
Slice the same shape with the red onions and add that on top, finishing with rock salt (I used black salt, but pink salt is great too) and a few dashes of cayenne.
Drizzle dressing on top just before serving.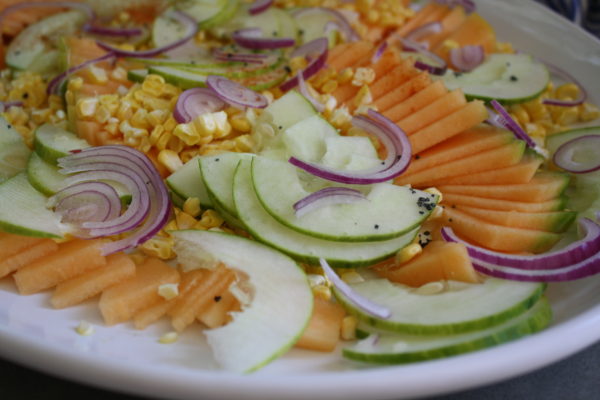 This salad works with any kind of cucumber – lemon cucumbers are my favorite right now. It's also nice with honeydew instead of the cantaloupe shown (I'd imagine any kind of muskmelon would be awesome – we recently discovered the white honeydew and it is YUMMY).