The day after the wedding was pretty chill aside from the morning.  I spent a couple of hours in the kitchen with my parents churning out breakfast for the masses.  We made several pounds of bacon and eggs but after setting off the fire alarm a few times (and sweating through my clothes), I tapped out on the prep and went back to hanging with my babes.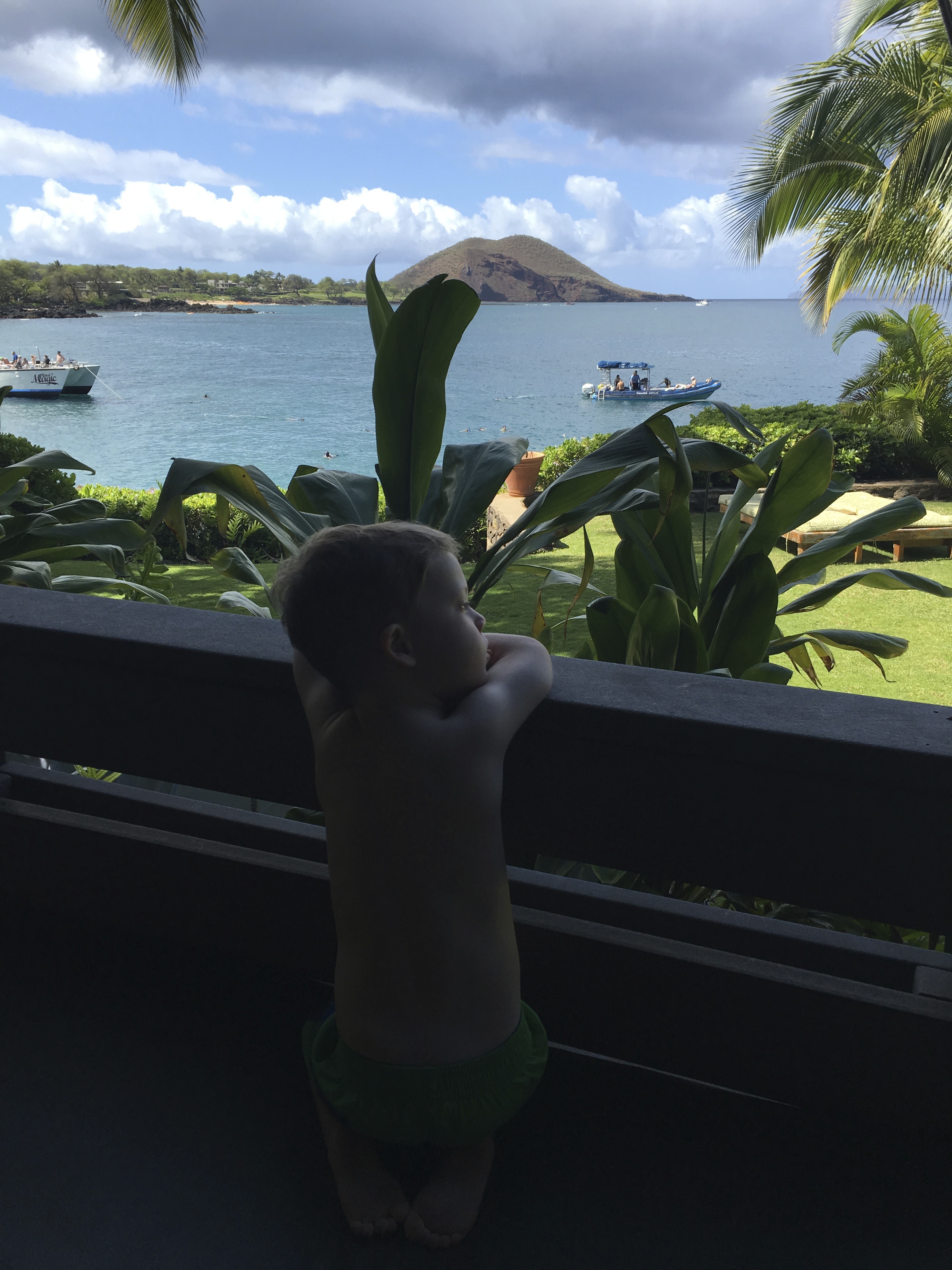 The "morning after" brunch started late, so we had already had seconds (ok, thirds) by the time the youngins' stumbled in.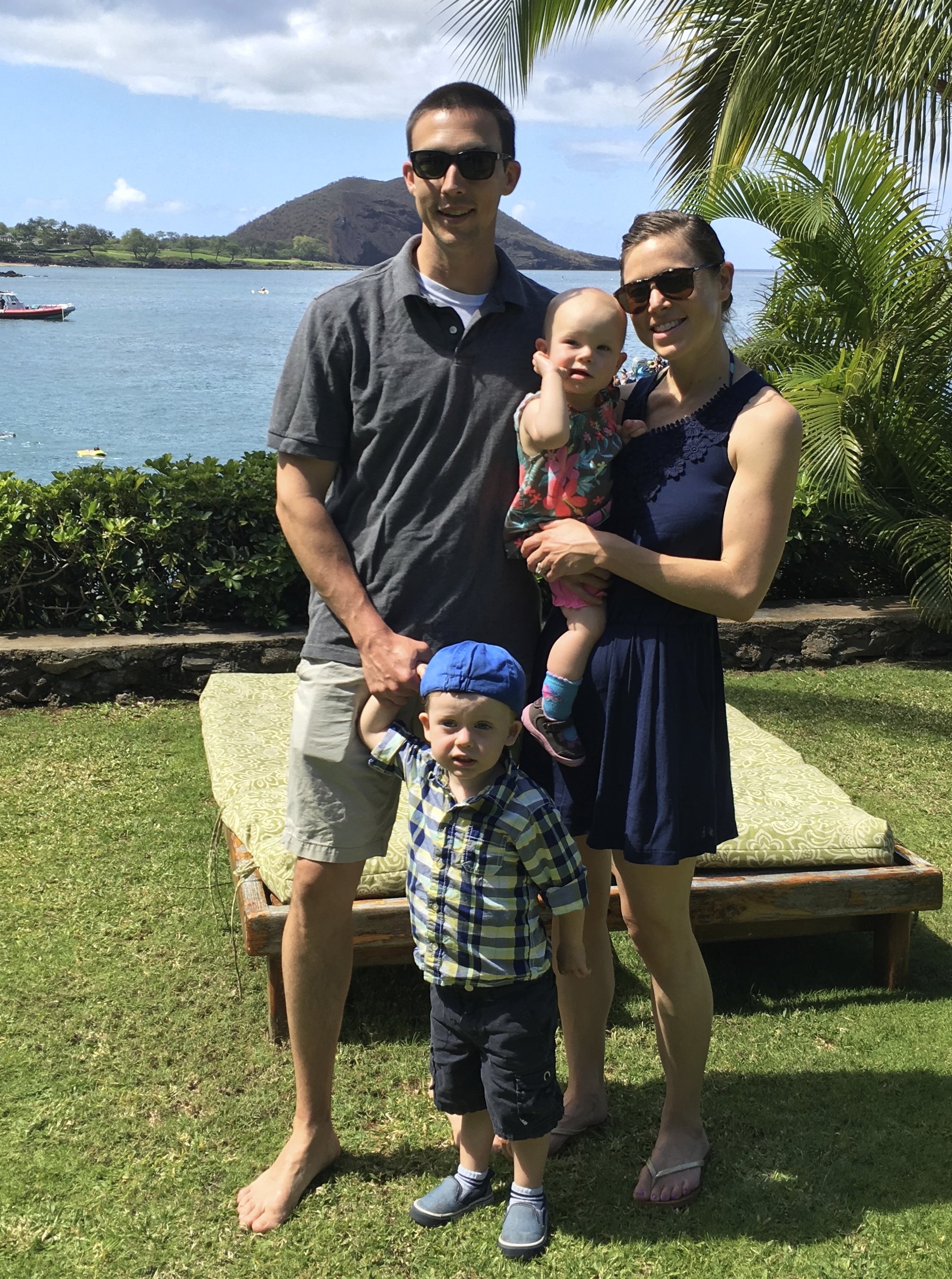 Family photo op!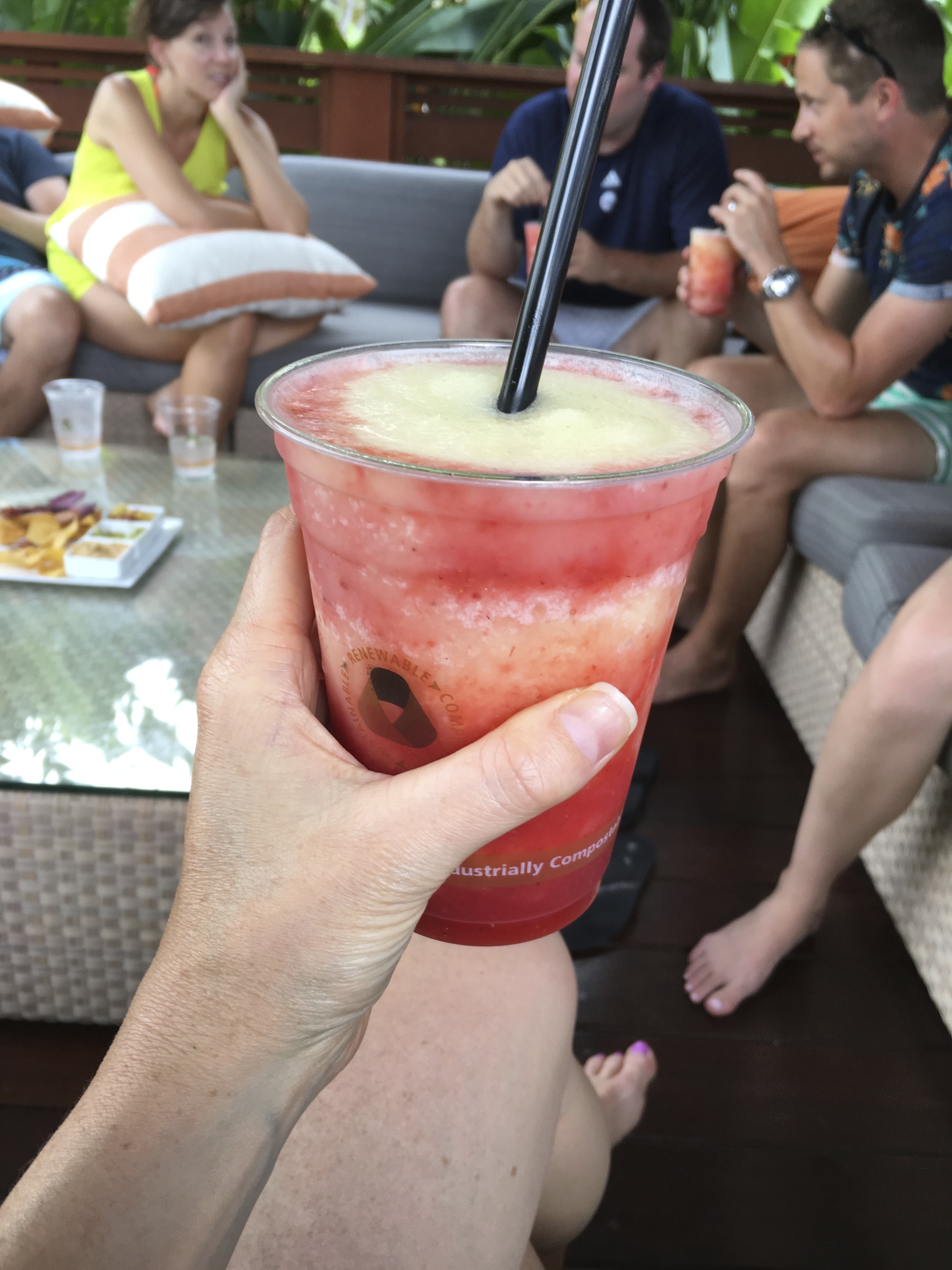 I wasn't planning to do anything but laundry and packing for the rest of the day but then my sisters texted from Hotel Wailea at a reserved poolside lounge and the FOMO kicked in BIG time.  Since both kids were asleep and Kyle was urging me to get out and enjoy myself…I did!!  I went and got my drink on with my first (and only) Lava Flow of the trip.  OMG how I love love love Lava Flows.  Ha.  So cheesy but so good.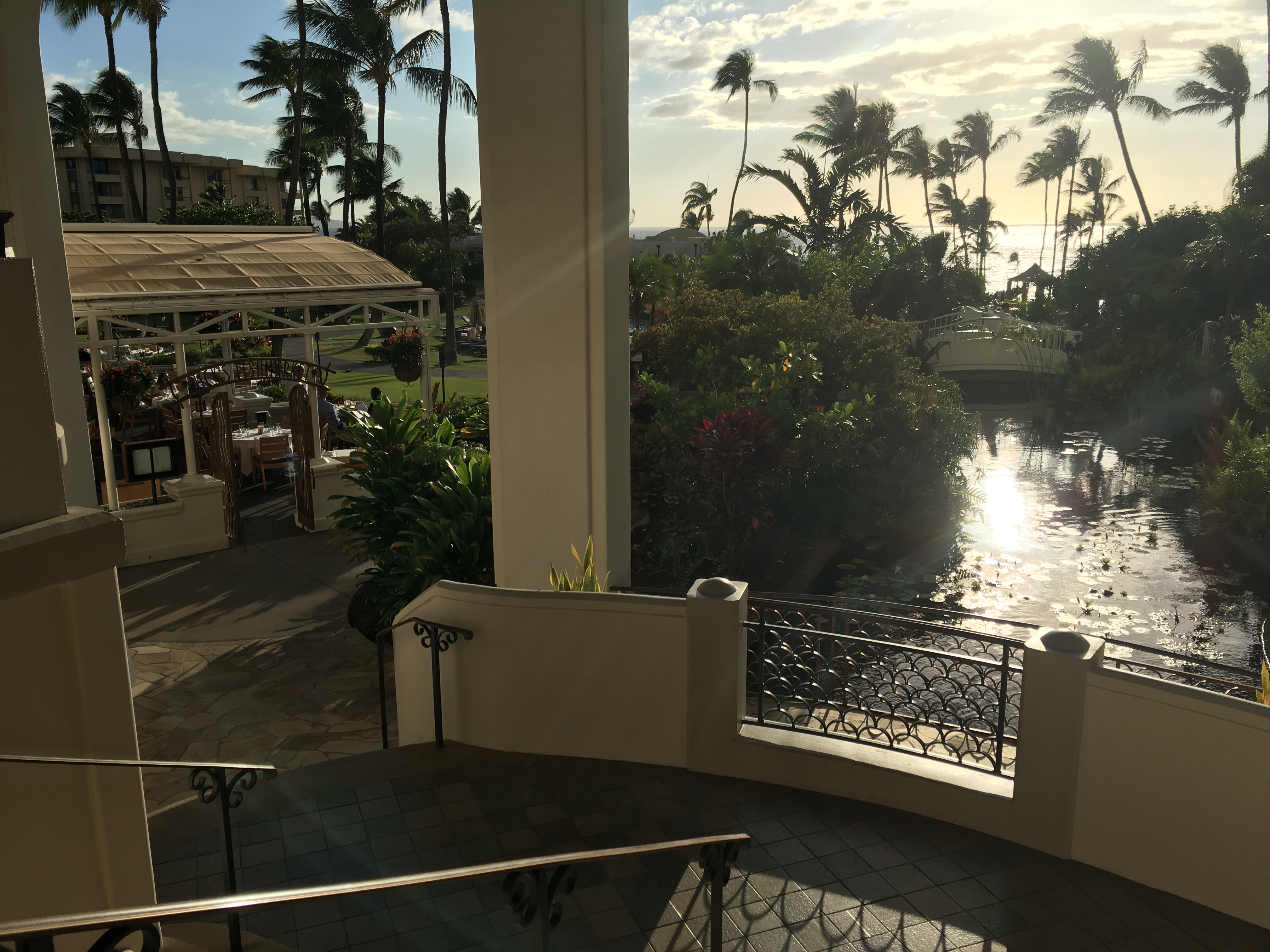 Since it was our last day in Wailea, Kyle and I seized the chance to get out on a date.  My parents had late dinner reservations with a bunch of friends, so we went out early and they fed the kids and watched them until we got home from our dinner.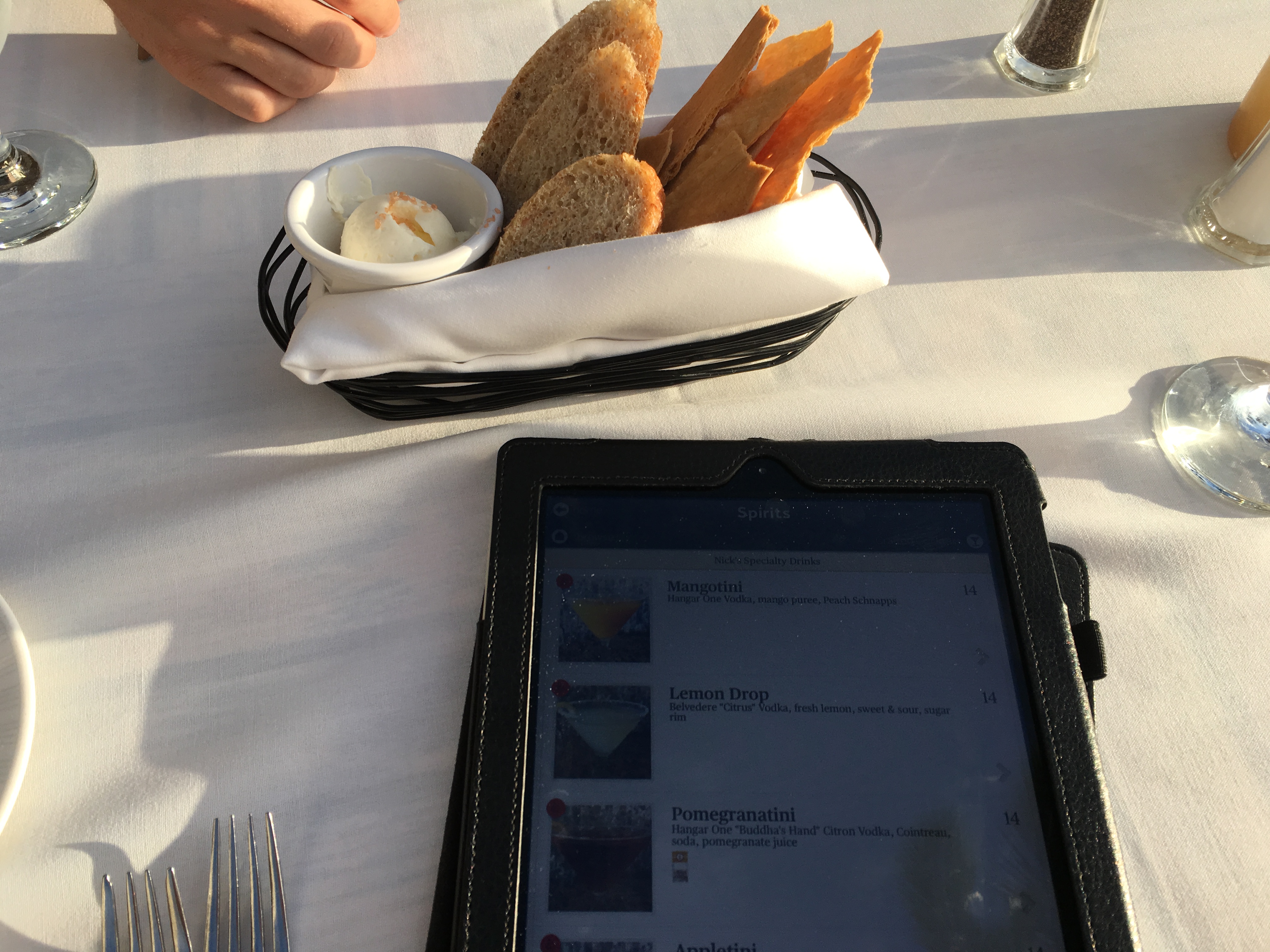 We chose Nick's Fishmarket in the Fairmont.  It was fancyyyyyyyy.  The drink menu was on an iPad!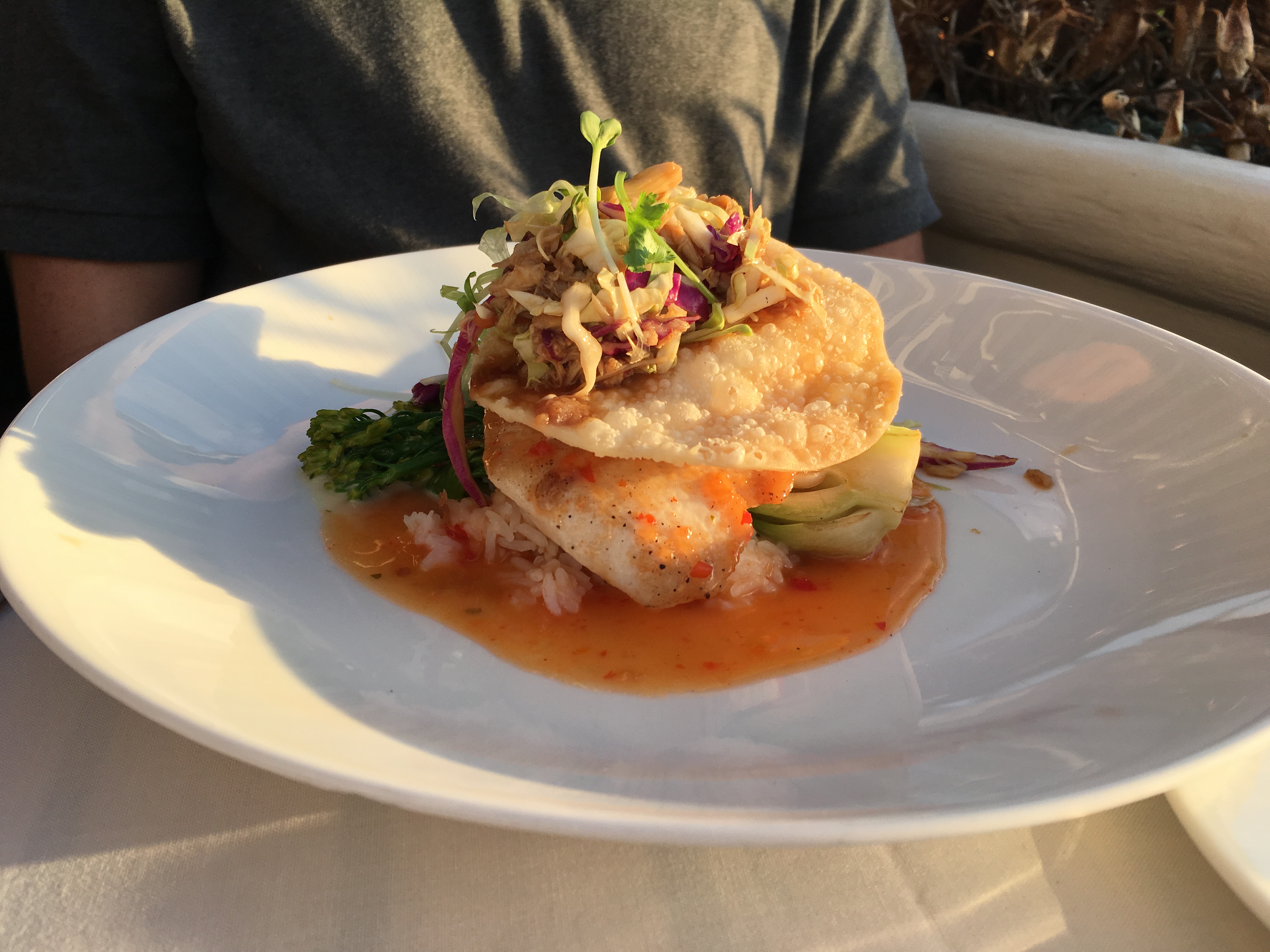 Kyle got the special.  I don't remember what it was but he loved it.
I chose an ahi dish, which had lobster and a potato casserole kind of thing.  It was the least dairy-ified fish dish on the menu, which was pretty surprising.  The potatoes were insanely good, but definitely cheesy (so I gave 95% of them to Kyle).
I'm sure the dish is good ordinarily, but unfortunately, my fish had a massive tendon thing (??) through it, and so a large part of it was chewy and tough and not edible.  It was supposed to be seared ahi so it should have been melt in your mouth soft.  Nope.  If I had the balls I would have sent it back (it was that difficult to eat).  But I hate food waste so whatever.  It was damn $$$$ so that's frustrating, but the dining experience was worth it…the view…being alone with Kyle…soaking it all up.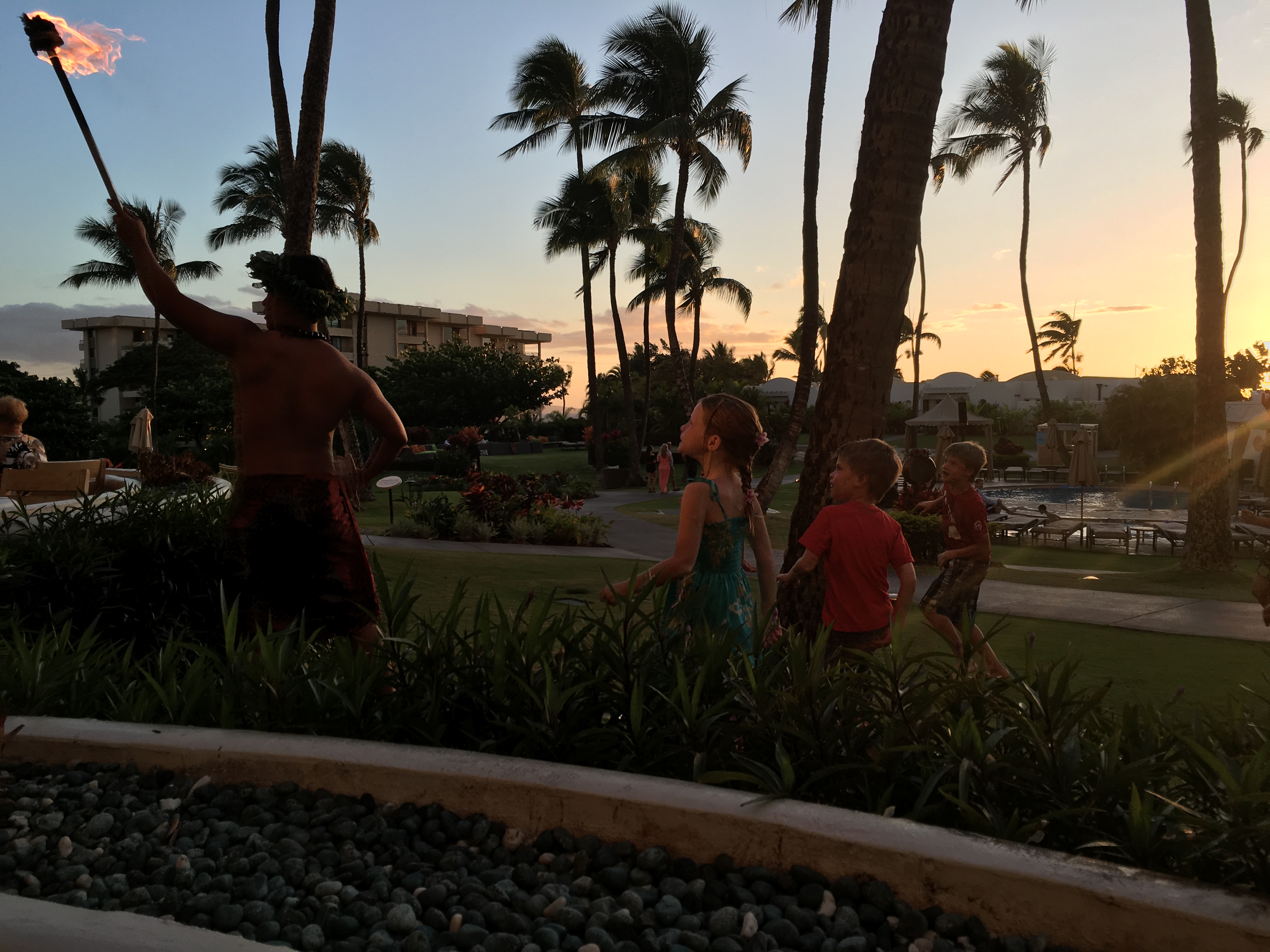 They had a man run around the property lighting torches and blowing in a conch while all the kids followed him.  Such a clever idea to occupy the kids during happy hour!!  We walked around the grounds before sitting down to eat, and the Fairmont is gorgeous.
After dinner we came home to eat chocolate on the couch in our PJs together.  Happiness.
The next morning we tackled the insane task of packing up our car to head up the coast to Kaanapali.  The part that made it hard was the fridge.  It was still obnoxiously full and we had another week so we wanted to bring as much of it with us, but we were in a sedan that barely fit our bodies and luggage!  Sigh.  Lots of beer left behind.  Womp womp.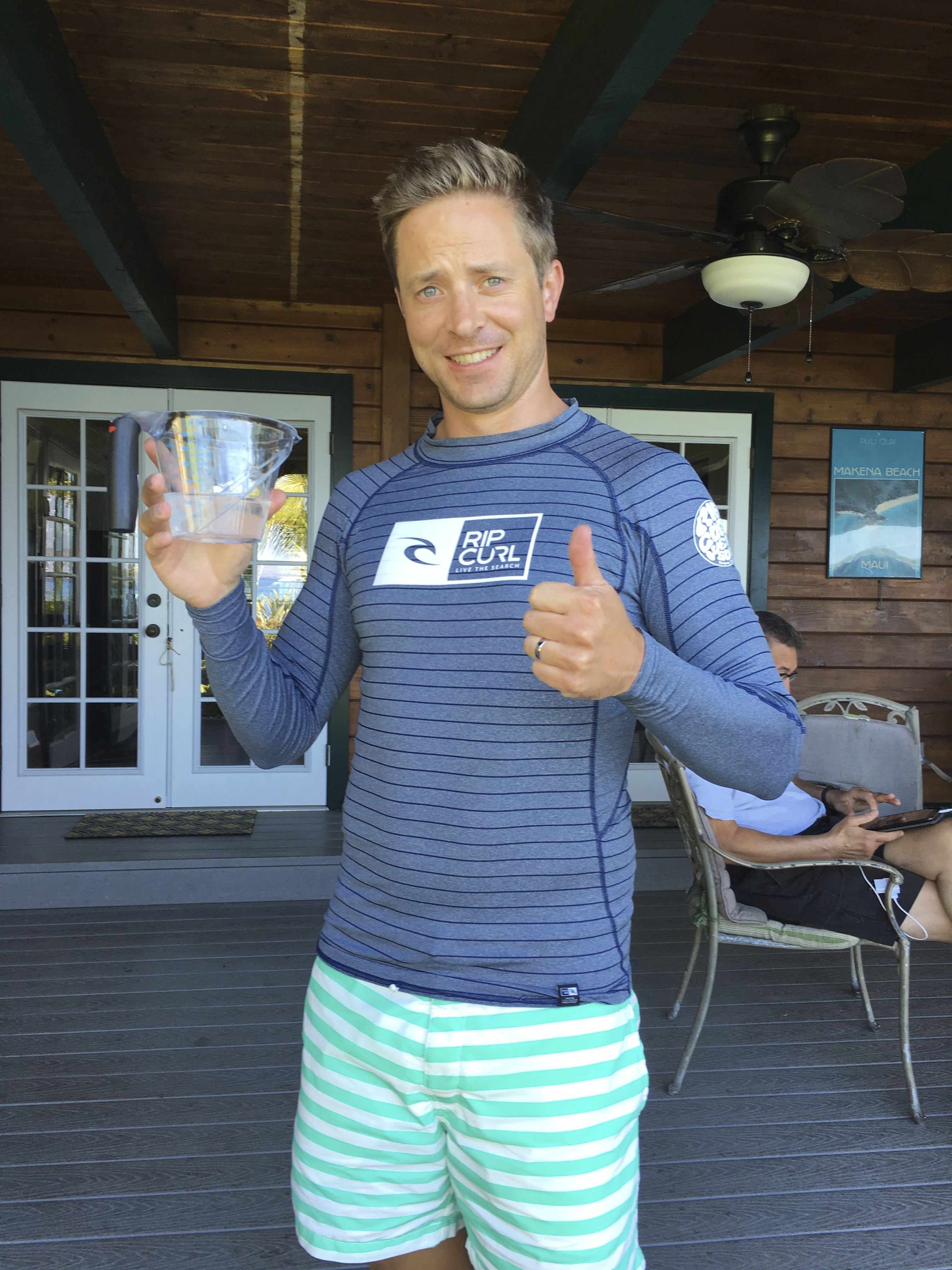 After breakfast, we hacked open a fresh coconut (picked a couple days prior from the tree of our rental house) and all shared it.  P and V were sooo into it.
Once the car was loaded up to the brim, we went to splash around at the Marriott kids pool one last time.  My parents joined us and then we all walked next door to the mall for lunch at Cheeseburger Island Style.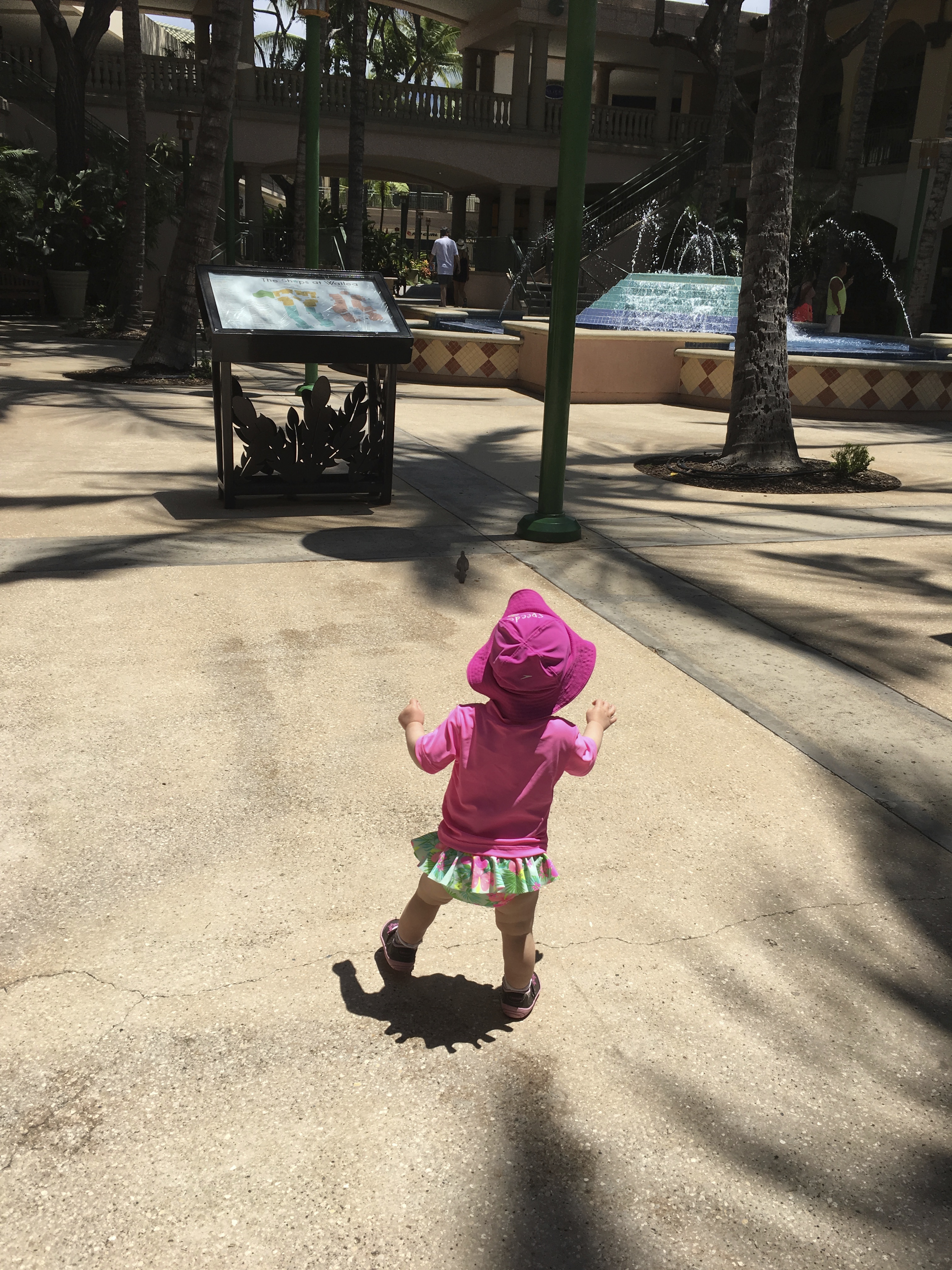 V was hangry so I ordered as quick as possible and then went to nurse her in the courtyard area which perked her up.  She spent the time after chasing birds.  She's obsessed with birds.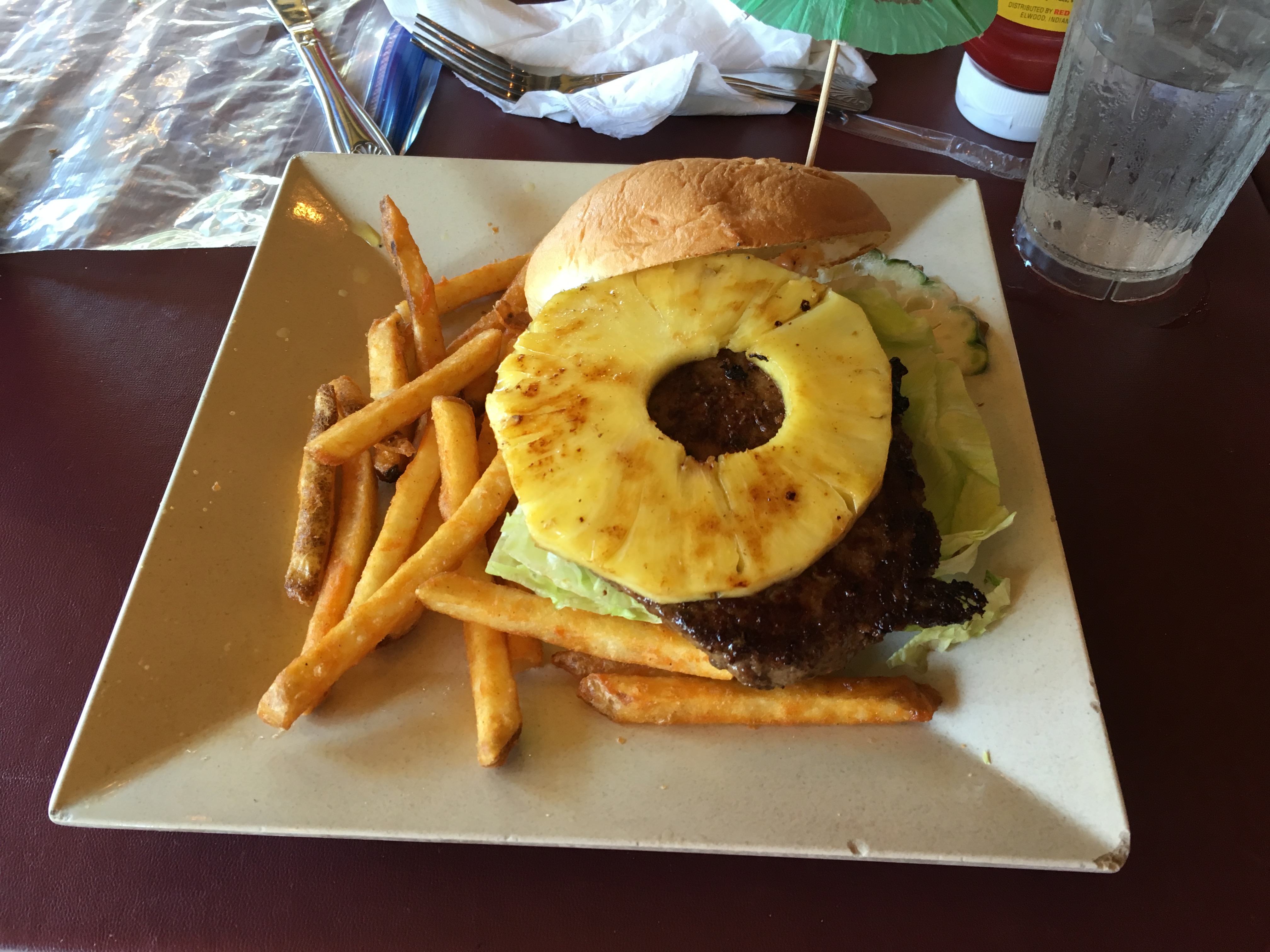 Then my food came and she tried to eat all my fries.  P ate a sandwich that I packed for him, so at least I got most of my food.  After lunch we wandered through the mall trying to get me a rashguard.  I found too many!  The selection was overwhelming, but I guess that's a good problem to have.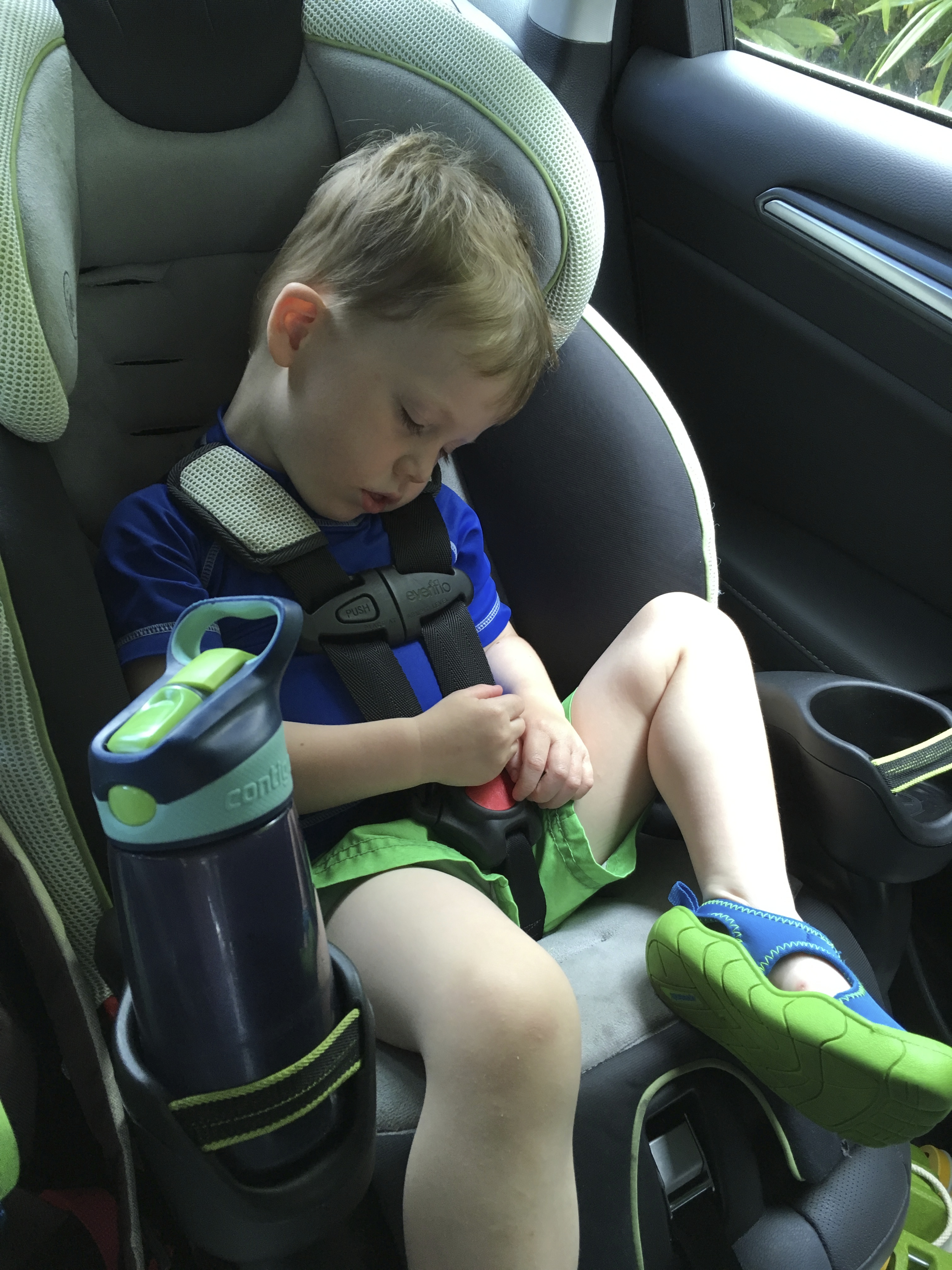 P passed out the second we got to the car…before we even got on the road!  Such a sweetie.  Starbucks in hand, we headed up to the second week of vacay with our foursome.  HOORAY!!!!