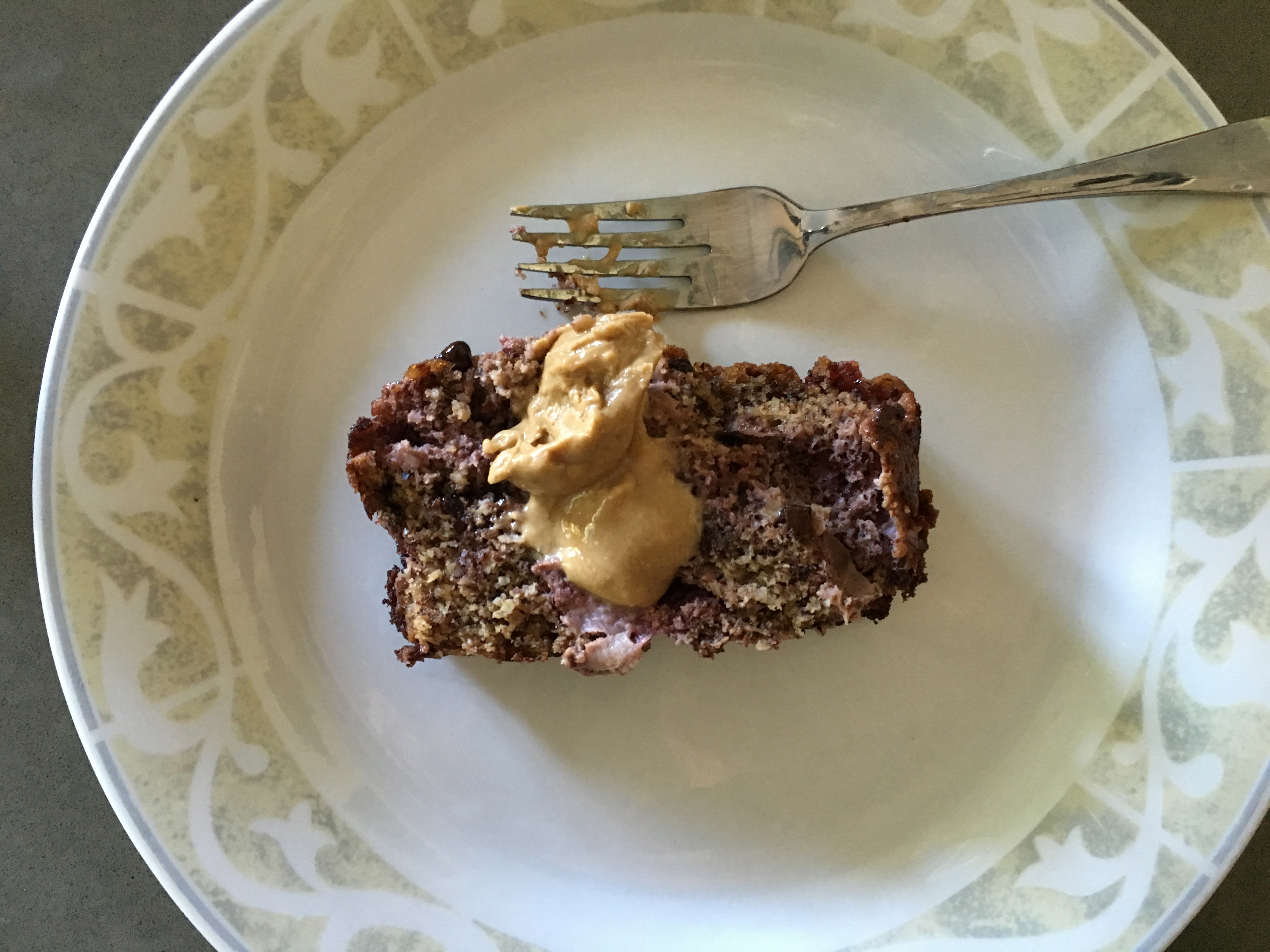 My latest flavor obsession is strawberries and chocolate.  I owe it to Crepeville because they always seem to have that muffin when we go there for brunch (which is twice a year, but still…I have gotten it both times!).
The rest of the family freaks out over berries and I think we have spent 50% of our food budget on summer produce.  WF has been killing it with the sales, too, so the house is basically one big fruit-fest…usually I keep a few fresh fruits on hand in addition to the standard apple and banana sitch, but right now we have blueberries, blackberries, strawberries, nectarines, plums, AND grapes.  ALL OF THEM!  That's insane, right?  But they go so fast!  Well, not the nectarines.  Those are coming out of our ears.  We have given away bags full to all our friends and we still have at least 50 on the kitchen counter right now.   Those recipes will come later…
For now, let's discuss strawberries.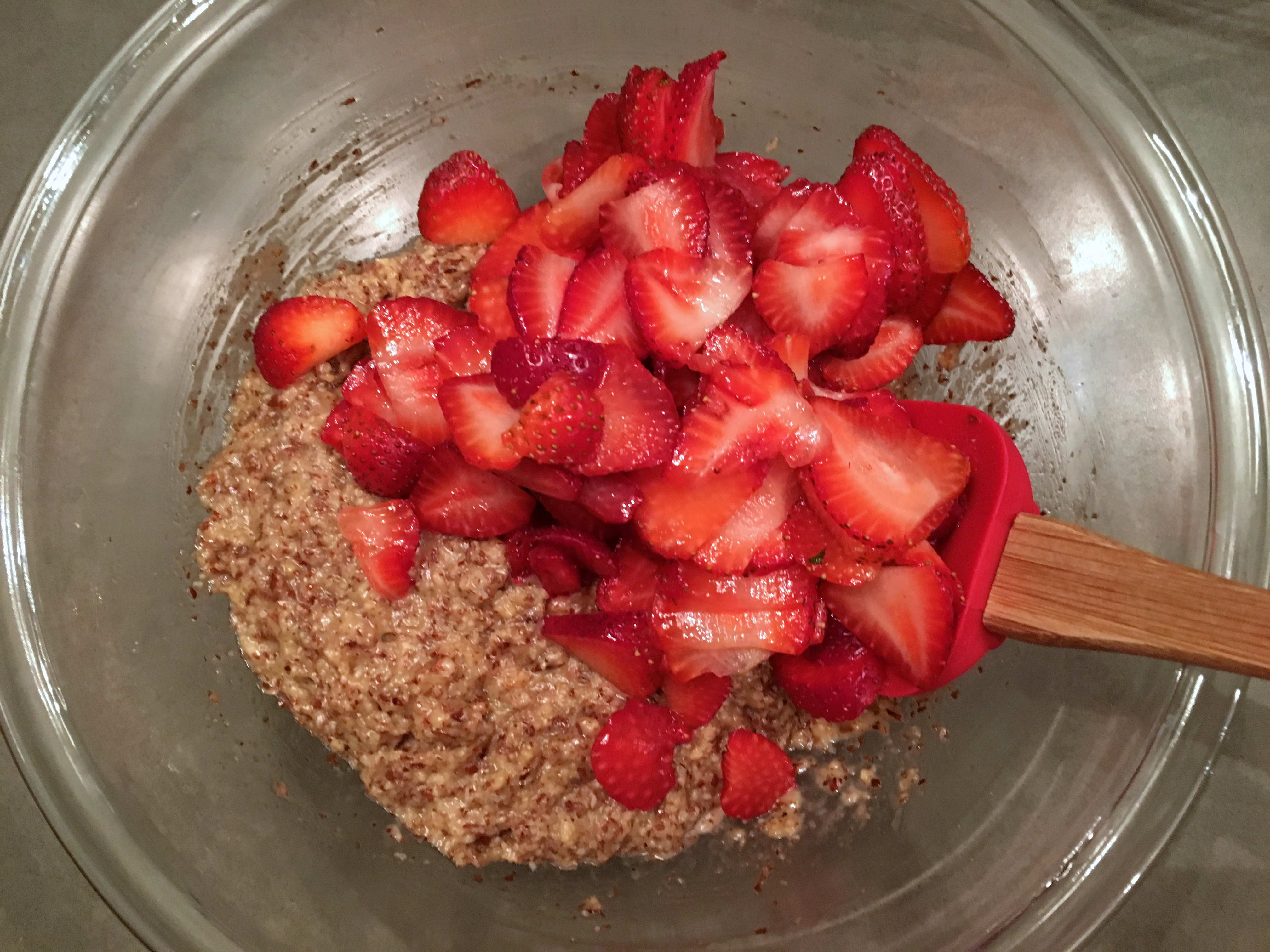 I don't know why, but I don't really eat raw fruit by itself (like a snack) much these days.  Maybe it's because I know my kids love it so much I subconsciously save it for them?  I do that with most of my favorite things…it's a mom thing for sure.  There's no bigger gesture of love in my book than giving up food that I would want for my babes.  Anyway, I do eat fruit in smoothies and baked goods, which is how I used these berries.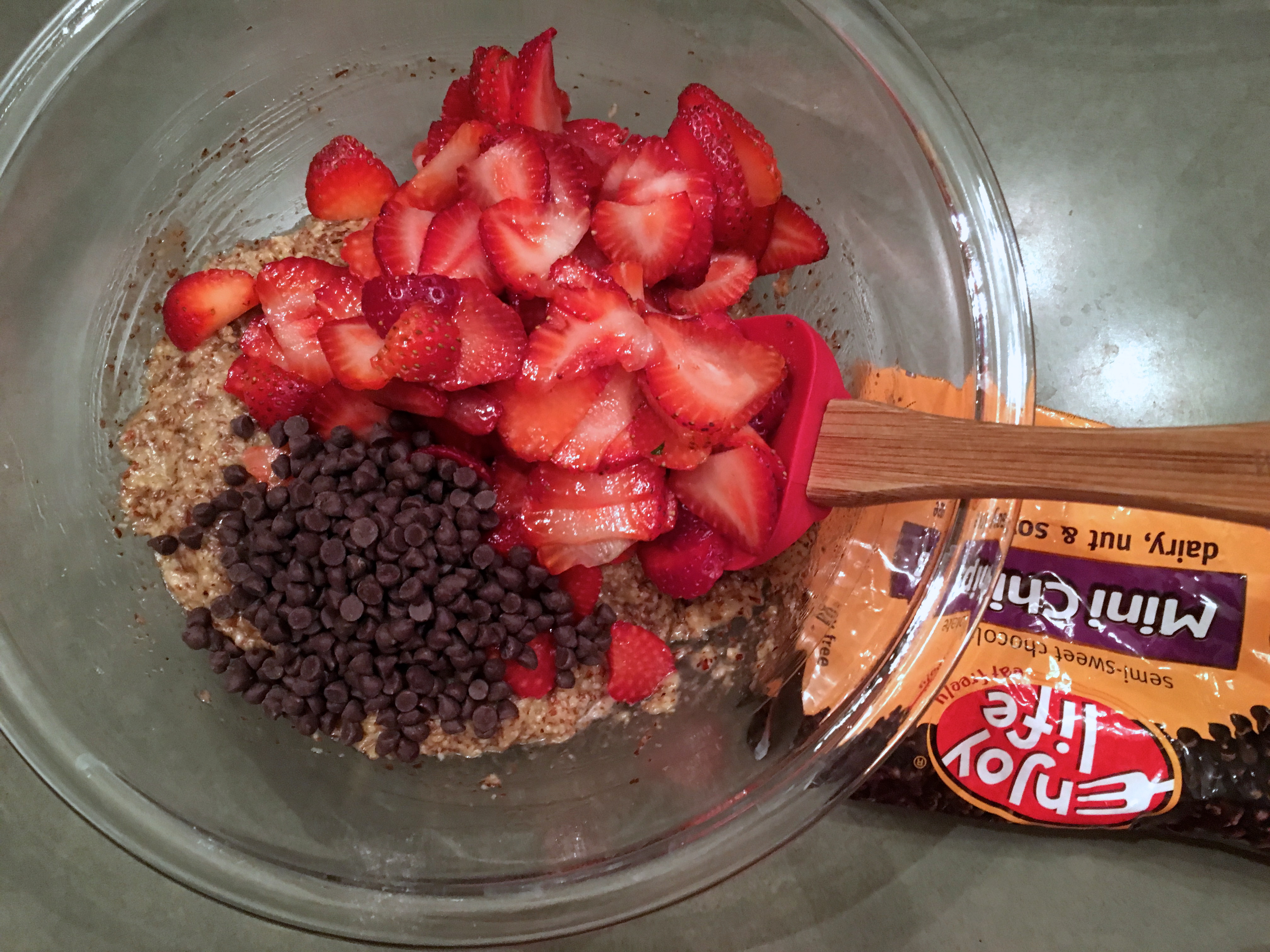 I made this bread just for me AND I ACTUALLY DID EAT IT ALL MYSELF!  Kyle was very proud of me because he thinks I'm bad at taking care of myself…well that's not quite it.  He thinks I put the kids first at the expense of my own personal well being (and sometimes happiness).  Although that sounds extreme and maybe isn't totally accurate, but whatever, it's hard to explain because parenting is not an easy gig, so whatever.
Isn't she cute?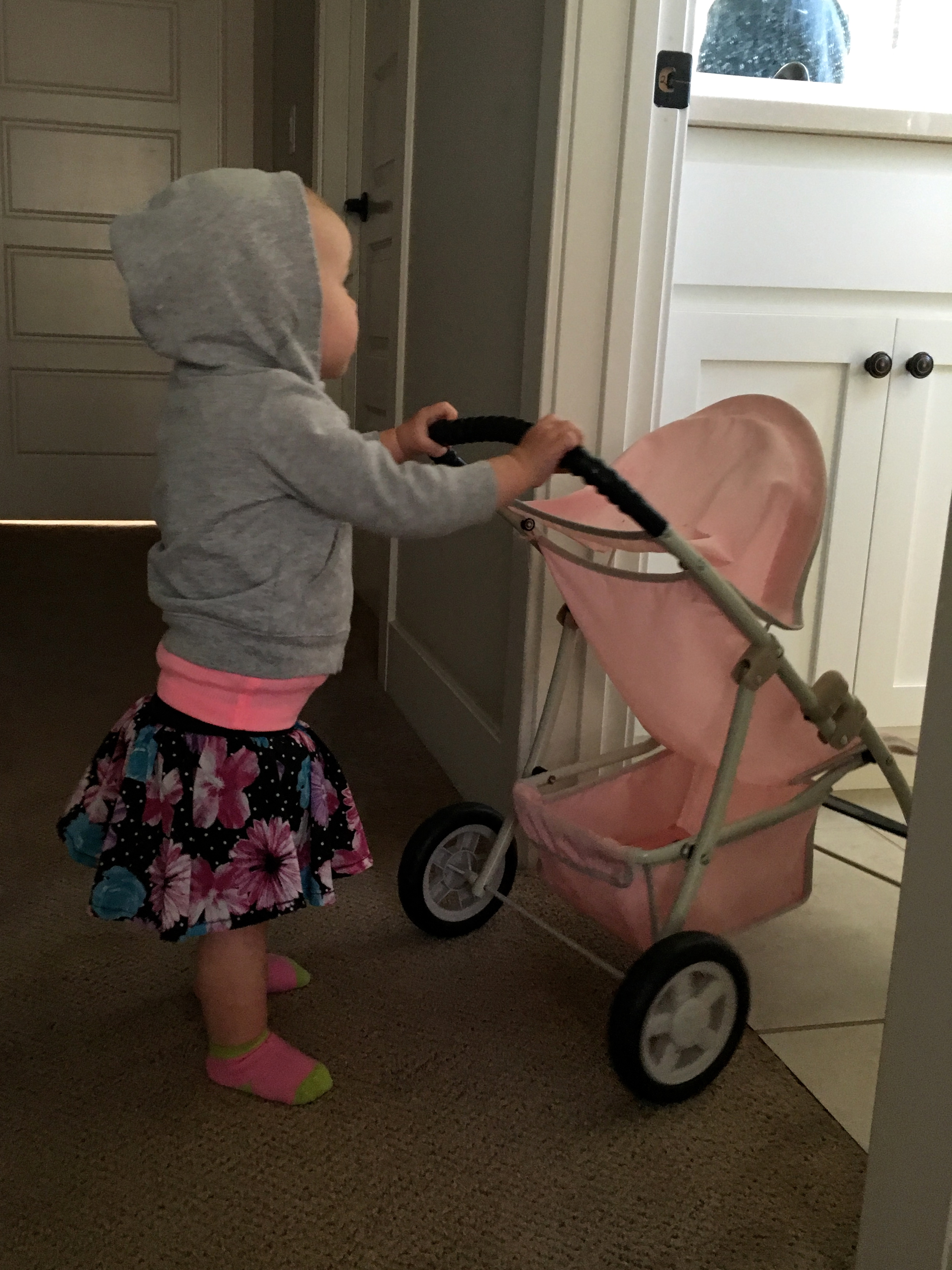 She is 15 (16? I've lost track?) months going on 3 years old and I'm baffled.  How is my littlest now the big kid at these baby play dates?  I know there's an emoji for this…it involves a seriously distressed look and heaps of tears.  And 800 empty chocolate wrappers.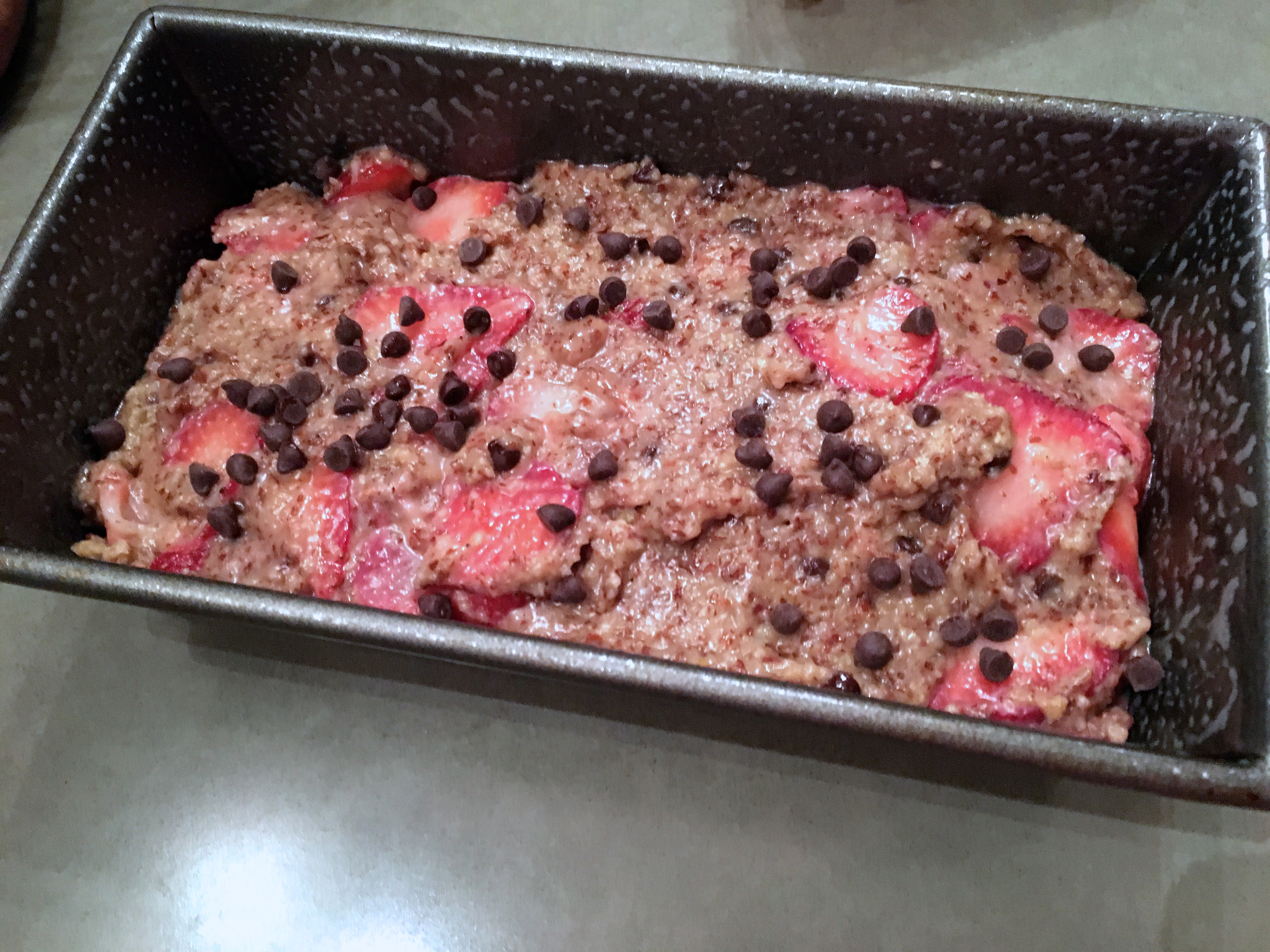 So chocolate and strawberries.
Match made in heaven.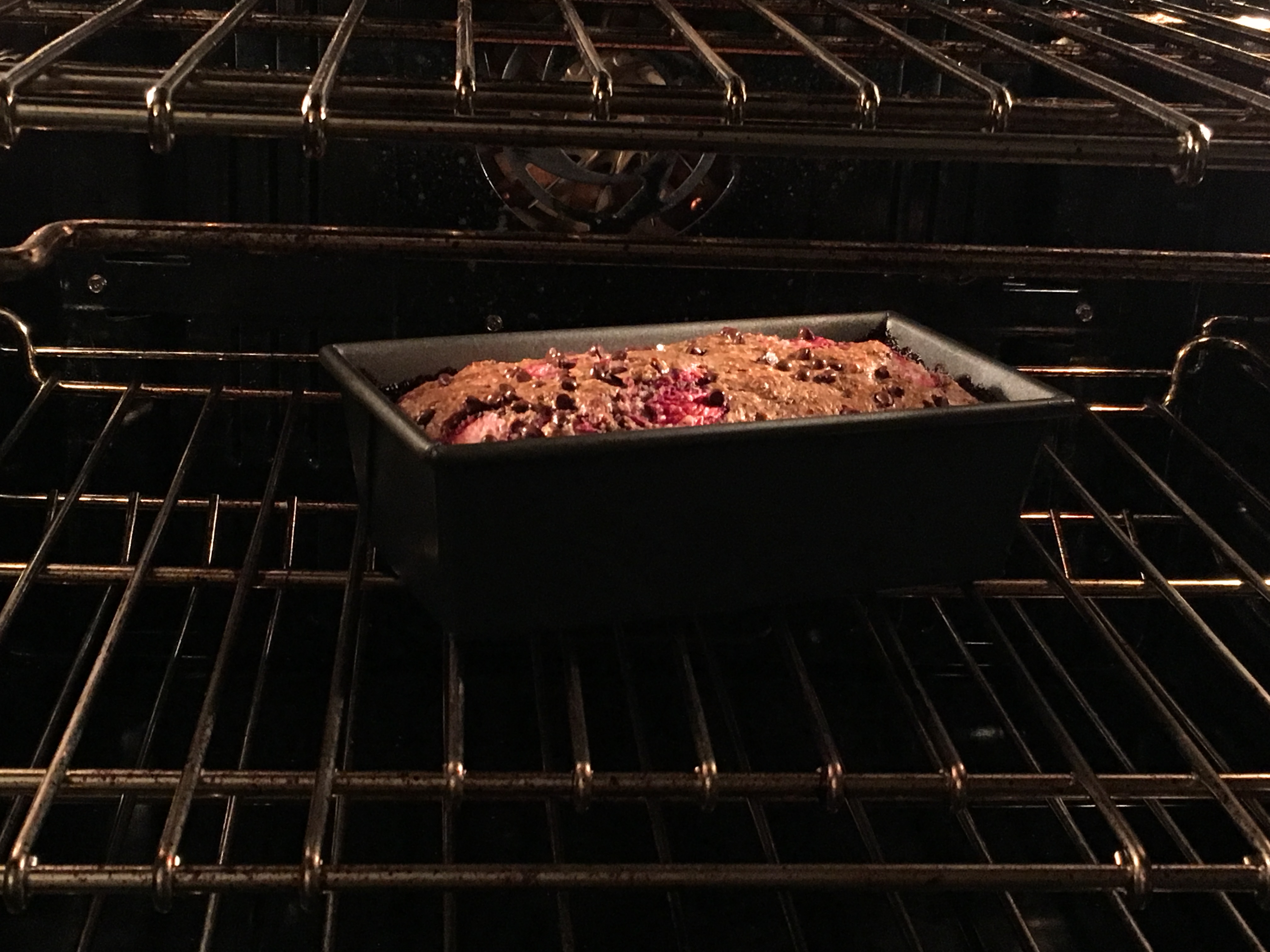 I wish I had lined the baking pan in parchment paper.  That's what you should do, okay?  Learn from my mistakes.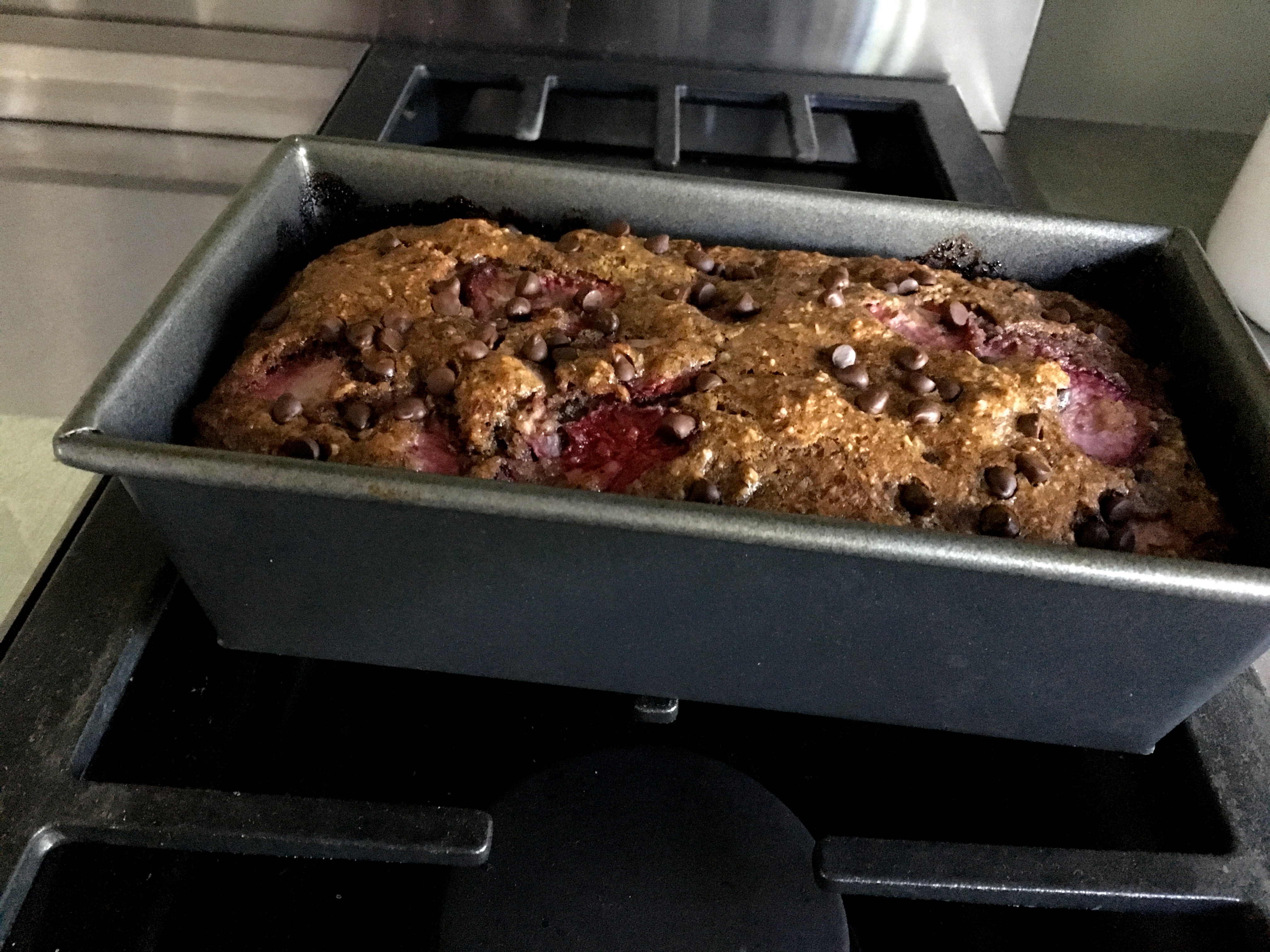 SO BEAUTIFUL.
And then I flipped it over to get it out and…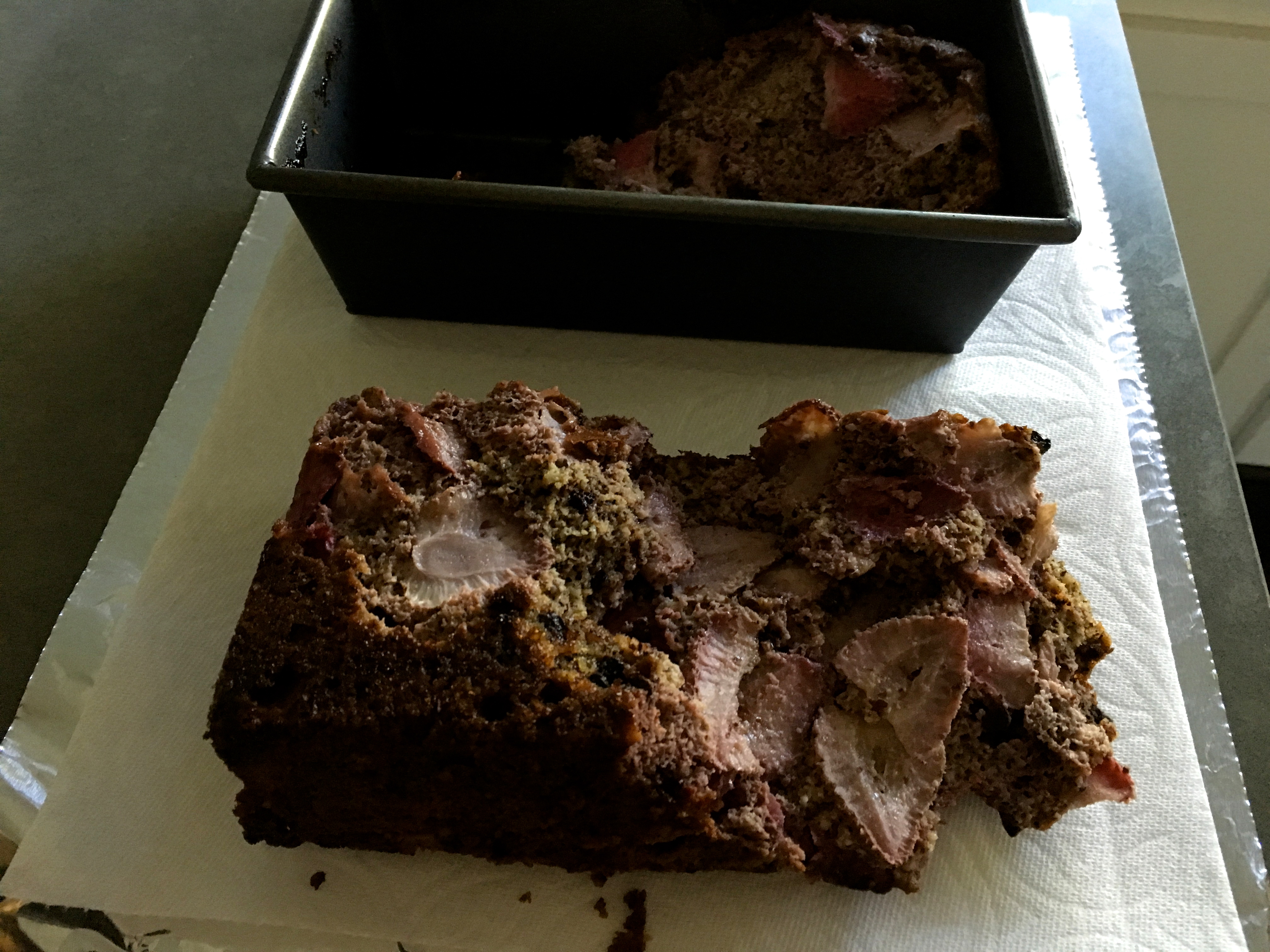 Nooooooooo.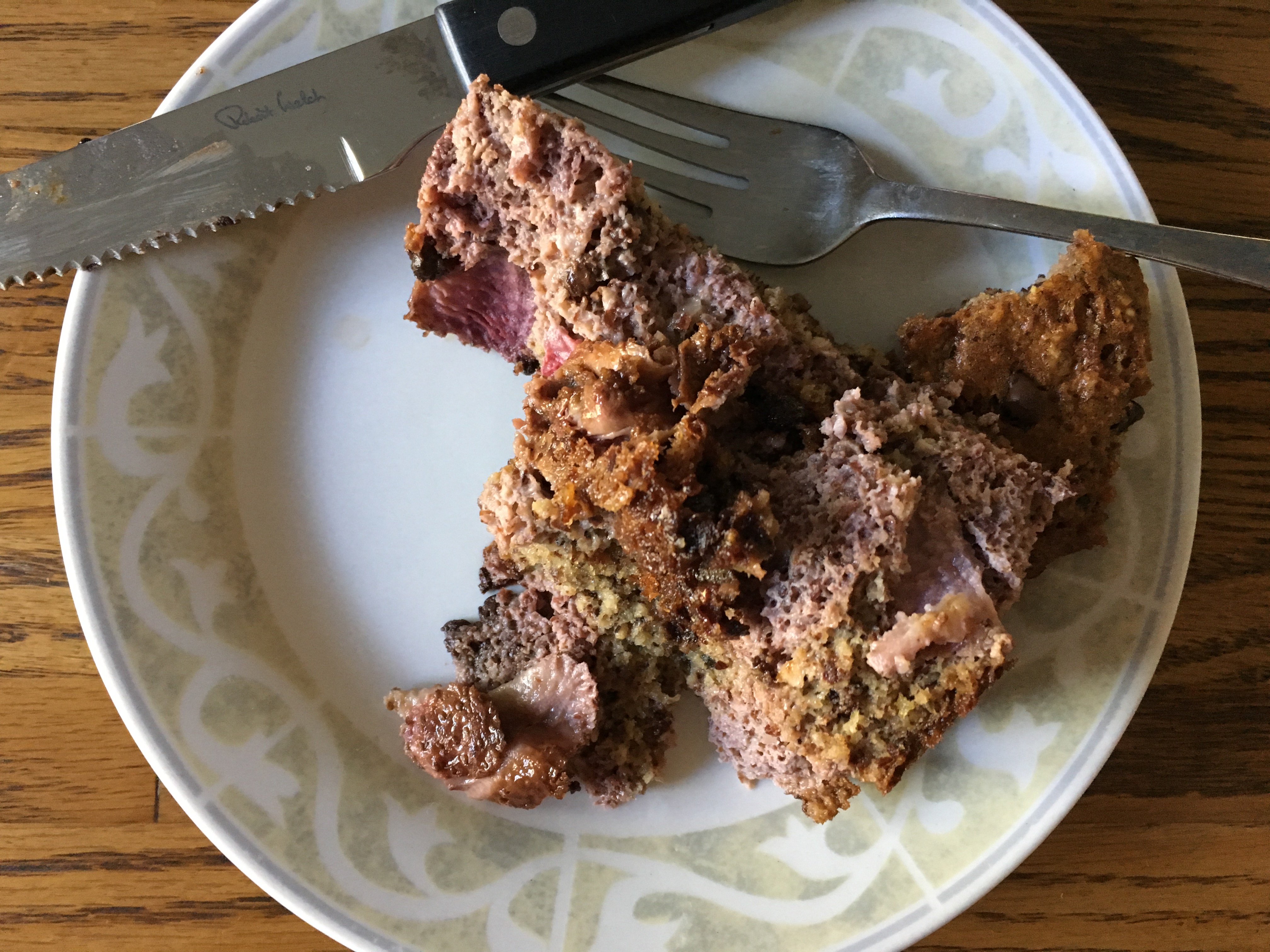 Still tasted good though, so I can live with that.
Strawberry Chocolate Chip Almond Flour Bread [gluten free, dairy free, grain free, soy free]
Ingredients:
2 cups almond flour
1/3 cup stevia NuNaturals baking blend
1 tsp baking soda
3/4 tsp salt
4 eggs
1/3 cup coconut oil, melted
1 tsp vanilla
1 tsp apple cider vinegar
15 strawberries, sliced thin
1/2 cup dairy free chocolate chips (ie Enjoy Life)
Directions:
In a large bowl, combine dry ingredients and stir.  Then add wet and mix well (until batter forms).
Pour into a well greased large baking loaf pan (that's lined with parchment paper so it pops up over the edges).
Bake at 350 degrees F for 35-40 minutes or until a toothpick comes out clean.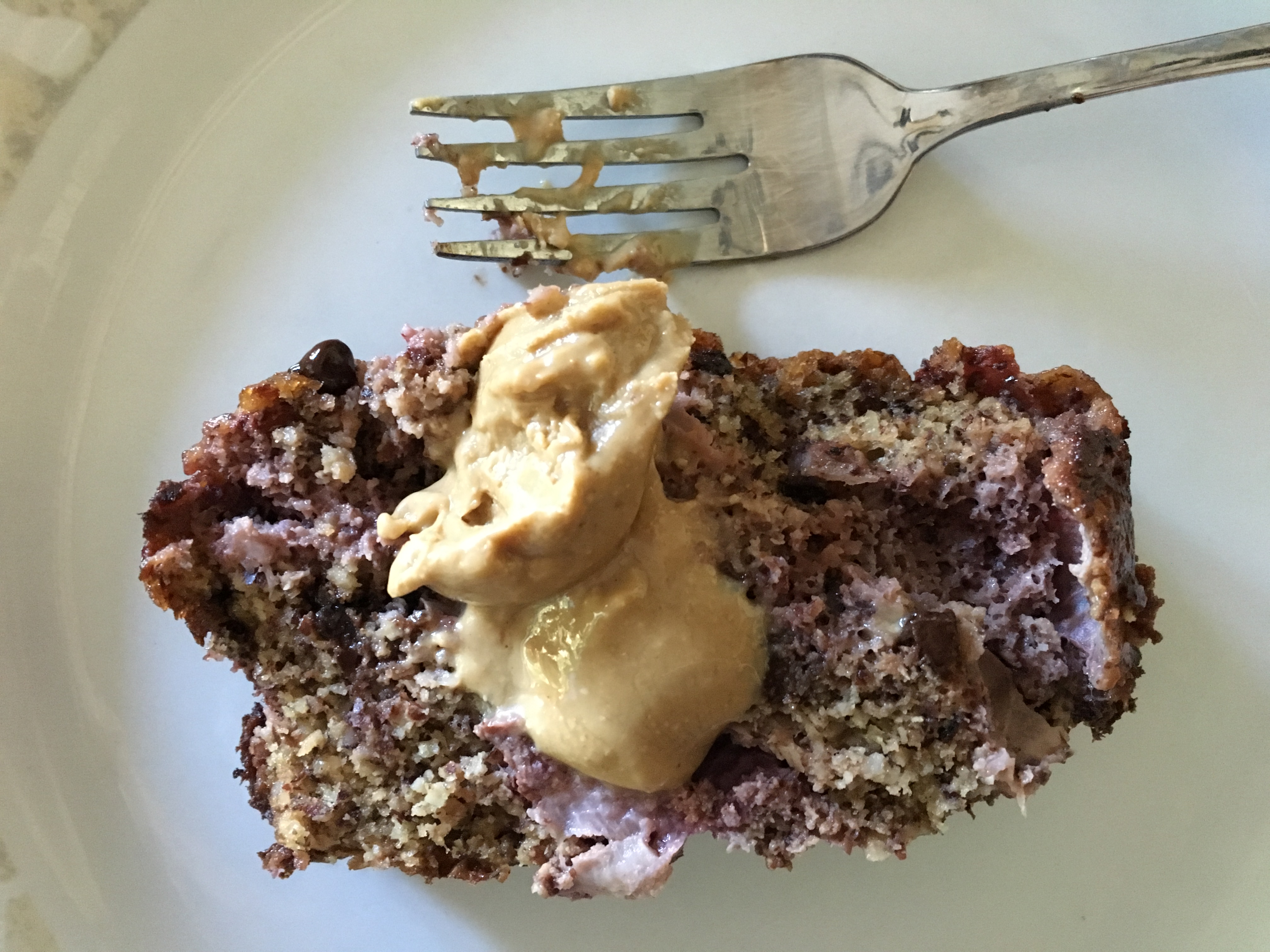 So good!