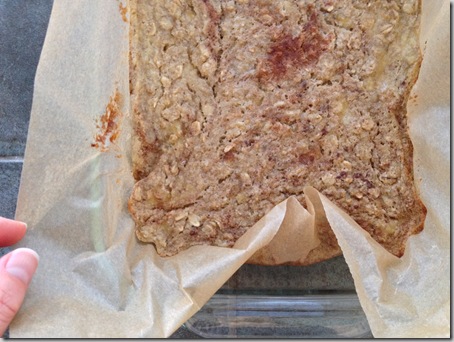 Buying bananas at Costco is hard to pass up (so cheap!) but they all go ripe at the same time.  All 150 of them.  So one second you have a bunch of green fruit and then you blink and find yourself with a million pounds of brown spotted bananas to use up.  Stat. 
I've been adding them to everything.  And freezing them for smoothies.  I have 2 loaves of banana bread in my freezer.  I have pumpkin banana bread in the fridge.  I have made gluten free banana pancakes for myself twice.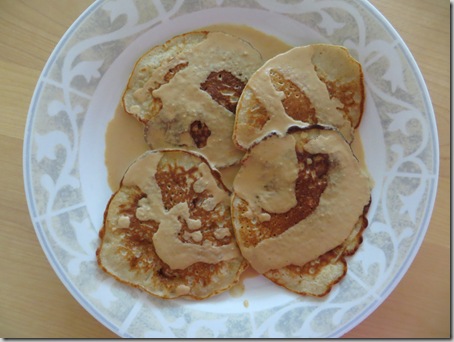 These guys were my birthday breakfast.  I used the mix I got at Costco with an extra egg and banana mixed in.  It makes them way more fluffy and delish.  I think I like them better this way.  I might try with pumpkin puree mixed in next.
I digress…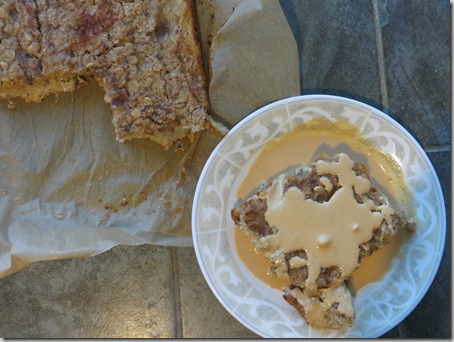 The point I was (long-winded-ly) getting to is that the product of banana overload is this beautiful baked oatmeal recipe.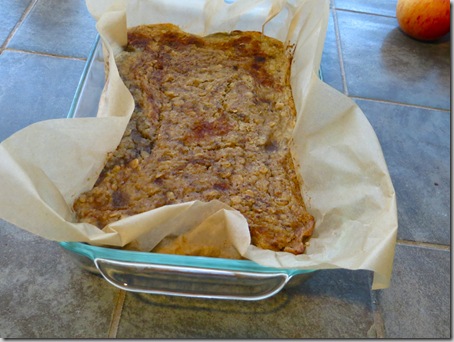 Baked Banana Oatmeal [vegetarian, gluten free, FODMAPs friendly]
Ingredients:
3 really ripe bananas, mashed
2 eggs
1 cup unsweetened vanilla almond milk
1 tsp vanilla
1/2 tsp cinnamon
1/2 tsp salt
1 tsp baking powder
1 cup oats (certified GF if needed)
1 cup almond flour
3 tbsp NuNaturals stevia more fiber baking blend (or sub sweetener of your choice)
Directions:
Mash bananas and whip in eggs, milk and vanilla.  Then add in dry ingredients. 
Pour into (greased or parchment paper lined) 7×11 baking dish. 
Bake for 35-40 minutes at 275 degrees.
Let cool before portioning out servings.  It will set once it gets to room temp.  I ate mine that way, topped with peanut sauce (peanut butter, almond milk).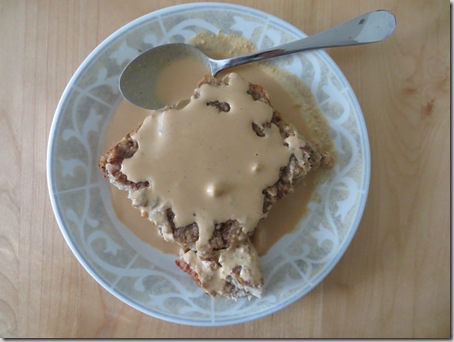 Don't worry if the mix looks really liquidy before you put it in the oven…I was skeptical, but it baked down to perfection.
So yeah, there's the recipe of the month.  Don't expect much more from me until November.  Ha!
Here's what my mom made me for my birthday dinner.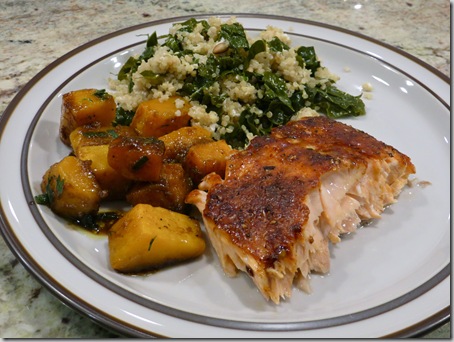 I had a few things bookmarked that I requested.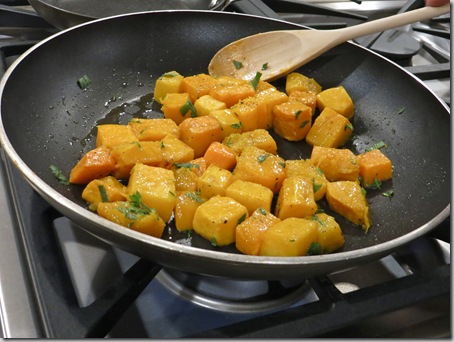 Pan-seared butternut squash from The Kitchn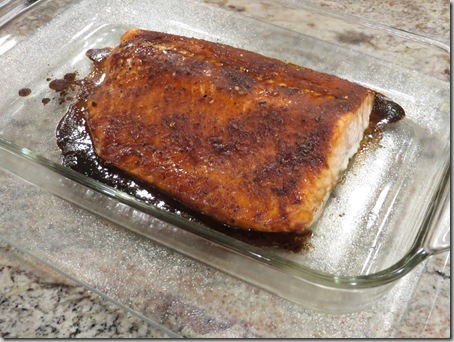 Broiled Spicy Brown Sugar Salmon by Jessica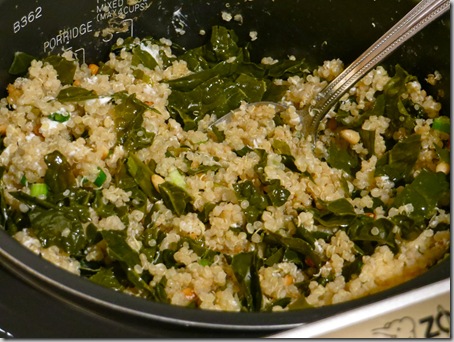 Food52's kale and quinoa pilaf
And wouldn't you know it?  Every dish was freakin' awesome.  Thanks mom!!!
We always got to pick our birthday meals growing up, so it was so cool to be back in Nor Cal, close enough to home to re-start the tradition.  And my mom baked me a cake too!!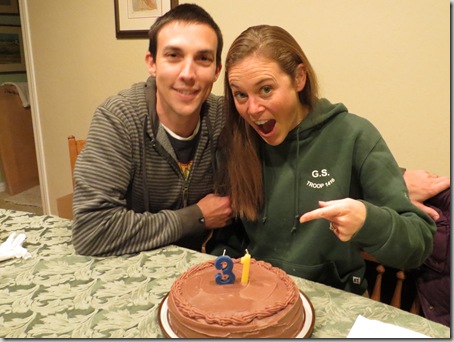 Oh how I've missed birthday cake!  [Am I rocking that sweatshirt or what, Marie?!]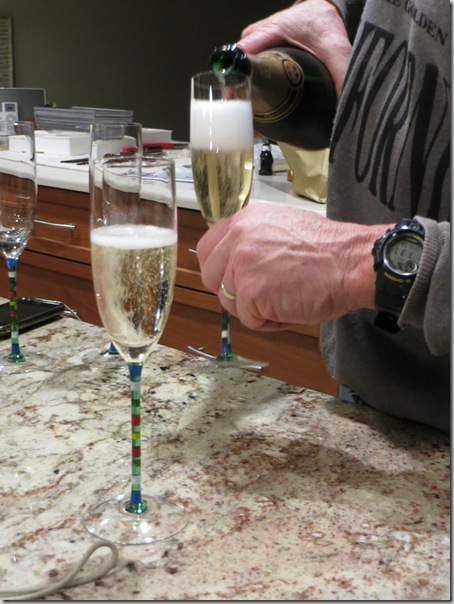 Cheers!
Good food.  Good fun.  Good news all around.  Right Patty-cakes?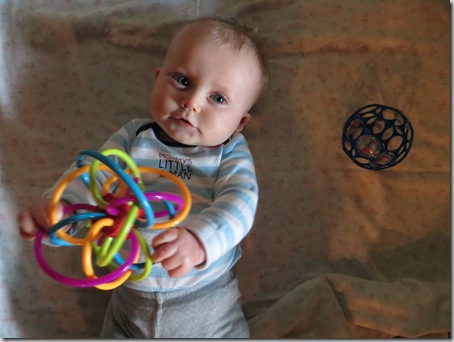 The WF employee recommended Pamela's GF chocolate cake mix and I can say I 100% agree that it's the best I've tasted.  You'd never know it was gluten free.  It's not just "good for a GF cake".  It's just plain good.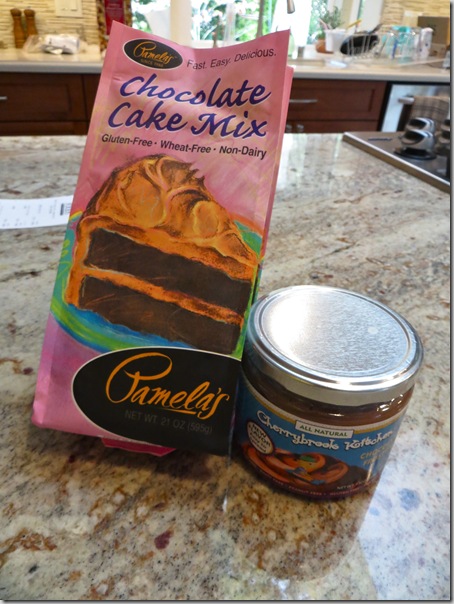 Fudgy and soft and chocolate-y.  She used this frosting by Cherrybrook Kitchen.  It's appearance is different than the (Betty Crocker) icing I'm used to seeing but taste wise it was indiscernible.  Also a winner in my opinion (no vegan/GF qualifiers needed).
YUMMMM!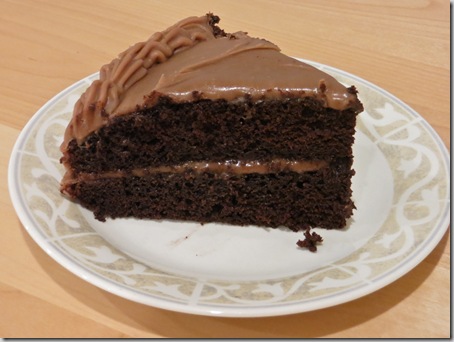 I feel pretty lucky. 🙂