And no play makes Elise a repetitive eater.
Rather than subject you all to the same exact meal (times twenty), I'll show my hippie bowl once and move on to my work food.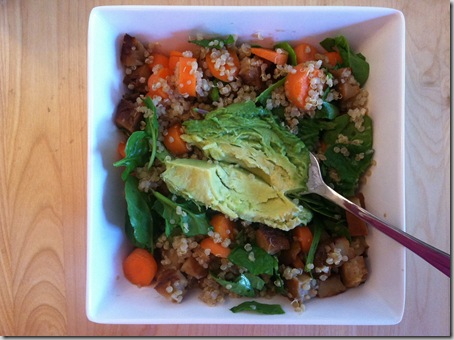 Quinoa, carrots, spinach, seitan, avocado, nutritional yeast, Bragg's aminos.
After a few bad days, where I was carelessly eating wheat and agave (FODMAPs no-no) like it was going out of style, I knew I needed to get my GI tract back on track. Feeling bloated (and a bunch of other less-internet friendly terms) is the worst.
So! I did what I know works. FODMAPs free. A few days of hippie bowls and I was feeling much better. Hooray.
And now I can return to my more calculated low FODMAPs lifestyle.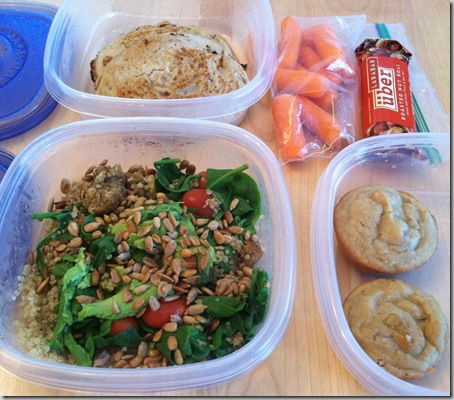 Unlike lunch, my hospital breakfasts are eaten in the staff lounge. Quickly. Which is why 99% of the time I opt for warm grains, like oatmeal, which can be heated and reheated (and reheated again) when I'm inevitably interrupted with some task. What I'm building up to here is how this pancake breakfast was an anomaly.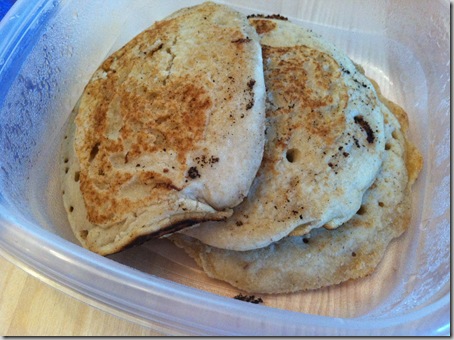 Pancakes at work!! How decadent!!
I brought a banana to slice on top (no syrup), and they were melt in my mouth good.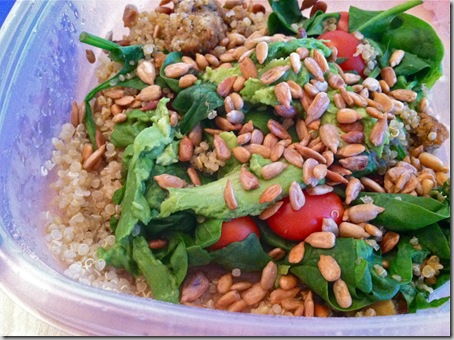 Salad du jour: spinach, quinoa, tomatoes, avocado, falafel, sunflower seeds and nutritional yeast.
Out of all my snacks, I only ate the muffins (home-made vegan & gf) and carrots, so I'll let you know how the uber Larabar is later.
The reason I didn't eat my roasted nut roll is because I sorta accidentally bought a different dessert. Oops?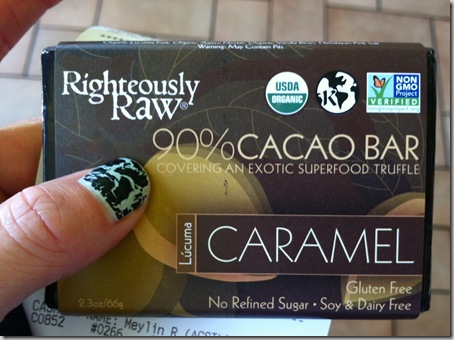 Frick! Paying $7 for a bar is not acceptable behavior and I have to quit before it gets out of hand. And no your eyes aren't deceiving you – it's really only 2.3 ounces of chocolate. It's smaller than my iPhone.
Dear Righteously Raw, Why are you so good!?! WHYYYY.
And now for some mental exercises:
Insert hippie bowl dinner here.
And more chocolate here.
And then it all started again…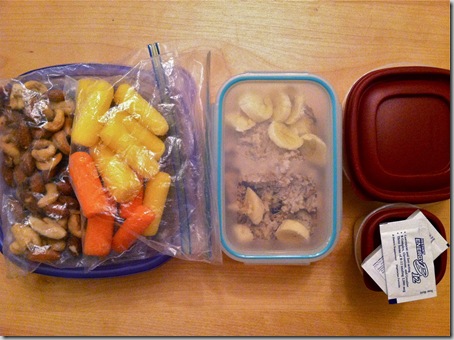 As you can see, I went back to my traditional breakfast fare.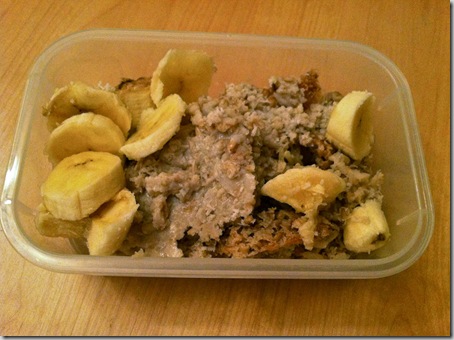 Steel cut oats, almond milk, shredded coconut, & bananas.
It looks mangled because I made it in the slow cooker overnight, but since I went to bed early (for me), it was in the pot way longer than the cooking time. Whatever. Crispy edges are fine by me.
I made this batch with almond milk only (no water) which made it super creamy. I also nixed any kind of sweetener. Steel cut oats and coconut. Simply done.
There was enough for at least three servings, but I may take it down in two. I'm special like that. The banana was an afterthought, but worked well with the coconut.
It's not an optical illusion, half of those carrots are yellow. They taste the same as normal carrots, but have a slightly more crunchy texture. It may sound odd, but they are more on the crispy side, almost (dare I say it) apple-ish. Geez I miss apples.
Salad du jour: spinach, quinoa, avocado, blackened tempeh.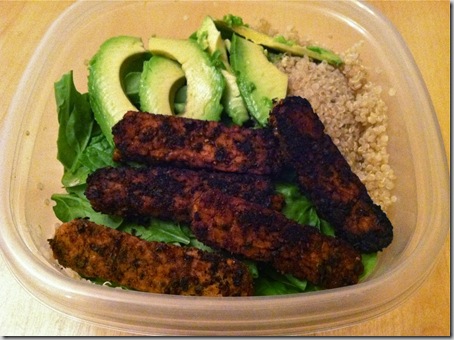 I didn't leave work until well after 8 pm, which may be a record for me. Such a day! Mentally and physically draining. After giving report, finishing my charting, commuting home and showering, it was like 9:30 pm when I finally got dinner. Blah. Another hippie bowl. Not worth showing.
But I will share my dessert.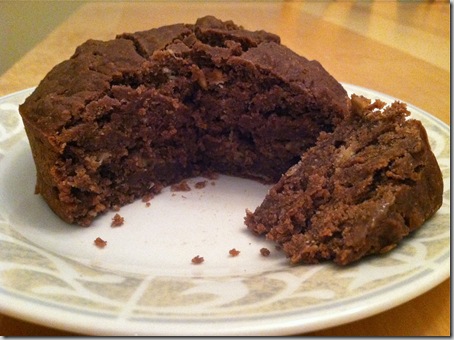 I made a mini cake! It was gluten free, vegan and chocolaty. Mmmm…
I meant to save half for another serving, but then I didn't. So I'll have to make it again.
Happy weekend everyone. I'm off to San Clemente for some dog-sitting and golf!