CRACKERSSSSS!!!  I finally got the recipe down and now I can share it after teasing you for the past two months…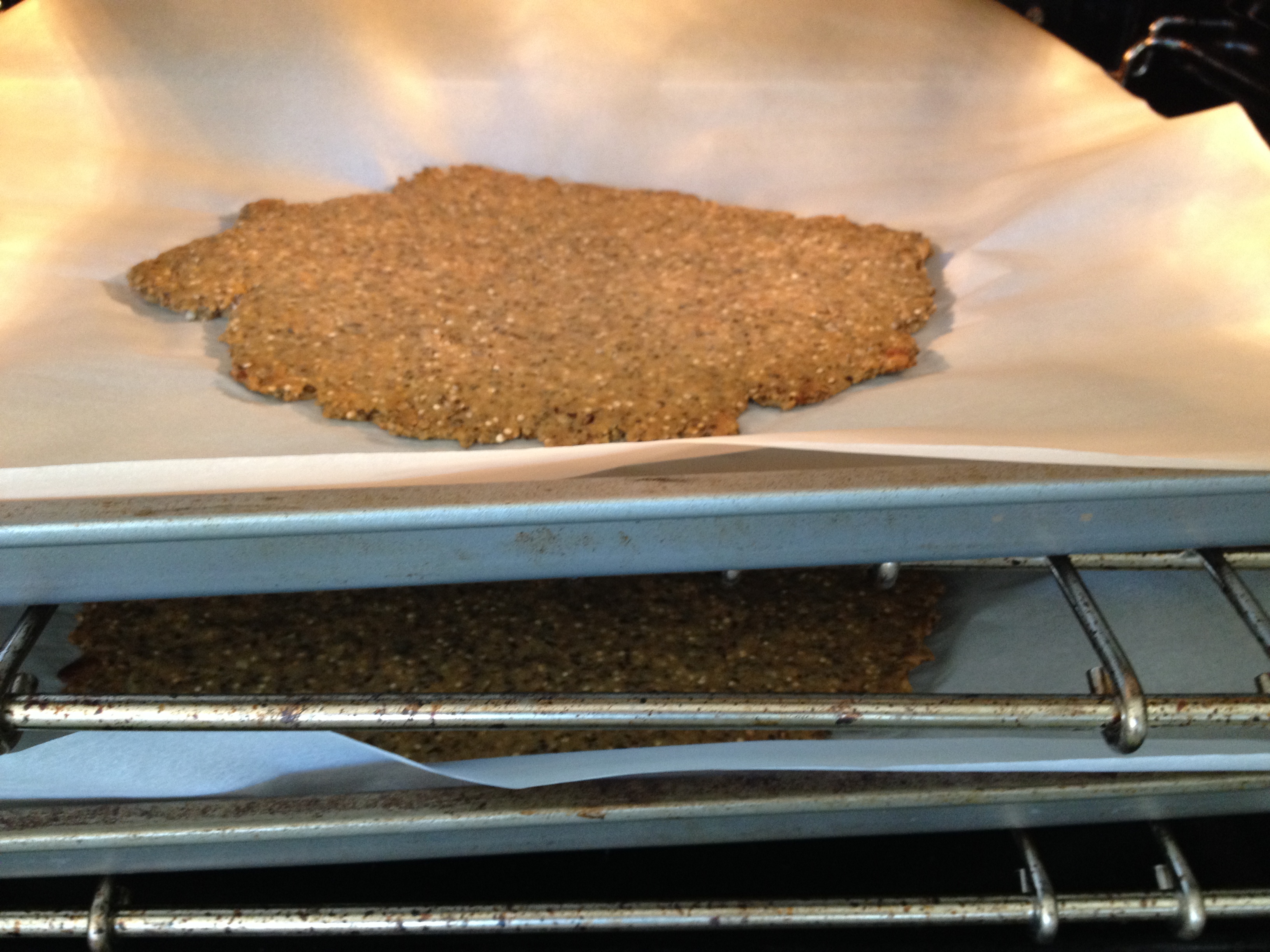 These are gluten free, dairy free, soy free, sesame free, nut free, and delicious!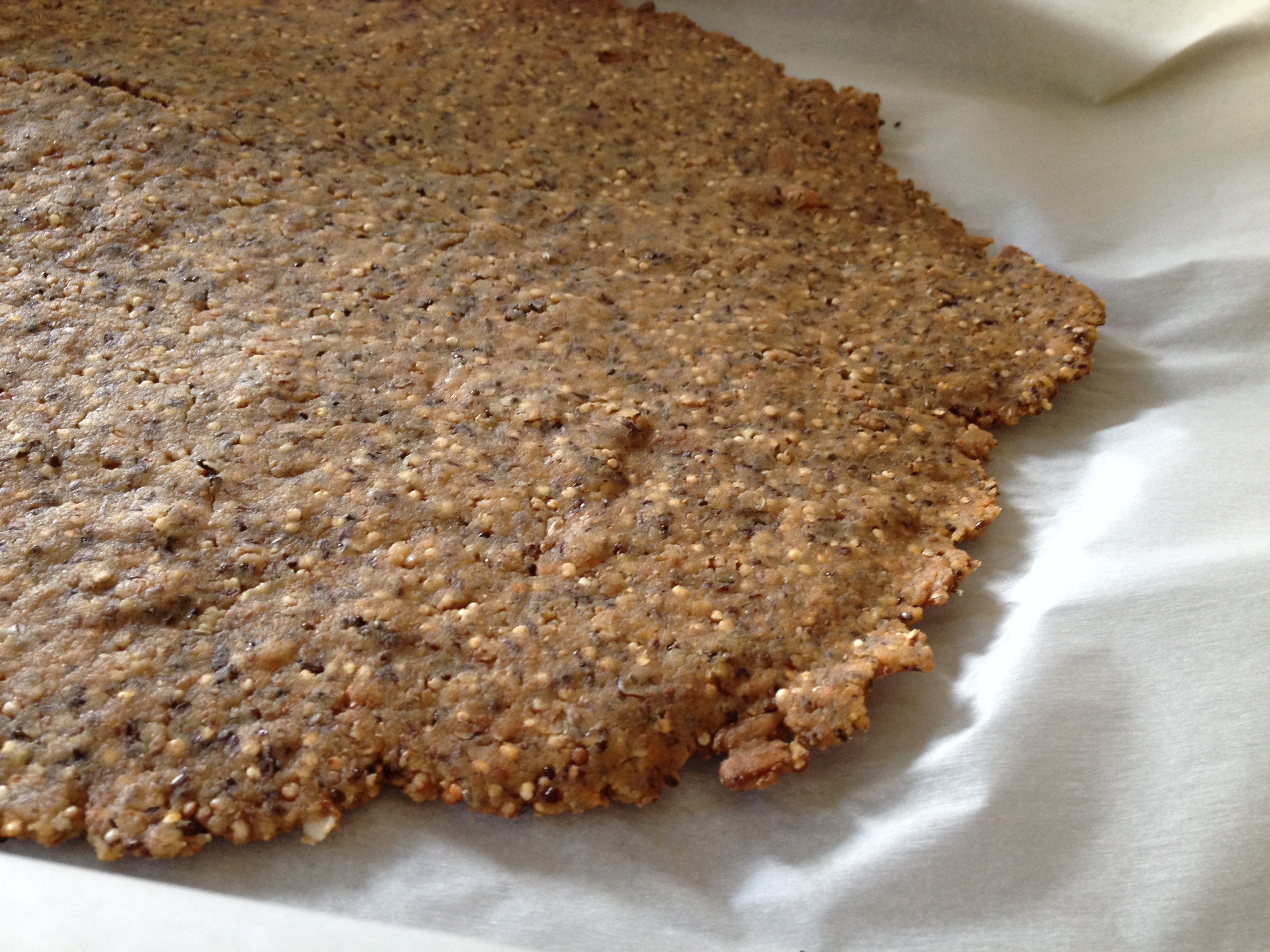 Allergy Free Crackers
Ingredients:
1 cup gluten free all purpose flour (FYI I used TJs blend which doesn't have xanthan gum)
1/2 cup corn meal
1/4 cup seeds (whatever you want – I usually do a mix of pumpkin, sunflower, and hemp)
1/2 cup quinoa flakes
1/4 cup uncooked quinoa
1/4 cup ground flax meal
2 T chia seeds
1 1/2 tsp salt
1/2 cup + 1 T melted coconut oil
1/2 cup cold water
1 T apple cider vinegar
Directions:
Combine all the dry ingredients and mix.  Add liquids and stir until dough comes together.  Let it sit for 5 minutes so flax and chia can gel a bit and bind the dough.
Divide into two portions and place on either greased foil or parchment paper.  I prefer parchment paper but both will work.  Then, place another piece of parchment paper on top of the dough and roll it out with a rolling pin until ~1/8″ (or 1/3 cm).  If you aren't using parchment paper then you can use your hands to flatten as best you can.  I've done it both ways and while the version without the rolling pin isn't as uniformly thin and flat, it still turned out fine.  Be sure to work quickly though because your hands will make the dough soft and warm and that affects the cooking time.
Transfer the parchment paper or foil to two baking sheets and bake in a 400 degree F oven for 18-20 minutes.  It will be 18 minutes if it's on the thinner side and 20 if it's thicker.  Watch the edges for an indication on doneness.  Don't let them get too dark because once you remove them from the oven they will still cook some on the hot pan.  You can also roll the edges of the foil or parchment paper over the cracker edges before baking them to prevent them from getting too dark.  If it smells like burnt popcorn, it's too done.  Ha.
Let them cool entirely on the pan.  Seriously, don't remove them until the pan is cool.
Break into pieces as you want.
Store in fridge.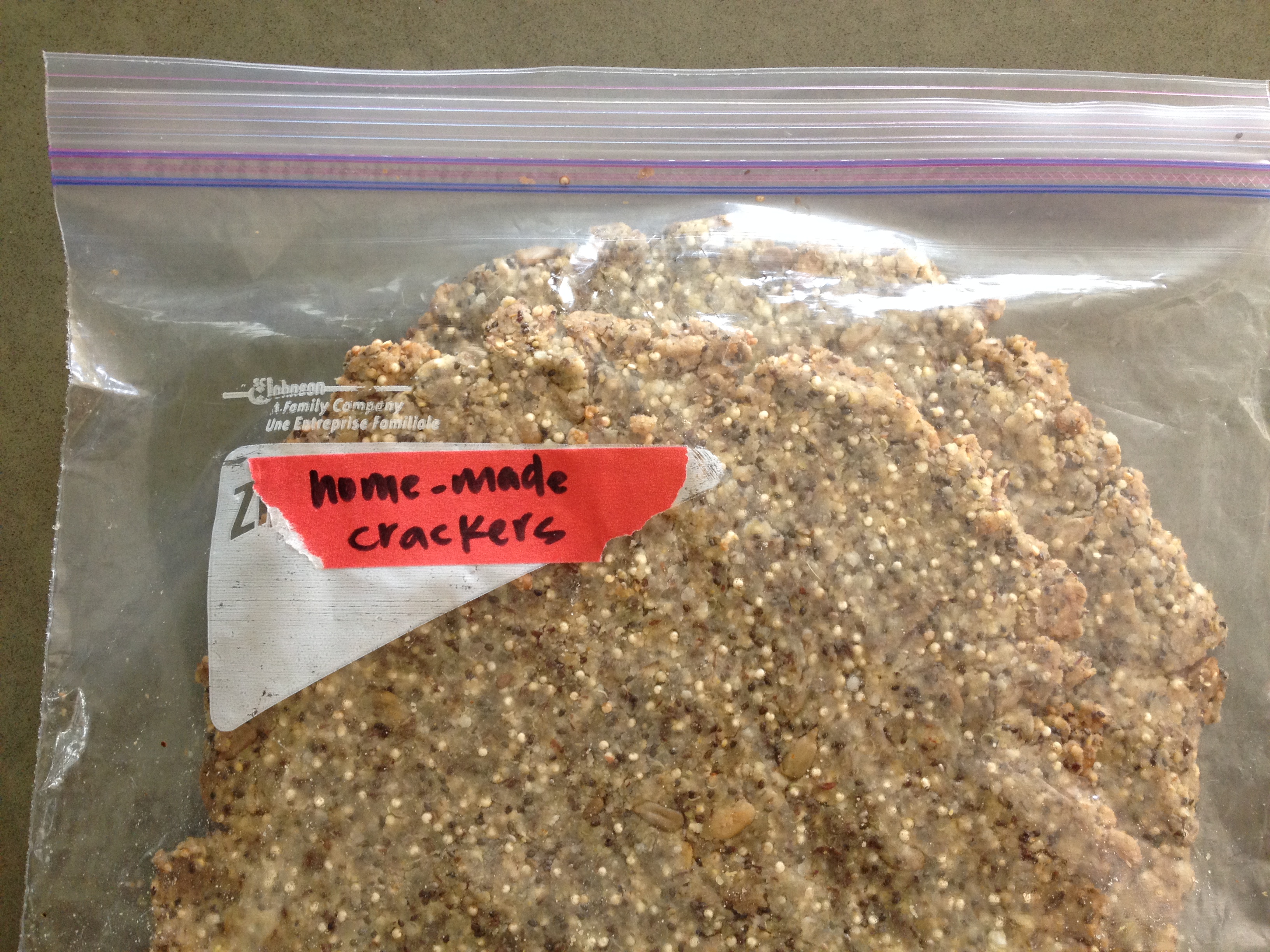 As you all know based on my recent posts, I'm obsessed.  I make at least one batch per week and if it lasts 3-4 days I consider it a success in the art of moderation.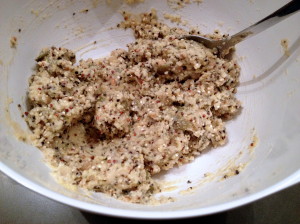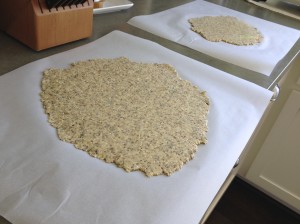 The 1/4 cup seeds in this cracker dough are the part that you could tweak – use whatever you want.  If you tolerate nuts, I suppose you could use coarsely ground almonds too.
The ground flax and chia, however, are necessary as far as my trials have shown.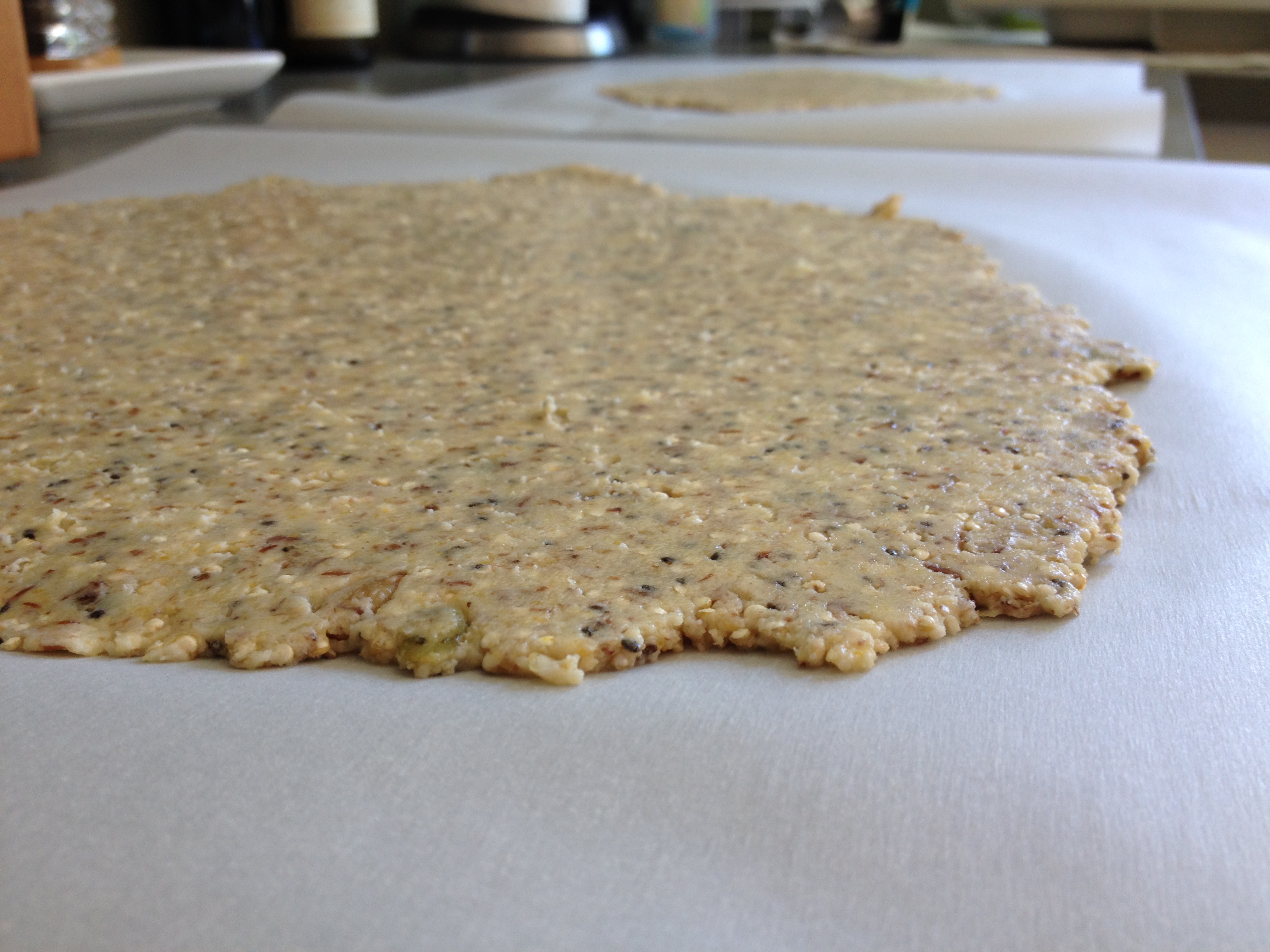 Ready for the oven.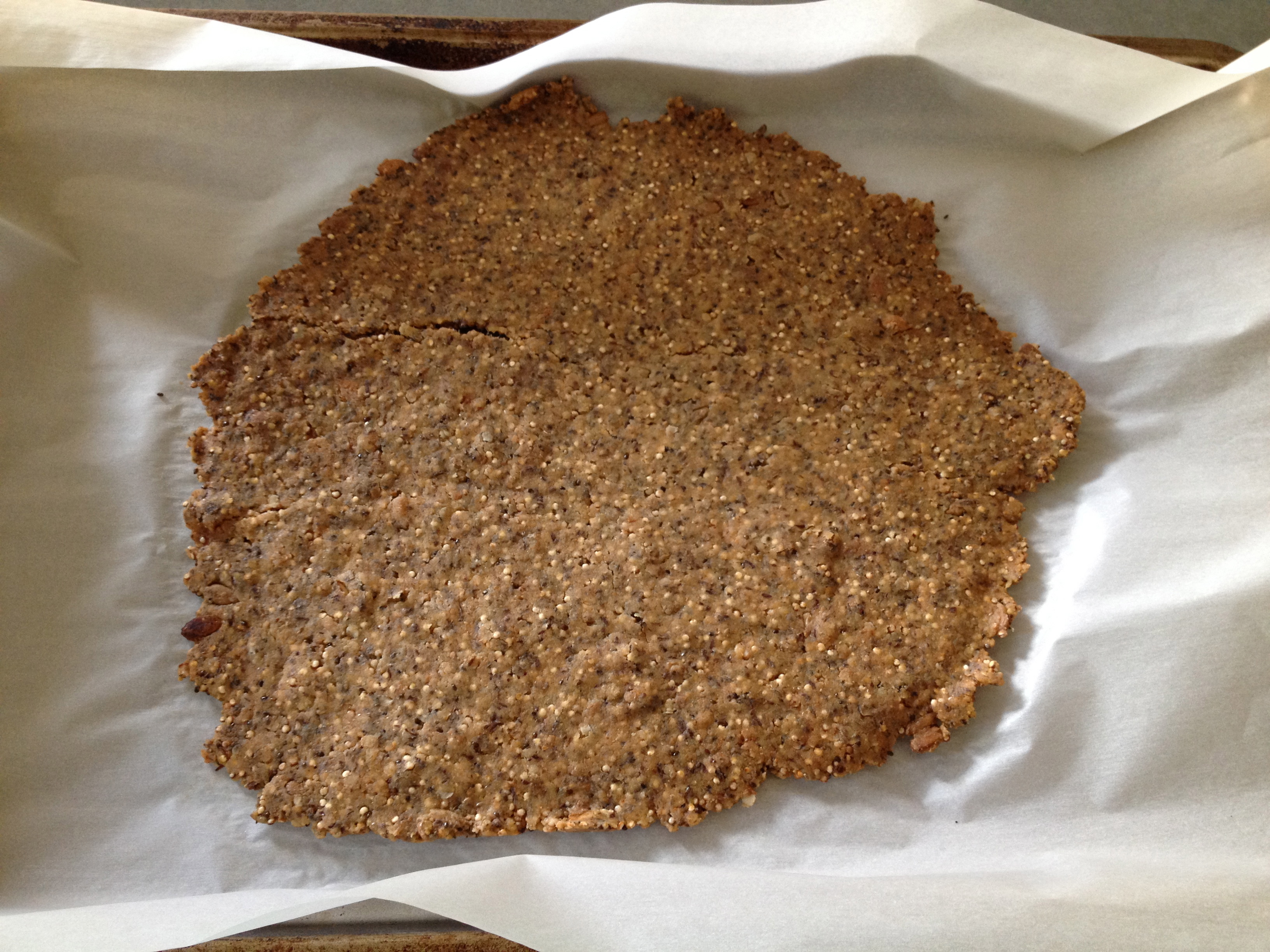 Ready for my face.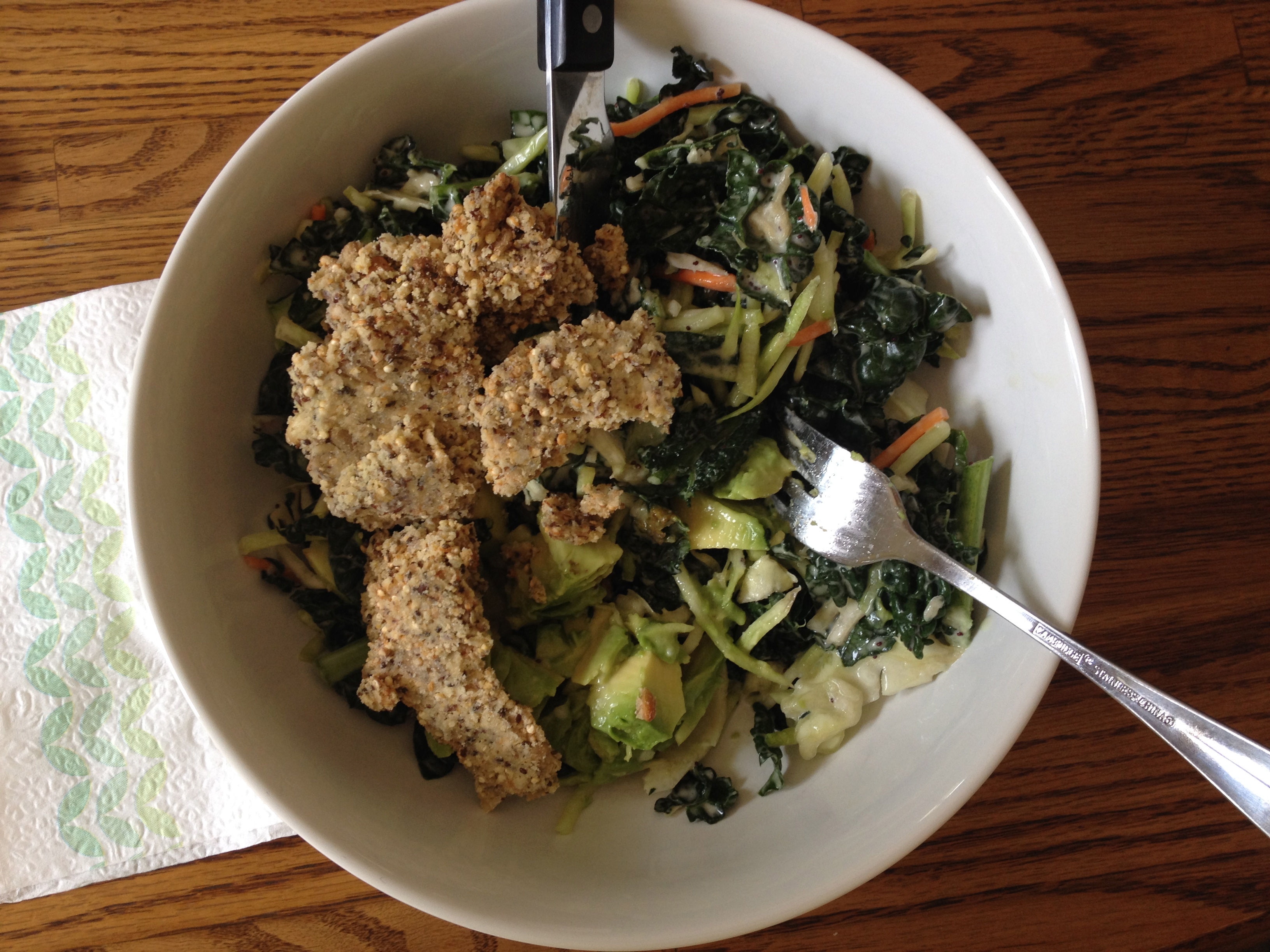 Even if they crumble a bit, they are still delightful as a salad topper.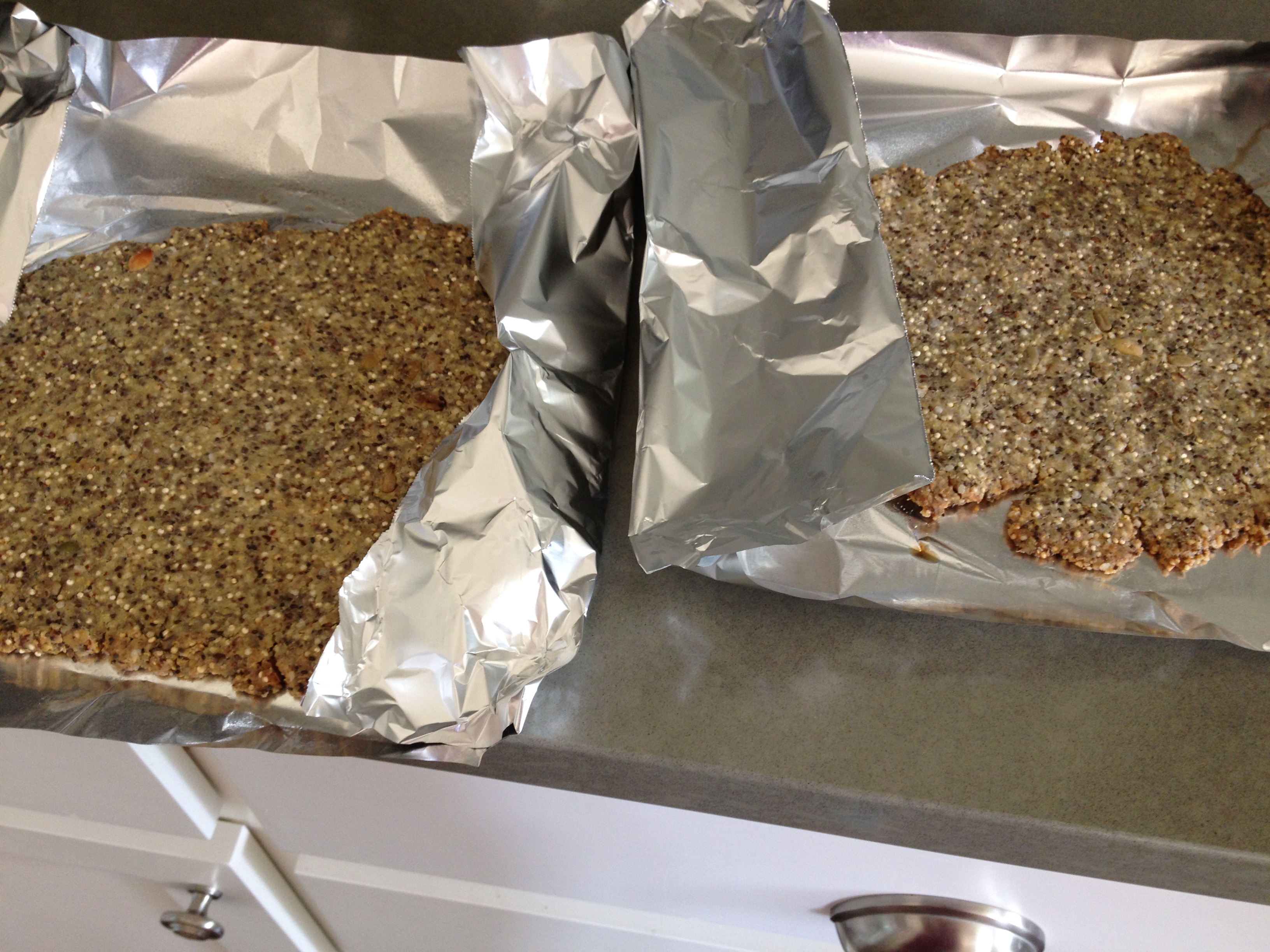 I haven't tried them with another shortening, but I'd venture to guess they will work with Earth Balance and/or palm oil just fine.  I do plan on trying them with either Nutiva's red palm oil or shortening in the near future, but like I mentioned previously, I really love what coconut oil offers my digestive system, so I'm not inclined to change it up.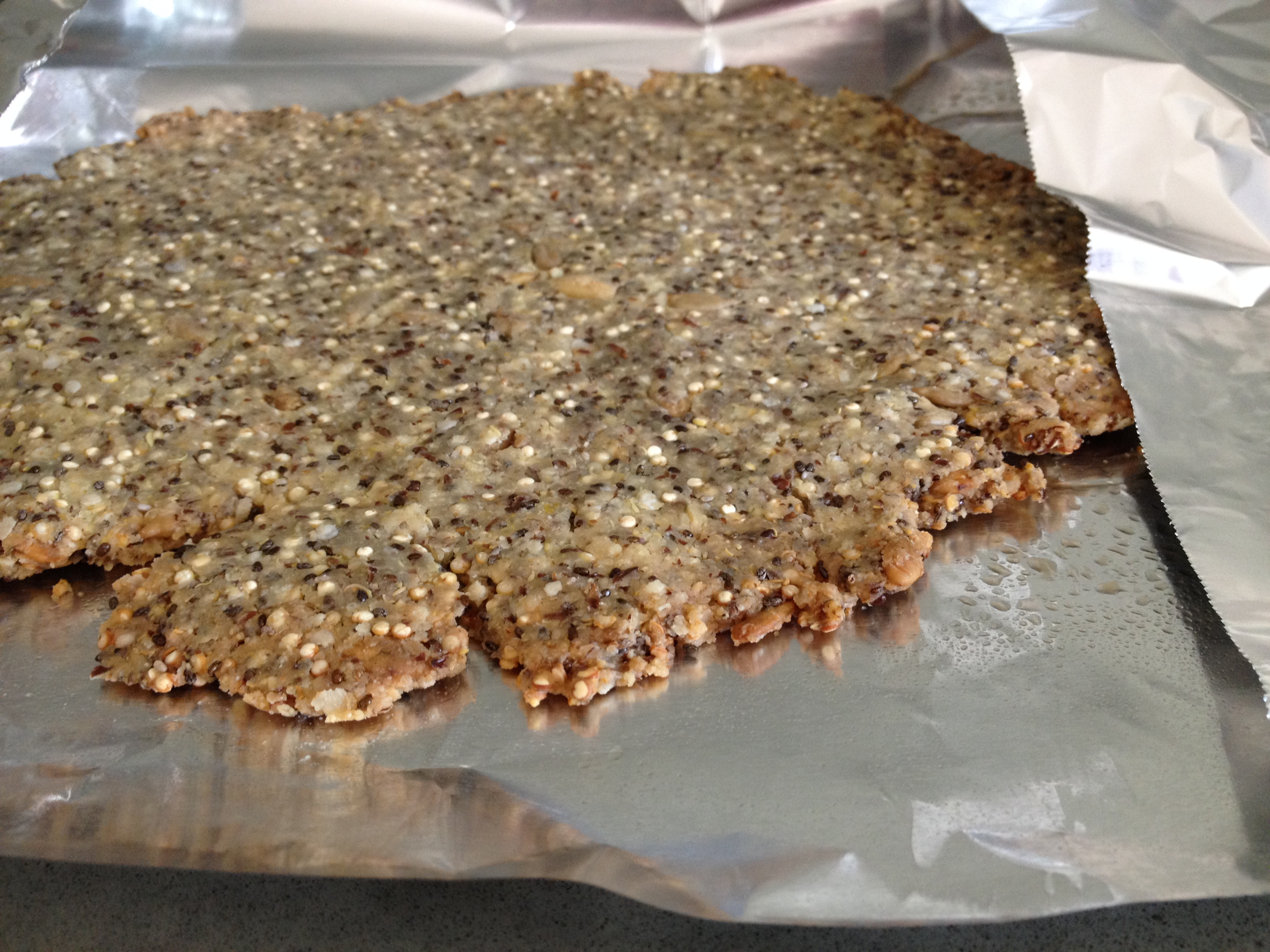 FYI You can get quinoa flakes from Thrive Market for cheap.  It's where I've been getting them.  Gwyneth's book It's All Good also calls for them in a few recipes, so I am definitely going through them faster than I thought I would!
Thrive Market is also where I'm buying pumpkin seeds these days because up until now the only place I could find a trusted brand of pepitas (meaning from an allergen friendly facility) was Whole Foods where it cost $$$ for a bag that lasted maybe a month.  Thrive Market has the same brand (Go Raw) for less, so now I'm buying them online.  [Sadly, the TJs brand shares equipment with peanuts]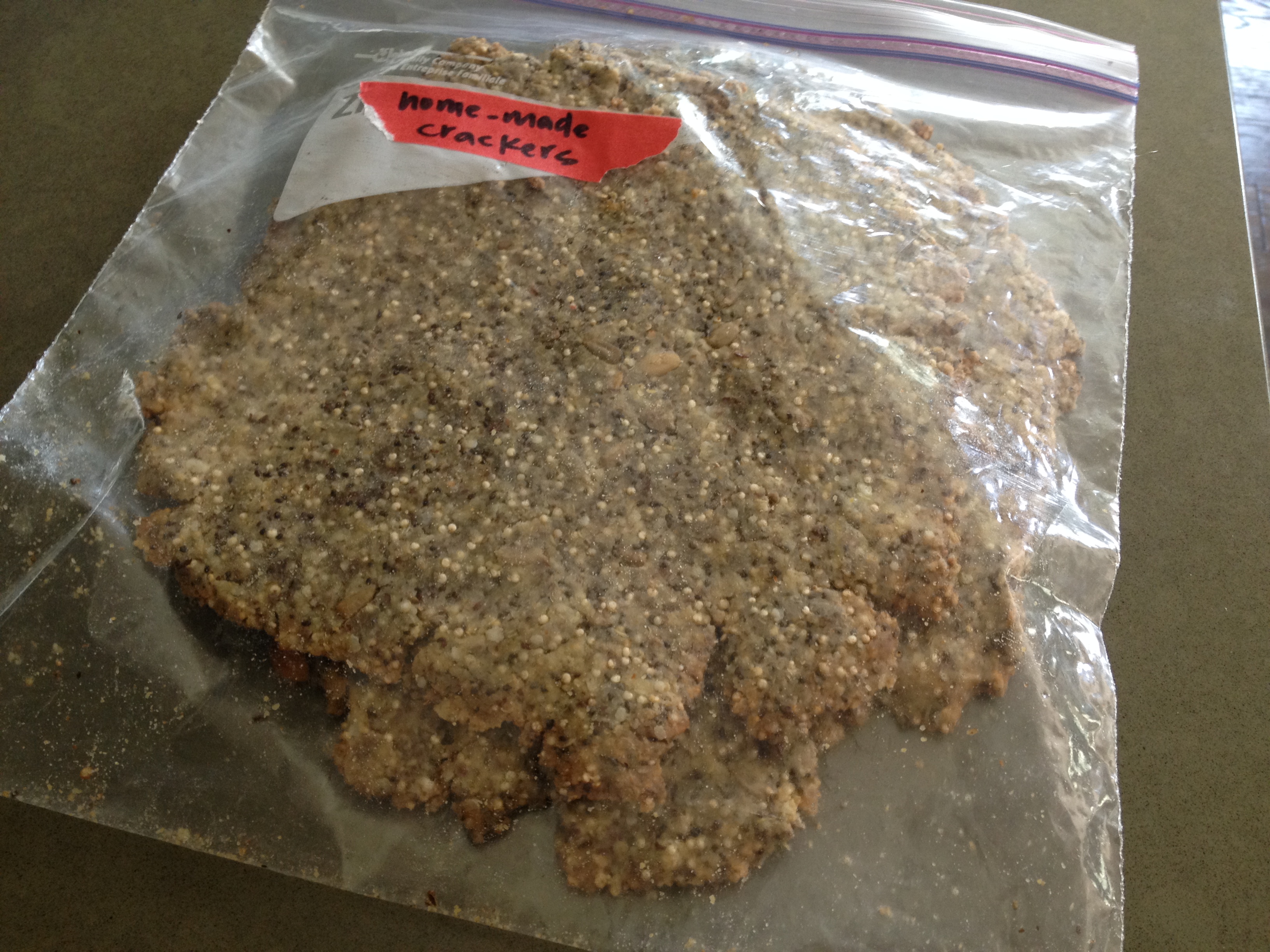 I wonder how long until Thrive starts their own private label for even cheaper?  Bulk bin items are alway a better bargain, but when you have allergies you can't risk the cross contamination.  P loves these crackers too, but alas, I love them more and so he rarely gets to share them.  Yes, THAT'S how good they are.