Maui is hot (both in terms of temperature AND general bossy-ness).  Love it.  I don't even mind the humidity, which adds 8 inches in horizontal volume to my pookie hair. 
I've been having issues getting on track with the time changes.  Passing out by 10 pm, napping throughout the day (so not like me), while still waking up at 6 am (more like me). 
My body is so confused.
If a picture could summarize my trip thus far, the above photo is a pretty good depiction.  Here are a few more: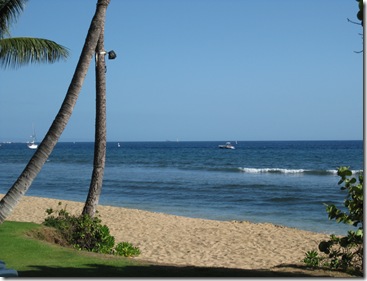 We did a buncha grocery shopping, so the basics are stocked.
You know how I roll…
And lucky for me, the Asian population in Hawaii guarantees a pretty decent tofu selection on restaurant menus, so it hasn't been too hard do a vegan vacay with some meat-eatin' family members.
Some nibbles and bits:
Hummus and vehicles to shovel it into my boca.  Bikini Blonde Lager, which reads "what the sailors really come to shore for…"
Strawbz (locally AND organically grown).  Baked potato alongside a massive spinach salad with chickpeas, dried cranz, and pears.
More of the hummus trio (red pepp and classic are the bestest).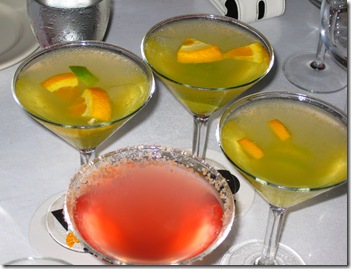 Fun fruit-inis for the whole fam (obvs, mine's the pink POM one with sugar crystals around the rim).
Apps for the table, jicima salad, seared ahi tower, and some other salad.  Meh.  Lettuce.  I passed on the ahi, but it looked like the best one.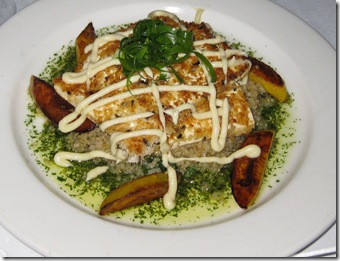 For my entree I got "blackened" tofu over quinoa, with fried yellow carrots on the side.  I'm not sure what qualifies this as blackened.  It tasted like (and most certainly was) a couple of slabs tofu that were breaded and then pan fried.  They weren't seasoned, but they were definitely oily.  Not exactly a dish I'd make again…  The quinoa underneath it though was the best part (most likely since it was submerged in the pint of oil runoff from the tofu), and I scraped every last little grain into my mouth.  Whatever the white stuff on top was, also got scraped, into the trash that is.  I tried a few of the carrots, but they were really hard, so I stuck with the oil infused quinoa.
Check out my sweet "tan" lines.  Awesome.  Me and my popsicle.  Sissie poo and momz.
Oh, and btw, here's my official 10K info:
| | | | | | | | | | | | | | | |
| --- | --- | --- | --- | --- | --- | --- | --- | --- | --- | --- | --- | --- | --- | --- |
| Last Name | First Name | Sex/Age | Bib | Team | City | State | Overall Place | Gender Place | Age Place | Finish Time | Pace/Mile | AG Time | AG Gender Place | AG % |
| Dieden | Elise  | F26 | 1132 |   | NYC | NY | 242 | 11 | 7 | 43:35 | 7:01 | 43:35 | 26 | 69.5% |
I mean, I thought I did well and all, but I was FLOORED when I found out I came in 11th out of all the chicas.  There were over 70,000 peeps in the race!  I was literally jumping around the hotel room in a giddy stupor. 
Looks like next race I have a new goal: crack that top 10 for female runners.
Anyways, I have been a bad food blogger (aka good relaxer) while on vacay so my photos are pretty minimal (especially when dining in public places).  So, sorry for that.  But, way MORE IMPORTANTLY, I want to say a HUGE THANK YOU to Mara from What's For Dinner? for the new header.  I love love love it 🙂
And now I'm off to relax on the beach.